Earrings with Short Hairs – For all the ladies out there who have short hair and don't know how to style and choose their earrings, you must read this post. With short hair, your earrings get very prominent, which is why you need to make sure that the earrings worn are appropriate and go well with the face cut.
This season you will see the emergence of chandelier earrings. They look gorgeous with short hair. Studs are not out of fashion, but sometimes you need to wear some extra bling.
What Earrings To Wear With Short Hair?
Many of the women don't have much knowledge about earrings that look great with short hair. There are certain ways and rules to be followed. For your ease, we have chosen the trending 27 styles that will help you choose the best pair of earrings that go with short hairstyles. These earrings are perfect with tomboy outfits too, do check out these Cute tomboy outfits that are trending these days.
But before you get to see them all here, we have a few tips to keep in mind before you choose earrings for yourself.
Before you choose any earrings, make sure they suit your face shape. To figure out what earrings suit your face shape, read on.
Make sure you know your bone structure because it makes it pretty easy to figure out what size earrings will look best on you.
Make sure you wear earrings that you are comfortable with. Style is important, but it's not above your comfort zone. So, let your earrings reflect the lifestyle you have.
Your skin undertones will help you choose the best color of earrings. Wear gold and copper colors if you have warm undertones. And if you have a blue or pink undertone, opt for silver shades.
Try to go for multiple piercings. They look amazing with short hair. You can read this Cartilage Piercings Guide for more information.
Your earrings should help you balance your haircut, so avoid wearing overwhelming ear accessories. Studs, loops, and hoops look more elegant with short hair rather than large statement pieces.
If your hair hides your earlobes, then drop-down earrings are the best choice for you, and if your earlobes are visible, opt for studs or loops.
Try out different styles, materials, and colors like a gem, sapphire, emerald, and ruby.
If your hair are too short, wear ear cuffs or earrings that cover your entire ear.
Don't over-accessorize. Wear less ear jewllery if you are planning on a heavy necklace and vice versa.
↓ 27 – Multiple Piercing Trend
Multiple ear piercing are highly trending these days, and girls love it when their ear looks like filled with diamonds, and they shine from far far away. Ladies, know your style and get your piercing done, be it earlobe piercing or cartilage piercing whatever you like. But let us tell you the hardest part is not getting the piercing done but the choice of your earrings. You can try out different options like going for similar studs, contrasting studs, or chandelier or drop done earring in one piercing and studs in the rest of them. You can also try filling all your piercings with hopes; the ear cuff is another great option. Moreover, you can opt for earrings that form a pattern, for example, a moon-shaped earring in lowery piercing and star-shaped in the one above it. Hence, there are numerous attractive and ravishing styles and patterns that you can try on.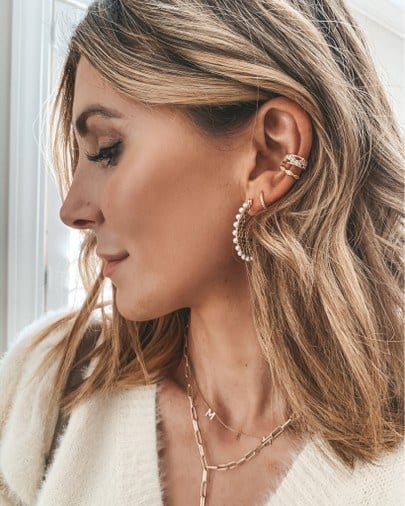 ↓ 26 –
Handmade Bohemian Beaded Round Drop Earrings
If you have short hair, it is pretty obvious that whatever earrings you wear will be visible enough. So, if you are planning on a tea party with your friends or going on a date blow dry your hair, put on some makeup, and wear handmade bohemian beaded round drop earrings possible in bright colors like red. A black sleeveless top and ripped jeans will look fine with it. You can also add a pretty eternity bracelet to your wrist.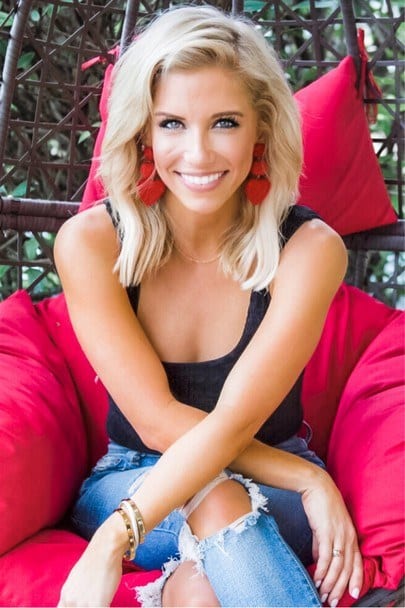 ↓ 25 –
Rattan Tassel Earring For Women With Short Hair
Earrings enhance your entire look. Being a girl, you are lucky enough as you have numerous options and ways to accessorize. Try testing out different earrings with different shapes, styles, and materials. We recommend you wear light-colored rattan tassel earrings someday with a bright colored dress and add a Blazel bar necklace to your chain. The simpler, the better.
↓ 24 – Pearl Letter Earrings With Short Hair
Jewelry with letters and names never go out of fashion. People are wearing it for ages, and it seems like they adore it. Some people go with letter jewllery that has the first letter on their name and at times of their loved ones. If you are one of these people, then stop waiting and get yourself pearl initial stud earrings and a letter pendant chain. You'll look amazing if you add beach waves to your amazing bob hair.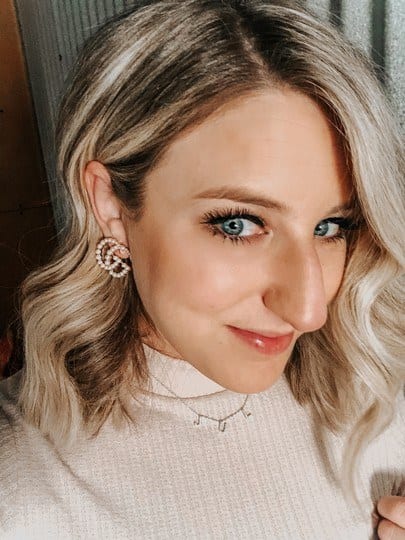 ↓ 23 –
Abstract Face Dangle Earrings
Many people with a good aesthetic sense are usually a big fan of abstract art. Why not take this art from a piece of paper to jewllery. Have a look at how amazing these abstract face dangle earrings look with short hair, knit mock turtle neck sweater, and minimal makeup. Make sure you tuck your hair behind the hair ears so that everyone can see the absolute piece of art in your ears.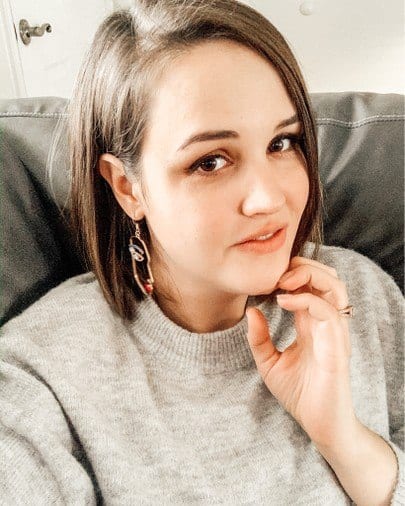 ↓ 22 – Rose Leather Earrings
Incorporate something trendy and chic to your accessories rack and try out rose leather earrings. They'll look amazing if you have short bob hair. You can wear them on a casual day as well as to some formal event.

↓ 21 – Rocker Chic Cuff Earrings
Edgy fine hair cut and chic rocker earrings. Best way to style earrings for a party look.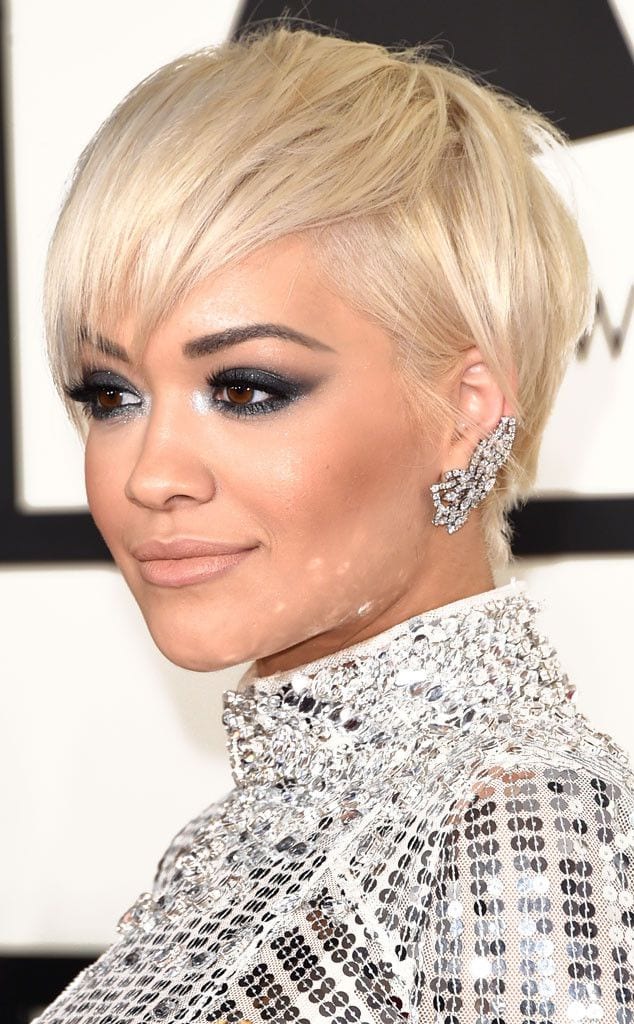 ↓ 20 –  Vintage Long Earrings
Tassel earrings look great with short straight cut hair, especially with this gelled back hairstyle. We also recommend that you check out these trending Tassel Earring Styles.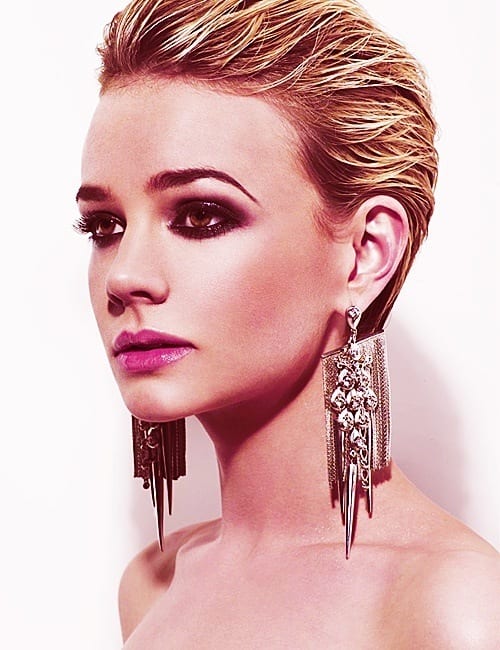 ↓ 19 – Ear Lobe Labret Studs
Studs can never go out of fashion, and they look fantastic with short wavy hair.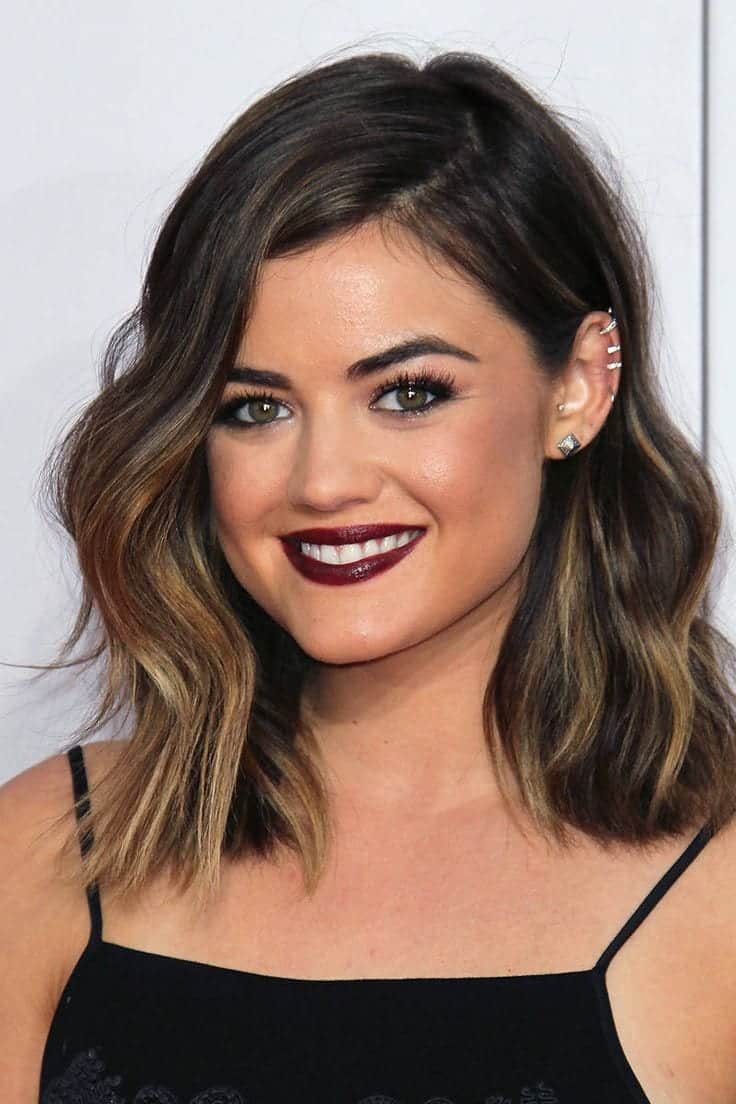 ↓ 18 – Long Beaded Earrings
Beautiful white beaded earrings with short length hair.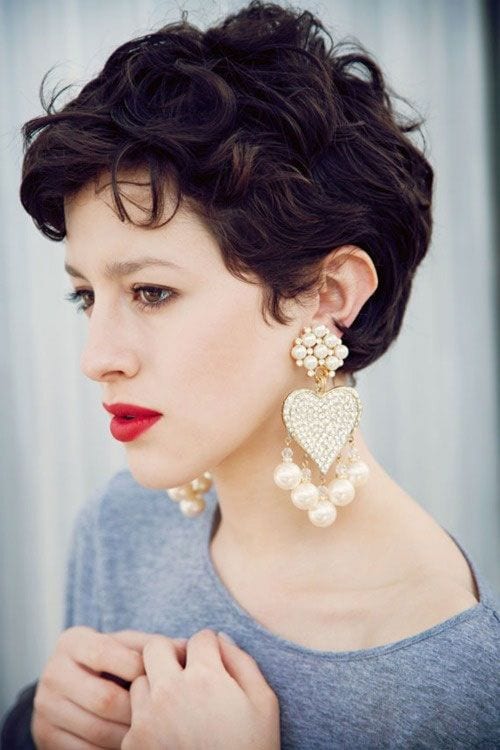 ↓ 17 – Silver Bling Earrings 
Extra bling adds life. Silver earrings are looking perfect with grey hair.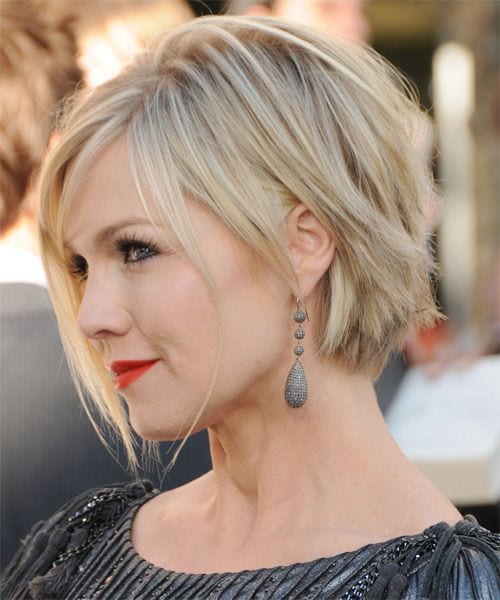 ↓ 16 – Loop Earrings
Loop earrings are best to wear for a casual look.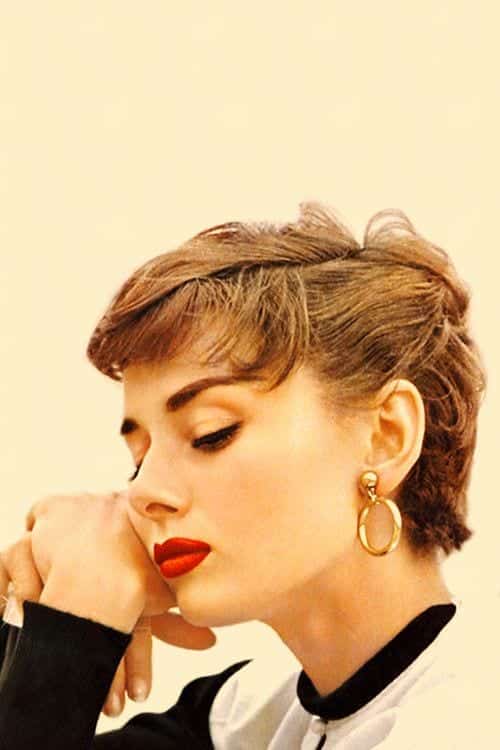 ↓ 15 – Flower Metallic Earring
Short bob and metallic earrings, a perfect style for a simple look. Try matching your earrings with metallic nails, check out How to do Metallic Nail art.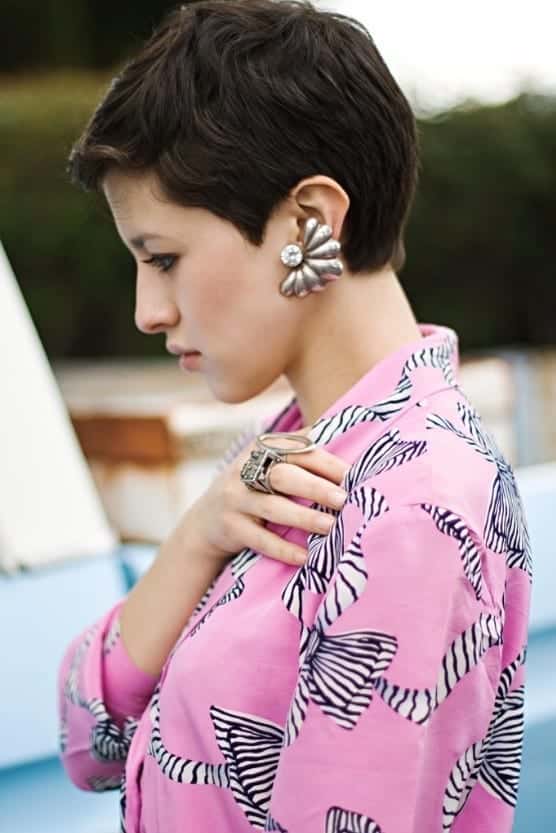 ↓ 14 – Bridal Silver Earrings
This gorgeous lady looks amazing with bridal silver earrings. She is wearing beautiful pearly heavy earrings that complete her bridal look. With this kind of earnings, you can do a messy hair bun on your special day, and you can also go for a cute and matching bridal dress to match the earrings.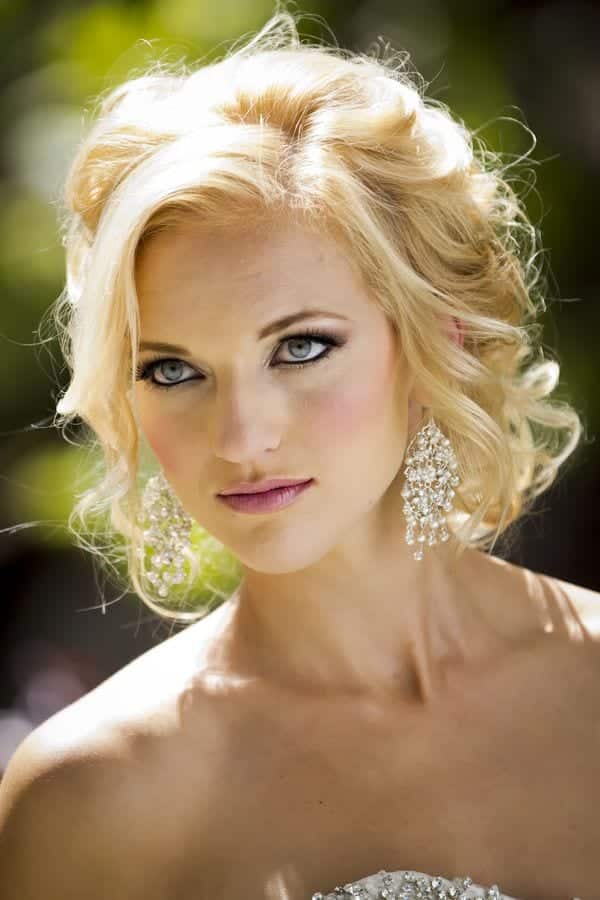 ↓ 13 – African Inspired Geometric Earrings
Geometric earrings can never go out of style. They look perfect with any dress and any hairstyle. For example, if you are a girl who loves to go for short haircuts like tomboys cut or even pixie cuts, then these kinds of earrings are perfect for you. For a perfect look, make sure to wear a dress that has a geometric and tribal print on them. Or, as shown in the image below. Go for a plain tee but a geometrically printed scarf around your neck.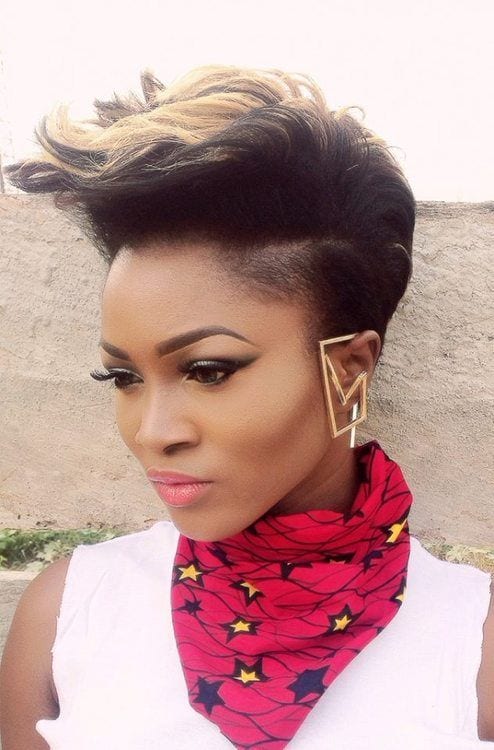 ↓ 12 – Silver Ear Cuff
This beauty is rocking this look with black short wavy hair and ear cuffs. Everyone in this modern age is wearing such ear cuffs, including our favorite celebrities. They are mostly worn only on one of your ears, not on both sides, and that is the beauty of them. They are available in a variety of different colors and patterns in leading fashion stores like forever 21, H&M, etc. Do try to but bigger ones to make them prominent on your face.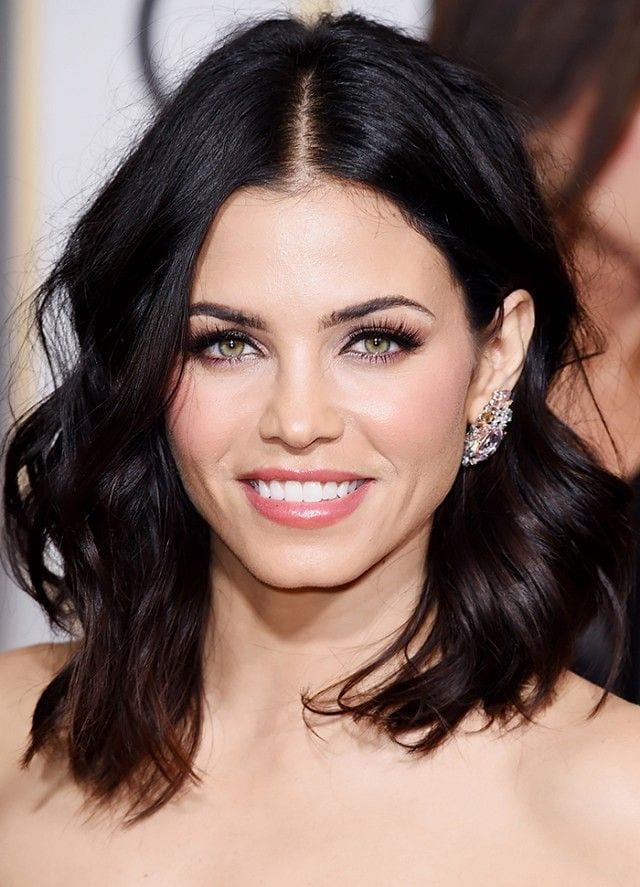 If you have blonde hair, then you must wear lighter color earrings. Shades of silver and turquoise would be great. For short black hair, you can wear studs, square earrings, and diamond cuff. Make sure that the color and design suit your hair cut and face cut. If you plan to wear long earrings, then keep it simple and don't go overboard. Small studs will never go out of fashion; for a simple casual look, they look great. It is always essential to know the right kind of accessory that goes well with the face cut. Long chandelier type earrings look gorgeous and should be worn on formal dinners or weddings. Do try out these styles and let us know which one you liked the most.
↓ 11 –  Miley Cyrus Style
↓ 10 – Jennifer Lawrence 
Jennifer Lawrence is known for her simplicity and lovely fashion sense. She is always said to have worn the best dress on the red carpet and in any film awards. The kind of hairstyle that she has, she can easily rock cute but a little bigger tops. like the ones that have bigger studs than the front part.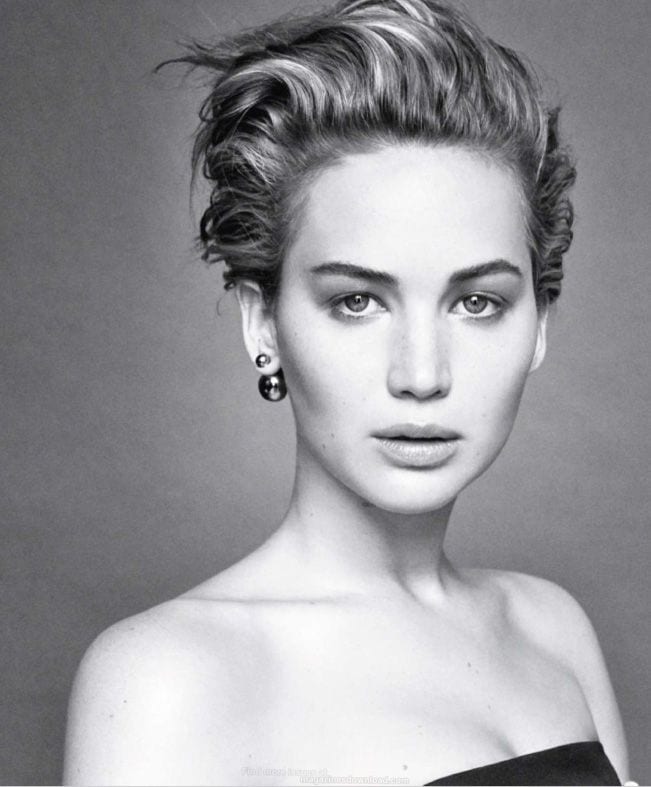 ↓ 9 – Multi Earrings Combo
Why always wear one earring or tops when you can wear more than one? Yes, if you are an ear-piercing person and you love to wear one than one earring at one time, then this style is for you. Find yourself different cute pairings and wear them all at once, depending on the number of piercings that you have.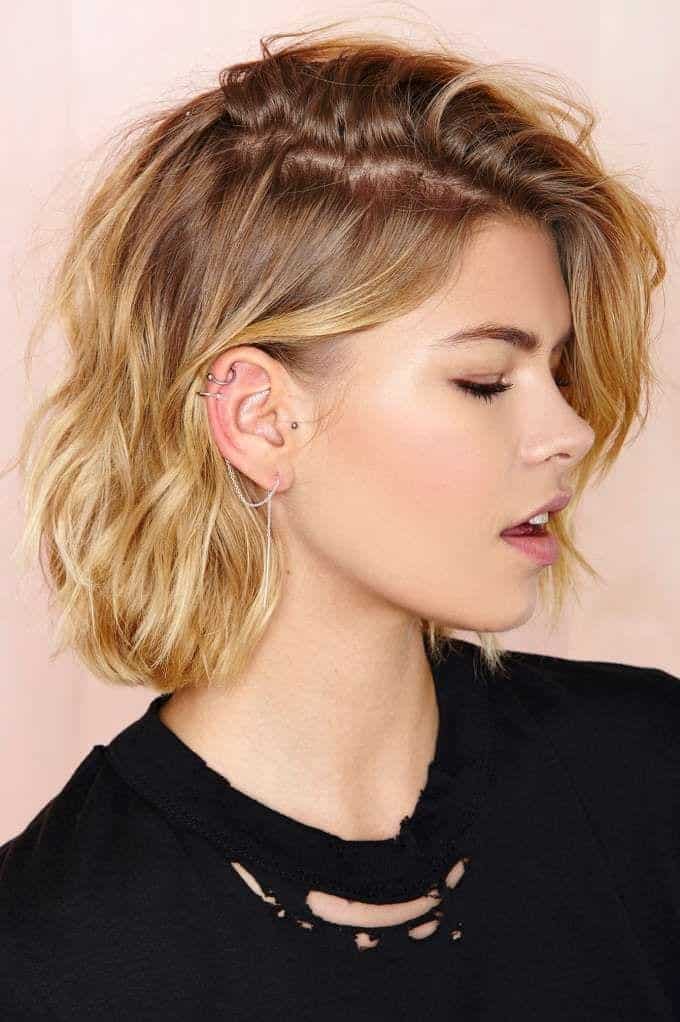 ↓ 8 – Kristen Stewart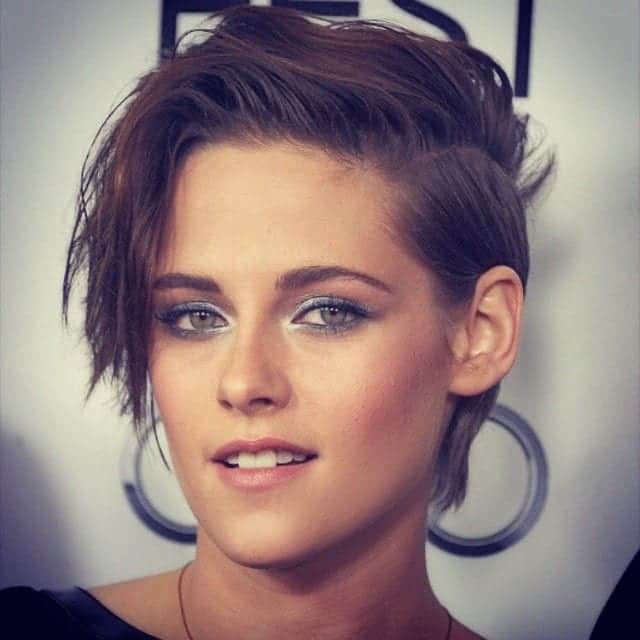 ↓ 7 – Earring With Bob Haircut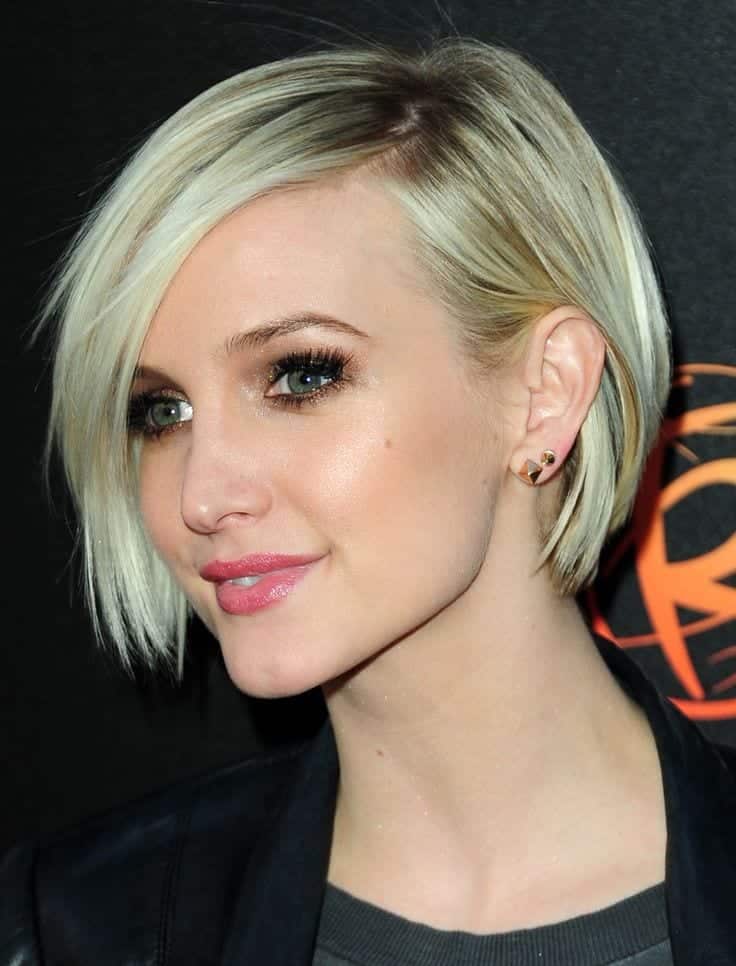 ↓ 6 – Emma Watson
Emma Watson is always seen wearing ring styled small tops that look very elegant on any girl. They are available in a variety of different colors and types for you to choose from. The tops that are mostly used are silver ones with cute little beads on it. Do check out 16 Simple Short Hairstyles For Girls You Can Make in Minutes.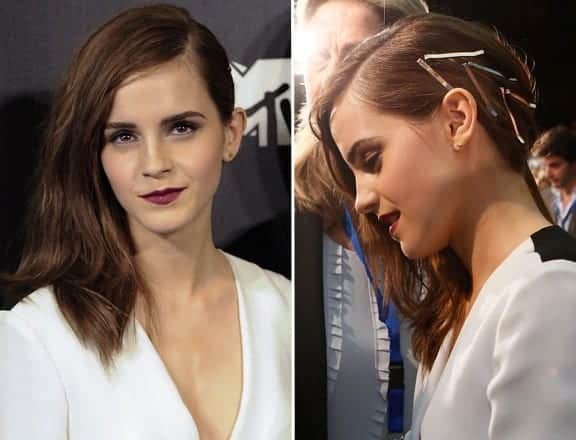 ↓ 5 – Earrings With Short Black Hair
For girls who have extra short hair and are having a fair complexion, then wearing jet black tops is the best option.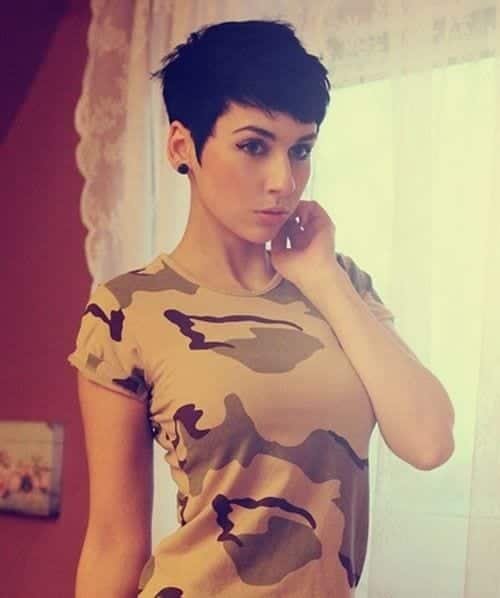 ↓ 4 – Party Jewelry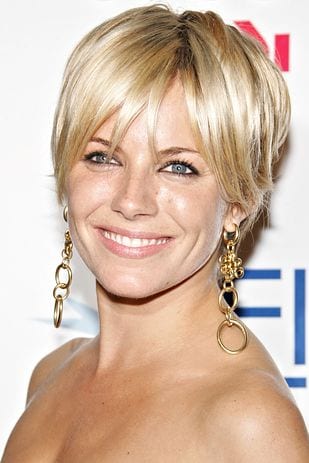 ↓ 3 – Long Emerald Earrings

↓ 2 – Unique Style Earring
A lot of women and girls are inspired by unique accessories like snakes, owls, etc. A great choice for such girls is to opt for snake ear cuffs. They look unique and also really cool. They are usually available in brown colour, and so they go well with most hair colors.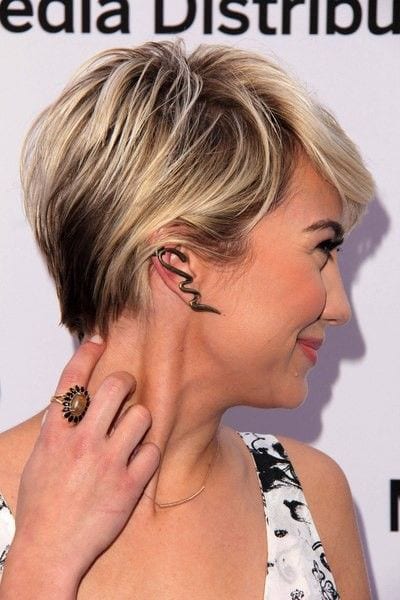 ↓ 1 – Sleek & Long Earrings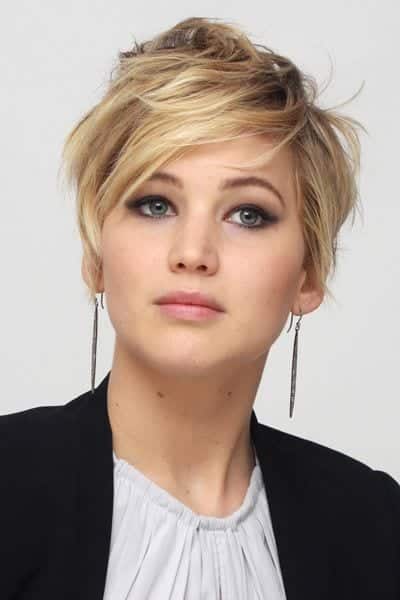 Expert Answers To Your Frequently Asked Questions (FAQs)
Q.

What Earrings To Wear With Pixie Cut Hairstyle?

A. With a pixie cut, your ears and earrings become more prominent than ever so it's important to not just choose earrings that suit the hairstyle but also your face shape. If you have multiple ear piercings, you can choose to cover the whole ear in studs or small earrings for a punk look. For a formal look, you can always go big with bold statement earrings. You should also experiment with different loop style earrings to find out which one works best for you.
Q.

What Earrings Look Best With Short Hair?

A. If your ears are clearly visible in your short hair then studs are always a good choice for casual wear. You can also go for fancier stud earrings like in diamond or silver for a semi-formal or formal look. It's important to decide the look you're going for and then choose the earrings and outfit accordingly. For instance, if you're dressing in a punk style, it's best to go for dark-colored but small-sized earrings. On the other hand, if you're dressing in a cocktail dress and looking for a more feminine look with your hair up in a bun, you might want to go for ear cuffs, statement hoops or drop earrings.
Q.

Do I Need To Match Hairstyle With Earrings?

A. Yes, it's always a good idea to match your hairstyle with your earrings but don't forget the role that your face shape plays. Your hairstyle helps decide how visible your ears will be and how you want your earrings to frame your face.
Q.

Do I Need To Match Hairstyle With My Hair Color?

A. While this isn't a necessity, it's a good way to complement both your earrings and hair. If your hair are light brown then wearing earrings in gold and brown shades will add to the warmth of your hair. If you have black or dark brown hair then silver or diamond earrings will shine through them and add a touch of lightness. For reddish hair colors, emerald and blue colored earrings are a must-have. If you're blonde, you can go with both warm and cold colored earrings, some of our favorite pieces include coral, pink and red-colored earrings.
Q.

What Earrings Suit My Face Shape?

A. It is totally up to you whether you accept the fact or deny it, but your face shape matters a lot when it comes to hairstyles or accessories like hair jewelry and earrings. Be very wise while making any such decision. Here we have assembled a list of face shapes, and top earring picks for them.
Oval Face: people having an Oval shaped face can wear almost any kind of earrings without thinking twice because they can carry them all. But what suits them more are triangular-shaped earrings as they highlight their cheekbones.
Round Face: The majority of people have round faces, and a large percentage of them try hard to contour their faces. Girls, Don't just contour with makeup but add on some earrings that are wide at the bottom as compared to the top so that it can fill the lower half of your face to make it balanced. We recommend you go for chandelier earrings or teardrop earrings.
Long Face: People having a long and narrow face should keep in mind that they need earrings, which will make their face look fuller and a little extensive. All you need are ear accessories that focus on the width of your face. Hence opt for clustered earrings, medium-sized hoops, or short dangle earrings.
Square Face: People with square faces have very sharp jawlines, and many of them want to soften it. If you are one of these people, then avoid short earrings or studs and opt for Oval or circular shaped earrings. Hoops are surely your thing.