Tassel Earrings Styles – Tassels are quite the rage this season – be it on jewelry, bags, or clothes. However, one of the tassel trends that made its way into the fashion world is that of statement tassel earrings. While women all over the globe obsess over it for all the right reasons, there is no reason why they should not hop onto this bandwagon too!
These days outfits are all about pairing your clothes with the right kind of accessories to bring out a unique look that makes you stand out. Statement pieces have been making waves for quite some time, and our personal favorite this season is tassel earrings. Not only do they make you look classy, but they also bring out a fresh look to brighten up your overall look.
How To Style Tassel Earrings For Every Day
Honestly, you do not need to be a fashion guru to know how to wear them. They go with almost every kind of outfit for any occasion. The fact that they are available in a wide variety of colors, materials, and styles makes it easy to incorporate in your look, depending on your personal choice. If that does not work, you can even make these earrings yourself with the help of DIY guides to suit your taste or if you need them to match with a particular theme! What's best is that they feel light on the ears, which makes it great for casual wear too. Here are a few tips you should check out if you are still confused about how to pair them:
Do not overdo the look – if you are wearing bright and colorful clothes, go for a subtle pair of earrings
With a neutral-colored dress, opt for bright shades of tassel earrings to bring color and glamour in your look
They look good with both open and tied hair, but naturally tied hair will draw more attention towards your earrings
For a formal party or night out, you might want to select a pair that makes you look more formal such as tassel earrings with gems or metallics
To help you further, we have rounded up a list of 31 best tassel earrings styles and how you can wear them in a chic way so read on!
↓ What Earrings Suit Your Face Shape?
You can make anything look ten times better if you know how to carry it. You can love so many earrings and even carry them well, but what will enhance your features is the right earring size and according to your face. Here we have a few earring styles and shapes which can help you decide better on what to wear.
Oval Face: The most suitable earring shapes for people with oval face are teardrops and pearls and ovals that can provide a mellow complement to their face's natural contour
Round Face: Dropdown earrings and long or large dangles look remarkable on people with a round face as, as long earrings help to elongate face structure.
Heart Face: Earrings with soft curves suit these people the most. Prefer wearing earrings that are wider at the top.
Square Face: Heart faced people should prefer earrings that are mediocre in length as they look astonishing, and hoops complement them too. Earrings with rounded edges are also excellent choices because they draw attention to their earrings and aids to soften their face's natural angles.
Narrow Face: These people should find out earrings for themselves that have loads of tassels so that it can add some volume and make their face look fuller.
Diamond Face: These people should opt for earrings that are straight as well as have some slight curves.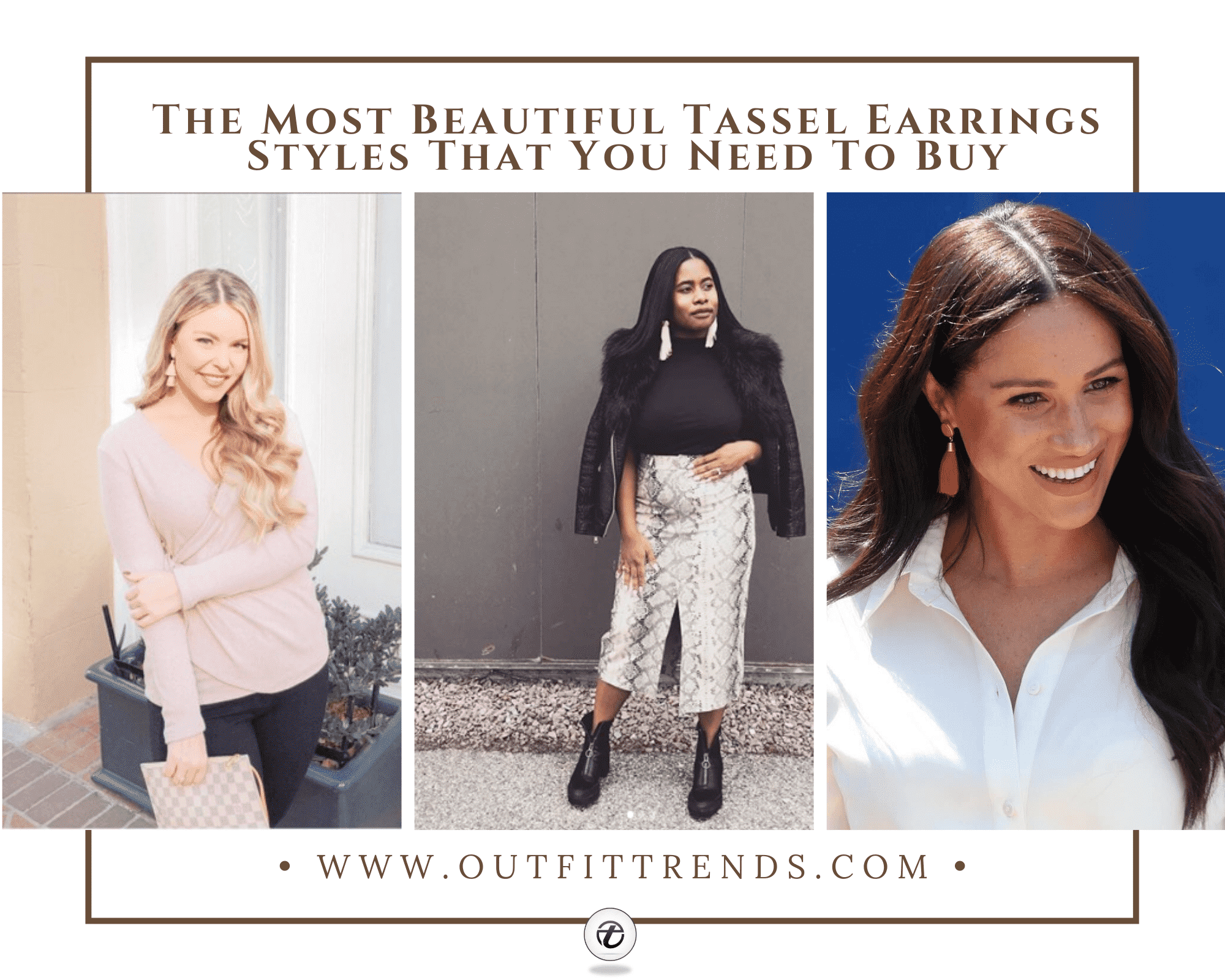 ↓ 31 – Beaded White And Beige Tassel Earrings
Earrings are a must. They make your face look a lot fuller and adds color to it. Even if you are planning to go extremely casual and no makeup thing, you still should wear earrings. We recommend you wear beaded tassel earrings with a hoop in beige and white color. The colors will satisfy your desire to be casual and simple, and the design will add some style to your appearance.

Shop Similar Item Below
Beaded Tassel Earrings for Women – Statement Handmade 38 $
↓ 30 – Blue Tassel Earrings For A Vibrant Look
Never be afraid of accessorizing your outfit with bold and popping colors. They do look amazing, so stop being scared and doubting yourself whether you can carry them or not. Look at this, how beautiful these large fully beaded tassel earrings in blue color look. You can wear them when you want to create a semi-formal look because there are a little too much for casual use.

Shop Similar Items Below
Undeniable Heart Mustard Tassel Earrings CLEARANCE $26.00 $14.00

↓ 29 – Megan Wearing Tassels
We look up to celebrities and models and take style inspiration from them. Yes, that's what we all do. Hence, look at Megan and the way she is gracefully carrying orange tassel earrings that aren't too long with a white shirt. Bright earrings look perfect with plain tops and natural makeup.

Shop Similar Item Below
Wooden Bead Tassel Earrings MADEWELL
↓ 28 – Red Earrings To Pop Up Your Look
Planning on attending a dinner or feel like dressing up a little? Well, dress up in an all-black outfit and put on some light makeup to look fresh. Finish off your thrilling look with these multiple red strands of plushy tufts. These are on top trending nowadays. Also, such bright tassel earrings can effuse any outfit with effortless polish.

Shop Similar Item Below
CONTESSA TASSEL EARRINGS $38.00
↓ 27 – Metal And Tassels For A Change
If you are a fan of delicate jewllery instead if big, bulky, or statement pieces, then this one is for you. Wear a delicate gold chain and putt on these multi-layered tassel earrings. They have one layer of metal and another of tassels. You will surely love them!

↓ 26 – Multi Colored Earrings
Why wear one color when you can pull off three to more at one time! They look unusual and more appealing. You can go for lighter shades of your makeup is heavy and vice versa.

↓ 25 – Neutral Shades
You can easily slay in neutral and basic tones of tassel earrings with bold tops and makeup. You'll look great in blue chiffon outfit when accessorized with multi-layers bohemian tassel earrings, a light chain, and some sassy shades.

Shop Similar Items Below
Useful Women's Casual V Neck 3/4 Bell Sleeve Belted Chiffon One Piece Romper Shorts 24 $
Tassel Earrings Multilayer Bohemian Style 14 $
↓ 24 – Dark Colors
How cute do long chiffon pobby flower earrings look in this bluish-black shape? Such colors will automatically make you look a lot fresher. So, make sure you have a few tassel earrings in dark colors.

Shop Similar Item Below
Long Chiffon Poppy Flower Tassel Earring for Women 16 $
↓ 23 – What Earrings To Wear On A Date
What earrings to wear on a date? It seems like trouble, with all the panic and stress. Ladies, stay calm! Wear tassel earrings that aren't too big nor too small. Below are two looks created with tassel earrings that look extraordinarily enchanting and seems perfect for a date. You might want to try one of them, at least.

Shop Similar Item Below

Shop Similar Items Below
Chicwish Women's Soft Heart Shape Balls Hand Knit Open Front Hot 69 $
Tibi ADD TO HEARTS Plisse Pleated Skirt $595
Hazel Pointy Toe Pump SAM EDELMAN PricePKR –PKR 23368.01
Navy blue tassel earrings
↓ 22 – How To Wear Gold Tassel Earrings
Classiest of all, add these statement earrings when going to parties or for any formal occasion. Here are 19 Cute Ways to Wear Earrings with Long Hairs.
↓ 21 – Neutral Toned Tassel Earrings
If you want to keep things simple and subtle, go for neutral shades like grey, beige, black, and white.
↓ 20 – All Black Look
If you are aiming for completely black attire, you can pair your black outfit with silver and black tassel earrings to look modern and trendy.
↓ 19 – What Earrings To Wear With Jumpsuit
Here is a great style inspiration for you. Don't these blue tassel earrings look great with a navy blue jumpsuit?
↓ 18 – How To Wear White Tassel Earrings
If you want to play it safe, go for white earrings as you can never go wrong with them. You can wear them with any printed or everyday outfit. Check out these 18 Ideal Girls Outfits with White Shirts for Glamorous look.
↓ 17 – For A Casual Look
To keep things minimal, you may wear blue tassel earrings with a white top or dress.
↓ 16 – How To Wear Turquoise Tassel Earrings
One of our favorite colors this season, these turquoise earrings can be worn with any funky outfit to make you look chic.
Via
↓ 15 – Tassel Earrings DIY
You can make your pair of earrings at home and rock that look wherever you go!
↓ 14 – Ombre Style
Statement earrings are all about standing out, and what better way to do that than to go for a unique ombre style earrings? Here are the best Outfits with Ripped Jeans.
↓ 13 – Black Tassel Earrings
This is one color that goes with almost anything and everything. You can pair these black earrings with the same colored outfit or choose a different look.
Via
↓ 12 – For Evening Look
Brighten up your night time outfits with colored earrings such as this yellow one. Check out 25 Celebrities All Black outfits Styles for Fall to Copy.

Shop Similar Items Below
ULLA JOHNSON Eleni Floral Lurex Dot Blouse $475 $279
MOTHER Insider Crop Step Fray Jeans in Not Guilty 34,444 Rs/-
Granita Beaded Tassel Earrings
↓ 11 – Earrings For Funky Look
If you are someone who likes to experiment with colors, go for colorful tassel earrings like these multicolored hoop tassel earrings. It looks so fresh and eye-catching!
↓ 10 – Tassel Earrings With Short Hair
Pinks look beautiful and need one of these for a cute look. Here are 25 Stunning Ideas To Wear Earrings With Short Hair.
↓ 9 – Long Tassels For Bold Look
For a bold and glamorous look, go for longer earrings and tie your hair to draw more attention to them.
↓ 8 – Chic Beach Style
For a fresh and casual look with shorts, you can choose earrings in a subtle shade that are not too fancy

↓ 7 – What Earrings To Wear With Maxi Dress
You can pair long tassel earrings with your favorite maxi for an effortless and stylish look

Shop Similar Items Below
GRECERELLE Women's Casual Loose Pocket Long Dress Short Sleeve Split Maxi Dresses 23 $
HAO HONG Statement Beads Hoop Tassel Earrings for Women 13 $
SOJOS Polarized Oval Sunglasses Vintage Round for Men and Women 15 $
Heroes Designer Leather Tote Bags Set for women 32 $
↓ 6 – Valentines Date Night
Since red itself is a bright color, balance the look with a softer shade of earrings. Add more accessories such as a hat and handbag to enhance your look further. Check out 20 Ideas on how to Dress up for Movie Date.
↓ 5 – Street Style Look
Purple earrings will look best with black or white outfits. Match your earrings with heels to complete your loo and slay on the streets.
↓ 4 – Hoop Tassel Earrings
These double hoop tassel earrings stand out and look amazing with a grey sweater, printed mini skirt and knee-length uggs. Tuck your long silky hair behind the ears so that your earrings are visible enough.

Shop Similar Items Below
Circle Tassel Earrings PANACEA PricePKR 4174.35
Dokotoo Women Solid Turtleneck Balloon Long Sleeve Sweaters Pullover Outerwear 34 $
↓ 3 – Earrings For Summery Look
Keep it easy breezy during summer, go for a pair of tassel earrings that are short and casual such as these blue and white ones.

Shop Similar Item Below
Colorful Layered Tassel Earrings Bohemian 3 Tier Tassel Statement 13 $
↓ 2 – With Formal Outfit For Work
To keep things formal, go for a decent pair of earrings in primary colors with your favorite dress and blazer.

Shop Similar Items Below
↓ 1 – Casual Chic Look To Create With Tassel Earrings

Shop Similar Items Below
layered necklaces (dainty, simple, everyday) USD 31.23+
fan tassel Cotton mini tassel Brass disc statement earring 25 $
Lanza Women's Classic Wide Brim Floppy Panama Hat Belt 15 $
Plaid fleece Ruana
↓ Shop Earrings For Yourself
If you are looking for online stores where you can easily find a wide range of tassel earrings, then following are your go-to places to test and try.

We hope this article gave you a better insight into this trend and how to follow it. Be yourself and carry your outfit the right way, and you will surely make heads turn your way! If you liked this post, do let us know in the comments section.