How to wear a heavy saree. A lot of women like to go all in and look grand on special occasions. Sarees are mainly considered best to wear in this regard, especially heavy sarees. Heavy Work sarees are those which are decorated with all-over embroidery, involving a number of techniques and patterns on the same fabric.
These provide a beautiful and radiant look. Heavy Work sarees are those which are decorated with all-over embroidery, involving a number of techniques and patterns on the same fabric. Heavy work sarees are usually heavy in weight so they are strictly occasional wear, as they are glamorously fancy. They are made of thread work, adding crystals, pearls, stones, and Zari.
Everything To Know Before Buying A Heavy Saree
Every woman likes dressing up and looking gorgeous, especially when they have an occasion to go to. Heavy worked saree works wonders in this case. They were especially and exclusively made for the Royal women.  A saree is a women's garment from the Indian subcontinent that consists of a drape varying from five to nine yards (4.5 meters to 8 meters) in length, and two to four feet (60 cm to 1.20 m) in breadth that is typically wrapped around the waist, with one end draped over the shoulder, baring the midriff.  Heavy Work sarees are the most-sought-after varieties in the segment of occasional wear. These sarees are seemed to be best suited for fancy occasions as they give the woman the glam and alluring look that may be demanded in the event. Other dresses don't present as much appeal to the look as heavy sarees do. They give glam and a charismatic look to anyone wearing it. The georgette, organza, chiffon, and crepe are the most used saree materials which provide enchantment to the dress. Here, in this article, we will discuss different styles of heavy sarees, the kind of makeup that goes with such heavy dressing, different tips about wearing saree that best suits your body and also the best places and brands where you can attain these sarees.
↓ 10 – Fusion Sarees
The latest trend includes semi sarees which are basically an Indo-western fusion. Katrina Kaif, for instance, was seen in a bright red sharara saree.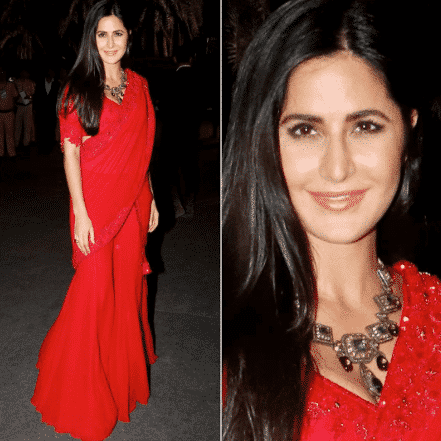 Alternatively, you can also drape your sarees over palazzo pants but for such styles to work, the sarees must be in some light fabric like chiffon or crepe. And we've already done a detailed post on the very gorgeous and trending pant-sarees that you can check out here.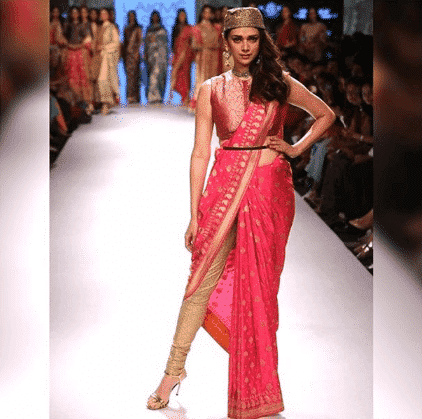 ↓ 9 – Celebrity Style Inspiration
Sarees are a beautiful and best-suited occasional wear. Whether it be weddings, fancy dinners or gatherings, shows heavy saree always seems to save the day. Most celebrities prefer wearing these heavy sarees in their fancy events, wedding functions, and formal gatherings. These sarees surely gives them a glamorous and beautiful look. Celebrities usually go for banarsi, silk, net, chiffon or georgette sarees in statement designs by their favorite designers. Lately, most celebrities including Deepika have been opting for the classic and timeless Kanjeevaram sarees which use real zari and they're wrapped in a lush, luxurious drape.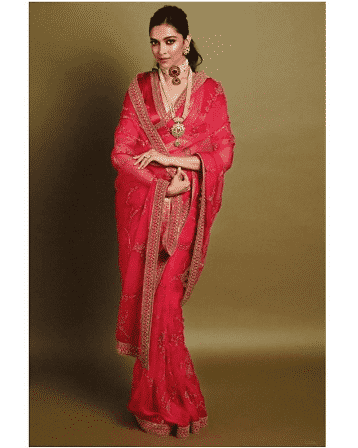 ↓ 8 – Heavy Banarsi Saree
Heavy banarsi sarees are known for their gold and silver brocade or zari, fine silk and opulent embroidery. These sarees are best worn at formal and fancy gatherings, giving a very elegant and beautiful look. These sarees are heavy to carry because they are made of finely woven silk and are decorated with intricate design. This saree brings out an absolutely stunning look and catches the eye of the people immediately. The style and glam of this saree are presented because of the basic designs that they are known best for. These include intricate intertwining floral and foliate motifs, kalga and bel, a string of upright leaves called jhallar at the outer, edge of the border. Other features are gold work, compact weaving, figures with small details, metallic visual effects, pallus, jal (a net-like pattern), and mina work.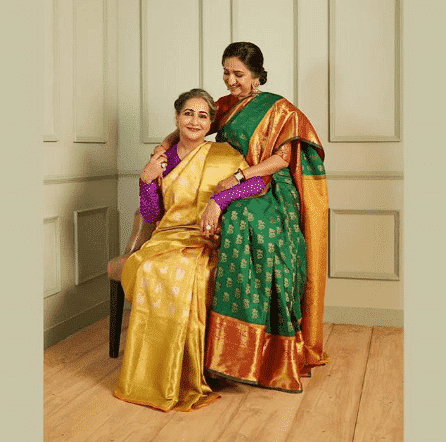 ↓ 7 – Saree with Heavy Border
To get a more heavy and flowy look in your saree, a heavy border is attached at its bottom. The heavy border gives a fancy glam to the overall look of the saree. Usually with heavy border saree, lightweight and delicate fabrics like chiffon, linen, organza, cheesecloth, lace, voile, mesh, habutai are used. Lightweight fabrics are chosen to be used as the fabric so that the heavy border at the end weights it down, and gives it a good gall. If you chose to combine heavy borders with heavy fabrics like upholstery fabric, canvas, brocade, poplin, denim and peau de soie; such fabrics don't fall and stay stiff with the heavy border ruining the basic concept and look of a heavy border saree. A heavy border saree is gorgeous wear for fancy events and gatherings, as they give a very decent yet fabulous look.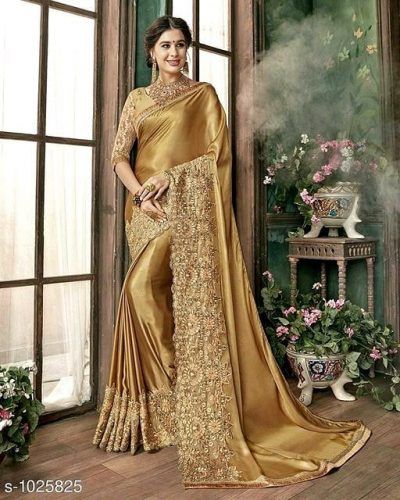 ↓ 6 – How To Wear  A Saree To Look Slim
To look slim and fit in the dress you're wearing is basically what every woman wishes. Now, if you're naturally slim you have no problem and worry but if you haven't achieved your targeted weight you need some tips on how to look slim. Here are some tips that you can use to look slim in heavy sarees.
Firstly you need to pick lightweight fabrics like chiffon and georgette. Heavyweight fabrics like cotton or organza add extra weight and volume to your body and you need to strictly avoid that. Therefore, lightweight fabrics are the fabrics to go for. These fabrics drape well, give you a great fall and gracefully accent your body.
Choosing darker colors like black and maroon over pastel colors is always a wise decision. These colors work wonders in hiding body flab.
Staying away from heavy borders is always considered a better option. Heavy borders make you look big and heavy, while small and subtle borders at the end give you a slimmer and even taller look.
A saree draped and pinned neatly with fewer pleats at the waist is another great way to look slim and sassy.
Choose a fishtail and tight petticoat to wear. You can wear a tube top or a spaghetti top over your petticoat to tighten your body and keep it in a shape. Wearing the petticoat over your belly button is also a great way to cover the fat.
How you drape and pin your saree is the most significant factor. It can either make you as slim as you can or as heavy you can get. A saree draped and pinned neatly with fewer pleats at the waist is another great way to look slim and sassy. Too many pleats around the waist can result in bunching which adds volume around it so it's considered best to avoid that. Pleats at your shoulder should be narrow and neat.
Lastly, the most important tip is to fold your saree very neatly, avoiding overlapping and bunching.
Despite being curvy, Vidya Balan has been the queen of sarees since her debut in Bollywood. She never shies away from experimenting with the latest saree styles. She often styles her heavy sarees with minimal makeup and subtle or natural accessories like gajras. Do check out our exclusive post on How to Wear Saree for Plus Size & Curvy Ladies.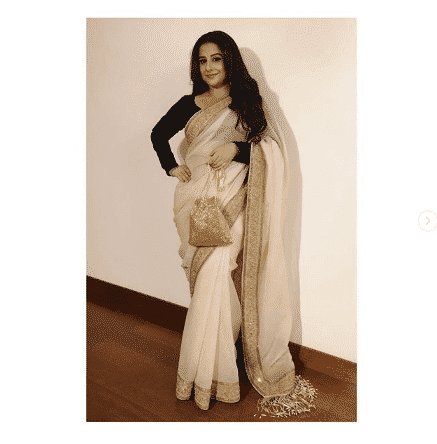 ↓ 5 – Heavy Silk Sarees
Silk sarees are known to be one of the most popular attires not only for a party but also for ramps, fashion shows, award ceremonies, etc. It is designed to glorify different body types and looks absolutely stunning when worn. Choosing the right saree color is one of the main objectives to look good in it. You need to pick such colors that compliment your skin tone. For example, for warm and medium skin tones you should go for red, orange, saffron yellow, hot pinks, peaches, corals or rust color. They should try avoiding neutral colors like beige, gold, purple, very dark blues and green as it may add dullness and darkness to the face. While women with cool and pale skin must choose bright colors like bright blues or bright shades of pink, raspberry pink, lime green, peach, wine, pomegranate, emerald green, midnight blue, etc. They must surely avoid colors like bright orange, tomato red, rose red, bright neon colors, beige, etc.
The embellishments give the saree its fancy and unique look. More ornate and large embellishments look perfect for special and fancy occasions. Shorter women should prefer wearing silk sarees with a short or no border while taller women should pick the ones with a big border, these borders complement the heights. One of the best thing about silk sarees is that silk is a flattering fabric, especially the pure mulberry silk and thus, it drapes very well. These are soft wear and that's why are known to be very comfortable. Silk is known best for its ease in dyeing and printing well because these sarees are very well absorbent. Silk sarees are the epitome of beauty and grace. With all these pros, there still are some cons of a heavy silk saree. The biggest disadvantage being it's the price. Since these are luxurious wear, therefore they are very expensive and good quality original silk sarees may even start from one lakh. They also need special care, and can not be washed at home. They can only be dry cleaned, because they stain with water.
The Kanchipuram silk sarees are the best sellers when it comes to silk sarees and they often have an emotional value as we've seen our mothers and grandmothers wearing them with so much love and care. These sarees come with a contrasting border and they're made with the highest quality silk and zari threads. To make your silk sarees really stand out, here are 20 Latest Blouse Designs For Silk Sarees.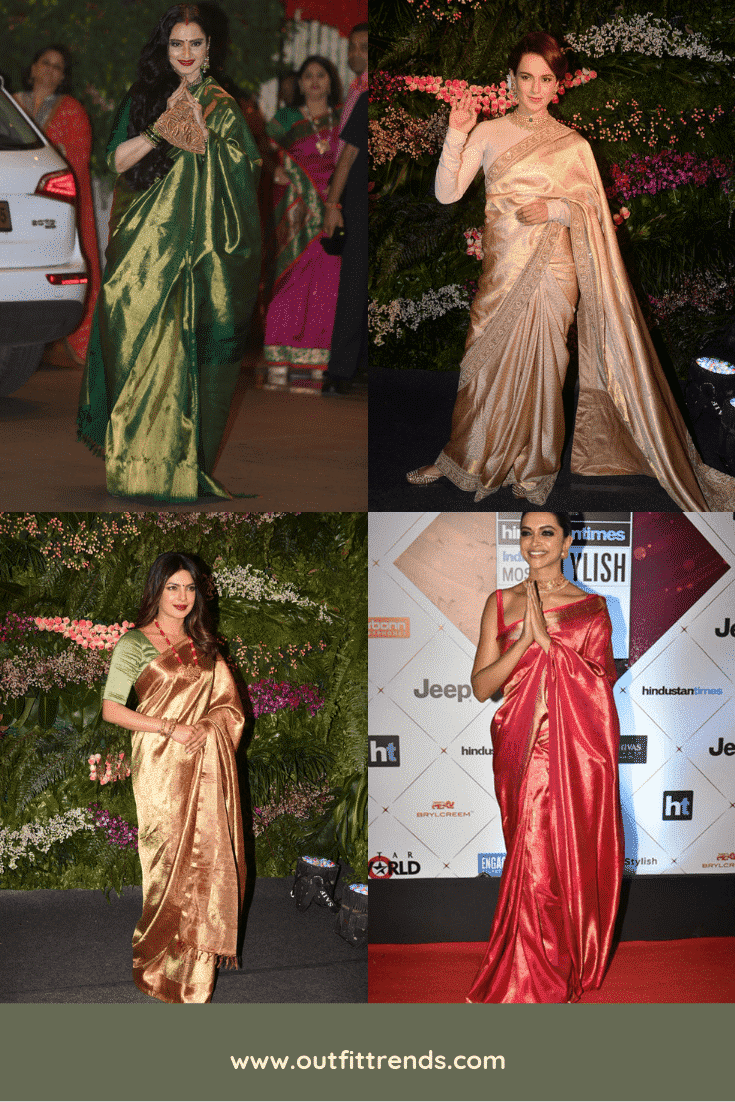 ↓ 4 – Heavy Ruffled Saree For Wedding Parties
Weddings are not only a time for having fun but also a time for flaunting beautiful dresses and serving gorgeous looks. Heavy sarees are an absolutely best fit for showing off your beauty at weddings. Mostly heavily embroidered silk or georgette sarees are preferred since they're easier to manage during the busy and hectic parties. Heavy sarees for weddings should be accessorized with complementary jewelry but shouldn't be overdone as the saree already portrays a quite fancy and complete look.
This year we highly recommend adding some ruffles or frills to your sarees for a statement-making look. These ruffles can either be added on your blouse or around your saree's border.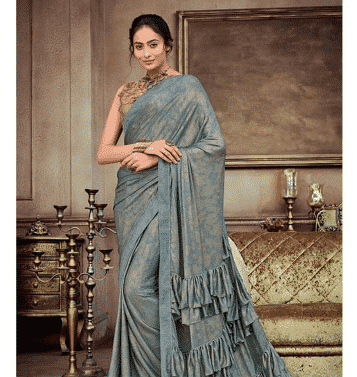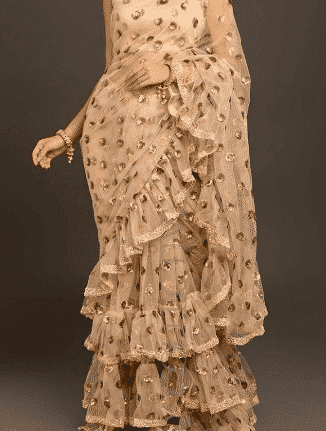 ↓ 3 – Heavy Saree In Lehenga Style
A lehenga saree is basically a new fashion style that blends elements of the traditional saree and lehenga choli.  This type of saree is usually 4.5 to 5.5 meters long. This is quite easy to wear and carry as compared to a proper saree as it doesn't require pleating, you just simply have to drape and tuck. Like that of a traditional saree, the lehenga-style saree is worn over a petticoat, along with a blouse called the choli, which is the upper garment. Different types of embroideries are done on a saree in lehenga style. Some of the most common and gorgeous embroideries are Bagh, chikan, kashida, kasuti, kantha, sozni, shisha, and zardozi This type of saree is worn usually at weddings, as it fulfills the basic elemental wear of a desi wedding which is the lehnga and becomes stylish when given a saree form.
↓ 2 – Heavy Net Saree
A heavy net saree is yet another style of an alluring saree. These sarees are usually worn for semi-formal parties and fancy events as they present glam and beauty. There are different types of nets from which these sarees are made. Bobbinet is a type of net which is made with the help of hexagonal mesh. The net is quite thin and somewhat transparent and is used best in bridal sarees to add fullness to the saree.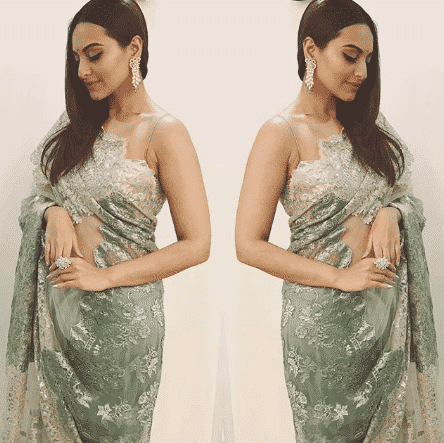 Another type of net known as tulle net is also a hexagonal mesh however, it is specially made from yarns of silk or nylon. This net is stiffer than bobbinet, but still just as transparent and thin. This type of net can be used for bridal wear too. Another popular type of net is fillet net which is made with the help of a square mesh. This net is used in a variety of applications like it can be used to create sections of the saree, such as the pallu. Net sarees are usually highlighted by their gorgeous pallu embroideries.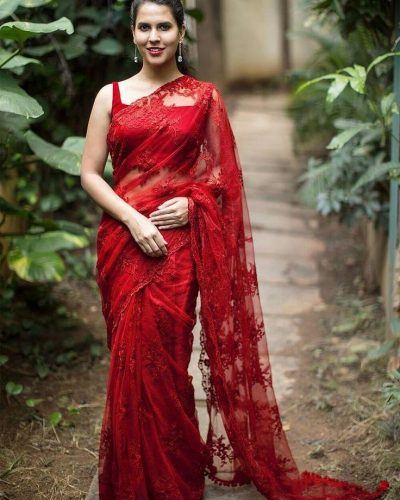 ↓ 1 – Bridal Saree Trends
To look unique and one of a kind on your special day has become an important need for every woman. Bridal sarees take away a lot of pressure off of these women's mind as this is one of the most stunning and simply gorgeous wears for a wedding. There are a lot of different types of bridal sarees from which you can choose the perfect dress for your significant most day. For a bride, it is important to want the bridal dress to be fancier than usual. For this purpose, embroidered georgette, silk and chiffon are preferred. These fabrics when embroidered heavily and neatly look absolutely enchanting.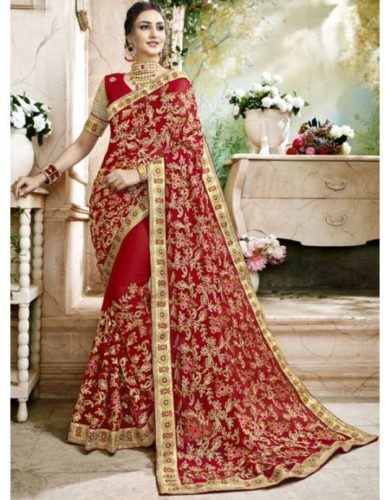 Now, coming towards the latest trends, this year once again the lehnga sarees are a huge hit for bridal wear and we especially recommend the colors coral red and golden.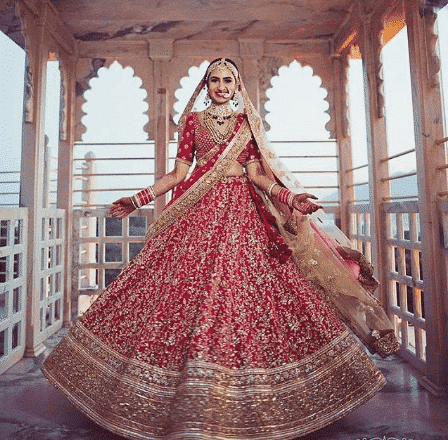 ↓ What Makeup And Hairstyle Looks Best With Heavy Sarees?
It is very important to wear appropriate makeup and have a suitable hairstyle, perfectly coordinating with your saree color. Wearing mismatched makeup ruins the entire look. If your saree color is ivory, beige, white, off-white, cream, or light peach, then you should go for a classic retro makeup look. Retro look doesn't include heavy makeup; it includes minimal makeup, lined eyes, and bold lips. For deep colored sarees, go for a smokey eye makeup look, with blushed cheeks and light or pink lipstick. Usually, a nude makeup looks very gorgeous with a heavy saree as your dress is already quite heavy, you don't have to go for a bold makeup look always. If you have a dusky complexion and are wearing a bright colored saree, then you should go for a dewy makeup so that it complements both your skin tone and saree color. If you are wearing a black and white saree, then go for a subtle and subdued makeup.
Hairstyles are just as important as makeup is to give an overall perfect look. You can opt for a fishtail braid while wearing traditional sarees like pattu or kanjeevaram sarees. You can go for a center or side parting and let your fishtail braid fall on one side. When you don't have time for a hairstyle, you can simply go with straight open hair. Simply do a side parting and let your straight hair fall freely on your shoulders. The hairstyle that suits sarees the most are hair buns. Different kinds of hairdos can be chosen depending on your face cut, like bun braid blend hairstyle, traditional bun hairstyle, a messy bun hairstyle, tight partitioned hairstyle, etc.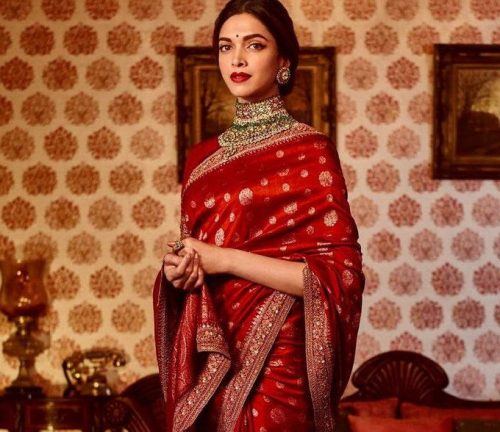 ↓ Best Places To Buy A Heavy Saree
Heavy sarees can be accessed following different designers and brands like:
The famous Indian designer Manish Malhotra designs the most alluring and beautiful heavy sarees. The price ranges of Manish Malhotra sarees that are available online are between INR. 250,000 to Rs. 98,000. This beautiful offwhite net saree with tulle work is priced at INR 195,000.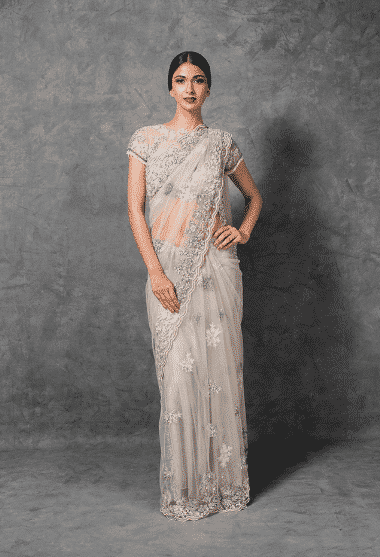 The famous Pakistani designer Zainab Chottani also designs beautiful sarees. The prices of Zainab Chottani's heavy saree ranges from Rs. 15, 000 to Rs. 1,00,000 and above. Visit Zainab Chottani's official website to buy these gorgeous sarees.
The Indian designer Sabyasachi hardly needs an introduction. Original Sabyasachi Saree cost starts at the range of INR 24,000 all the way to a cool INR 3.5 Lakh upwards.
Exclusively handcrafted sarees in contemporary designs.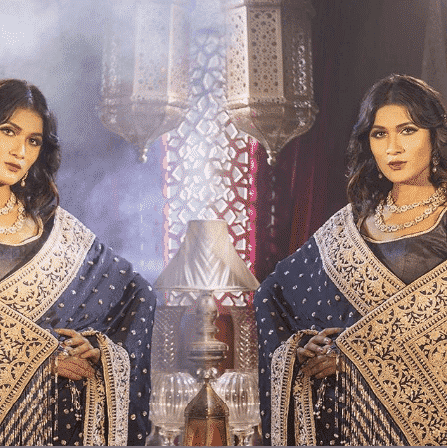 Maria B is a famous Pakistani designer and she undoubtedly designs the most beautiful bridal and formal sarees that are specially made on order.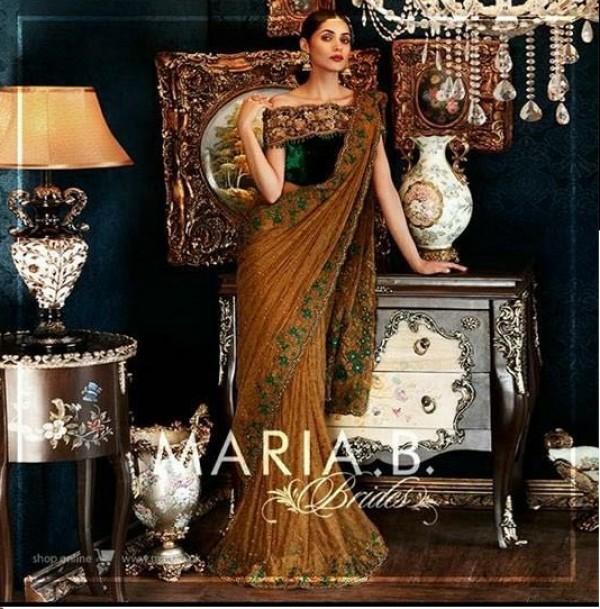 A great Pakistani brand threads and motifs design some beautiful sarees who's prices ranges from Rs. 25,000 to Rs. 40,000. These sarees are availed and can be bought online as well as in store.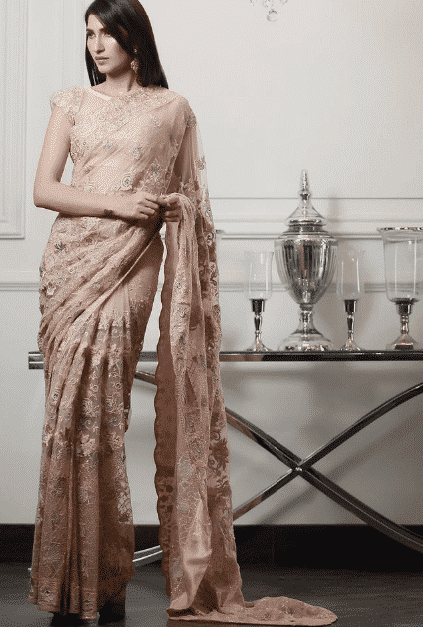 KALANECA- House Of Uppada
A relatively new brand from India but Kaleneca is quickly winning over the hearts of all saree lovers with their exquisite, handwoven silk sarees from Uppada in Andhra.