Saree with a corset blouse – When we think about the latest fashion trends, our minds wander off to something that would make us look unique and trendy. What other trend is perfect and flattering other than the corsets? Millions of blouse styles have successfully cleared the trend threshold but the corset blouse has dominated for a long time.
Styling a corset top with western wear is cool but nothing can beat the look that comes with pairing up a corset top with a saree. This Indo-Western look is the answer to all your fashion concerns. The corset-style blouse is created with decorative patterns or designs, giving the entire ensemble a sophisticated appearance.
Trendy Ways to Wear Sarees with Corset Blouse
A corset blouse is our new favorite fashion apparel. A fitted corset is created by fusing Victorian-era silhouettes with Indian decorations. What could be better than reviving fashion with a sophisticated blouse? Indian corset blouse designs are available to perfectly glam up your style.
Tips and Tricks To Wear Corset Blouse With Saree
The best-looking blouses have halter necklines or are sleeveless. Another choice is full-sleeved corset saree blouses, but make sure the sleeves are netted or transparent. They fit in all the right places, even more when translucent materials are added to the corset necklines and sleeves, giving you a modest yet fashionable appearance.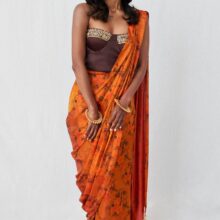 Even though the original corset was not designed to fit everyone, this blouse doesn't require much padding inside, so you may wear it with or without the padding, whatever you choose, in comfort.
Corset tops work well with sheer or net materials, so combine the two. Since the corset is all about being quirky and interesting, experiment with different fabric combinations and edgy cutouts.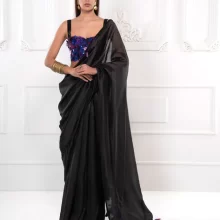 Make sure the corset saree blouses you choose are richly adorned or prominently featured enough to make a statement. As the corset is the center of attention, it is ideal for pairing it with a simple saree. This way, your blouses will take center stage, and you can let go of the accessories if you like.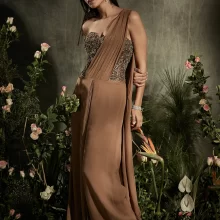 Check the fittings. Any saree may seem gorgeous and sophisticated at the same time with the help of a fitted corset top. It will help define your whole look.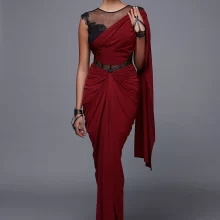 20 – White Embellished Corset with Silk Sarees
If you are looking for something white with golden embroidery or work on the saree, or if you are a fan of sarees and belts, then go for a style similar to this with your patterned corset saree blouse.
This classy corset combines a basic white Kotta silk sari with an extravagantly adorned brocade corset top. The corset blouse with sleeves has flat, sequin-dispersed embroidery. The waist-cinching, 2-inch-wide brocade belt completes the outfit according to your preference.
The fancy corset under the white silk pallu will give you a subtle, classy, yet festive look, along with the sleeves that will act like icing on the cake for your fit.
19 – Monochrome Checkered Look
It's fashionable and simple to try a checkered saree with a blouse. You may choose a checkered style with lovely contrasting hues or attempt the monochromatic look, appealing to a far larger variety of cotton saree fans. Instead of the conventional stiff cotton, go for an extremely fine weave.
You may accessorize the entire appearance with a nose pin, a set of earrings from your jewelry collection, and the ghunghroo necklace to make it more traditional and fitting to your look.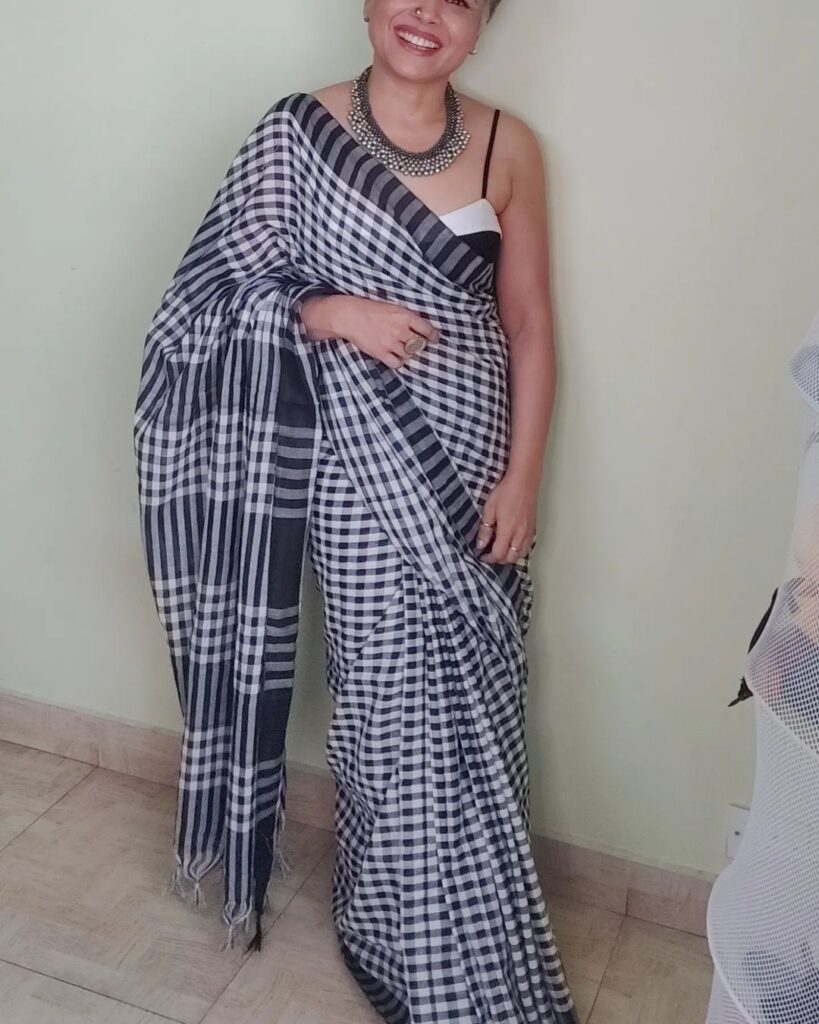 18 – Black and White Saree
A daytime wedding that is neither formal nor traditional gives you a perfect chance to wear something like this.
You can either wear the strapped corset with the white saree or, in case you are not in the mood to show some skin; you can always amp up your fashion creativity a bit and wear a matching white inner under your blouse.
Both of these looks would look perfect on you, and you will be ready for the party or wedding in no time.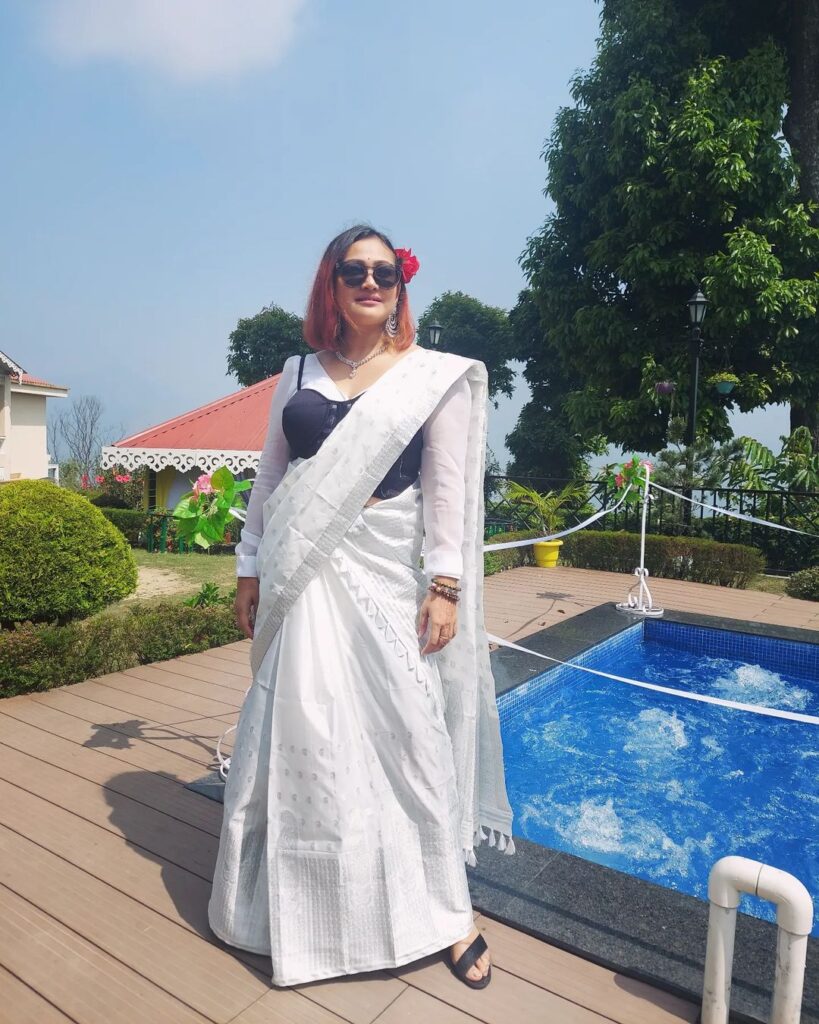 17 – Give A Flattering Look to Your White Floral Saree
If you are looking for something indo-western, you can wear it to any event, from your traditional Indian ones to western tea parties. Then you can go for something as sophisticated as this.
When paired with a white floral saree, the white strapless corset will give you the perfect balance between the two poles apart outfit looks.
To make the outfit more appealing, you can try wearing some fancy pearl necklaces to enhance your neckline and make you look classier than ever. You can even try wearing matching white pearl earrings and tying your hair up in a bun for a regal look.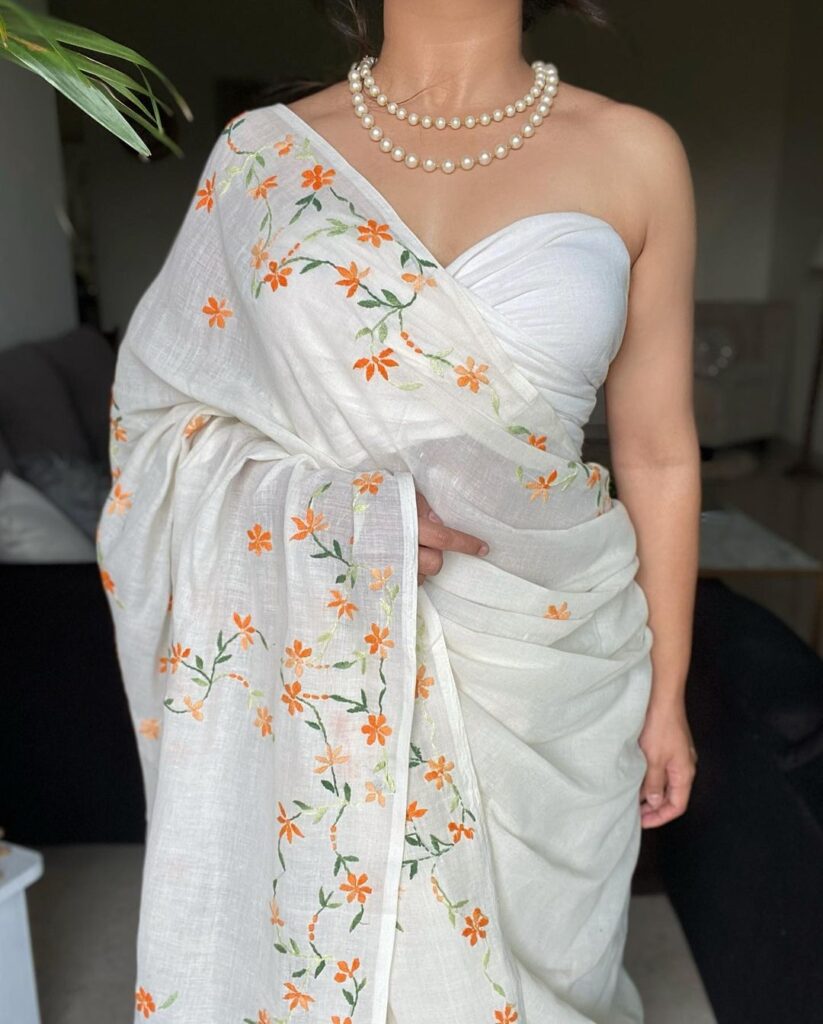 16 – Pink Corset Top and Net Saree
Net sarees have been the talk of the town for a while; they give you a casual and comfortable look if worn right. You can also fancy them and add some details to wear to a festival.
A great color combination of bright pink with white, just like this corset top and saree, is something that anyone can easily pull off.
You won't even need to get a separate blouse stitched for such a casual look. All you have to do is wear that corset crop top sitting in your closet as western wear and pair it up with your netted pallu.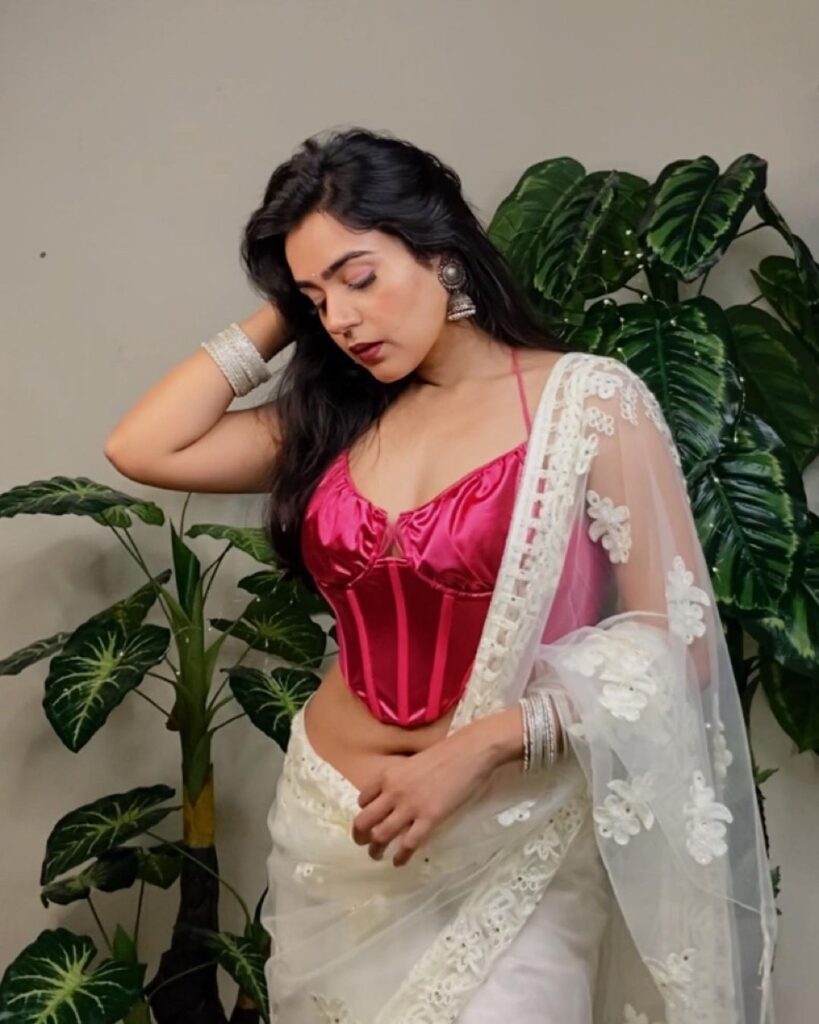 15 – Bedazzled Corset and Pink Silk Saree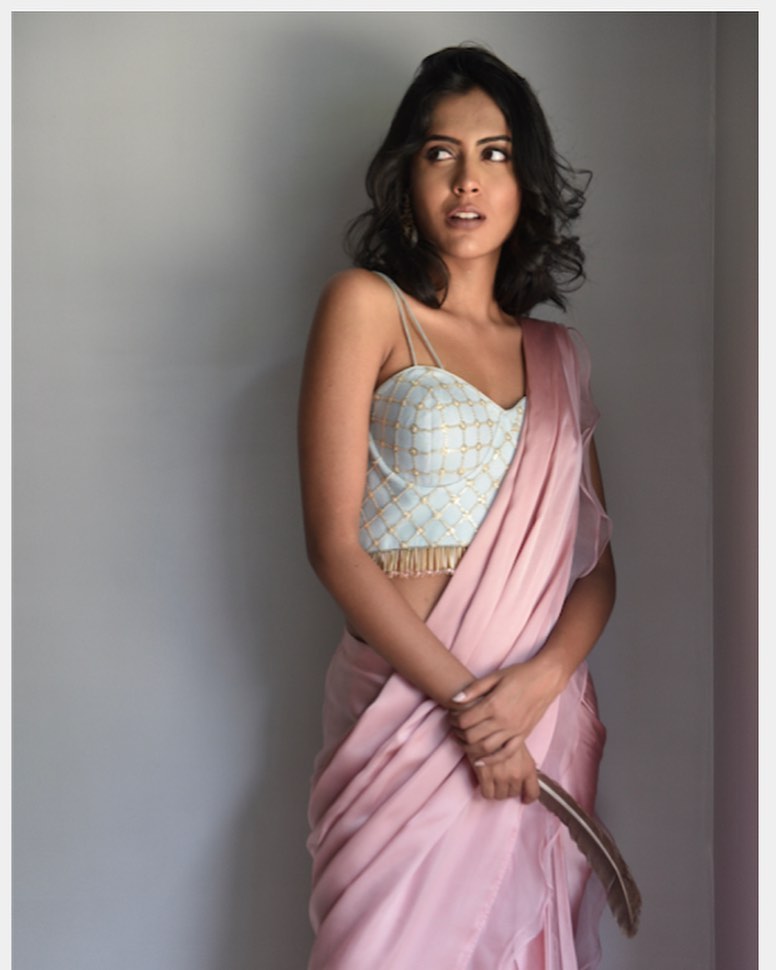 14 – Beige Saree and Pink Corset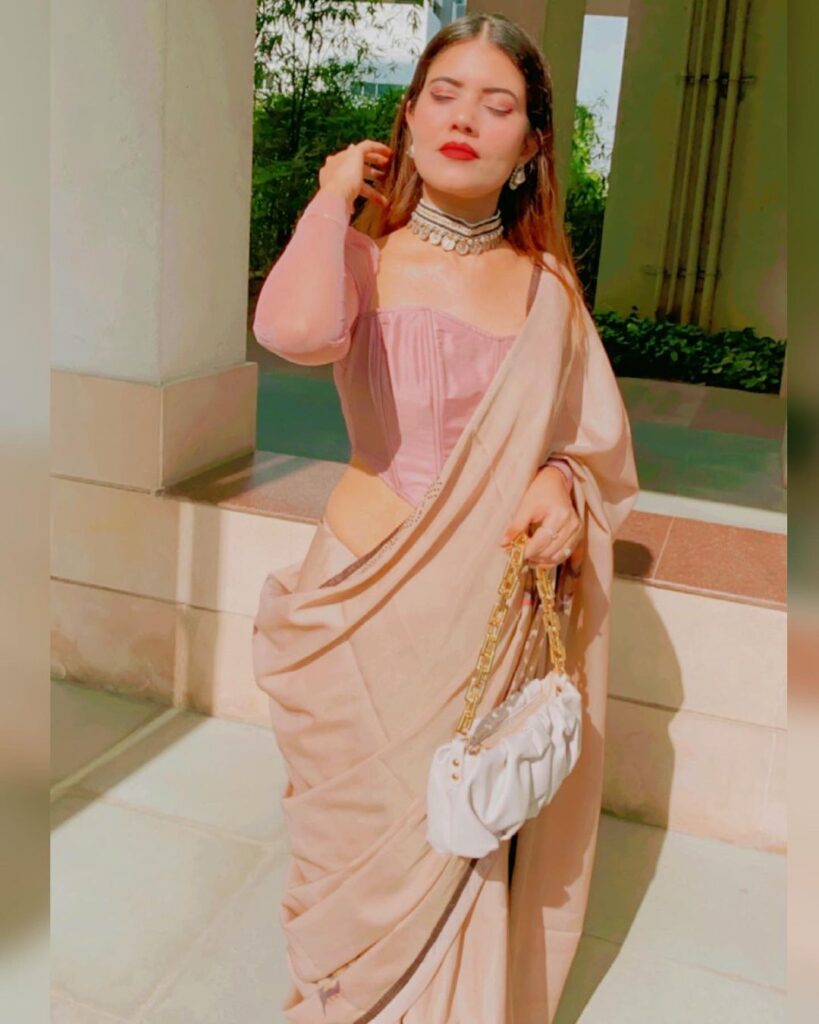 13 – Satin Saree with a Corset Blouse
If you're going to a formal event and need to wear something sophisticated, a pre-draped satin saree looks great with a beige corset.
This saree and blouse are made of satin and net to provide the most stunning appearance, exactly like your preference. The simple color and design of this fit will be perfect to make you look all ready and traditional for the occasion.
You can try wearing minimal jewelry if the event is not too extravagant or you can try wearing jhumka and doing your hair if it is a proper big social gathering.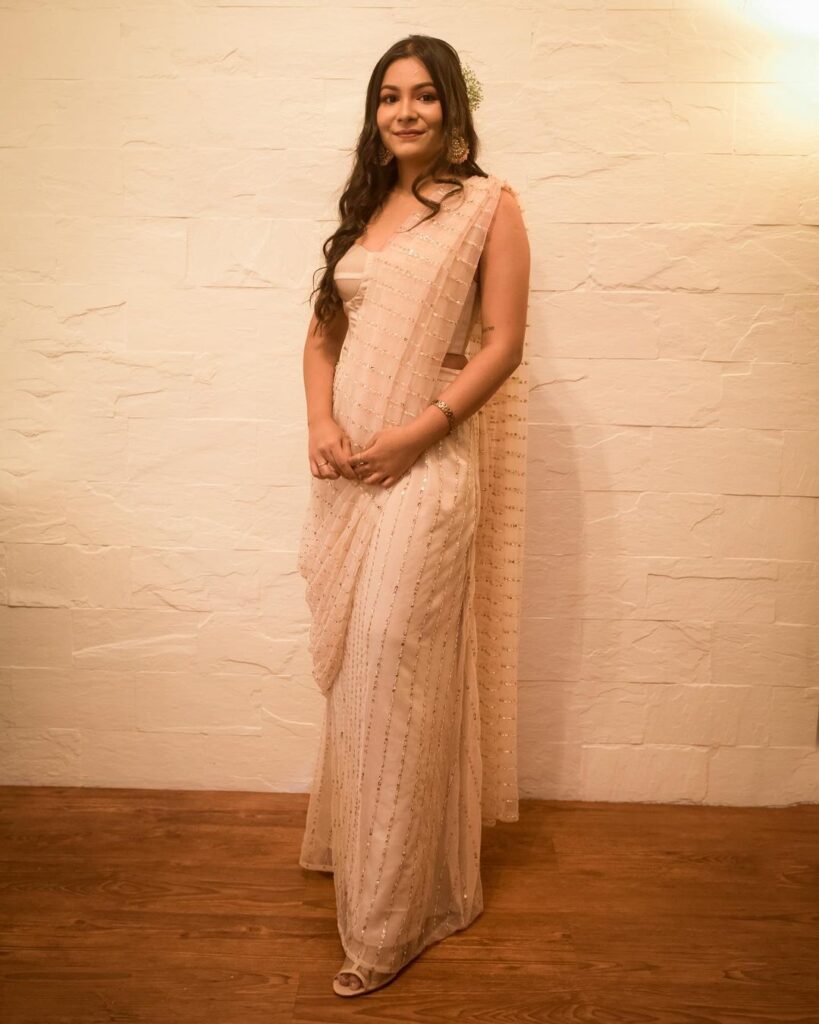 12 – Taupe Ruffle Saree With Corset
For a mehendi event, or a daytime festive with a nude or pastel color theme, you should definitely go for something similar to this.
A threadwork corset top or blouse can be worn with a taupe color tulle saree with ruffles, crystal, and mirror embroidery.
The intricate details of the ruffles and crystals with a hint of green or beige color are eye-catching. The subtle look of this saree and blouse will definitely steal the show, as it will fit you and match your vibes perfectly according to the occasion that you attend.
11 – Green Embellished Blouse and Kota Zari Saree
For all of your traditional celebrations, a lovely red and pink zari Kota saree would be a stunning choice of clothing. This red patterned zari Kota looks stunning with the embroidered corset.
Kota Zari's checkered weaves are highly regarded. This finest weave is featherweight, silky, and exudes an air of elegance. This intricate saree, which takes a month to create, is a priceless inheritance. A true Kota Doria sari would have the GI mark woven into one corner to show that it was manually woven with genuine silver and gold thread.
You will look elegant and festive ready with the bright colors and the beautiful design.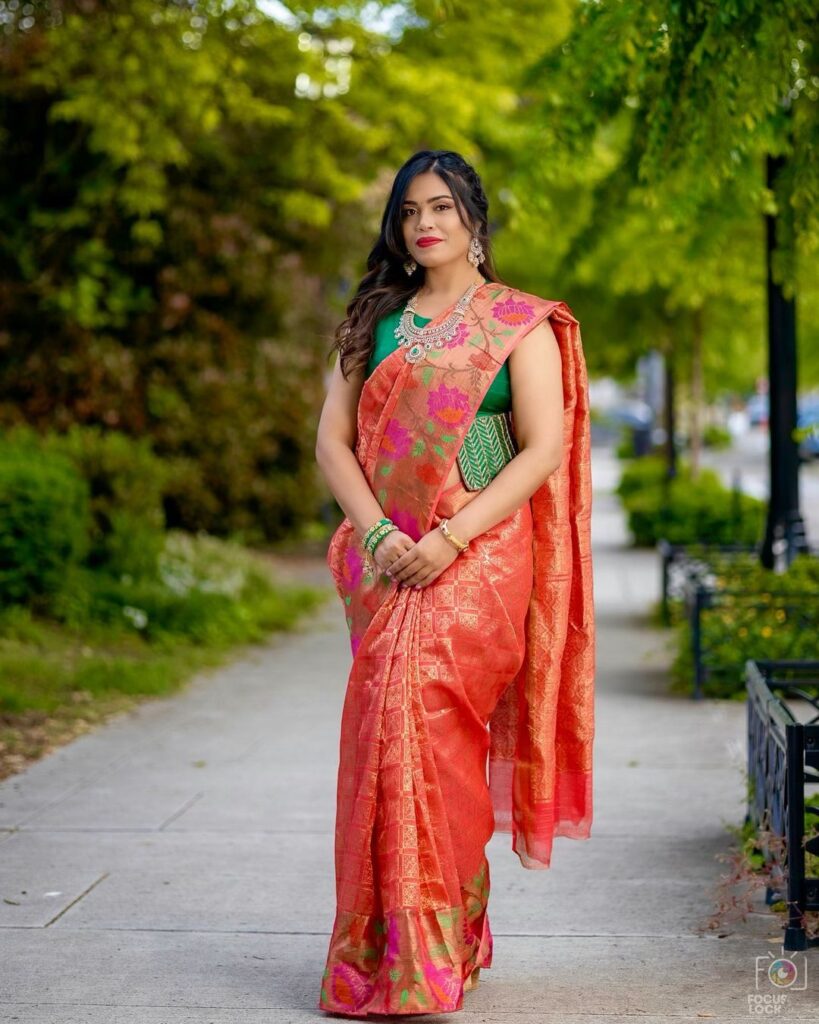 If you are going to any family dinner or small function, you can try wearing something as simple as this Indian corset blouse design and matching saree.
If you want to go a little extra, you can try wearing a fancier corset crop top rather than a simpler one like this. For your long day, consider wearing bangles in addition to jewelry.
9 – All Red Indo-western Outfit
Ever want to look traditional, embrace your culture, and at the same time add a bit of your creativity to it to make it look more regal or something that goes well with the Victorian era? This outfit is the answer to all your dreams.
A net corset saree blouse with matching net gloves that were worn by royals in the past and a matching vibrantly red silk or satin shaded saree is the perfect fusion that you have ever wanted. This red look will make you stand out and feel more confident about your attire and how you have paired it up.
You can also try wearing a different colored blouse and gloves or keep the blouse, change the saree, and opt for colors that were more common in royal times, like pink.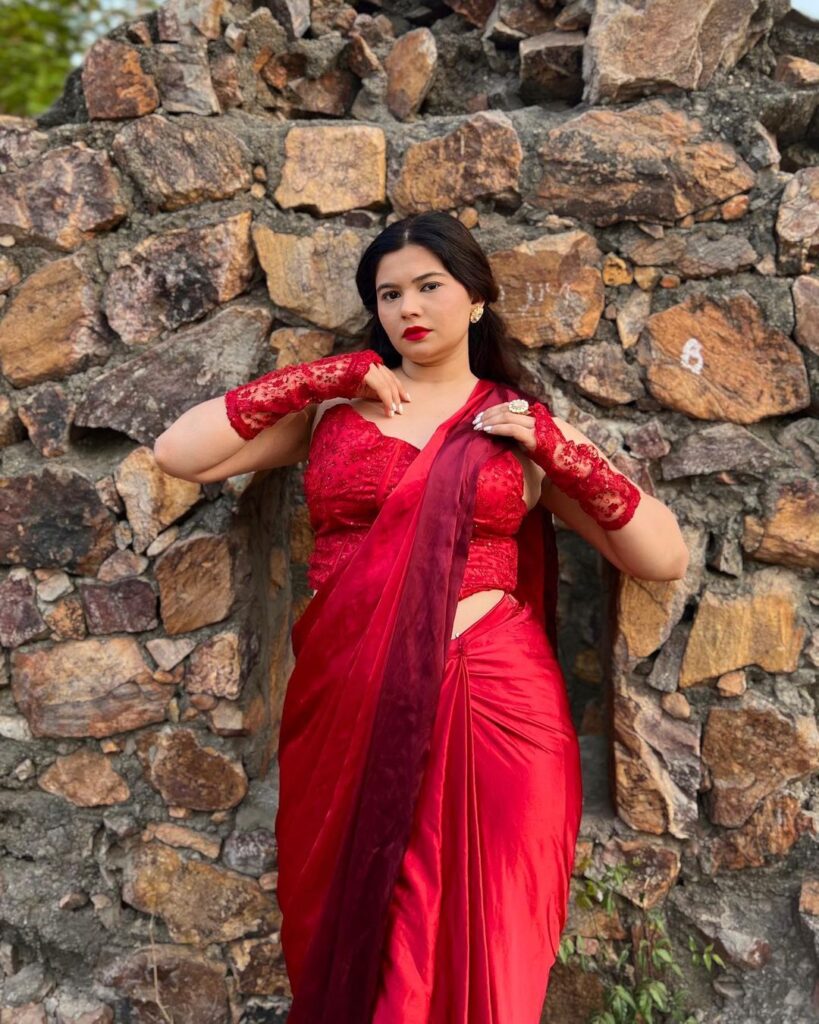 8 – Butterfly Patterned Saree with Black Blouse
A go-to saree look is this, with the butterfly patterned pallu, you can easily wear it to any casual outing. The black blouse adds to the classy vibe of the whole outfit. Everybody will look good in this fit.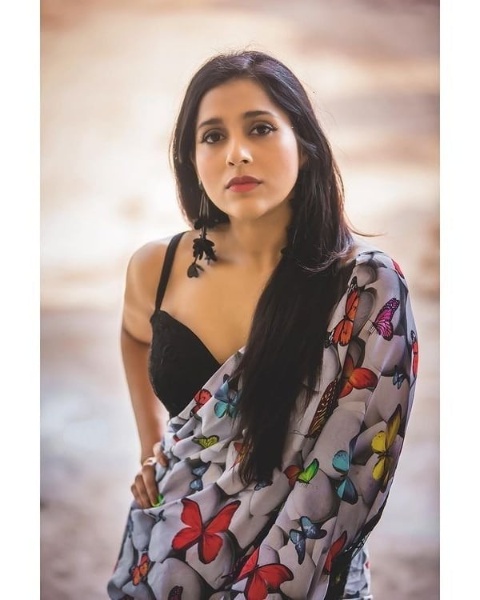 7 – Patterned Blouse and Saree
Apart from all the simple sarees, with embroidered or fancy corsets, you can also go for a patterned saree and a matching co-ord blouse set as well.
Just like this saree with layered details and an all-over pattern that is matched with a blouse and has ruffles at the end, along with the sweetheart neckline of the corset. This look is perfect for any formal event.
The light blue color, along with the repeated patterns, are attractive to the eyes, and you will look elegant in such Indo-Western wear.
6 – Grey, Blue, and Purple Combo Saree Look
If you're on your way to a wedding, you should definitely go for a colorful look that would catch everyone's attention, like this saree outfit.
The grey corset crop top and the perfect combination of blue and purple suit anyone perfectly well. You can even wear heavy jewelry if you think your outfit is too simple for the event.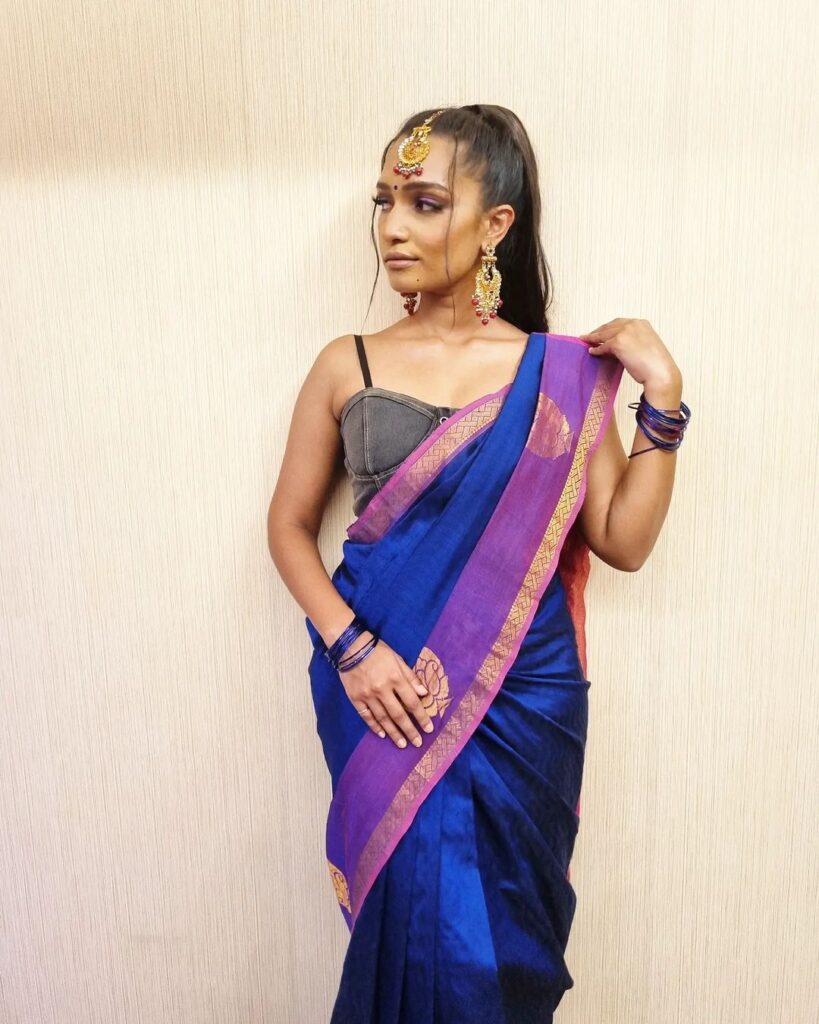 5 – Purple Strappy Corset and Green Saree
Festivals like Diwali are to be celebrated with preparations, fancy clothes, and you looking pretty throughout the event.
That is exactly why you will need a ready to wear green georgette saree with a strapless corset saree blouse that is appropriate for Diwali. The funky color combo will be perfect for such a colorful festive.
When paired with a green pallu, the western purple corset will make you appear stunning and sophisticated in no time. This last-minute outfit is something that everyone will surely love, as the creative and vibrant saree will bring out the inner diva in you.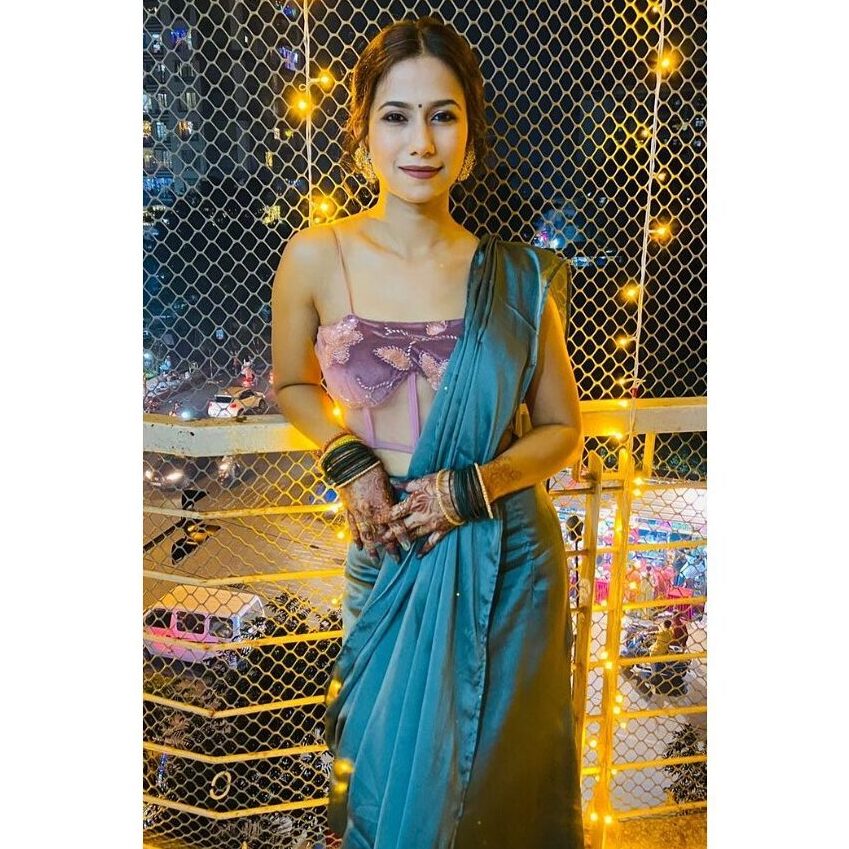 4 – Lilac Saree with Matching Corset
We all love a bit of lilac in our lives, but the cherry on top would be the dusted lilac color that gives off an elegant and royal look.
The knitted saree with small details of crystals and the matching well-fitted blouse with white dotted lines of embroidery over it is unique. These different yet cute attributes on your saree will help you look better.
You can wear this at any wedding or traditional or cultural gathering you have to attend. Any place you visit will complement the fusion style of this outfit.
3 – Glittery Saree with Vibrant Corset
One of your favorites is this vibrantly colored outfit. This trendy saree is ideal if you want a fully hand-beaded top and a pre-stitched, pre-draped glittering saree.
This outfit's corset top is hand-beaded with vibrantly colored threads and beads in a contemporary flow and seamless ombre. Everyone will adore your look with just one glance.
Additionally, the multicolor blouse gives a variety of alternatives, allowing the saree to be customized in any color. What could be a better alternative than a corset that will look great with any saree? You could also try wearing the blouse with any western fit.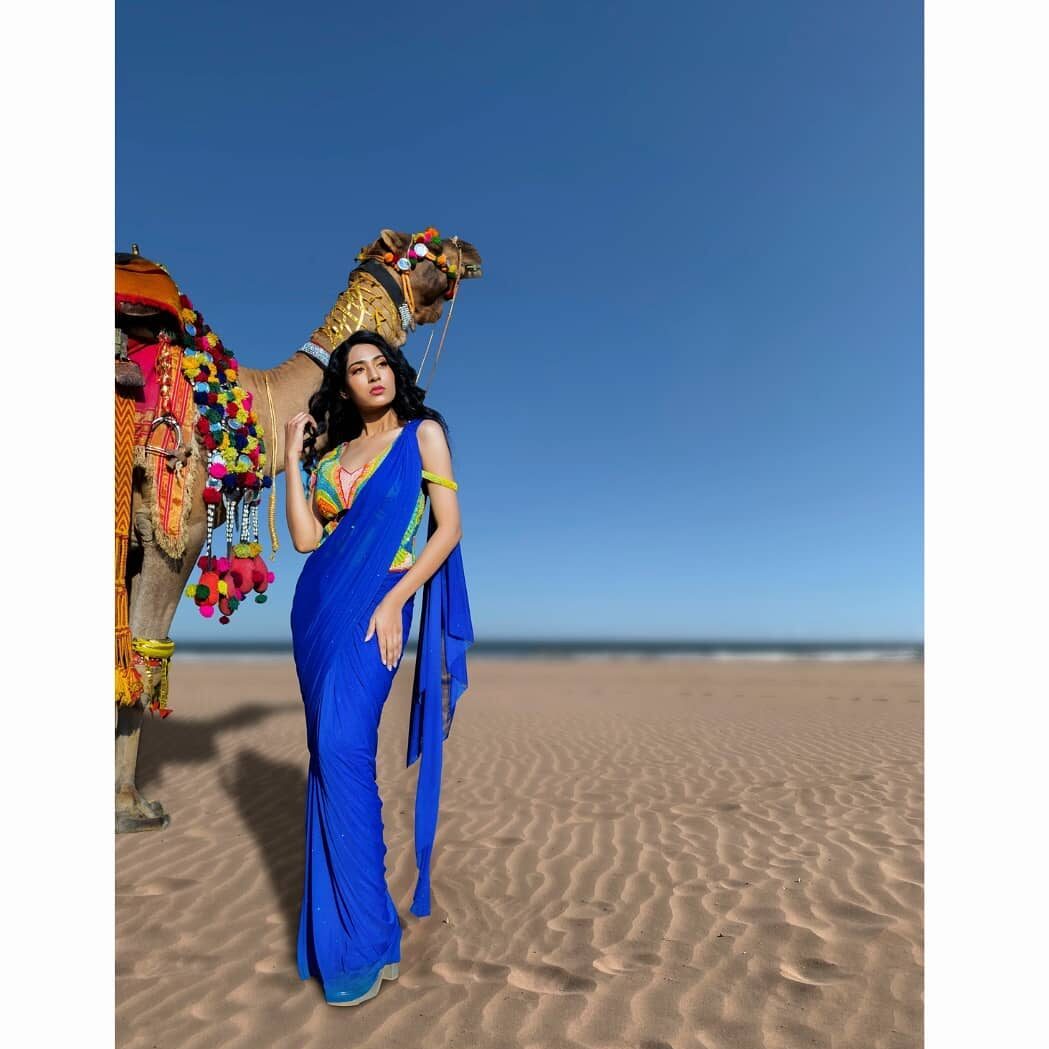 2 – Shades of Yellow Saree Look
You can don Indo-Western attire every day this Navratri. You may play imaginatively with the items of clothing you already own and figure out how to wear a corset with a saree.
The hues of yellow in the full sleeved corset top along with the printed saree will make you look elegant in such a fusion look for your big festival. You can try many creative ways to pair these two together or wear a white blouse with your yellow saree; that would work amazingly too.
Additionally, you may accessorize your outfit for the occasion with stunning, one-of-a-kind silver jewelry and gorgeous celebratory accessories.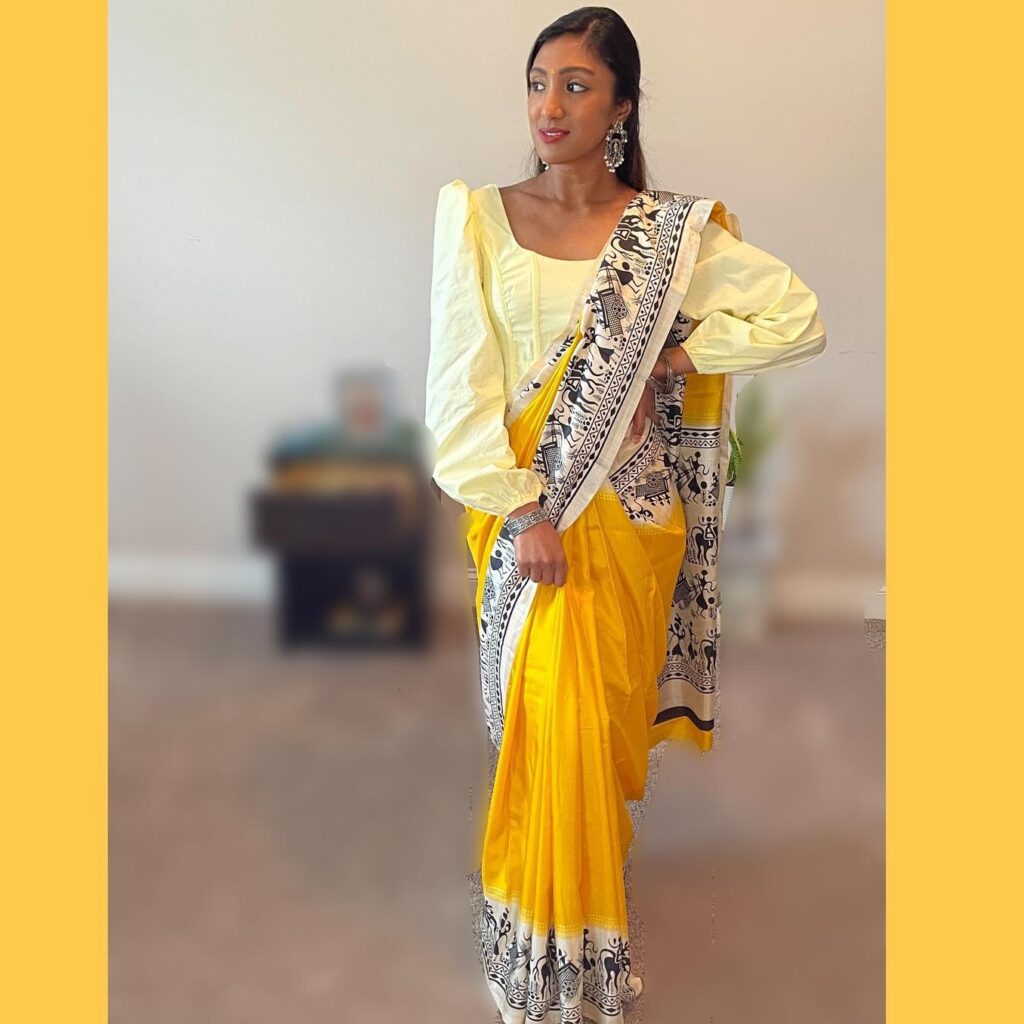 1 – Casual Black Corset and Orange Saree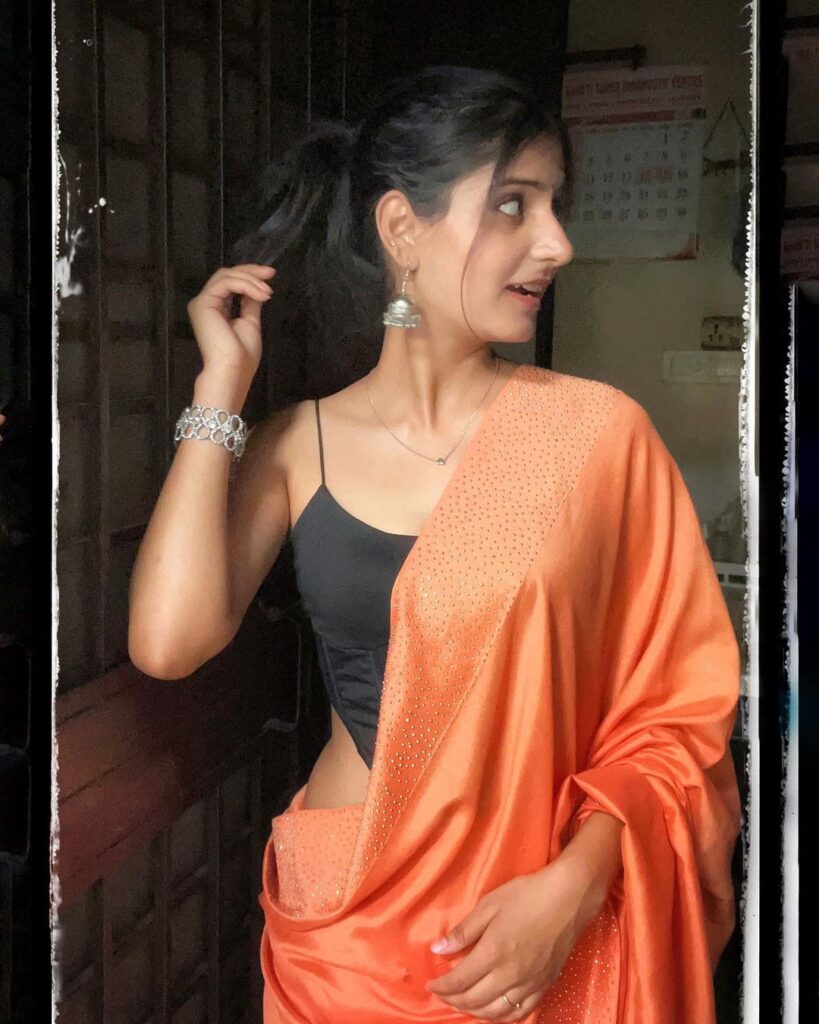 Frequently Asked Questions
Q. What is corset blouse?
Ans. An Indian saree blouse that has been sewn to resemble a corset is known as a corset blouse. It is an open-back shirt that frequently has a zipper, buttons, and tie-up lace. In contrast to a regular blouse, a corset saree blouse is only long enough to cover the bust. All ladies can wear this kind of blouse.
Q. Can we style a corset blouse with a saree elegantly?
Ans. A saree and a corset blouse make the ideal modern and traditional outfit. The fusion of this traditional saree with the western corset top will give you the elegant and modern look you are looking for.
Q. How should a saree corset blouse fit?
Ans. Most corset saree blouses are designed to suit the wearer's upper torso. As a result, it is crucial that the blouse's "fit" and "cut" are flawless. Too-loose blouses will seem dowdy, while too-tight ones will make you uncomfortable and look ugly.
Q. Which colour corset blouse is suitable for all sarees?
Ans. Even if your saree doesn't have a particular hue, you may still mix and match your blouse! Follow the idea of pairing similar colors or striking contrasts for a stylish, modern look. Start with traditional color schemes like yellow and green, blue and pink, and black and any vivid hue.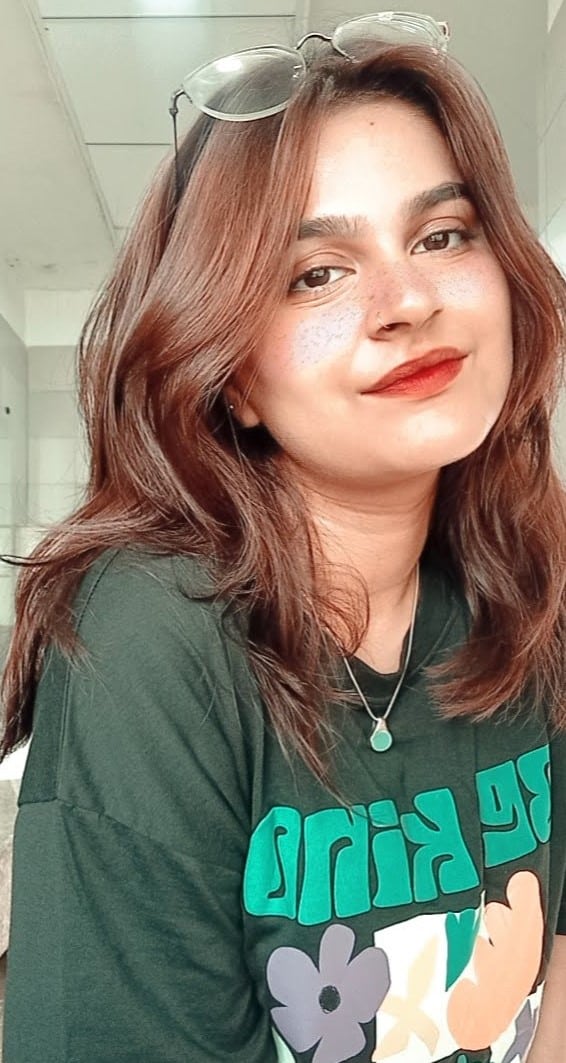 Adeena is studying Media Sciences at IoBM. She is a freelance content writer and graphic designer with experience in UI/UX as well. Adeena loves writing about fashion, taking photographs, making videos, and exploring many artistic things in her life.