Cruise outfits for Women: Cruise Trips can be so exciting, but the packing process can sometimes be a bit of a challenge as you don't want to overpack. But at the same time, you don't want to leave behind your favorite clothes. So we're here to help you pack for your cruise with some great outfit ideas.
Vacations are like taking a break from our daily lives. A Cruise trip can be more than just a vacation because you're going to travel around the sea. On a cruise, you can explore the seaside, but without actually leaving your comfortable beds or missing out on parties. You'll have to pack clothes that always look good as you do.
What To Wear on a Cruise Trip?
Here are some useful tips/tricks that will be really helpful in your packing list. Please note that these tips have been drafted when considering a one-week cruise trip. If you're going for more days then you'll have to plan accordingly but this will give you a good idea:
Pack at least one set of heels or flats to wear with your dress. One pair of day shoes as well. If you like to workout then do bring your sneakers or workout shoes.
Cruises Trips are generally for a whole week, So carry 7-8 outfits and some extra clothes.
Bring a few basic pieces of jewelry to mix and match with your outfits.
Bring some warm clothes or a sweater because the nights are usually cold, and even when they're not, the air conditioners on cruise ships can make you feel a little chilly.
If you're stuck wondering what to wear on a cruise, take some inspiration from these incredibly simple vacation outfits.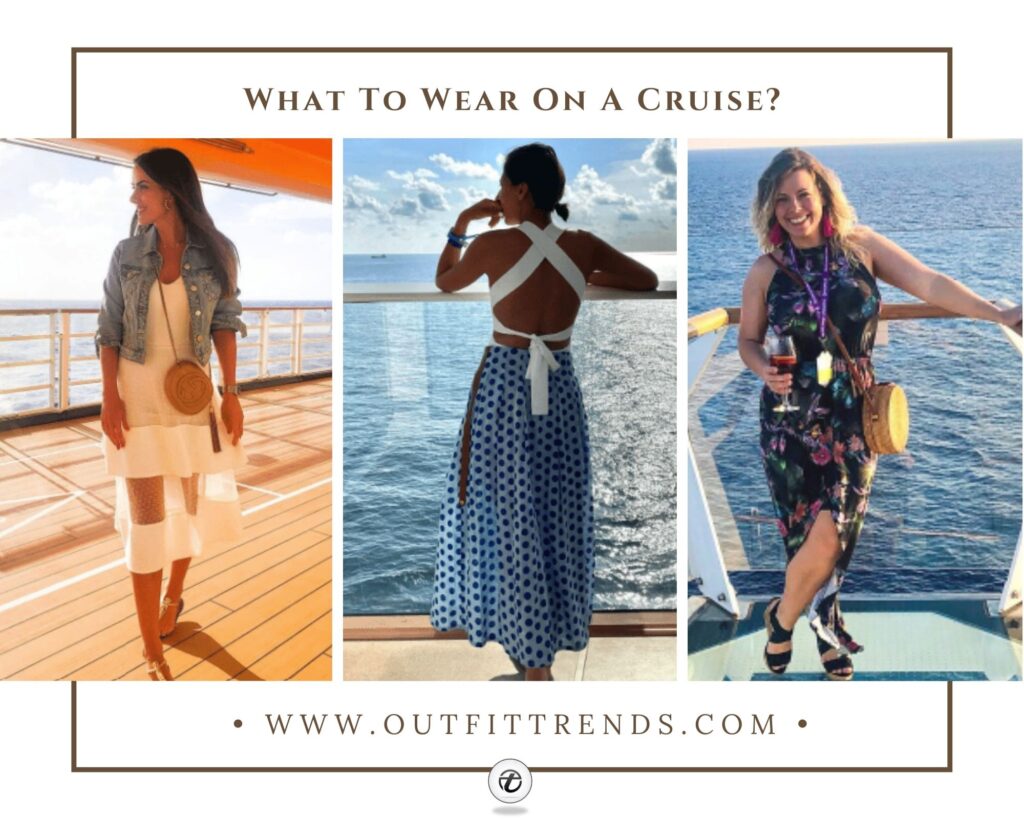 24 – Cruise Date Outfits
For a date on a cruise, you want to look minimalist but fresh so go for a simple printed dress like the below ones in polka dot and striped prints. Keep your makeup as light and natural as possible.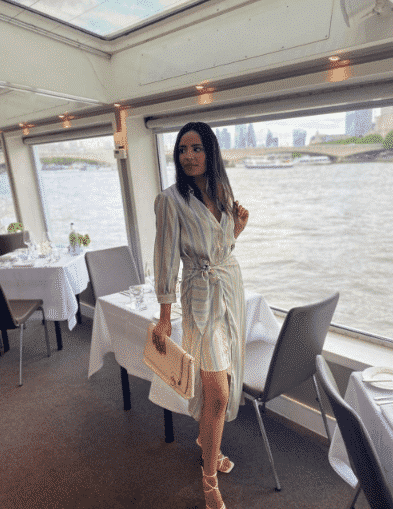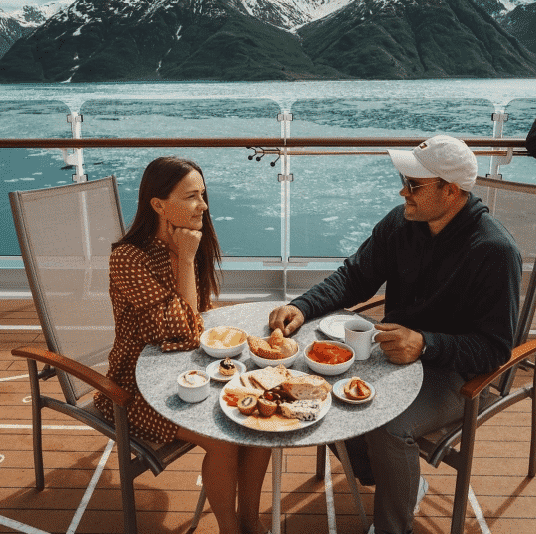 23 – Casual Outfit
Both striped tees and blue-coloured tees are the best choices when it comes to a casual outfit. You can wear them with bottoms of your choice, including white pants, shorts or skirts. Or you can just wear baggy tees on their own.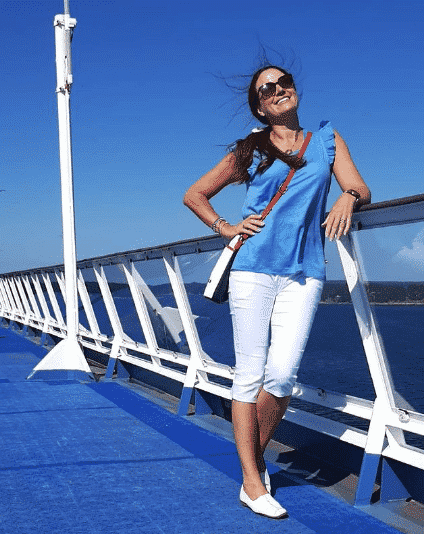 22 – Red Pants
Bright and bold outfits always look good in your cruise pictures and there's nothing better than red pants when we talk about bright colored outfits. If you're confused about what to wear with such pants then do go through these Ideas On How To Wear Red Pants.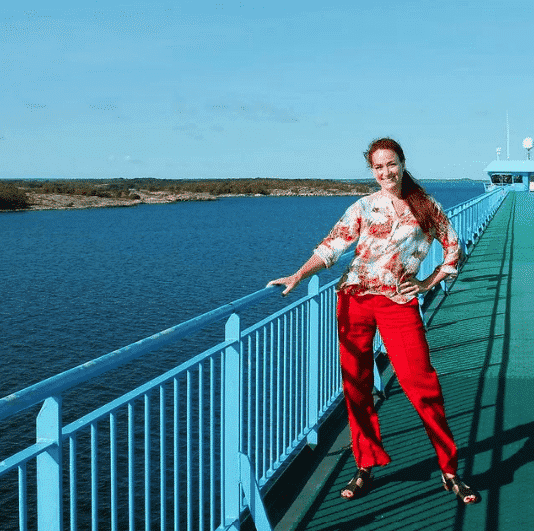 21 – Tie and Dye Outfits
Tie and Dye outfits, particularly in black or blue colors on a white base are a great choice for cruise vacations. You can choose them in either dresses or shirts, in a shape and style that suits you best.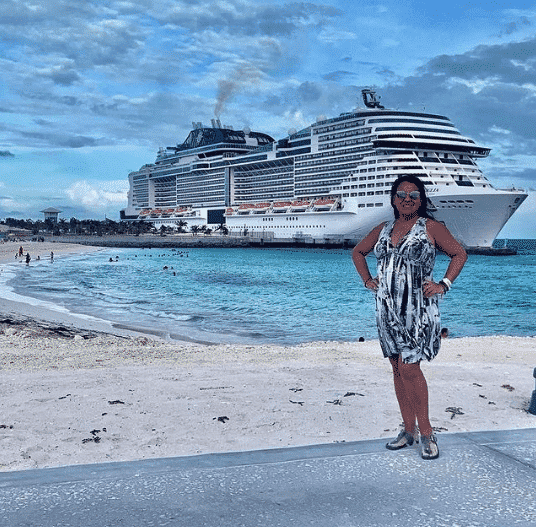 20 – Can I Wear Boots on a Cruise?
Of course you can! Both brown and black boots and booties are not just very comfortable but they can also be paired with a number of outfits. If you're comfortable wearing them then do pack them for your trip. If you're unsure about what you'll wear with these shoes, do go through these Stylish Outfits to Wear with Long Boots This Season.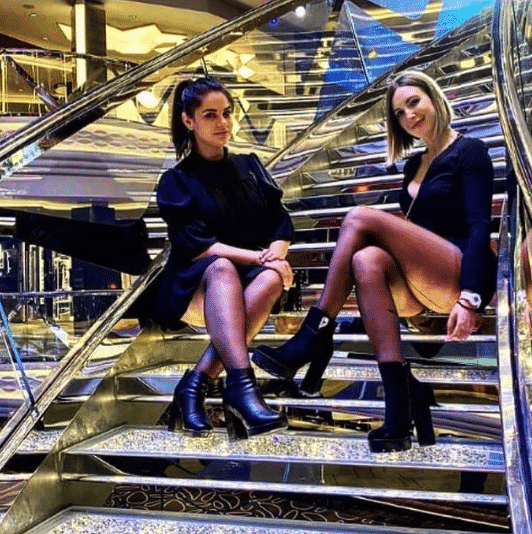 19 – Funky Tribal Prints
Tribal prints are funky, bold and eye-catching – so whether you're planning on sitting by the pool or reading a book in the lounge, a tribal print dress is always a good choice. Most of these dresses are incredibly light weight so you won't have to worry about over-packing.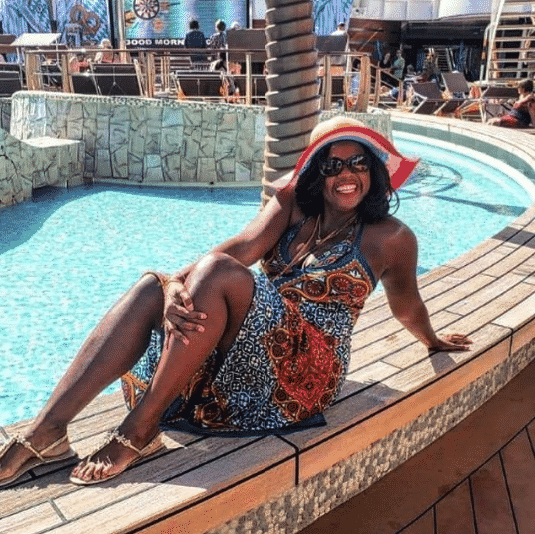 18 – Striped Pants
Just like your favorite jeans, your striped pants can be paired with any top you want. And the advantage they have over jeans is that these pants mostly come in lose fittings so you're more comfortable, especially when cruising in Summers or humid weathers. Here are more ideas on the different Ways To Wear Striped Pants.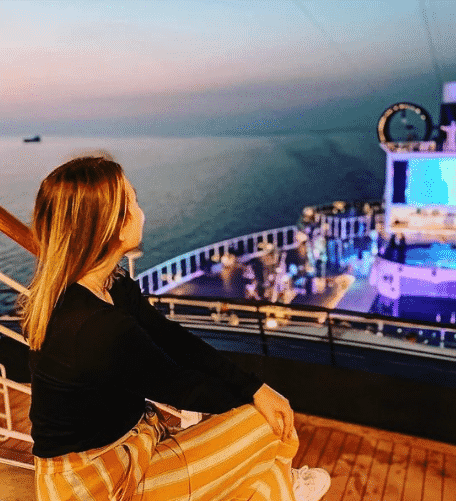 17 – What to Wear on a Cruise in Winters
If you're looking for some real cruise trip inspiration, I highly recommend that you follow Graziana from Cruisedapril on Instagram. She's an Italian beauty, currently based in Germany who loves cruising and shares lots of fun cruise experiences on her blog.
Pictured below is one of our favorite winter cruise outfits from her profile. This beautiful Pink blazer is a must-have for any day-time cruise this year.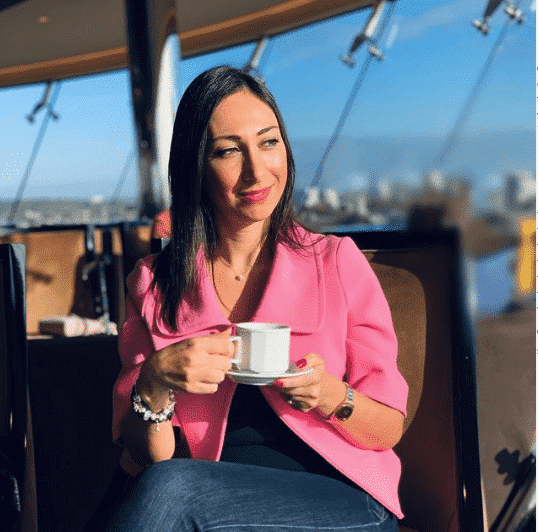 16 – New Year Eve's Cruise Outfit
New year's eve is one of the most special nights of the year and if you're lucky enough to be cruising on this day, you need to go all out. Once again, we're taking inspiration from the cruising queen, Graziana as we crush over this gold sequin dress of hers.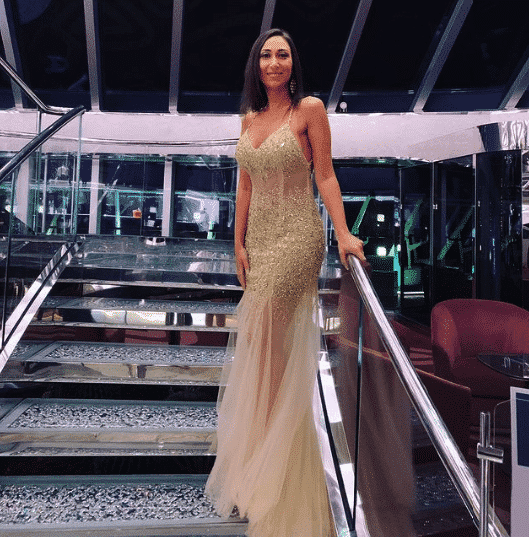 15 – Plus Size Cruise Outfit
Maxi dresses make great cruise outfits for curvy and plus size women but you want them to have detailing at the right places.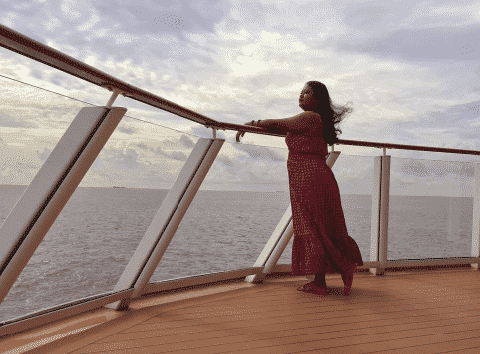 For casual wear, bright colored tops and jackets are an excellent choice: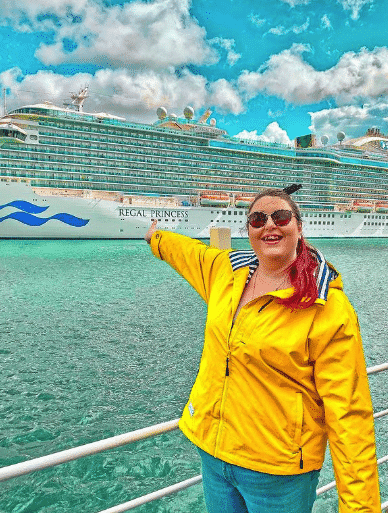 14 – All-White Cruise Outfit
White is definitely the best choice for daytime cruise outfits as it looks angelic when work around water. You can layer your white dress with a denim or leather jacket if you want.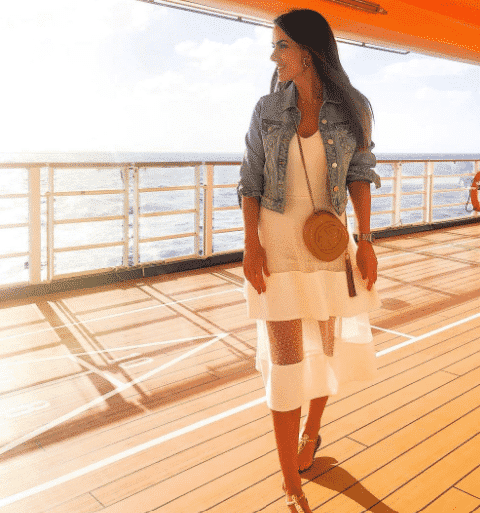 13 – Cruise Dinner Outfit
If you're going on just a one-day dinner cruise for a few hours, you would want to go fancy and wear a dress, especially if you're going with someone special. Choose colors that look good at night such as blue, red, black or gold.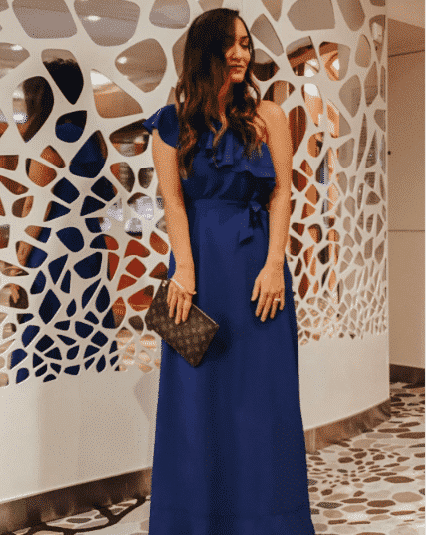 12 – What to Wear on a Cruise in the Evenings?
For evening wear, most people choose to go with formal or semi-formal outfits. If cocktail dresses are not your thing, you can dress up in a formal top, designer jeans and heels.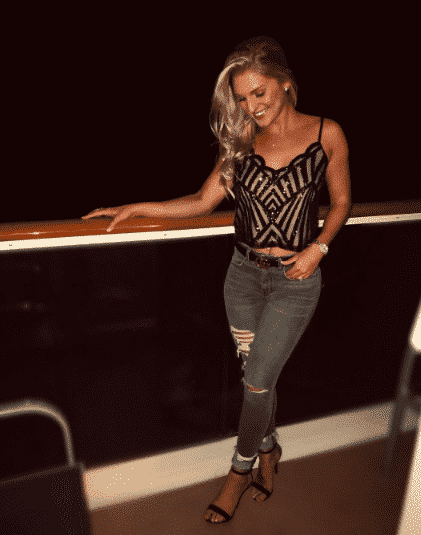 11 – Floral Print Outfits
Floral prints look great against the blue ocean backdrop and the best thing with these prints is that you can always find something that suits your style. From pastels to bright and from bold to dark colors, there is such a huge variety of floral outfits that you can find these days.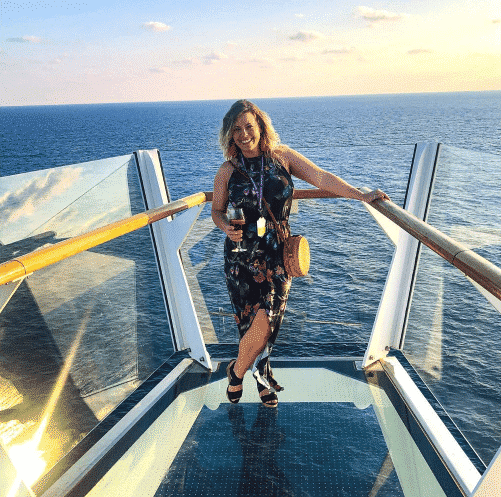 10 – Statement Backs
For those dreamy pictures as you look off into the sunset, statement backs are the perfect choice. Do check out these tips on what Bras To Wear With A Backless Dress For A Perfect Look. You can also choose swimsuits with statement backs and then layer over them with a skirt.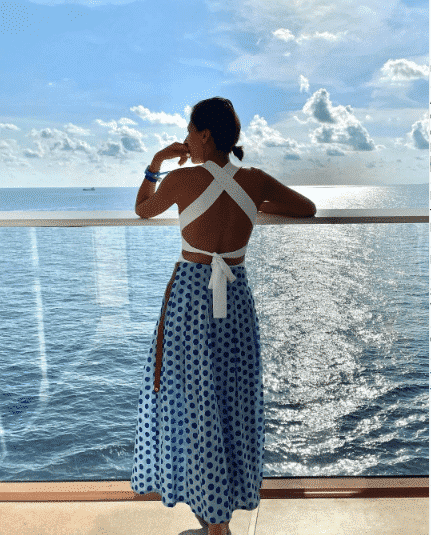 Swimsuit from Ubu Swimwear
9 – Playsuit
The good thing about packing playsuits like these is that you can easily mix and match them with other outfits to create new looks.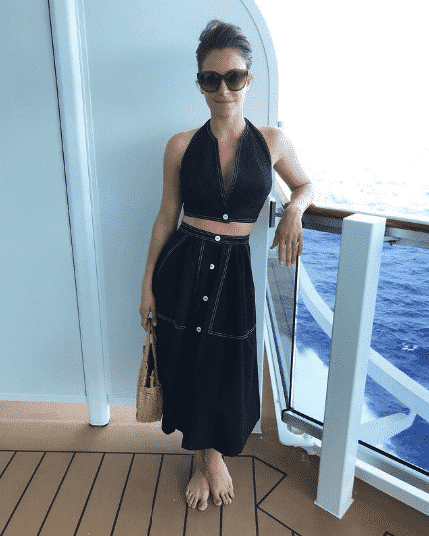 8 – Must-Have Cruise Trip Accessories
Keeping the latest trends in mind, you must pack with you a straw hat and either a straw or bamboo bag. Both these accessories give off those cruise vibes that we love and you can easily pair them with any outfit for a nice, relaxed day on the cruise. The spacious bags are also great to store other cruise essentials like sun-screens. And if they're big enough, you can even carry your cover-up in it.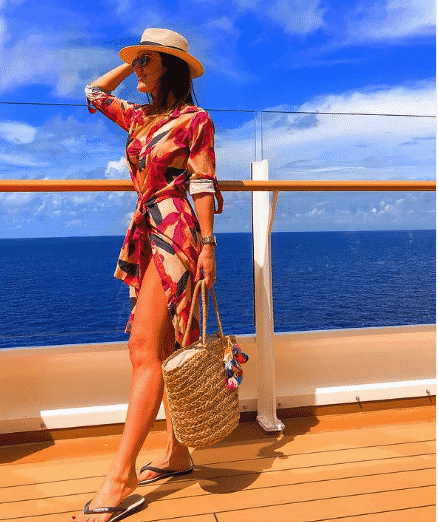 7- First Day of Cruise Outfit
On the day of departure, the outfit should be casual because throughout the day you will be exploring around the cruise, and taking some good pictures for the gram. The first-night dinner is also served casually, so there is no need to wear anything formal on the first day. Here's a complete Smart Casual Attire Guide for Women.
6- Cruise Formal / Gala Night Outfit
Gala Night on a Cruise can be a once-in-a-lifetime experience. Outfit for Gala Night is supposed to be formal. Nothing can ever go wrong with a formal long Maxi with this beautiful front cut look. Always choose heels with this outfit, it can either be mid-length heels or any other pair of heels according to your comfort. For more ideas, you should check out these Women's Boat Party Outfits.
5- Beach Day Outfit
A Beach outfit is a must-have. On most cruises, you'll be spending an entire day on the sea, so you must make sure to pack up a beach outfit. Choosing the right color according to your style is important because you don't want to have a bad picture day at the beach. If you're Accessorizing with jewelry, it will definitely complete your look and if it's a chilly destination then you would want to keep some cover-ups or kimonos.
4- Port Stop Outfit
Cruise port stops are great, also getting some time for shopping. As there are some spots to explore a new place and shop around. Outfit for shopping day must be on-point. If it is a sunny day, You can also replace these jeans with denim shorts.
3- Jumpsuit Outfit
We all enjoy wearing jumpsuits on vacation because they are extremely travel-friendly. It's only one piece of clothing that will make you look stunning while also keeping your luggage light. Jumpsuits come in so many designs and fabrics. But I would advice that you don't pick one with linen fabric, so you don't need to iron it again and again. Here are some of my personal favorite Jumpsuits Outfits.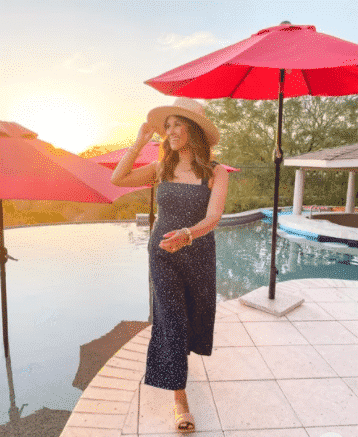 2- Swimsuit
Swimsuits are what you'll be needing the most on the cruise. Pool parties happen all the time on the cruise, Always bring a minimum of two swimsuits because it might take some time to dry the other one, so just keep an extra one. If you are still not sure that this is your style, then you can wear a floral cover-up to carry it according to your style.
1- Last Formal Night
On the Last night of the cruise, there will be a formal dinner, you'll leave with so many memories that you would have made throughout your cruise trip. Your outfit shouldn't be uncomfortable because that can ruin your evening. So it is important to dress glamorous but yet what is comfortable for you, and this outfit speaks it all.
Here are some more ideas on what you can wear for the cruise formal night: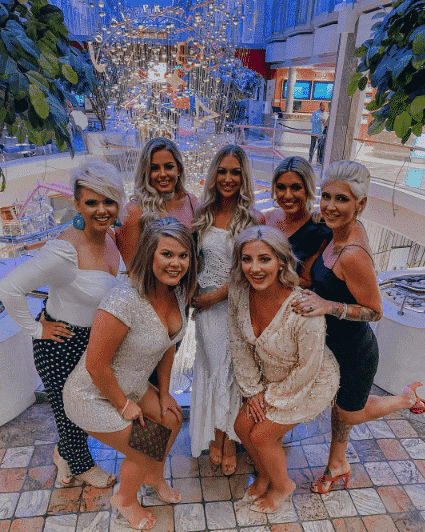 Frequently Asked Questions (FAQ)
Q. What kind of clothes do you wear on a cruise?
A. There is no particular restriction when it comes to cruise outfits so just wear things that you're most comfortable with – whether it's jeans, skirts or maxi dresses. Of course if you want to make the most of your trip and take some memorable pictures then keep a mix of different types of casual and semi-formal clothes so you can try something new every day.
Q. Can I wear jeans on a cruise?
A. Most cruises don't allow jeans on the formal dinners so it is important to check this with your cruise management before you leave. For longer cruise trips, jeans and shorts are acceptable for daywear and informal gatherings.
Q. Should I carry a purse on a cruise?
A.Once you're on board, you probably won't need your wallet so it should ideally be stored safely in your rooms. Carrying a purse or handbad is completely your choice – if you feel like it complements your outfit or that you can safely carry it around, then do go for it. Many women also prefer carrying handbags on cruises to store items they might need like makeup, sunscreen, perfumes, etc.
Q. Do I have to attend the cruise gala night?
A. Attending the formal nights is not necessary so you can skip it if you want. But I would recommend that you attend it at least once to enjoy that experience. After all, you paid for the cruise, why not make the most of your time there.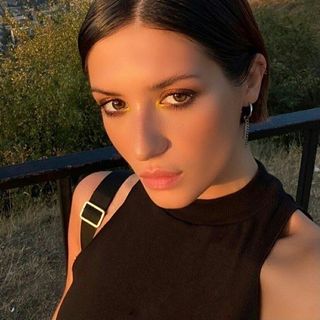 Avid reader and Fashionista. London Based freelance lifestyle editor