Boat Party Outfits for Women: The summer season is in full swing, so are the best ways to celebrate this particular season. When I think of summer, my mind immediately jumps to pool parties, beaches, swimsuits, cool breeze by the ocean, beach waves, and everything fantastic.
Along with all those, boat parties are becoming increasingly popular among all age groups for all the right reasons, whether it be a cruise, fancy dinner, get-togethers with the folks, dinner dates, or a bachelorette affair. And dressing your part is the most crucial detail you can not compromise on!
With the versatility of boat parties, you must dress your part for the occasion. You do not want to be over or underdressed; instead, look just right while making a statement. Moreover, the worst thing that can happen is for your plans to be ruined by the chilly breeze. Thus, to put your worries at ease, we have gathered the best outfits for you to wear to the next boating event while looking like an absolute dream!
What to Wear to a Yacht Party?
In our last article, we talked about the Best Boating Outfit Ideas for Girls, and today, I bring you the very best outfits for any boat party occasion you can think of! Not only this, but we've also listed the best places to shop, tips on dressing for a yacht party, and the trendiest looks. So keep scrolling to gain some significant inspiration and slay your look.
Tips on Dressing for a Boat Party:
The most important tip is to dress according to the occasion on the boat. Is it a casual cruise, fancy cruise, bachelorette, wedding, or simply a fun gathering with friends? The possibilities are endless; thus, the appropriate course of action would be to dress fancy if the occasion calls for it; and casual if the affair is chill and laidback.
Wear shades of whites, ivory, and creams, topped with a pop of color here and there!
Do not forget your sunhat and glasses back home!
Also, sunscreen! Probably the essential item to carry unless you wish to be toasted.
Kimonos, oversized tee shirts would be helpful if you plan on wearing a swimsuit to the event.
Please do not forget a cardigan or sweater! You never know when it might start getting chilly.
Take your outfit to the next level by blending textures, including solid pieces and some printed/ striped ones.
↓ 21 – Rainbow Inspired Whimsical Outfit!
I believe the first thing that catches our eye in this simple yet elegant outfit is the flowing maxi dress! The transition of colors on this beautiful open front piece is to-die-for. You can always wear your swimsuit underneath if you plan on taking a dip! Along with that, the denim shorts and simplistic cut detailed top balance out the festivity of the outfit resulting in an overall, very balanced, elegant, and simplistic outfit perfect for a casual daytime boat ride!
↓ 20 – Fruity Dress to Match Your Mood!
This gorgeous dress is right on-brand with the spring-summer season! And we all guessed it; it is because of the fruity tropical print. I deem this outfit a worthy option for a nighttime fancy boat party because of the balance of dark and light colors. On the contrary, it would look flawless for a daytime ensemble as well if styled similarly. Do your hair up real nice and accessories with some statement jewelry to make it fancier.
↓ 19 – How to Wear Jeans on a Cruise?
Do you wish to be comfortable without having to prioritize either of the two, comfort or fashion?! Well, you don't have to be worried since I present to you this fantastic outfit inspiring you to style your favorite pair of jeans. You will find crop tops and halter neck tops to be your best friend on a boat trip. And do not forget to accessorize aptly! Here are some more Ways to Wear Crop Tops This Season.
↓ 18 – Accessories to Wear to a Boat Party!
While dressing up for a boat party, ensure you don't forget to accessorize aptly to complement your outfit! The right additions to your attire can take your look to the next level and make you stand out. Choose the perfect pair of earrings, necklace, and even an anklet to be the ideal addition to your look! In my opinion, a bandanna is an enjoyable accessory to add to your boat party look and, of course, a trendy pair of sunglasses to bring out your face shape.
↓ 17 – Boho Boat Party Outfits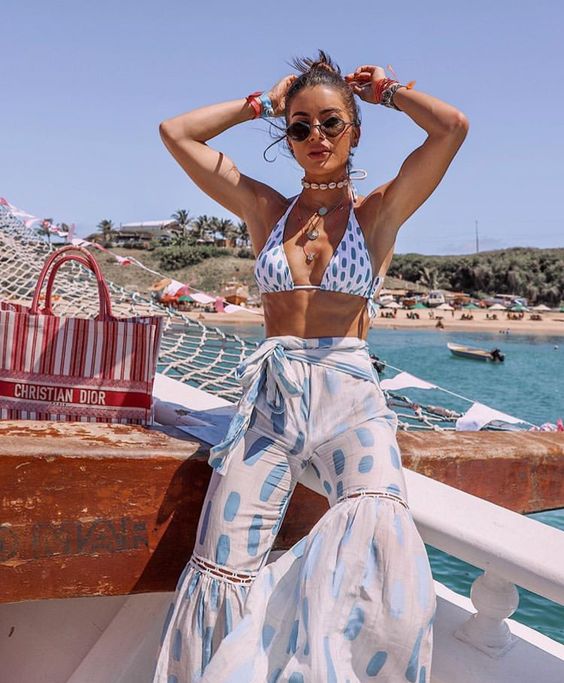 ↓ 16 – Your Not-So-Common Outfit for a Yacht Cruise!
Want to execute that perfect edgy-chic look to the boat party? Check out this fantastic outfit below! I love how well everything works together and make this attire perfect for a yacht cruise or party while letting you stay in your comfort zone. The denim skirt, sheer detail of the top, and boots work flawlessly with one another. Moreover, the accessories on this outfit are an absolute win! You can blow away the audience in this ensemble for an evening or nighttime boat affair.
↓ 15 – An All White Boat Party Outfit!
All white boat party fits are an absolute banger! Not only is it the perfect color to wear for a daytime party or cruise, but it is also incredibly stylish and apt for the event. Moreover, the details on the dress are so pretty, and the complementing accessories need to be appreciated. An effortless, elegant, and well-put-together outfit! Do check out these White Midi Dress Outfits that are perfect for any yacht party.
↓ 14 – Stripin' it up in Jumpsuits
Jumpsuits are easy to wear, carry while looking flawless and incredibly chic. Thus, it comes off as no surprise to know that they are one of the most popular choices for a boat party. And we completely understand why! Keep your make-up light and natural with this outfit, and let your gorgeous skin shine through. Furthermore, throw in some stripes or polka dots in the mixture to elevate your look to the next level.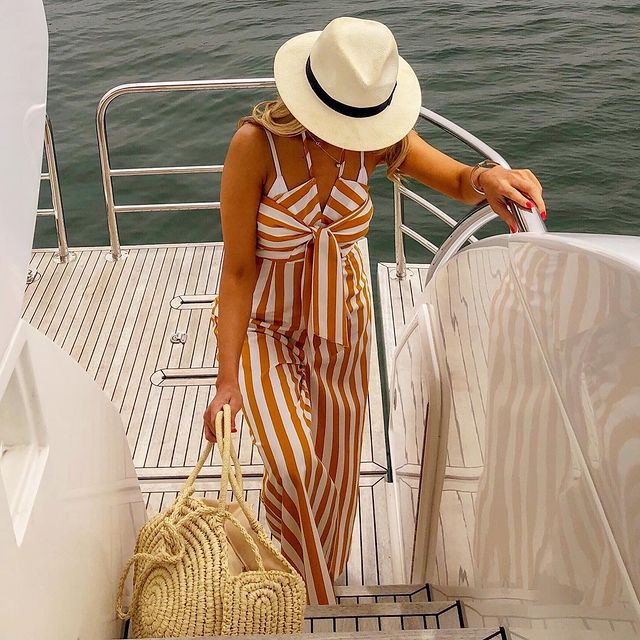 ↓ 13 – Halter Tops in the House!
To pair your halter top, choose a wrap midi skirt! They are the ideal beach cover-ups and look ultra cute on the wear!
↓ 12 – What to Wear to a Boat Cruise Party in Winters?
Dressing up for a boat party for the winters might seem a little overwhelming, but it is pretty simple. My two quick tips for looking chic for a winter yacht event are to dress up in solid colors and not be afraid of layering. Solid-colored outfits that are all black or all white are effortless on the eyes, look phenomenal on the wear, and you will get away with excessive layering too! Make sure to pack up because you do not want to be cold at the party!
↓ 11 – Chillin'-With-the-Gang Outfit!
Want to put in minimal effort but still be trendy? Worry not because I have a perfect look for you! Throw on your two-piece swimsuit and top it off with a matching shirt and shorts set. Additionally, you can go as creative and wild with the print of your shirt and short set as you want to, especially if the swimsuit is plain and solid-colored like the one in the image below. Finally, take your look to the next level by accessories with some terrific statement jewelry pieces!
↓ 10 – How to Wear a Suit to a Yacht Party?
How cute and trendy is this look?! I am in love with the pastel yellow suit; the smokey eyes and blowdried hair are an absolute hit! The color palette of this entire look, the accessories, the hair and make-up, everything about it is an absolute dream. And that is precisely the way you want to look at a nighttime boat party! The white and pastel yellow are bound to make you shine through the crowd in the dark, along with the chunky gold jewelry. And to tie the entire look together, I am so glad this lady did not go light with her make-up.
↓ 09 – Daintily Perfect!
Cute, summery, refreshing, and cool are all the words that immediately pop into my head while looking at this fantastic fit! I will begin by appreciating the color palette of this look, which is right on-brand with a daytime boat party. Next, the adorable top and purse have my heart. And finally, the sun hat is bringing the outfit together! What an impeccable way to slay at a boat party?!
↓ 08 – The One With the Kimono
Are you ready for the boat party to get wild and crazy with your favorite bunch of people? If not, you definitely will be wearing this outfit! The tropical printed dress looks flattering, and fun and paired with the black lace kimono, Nabela elevated her attire to the next level. Moreover, the floppy sunhat looks super cute! Make sure to let your hair down in gorgeous beach waves and perfect that glowy no-make-up make-up look for this ensemble!
↓ 07 – A Casual yet Stylish Look for a Boat Cruise!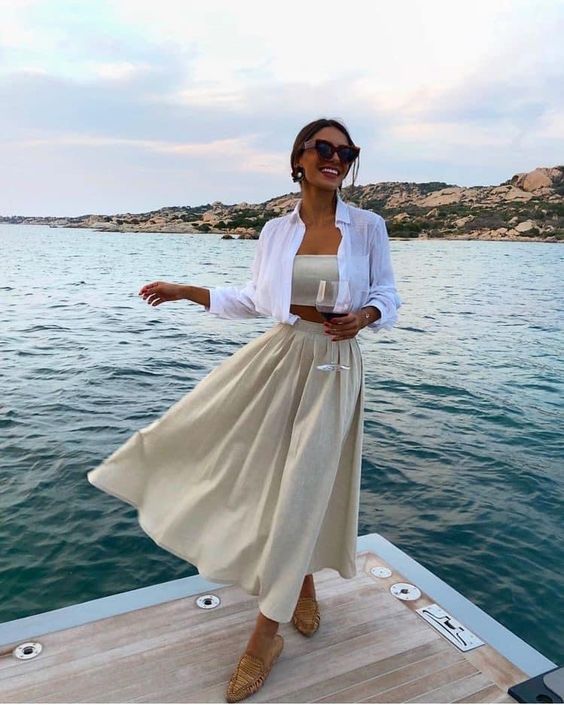 ↓ 06 – Summery Chic!
↓ 05 – Dress for the Guests!
An outfit fit for every occasion!
↓ 04 – Swimsuit for the Win!
How cute is this leopard-printed swimsuit?! The best party about this is that you can easily layer over this gorgeous piece, making it appropriate for a party or a quick swim. A pair of black denim shorts, topped with a black kimono similar to this one from Next (here), will look simply perfect! Complete your look with dainty jewelry, and you are all set!
↓ 03 – Boat Party Done Vintage Style!
One look at this outfit, and I am sold! This look is the visual representation of the perfect way to dress for a boat party. Not only is it lowkey and straightforward, but fancy at the same time. Moreover, the bandanna detail has me falling in love repeatedly due to the pop of color it provides to this look. Complete the look with a pair of cute small chunky hoops!
↓ 02 – What to Wear to a Boat Wedding as a Guest?
Boat party weddings are not only a fun way to celebrate the beloved couple but are also the perfect opportunity to show off your cute outfit. You want to be a little more dressy when choosing your attire for a wedding or any related event. A dress similar to the one below would look fantastic, as would a cocktail or a flowy one. Just make sure to do your hair and make-up all nice, and accessorize with dainty jewelry!
↓ 01 – Matching Three Piece Set!
If your boat party consists of a swim stop, too, then this look is a perfect choice! The printed three-piece outfit not only compliments each other but looks effortless too. Don't forget to slather your skin with sunscreen!
Frequently Asked Questions
Q. How should I dress for a boat cruise party?
A. At the beginning of this article, I have mentioned some tips on styling for a boat party which you might find helpful. For a cruise specifically, it depends upon the type of cruise you will be attending. For a fancier, luxury cruise, check out looks number 2 and 5. On the other hand, outfits 21 and 17 will be perfect for a casual day cruise with the gang! Always remember to dress according to the plan. If your cruise comes with a swim stop, then choose to wear your swimsuit under your outfit of choice!
Q. What do you wear on a boat at night?
A. A boat night party requires you to look at your outfit options from a different approach. I can not emphasize this enough, but an essential clothing item to carry, especially during winters, is a jacket or a windbreaker to keep you warm. Next, I would suggest wearing colors that pop and make you stand out. For a casual look, jeans or shorts with a crop top layered with a cozy sweater is ideal. In comparison, a flowy dress or a chic jumpsuit would be perfect for a fancier event.
Q. Where can I buy comfortable outfits for a boat party?
A. The best places to shop for boat party outfits are listed right here!
SheIn: This striped matching two piece outfit (here) is an absolute yes for the boat party!
Nordstrom: These denims (here) are a perfect match to this cute top (here). Throw on a cute jacket and you are all set!
Boden: The ideal place to shop for your swimwear! This polka dot one piece has my heart (here).
Levi's: Are you looking for the ideal place to shop for a jacket (here) and denims? Look no further!
Forever21: Check out their range of swimsuit cover-ups right (here)!
Next: You need to have a look at their swimsuit and beachwear collection. Take a quick peek at this gorgeous cover-up dress (here)
Janeeta Khan loves to write and loses herself in the world of fiction during her free time. You will probably find her curled in the corner with a Harry Potter book and a steaming mug of hot cocoa.