Windbreaker Outfits for Women: As the winter is coming to an end, but the warm summer days are not yet upon us – it is time to resort to mid-season clothing necessities. A windbreaker is one of those special items that are just perfect for the interchangeable weather.
Types of Windbreakers
Thick: There is an option for thick multi-layered windbreakers. These can serve both as mid-season only clothes or as winter jackets as well. This is a good option if you are stocking your closet on a budget. Additionally, this option of the jacket will make it possible to wear a t-shirt underneath on the warmer spring days simply.
Extra light: Alternatively, there is the option of thin windbreakers. These feel as light as air, and seem like there is practically no fabric used to construct it. This option is very good if you own a lot of thick sweaters. This way, you can pair a warmer layer underneath and a thin layer on top.
Hooded: A very useful option for this jacket type is the addition of the hood. Especially if you live in an area where spring weather entails a lot of rain. These hoods can be retractable or fully detachable.
Cinched at the waste: Some new additions of these nylon jackets include more form-fitting options. These are largely useful to add to your closet if you dress elegantly. Therefore, you might want to pair your outerwear with dresses and skirts, which is the best option.
Flared: Flared jackets are the second best option of this nylon outerwear to add to your closet. This option is similarly compatible with dresses and skirts. However, also pairs very well with loose street style like silhouettes of pants.
Short sleeve: Last but not least are jackets with short sleeves. These options are very fun and can make your outfit look very elaborate without trying too hard. Although, if you are only investing into one, we don't recommend that it be this one. Instead, buy one with long sleeves for higher practicality.
How to Wear Windbreaker Jackets?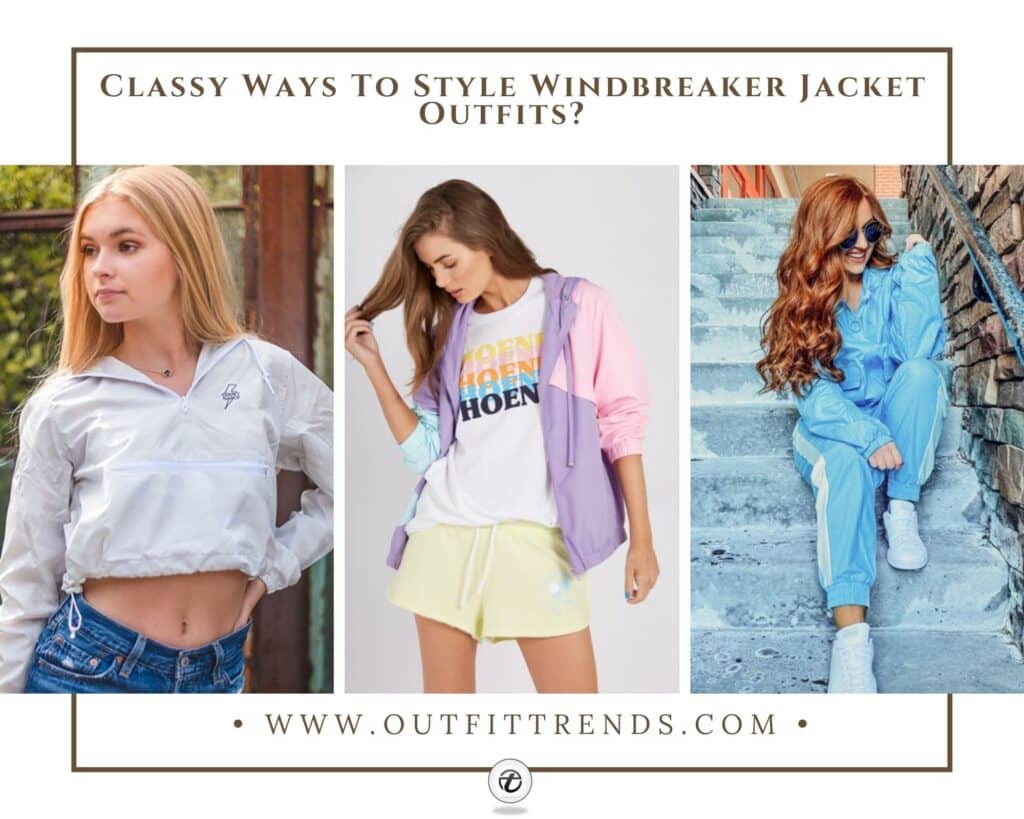 Styling Tips
First and foremost, keep the rest of your outfit basic when styling a windbreaker jacket, it shouldn't overtake your look.
Combine a multicolored windbreaker jacket with a basic plain t-shirt or a tank top outfit to make it appear more attractive.
In cold weather, avoid wearing windbreaker jackets since they don't keep you super warm, try to wear warmer clothes underneath a windbreaker for further warmth.
Always use sneakers with such clothing to keep your overall look classy.
Pair your outfit with a leather purse to look stylish and high-class.
Denim shorts are the most popular item of clothing in every girl's wardrobe. To complete the girly vibes, combine your shorts with a windbreaker jacket. These jackets look great with denim shorts. You may make stylish windbreaker jacket outfits by pairing your pretty windproof jacket with denim shorts.
If you don't want to wear shorts or it's a bit cold outside, pair denim jeans with a windbreaker jacket. Such jackets have the advantage of being worn with almost anything, including jeans, shorts, and even a skirt. Style up your windbreaker jacket with stylish denim jeans. Add some classy shoes that are in contrast with your outfit and some minimal casual jewelry to your look to make it more interesting. Finally, if you want to make it appear more attractive, wear sunglasses.
41 – Windbreaker Jacket Set
Wear this lovely windbreaker jacket set if you don't want to wear it separately. This attire is suitable for visits to the grocery store, the gym, or cycling. This outfit is available in a variety of colors, and you can pick your favorites.
40 – For Cycling
If you love cycling and go for a ride frequently, this cycling windbreaker jacket outfit is perfect for you. If you're going riding and it's drizzling, add a fashionable windbreaker jacket to your attire. Wear a multi-colored jacket with black plain tights and matching sneakers to complement the look.
39 – Long Windbreaker
Do you want to know how to style a long windbreaker jacket? Then this is the guide for you. Combine your sweater attire with a windbreaker jacket. With your single grey sweater, you may contrast numerous hues of windbreaker jackets. Here's a choice for you: green, red, and black will all match your long sweaters. Wear knee-high boots with your outfit to make it more fascinating; it will complement your style and make you look more attractive.
38 – Colorful Look
Are you attracted to vibrant colors and looking for ideas for colorful windbreaker jackets outfits? Then these lovely brightly colored windbreakers are ideal for you. You may match your windbreaker outfit with your friends and wear it to university or college together.
If you want to add more colour to your look and make it look fancier, pair your windbreaker jacket with matching handbags and footwear. Keep in mind that if you're wearing bright jackets, you should wear a plain dress or shirt under it to balance it out.
37 – Keep Me Warm
Another great stylish idea for cold or rainy weather is this keep me warm windbreaker outfit. To make your overall outfit look interesting, wear a fitted complete set windbreaker and pair it with some fur slippers and a wool cap.
36 – Vintage Windbreaker
Windbreaker in a vintage or retro style were popular in the 1990s and are now trendy again. You may still look classy in a retro design windbreaker jacket like ladies looked in the 1990s. Wear high-waisted pants to complete the outfit. To make your clothing more interesting, use as much colour as possible.
35 – For A Bike Ride
Are you going on a bike ride? Here's a great look for you. Over your inner top, wear a light-colored windbreaker jacket. Wear it with shimmering leggings and riding joggers. To complete your look, style your hair in a bun or ponytail.
34 – Black
There are times when some women choose to wear all black instead of wearing bright clothes. Is it possible that you're one of them? Then there's a fantastic outfit suggestion for you. Wear this full-set windbreaker outfit, including a jacket, pants, and a cap in the same print. Add a stylish pair of sunglasses and a pair of sporty sneakers to complete your look.
33 – With a Skirt
You can wear a windbreaker jacket with a skirt as an alternative to trousers, jeans, and shorts. Yes, you read it correctly: a windbreaker jacket may be worn with knee-length skirts as well. Firstly, match solid-colored knee-length skirts with a decent contrasting top, then wear a windbreaker jacket matching your top. Finally, complete your look with a pair of trendy sneakers. This outfit is suitable for university and college.
32 – With A Trouser
A windbreaker jacket with trousers is another decent option for a windbreaker jacket outfit. Pair your crazy top with a bright-colored skirt and trousers. Then, for a perfect look, pair your overall look with sneakers. You may also add a trendy leather bag to your appearance by wearing a cropped shirt with these trousers and an oversized windbreaker jacket.
31 – With Sportswear
Are you a sports person seeking to style a windbreaker jacket? Then here's a suggestion for you. Wear a white windbreaker jacket over a sports top and shorts. Dress up your outfit with your sports footwear. You're all set to go for running.
30 – Matching Look
Here's another way to wear a windbreaker jacket in fashion. Are you a fan of the colour turquoise? Then check out these lovely windbreaker jacket outfits.
Dress up this turquoise windbreaker jacket set, which comprises of a windbreaker jacket and matching shorts in the same shade. You can also select the colour of your choice. Make a bun with bangs in the front. Sunglasses and plain white shoes round out your look.
29 – White And Black
Here are some styling tips for windbreaker jacket outfits if you want to look stylish. This windbreaker outfit in white is the most attractive and trendiest attire. To match the combo, wear a black and white windbreaker jacket outfit with a simple white tube top inside. To seem more trendy, use black sunglasses.
28 – Off-Shoulder Windbreaker Top
Are you a fan of off-the-shoulder tops? Then this off-shoulder windbreaker top with matching shorts is a perfect choice for you. It also includes pockets where you may put your little essentials. Accessorize this look with some simple casual jewelry, such as minimal earrings and a decent pendant.
27 – With A Matching Bag
Women want to look and feel their best all of the time. They are obsessed with looking great in all of their attire, matching handbags, hair accessories, and everything. This windbreaker jacket outfit with a matching purse is yet another choice for such ladies. You could wear this to the grocery store. Add a beautiful hairstyle with a bandana to appear more classy. This windbreaker will keep you warm and stylish while protecting you from the wind.
26 – With A Matching Mask
This pandemic season requires the use of masks. What if your windbreaker jacket came with a matching mask? Does this sound good to you? Yes, a windproof jacket with a matching mask would be great! You will be protected from both the pandemic and the weather while looking smart and fashionable at the same time.
25 – Cropped
Cropped tops have been popular for a long time. A cropped windproof jacket is now available. Try this windbreaker jacket with denim shorts or jeans if you prefer cropped tops. These jackets include an adjustable strap that you may adjust to fit your size. This outfit is perfect for females who are studying in college or university.
24 – With Ripped Jeans
Women's ripped jeans are the must-have trend, and they look great. You can also wear a windproof jacket with ripped jeans. Wear a striped windbreaker with a solid-colored inner. Pair your attire with a pair of white sneakers and you're all set to go.
23 – Pastel Tones
Pink and purple are stunning colors as we all know. You may wear a purple-pink windbreaker jacket with anything you choose, even simple shorts or jeans. Your purple-dyed hair will go well with the rest of your look.
22 – Styling an Oversized Jacket
This street-style and oversized-style windbreaker is the most fashionable outfit. To complete a street-style outfit, pair your windbreaker jacket with high-waisted, loose-fitting jeans.
21 – For Artists
You've probably seen musicians or singers in their favourite brightly colored outfits. An oversized funky colored windbreaker jacket fits artists' personalities perfectly. Dress up your look with a pair of denim pants and a pair of brightly colored sneakers. To complete the musician vibes, add some jewelry. You're ready to rock the stage.
20 – Hooded Winderbreaker
If you like wearing hoodie outfits, try this windbreaker with a hoodie. Wear a high-neck shirt with a dark-colored windbreaker. Combine with a leather mini skirt and knee-high boots. Finally, match your purse to your clothing to complete your appearance.
19 – Floral Printed Jacket
Floral designs are the most popular and stylish prints that every lady adores. Put on a flowery pattern windbreaker jacket, a plain inner, and dull green pants. Finish off your look with a matching headband. You're all set to go.
18 – Go For A Pleated Windbreaker To Match With A Dress
Starting off on the list is an option for when you want to wear a formal, dress-centered outfit. Choosing a pleated, fitted windbreaker is going to fit the style of a formal outfit. Furthermore, make sure you purchase this windbreaker in a neutral color. This example shows a universal black. Similarly, beige or brown tones could work.
17 – Look For A Form-Fitting Cinched At The Wasit Windbreaker For Elegant Style
The second option in this list is not far in style from the previous one. We are continuing with windbreakers in elegant and formal styles. An ideal choice of a windbreaker to fit this style is a form-fitting, cinched at the waist one. Similarly, if the fabric is thick and not going to fall through or bend, you are guaranteed a windbreaker that will always look very propper. So look for one with layers and not regular one-layer nylon.
16 – Choose A Loose Flared Windbreaker With Puffy Sleeves
Alternatively, windbreakers do not only pass on the impression of elegance and formality when they are tight-fitting and made of thick fabric. It is possible to get that look with an elaborate flared windbreaker. Although, it is important to note that this style will look significantly more youthful. Nevertheless, it works with skirts and dresses, and can even work for a night out.
15 – For A Night Out Look, Dress In All Nylon Neon Yellow Ensemble
Similar to the previous options, this windbreaker pairs well with a skirt. Yet, the skirt is also made of nylon. The trick with these outfits is the identical material and color of both pieces in your outfit. If it is possible to find this as a co-ord from one retailer, we recommend it. This way the color will match perfectly and it is important to have a cohesive look.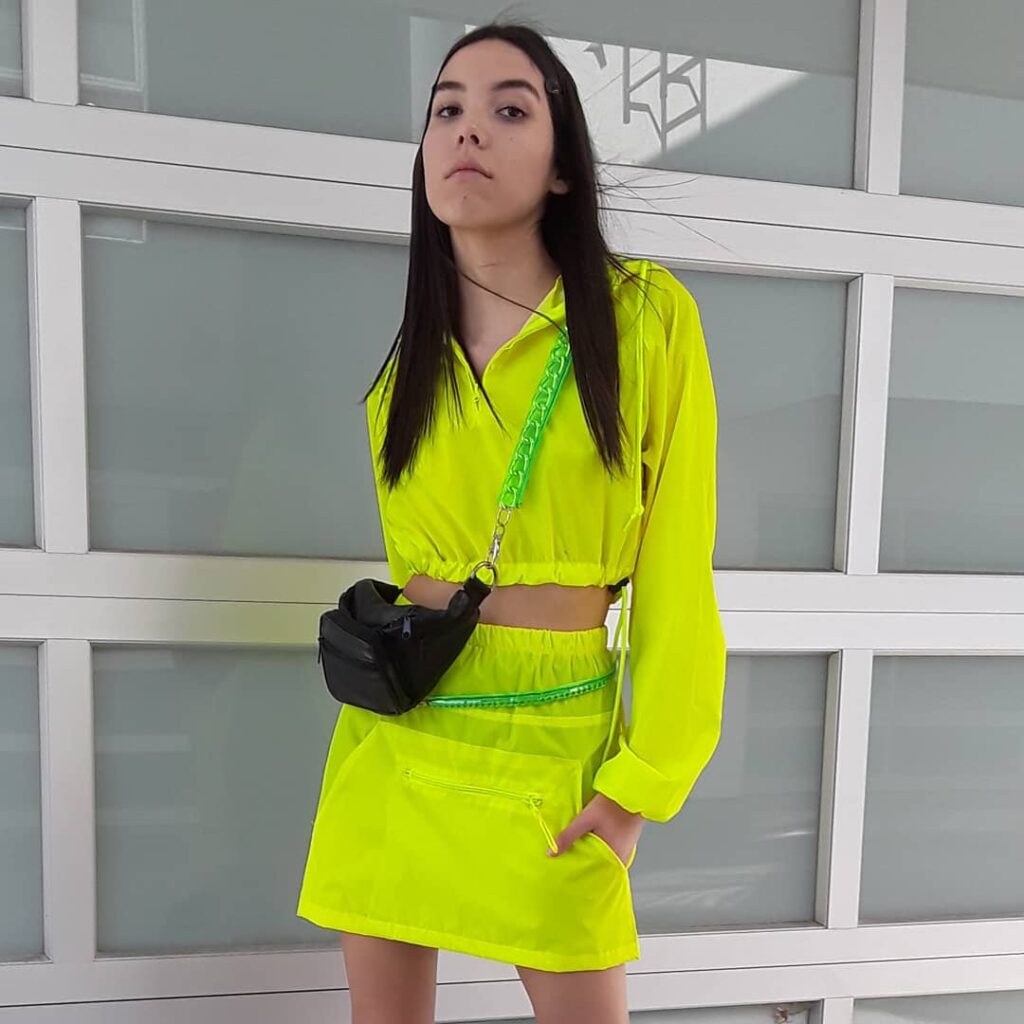 14 – Jacket And Skirt Ensemble In All Black
If all-over neon is not your style, and out of your comfort zone, do not fret. There is a similar option in a much more neutral color – universal black. However, you must note that this outfit looks much more sporty than the previous one. Mainly due to the association with Adidas sports graphics that are so common to us.
13 – Pair Your Windbreaker With Eyewear
We all know that the most infamous windbreakers have bright block-colored designs. As we move forward in the list, we will show how it is possible to style these classics in elegant ways. This first option entails matching additional accessories in matching colors to the jacket. For example, if you have a red jacket, match some cat-eye red shades. This immediately makes it look put together.
12 – Pair A Bucket Hat With A Graphic Print
Another option of accessories that elevate a regular nylon jacket outfit – is a bucket hat. In this particular outfit, the bucket hat has a graphic print, matching the graphic print of the jacket. This is a perfect option of using simple decorative elements to create a more put-together outfit.
11 – Coordinate Unique Colors Throughout The Outfit For More Elegance
To build on the previous advice there is an option of matching colors throughout your outfit is also effective. Matching the color of the jacket, bucket hat, shoes and shirt will unify the outfit. Thereby the jacket is not going to stand out as much and not be distracting even due to the silhouette, or material. Lastly, choosing the right color for the job is highly important. In this outfit, the color is a lilac, and the more unique the better.
10 – Find A Rare Long Windbreaker For A One Of A Kind Look
One rare option for this nylon wind-resistant jacket is an extra-long silhouette. This jacket is perfect for a very rainy colder day when you need to be out of the house and don't want to get all wet. Similarly, it is very helpful if you want to pair it with soft pants – a material that normally gets wet easily.
9 – Pair An All Beige Nylon Co-ord With Heels
An alternative styling option with a nylon jacket is with matching nylon pants. Similar to the previous options, this outfit can be made more elegant with additional accessories – only in this case, it concerns shoes. If you are a lover of heels, you're in luck this outfit is centered around them. Surely during rainy periods open heels are not the rational option, so choose something faux leather and with closed toes.
8 – Check Out A Co-Ord With Jacket, Top And Pants As An Elevation Of This Style
To build on the previous option find a retailer that offers all items in nylon. Thereby also including a cropped top made of the same material and the same print.
This outfit is drastically different from the original implementation of this jacket style. Pairing several nylon pieces together creates a completely novel styling to the original and simple option of just having a nylon jacket.
If you like this look, I would highly recommend that you go through these Best Matching Sets to Wear & Tips on How to Style Them.
7 – Pair Several Unique Items To Create A Show-Stopping Outfit
Yet another opportunity to differentiate yourself from other consumers of this type of jacket is to first get it in a unique style. One unique version is one with a large turtleneck. Secondly – choose the color wisely, a dirty beige is far more unique than black, blue, or white. Lastly, pair with unique accessories to diffuse the outfit more. In this example, a woven thick hat is included, which completely makes the outfit individual.
6 – Yellow Hooded Jacket
Here are some more Ideas on How to Wear Hoodies.
5 – Look For A Jacket With A Printed Slogan
This is a true call to the 80s and 90s jacket designs – looking for something with a graphic text print is a wonderful option. This is an option that is much more true to the original interpretations of this jacket type and thus is street style.
4 – For A Cute Streetstyle Option Find A White Cropped Nylon Jacket
Moving forward with street style and casual options, we present to you the cropped nylon jacket. This is very clearly a highly modern take on the jacket, and the cropped cut is not the most functional.
3 – Match A Cropped Nylon Jacket To Highwasted Pants Or Jeans
A way to build around the functionality lack of a cropped nylon jacket is a clothing trend equally modern – the high wasted pants/jeans. This will allow for the majority of your stomach to be closed off from chilly winds.
2 – Find A Short-Sleeved Jacket For Warmer Spring Time Days
As we have already mentioned before in the list, there is a common shape for a nylon jacket that has short sleeves. This silhouette is most comfortable to wear with hoodies in the warmer springtime days.
For more short sleeve jacket outfit ideas check out this article!
1 – Play Up A Casual Black Jacket And Jeans Outfit With A Bandana
Last on the list is the most casual outfit with a jacket of all. Although, even this one has something special about it. The addition of a bright bandana helps play up and personalize this outfit, within the style of casual, and street style fashion. Here are some more tips on styling your black jeans.
Frequently Asked Questions
Q. Can you wear a windbreaker with a dress?
Although these jackets are normally seen as being paired with pants, they can totally be paired with dresses and skirts. One way to ensure their compatibility is to match the colors perfectly. This way the two clothing items will look more in unison. Similarly, you can purchase a windbreaker that has a flared silhouette. Like this one.
Q. What is the best windbreaker material?
Hands down Nylon is the best material. Although it is not a material that is particularly good for the environment – it resists wind perfectly. Just make sure to extend the product life cycle as much as possible when you are no longer using it. Since it is a non-biodegradable material, you might want to donate it or send it to be deadstock for other brands to use.
Q. What is the best color for a windbreaker?
If you can only get one windbreaker these are our recommendations as to the color. If you have more laid-back clothes in your closet – go for a dark brown, white, or black. These colors blend seamlessly as they are natural.

If you have an affinity for brightly colored clothes. Try to get a bright red or a rich blue. Similarly, forest green is a very unique colorway.
Q. Where to shop for women's windbreakers?
Q. When should you wear windbreakers?
During the rainy season, monsoon weather, you can wear a windbreaker jacket. Windbreaker jackets keep you dry and warm in strong winds and rain. You may wear these jackets everywhere, whether you're going shopping, to the grocery store, or the park for a walk or jogging. You can also wear these windproof jackets when going to college or university.
Q. Can we iron a windbreaker jacket?
You can iron your windbreaker jacket, but only when needed. Keep the fabric of the windbreaker wrinkled since that's how it's supposed to look. If you wish to iron your windbreaker jacket, be sure to do it gently. For the protection of the jackets, place a lawn or cotton material cloth over it; otherwise, the iron will burn it. Hang your windbreaker jacket on a hanger to keep it wrinkle-free and to avoid having to iron it.
Q. Are windbreakers comfortable?
The windbreaker's fabric is lightweight, making it comfortable to wear. As a result, you may wear a windbreaker jacket everywhere and at any time.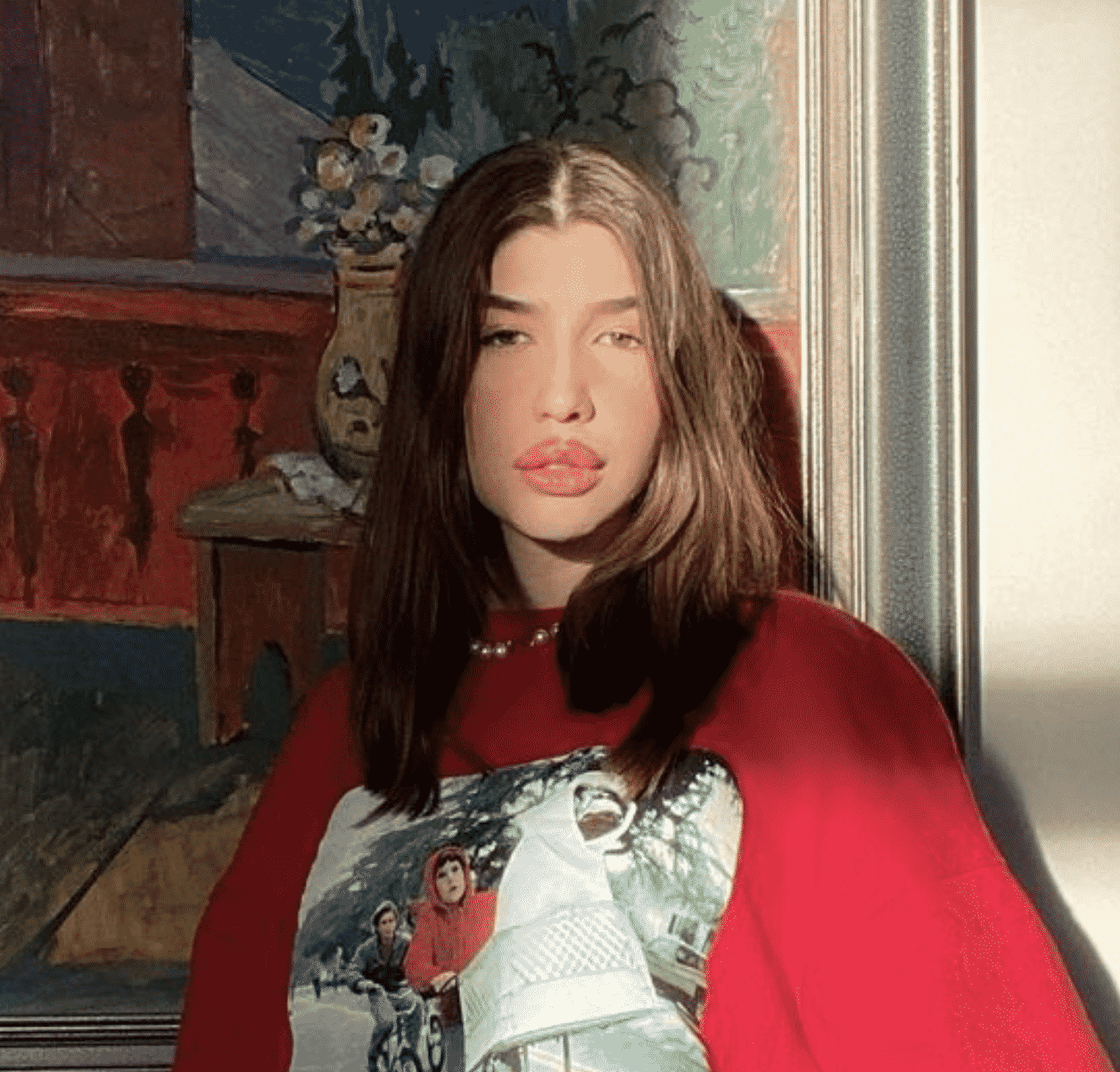 Lyuba Bessarab studies Fashion Management at the London College of Fashion.
She is from Kyiv Ukraine originally and is based in London now. Although she doesn't live in Ukraine now, it has a very huge part of her identity.
As an artist, she does not only get inspired by her cultural heritage for her fashion choices, but she also incorporates it in what she makes.