High Waisted Jeans Outfits: Since time immemorial, women have only tried to rise above, soar higher and be better. Our success came in the form of revolutions and more often than not, a total uprooting of societal norms – but we wouldn't have it any other way. Needless to say, our jeans have risen with us. In the 1940s, Levi's first manufactured high-waisted jeans for women working in fields and factories and contributing to the war effort. What initially started out as an effort, nay, precaution to protect a woman's modesty as she bent down to work has now morphed into a style that has continued to make a fashion statement over the decades.
Before we dive into the plethora of looks that can be created with this garment, it's important to acknowledge that a good pair of high-waisted jeans is one of the most versatile items to have in your wardrobe. This piece is truly an investment and your wardrobe will thank you for this addition. Like the queen, Vivienne Westwood said, "Buy less. Choose well. Make it last. Quality, not quantity." Choose a pair that fits you well, is comfortable, and will last you for a long time to come.
How To Wear High-Waisted Jeans?
First up, there's no going wrong with a pair of high-waisted jeans – be it for a quick grocery run or a fancy dinner party! You can pair these with a basic white tee, plaid coat, sneakers, and a baguette bag for breakfast with your beau. For days when you're vacation-ready, you can just throw on a hot pink bralette, your wide-legged, high-waisted jeans, sandals, your coolest pair of shades, and hit the road! You can even incorporate them into your semi-desi outfits – by wearing your saree in a half drape over high-waisted jeans and finish the look with stilettos and statement jewelry.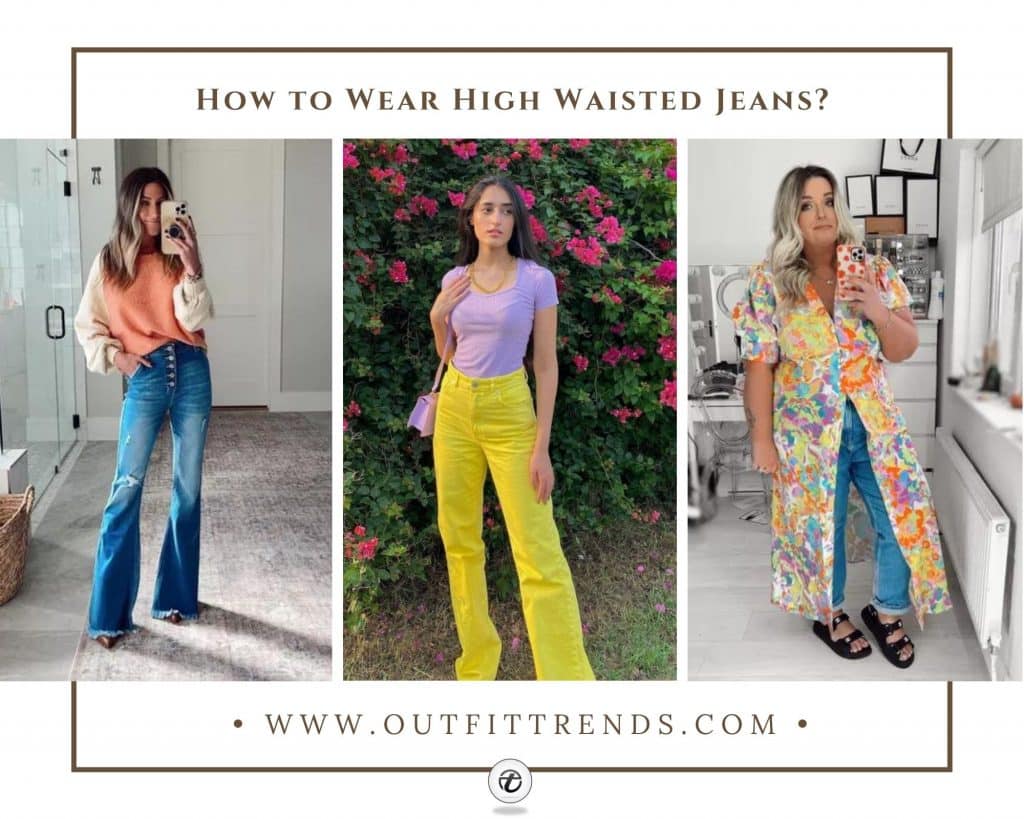 What are the Different Types of High-Waisted Jeans?
We've already talked about Outfits With High Waisted Shorts but high-waisted jeans open the door to a whole new world. There are so many styles you can try with these, the question between fashion and comfort instantly disappears! Listed below is a set of our favorite types of high-waisted jeans, a handbook on a trans-seasonal wardrobe.
High-Rise Cigarette Jeans – striking the right balance between straight and skinny.
High-Waist Super Skinny – for that extra lift, on both good days and bad.
Distressed Denim – we all love ourselves some good ripped jeans, even better when they're high-waisted.
Bootcut Jeans – bringing retro back, the right way! We love these jeans and highly recommend this guide on Outfits with Boot Cut Jeans.
Sailor Jeans – we've always looked to those travellers for style, why stop now?
High-Rise Coloured Jeans – classic blues go a long way, but pastels, whites and blacks are just as evergreen!
Need some help and guidance on how to style them? Scroll down for some inspiration and turn heads as you strut down the street in your new looks!
26 – Denim On Denim
One style that has transcended through the decades is denim on denim. This look is so versatile and is perfect for some color-blocking experimentation. Pair your high-waisted jeans with a basic turtleneck and layer with an embellished or embroidered denim jacket. Go for a cropped turtleneck to expose the midriff and provide a visual break, and accessorize in tandem with the embellishments. Finish the look with high-crested boots. Ideal for a winter brunch, you're sorted now!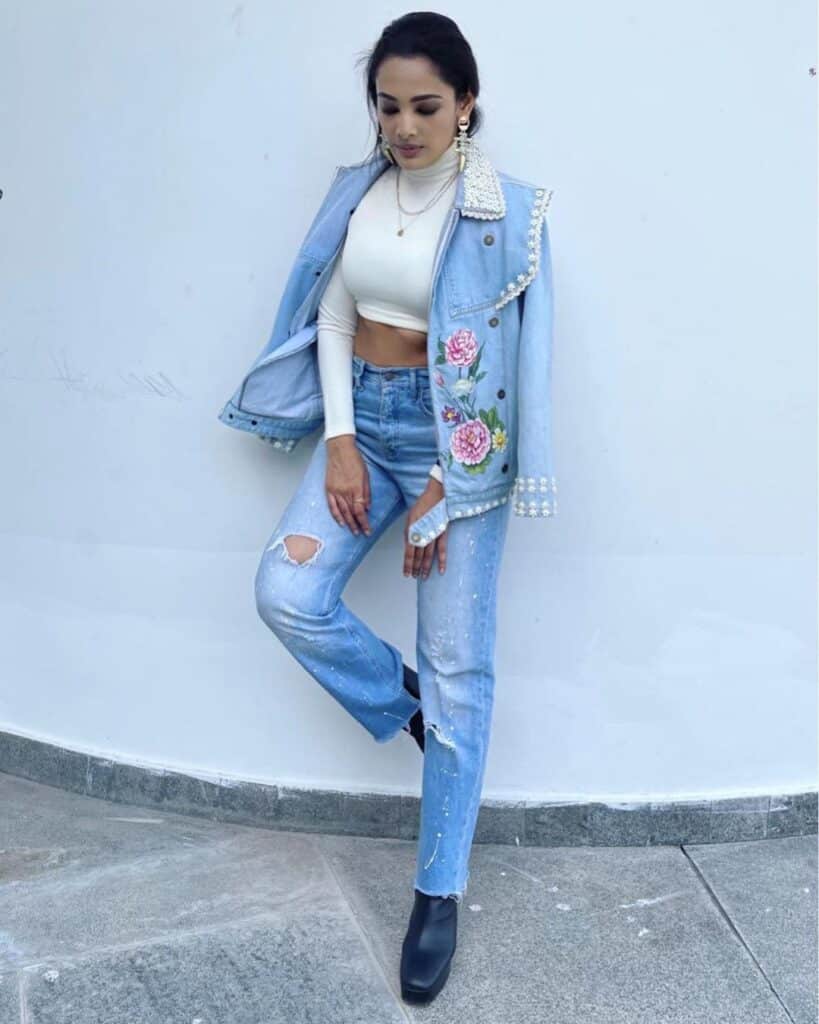 25 – Versatility Just Pulled Up
Everyone move aside, versatility aka the White Shirt just arrived. You can never go wrong with this one and the white shirt blue jeans combo is a classic. A white crossbody bag and some white heels and you're sorted. No fuss, just casually serving looks here.
24 – Pastel Hues
Pastels have made a groundbreaking comeback, and lemon yellow and violet are the pairings of our Fashion Week dreams. High-waisted denim looks just as gorgeous in an unconventional shade and this look is perfect for a day out in the sun! Brighten up your day with these soothing hues, and bag all the compliments with a look like this one!
23 – Tie Up Ruched Top and High-Rise Jeans
Here's another super cute outfit for brunch with your girls. Pair your high-rise jeans with a cute, printed ruched top with tie-ups a the shoulders. Add a new dimension to the outfit by adding a printed bandana and a string of pearls. Choose pastel block heels for this fit, and carry your essentials in a small shoulder bag and be the talk of the town! If you're not too sure about giving the bandana a try, this post on Bandana Hairstyles might just change your mind.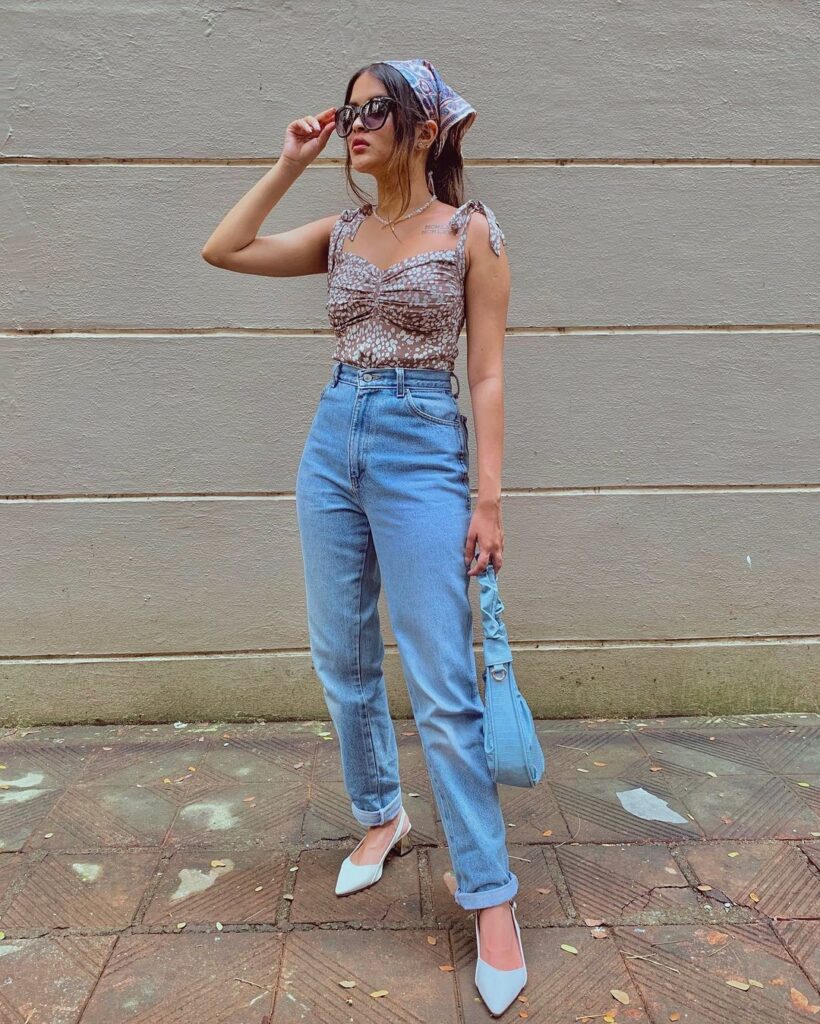 22 – Floral Blouse and High-Rise Jeans
Florals go a long way, always. A modest, printed blouse tucked in, in your high-waisted mom jeans is a sophisticated sight to behold. Add a handbag, a beige fur coat some maroon pumps and you're all ready for your semi-casual office lunch! We'd suggest you add a simple pendant to the look and a pair of sunglasses for when you're strutting the street. A look that emanates elegance, so effortlessly!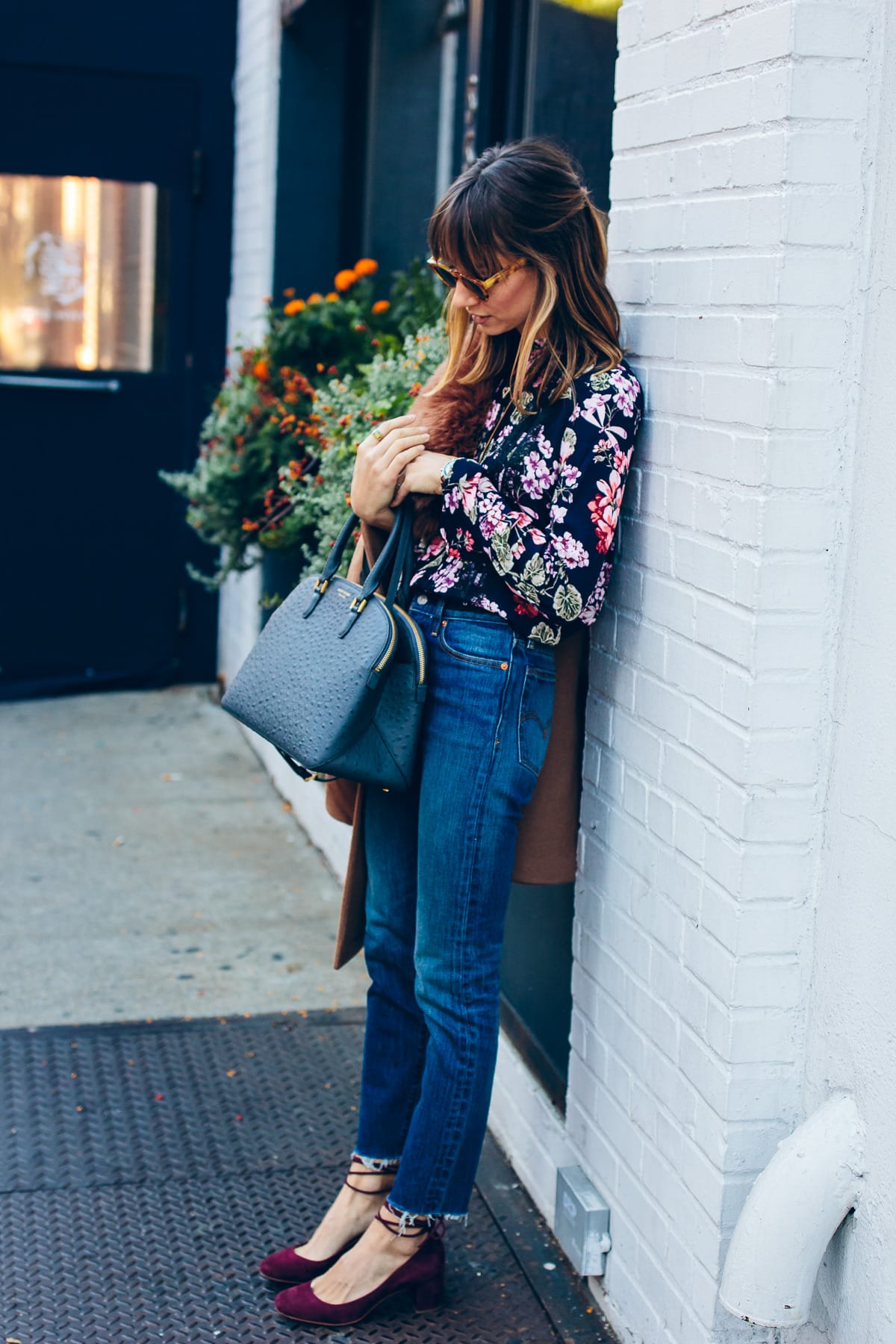 21 – All Black for the Win!
An all-black outfit is a timeless classic. Pair a lace-detailed black satin camisole with black high-waisted skinny jeans for an effortless look. Add black stilettos to elevate the look and accessorize minimally with small gold hoops and rings. When stepping out in the cold, just layer your most comfortable long coat and muffler over this. An outfit that can take you from morning to night with ease, and really, is a must for that girls' night out!
20 – Comfortable in Corsets
Earlier, women had to quite literally break ribs to fit into corsets. Fortunately today, the narrative has reversed and the corsets try to fit us – comfortably. And this time around, we show it off instead of making it an undergarment. So, pair your high-waisted jeans with a cropped leather corset for your next night out and be the center of attention!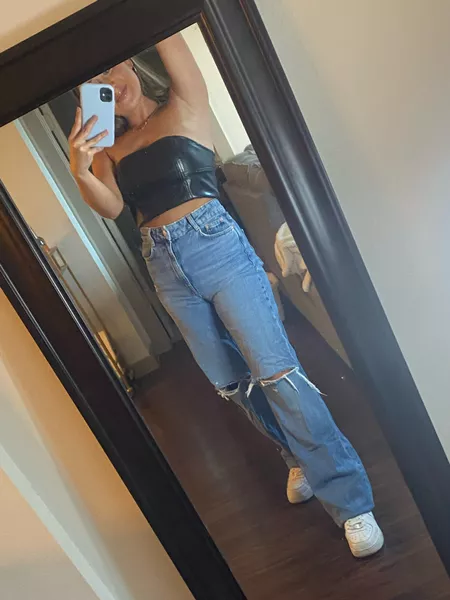 19 – How to Wear High Waisted Jeans in Winters?
Another super simple yet super sophisticated way of styling your pair of high-waisted jeans is with a basic t-shirt and a beige long cardigan. The length of the cardigan itself gives the fit a whole new dimension. Accessorize minimally with a small pendant, some rings and a pair of shades. Slip into comfortable block heels for that elevation. Carry a spacious handbag for all the compliments!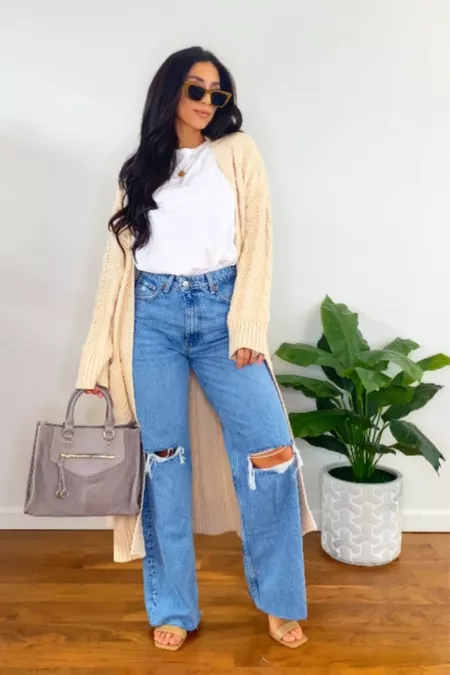 18 – Blazers and Denim? Let's Switch It Up!
You know those mornings when you're late for an important meeting at work? Yes, we've all been there. And no, we don't have time to fuss over an outfit then. So, we've got you covered. Put on a pair of straight-fit high-rise jeans, button up your double-breasted blazer and slip into nude heels. And well, just like that you've nailed your outfit and are ready to conquer the world. Boss Lady Mode: On.
17 – Wrappin' It Up
Wrap Tops are all the rage lately, and very rightly so! We urge you to re-wear your clothes, but style it differently every time – and wrap tops make that possible. Irrespective of how you choose to tie it, a top like this instantly bumps up your style quotient. Tuck in the tummy in your high-rise jeans and dare to tie that knot higher. Slay that look, you go girl!
16 – Stories in Flannel
Going over to grandma's for some pot roast, pudding, and childhood reminiscence? Looks like we cracked the outfit for that too! Stay comfortable in your high-waisted jeans, crop top, and oversized warm flannel as you get ready for a night full of stories.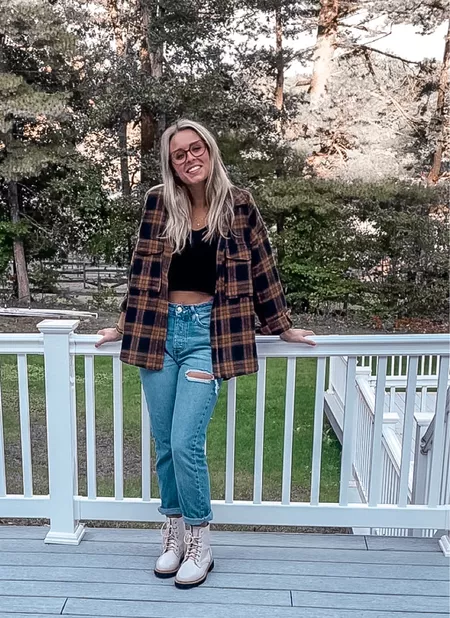 15 – A Color Block Affair
Nothing elevates an outfit like some good color blocking. And this one is as chic as it is comfortable. Pair an oversized sweater like this one with your high-waisted flared jeans and you're pretty much done. Take a crossbody bag, wear your most comfortable sneakers and add a hat if you're feeling it! This is the perfect fit for days when you and your friends just wanna lay back for movie night – at the drive-in or at home!
14 – High Waisted Jeans Outfits for Work
Will anything ever be as elegant and powerful as an all-white pantsuit? Probably not. Pair your white high-waisted jeans with a white V-neck bodysuit and layer with a white blazer. Add a brown belt with a logo and slip into a pair of comfortable white flats or nude heels. Accessorize with your favorite black Ray-Bans and a white handbag. You're ready to conquer and run the world now.
13 – Styling High-Rise Jeans with a Long Dress
This look is experimental and sure to set you apart. For starters, choose a dress with a front closure. Unbutton from the mid-riff onwards or as per your preference. Colorful prints only make the outfit more of an eye-catcher so we say, go for it! Accessorize heavily if your dress is plain and minimally if you took our previous advice. See you sipping wine in that outfit, on a cruise!
12 – It's All Good in the Hood
Looking for a cool girl fit for your trip to the skater yard? We got the memo. Grab your brother's oversized t-shirt, pair it with a pair of black, bootcut high-rise jeans. Wear your favorite sneakers, layer some pendants, and put on a pair of small hoops. Grab a tote or small shoulder bag and you obviously cannot forget your baseball cap. An outfit so chill, but will have your peers warming up to you in no time.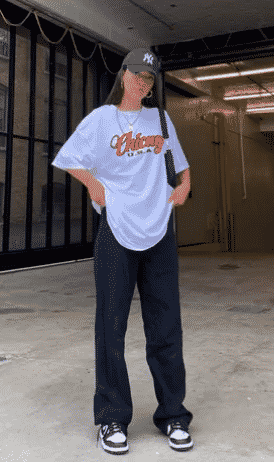 11 – High-Rise Distressed Jeans with a Graphic T-Shirt
An outfit that's just laid-back enough but doesn't cramp up your style. Pair your high-waisted jeans with your favorite band's graphic t-shirt, step into some doc martens and go hands-free with a fanny pack. Accessorize with chunky bracelets for that rad look – might even inspire you to get that piercing you've been dreaming about! Here are some more of my favorite Graphic Tee Outfits.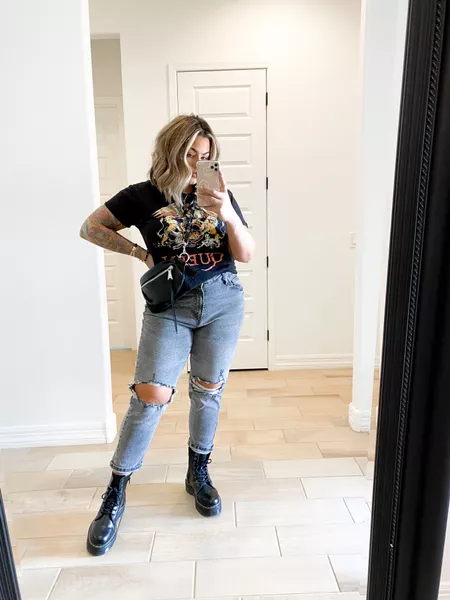 10 – What to Wear with High Waisted Jeans in Fall?
This outfit is an embodiment of calm, peace and serenity. A simple, soft white sweater and ice blue high-waisted jeans. A messy bun and some white boots – what else does one need to feel like the main character in a rom-com while sipping her pumpkin spice latte? Alexa, play Wildest Dreams by Taylor Swift.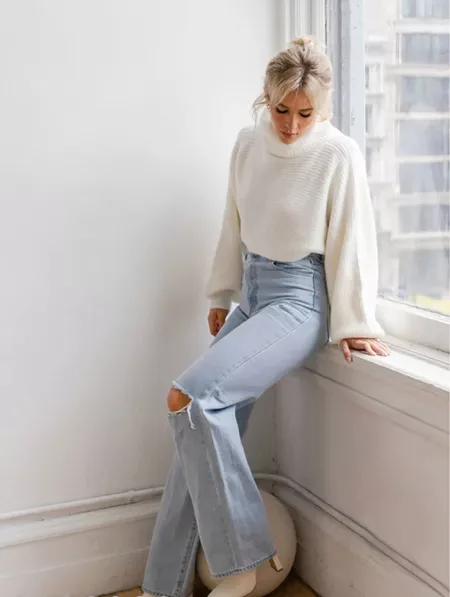 9 – Bringing Gingham Back
Layers, layers and more layers. Please. For this look, style your distressed high-waisted jeans with a bodycon black top first. Then throw on a black hoodie but keep the front chain open. On top of that, put on a gingham checkered blazer and have the hood hang out. Climb into your stilettos, wear a pendant. You're slaying, already.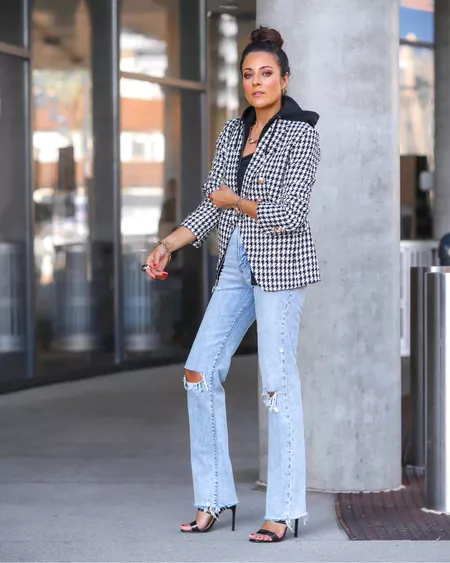 8 – When in Doubt, Camouflage
Camo, but here's how to make it cute. High-rise, ice-blue jeans and a black sweater with a faux white collar is a good look for the library. However, the moment you add a camo jacket on top – the baddie personality comes to life. An outfit that oscillates between your two extreme moods, we've struck the balance!
7 – Leather Weather
As fall makes itself at home and winter knocks at the door, we know that leather weather is here. Style your high-rise mom jeans with a white tank top and black leather jacket. Add a belt to accentuate that waist and some thigh-high leather boots if you're feeling risqué enough.
6 – High Waisted Jeans with Crop Top
Want to wear a crop top but not reveal the tummy that being a couch potato got you? Enter, High-Waisted Jeans, to the rescue. Pair a cropped camisole with high-rise bootcut jeans and add a printed shirt over it. Keep it unbuttoned for the most flattering look and slip into your chunky white sneakers for this one. Remember to add some chunky rings and quirky earrings and serve!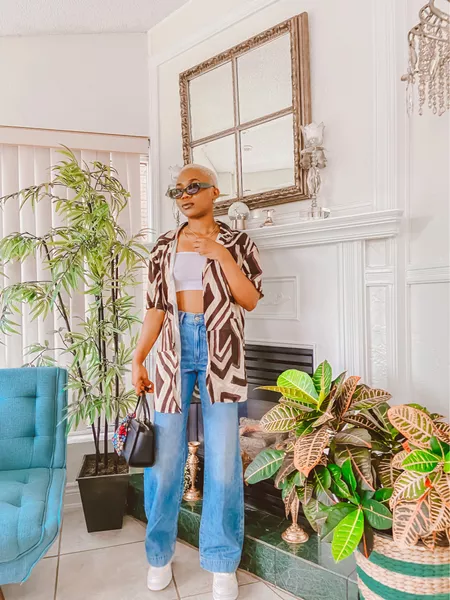 5 – Cottagecore with a Side of Rad
Ever wanted to live your cottagecore fantasies without losing your 'bruh' girl aesthetic? Yes, we've all been there and we've found the perfect outfit for that mood. Wear your high-rise jeans with a plain sage green baby tee and wear a lace white corset over it. Giving layers a new meaning, this one is sure to turn heads.
4 – Asymmetric Waistlines with Cold Shoulders
Unconventional, exciting, dramatic, and a head-turner – this outfit is all in one. While the first things that tend to catch the eye are the puffed sleeves and bare shoulders next to a mock neck, the asymmetric waistline of the high-rise jeans takes the crown! Since both the top and bottom are iconic elements in the outfit, we'd suggest you keep the accessorizing muted and minimal with nude hues. However, some big hoops and stunning shades never hurt anybody, so, go on, knock 'em dead!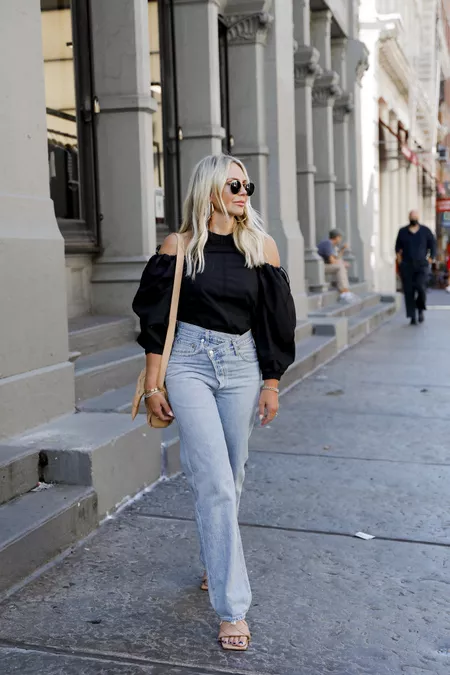 3 – High Waisted Jeans Outfits for Summers
As per Spring Summer '22, subversive cutouts are back! Stay on-trend and flaunt that skin with some peekaboo tops! Wear your cutout top with mildly distressed high-rise jeans and translucent heels. Layer with your favorite formal coat, and pick a matching quilted shoulder bag. Don't forget your shades and some minimal golden jewelry.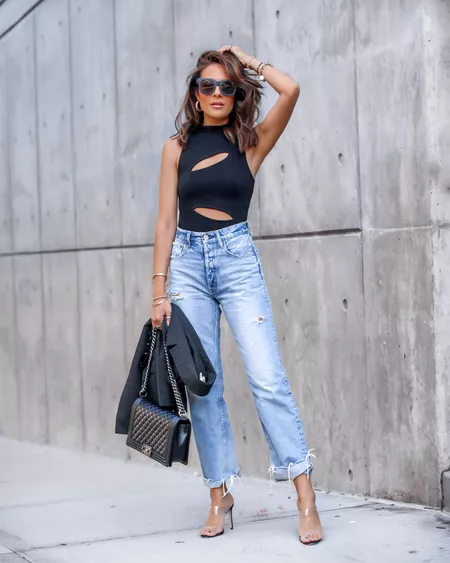 2 – Green, Pink, White and Everything Nice!
Uh no, we're not quite done with color blocking yet. Tired of boring OOTDs, and feeling a little experimental? Put together a pink or mauve high-waisted jeans with a green crop top. Layer with a white shirt – front open and sleeves rolled up. Finish the look with yellow sunnies and strut down the streets in style.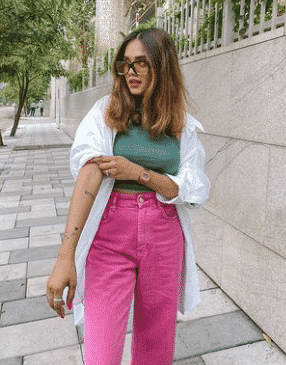 1 – Bringing the Drama
All the drama we want in our lives, we get via them OTT sleeves! Pair your high-waisted sailor jeans with an iconic sheer top with puffed sleeves. A continuous print pattern on the top looks just as great as a plain black sheer top. Wear a tube top or a fancy bralette underneath for that oomph factor! Choose a contrasting bag, small hoops, and simple sandals to complete the look, and voila – you're ready to slay!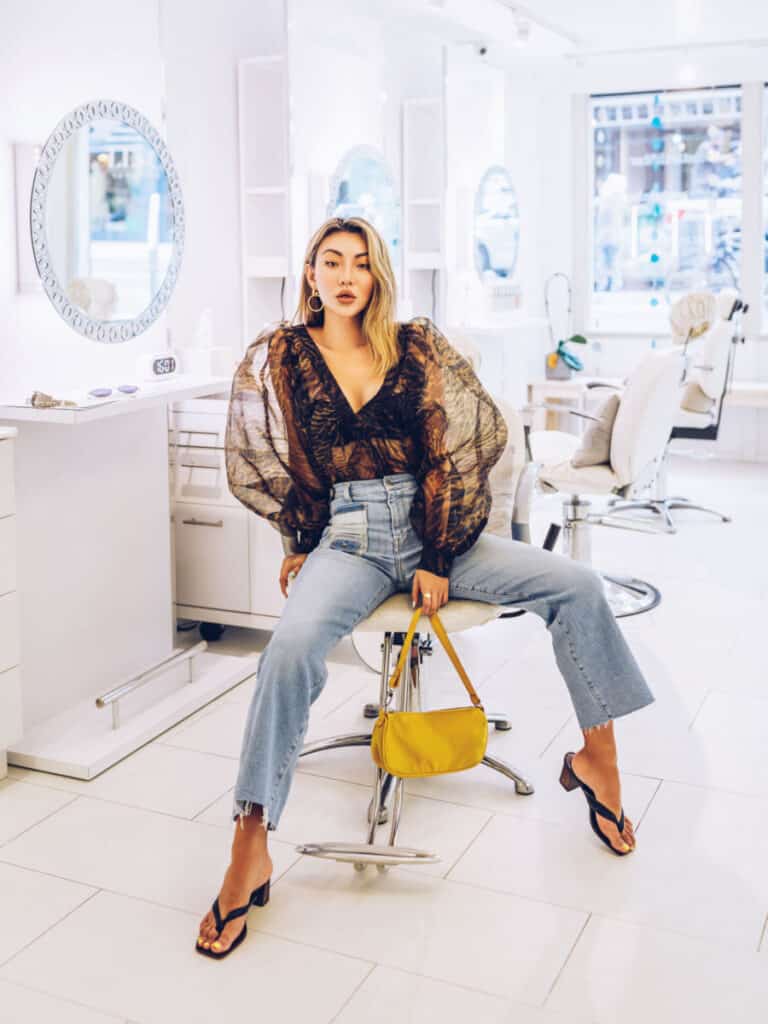 That's our curation and tips for styling high-waisted jeans. Like we mentioned earlier, high-waisted jeans are an investment and an evergreen style. Go, look pretty now!
Frequently Asked Questions
Q. What body type should wear high waisted jeans?
High-waisted jeans are best suited on hourglass-shaped bodies as they'll highlight your waist.
Q. Can I wear high waisted jeans with a belly?
If you have a tummy, the rightly fitted high-waisted jeans with a front tucked shirt can be a great way to hide it. Another trick is to wear the same colored jeans and top and then layer it with a contrasting colored shirt or jacket as this will make you appear longer and slimmer.
Q. Are high waisted jeans uncomfortable?
If you're wearing high-waisted jeans for the first time, they might feel a little uncomfortable but after wearing them 2-3 times, you won't even notice any difference. There are many types of high-waisted jeans such as skinny, tapered, wide and straight so you should choose one that most flatters your body type or one that you're used to, in order to avoid discomfort.
Q. Where to shop for high waisted jeans?
Here are some of my favorite places to shop for women's high waisted jeans:
Nordstorm

GAP

Elooquii

Amazon

Anthropologie

Levis

Next
Q. What shoes to wear with high waisted jeans?
The shoes you wear with high waisted jeans depend on two things, the occasion you're dressing for and the type of high waisted jeans that you're wearing. For casual wear, these jeans are mostly worn with sneakers, booties or flip flops. For more on this, go through our detailed guide on Best Women's Shoes To Wear With High Waisted Pants.