How to style sleeveless turtleneck tops – Do you want to try something new for your outfit? Are you tired of wearing bulky full sleeve dresses or tops? Don't worry. We are here to save you from your monotonous styling. More than often, women waste a lot of time and other resources by looking for unique and stylish outfits. Still, they don't feel satisfied with their wardrobe.
Have you been there? We totally feel and get the struggles you go through daily. So, to save you all from this misery, we are here to share some outstanding yet simple outfits. With changing weather, where you can neither go for fully warm clothes nor completely thin fabrics, a sleeveless turtleneck top outfit is your best option. Without further ado, dive into this article and read till the end to get various ideas for styling them.
What To Wear With Sleeveless Turtlenecks?
As said earlier, your best option is to go for the turtleneck style. You won't regret your choice if you style your sleeveless turtleneck tops wisely. These tops come up in a variety of colors. These leave a large margin for layering with different clothing items. You can wear these sleeveless turtleneck tops underneath other tops as well as over them. As for bottoms, you can wear them with loose pants, flare pants, mom jeans, and so on. We have listed some of the ways to style turtleneck tops without sleeves.
Some Do's And Don'ts of Styling Sleeveless Turtleneck Tops
First and foremost, choose your fit and fabric. From an economic's point of view, go for synthetic blends or wool (if it's cold).
Just because you saw some famous fashion designer or celebrity wearing a crop top, doesn't mean you have to wear it too. If it's not comfortable, it isn't worth it.
Avoid wearing jewelry over a turtleneck top.
A cardigan or blazer is recommended.
Don't wear tight-fitting pants with a sleeveless turtleneck outfit if it is layered with other clothing items. You will need some volume at the bottom as well to balance your look.
Avoid scarves over turtlenecks because that might make you feel uncomfortable and awkward.
20 – Turtleneck Sleeveless Crop Top With Plaid High Waist Shorts
Here is the simplest option for you. Pair your crop top with plaid high waist shorts, perfect look for hot weather. This outfit is suitable for your private picnic with your friends.
19 – Black Turtleneck Top With A Bodycon Skirt And A Belt
Get the classy look by recreating this look. This look gives off a full dress vibe and so it is suitable for various occasions. Get your sleeveless turtleneck tank top and pair it with a bodycon skirt of the same color. Wrap a belt over your waist to highlight your body proportions.
18 – Pair A Crop Top With Ripped Denim Shorts
As said earlier, turtleneck tops come in a variety of colors. You can pick any of your choices. Take your favorite color out of your wardrobe and pair it with ripped denim shorts. Your chic and cozy look is ready.
17 – Team White Sleeveless Turtleneck Tops With Black Skirt
Going to a party with your friends? Get inspired by this sleeveless style. Wear your fancy turtleneck top without sleeves and team it up with a skirt (choose the length of your skirt according to your preference). The black and white combination can never go out of style, no matter what!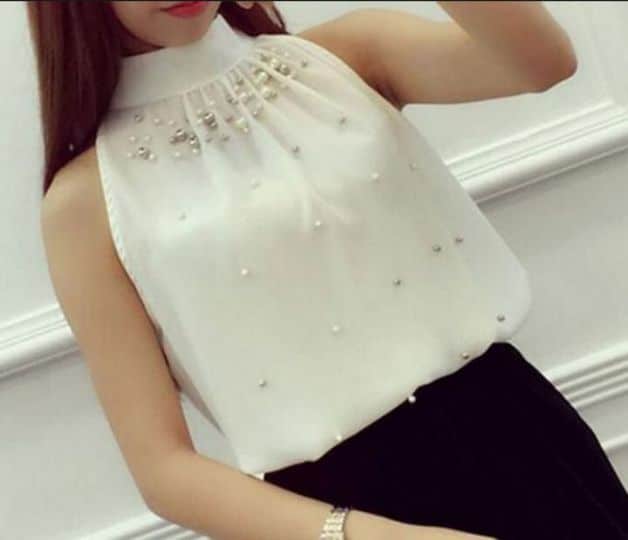 16 – Turtleneck Top With Loose Fitting Jeans
If you are going out somewhere with your friends or colleagues, you can style your top with either a pair of loose-fitting jeans or a long skirt. Team up your top with a bodycon long skirt or any other skirt.
In case, you want to feel more comfortable, you can replace the skirt with a pair of jeans. Complete your look by adding some accessories like a handbag, sunglasses, wristwatch, etc. For your inspiration, have a look at the image below.
15 – Plaid Turtleneck With Ripped Jeans And A Purse
Grab your turtleneck top without sleeves and team it up with a pair of ripped loose jeans. Wear some comfortable shoes like pumps with low heels matching your outfit. Add a bag to your ensemble to generate feminine vibes.
14 – Flare Jeans And Turtleneck Top Without Sleeves
Grab your sleeveless top and simply pair it with flare jeans as shown in the image. Adding sunglasses and a handbag along with heels will certainly ensure you like a femme fatale. But, you don't have to strictly follow this look. You can modify it according to your taste.
13 – Turtleneck Top Underneath A V-Neck Sweater With Pants
Usually, the V-neck and turtleneck combo is a no-no. However, this outfit is exceptional in that case. This accounts for the formal as well as the cozy look you were seeking. Wear a pullover V-neck sweater over your top and pair them with pants. For shoes, opt for closed-toe boots.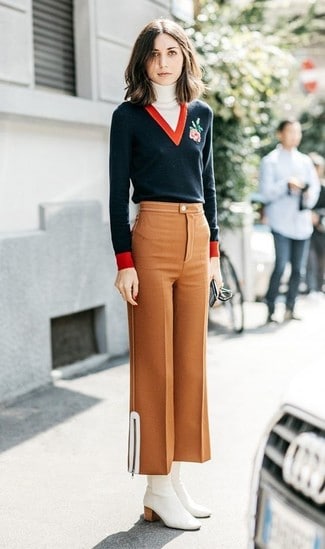 12 – Turtleneck Top and Jacket
Want to look chic for your upcoming date or a meetup with friends? Here is an idea for you. Style your sleeveless turtleneck tank top with denim jacket and trousers in any color of your choice. Wear some accessories, and you are all set to go!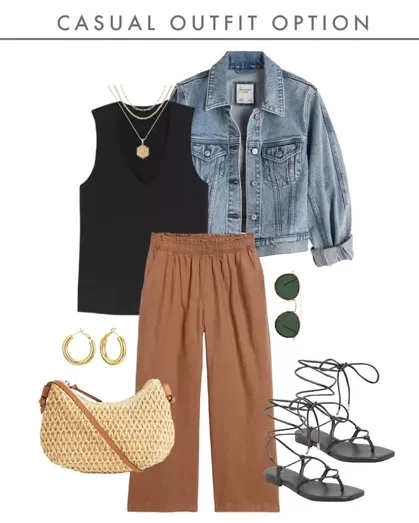 11 – An Overall Dress With A Turtleneck Top
All you have to do is wear a sleeveless turtleneck top underneath a leather overall flare dress. For a better overall look, wear knee-length boots with it. Add a tote handbag to complete your look.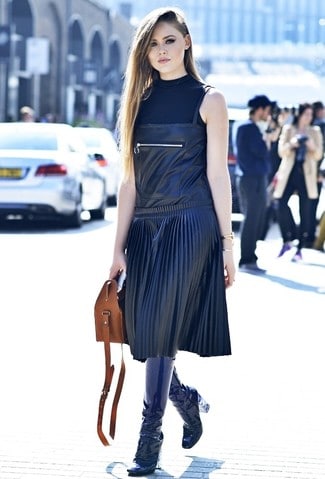 10 – Black Monochrome Sleeveless Turtleneck Top With Dress Pants
Looking for some day-to-day classy outfit? Here is the classy look for you. Just pair your sleeveless turtleneck top with a pair of dress pants and high heels. Wear this outfit with a smile and full confidence. You definitely are going to slay this look!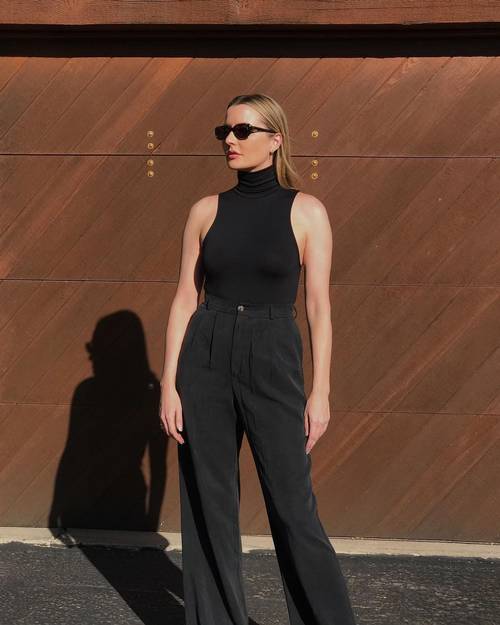 9 – Style White Turtleneck Sleeveless Top With Denim Skirt
Get your inspiration from this look. This attire is simple and easy to wear. Pair your turtleneck sleeveless top with a denim skirt and wear some light jewelry with it. Add a handbag, sunglasses, and a hat. If you are up for cool vibes, this one is definitely for you.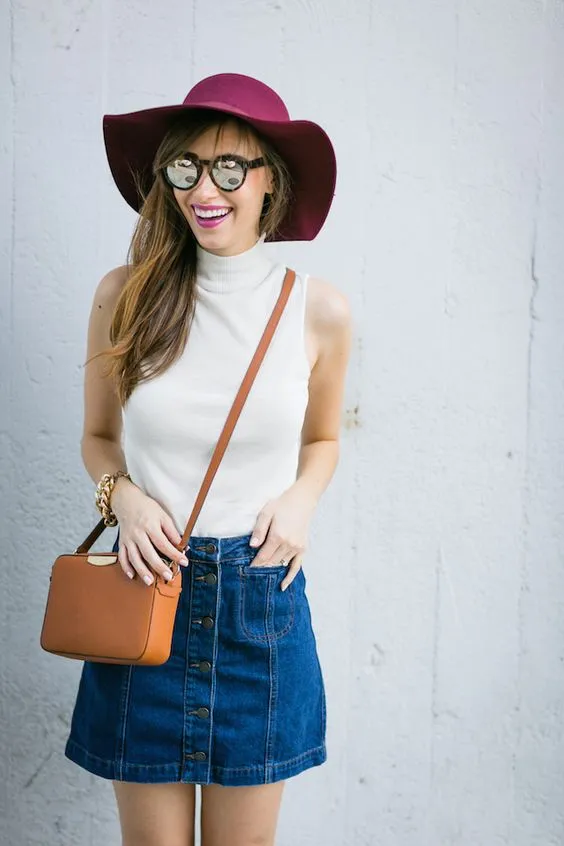 8 – Turtleneck Sleeveless Top With Ripped Jeans And A Hat
Who said you couldn't wear distressed jeans with a turtleneck top without sleeveless? You definitely can wear them if you feel like opting for this combination. Team up your turtleneck top with a pair of ripped jeans and throw a hat over your head. Tuck in half of your top in your ripped pants for a better look. There! You are ready to rock this look!
7 – Pair A Black Sleeveless Turtleneck With A Pencil Skirt
If you are looking for a formal sleeveless turtleneck style, then we have good news for you. Here is a casual office look for you. Style your plain turtleneck sleeveless top with a ripped pencil skirt about knee length. Pull on some nice pair of heels with this attire. Also, you can put a blazer over it if the weather allows it. Otherwise, this outfit will look well even without a blazer.
6 – Match Black Sleeveless Turtleneck Tops With Blue Long Split Skirt
Pair your black turtleneck sleeveless top with a long split skirt. You can try different color combinations with this outfit and choose whatever catches your attention. As for shoes, either opt for flat shoes like joggers or heels if you want.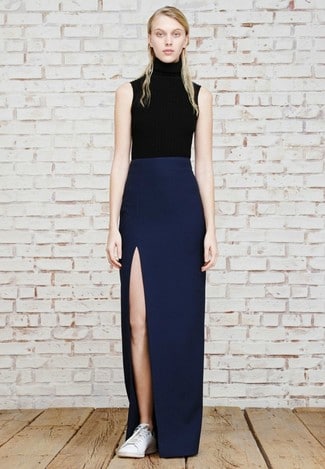 5 – Turtleneck Sleeveless Top and Jeans Pair, And An Oversize Outerwear
Looking for an outfit that could be worn on all occasions? If so, you don't have to do much. All you need is your staple sleeveless turtleneck top, a pair of jeans, and oversized outerwear. Take this look as an example. Simply, wear your top with a pair of jeans. Afterward, throw an oversized cardigan, jacket, or a coat over it.
You might have noticed here the fitting jeans. In this case, you can wear fitting jeans as the proportions are balanced by oversized outerwear. This way, the physique doesn't look imbalanced.
4 – Beige Sleeveless Turtleneck Tank With Jeans
Want to look stylish without spending a lot of energy? If yes, this look might inspire you. Pair your sleeveless turtleneck tank with a pair of jeans. As you can see, the body seems to be proportioned, hence jeans are okay in this case. For shoes, wear the high heels of your choice. You can even opt for boots.
3 – Striped Line Mock Turtleneck Top With A Maxi Skirt
Ready for a cool look to slay? We have a stunning outfit idea for you. Go out of your comfort zone next time you go for an outing. Grab your mock turtleneck top and team it up with a floral print maxi skirt. Wear flats sandals, probably black sandals. Match a handbag with your shoes.
You can also keep a black leather jacket with you. You never when the weather might decide to get cold or start raining. You might as well be ready for it!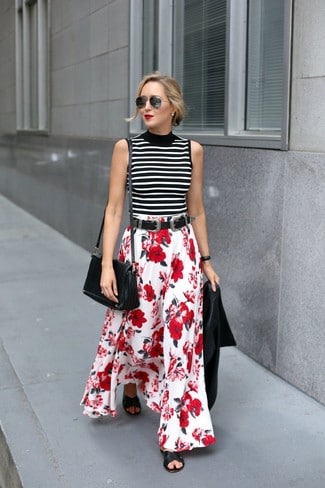 2 – High Turtleneck Sweater With Pants
Get this celebrity-inspired look next time you go traveling or visit your family, relatives, or friends. Grab your sleeveless turtleneck sweater and pair it with dark gray pants. Add outerwear of your choice to this attire. Wear sunglasses, a bracelet (or wristwatch if that's what you prefer), a ring and of course high heels. Everyone is going to love your outfit.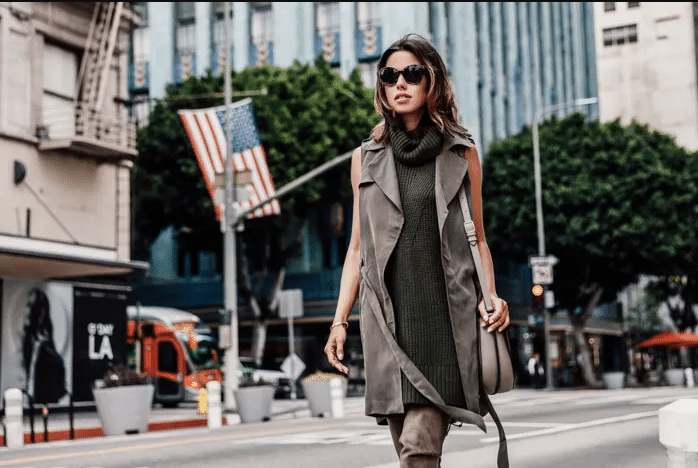 1 – Layer Turtleneck Top With A Button-Down Shirt And Black Trousers
No doubt, there are a number of ways to style sleeveless turtleneck tops. It is not that difficult. You just need to pay a bit of attention to your body, comfort level, current trends, and available outfits in your wardrobe. Blend them together generating new ideas for your statement look.
For instance, you can look at the outfit shown in the image below. Layer a mock turtleneck sleeveless top with a button-down casual shirt. Wear jeans and heels with this outfit. As this look contains a mock turtleneck top, you can go for a locket. A pair of earrings would add more to the overall look.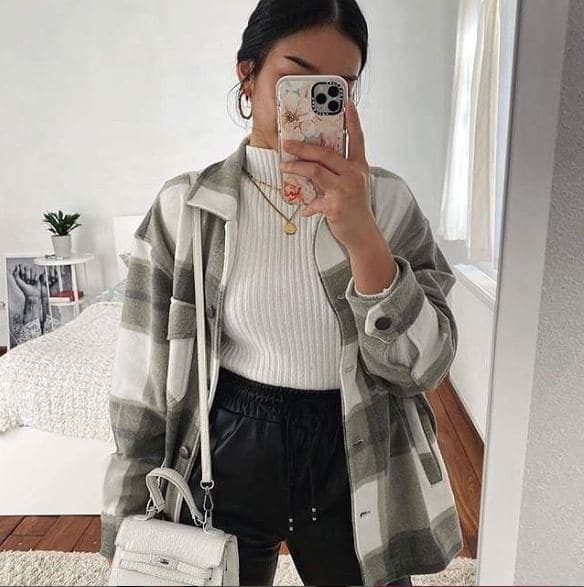 Frequently Asked Questions
Q. How do you wear a sleeveless turtleneck?
A. It is quite easy to wear a sleeveless turtleneck top. You need to be careful of your body proportion while styling your outfit. If your top portion seems bulky, wearing loose-fitting pants would be better. For example, you can wear a turtleneck sleeveless crop top with a pair of dress pants or flared jeans. Throw a jacket over your shoulders. That's it!
Q. Are turtleneck in style 2022?
A. You might be under the false impression that turtlenecks are out of fashion. This is not true though. Turtlenecks have been in trend for years now. There are various types of turtlenecks that you can choose to wear. The sleeveless turtleneck tops are the most common as these give room to other clothing items to be worn over them or even underneath them. In the current era, even celebrities are opting for turtleneck sleeveless tops.
Q. What looks good on top of a turtleneck?
A. It totally depends on the type of turtleneck you are opting for. For instance, a blazer or a cardigan is the most common clothing item that women wear over a turtleneck. An overall might also look good on top of the turtleneck. In fact, anything can be thrown over tops as long as you know how to pull off the look.