Lehenga with long kurta – As the wedding season starts in Pakistan and India, you can see girls dressing in luxurious and stunning dresses that blow your mind. When we talk about desi fashion, lehengas with long kurtas take the lead.
There are numerous occasions where you can wear these gleaming gowns without looking overdressed such as the mehndi party or wedding ceremony. Lehengas and kurtas are wardrobe essentials, but when it comes to styling them, many girls get confused.
If you are looking for new ways and styles to wear a lehenga with a long kurta, then you have come to the right spot. We are going to discuss everything from patterns to accessories, so sit back and enjoy this ride.
Best Lehenga With Long Kurta You Need To Try
A lehenga with a long kurta gives you the feminine and sophisticated look that everyone looks for in an outfit. Many people believe that there are limited ways to style them, but these are all lies. You can play with patterns, colors, fabrics, and much more. Let us jump right into the styling tips that will help you stand out in the crowd.
Tips And Tricks For Styling Lehenga And Long Kurta
Try to go for seasonal fabrics. If you are attending winter functions it is best to go for velvet and raw silk. These fabrics will protect you from the ferociously cold weather in addition to giving you an opulent, imperial appearance. You must avoid wearing them during the warmer seasons.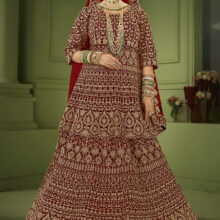 Go for peplum blouses, they are chic and fashionable. You can not only slay the wedding or a party but it is appropriate for the winter season as well. Make sure the sleeves complement the season. If you are attending a winter wedding it is best to go for full sleeves and they will look majestic in velvet.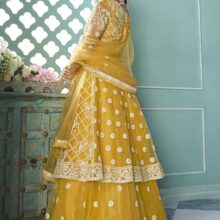 A lehenga with a long kurta looks stunning on its own but when it comes to the winter season add a leather jacket for extra glam. You will not only look different but will be safe from the chilly winter nights.
If you are attending a wedding in the winter season, it is better to go for bold colors like gushing green, royal blue, or golden. These colors are warm and ideal for winter nights. And who does not look great in bold colors? You will definitely love the overall look of it.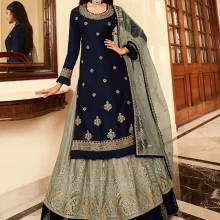 20 – Brocade Lehenga With Long Kurta
Brocade's patterns have a regal, exquisite appearance that is sure to catch people's attention. It is a great choice if you are attending a night function or a party.
This is a lovely lehenga with a long kurta that you can incorporate into your wardrobe. The brocade work in royal blue and golden colors gives off a majestic look.
For a more refined look, wear green high heels. Don't forget to accessorize with a simple necklace and earrings that enhance your dress.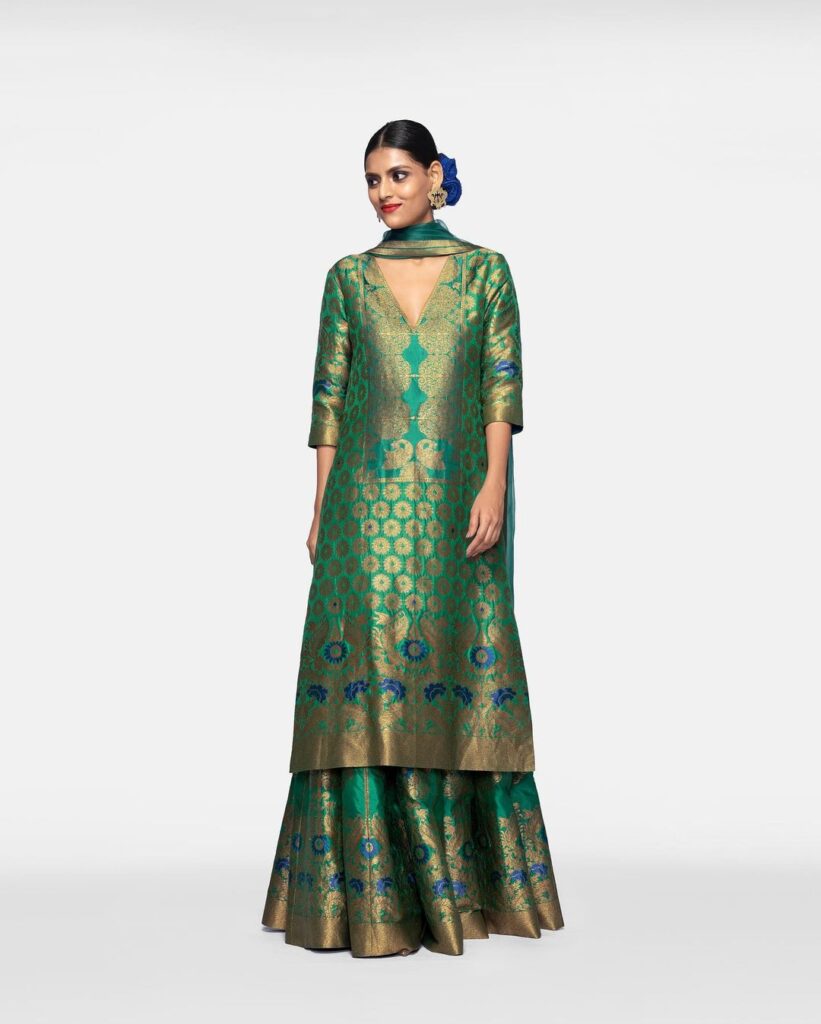 19 – Tea Pink Velvet Set for Brides
This outfit looks glamorous and seems to be the perfect choice for brides. The beautiful detail at the border of the lehenga and kurta with light golden threadwork is the highlight of this dress.
Tie your hair in a bun and add heavy jewelry for your special occasion. The whole attire is like a dream come true.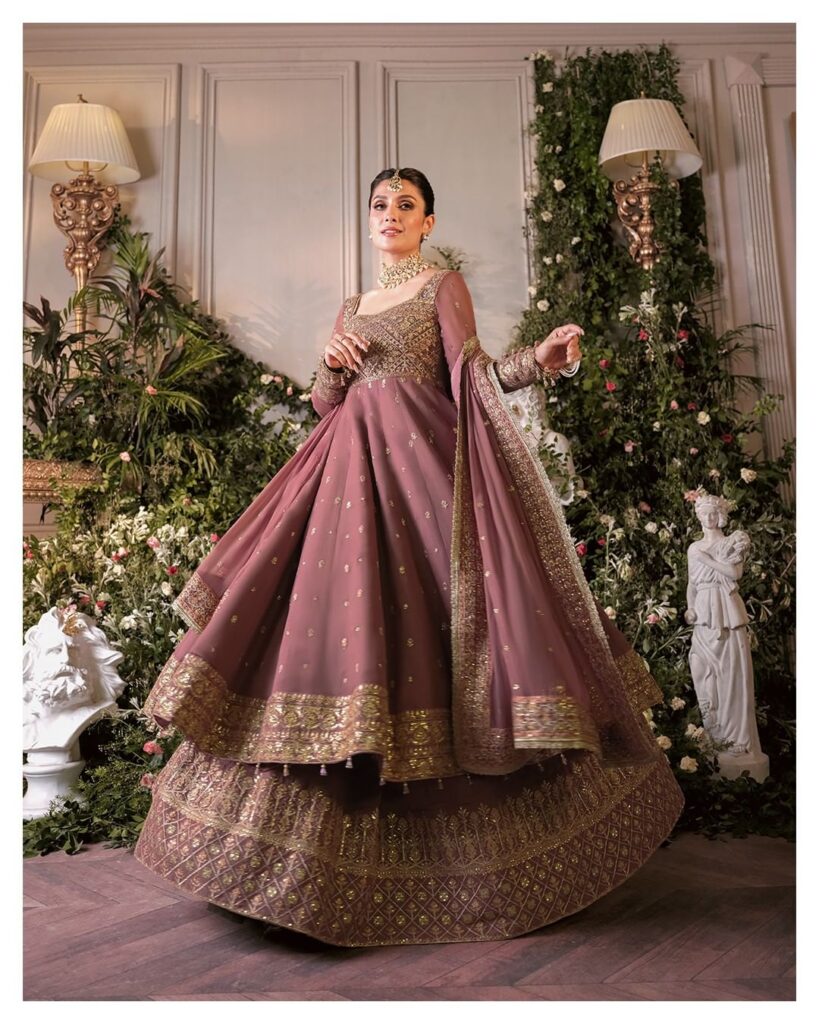 18 – Mix And Match Of Black And Cerulean Blue
The color scheme of black and cerulean blue is appealing. The cut work on the kurta lends it a traditional appearance. The lehenga's grey and gold print make it ideal for any function. Moreover, it has a festive appearance due to its flared sleeves and lehenga.
Pair it with either traditional khussas. Accessorize the outfit with a traditional jhumkas and necklace. Let your hair fall on your shoulders and you will have a stunning outfit.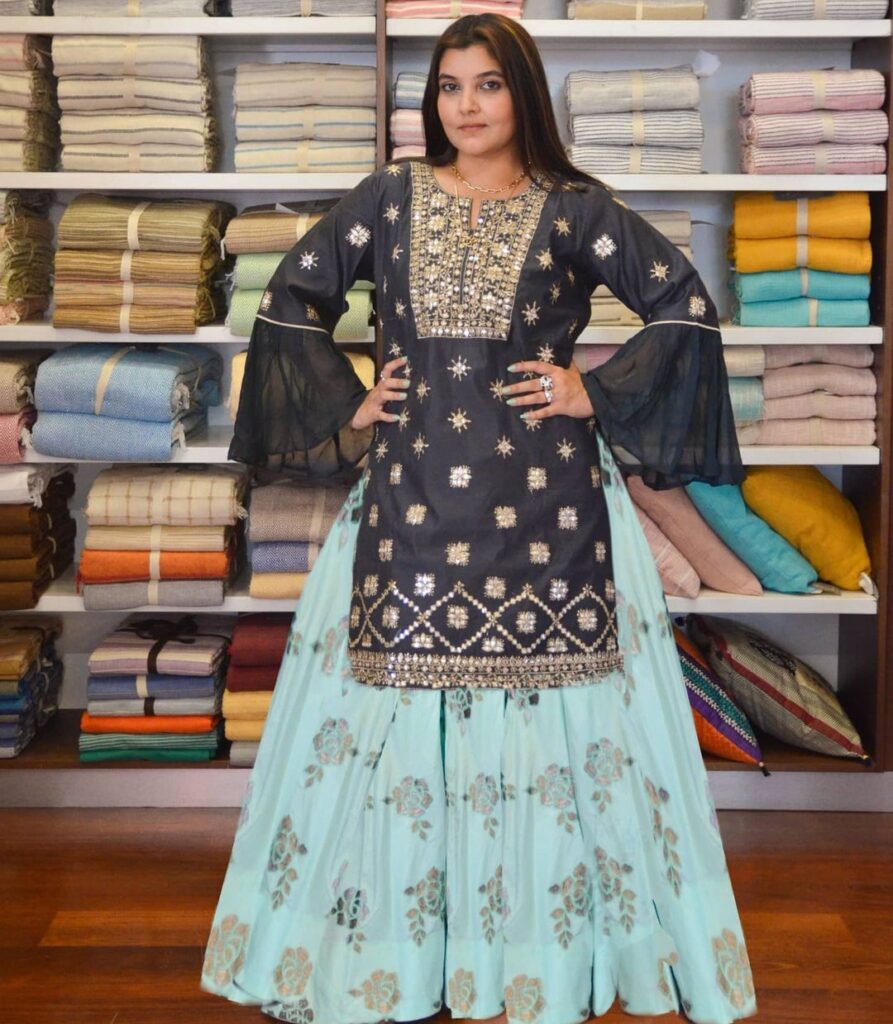 17 – Flared White Lehenga for Mehndi Functions
A symphony of yellow and white is a unique creation. The splendid pishwas work on the kurta and lehenga makes it a perfect outfit for mehndi functions. The delicate embroidery with sequins, the handmade neckline, and the jewels hanging on the bodice and sleeves are not to be overlooked. A heavy dupatta lifts the entire ensemble. This outfit exudes elegance and grace.
You can try yellow or white embroidered khussa shoes to compliment your dress. When it comes to hairstyle it is up to you to either let your hair fall on your shoulder or try a braided bun.
16 – Try A Teal Blue Party Wear
This dress manifests femininity. The allure of embroidery on graceful long sleeves, an embellished neckline, and elegant hemlines further enhance its magic for a truly show-stopping look at wedding parties.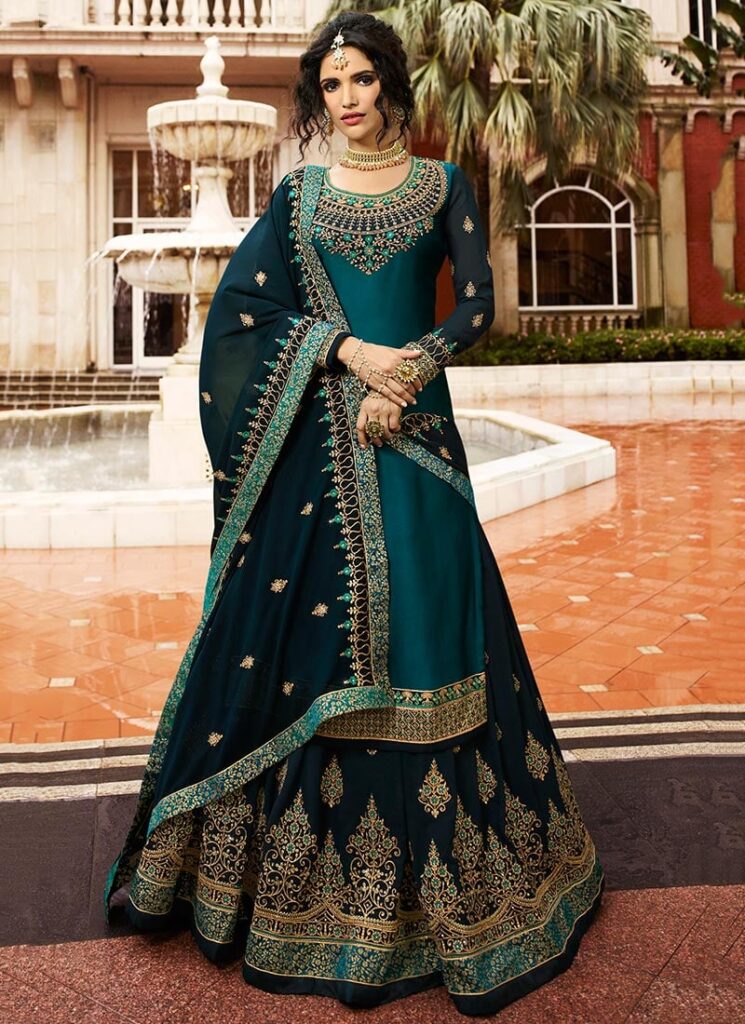 15 – Net Kurta With Silk Lehenga
This is another valuable addition to your wardrobe and is perfect for desi weddings. The kurta has a front slit. Combined with the simple silk lehenga, the full kurta looks absolutely stunning. A dreamy organza dupatta with visually pleasing tilla, thread, shimmery work, and petite hand-crafted tassels at the sides adds to the look.
As the whole outfit is embellished heavily, you can go with light makeup and jewelry. It is a stunning statement piece that you can wear to the nikkah ceremony.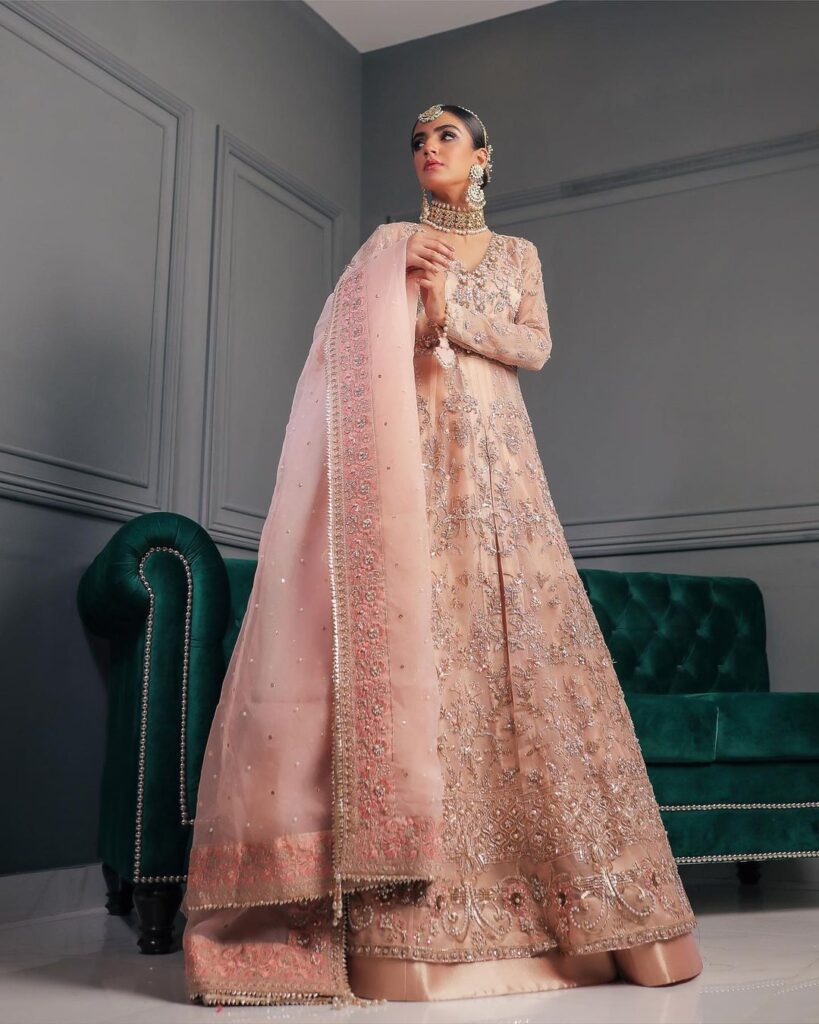 14 – Magic With Simple All Red Set
If you want a simple yet graceful lehenga and kurta, this is an amazing choice for you. The red embroidery on the front of the kurta and the pearls on the bottom are simple addition that elevates the appearance. As the dress is simple, the tight sleeves and flared lehenga makes up for it.
Going for open hair or letting your hair in a loose bun is preferable. This outfit can also be dressed up for a more formal appearance at night.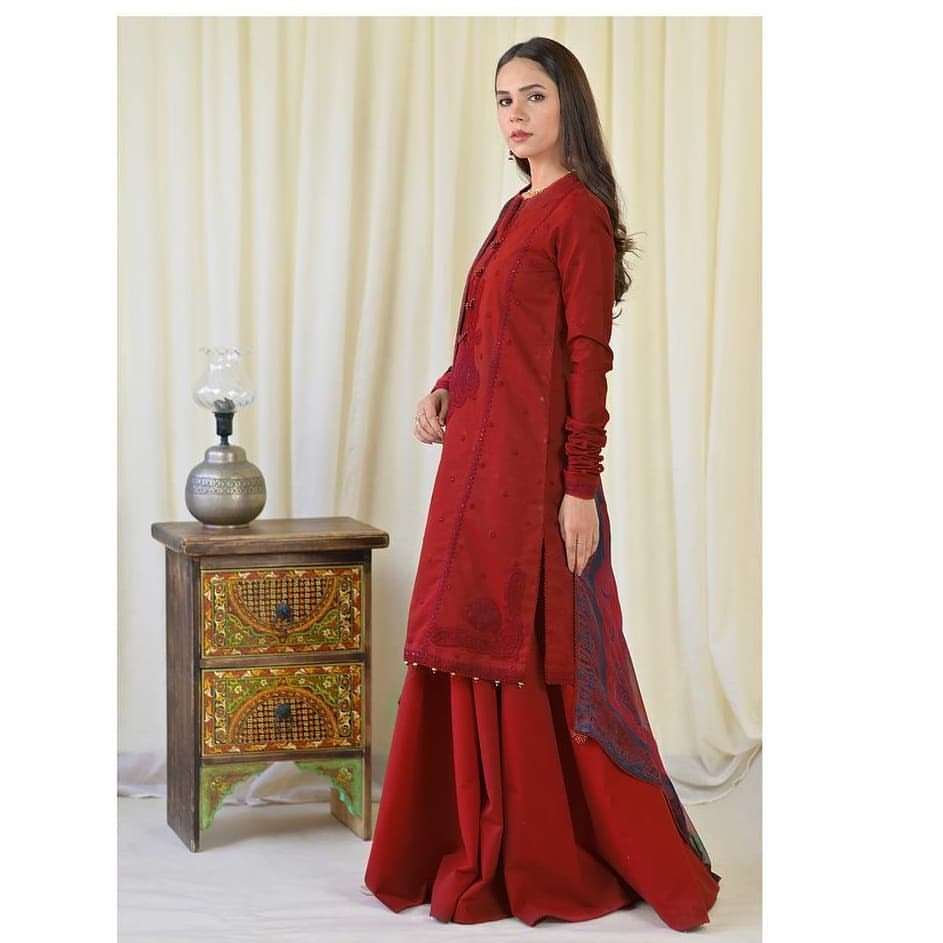 13 – Mirror Work Lehenga
The peplum yellow kurta is not only eye-catching but also functional in the winter. The intricate work in multiple colors on the dress makes it suitable for a party or a regular function.
To complete the look, tie your hair in a bun and wear some hoop earrings. To match the dress, wear a khussa shoe in yellow or multiple colors.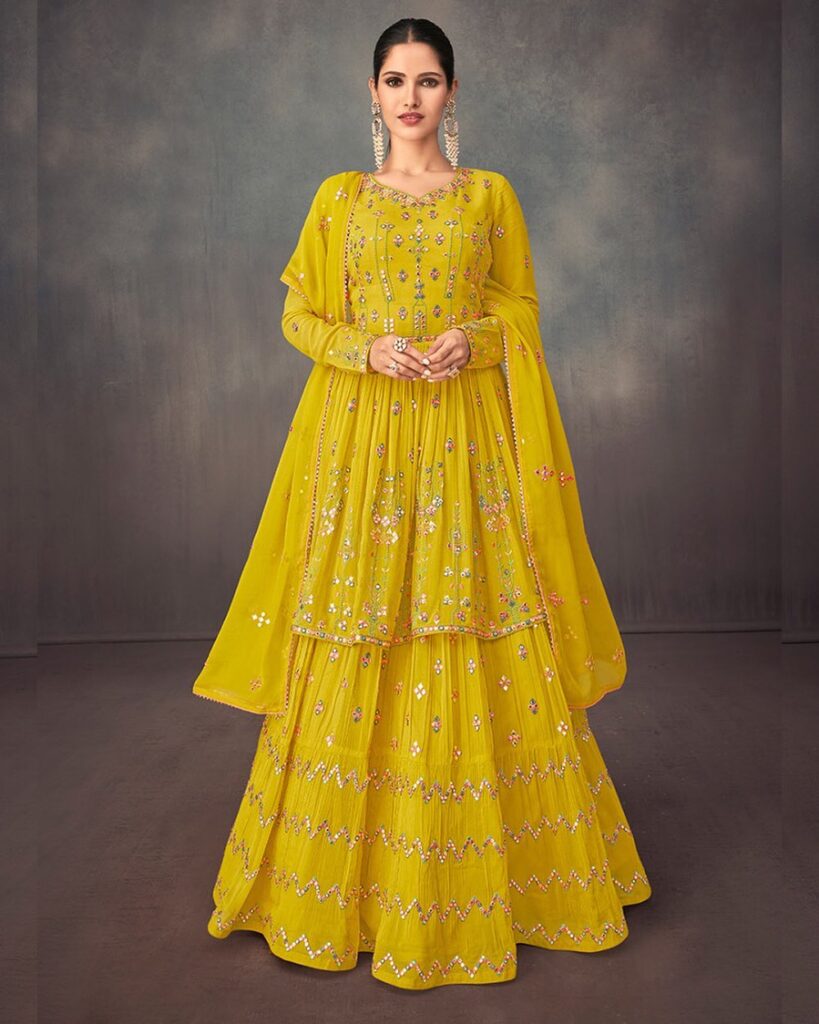 12 – All White Supremacy
Do you want an elegant and pure vibe for your wedding? It is a fantastic idea to wear an all-white lehenga and a long kurta. It's a stunning piece thanks to the white thread work and lace on the bottom and neck. The net dupatta with laces at the corners rounds out the look.
Try to go for black smokey eyes or even simple make-up will do better with this dress. Put on a pair of white flat shoes and you're ready to go.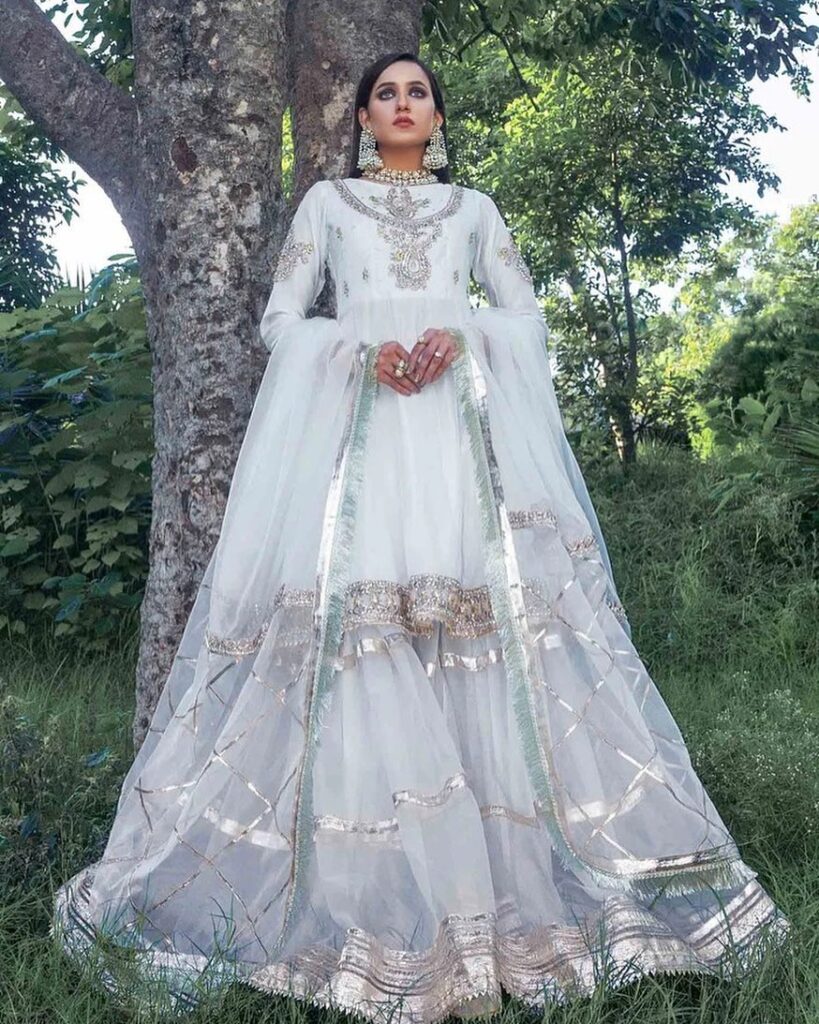 11 – Try Chikankari Kurta Over Floral Lehenga
This dress is a well-thought-out addition to your wardrobe. The floral lehenga has beautiful tones. The long kurta is in a contrasting color, and the outfit has a front slit. The bodice is embellished with embroidery.
Add some platform shoes and light makeup. You can add a leather jacket to it at night time.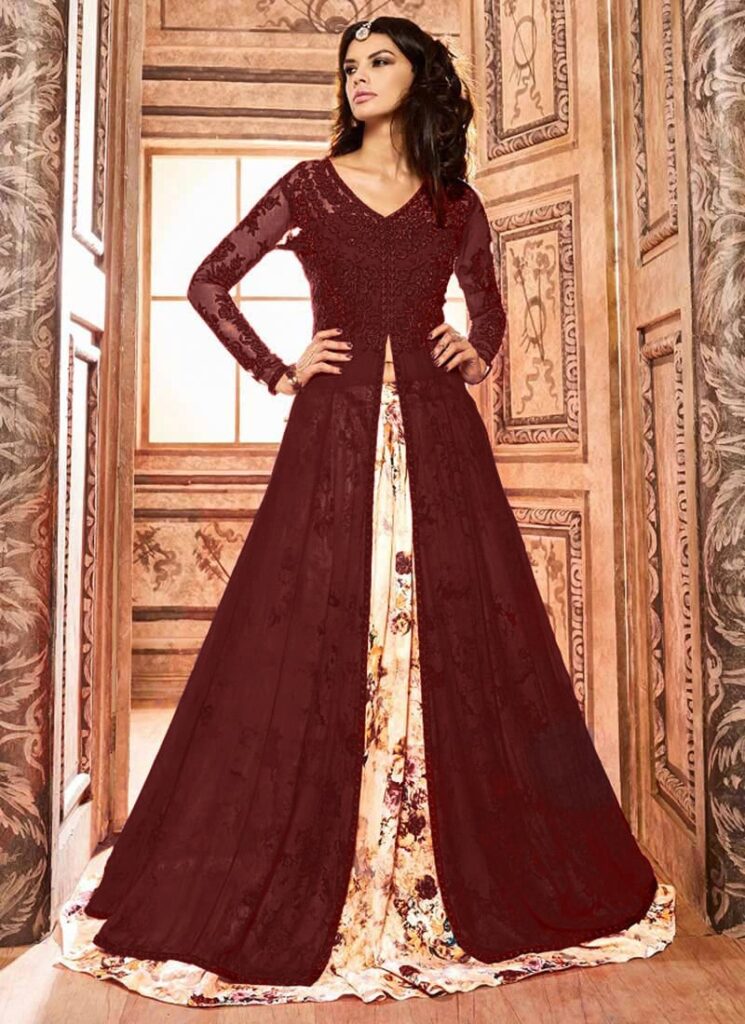 10 – Red Lehenga With Tail Cut Long Kurta for Brides
You can expect a lot of heads to turn around, dazzled by the elegance this dress exudes. The red tail-cut gown is handcrafted with zardozi and resham thread and is contained in an impressive array of cutdana, sequin, and gem handwork. The elaborate work on the lehenga and kurta is astounding. The organza fabric is luxurious, and the fit is ideal for a bride.
Add some delicate jewelry, and you'll be the center of attention at the event.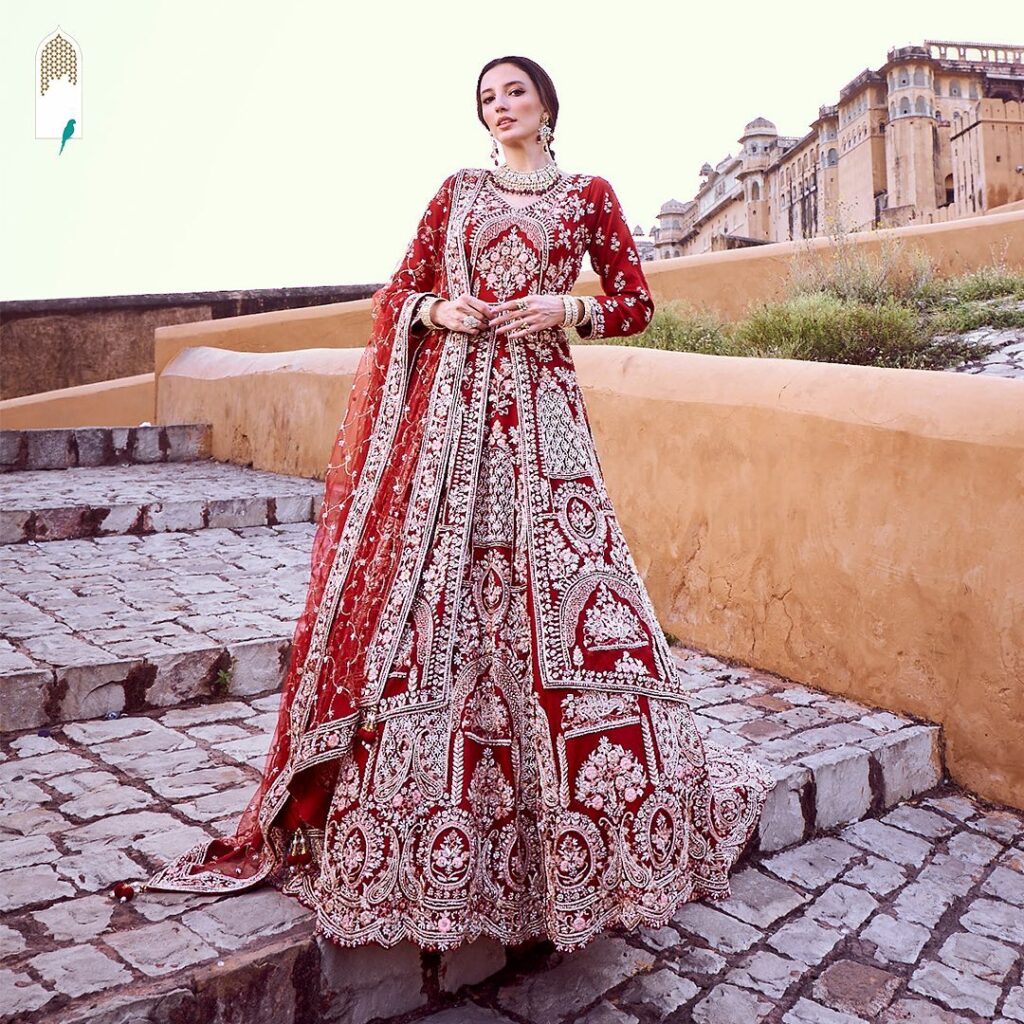 9 – Don Different Shades of Purple
Isn't this dress a dream for Indian bridesmaids? These two shades of purple blend well together and is perfect for day weddings.
Go for party makeup and choose ankle strap heels that enhance the dress and you will look absolutely stunning.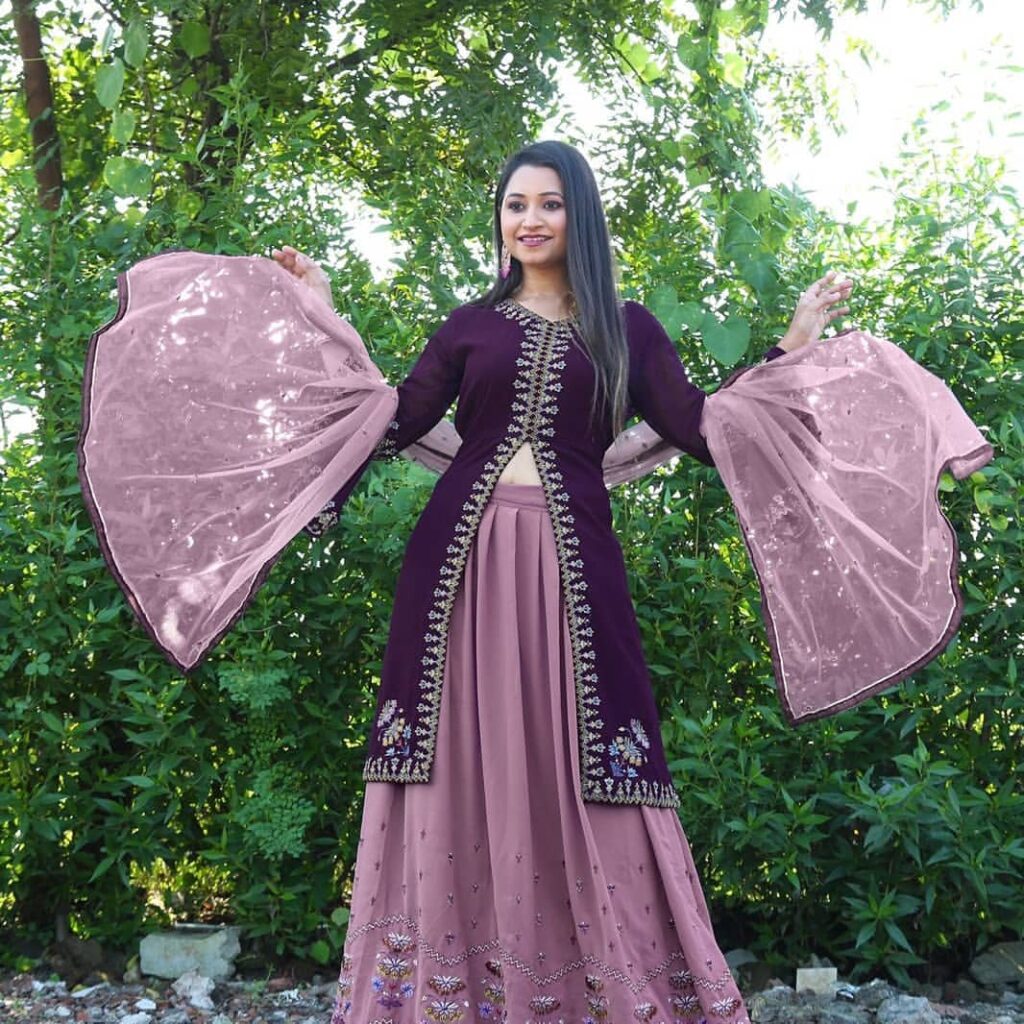 8 – Black Faux Lehenga And Kurta
This black faux georgette dress features elegant minimal embroidery. It's stunning because of the foilage pattern on the neck and the beadwork on the georgette dupatta. Its black and brown color scheme makes it ideal for wedding wear.
The outfit exudes both elegance and style. Add high heels and traditional jewelry. Nude makeup and smokey eyes will go perfectly with this look.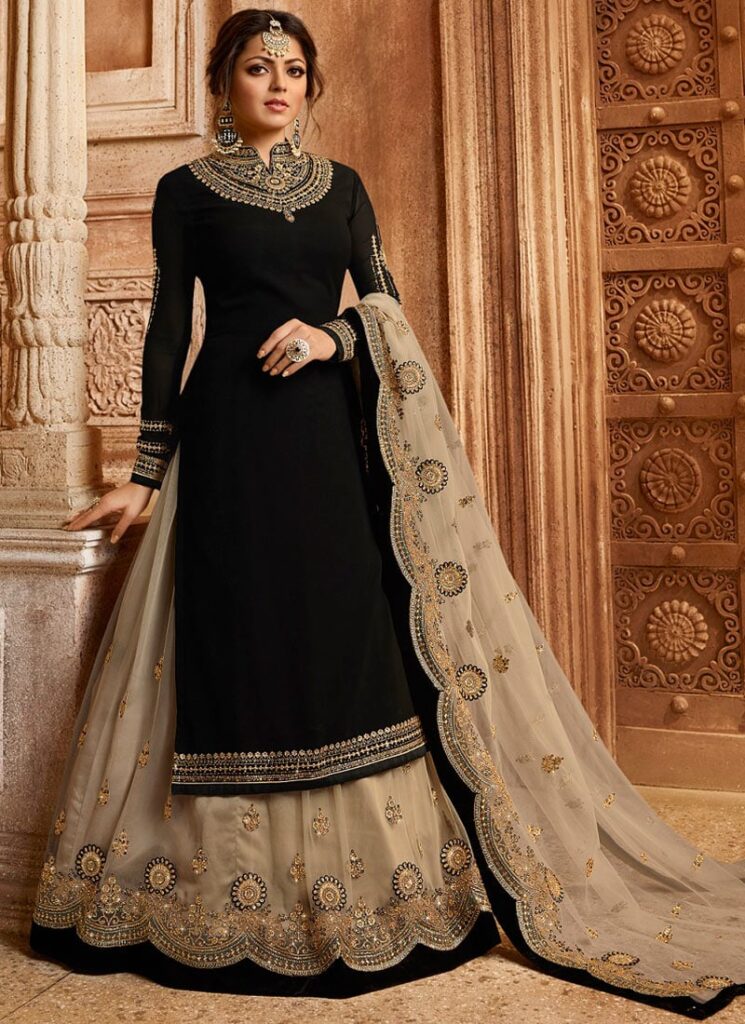 7 – Don A Mirror Work Kurta
The blue and beige lehenga, with the net off-white dupatta, looks perfect for casual wear. There is off-white threadwork and embroidery on the kurta. The color combination is perfect for summer and winter. The round deep neck with a half-circular flare adds variety to the dress.
You can add minimal jewelry and a matching jacket for the winter season. This unique yet simple dress is your go-to choice for any function.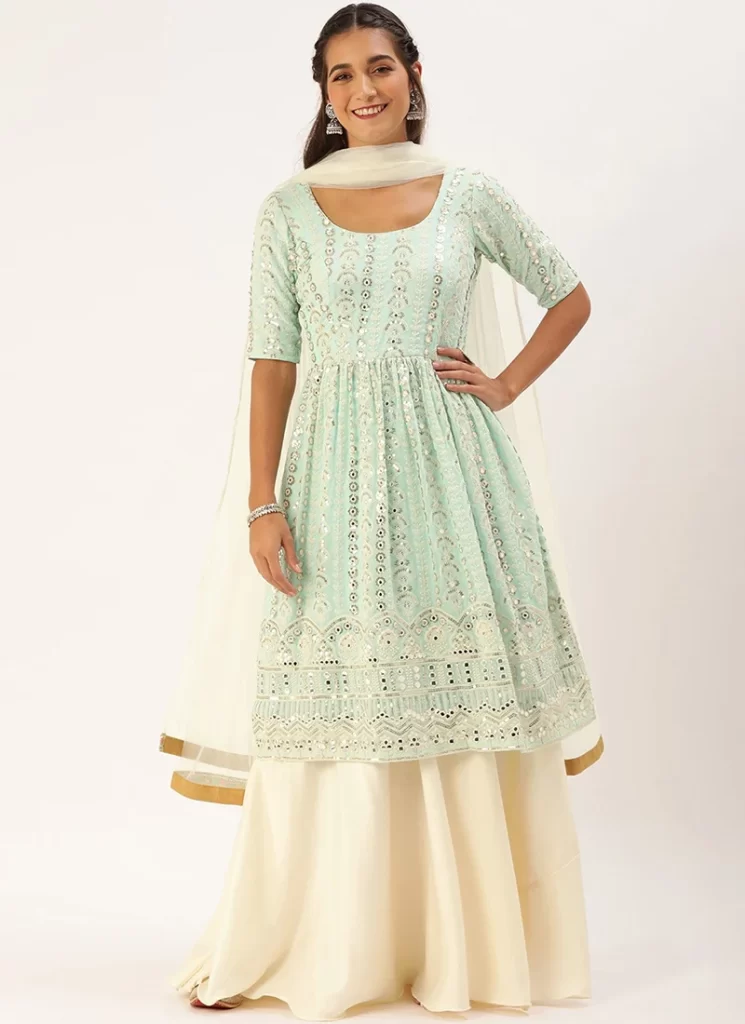 6 – Black Embroidered A-Line Kurta
This kurta lehenga is simply breathtaking. The asymmetric kurta is beautifully cut and embroidered. The embellishment is done in a contrasting hue.
Add a black stiletto to complete the look, and you are going to be the center of attention with this stunning ensemble.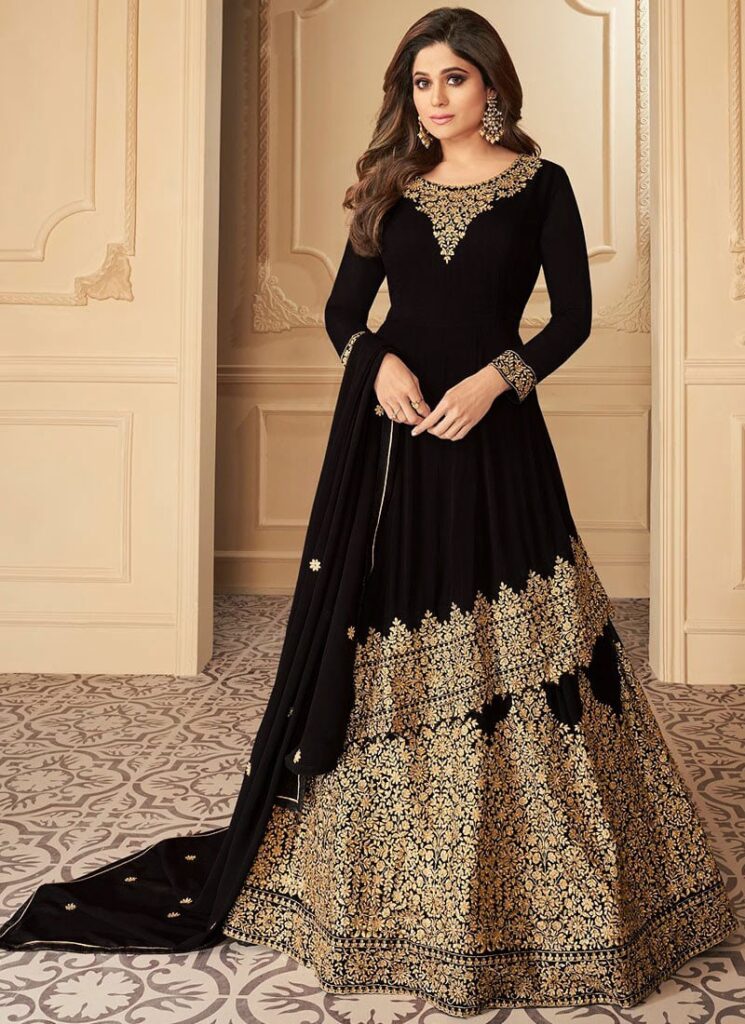 5 – Sequin Wedding Dress
This stunning wine-colored lehenga set boasts an unrivaled beauty of ethnic allure and carries itself with a pleasant yet fashionable demeanor. You will appear both classy and simple.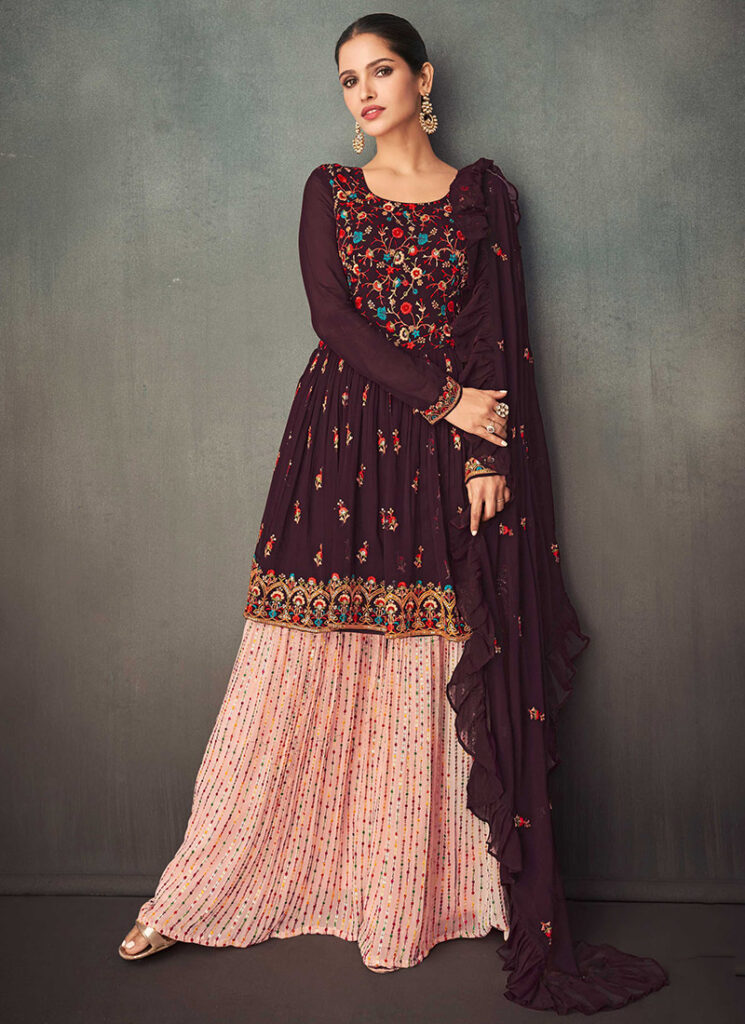 4 – Floral Embriodered White Lehenga
This white anarkali set with pink dupatta is an outfit that pays homage to elegance and will undoubtedly enchant everyone with its captivating flair. The dress strikes the ideal balance of elegance and graceful.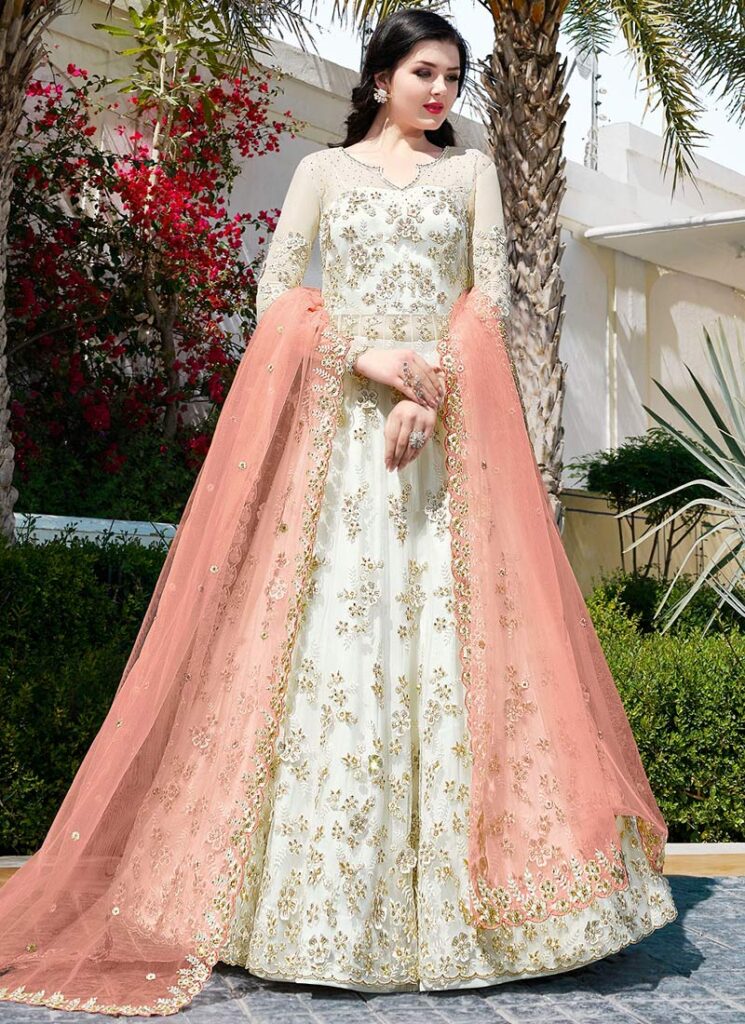 3 – Eastern Mehndi Dress Ideas for Wedding Guest
Wearing this enthralling green and yellow lehenga and kurta, you can effortlessly make a swooning entrance and win over all hearts. The outfit's simple yet elegant embroidery makes it ideal for a mehndi function.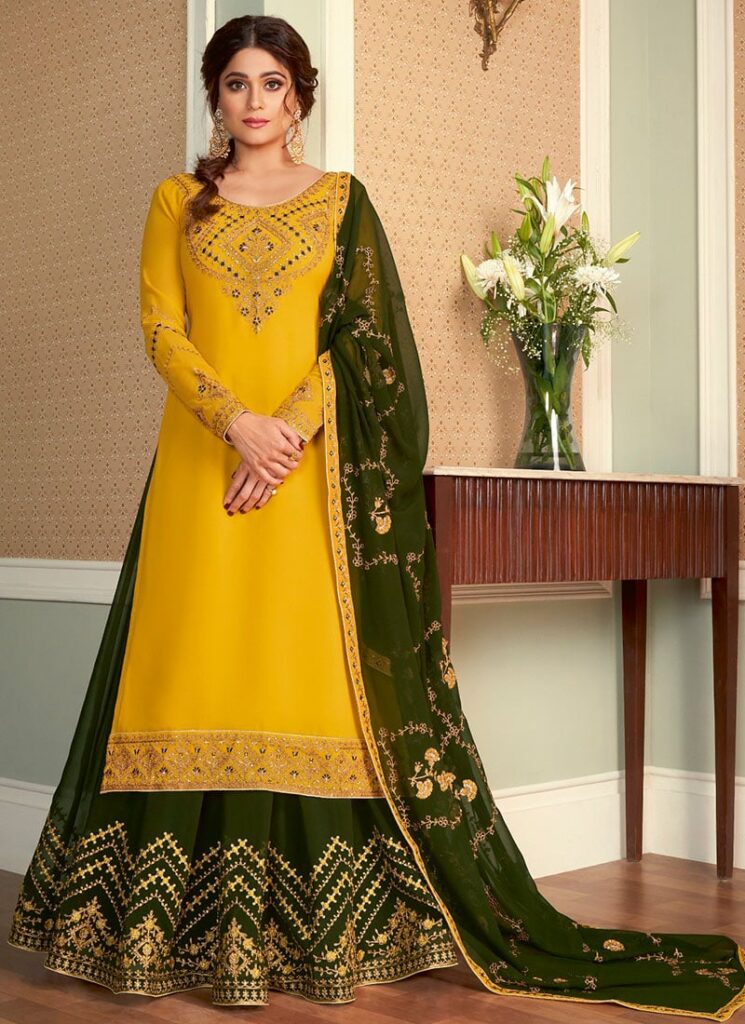 2 – Light Peach Anarkali Lehenga
This stunning peach anarkali dress is ideal for your romantic idea of an ethnic look. The cascading floral embellishment with a slit on the front exudes mesmerizing glamour.
Complete your outfit by adding floral embroidered pumps and flat shoes.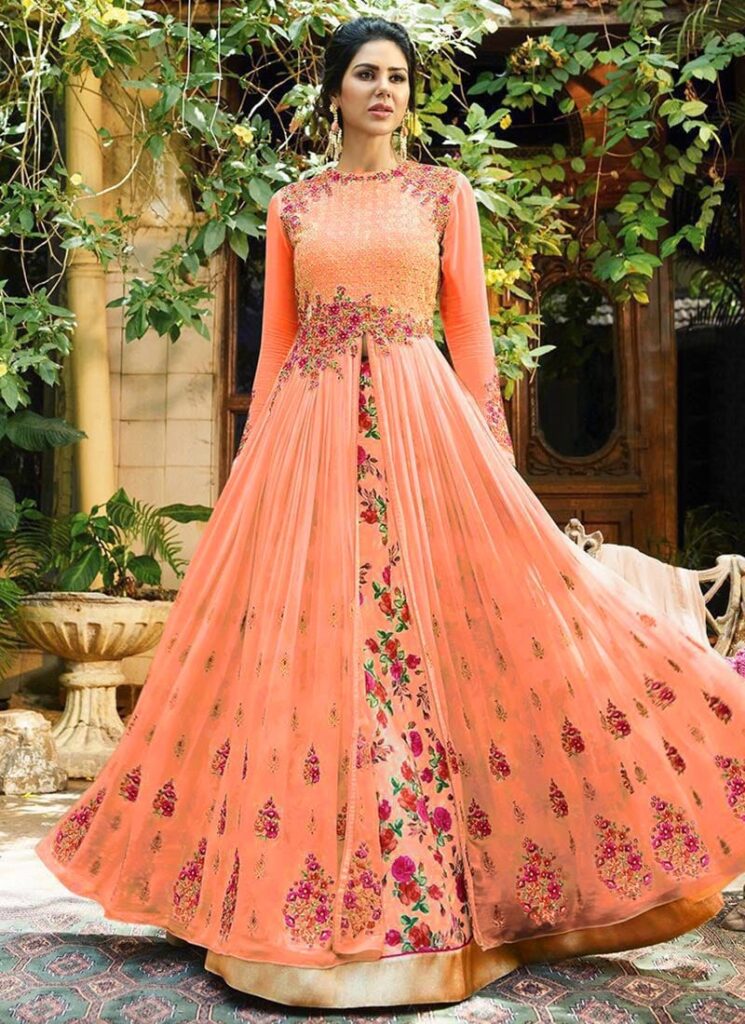 1 – Royal Blend Of Crimson Red And Beige Lehenga
The lavish zari woven and adorned details on the lehenga and long kurta give off a royal vibe, making it ephemeral and sleek. What is stopping you from wearing this outfit on your big day?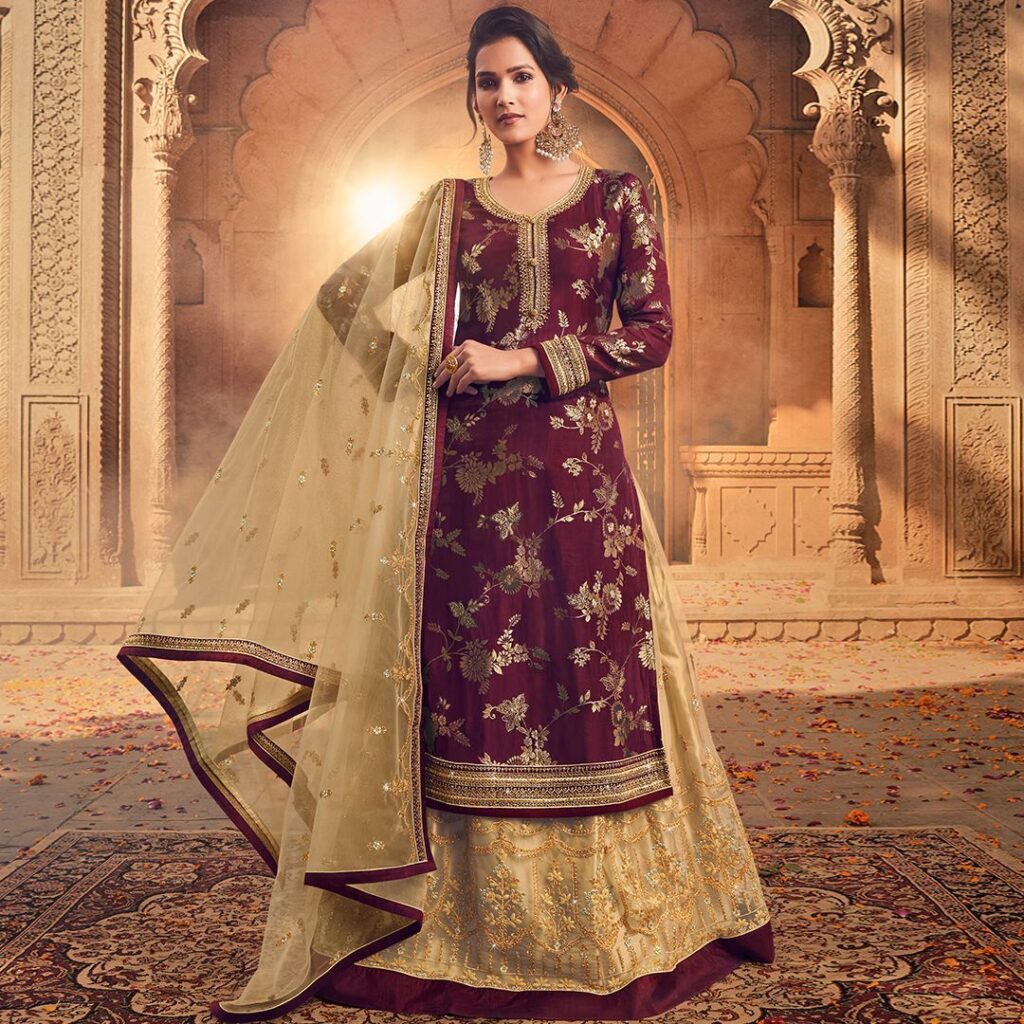 Q. What colors and fabrics are ideal for Lehengas and long kurta?
Ans. Colors are always meaningful for the wearer, especially when attending formal events. Pastel colors are popular right now. In addition, the hues look great on Lehengas with a long kurta. One thing that you should keep in mind is that comfort comes first so choose a fabric that is comfy and trendy. Net, Rayon, Silk, Chikankari, or Velvet are ideal fabrics for this purpose. When it comes to brides, we are always looking for something unique so you can choose from handworks such as Zari, Zardosi, Pearl, and threadwork for the festival. If you're looking for a wedding guest outfit, choose a simple design such as lace or threadwork.
Q. How to look slim and smart in a lehenga and kurta?
Ans. Choose elbow-length or long sleeves in sheer fabric with little to no embroidery if you want to look slimmer. Short, puffy, or designer sleeves will make you appear heavier. When choosing to wear a lehenga, a kurta with a sweetheart or V-neck can help you appear more attractively toned.
Q. What hairstyles compliment lehenga and kurta?
Ans. Fishtail braids, bubble braids, floral buns, and textured ponytails are some of the lehenga hairstyles that will be popular in 2022. Aim for thick, glossy waves that you can accessorize with just as glitzy items to make you look high fashion. If you prefer a more poised look, opt for floral or braided buns, or if you're looking for a happy medium, try half-up, half-down hairstyles. You can try on your lehenga and decide which look you want.
Q. Which bra is ideal for wearing under a bridal lehenga kurta set?
Ans. It can be difficult to choose the right bra to put on underneath a bridal lehenga kurta set. A full-figure bra is ideal if you need extra coverage or want to avoid spillage. It offers a seamless finish underneath those bulky wedding attires with a no-show effect. Not to mention that it is the most convenient bra style you can wear.