Brunch Date Outfits: Are you looking forward to having a fun date this coming weekend? Do you anticipate your upcoming brunch date?
If your answer was affirmative, this article is for you. We've already talked about the regular Sunday Brunch Outfits, a brunch date is quite different, right?
A brunch date is never going to be out of fashion. It is the best option for people who are introverts or have anxiety issues. That doesn't mean it's not ideal for others. To be honest, brunch date is the universal choice.
The most common problem that almost everyone faces while going for a brunch date is, choosing suitable and the best attire that doesn't feel like you are overdoing it.
This is the point where this article is going to guide you as to what to wear to your brunch date according to your taste. The options are, of course numerous. Some of the brunch date outfits are suggested below.
What To Wear To A Brunch Date?
Choosing your brunch outfit might be stressful at times. Proper attire is what everyone strives for. You might find it intimidating but it's not that scary. All you need is to be aware of your choices and limitations.
You can turn outfits from your wardrobe into brunch date outfits using some tips and tricks. What I would advise you would be that whatever you wear, wear it with full confidence and also, make sure you are comfortable in your selected outfit.
And if you're still thinking of what to do after brunch, might I suggest going to watch a play?
Styling Tips
Here are some tips that might help you in choosing your best brunch date outfits:
Before anything else, make sure you have all the accessories and items that you plan on wearing for your date. You don't want to be late. Double-check everything at least a day before your brunch date.
Try out your brunch date outfit beforehand and have a thorough look at yourself in the mirror to make sure everything is on point.
If you are going to opt for a palazzo or loose pants, a fitted top would be better to balance your look.
Since a brunch date is mostly casual, try to avoid cocktail dresses, skintight or seethrough outfits.
While choosing your casual brunch outfits, pair it with moderate accessories and medium length heels.
20 – Pair A Summer Dress With A Straw Bag And Strappy Heels
In case you want to go for a feminine yet cute outfit, here is how you can style it. All you have to do is get a floral dress from your wardrobe, pick proper accessories and you are all set.
You can also go for a long dress depending on your preference. Once a dress is selected, pair it with flat strap sandals along with a straw bag. Strap sandals are preferable for comfortable walking in case you decide to go for a walk after your brunch date. Wear a necklace and tops or studs for a cute touch and your outfit is ready.
19 – Pair A Brown CropTop With Matching Leather Pants
Wear brown for your upcoming brunch date. It is quite simple and the most convenient attire for fierce a look. All you have to do is pick a brown crop top and matching leather pants and you are done. For enhancing your fierce look, choose heels. Kitten or platform heels would do well.
No matter how you style your outfit, your comfort should be your priority. You don't want to be uncomfortable on a date, making it awkward for yourself. This will ruin your fierce look. So, better be careful with your attire. If you think you can't pull it off well enough, go for other outfit ideas.
18 – Pair Ripped Jeans With A White Sweater Shirt And Heels
The trick lies in styling your fit well enough to suit the occasion. Take this outfit as an example. A white shirt and sweater are paired with ripped jeans. The look is completed by adding blush booties to the outfit. Adding accessories like a watch, bracelet and handbag make it look elegant and decent yet stylish. This outfit can be among your favorite outfits of all time.
17 – Wear A Chunky Knit Sweater Under A Blazer With Knee High Boots
One stylish way to dress for a brunch date is to go for a belted blazer with tights and knee-high boots. A black blazer dress would do wonders for your overall looks. Underneath, you can wear a chunky sweater. If tights are not your cup of tea, skinny jeans would do well for you. Complete your look by adding accessories and your outfit is all set.
16 – Pair A Green Skirt With A Simple Top And A Blazer
A skirt is preferable in most cases as it gives feminine vibes. In case you don't want to appear too girlish, adding a sleeveless black top would be a wise choice. Furthermore, throwing on a black blazer would give you a classy look. Keep in mind that the color of your skirt should complement the blacktop you are wearing and there you go. However, the length of the skirt depends on your preference.
15 – Polka Dot Dress With Sneakers And Leggings
A polka dot dress can be a cute outfit if you know how to create such a look with it. Simply wear your printed dress and pair it with sneakers. White sneakers would complement the look if you choose to wear a black dress. Moreover, you can add accessories like headbands or hair rings and a cute pair of earrings. Take a look at the image below to get a clue.
Wear a statement necklace and earrings and apply some eye makeup, preferably smoky eye makeup. A suitable hairstyle would do wonders for your overall getup.
14 – Striped Jumpsuit With High Heels
You don't need to go and get a new dress for your date. Pick a jumpsuit from your wardrobe, if it is a striped jumpsuit, well and good. Otherwise, any other would do just fine. It is the most convenient outfit especially if it is your first date or if you are a shy person and feel uncomfortable when your skin is showing. This outfit is your best pick. Pair it with strap pump high heels.
Add accessories if you want. A straw hat, a handbag, or shoulder bag and studs would do the job for you. Wear it with confidence and you definitely will have some fun time.
13 – White Trouser With A See-Through Blouse
A classy look would be wearing a monochrome white outfit for your date. Simply pair your loose white trouser with a cutout white blouse. A belt would highlight your physique. Furthermore, you can wear a hat if you like. A handbag would also be better. In case you don't want to go all white, a pastel color blouse would be good. Besides, you can change the color of your pants keeping your blouse white.
12 – Checkered Shirt Dress With Booties
To get a femme fatale look for your brunch date, a checkered shirt dress (preferably red) would the best choice. Add glamour to your look by pairing it with ankle boots. Wear sunglasses, a wristwatch, and a classy handbag. This outfit is never going to be out of trend. I would suggest this outfit to everyone as it makes you more attractive.
11 – Pair A Checkered Dress With Tights And A Hijab
Dresses can never be dull and boring. For your next brunch date, go for a checkered dress and team it with tights or jeans (whichever you prefer) and sneakers. Wear a matching hijab along with a hijab cap so that it stays over your head without slipping. This look is ideal for hijabis out there. But anyone who wishes to wear it can easily go for this outfit.
This outfit is one of my favorites. A black hijab can be worn with almost all outfits if you know how to style it properly. You can also use any other contrasting color items as well. For instance, you may replace a white top and tights with black creating a completely different look.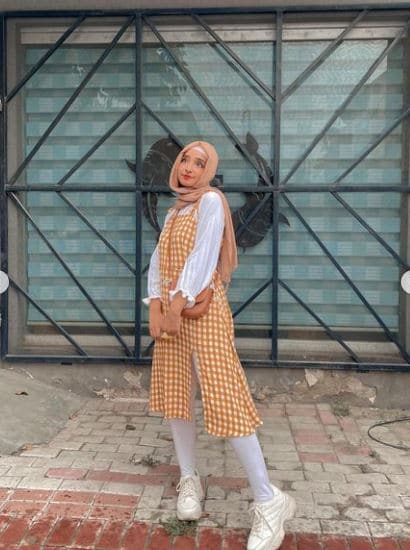 10 – Pair A Baby Blue Sweater With Skinny Jeans
Jeans and a jumper are well suited for spring. These are cozy and give off a glam look. These might even boost your confidence level. All you have to do is to choose a suitable color. A light blue or beige jumper would complement your blue jeans. But any neutral or light color can do the job.
Get your jumper and pair it with your jeans and sneakers. You can wear heels as well if you can easily walk in them. Try to avoid plain flats with this outfit. Add a brown handbag or small shoulder bag to complete your look.
9 – Pair A White Deep Neck Dress With Lace-Up Heels
A dress with a deep cut is the choice for those who prefer to look bold and in charge. If this is the case with you, you can opt for a minimalist knee dress preferably white, with lace-up heels. Any neutral color dress would be suitable. A black handbag will complement your look. You can also use a black and white bag if you want.
Try to avoid dark colors. You don't want to give the wrong impression or overdo your outfit. So be careful while opting for this attire.
8 – Pink Tank Top With Ripped Shorts
You can simply pair your ripped denim shorts with a small bodysuit or a tank top. If you are comfortable wearing shorts for your upcoming date, this is quite suitable for you. As it requires less effort and takes less time to pull off. I would suggest going for light colors.
7 – Black Tshirt And White Pants With Sneakers
Casual looks are in trend all around the world. Whether it's a meeting with your colleagues outside an office building, a meet-up with a friend, or a date, casual outfits are the most suitable outfits among others. All you have to do is wear a black top or a T-shirt with high-waisted white pants and white sneakers like the outfit in the image below. You are ready for your date now!
6 – Graphic Tee With Ripped Jeans And Slip Ons
If you are going on a date with someone who is familiar and you are comfortable around them, or if you are going with your friend on a date, your normal cozy outfit would do. What I mean is that if you are comfortable with the person, you can definitely wear ripped jeans and a printed top and put a hat over your head for a better look.
5 – Nude Suit With Grey Top
At times, one can not decide the type of outfit to wear on a date. In that case, a suit is a holy grail. It acts as a safe haven for all occasions, be it a formal, semi-formal, casual meeting, or even a date. A light brown suit with proper styling is ideal when going on a brunch date.
For instance, pair your brown suit with a dark button-down crop top with matching high heels along with a few accessories like a locket, sunglasses, and a bracelet.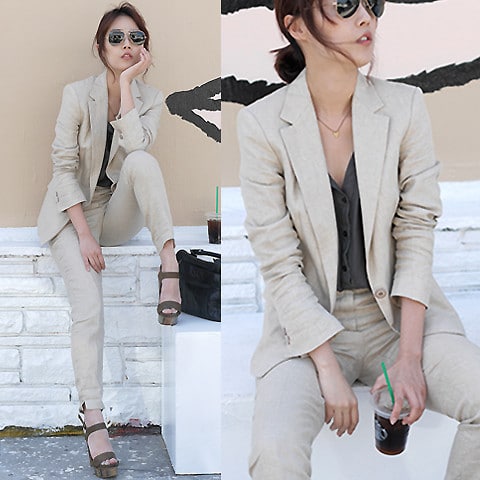 4 – High Waisted Green Trousers With A Black Top
Among cool and chic brunch date outfits, high-waisted trousers and a suitable top are the best. These are easy to wear and give cozy and comfy vibes. Simply wear an asymmetrical neck top with trousers and you are ready to slay your looks.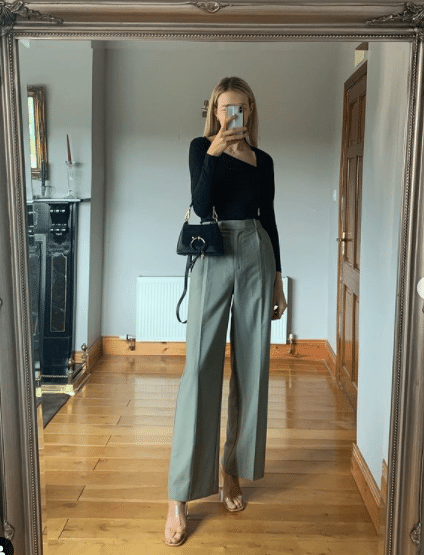 3 – Pair A Floral Jumpsuit With Heels
Jumpsuits are always attractive whenever you wear them. You can wear it for your next brunch meeting or a date. Printed jumpsuits like floral ones don't need much work. You can simply wear high heel mules with it and you are ready to have fun with your date.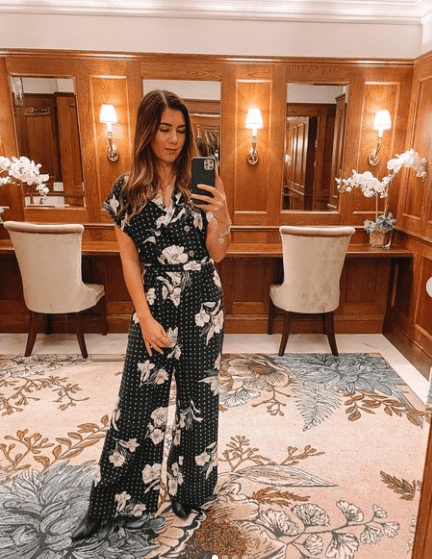 2 – Tank Top And Printed Trousers With Strappy Heels
A chic look is what most of the ladies desire for their date. Are you among them? Here is one example of that look. Wear a tank top with wide-leg trousers and pair this outfit with suitable accessories. That's it.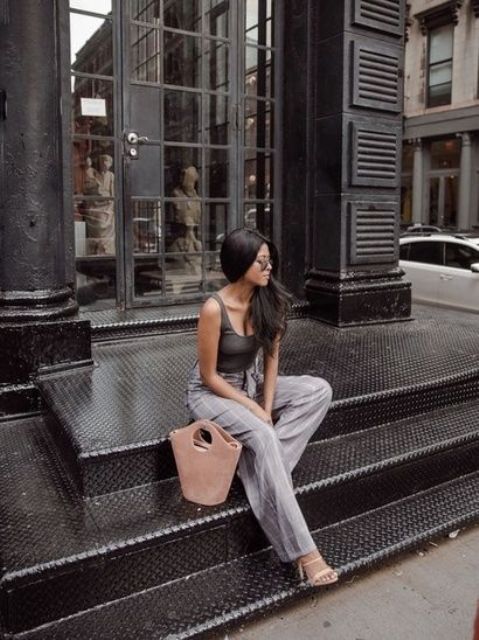 1 – White Top With Gold Long Silk Skirt
For a fancy and elegant look, go for a long silk strip skirt with a full sleeve white top. A belted skirt would be best for highlighting your figure. A pair of platform high heels or any other strap high heels along with a stylish clutch would add more glamour to your look. Besides, wearing jewelry would also look cool.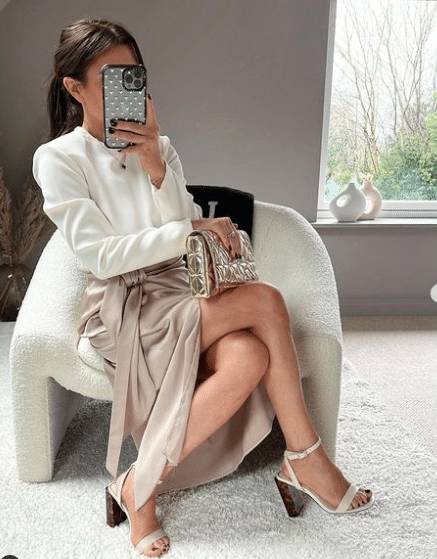 Frequently Asked Questions
Q. What do you wear to a brunch date?
Ans. Depending on your preference and your level of comfort with your date, you can go for a pair of jeans with a loose button-down shirt. Wear heels for a balanced and stylish look. You can also opt for a blouse or crop top. Besides this outfit, you can also opt for a skirt with a belted top of your choice. It is one of the best casual brunch outfits out there. In the end, however, it all comes to your comfort. If it's not comfortable, it's not worth it.
Q. Can you wear black dress to a brunch?
Ans. There is no reason why you can't. You can wear it if you want to. There are many ways to style it. You can wear all black, meaning all of your accessories will be black. On the contrary, you can also pair it with accessories that compliment your black dress. Go for a moderate look though as you might not want to look too bold or if you are afraid of overdoing your look.
Q. What is the dress code for Sunday brunch?
Ans. In most cases, Sunday brunch has no dress code as such. There are no strict rules for wearing a dress code unless you are a staff member and your cafe/restaurant has a proper uniform. In that scenario, you can simply go for your uniform or any other dress code that has been assigned for the staff members. If you are unsure, go for simple and casual attire like a suit or jeans with a shirt just to be on the safe side.