What Jewelry To Wear For Work. How much jewelry to wear to work? And what type of jewelry is appropriate to wear to work? These are the two most asked questions by those working gals who love fashion. If you are employed at a job that doesn't have a strict dress code and does not limit you with regard to certain clothing items, you are in luck. Therefore, we urge you not to. Instead, check out this list of unique ways to style jewelry for work.
There is a certain art to jewelry in professional settings. For centuries the art of using jewelry as a communication tool by monarchs and females in politics was a prevalent theme amongst the most successful. It is our generation's time to also take advantage of this skill. We mustn't be afraid of wearing jewelry to work but instead, search for a greater benefit and purpose in it.
How to Choose Jewelry for Office?
We've often talked in detail about work outfits but since accessories are almost as important as the outfit itself, we decided to do an exclusive post on jewelry ideas for work. We'll start off with some basic tips and then look at some superb jewelry choices that are office-appropriate.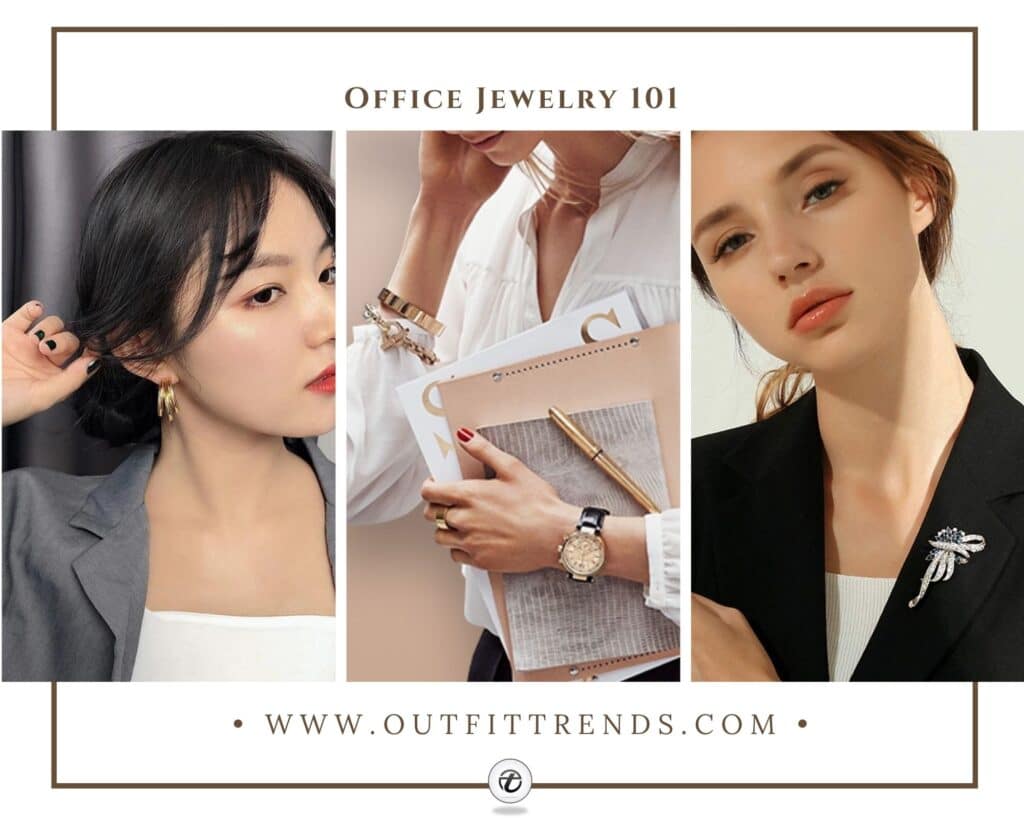 Tips for wearing jewelry to work:
Do match your jewelry to the colors of your clothes: In an effort to have your jewelry seem harmonious with your professional attire, you can choose jewelry in the same color tones of your clothes. Whereas if you attempt to make a lot of contrast with your accessories and clothes it might seem out of place. If you can't find good matching pieces then the safest option is to go for something in gold, silver or rose-gold color, as long as it's not too flashy.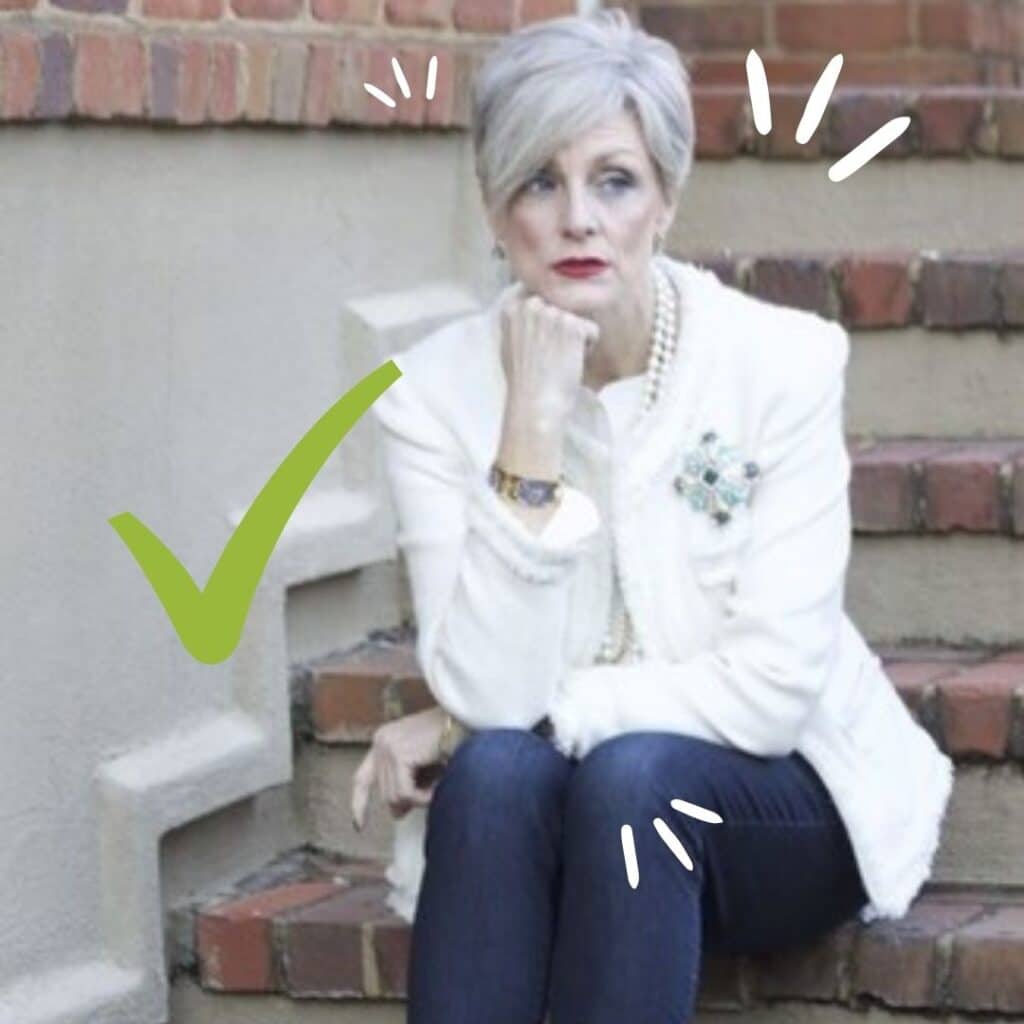 Do minimise the total amount of jewelry per look: sometimes even if your jewelry of choice is not very bright or provocative, having too much on defies work clothing etiquette. Try to limit yourself to three pieces at a time. For example, a watch, a pair of earrings, and a thin chain bracelet/necklace. Similarly, this will allow you to alternate between all your jewelry options and make an impression of always looking put together.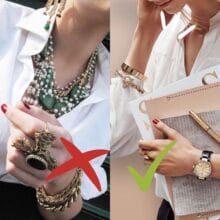 Do have a selection of work-only jewelry: Organise your closet and shop in a way that you replenish your work-appropriate jewelry well. If you have yet to own short earrings, and thin neutral necklaces, invest in them. Since not all workplaces allow for long night-out earrings, and bulky necklaces.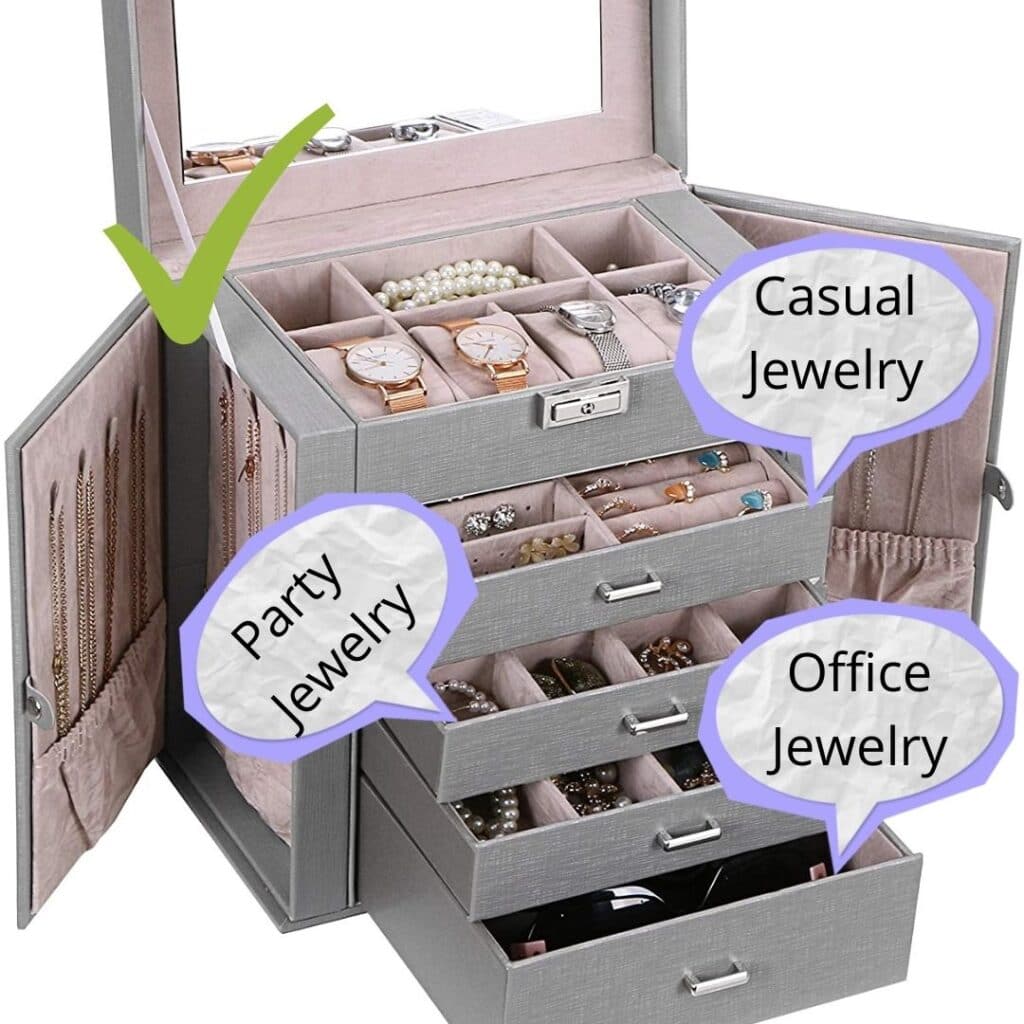 Do use jewelry to speak your mind: Many female politicians as well as the Queen Of England, use brooches as a way to communicate to their male counterparts, certain hidden messages. Attempt to use jewelry in the same manner. Perhaps choose more masculine pieces on a day of an important pitch, to use this stereotype to your advantage. Or wear a bold brooch on a day you need people to bid in your favor, and thus have to notice you.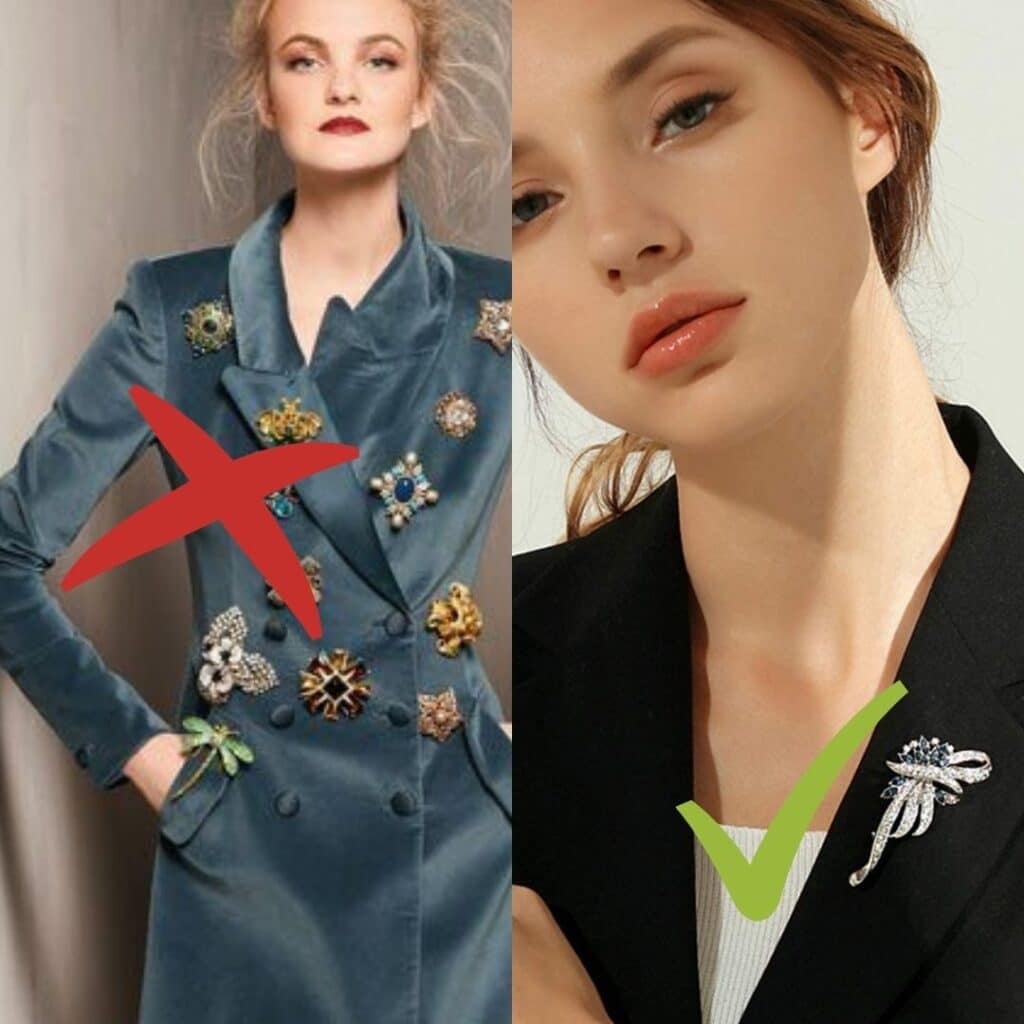 Don't wear chockers: this jewelry piece is making a return in 2022, and although it is a good option for a day off or a party, do not wear it to work. This jewelry piece may come off as casual and unprofessional, and you don't want that to be the look to be associated with.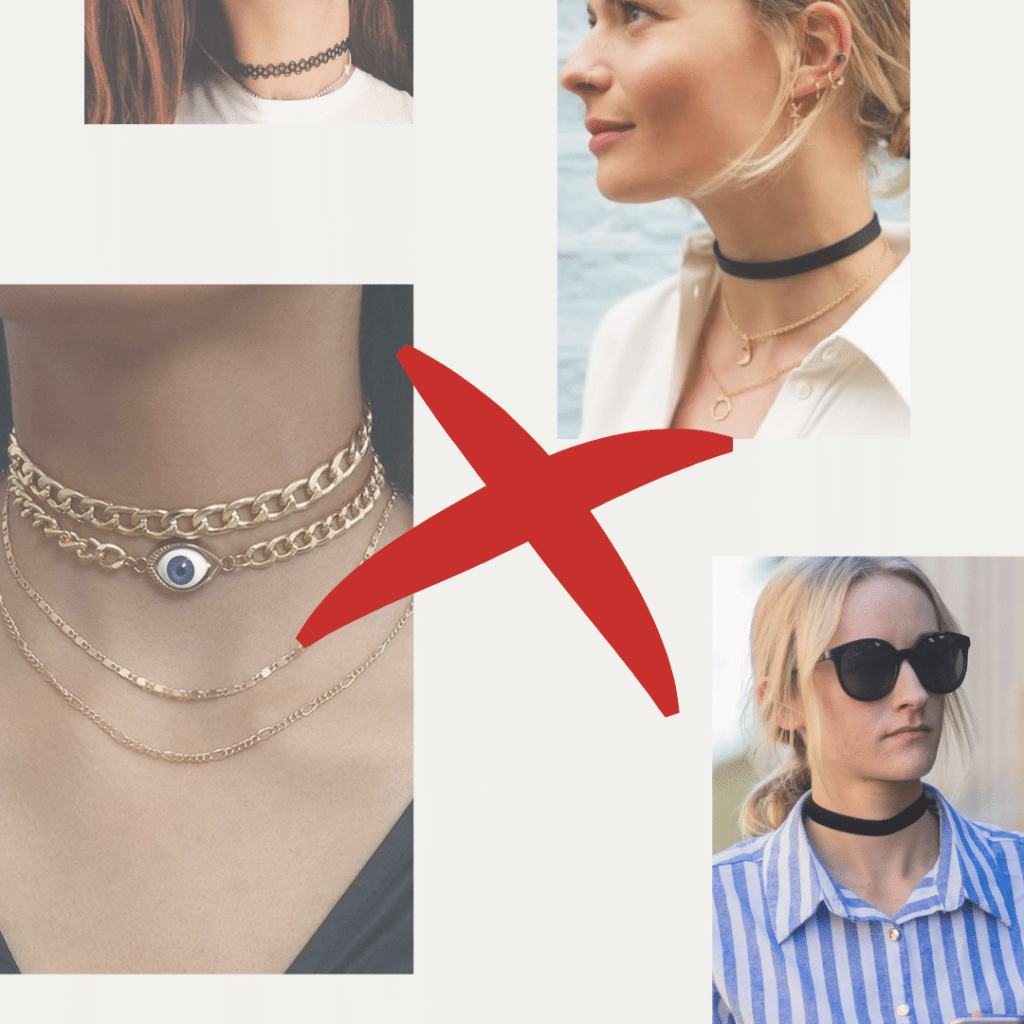 Don't wear two jewelry pieces too close to one another: For example, if you have very beautiful earrings, try to avoid pairing a necklace next to them. Instead, leave your neck free and pair a bracelet with it instead.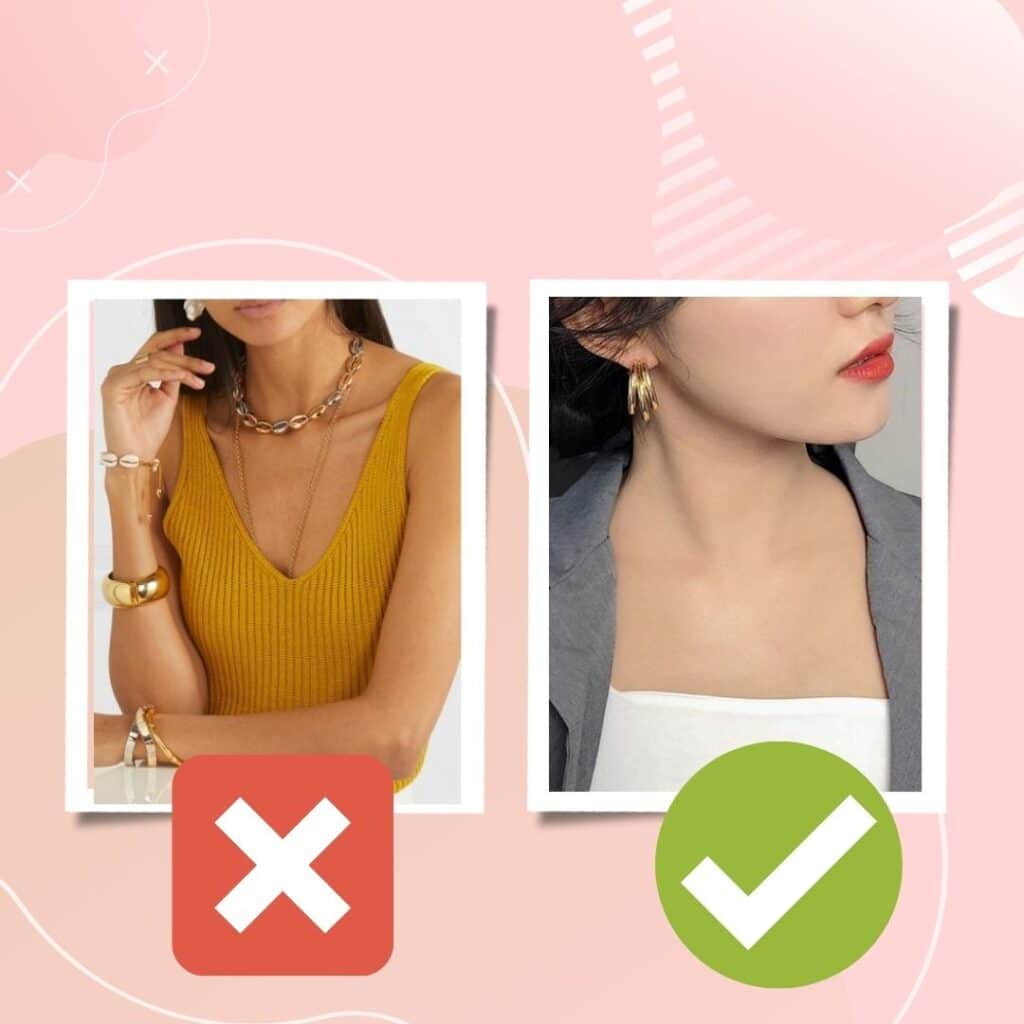 Don't wear too many rings: We all know and love the stacked rings trend, however in a work setting this is not the way to go. In a professional setting, your hands and arms must remain clear of any distractions, since they are often used to articulate and therefore grab attention. Too many rings can look very grungy and less professional than most of us would like.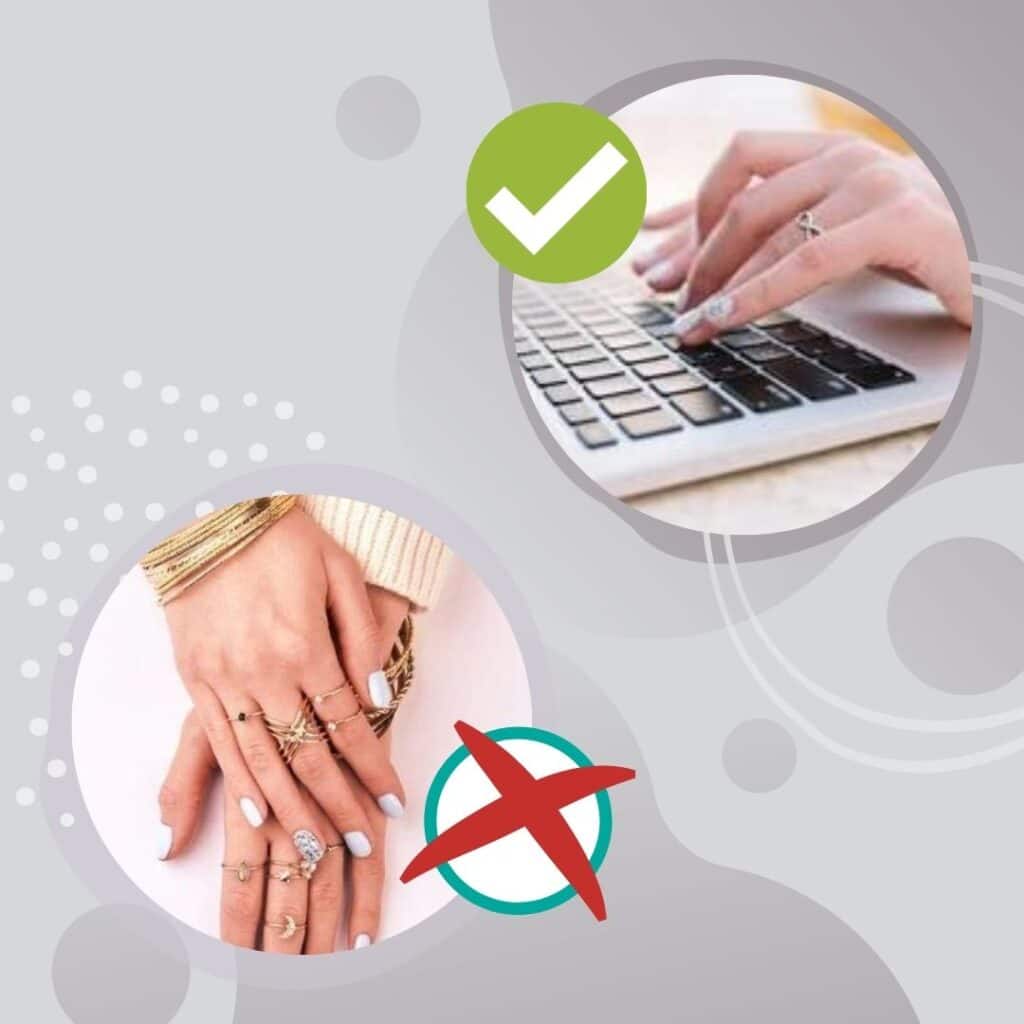 Don't wear something that makes too much noise: Certain necklaces or bracelets that have a lot of details and loose layers must be avoided. They often make a lot of distracting clinging noise and that does not send the most professional appearance to your peers. Instead, this can come off as rude and distracting.
19 – Wear Jewelry In A Matching Shape To The Print On Your Clothes
Starting the list off is a very simple addition of jewelry to your officewear, so simple that it is practically unnoticeable. The trick of wearing jewelry and having it be noticed only by those in the closest proximity to you comes down to two factors.
Firstly, how thin is the chains and fastenings – the thinner the less noticeable. The second element is not as obvious – if you choose jewelry that has the same shape like the print on your clothing it will get lost in it. So if you are worried about wearing jewelry to work, start off with this disguise technique.
18 – Complete A Monochrome Look To Hide Your Jewelry
It is no secret that in a monochromatic outfit, the clothing articles melt into one another. Similarly, this happens with jewelry it if is worn in the same color. This trick is useful to those who are starting to wear jewelry to work, and need to get comfortable with it.
Or to those who own large chunky earrings or bracelets, and wouldn't want them to stand out too much in a place of work.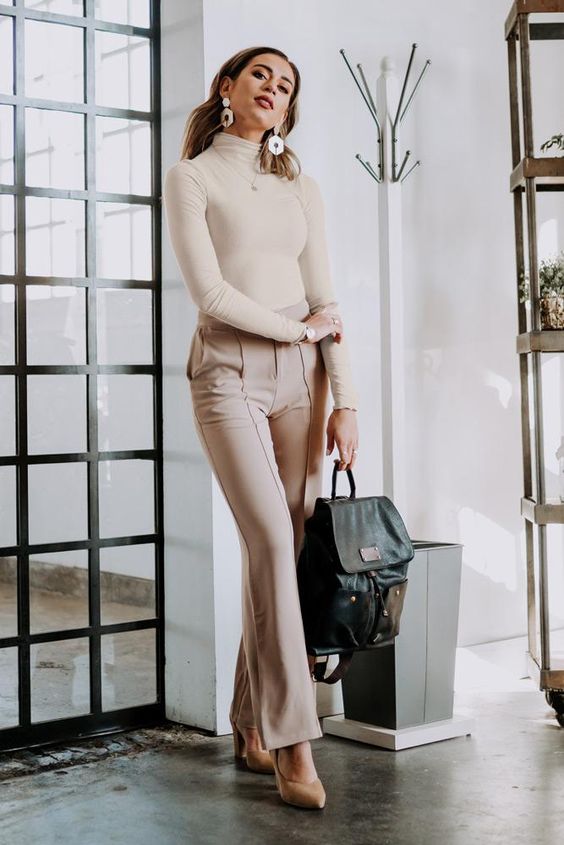 17 – Wear Earrings That Match The Color Of The Hardware of Your Belt
Another way of making your jewelry more work-appropriate is to wear little amounts of it. Start by choosing one jewelry item you like the most, in this example, it's the earrings.
Furthermore, attempt to choose that jewelry in a color that matches to hardware present in your look. This can be the fastenings on your clothes, shoes, or belt. If you have short hair then I would recommend that you also go through these ideas on Stunning Ideas To Wear Earrings With Short Hair.
16 – Go For A Simple Watch And Bracelet Pairing
One accessory item that is certainly qualified to be considered formal and professional is a watch. Use this as a way to wear more jewelry to work. For example, you can pair your favorite watch with a matching bracelet.
This can be especially helpful to those who work in more restrictive places of work – as it unites the decorative piece with the utilitarian one.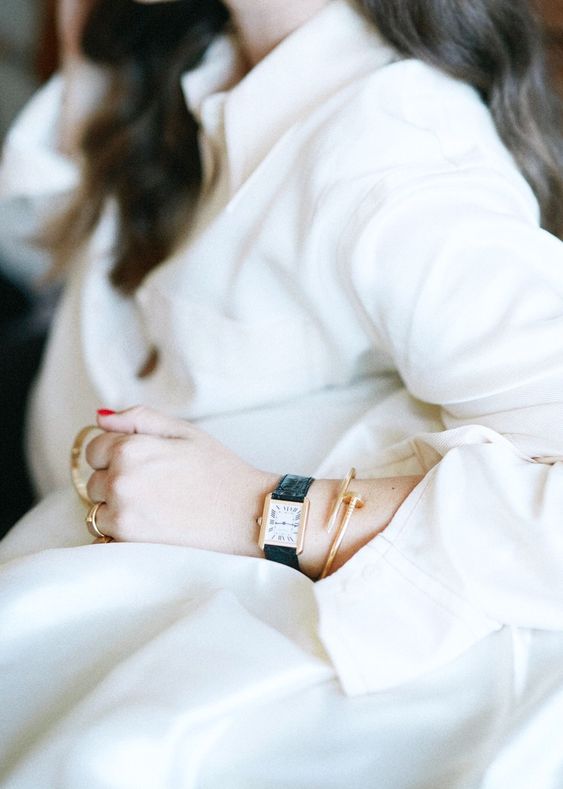 15 – Choose A Necklace With A Natural Stone To Get A Seemless Look
Alternatively to the previous options, this tip does not include masking your jewelry in any way to make it more appropriate for work.
Instead, we propose to choose an item that is natural in its composition thus wouldn't look too out of place in any setting, including an office. In this example, you can see a necklace with a natural square stone which is the perfect option.
14 – Choose Earrings In The Same Color As Your Top
This tip is similar to what we have mentioned before with the monochromatic look however it does not require putting together an outfit entirely in one single color. Instead, we suggest that you try to match the color of your accessories to one of the articles of clothing you are wearing.
This achieves the same neutrality for the accessory although is much simpler to achieve.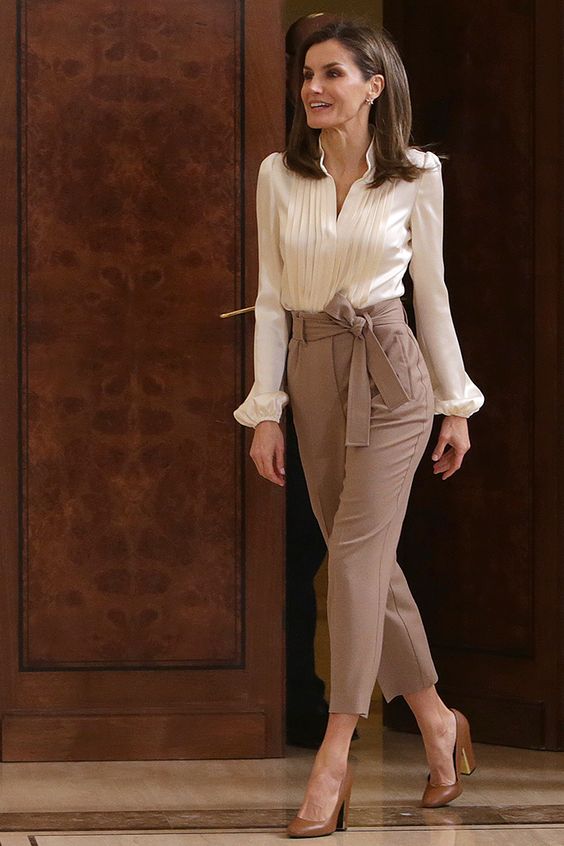 13 – Wear A Patterned Headband To Enhance Your Work Look
As we have mentioned at the beginning of this article there are more options of accessories for work time looks than just jewelry. One great example of this is headbands. Some might think that headbands can seem childish, however, conversely this accessory is really functional. Therefore it can be a practical choice for the workplace but only if you choose the right bands. As for the hairstyle ideas, you can get some inspiration from our post on Different Ways To Wear Padded Headbands.
12 – Layer Two Thin Necklaces For A Subtle Sparkle
Often times work outfits consist of a lot of neutral hues, predominantly greys, browns, and blacks. To diffuse that monotone appearance that might get boring after a while, we suggest adding some sparkle or shine. Pair several small necklaces that will reflect the sunshine enough to create a subtle but noticeable difference in your usual office attire.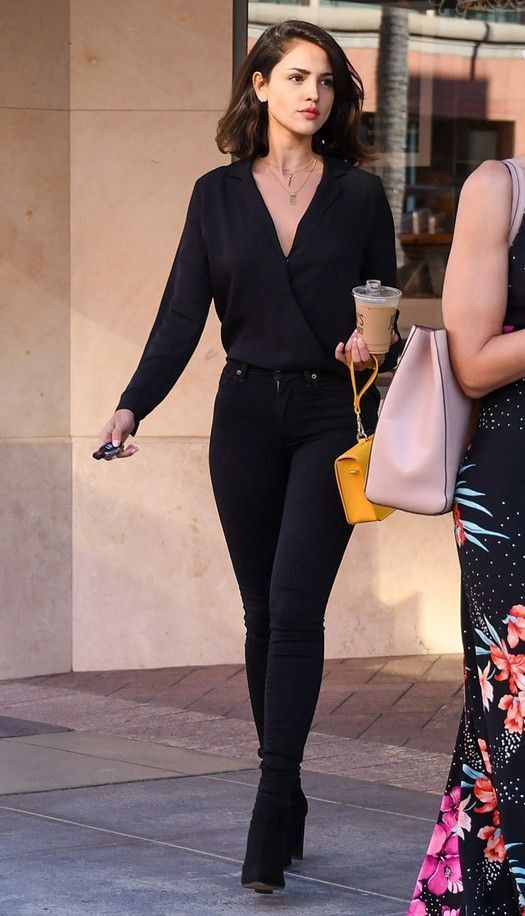 11 – Pair A Brooch To The Buttons On Your Favorite Jacket
A perfect way how to incorporate a large and noticeable jewelry item like a brooch into a professional outfit is to mask it. This can be done by matching it to the color of the buttons on your jacket. Place it close to the buttons and you will rock this piece in a both subtle and unique way.
10 – Contrast A Toned Down Look With A Pair Of Large Golden Hoops
It is no surprise that work outfits tend to be more played down, and comprised of neutral tones. This offers a lot of opportunities to create a contrast with your jewelry. For example, choose a pair of large gold hoop earrings to pair with a classic blouse and pants outfit. Although this earring style seems provocative and more suitable for a night out, the outfit will tone it down.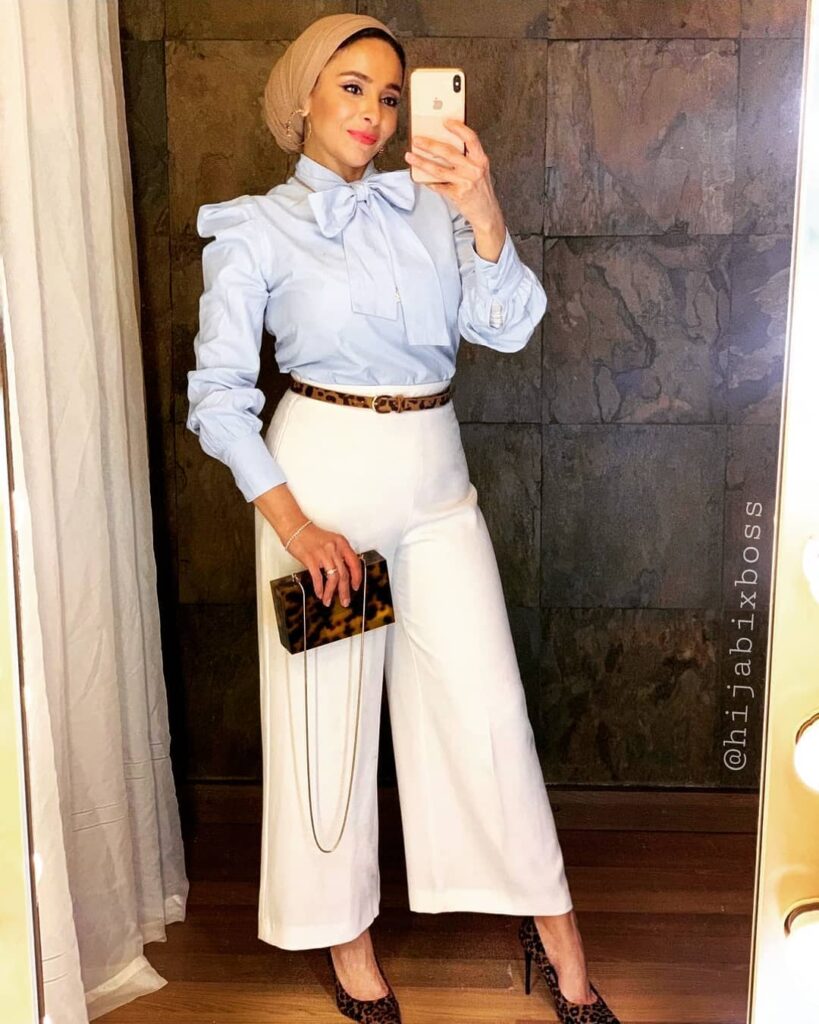 9 – Try Out A Very Unique Way To Wear Accessories To Diversify Your Work Look
It is true that jewelry items are sought out when they are most eye-catching due to their color or shine, however, one alternative way in which accessories stand out is their placement. This barely-there touch of sparkle on the sleeve of a classic office blouse is the most fashionable option of all. It is unique and showstopping whilst at the same time highly appropriate for the office.
8 – Match Your White Blouse To Your White Earrings
A white blouse is not only a fashion classic, but an office-wear essential, so this tip is dedicated to elevating precisely this garment. Pair it with a statement piece earring set, in a matching color. Opt-in to long and bulky earrings that will draw attention to this purposeful pairing.
7 – Complete A Black And White Look With A White Brooch
If your favorite black and white work ensemble gets boring, pair it with a white accessory. Make sure the accessory is something large and noticeable. Chances are you wear these clothes often so to seem more renewed the bigger the accessory the better. A great option is a brooch. Pair it with the colors and you are all set.
6 – Finish Off Your Look With A Short Silver Necklace
A short necklace is the way to go if you are looking for a work outfit. It is professional yet decorative. If you get one in a silver color/gold, chances are it will match most of your office looks.
5 – Stack Pins/Brooches On Your Work Sweater
Often times patterned clothes are a way to elevate professional outfits. You can create patterns with your jewelry too. For example, choosing several brooches in the same style and stacking them on your sweater will give that effect.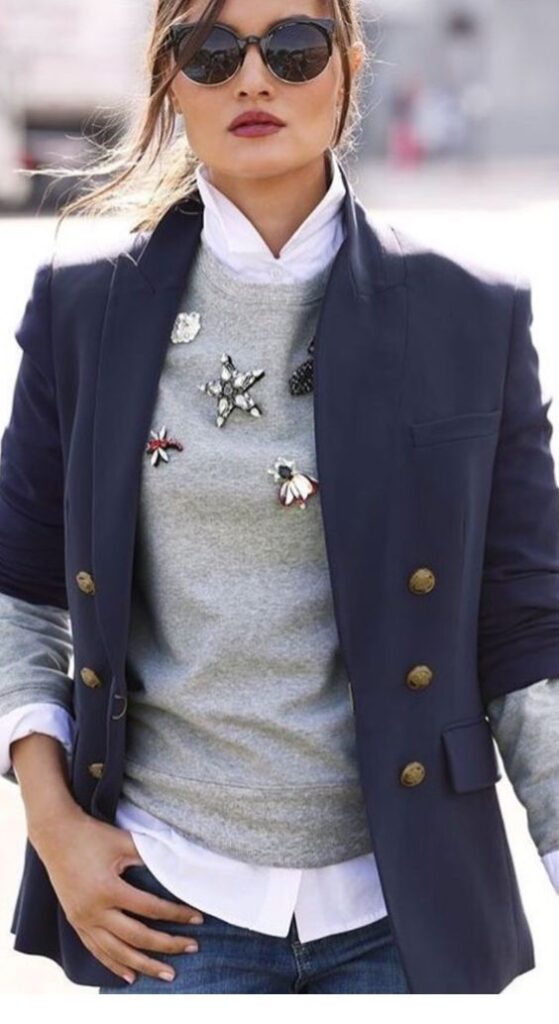 4 – Opt For Hardware Metal Jewelry To Make Your Outfit Unique
Often times you don't expect to find very heavy and grunge jewelry on you or your coworkers. Yet if it is chosen carefully it can look appropriate, and make you stand out. Try starting with a piece that is small or medium size.
3 – Pair A Clear Brooch With Your Colorful Suit
If you own a gem-colored suit, this tip is perfect for you. As it might seem too colorful to add any jewelry we have found another way to decorate this outfit. A clear faux crystal brooch that will seem transparent and have a barely-there touch is perfect. It will not add any more color, simply a great design element.
2 – Get An All Gold Jewelry Set
The optimal classic way of wearing jewelry is to have it all match in the same color. However, it is even better if that color also matches the hardware on your belt. This will look very polished and sophisticated.
1 – Pair A Bulky Brooch With A Thin Necklace
One of the ways to blend accessories into your work outfits is to have them serve a purpose. This is especially useful in conservative workspaces. One great example is to use a brooch as a way to both decorate and fasten your cardigan. This outfit also shows how to pair a brooch with a necklace. Since a brooch is bulky, pair it with thin small jewelry items.
Frequently Asked Questions
Q. What is the best jewlery to wear to work?
The best type of jewelry to wear to a professional setting is something that looks clean and put together. Hence we recommend that you avoid anything with a lot of different mixes of color. Stick to classic gold or silver plated jewelry sets. Similarly, make sure to avoid any jewelry that has a lot of symbols. Symbols can be regarded as infantile, and it is most likely that you want to position yourself as someone more mature in your place of work.
Q. How to accessorise your business casual looks?
If you want to accessorize your business casual style you must adhere to the following guidelines: Firstly, make sure the jewelry you choose is professional – this includes watches, they are the number one most professional item you can get. Similarly, due to the close history female politicians and monarchs lead with brooches, they are another highly professional section of jewelry you can discover. Secondly, make sure you follow the less is more rule. Specifically when it comes to layering jewelry. Perhaps you can find a set that has a bracelet, earrings, and a ring, preferably all in one color selection (a neutral gold or silver is best).