Ski resort outfits ideas. Wondering what to wear skiing? The New Year might have passed but the winter season is far from over, and all the winter wonders are yet to be discovered. For instance traveling up into the snowy mountains with your significant other, family, or a group of friends. If you have yet to go on your winter vacation, there is no better time like now for it. Pick your spot, book your tickets, pack all of your ski trip essentials, and get on going.
However, what to pack for a ski trip is a common question to ask oneself in preparation for your long-awaited winter holidays. Luckily, we have got the answers to what to wear if you are going skiing for the first time, and even how to pack for a ski trip light. After all, we all like to look our best even in the coldest of winters and be prepared to photograph ourselves in all the cute winter locations. Lastly, we all understand the struggle of large and puffy winter clothes. Read along to get some packing tips, as well as outfit ideas for Snowboarding adventure.
How to Dress for a Ski Resort?
As with any holiday, there is some specific type of attire required for that specific location that might make packing a bit difficult. A ski trip offers the most difficult approach of all, as you must pack warm clothing. (Which we all know takes up quite a bit of space.) Therefore, this makes packing and fitting all your outfits into one suitcase a trying task, but we are here to help with several tips.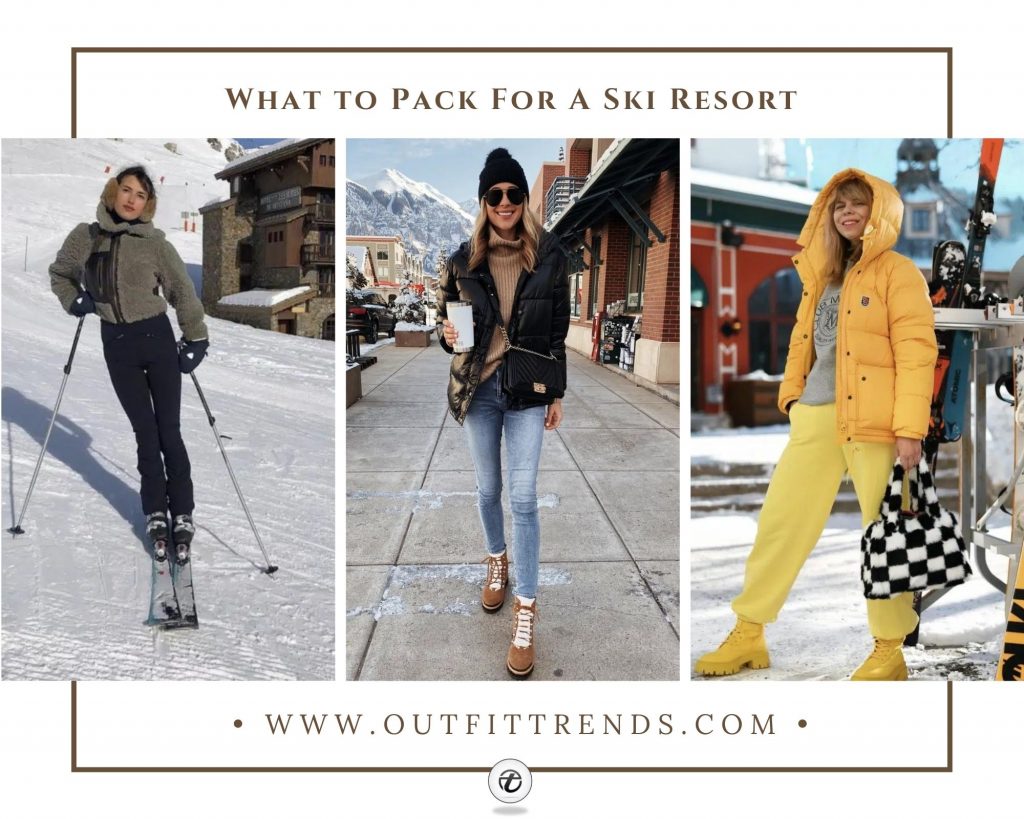 What to pack for a ski resort:
Pack a universal puffer jacket: although it might be tempting to pack along all your brightest and most eye catching puffer jacket / outerwear of choice to your trip, we suggest you pack along only one. Furthermore, try for it to be a neutrally coloured one, perhaps black ($65.98), white ($35.90), or brown ($65.99).
Cross polinate your outfits: this might just be the best tip, but pre-planning your outfits can help with when you are trying to pack a limitted amount of clothes, especially bulky sweaters is key. Match one or two sweaters with several pant options to pack little, but a large amount of outfits.
Use the roll up technique: certain people really believe in this method of packing, so it is worth mentioning. Firstly, this technique entails rolling up all your clothing items, instead of laying them flat into the suitcase. As a result, it offers more maluability in terms of spacing out the clothing in your suitcase, which is certaintly an advantage when you have high volume winter items to pack. Here are some layering tips that you'll need for the trip.
Wear your largest shoes and jacket on: by far the best hack to optimise the space in your suitcase is to wear all the bulky clothing items like sweaters, jackets, and boots on the way. As a result they will not overfill your suitcase, which will be safely reserved for all of your outfits.
Hide small items in your shoes: a secret tip that every person should know, is that there is always a possibility to save space when packing away small items like socks/accessories inside your shoes to save space. Similarly, the same rule applies to winter packing. You can aim to save some space from your gloves, scarves, ski googles and hats inside your winter boots.
Rent your ski-wear: if you are in a complete crunch as to the size of your suitcase, the best tip is to not try and pack your ski-wear. Since coats and pants to ski in are as we know – very space consuming and can be rented out on location.
30 – Celebrity Ski Outfits
In today's celebrity outfit of the day, we're absolutely in love with The Real Housewives of Potomac couple, Wendy Osefo and husband Eddie's skiing outfits. She's looking radiant in a metallic silver jumpsuit with white fur detailing. The best part is how all her accessories are completely on point!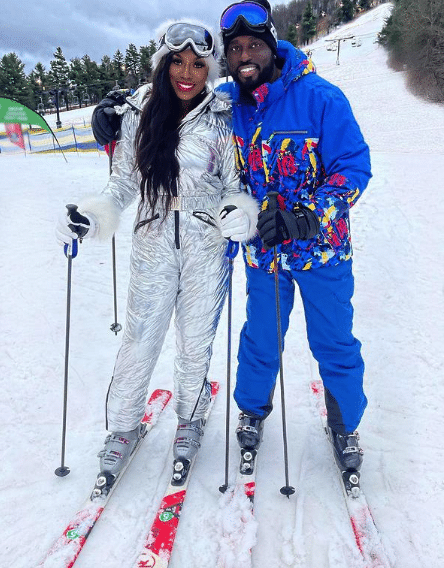 29 – Cute Ski Resort Outfit
One of the best ways to stand out on the slope is to wear something in a contrasting color to the snow. For instance, an all-black ski suit ensemble down to even your ski mask. Although, nothing says bold like a graphic printed sweater, like this star-printed one.
Via
28 – Big White Teddybear Coat
Everyone knows the iconic, very large, soft, and puffy Teddy bear coat. The one that comes in one beautiful color at a time. Since this coat is an absolute must-have for a ski trip and you will find it appear several times in this guide, however, this specific outfit entails wearing a white Teddybear coat with a matching white hat.
27 – Yellow Ski Resort Outfit
For those lovers of the color yellow, we have prepared this gorgeous ski resort outfit. If you have a pair of eyecatching yellow snow boots, don't shy away from completing the look with an equally bright yellow coat, and even sweatpants. In conclusion, you will feel and look amazing in this outfit on your winter vacation.
26 – What to Wear to a Ski Resort in Winters?
Like we have said, the teddy bear coat is a winter essential. One of its most classic and iconic colorways is the brown, as it works so easily and seamlessly with any other clothing item in your closet. Next, pair it with an all-black look for a casual outfit, or dress it up with some accessories – like a matching brown bag.
25 – Dinner Time
Ski resorts are not just time in the snow, there are also a plethora of dinner plans to be made. Therefore, it is imperative to pack a dinner appropriate dress. Therefore, we recommend having a long and knitted dress for the purpose of keeping you warm, as even in the indoors of a restaurant, the cold mountain breeze can find you when you're on winter vacation.
24 – Day In Town
This outfit is perfect for the days when you do not wish to put on your skis/snowboards and spend the day in the slopes. Consequently, ski resorts offer a lot of attractions in town, and if you're looking for the optimal outfit to run out for shopping in, this one is it.
23 – Fleece Jacket
A fleece jacket is a winter fashion must-have. Additionally, it will serve you well on a short day on the slopes as well as if you choose to wear it around town on your more relaxed days.
22 – Woven Large Scarf
In an effort to protect yourself from the strong winter wind, an ensemble of a large woven scarf as well as a large woven hat is perfect. Similarly, it is also one of the very many small fashionable choices you can make to make your winter outfits trendy and photograph well.
21 – Faux Fur Hat
A very stylish ski resort outfit choice would most certainly be the faux fur fabric finish. Consequently, the most appealing faux fur items would be the coat, the round hat, as well as mittens. Here are some ideas on what to wear when it's snowing.
20 – Stylish Winter Resort Wear
Long knitted pants, a matching knitted top, and even a knitted hood is perfect therefore it will be the outfit you will not feel guilty about wearing more than once.
19 – Red Teddybear Coat
To stay in the holiday spirit even though your outfits this teddy bear coat in red is a must-have.
18 – White Coat and Cap
If you are looking for a highly fashionable day-to-day ski resort outfit, this one might be of interest to you. Try pairing a basic core outfit in all black, with a stand-out long white coat and a matching bright white cap.
17 – Grey Beret
A stand-out piece for a winter vacation that you might want to get your hands on is a grey beret. Additionally, it will elevate the magical and cozy look of your outfits, and it pairs well with black and white outfits which are both staple colors on the slopes. Here are all the beautiful outfits that you can style with a beret hat.
16 – Patterned Sweater
A patterned sweater must be chosen appropriately and with a lot of thought for such trips. For this reason, strategically plan the colorway which you would like your sweater to have it matching to as many pant options as you have.
15 – Black and Beige
Black and beige are both very stylish colors and are both appropriate to wear to a ski vacation. Therefore, if you get a chance to purchase a beige cropped jacket and matching beige high wasted pants, you are golden.
14 – Pastel Colored Ski Sets
If all the dark and gloomy outfits are not your styles, we have got you covered. Thankfully, these pastel skiing outfit options are a perfect way to light up the mood on the snowed-in slopes, also, make sure to get all matching suits. Here are some more pastel color combinations worth trying.
13 – Plaid Jacket
If you are a proud owner of a plaid jacket, pack it along for your ski trip. It will not only bring the Christmas mood to you and those around you but will also make you look very stylish. A style tip is that red plaid pairs very well with the color white, so when you're choosing the gloves and hat to go along with it get them in white.
12- Laid Back Ski Resort Outfit
If you are looking for a day-to-day laid-back outfit for a ski trip, you are in luck – it is our recommendation that you pack a loose-fitted dark-colored sweater and a contrasting-colored loose-fitted pant of choice.
11 – Statement Piece
A statement piece scarf with a vibrant print is a ski resort must-have.
10 – Animal Printed
An animal print teddy bear coat is the most vibrant of all and should be on your packing list.
9 – What Shoes to Wear to a Ski Resort?
This year, I highly recommend these 2 shoe types for skiing. Firstly, chunky white boots (for skiing) and secondly, fur boots (for hanging out in the resort or for outdoor photoshoots). Here's how you can style them:
To elevate an all-black ski outfit, pair it with some chunky white ski boots.
Primarily, when wearing faux fur boots, make sure to pair them with a neutral-toned outfit.
8 – Green acessories
Next, another outfit that will bring in a happy emotion to you on your trip is one riddled with a plethora of green accessories.
7 – Ski Resort Casual Attire
A casual pairing of a flattering cropped jacket and your favorite jeans.
6 – White and Grey
A grey and white ski gear outfit are one of the most versatile ones you can opt-in for while on vacation therefore is a must to bring along. Here are more ideas on what to wear with white jeans/pants.
5 – Long Black Outfit
Next, a long black puffer jacket that will keep you warm is a must-have for a ski resort.
4 – Black Vest
Surprisingly vests can serve as a very comfortable and warm choice for a winter getaway trip – also, pair with a tightly knitted sweater and a scarf.
3 – Stripped Sweater
A striped sweater, as opposed to a bland block color sweater, is always best for a ski trip.
2 – Faux Fur Vest
Faux fur vests should be paired with the same toned sweaters and contrasting accessories for a fashionable winter look. Here are some more fur vest outfits that you'll surely love.
1 – Basic Outfit for Night Out at a Ski Resort
A classic must-have for a ski trip is a black and white ski suit, with matching accessories like hats and boots.
Frequently Asked Questions
Q. What should I pack for my first ski trip?
A. If it is your first trip you might not have experience with what to pack, nevertheless you must follow your intuition when packing. Several turtlenecks, and some of your most comfortable and warm sweaters, and a pair or two of the most versatile warm pants you own.
Q. What not to pack for a ski trip?
A. Hoodies are the number one item which you shouldn't try to bring along on your trip, it might seem like a sporty clothing item from which you might get use out of. Although, it is too cold to wear on the slopes (you must wear proper ski attire) and too cold to walk around the snowed in cities in the mountains, consequently is not good for a trip like this. Conversely, aim to pack more cozy clothing items.
Q. What are non-obvious ski resort must haves?
A. Sunblock and chapstick are two ski trip must-haves that might surprise you but are actually very necessary for both women and men. For instance, when high in the mountains it is just as necessary to protect from the sun as during summer, and chapstick is always necessary for the wind and cold of skiing rides.