Snowy day outfit ideas. Snow is all about having fun and laughter around. However, the cold requires a person to be all covered, and looking glamorous with layers of clothing is a big challenge. Without proper guidance, Pulling off an elegant look can be a hassle.
Here are some looks ideal for a snowy day that will help you get a classy look this winter.You can get lot of ideas as to what to wear during the snow season. What shoes are perfect to wear in snow ?and much much more.
What to Wear on a Snowy Day
#18 Mix And Match
Mix some blue with white to get a bright yet fresh look for a snowy day.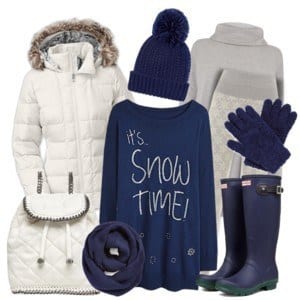 #17 Beige It All
Match the colors of the snow this winter. Add some haute snow boots to your snow day wardrobe to give yourself a chic look. Here's our complete guide on all the ways to wear snow boots.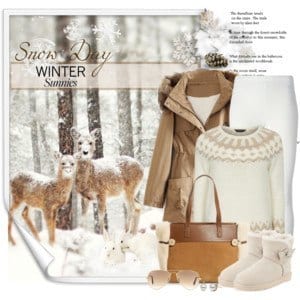 #16 The Perfectly Bubbly Look
This winter be cute and bubbly, pair your sweater with a stylish overcoat and leather gloves to give yourself a buubly look this snow fall.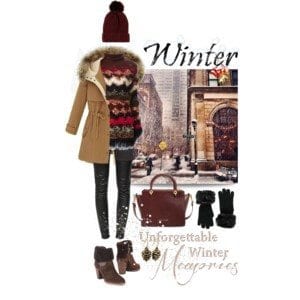 Perfect winter outfit with faux fur jacket-community blogger
#15 Try Something New
Who says you can't look glamorous in snow? Pair yor dress with some unique boots and a pop of red lip color to add some glamor in your style.

#14 Add Some Red
Red coat is a muist-have this season. Pair it up with black leggings and beige boots and you are all set with a glamorous look.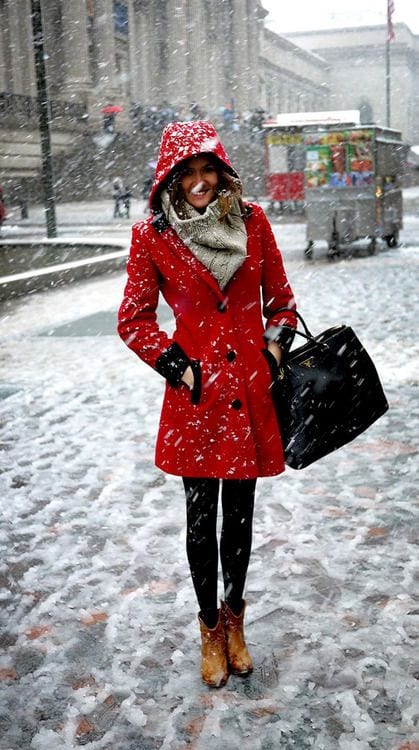 #13 Young And Free
This winter get a comfortably elegant look. Pair some block heeled sneakers with a long mustard coat and you are all set to enjoy the snow with style.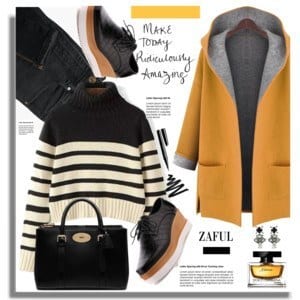 #12 Patterns And Colors
Make your simple coat stand out by pairing it with some colorfully patterned pashmina.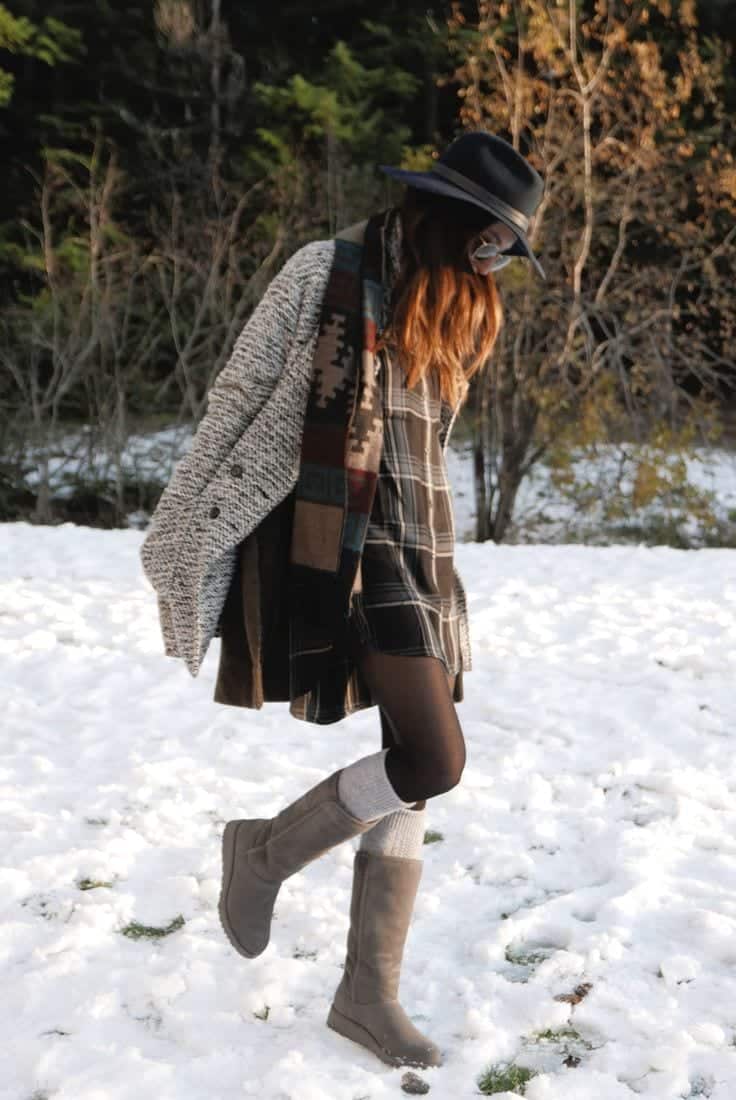 #11 – Black And White –  Pair your black hoodie with a white woolen cap, a pair of shades and some warm boots and you are all set out to experience the snow.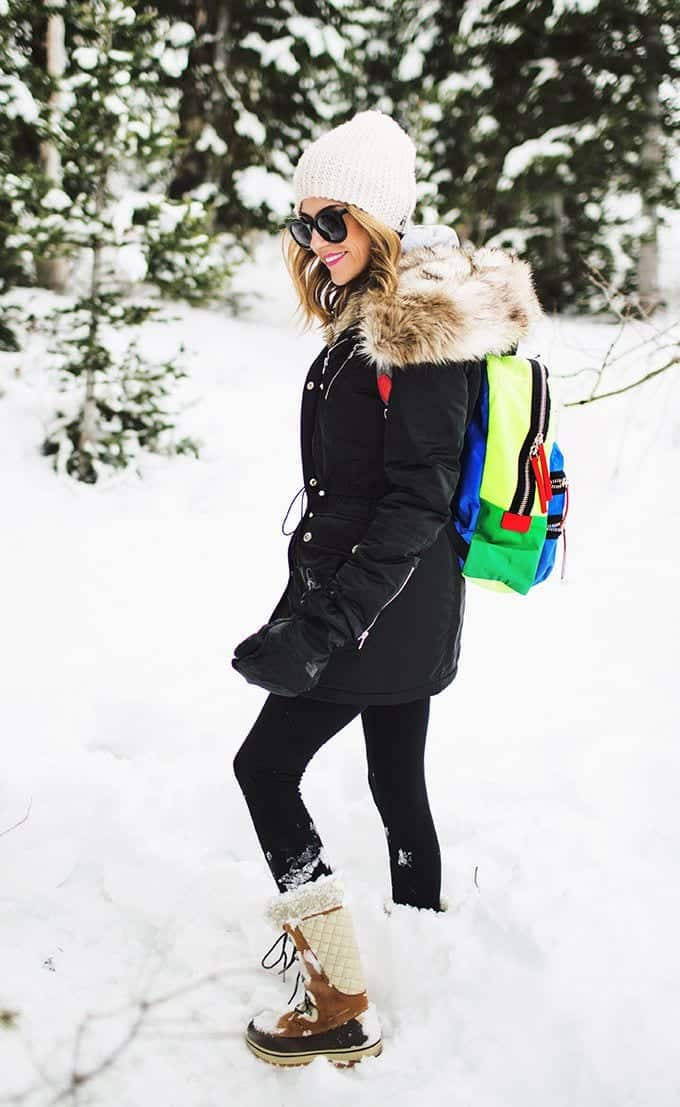 #10 Let It Snow
This winter season go with the traditional colors. Pair your sweater with some fluffy boots and you are all set to freeze some stares.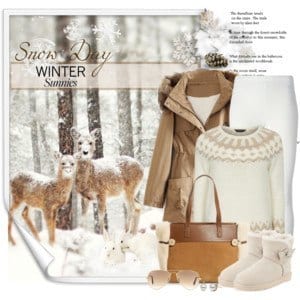 #9 Add Some Color
In the all white environment of a snowy day, add some olive color to your wardrobe. Pair it up with some boots and you are all set to go out for the day.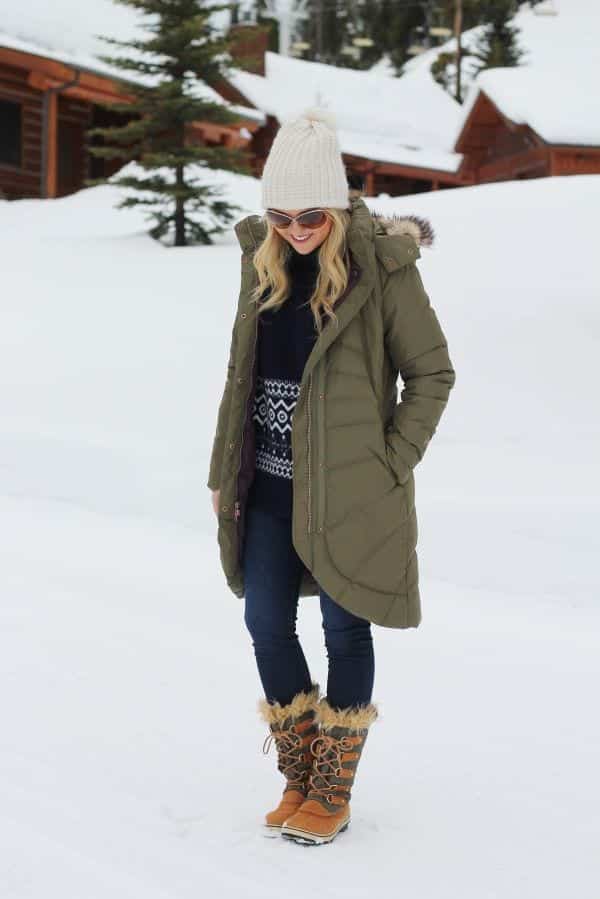 #8 To Cool For School
Give yourself a cool look with this casual yet elegant look thrown together with messy hair.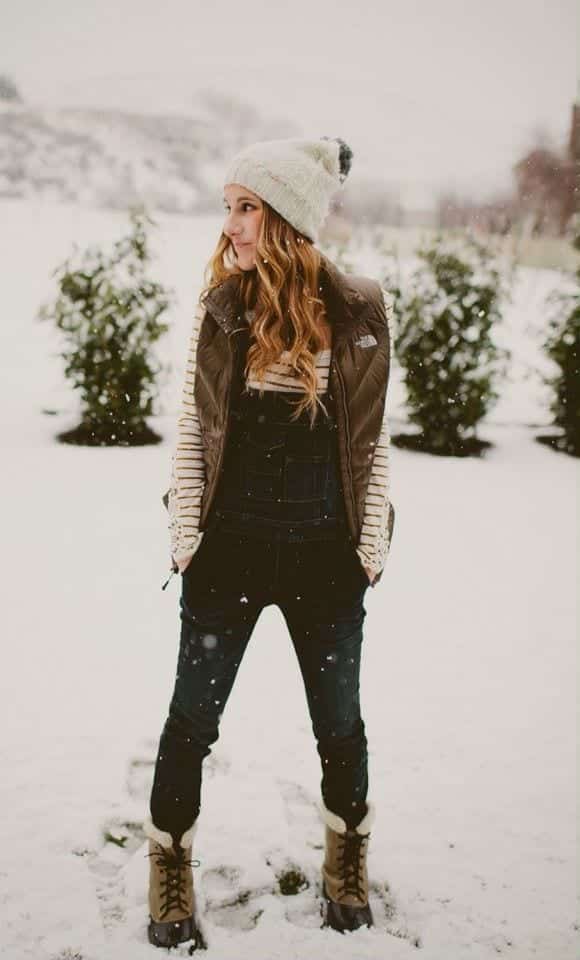 #7 Perfectly Covered
A snowy day is all about a proper coverage, do it with style, add some olive boots to make your style stand out.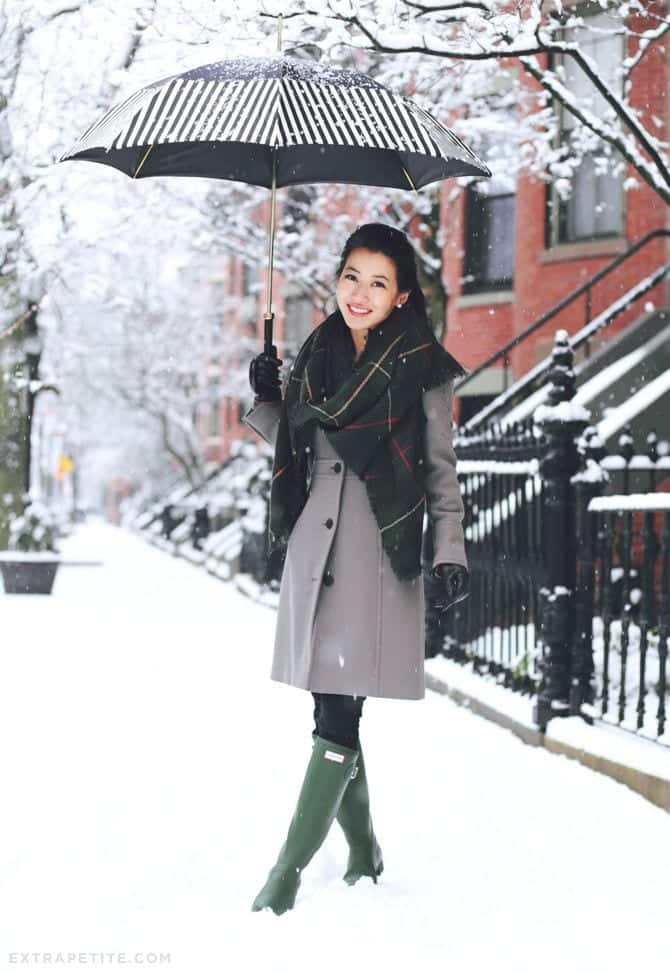 #6 – Snow Boots Must For All
Add some color to the boring black and white. Wear a blue coat with candy pink boots and get ready to turn some heads.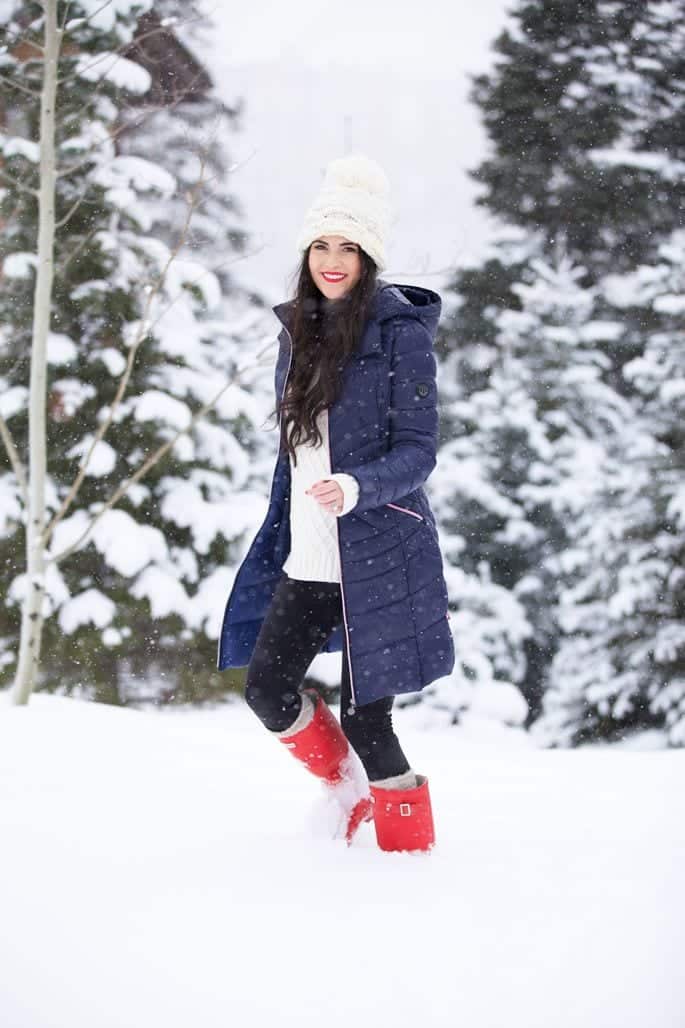 #5-  Beanie and Long Uggs
Soften the look of your Leather jacket with woolen gloves and cap. Pair them with some light shaded boots and your classy look is complete.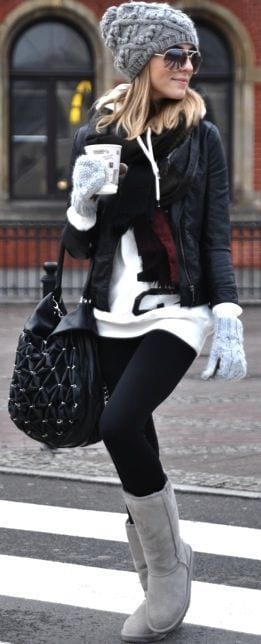 #4  – Say Yes To Scarves!
Make your ordinary dress stand out with a brightly colored scarf and a bright colored lip shade.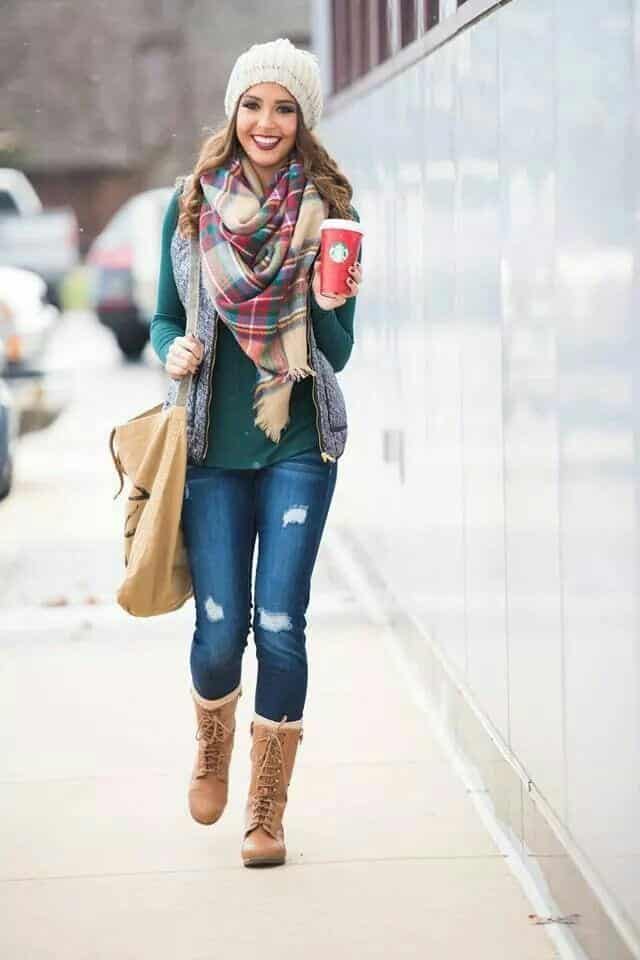 #3 Knee Length Boots To Add Some Grace
Go Graceful this snowy season, Wear black Knee-length Boots and throw over a grey coat to get this graceful look.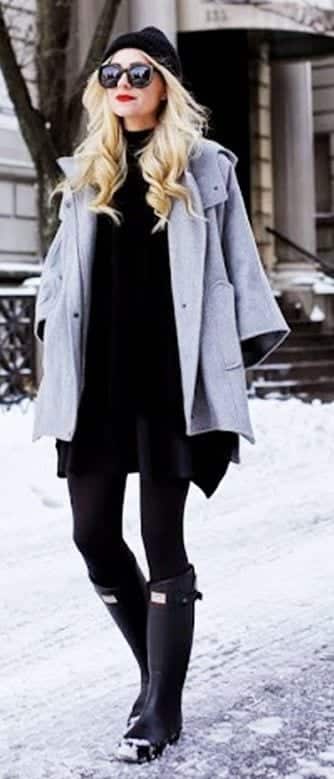 #2 – Incomplete without Faux Fur Hood Jacket
This simple yet chic look is very easy to pull off. Add some shades of red to make your dress pop out.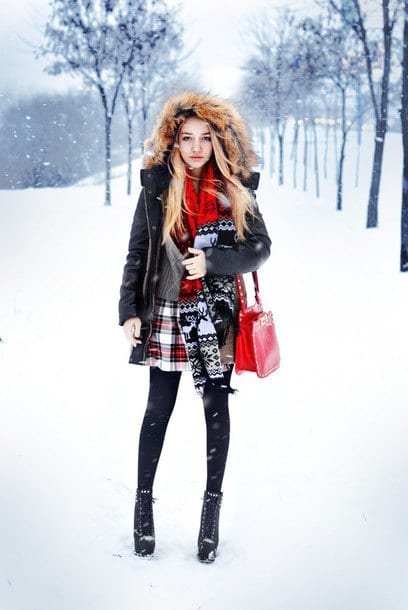 Also have a look at 13 cute minimalist outfits for winters
#1 Add Some Fur
This comfortably glamorous look is a must-have this snowy season. Draping a beige fur coat over black is big Yes this season.