Women's Outfits with Shearling Coats: Summers happen to be going away, giving way to autumn and bringing in a whim of coffee aromas, hot chocolate, enjoyed mostly by people lathered in fur. Fur has become a staple sign of the cold, which is why it can never really go out of style.
Fur jackets, vests, coats, or any fur-lined attire are an amazing addition to the wardrobe of any girl. Among these are shearling coats which consist of a suede pattern that will keep you warm and cozy throughout winter. Therefore it is vital that you own a shearling coat this winter, and I will tell you all the reasons why.
What to Wear with Shearling Coats?
Although shearling coats have a hefty price tag, do not back out in purchasing one because they will last you longer than any other clothing item you own. They can be styled with a vast number of outfits, making it super easy for you to go out in winter because you will always have something warm and stylish to wear.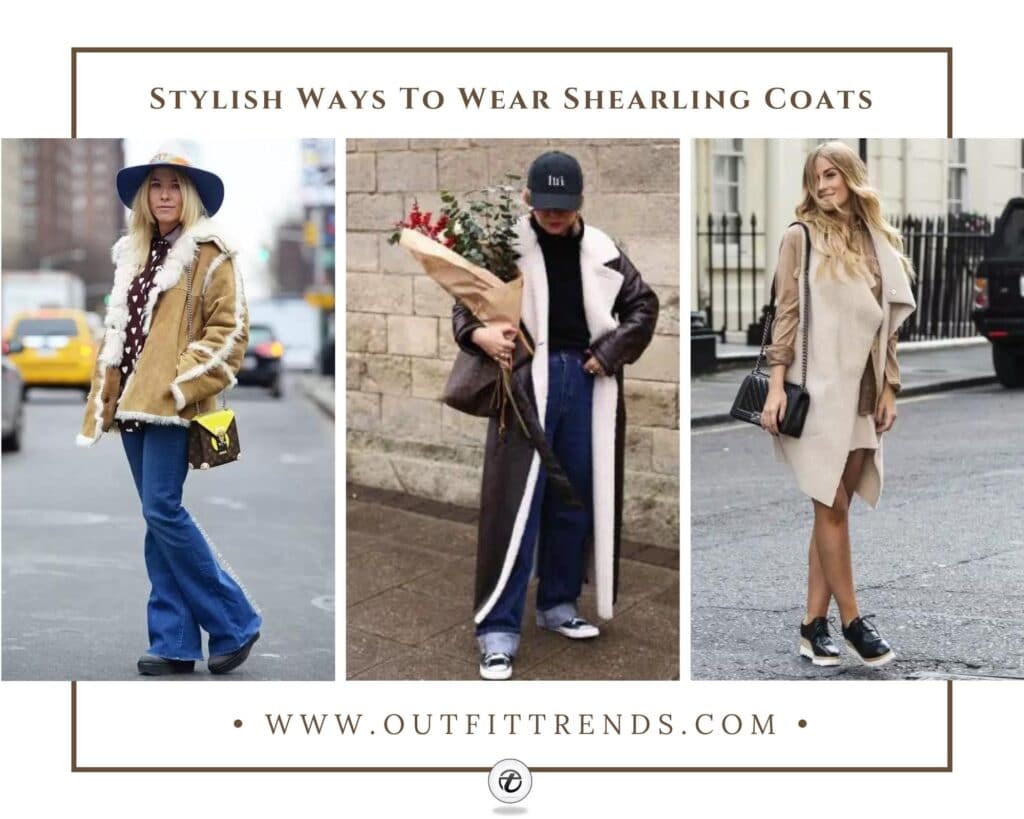 And no need to worry as the outfits will not be repetitive since I'm going to share with you different ways to style one shearling jacket and make a number of outfits from it. I will begin with some helpful tips on wearing shearling coats. They are as follows:
Tips On Wearing Shearling Coats
First and foremost, never wear shearling coats on days that are forecasted for rain. Trust me, rain and fur do not go well together.
Neutrals should always be your priority when buying shearling coats. You do not want to purchase a colour that does not mix and match with the other outfits in your wardrobe, hence neutrals are a safe zone.
Black or white shearling coats are top tier, you can even wear them to formal events!
Shearling coats and chelsea boots are an elite combination! You should be trying it out if you own both of these items.
Do not hesitate to go for denim on denim if you have a denim shearling coat! Pair it with other denim items in your closet.
Scarves – they are important in styling your day to day outfits consisting of a shearling coat so get your hands on some scarves next time you go sopping.
Knee boots – they are a shearling coat's bestfriend so if you own these, you are one lucky fashionista. However it is not that important to purchase them if you already own ankle boots, so no need to worry.
Ankle boots – these are likely to be owned by everyone and if they are lying in your wardrobe, this winter would be the perfect time to take them out because most of the outfits I'm going to recommend will go best with ankle boots
1 – Street Style
Whenever you are in the mood for a quirky look when going out, you can always rely on this stunning long shearling coat to save the day. Purchase a cream-colored long shearling coat and pair it with your go-to blouse and jeans. If you want to upgrade your look up a notch then add a pair of ankle strap heels. This way your street-wear will give you a boost of confidence just as much getting ready to go out on a special occasion.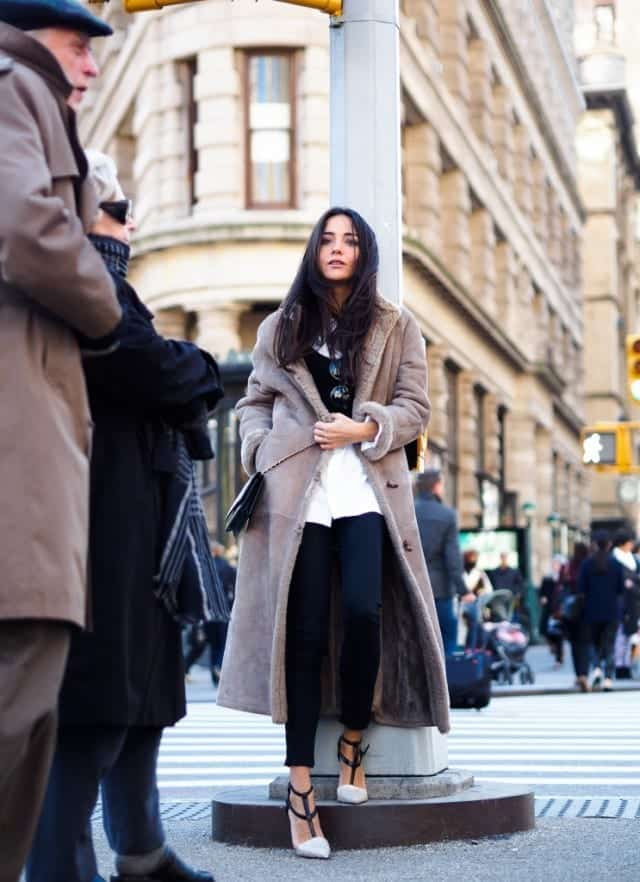 Where to buy: Mayfurs Teddy Coat
2 – School Girl Look
This Kendall Jenner look is a must and probably one of the easiest looks to replicate from her wardrobe. This look is very easygoing and will definitely look good as a school outfit when you have a fashionista reputation to keep up with! Slip on a black shearling coat on top of an all-black outfit and let your grunge aesthetic come true. Make sure you grab a black satchel purse to complete the look.
3 – The Elegant Look
Here we have a plaid shearling coat that looks absolutely stunning when paired with an elegant outfit as shown; a floral top and contrasting olive pants. You can mix and match such clothing items, for example, a black floral blouse with brown straight pants and it would look just as good with this heavenly plaid coat. You can check out an identical shearling coat in Ballly's new lookbook. Do not forget to pair this outfit with some heels, preferably black stilettos because that is always a cherry on top of an elegant outfit.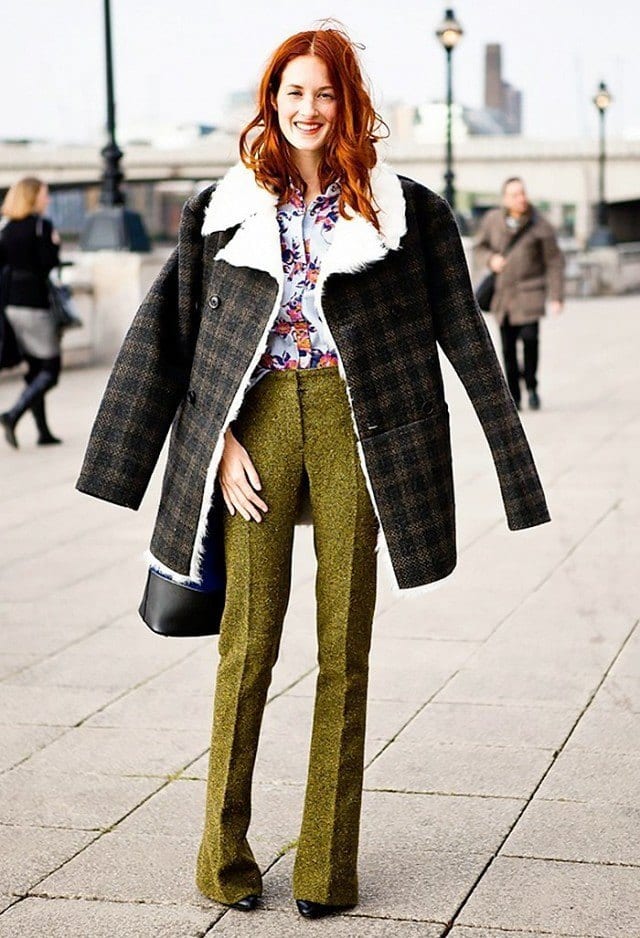 4 – The Casual Look
We all have a certain casual look that we are comfortable in wearing while running some errands, or even a quick grab of coffee with a friend or two. Change your casual look with this sherpa coat and pair it with a simple striped t-shirt or any other pattern you prefer with simple skinny jeans. Slip on some vans for a cozy outfit all day long. You can add some sunglasses to this outfit when it is sunny outside because that will surely look chic.
5 – All White with Ankle Boots
Are you searching for a fancy way to wear a shearling coat? Well, I got you covered with this outfit. Pair a knee-length white teddy shearling coat with a knee-length white dress. This way your outfit will stay consistent and you won't struggle with matching colors. You can leave your legs bare if you have knee-length boots, or else slip on some fishnets for the day. Make sure your fishnets correspond with your dress! Check out Luxurious Teddy Coat in Cream by GF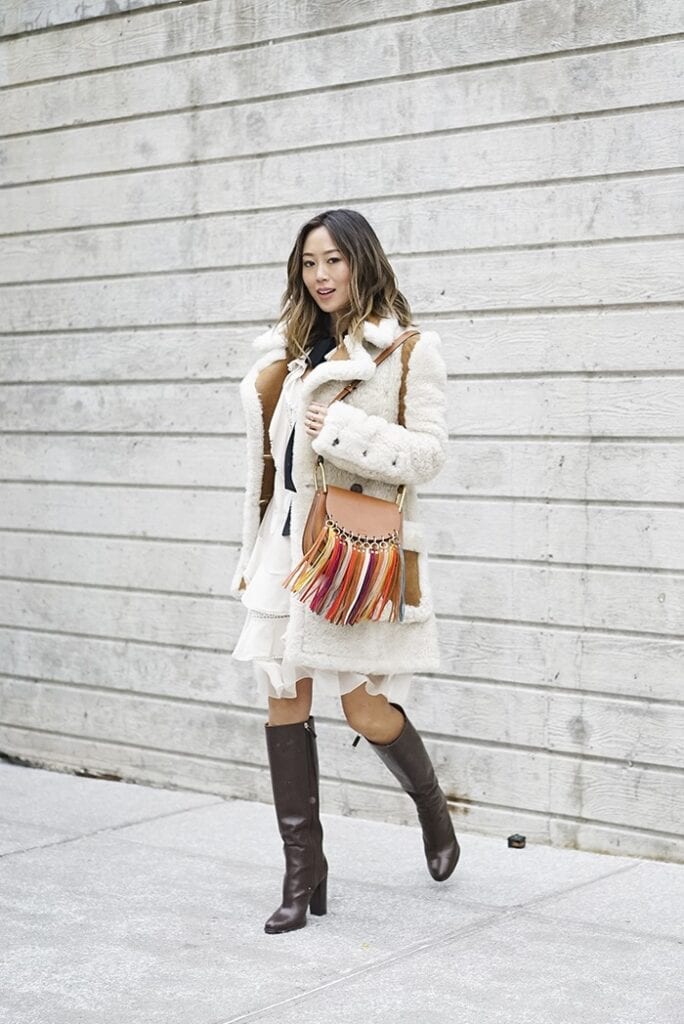 Source
6 – What to Wear with a Long Shearling Coat
While you may think this look is straight out of the runway, it can be worn on your morning walks to the park just as much as on the runway. Times are changing and fashion is flexible, so do not fear going all out even on a simple run to the park. Pair your yoga leggings with a comfy sweatshirt and then bring together your look with a long black shearling coat.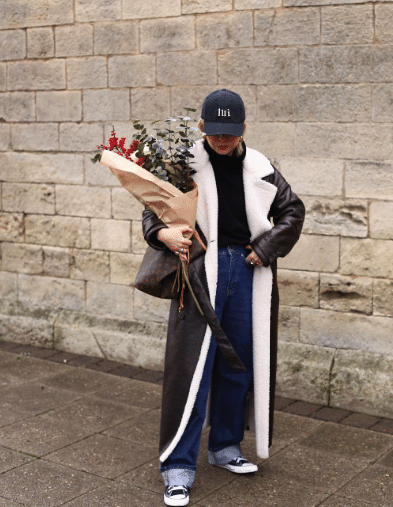 7 – Leather Shearling Coat
Leather shearling coats are all in now. They provide ultimate warmth and style, two in one. Pair a black leather tube skirt with a matching black leather shearling coat to achieve a runway look. For the top, anything works as long as it contrasts, like a leopard print sweatshirt. Depending on your plans for the day, pair the shoes accordingly, given that they correspond with the rest of your outfit such as brown or black ankle boots.
8 – The Flared Jeans Look
Flared jeans have been neglected for a good while, but now that they are back in trend you should take advantage of them and definitely pair them with a shearling coat. Classic blue flared jeans are always a safer option than any other colour, the way a neutral brown shearling coat is. Mix these two together for a very chic look. Jeans always compliment a flattering shearling coat with fur that stands out, so it would be more stylish to wear a coat with white fur. Match the rest of your outfit to your own liking as long as these two major items are in place.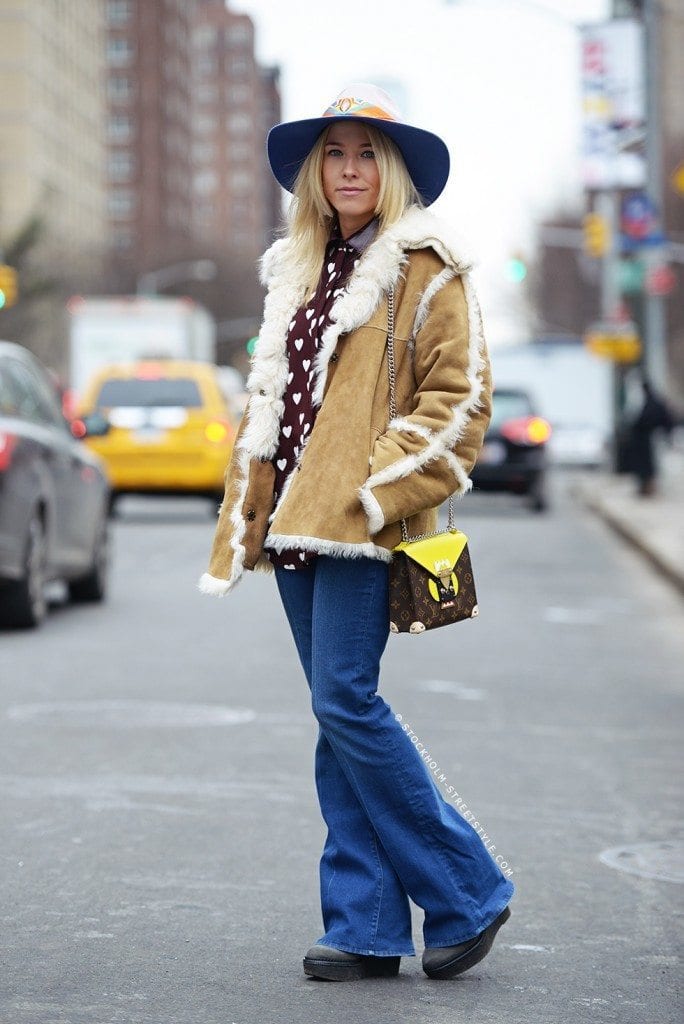 9 – Oversized Shearling Coat
Fur coats are the best, yes but oversized ones? They are equivalent to heaven. For all my readers who are from extremely cold areas and can not substitute comfort for fashion, this is your best friend! Check out an identical dope oversized shearling coat here.
Here are some tips on How To Wear Oversized Clothes.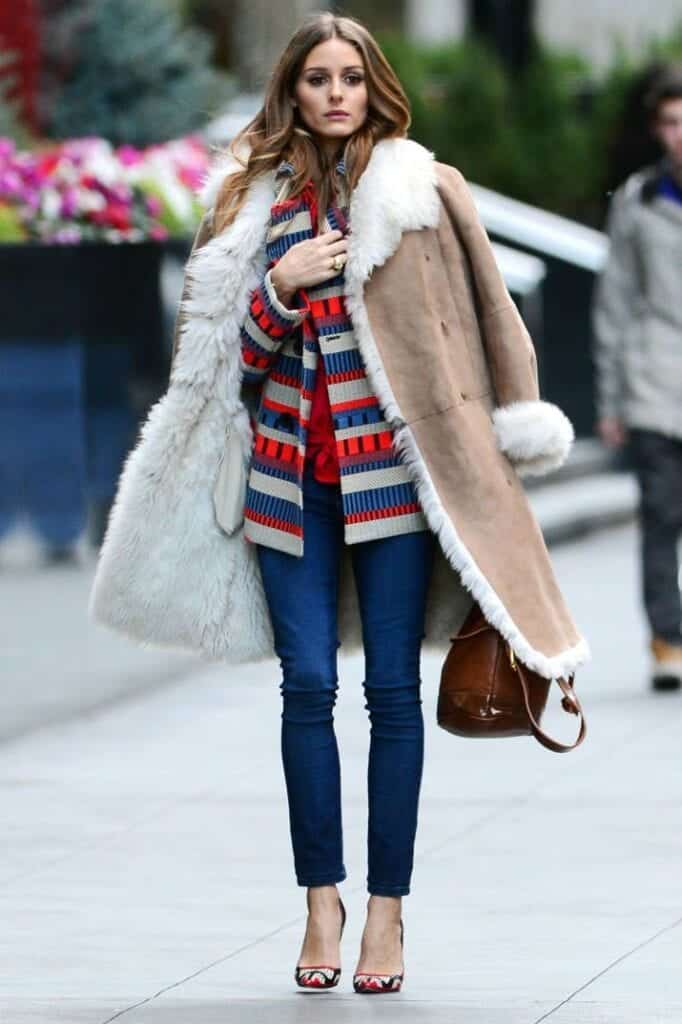 10 – Draped Shearling Coat
Drapes are extremely convenient and stylish at the same time. They are likely to go with every outfit and complete your look when you may think something is missing. This winter, check out Ralph Lauren's Faux Shearling Drape for an idea of these coats, and try to incorporate one into your outfits if simple coats are not working for you.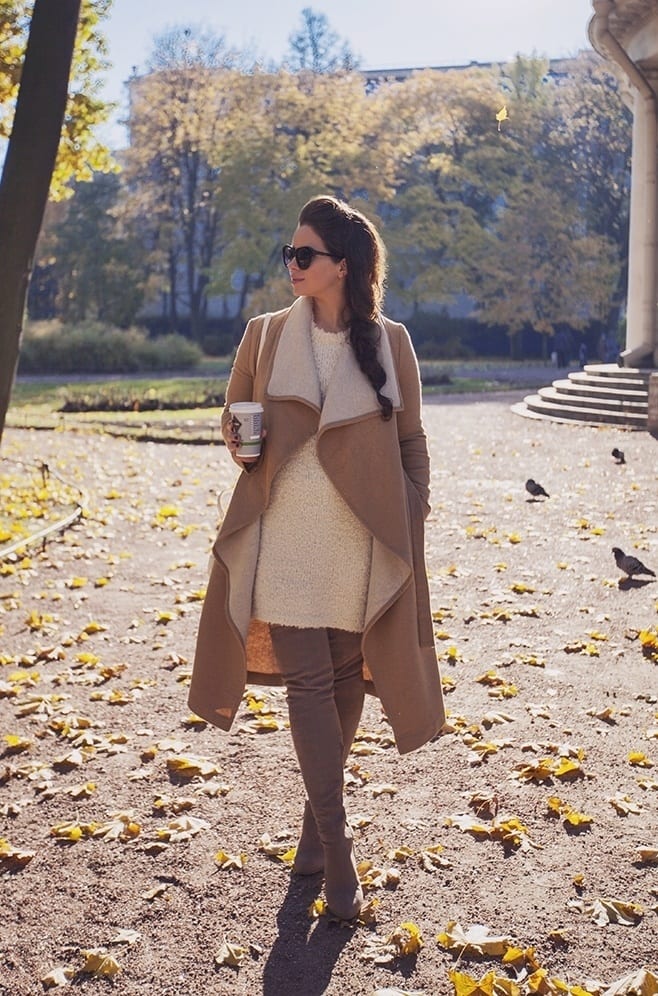 11 – How to Wear a Sleeveless Shearling Coat
Is it not cold enough for a shearling coat? Or are your shirt's sleeves too poofy to stuff into a coat? Whatever your concern may be, there is one cozy solution for it. Buy a sleeveless shearling coat as soon as possible! Check out the ones available at Brand Alley.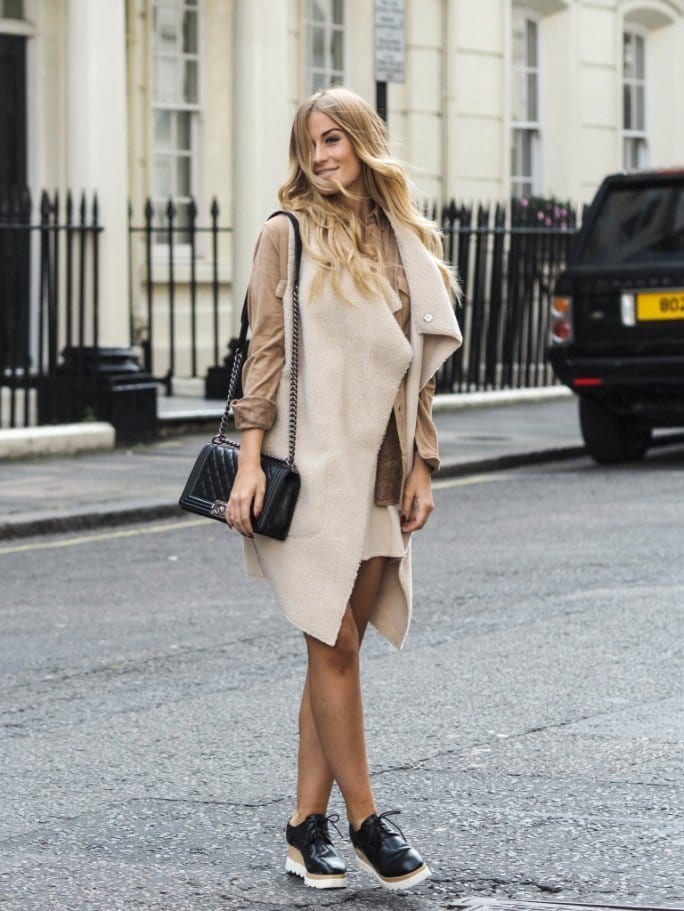 12 – Teddy Shearling Coat
Teddy coats are an absolute lifesaver. I am yet to come across something so convenient, comfortable, cozy and all the synonyms possible. While white may be a risky color to purchase when it comes to coats because they are not resistant to dirt, I will still encourage buying a white teddy coat because of its adorable look. It is as if you're wearing clouds! Furthermore white is easy to blend in with other colors, even bright ones.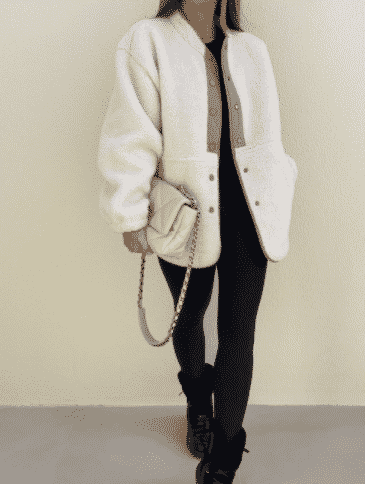 13 – Scarf + Shearling Coat
Mufflers and coats are both staple items for winter. While some may disregard mufflers because of their tendency to not blend in with outfits, I think they can always be incorporated into an outfit. So if you are just like me, this look is for you in specific. Plaid mufflers with neutral shades are always useful, given that you own neutral-colored coats. Bring together a plaid muffler with a shearling coat of a color similar to the shades of the muffler. These to items ae likely to cover your whole outfit underneath so you can go out in sweats and a tee while wearing these on top, and no one will ever find out!
14 – Puffer Shearling Coat
Puffer coats are a modern-day phenomenon and rightfully so! Thank God they have been invented because if it weren't for puffer coats or jackets we would be struggling with fashion and the cold both. I think these should be a must in your closet if you live in areas with extremely harsh winters. Other than that they can still be worn in moderately cold weather as long as the layering beneath is less. These are most convenient for girls who want to wear shearling coats but are conscious of their bodies because a puffer shearling coat will not hug your body as tightly as a coat does and it will give the same warmth and feel with its fur. Here are some more Chic Outfits With Puffer Jackets.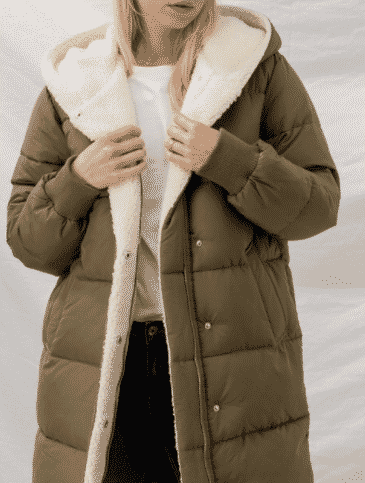 15 – Matching With Baby
Babies always have the most adorable and comfiest teddy-wear available so why not match with your baby this winter? Whether you have a white or brown teddy coat of your own, I'm sure 100% you can get a similar one for your baby. If you want to go all out then wear matching turtlenecks as well because that is the easiest available clothing item for all age ranges. Moreover, hats work too! What is the point of motherhood if you are not going to own it and show it to everyone? It is time you start matching with your baby whenever it is possible. Here are some more fabulous Matching Mother Daughter Outfits.
Frequently Asked Questions
Q. How do you wear a long shearling coat?
There is a variety of styles you can adopt from, whether it is jeans paired with a graphic tee or floral blouse with straight pants, shearling coats will do the job everywhere as long as they are neutral-toned and correspond with the rest of your outfit. If you're a fan of long coats, do check out our previous post on Stylish Ways to Wear Long Coats This Winter.
Q. What do you wear with a shearling jacket?
Boots compliment a shearling jacket more than anything. That and a muffler, make sure you keep these two at standby whenever you are incorporating a shearling jacket into your outfit.
Q. Are shearling jackets in fashion?
If they were not before, they certainly are now because of the fall/winter runway looks for 2021. You will find a shearling jacket or coat very significantly in there hence this piece won't go out of style any time soon. This should be enough to convince you of buying one if you have not already.
Q. How long does a shearling coat last?
A shearling coat is bound to last for decades if it is taken care of properly. It is not uncommon to find out people have been wearing sheepskin for over 20 years ago.

I love expressing myself through fashion and writing!