What to wear in Germany in Winters. The land of great poets and thinkers, Germany is brimming with rich culture, mouthwatering delicacies, and of course beer. This European country is as popular for its cars, as it is for its picturesque destinations and glorious castles, which makes it one of the top destinations to explore and a hot favorite amongst travelers and tourists.
What to Pack for a Trip to Germany in Winters?
Let's start with some tips on packing for Germany:
Summer dresses, or clothes in thin fabric are a no-no. Germany tends to get pretty cold in winters so be mindful of the fabric of clothes you will be packing.
Woolen and fleece are your best friend. From woolen scarfs and socks to mittens, dont forget to pack some warm layers for the areas that are usually left exposed.
Waterproof jackets and boots are always a good idea. Because nothing is worse than the feeling of wet socks.
Opt for smart jeans in a dark color instead of ripped jeans.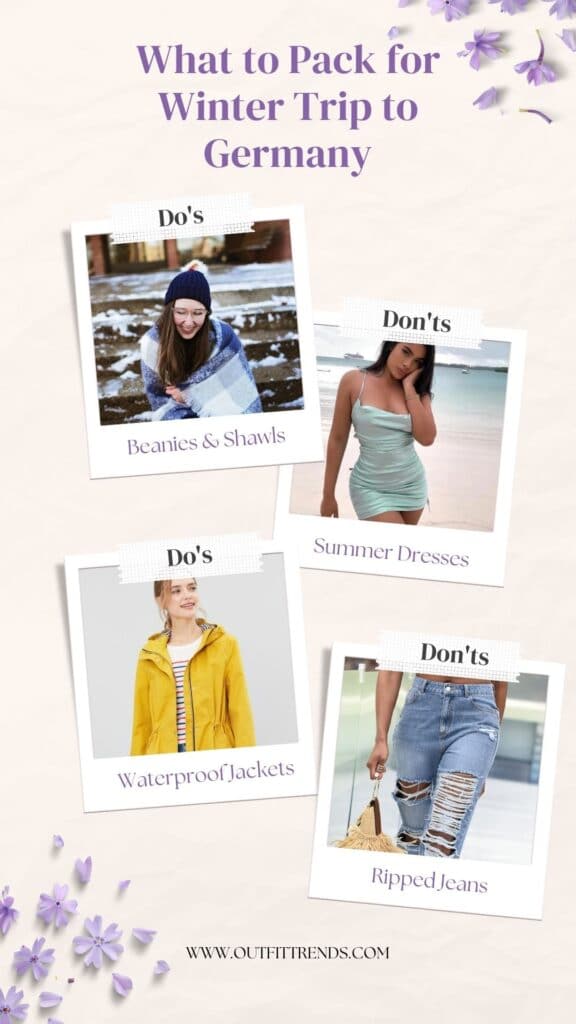 And now let's have a look at some clothing items that we feel make excellent choices for outfits that you can wear in Germany: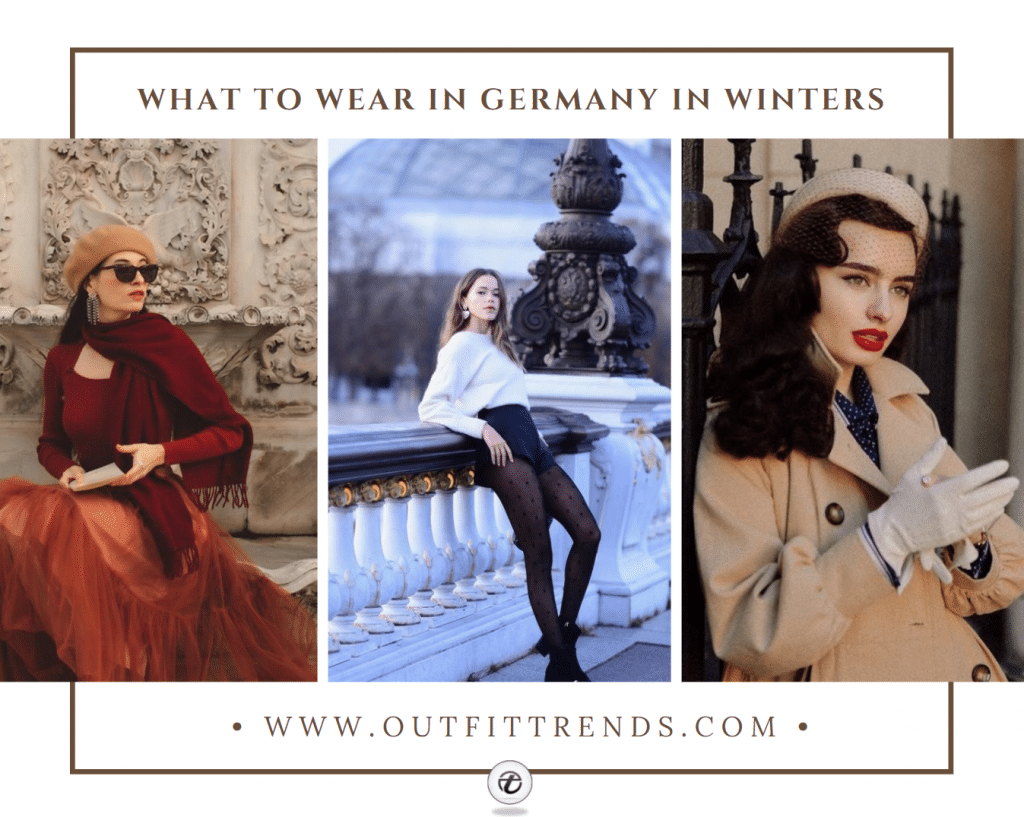 23. Puffer Jackets
A trendy and stylish piece of garment that is also going to keep you happily toasted is the puffer jacket. For an influencer-approved look, pair your puffer jacket with matching jeans, and style it with a sleek bun for a clean Instagram-worthy look. Here's our complete guide with tips on how to wear puffer jackets.
22. Gloves
Stylish, winter essential, gloves are a must when it comes to tackling chilly Germany. With temperatures hitting as low as 0 degrees, it is important to protect your hands from freezing from the harsh winds. Thus, fashionable yet warm gloves come to your rescue. Pack some leather gloves or some stylish gloves with fur details and turn them into a statement piece.
21. Blazer
Perfect for days when you don't want to go super casual with a jumper but also don't want to look too dressy. A well-fitted casual blazer is the answer to almost all your fashion problems. Versatile yet warm, pair it with a dress, skirt, or jeans. Whatever you choose, don't forget to click some pictures for the gram. Here are some of my favorite black blazer outfits that you can try.
20. Woolen Scarf
One of the most important pieces of clothing when it comes to winter layering is a scarf. Wrap it around your neck or wear it as a stole, scarf is a versatile piece that will not only keep you warm in the German winters but will surely uplift your vacay outfit to a whole new level. Pair it with a matching sweater and you are ready to explore the stunning cities of Germany.
19. Highneck
Who said winter wear can't be sexy? Pack some well-fitted high neck sweaters and raise the hotness meter at your next vacation. Pair it with a mini skirt and finish the sexy look with matching stalkings.
18. Winter Hat
A perfect way to protect your hair from the brutal winds and also keep your head warm and cozy during your vacation is to pack a few winter hats. From beanies to woolen berets, there are a lot of options for you to choose from. For an influencer-approved look, wear your woolen beret with a woolen dress and rule the streets of Germany like the fashionista you are.
How to Dress for a Trip to the Castles in Germany?
17. Woolen Skirt
Germany is very popular for the castles and visiting them is a must on your trip. I recommend wearing a woolen skirt or a woolen dress with tights for this as these are comfortable yet warm options which is exactly what you want for a long day of exploring the castles.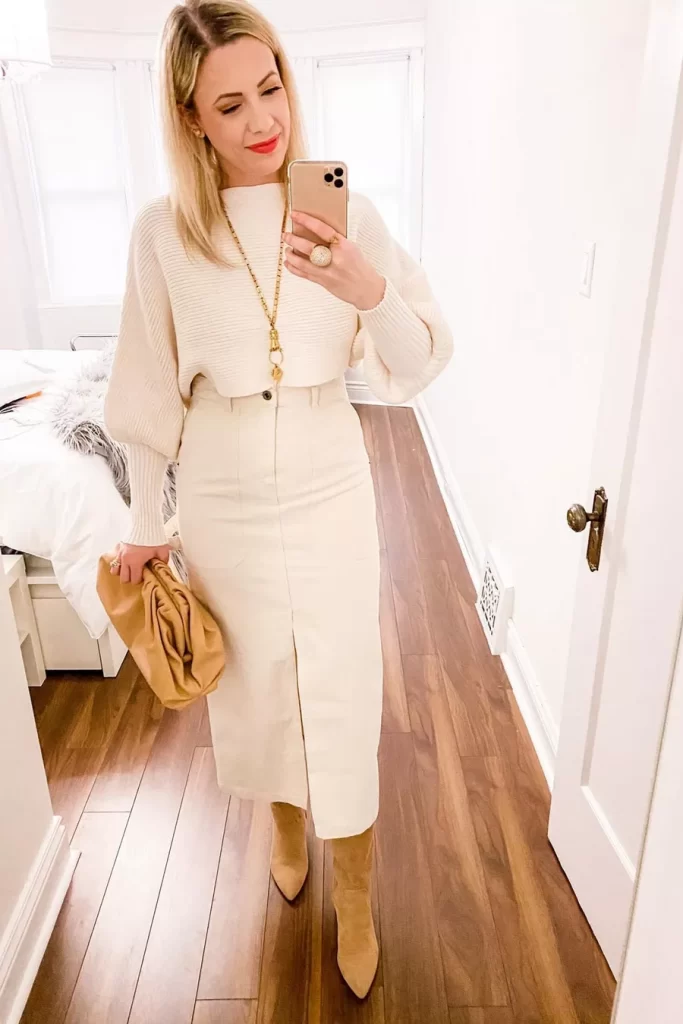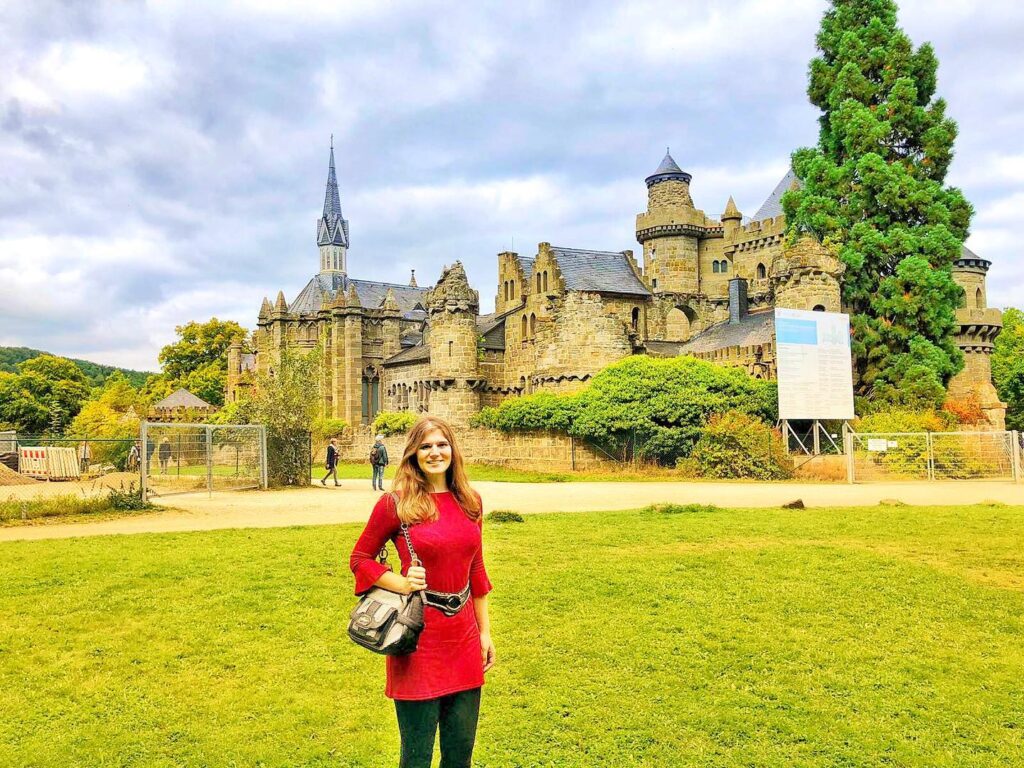 16. Casual Jacket
Winters are incomplete without some casual jackets. So don't forget to pack your favorite jackets for your exciting vacation in Germany. Pair it with jeans, trousers, or chinos, when it comes to styling, this versatile piece is going to spoil you rotten.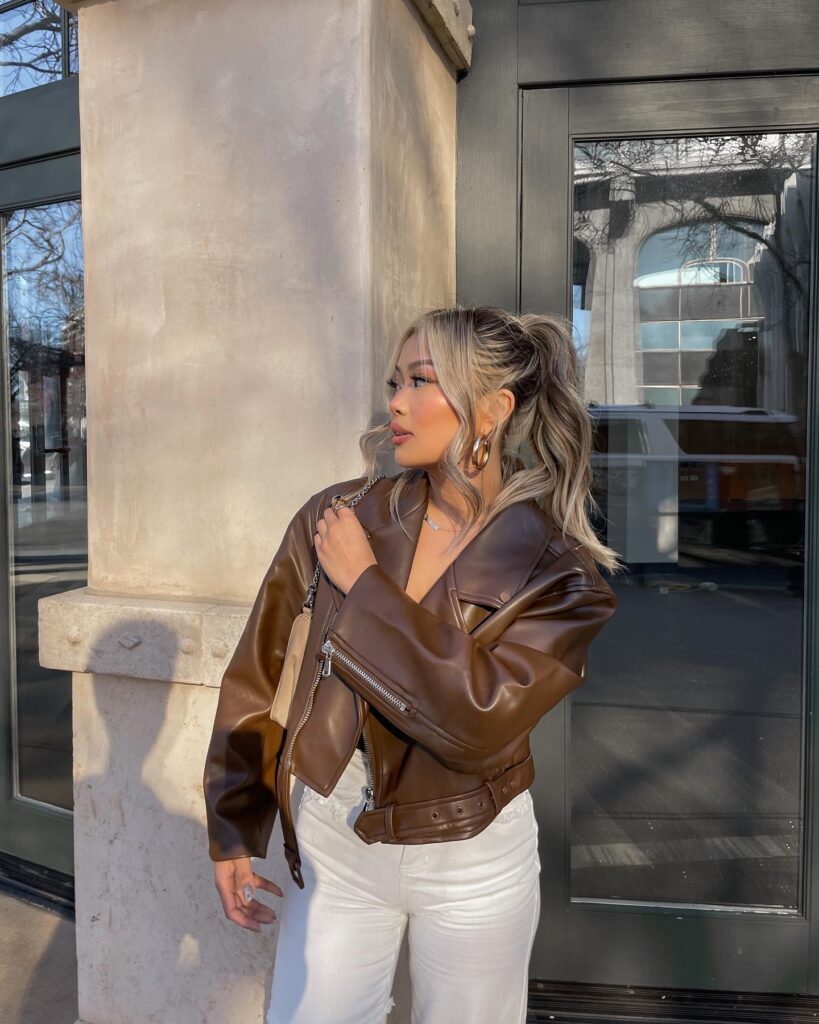 15. Leg Warmers
When you don't want to hide under way too many heavy layers, you have to pack smartly. Leg warmers are a smart and effective way to keep your feet warm during your long romantic stroll, wear them under your jeans, skirt, or even a midi-dress. You will look super stylish and none will be the wiser.
14. Thermal Wear
Another smart way to layering is to pack some thermal wear. Thermals are part of lingerie that is usually worn inside shirts or blouses. It adds an extra layer of warmth that helps you keep cozy, without having to wear multiple layers of heavy sweaters. You can get separates or you can invest in a good quality thermal jumpsuit for optimum protection.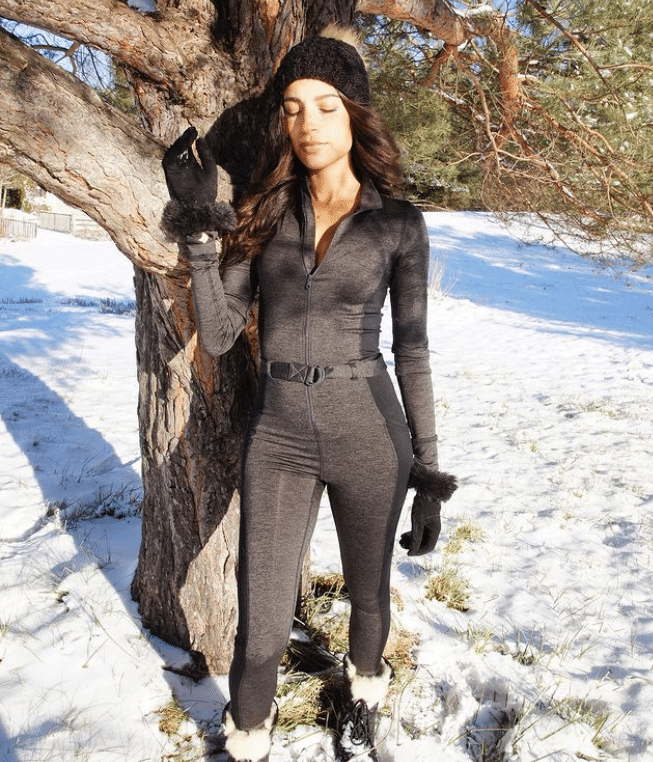 13. Waterproof Jacket
A practical yet stylish piece of clothing, a waterproof jacket is a must when you are packing for your Germany vacation. Don't let a little rain or snow ruin your plans, don your waterproof jacket with your trusty jeans and you are ready for your next adventure.
12. Winter Coat
A classy and elegant piece of garment, a woolen coat is a winter essential that is a must in everyone's wardrobe. From jeans to dress, a long winter coat compliments various different outfits and is perfect for a romantic dinner date at La Vie in Osnabruck or Aqua in Wolfsburg.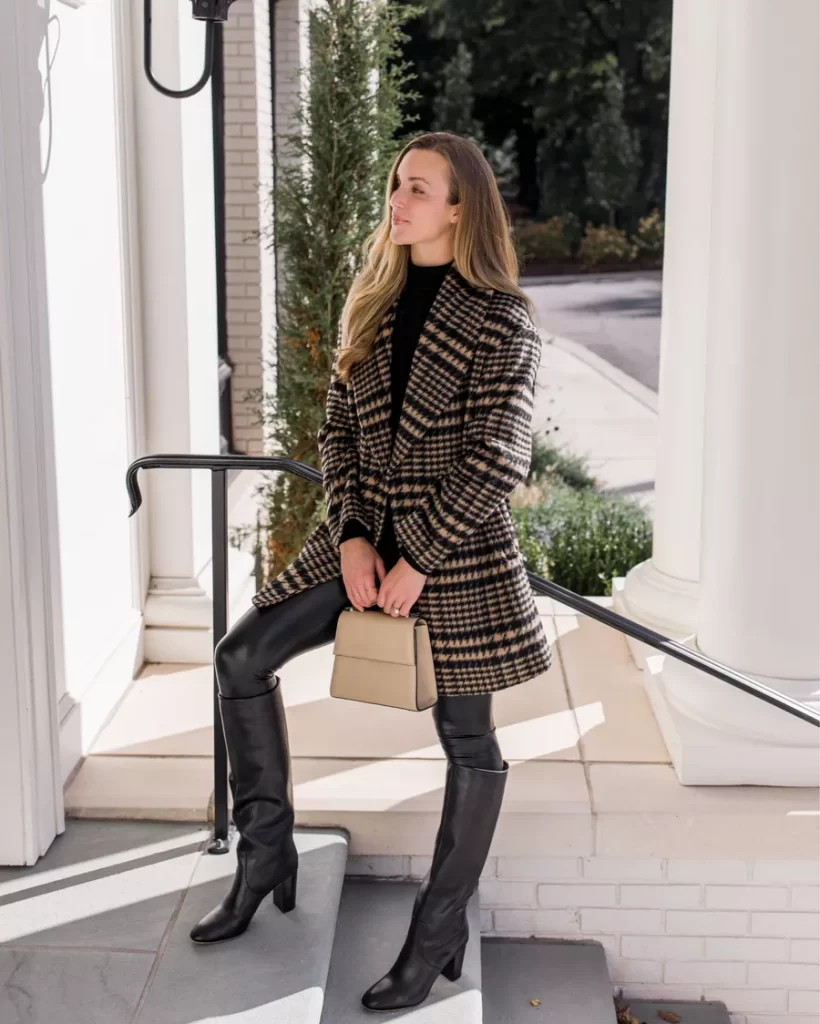 11. Slip Dress
A slip dress is a versatile piece of clothing that can easily be transformed into a winter-appropriate outfit. From layering it with a sweater to wearing it with a classy fur coat, when it comes to styling this staple piece, the options are endless.
What to Wear in Germany in December?
10. Fleece Jacket
When it comes to warm fabric, fleece tops the list which is why it is a must-pack for December which is one of the coldest months in Germany. A super warm yet trendy piece, a fleece jacket is a must for your next vacation to Germany in winter. Pair it with some straight-fit trousers, woolen beanie, or layer it over a winter dress for a more feminine and elegant look.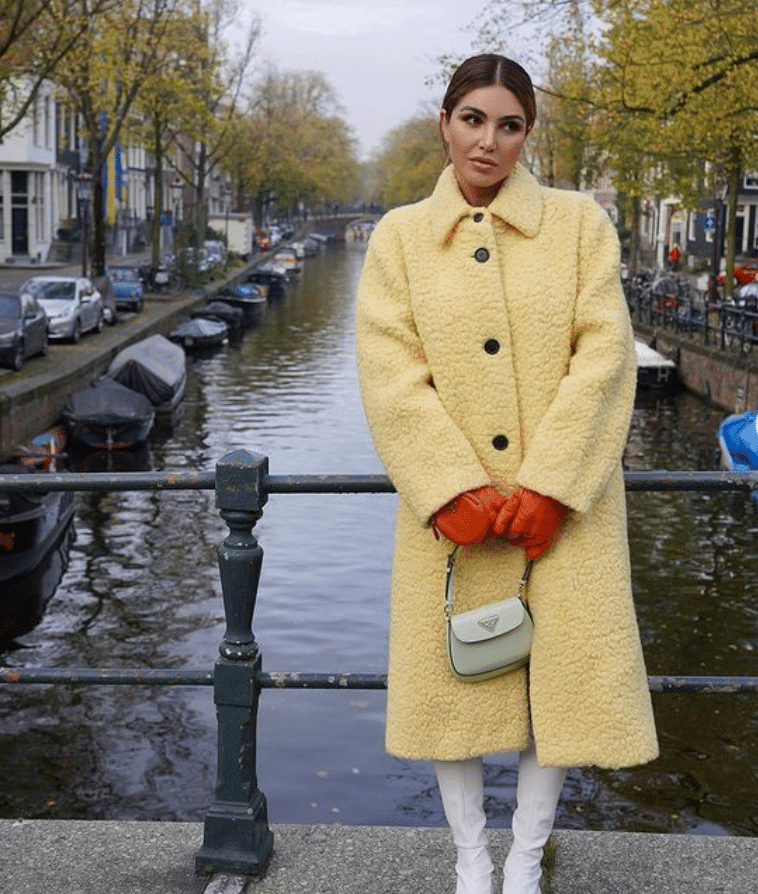 9. Jumper
Perfect for a casual day of shopping and sightseeing, a jumper paired with jeans is the perfect traveling uniform. Their super versatile nature, allows you to wear and re-wear it without making you look boring. From graphic prints to solid, there is a jumper for everyone.
8. Black Jacket
For all our rocker-chic divas, don't forget to pack a black jacket for your next vacation in Germany. You can opt for one with a floral pattern for a more feminine look or pick one with fringes for a more country-esque vibe.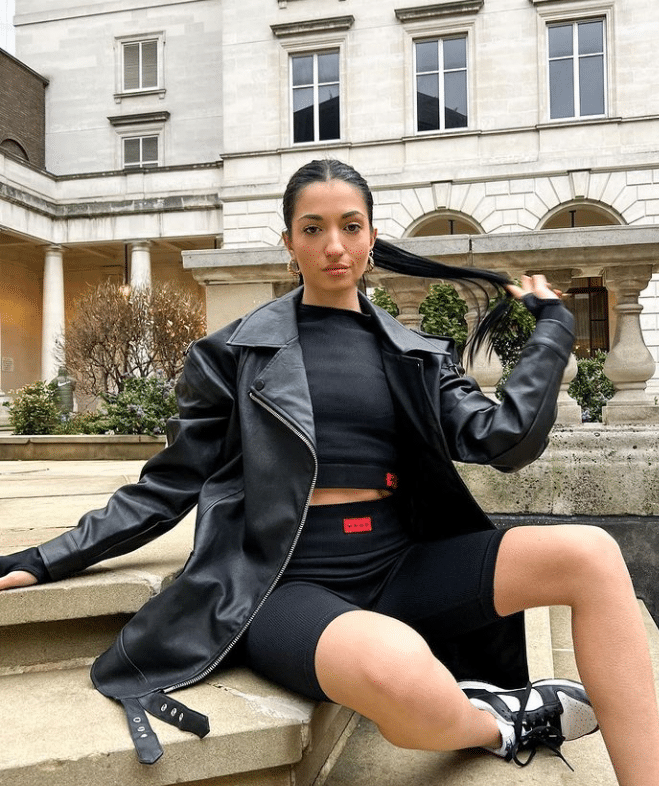 7. Woolen Trouser
Nothing beats the elegance of a smart, well-fitted trousers. Invest in some premium woolen trousers that won't only keep you cozy but will also make you look luxurious and dapper. Pair it with a smart blouse for a classy dinner or pair it with a vest for a more laid-back look.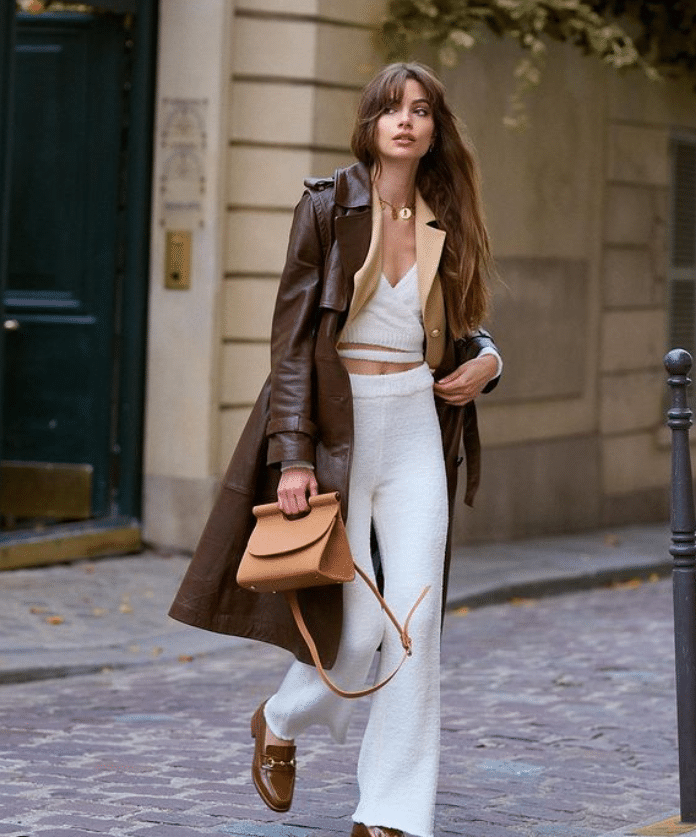 6. Denim Jacket
A hot favorite amongst all genders and ages, a denim jacket is a staple that is found in almost everyone's wardrobe. Pack your favorite denim jacket, pair it with matching jeans for a monotone influencer-approved look or pair it with a dress for a more picnic-y vibe.
5. Chunky Cardigan
For all our softcore aesthetic fans, we've got something for you too. Chunky cardigans are the new cute thing in town and we are as much in love with it as you are. Super comfortable and cozy, chunky cardigans are going to keep you warm in the german winter while also making you look super cute.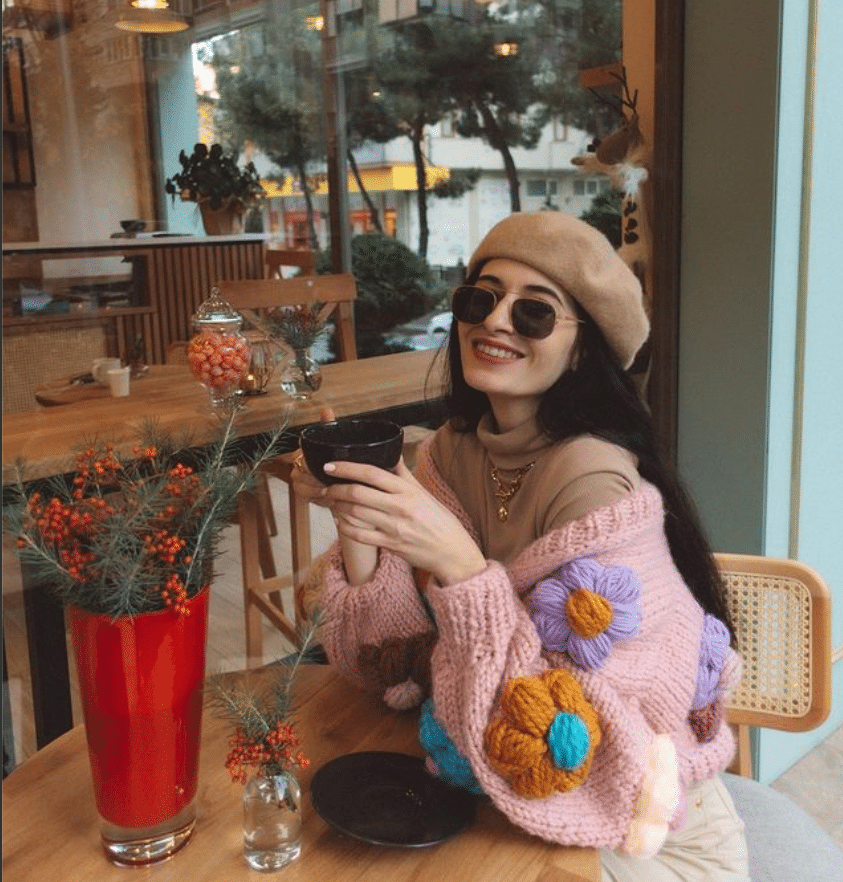 4. What Shoes to Wear in Germany?
Pack your trusty boots and get ready for the adventure that is Germany! Boots are the best shoe option for Winters in Germany but you need to make sure that you go for comfortable ones that you can easily walk in. Another good option is to go for sneakers but I recommend boots because of their formal look that goes really well for the pictures. Moreover, Germans are not really big fans of sporty shoes so if you don't want to look like a tourist, go for boots or loafers instead of sneakers.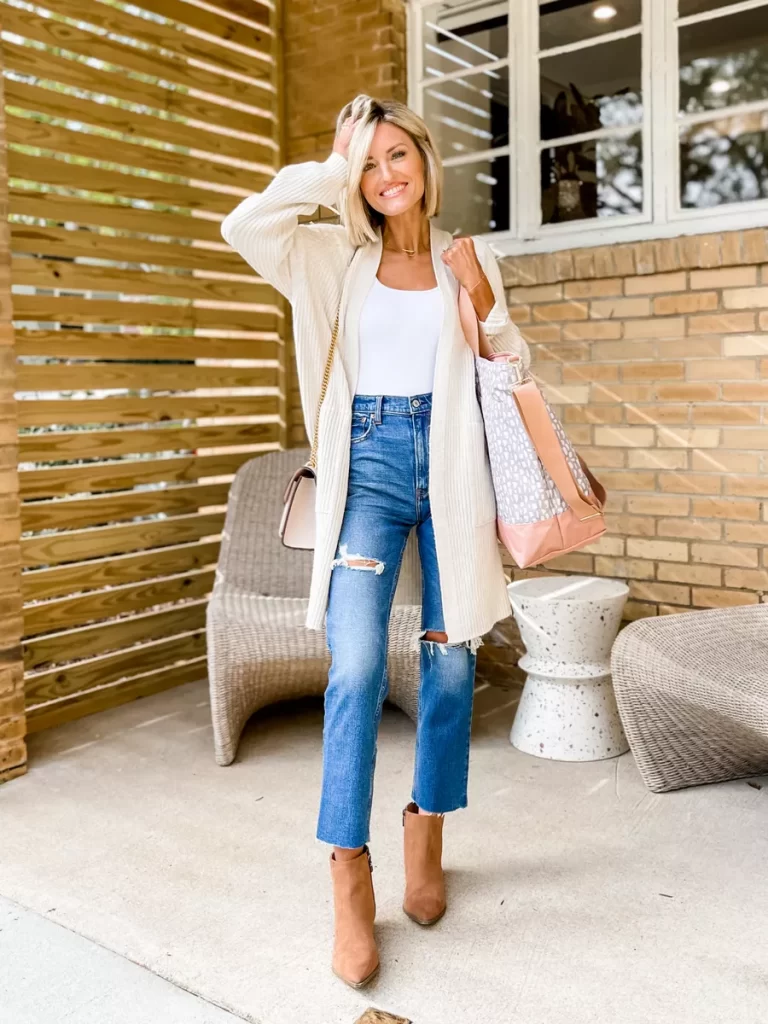 3. Sweaters
Pack 3-4 sweaters in thick fabric like wool in pastel or neutral shades so you can make multiple outfits out of them without over-packing. Pair it with jeans, a dress, or a mini skirt, when it comes to styling a sweater, the options are endless.
2. Leather Pants
Faux leather pants have made a smashing come back and are here to stay. So why not flaunt them on your next vacation to Germany? Pair it with a tank top and layer it with a plaid coat to complete the look. Here are some ideas on what you can wear with leather pants.
1. Warm Tops/T-shirts
Pack 3-4 casual t-shirts to add layers under your denim and casual jackets and pack a couple of more elaborate and formal tops and blouses for parties and dinner dates.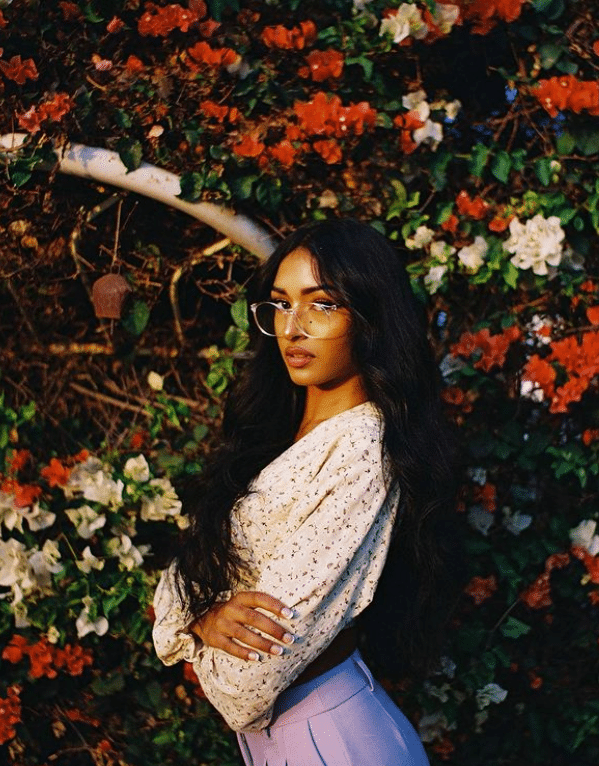 Frequently Asked Questions
Q. What clothes to take to Germany in winters?
This beautiful European country tends to get pretty chilly during the winters, thus it is essential to pack a winter coat, woolen scarf, gloves, comfortable boots, cozy sweaters, cardigans, and jeans. You can also pack leather pants and woolen skirts for dressier outfit options.
Q. Where to buy winters clothes in Germany?
Zeil in Frankfurt, Mauer park flea market in Berlin, Mönckebergstraße in Hamburg, and Schildergasse in Cologne are some of the famous shopping destinations and their markets in Germany that you must check out on your next winter vacation to Germany.
Q. What not to wear in Germany?
There is nothing that is a big no in Germany, but if you are visiting Germany during the winters then wearing tank tops or summer dresses might not be a great idea. Instead, opt for a winter dress or layer your tank top with a woolen overcoat for a more winter-appropriate outfit.