Capri Pants for Short Girls: The long-forgotten trend of the chic cropped pants seems to be making a comeback! It's the hot off-the-ramp look everyone wants. While it sure is cute and trendy, most women find it hard to wear them. It is often out of the fear that the style may not suit them well. What they don't know, however, is that the trend is for everyone! It just comes down to how well you can style it and carry the look.
Capris, when worn by petite girls, can make them look slightly shorter if done incorrectly. This article is all about how to embrace your height and the major Do's and Don'ts when it comes to wearing cropped trousers. The key is simple – you ought to follow basic rules and carry them effortlessly! Throw that misconception out of the window and pull out your favorite pair for a trendy and youthful look. You can wear them to school or a formal event while looking your absolute best. Want to know how?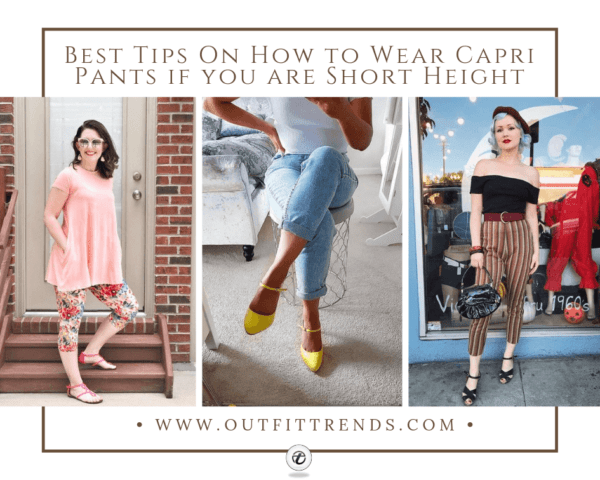 How to Wear Capri Pants if you are Short?
A common misunderstanding that short girls cannot wear capris. However, there are many ways to defy the illusion, making you look up-to-date with the trend, without you looking shorter. Read on to learn our super easy tips to perfect your look!
Used cropped tops to balance out the frame and make you look taller while wearing short-length pants.
It is often difficult to find the ideal pair of pants that are the right length and style. In that case, you could consider revamping a favorite pair by altering the hem to the desired length.
Better yet! A folded hem could work well, keeping in mind the trendy folded hem style.
Capris should end at the slimmer part of the leg. For this reason, make sure it's the right length!
Wide-legged Capris are a No-No if you want to avoid looking plump and round.
The best way to do Capris is by choosing a Mid or High Rise one, which creates an elongated illusion.
If you are wide on the bottom and want a slimmer and taller look, choose black as your go-to color.
Style neutrals pants with bright colored tops to avoid drawing too much attention to the legs.
Here's the most important one! Avoid wearing maximized prints as they can make you look short.
For more tips and ideas, do check out Petite Fashion Bloggers; Top 15 Petite Stylist to Follow this Year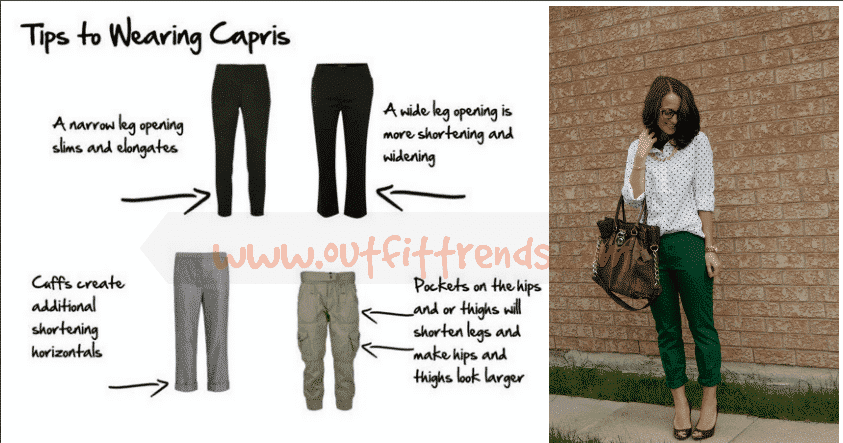 ↓ 17. Top Styles
While a pair of cropped pants may make you look short but you can always wear different styles of shirts to play it safe. Wear tops that shape the waist or help to balance out your frame. It will bring the height upwards, making you appear elongated. It is a great way to enhance the style as well. The best option to wear is a tunic as it is the chicest outfit and is elegant to wear too. It will look perfect with cropped pants. For a smarter look, you can wear a statement necklace and carry a bag with yourself. You can also opt for cute little crop tops that highlight the torso, making you look elongated. For a more formal style, a button-down blouse is an excellent choice.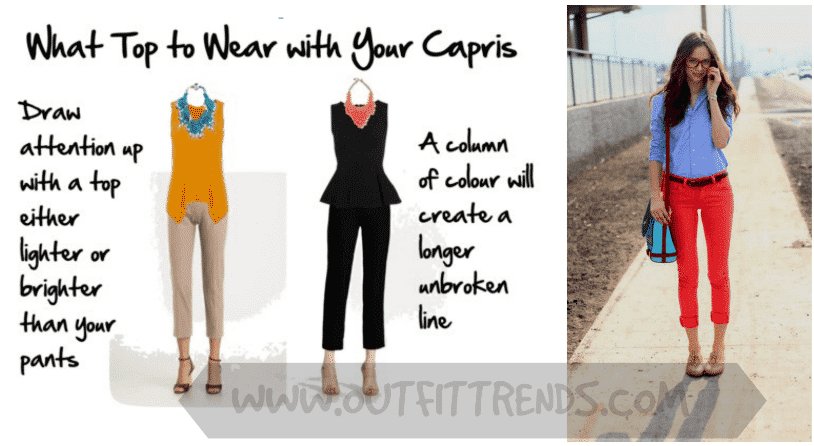 ↓ 16. Getting Proportion
Capris may shorten your legs, so the best way to tackle this situation is to get silhouette with a longer leg line. Capris are very trendy; this is the main reason why you will see a lot of designers following this fashion. It is a great way to show off your figure. Try experimenting with capri pants that are almost the length of your knee, as it will be more flattering. It is the best choice for Spring and Summer Season as you can indulge in without freezing to death! Do have a look at 17 Cute College Outfits for Short Height Girls to Look Tall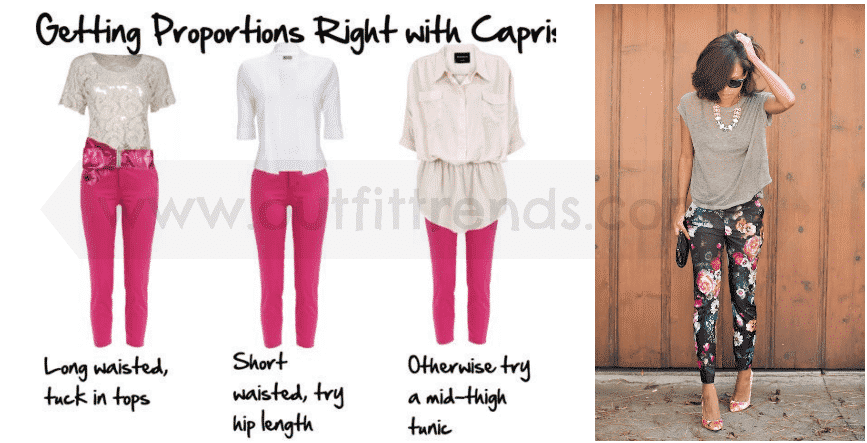 ↓ 15. Accessories
Other than that, make sure that you choose neutral colored capris such as black or grey. It will help give it a modern look. Don't go too loud when you pick the accessories. Instead, you can mix up bright with light colors for the right combination. Also, accessories such as sunglasses, belts, and clutch can make for some great pieces to add to your entire look. Another great idea is to stock up on tan-brown accessories that go well with almost any colored outfit!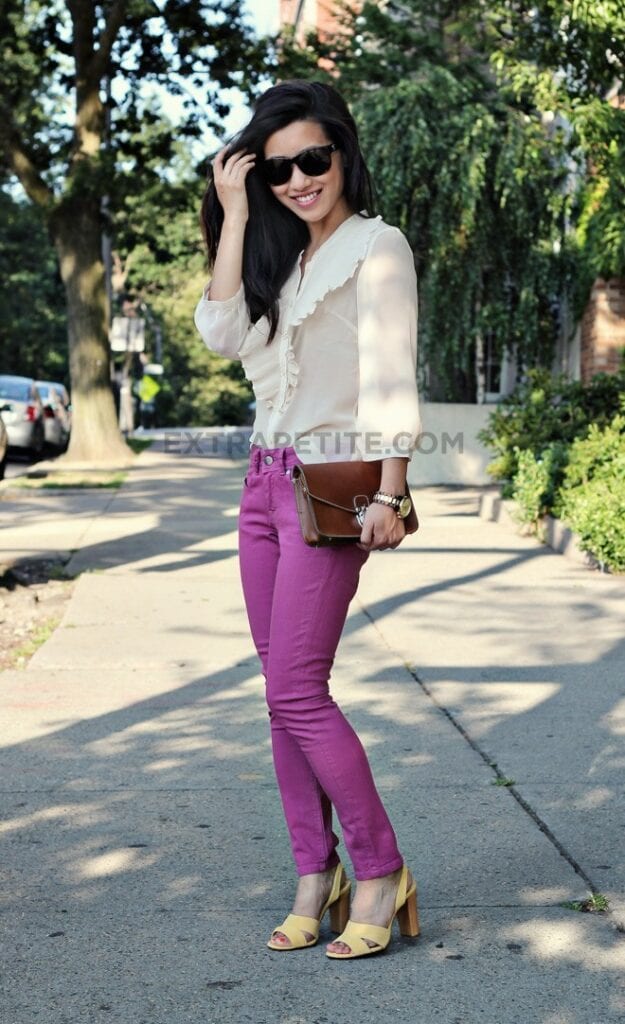 ↓ 14. Choice of Footwear
Being petite, always try to go for shoes that increase the height. As you would read further on in our Do's and Don'ts section, as well, never go for flats! They add an elongated look to the legs, creating the perfect illusion you need to look taller even while wearing Capri Pants. Go for heels like platform or pencil, wedges, and the other options in these two categories to match your capri pants with different tops. It is also important to mention that extra attention needs to go into selecting the color of your shoes. For a basic outfit, choose bright-colored heels that can add in some color. Alternately, go for tan-brown or black peep-toe heels for a more laid-back style.
RECOMMENDED: 30 Cute Outfits for Short Height Girls to Look Tall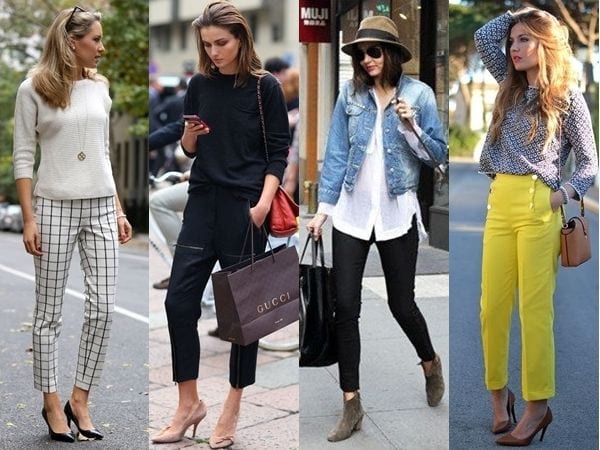 ↓ 13. Do's and Don'ts
Here's a quick guide to help you ace the look. It can help save you from committing many fashion blunders!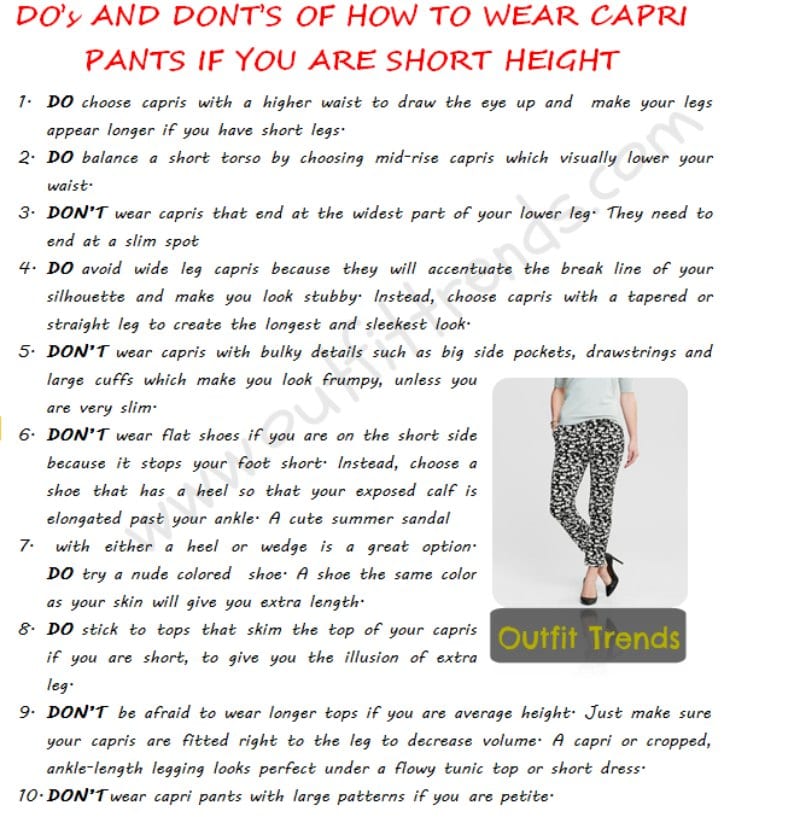 ↓ 12. Bold Colors
Some people are afraid to wear bright colors like purple in their capri pants that if you are brave enough, then go ahead and try out capri pants in purple color. For best combo, wear it with a nude-colored shirt, formal coat, and heels. It will make sure that all the focus and attention goes to the purple capri pants. Here are some more Petite Outfits Ideas-12 Latest Fashion Trends for Short Women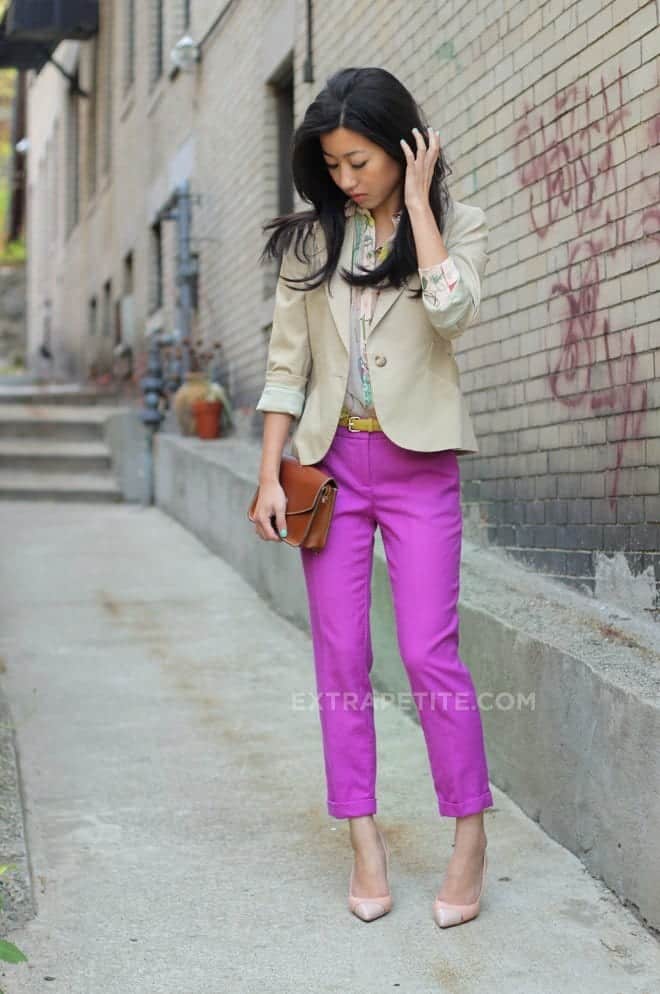 via
↓ 11. Tucked-In Shirt
Capri pants with loosely tucked in shirt look perfect on any girl who wants to look very dressed up. You can go for white capri pants with red polka dots on it or any other printed pants. Wear it with a white sleeveless formal top. It is always a good idea to match the belt and your bag, for example, you can go for a brown belt and brown leather messenger bag. This color is readily available and looks perfect too.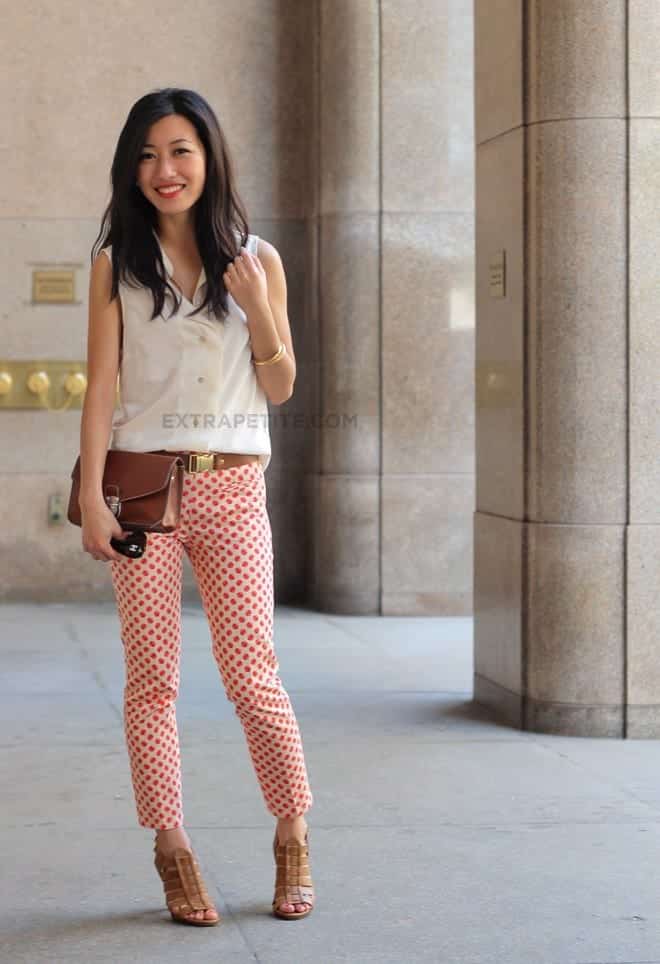 ↓ 10. Polka Dot Top
Green, black, and white – what a combo! If you want to wear these color next time when you go out then take a look at this following picture. It consists of some fundamental wardrobe staples like a Polka Dot top, a green pant, and some brown and gold accessories. The outfit is a perfect choice for a girl's night out or even the office. A great way to create your own Capri pant is to fold the hem very neatly, creating a smooth, cost-effective, and chic look.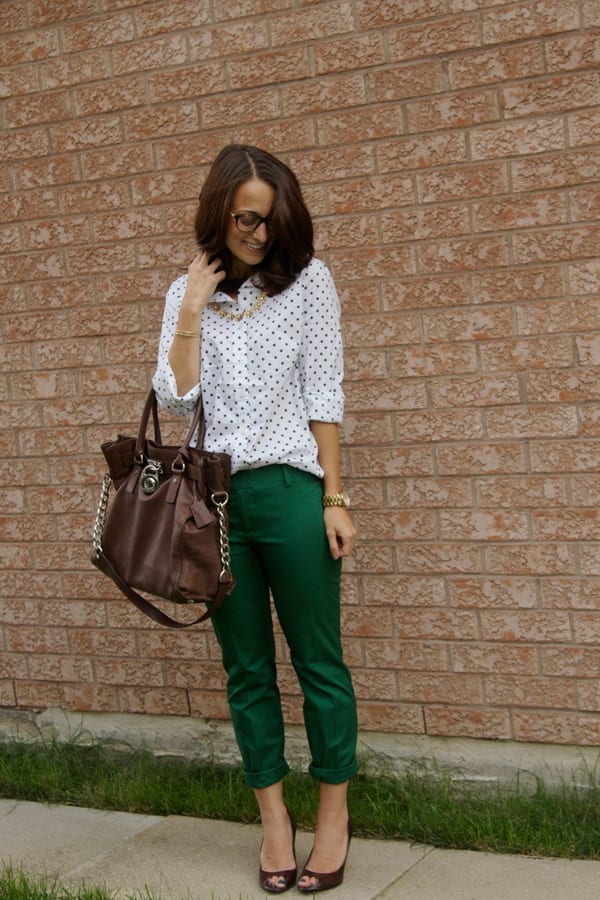 ↓ 9. Short Height Celebrities in Capri Pant
Capris may be the comfort dress for some people. That is precisely why a lot of celebrities wear capris. You can pair your favorite pair of capris with a jersey top in contrasting colors. A loosely hung top, long chain necklace, and some wedges are the way to go! Here are the 10 Short Height Female Celebrities Fashion You Should Follow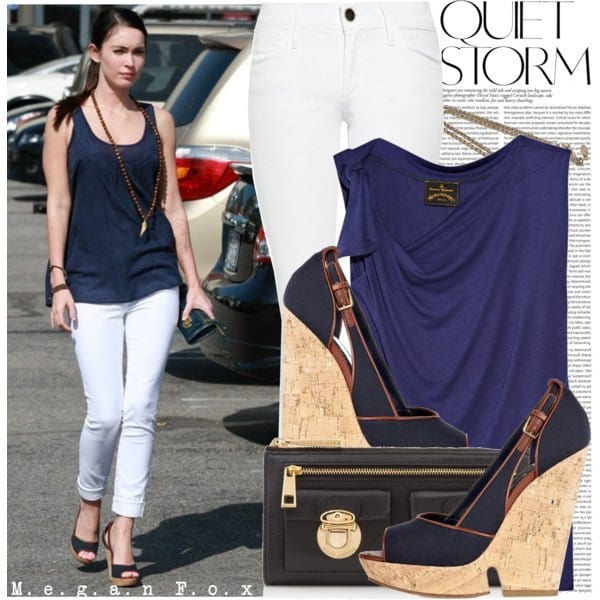 via
↓ 8. Floral Capri Pant
The floral print is in the air these days. Everything is available in a floral print for you to try so why not capris? Pair up your fav floral Capri with a dull grey loose fitted shirt with cap sleeves. The statement necklace and clutch are a few things to throw in to spice up the look.  Oh, and don't forget the floral heels! RECOMMENDED: 14 Top Celebrities Inspired Short Hairstyles To Follow This Year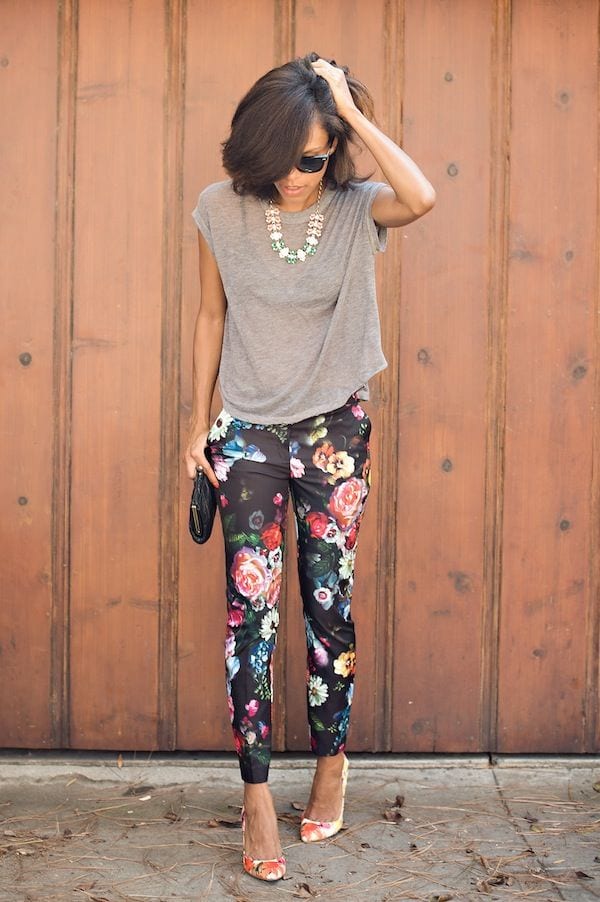 SHOP THE LOOK HERE:
Forever 21 Boxy Crop Top Heather Grey – $7.99
Nordstrom Jen7 High Waist Floral Print Ankle Pants – $99
BaubleBar 'Kew' Crystal Collar Necklace – $68
Ted Baker London Izibelp Floral Pointy Toe Heels – 194.95
↓ 7. Ideas on How to Wear Capris at Work/Office
Who says you can't wear capris to the office or work? Yes, you can wear capris to the office or work with this simple hack. Just wear any capris with a formal shirt and wear a matching coat on top of that shirt to make your whole outfit look formal. As for accessories, you can keep them in nude shades for a better combination. Alternately, you can also choose a blazer or suit jacket for a professional appearance.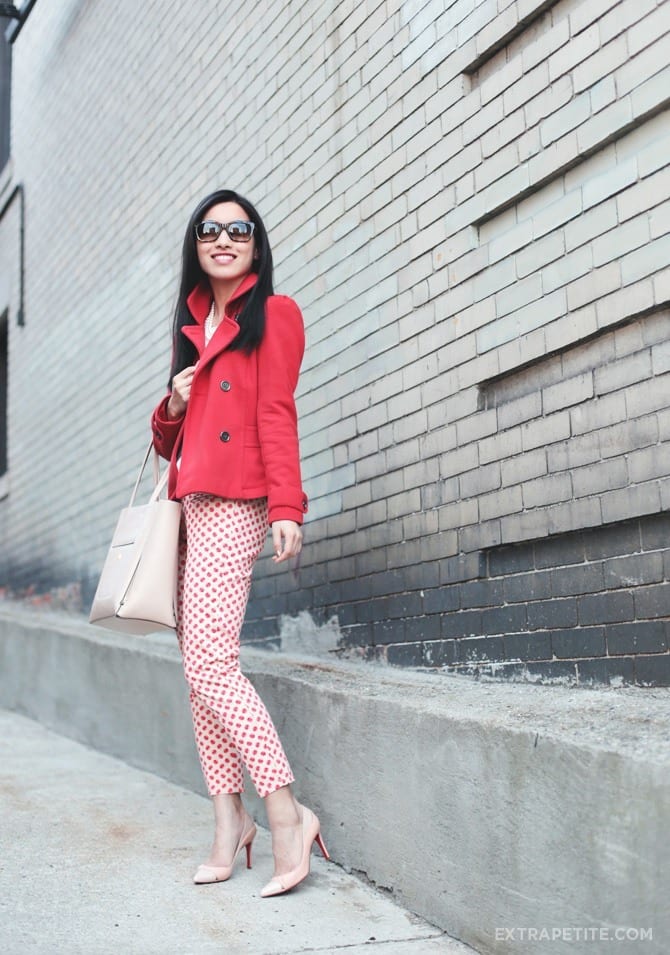 ↓ 6. Outfits to Wear with Capri/Cropped Pants
Here is some more inspiration on what to opt for when styling Capri Pants. If you're looking for the ultimate Fall-Winter look, a great option is to add in a cute cropped sweater. As mentioned above, a little gap around the torso can help in making you look taller. Some yellow heels are fab additions to match the fall vibes. We wouldn't mind grabbing some coffee with the girls in this look.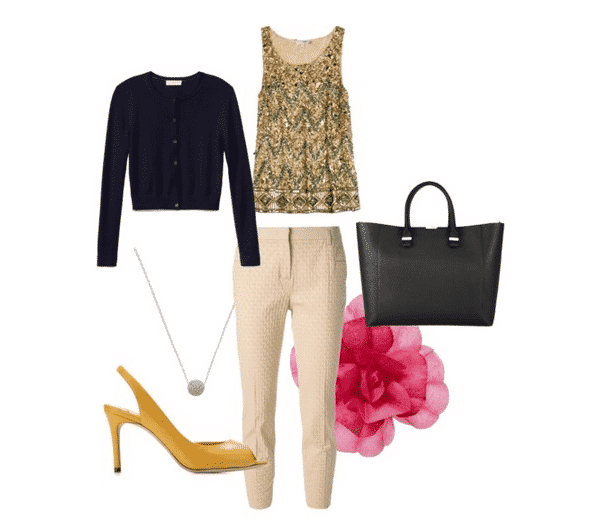 You can never go wrong with some white and red. It is a combination that works well, all year long, regardless of the season it is. A nice collared shirt and a bright red Capri Pant can look stunning for a date night. Since the red pants draw attention to the legs, we suggest leaving your hair down and adding in a red pout to draw the attention away!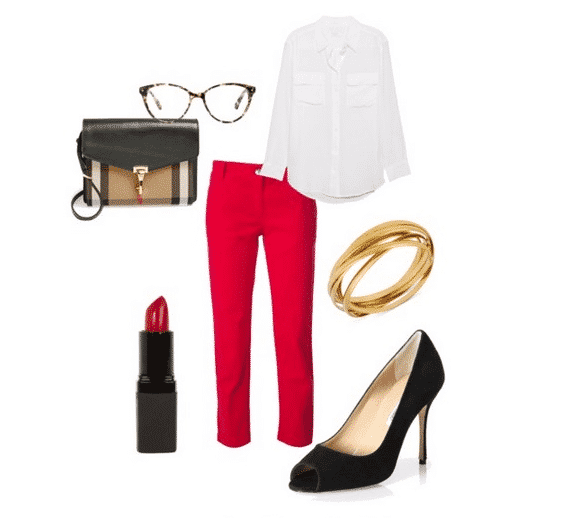 SHOP THE LOOK HERE:
Leveret Red Capri Pants – $ 26.99
Pier 17 White Blouse – $19.95 – $22.95$22.95
Debenhams Black Peep-Toe Heels – £28.00
Capri pants look exceptionally good with long-length shirts. Some outstanding choices include the frock style shirts and peplums. The best way to wear them is to go for black Capri tights and to pair them with flared tops like this one in deep blue color. With this combo wear brown or nude colored accessories, to tone it down a notch. We find the look trendy yet comfortable for long travels or hangouts.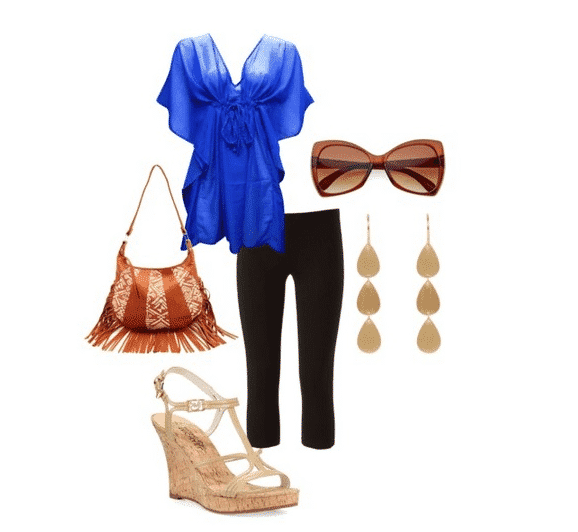 ↓ 5. Ripped Capri Jeans
Capri jeans are a kind of jeans that are not full length. They end a little above your ankles. Ripped Capri jeans are the perfect idea for girls who love the style. You can pair them with a plaid pattern shirt and keep the belt and purse matching in the shade of brown. It is chic, effortless, and easy to put together.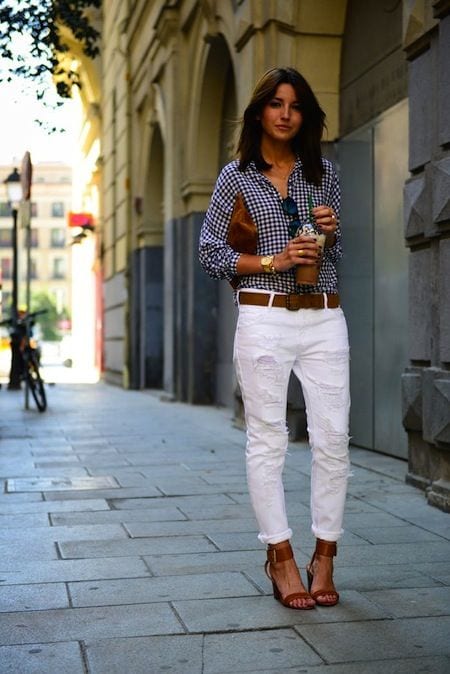 ↓ 4. Capri Sweat Pants
Capri sweat pants are not only perfect for the gym but if worn correctly, they are also ideal for any casual hangouts. Wear your favorite pair of printed capri pants and a plain colored tank top. Instead of keeping this casual outing so dull and boring, add in tribal accessories like a chunky bracelet or a long chain necklace to make it look appealing! With this chic combo, you can pull this look off almost anywhere!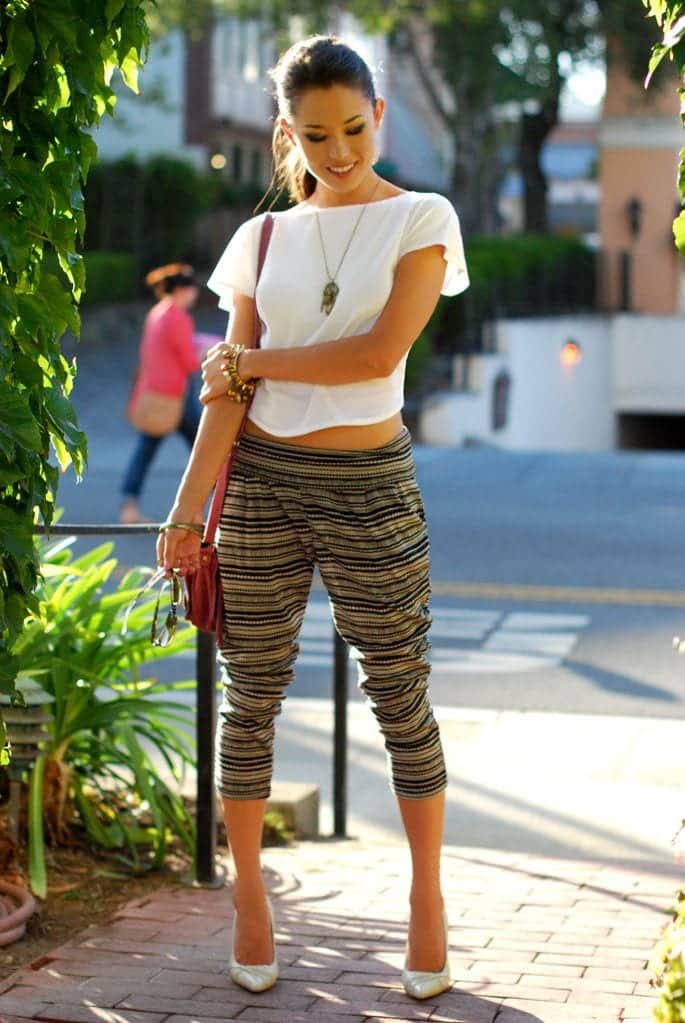 via
↓ 3. Evening Style
Who says you got to dress all boring for a meeting? This ruffled top is here to save all your formal dressing disasters! You can wear this outfit idea to official functions or even meetings. You will need a grey-colored or any other dull-colored capri pants. Pair them up with a plain colored shirt and some gold jewelry to jazz things up a bit.
 via
SHOP THE LOOK HERE:
Target Straight Leg Slim Ankle Pants – $ 24.99
Nordstrom Vince Camuto Ruffle Blouse – $89
Nordstrom Dorothy Flex Pump – $99
↓ 2. Coral Pink
Capri pants look beautiful in coral color. It's the ideal fresh color for a hot Spring and Summer season. The best thing about it is that you can wear any contrasting color with a coral pink Capri pant. For example, you can pair it up with a black top or any dark-colored top. A decent, small-print top can look cute with a colored pant. In fact, Polka Dots are an excellent choice, too. Funk it up with some cute accessories, and you are all dressed for a fun night out.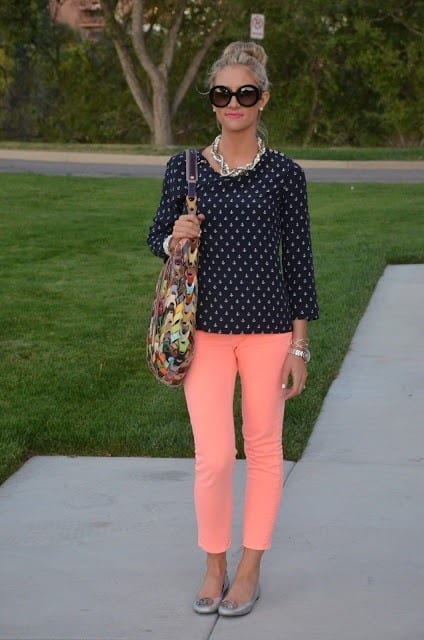 SHOP THE LOOK HERE:
Nordstrom Knotty Link Necklace – $44
Vince Camuto Tiered-Sleeve Blouse – $99
Nordstrom J Brand Selena Crop Bootcut Jeans – $248
Naturalizer Banks Silver Pumps – $69.30
↓ 1. Grafitti Pants
Graffiti pants are a great way to channel your inner creativity by putting together a super artistic style. These graffiti capris are just what you need to brighten up any dull day! They can bring life into the outfit when paired with a simple top like this one. It's the ultimate college-girl look you've been on the lookout for, that is undoubtedly going to make you stand out! If you look closely, you can see how minimalistic the accessories have been kept. The black Moschino belt, shades, and hand accessories are all doing a great job at neutralizing the color-pop.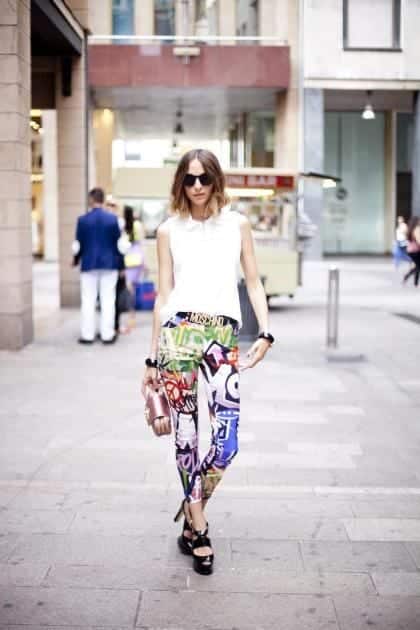 SHOP THE LOOK HERE:
Sturdy By Design Grafitti Yoga Pants – £25.83