How to Wear Capri Pants for Short Girls. Capris pants are trending everywhere these days. But a lot of ladies find it hard to wear it, or it may not suit them. Should you wear these pants if you are short? If yes, then how to dress? Well, today's article is intended to cover the following aspects:-
1- Tips How to wear Capri Pants as short height
2- What Tops to wear with Capris
3- Getting a Right Proportion With Capris
4- What shoes to Wear with Capris
5 – Do's and Dont's of Wearing Capris as Short Height
Tips
There is nothing that can make you look taller if you are short. Only a few ways can help you look better in cropped pants. Many women misunderstand reality. Capris do not make you look shorter than you are. It might not suit you, but if styled the right way, you will look great. Choose a cap with a higher waist because it can make your legs look longer. Wear the shorter top with it to balance out the look. Avoid wearing capris that look tight at the lower leg part. It should end at slimmer part of the leg. Avoid flared leg capris because it will make you look stubby. Wear straight ones. For more tips and ideas, do check out Petite Fashion Bloggers; Top 15 Petite Stylist to follow this Year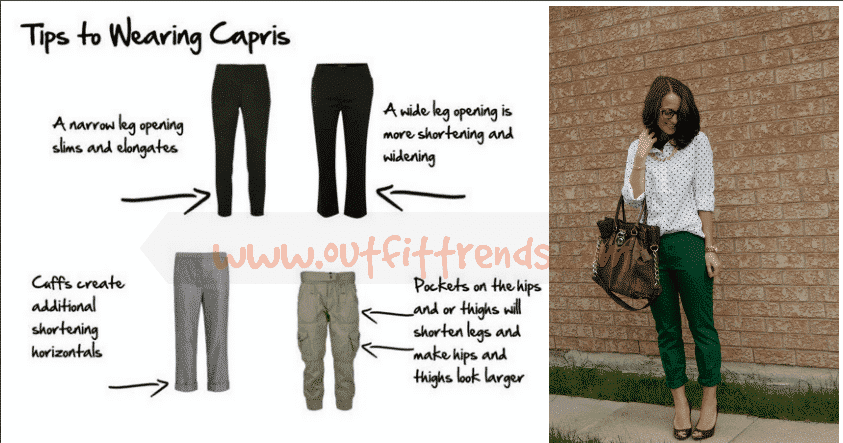 While a pair of cropped pants may make you look short but you can always wear heels to play it safe. Wear tops that can shape the waist. This will bring height upwards and offer some balance. The best option to wear is a tunic as it is the chicest outfit and elegant to wear too. It will look perfect with cropped pants. For a smarter look, you can wear a statement necklace and carry a bag with yourself.
Tops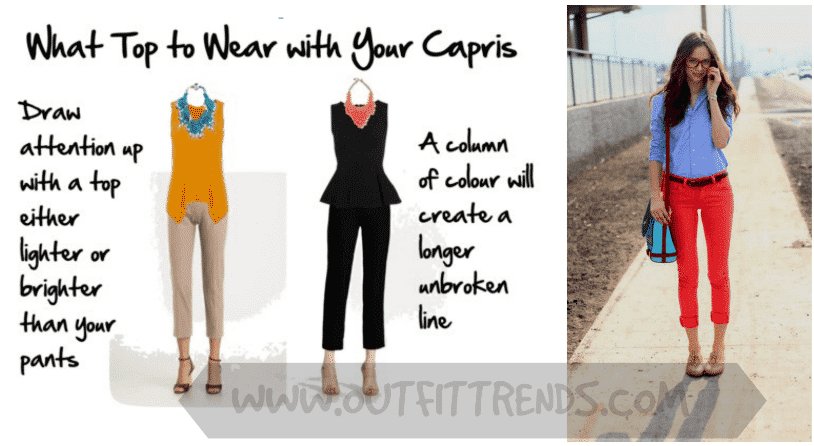 Capris may shorten your legs, so the best way to tackle this situation is to get silhouette with a longer leg line. Capris are very trendy; this is the main reason why you will see a lot of designers following this fashion. This is a great way to show off your stilettos. Try experimenting with capri pants that are almost the length of your knee, and it will be more flattering. This is the best choice for spring and summer season. Do have a look at 17 Cute College Outfits for Short Height Girls to Look Tall
 Getting Proportion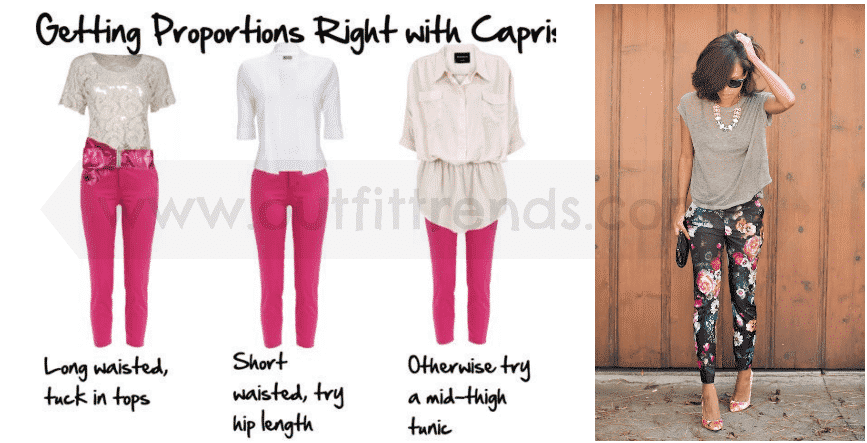 Other than that make sure that you choose neutral colored capris such as black or grey. This will give it a modern look. Don't go too loud when you pick the accessories. Instead, you can mix up bright with light colors for a right combination. Also accessories such as hats, belts, and clutch would do good.
Shoes
Being petite always try to go for footwear that can increase your height. As you would read in do's and dont's, never go for flats. Go for heels, wedges, and you have a lot of options in these two categories to match your Capri with different dresses which can make you look tall. RECOMMENDED: 30 Cute Outfits for Short Height Girls To Look Tall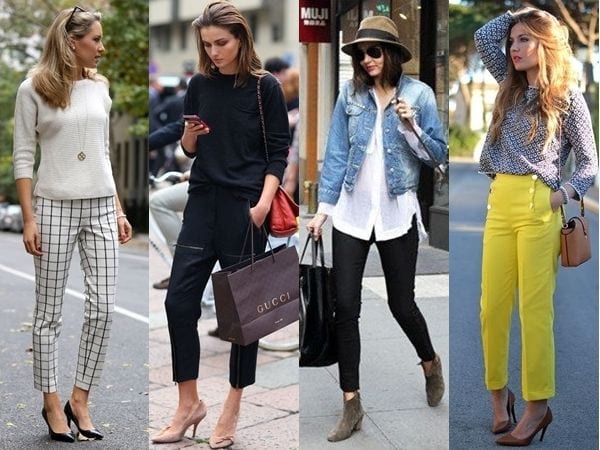 Do's and Don'ts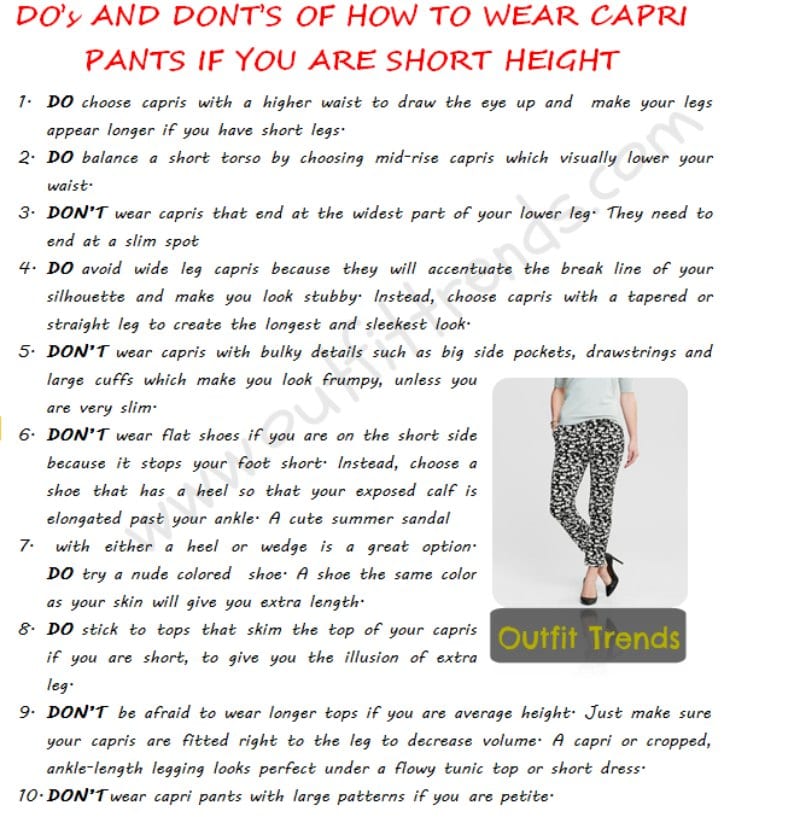 Hope by now you would have figured out how you can look tall with capri pants. For more ideas check out the pictures below we have arranged for you. Do try out the styles and pick the one that gives you confidence about the height and so that you stay comfortable all day in the outfit. Do share your feedback on this when you try capri pants.
How to Wear Cropped Pants
Some people are afraid to wear bold colors like purple in their capri pants that if you are bold enough then go ahead and try out capri pants in purple color. For best combo, wear it with a nude colored shirt and formal coat. This will make sure that all the focus and attention goes to the purple capri pants. Here are some more Petite Outfits Ideas-12 Latest Fashion Trends for Short Women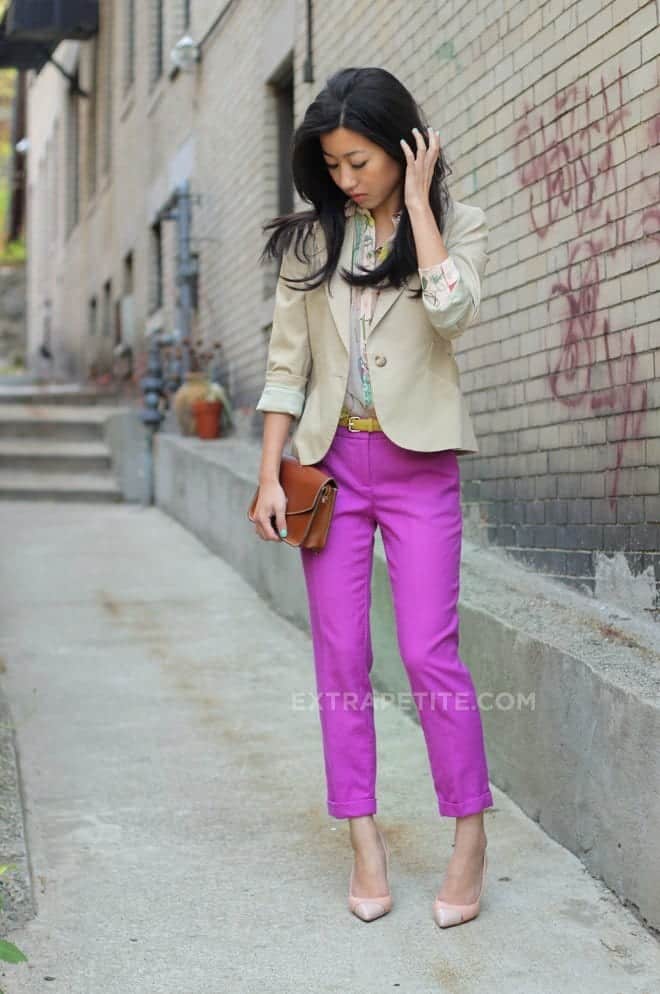 via
Capri pants with loosely tucked in shirt look perfect on any girls who want to look very dressed up. Go for white capri pants with red polka dots on it. Wear it with a white sleeveless formal top. It is always a good idea to match the belt and your bag, for example, you can go for a brown belt and brown leather messenger bag. This color is readily available and looks perfect too.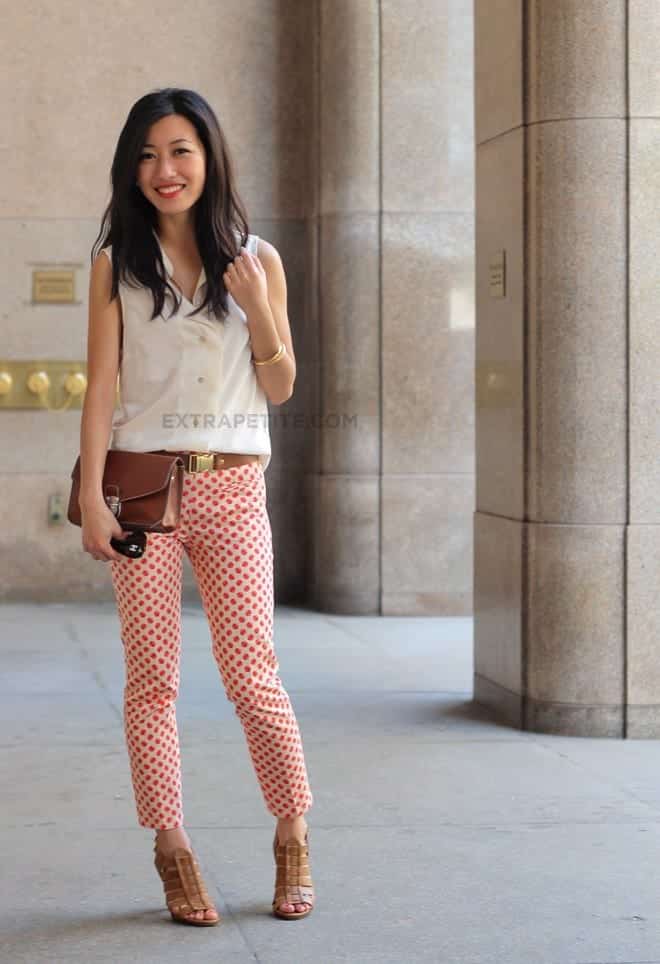 Green, black, and white what a combo! If you want to wear these color next time when you go out then take a look at this following picture.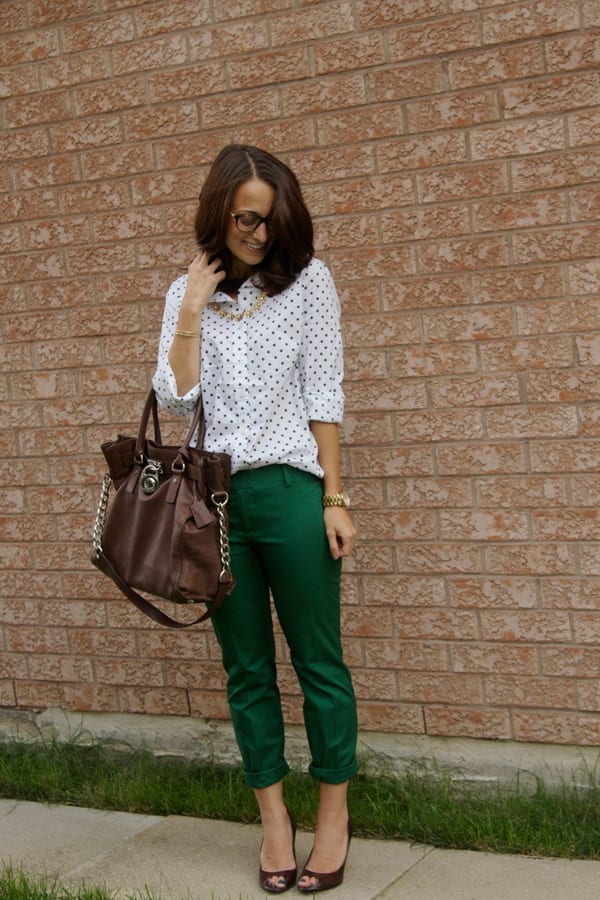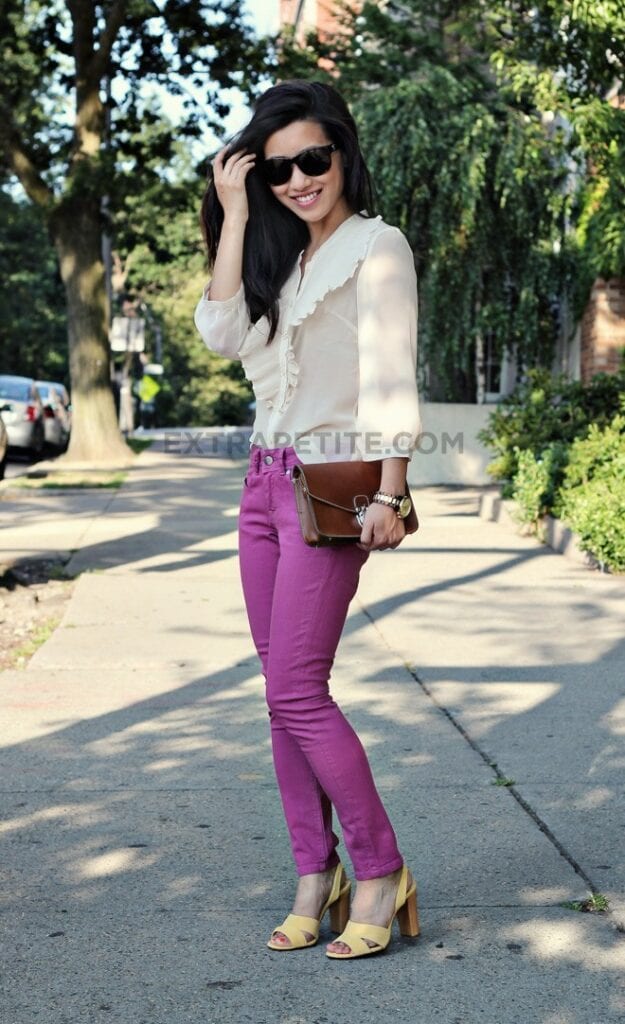 Short Height Celebrities in Capri Pant
Capris may be the comfort dress for some people. That is precisely why a lot of celebrities wear capris. You can pair your favorite pair of capris with a jersey top in contrasting colors. Here are the 10 Short Height Female Celebrities Fashion You Should Follow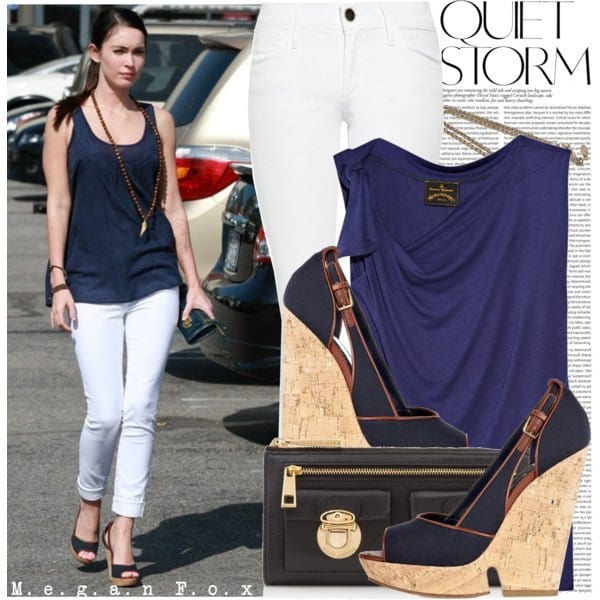 via
Floral Capri Pant
The floral print is in the air these days. Everything is available in a floral print for you to try so why not capris? Pair up your fav floral Capri with a dull grey lose fitted shirt with cap sleeves. RECOMMENDED: 14 Top Celebrities Inspired Short Hairstyles To Follow This Year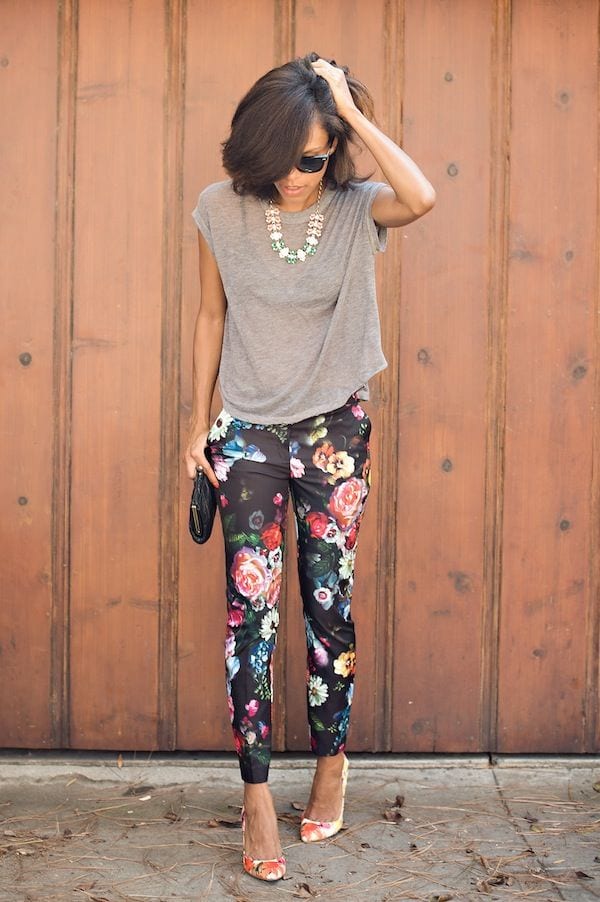 Idea how to wear capris at work/Office
Who says you can't wear capris to the office or work? Yes, you can wear capris to the office or work with this simple hack. Just wear any capris with a different formal shirt and wear a matching coat on top of that shirt to make your whole outfit look formal. As for accessories, you can keep them in nude shades for a better combination.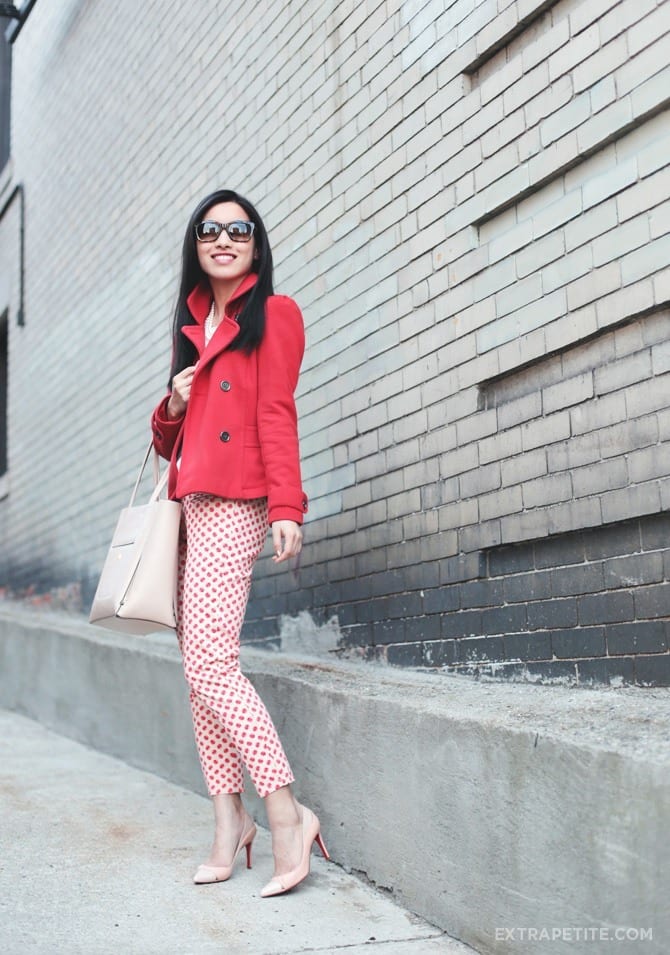 Outfits to Wear with Capri/Cropped Pants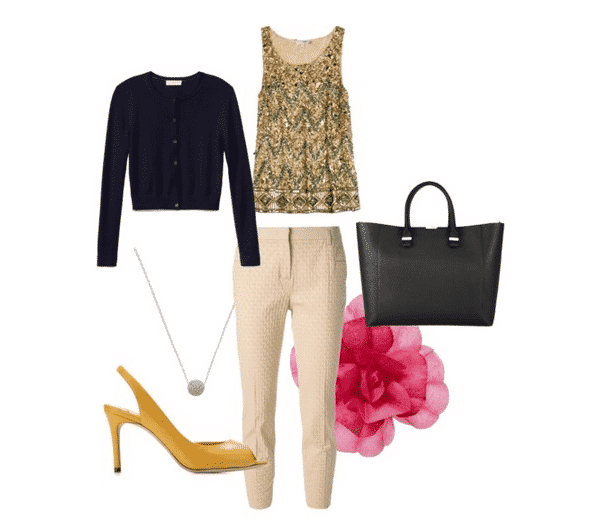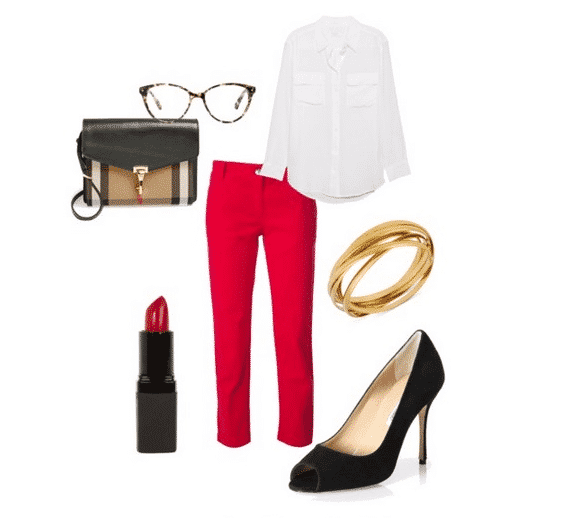 Capris look outstanding with frock type shirts. The best way to wear them is to go for black Capri tights and pair it up with a flared top in deep blue color. With this combo wear brown or nude colored accessories.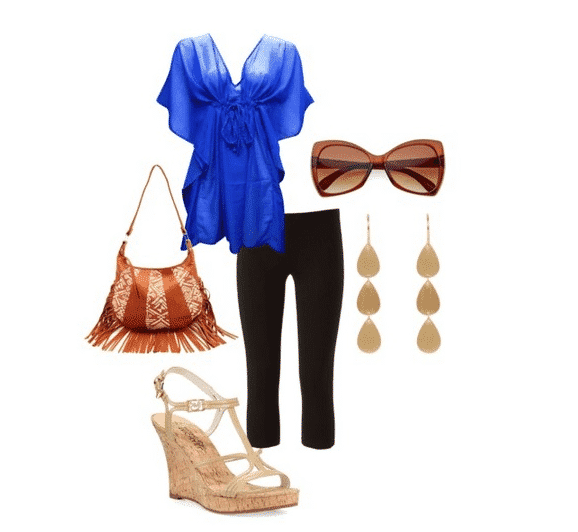 Ripped Capri Jeans
Capri jeans are a kind of jeans that are not full length. They end a little above your ankles. Ripped Capri jeans are the perfect idea for girls who love capris. You can pair it up with a plaid pattern shirt and keep the belt and purse matching.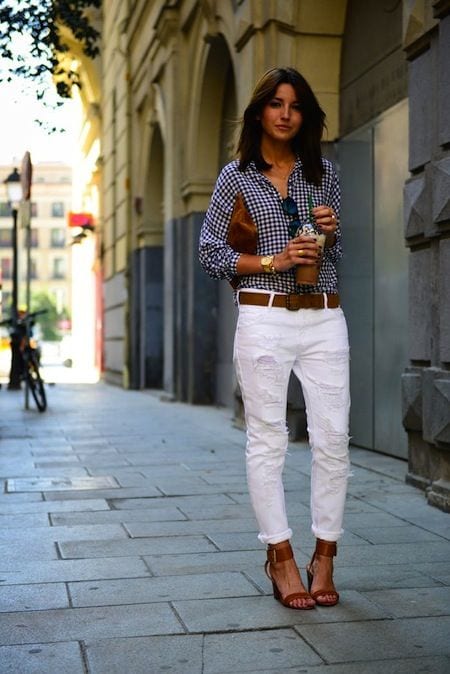 Capri Sweat Pants
Capri sweat pants are not only perfect for the gym but if worn properly they are also ideal for any get-togethers. Wear your fav pair of printed capri pants and a plain colored tank top.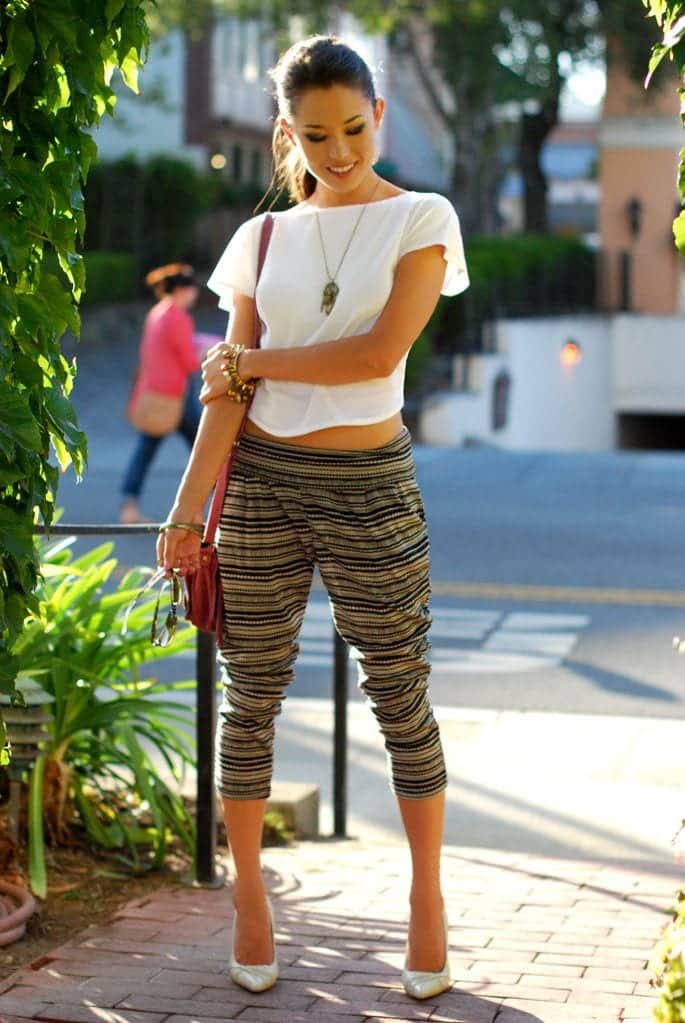 via
This outfit idea can be easily worn to formal functions or even meetings. You will need a grey colored or any other dull colored capris. Pair them up with a plain colored formal shirt and wear gold jewelry.
 via
Capri pants look so beautiful in coral color. The best thing about it is that you can wear any contrasting color with a coral color Capri pant. For example, you can wear a coral colored Capri pant and pair it up with a black top or any dark colored top.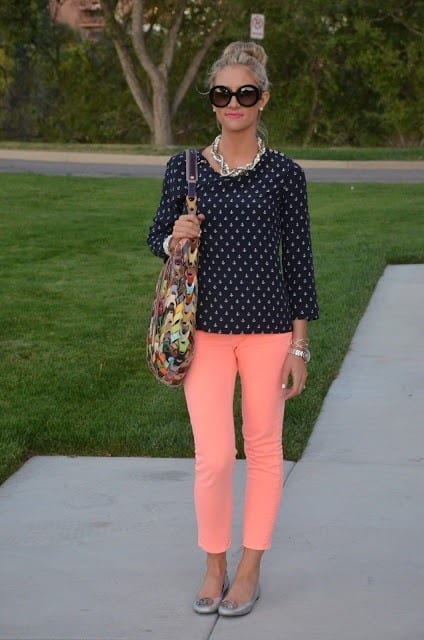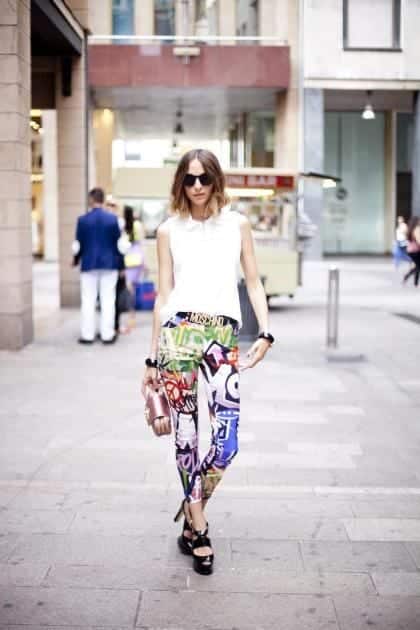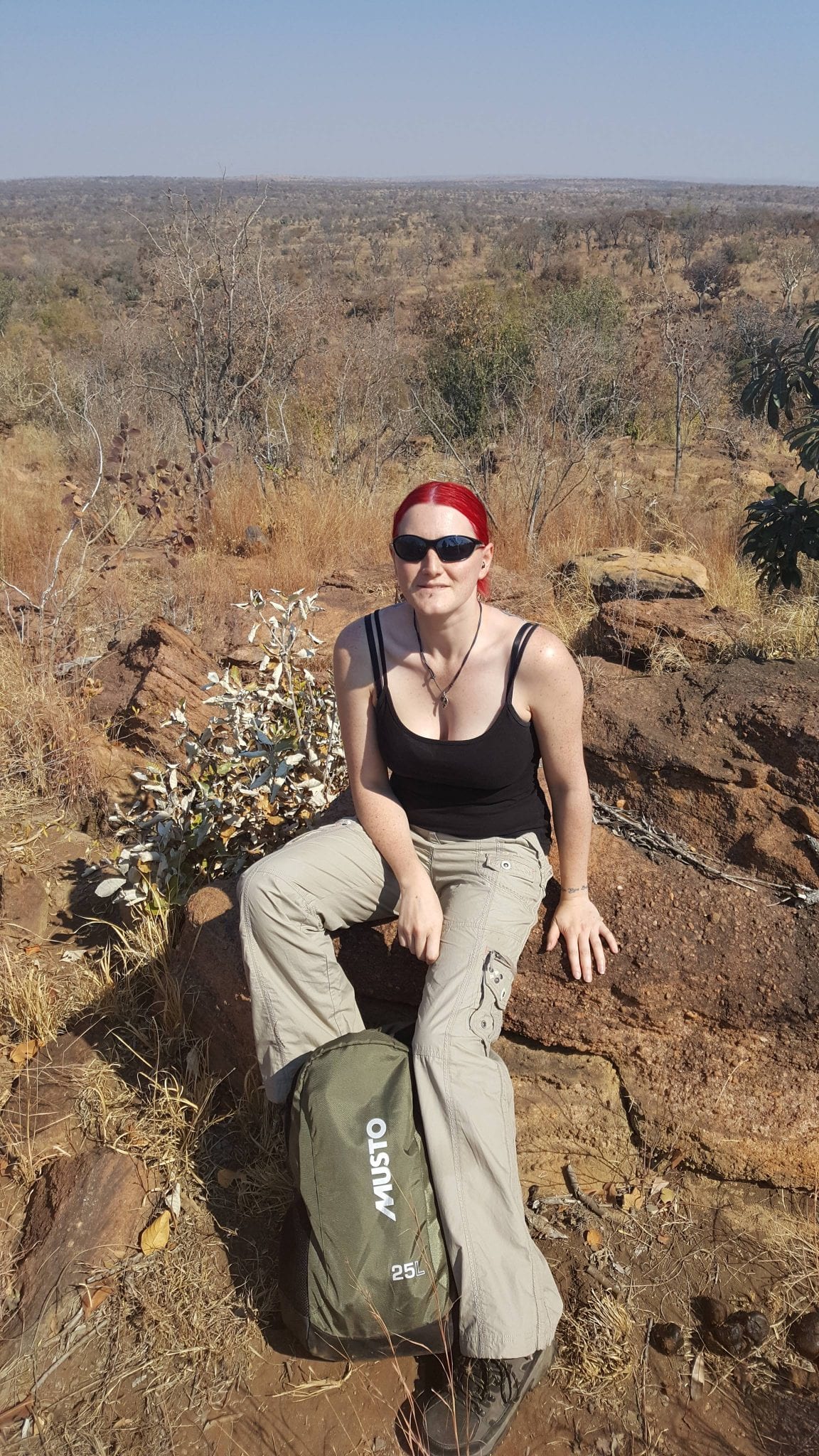 Caz, aka Vixen, has been freelance creative writing for several years. She has a lot of experience in different fields including high street fashion, tattooing art, and even the gothic and historical costumes. Caz has a Diploma in Fashion and Textiles and also a Bachelors Degree in Historical Costume and Corsetry. Her passion lies with gothic design, corsetry and any other styles considered to be taboo or unusual. Style-wise Caz has a love for Vivienne Westwood and her take on the punk era. Although Caz loves the weird and wonderful, she has a deep love for all fashion and allows this to show through her work.