Outfit ideas for women in 30's – Society seems to believe that when a woman turns 30, she should completely change her wardrobe or way of dressing. This perception is wrong on so many levels.
Age is a societal construct, and how you dress up has to do nothing with your age. Thirty is the new twenty, and there are hundreds of different clothes, ideas, and tips that middle-aged women can use. Go on, wear bright colors, funky pants, crop tops, snapbacks, whatever your heart says. So how to dress up in your 30's what are the latest fashion trends for women over 30? We know that at 30 there are things you prioritize over fashion, but that does not mean you can not be stylish. Busy women can be fashionable, too using a few hacks and tricks. How? This post will reveal all! Use our ideas to dress up, whether you are a housewife, a socialite, a party woman, or a professional worker, you will surely love the results.
What To Wear In Your 30's?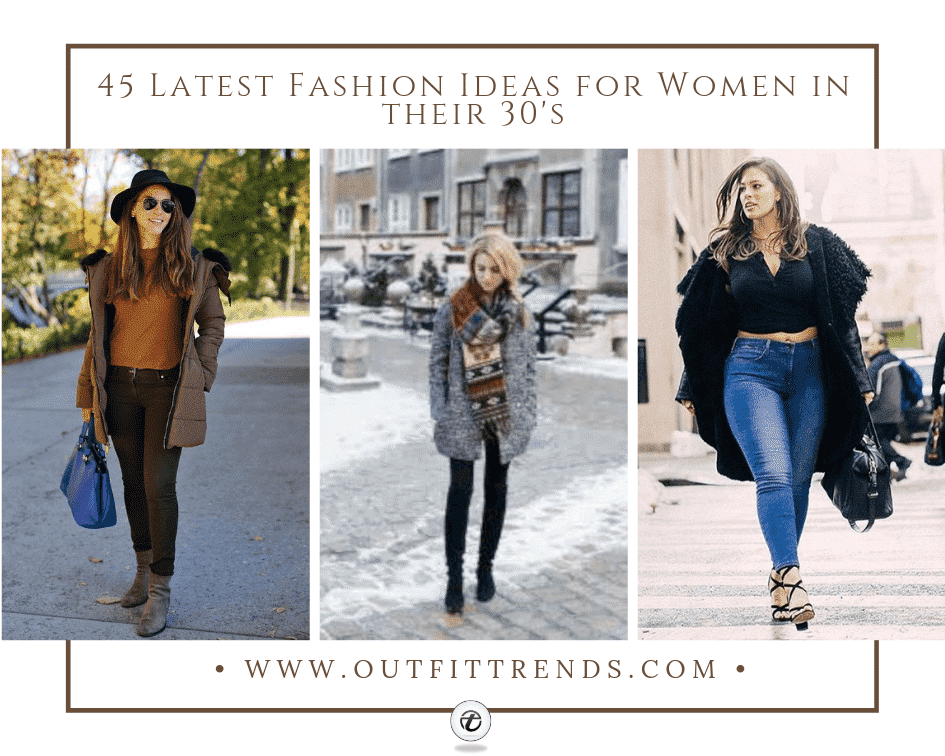 Tips and tricks for looking  flawless:
No matter how many candles are there on the cake, your styling options do not have to be restricted.
Rihanna, Beyonce, Duchess Meghan Markle, Lady Gaga; all these ladies are 30+, and yet they are the best-dressed women of today. So be bold in what you wear and never let anyone tell you otherwise
Some essentials that your closet needs are slim-fit blue jeans, a comfy sweater, a pair of  The Unisex Old Skool Classic Skate Vans Shoes, and a chic bag to carry all your stuff.
Keep your makeup routine short so that you have more to focus on the more important things. Instead, focus more on skincare, especially before going to bed, so that you do not have to spend a considerable amount of time on concealer every morning.
If you are comfortable in your skin, then a mascara, lip color, and some BB cream can do marvelously.
While being in your 30s doesn't mean you need to get rid of all your old clothes, there might however be a need for some wardrobe upgrade. We hope that the ideas shown below will help you compile the perfect 30s wardrobe.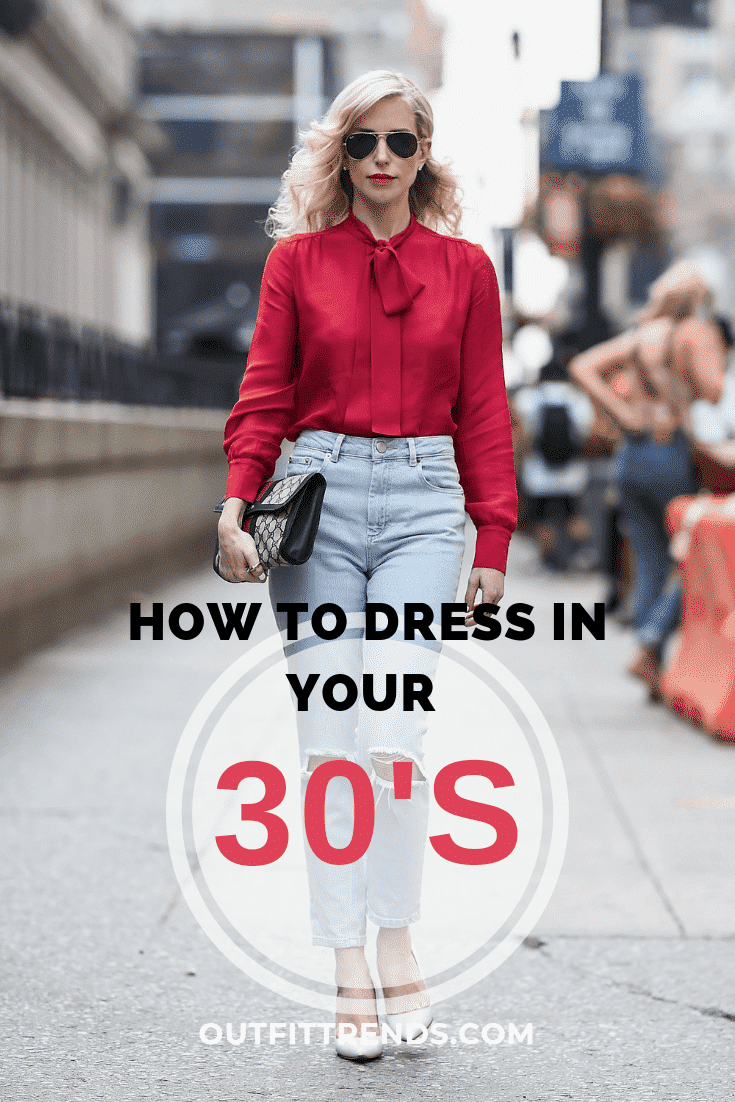 ↓ 45 – Styling a Pullover Sweater
Sweaters look great in both winter and fall and this styling idea is not just decent but also looks refreshing. If you are going to wear a pullover sweater, make sure the length of the shirt you are wearing under it is the same as, or shorter than the shirt. Here are 18 Best Styles of Sweater for Women this Year.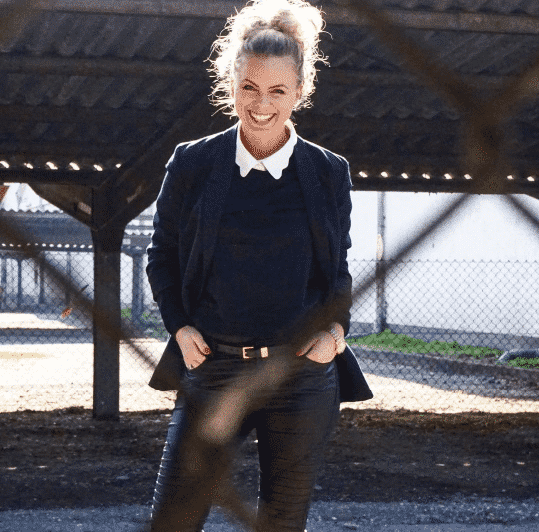 ↓ 44 – Pool Party Outfit
Pair your bodysuit with a laced overall for a chic look. Add sunglasses too because all the rays reflecting from the water can be irritating. You should wear your flip flops to pool parties because other shoes might get ruined by water.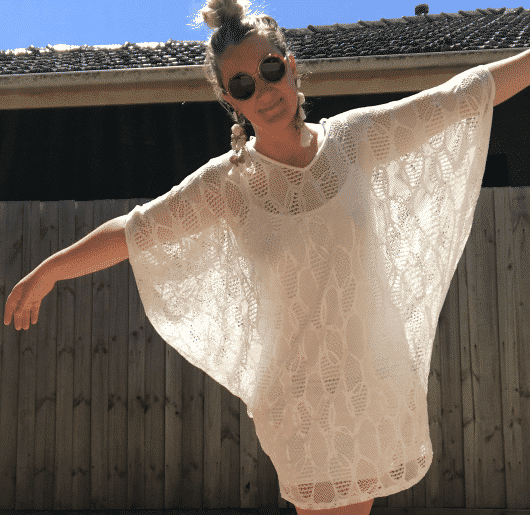 ↓ 43 – All Black Outfit
The classic look. All-black outfits are the best option on days when you feel a little insecure about your body. Black makes you look elegant and gives a slimming illusion to the viewers. If you want, you can add a pop of color to it/ For example, some red shoes or a neon necklace around your neck.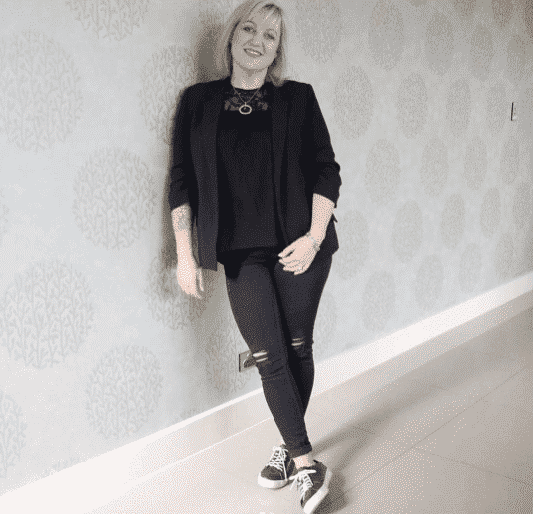 ↓ 42 – Gym Outfit
If you have not been working out till now, then 30s is absolutely the time to start it before it gets too late. If you don't, your muscles will soon begin to get flabby as body fat builds up, so start working out at least three times a week. Moreover, staying fit is extremely important for a healthy life which we all want, of course. And here's a cute gym outfit to help inspire you. Do have a look at these 10 Super Cool Gym Outfits for Women.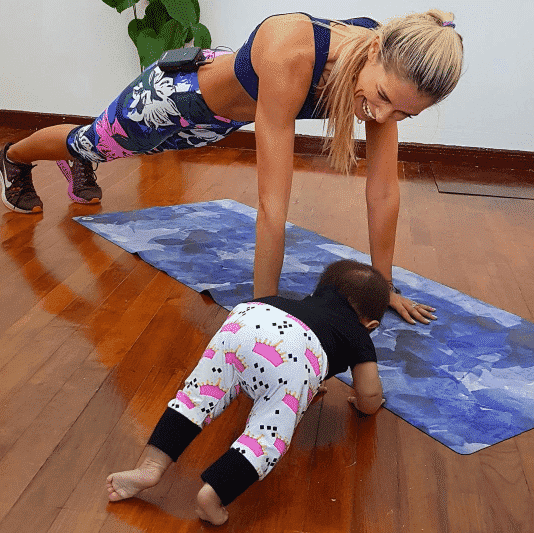 ↓ 41 – How to Style Printed Pants in the 30s
These beautiful pants are the Pantone pants by Arnhem collection, and they are surely something you need in your wardrobe. The pants come with a slight bell shape, but here they have been knotted at the bottom for a chic and unique look. A jeans jacket and espadrille shoes should complete the look.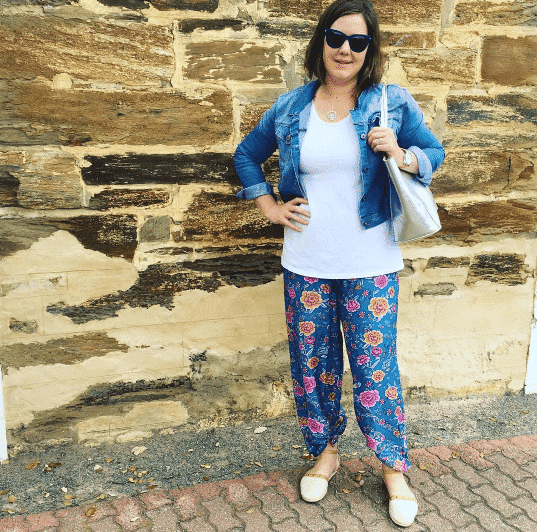 ↓ 40 – Best Autumn Colours
Autumn hues are homely and cozy. With scarlet and golden in the air, most of the inspiration for fashion comes from nature. You should also check out these 15 Colors to Wear in Fall for Women.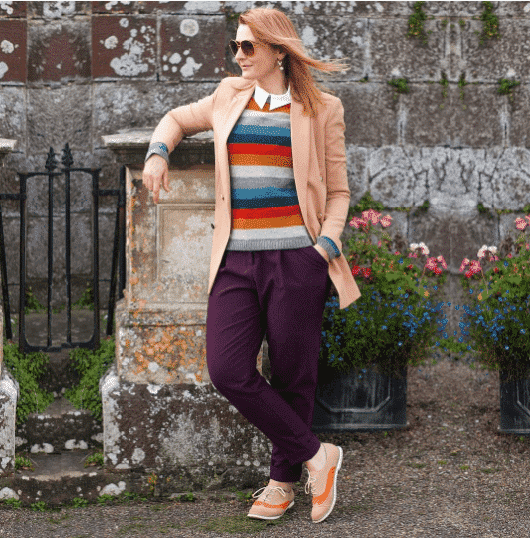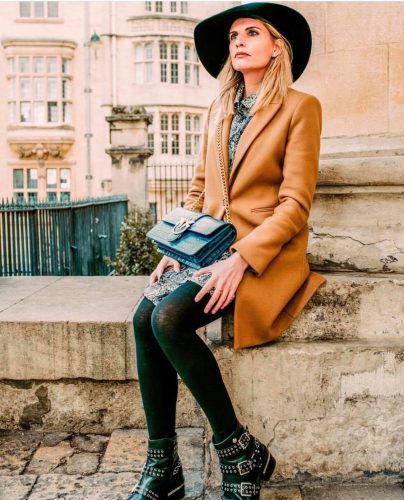 ↓ 39 – Fabulous Spring Colour Combination for 30 Plus
Spring, the month of brightness and colors. This season, everything looks happy and brilliant. So should your outfit. Wear colored stripes, shirts, bright yellow tops, and pink floral dresses.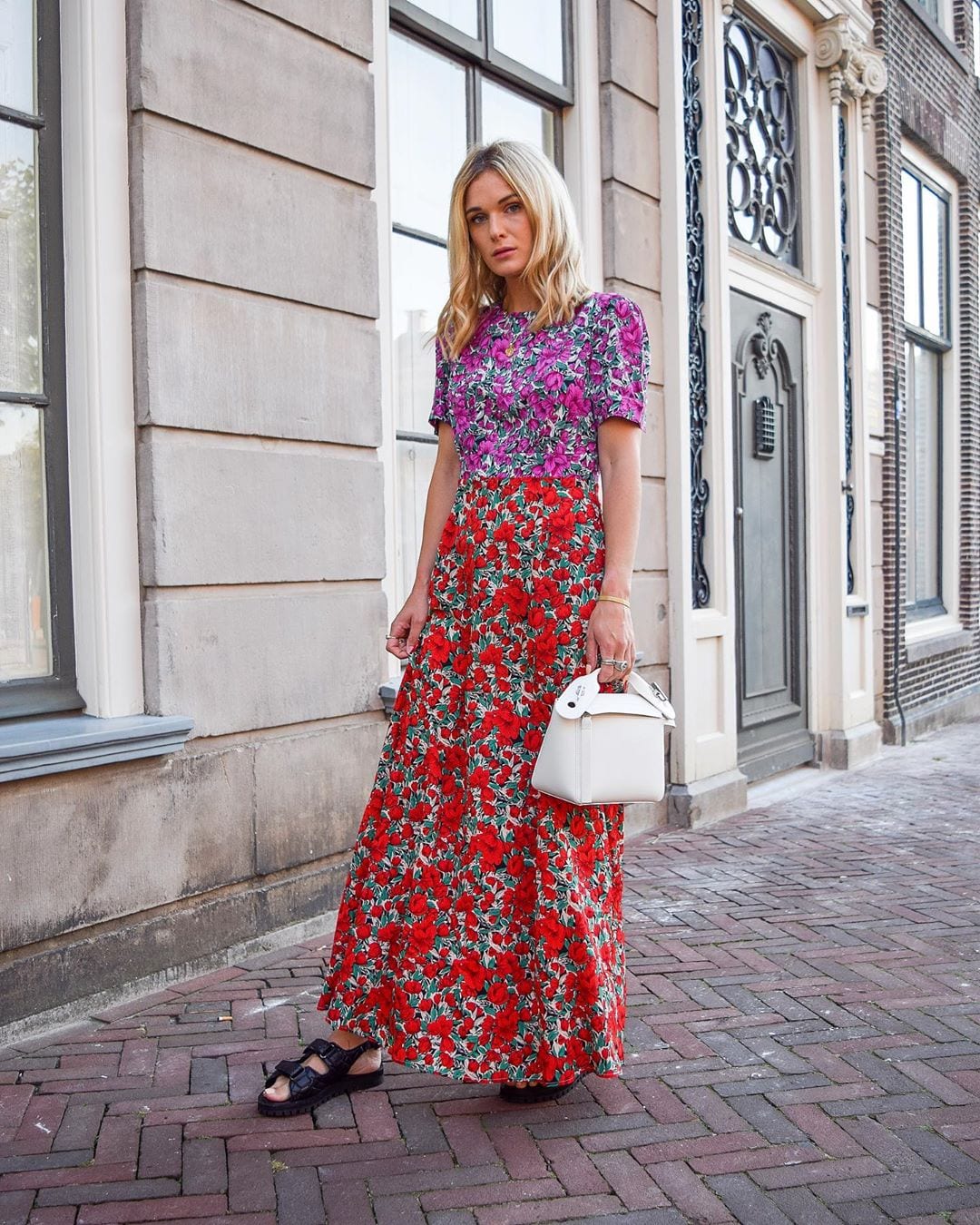 ↓ 38 – Outfit with Vans Shoes
Vans are for all ages and genders. They are comfortable and easy to slide on, particularly when you are in a hurry. And let's face it, our 30s are the busiest years of our lives. Moreover, they look good with almost everything in your closet.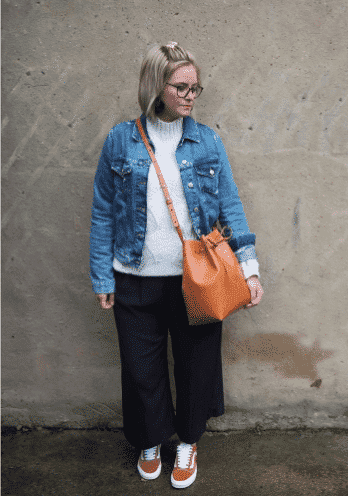 ↓ 37 – How to Wear Polka Dots in Your 30s
Polka dots are the cutest pattern that you can incorporate in your outfits. Tops or dresses with polka dots look adorable, giving a 60s woman vibes. Check out our earlier post on How to Wear Polka Dot Dresses.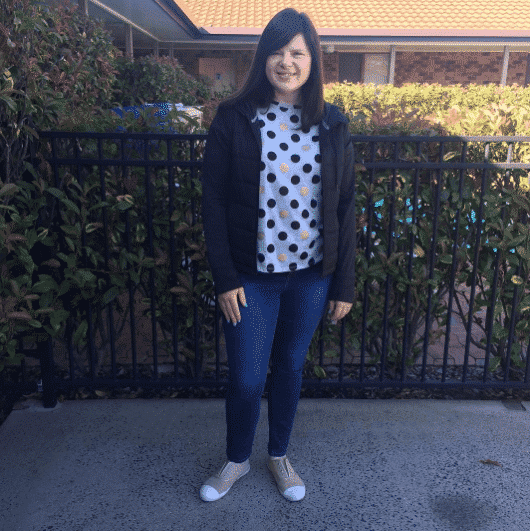 ↓ 36 – Cute Outfit to Wear with Shorts
Denim shorts with a cute top is a look you can wear to casual occasions. Look for high waisted shorts and tuck your shirt in, this is how all the fashionable people are doing it.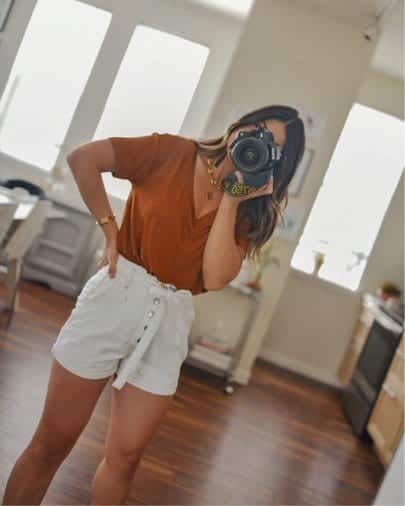 SHOP THE LOOK HERE:
Abercrombie & Fitch Women's Paperbag Waist Denim Shorts – $58.00
Abercrombie & Fitch Women's V-Neck Drapey Tee – $18.00
↓ 35 – What to Wear for Girls Night Out
Planning to hang out with your girls for a fun-filled night? Wear a gingham dress! It's flattering on every body shape and is so comfortable that you'll want to hit the dance floor instantly. Here are 17 Girls Night Out Outfits.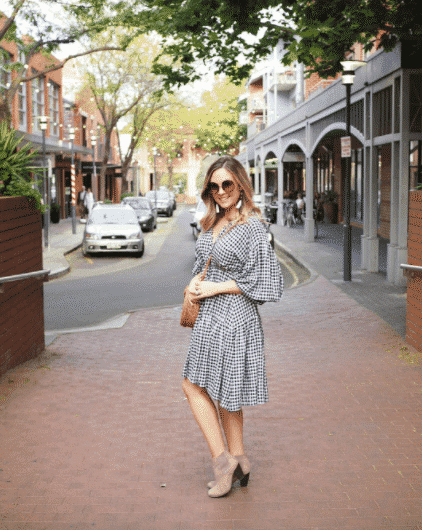 ↓ 34 – Accessories to Wear in Your 30s
The jewelry and other accessories you choose should be simple and yet be kind enough to make a style statement. This year, tassel earrings are the must-have accessory that should be on your list. You can choose to wear them with matching outfits or even ones in complete contrast, and they will still look great. Here's a complete compilation of the best Ideas On How to Wear Tassel Earrings.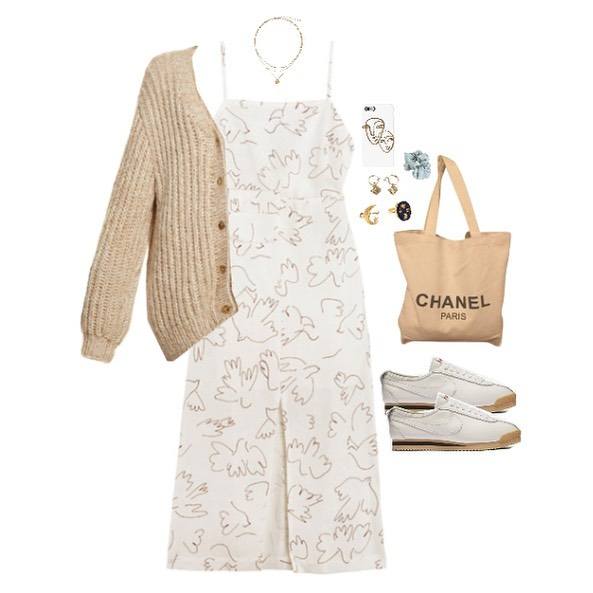 ↓ 33 – All White Outfit for 30 Plus Ladies
'A woman is a beautiful creature. Add two wings, and you get a woman" and an all-white outfit to make it all come true. All-white looks are always the purest and most radiant, particularly for day wear.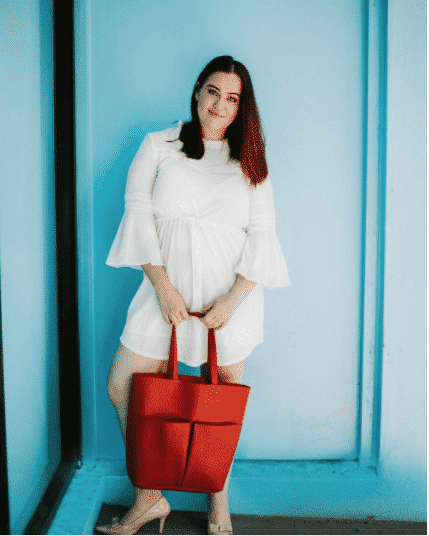 ↓ 32 – Horizontal Striped Outfit
Horizontally striped t-shirts and summer dresses are a few casual looks that you should try. You can go with classic black and white stripes, or something with a little more colors. It all depends on your mood. Here are some of the Best Ways To Wear Striped Pants.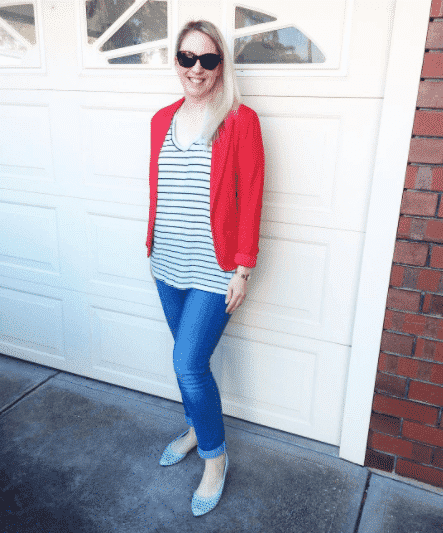 ↓ 31 – Casual Outfit with Pencil Skirt
Pencil skirts and t-shirts give a semi-casual look for an evening out. They can be rocked on Parent-teacher meetings or get together brunches with your girls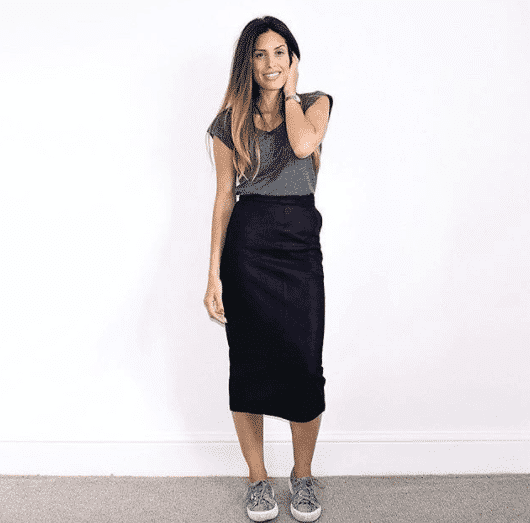 ↓ 30 – What to Wear as a Wedding Guest
Stick to elegant dresses that do not say that I have been trying too hard to look good, nor do they say I am too tired to put an effort. Add some jewelry and light makeup as well.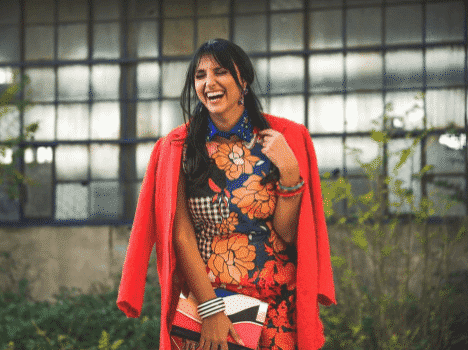 ↓ 29 – Outfit for Plus Size Women Over 30
High waisted jeans and skin showing outfits make you appear smarter. Dark-colored outfits do the job as well. If you're curvy or plus size, you should check out this exclusive guide on Elegant Plus Size Workwear Outfits.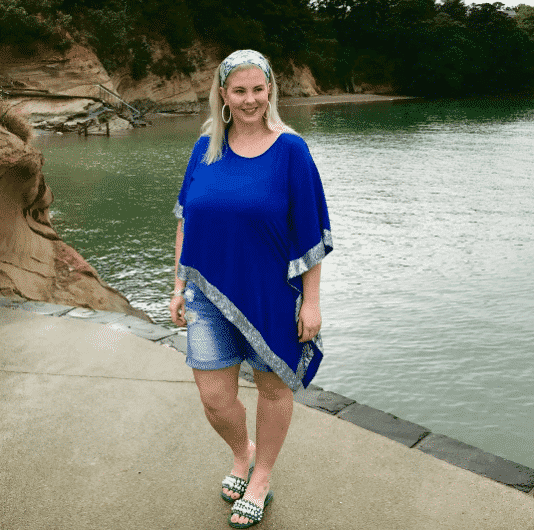 ↓ 28 – Floral Print Outfit
Floral prints look lovely, and a pretty floral dress can make you feel like a meadow fairy in her cute little world.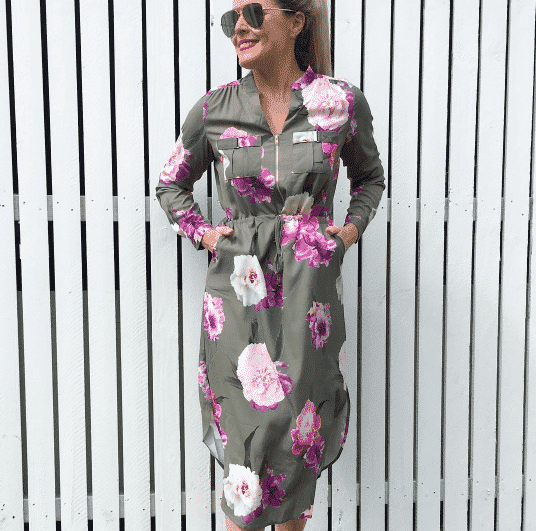 ↓ 27 – Stylish Summer Homewear
Printed tunics and flowy trousers work wonderfully as home clothes. Do not wear anything skin-hugging, instead, go with more relaxed options. Light colors can keep you fresh as well.  Here are 33 Best Ideas on What to Wear at Home.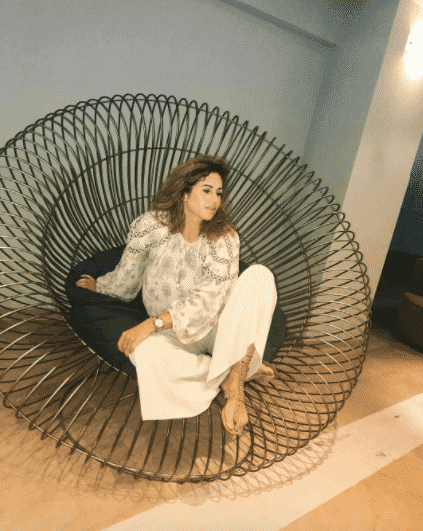 ↓ 26 – Minimalist Chic Outfit
Plain shirts and pants with simple jewelry are one of the best looks to wear at any age, to be honest. It works on days when you do want to avoid interaction and not have all eyes on you. We all have those days, don't we?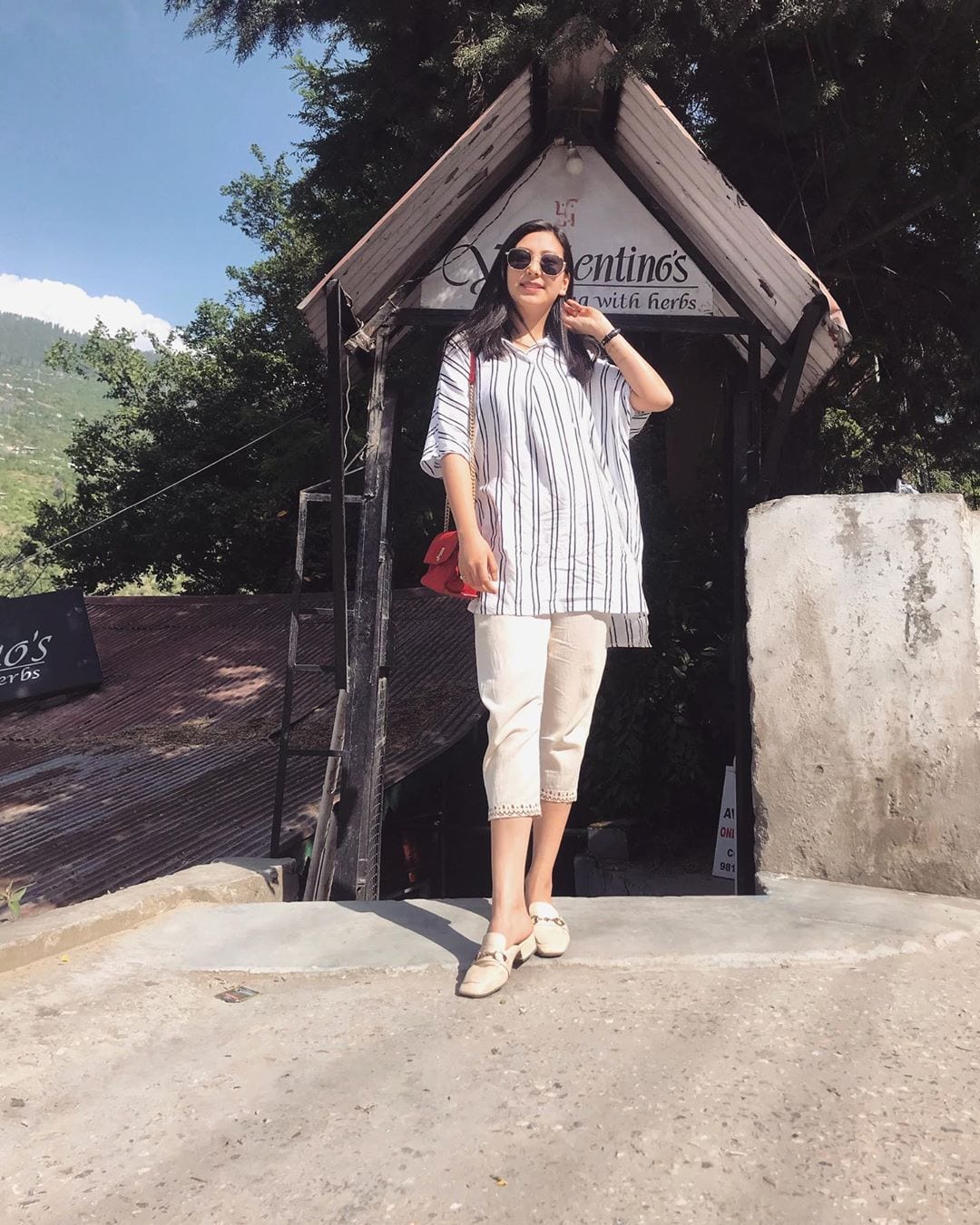 ↓ 25 – Comfortable Outfit to Wear at Home in Winters
Oversized hand-knit sweaters are favorites. Do not wear skinny jeans at home because they can irritate you. Wear clothes that let your skin breathe.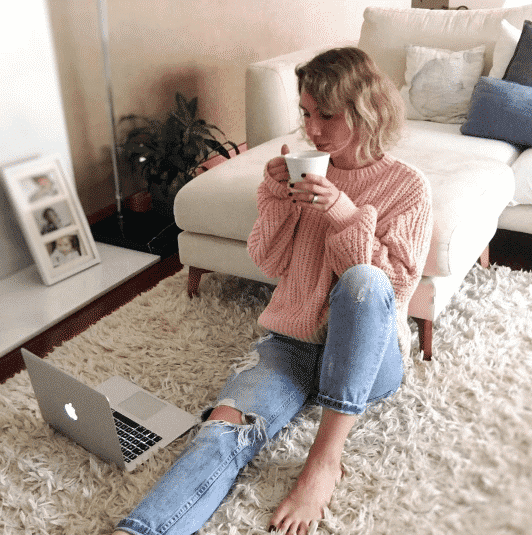 ↓ 24 – What to Wear with a Skirt in Your 30s
When styling a skirt, the patterns matter a lot. If your shirt is patterned, then go with a plain shirt and vice versa. Moreover, do not wear baggy or loose shirts with a skirt is because a dress is quite flowy itself.
↓ 23 – Step by Step Video Tutorial – How to do Your Hair, Makeup and Skin Care in the 30s
↓ 22 – Airport Outfit for Women Over 30
Travelling can never be fun if you aren't comfortable, which is why we love this blogger's take on a stylish yet comfortable traveling outfit. Slip-on flat mules are an excellent choice for shoes as many of us prefer to take our shoes off during long flights. You can find complete details on this outfit below, and you'll be surprised by how economical it all is. Do check out these Women's Outfits for Airport for more ideas.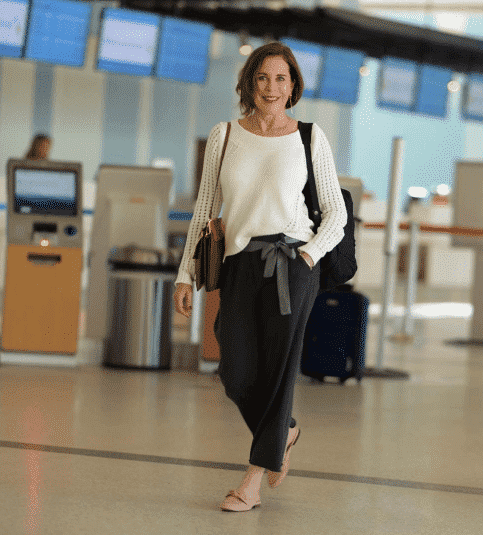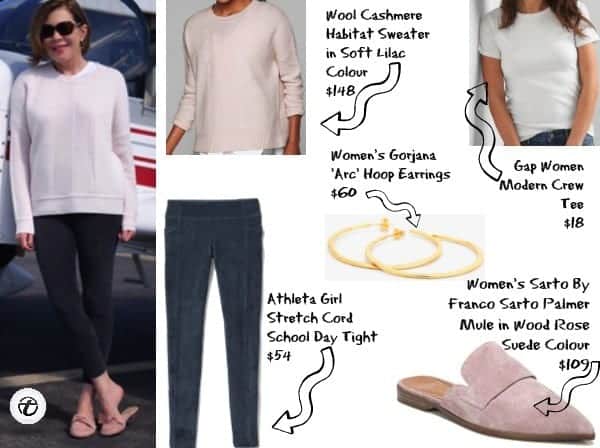 ↓ 21 – Pink Outfit for 30-Year-Old Women
Being above 30 is no reason for your pink cravings to end as it is the most feminine colour and it looks great on any woman. We all have specific shades of pink that work best for us, it could be hot pink or dusty pink, so by this age, you should have figured out what shade of pink is yours and you can keep rocking it forever. Here we see a beautiful pink long coat, paired with jeans and maroon booties, a rather unique but right looking colour combination.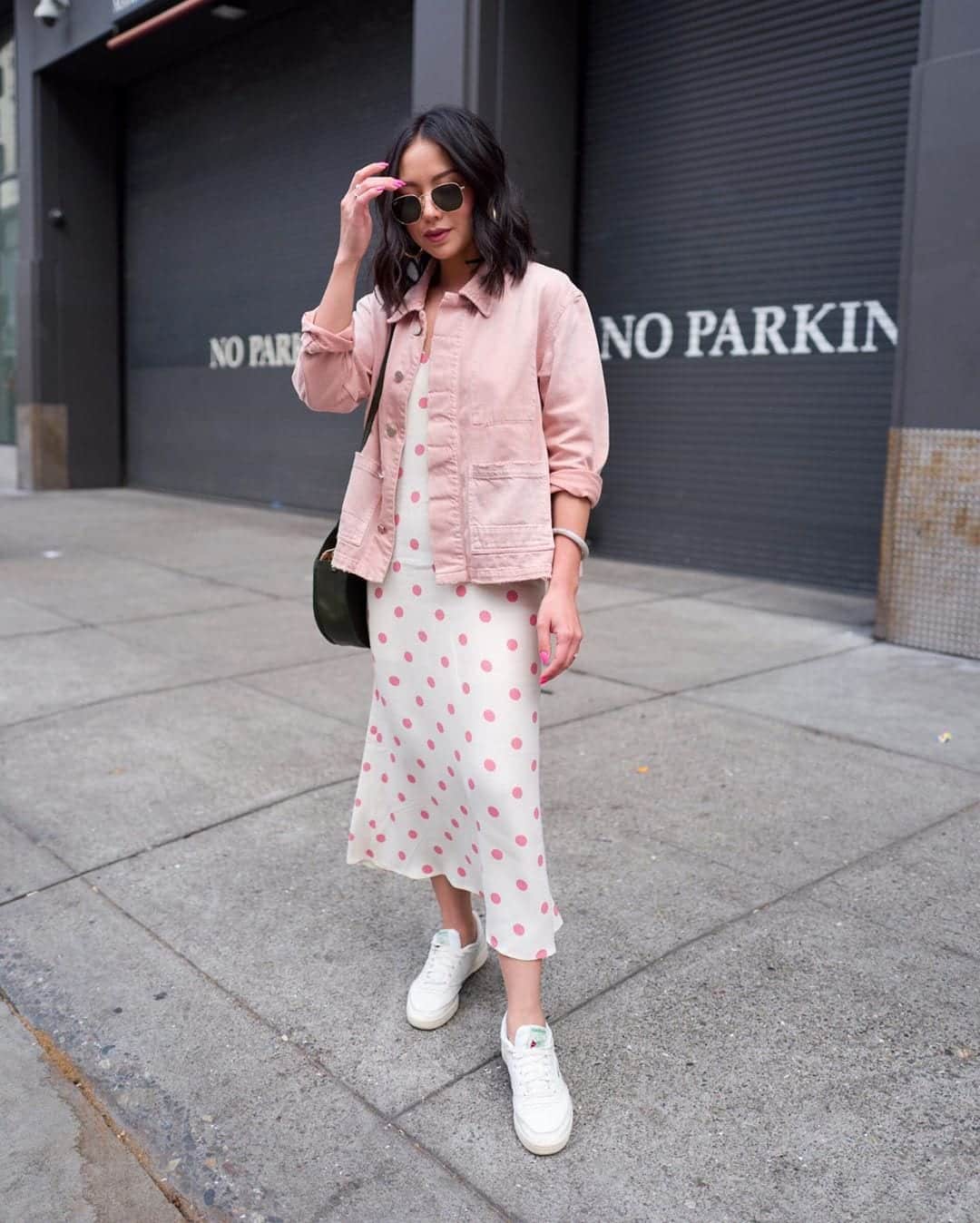 ↓ 20 –  Black and White Classic Combo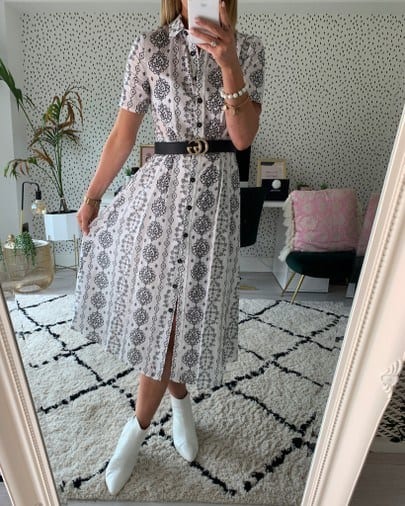 SHOP THE LOOK HERE:
Marks & Spencer Printed Shirt Midi Dress
Nasty Gal No Point to Prove Patent Faux Leather Boots
↓ 19 – California Momma
For laid-back moms in California, stick to natural tones such as off-white, peach and brown.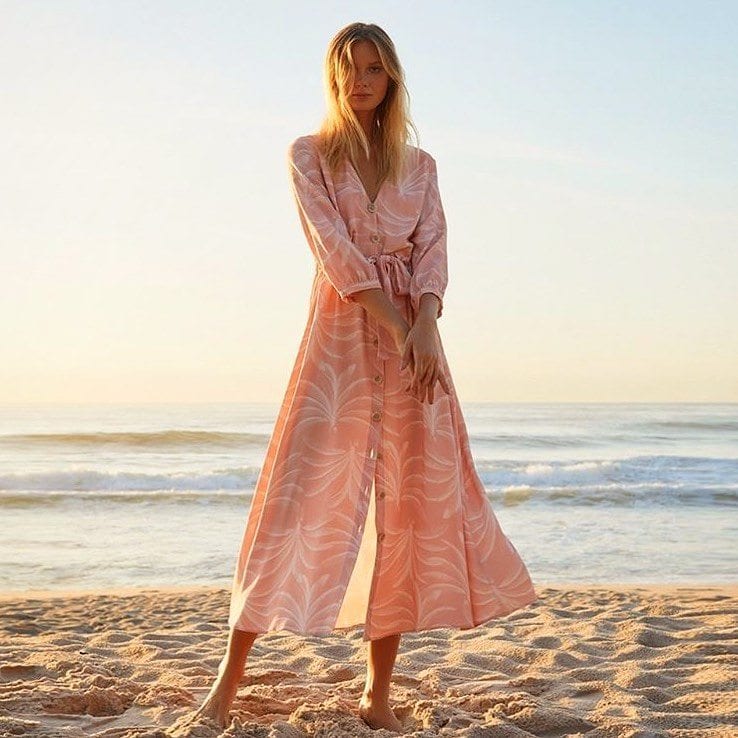 ↓ 18 – City Girl
For corporate women, keep it practical with a tan brown blazer and cheetah loafers. And here are 22 Classy WorkWear Combinations for Women.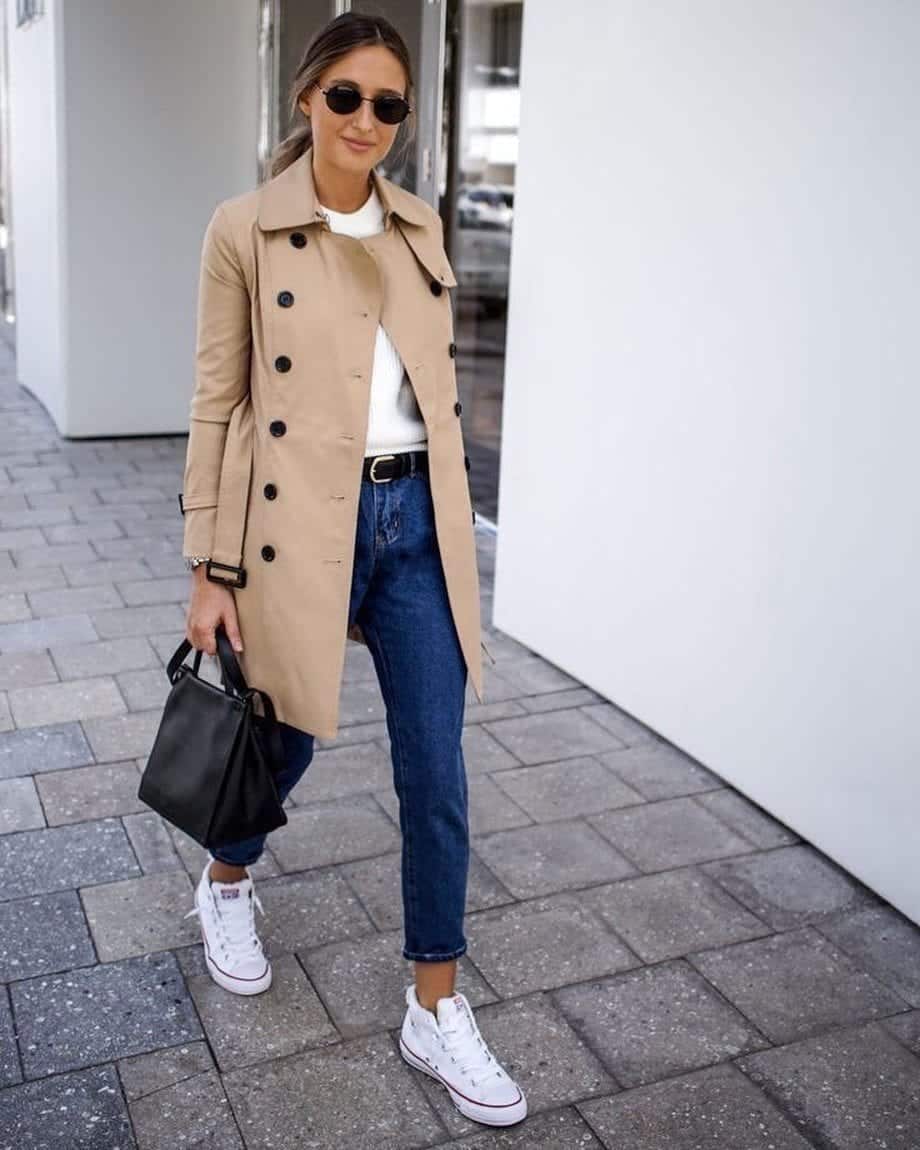 ↓ 17 – Cosmopolitan Style
Pair a short white top with a bright pleated skirt, a gold statement necklace, and metallic heels. This look is perfect for brunch or work parties.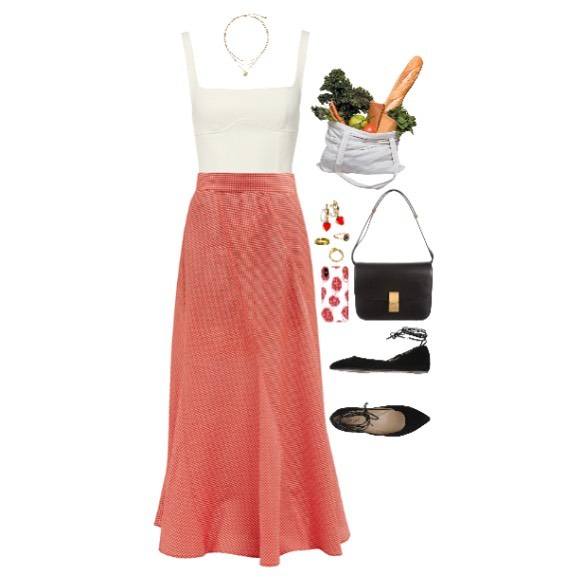 ↓ 16 – Geometrical Style
Patterned tops with plain skirts make for a catchy outfit. Valentino handbags and shiny, copper heels are the perfect finish. Or a floor-length dress with geometric print can make it a perfect summer outfit.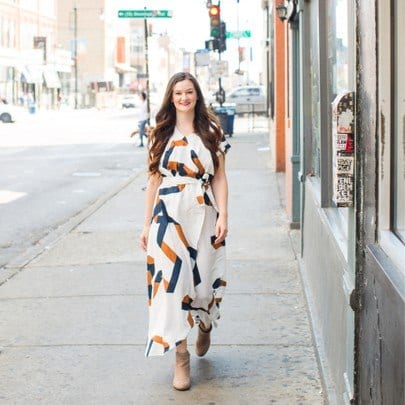 SHOP THE LOOK HERE: 
SHEIN Geometric Print Split Maxi Dress – $34.00
↓ 15 – Business Women Style
Company fashionistas can mix work with leisure by adding a pop of color to their outfits by using different accessories.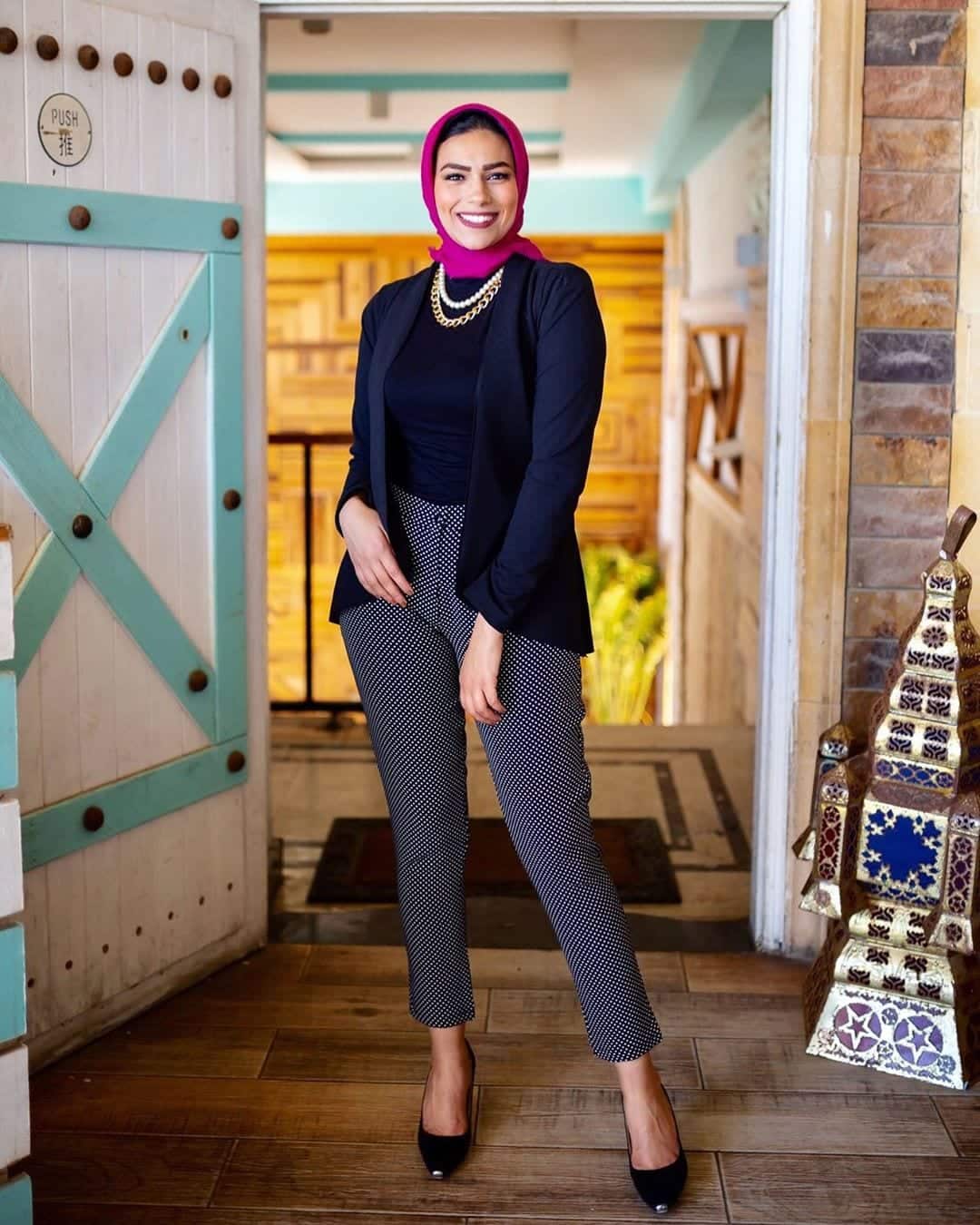 ↓ 14 – Lilac Tones
Wear Pantone's colour of the season; lilac! This colour looks great for fall wardrobes.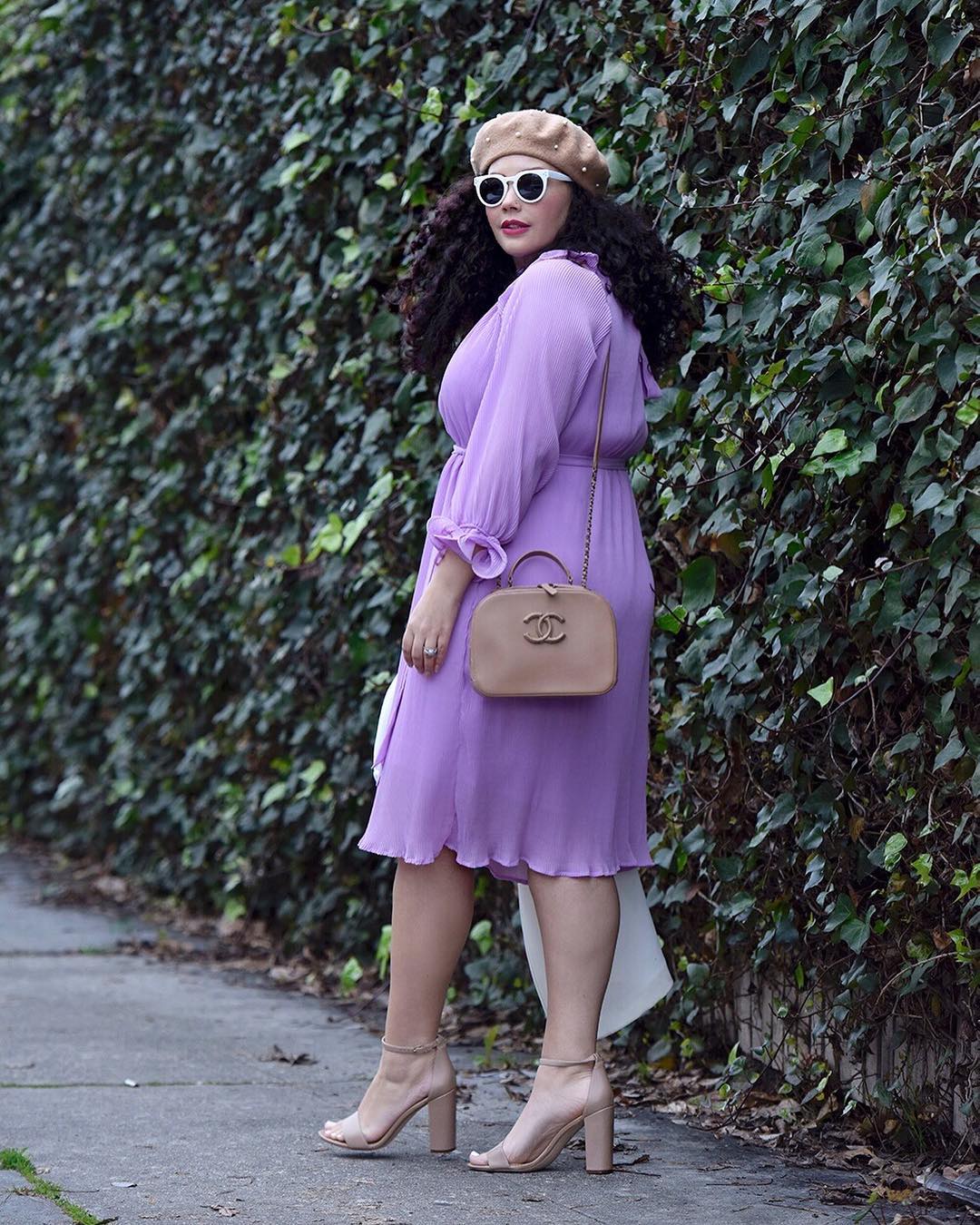 ↓ 13 – Black and Classic
You can never go wrong with a simple halter neck black dress, and a figure-hugging leather belt.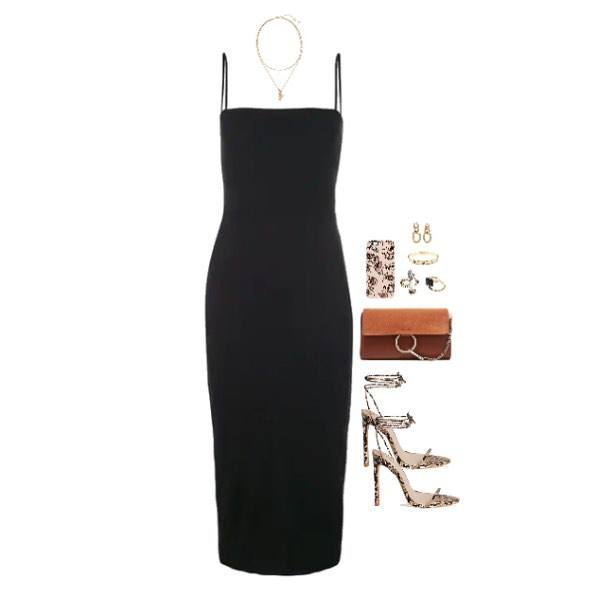 ↓ 12 – Vogue Style
The fashionable women at Vogue know how to dress up. So take tips from them by keeping it plain and straightforward.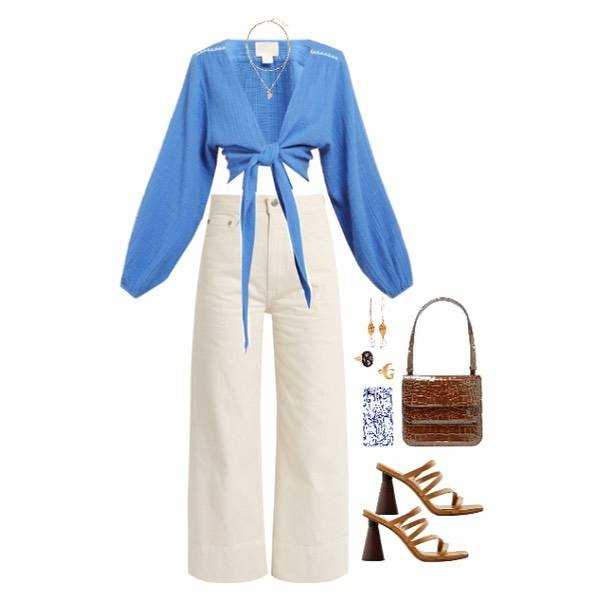 ↓ 11 – Embroidered Top
A black or blue embroidered top looks great with tights or denim. Embroidered tops are sophisticated and different from your usual tunics. You can some delicate minimal jewelry as well.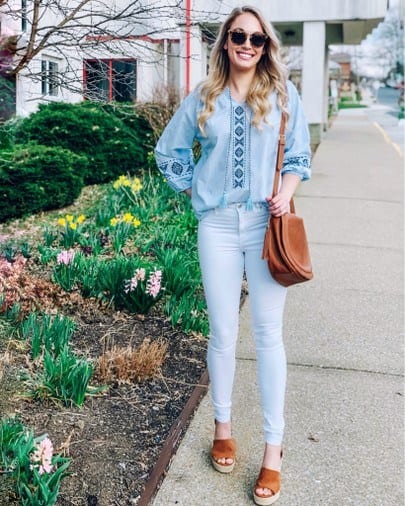 SHOP THE LOOK HERE:
Time and Tru – Women's embroidered Smock Neck Top – $11.00
↓ 10 – Casual Mom Style
For moms looking to dress up, pair a chiffon patterned top with jeans and suede boots. Try wearing comfortable clothes as you might have difficulty managing skin tight clothes while at your son's soccer practice.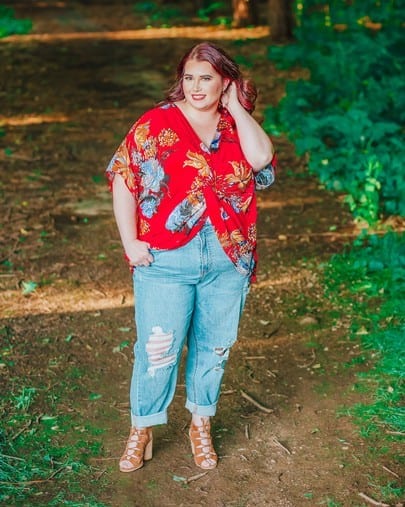 SHOP THE LOOK HERE:
Boohoo Plus All Over Ripped Jeans – $56.00
↓ 9 – Street Style
For a casual walk down the block, stick with jeans as they are comfortable and easy to pull off. You can wear a loud shirt that expresses your opinions or maybe a hoodie that says something funny.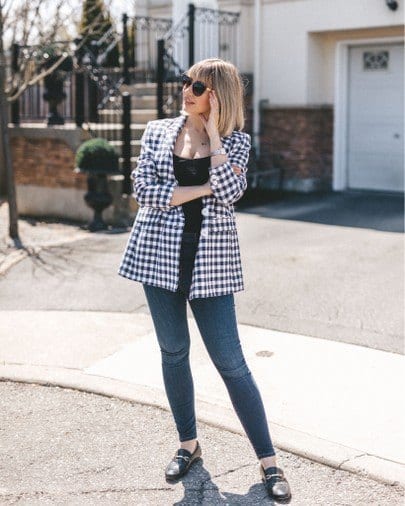 SHOP THE LOOK HERE: 
Mango Structured Linen Checked Blazer – $119.99
Levi's 720 High Rise Super Skinny Jeans – $92
ASOS Design Moment Leather Loafers – $56
↓ 8 – Symmetrical Printed Shirt
A  striped silk shirt with dual shades paired with skinny jeans and black platform heels look great in the office and for daytime functions.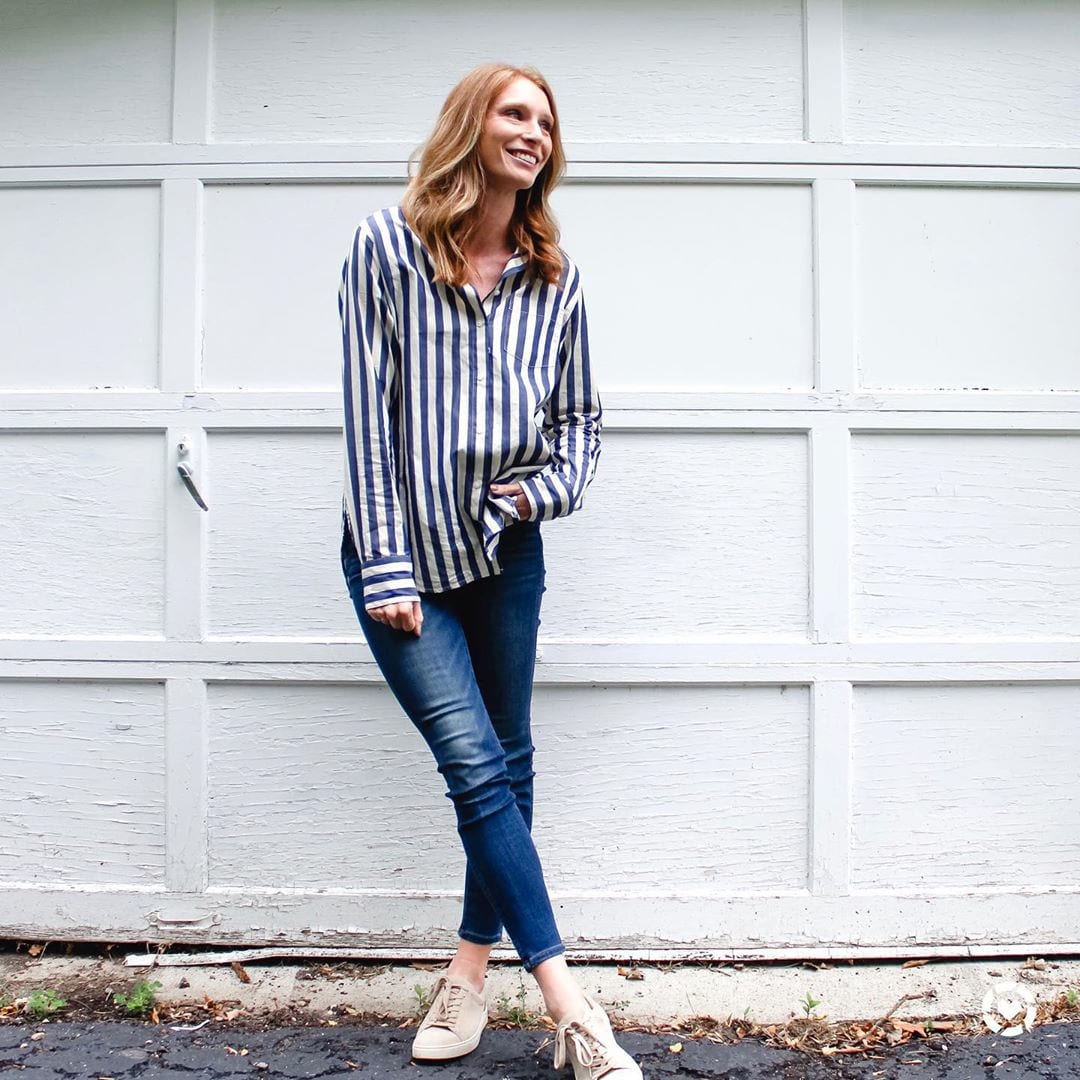 ↓ 7 – Winter Style
Pair a dress with an oversized leather buckle belt, and a jacket in some contrasting color (such as purple with bright white), for winter fashion!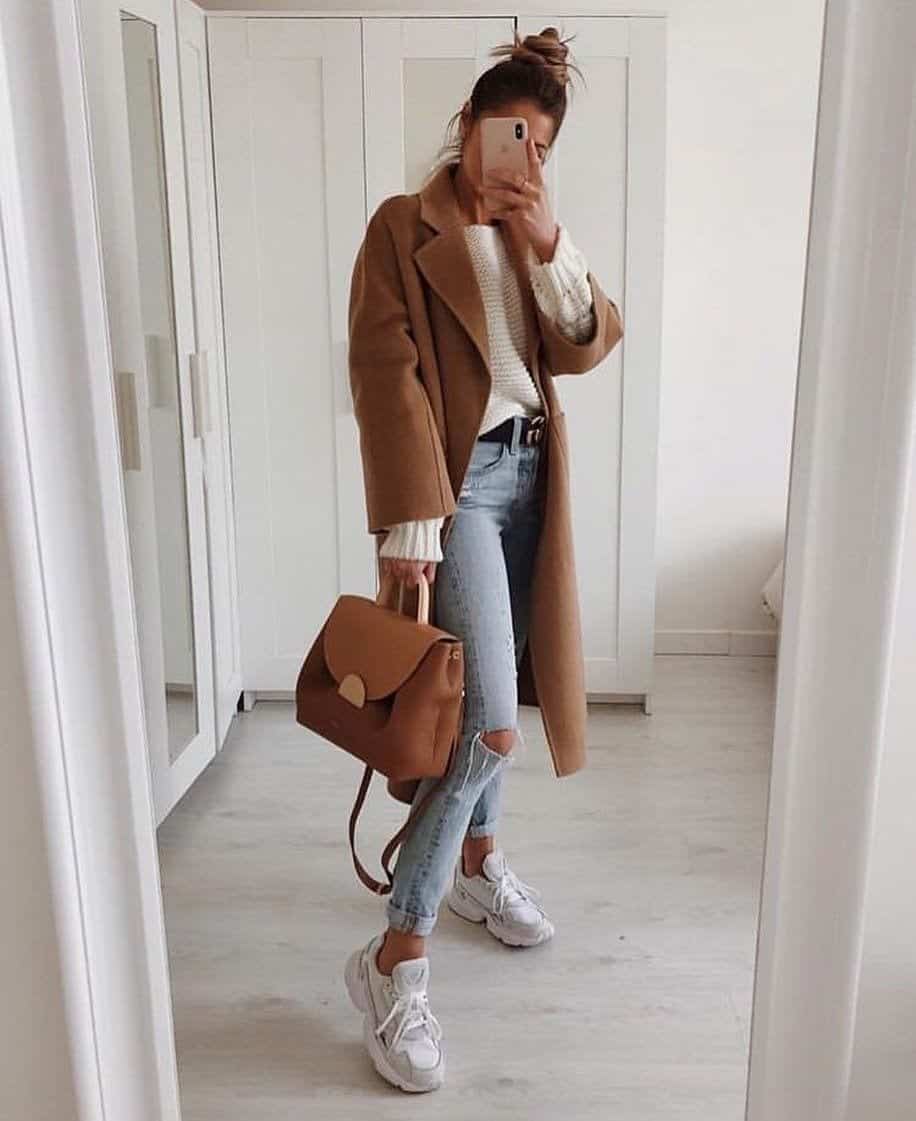 ↓ 6 – Statement Heels
For those living in warm or humid climates, jeans can often be a nightmare which is where baggy trousers and jumpsuits come in! An excellent way for mature women to dress up is to keep their outfit simple but wear brightly colored fashionable heels.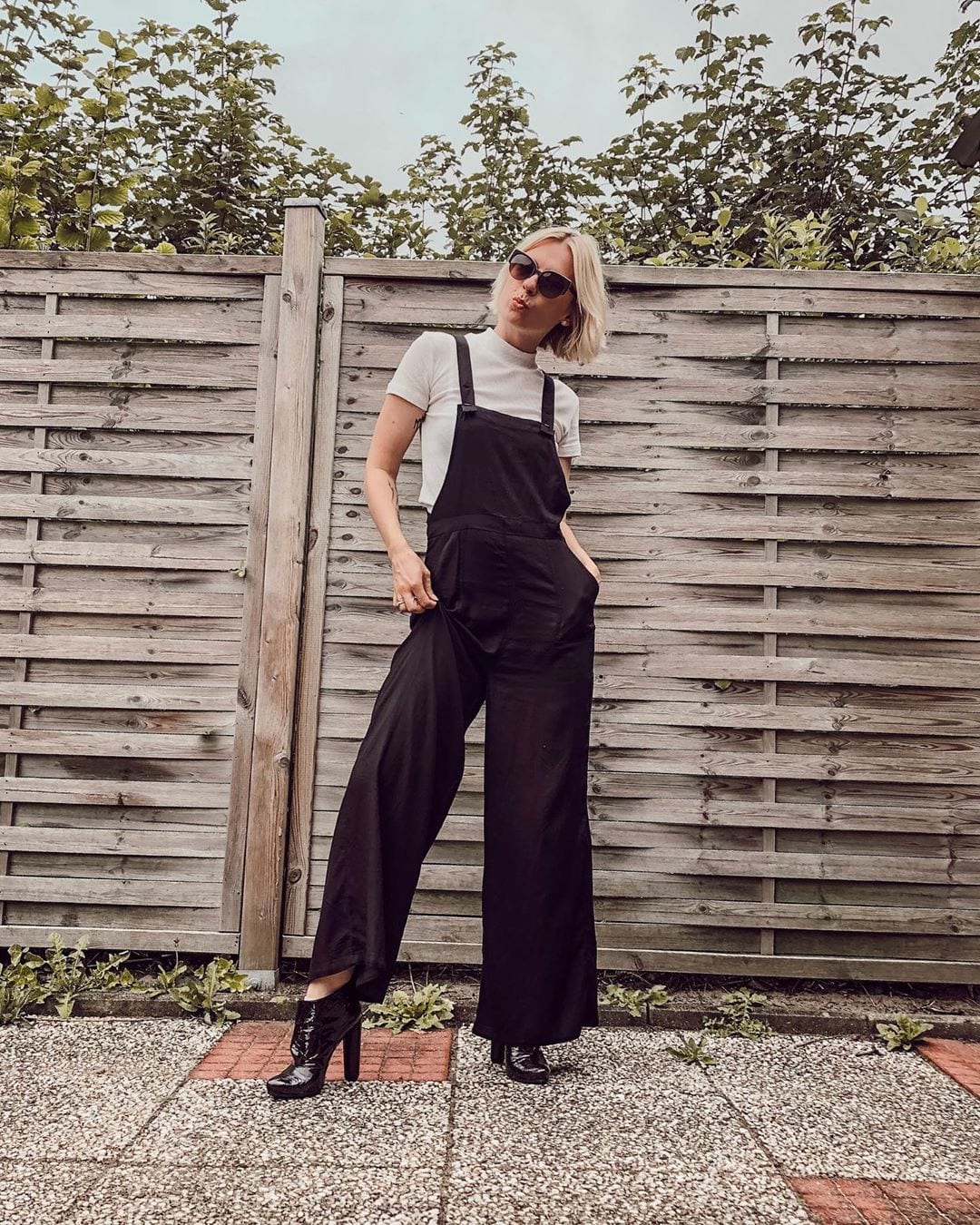 ↓ 5 – Chic Style for women in their 30s
Skintight dresses in black look good at every age. They make you look younger and pretty. You can also go with meshed tops with pants. And well, we know that we all need that one special Little Black Dress for romantic evenings, so do check out our earlier post on How to Wear The Little Black Dress This Year.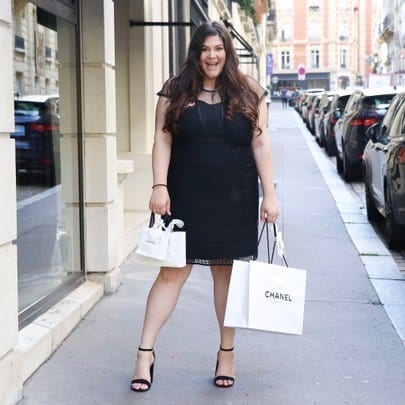 SHOP THE LOOK HERE: 
City Chic Alette Dress
↓ 4 – White Capri Pants with White Heels
Capri pants work well with several different shirts, which is why you need to check out these Best Tips for Wearing  Capri Pants.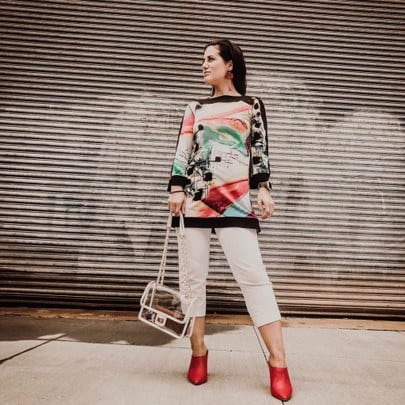 SHOP THE LOOK HERE:
Super High Waisted Chino Ankle Pant
↓ 3 – Blazer With Jeans
Mix casual items with formal ones for going out. It looks like you did put an effort but are not trying too hard.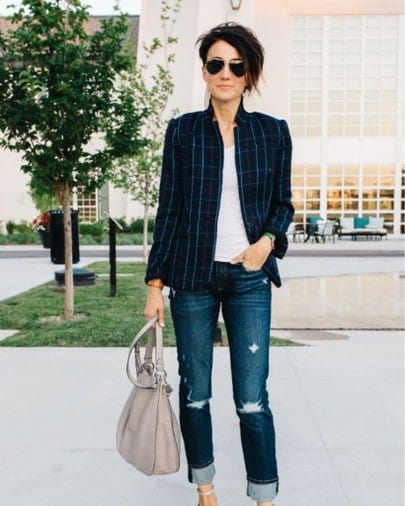 SHOP THE LOOK HERE:
Nordstrom Vince Camuto Plaid Blazer
Nordstrom The Dre Ripped Slim Boyfriend Jeans 
Nordstrom Halogen Modal Jersey V-Neck Tee
↓ 2 – Spring Wear
Spring is all about blooming, colors, and happiness. This spring goes for something that matches the weather outside. Floral dresses that flow in the wind or perhaps a skirt with your hair down is something you would want to try for spring. Wear sandals or slippers as they give spring vibes.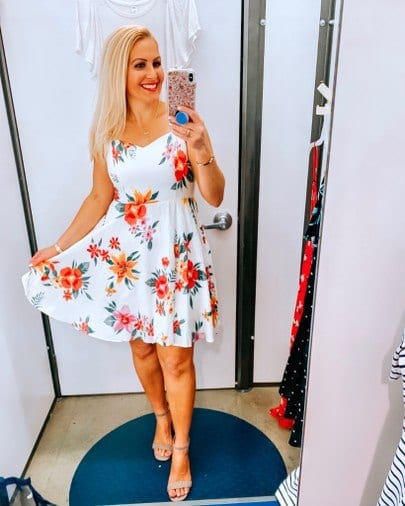 SHOP THE LOOK HERE:
GAP Fit & Flare Printed Cami Dress for Women
GAP Faux-Suede Braided Strap Block-Heeled Sandal for Women
SHEIN Crescent Moon & Star Necklace 
↓ 1 – Beach Wear
A Kim Kardashian inspired nude-toned swimwear with flip-flops would be a perfect look for the beach. Add a colorful, printed shawl or a buttoned-down shirt for later.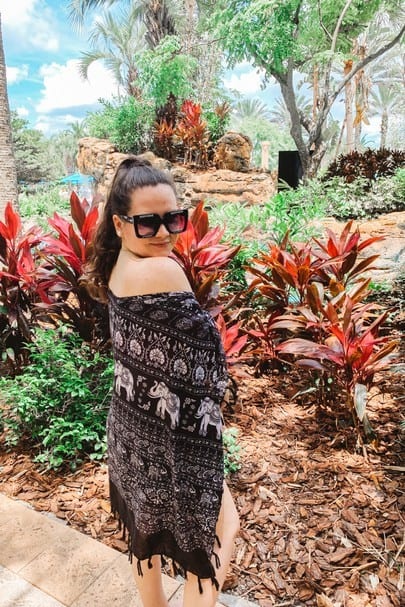 SHOP THE LOOK HERE:
Kimono Cover Up Boho Chiffon Beach Wear for Women