Women Honeymoon Outfits – Not only is planning a wedding too exhausting and tiresome, but it can also drain you emotionally and physically by the end of it. However, all this exhaustion comes to an end with a beautiful honeymoon to an amazing destination with your loved one.
This trip is not like any other trip you have experienced before, so you need to make sure everything is flawless. Before you can finally hit your honeymoon destination and rest, there may be some last-minute shopping and packing required. Because no matter how tired you are, you still need to look fantastic and stay on top of your outfit game. So, stay tuned to find out what honeymoon outfits we have put together for you to make your special time with your loved one even more special.
What To Wear on Your Honeymoon
The kind of outfits you need to pack with you will depend upon the places you will be visiting. You will need a different look for beaches, city tours, parties, and formal dining. The climatic conditions of where you are going also plays a massive role in what you need to pack for your honeymoon.
Considering the fact that stuffing your suitcase with tens of clothes and excess baggage will only create an additional hassle for you, make sure you travel light and plan your outfits smartly. A heavy suitcase with nothing to wear in it is a complete disappointment, and to save you from that, we are here to help you, so read on!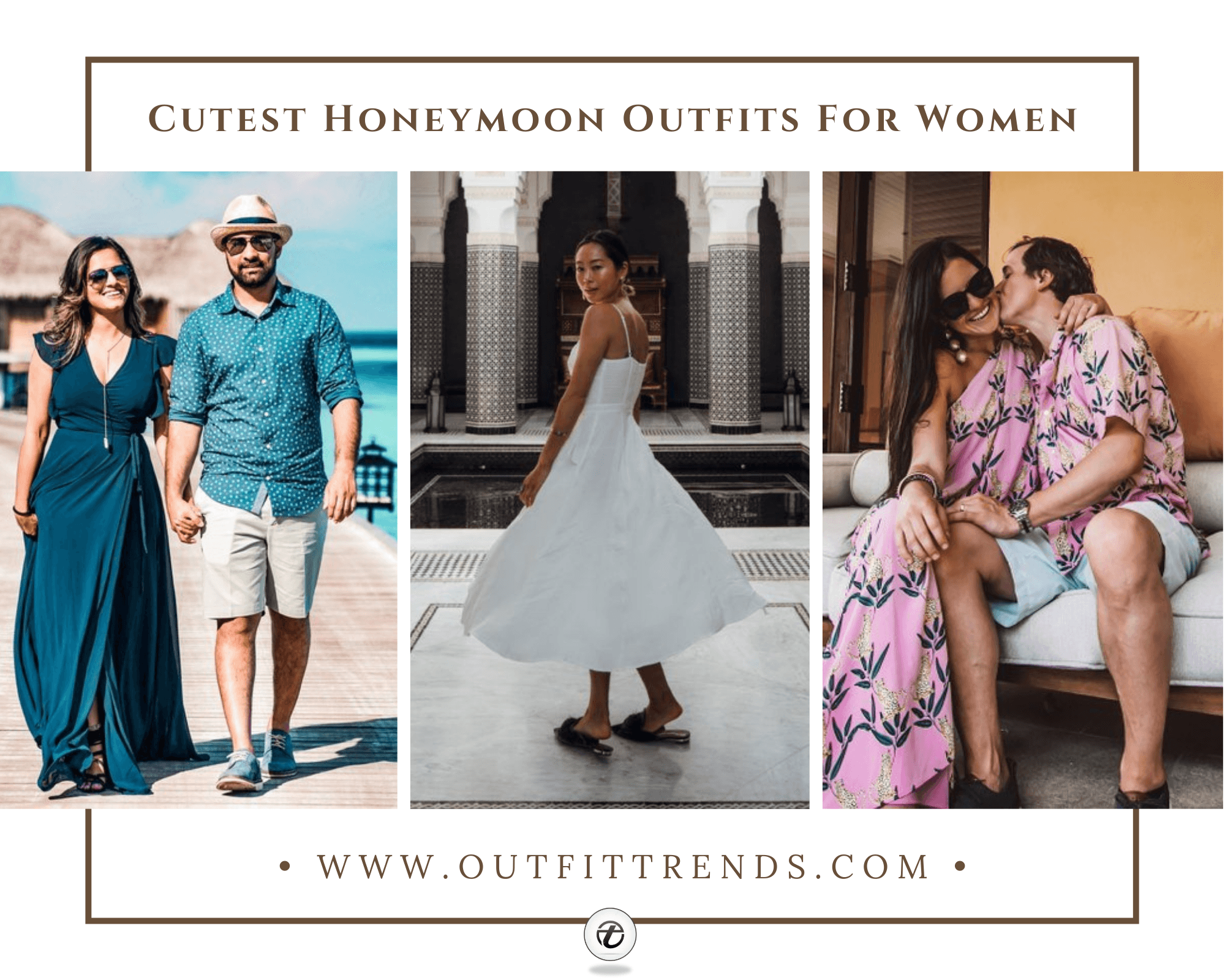 It is entirely understandable if you kept your honeymoon outfits list for the last minute since wedding preps can be pretty time consuming and stressful. A honeymoon is that one time every girl daydreams about and has spent days imagining it until the time comes, and you become completely clueless. There are no strict rules, but you would obviously want to look your best and put effort into your outfit and overall look. As mentioned earlier, the destination and temperature will play a significant role in what you should pack with you for your honeymoon. Here are a few helpful tips.
For a tropical honeymoon, as most would prefer, you will need more sundresses and beachwear.

If you are traveling to a place with a cold climate, you would want to keep jackets and sweaters for layering up.

If you are going to a hot and humid place, you might want to pack light clothes like crop tops and skirts.

Don't go overboard with your accessories and makeup. Keep essential and multipurpose material.
Carry a staw of a floppy hat with you, so you can easily pair it up with any outfit on any day.
Keep a few basic items like tees and jeans that you can wear with all your layering pieces.
Avoid outfits with extra fitting; after all, you want to have fun and stay comfortable.
Basic Honeymoon Packing Essentials
Here are a few suggestions for honeymoon outfit items that you should have in your checklist:
Dresses

Skirts

Culottes

Cotton pants or jeans

Shorts

T-shirts

Sweaters for winter

Swimsuits

Flip flops and comfortable shoes

Sunglasses and hats

Cute crossbody bags

Bomber jackets

A comfy pair of denim jeans
To learn how to pair and create an outfit with the items mentioned above, we have prepared the top 23 outfits that you can rock at your honeymoon and impress your partner. Check it out!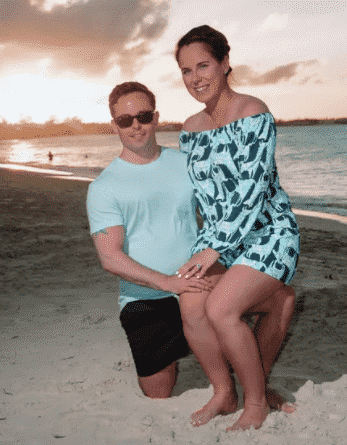 ↓ 23 – Matching Honeymoon Outfits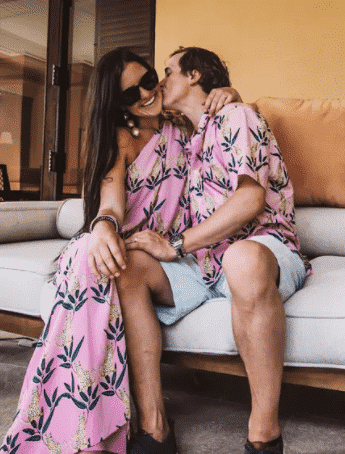 ↓ 22 – Honeymoon Sleepwear
↓ 20 – Maxi Dress
You can not possibly think about leaving for your honeymoon without maxi and sundresses. They are absolutely essential. Not only do they look elegant and feminine, but they also feel comfortable. These dresses are best for summer and spring. It's up to you whether you choose floral, chequered, polka dots, or any other printed maxi dress. You can pair elegant necklaces and bangles with simple maxi dresses. Here are Stylish And Trendy Maxi Skirts For Women.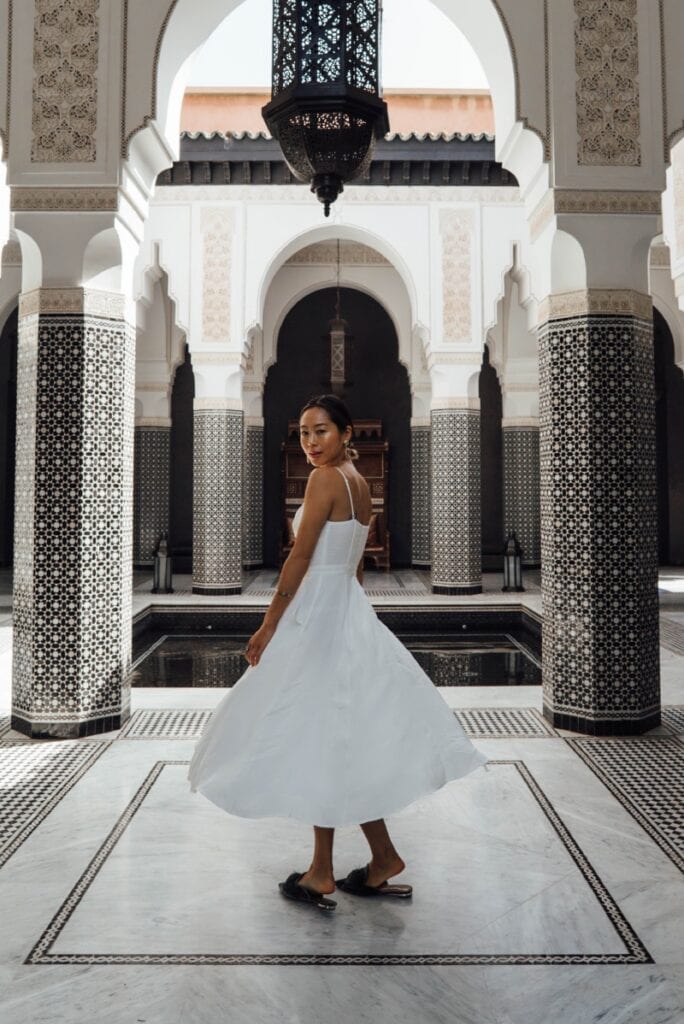 Via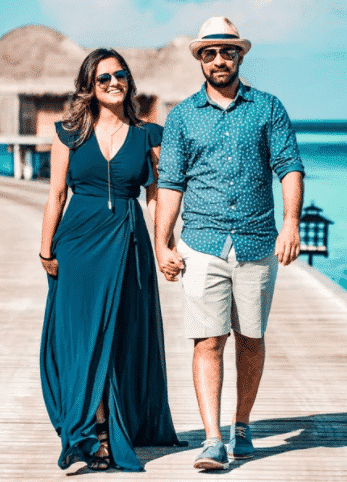 ↓ 19 – Casual Outfit
If you have other destinations apart from tropics on your list, you might want to keep casual shirts and pants with you for places such as farm visits, wineries, and movie theatres. Pack full-sleeved comfortable shirts with straight pants or denim jeans. Do not forget to get the appropriate accessories for your outfits like a leather crossbody bag and a gorgeous brown belt.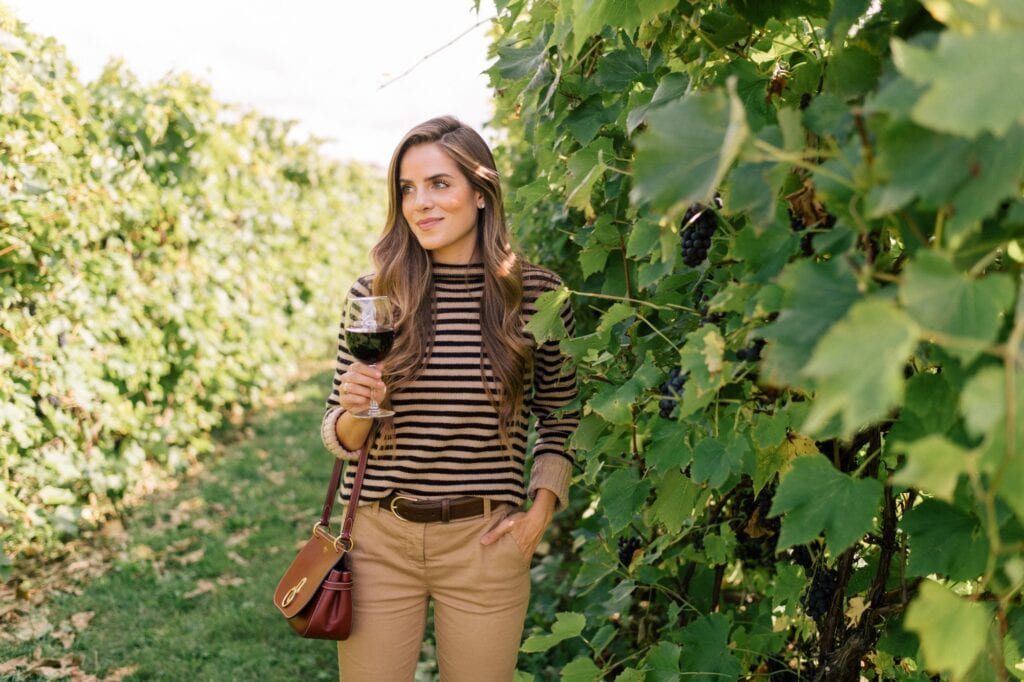 ↓ 18 – Evening Wear
Keeping a formal black dress is very important for going to evening parties or a romantic candle-light dinner. You can choose between strapless or strapped western fitted dresses and pair it with a crossbody bag or an elegant clutch. Also, do not forget to keep a pair of heels as well! Here are 25 Celebrities All Black outfits Styles for Fall to Copy.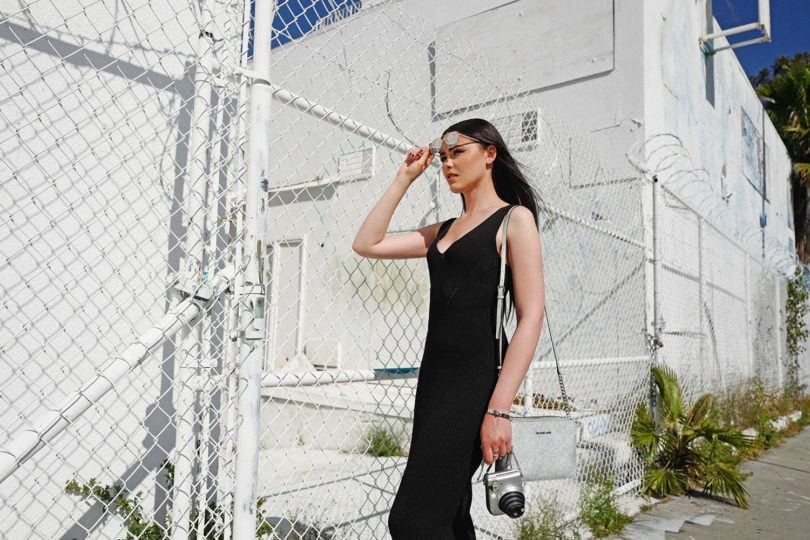 ↓ 17 – Off Shoulder Tops for Shopping Spree
Off shoulders are trending like crazy this season in various prints, styles, and materials and look stunning. They look absolutely chic with a pair of wide-legged pants and some cool sunglasses. This look screams touristy and is best for casual shopping sprees or a walk in the city!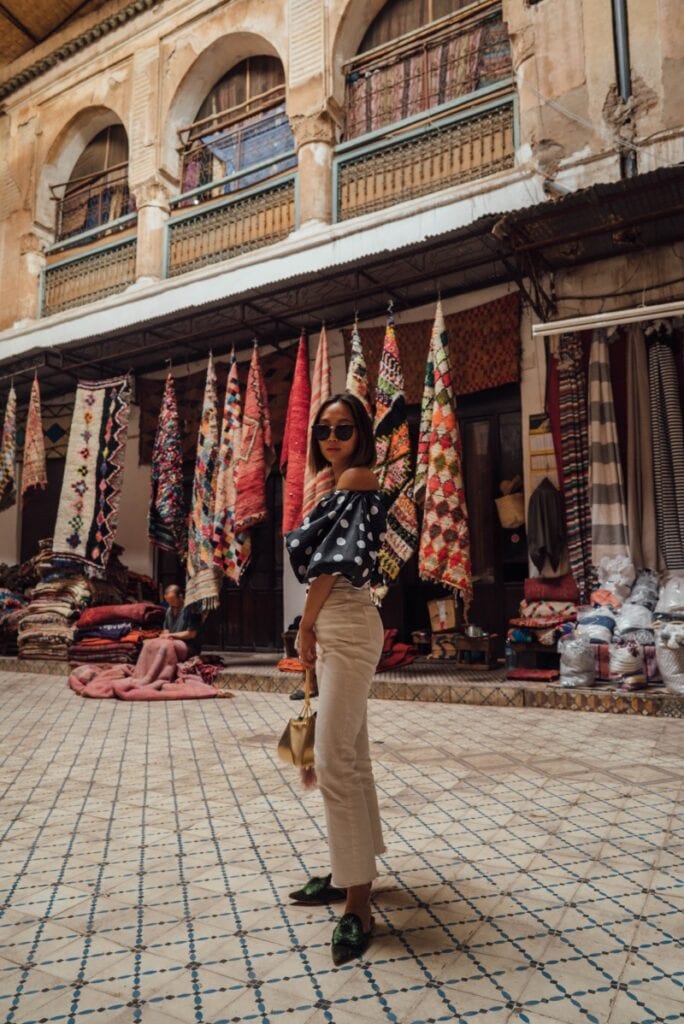 Via
↓ 16 – Trendy Honeymoon Outfit For Winter
If you are traveling in winter, it may be hard to wear dresses and other tops. If such is the case, pack some turtlenecks, jackets, and blazers to keep yourself warm. You can come up with absolutely amazing outfits, even if you are going to a cold destination. Below is an example of a beautiful winter outfit. A low-neck sweater with black pants and a white blazer looks terrific.  Do check out these 13 Cute Minimalist Outfits for Winters.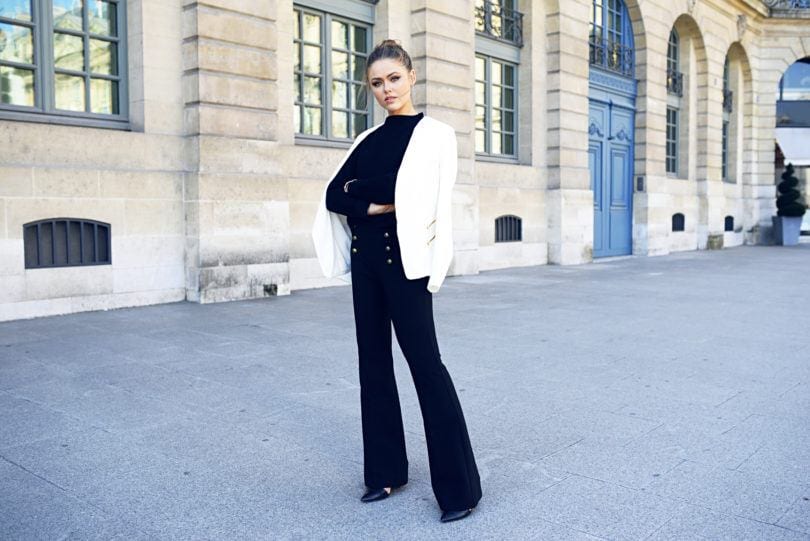 ↓ 15 – Beach Honeymoon Outfit
Beaches are so fun! And dressing up on a beach is even more fun.  You always have so many options: a sundress, maxi dress, swimsuits, cover-up dress, shorts, etc. You can pair one of these with appropriate accessories such as flip flops, sun hat, straw tote, and sunglasses. Beach photos always turn out to be the best, so do not forget to wear your best outfit and look super cute.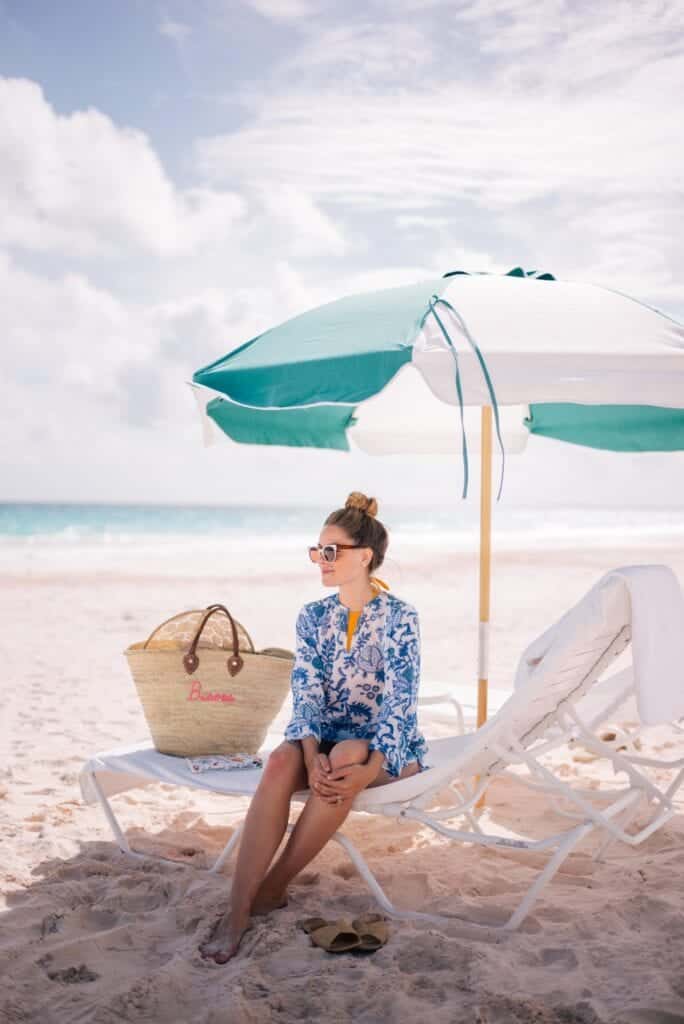 ↓ 14 – Accessories To Carry For Honeymoon
Some of the essential accessories include a hat, scarf, crossbody bag, tote bag. They add the finishing touches to your outfit and complete your look. You can also add jewelry items like bracelets and necklaces. Also, scarves elevate from simple to extraordinary, so do not forget to keep some different scarves with you. Here are 2018 Fashion Accessories/Items Every Girl Should have.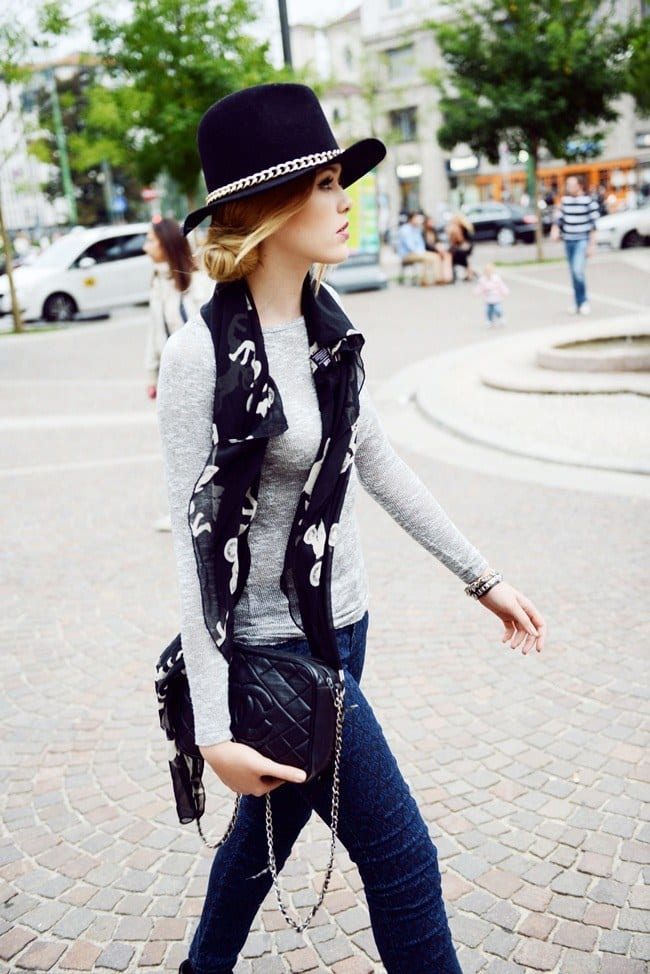 ↓ 13 – Lace Dress For A Stylish Look
Lace tops and dresses are a must for you to wear on your honeymoon. They look fantastic and will make all heads turn your way. Lace tops are exquisite and can be styled with pants, skirts, and leggings as well. They not only make you look amazing but also feel very comfortable and beautiful.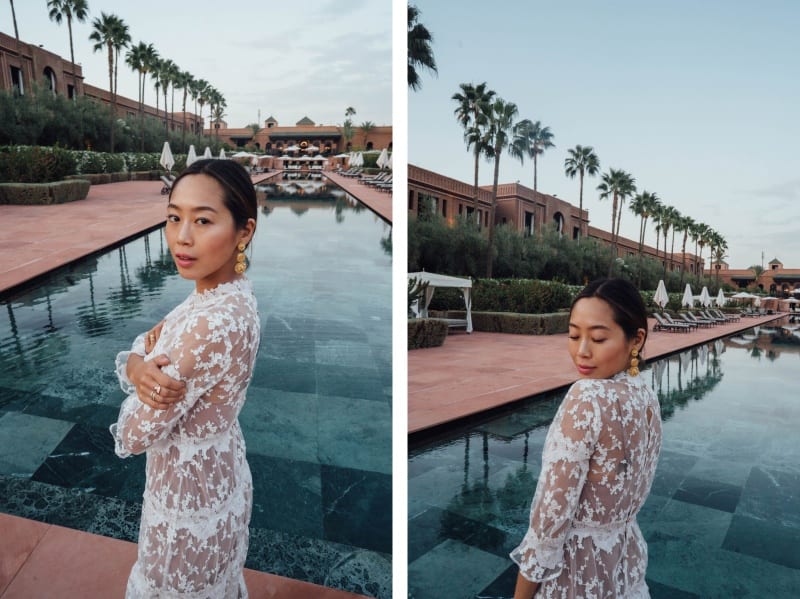 Via
↓ 12 – Jumpsuit
Jumpsuits are easy to slide into and look very stylish. They look best when they are worn with heels. They also work in many kinds of weather because they come in all sorts of fabrics. Pastel-colored jumpsuits look amazing for day-time brunches and breakfast dates. Dark-colored jumpsuits work for night-time dinners. Carrying a beautiful handbag with the jumpsuit also makes it look spot-on.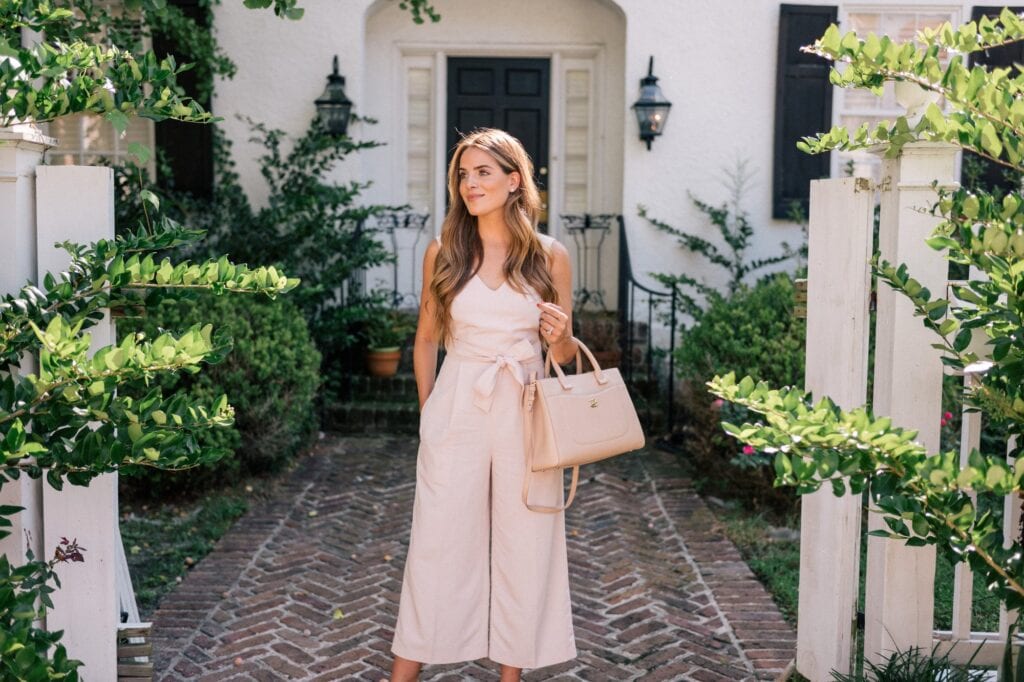 ↓ 11 – Basic Clothing Items To Carry
Some items are light in the luggage and can be worn more than once in different styles. One such item is a white t-shirt; you can wear it in many ways and layer it up with other tops and jackets. A pair of denim jeans can also be useful. You can also keep a simple black coat and some black sneakers. These casual clothing items can be styled in several ways according to your style and liking.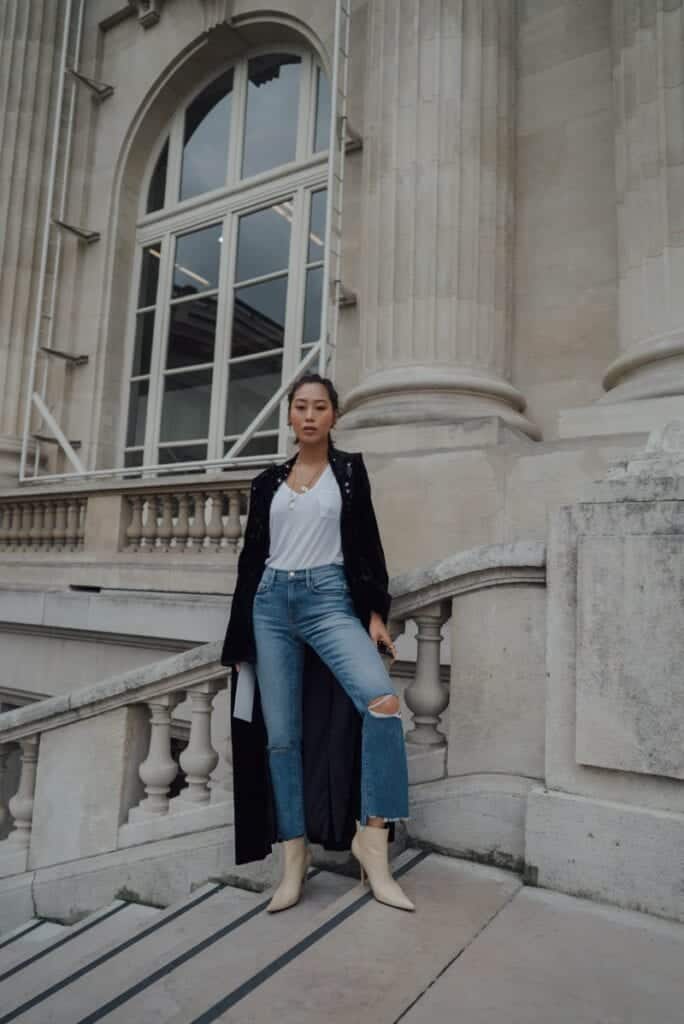 Via
↓ 10 – Silk Tops To Look Classy
Silk dresses and tops look very trendy, and we would recommend them for your honeymoon outfit. They look very graceful and can be paired with denim jeans. Wearing a dark lip color with silk shirts and dresses look incredibly classy. Here are 45 Latest Fashion Ideas for Women in the 30s.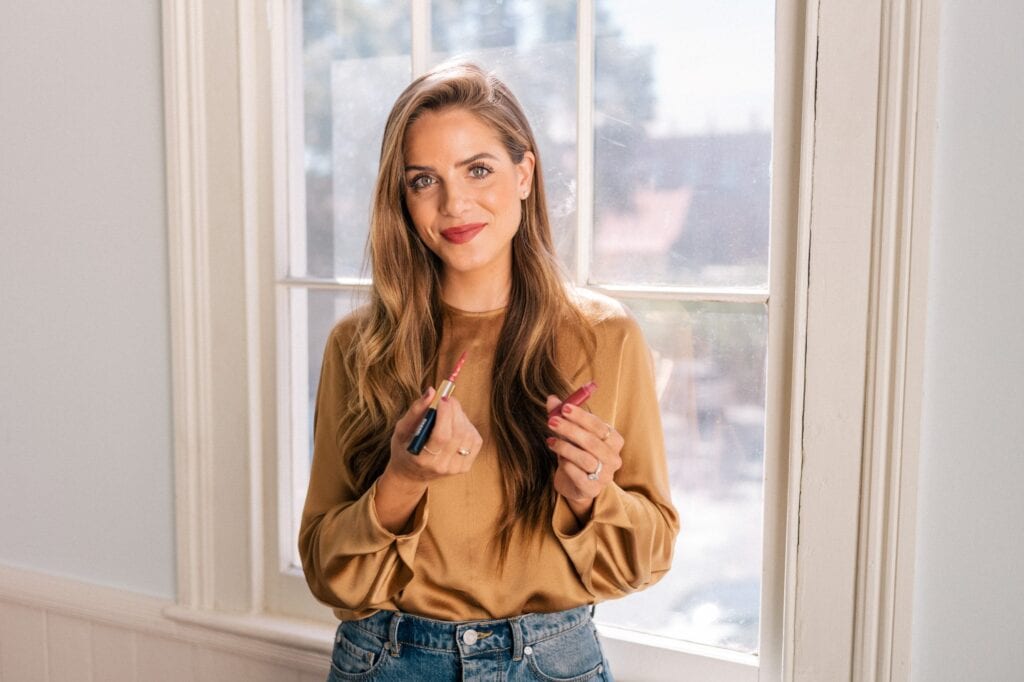 ↓ 9 – Outfit With Sweater To Stay Warm
It would be best if you packed several types of sweaters for your honeymoon. Full-sleeved sweaters can be paired with wide-legged pants or denim jeans. Simple or printed scarves can also be worn with sweaters. You can accessorize your sweaters with leather backpacks and crossbody bags.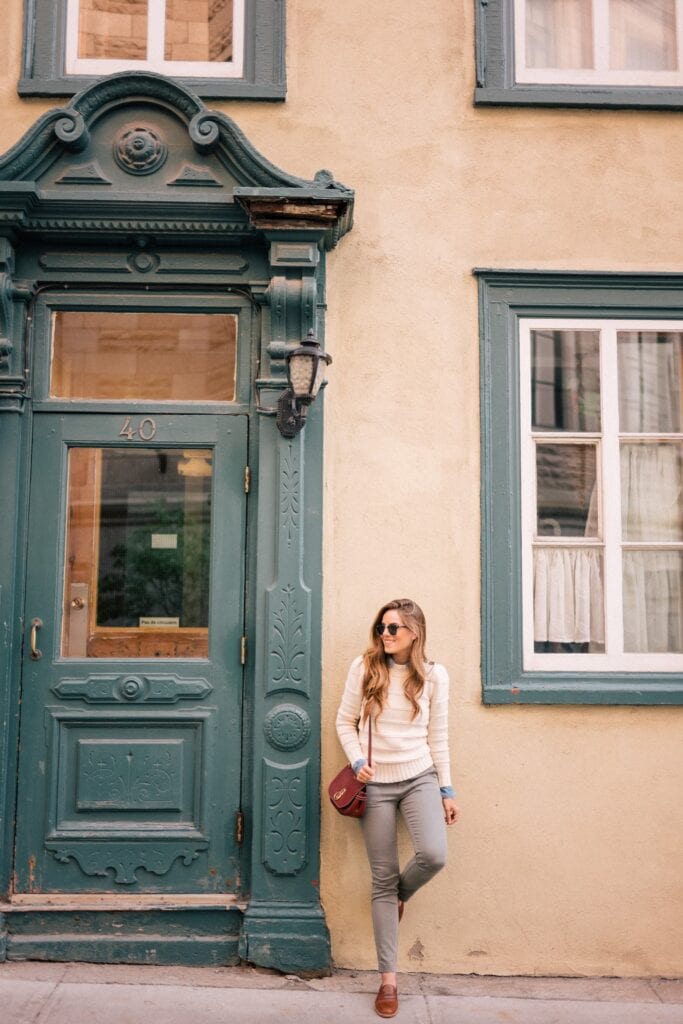 ↓ 8 – Mini Skirt
Mini skirts not only look chic but can be paired with a lot of shirts and sweaters. It is easier to pack some simple pairs of skirts in your suitcase. You can wear them with t-shirts and sweaters as well. Mini skirts go exceptionally well with ankle-high leather boots.
Via
↓ 7 – Tank Tops For Summer
Tank tops are super comfortable and can be styled in many ways. They are best for summery locations and go best with shorts and denim jeans. They can also be styled with baseball caps and hats. Do have a look at these 16 Cute Outfits with Tank tops.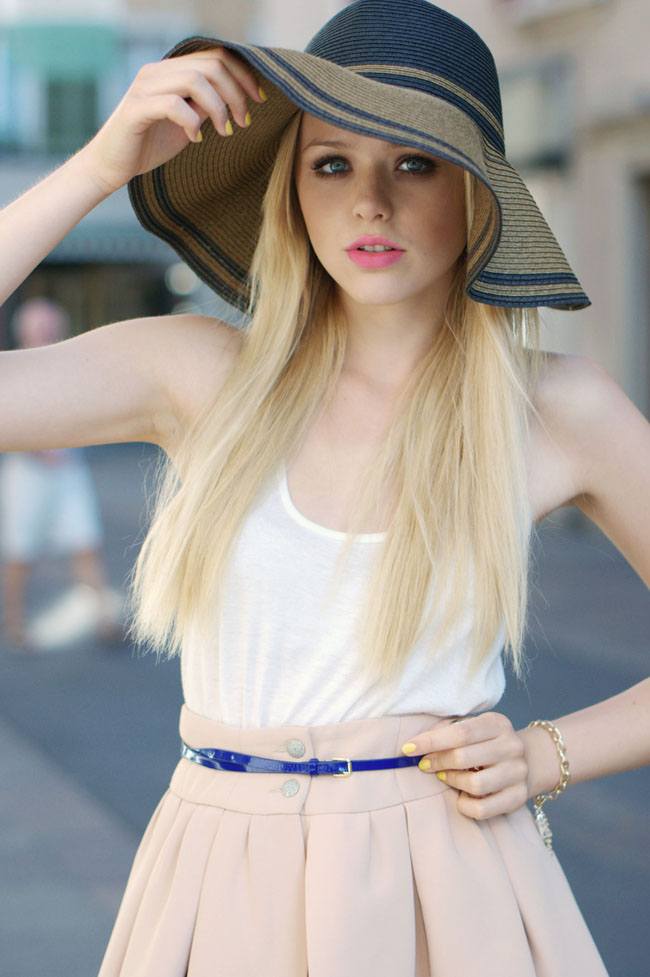 ↓ 6 – Jewelry
Do not carry a lot of jewelry pieces with you as you won't be wearing them most of the time, and there is always a risk of losing them while you are traveling. Keep a pair of statement earrings and necklaces for days when you need to go somewhere fancy.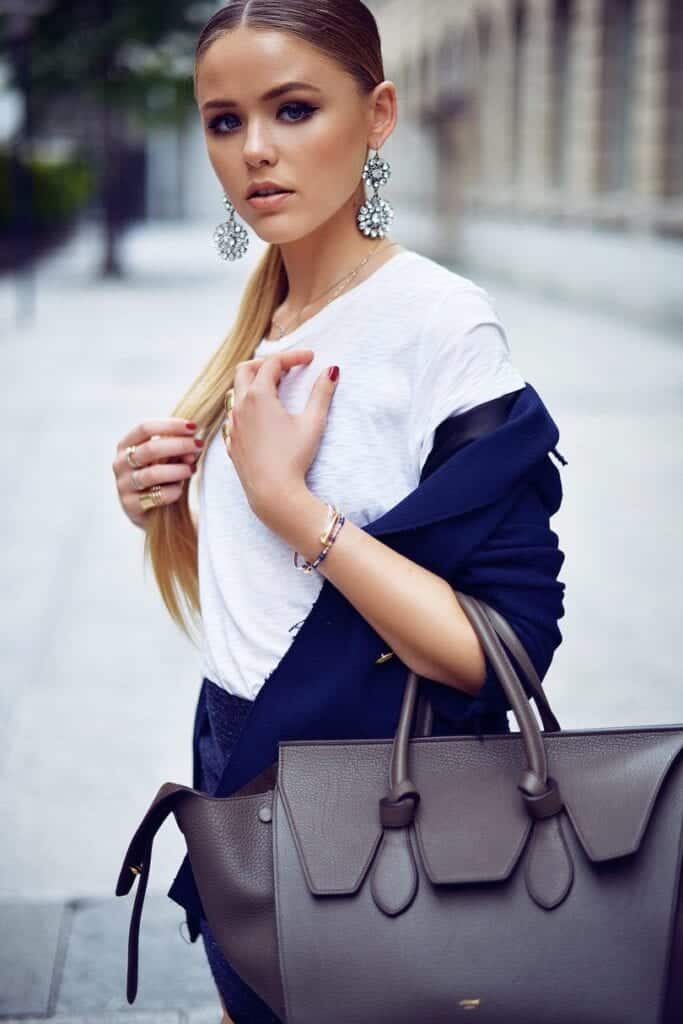 ↓ 5 – How To Style A Slip Dress
Slip dresses, especially the ones in satin, are super fashionable. Pair it with a contrasting top to bring out the best look. They look best in the spring season and radiate positivity and grace. Here are 20 Ideas How to Dress for Road Trip.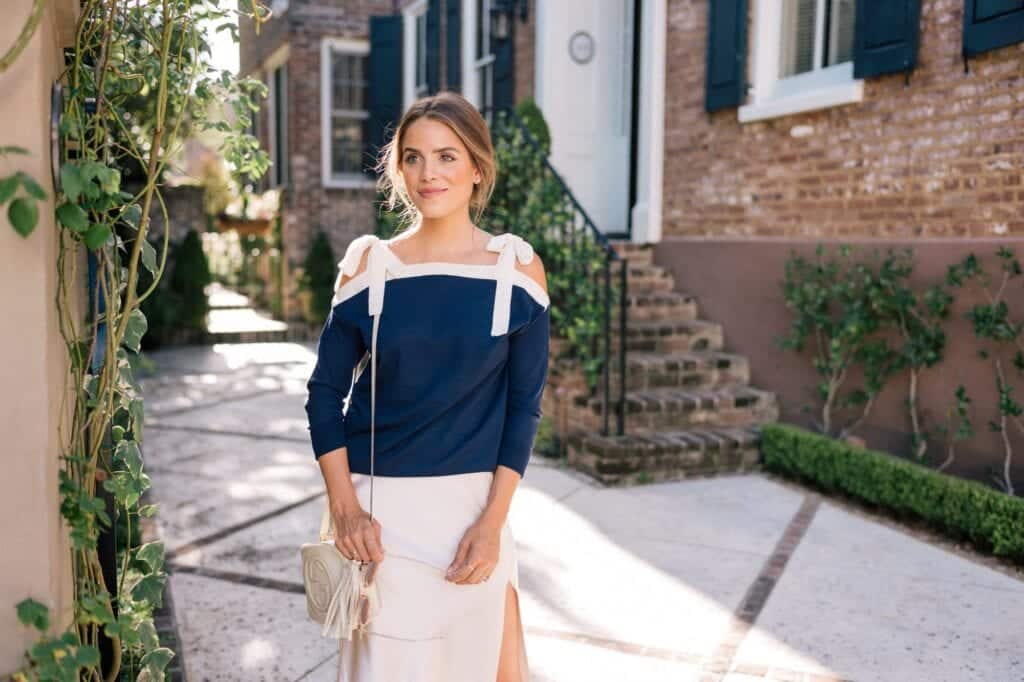 ↓ 4 – What To Wear For Tropical Honeymoon
If you are going for a tropical honeymoon, you need one of these tropical printed skirts. Tropical outfits should be colorful and bright. They give off a charming vibe, and we are sure you and everyone else will love your look.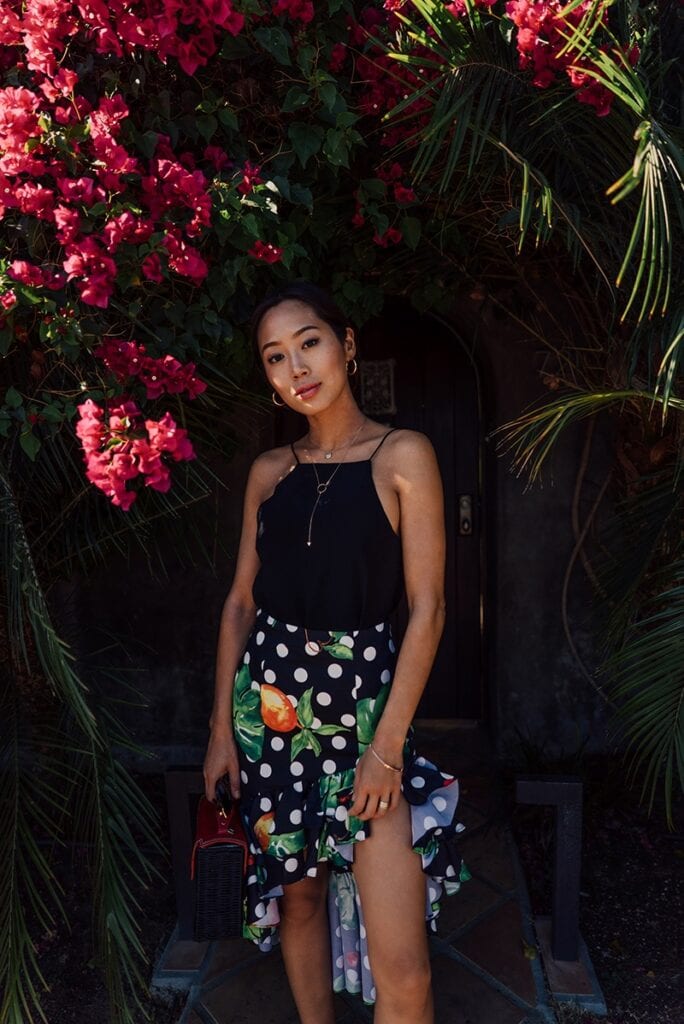 Via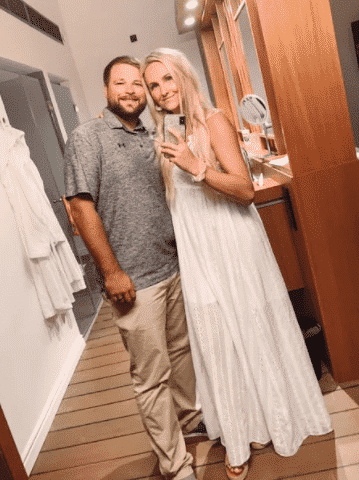 ↓ 3 – Button-Down Shirts To Stay Comfy
White silk or buttoned linen shirts can come in handy for days when you want to keep things casual. These shirts look a little formal but are always trendy. They can be paired with wide-legged pants and skin-fitted denim jeans. Here are 18 Ways To Wear White Shirts For Girls.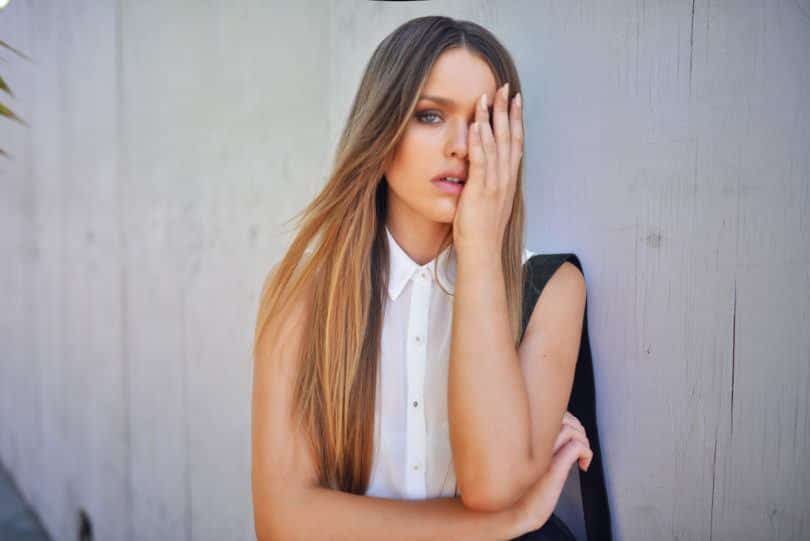 ↓ 2 – Shoes To Wear
Heeled boots look amazing, especially the ones in knee-length. In winter, you can wear them with an appropriate sweater and leather pants. You can also wear chunky sneakers or leather boots. Moreover, ankle-high combat boots also look trendy and cute.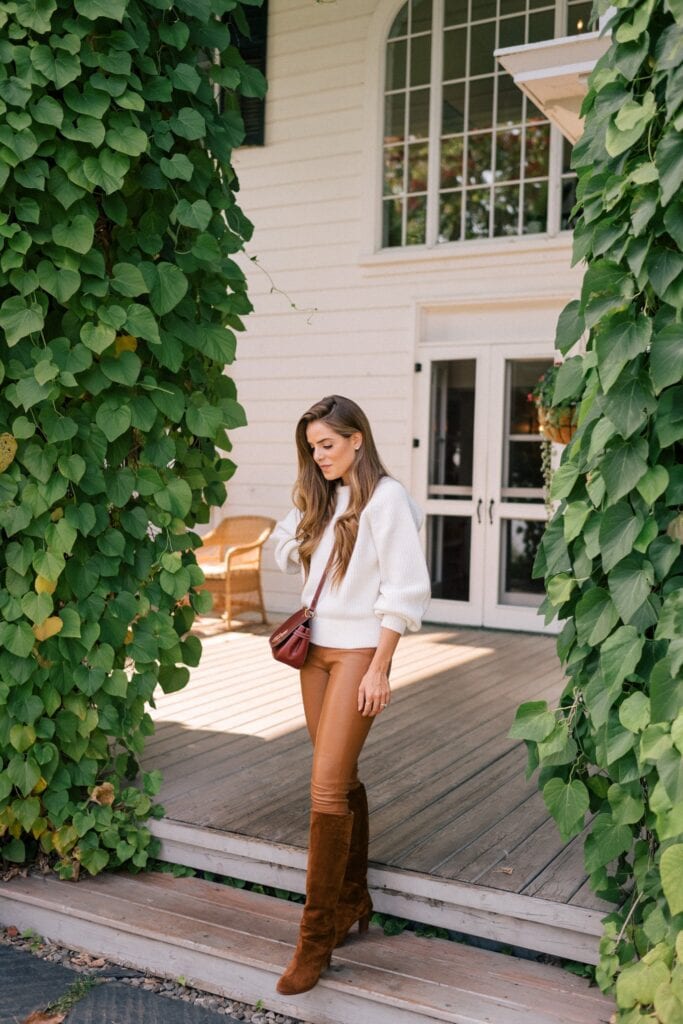 ↓ 1 – Makeup Routine For Honeymoon
Keep your makeup minimum and let your skin breathe, especially if you are in the tropics. You would not want to look overdressed! So, keep a light hand when it comes to your makeup. Pack as minimum makeup as possible, but do not forget to bring on your honeymoon your face and skincare products.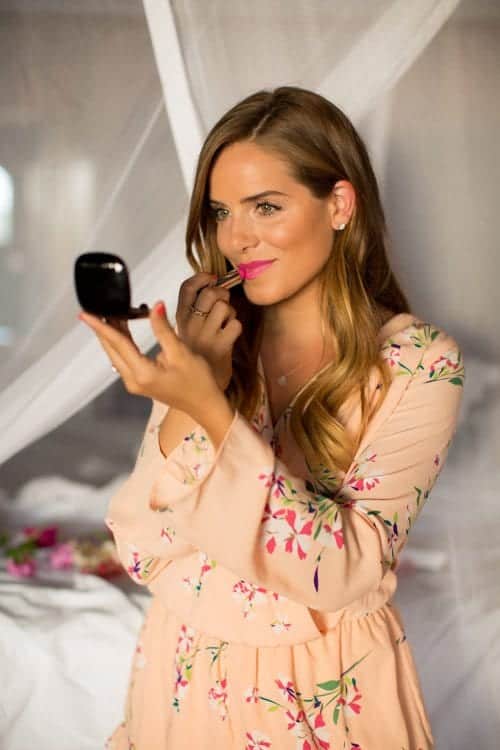 Frequently Asked Questions
Some questions and answers related to honeymoon outfits-
Q.

What should I wear for my flight on my honeymoon? 

A. The best thing to wear to an airport is loose clothing. You can pair loose sweaters with loose sweatpants and keep a jacket to keep yourself warm and comfortable. Also, do not forget to wear comfortable shoes or slides. You can get some more ideas from our earlier post on Women's Outfits for the Airport.
Q.
How many outfits should I pack for my honeymoon?
A. The number of outfits that you pack for your honeymoon depends upon the number of days that you are going to be on vacation. Overpacking is a hassle that you do not want to get yourself into! So, get a honeymoon planner and take limited clothing items with you.
Q.
How many pairs of shoes should I keep in my bag?
A. Although packing shoes may be a difficult task but if you pack smartly, its never a problem. You can pack a simple pair of sneakers, neutral-colored heels, and some flipflops. This footgear might be enough to mix and match with all your outfits.
We hope this article helped you and provided you with the outfit ideas that you were looking for. What matters most is that you have fun and spend some quality time with your partner, so do not stress about it too much and go with whatever suits you best. If you liked this article, do let us know in the comments section.