Summer Travelling Outfits for Women Over 50: Women in this day and age need to think less about the age brackets that they are going through and more about how to keep themselves healthy and invest in themselves for happy living. It is often seen that we put limitations on ourselves thinking about our ages and that can really affect our living.
To celebrate and acknowledge the 50s that you have successfully reached, we have compiled a list of summer traveling essentials that every woman need on her list because you deserve a luxurious break and need to let yourself get pampered for all the hard work you have done in your life.
How to Choose Outfits for Summer Traveling For 50+
Here are a few tips to keep in mind:
Don't be afraid to wear bold and bright colors in summer.
Don't be anxious if you can't get full coverage because sometimes it can lead towards problems like hot flashes.
Keep things simple and don't overdo patterns or colors as that could spoil your look and kill the factor of subtle elegance.
Invest in great sunglasses and a modern hat.
Keep a few versatile pieces that won't take a toll on you while packing.
Keep comfortable footwear with you for sightseeing.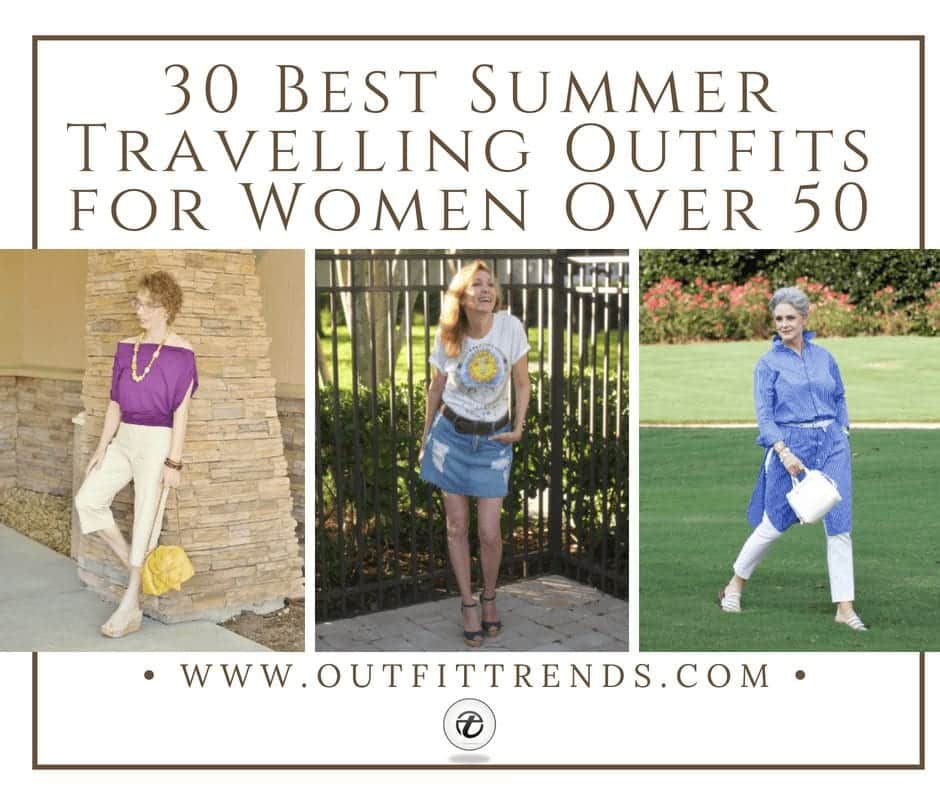 ↓ 30. Stripes for Summer Vacations
Stripes are classy and easy to wear in versatile ways. You can wear a long striped tunic with jeans or pants and it is ideal for summer daytime traveling. The crisp bright tunic will contrast beautifully with light color jeans and you can wear a nice belt to give structure to your waist. For an easy-going look, wear it with stylish pearl sandals and some pearl jewelry. You can find this tunic in green here and the belt here. You can find these pants here. For more fashion ideas, you should also check out these 30 Best Outfits of Female Celebrities Over 50.
↓ 29. Daytime Vacation Outfit
For vacations, you don't only want outfits that are easy to wear but present a modern version of you to the world. In this outfit, you get the best of both the world of the patterns. Style this classic gingham pattern long shirt with sweet lilac houndstooth pants and wear a big buckle logo belt to add a pop of glamour to the whole outfit. You can get the shirt here and the pants here. To accessorize the outfit uniquely you can get this big chunky belt here.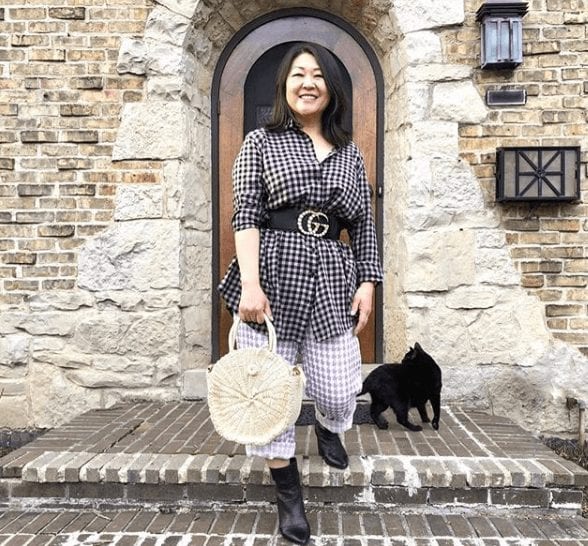 ↓ 28. Relaxing Outfit for Travel
Whilst traveling, you want to take items with you that can be matched together without much ado and keeps you comfortable at the same time. These vintage/geometric print casual tuxedo shirts are not only ideal for day wear, but with beautiful designs are pretty captivating. You can style them with pants or long maxi skirts depending upon your requirement. You can buy this shirt here.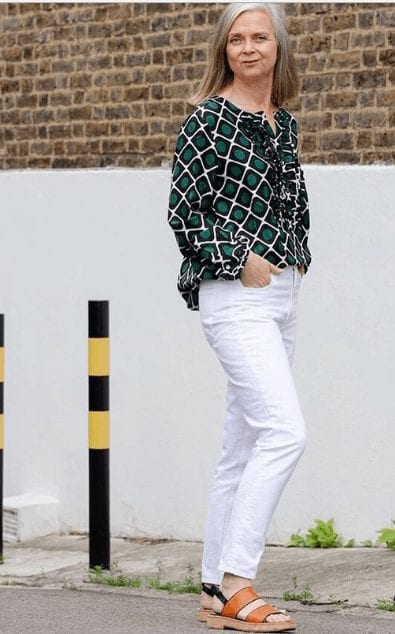 ↓ 27. Beautiful Floral Skirts for Traveling
A vibrant floral asymmetrical high-low skirt is a summer essential while traveling. With the right top, the skirt can really stand out. Choose to wear a white or cream colored shirt with this type of floral skirt and it is modest enough so that you won't feel uncomfortable and chic enough to make you shine like a star. You can find this beautifully styled skirt here.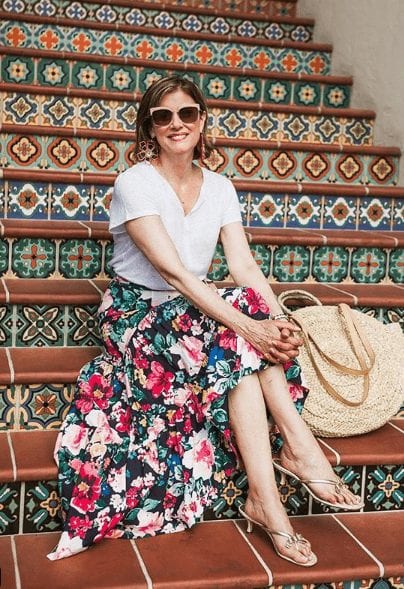 ↓ 26. Perfecting the Basics
Sometimes it is best to go back to the basics and then develop awesome outfits. These high-rise slim fit chinos in honey brown color are best to carry for summer traveling and outdoor trips as you can easily pair them up with any modern top and cuff them for a sweet cropped look. You can get your hands on these ideal chinos here and the crisp white cotton tunic here.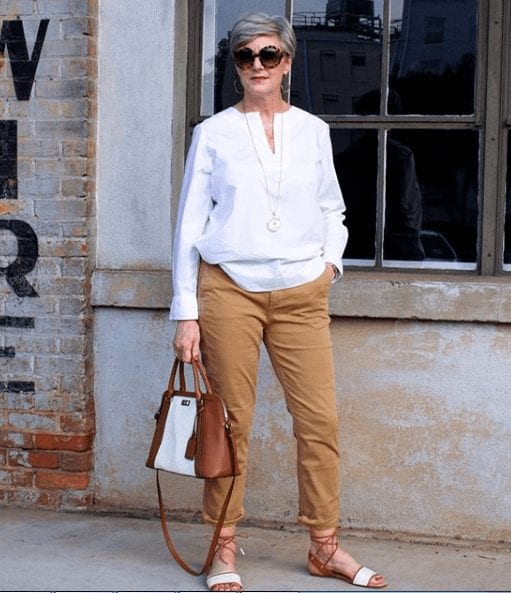 ↓ 25. Summer Tropical Print Dress
You are never too old for funky prints and tropically themed dresses when going on summer vacations because they help you set the mood right. Looking for the perfect dress that suits all shapes and sizes and makes you appear chic and fashionable? This tropical print maxi dress with a V-neck and knot detail on the front is ideal for traveling in the summer season. You can find the dress here.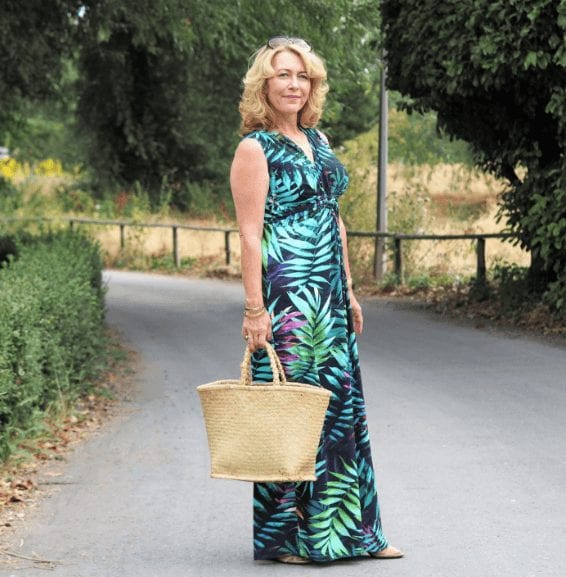 ↓ 24. Travel Wardrobe Over 50
If you are over 50 and traveling during the summer season, you have to be extra careful about the fabrics you are packing because the wrong choices can actually be painful for you and even cause hot flashes. Certain designers and brands cater perfectly to the summer wardrobe needs. Off-shoulder or Shoulder-dipping tops are ideal for summer traveling because they provide you with appropriate coverage for hot weather. You should go for chambray shorts or trousers since they are easy to pack and wear for the summer holidays. You can get this ideal top here and the shorts here.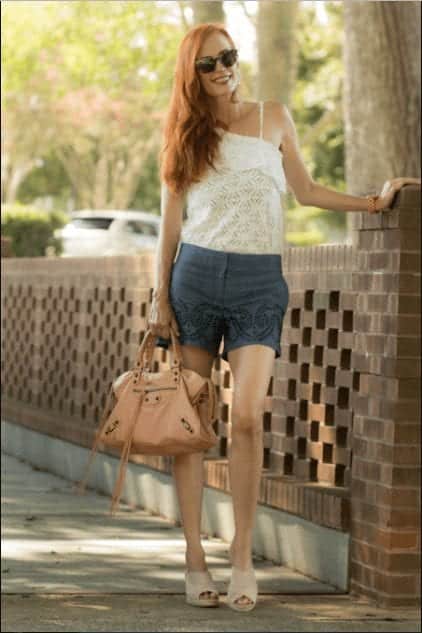 ↓ 23. Resort Wear for Over 50
When you are opting for staying in a resort, you want to appear stylish and yet feel comfortable doing it. Often woman after crossing certain age barriers feel restricted and conscious about their outfit choices and thus we present to you the perfect tradeoff. Go for these bold floral print ankle length pants and style them with a sophisticated plain white top so that you don't feel over-the-top. You can find these pants here.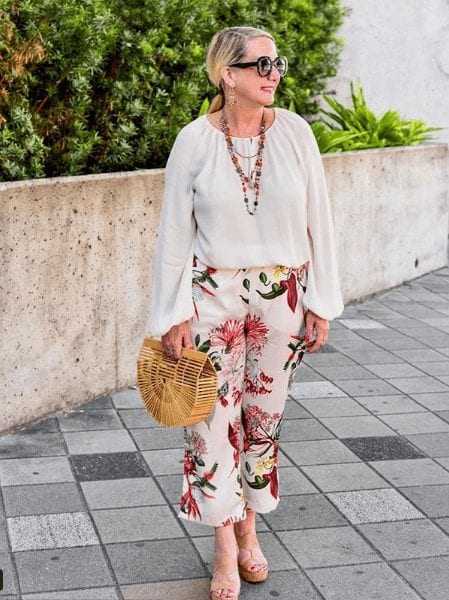 ↓ 22. Summer Retro Look for Traveling
There are endless possibilities of getting inspired by the retro and vintage trends and outfits and to incorporate them in your traveling wardrobe. Polka dots are going huge this year and no one can ignore the sweet romantic touch this print adds to your dress. Whether you are 20 or 50, you can wear a polka dot dress and shine brightly. Try this polka dot dress that you can find here and you can tie a belt around your waist for dressier options.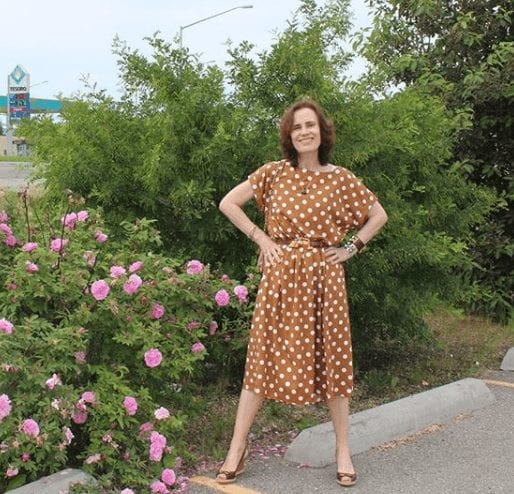 ↓ 21. Capri Pants
If you feel that shorts are not for you, the next best thing is the capri pants. Not everyone sees capri pants as a fashion statement or approve of them, but styling them in the right way can be really rewarding. You have to consider the length and width while buying or wearing capri pants. It is wise to go for fitted tops or off-shoulder tops with capri pants to kill those frumpy vibes people might accuse you of.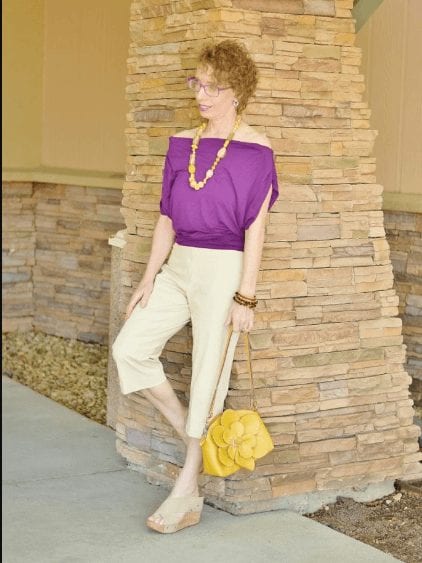 ↓ 20. Cute Tops with Pants
Here are 15 Fashion Tips For Plus Size Women Over 50.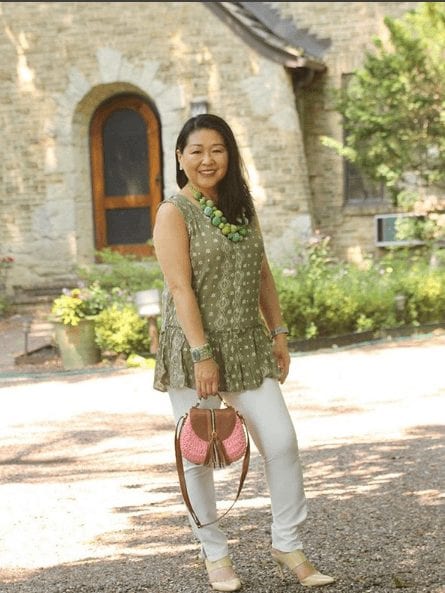 ↓ 19. Dressing Up for Special Events
You might need to attend some special events when you are traveling so it is only wise to pack something gorgeous with you. This beautiful bold colored dress with scalloped edges and off-shoulder style is just the right one to showcase your sassy style. Whether you are planning something elegant to wear at a special event or to look sexy for date night, this dress is all you need to pack in your suitcase for an over 50 sultry look. You can get this dress here.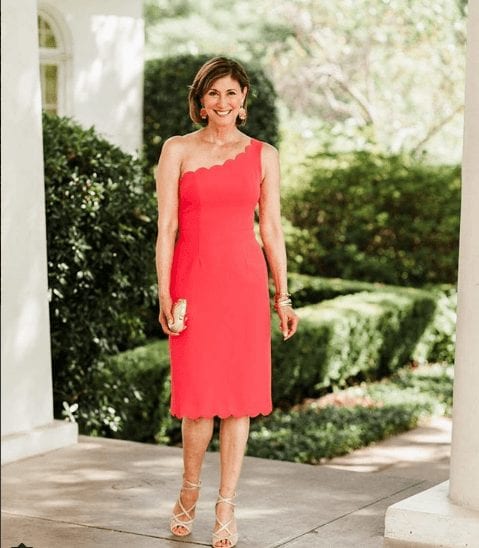 ↓ 18. Blast From the Past
When the whole world is going crazy over the double denim phenomenon, why should you not carry this internationally popular look while traveling? With simple black jeans and classic denim or chambray jacket, you can be the effortless fashionista in a matter of seconds. This look is so versatile and so minimal that it is a perfect one to carry with you for summer trips.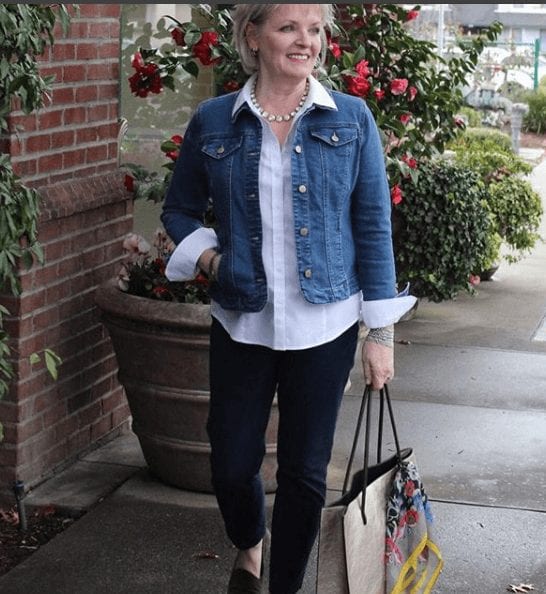 ↓ 17. Versatile Maxi Dress
If subtle colors and modest dressing is your thing, try maxi-cut dresses. This perfectly tailored sleeveless dress with elastic waist and crewneck is ideal in giving you a relaxed looked with its free-floating fabric and design. It is light-weight and easy to pack for summertime traveling and you can get it here.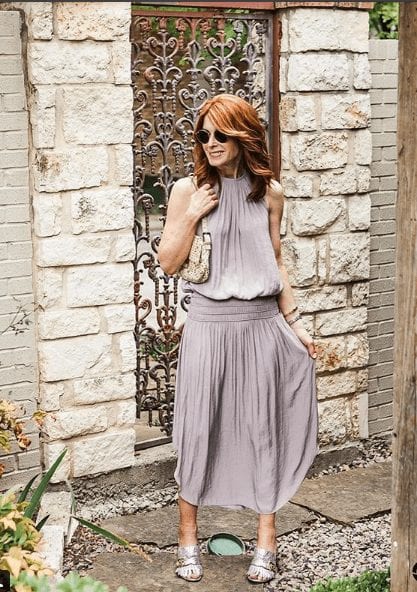 ↓ 16. Chic Overalls
You are confused about how overalls landed on this list when it is for over 50 females? Well, it is time you add some quirky pieces to your summer traveling wardrobe. Overalls are very easy to style and can be dressed up or kept simple. Try these white overalls and wear your favorite cami top under it or you can wear black overalls with a white or black shirt and colorful scarf for a sleek look. Don't miss out these 18 Elegant Work Wear Outfit Ideas for Women Over 50.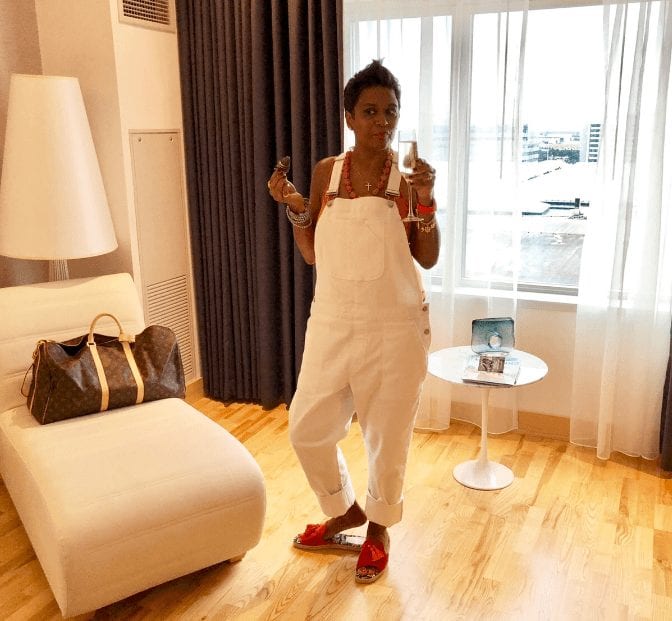 ↓ 15. How to Wear Graphic Tees While Traveling
Why hide behind modest dresses when you can spice things up a notch? Wear this flirty denim distressed skirt for an edgy and whimsical 1970's look with a graphic shirt. Fold the sleeves of the shirt for a typical 1970's look and wear this outfit with your favorite wedges. You can also wear graphic tees with flared jeans for a classic revival of this era.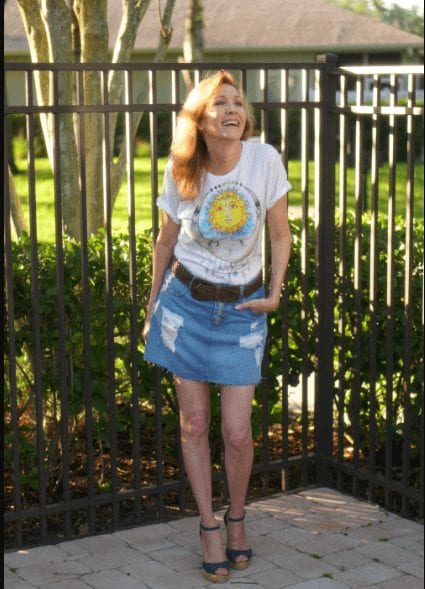 Via
↓ 14. Essential Black Dress
People might say different but in my opinion, a black dress is a woman's best friend. A black dress is something you have to carry because it is so functional and can be styled in a million ways for different alluring looks. It can be worn with sneakers for a casual look and with silver slippers for a modern formal look.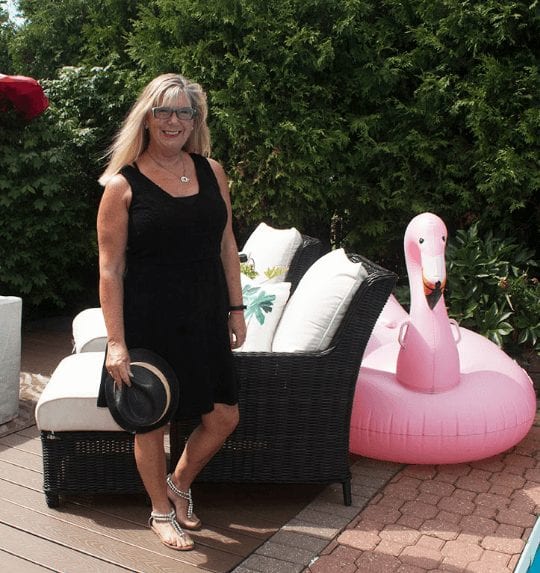 Via
↓ 13. Casual Beach Style
Planning for traveling involving a lot of beach time? Keep a bunch of linen or cotton skirts ranging from the pencil skirt to long maxi skirts and a few shirts to wear with them. You can also try and pack shorts as they will help you beat the heat this summer.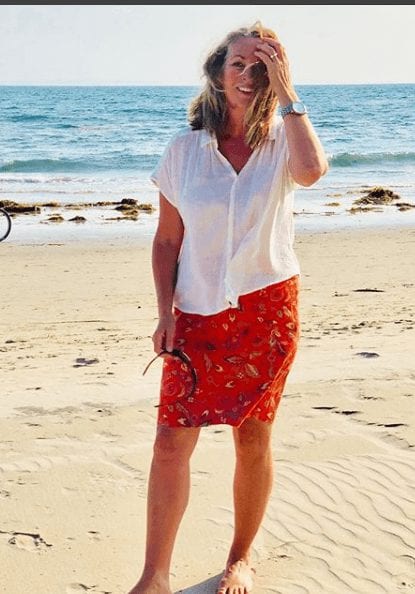 ↓ 12. Stylish Gingham Trousers
Gingham trousers are all the rage this year and you got to be kidding not to carry them while traveling in summer. This pattern has a subtle dignity about it and can be matched and worn with various different tops for great effortless outfits. You can wear it with a white eyelet top or with a bright mustard cami top for amazing looks. It can also be worn with a stylish duster or kimonos.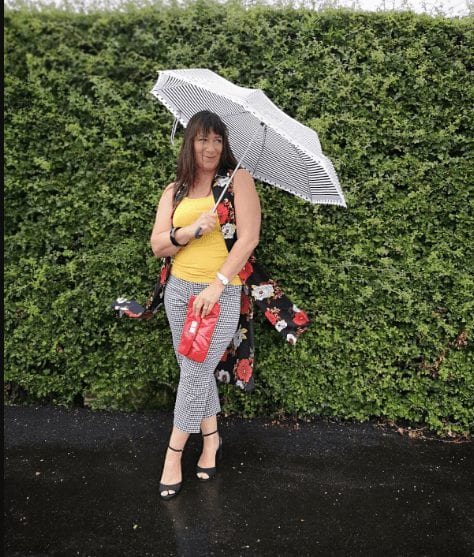 ↓ 11. Destination Wedding Dress
By any chance do you plan to attend a destination wedding this summer? Then we have the perfect dress for you. Whether you are the mother of the bride or a far-off relative or a friend, pamper yourself with this rich embroidered royal blue gown that is not only flattering but also fit for the Queen. You can carry a white or silver clutch with this dress.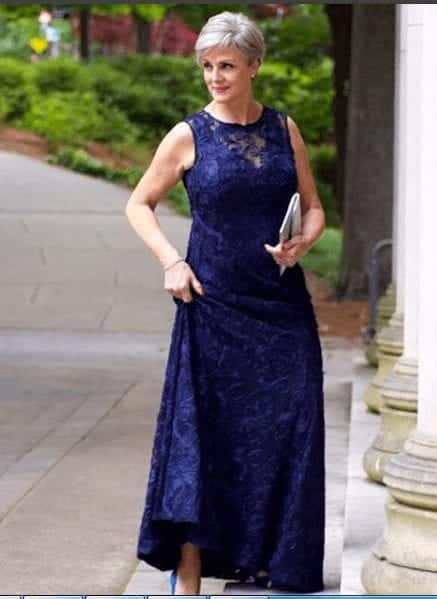 ↓ 10. Bikini for Women Over 50
If you are fifty, be fearless and flaunt your body with pride. Choose the bikini that speaks to you and you shouldn't care about what people might say instead focus on what makes you feel good. Tie a scarf around yourself if you feel conscious or as a Sarong and jump right in! Here are the best Dressing Styles for Women Over 50.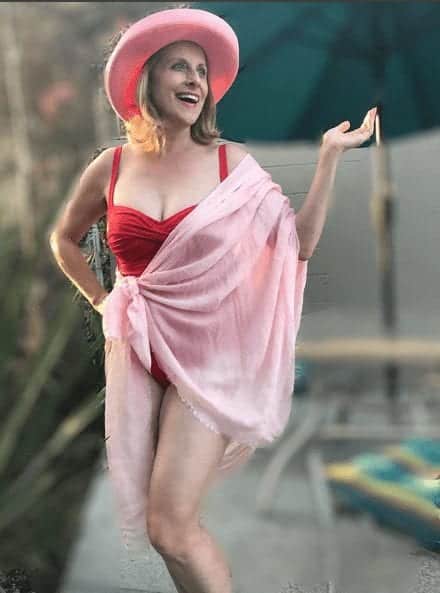 ↓ 9. Gym Wear and Outdoor Sports Clothing
You must carry your gym wear and outdoor sports clothing with you at all times because you never know what opportunities might strike at your door.

↓ 8. Feminine Touch
Who would say no to a nice pink outfit? A ruffled hem pink dress has the ability to brighten up any day and you can easily style it with a denim jacket for a chic look.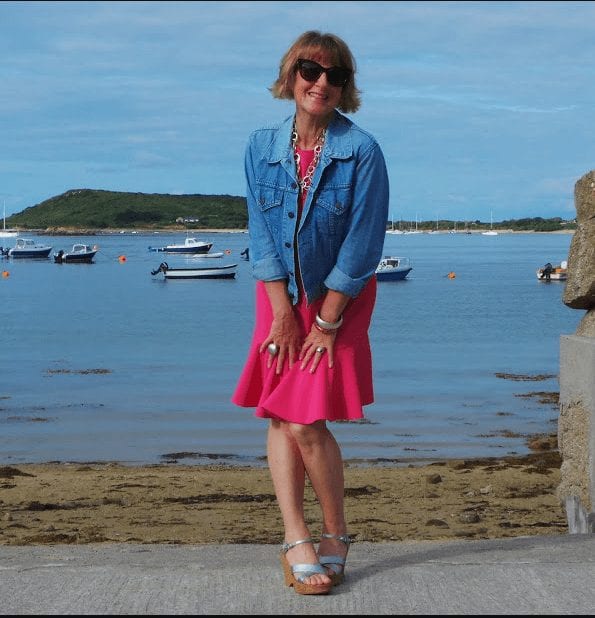 ↓ 7. Kimonos for Traveling
Kimonos are ideal for traveling because the weather can sometimes be unpredictable and you might feel the need to wear something that fights the night chill. Apart from this, kimonos can add a lot to even the simplest of outfits like a graphic tee and cropped distressed jeans. You can wear kimonos with multiple outfits for a summer inspired look.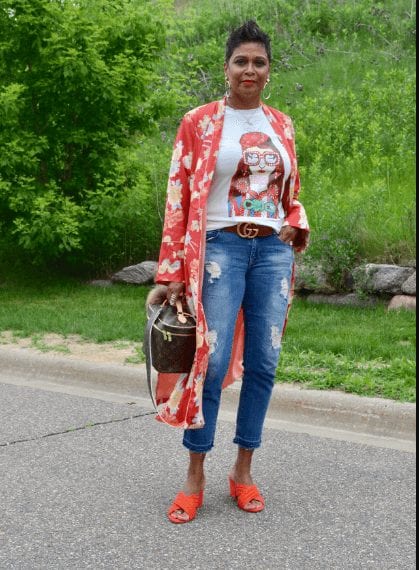 ↓ 6. Comfortable Pajama Set
You can't just not take a comfortable pajama set with you while traveling because it gives you that cozy feeling when you go to bed at night. You can get this comfortable pajama set from here.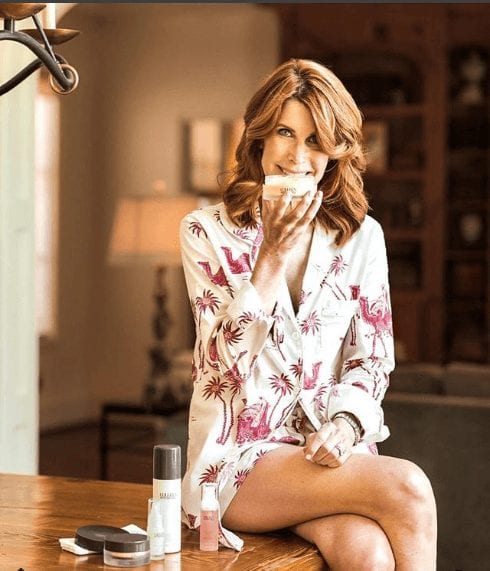 ↓ 5. Keeping Cool with Summer Dresses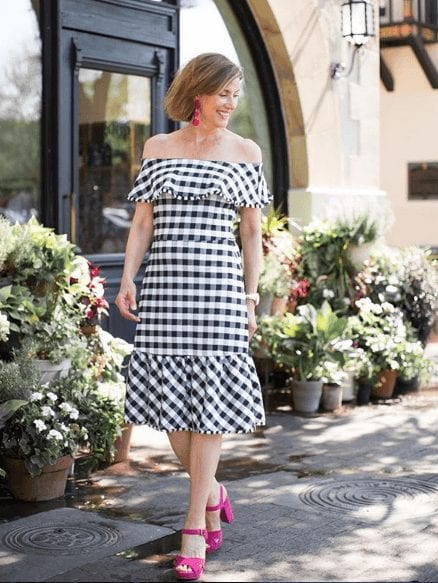 ↓ 4. High Waisted Pants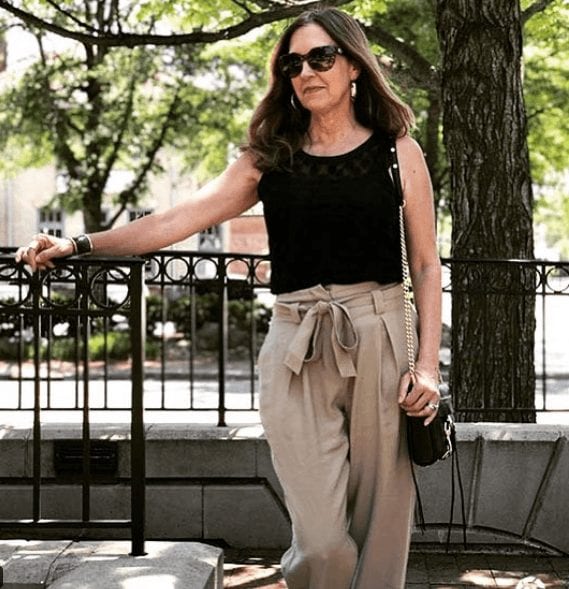 ↓ 3. Floral Camo Pants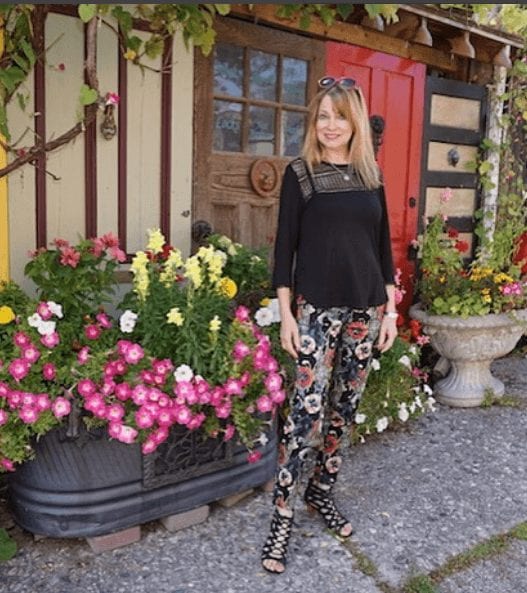 ↓ 2. Accessories
Here we have compiled the list of some great trendy pieces that you can pack with you for the summer traveling this year. These awesome black statement-making sunglasses are a must-have for summers to avoid the glare of the sun and you can get them here. These cute earrings shaped as fans are so splendid that you won't be able to resist wearing them with any dress and you can get them here. Introduce sophistication in your outlook with this multi-tone pearl necklace that you can get here. Lastly, the most loved trend of this year is these iconic bamboo bags and you can get your own and flaunt it this year.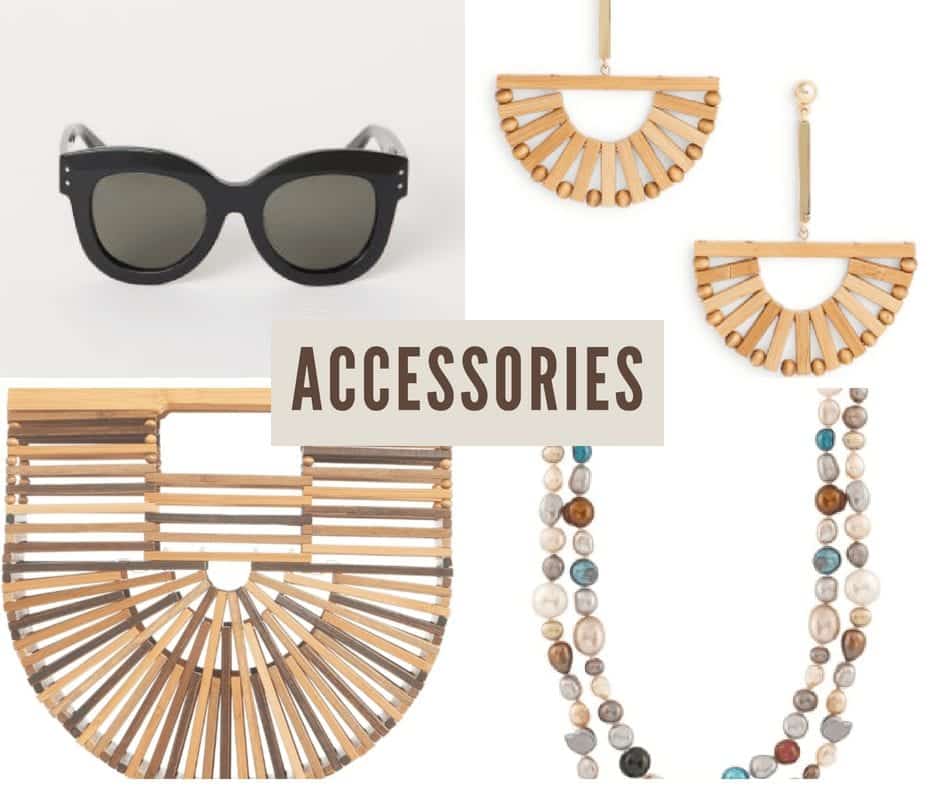 ↓ 1. Footwear
The shoes you choose to wear must be comfortable and perfectly compliment the dress. If you plan to wear lighter shades of footwear or footwear that will go well with any outfit, go with blush colored wedges that you can buy here or these elegant wraparound espadrilles that you can get here.
If you plan to wear something fancy with your dress, you can try these youthful black and white striped block heel with floral details that you can buy from here or these golden greek style sandals that you can get here.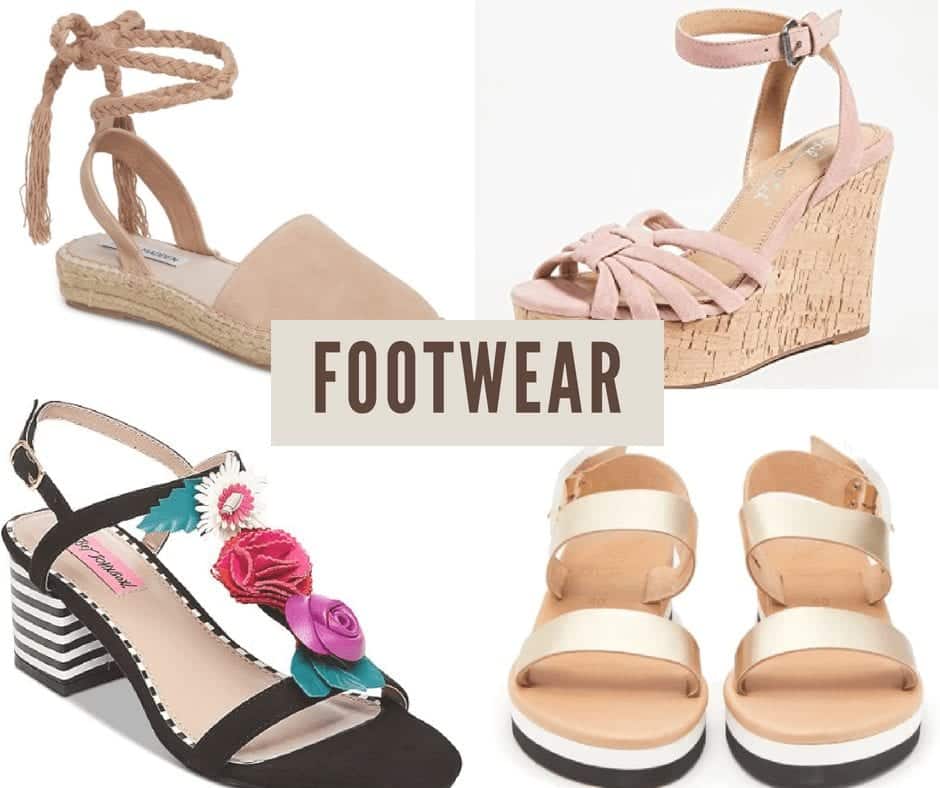 Frequently Asked Questions
Q. What should be the summer wardrobe of a woman over 50?
A. First off, you will need some comfortable shirts or blouses that you would like to wear in the summer. These shirts must be versatile enough to be worn with any type of jeans, pants, trousers, and skirts. Next, you would want to get your hands on some super comfortable jeans because you will get the most out of them. Mom jeans would be a good option and they look good with everything. If you like wearing skirts then you should also grab some of those. Next are summer dresses and bikinis. If you are not comfortable wearing bikinis then you can wear them with a cover-up or just not wear them. Summer dresses will be your best friend because they are light, comfortable, and look stunning at all times.
Q. How to style cotton summer dresses for women over 50?
A. Older women will usually prefer to wear dresses below the knees but if you are not one of those and prefer to keep things spicy then we have something for you too. There are a lot of ways that you can style summer dresses. Such dresses can look good with a colorful scarf wrapped around them. If the dress is plain and the scarf is printed then this will be a gorgeous outfit. If you don't like to show much skin, you can wear a dress with stockings or leggings underneath it. Dresses look cute with sunhats as well. If you are 50+ then you should invest in some hats because they keep you safe from the sun and look cute. Dresses look the best with heels or sandals so pair your favorite dress with either of those.
Q. What is one outfit that all women over 50 need for their summer vacation?
A. If you could only choose one outfit, the best one, for your summer travel diaries we would recommend that it either be a stunning black dress, knee-length and paired with matching black heels. Not stilettos because they would be extremely uncomfortable but rather platform heels or just some black sandals to stay comfortable. Black dresses are always the best and they never disappoint you either. You just have to make sure you pick the right accessories with it and you will have the one outfit that you'll take with you every time you travel.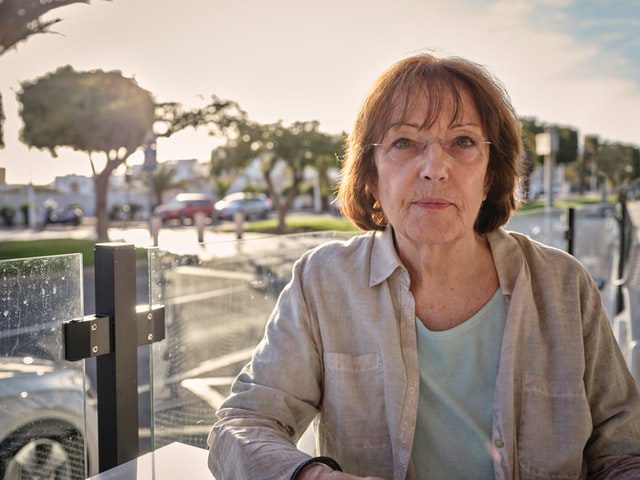 Living my 50s in style doing what I love the most!