Leggings for Women Over 40. Leggings are one of the most comfortable lower clothing, which can be worn both as casually and as formally. Because of the comfort level it gives is much more than pants and even jeans, so all women want to wear them at the office, at get-togethers with colleagues and friends, as well as formal events like weddings etc.
However, women often wonder how to wear leggings outfits with style when they reach the age of 40. At this age sometimes women try to avoid wearing leggings outfits because they are conscious of their legs. Leggings highlight each and every curve of your leg. Usually, they are worn to accentuate the legs and keep them in proportion with the other parts of the body. There are so many ways in which you can wear your leggings, so many options to mix and match and try out new styles. Even if you are chubby from the waist or have curvy legs, pairing up the leggings with the right tops can help you get the comfort of wearing leggings with style. In this article we give tips to wear leggings with style when you are over 40 years of age. Do not hesitate to wear your favorite pair whatever age you maybe of. Here are the styles you can wear.
How to Wear Leggings When in Your 40s, 50s, 60s and Above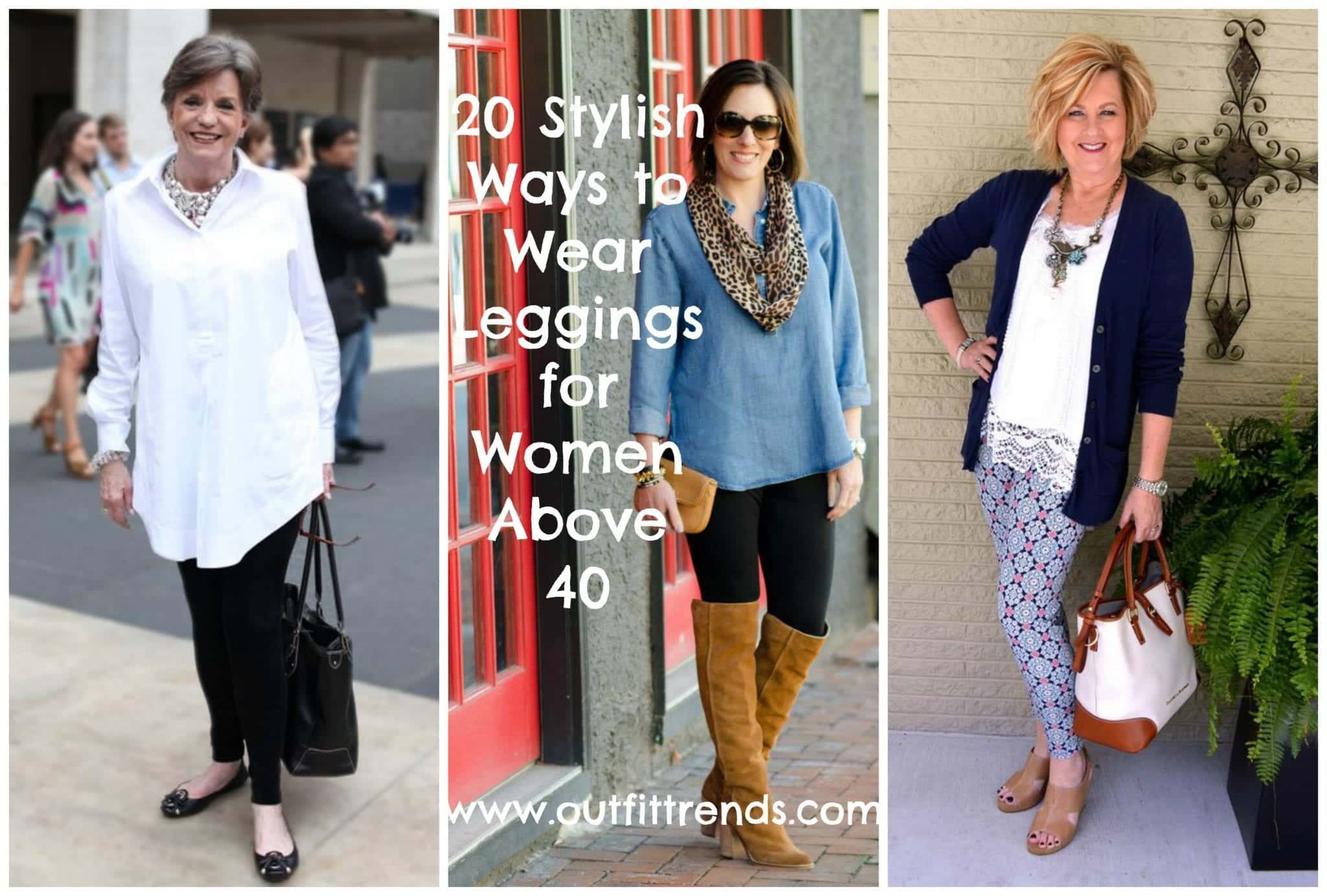 ↓ 20 – The Formal Party Look
Plain leggings, combined with knee length classic formal dresses can keep you comfortable yet looking stylish and elegant at any formal gathering. Pair it with accessories like a necklace or a broach that will be appropriate for the occasion. Even if the dress is plain, pairing it with the right pair of leggings will make it look just right. RECOMMENDED: Women over 40 Outfits; 20 Dressing Styles for 40 Plus Women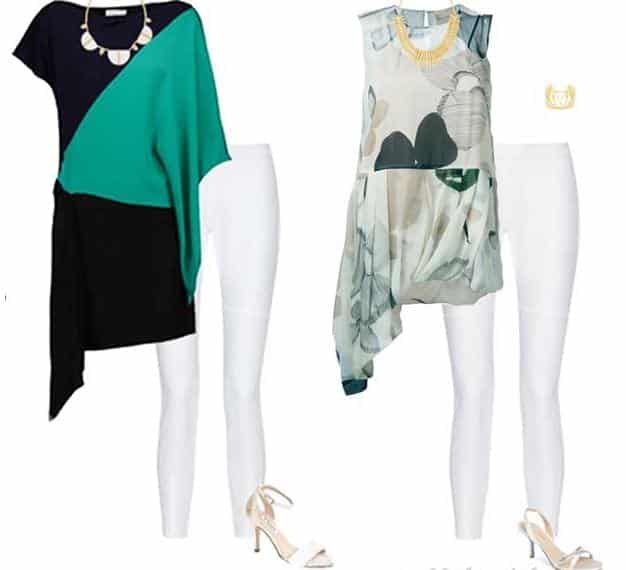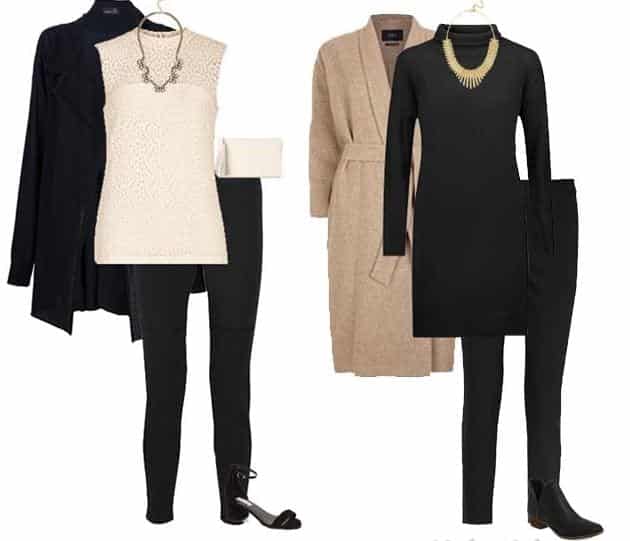 ↓19 – The Everyday Office Look with Legging Outfits
Choosing the right outfit every day for the office can be a hectic job. Here is how you can style up your office look by wearing leggings with semi-formal tops. Make sure the top is not short. It should cover the upper part of the thighs. This length keeps the overall dressing classy and sophisticated.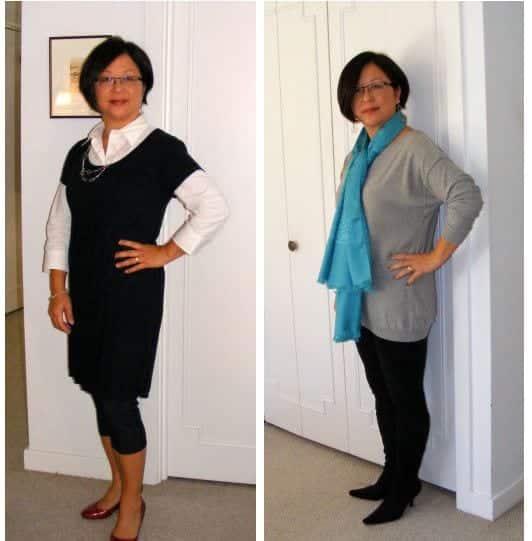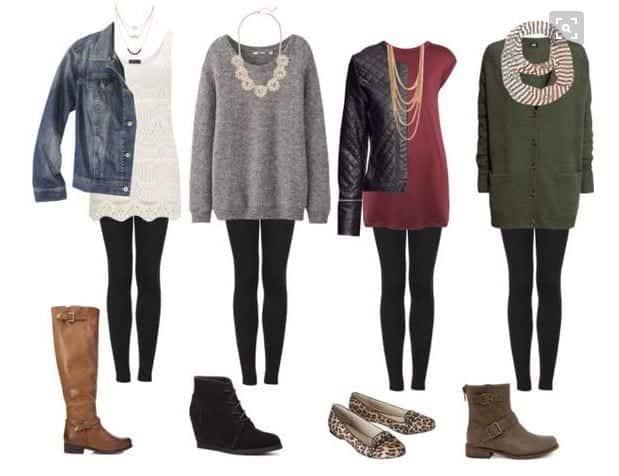 ↓18 – The Classic Color Combination
Black and white never fail to work unless you do something extremely wrong. Wearing the white top and black leggings or the reverse both can work given that you pair the things up properly. Have a look at Office Style For Women Over 50 – 18 Elegant Work Wear Outfit Ideas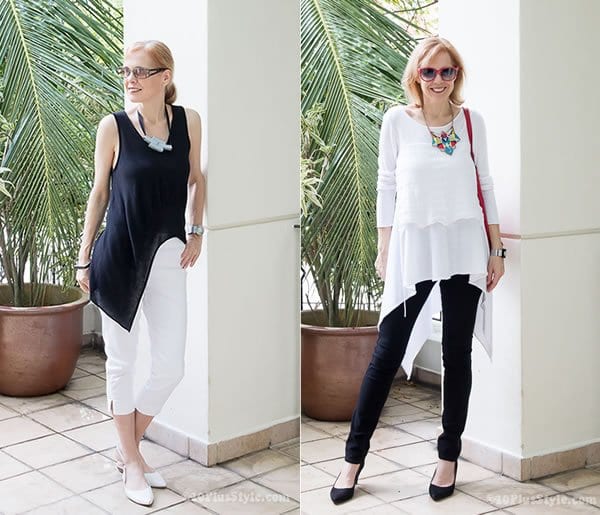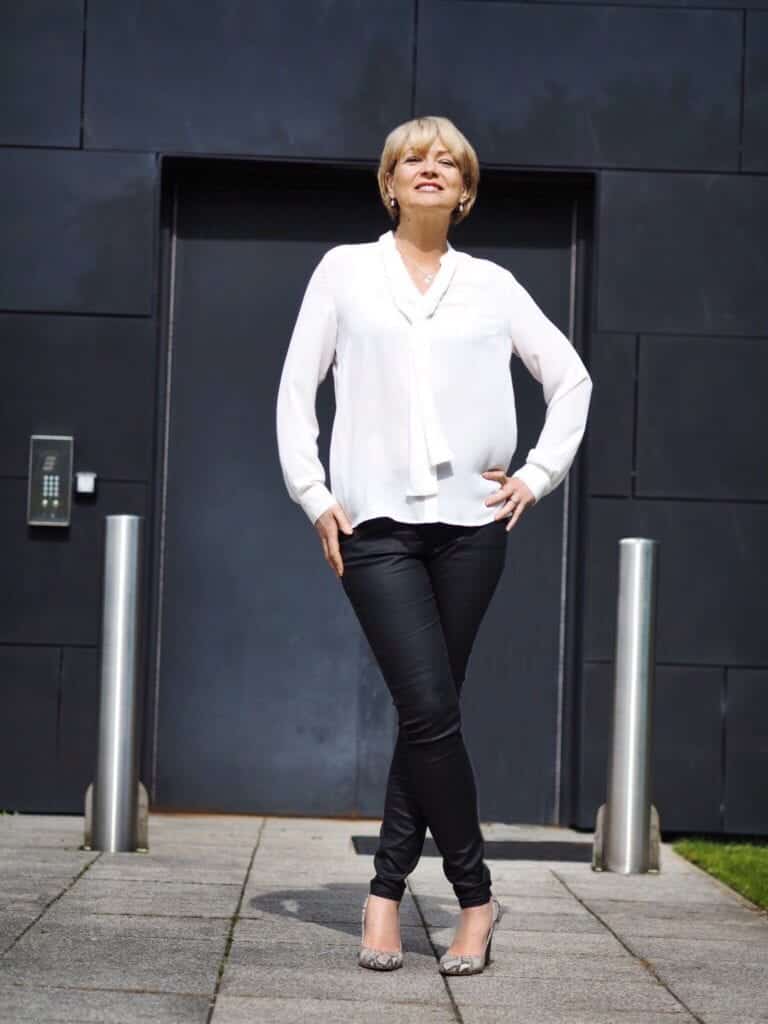 via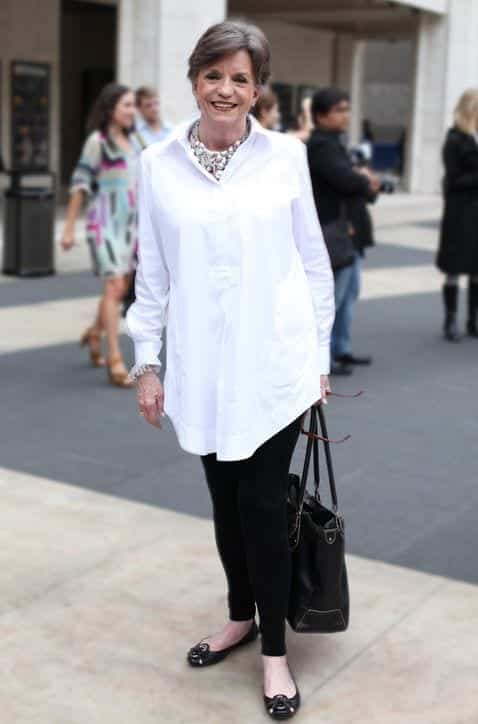 ↓17 – What to Wear with Printed Leggings
Okay, I know that wear printed leggings is a bit tricky and is you are not very careful it can turn to stylish to gaudy in a jiffy. That is why most women over forty stay clear from trying it out. However there so many different varieties and attractive patterns available in the stores and one does feel compel to try them out sometimes. You might have some in the cupboards but do not want to wear because you are afraid to make a bold statement. Here are some nice elegant ways to pull off printed or patterned leggings like a star. RECOMMENDED: Outfits with Printed Tights; Ideas how to wear Patterned Leggings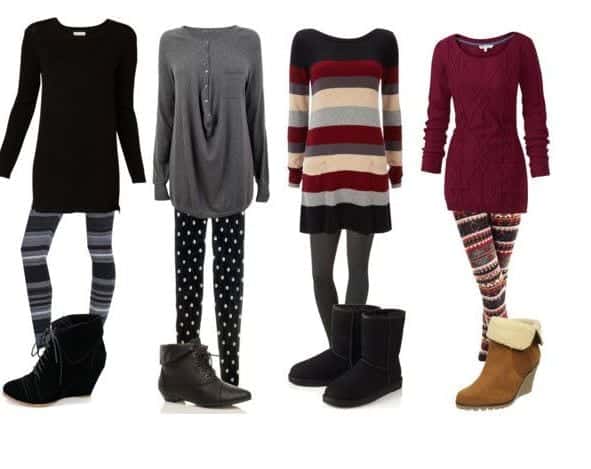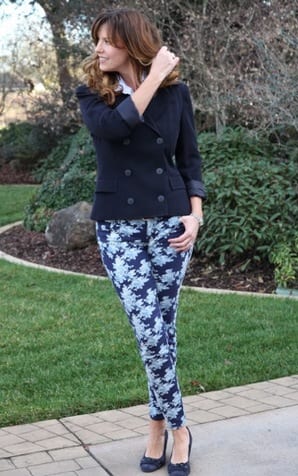 ↓16 – Leather Legging Outfit for Wedding Guest
This is one of the best leggings combinations and has been tried and tested for years now. The good thing is it never gets out of date. In the chilly weather you can feel warm and comfortable and at the same time look smart and chic trying out leggings with wide and long sweaters. Shawl collar sweater and turtlenecks also look cute with leggings and there is no need of any neck accessories if you wear these neck designs. Check out 18 Outfits for Women Over 60- Fashion Tips For 60 Plus Women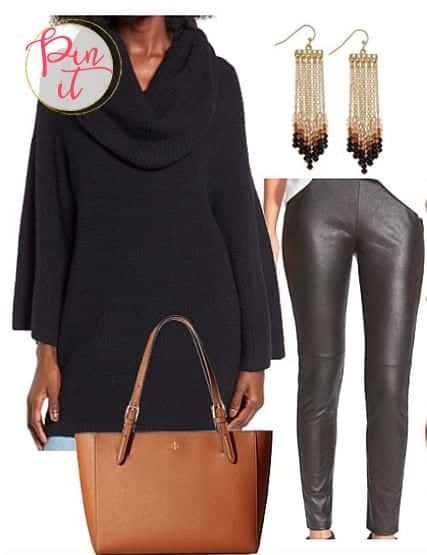 ↓15 –Tunic Dresses Paired with Leggings
If you are afraid to wear a tunic because it is short, pair it up with a leggings in contrasting color. If the tunic is of darker shade, pair the leggings with off white or white or grey. You can use light blue or camel colored leggings too if it goes with your dress. White and black are the safest choices and usually go with any tunic color or style.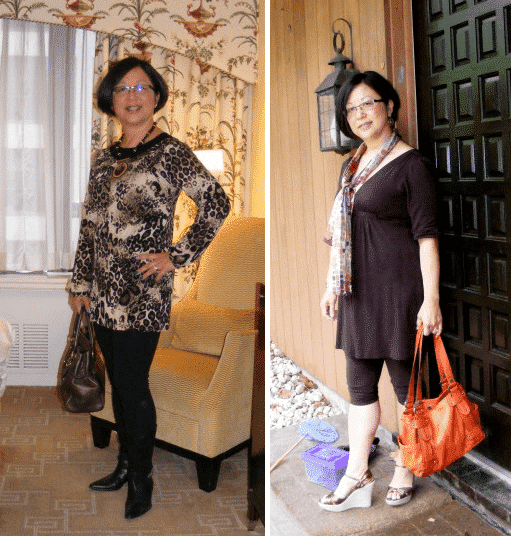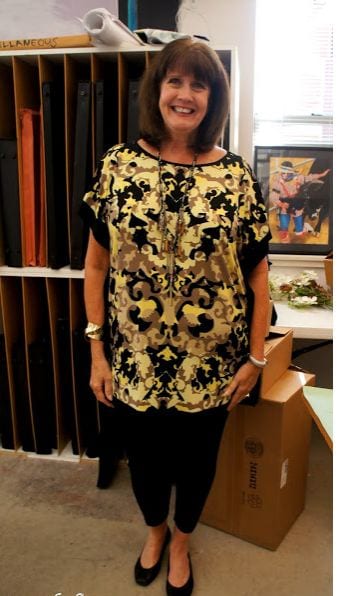 via
↓14 – What Tops to Wear with Leggings
The top with variable lengths looks best with leggings. It may be longer at sides or long on one side and short on the other, or have varying length on the front and the back but if you pair with a nice leggings it will look good on you. Wearing a top that has variable length is sometimes not easy for women because of nonconformity but as you can see in the pictures below, it is looking chic, stylish and perfectly normal paired with leggings. RECOMMENDED: How to Wear Velvet Leggings-18 Cute Outfits with Velvet Leggings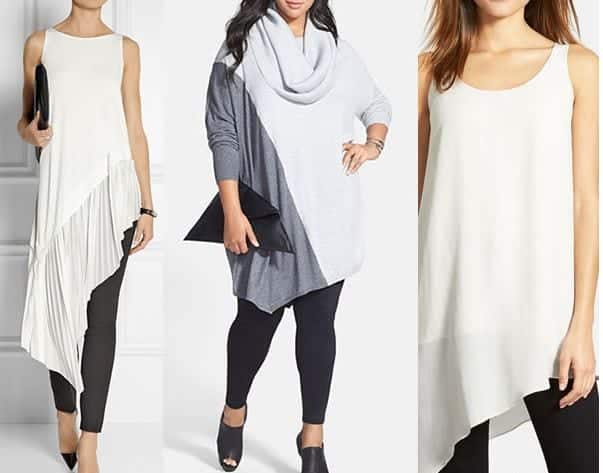 ↓13 –With jackets and drapes
Pairing leggings with a jacket and drapes is also an easy never fail combination. You can try jackets of any lengths, leggings will look good with them.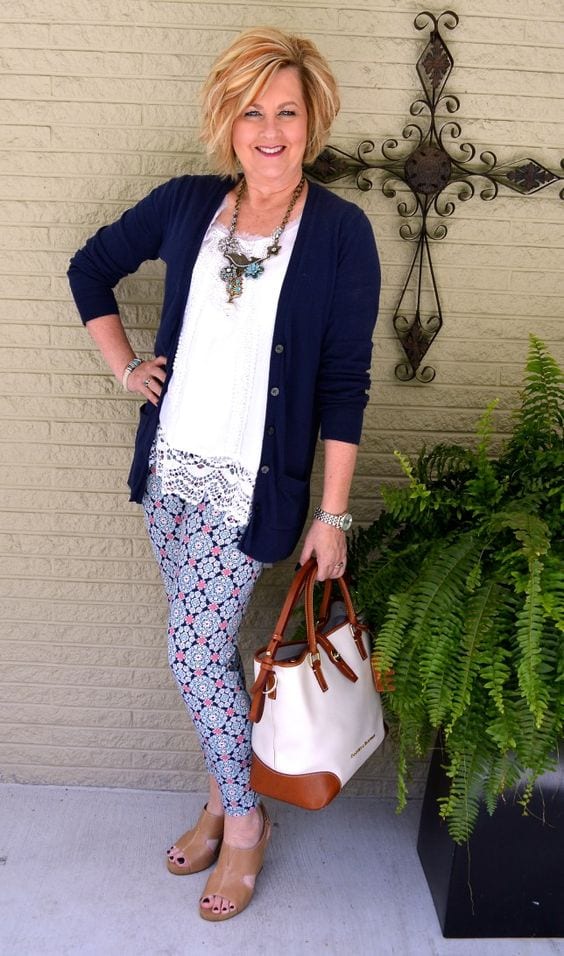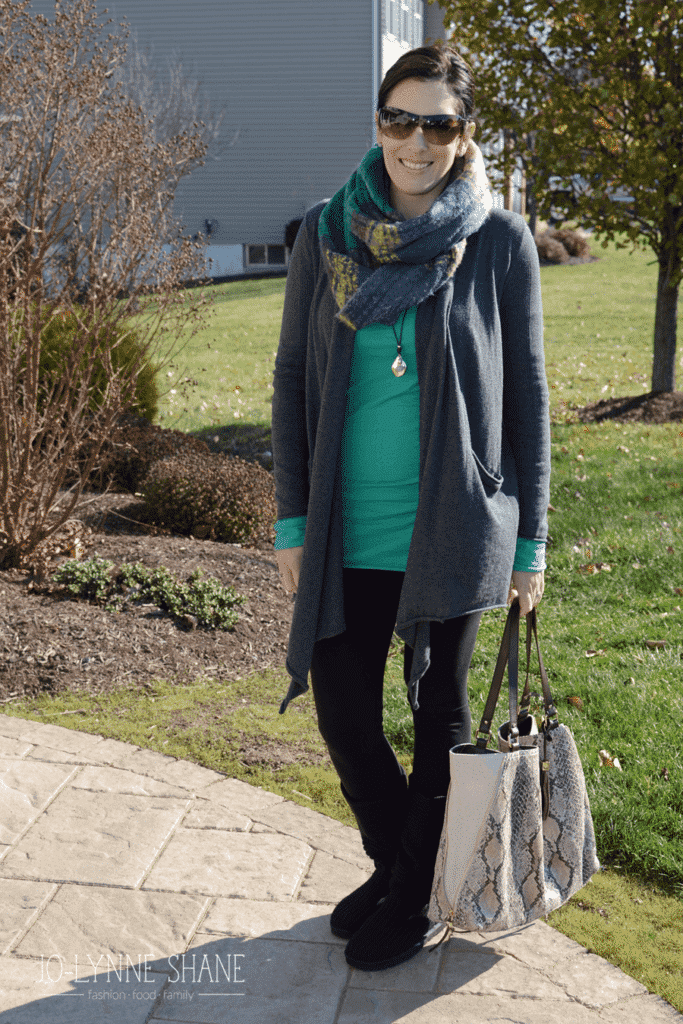 ↓12 – How to Accessorize Legging Outfits
As leggings are tight and skin hugging, any flowy and loose tops will look good with them. If the top is tight too, use a beautiful shawl to complement the outfit.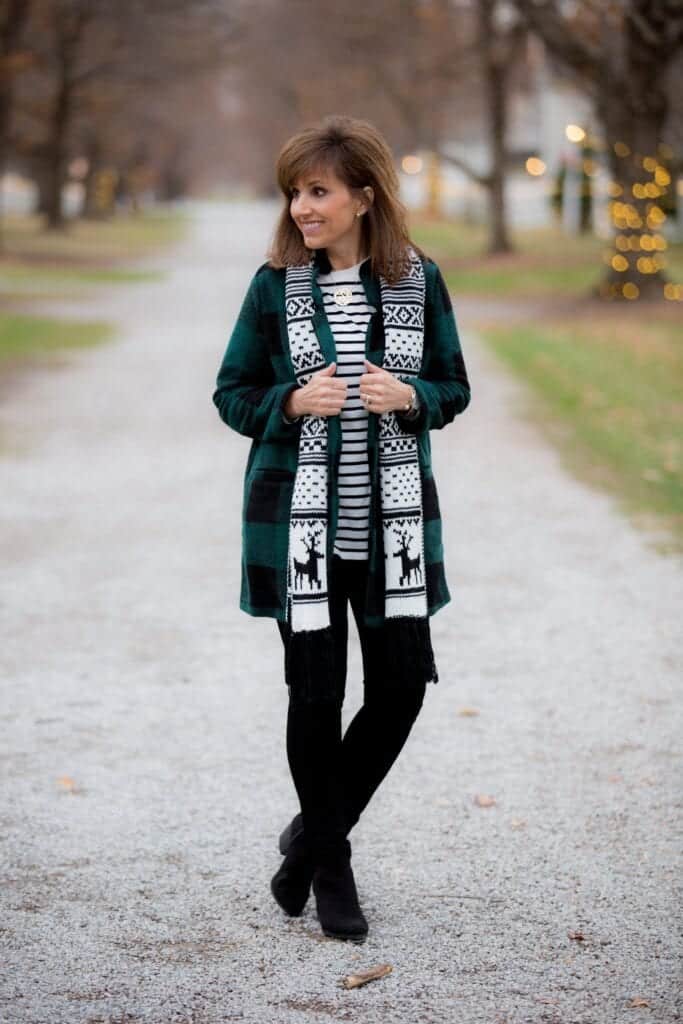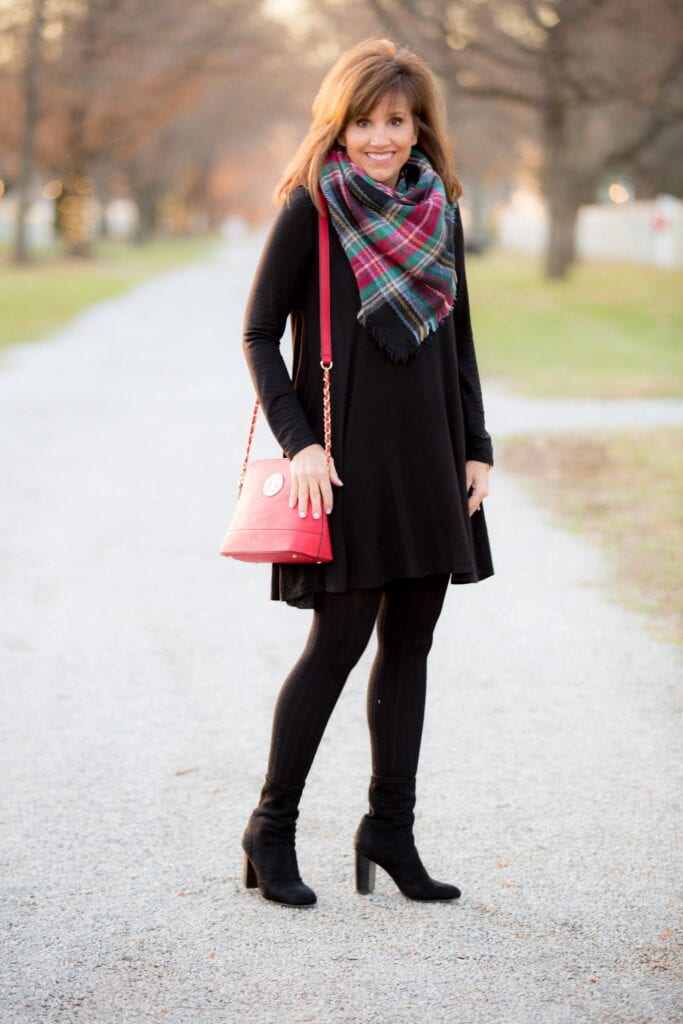 ↓11 – Shoes to Wear with Leggings
Even if you have chubby calves and you are afraid to wear leggings, then pair them up with the high boot. They can be longer in length or shorter, whatever suits you is good with leggings.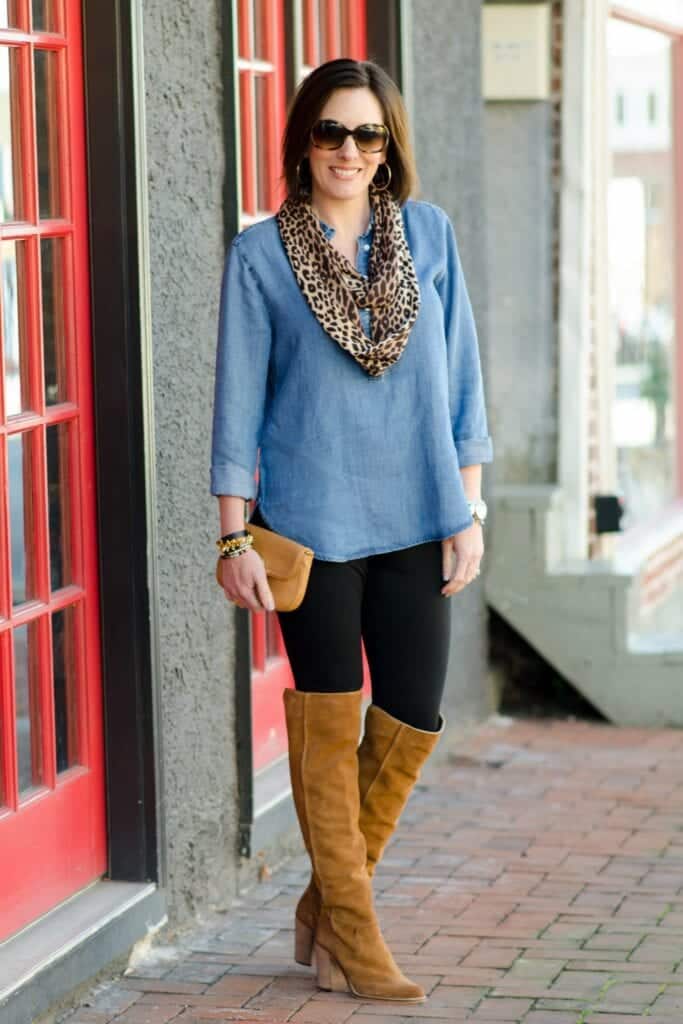 ↓10 – Belted Waist Long Tops
Wide and flowing tops with waist belts look great if you have a thin or medium sized waist. Pair it with leggings and you have the trendy and stylish look ready.
↓ 9 – Off Shoulder Wide Tops
Pairing the leggings with off shoulder long tops, sweaters or tunics with leggings will make you ready for evening parties or dinners.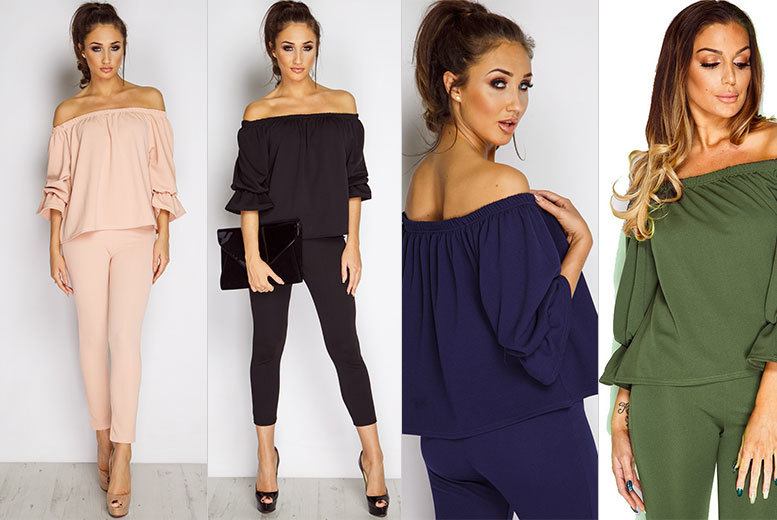 via
↓ 8 – Capri Leggings for Outdoor Activities
Capri has shorter length so they look better in lighter shades. Don't wear a too long top with them.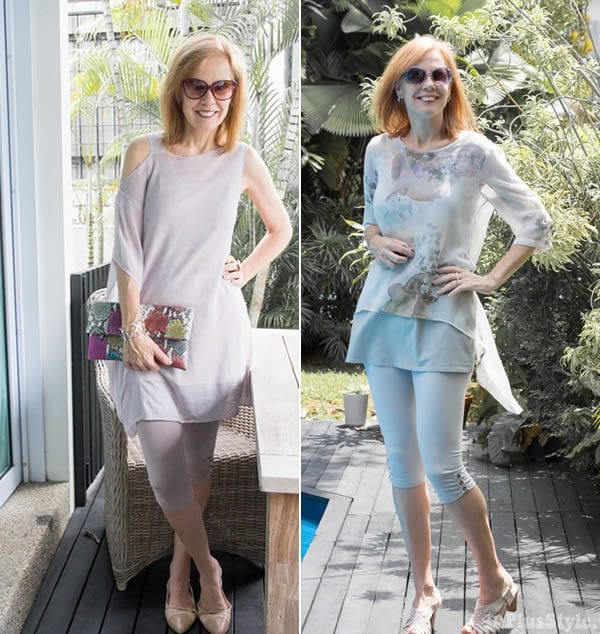 ↓ 7 – Striped Leggings
Striped leggings look good with plain tops. Be careful about the color combination, though.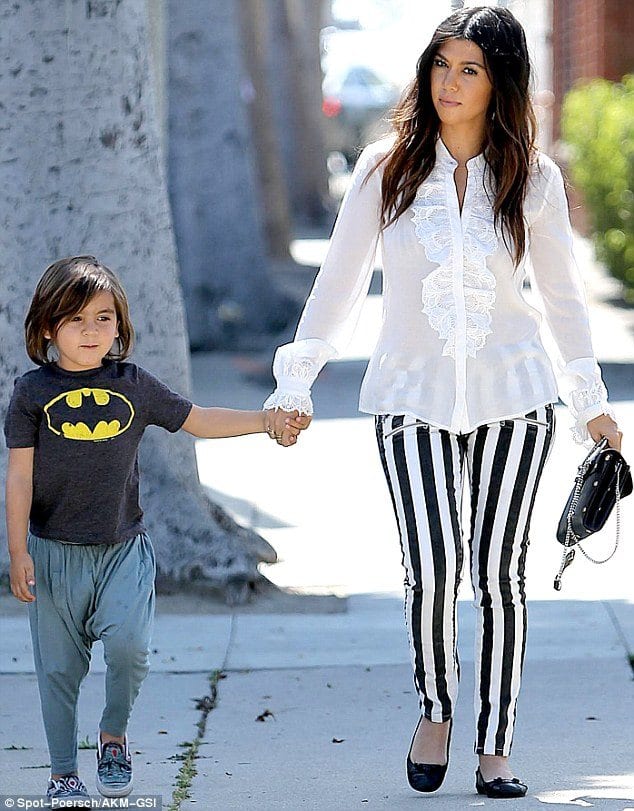 ↓ 6 – High Heels and Leggings
If you have highly toned and beautiful legs nothing accentuates them better than leggings with high heels.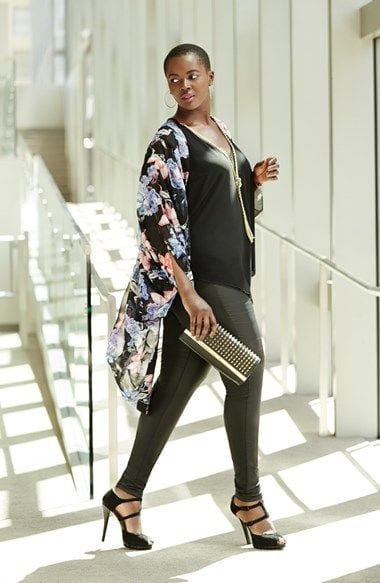 ↓ 5 – Leggings with Dresses in Winter
Knee length and thigh length dresses look great with leggings. You can layer them with a sweater and muffler to stay warm and comfortable all day long. 20 Cute Outfits To Wear With White Tights/Leggings This Season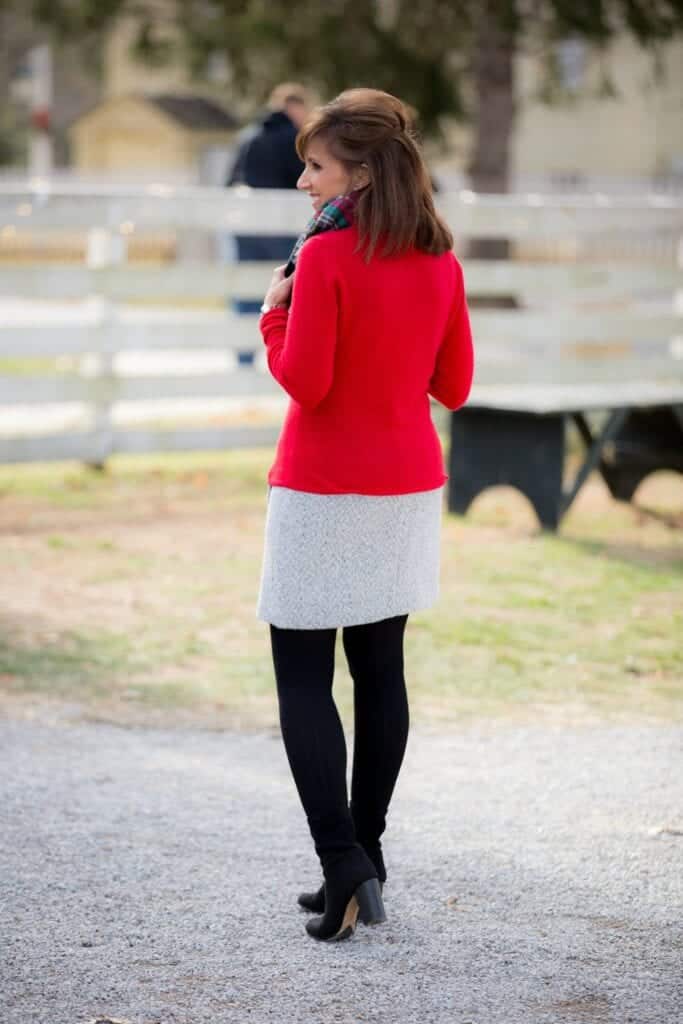 ↓ 4 – Leather Leggings for a Change
You can also try out the leather look leggings for a change. Although the comfort level is not that much, but they give a very upbeat look.
↓ 3 – Black Legging Outfit for Plus Size Women Above 40
No matter how bold or patterned your tops are, it can tone down with a matching or contrasting leggings. Here are 33 Most Creative and Glamorous Leggings in Fashion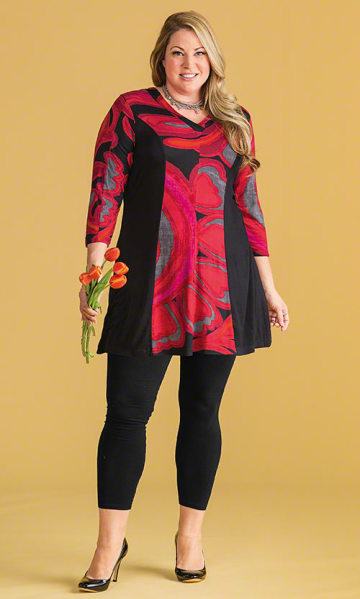 ↓ 2 – What to Wear with Bold Colored Leggings
If you have your heart set on a pink or orange color leggings, remember pairing it with a classy or casual white top can do the trick.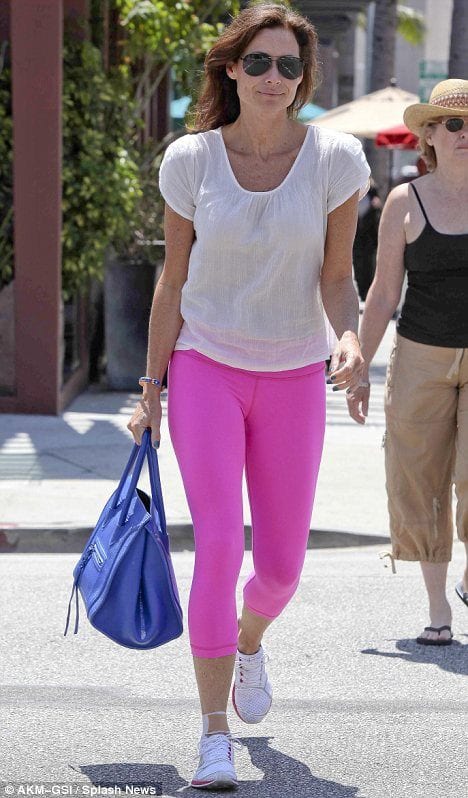 ↓ 1 – Short Sun Dresses with Leggings for Work
Sundresses look great with white or black leggings.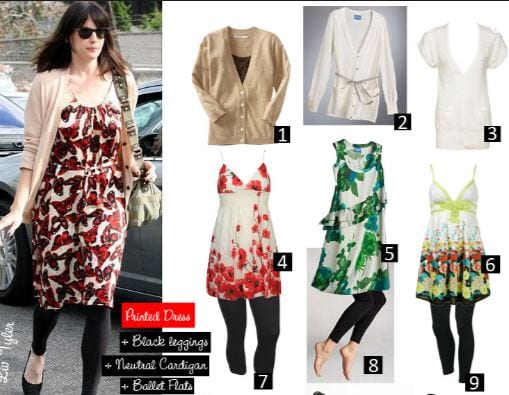 These are some of the outfit ideas with leggings. Let us know how do you like to wear leggings by commenting below.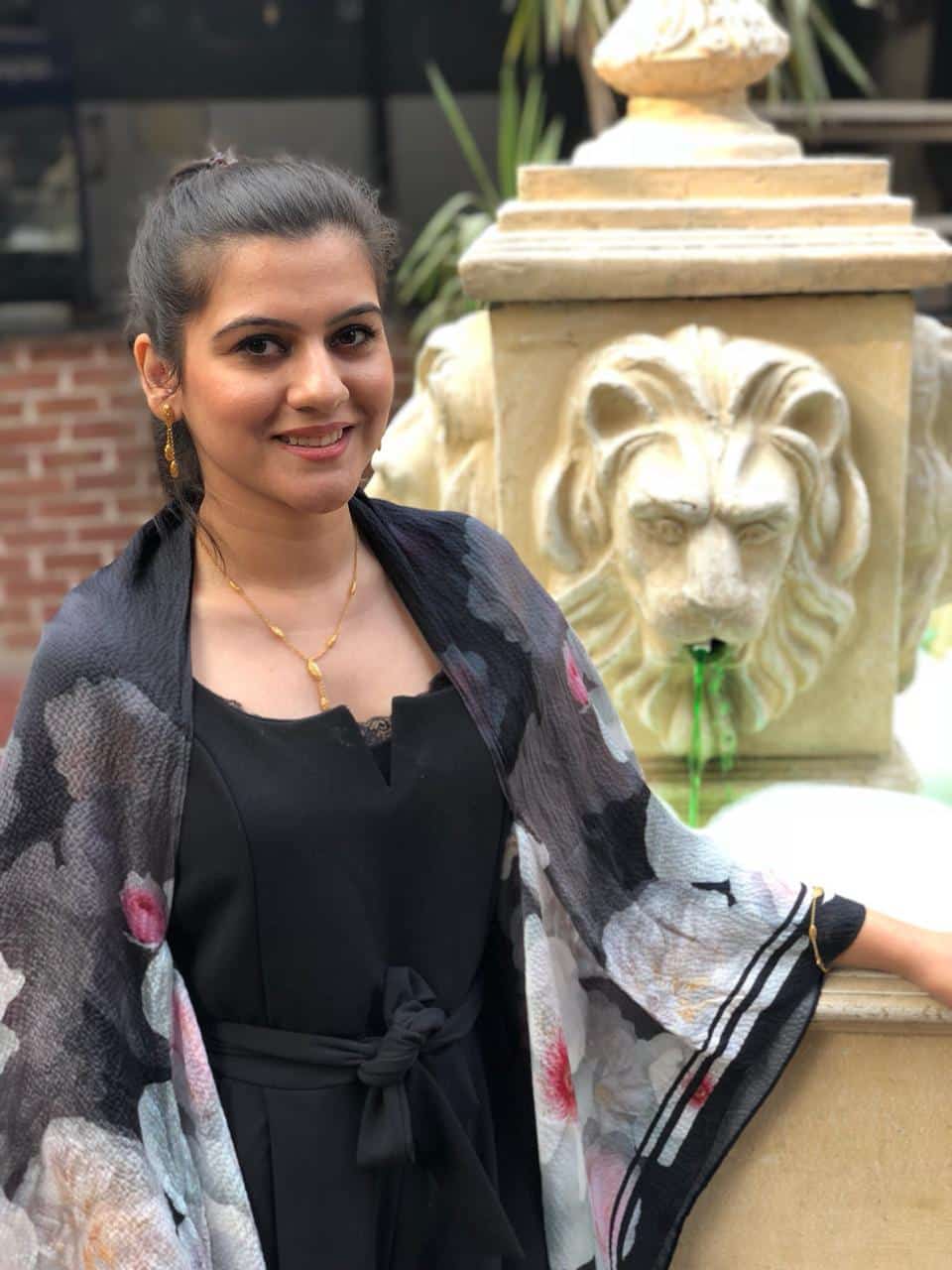 A content writer by the day and a reader by the night – two things that she loves the most. When Zoona isn't writing, she'll either be thinking of what to bake next or where to travel next. When it comes to writing, she has always been a storyteller and one of her short stories was published in 2014 in the Oxford University Press's anthology of contemporary Pakistani short stories, I'll Find My Way.  Her love for fiction writing also drove her to complete a short course on "How Writers Write Fiction," at The University of Iowa. Her other interests include binge-watching Netflix or online gaming.