Best Outfits for Petite Women Over 50. Upon entering the second phase of your life, also known as the famous fifties, you may feel like this change is monumental. You are getting older, wiser, and while you may not be able to do some of the things you previously did, one thing that you don't have to leave behind is fashion! In fact, I would say that the fashionistas in their fifties have better fashion sense than the youngsters. After all, their outfit comes along with a whole lot of grace, wisdom, and experience, which elevates their look to the next level!
They say fashion is for every age. Then why should that be any different for all our lovely ladies in their fifties? What clothes to wear, matching accessories, and appropriate shoes are all timeless aspects. And the senior ladies get to enjoy them more than anyone else with the statement and elegant looks they come up with. Nowadays, some of the most followed fashion bloggers are older women with perfect fashion sense. And the styling for older women is not as tricky as everyone assumes it may be. So grab your favorite pieces and get ready to style!
What to Wear for Petite Women Over 50?
You may feel a little overwhelmed by the thought that you can not wear your favorite mini skirt or denim shorts anymore. We bring joy to inform you that you can still serve some looks in your favorite skirt and shorts if you style them appropriately.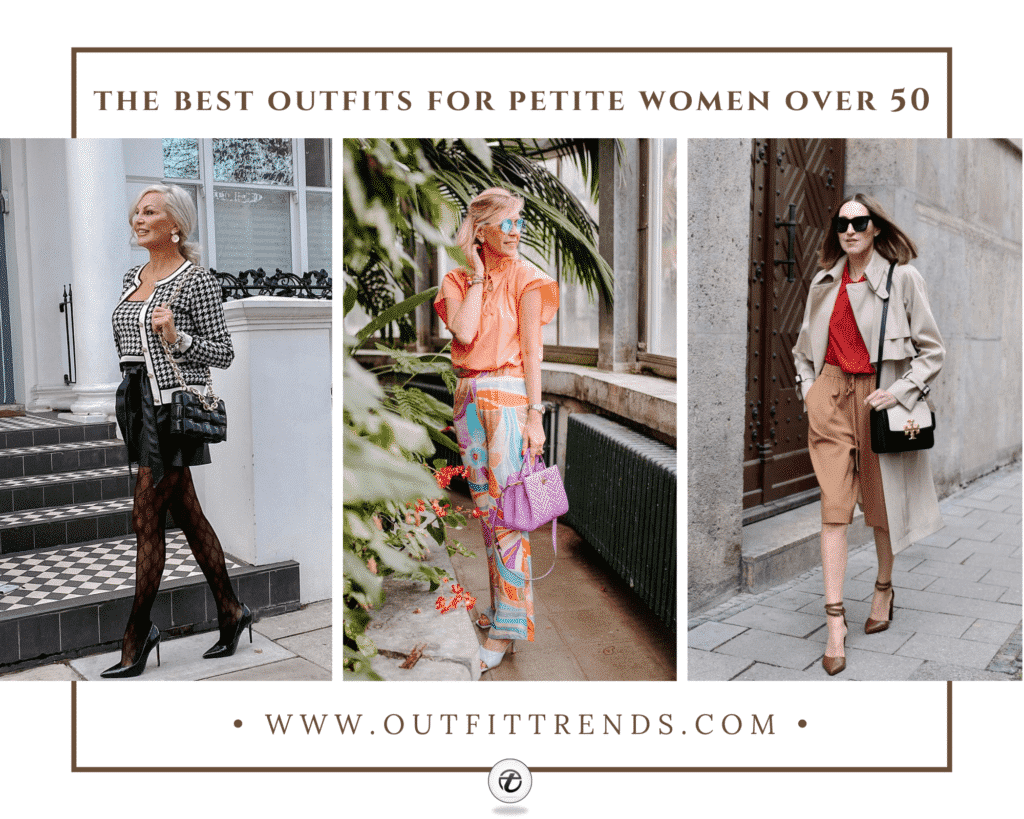 Where to Buy Outfits for Petite Older Women?
Usually, most of the brands are fashion-friendly for all age groups and cater to older women. Here is a list of some of the brands you can browse to get your ideal look.
Chico's: This brand is exclusively for women aged 45 and above. They carry a versatile age-appropriate range from these striped pants (here) to this silk wrap (here).
Nordstrom: Check out this chic blazer (here), perfect for the office look!
Lululemon: Shop (here) for the comfiest loungewear.
LOFT: Style this cute blouse (here) with some leather shorts and stockings for a fun, day-out look.
Everlane: These bootcut jeans (here) are the perfect staple for your wardrobe.
White House Black Market: Have a look at this super cute summer dress (here).
Anthropologie: From sneakers to sandals, shop their footwear collection right (here).
What are some fashion tips for thin women in their fifties?
There are a number of tips for older women to stay in fashion, without having to leave their comfort!
Choose your clothing according to your body shape. It is imperative to cater to your body shape while dressing to look effortlessly chic.
Stockings might be your new best friend if you think your legs are not in the most remarkable shape. They come in so many patterns, from florals to fishnets, and look flawless with mini skirts and shorts!
If you are uncomfortable with showing off your arms, then full sleeves are the way to go. Not only will they give you a confidence boost, but they look exquisite with any look.
Dress to your comfort! Wear the clothes which seem most appealing to you rather than following the latest fashion trends. Keep it elegant and classy.
When it comes to jewelry, less is more! You can effortlessly pull off some chunky, bold rings, but keep it dainty on the neck and ears.
Try to avoid layering too much foundation because it ends up looking cakey. Go for a more natural, no-makeup look with golds, bronze, and warmer-toned eyeshadows with some natural lashes. Add a pop of colour to your face if the occasion calls for it with a bold lip – red, shocking pink, burgundy, or plum.
Bring shape your look! If you opt for a loose top, wear fitted bottoms to add some curves or vice versa.
Recommended: 24 Best Skincare Products & Skincare Tips for Women Over 50
If you dont have time to go through the complete article, just watch this short video summary:
Midlife Petite Fashion Ideas
Below are some of the best outfits for a woman in her fifties. From office looks to loungewear, from a garden party to the beach, we have a look in store for every possible occasion. Keep scrolling to gain some inspiration for your next trendy look!
↓ 38 – Silk Blouses
Greece Ghanem is the one to look up to when it comes to styling for senior ladies. She pulls off this look effortlessly with the silk blouse and those statement pants. Moreover, we love that she kept her makeup and accessories to the minimum and let this gorgeous outfit do the talking. What an absolute boss lady in a boss outfit!
↓ 37 – Waist Coat & Plaid
This outfit is perfect for the busy office days where you have to attend endless meetings on end. Not only is this comfortable for the hustling workday, but oh-so-stylish! From the petite waistcoat to the plaid palazzo pants, we are in love with the entirety of this look.
↓ 36 – Traveling Outfits
The color palette of this ensemble is so refreshing! On top of that, the combination of this airy blouse with the printed midi skirt is so elegant. Add a little oomph to this look with heeled boots instead of flat ones, and this outfit is ideal for a Sunday brunch or a vacation!
Also, have a look at 30 Best Traveling Outfits for Women over 50.
↓ 35 – Pretty in Pink for 50+ Slender Women
How adorable is this pink blazer?! Channel your inner Barbie with this fun blazer and muted, dusty pink handbag. The pink paired with the white gives off very summer and fun vibes, which we love. And the neck scarf brings this entire style to the next level.
↓ 34 – Monochrome Melody for 50+ Skinny Women!
A fun, casual look with so many patterns in play! The stripes and the floral pants look unique, and the colour palette is immaculate with the pop of yellow.
↓ 33 – Footwear to Wear with Outfits for Petite Women Over 50
This outfit is perfect for an everyday winter look. The belt and the scarf make this outfit all the more special and unique. Additionally, these boots can be the perfect match for so many of your looks. Not only are they comfortable, but they also elevate your fit to the next level.
↓ 32 – Backless Dress
We love that the open back on this piece adds just the right amount of sexy and sophistication to the attire! Add a pop of color with an orange bag like the one below or any bright colored one. And those heels are indeed a unique must-have!
↓ 31 –The Casual Fit for Thin Women
↓ 30 – Neon Blouse & Skirt
↓ 29 – Knitted Summer Top
The yellow knitted top is so fun and perfect for the summer.
Recommended: 29 Best Summer Outfits for Women Over 50 With Styling Tips
↓ 28 – Beauty In Black
"Women who wear black lead the most colorful lives." This gorgeous lady is the walking proof of that! Her outfit may be a perfect black, yet screams joy and color.
↓ 27 – Golf, But Make It Glamorous
This cute printed skirt along with the white is perfect for the golf days.
↓ 26 – Fun & Flirty
↓ 25 – What to Wear to Weddings in Your Fifties?
Looking for the perfect wedding dress or formal dress in white? This sheer, beaded dress is the answer to all your searches. Absolutely breathtaking!
↓ 24 – Best Friend Twinning for Golden Jubilee
You may be a senior and genuinely young at heart, which is perfect because you are never too old to match your best friends! The trio looks stunning and, honestly, urges us all to grab our best friend and wear matching outfits.
↓ 23 – The Everyday Look
↓ 22 – Outfits for Women Over 50 to Wear With Short Hair
This look is the perfect amount of rustic along with boho. And the polka dots are simply a cherry on top of an amazing outfit! Also, have a look at Short Hairstyles for Women Over 50 – 23 Trending Hairstyles.
↓ 21 – Ruffles for Señora
↓ 20 – Trendy Hot
↓ 19 – Billow Clouds & Ocean Waves
How cute is this gorgeous mustard yellow two piece?! The pattern on this is exemplary and right on trend.
↓ 18 – Loungewear For The Streets!
↓ 17 – Hoops & Flared Pants
Effortlessly vogue and chic!
↓ 16 – Summer Dress
↓ 15 – Comfortable Outfits to Wear When Over 50
This attire is perfect for a laid-back, chill day. You might want to grab your favorite book and bask in the sun while wearing this outfit.
↓ 14 – Officially Meeting Ready
↓ 13 – Winter Essentials for Women Over 50
↓ 12 – Beach Babe Look for a Getaway in Your Fifites
↓ 11 – Simplistic Styling for Business Meetings
It is true when they say, "Simplicity is the ultimate sophistication." This look is just that and more! The frayed hem on the white pants and the belted waist, along with the printed shoes, bring in texture and a pop of color, respectively. Smear on a deep burgundy or red lip to truly stand out!
↓ 10 – Whimsical White for Your Midlife Years
This cute white dress can prove to be a must wardrobe staple. It can be worn on so many occasions, whether it be a wedding, beach day, a day for running errands. Not only that, but it can also be styled in so many various ways – make it boho by adding long kimono, or trendy and feminine, which it already is. Make sure to pair it with suitable accessories to compliment the occasion!
↓ 09 – Zebra Print For The Win in Your Fifites
↓ 08 – Accessories to Wear with Outfits for Petite Women Over 50
If you thought ripped jeans could not be worn as formal wear, well, we encourage you to think again. This look is effortlessly formal, and the secret to that is accessories! Adding just the right amount of bling can change your entire appearance, and that necklace, gold watch, and handbag do just that and more. 20 Best Accessories For Women Over 50 For All Seasons.
↓ 07 – What to Wear with Capri Shorts for Petite Women Over 50
What a stylish yet modest way to wear shorts! The red of the blouse against the tan on the shorts is a crisp and fun combination. Add some gold dainty hoops to add a little bling and you are good to go! Side note, we are in love with those shoes.
↓ 06 – Long Dresses for Thin Women Over 50
How cute is this lilac pleated dress?! The look appears flawless with the white and gold accessories and is perfect for a date.
↓ 05 – Formal Look for Skinny Women in Fifites
So modern and trendy! This look is the way to go for all our minimalist lovers. The camel against the black is a combination that you definitely can not go wrong with: the turtleneck, leather pants, coat, all classics. And adding magic to this attire are those gorgeous boots! The leopard print on them is not only unique but adds just the right amount of pattern to this ensemble. Flawless!
↓ 04 – Light Colors for Slim Women Over 50
Who said the older women couldn't wear bright summer colors? This look serves right to prove them wrong. The bright and light coral top is such a refreshing and incredible sight on harsh and hot days. Along with that, those colorful abstract pants are such a unique fit for the top. Finally, the lilac handbag and minimalistic jewelry truly bring the entire look together.
↓ 03 – How to Wear Business Outfits for Petite Women Over 50?
A look ideally put together! The printed blouse looks stunning and matches the pants immaculately. Moreover, the trench coat and straightened hairstyle provide just the right amount of glamour to this outfit. Also, have a look at Office Style For Women Over 50 – 18 Elegant Work Wear Outfit Ideas.
↓ 02 – Floral Dresses for Thin Women Over 50
Did the fascinator hat make you think of the queen? I would not blame you because I did too. On the subject of fascinators, this gorgeous one compliments the elegant white dress with just the right amount of color. Additionally, the black accessories and shoes bring out the entire outfit, making it perfect for attending a wedding!
↓ 01 – The It Girl Look
The words trendy, fashionable, elegant, and so on-point comes to my mind while looking at this gorgeous attire! The matching top and jacket set, along with the leather shorts and fishnet stockings, look flawless paired together. On top of that, the monochrome palette is something you can never go wrong with. The hells and that amazing hairstyle tie the entire look together. We could go on and on about this look but would fall short on words. What an absolute vision to behold.
Frequently Asked Questions
Q.

How should a woman between forty to fifty dress?
A. Well, I would answer that by saying however she likes! There is a notion that women in their fifties are supposed to dress a certain way, which I am extremely against. You should wear what feels best to you, being mindful of the occasion you are dressing for, and most importantly, wear what you are most comfortable in. You can pull anything off from mini skirts to baggy pants if you accessorize it correctly and wear it with complementing pieces.
Q. For women over fifty, can we still wear boot cut jeans, or only skinny leg jeans?
A. Yes and yes! You can wear boot cut jeans, flared jeans, or any other style you feel like experimenting with. Boot cut pants serve to balance the thighs and hip by being slightly more comprehensive from the bottom. A few of the ways to style boot cuts are present above. Just make sure to accessorize it appropriately and wear the proper design of the top to pair with your bottoms. Do not forget to invest in some comfortable yet classic footwear to complete your entire look. If your pants are a bit too long, then heels are the answer to your worries!
Q. For women over fifty, how short is too short on a skirt length?
A. Who set a limit on skirt length?! You can get away with whatever length you wish to wear on your skirt. The first thing you need to consider if you choose to wear a shorter length is whether you have the right body type. Secondly, are you confident enough to flaunt your legs? If not, then there is nothing to worry about because you can wear stockings/ hosiery. Thirdly, you need to choose the perfect top to match your mini skirt. I would suggest styling a looser, airier blouse to complete your look.
Living my 50s in style doing what I love the most!