Jumpsuit outfits for Women Over 50. Styling a jumpsuit once you are past the age of 50 does not have to be as daunting as you think it is! A jumpsuit, like any other article of clothing, might need a few tweaks to work for you but that is true of pretty much anything, no matter your age.
In today's post, I'm going to show you several lovely women over the age of 50 who know how to rock a jumpsuit and do it fabulously.
How to Style a Jumpsuit In Your Fifties?
Jumpsuits have come a long way in recent years. No longer the go-to of '80s popstars, jumpsuits have increasingly become a stylish option for the fashion-forward lady. Some appreciate jumpsuits for their convenience (much like a dress, it's a one-and-done look that requires little time or effort to throw on), others for their versatility.
Styling Tips
Before we get started, here are some tips and dos-and-don'ts to keep in mind when styling a jumpsuit. Let's check them out.
Try on lots of jumpsuits until you find a few that work for you. Jumpsuits can be really daunting at first because it seems like there's no place to hide any "problem spots" or trouble zones. (And we have ALL got them, no matter your age!) Whether that's a round tummy or not-so-toned arms, we all have those areas we want to work with so that we can get the most flattering final look. Lucky for us, there are so many types of jumpsuits to choose from, it's only a matter of finding them. So, if you haven't found yours yet, keep looking!
A structured jumpsuit looks a million times better over a shapeless, baggy one any day. If you have to gets your tailored, do it! But even if you don't, set yourself up for success by only considering jumpsuits that a) are of a structured material, and b) have a flattering shape. Look for ones that draw in around the waist and highlight your best features (whether that's a pretty shape, a long neck, or your shoulders).
Avoid jumpsuits that are too clingy. Wide-leg jumpsuits are pretty ideal as they should skim over the hips and thighs and then widen out.
Be mindful of hem length. High-water jumpsuits can look super chic with some heels. You should let yours go no longer than your ankles.
A belted waist is always superior to a loose one.
Opt for a lighter fabric or material in summer months. Linen and cotton are options, but remember structure, structure, structure!
If you want some extra cover-up, add a long kaftan, loose shawl, or a three-quarter length sleeve blazer.
You can wear flats, but avoid flip-flops and stick with sandals, mules, or other style shoes that elevate your look and don't look overly casual.
Now, let's look at some ways to style jumpsuit outfits and how to wear them from some over-50 bloggers who know what they are doing.
↓ 12 – Wide Legged
This jumpsuit look combines many of the elements that we went over in our tips. It's cinched at the waist, it is wide-legged, and it has that high-water look that is superbly chic.
I also love the navy blue with the one or two metallic accents and how this stunning lady paired her outfit with some strappy evening sandals. The overall effect is crazy stylish.
↓ 11 – Plus-Size Women
When it comes to styling a jumpsuit for a rounder figure, this gal nailed it. She went for a slimming solid color, a v-neck (v-necks draw the eye in and down), and a cinched waist. On top, she sports a white boyfriend blazer, and she pushed up the sleeves to get that three-quarter length look.
Finally, she added a chic clutch and some nude heels to tie it all together. If you have been wondering how to rock a jumpsuit with a fuller figure, this is a fantastic way to do it! Here are some more Fashion Tips For Plus Size Women Over 50.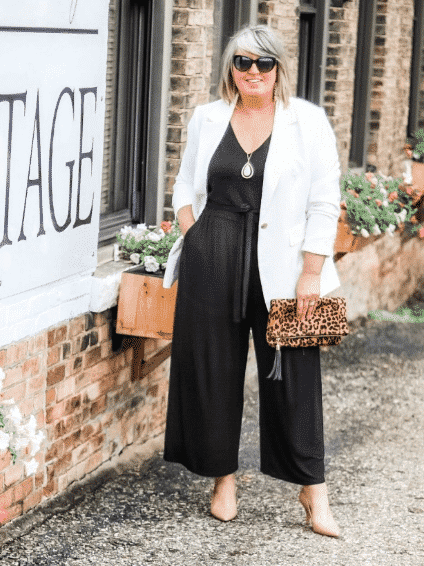 ↓ 10 – Jumpsuits With Sleeves
I love a jumpsuit with sleeves as it will keep you comfortable without having to add a jacket to the look. If you are trying to achieve a more minimalistic look, then here is one I would recommend.
Not only is the solid neutral color of this jumpsuit really chic, but the statement earrings and tan shoes are touches that really elevate the ensemble to fashionista status. This jumpsuit is also a great example of one that provides structure without a sash or belt at the waist.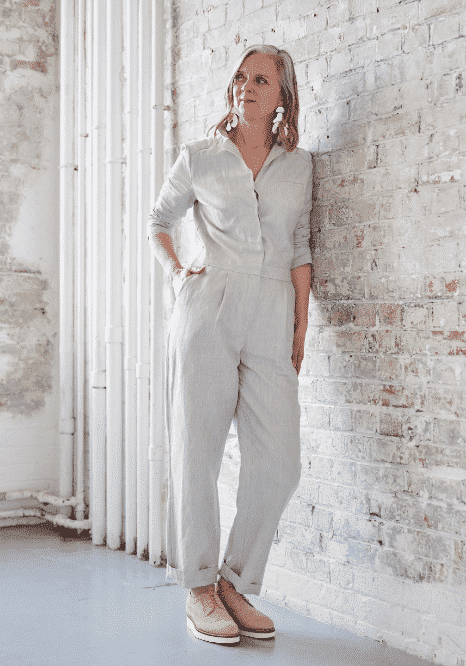 ↓ 9 – For Wedding
A pleasant alternative to wearing a dress to a wedding would be a jumpsuit. It looks just a little more daring without being too "out there" and there are lots of gorgeous styles that would work well for the formality of the event.
This ensemble is a great one. It's equal parts classy and chic, and I love the drawn-in neckline that creates an almost Grecian profile. With red lipstick and red accented jewelry, all you need is a bucket bag and some heels to tie the look together.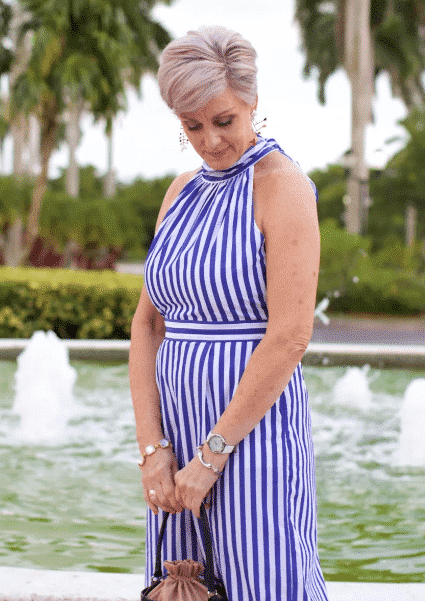 ↓ 8 – Petite Jumpsuits
Casual jumpsuits for women over 50 are a trend I think we have all been sleeping on. There are so many great ways to rock a casual jumpsuit but I'm a big fan of this one. A single-colored suit in a flattering shade is a must.
The sleeveless v-neck is slimming and great for a petite lady as well. A sash tied at the waist highlights and streamlines the figure… from there, all you need are some earrings and some great chunky sandals.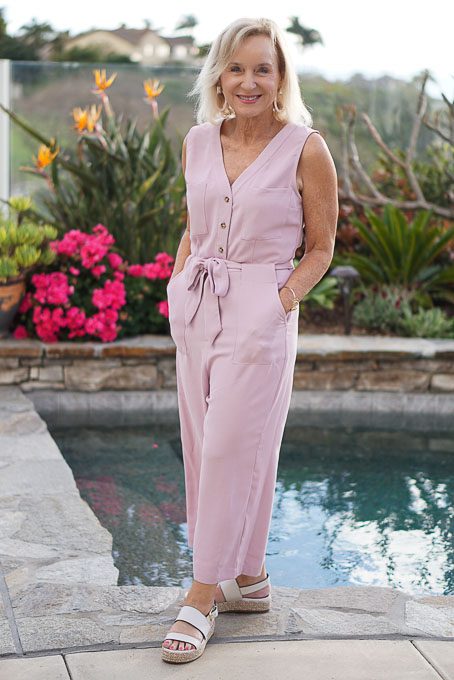 ↓ 7 – Striped, Wrap-Top Jumpsuit
Now, this jumpsuit is a fantastic choice for someone new to wearing jumpsuits. From the v-neck wrap top to the sash at the belt, you have structure without sacrificing the flowy quality to this jumpsuit that is very forgiving.
The strategic stripes are slimming, and the loose circular sleeves are fantastic if you don't like a sleeveless look. Overall, this is a really easy one to start out with, and you can have fun with accessorizing it!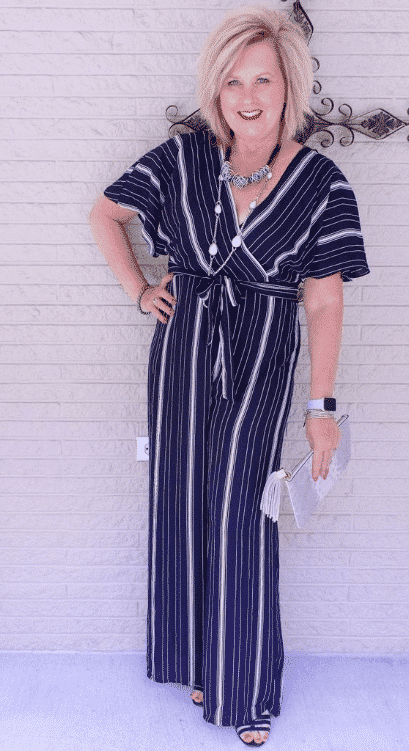 ↓ 6 – Footwear to Wear With A Jumpsuit
Picking out your footwear for a jumpsuit shouldn't be too tough. If you are wearing your jumpsuit in the summer, opt for a contrasting-colored sandal. (This is a great way to color-coordinate your accessories as well.)
If you want to add some height to your look, a nude heel will also work. It can be a pump or an ankle strap. Focus on fit and comfort and don't wear anything that you will be uncomfortable in!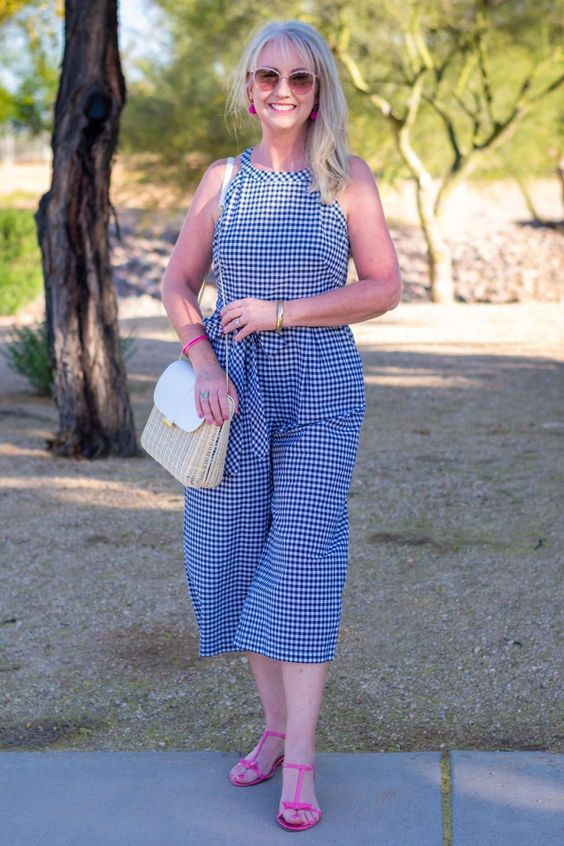 ↓ 5 – Where to Buy ?
When it comes to finding the best jumpsuits for women over 50, it's a game of trial and error. You may have to do a bit of hunting until you find your ideal jumpsuit. In any case, here are a few top brands who have a good selection of over 50 jumpsuits to get you started:
Banana Republic
Macy's
Amazon
JCPenney
ZARA
Kohl's
↓ 4 – Dressy
A chic black jumpsuit will never let you down if you are trying to achieve a dressy night-out look. You can even choose to go very minimal with your accessories in order to let it shine. Some two-toned mules will seal the look together. Keep your makeup glam or maybe go for a more natural look, especially if you are planning for a summer evening.
↓ 3 – With a Long Cardigan
Here's how you can accessorize a black (based) jumpsuit for an evening look. Whether you have an evening out planned or a romantic dinner on your veranda, this lovely ensemble will do the job nicely. Plus, it offers a great example of what to wear over a sleeveless jumpsuit.
Because your jumpsuit is likely covering your from chest to mid-calf (or ankle), you won't want to do a full-length sleeve jacket or cover-up. Stick to three-quarter length sleeves as this will visually balance out the excess material and aim for a jacket or cardigan that hits right at your hip or below it.
For accessories, a simple necklace will do. Add a purse of your choice to jazz up the look as well. Do have a look at these Best Cardigan & Sweater Outfits For Women Over 50 to Wear.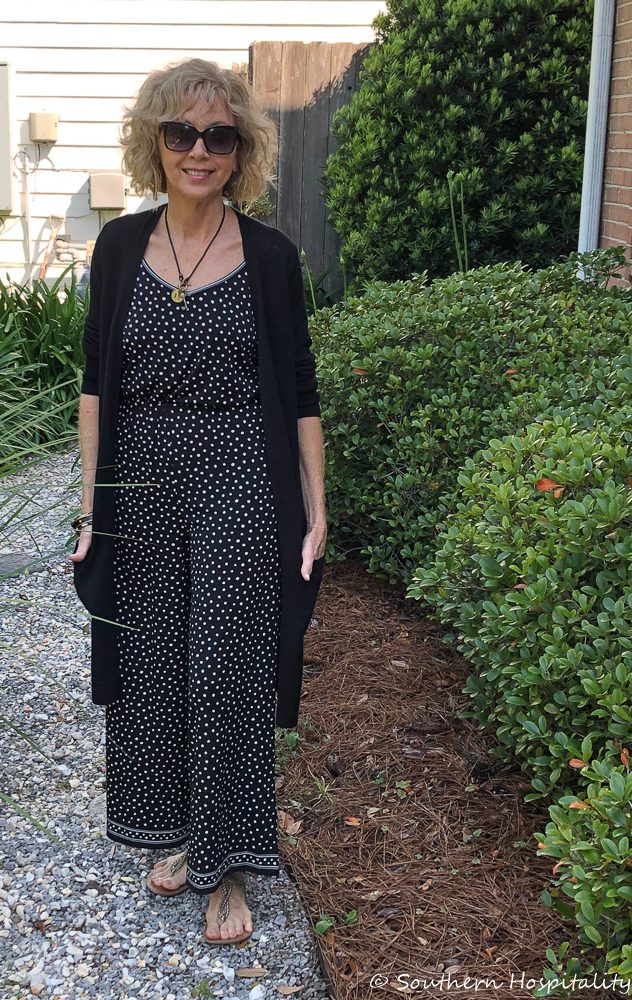 ↓ 2 – With Gingham Heels
A chambray jumpsuit is great for summer or spring weather. But be careful with this one. The wrong cut or fit won't be flattering and as it is a lighter hue of that classic denim blue, it stands out a little more.
Keep it youthful by rolling your hems and pairing your outfit with a great pair of gingham ankle-strap heels. A straight across neckline is great for drawing attention to a graceful neck.
↓ 1 – Accessories
I love this bold pink jumpsuit which perfectly flatters this lady's blonde locks. It's a super fashionable look that makes a statement and shows everyone you know what you are doing. Note the brown-based accessories and the animal print pieces that tie it all together.
This look is fabulous and takes a lot of confidence to wear. But even if you are feeling a little shy, fake it till you make it! This outfit does half the work for you anyway.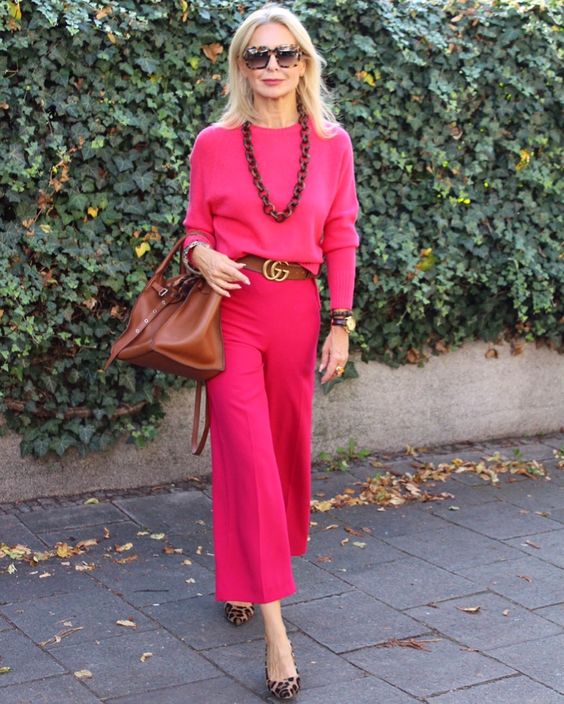 Frequently Asked Questions
Here are some frequently asked questions about wearing jumpsuits for women over 50. Check them out!
Q. Can a 50-year-old woman wear a jumpsuit?
Yes, she can! As you can see from the pictures in this post, a woman well into her fifties (even sixties) can wear a jumpsuit. It all comes down to how you style it. Obviously, there are certain kinds of jumpsuits that won't suit a fifty-year-old. You'll want to stay away from really gaudy prints and cheap fabrics, and always look to highlight the waist with a tie or belt.
Q. Can mature women wear jumpsuits?
This goes in line with our last question but I wanted to expand on this. Yes, a mature woman can wear a jumpsuit but she has to be strategic in how she goes about it.
Look for a jumpsuit that flatters your body where it is now. Create a streamlined look with a tailored jumpsuit, or opt for a solid color like black or navy to create a slim silhouette. V-neck necklines and wrap styles are also hugely flattering and will draw the eye in. Finally, accessorize! Cheap, costume jewelry can be fun but don't overdo it.
Q. What should you not wear after 50?
You should not wear anything that is overly juvenile in appearance. On the flip side, there are certain outfits and looks that older women tend to gravitate towards that I would caution against elastic band pants, shapeless shifts (or a shapeless, baggy jumpsuit), sweaters with applique or embroidery, etc. These particular styles of clothes tend to age a lady and they do nothing for your figure or your overall appearance. Always, always look to highlight your best features, stay away from baggy, juvenile anything, and above all, try and have fun with it!
Q. Should women over 60 wear jumpsuits?
For a woman over sixty, I would recommend a jumpsuit with an elegant neckline, whether that's v-neck or a high halter style neckline (check out outfit #9 for an example of this). You will also want a belt or a tailored jumpsuit that draws in at the slimmest part of your waist. This gives structure to your look. To avoid the dreaded "diaper" look, look for a jumpsuit that skims over your hips and offers the right amount of fabric around the thighs to avoid bunching.
You know your problem spots better than anyone so when trying on a jumpsuit, try and get a visual of all angles (having someone take a video or a picture as you spin around is a handy tip!). That being said, a wide-leg jumpsuit is pretty universally flattering. Finally, one that offers some detailing (like buttons or pockets) is always stylish. Pair with heels and styled hair to get the most out of the look.
I hope you are feeling ready and confident to tackle wearing a jumpsuit. Remember to have fun with it and bring your own personal sense of style to the look… and be sure to let me know which jumpsuit outfit you liked best from these pictured! Happy styling.