Bloggers and Influencers Over 60. Say what you will about Instagram but it provides one of the greatest and most accessible ranges of content the Internet has ever seen. Whether you are looking for a cute puppy account to follow or a bookstagram account that only features ancient editions of classic novels, you can find it on Instagram.
The only downside may be having too many options to choose from! But when it comes to bloggers and influencers of a certain age, pickings tend to be slim. Not every lady is working the hashtags and some really great accounts tend to fly under the radar.
That's why, for today's post, we have made it easy for you. Whether you are a mature lady looking for style inspiration or you are wanting to diversify your feed a little with some time-honored faces and stories, this roundup of bloggers and influencers over 60 to follow on IG will sprinkle some sage and wonderfully inspiring photos throughout your feed.
From outfit inspiration to tips on living well in your golden years, these ladies know a thing or two about life and style and everything in between. Enjoy!
Who Are The Top Over 60 Bloggers?
We've already talked in detail about Fashion Tips For 60 Plus Women but today the focus will be on some incredible and inspirational ladies. It was not hard picking these gems out, to be honest with you. Each of these ladies shows radiant smiles to the world and prompt us to smile, too! But you may be wondering what criteria we used to select these 16. If so, here is the quick rundown:
60+. All these accounts feature ladies 60 and older. Kind of a duh point, but we wanted to ensure that this very specific roundup of ladies fit this very specific age range.
Style & Elegance. We looked for ladies who seemed to know a thing or two about style as well as how to best employ it as a mature woman. We steered away from ladies who were dressing in an overly juvenile fashion and looked instead for women who are dressing with elegance and class, as well as with intelligence. Things start moving and shifting at a certain age and this might require some clever trickery in working with those changing elements. Basically, these ladies know what they are doing when it comes to what they wear!
Advice & Tips. We looked for women who aren't afraid of passing on some of the wisdom they have picked up over the years. After all, these gals have traveled around the sun 60+ times. That's a lot of collective wisdom to be shared!
Relatability. If you are a mature lady yourself, we hope you find these accounts as relatable and down-to-earth as we did. These ladies are living life and sharing it and we can all learn something from each other.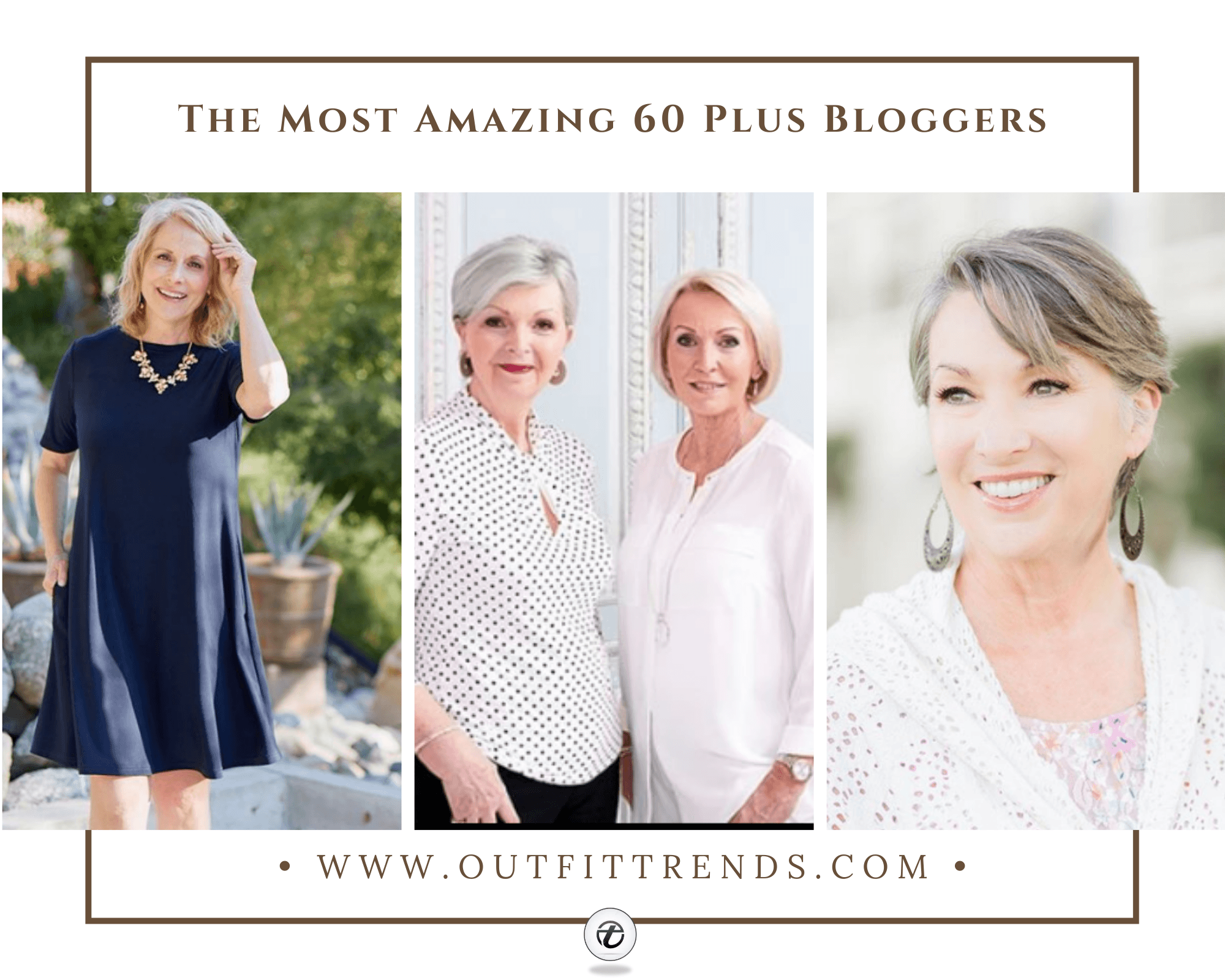 With that, here is our roundup, in no particular order!
↓ 16. Tammy
Tired of Netflix? We're sure you won't ever get tired of binge-watching Tammy's ageless beauty channel! She's a 60 plus licensed Cosmetologist with 25-year experience as a makeup artist. The purpose of her channel is to make women of all ages feel beautiful and confident.
↓ 15. Melissa Gilbert
Melissa has been an active YouTuber since 2013 and now she has 107k subscribers on her youtube channel where she talks about things that any average woman in her 60s can relate to. The purpose of her channel is to share the message that you can feel good about yourself no matter what your age is. Here's a super cute video of Melissa talking about how she deals with hair loss:
↓ 14. Margaret Manning
If there was a one-stop blog that covers it all for sixty plus women, then it would be Margaret's blog "Sixty and me". You can literally find everything on her blog including health, travel, dating, beauty, and money. If you feel like telling a story, you can even submit one to her blog and she'll publish it for you. She also has an amazing youtube channel with 109k plus subscribers and on her channel, you'll find everything that's relatable to women in sixties. Here's a video of Margaret talking about the retirement life, we're sure you'll love her as much as we do:
↓ 13. Roxanne Gould
If you love the modeling world, Roxanne, the lady behind the Instagram account @roxmod, is your woman!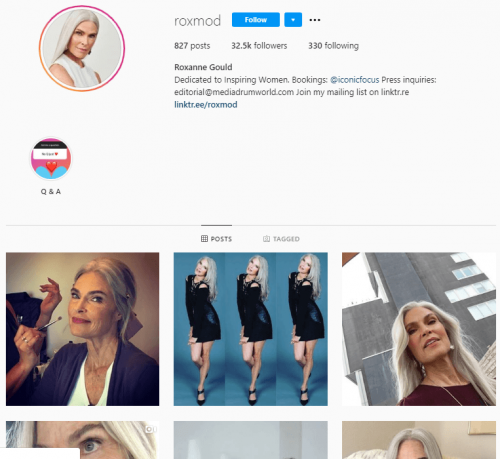 Roxanne has been modeling since the 1980s. It is safe to say that she has earned her substantial 32.5k following and more besides. This stunning model provides a behind-the-scenes glimpse of what it means to be modeling well into her 60s, as well as musings on life and the unexpected places it has taken her. We are big-time fans of her Brooke-Shields-esque brows, silver-white tresses, and her fearless embrace of the aging process. Roxanne, you rock.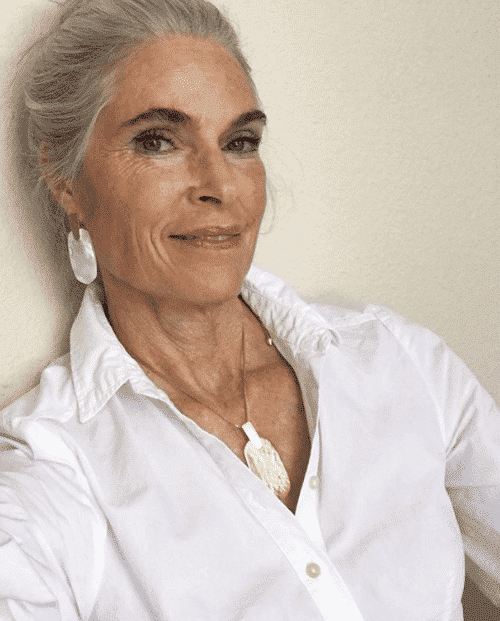 ↓ 12. Annette Renee
Looking for the perfect 60+ account blending fashion, fitness, and fun? Well, here it is!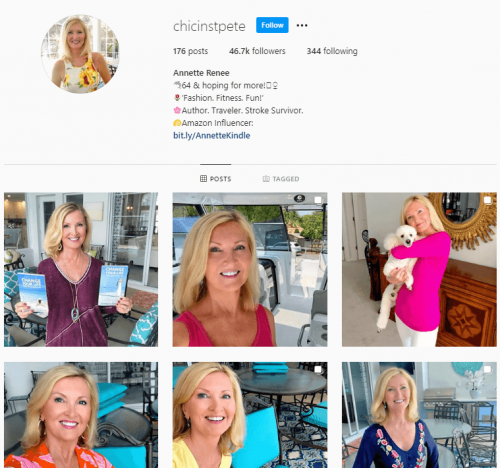 Annette Renee has amassed an incredible 46k following posting gorgeous snaps of herself living her best life in Florida. She is an author, a traveler, a fitness enthusiast, and a style icon. Her sunshiney smile will light up your feed, along with her gorgeous outfit stylings. She's also a business-savvy lady who shares her tips on building financial independence, as well as her faith-based musings on life and family. Follow Annette to bring beauty, smiles, and time-honored advice to your Instagram feed.
↓ 11. Emma Paoli
Looking for a 60+ beauty and lifestyle writer with a knack for styling clothes? Look no further than Emma Paoli!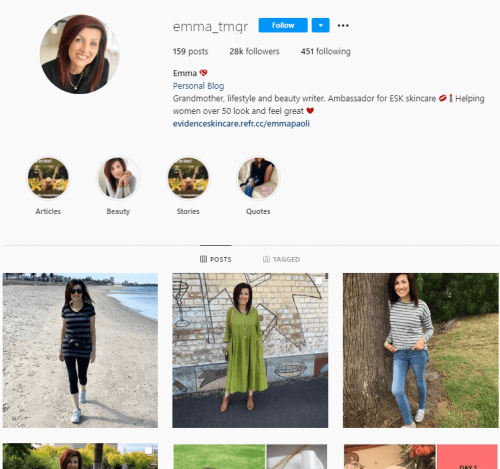 It is hard to believe that this red-haired beauty is 60 but it is true. This youthful grandma is a lifestyle and beauty writer who loves sharing outfit stylings and her favorite looks, as well as the skincare products she uses (and we are totally paying attention because this grandma is killing the complexion game!). Not only does she totally reinvent our idea of what 60 looks like, but she knows how to rock a dress, no contest! If you are looking for ideas on 60+ fashion or tips on where to find looks like this one, head on over to Emma's page and check her out! And don't forget to check out our previous post on Dating Outfits For Women Over 40.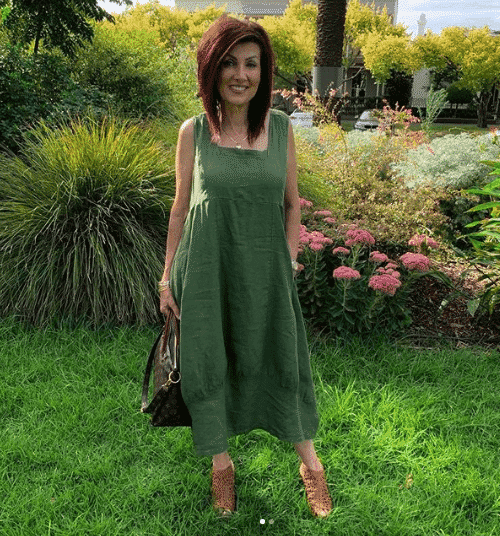 ↓ 10. Loretta Sayers
Loretta Sayers – or, as she likes to be known as, The Introspective Adventurer – is the lovely lady behind this account! For more inspiration, do check out these Casual Outfits For Women Over 60.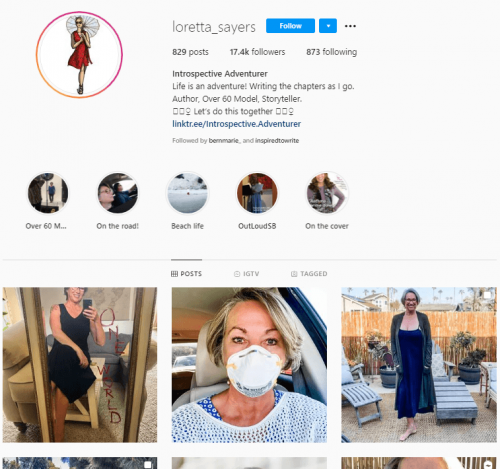 A blogger and model, this beautiful lady has amassed a sizable 17k following sharing her snapshots of life. She is down-to-earth, relatable, and a storyteller… with a face that reminds us of Diane Lane. She is upfront and honest about her struggles relating to body image and always seeks to bring her followers in on the conversation, whether she is discussing current events, plans for spring, or simply asking for garden advice. Her musings on life will draw you in and you will feel like a welcome one of the bunch. Check her out!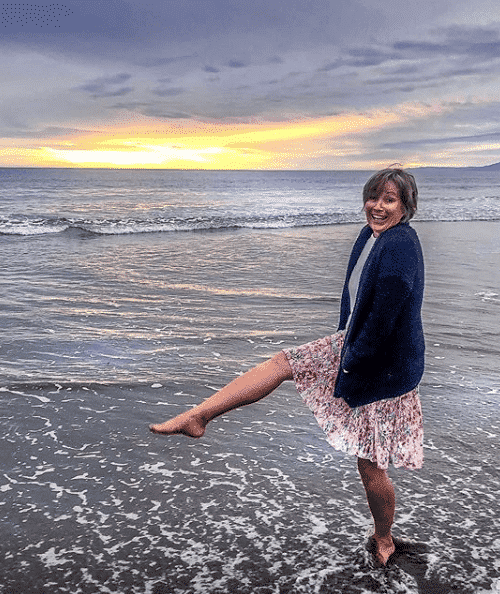 ↓ 9. Barbie Holmes
A Los Angeles based lifestyle model with an impressive follower count and an even more impressive take on fashion, so if you're here looking for over 60 fashion bloggers, then she's a must-follow.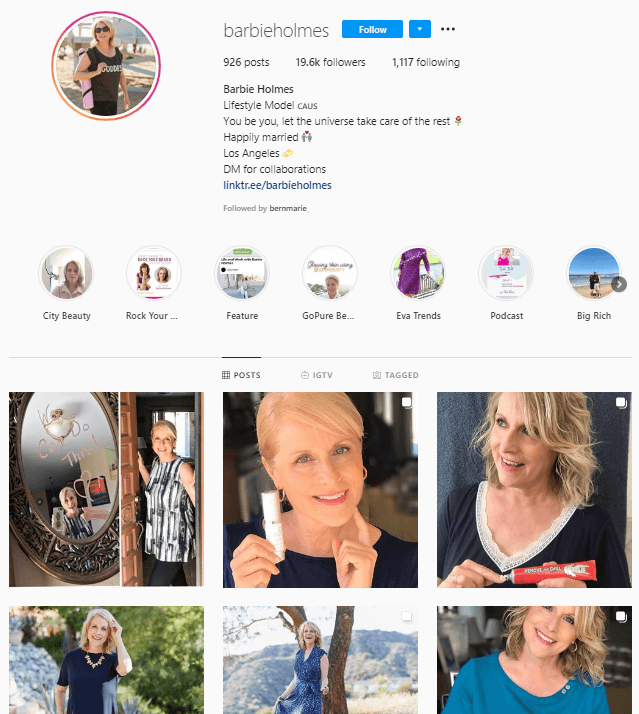 Follow this lady if you love product recommendations, outfit stylings, and encouraging captions that will sprinkle your feed with pithy quotes and sunny smiles. Barbie Holmes is a lifestyle model based in California who shares about fashion, beauty, and more. From her stylish ensembles to her favorite collabs, Barbie is a mature influencer who always has a tidbit of advice for you!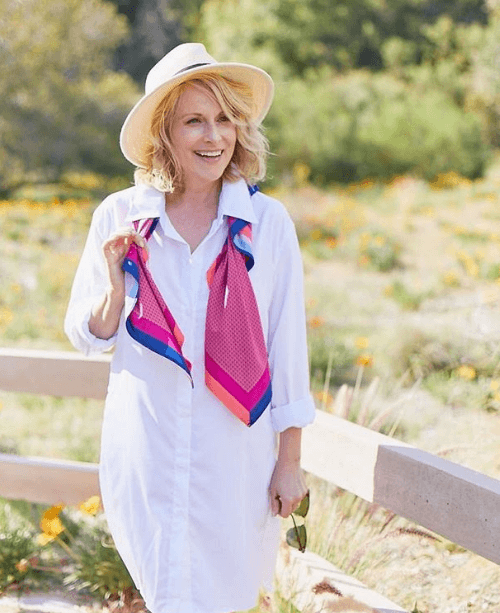 ↓ 8. Marcy Lytle​
Marcy Lytle is the lady behind the @thymemag account as well as the creator and founder of the online magazine, Thyme.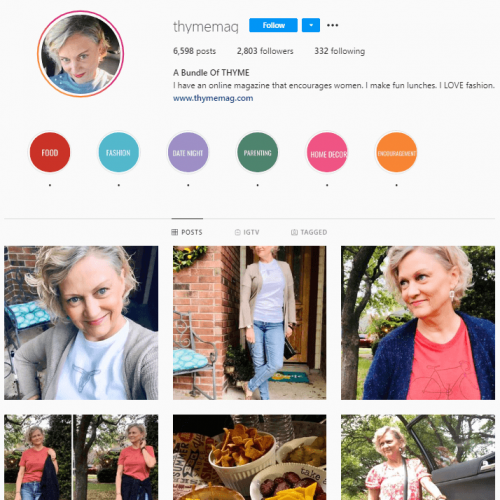 We love a creative queen and Marcy Lytle sure does fit the bill! She is a super creative and spunky lady who also has a penchant for fashion. From sharing her favorite outfit stylings to her favorite meals, this lady covers everything and anything of an encouraging nature. From home decor to parenting to date night ideas, you can find it on @thymemag. Go ahead and give her a follow and let her spunky smile and stylish outfits do the rest!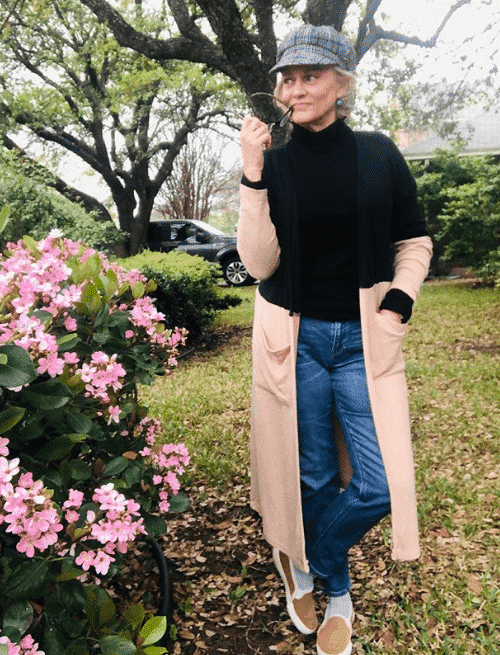 ↓ 7. Heidi Dillon
For a mature model sharing on art, fashion, beauty, and fitness look no further than Heidi Dillon, the personality behind the Instagram account @heididillon_hfd.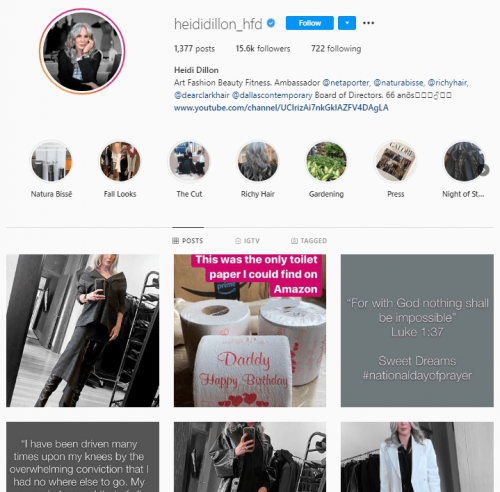 This sophisticated stunner knows a thing or two about modeling and she's not afraid to show it. Boasting an impressive 15k followers, Heidi posts snapshots that show off a deep love for fashion and a flair for sophistication that we can't help admiring. From captions detailing articles she's written for magazines to pictures of outfits she dons for high-end events, this 66-year-old bombshell is always on the move and glamming for the cameras… and we happen to think that's pretty rad.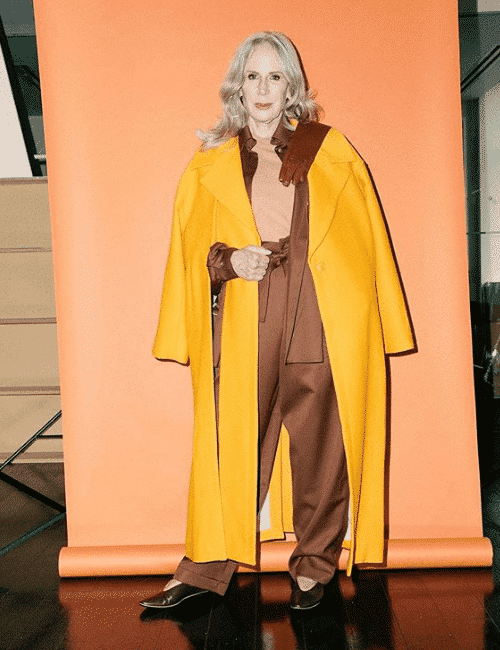 ↓ 6. Isabella Cappucci
If you have ever wanted to see what the life of a 60+ model looks like, this is the account for you!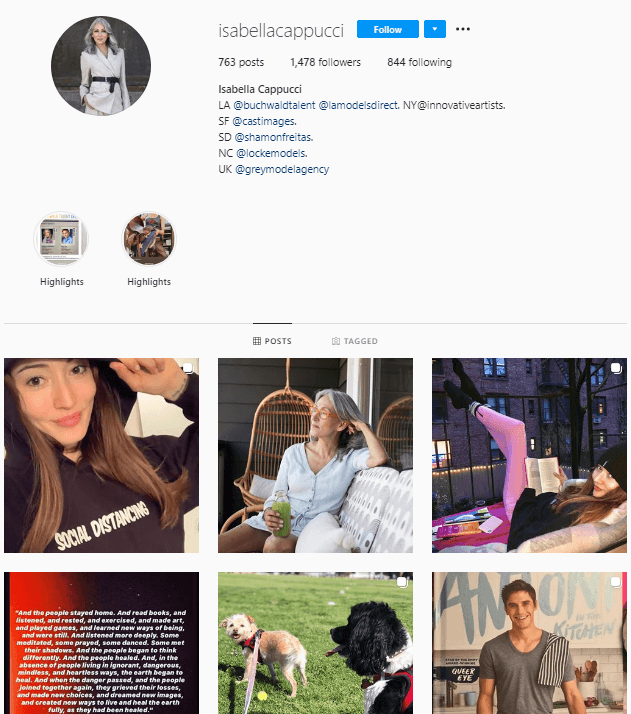 We cannot get enough of this absolute beauty and her silver tresses! Isabella Cappucci is a mother and a model and just so happens to be 60 years old to boot – although, in our humble opinion, she really does not look it. Isabella shares her modeling shoots, snaps of her family and her pets, and bits and pieces that make up her life. She gives us major hair envy (and look at that skin!) plus, all those modeling shots provide awesome outfit inspiration. You have got to check her out, we promise you will be blown away!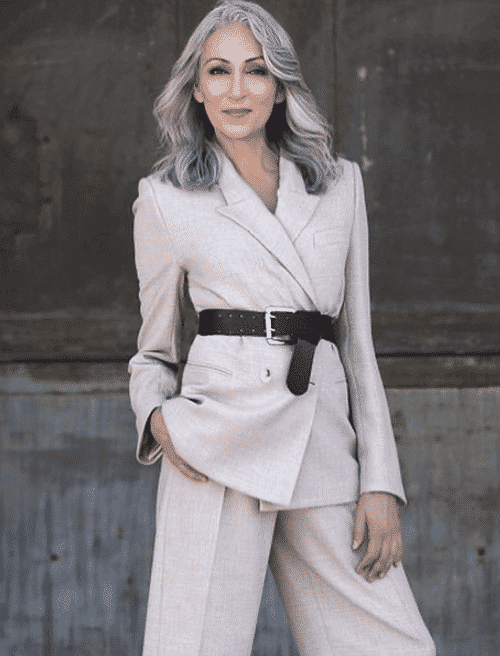 ↓ 5. Lesley Wolman
If you are looking for a lady who does a little bit of everything, this fashion and lifestyle influencer is the gal for the job! Do have a look at these Best Summer Jeans Outfits for Women Over 50 to Stay Cool.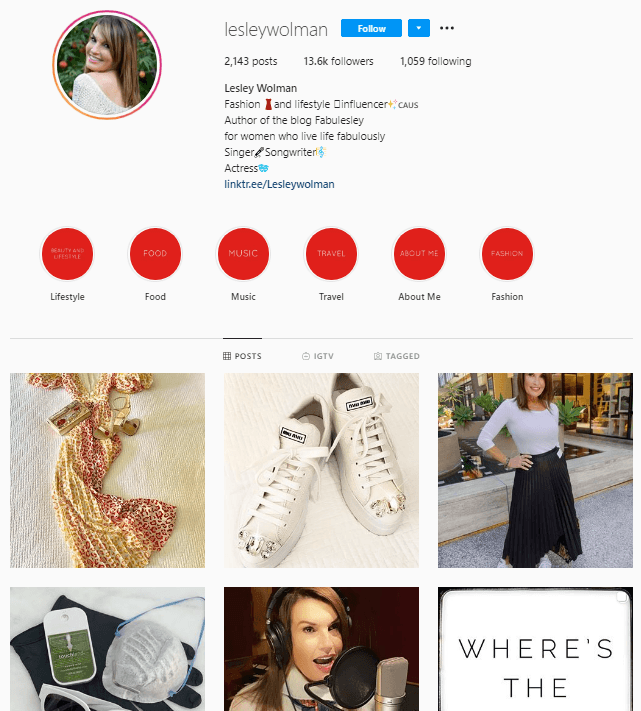 From 60+ fashion to style inspiration to singing to acting to blogging, Lesley Wolman does it all! This small-scale influencer redefines what it means to be a grandparent, much less a 60+ blogger who can work those Instagram angles like nobody's business. We love her passion, energy, and inspiring personality, perfectly displayed in 4X4 snapshots that display her take on beauty, style, and lifestyle. She caters to women of all ages, inspiring them to live fabulously. She runs a blog too, aptly titled Fabulesley. This is one account you will definitely want to check out!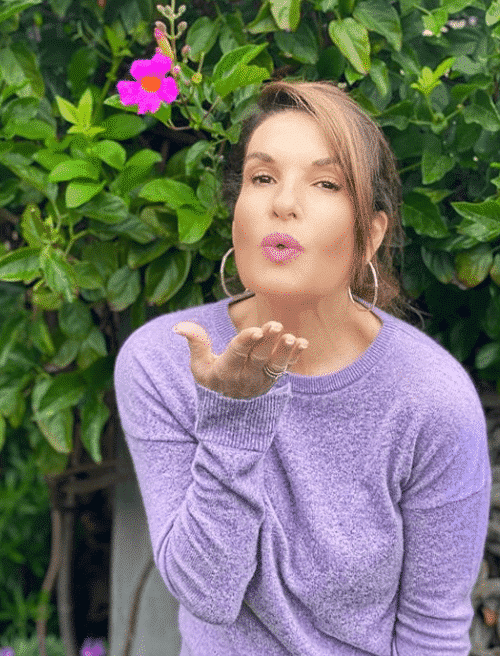 ↓ 4. Tilly Smith Dix
Tilly Smith Dix is the beatific model and blogger behind the fashion account @sixty_is_the_new_40.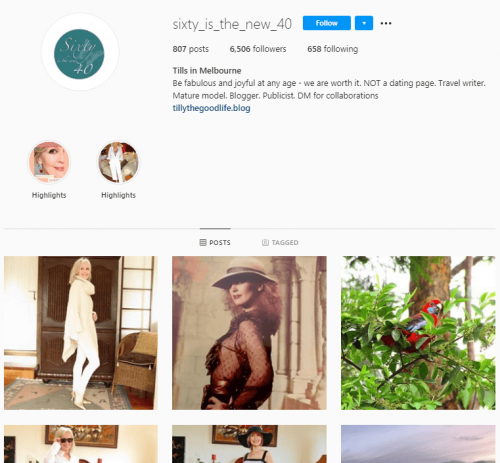 To be honest, it was hard picking just one picture to feature in this post because all of Tilly's pictures are stunning. As is she. Both a model and a blogger, this 60+ Melbourne lady is the very picture of elegance. Her posts provide us with endless style and outfit inspiration, glimpses of life in Melbourne, as well as encouragement and advice from a lady whose effortless beauty really does prove that 60 is the new 40. Follow Tilly if you love a bit of style, beauty, and travel shots sprinkling your feed. (Also, we know we said we had no favorites but if we did, she would be one of them!).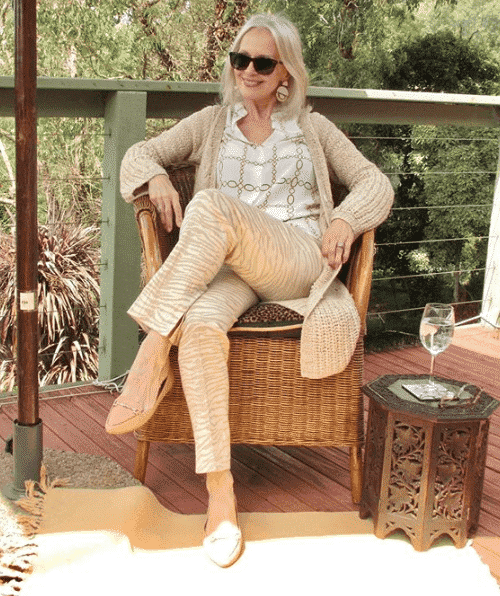 ↓ 3. Dana Wall
If you love travel blogs sprinkled with some beautiful scenes of Europe, all shared by a 60+ blogger living her best life, this is the account for you!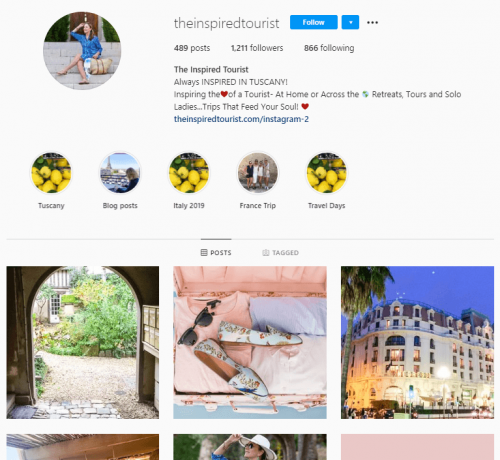 Dana Wall has made tourism her career and what a gift to the world that decision was. Of course, we would not have included Dana unless we also found her outfit choices to be pretty stunning. This is a lady who knows how to dress and does it well. And whether she is meandering through wineries or gallivanting about the Italian Riviera, she does it with classy elegance, making us wish we could be right there along with her. If you want snapshots of Tuscan magnificence sprinkled throughout your feed, along with 60+ lifestyle and beauty inspiration, follow The Inspired Tourist.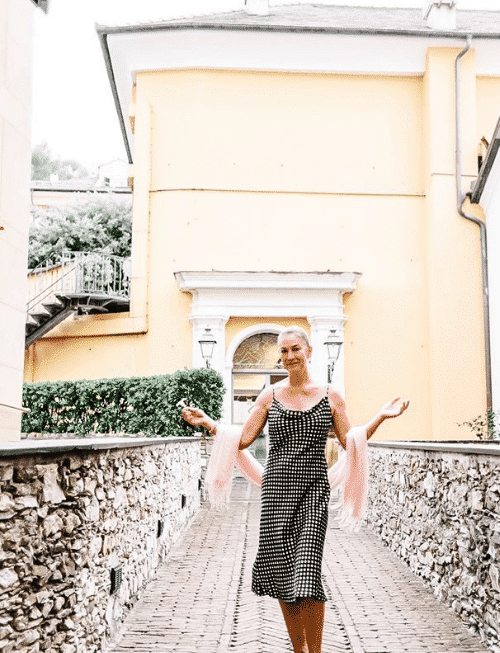 ↓ 2. Timeless Style NL
Looking for outfit inspiration for mature women? The lady behind this account likes to keep her name under wraps, letting her outfits do all the talking!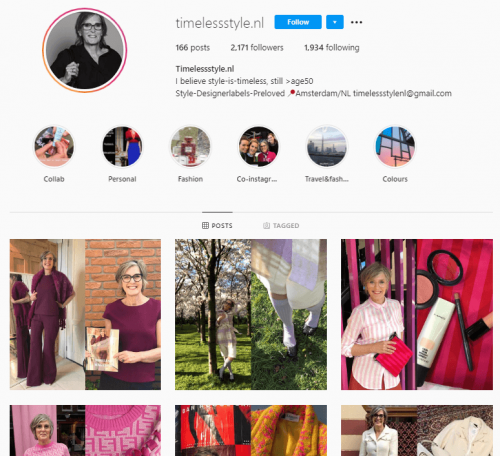 This Amsterdam beauty is a thrifting connoisseur and her pre-loved designer finds are a sight to behold. Not only does she effortlessly bridge the gap between sustainable fashion and dressing fashionably as a mature woman but she does it with spunk and pizzazz. Her outfits are ridiculously on point and they provide endless style guidance for those of us who need it. Follow this lady if you love 60+ fashion and want to sprinkle your feed with ensemble inspiration.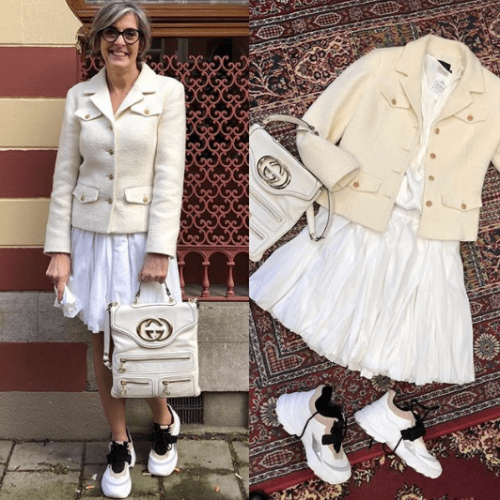 ↓ 1. Vera DiLeo
Our final pick for our bloggers & influencers over 60 roundup is Vera DiLeo. Or as her Instagram handle goes @nanastillgotit.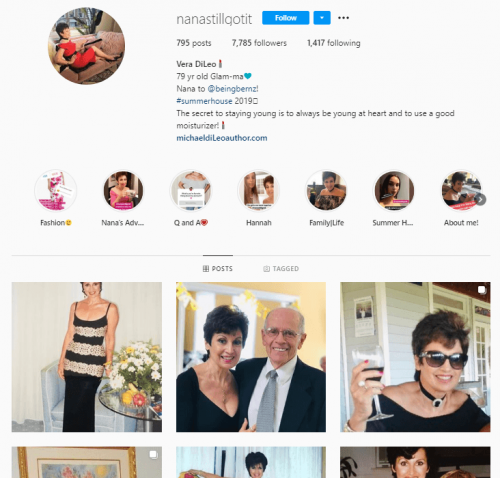 If you are looking for a bit of glamour, inspiration for embracing age, or tips on how to live life to the fullest, Vera is your lady. This gorgeous 79-year-old mini-blogger proves age is just a number once and for all as she posts photo after photo of her living her very best life through the years, whether she is on a cruise or attending a gala or sipping wine with friends at a winery. From her charming reminisces of her travels (always included is a note on what she is wearing… from Herve Leger to Haute Couture, this lady is a style ICON) to her advice on being positive and avoiding pessimism during trying times, Vera is one nana who most definitely has still got it!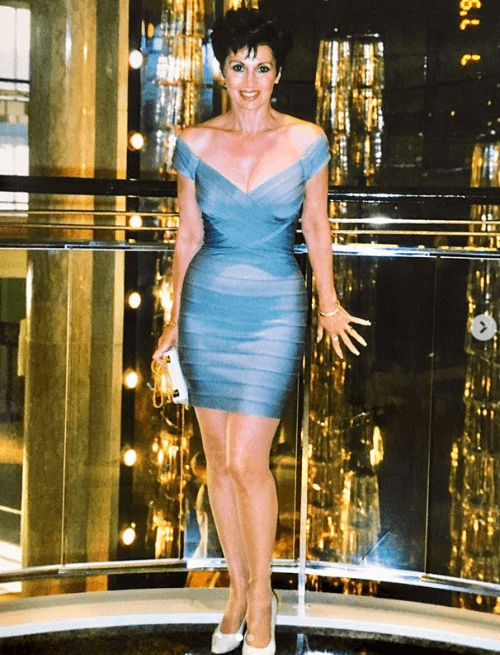 That's all, friends! Tell us: do you have any favorite 60+ accounts you follow? If so, please share in the comments so we can all go give those ladies some love!