Sweater Outfits for Women Over 50: Popularized in the 1950's Cardigans and Sweaters are essential pieces of everyone's wardrobes for all types of occasions. Dressing them up or down is solely up to you, whether you are having a brunch with friends or a lazy Sunday lounging around the house.
From celebrities to your good old neighbor, everyone you see rocks a cute sweater or a cardigan. Cardigans and sweaters never go out of style, and neither will you. Fashion has no age limit; you can always look effortless and youthful by following the latest trends we bring to you in 2021.
How to Wear Cardigans in Fifties?
Did you know Coco Chanel is responsible for the trendy cardigans today because "she hated how tight-necked men's sweaters messed up her hair when she pulled them over her head" today, those simple sweaters and cardigans of the 1930s have been transformed according to today's fashion trends from button-up cardigans to oversized knit sweaters with all sorts of cuts, sleeves or materials. Add these comfy accessories to your wardrobe to enhance any outfit you are wearing while looking chic and trendy, feeling cozy and comfortable. Pick your favorite style, and wow everybody with your outfits!
Be it any clothing store you step into or your very own closet, you will find many sweaters or cardigans. However, knowing how to pair them up is a different story since trends change so rapidly. Your best friend in the world of fast fashion is a well-fitted pair of jeans, be it mom jeans, straight, skinny, or flared, etc.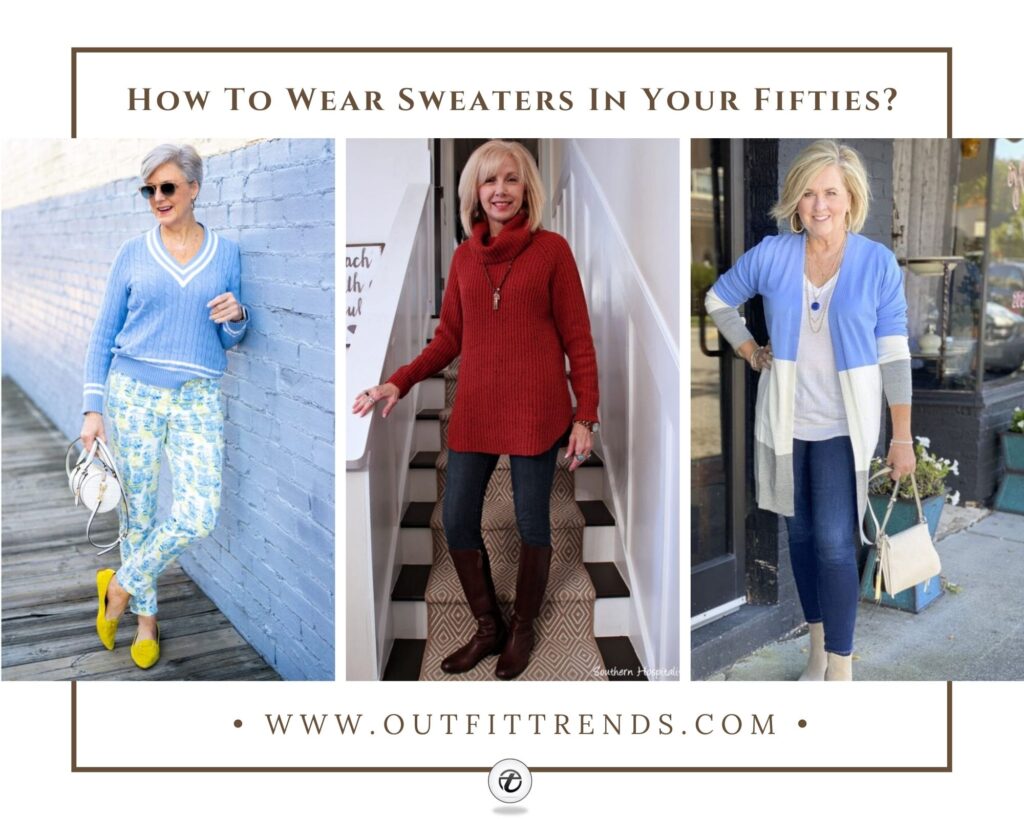 Everything goes with a sweater, from pleated skirts to leather pants, or perhaps wide flowy pants in the summer. Matching separates, be it cardigans with matching tops or cable-knit sweaters with flowy high wasted pants, have been on the top of the trending list. You can dress sweaters and cardigans down by buying them in loungewear comfy materials or pairing them up with a plain black or a white shirt. If you want to dress them up, pair them up with a fancy belt, or wear sweaters with buttons, panels, pearls, or prints.
Adding various accessories to a neutral-coloured set such as jewellery, a fancy pair of sunglasses, and a gold chained bag can really accentuate the look. Keep scrolling to find out the look that inspires you to turn a boring sweater/cardigan look into something a bit more this year!
Where to Buy Cardigan and Sweater Outfits?
Mango Button Knit Cardigan
Gap Softspun Cardigan
Zara Knit Pointelle Polo Sweater
Forever21 Ribbed Knit Cardigan Sweater
Shein Pointelle Knit Open Front Cardigan
Asos Boxy cardigan with woven collar
Abercrombie Slouchy V-Neck Sweater
Revolve Meadow Sweater

36. How to Wear a Red Sweater Outfit
Long turtleneck sweaters with long boots are an essential outfit for the winter and autumn months. A bright solid colored turtleneck paired with your favorite denim and boots or flats depending upon your preference is the best outfit you can wear to look trendy. Add a nice long necklace and rings to accessorize.
35. Powder Blue
There are plenty of options to choose from when you opt for a cardigan these days. Here is a color block cardigan in beautiful tones of blue. The white and the grey and great neutral tones which go with almost anything as well. You can wear a cardigan like this over a plain white shirt blue jeans outfit to look put together. If you want to make it a bit more glam, add hoops and layered necklaces.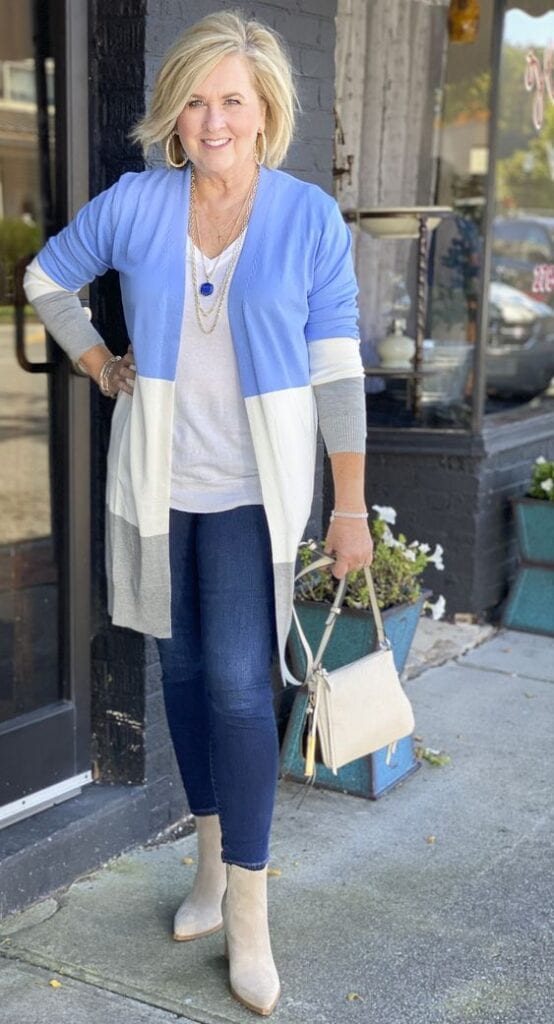 34. Casual Look
Here is a lightweight fitted sweater, paired with white pants and stylish flats. The outfit may be super plain but it is comfortable and classy. If its a bit more chilly than usual you can wear a black jacket on top. If you want to transform this look from casual to something more appropriate for work you can wear a black blazer on top.
33. With an All Black Outfit
An all black outfit paired with a cardigan off your choice looks chic and appropriate for work. You can pair a black top up with straight pants and a maroon colored cardigan and a classy cross body bag to go with it.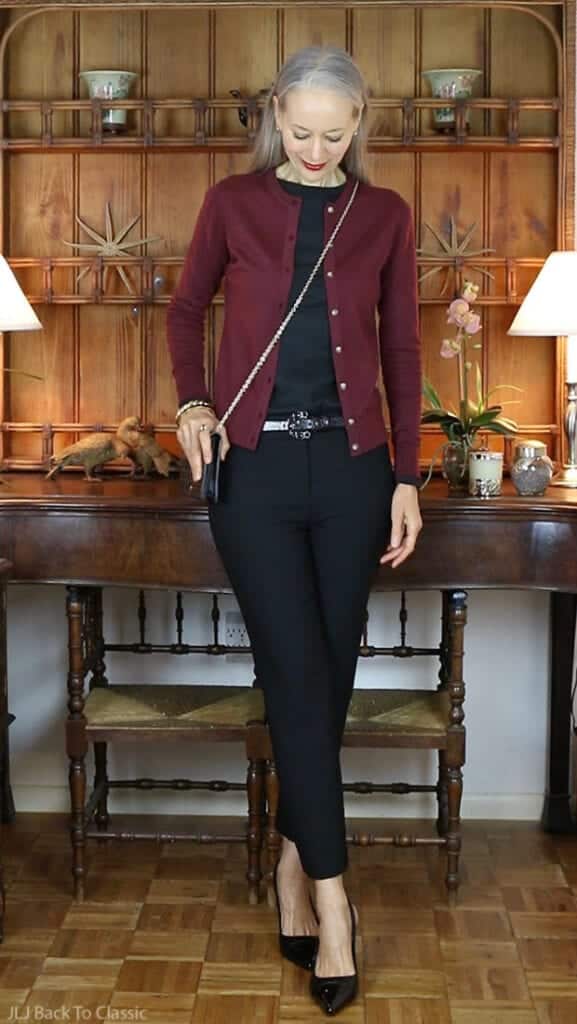 32. Boss Lady Kris
Kris Jenner is such a boss lady, and this look is so iconic. I love everything about the outfit, and this goes to show you can wear bold, stunning outfits at any age and still steal the show. The shiny dark green leather pants and the black heels add so much to this sweater. Kris really knows how to work it, and so can you!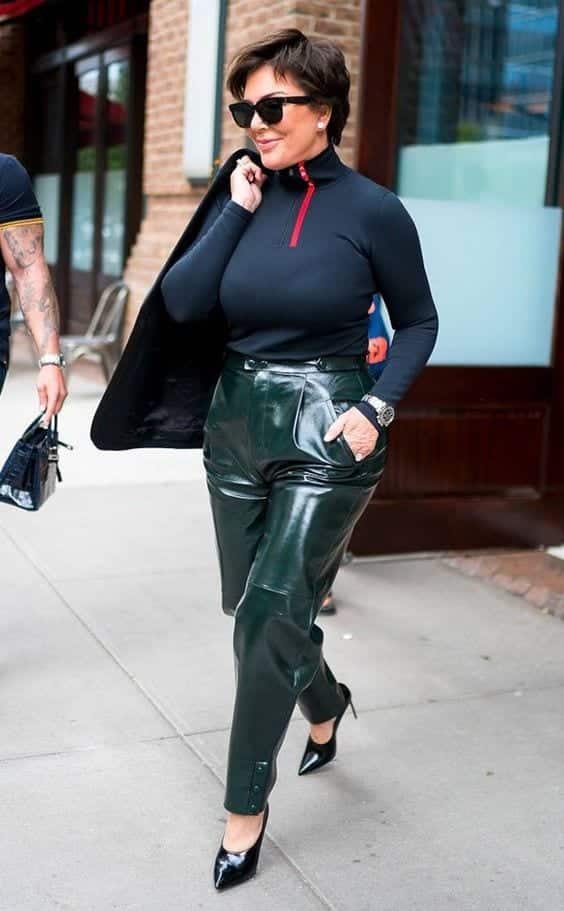 31. Pop of Color
Who knew a sweater could be the statement piece of your look. An all-black outfit with a brightly colored sweater is all it takes to look trendy and youthful. Ditch the neutral tones and delve into a world of color this year. Who says you can't wear bold colors after your 50s. Yolanda Hadid is 57 and rock this outfit.

30. Floral Pants
Looking for an outfit with floral pants? If you pair them correctly, floral pants do not look tacky. I love this outfit as the sweater is so preppy and trendy. And instead of pairing it up with white pants or denim jeans, a small floral print pant looks really good. To add another pop of color to your outfit you can wear yellow green pumps.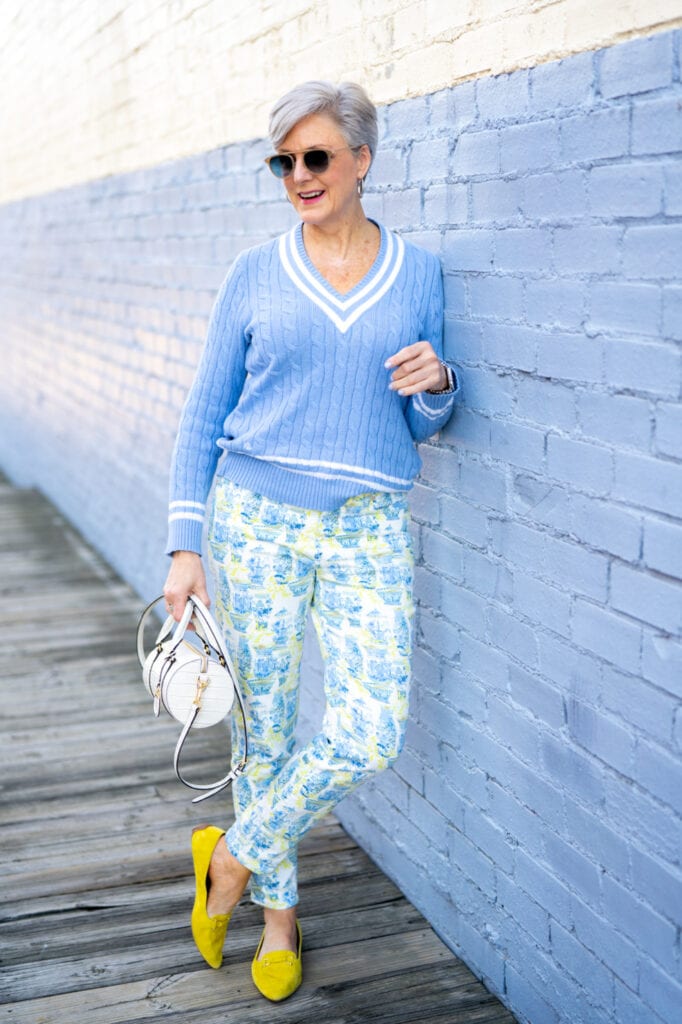 29. With a Dress
A light almost sheer cardigan paired with a beautiful long dress looks exceptionally trendy and adds a nice touch to your outfit. If you have a pretty summer dress that you would like to wear in the more chilly months, you can wear a cardigan on top of it. This one even has a flower brooch on it and is as long as the dress.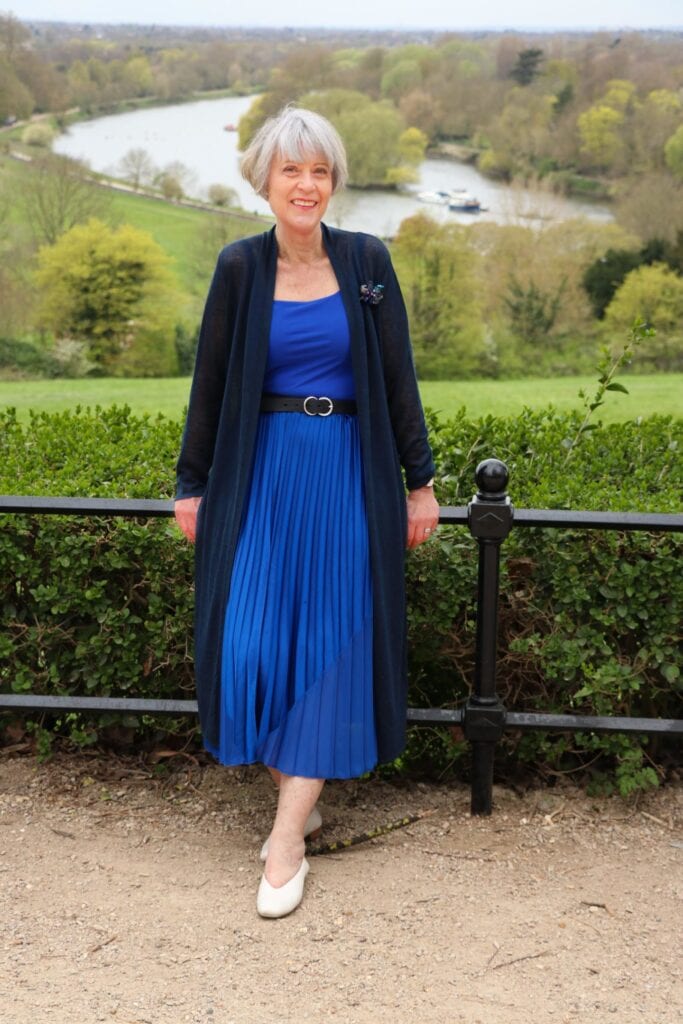 Check out best summer outfits for women over 50 with styling tips.
28. Cashmere
This outfit is so elegant, an all cream outfit looks amazing. Paired with metallic sneakers, and a chunky chain bracelet this one is an excellent choice for a day look.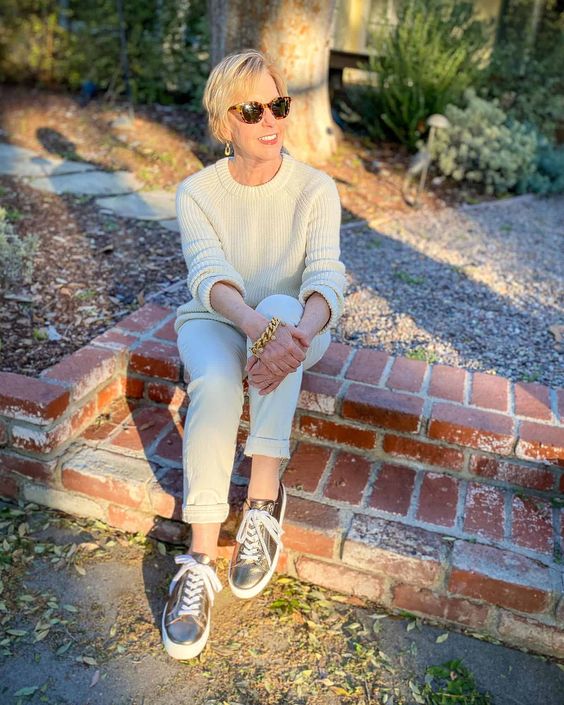 27. Plaid Button-up
Going out during the day and want to look trendy? This open button-up cardigan with the color scheme and print is perfect for a day out. A v neck top and lavender pants gives such a trendy vibe to the look, these are all the trending colors of the year. Do not forget to accessorize!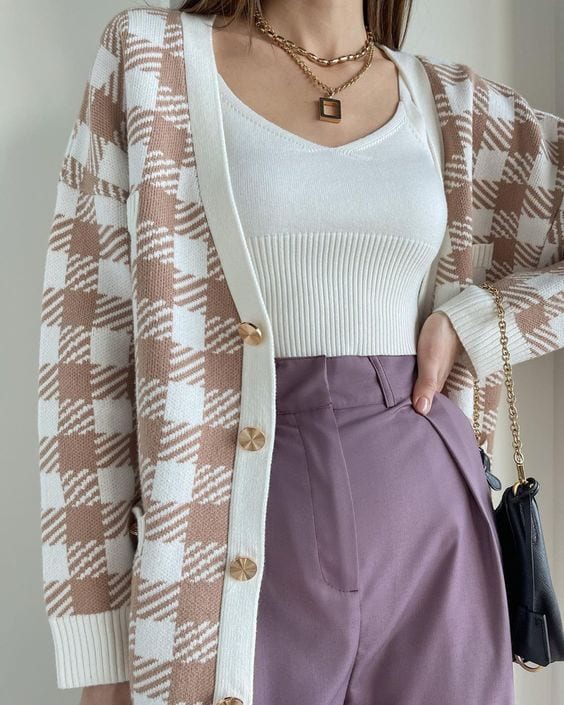 26. What to Wear a White Cardigan With?
White cardigans are a staple piece in everyone's closet. They are neutral and go with almost any outfit and you can dress them up or down. Here we have a white cardigan paired with a simple blue top and printed shorts. Add statement necklaces, and wear sandals to complete the look.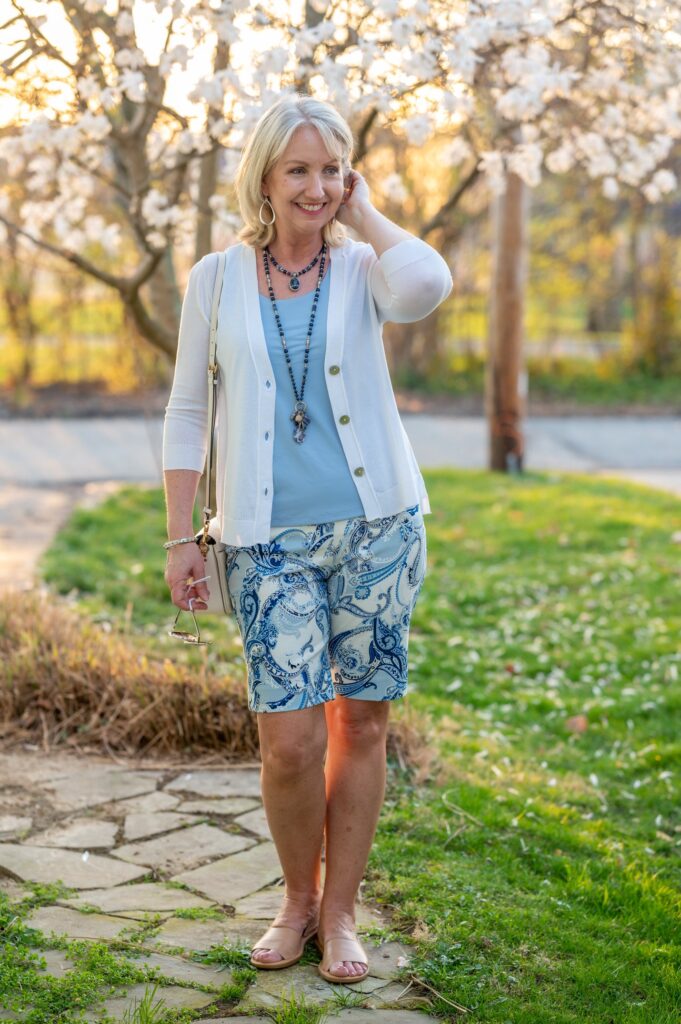 25. Pink Pearls
Looking for an outfit a date night or Valentines? Here is a simply cute one, a sweater with ruffled sleeves and pearls. Those pearls look so stunning on this baby pink colored sweater. You can wear denim jeans, and heels with this outfit, or perhaps cute sandals.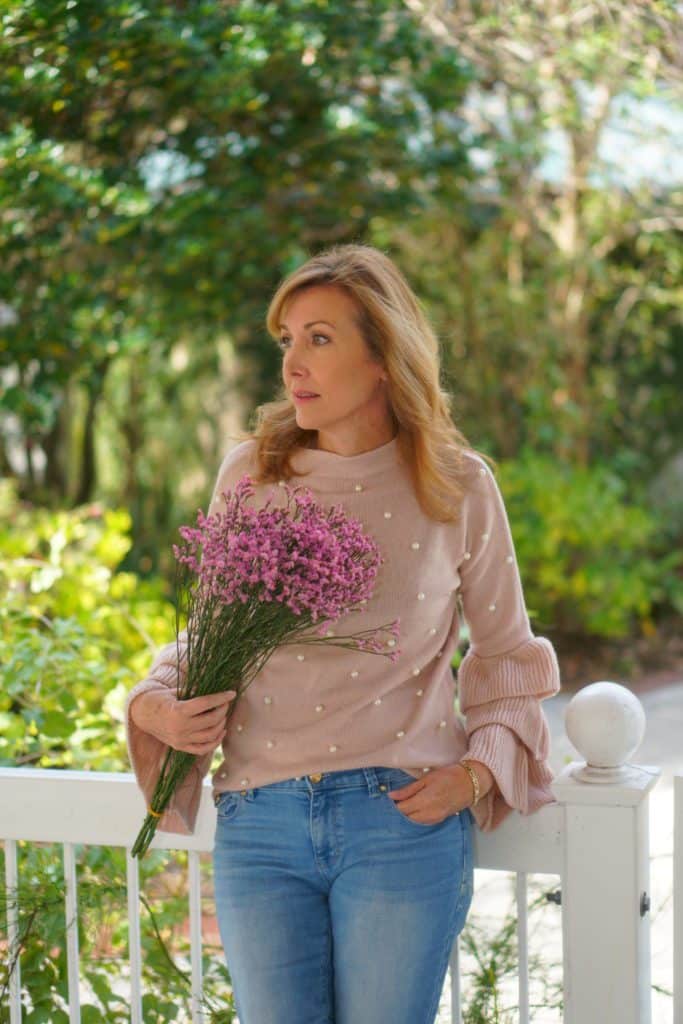 24. Fancy Affairs
Cardigans can be so versatile. This look is so glamorous! It's just a plain cardigan loungewear set but look how chic this looks. The white dress, golden accessories, and chunky belt – all the boss lady vibes you need.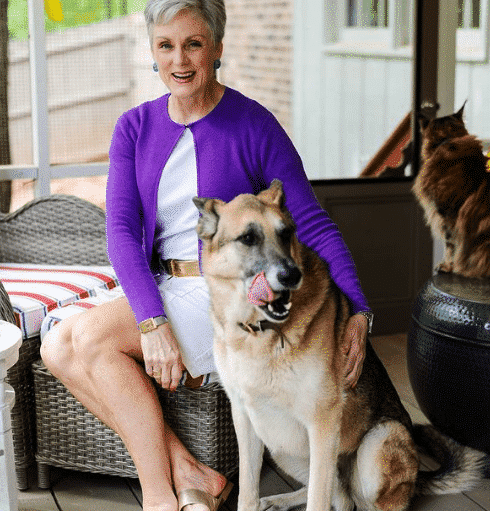 23. For a Semi Formal Event
Are you looking for a formal look? You can pair a funnel neck sweater with white straight pants. If you want to add color to your outfit, you can wear colorful pumps or perhaps a colored bag. This outfit is great for a lunch you might be hosting at home.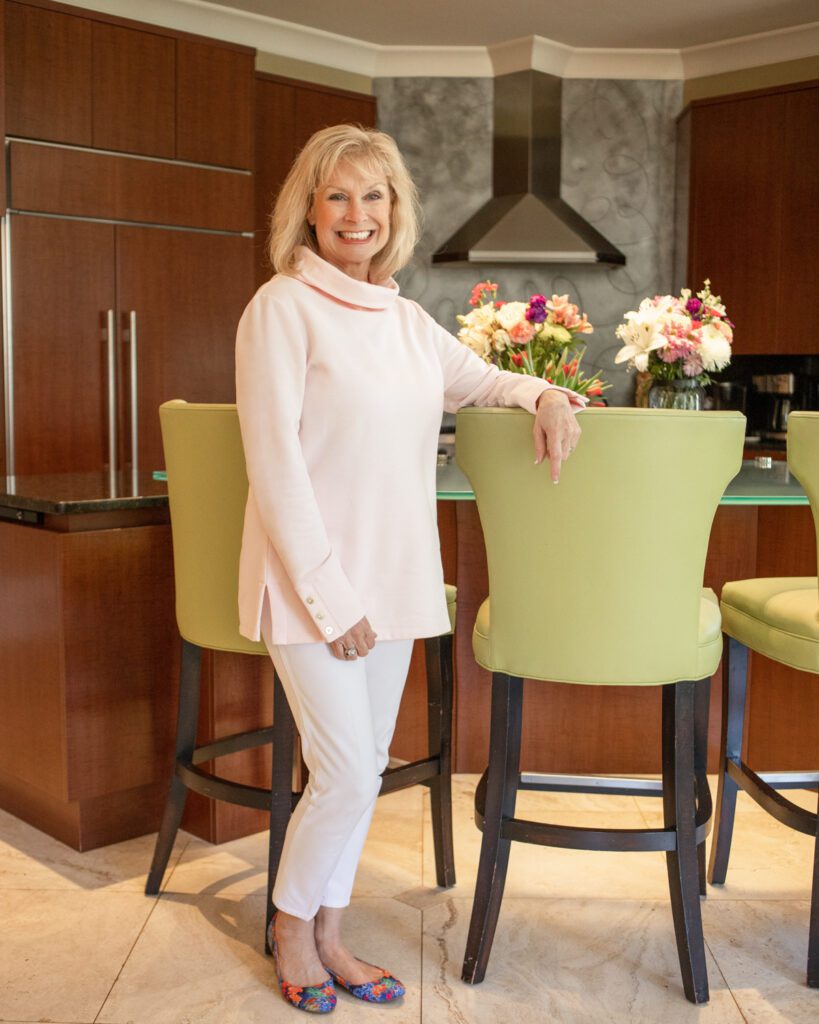 22. All Back Luxe
An all-black look always looks so sophisticated. If it's a chilly day, just add a cashmere cardigan on top and still have the outfit looking so posh!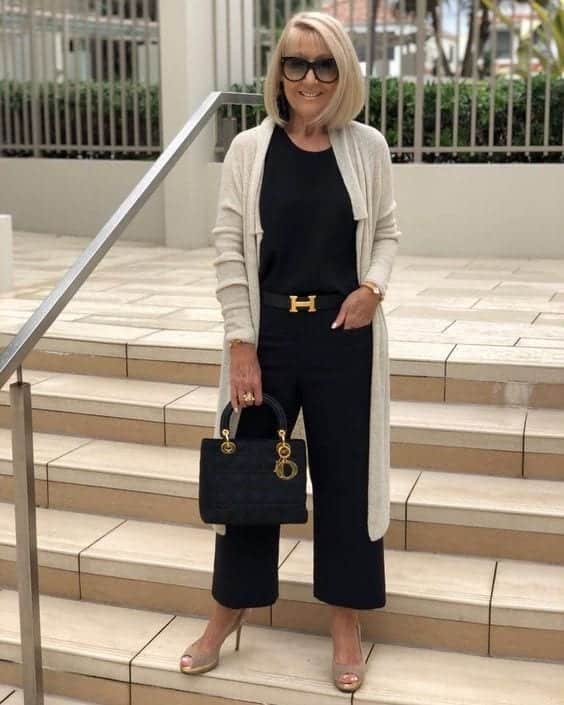 21. Vintage Floral
Sweaters come in all sorts of prints and styles; however, vintage sweaters have made a comeback recently. These dainty embroidered flowers make the sweater look so graceful, and the cuffed puff sleeves give it such a modern look at the same time. Pair this sweater up with a pair of jeans and big pearl earrings to give your vintage outfit a contemporary look.
20. Houndstooth Sweater Vest
This print has been so hyped about recently. The neutral colors go well with a button-up collared white shirt and straight pants for an everyday look.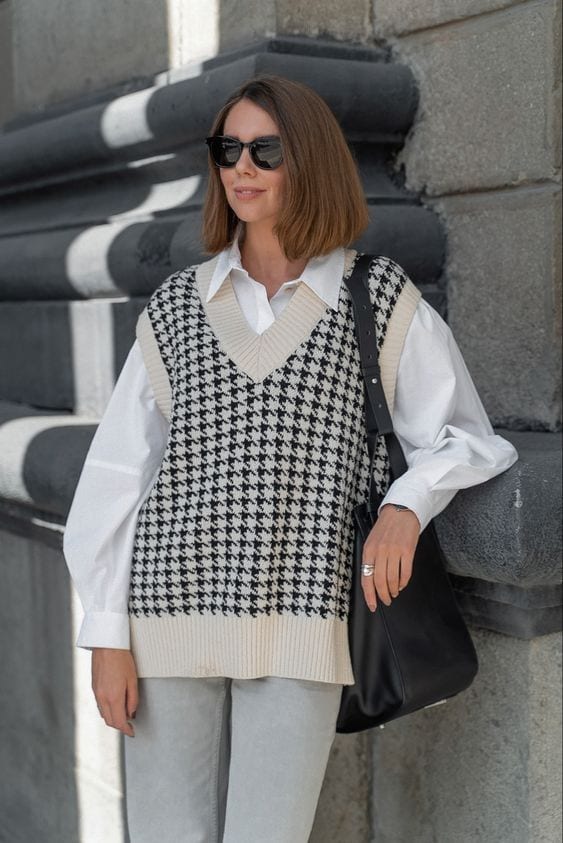 19. With a Denim Jacket
This one is one of my favorite looks its so charming and elegant. A blue denim shirt paired with white pants looks so good. This brown cardigan is so beautiful and just the right length. You can accessorize with turtle shell glasses, and hoops and wear some cool comfy sneakers.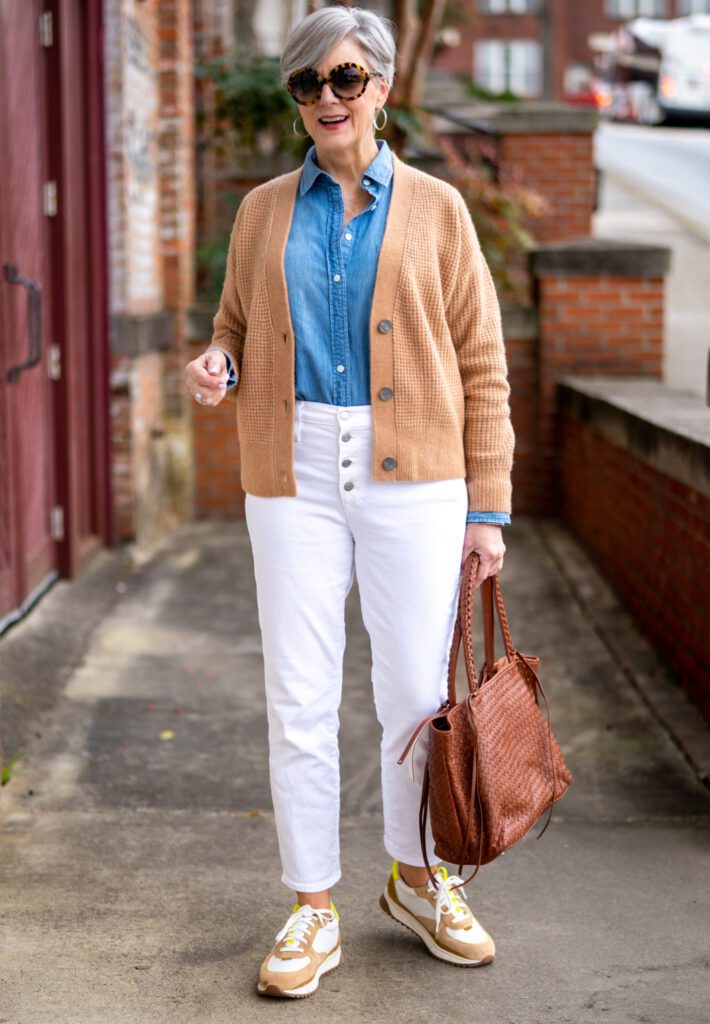 18. Emerald Satin
J-Lo knows how to glam a sweater up and look fire. Who knew you could wear satin pants with a sweater? Looks so chic. The fur on the sleeves is so trendy!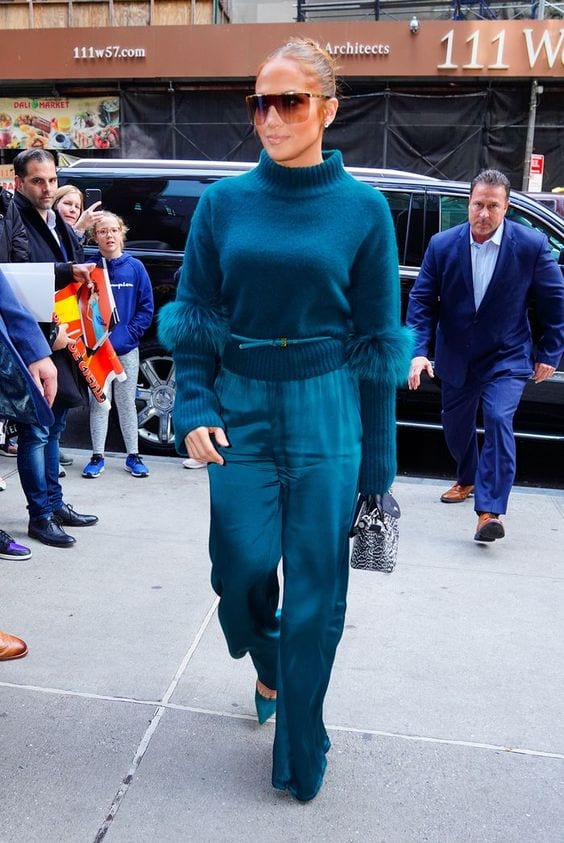 17. Chartreuse
Oh, what a color! Cute, colorful, and classy. This is the perfect cardigan to pair up with light blue jeans and a white top. Keep the rest of the outfit plain, and let the cardigan do the talking!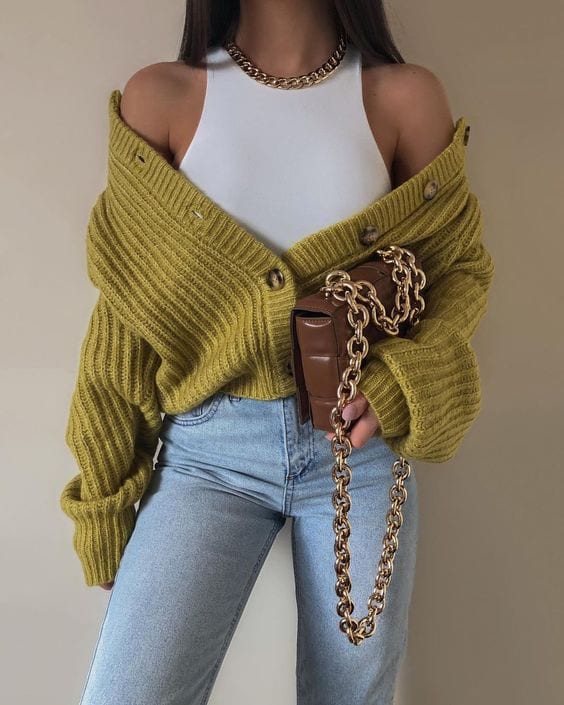 16. Cut out Collar
Are you tired of the basic sweaters? Delve into the world of cuts and try something new. Pair it up with slit pants, and you look like a million bucks! Here are some more Ways to Wear Leggings.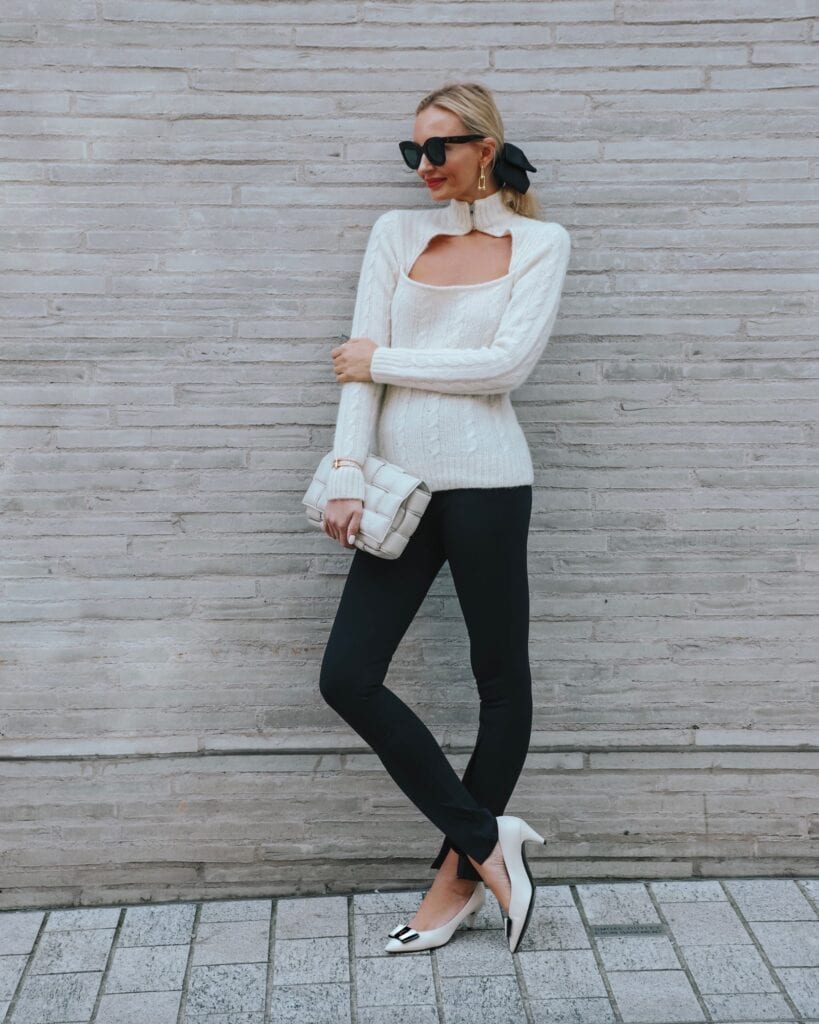 15. Super Chic
I adore this one; the color, the pockets, the length, everything is so cute about this cardigan. It's so easy to pair too with a white top and skinny jeans.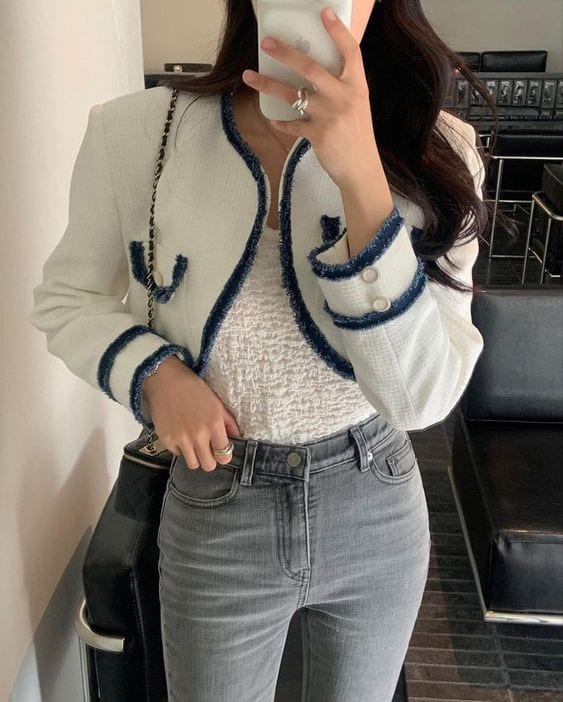 14. Heather
A lightweight cardigan like this goes with just about anything. The front buttons and the crotchet-type material add so much detail, making any outfit look effortless. Wear these with mom jeans and beige bow heels to get that perfect look.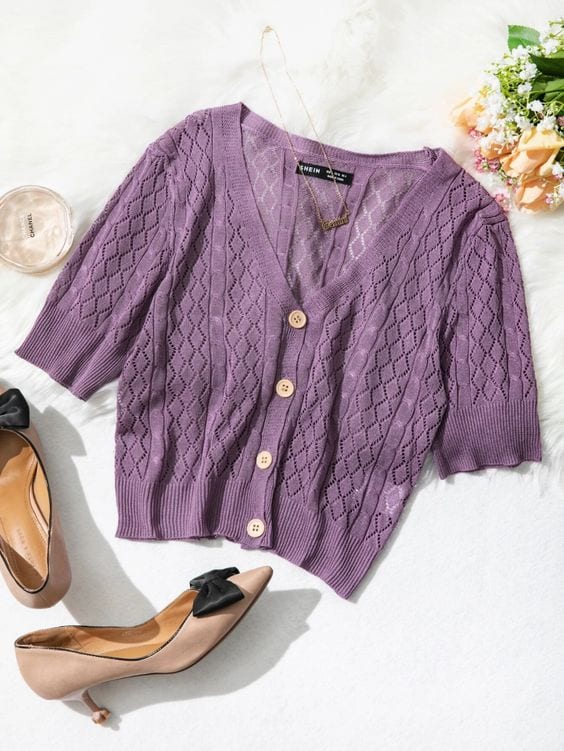 13. Everyday Look
Anna Wintour the fashion icon, and the editor in chief of Vogue stuns in a purple cardigan. Anna is 71 and rocking this outfit so gracefully. This purple cardigan set is paired with a floral print pencil skirt. The lace detail at the bottom of the skirt adds such grace to the outfit.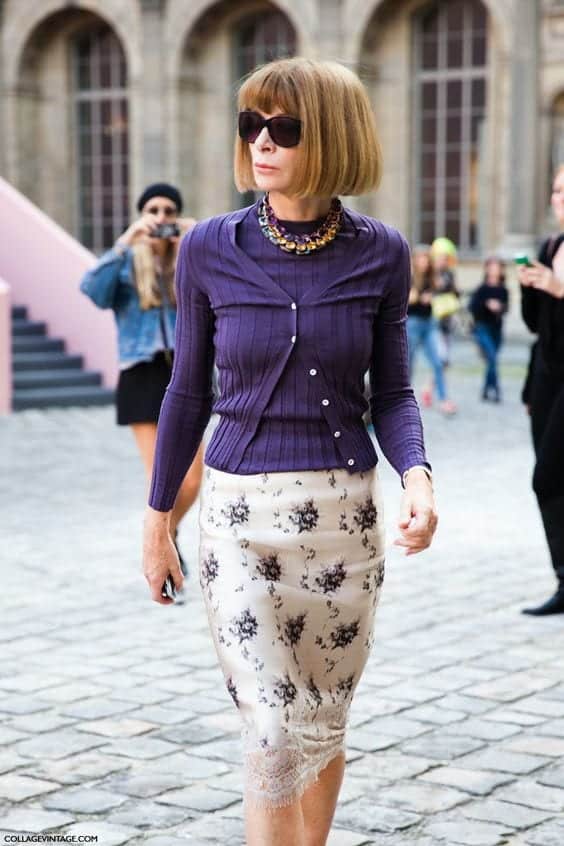 12. Glam Sweater Outfit
Looking for a super glam look? We have got you covered. Here is a ribbed sweater paired with a cheetah fur coat and skinny leather pants. Who says you cant look bomb after 50. Pair the outfit with black heels and gold hoops to finish off the look.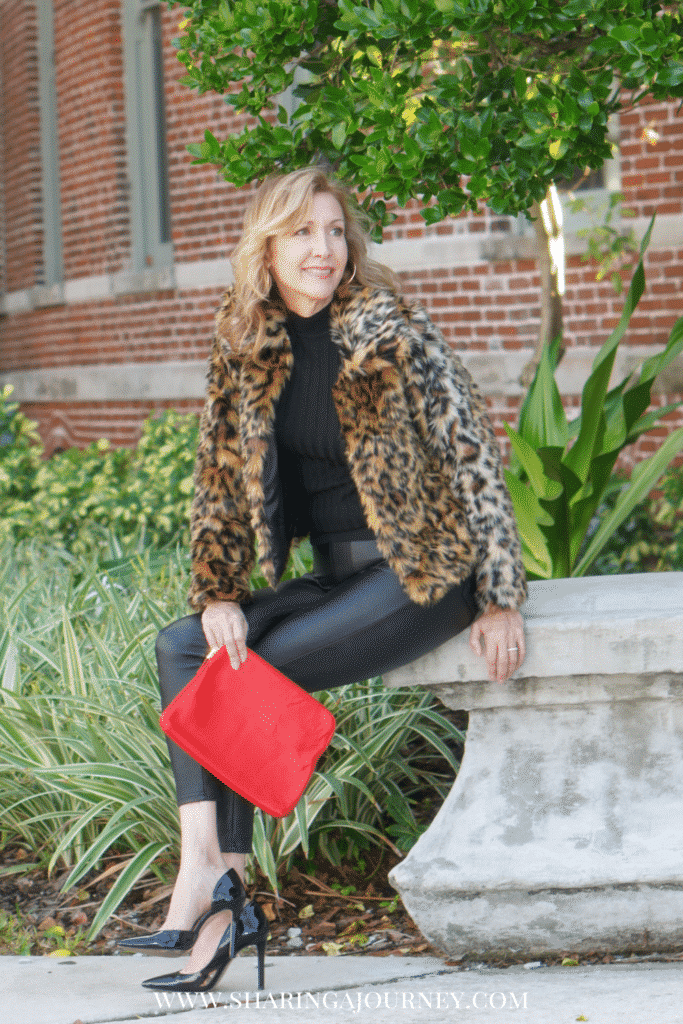 11. Animal Print Sweater
Mix it up and wear a printed cardigan instead; here is a cheetah print to add a bit of pizzazz to your outfit.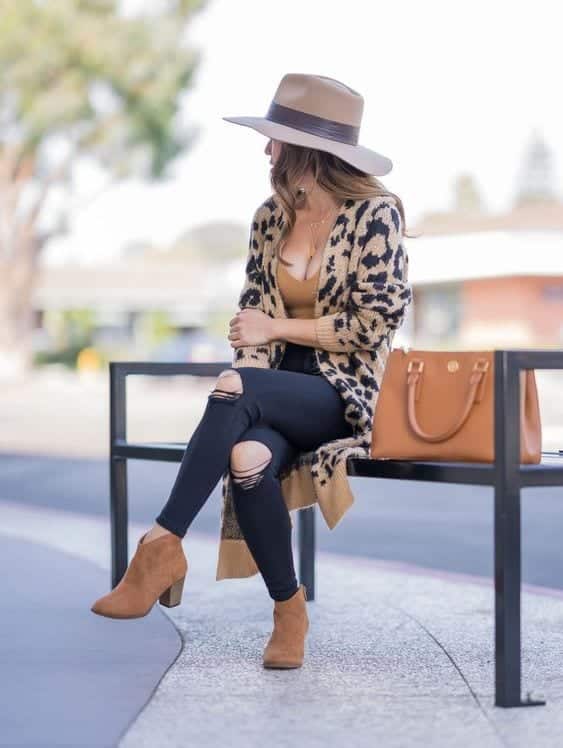 10. Winter Must-Have Sweaters
You must have the basic black sweater and a couple of light colored ones that can be used to layer under your coats in Winters. They act as a great canvas to show off your gorgeous coats.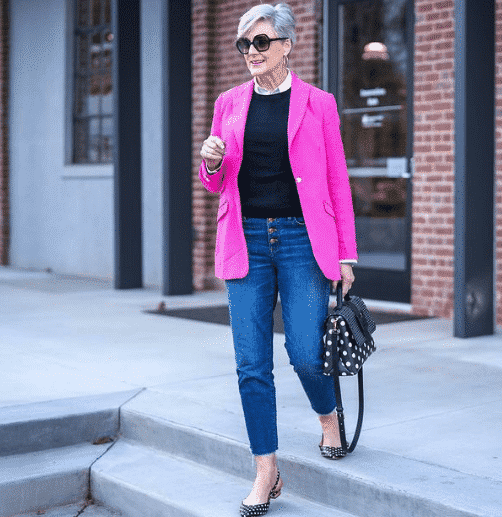 9. Comfy Fall Outfit
Looking for a comfortable yet fashionable outfit? Pair a gingham print sweater, with a cute colored cardigan on top.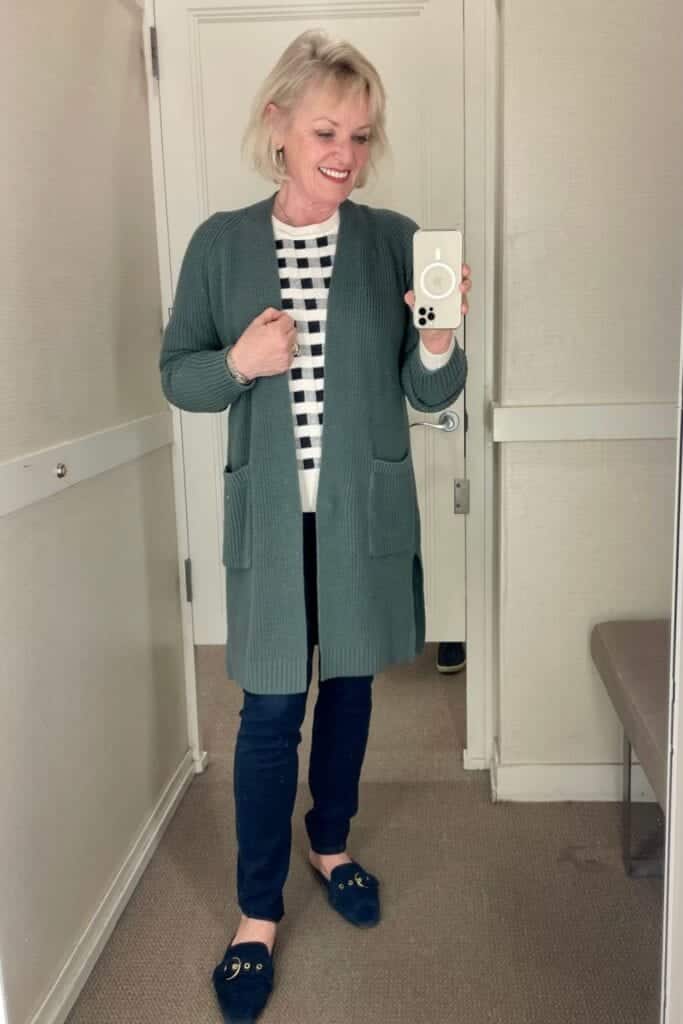 8. Spring Dress
The versatility of cardigans will always amaze me; you will never run out of options to style it with. Here is one of my favorite ways to pair it up with, which is a dress to make it more casual.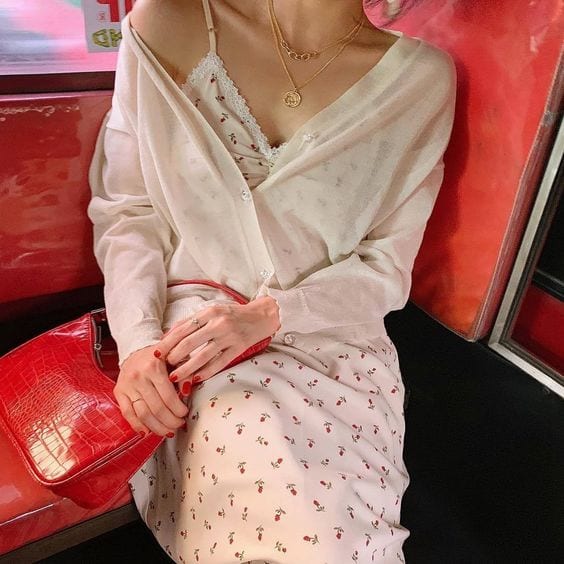 7. Pretty Pine
Always a good option to pair your cardigan up with floral prints with the same color scheme. She looks amazing, and so can you.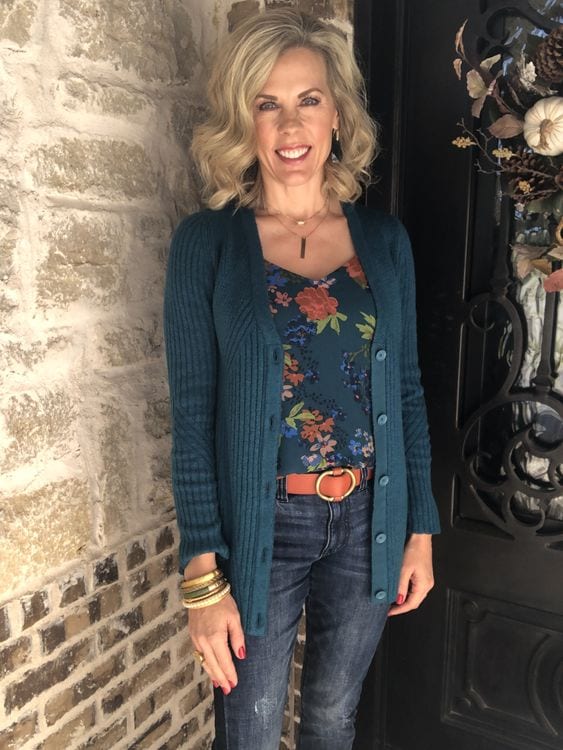 Also, for best skincare products check out skincare tips for women over 50.
6. Ombre Sweater
Ombre dipped outfits are so trendy and add the most modern touch to your everyday outfits. Why would you go for a solid colored sweater when you can opt for an ombre one. The blue tones are lovely. You can wear your sweater up with light washed denim jeans and comfy open loafers. This outfit is excellent for spring.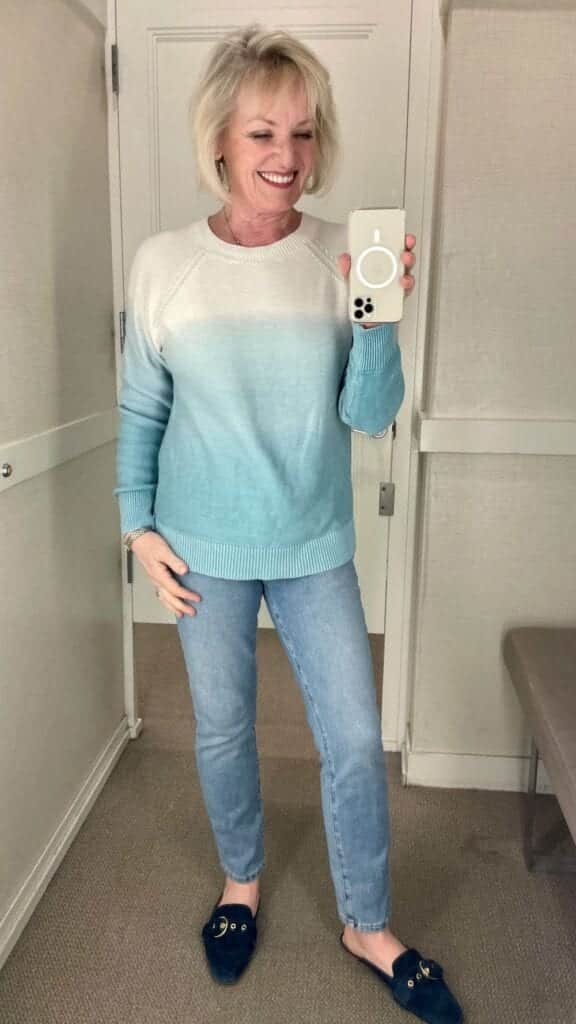 5. Lace
Wearing a V-neck lacey sweater is always a nice way to add a bit of chic to your look.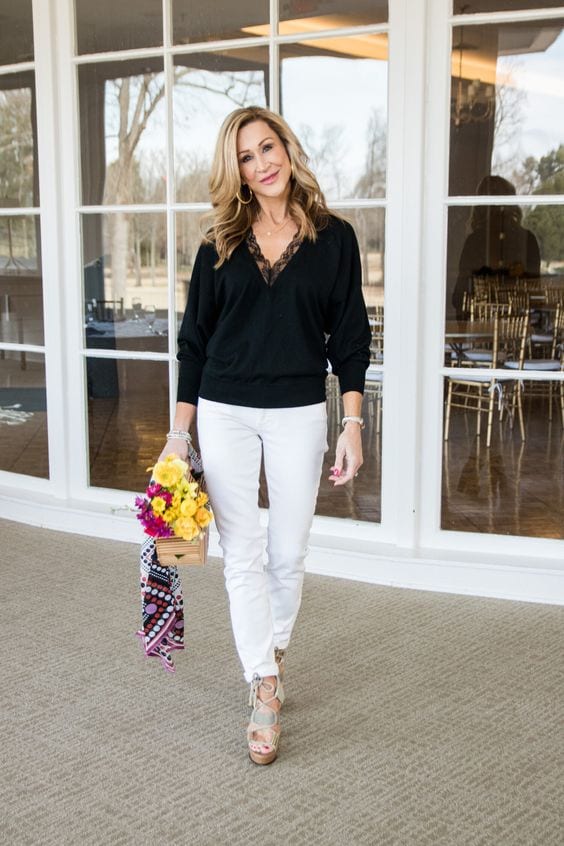 4. Accessorize it up
Don't want to wear your cardigan? Just put it around your shoulders to accessorize your look. Looks so trendy.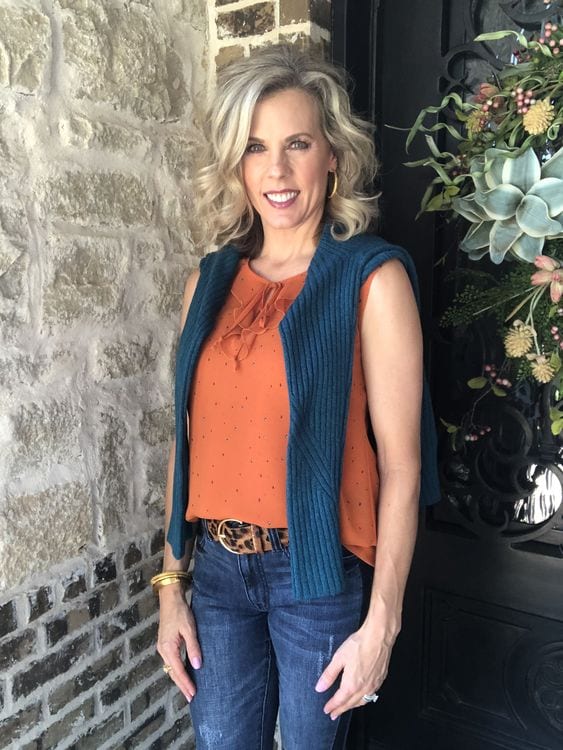 3. Comfy Cool
JLo struts in a fuzzy warm cardigan and a simple tank top, grey pants and a pair of sunglasses. Get your hands on a striped cardigan and steal this look!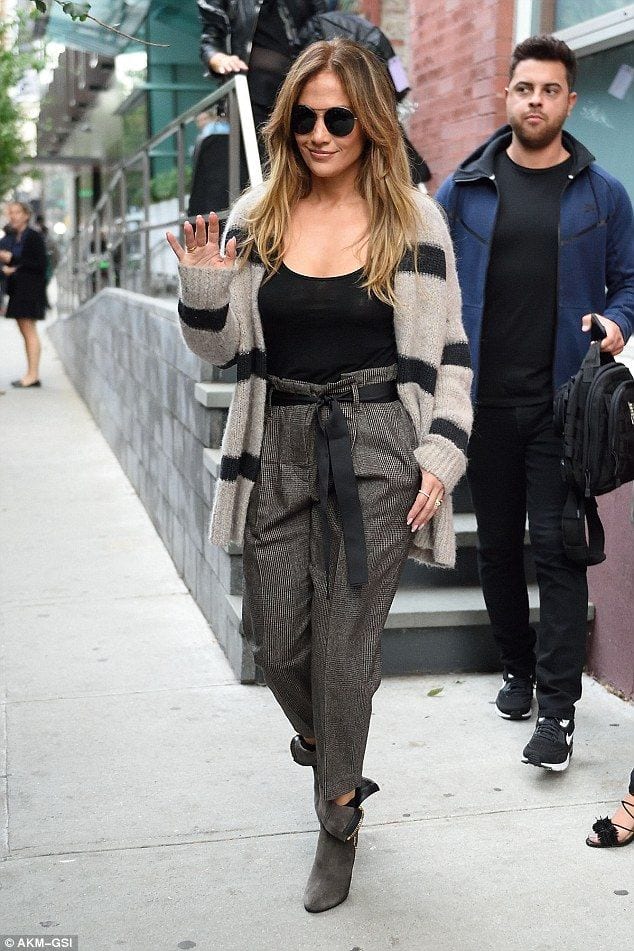 2. Candy Floss
These candy colors are so in season this year. A fuzzy sweater keeps you warm and makes you look so stylish; wear a ruffled blouse under and a dark blue pair of jeans with it.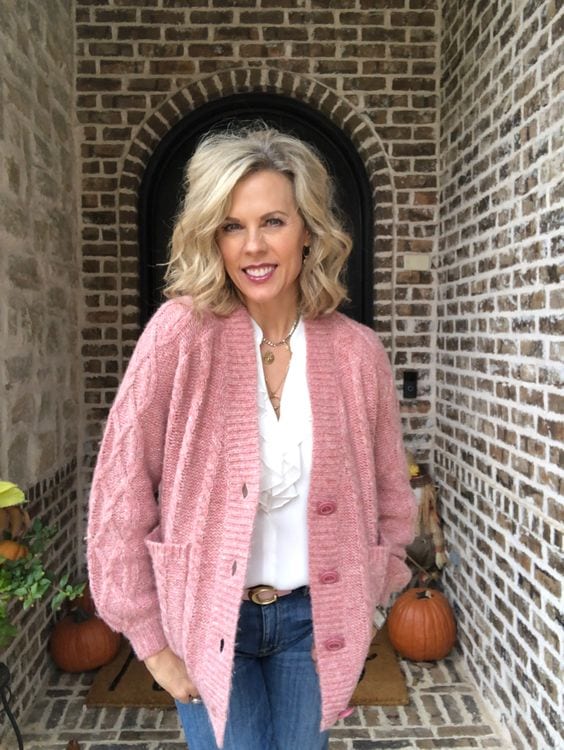 1. Wrap it up
This robe-styled cardigan is so cute and different! You can wrap the strings at the front or leave them hanging up to you. Pair it up with blue jeans and white sneakers or loafers for this one.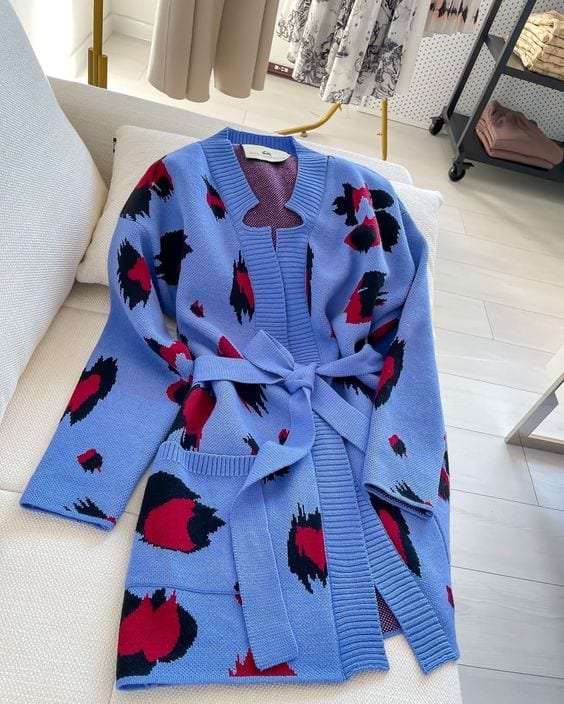 Frequently Asked Question
Q.
Are sweaters business casual?
A. Yes, Of course! It totally depends on how you style it; our post shows the many ways in which you can style sweaters, including the business casual look. Try opting for solid-colored fitted sweaters and pair them up with plaid pants. Add a casual belt, and you are good to go!
Q.
Are Cardigans fashionable?
A. Yes! They have made a huge comeback, and even teenagers and supermodels are wearing variations of cardigans today. There is a huge variety of cardigans today, and they come in all lengths, prints, materials, and colors. They are so versatile and can be worn with short or long skirts, any jeans or pants. They can be dressed up or down as you please.