Outfit For School & College – Choosing a perfect outfit for school and college can be a bit difficult sometimes. Coming up with new ideas to style your outfits can be an everyday struggle, especially in the winter season.
You want to look your best and at the same time, you want to be comfortable because you have to spend almost half of your day in college or school. There might be a lot of students reading this post, so we thought that it's a good idea to help you with choosing a cute but comfy outfit for those days.
What To Wear To School/College In Winters
You can have a lot of options to style your college outfit however comfort should be your first priority while creating your look. And to create a cute and comfy outfit in the winter season, you can just simply pair jeans with shirts and jackets over them.
This is the kind of outfit that needs no effort and much time, so this can be the easiest to style. Other than that, you can also pair skirts with leggings and turtle necks. This is a cute outfit that you can wear to special events in college. Lastly, you can simply just pair your hoodies and sweaters with jeans for an indie school outfit.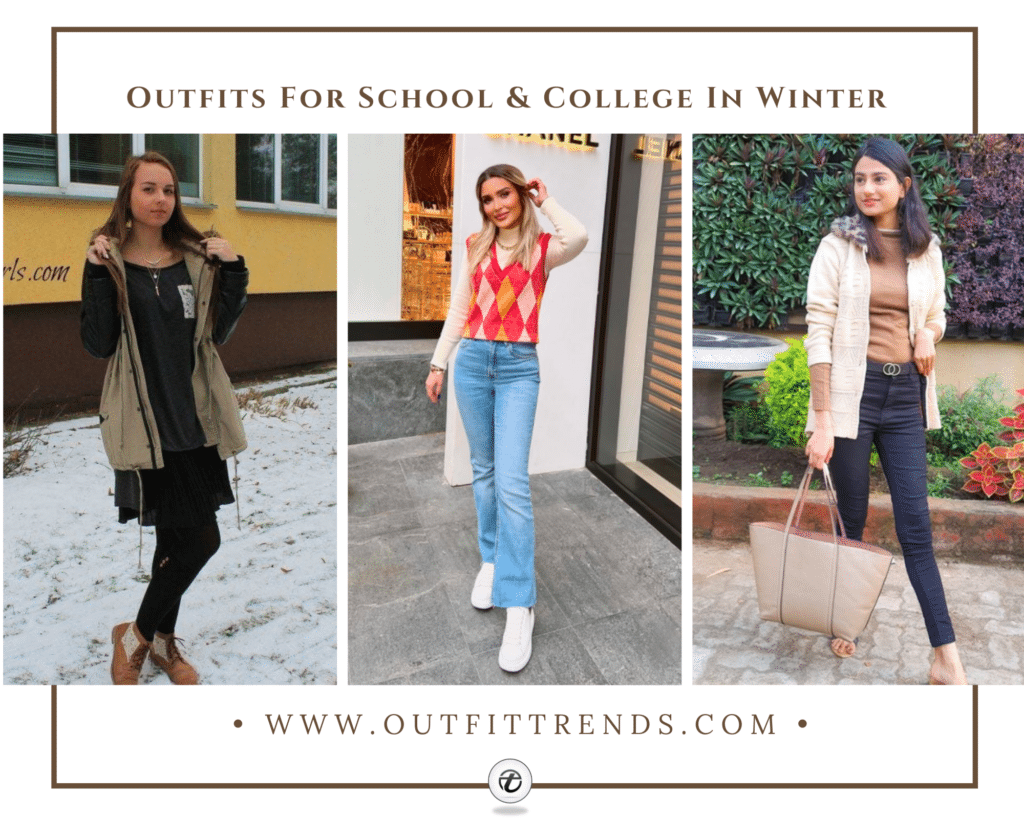 Do's And Dont's
For footwear, sneakers can be your best friend, to wear with your outfit every day.
Keep your makeup and accessories minimal for college.
Invest in some good denim or leather jackets, because you can wear them with almost every outfit.
5 – Loose Shirt With Leggings And Tan Sleeveless Jacket
We all love wearing leggings, right? To make them look not so boring, you can put a flowy shirt over them. Since flowy shirts are really comfortable, you won't feel that you wearing something with your leggings. If your leggings are pretty thin, you can also put on a pair of knee-high socks.
T-shirts are usually the best option for school, so you can wear a shirt with a lace pocket, this little detail will make the whole outfit look cuter. As you can see, layering is really important in the winter season as you cant just wear a t-shirt, so you can match a grey cardigan with this outfit.
Of course, the cardigan is also not enough for the chilly weather, so you can also put on a warm coat that you have in your closet. You can wear matching shoes with a coat in brown color. Last, but not least is a cute backpack. You cant forget a bag for college. Light accessories are preferable for college so you can also add a necklace or a bracelet to your look.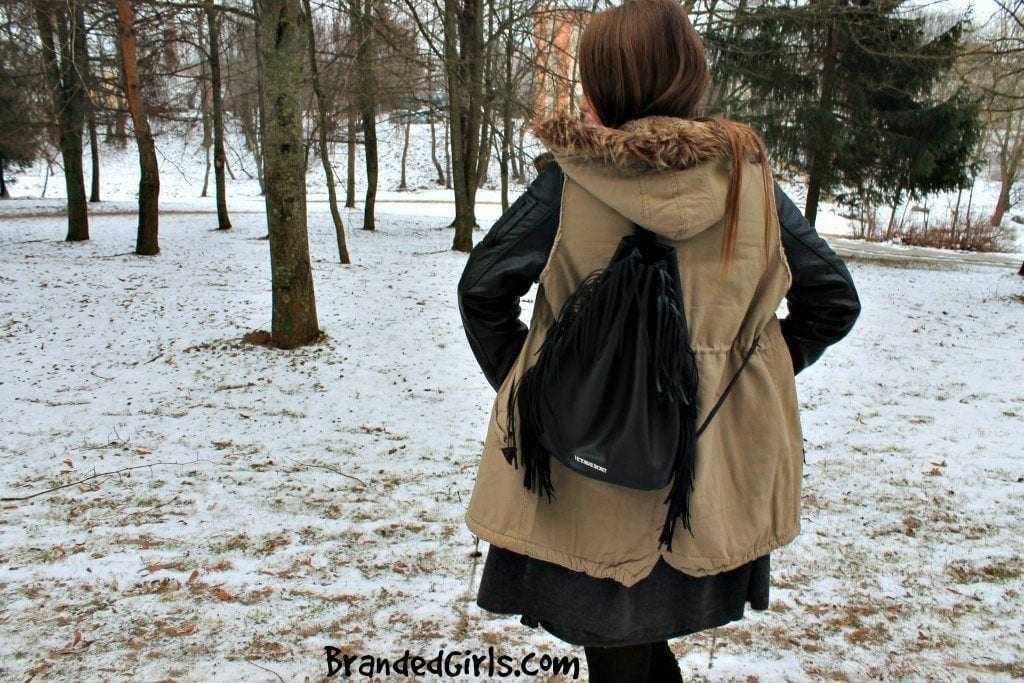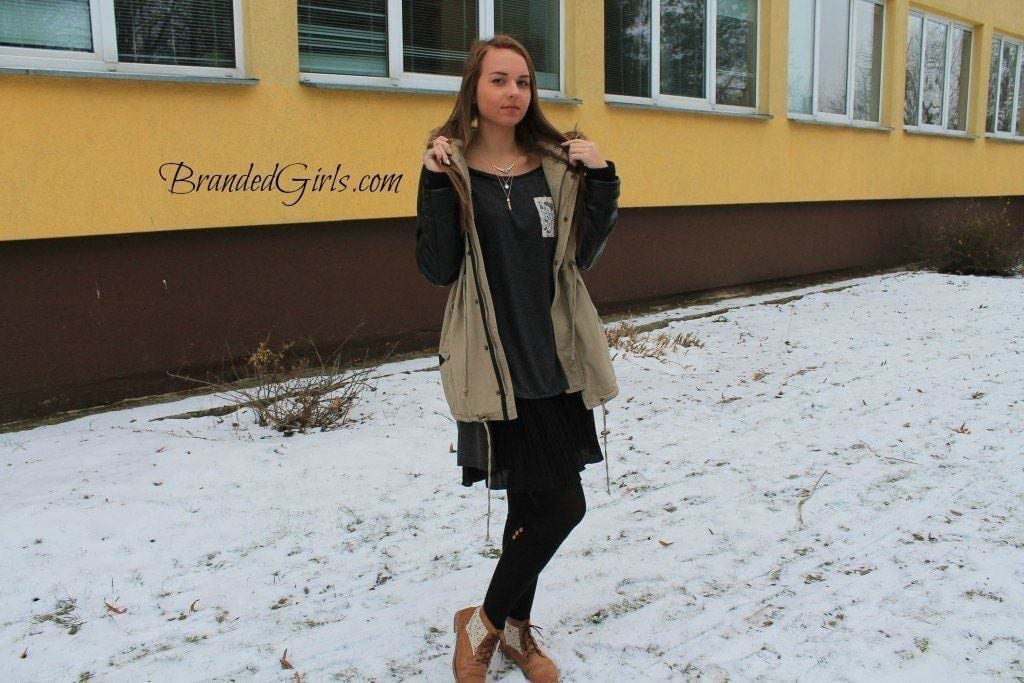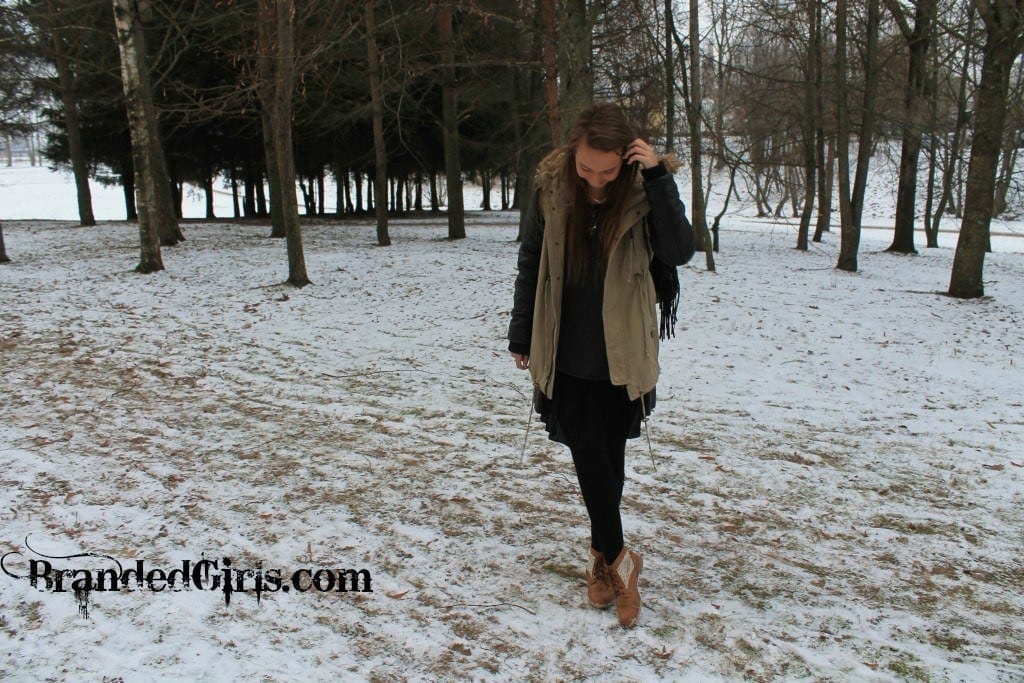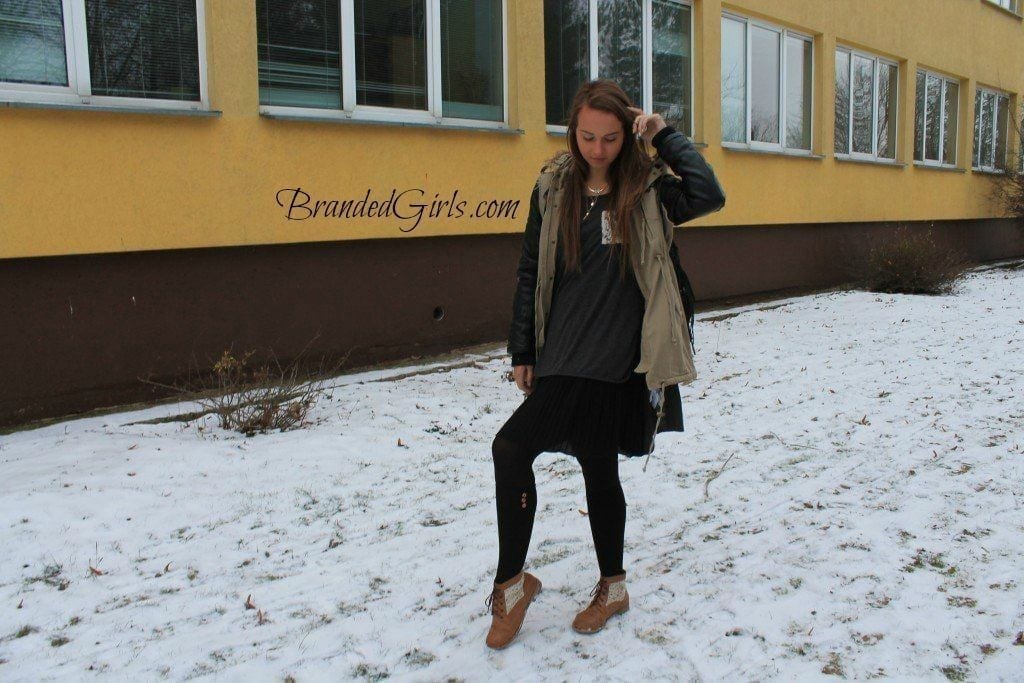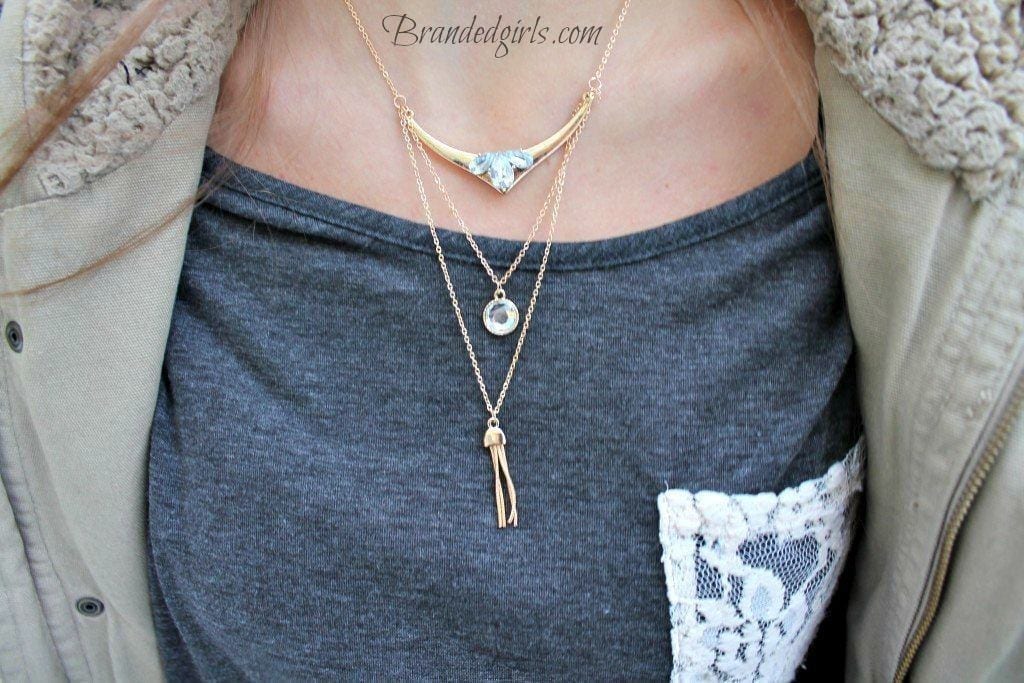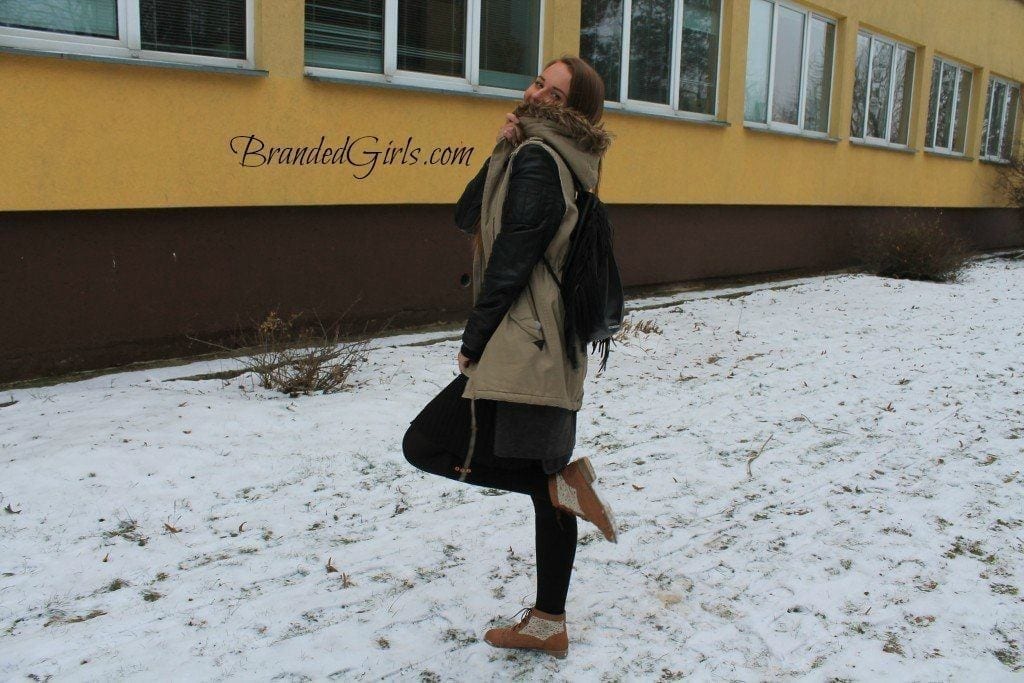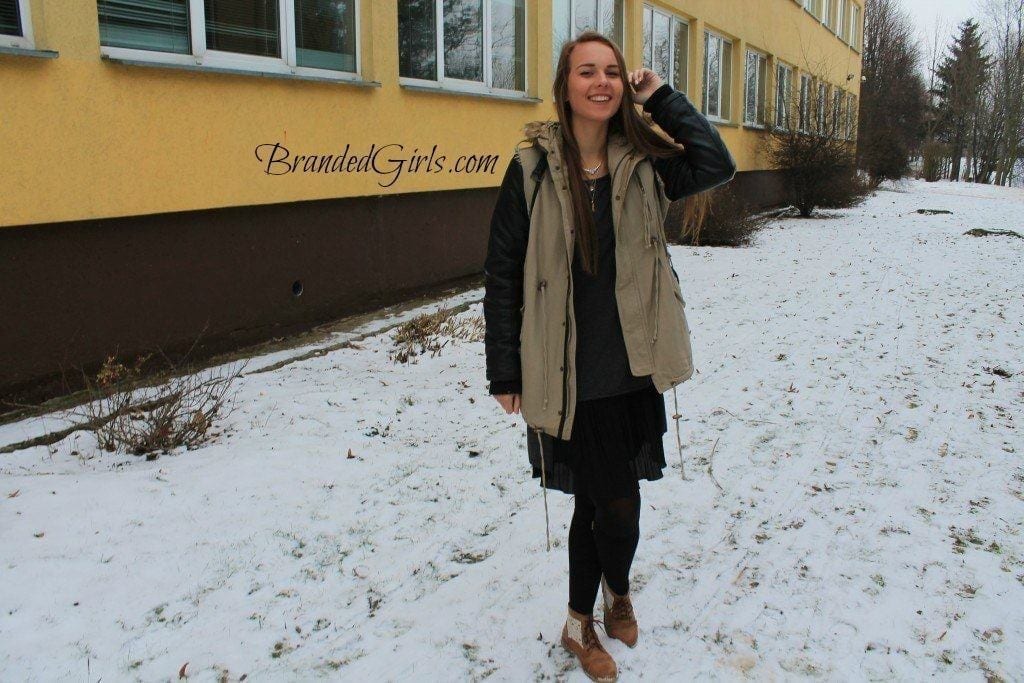 Sunzel Leggings for Women $24.99
Womens Sleeveless Vest Jacket $48.98
4 – Skinny Jeans With Fur Coat And Brown Sweater
We can not deny the fact that the combination of brown and black looks absolutely classic. It is not always important to wear the perfect outfit to impress people, in fact, you can also shock people with your color choices. It is one of those outfits that be styled very quickly.
All you need is to pair black jeans with a chocolate brown sweater and a light fur coat layered upon it. Layering your outfits in winter can be fun but it can also be tricky because if you don't do it the right way, the outfit can be ruined as well.
Levi's Women's High Rise Skinny Jeans $59.99
Women's Soft Faux Leather Shoulder Handbag $16.59
3 – All-Denim Look For Sports Day
A denim jacket is something that almost every girl has in their wardrobe, and if you don't own it, then this is the right time to purchase it. You can pair it with almost every outfit and look super cool.
You can slay this all-denim look on events like sports day in your college. All you have to do is to wear a cropped white top with a cropped denim jacket with high wasted blue denim pants. You can also create this look in black color. This cropped jacket can be used and styled in a lot of different ways also.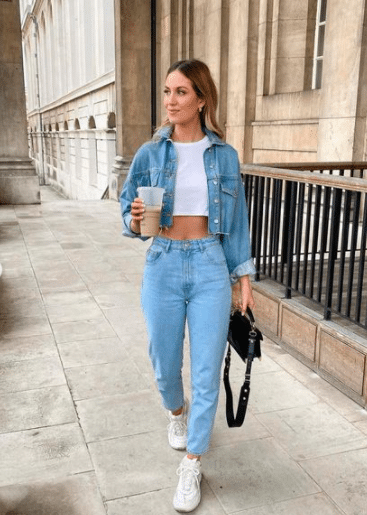 Womens High Waisted Skinny Stretch Jeans $38.99
Women's Cropped Jean Denim Jacket Button Down Long Sleeve with Pockets $41.86
2 – Wide-Legged Jeans With A Black Coat And Red Top Under
Hijabi girls can create this elegant outfit by wearing a bright red top with wide leg denims and a long black trench coat with a belt. You can wear a black hijab and red bold lips with this look. A cute shoulder bag and ankle boots can also be added to this look. You can wear this outfit on the formal days of your college. It will keep you warm and cozy and you will look classy at this same time.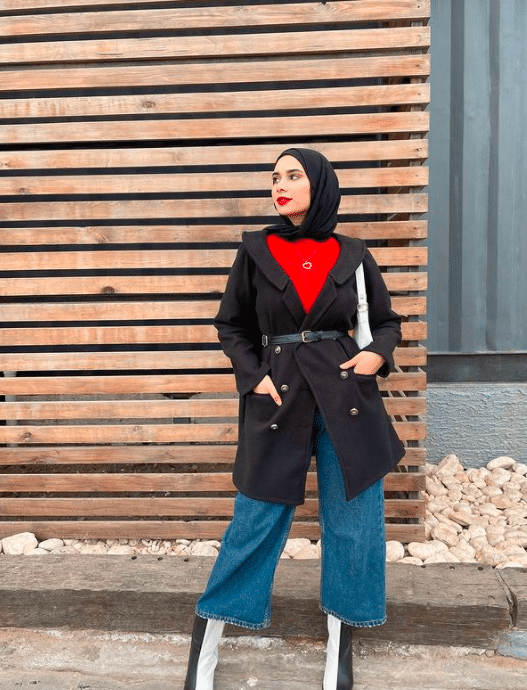 Women Boyfriend Jeans Wide Leg $39.99
Women's Relaxed-Fit Water-Resistant Trench Coat $49.70
1 – Orange Sweater Vest With Straight Fit Jeans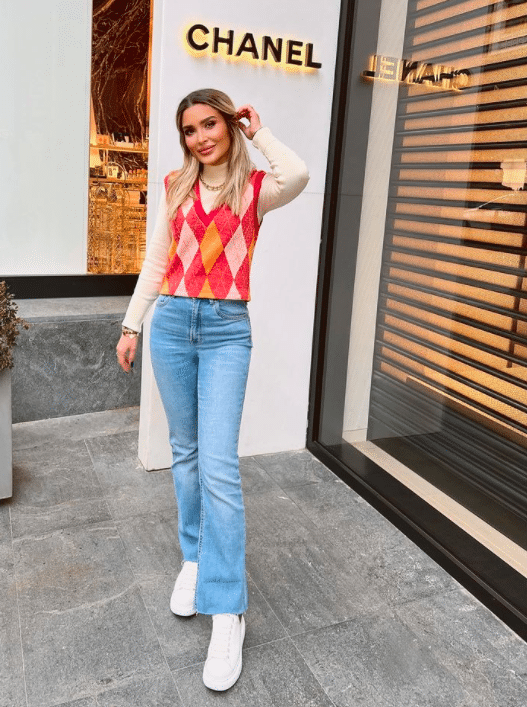 Women's Lightweight Classic Lace Up Fashion Sneakers $39.99
Frequently Asked Questions
Q. How should I dress for college?
Ans. You should dress comfortably yet stylishly for college. You can do that by pairing up differing things and layering in the winter season. The easiest way is to wear skinny jeans with different kinds of tops. With that, you can also wear hoodies and jackets on top of that in the winter season. Apart from that, you can also add a scarf to this look. You can also wear shorts and skirts with leggings. College outfits can be fun and cute if you style them the right way.
Q. What are some formal outfits for college?
Ans. You might also need some formal outfits for formal events in your college. For that purpose, you can wear cropped blazer pants, a long maxi dress, a formal blouse with dress pants. You can choose your outfit according to the event. You can wear pumps or platform heels with your outfits. A formal hairstyle can include a ponytail or a bun. Minimal accessories like a watch necklace and studs would definitely enhance your look.
Q. What should I wear to college in winter?
Ans. Winter can be a fun season as you can style your outfits in many different ways. You can add layers of clothes, pair different things, and match a lot of different colors. You can simply go with a bright color turtle neck sweater like orange or hot pink with blue denim. You can add white sneakers and hoops with this look, a high ponytail will also look very cool. You will be ready within minutes with zero effort.