Amusement Park Outfits for Women. If going to an amusement park still stirs up that sense of childish wonder in you, you are not alone! There are few places more magical than an amusement park where snacks and fun rides abound, where the smell of corn dogs and cinnamon bread fill the air, where families take endless pictures and kids scream on the rollercoasters. It's a place of fun, and what should be equally fun is the outfit you choose to wear to it!
Whether you are a Mickey Mouse ears fan or you prefer a more elegant look, today's article will answer the question of what to wear to an amusement park, plus give you tips and ideas for what you can wear.
What to Wear to an Amusement Park?
There's nothing more frustrating than not knowing what to wear! Is a dress okay? Can I wear flip-flops? What if it rains? There's a lot to consider and it can definitely get overwhelming. Having a guide helps and getting all your questions answered is a must. So consider this your definitive guide on what to wear to an amusement park as well as what not to wear.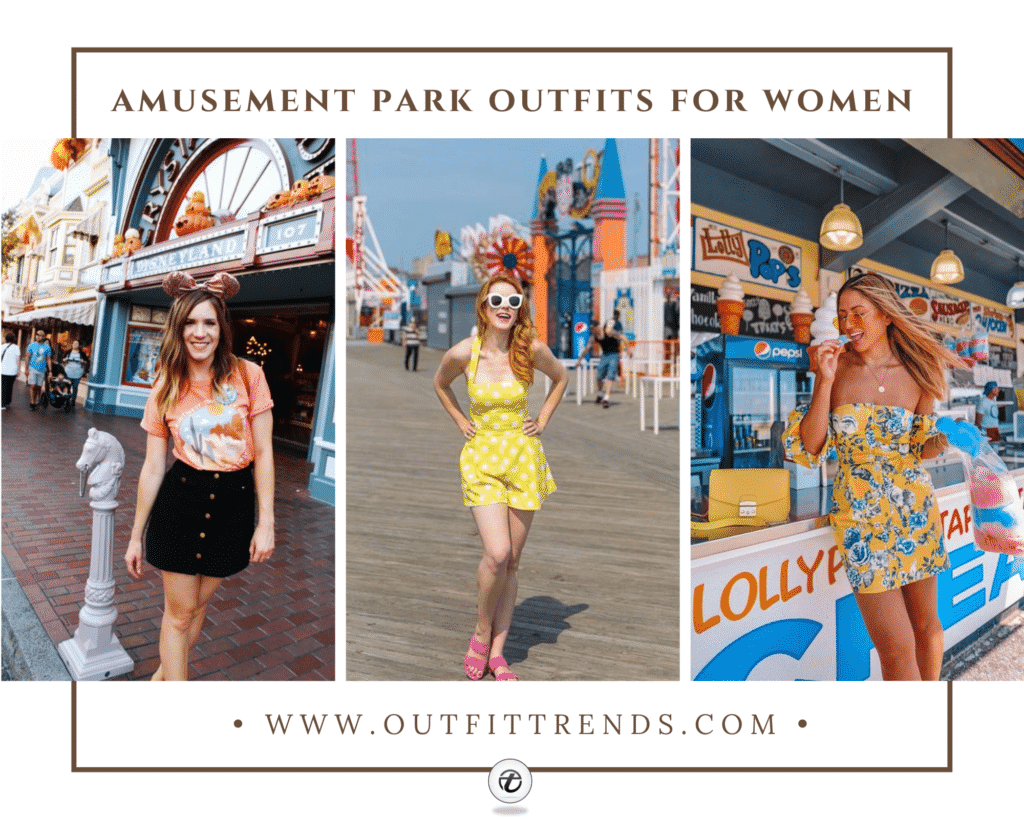 Before we get into our outfits, here are some tips to keep in mind when planning your look for the day.
Always check the weather before deciding what you are going to wear. Even scattered showers can alter your outfit choices.
If you are worried about getting sunburnt, try a white, long-sleeved tee shirt, or other breezy material that lets you feel the air while still providing coverage.
By the same token, a hat is always a wise choice. But if you plan on going on rides, consider removing it (plus, some rides don't allow hats) or make sure it offers some type of adjustment to make sure it stays secure on your head.
You don't want to be carrying a lot around, so be sure to stick to the essentials. Consider swapping out your typical purse for a small backpack purse or a fanny pack. Even a drawstring bag works well.
Avoid any type of outfit that requires constant adjustment or fixing. That's just not fun.
Activewear is always a great choice. After all, you will be quite active at an amusement park!
Focus on building an outfit that won't make you unnecessarily hot and that allows you to stay as cool as possible throughout the day.
Pro tip: If you are someone who gets particularly sweaty but hate showing sweat stains, don't wear gray! Sweat shows up really clearly on gray clothing. But don't let the fear of sweat stains hold you back. We are all human and we all sweat. Just try and have fun!
Now it's time to look at some cute amusement park outfits. Let's get started.
↓ 20 – Red Flannel & Jeans
If you are visiting an amusement park in the fall or even in the latter part of a summer day, a light jacket is definitely something you should consider. Or, in the case of this look, a classic red flannel shirt. What's great about this option is that you can tie the shirt around your waist if you start feeling too warm and it's equally stylish. I love the simplicity of this look which is very down-to-earth and comfortable but has the elements of a cute hairstyle, oversized hoop earrings, and a knotted tee to keep it chic. Here are some more ideas on How To Wear Red Pants.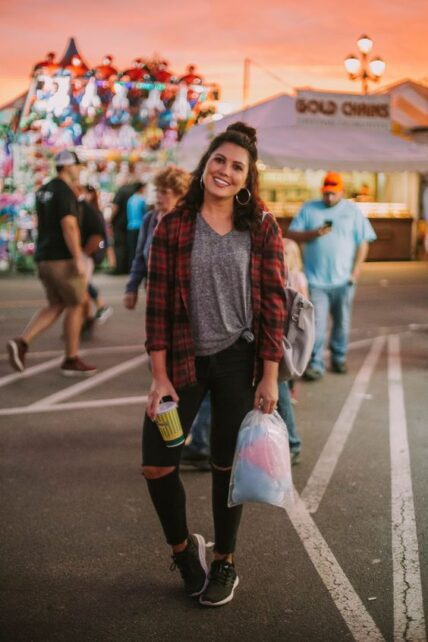 ↓ 19 – Amusement Park Outfits for Women
A fanny pack is not only super practical for an amusement park but it's super stylish as well! Get yourself a trendy brand-name bag and you have a showpiece that will tie your whole look together. This is a great example of an outfit you could wear on a super hot day. Simply pair a white cropped tank with your favorite denim shorts and add some cute sneakers.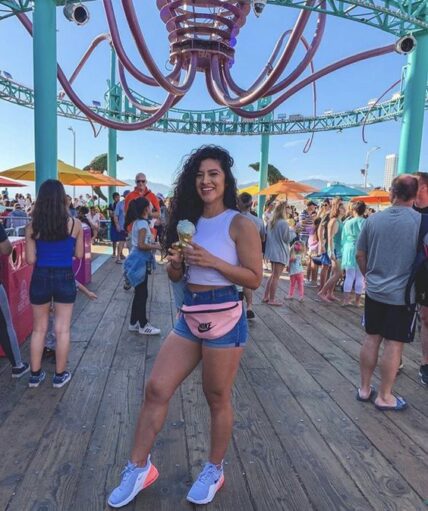 ↓ 18 – Cute Floral Summer Dress
If you are looking to have a more lowkey kind of day at the park or fair, a gorgeous floral summer dress might be the pick for you. While I wouldn't recommend dressing to the nines if you plan on really putting in the miles and spending the entire day doing rides and trekking from one side of the park to the other, it's great for those less active times where you just want to enjoy some cotton candy and play some games.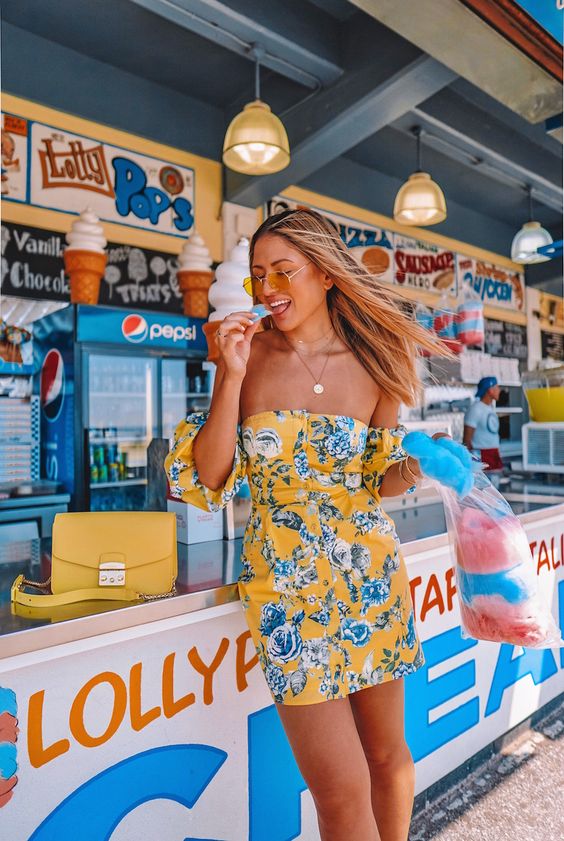 ↓ 17 – With Polka Dot Dress
Here's another example of a summer dress you could wear. This look is great for a summer evening at the carousel or eating ice cream with that special someone. A dress like this is lightweight so be sure to bring along a jacket in case you get cold.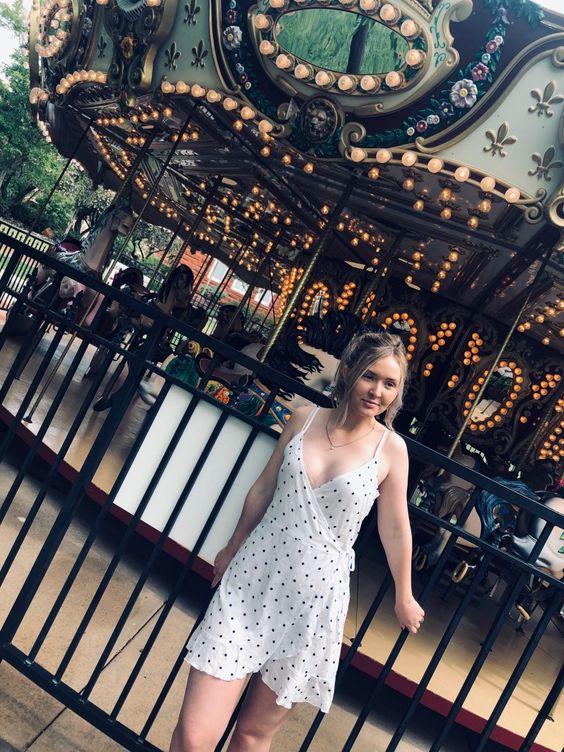 ↓ 16 – Amusement Park Outfits for Plus-Size Women
I love having options and this blogger delivered them! If you are stumped for ideas on what to wear for a rounder figure, here are four great picks. All comfy, all cute, all practical.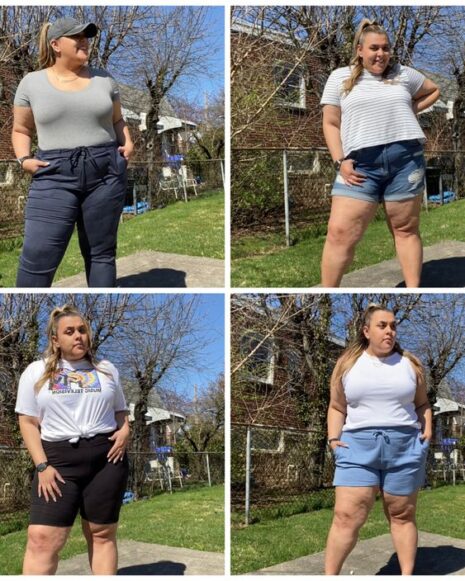 ↓ 15 – Amusement Park Outfits for Moms
After you have checked the weather, packed the car, gotten your little one dressed and fed it's easy to collapse in a pile of yoga pants and tank tops and call it a day. And that's before you even got out the door! Do yourself a favor and keep your look simple but cute. A stylish crewneck, your favorite pair of jeans, a logo baseball hat, and some Vans are all you need to rock your Mom-approved amusement park ensemble.
↓ 14 – What Footwear to Wear to an Amusement Park?
What you put on your feet might actually be the most important element of your outfit. Chances are you will be on your feet most of if not all of the day. So put aside the heels and espadrilles for the day and stick to wearing sneakers. Your feet will thank you.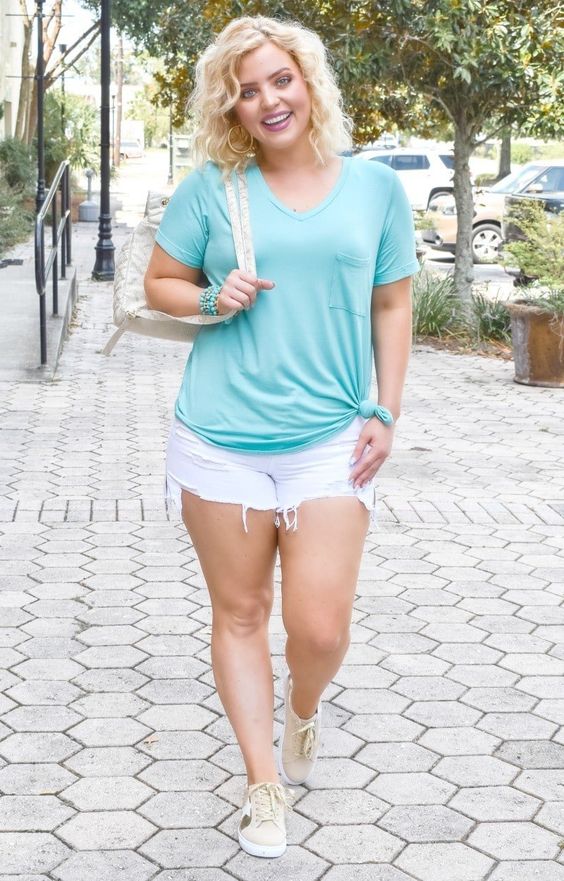 ↓ 13 – Amusement Park Date Outfit
An amusement park is a great place to have a date! But what to wear? Well, despite my previous suggestion, a cute pair of wedges might be a good option for you… but only if you don't plan on walking the whole day, or even being out the whole day. If you plan on spending a couple of hours doing some small rides and tossing pies then whip out those wedges, girl, and have fun. But if you plan on really hoofing it, swap them out for some cute walking sneakers. Your date will still think you look cute, especially if you add some heart-shaped shades to your look!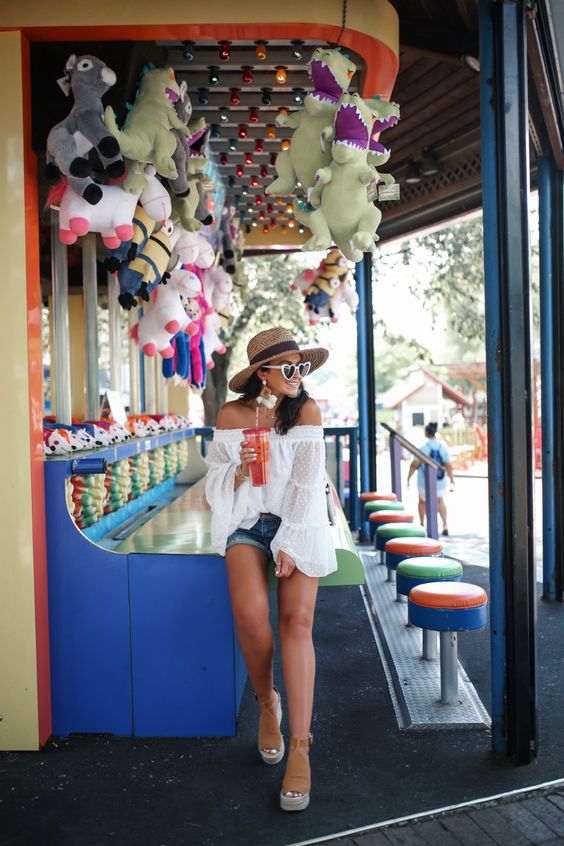 Shop the off-the-shoulder top here.
↓ 12 – Cute Tee & Black Jean Skirt
Visiting Disneyland may be your only chance to indulge your love of Mickey Mouse ears. So I'm not one to say you should avoid them! But before settling for the basic black and white ones, why not try some chic satin and glitter? Make your accessory part of your overall look and pair them up with a cute tee tucked into a jean skirt. Love!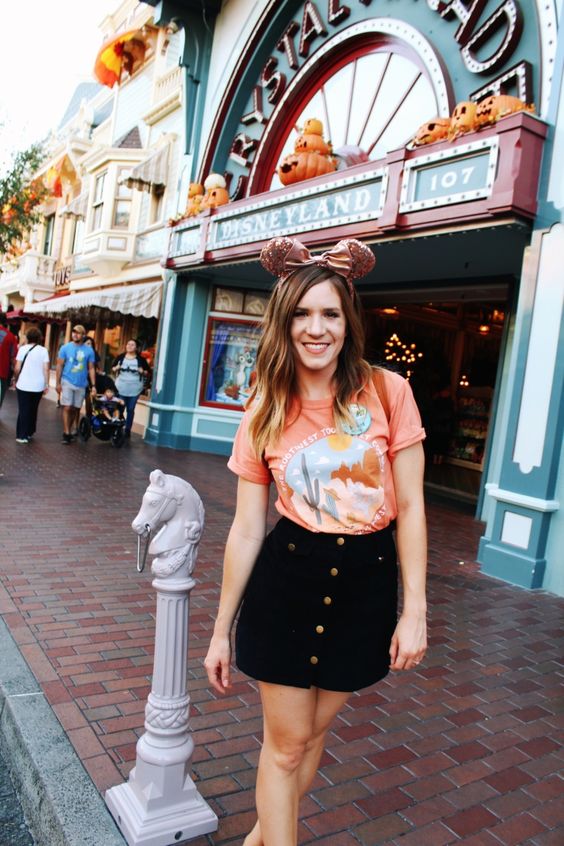 ↓ 11 – Celebrity Style
I think this lowkey, casual outfit worn by Selena is a fantastic choice for an amusement park outfit. Especially if you are going on a cooler day. It's comfortable without sacrificing an inch of style… just the kind of look I love.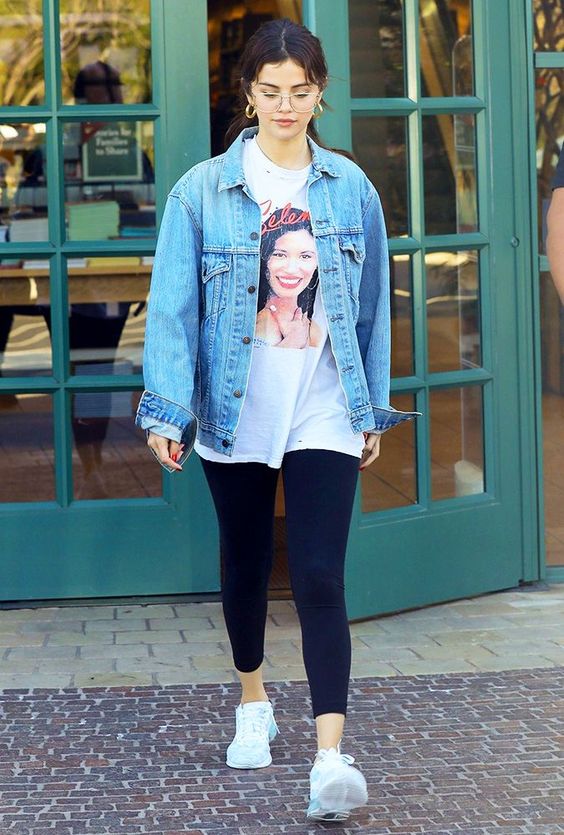 ↓ 10 – Amusement Park Outfit to Wear in Fall
If you are going in the fall, then incorporating a cute jacket is a must. I love this cropped, furry style one that looks fantastic with some high-waist jeans.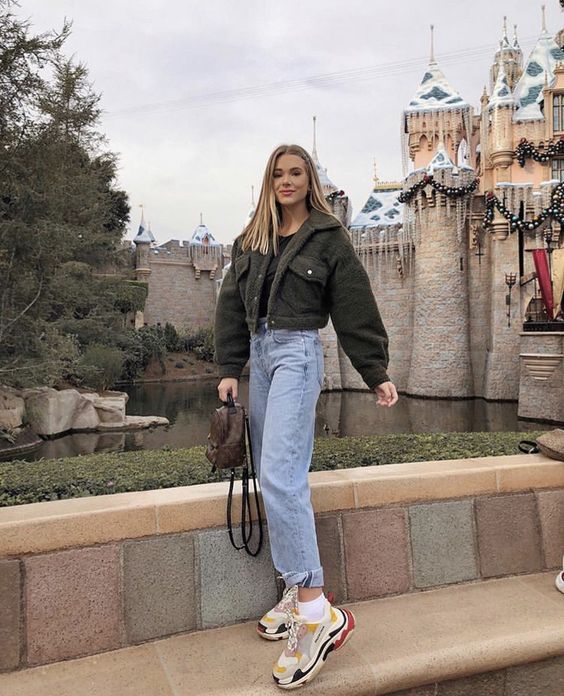 ↓ 9 – Amusement Park Outfit to Wear in Winter
While some might argue that winter is really not the ideal time to be heading to a park, here's an outfit to wear in case you do. I think a snow-covered park is a gorgeous place to take pictures so if all else fails, plan on having a photoshoot! Just add a coat to keep from freezing.
source
↓ 8 – Amusement Park Outfits Teens
Nothing really beats a cute tee knotted at the waist and paired with some jean shorts. Add some statement sunglasses and your favorite pair of fashion sneakers (peep the matching bag!) and you've got yourself a look.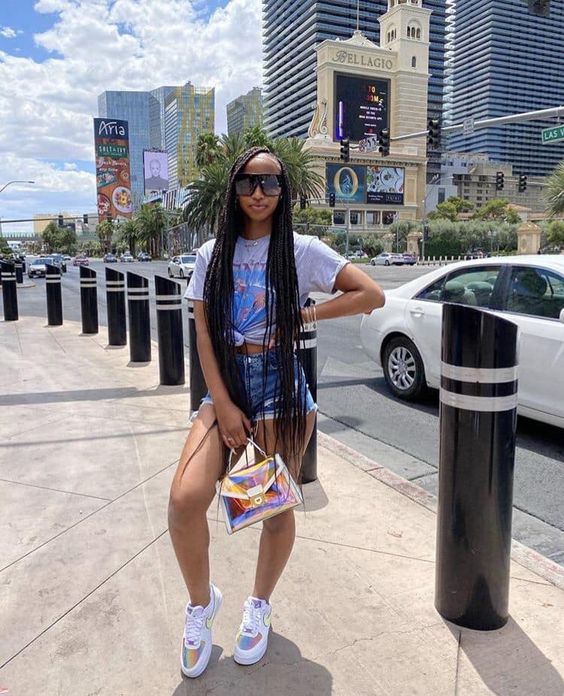 ↓ 7 – With Jean Jacket
I'm all about practical solutions that double as stylish ones. And tying a jean jacket around the waist is a great example of that. It looks like it's just a part of your outfit but the second temperatures drop, you've got yourself a great cover-up. Personally, I love this outfit. It's another one of those stylish-but-comfy looks that won't let you down.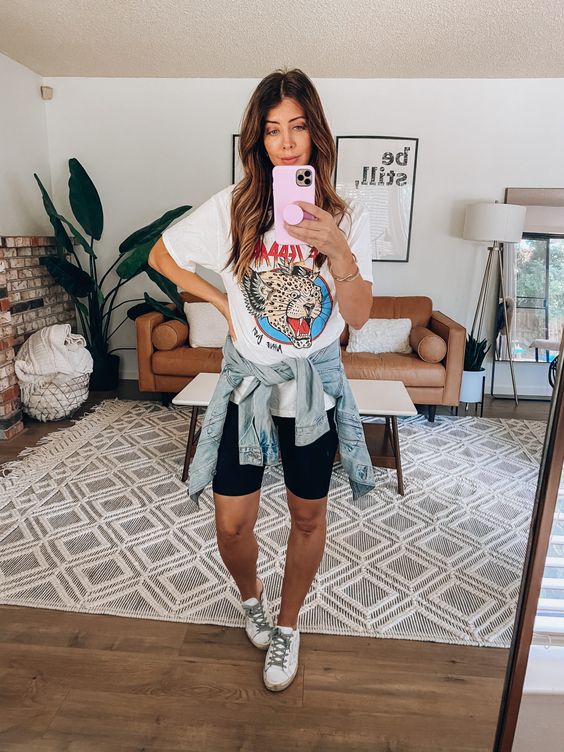 ↓ 6 – What Accessories to Wear
When it comes to accessories, you don't want to overdo it. But that doesn't mean you have to forego them altogether. A chunky belt, a cute bracelet, and a mini crossbody bag are all stylish pieces that also add the perfect finishing touches to your ensemble.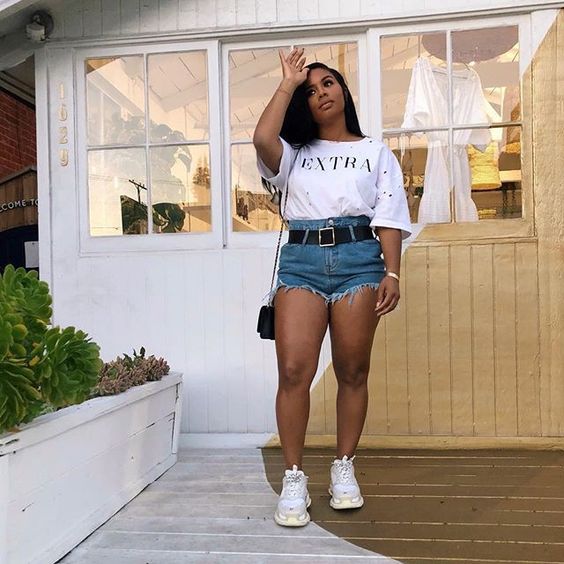 ↓ 5 – Amusement Park Outfits for Women Plus-Size
Here's another option that suits ladies of all shapes and sizes. Just because you are wearing a tee doesn't mean you can't get one with a little pizzazz. In this case, a mix of prints and a pop of color by way of a pink pocket makes this tee a cut above your basic graphic tee option. Add some accessories and a swipe of your favorite pink lipstick and you'll be rocking the look.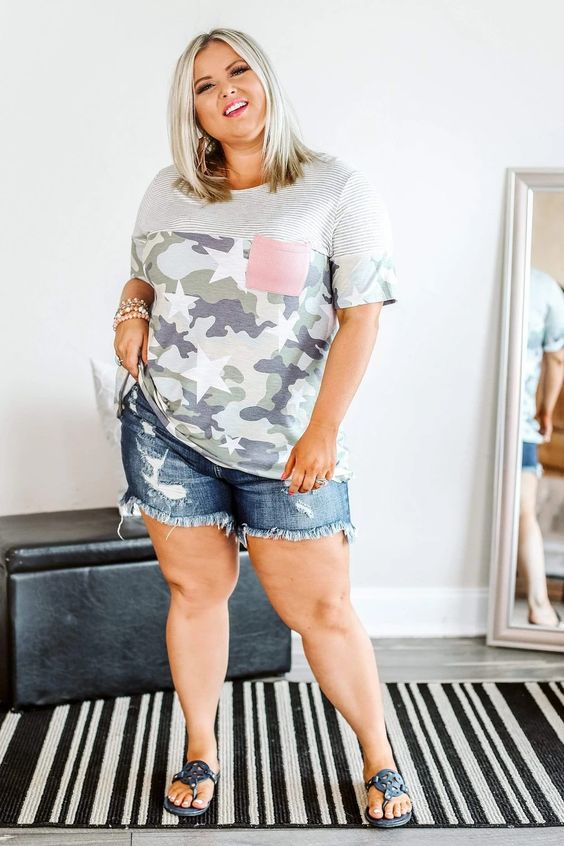 ↓ 4 – Graphic Tee & Biker Shorts
Biker shorts are a fantastic option for a day at the park. Pair yours up with a band tee shirt and some sneakers and you've got a simple outfit that is super trendy as well.
↓ 3 – Amusement Park Outfits Summer
Take advantage of the sunshine and the scenery and indulge in a colorful jumper and sandals outfit! Here are some more of our favorite Summer Fashion Color Trends for Women.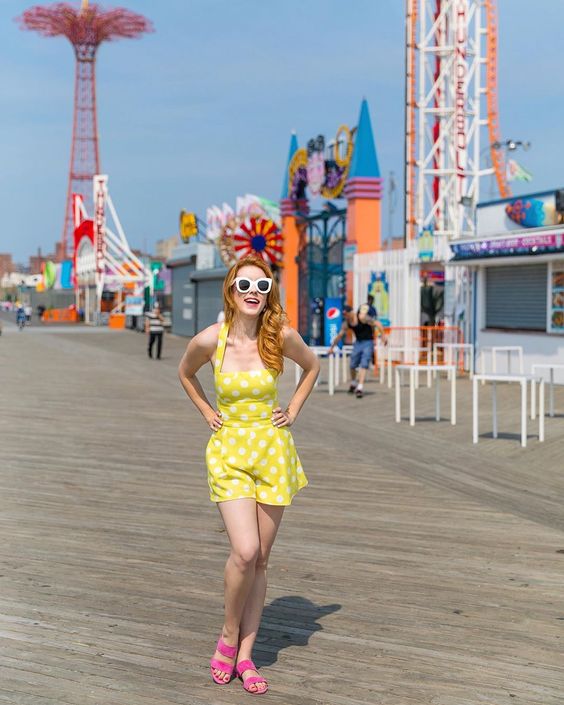 ↓ 2 – Mickey Mouse Style Theme Park Outfit
Looking for a more classic outfit? Try those Mickey ears with some Chuck Taylor's.
↓ 1 – Cute Amusement Park Outfit
Never underestimate a great floral with some color splashes. Classic jeans and some flats (you know the drill: swap out the flip-flops if you'll be walking a lot) won't let you down.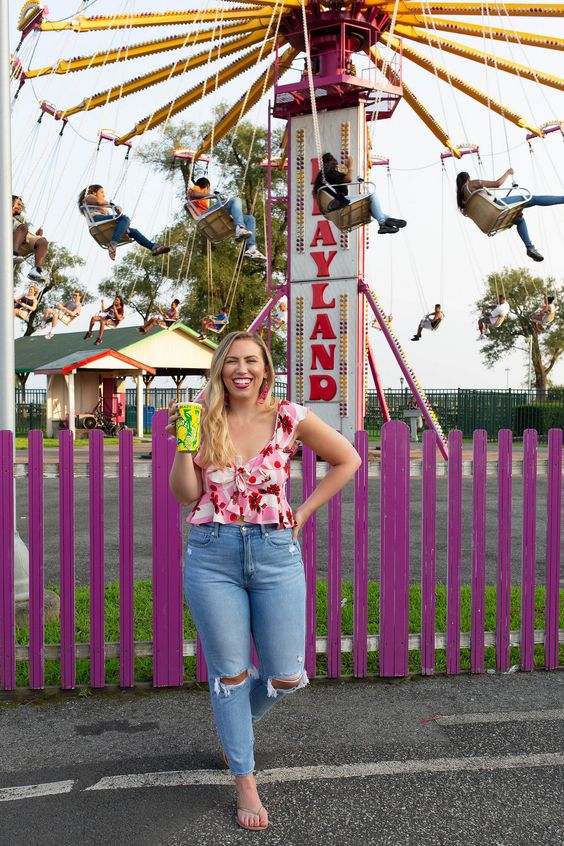 Frequently Asked Questions
Last but not least, here are some frequently asked questions about what to wear to an amusement park, from hairstyles to the big no-nos! Check them out.
Q. What should you not wear to an amusement park?
A. An amusement park can be many things. A water park, a theme park, a park full of rides… you get the idea. So, what you wear for each will vary. However, there are a couple of "rules of thumb" to keep in mind:
Unless you are at a water park, don't wear flip-flops. They aren't comfy enough for walking, and they'll probably fall off if you do any types of rides where your feet are dangling.

Don't wear a hat without securing it to your head. It will fly right off on a rollercoaster or if it is a windy day.

Don't wear a dress without shorts underneath it. This will prevent any mishaps on rides and rollercoasters!

Don't wear loose, baggy clothing.
Q. What should I pack for an amusement park?
A. Whether you are bringing a fanny pack, a backpack purse, or a crossbody bag, be prepared for whatever the day holds with these must-have essentials:
Sunblock

A mini first-aid kit

Sunglasses + case (in case you need to stash them for a fast ride)

Battery pack for your phone

A rainjacket

A light jacket or sweatshirt (for later in the day, it may get chilly)

Something for nausea (if you are prone to queasiness on the rides or are spending the day with someone who is!)
Q. Should I wear a dress to an amusement park?
A. Whether or not you wear a dress is up to you, but if you do choose to wear it, keep these things in mind. You should wear shorts underneath it, and it shouldn't be a dress that is loose around your chest. Don't wear any dress that requires constant fidgeting and adjusting in order to look right – that will just ruin your day! You may want to avoid a super short dress as well, as they may fly up at any moment, particularly if it's a windy day, or you go on a ride that twirls you around!
Q. How should I wear my hair to a theme park?
A. Try doing a hairstyle that secures your hair. Some great options include braids, a ponytail, or a bun. Personally, a love a great French twist!
I hope you found this post helpful and that you are feeling ready for your fun in the sun! What is your favorite kind of amusement park? Let us know in the comments below!