Black and White Outfit Ideas. Nobody can deny the appeal of a chic black and white ensemble. Because even when compared to bold and bright, multicolored outfits, a black and white classic wins every time. Think of the Little Black Dress – these are the fashion rules that have been written before our time, therefore are a safe choice.
The reason why black and white outfits are the best is very long. Primarily, these outfits are very quick and easy to style, especially when you're on the go and in a rush. Secondly, these types of looks offer you flexibility as to the occasion when worn. Since they work seamlessly in a professional environment, but can also spice up your evening look.
How to Wear Black & White Outfits?
Let's start with some basic tips on styling these two colors:
Black
Leggings: Black leggings are not only a casual staple, as you will be surprised just how well they can be styled into a fancy outfit. Wear black leggings with long sweater dresses, or with your stylish oversized white blouse and some boots. Here are some more stylish ways to wear black leggings.
Blazer/Jacket: A black blazer or a jacket equates to the high standing fashion status of a little black dress. A leather black jacket is especially an article of clothing every stylish woman must own.
Wide leg pants: As women we sometimes feel like our bodies are on display for the world to judge, yet, since wide fitting clothes and the color black mask our apperance perfectly, wide leg black pants are a must-have for us on the days we do not feel our best.
Leather Shorts: The leather shorts have become a trend in the past several years, and thankfully they are still very much prevalent in day-to-day trends. However, they make for the best winter outfits only.
White
Blouse: A white blouse is both a professional (day-to-day) necessity, as well as a night out bold item.
Wide brim hat: Perhaps a shocking addition to this list, however, a wide brim hat is both stylish and useful. It looks amazing in stylish outfits (which we covered in more detail in this article). But also, come in handy on sunny summer, beach days.
Bulky Sweater: A bulky white sweater is a staple, mainly for the reason that it is so easy to throw on with any bottom. It saves time, and any modern woman must have one in her closet.
Boots: White boots are the new black tall boots, since they are so unique – they will make heads turn for your outfit. Specifically something like these laquer white ankle boots.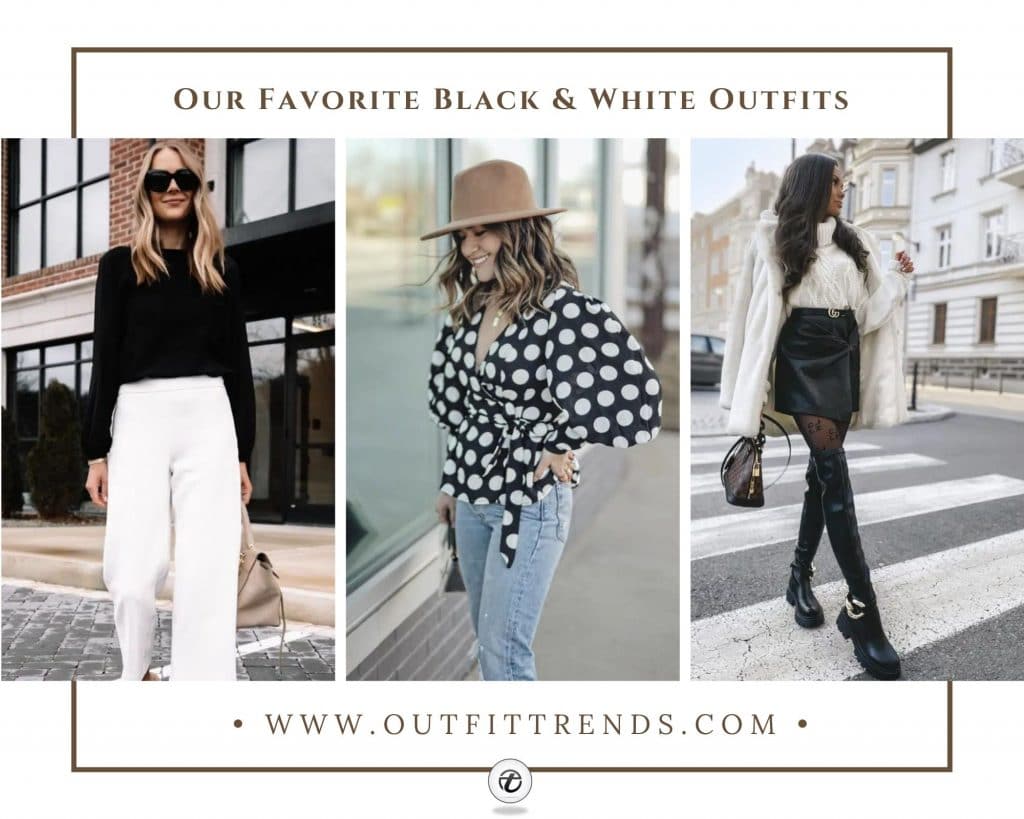 20 – Elaborate Layered Autumn Outfit
If you could only get yourself one outfit on this list, this would have to be it. Simply because it is highly elaborate, although very simple to achieve – will amaze others with how stylish it is. First, start off with basic black leather shorts and a white blouse combination. Following that, layer a leather jacket over it, but don't forget to throw on a white sweater around your shoulders to complete the look.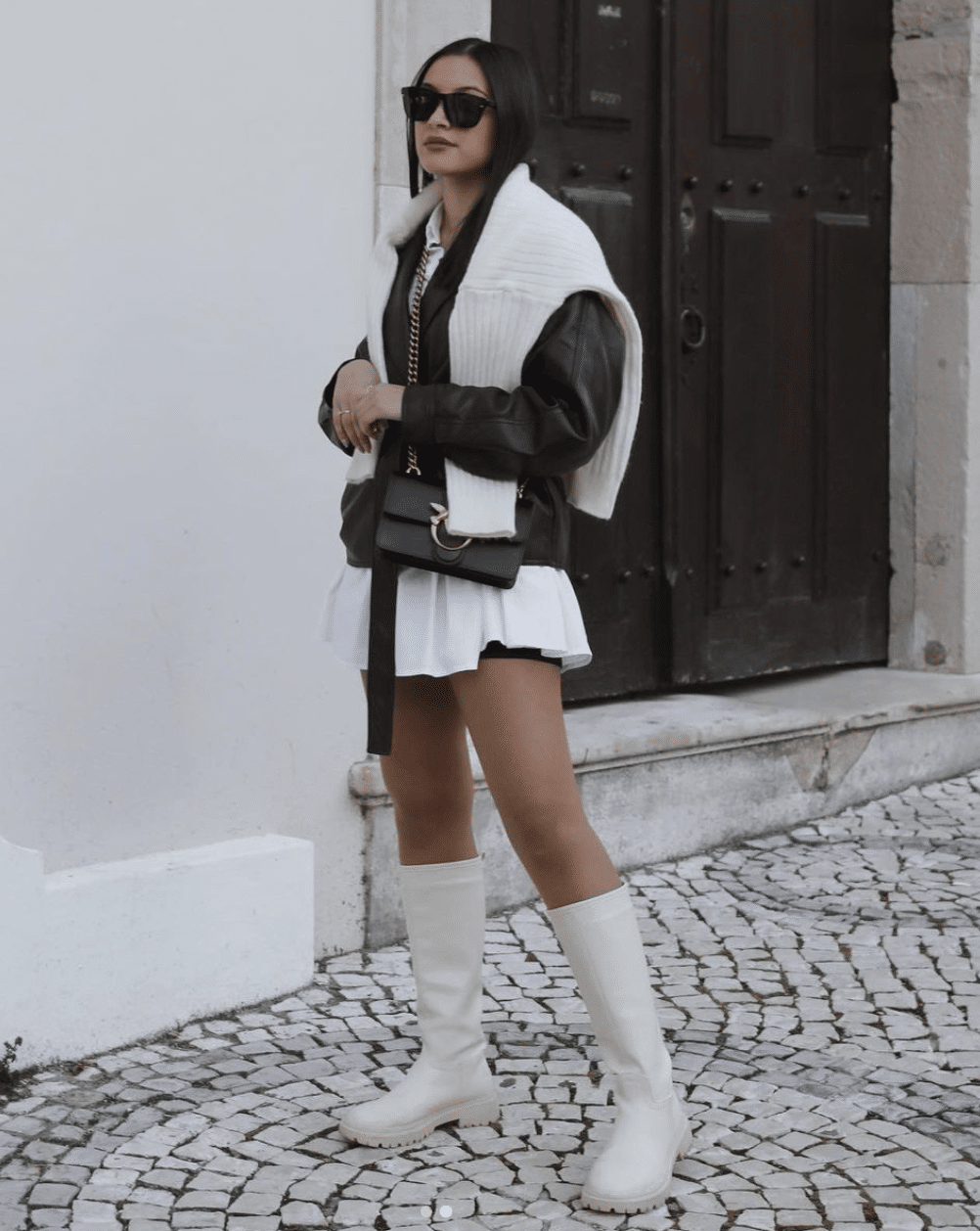 19 – Casual Black and White Outfit for the Weekend
In the case that you are looking for a simple black and white outfit, this pairing is ideal. Start off with loose-fitted white pants, and finish with a loose black sweater. In order to make this outfit more presentable, you can opt-in to wearing black glasses and a contrasting nude bag. For more ideas, check out our post on trending weekend outfits for women.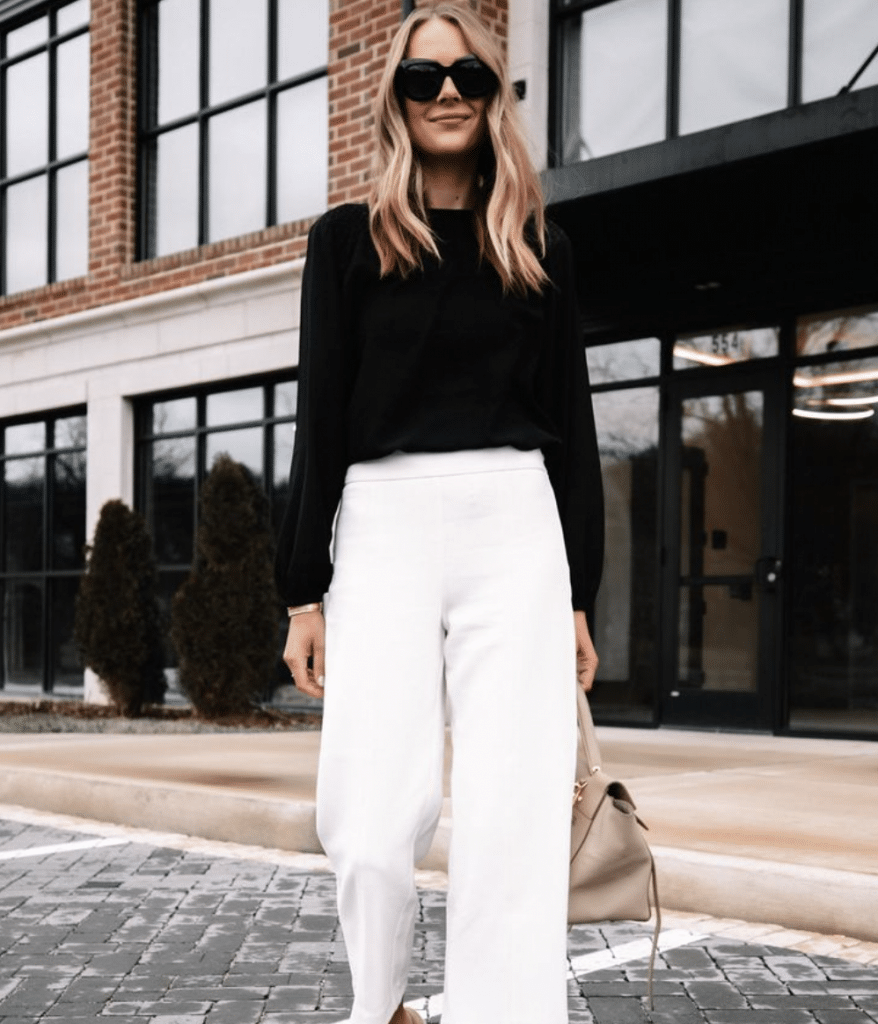 18 – Chanel Like Black and White Co-ord Look
As we all know the Chanel style is a staple and a classic, especially when worn in a black and white colorway. There are a plethora of brands that create clothing in this style, and 2022 is the year to evolve your wardrobe and get something of this style.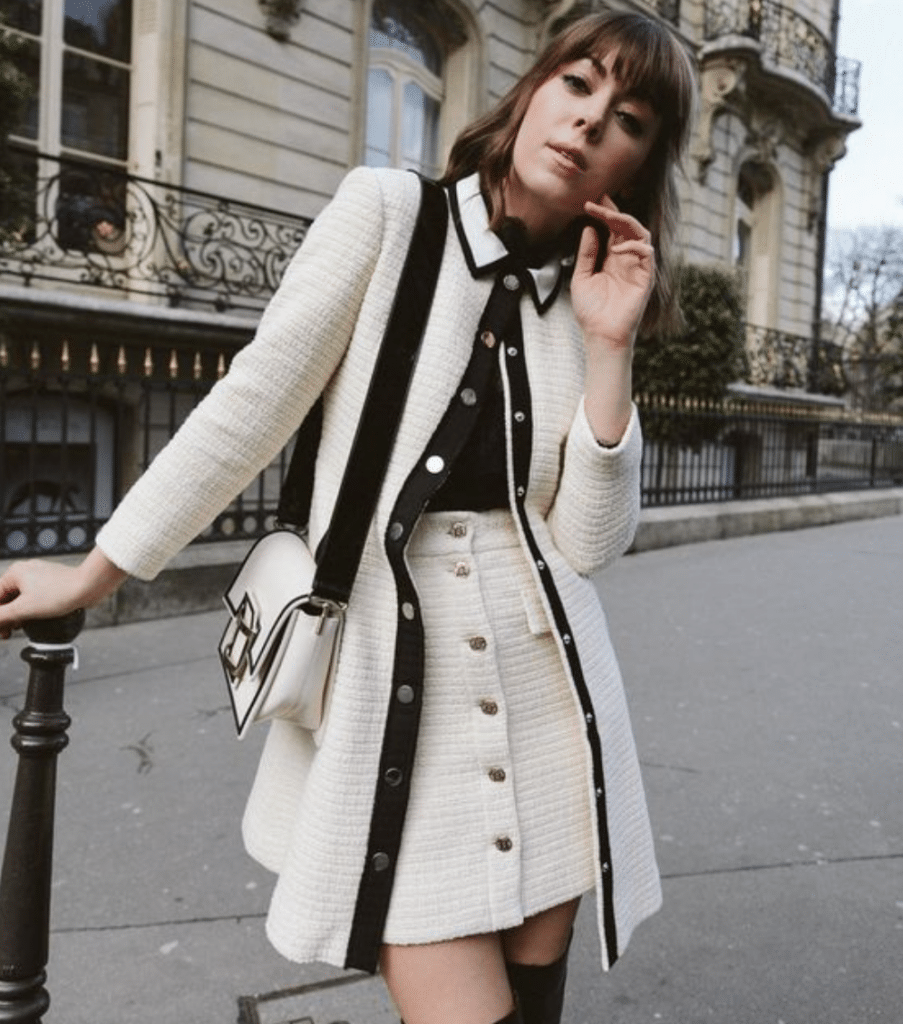 17 – Polka Dotted Dress Outfit
A polka-dotted dress is a must-have for all fashionably inclined women out there, especially for 2022. This dress can be styled up and down with some accessories and jewelry in accordance with the occasion that you are wearing it for. Similarly, this dress is versatile in terms of seasonality, it can be worn with no tights some sneakers, a hat for summer and spring. Similarly, it can be styled with a long coat, knee-high boots, and black tights for a winter-appropriate style. Here are some more tips on how to style polka dot outfits.
16 – Night-out Outfit Little Black Dress
Every girl probably owns and adores her little black dress. However, in 2022 it is time to elevate even this iconic timeless piece. One way to do that is through layering. Layer a white blouse/blouse dress with your little black dress and you will stand out. For the sake of maintaining the classic appeal, we recommend that your accessories are also black and white. So grab your most comfortable black shoes and purse and you are set.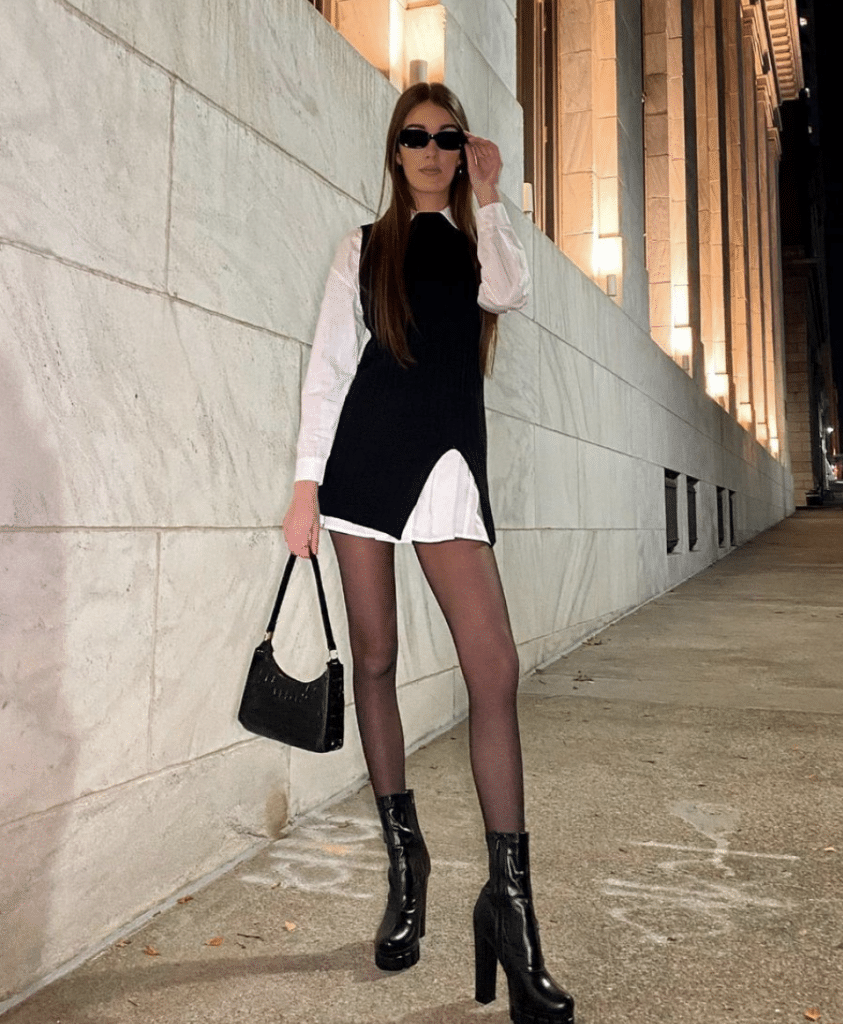 15 – Winter Outfit with Black Printed Tights
This outfit is a winter classic, it has been a recurring trend for the past several years and rightfully so – it is not only highly comfortable but is also very chic. Begin with finding your perfect pair of black leather shorts. Then style with a comfortable cozy white sweater. However, the most important part of this look is the logo printed black tights, they will elevate your look.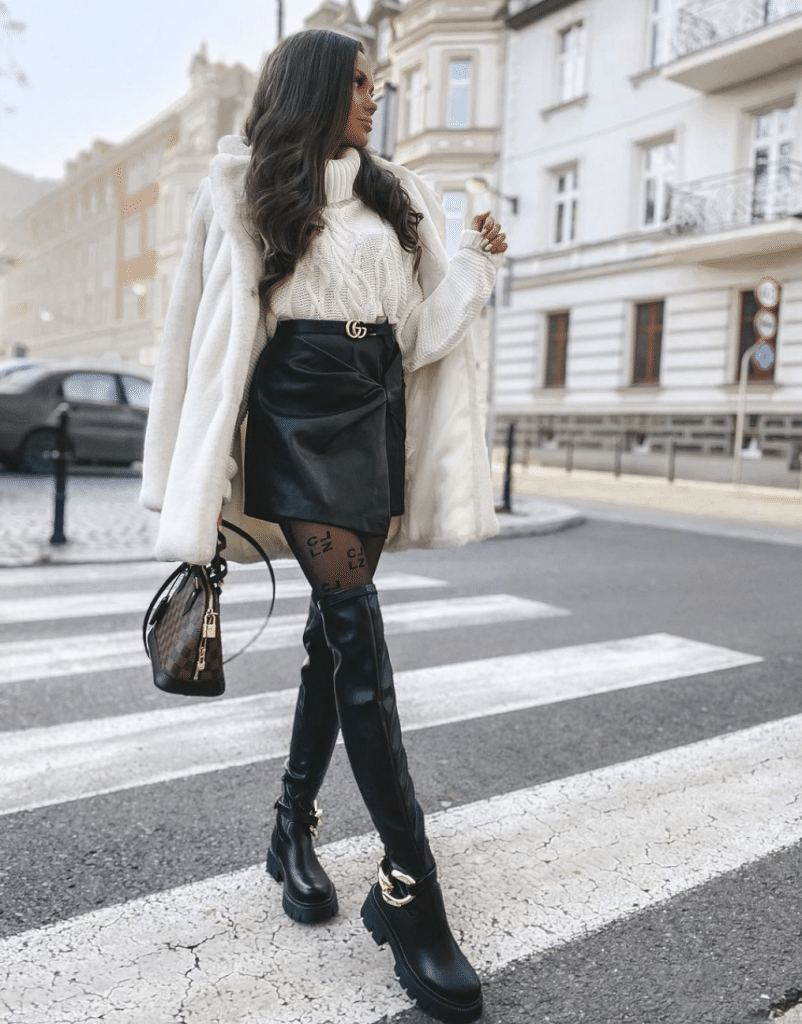 14 – Sparkly Black Dress for Night Out
An elevated take on the little black dress is this stylish addition of rhinestone fringe to the bottom of your dress. This is a perfect and simple outfit to make you feel like a princess all night long. Although, it is important to remember that with a stand-out dress like this, you mustn't add too many accessories.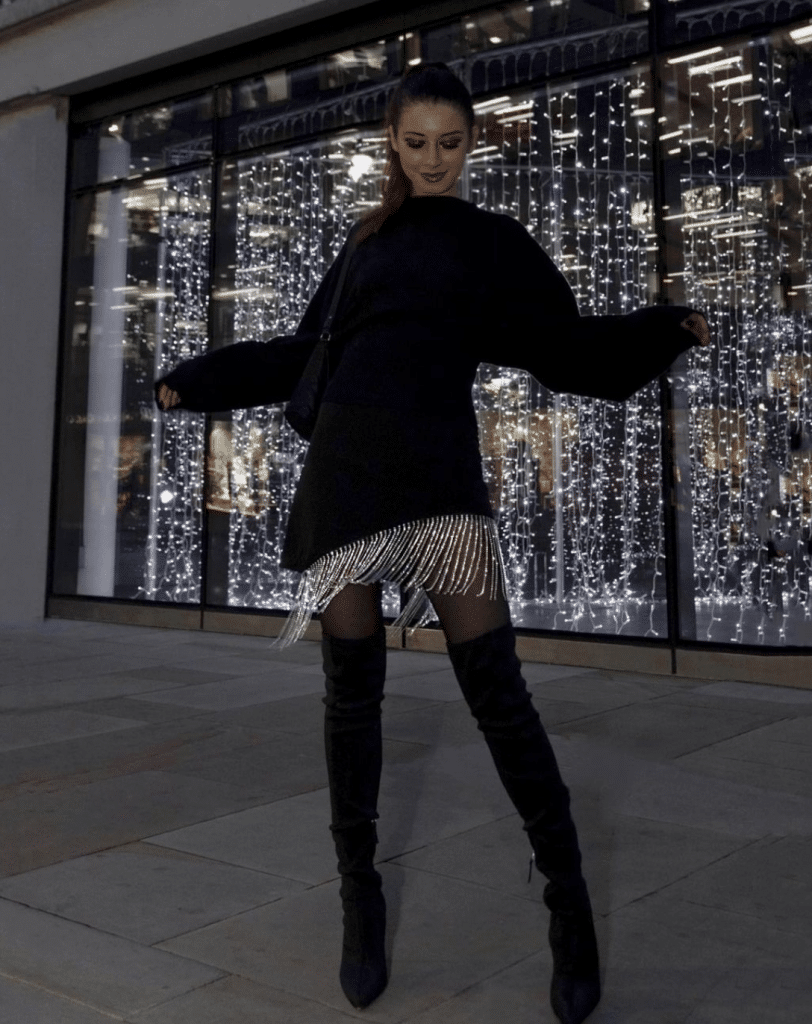 13 – How To Style Velvet Pants
If you are a boss girl and you are looking for ways to add some diversity to your office-appropriate clothing items, this outfit is catered to your needs. Firstly, a pair of velvet pants will add a lot of freshness, to your wardrobe, so make sure to shop for a pair of those. As to styling, these pants a large embroidered sweater to maintain a balance in texture is key.
12 – Black and White Collared Top Look
A collared top is chic and cute but in order to avoid an overly childish appeal try styling it with some leather shorts. Finish the outfit with tall knee-high boots and keep it simple without jewelry or accessories.
11 – Black and White Animal Printed Shirt
You might be wondering what black and white print to add to your wardrobe in 2022, and we have got the answer for you. Try wearing this universal top in a loose over-size fit with a contrastingly tight fitted mini skirt. Wear animal prints like a pro with these tips.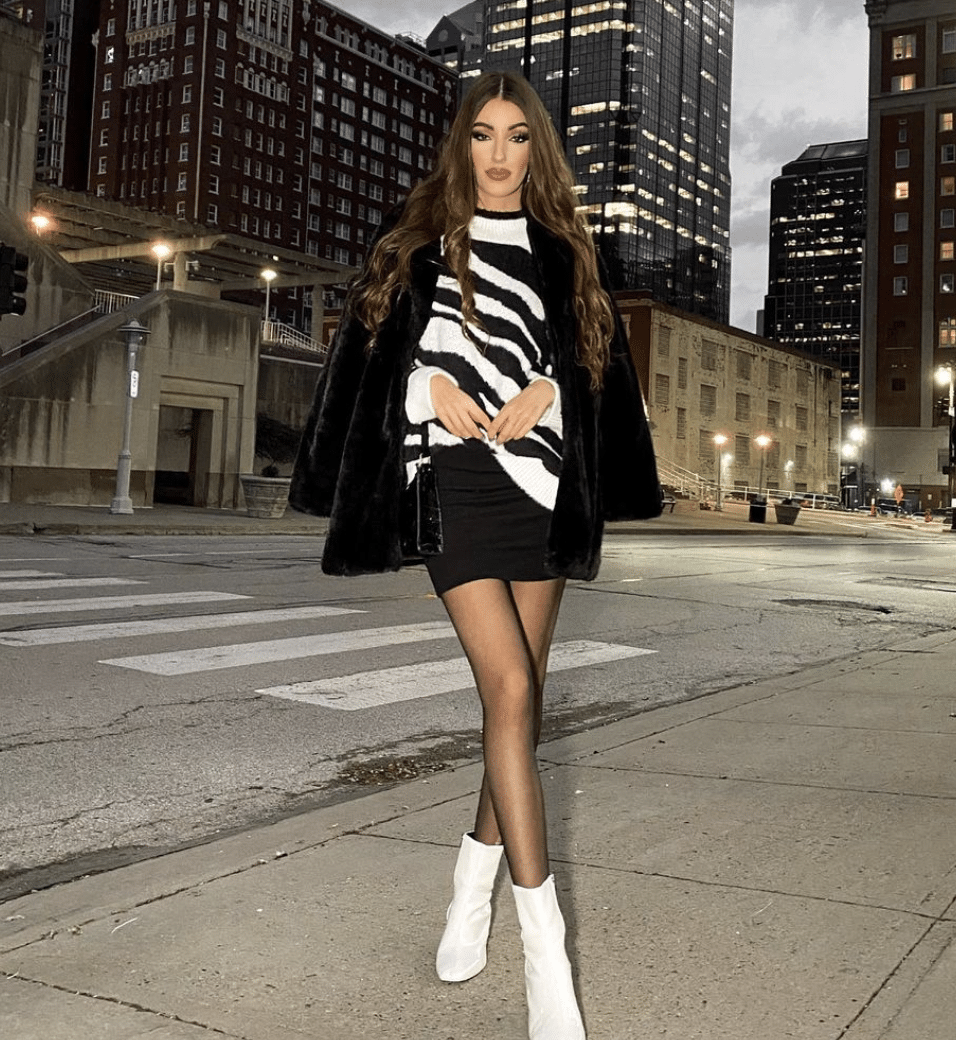 10 – Checkered Black and White Coat Outfit
It is always important to fill your closer with an occasional unique piece. One which will stand out and even better – be very hard to be copied by others. Something that can be truly unique to you is a large fuzzy coat with a black and white large checkered print.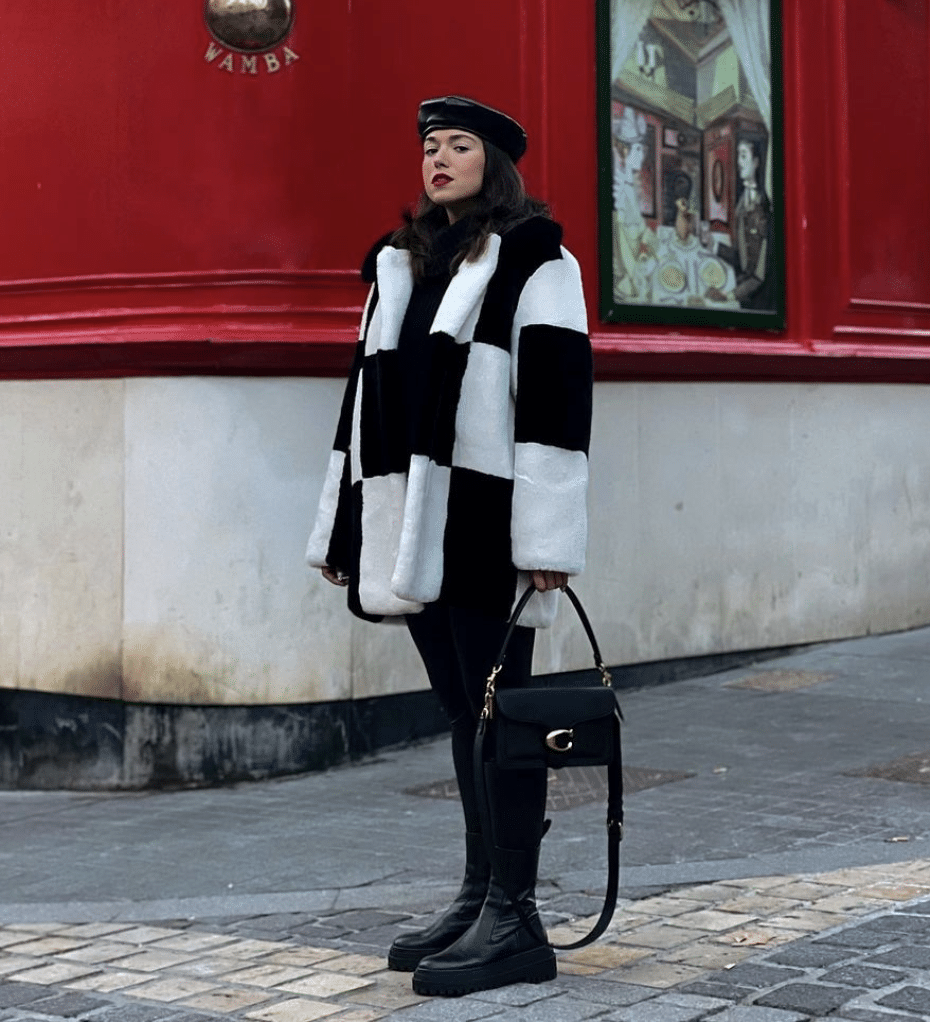 9 – Black and White Polka-Dotted Blouse Day Time Outfit
Since we all have the tendency to wear more printed outfits during the sprint and summer season this outfit is perfect for the upcoming 2022 warm seasons. The main piece is the polka-dotted blouse because of its fun and playful print. However, something black and white and printed also pairs very beautifully with a classic light denim pant option, so keep that in mind.
8 – All Sequin Party Dress Outfit
The style for a sequin finish will never pass, therefore make sure to invest in a glamorous black sequin dress this year.
7 – Casual Parisian Black and White Outfit
Nothing screams Parisian style like a striped pullover. To complete this outfit, pair it with a long autumn black coat and some white jeans.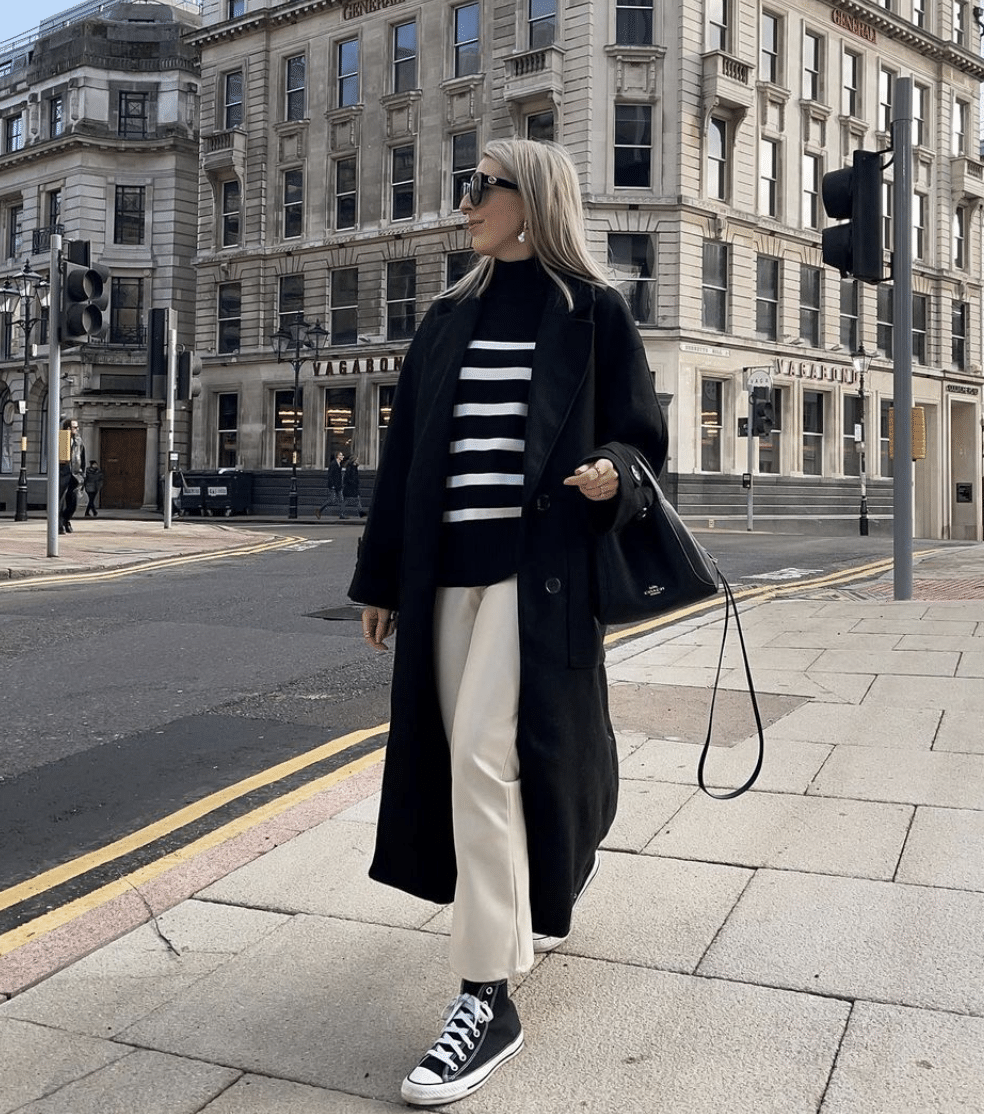 6 – Black and White Winter Outfit
Since the sporty-looking black and white bomber is a youthful classic, we had to include it in this guide. This top is sporty chic therefore the pant option must match, so you can pair it confidently with a pair of black leggings. Although, to maintain a more fashionable appeal try wearing a pair of combat boots with this outfit.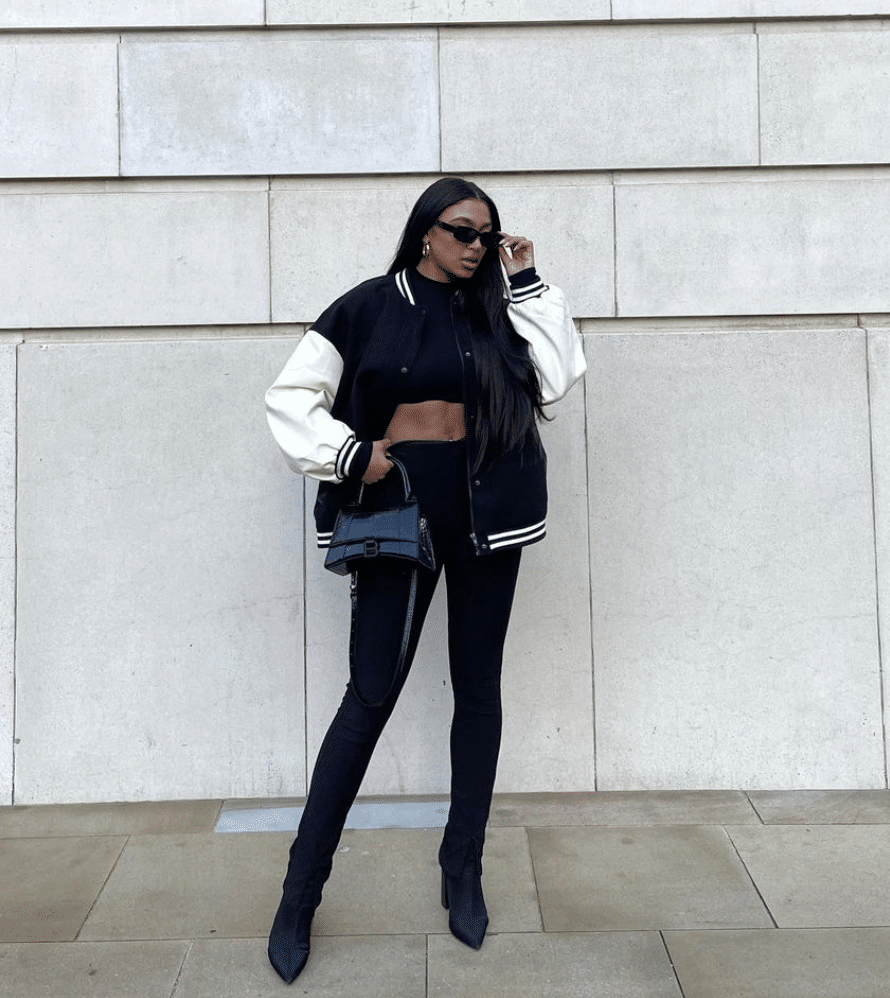 5 – Stylish Black and White Mini Skirt
A mini skirt is a classic, although 2022 is a year to elevate even the most basic clothing items. Hence getting a mini skirt in an iconic black and white checkered print is a great solution.
4 – Styled Ruffled Sleeve Sweater
A white top might be too boring for some, so we are very happy to propose an alternative. A ruffled sleeve can be worn in a more fancy way thanks to accessories, or a more casual way.
3 – Long Wide Leg Pants and Matching White Wide Brim Hat
Since a wide-leg pant option is already highly fashionable, you will be missing an opportunity of a complete fashion serve if you don't style it with a white wide-brim hat.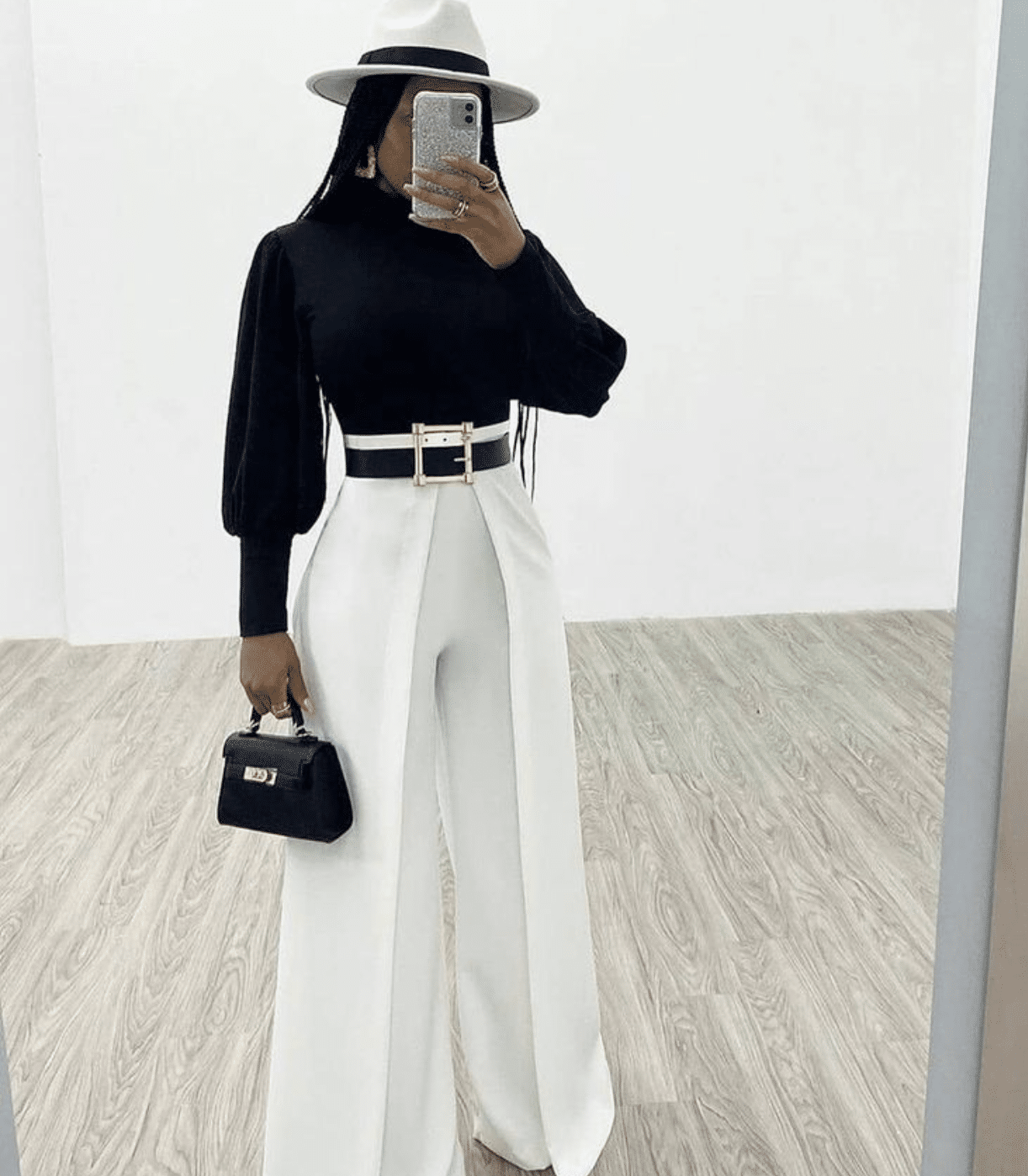 2 – Black & White Outfit for Fall
A polka-dotted skirt in black worn with a classic leather jacket is a must-have outfit for the fall season.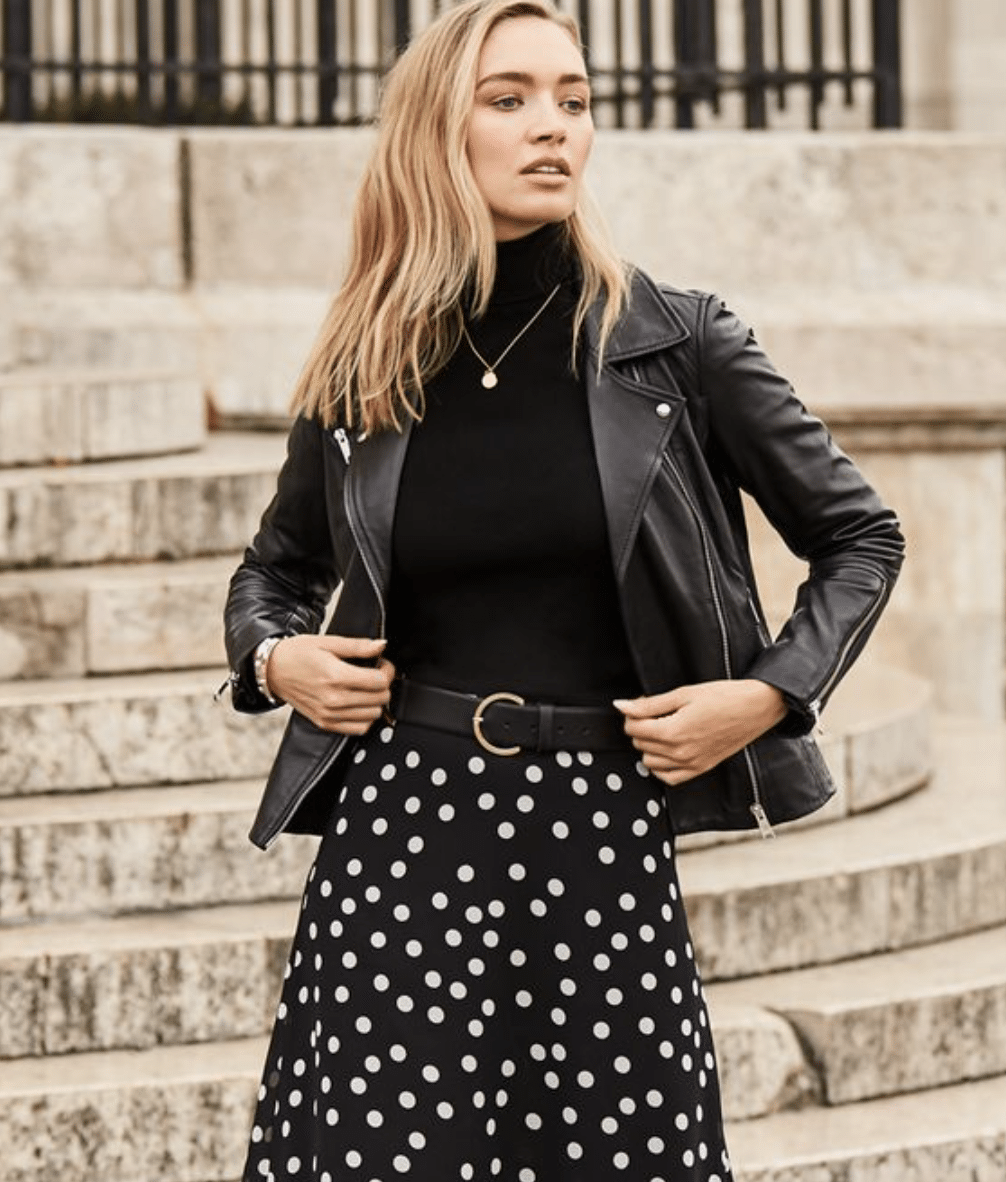 1 – Black & White Summer Outfit
Because rhinestones are very in style in 2022, it is a must-have to even get a pair of black boots with them. Although it can be a task to style them, this outfit is quite easy to achieve and recreate. Therefore, all you will need is a black round skirt and a cropped blouse.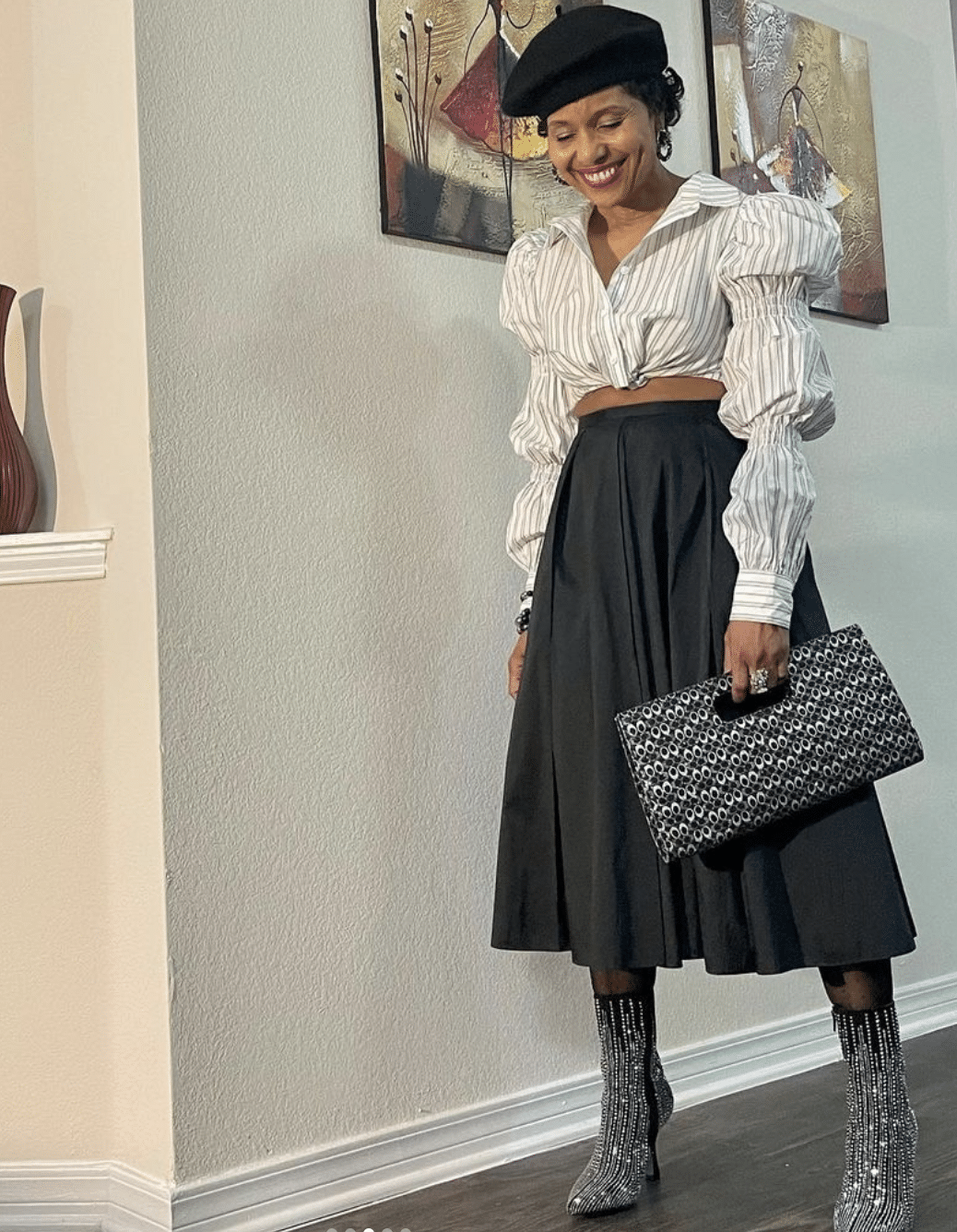 Frequently Asked Questions
Q. What do you wear to a black and white-themed event?
If you have been invited to a black and white themed event, you can wear an outfit in all white, all black, or a black and white mix. The top two outfits to wear to a formal black and white event, are a white tube dress with black accessories – like shoes, bags, and shawls. Similarly, long wide-leg white pants, styled with a form-fitted blacktop would be very chic and appropriate. See an example of a wide-leg pant look above.
Q. Is black and white chic?
Black and white is a timeless, chic combination of colors. Fashion icons like Coco Chanel, Audrey Hepburn, and even Kim Kardashian have epitomized this color combination. Therefore it is safe to follow in their footsteps.
Q. Do black and white outfits look good?
Absolutely, black and white outfits actually have a tendency to accentuate your beautiful body shape and make you feel 100% confident. Moreover, black and white outfits also accentuate the jewelry you are wearing in a very special manner, therefore elevating the look of your outfit entirely.
Q. How do I accessorize a black and white dress?
If you are aiming to accessorize a black and white dress for a formal outing, your best option is to choose jewelry and belts with clasps that are covered in rhinestones, this will elevate your outfit a lot. Conversely, if you are wondering how to accessorize a casual black and white dress it is possible to use minimal accessories and jewelry, and resort to neutrally colored bags – for example, a woven wooden bag.
Q. What do you wear in white?
The top three items to wear in white include, a white blouse, a pair of white boots, and a white sweater. For a more detailed list read at the beginning of this article.
Q. Can I pair a black and white outfit with red shoes?
A. If you are wondering what shoes to pair with a black and white outfit, there are two rules to remember. Black and white styles well with either black shoes for a more classic and down-played style, or very bright eye-catching shoes to contrast your look. Therefore yes – red shoes are a glamorous choice for a black and white look. Also, check out this article on Women's Outfits with Red Shoes for more tips.