Outfits with lace-up leggings – These can be worn on both casual and formal outings, they add a sexy vibe to your overall look and also keep you comfy at the same time. They're usually styled in warm weather but you can also pull them off at the start of fall. Usually, women don't consider this choice of leggings because of its risky aspect as they're not easy to pull off but with a few tips and tricks, lace-up leggings can be styled effortlessly.
Styling Laceup Leggings
There are various ways in which you can style lace-up leggings to make you appear stylish, it is preferable to wear black or any other dark color leggings. In this article, we're going to reveal a bunch of fashionable outfits with these leggings which anyone can easily pull off with a little bit of guidance.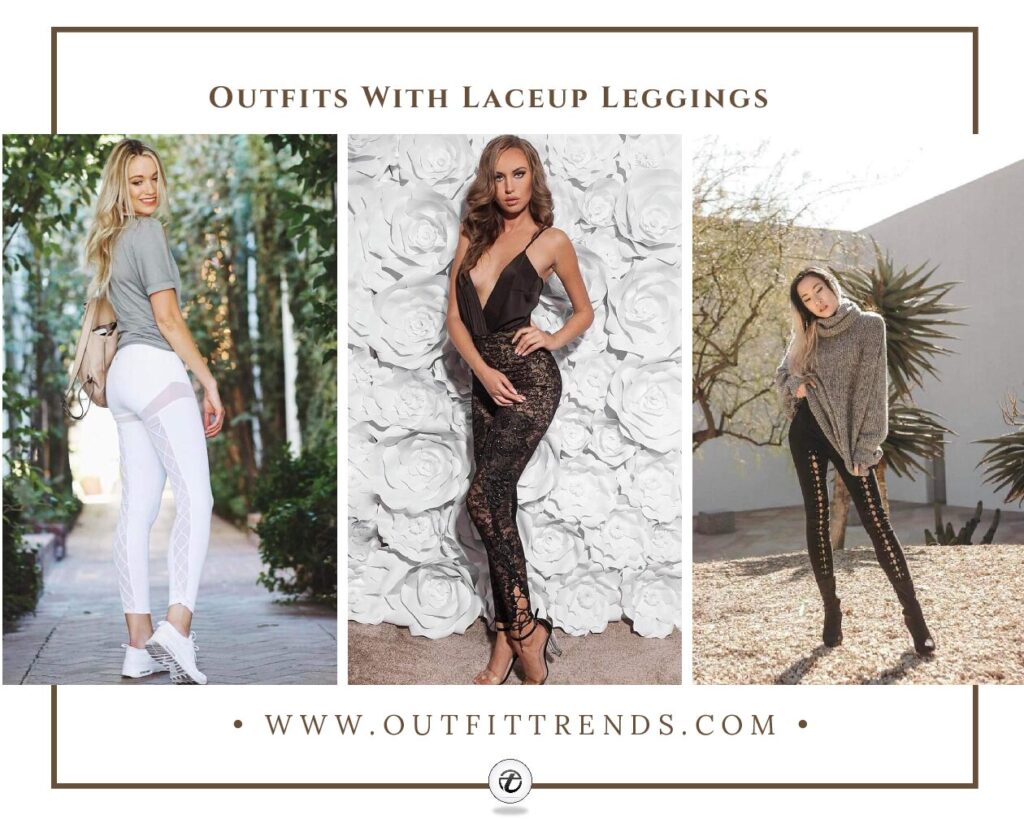 Dos And Don'ts Of Styling Lace-up Leggings
It's preferable to wear solid and dark colors like black or brown leggings as they can be styled in numerous ways.

Avoid wearing bright and light colors leggings, especially on short tops and tees to avoid any type of accident.

Go for high heels or sneakers with lace-up leggings to make your figure appear more alluring and sophisticated.

Try not to wear short tees or dress in lace-up leggings rather go for long shirts and blouses.

Wear the right kind of undergarments with lace-up leggings.

Pair it with oversized outfits for fall.

Avoid wearing dark makeup or heavy accessories.

In summers, style it on floaty tops or tees.

You can style lace-up leggings on a jacket or a baggy sweater in fall.

Avoid transparent or see-through fabric for lace-up or any other type of leggings.
20 – Sexy Lace-up Leggings On Black Spaghetti Top
This sexy outfit is perfect to be worn on date night or any other intimate occasion with your better half, style these pretty lace-up leggings on a silky black spaghetti V neck top, keep your hair down in a wavy style, and pair this overall stunning look with black high heels. This outfit is ideal to wear in the summer or spring season but you can also wear it in fall with a jacket or a long black or brown coat.
19 – Oversized Graphic Tee With Leggings
Graphic tees have been in fashion for a while now, you can style them on skinny jeans, leggings, and even shorts. This effortless sexy look can be styled as a perfect girls' night out outfit with your besties, wear a baggy graphic tee on these cute lace leggings and high heels, and style your hair in a high ponytail and you're all picture perfect ready.
18 – Hoodie On High Waisted Lace-up Leggings
This outfit style is a suitable pick for the cold season. High waist lace-up legging on a hoodie is a perfect fall casual look, you can choose several types of colors to pair on black lace-up leggings, especially bright colors like yellow, red, or purple are the options to choose from. Wear sneakers with this comfy everyday outfit, you can also style this outfit with black high boots or high heels to give it some extra classy vibe.
17 – Style With A Long Black Shirt With Sneakers
A long black shirt on lace-up leggings should be one of your go-to outfits for summers and springs, you can easily pull off this comfy alluring outfit on your casual outings especially if you're a university or college-going student then this outfit is perfect to be in your wardrobe. Pair it with basic white or brown sneakers and simply style your hair.
16 – Breezy Crop Top With Leggings
Crop tank tops can be styled in a bunch of ways with loose jeans, skinny pants, and leggings. Lace-up legging on a crop tank top is an ideal summer outfit, especially if it's a sunny afternoon then this outfit is perfect for you to wear, try going for colors such as nude, brown, or beige for a tank top. Match basic sneakers with this everyday outfit and wear your hair in a ponytail or a bun.
15 – Off-Shoulder Top With A Corset
Off-shoulder tops have been in fashion for some time now, they're comfy and easy to pull off on numerous occasions, pairing them with a corset lace-up leggings and black high boots would be an excellent combination for various occasions such as a movie night or a birthday party. Try not to go overboard with your makeup with this outfit and keep your hair down.
14 – Black Hoodie With High Boots
Black lace-up leggings are the perfect example to give you that signature gothic or punk look, style it with a black baggy shirt or a hoodie (if the weather calls for it) and match it with black high boots to give you more of a gothic or a punk girl vibe. You can pull off this unique classy gothic look in summer with a black baggy graphic tee and for fall, you can style it on a black loose hoodie or a sweatshirt.
13 – Baggy Cropped Shirt With Super High Laceup Leggings
This choice of outfit is perfect to be worn on sporty days, you can wear this underground lace-up legging on a graphic tee or an oversized sports shirt. Style this comfy look with high boots and keep your overall look simple, this lace-up punky outfit style is ideal for summers as it's floaty and effortlessly stylish.
12 – Floral Top With Long Boots
The floral top is essential for summers and springs, there give you that comfy and confident looking look that is easy to pull off for warm weather, style a floral loose top on lace-up leggings or skinny lace-up pant, try going for a mature tone color for a top and pair it up with black high heels, style your hair in a ponytail and add a couple of simple accessories. This outfit is perfect for your everyday outings but you can also pull it off at an intimate daytime gathering.
11 – Mesh Top With Nude Heels
This see-through top on black lace-up leggings is a perfect pick for a date night, you can style it with a long jacket if it's chilly weather. It's one of those looks which don't require much handling as it's already effortlessly trendy and has a vogue-ready date night look. It's important to choose a perfect bra to pair up with this see-through top to avoid any type of accident, go for a lighter tone as white or a skin color bra with this look, wear high heels and style your hair down in a fancy way.
10 – Leggings With A Black Bodycon Top
Bodycon tops have a huge fan base when it comes to keeping you looking sexy and confident! We often see celebrities rocking this certain outfit for night outings in the warm season. This cute black spaghetti bodycon top on a lace-up black color legging is a popular outfit to be worn on a fun outing night, pair this outfit with black high heels. You can match a black or a grey long coat on this outfit if it's cold weather.
9 – Pair It With A Cropped Sweater And Heels
This outfit is a must-have picked for the fall season, an oversized sweater or a sweatshirt with lace-up leggings and classic black high boots or peephole heels is a trendy cold season look that will keep you looking chic and cozy at the same time.
8 – Style With A Red Blazer And A Graphic Tee
This casual outfit is a good option for moms to wear on their everyday outings for cold weather, pair a black graphic tee on a blazer to keep you warm and black lace-up leggings, pair it with black boots, and style your hair in a bun.
7 – With Nude Pink Sports bra
In any type of workout whether it's simple cardio or yoga, leggings are an essential workout gear as they're comfy and stretchable, lace-up leggings are even more comfortable and gym friendly, pair it with a tight tank top or a sports bra, you can also pull off this outfit on daily outings with a tank top or a loose tee.
6 – Leather Jacket With Croptop
Style a black jacket on lace-up leggings for your casual chilly day outings, you can pair white sneakers with them to keep this look even more comfortable and casual, you can also alter it with high heels for semi-formal occasions like outdoor parties or theme park dates.
5 – Leather Strappy Top With Lace-Up Leggings
For a punk concert look, this outfit style should be your go-to. This outfit will give you that solid punk vibe especially if you're going to any rock band concert. You can also opt for an oversized graphic tee on lace-up leggings, match this look with high boots and style your hair in two ponytails.
4 – Turtleneck Sweater
Lace-up leggings are perfect to pair up with oversized tops and sweaters as they give you proper coverage to avoid any type of mishaps and a cozy vibe. Style black lace-up leggings on an oversized undertone sweater such as in brown or mustard color, this look will add a mature and confident looking aura to your personality.
3 – With Sleeveless Top
Tank tops on lace-up leggings are a good pick for hiking day or a yoga class, you can style it with your favorite sneakers and a grey or black tank top. This is one of the most trendy and common outfit ideas as many celebrities and fashion influencers are often seen pulling off this sassy look for their gym or yoga class.
2- Style It With A Black Sweatshirt
Black oversized sweatshirt and lace-up leggings should be your go-to outfit, black is a color that can be pulled off in any season and it also makes you appear confident and make your figure appear more lean and tall if you wear it with classic high heels or boots. Lace-up leggings will give you that elegant sexy look and an oversized sweatshirt will keep you comfortable. This cozy chill weather outfit can be styled as your everyday basic look.
1- Casual Tee With White Lace-up Leggings
Casual tees are an ideal pick to wear in warm weather especially if you're more of a casual outfit person, you can style casual tees on almost all kinds of bottoms but pairing a basic tee with lace-up leggings is one of the top trending looks that we usually see celebs pulling off on daily basis, it's a perfect gym and a yoga class outfit on a sunny day or you can also wear it as a university or a college day outfit, pair it with white sneakers and tie your hair in a high ponytail or a bun, pair it with a backpack or a medium size shoulder bag.
Frequently Asked Questions
Q. What kind of lace-up leggings should I wear?
A. Don't wear light tone colors lace-up leggings as they can result in mishaps. Rather go for solid dark colors such as black leggings or dark brown and also choose a good stretchable fabric that isn't see-through or thin while shopping for leggings. 
Q. How do you wear lace-up leggings for Fall?
A. Lace-up leggings are ideal to be worn in warm weather but with a couple of tips, they can also be styled for fall. You can pair various types of long tops on lace-up leggings for falls such as oversized sweaters and sweatshirts, graphic tees, long blouses, oversized button-down shirts, leather jackets, and coats as outerwear plus style it with long boots for extra cozy vibes.
Q. What should you not wear with lace-up leggings?
A. Avoid wearing bright or funky tops or blouses on lace-up leggings as they will make your overall look confusing and way over the top rather go for undertone or light colors such as beige, pink, white, nude also avoid wearing flats with lace-up leggings, go for high heels if it's a formal outing or else wear sneakers for your everyday look.
How do you make your lace-up leggings look professional?
A. You can always wear lace-up leggings as a professional outfit with a little bit of alternation. Maybe style it with a long oversized coat, leather jacket, or a cardigan for outerwear, try going for loose and long tops with lace-up leggings to give you the sophisticated look, and pair it with block heels or boots.