Satin skirt outfits – In this forever-changing world of fashion, satin skirts form the best wardrobe staple. They are airy, easy to style, and can be used on both formal and informal occasions.
We are going to talk about some really amazing satin skirt outfit ideas so that you can slay in them and style them as per your comfort and convenience. These skirts are not restricted to any one season, hence a sustainable option for you to wear it all over the year.
In the morning it can account for your subtle and gorgeous office look. For your Lunch dates in the afternoon, you can wear the same skirt. Add some accessories like a necklace, rings, and statement belts in the evening and convert your office wear to a semi-formal outfit.
Isn't it amazing how one simple skirt can be styled in so many different ways? So without wasting any time, let's dig into the world of dreamy satin skirt outfits.
Best Satin Skirt Outfits to Try This Season
Since these skirts are multipurpose in nature, the styling needs to be different for multiple events. Casual tees and crop tops with these skirts are well suited for a laid-back casual gathering. For shoes, wear strapped heels or casual sandals to remain sweat free.
If it's chilly outside, go for a knitted oversized sweater or cardigans and a midi skirt. These midi skirts will keep you warm and cozy. Throw on your favorite sneakers and Damn! you are ready for a night out!
For a cocktail party, try a printed crop top with a flared mini satin skirt. Add funky earrings and rings in accessories. Lastly, complete the look by wearing wedge sandals or heels.
Tips on How to Wear a Satin Skirt Outfit
Be careful while choosing the length of your skirt. For a cold day, a mid-calf or midi skirt is an appropriate choice. In addition to that, midi skirts can also account for your modest skirt styling.
In summer, both long and short satin skirts can be worn. You can wear tees and crop tops with your it and go for comfortable shoes like sandals or pumps.
Playing with colors is the key. The shiny finish of a satin skirt allows you to pair it up with most of the colors and it mixes up well with all the color combinations.
For people having a curvy body, midi skirts and ruffled satin skirts are recommended as they make you look slim.
For petite bodies, we recommend going for a midi skirt with slits on both sides. Showing a little skin on both sides will make you look taller.
Get yourself at least one or two neutral satin skirts as neutrals always save your day. They look amazing with all the fits and colors.
Choose your shoes wisely with your satin skirts. In summer, go for open and airy shoes like strapped heels, sandals, and sliders to prevent sweating. For winter, you can definitely go for some warmer options like suede shoes or knee-length boots.
26 – Wear A Formal Blazer for The Office
For your everyday office meetings and work hustle, go for a formal blazer with a midi satin skirt. Throw on stripped matching heels. And you are ready to slay with this simple and sophisticated satin skirt outfit.
Later in the evening, you can replace the blazer with a tee for a casual coffee date or a window shopping date with your friends.
25 – Printed Funky Tees with Middy Skirts
Cute and funky t-shirts are in trend these days. A light and soft digital printed t-shirt with a contrasting satin skirt are all that you need for your next casual outing with your friends.
Keep the look subtle by wearing nice pastel heels complementing the pink gorgeous midi skirt and for accessories go for a wristwatch and hoop earrings.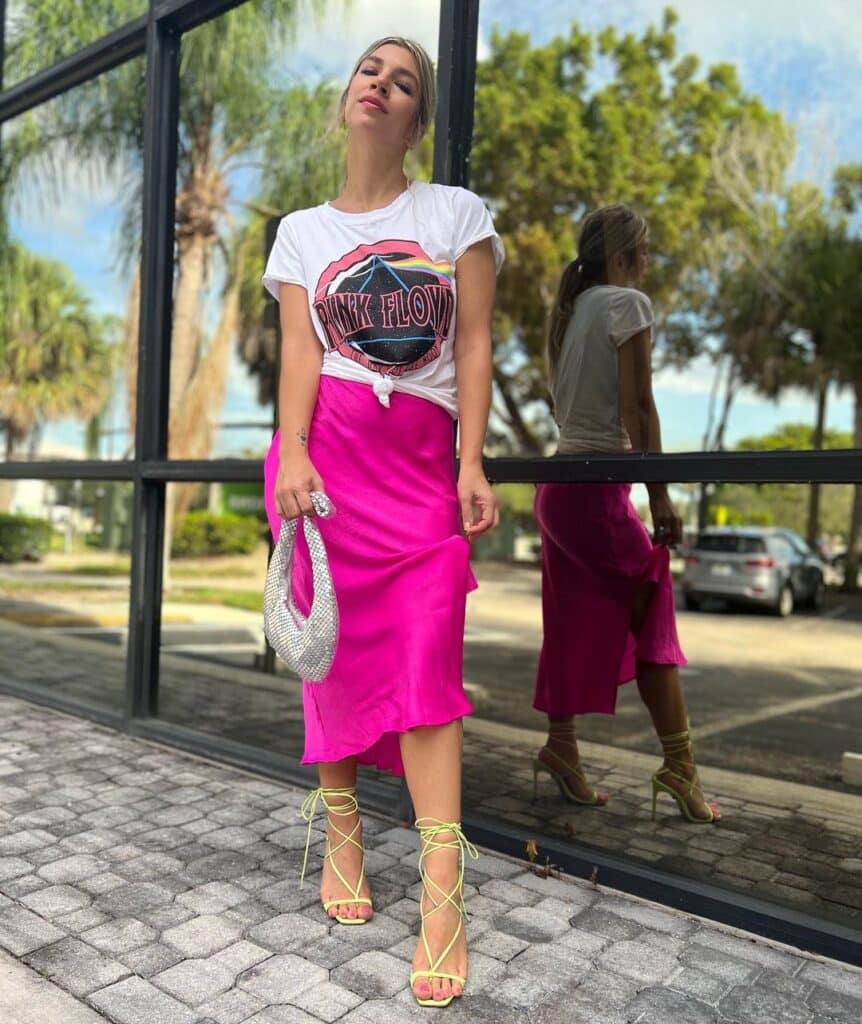 24 – Go For An All Black Outfit
When you are baffled about what to wear, go for a monochrome all-black outfit. We love this pretty outfit featuring a ribbed racer tank top and black midi skirt.
Carry a chic mini-basket bag with you. Lastly, complete the look by wearing a comfy pair of black sandals and you are ready for a housewarming party at your friend's home.

You can even choose this outfit for a formal function like a wedding or engagement. Add glamor by wearing accessories like a white or silver necklace and diamond earrings. Open your hair and go for a soft makeup look. Replace the sandals with black strapped heels and your glamorous outfit is ready.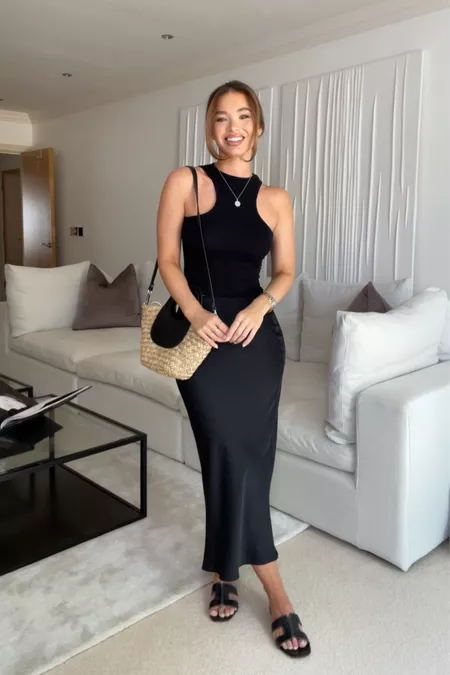 23 – Spice Up Your White Tank Top With A Blue Midi Skirt
We are totally drooling over this white tank top beautifully paired with this blue midi satin skirt. This is a perfect outfit for your brunch session with your friends.
You all must be having a plain white tank top lying in your cupboard, so what are you waiting for? take that out and wear it this summer. Trust us, Blue and white make the best pair, just like the clouds in the sky makes the best pair.
You can wear an oxidized necklace with this dress and if you want to go a little more stylish, swap the black slippers with white stripped heels.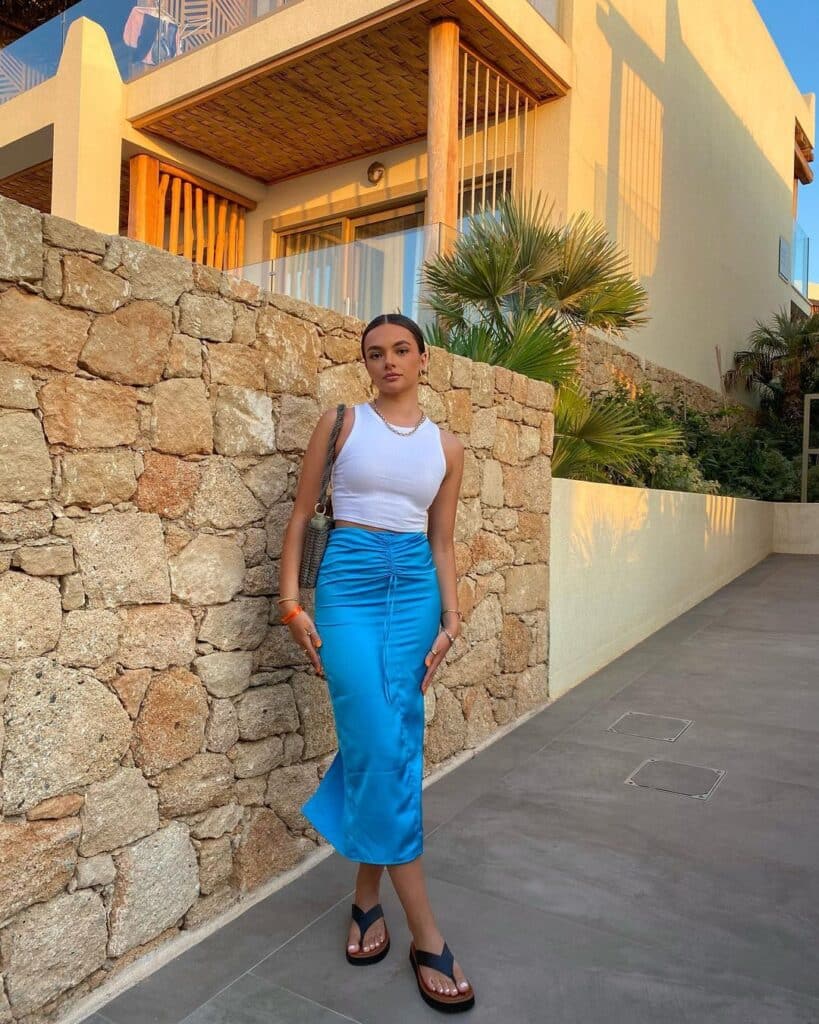 22 – Go for A Strapless Top With a Silver Satin Skirt
We are loving this combination of a strapless printed top with a shiny satin skirt. You can wear this outfit to bridal showers and birthday parties.
For summers, strapless fits are a great choice as they keep you sweat-free.
A glowy makeup look will go perfectly with this outfit. In addition, you can also wear stud earrings, that will add more spice to the outfit.
Don't know how to style strapless outfits? Check out these tips on how to wear a strapless dress.
21 – Get that Sporty Look With A Short Skirt And Casual Tee
Short side slit skirts are always in trend. Pair it up with an oversized blouse or tee and complete the look by wearing sneakers or long boots. Check out some of the coolest outfits with boots for more ideas.
This is a perfect outfit for your outdoor activities like playing games and enjoying yourself on the streets with your friends.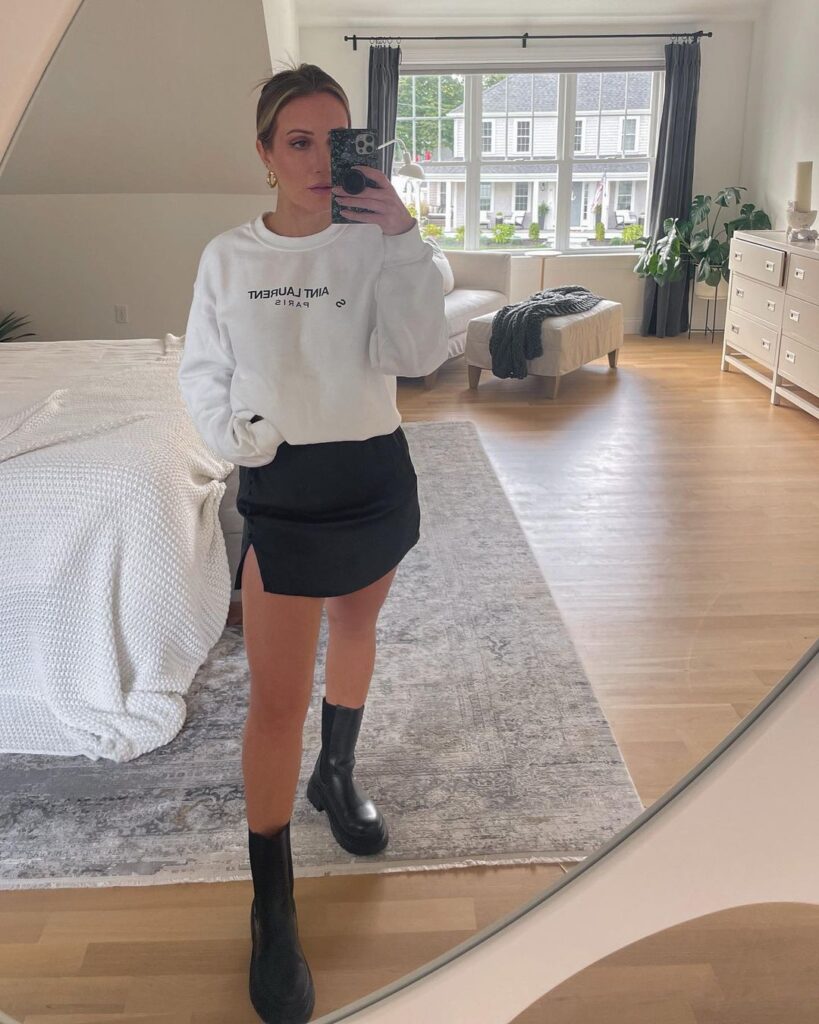 20 – Shiny Pleated Skirt With Silk Button Down Shirt
We are obsessing over this button-down silk shirt paired with a pleated satin skirt. This can make a perfect satin skirt outfit for a birthday party or a lunch date.
Go bling by pairing it with a pearl necklace and silver pump heels.
19 – The Gold Satin Skirt Outfit Supremacy
This gorgeous satin silk collared shirt is a fusion of ethnic and contemporary fashion. Round collared shirts have this magic of giving retro vibes to any outfit and it is giving us major inspiration to recreate this look.
So if you are a retro fashion fan, go for this round collared loose satin shirt with a gold and rust printed mid calf skirt.
You can also swap the skirt with a back skirt if you are attending a party later that night. Gold and Black make a terrific combination.
Add some accessories like bracelets, anklets, and pendants. Go for a full glam makeup look. And you are ready to slay!
18 – Summers and Short Skirts Go Hand in Hand
Short skirts are a must haves for a girl, specially in summers. Go for this basic outfit featuring a white off shoulder top and a neutral short skirt. Throw on a statement belt and put on your favorite heels. This is a subtle yet fashionista look and you will feel no less than a diva after wearing this outfit.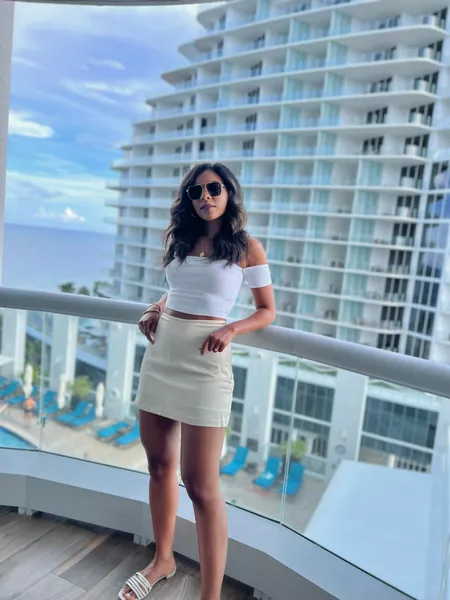 17 – Zebra Printed Blouse with A White Skirt
This zebra printed shirt with a white satin skirt is surely a treat to the eyes. We are drooling over this combination and we are sure, you are loving it too. So do give it a try!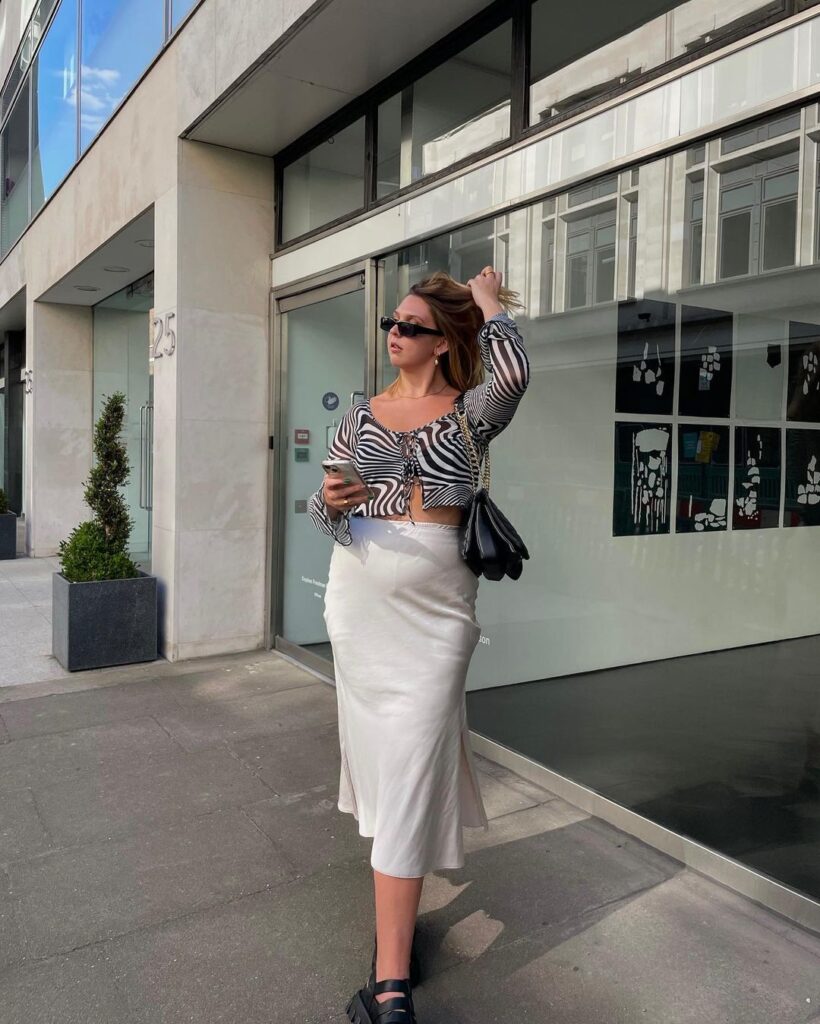 16 – Modest Outfits With Printed Coo-ord Set
Prints have this magical power of instantly refreshing your mood. So for a friend's day out, throw on that printed co-ord satin skirt with the same shirt. Wear pointed-toe white heels to complete your look.
Tie your hair in a scrunchie and wear white pearl earrings with this outfit. If you are wearing a hijab with this dress, you can swap a white hijab with a matching green or pink hijab.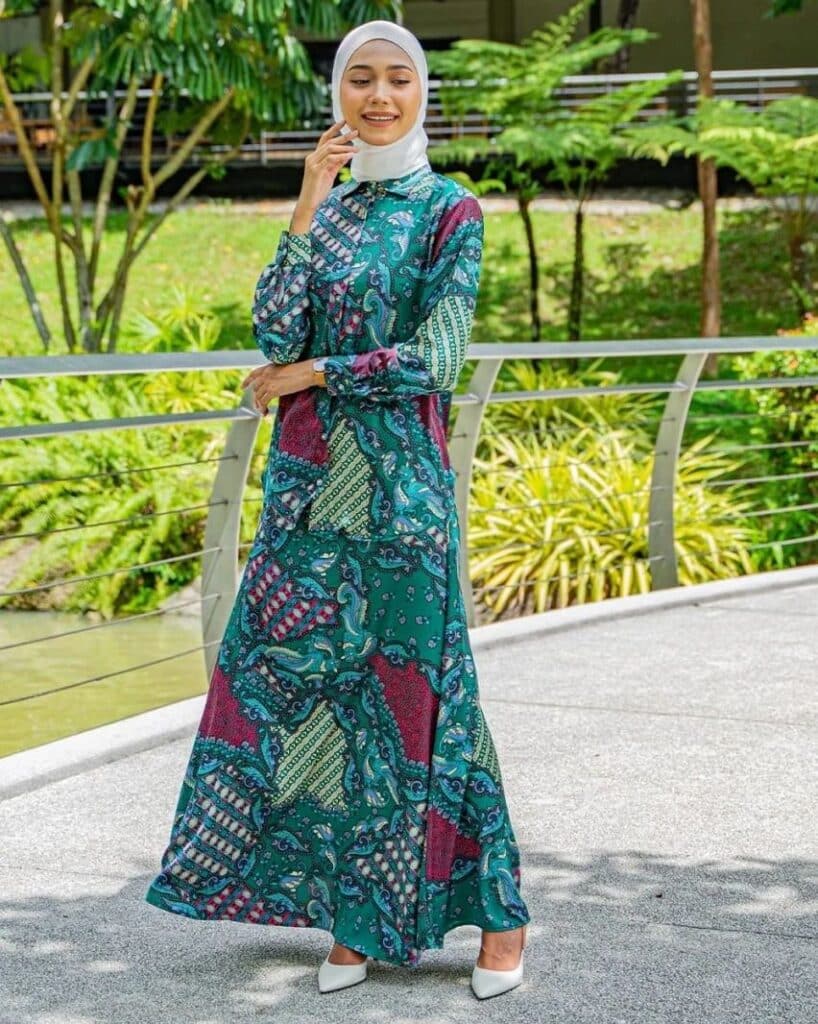 15 – Satin Skirt Outfits for Curvy Women
Bright and vibrant colors instantly lift up your mood. For a friend's bridal shower or graduation party, this maroon crop top and purple ruffled long skirt is a perfect choice.
Complete the look by wearing nude heels. For a more chic look, you can go for hoop earrings and Tada, your fashionista look is done!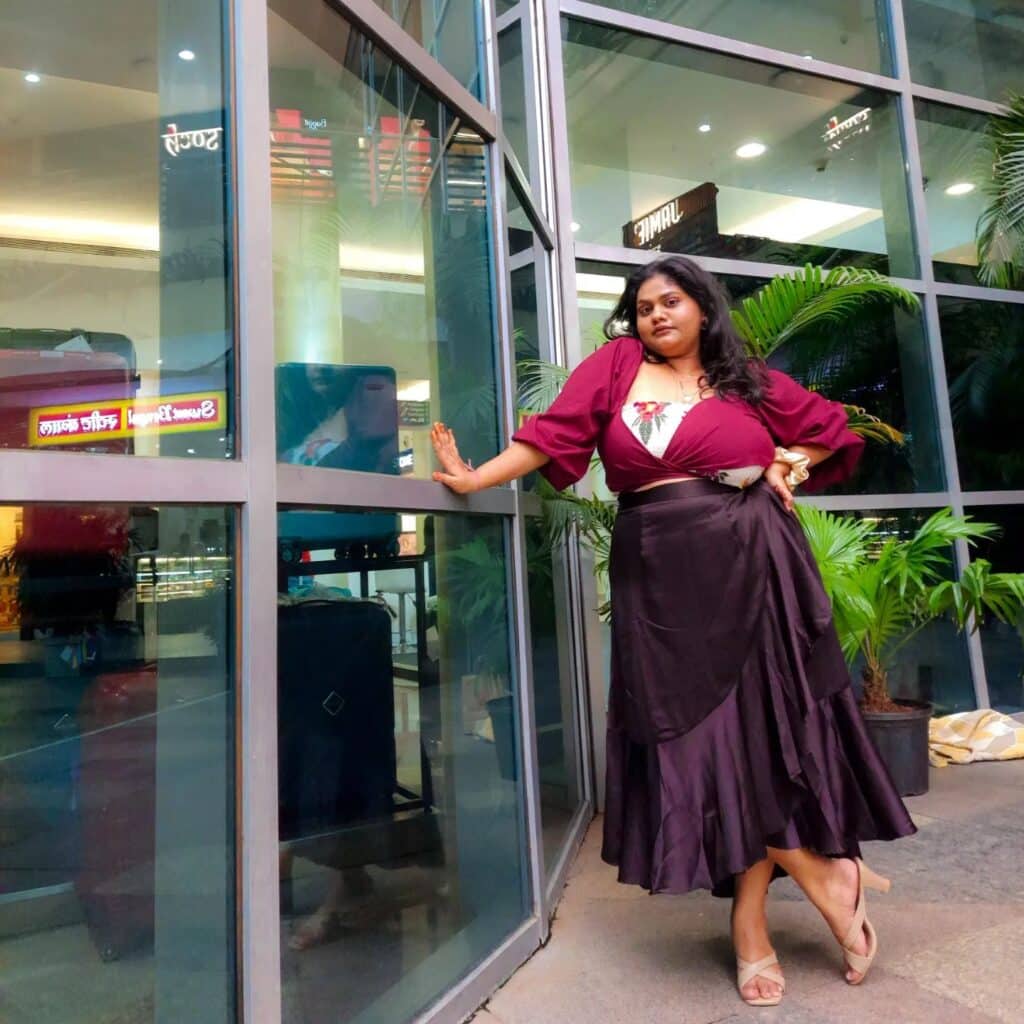 14 – The Perfect Date Night Outfit
Going for a date but can't decide your outfit? No worries, we are here to save your day. Wear this gorgeous green mini satin skirt with a buttoned-down shirt. Accessorize with some chunky silver pendant and silver stud earrings.
Go for shimmery eye makeup as shimmers look great at night. This look doesn't require a lot of effort and with minimal styling, you will outshine everyone around you.
For more date night outfit ideas check out summer date outfit ideas.
13 – We Believe in Neon Supremacy
Staying sweat free in summers is an extremely arduous task. But sweat no more, because a one-shoulder crop top is your key to remain sweat-free.
Paired with this beautiful neon side slit skirt, this is a perfect satin skirt outfit for your outdoor gatherings. Tie your hair up in a bun or make a ponytail. Wear stud earrings and your casual yet classy outfit is ready.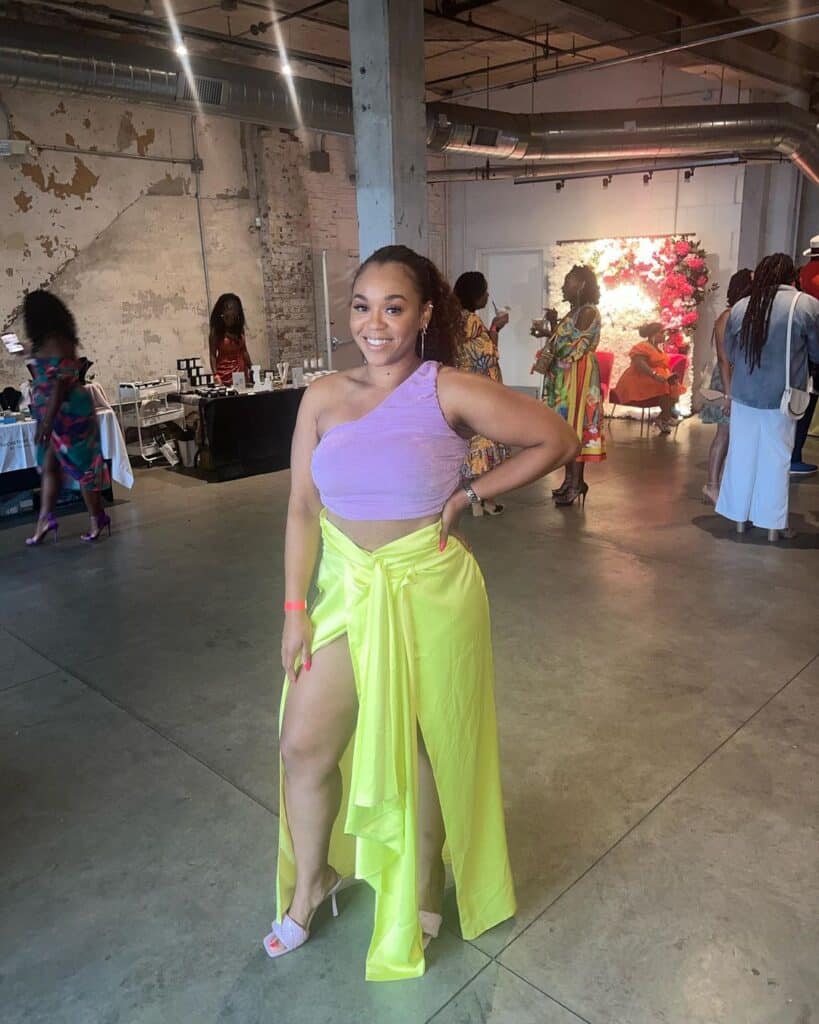 12 – How About A Polka Dot Skirt?
If you are in a hurry and want to get a simple yet classy look, opt for a polka dotskirt with any plain shirt. This is one of the finest and simplest satin skirt outfits and we can vouch for it.
Go for a contrasting lilac bag and strappy heels are a good idea for a funky and colorful look. You can even swap the heels with sliders for a comfortable walk through the town.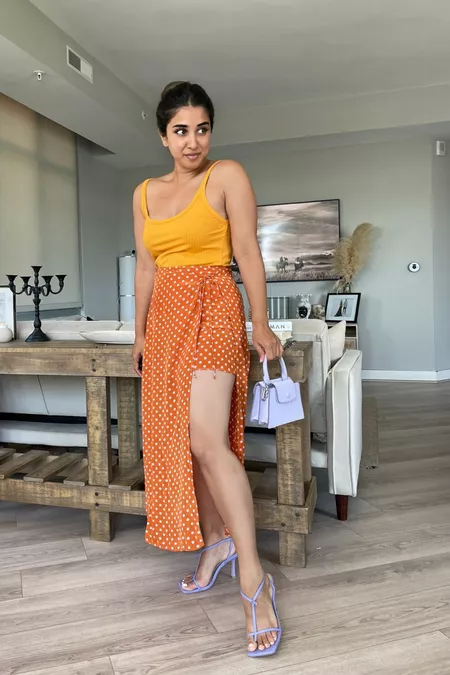 11 – Choose Vibrant Colors for Your Dream Vacations
Vacations always bring in happy and positive vibes. For such happy moments, bright orange and the pink thigh-slit skirt is a perfect choice for you.
This radiant and comfy dress will not let you get tired while exploring the city. Swap the heels with white sneakers as you will have to walk a lot during vacations. Go for a no makeup look with lots of sunscreens to avoid tanning.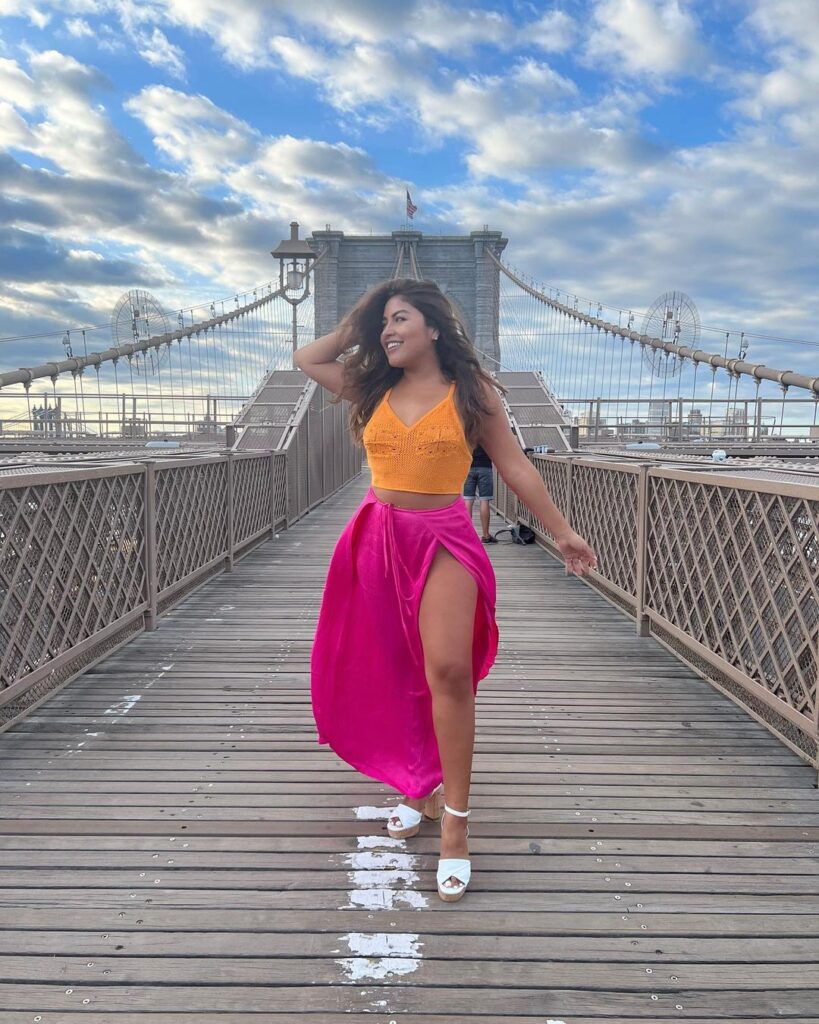 10 – Wedding Guests Outfit Ideas
Here's an outfit for an Indian wedding. This shimmery shirt is a stellar choice for a wedding function. Pair it with a purple long skirt. Lastly, give a more glamorous look to the outfit by adding some silver earrings, necklace and a bracelet.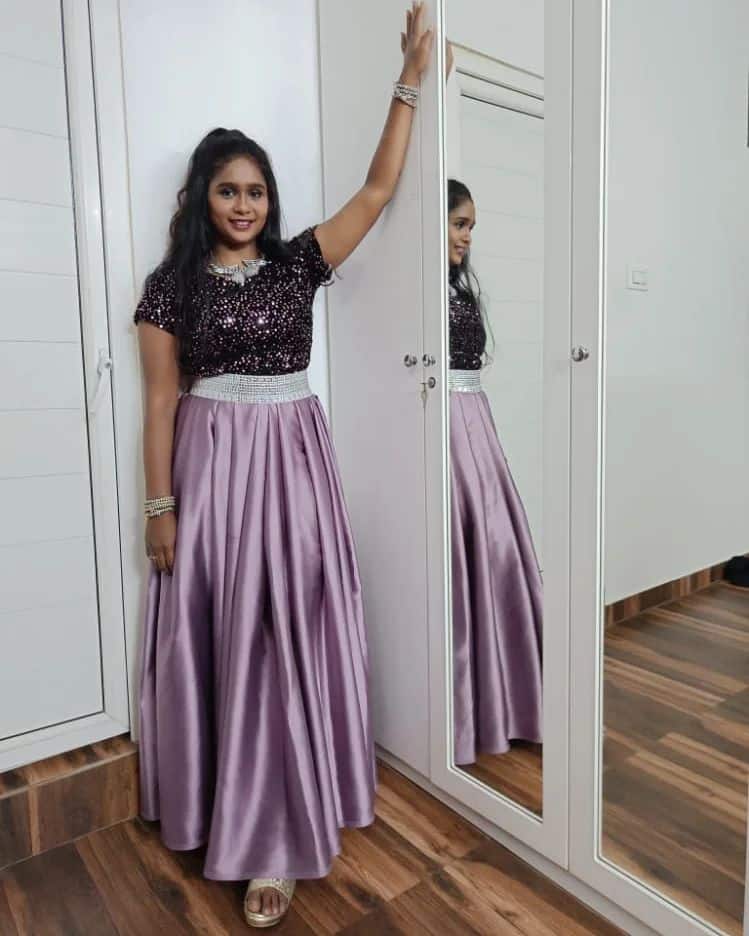 9 – How to Wear Pencil Skirt With Hijab?
High-waisted fits are considered best when it comes to modest fashion. We have got our eyes on this pink high-waisted pencil skirt paired with a contrasting black top.
The green bag looks absolutely chic with this outfit and the neutral hijab is adding more grace to the outfit.
8 – Pull Over Sweater And Satin Skirt Are The Best Combination
Moving forward towards the fall season, our first recommendation for you is this beautiful pullover neutral sweater tucked in with the help of a statement belt.
The midi skirt is going perfectly fine with this look and the nude heels are making it a classic ensemble.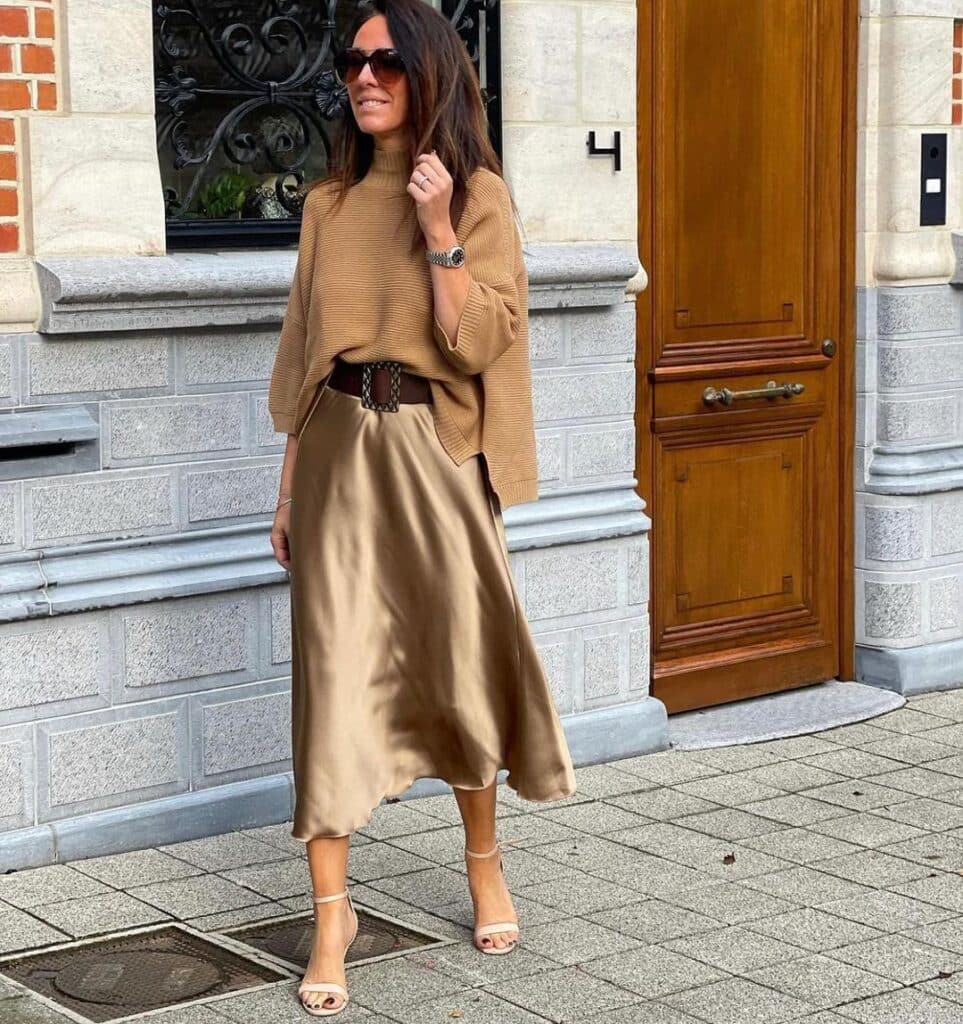 7 – Level Up Your Glam Game With Green Set And Blazer
We are mesmerized by this beautiful green bikini top paired with a midi satin skirt. The white blazer is perfect to keep you warm if it's chilly outside.
Moreover, the stunning white stripped heels are definitely leveling up the aura of the outfit. You can even swap the crochet bag with a leather tote bag for a more sophisticated look.
6 – Layering Up is The Key
If you are someone who feels unusual cold during the fall season, go for a layered outfit.
We cannot take our eyes off this white plain top layered with a flower embroidered cardigan sweater and a pink pastel mid-calf skirt. The whole outfit is gorgeous!
5 – The Prettiest Boss Girl Outfit
Do you have any oversized coats in your wardrobe and you are confused about how to create a chic look with them? No worries, get yourself a satin skirt with a spaghetti strap crop top and pair it up with any neutral coat.
If you are looking for more crop top outfits, I highly recommend you this post Crop Top Outfits-25 Cute Ways to Wear Crop Tops This Season
Throw on some cute sunglasses and slightly curl your hair for an elegant look.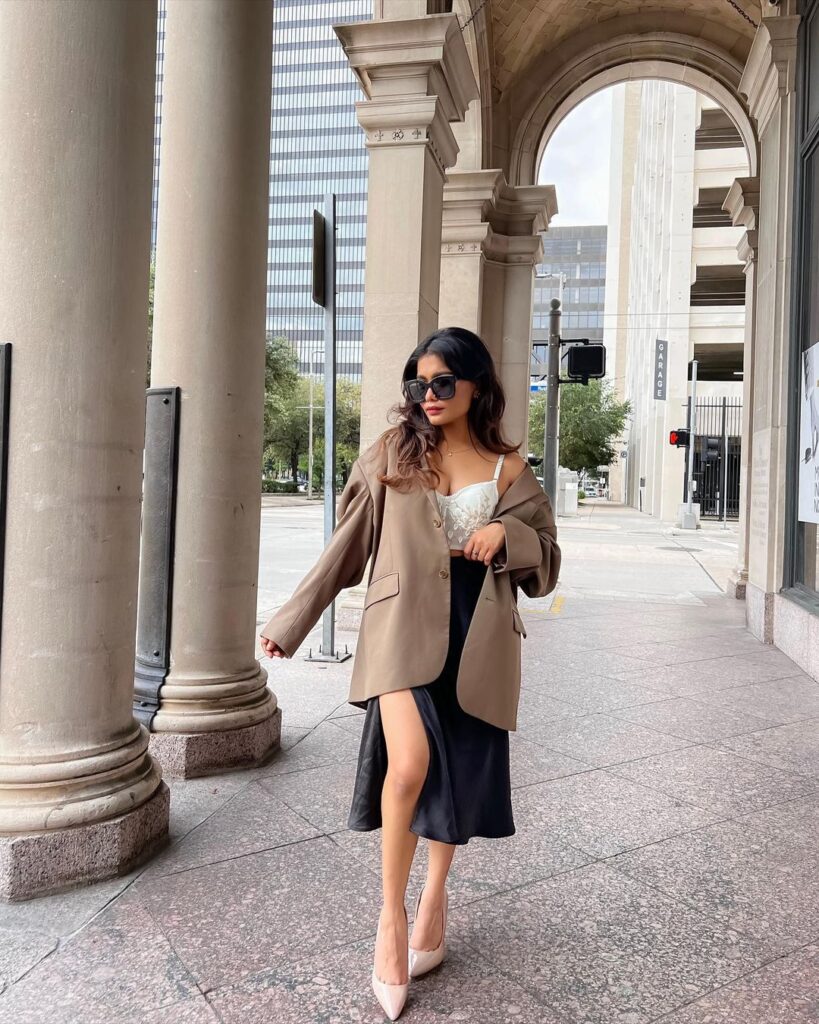 4 – Style Your Skirt With A Sweater This Fall
Whenever you are confused, go for a neutral or cream outfit and you won't regret it. We love how this neutral knitted oversized sweater is going so well with the same colour satin skirt.
3 – Winter Look Featuring A Hat And Stripped Sweater
2 – Pair Denim Jacket With The Skirt
Over the years, multiple winter coats and jackets emerged but nothing could replace the timeless denim jacket supremacy.
For your next Brunch date with friends, go for this denim jacket paired with a front slit midi skirt. This laid-back casual satin skirt outfit is a perfect choice for brunch, informal lunch, or coffee dates.
1 – Try A Leopard Printed Skirt
Frequently Asked Questions
Q. What to wear with a satin skirt in winters?
Ans. Styling a satin skirt in winter is quite easy. You can wear any plain midi skirt with a long cardigan sweater or with a pullover sweater for a casual look. Complete the look by wearing sneakers or boots. If you are going for a formal event like an office dinner or meeting, pair your skirt with a long coat as it will give your outfit a sophisticated and professional look. Go for pump heels and a nice wristwatch.
Q. Are satin skirt comfortable?
Ans. Compared with all other fabrics, satin skirts are very comfortable. The airy and silk feels of the skirt makes it comfy to wear and you would not want to take it off even after the party is over. In summers, styling these skirts is quite easy. Just throw on a tee or crop top, tuck it in, and your comfy and casual attire is ready. For winters, pairing it with sweaters, coats, blazers, and cardigans is the key to stay warm, comfortable and of course stylish!