How to wear a strapless dress? Imagine yourself attending a gala and all eyes are on you, what an amazing feeling would that be, wouldn't it? But, what do you need to have everyone turn around and look at you? A dress, right? More specifically, a dreamy dress that steals the show. To make your dream come true – we bring you beautiful strapless dresses that will make you look and feel gorgeous.
A strapless dress is obviously a dress without any straps or sleeves; it stays up because the fabric of the dress is held in place around the cleavage tightly. It's the kind of dress that looks incredible and has a history attached to it.
What was once described as a "naked look" became a style statement when The Love Goddess, Rita Hayworth, wore it for a song and showed everyone that strapless dresses are secured enough and don't have any indecent exposure if secured perfectly.
Needless to say, everyone's favorite bandeau dresses are having a moment again and we are excited to help you slay them with style.
How to Look Good in a Strapless Dress?
As great as a bandeau dress looks, many women avoid wearing strapless fearing it might slip. Although a strapless dress looks classy, I wouldn't deny that they are pretty annoying. It's almost impossible to make it to the whole day without having to pull your dress up. But, I am sure you wouldn't want to miss a chance to show off your shoulder blades and collar bones.
So, it's about the time you stop worrying about the slip and wow everyone with your outfit choices because we bring you not just some of the fabulous off-shoulder outfit ideas but also some much-needed tips to make sure your dress stays in place. Let's get started with some tips first:
Tips on Wearing Strapless Dresses
Try buying bandeau dresses that come with thin silicon rubber strips. The rubber inside the entire top seam will provide resistance against your skin without any sticky tape.
Sticky tape comes to the rescue when your dress doesn't have a rubber insert. Use a fashion tape and apply two strips to the front of your dress. Always keep sticky tapes in your purse whenever you are wearing a strapless dress.
You can also use safety pins if you don't have sticky tapes. Take some safety pins and pin your bra with the dress. Make sure you pin from the inside of the dress so that the safety pin isn't visible.
My suggestion is to never go braless, there are a variety of options in the market. Hence, you can choose a strapless bra with your strapless dress. POV: never wear a bra with straps under your off-shoulder dress, no matter how much you want to – it doesn't look good at all.
If you are not a fan of strapless bras then consider inserting cups into your dress.
Wear the right undergarments. Depending on your undergarments, your dress can either look flattering or flop. Hence, buy undergarments that will not show underwear lines in a fitted dress.
What to Wear with a Strapless Dress to Cover Shoulders?
Many women want to go for cover-ups with their dresses, especially when wearing mini dresses. I recommend either going for a kimono or the simplest option is to just layer it with a boyfriend shirt.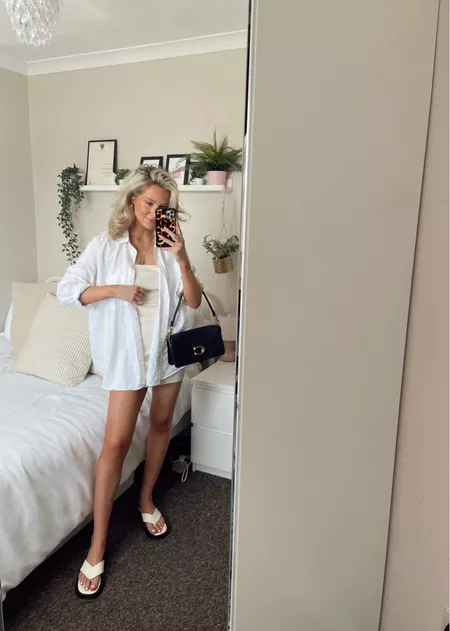 24 – Winter Look
Strapless dresses don't need to be limited to the summer season only as they're equally fun to wear in Winter. This is because you can easily layer under and over these dresses.
To layer over them, can pretty much go for any type of jacket or blazer and even long coats. And for layering under them, I recommend striped shirts but only if your dress is solid colored. For printed dresses, you should ideally layer under with solid turtlenecks or shirts.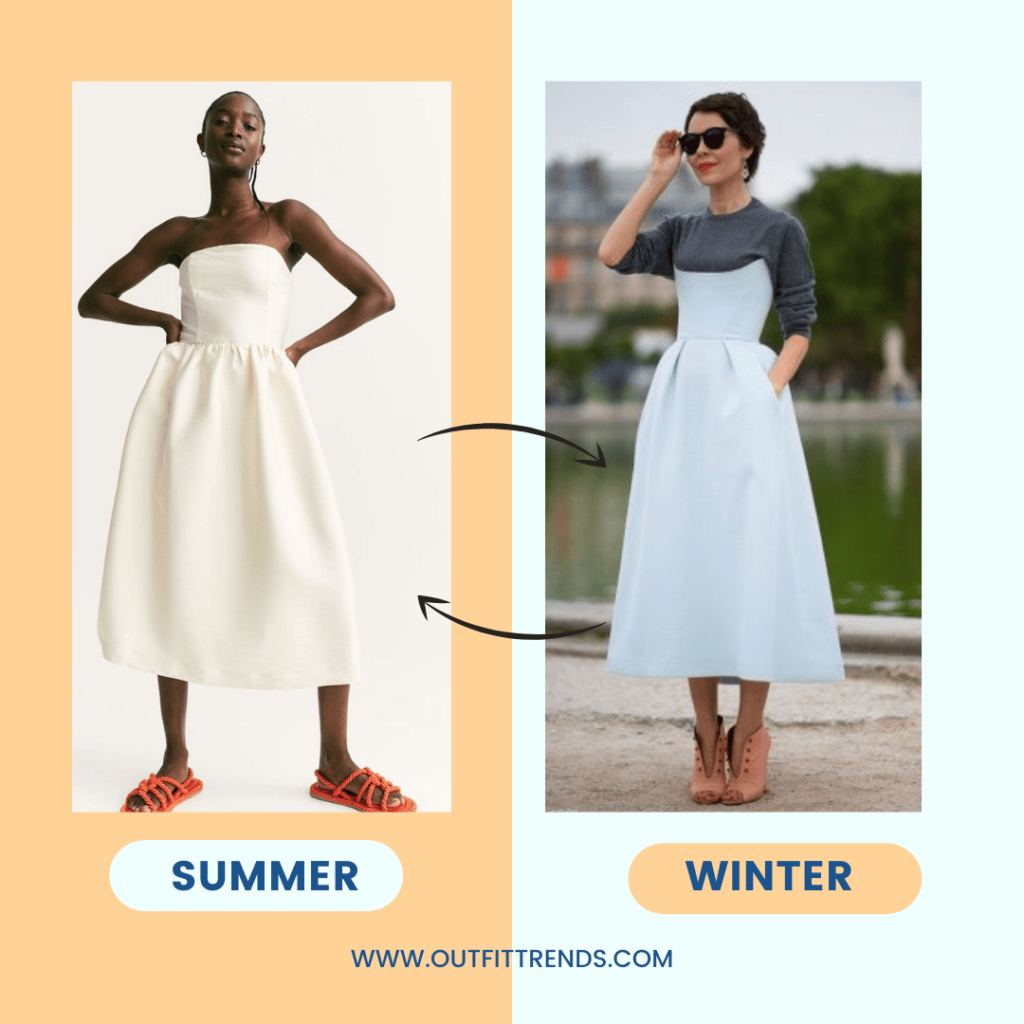 23 – For Curvy Ladies
If you are a woman with a big bust, off-shoulder dresses that are cinched around the waist will look best as they accentuate your curves.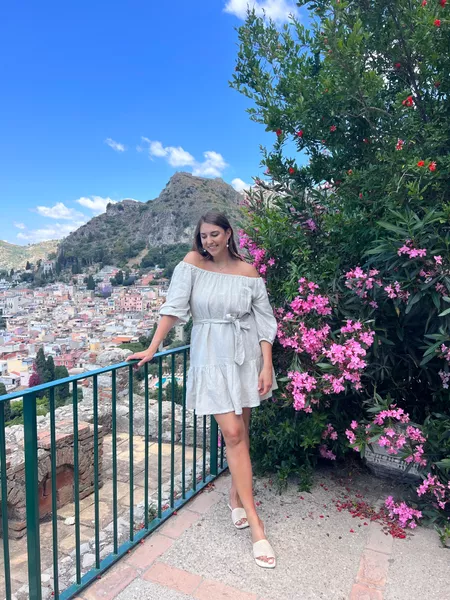 Since it can be hard for women with big boobs to find a dress that will stay up, one tip is to wear them with conventional bras (with straps) and then cover the strap with a button-down shirt. You can also wear a belt for additional support.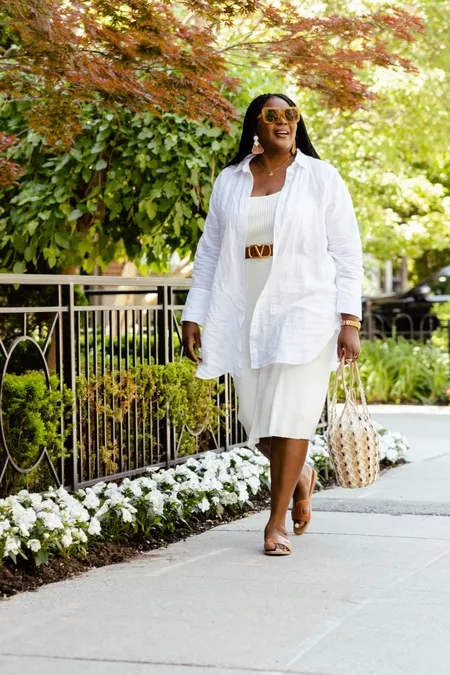 22 – Strapless Dress Outfit for Work
How to wear a strapless dress to work? Well, I wouldn't really recommend it as they're better suited for holidays and weddings but if you really want to wear one, go for a simple long dress. Or layer your dress with a blazer, denim jacket, or cardigan to make it look professional.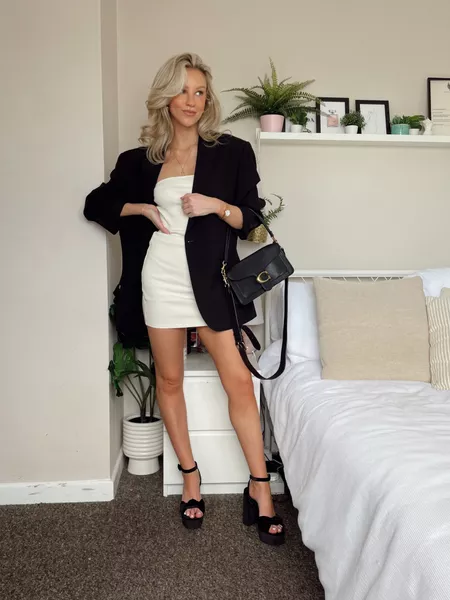 21 – Strapless Dress with a Small Bust
We have been asked this question a lot that "can I wear a strapless dress if I have a small bust"? You definitely can! In fact, according to most stylists, such dresses look better on small chests as compared to heavier ones.
I recommend going for long dresses with a flare towards the bottom. Dresses like these can work for any occasion be it the holidays or even a wedding guest outfit.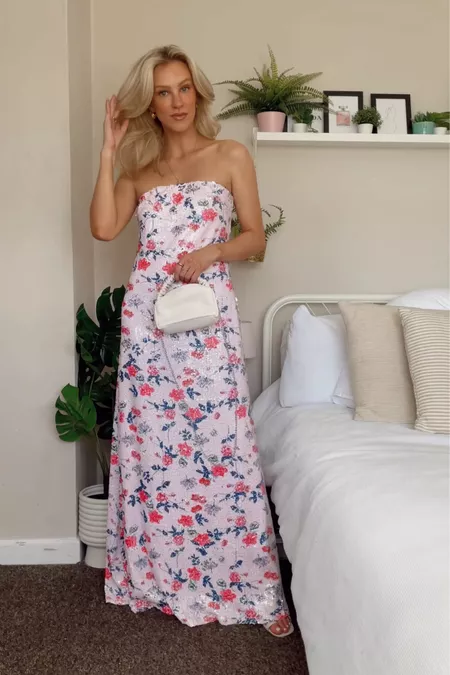 20 – Brunch Ready
19 – Sweetheart Neckline
Strapless dresses are all about flaunting your sculpted shoulders and this Gucci cherry print strapless co-ord dress does it perfectly. I love how simple and elegant this look is! Dakota Johnson sure knows to style the set in a fuss-free manner.
The off-shoulder peplum top is paired with flared pants and looks stunning. And, how can we not talk about her make-up with blush cheeks? She looks stunning with some simple make-up and loose hair.
If you wish to recreate this look, get yourself a nice off-shoulder co-ord dress, achieve that simple glow with blush cheeks, let your hair loose, and lastly, put on a classy pair of ankle strap heels.
Here are some more of my favorite Matching Sets Outfits to Wear & How to Style Them.
18 – Floral Dreams
Doesn't this dress scream vacation? I love everything about this look – from hair, and accessories, to shoes, and dress. Get yourself a yellow floral print dress the next time you are shopping for vacation.
Wear flat strappy sandals so that you can enjoy the whole day without any exhaustion. Moreover, go for some loose curls and apply soft make-up with your favorite shade of lipstick. Accessorize minimally with cute hoop earrings and some gold bangles for a stunning look.
That's it and you are ready for your holidays.
Brighten up your day with soothing yellow color and bag all the compliments!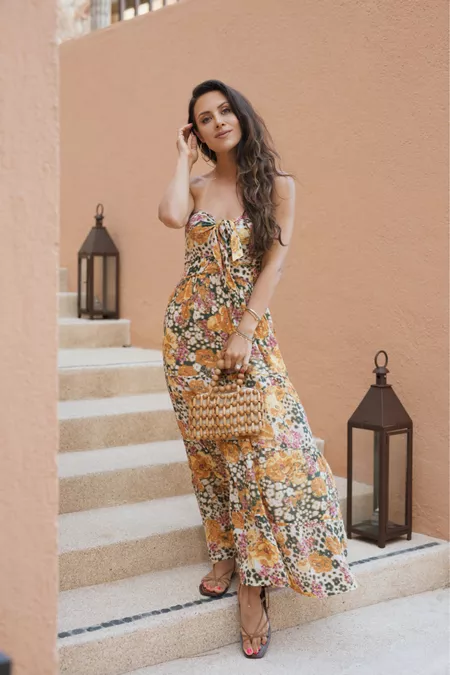 17 – Ribbed Bodycon Dress
Bodycon dresses are not everyone's cup of tea but if you have the confidence to rock them, you go girl! Here are some beautiful White Bodycon Dress Outfits that are perfect for this season.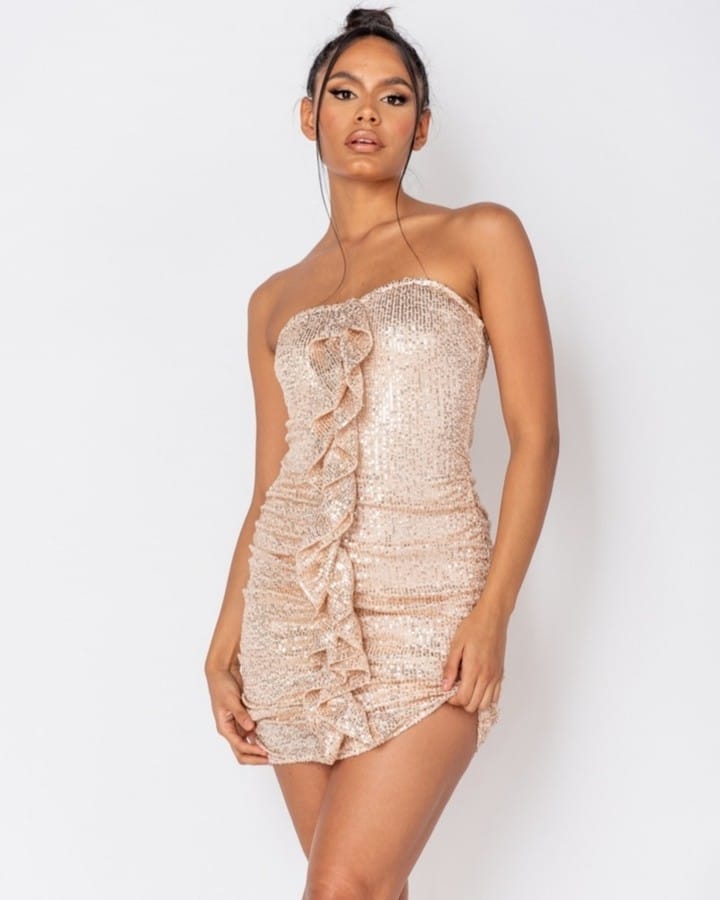 16 – Stunning Summer Look
I love dresses with slits because they look ultra-chic. Have a look at one such dress – an off-shoulder ruffle that is a must for your summer vacations. The dress will look adorable if styled correctly.
The first rule for summer vacation is to always apply sunscreen on all the exposed body parts, make sure you do that, or else you will end up with a sunburn. Then, wear this pretty dress and do your make-up. For jewelry, add some earrings, rings, and a simple one-layer necklace.
Further, carry your essentials in a tote bag and finish off the look with ankle strap sandals. Definitely, a look that emanates boho vibes.
15 – Cool and Casual
Bring back your younger self and get into this fuss-free off-shoulder dress. Perfect for beach days or some tea party with good old friends. Don't believe in 'you can't wear a strapless dress at your age,' you can wear anything as long as you feel beautiful in it. So, get ready to look your best.
Buy yourself a long gorgeous dress without straps and show off your shoulder and neck. Add a two-layer necklace, a bangle or watch, and cute pearl earrings. Complete this look with flats so that you can walk with ease. Live your days freely, beautifully, dressing up nicely.
14 – With Pockets
I have one complaint with all of my outfits, why don't we have pockets? I mean fashion designers need to bring pockets in as many of our dresses as possible. And, I think someone just heard us. Have a look at this casual strapless dress with pockets. Perfect to wear shopping.
A dress that will allow you to roam around the city without making you exhausted. Get yourself a similar dress in your favorite color, wear some comfy flats, and put on your shades. You are sorted now!
13 – Vacation Ready
Here is an off-shoulder dress for lake vacations. A breezy white dress that will look great on every person regardless of their age, size, or skin color. Kick off your vacations with fresh white color. Although the color looks fabulous, it can be challenging to wear and style it. Hence, be careful eating or drinking in a white dress.
Get your whites and put on your flat sandals. Make sure to get some beach curls for a stunning look and you are vacay ready. With too many options on the list, I hope you find the best one for you! Also, if you like this white dress, then you are gonna love these white midi dress outfits.
12 – Bohemian Long Maxi Dress
It's very rare to find stylish dresses that pregnant women can wear. Therefore, we bring you a bump-friendly maternity dress that you will absolutely love. The dress is an absolute savior on days when you have little time to get ready.
All you will have to do is to put on this dress, wear a simple pendant and floral earrings. I adore the nude ankle strap heels and the white crossbody bag, which compliment the outfit delicately.
11 – Ruffle Off-shoulder Gown
Dakota Johnson can make every color look good on her. I have to say not everyone can slay an olive green gown as this beauty did. The actress is a sophisticated sight to behold in an off-shoulder ruffle gown with her hair pulled up into a messy bun with a few tendrils left free.
The minimal accessories like these small cute earrings and some rings go well with the look. Moreover, her make-up just elevates the whole look – the magic done on her eyes and flush pink lips is truly levitating.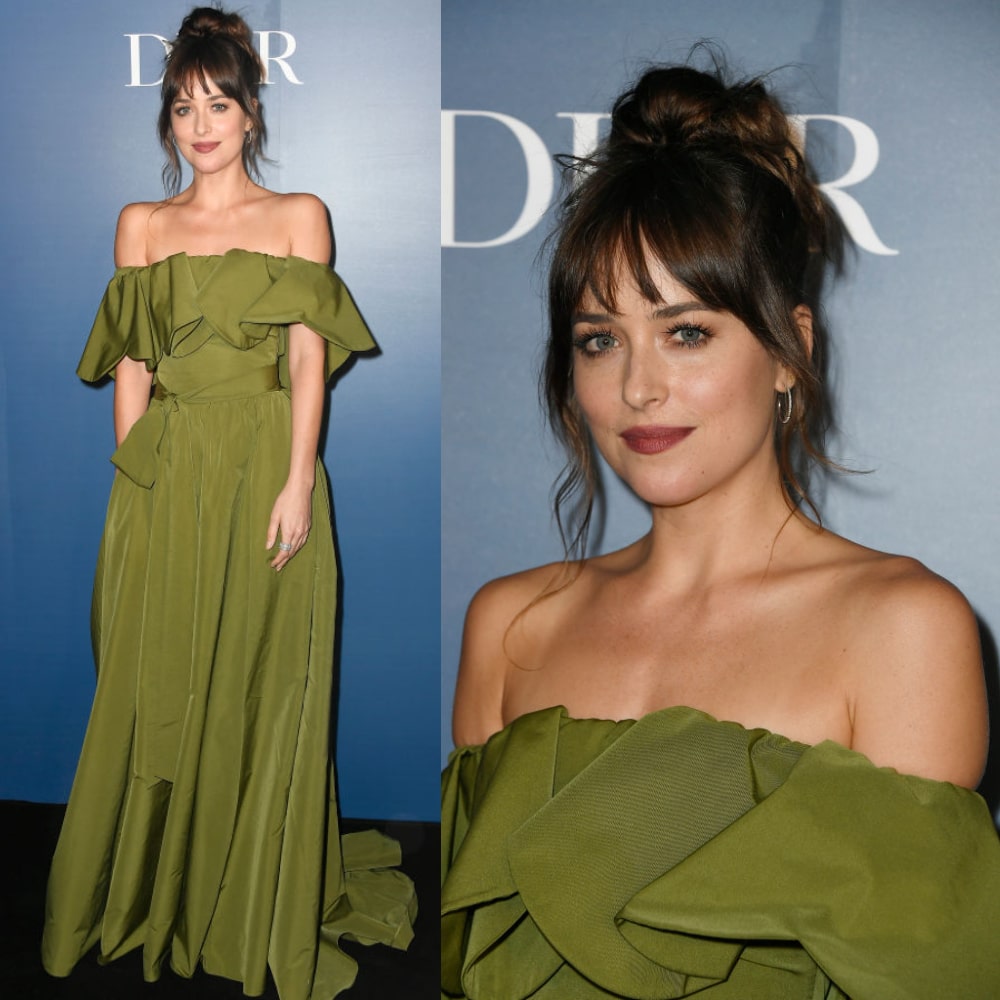 9 – Go for Sequins to Make a Statement
Your party look needs to be colorful, shiny, and glowy. And, here is one such look. Get yourself a sequin dress in your favorite color – preferably a vibrant one. With a shiny dress, you definitely need dewy make-up that will help you glow all night long. Lastly, open your hair and throw in your favorite heels.
Here are some more fabulous Ideas on How to Wear Sequin Outfits.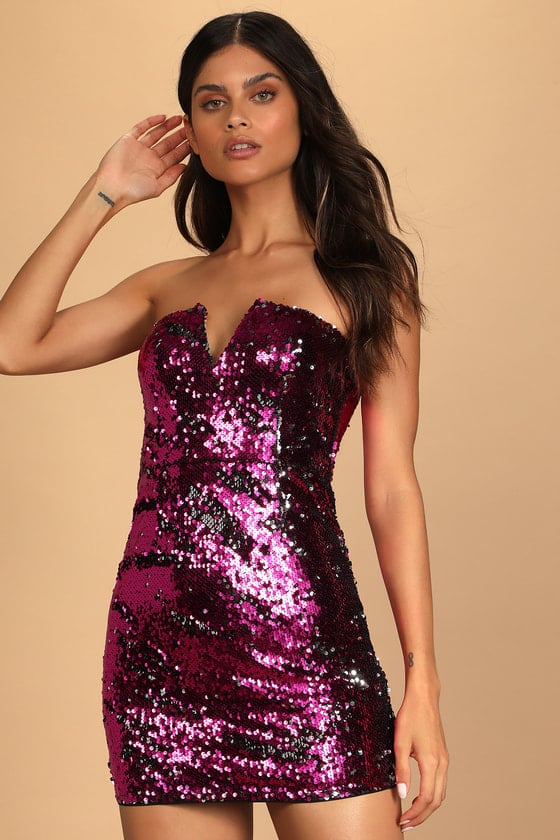 Via
8 – Get the Barbie Look
This dress surely does have a charm of its own. The sheer simplicity of the dress creates an exquisite look. An outfit that doesn't need any jewelry or much effortless. Just do your make-up and make a bun because the bold red dress is enough to make you stand out.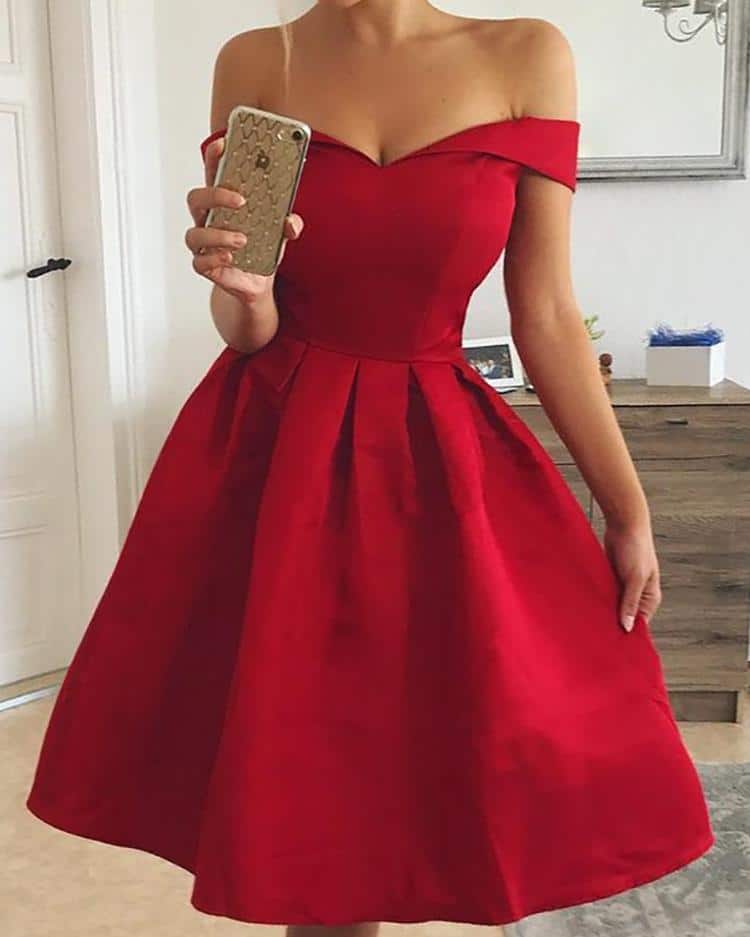 Via
7 – Brown Button-Front Belted Strapless Dress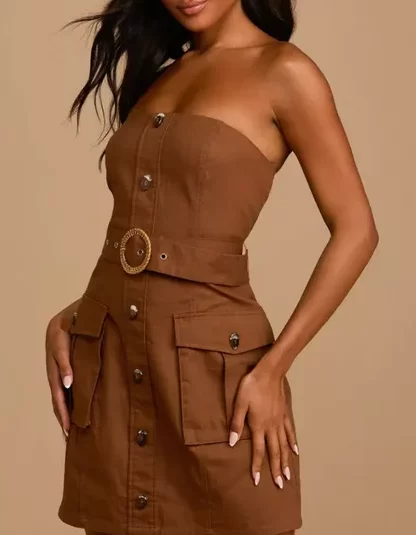 6 – Celebrity Style Inspiration
Everyone move aside, here comes the fashion queen Gigi Hadid – a well-known name in the fashion industry who makes a style statement every time she comes out. This time the diva donned a timeless strapless black dress with a scooping neckline.
If you are into fashion, you may know that the scoop neckline is having a moment. Many celebrities slew scoop necklines but we mainly love Gigi Hadid's look. The diva wore an off-shoulder dress with some detailing on the waist.
What's cuter is the little red heart with Gigi written on it. The whole look is really fun! She opts for a classy mid-part with her hair and soft make-up and baby pink lips. Her ankle boots with socks completed the look but honestly, I would go for heels instead.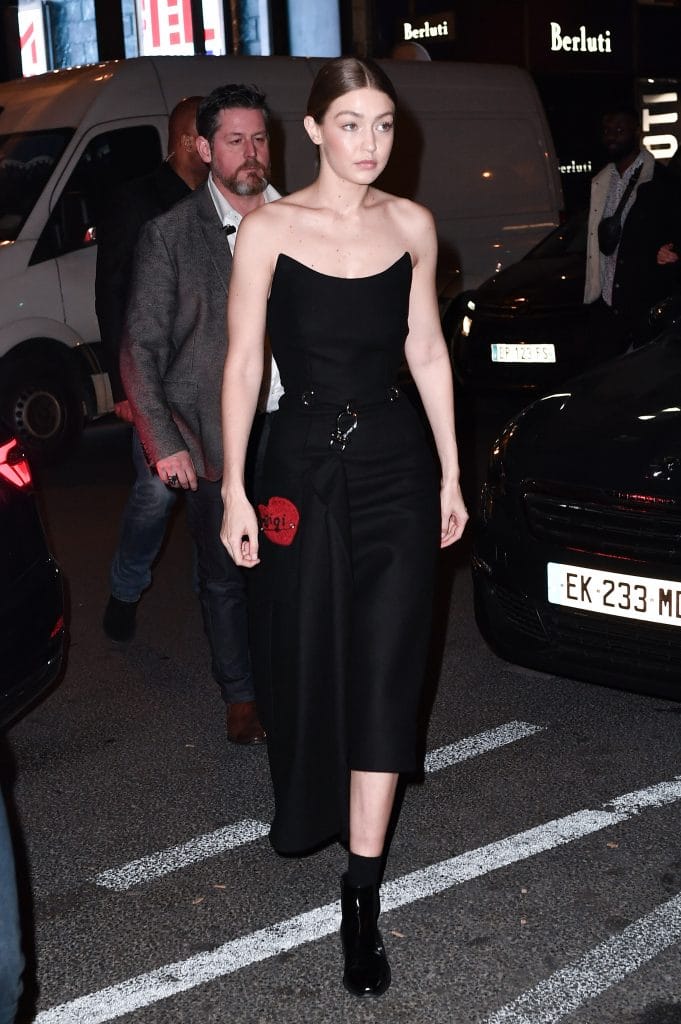 Here we have another look of the stunning Dakota Johnson that is considered one of her best looks so far! The How to be Single actress wowed everyone when she wore this strapless white laser-cut lace dress.
She made a striking appearance with a matte glow, pink lips, and of course her perfectly styled bangs. Without a doubt, she is the diva to look for inspiration on how to style bangs. Dakota completed the look with white stilettos.
Recreate this look the next time you have an event and bag all the compliments with a look like this!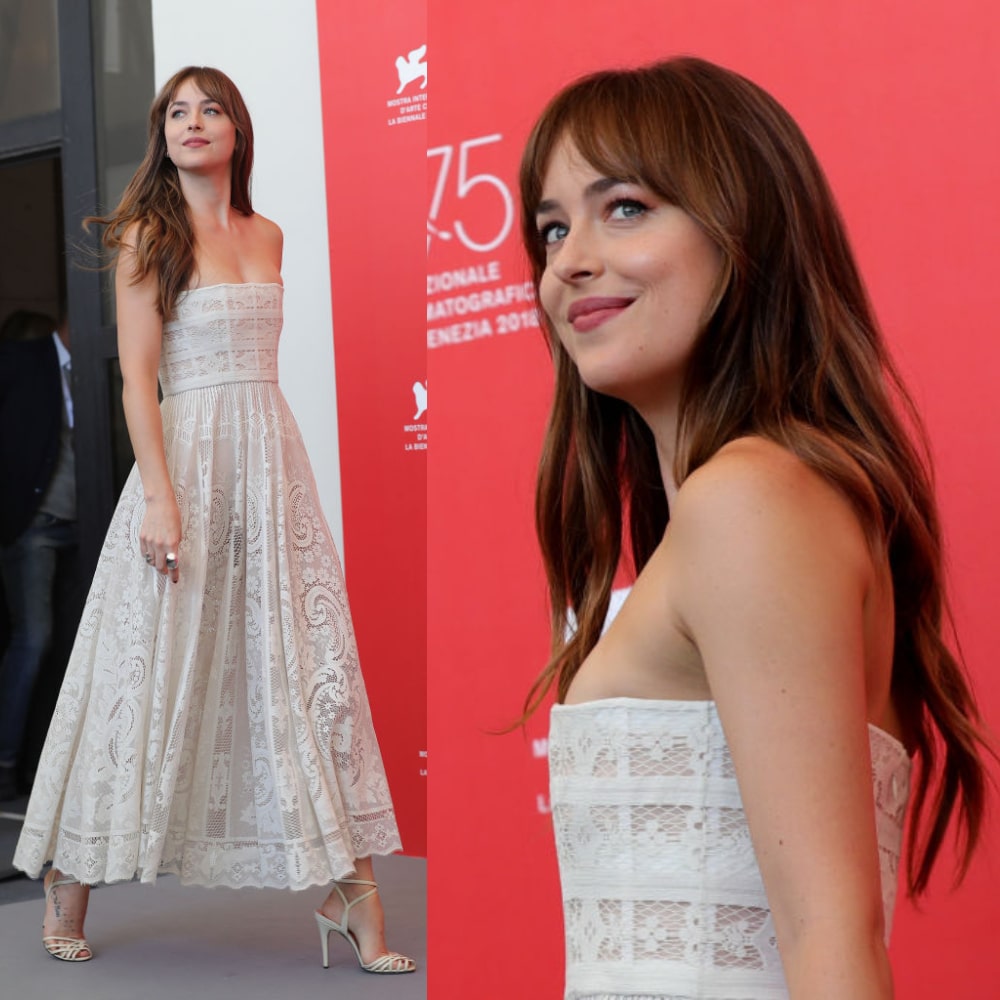 10 – Brighten Your Day With Yellow Ruffle Dress
If you haven't tried the ruffle trend yet, you need to check out our post on Outfits with Ruffle Tops.
5 – Get Yourself A Perfect Princess Dress
Grab this dress for the ultimate princess feels! Everything in this – from hairstyle to dress – is perfect for occasions when you wish to steal the show. A bow-design blouse with a fluffy gown looks like a classic combo.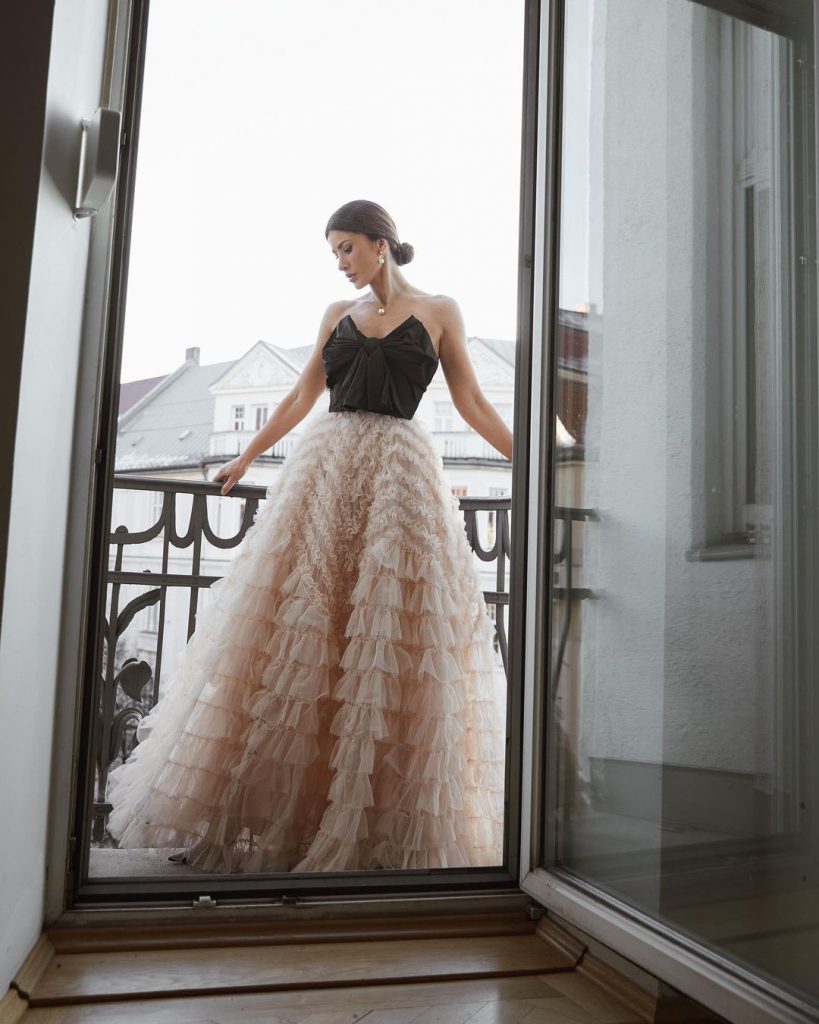 4 – Strapless Prom Dress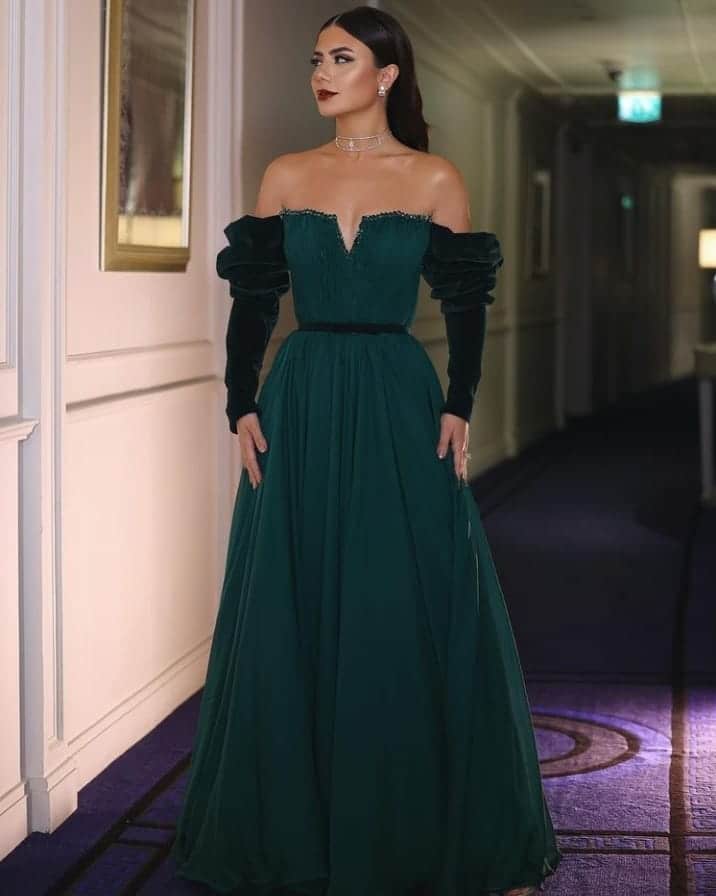 3 – Wedding Guest Outfit
2 – With A Slit
Thigh-high slits can make anyone go crazy especially when paired with a strapless dress. This is the kind of dress I would wear for a special date. Here are some more Ways To Rock High-Slits.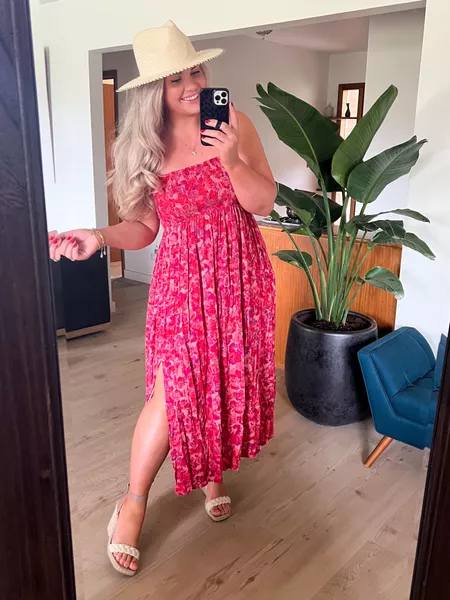 1 – Strapless Wedding Dress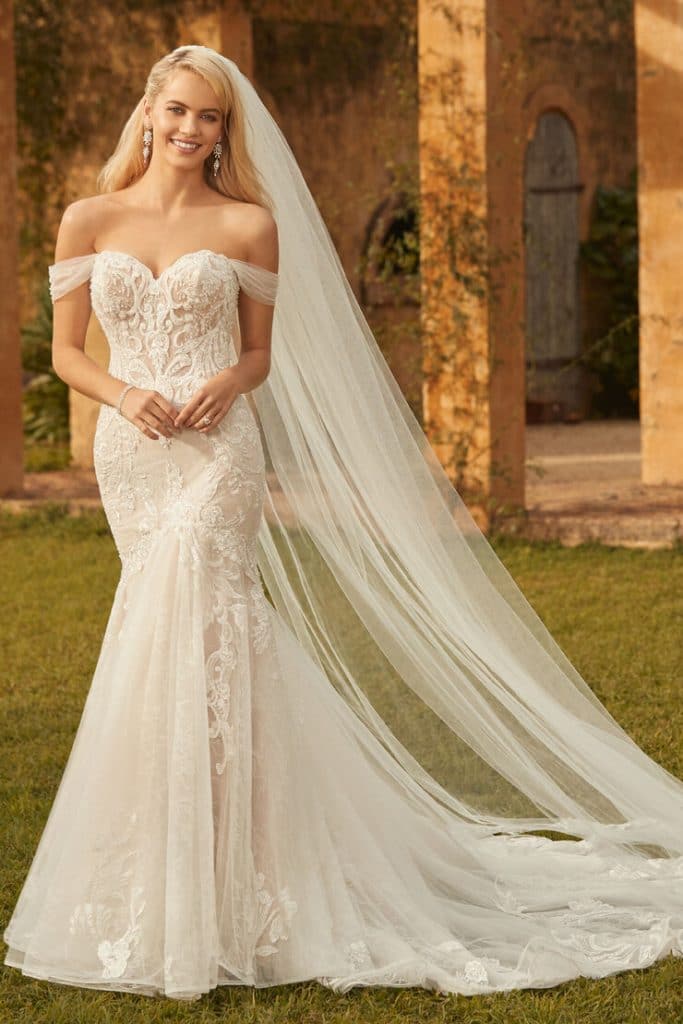 Frequently Asked Questions
Q: How does a strapless dress stay up?
A strapless dress is usually supported by an internal corset or thin silicone rubber strip around the upper body part of the dress. The rubber or corset provides resistance against the skin which will make your strapless dress stay up. However, there are some dresses that don't have a rubber strap then you will need to support them with a brassiere or corset. To ensure that your dress doesn't slip out of its position, use fashion tapes. Put two or three straps at the front of your dress.
Q: How to choose a strapless dress?
Pay attention to the fittings, it should not be too tight but tight enough so that the dress stays in the position. Because loose or too tight dresses are uncomfortable and embarrassing sometimes. Hence, pay attention to how the dress fits around your upper body. Walk in the dress, and see if it gives you room to breathe and walk comfortably.
Q: Where to buy a strapless dress?
There are countless stores to buy strapless dresses but I have mentioned some of them where you will get plenty of designs to choose from.
Myntra
Amazon
Revolve
Kohl's
Little Black Dress