How to Wear Thigh-High Slits. The new trend dominating the fashion world by storm: thigh-high slits. Whether they be skirts with slits up the side or jackets with slits running down the side, slits are a daring but super fashionable look that will bring your wardrobe to the next level.
They tend to look very feminine and stylish and can be worn to formal evening dates and dinners galas. You can find skirts and dresses with slits of all lengths. You can experiment in so many ways, too. Wear plain skirts with either a sweater or a printed blouse and if you want textured skirts, go for silk blouses in a solid color. You can wear flat sandals but heels with slits can make your legs look longer which is what you want. Just remember that slits don't mean that you need to be uncomfortable. If you are not happy with a lot of skin showing (but don't mind showing a little) then find yourself a slitted skirt that stops at the knee.
Tips On Wearing Thigh-High Slits
Let's start with some simple tips to show you how to wear thigh-high slits in your skirts and dresses.
As a rule, wear heels. Whether you are wearing a skirt or dress with a slit up the side, heels will elongate your legs and create a streamlined look. Flats will bring your hips closer to the floor and make you appear shorter. However, there are some instances when you can pull off a thigh-high slit dress or skirt with flats and that is if the dress is midi. Otherwise, a maxi dress with flats is suitable for the beach or a pool party.
Thigh-high slits are quite daring and expose a lot of the leg. Balance the look with a dainty camisole (if wearing a skirt) and consider adding a pretty shawl or another coverup, especially if you fear getting chilly, whatever the event is you are heading to.
If a thigh-high slit is just too much skin for you but you still love the slit look, opt for a skirt or dress that has a modest slit, perhaps one that stops at the knee. Or you can wear thigh-high boots to limit the amount of leg shown. Plus, it's a seriously gorgeous look.
Consider wearing stockings or sheer tights for an extra smooth leg look.
If your aim is to look elegant, avoid flashy jewelry, gaudy heels, or an overly juvenile appearance. Choose quality pieces of jewelry, sophisticated heels, and a classic hairstyle.
Now let's look at some outfits. Here at Outfit Trends, we have rounded up 46 gorgeous and glamorous outfits, showing you how you can rock the thigh-high slit look. Some of these looks need no introduction while others we have carefully detailed for you. Be sure to let us know your favorite look in the comments below. Let's get started!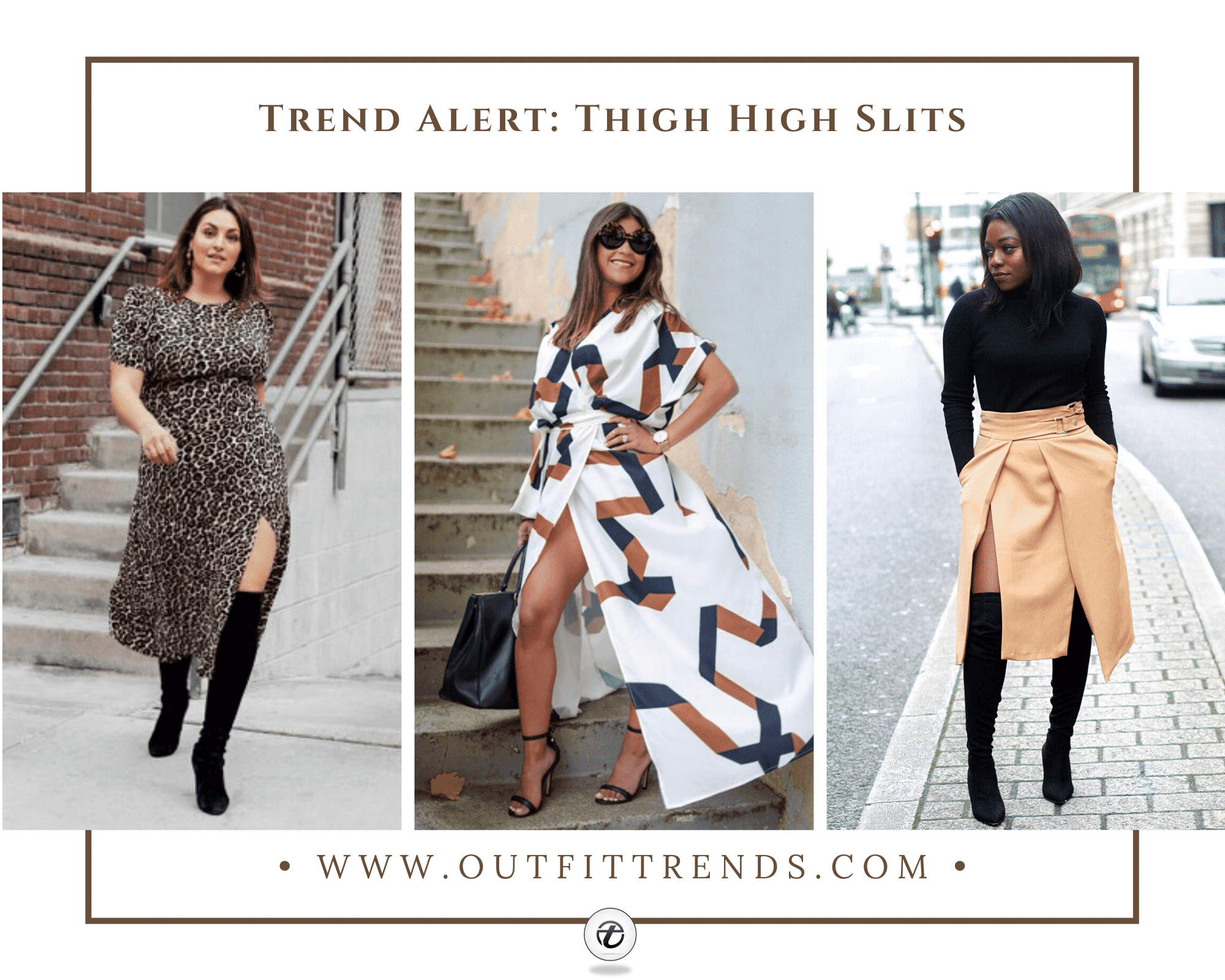 ↓ 49. Ball Night Outfit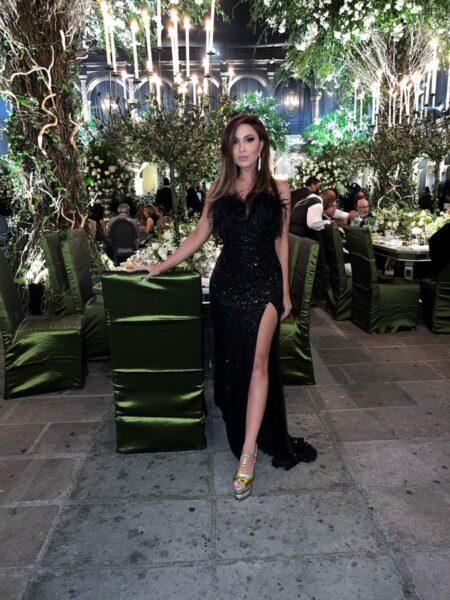 ↓ 48. With Knee High Boots
The animal print trend continues to rule this year and it looks all the better when you add a thigh-high slit. Pait it with the trending winter staple: Thigh High Boots.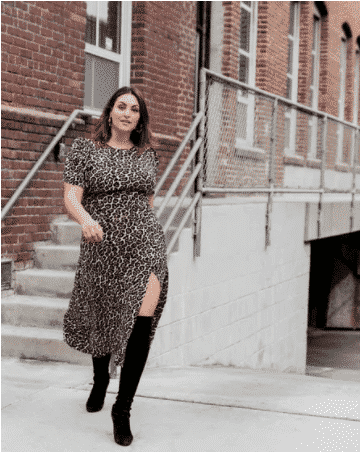 ↓ 47. Glamorous Friday Date Night Look
Feel like Angelina Jolie by wearing a sexy thin high slit dress to your next date night. For more ideas, check out these Weekend Date Outfits.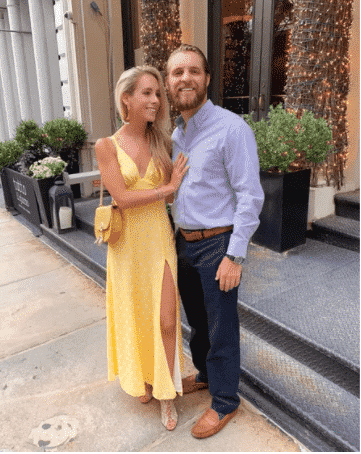 ↓ 46. Glam White Ensemble
For our first ensemble, check out this glamorous and ultra stunning look featuring a draping train over a short skirt with metallic heels. This look is perfect for photoshoots, beach parties, and vacation dates with your love. This is a great option for the gal who may not want to bare her whole leg. Instead, a sheer white miniskirt keeps the looks modern and stylish without sacrificing modesty. The overskirt as well allows for bare skin without showing the upper thigh or even hip. Accessorize with a statement ring and style your hair in loose beach waves. This is a look you will feel like a million bucks in.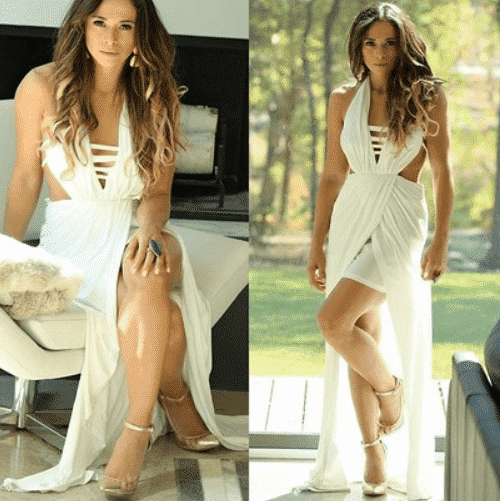 ↓ 45. Fashionista Style Maxi Dress
Fashionistas, take notes! This is a seriously stylish ensemble that will make a statement, no matter what the occasion. We love its individuality and coloring. A look like this is easy to accessorize! Also, heads up to our petite ladies in the audience: if you want to rock a maxi dress, a thigh-high slit is a great way to elongate the leg. Add an oversize tote designer purse, statement sunglasses, and a pair of strappy stilettos.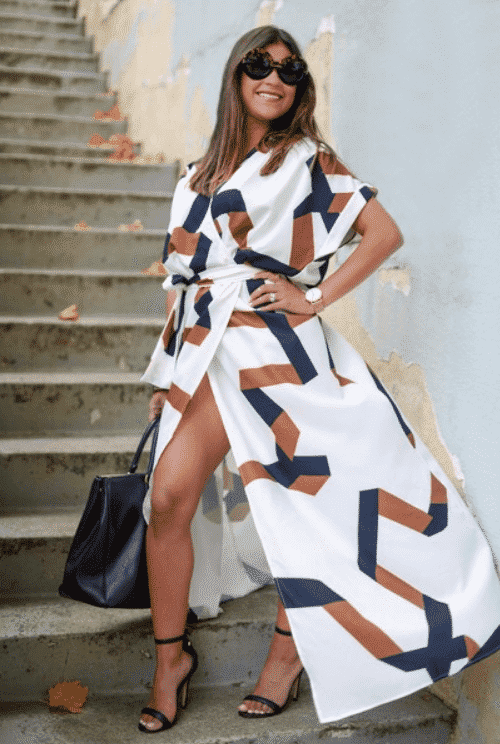 ↓ 44. Formal Dress
A thigh-high slit is always daring and in some cases, it is truly alluring. Consider donning a full-length gown with a thigh-high slit next time you have a formal event to attend. With this dress, which shows more skin than most, notice the high neckline and modest sleeves. You can also rock a pair of serious statement earrings to tie the look together.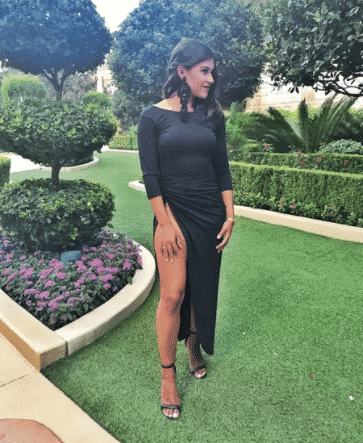 ↓ 43. Dinner Date Look
For semi-formal events, especially during the colder months, this look is to die for. Here is an example of how you can wear sneakers with a thigh-high slit dress. For one, a semi-casual maxi dress is required, one you can knot just at the knee or below it. You can layer this with a gorgeous shaggy coat and pair it up with white Adidas. Then, it's all about the accessories! A statement necklace, stud earrings, and a designer handbag make this one look you won't soon forget.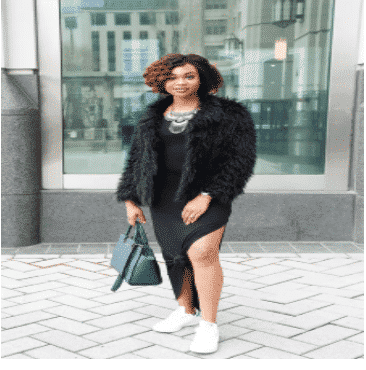 ↓ 42. Bold Print Dress and Knee-High Boots
Here is a fantastic example of styling a thigh-high slit dress with knee-to-thigh-high boots (oof, try saying that three times fast!). It limits the amount of leg shown and it is ridiculously chic. For the curvy ladies who fear bold prints: you can see here how absolutely fabulous it looks. We also love how this dress covers up the shoulders and cleavage area, perfectly balancing the amount of leg shown. Less can sometimes be more! This is one stunning look you should definitely consider trying.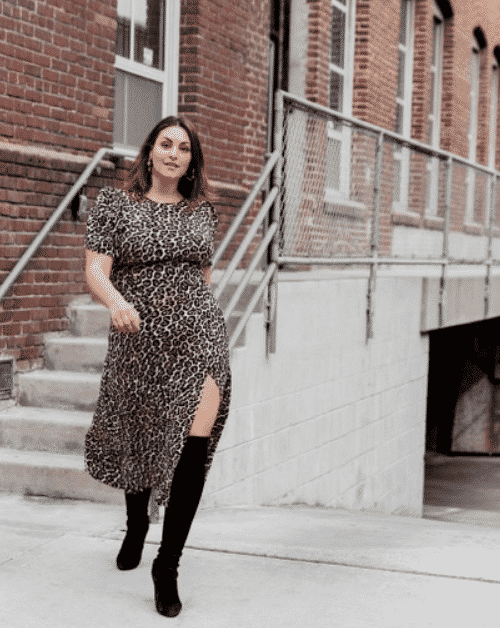 ↓ 41. Stylish Black Dress with Sandals
We love this look for its versatility. You can throw it on for simply running errands or you can add a few accessories, swap out the sandals for heels and wear it to a party. It's chic and understated but comes with that daring slit that brings it to the next level. This is also one of the singular examples of how you can wear flats with a thigh-high slit dress. In this case, the dress hits mid-calf which allows for enough leg to still keep an elongated look. If the dress were maxi-length, we would definitely recommend heels! (Unless you are headed to the beach, in which case a maxi dress with sandals or flip-flops is perfectly acceptable.)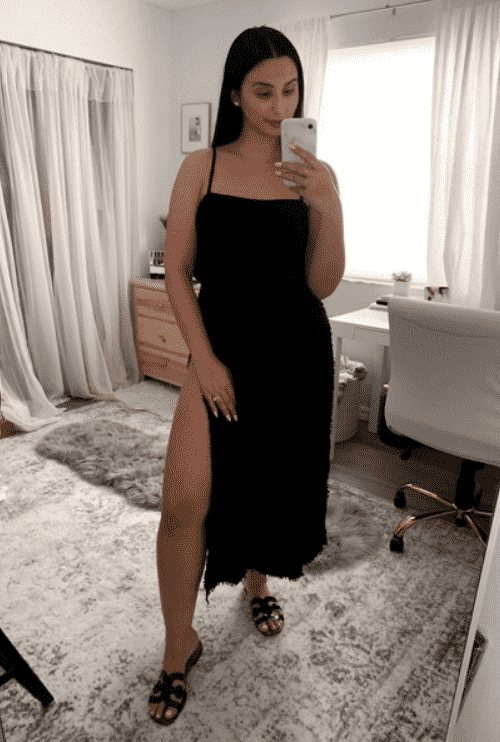 ↓ 40. Glam Evening Dress Code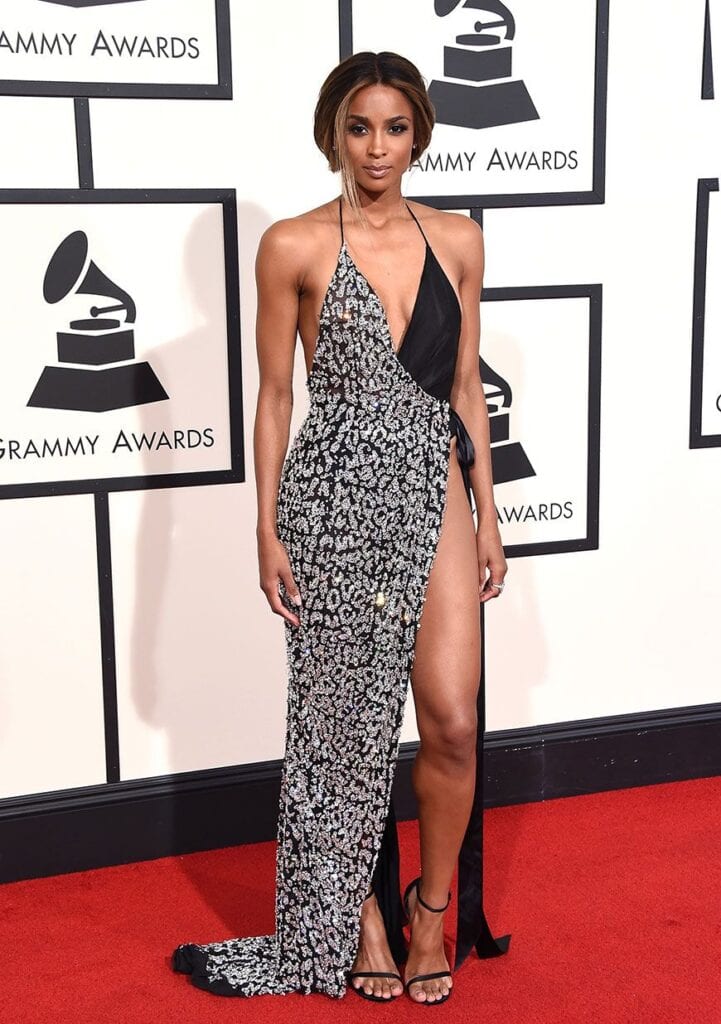 ↓ 39. Casual Look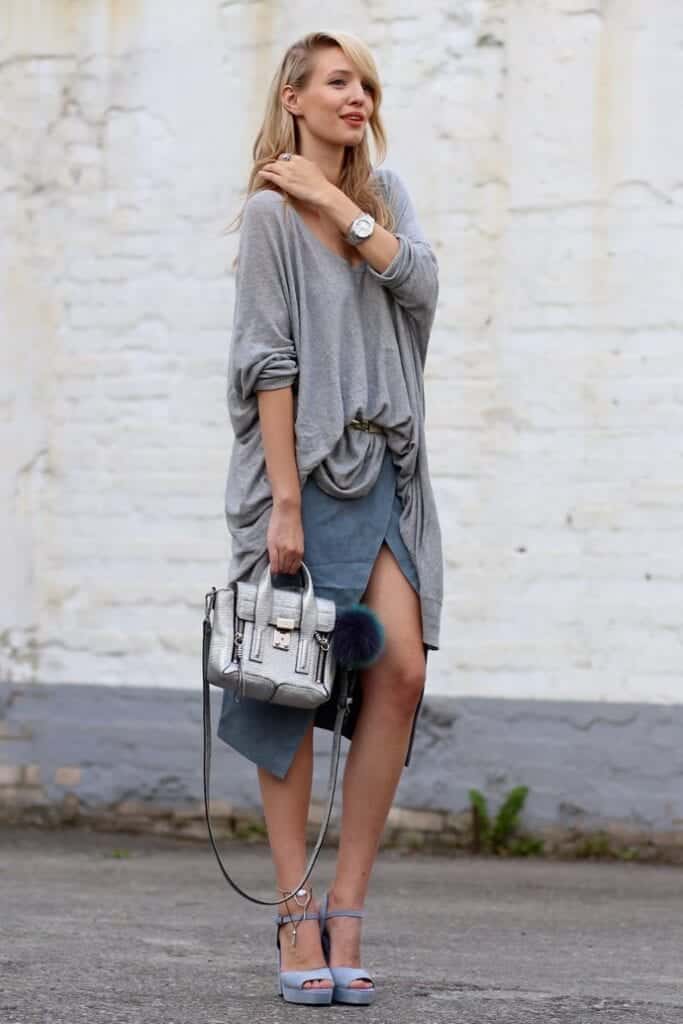 ↓ 38. University Look
If you don't much like to expose too much skin and are uncomfortable with the slits but still want to be a mod girl you can dress in jeans and a top with long slits and mules.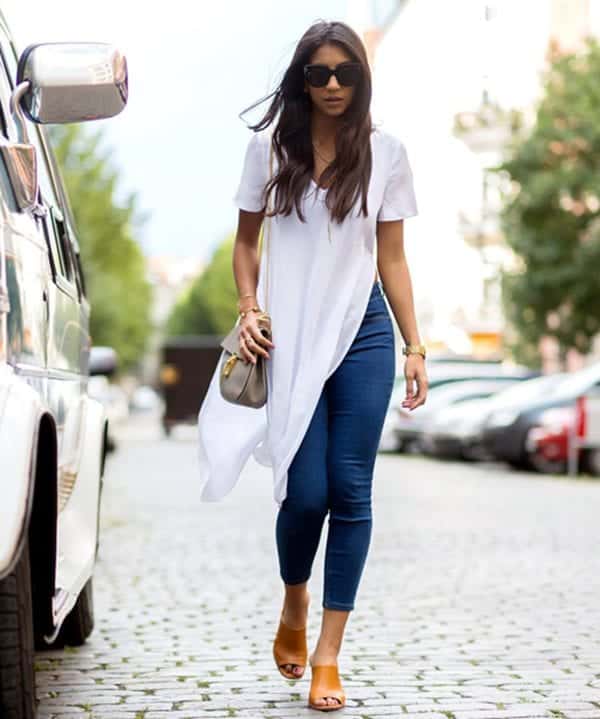 ↓ 37. Lunch Break at the Office
If you work in fashion consider this ultra-modern, black-and-white ensemble featuring a two-piece skirt. This allows for the slit look but keeps the upper thighs firmly under wraps. We also love the high neckline, white chunky heels, and striped purse.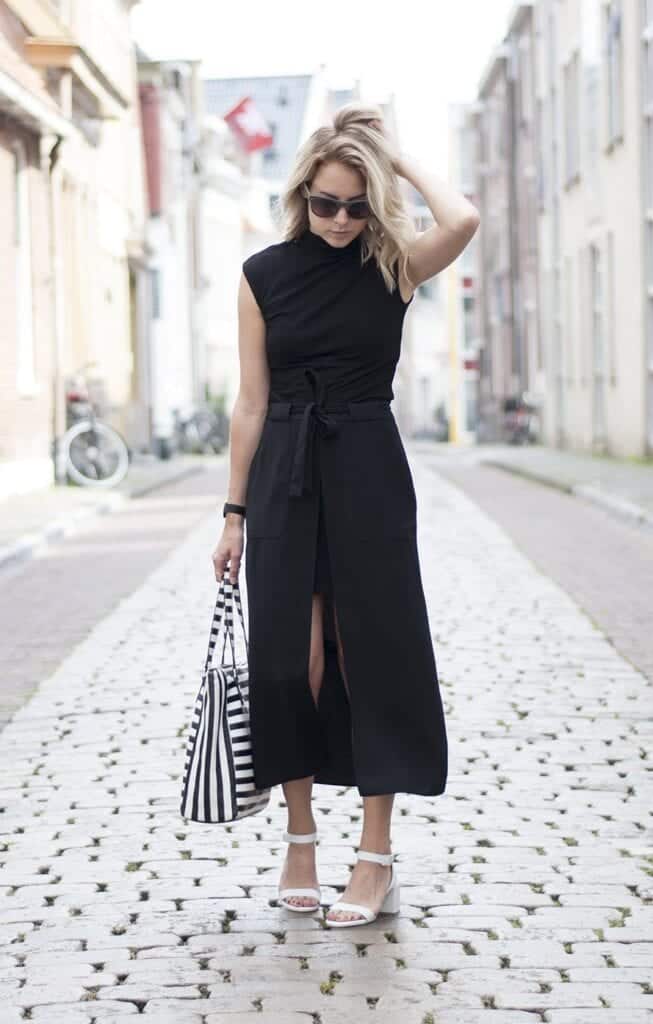 ↓ 36. Saturday Night Fun
If you are a party girl and like to be upbeat in fashion also this is the right kind of dress for you with a white cropped top matched with a grey body fit mid-length skirt and lace-up heels for a little glamour.
↓ 35. Street Style Outfit
Turtle necks can add a modest look with the slits and when combined with sneakers somehow the dress looks decent enough. When going out in the streets for shopping or any other errand you can put on this perfect outfit.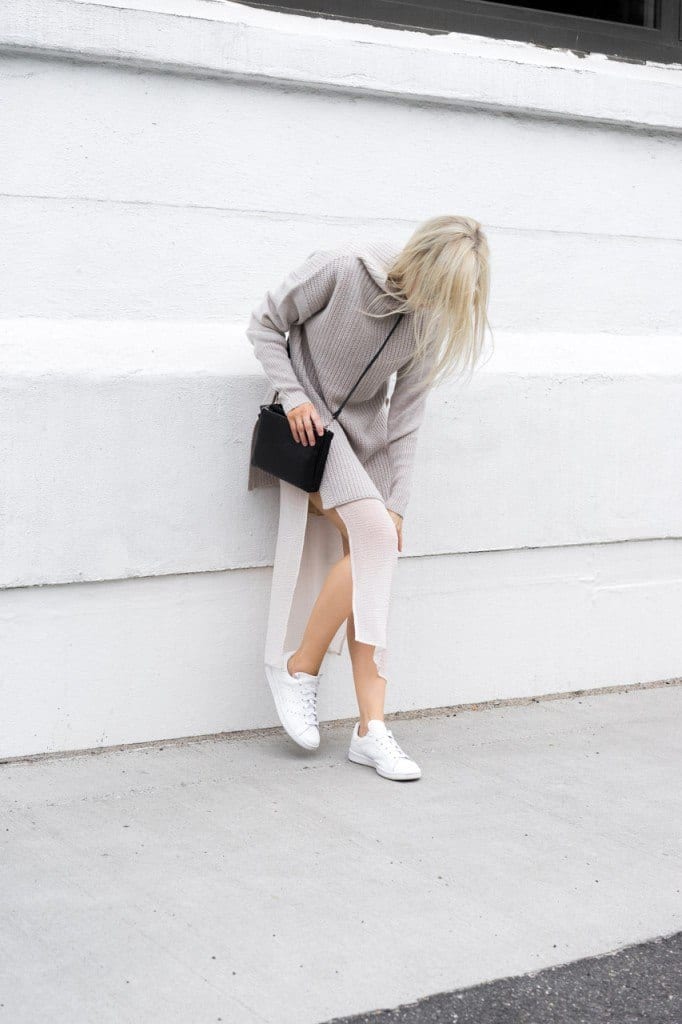 ↓ 34. Alluring Body Con
The bold and the beautiful line is a cliche but never suited better than the one person who will opt to wear this dress. It is a masterpiece in reality and will be your fave gown. Choose this and no one will ever doubt your decisions in clothing. For a modest look let your hair loose but for a sultry look tie them up in a neat bun. Pair a black studded clutch with cuffed sandals. No jewelry is required but if you want something just go for simple diamond studs.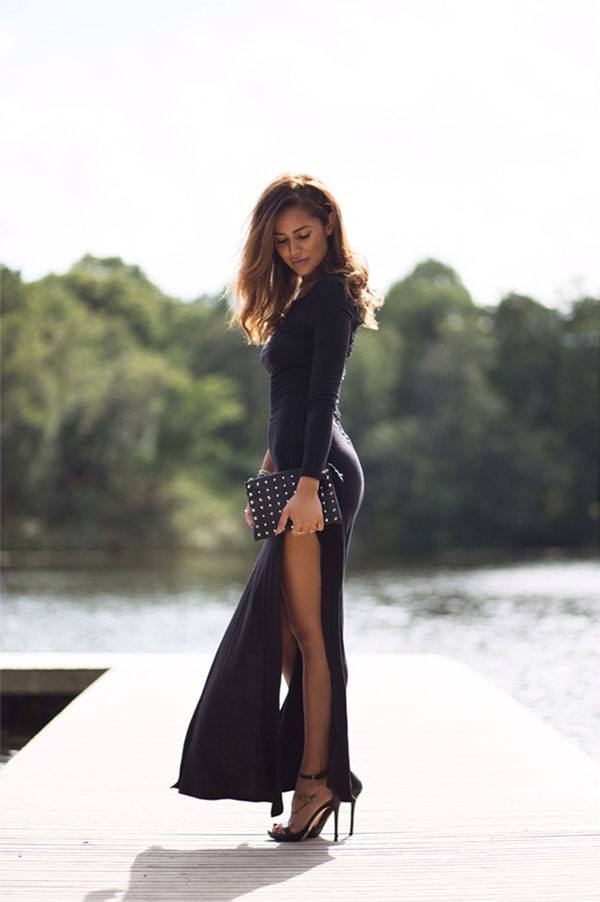 ↓ 33. Double Slit Fashion
One slit is bold but two slits make you a goddess in fashion terms.  If you are bold enough go for this breathtaking double-slit evening gown for making heads turn.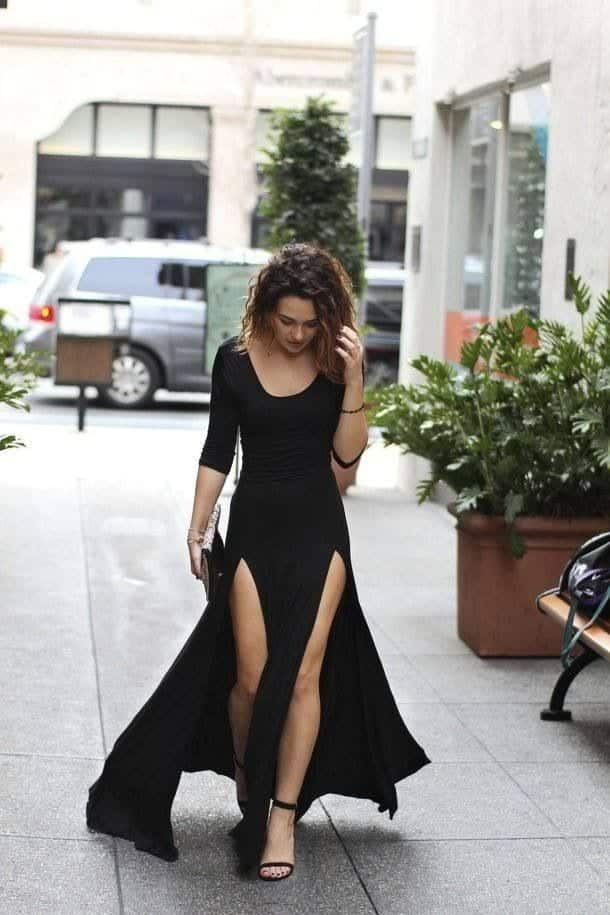 ↓ 32. Statement Skirt with Zippers
Leather skirts look absolutely gorgeous with zippers and slits. Match it with the same color sweater/top in full sleeves.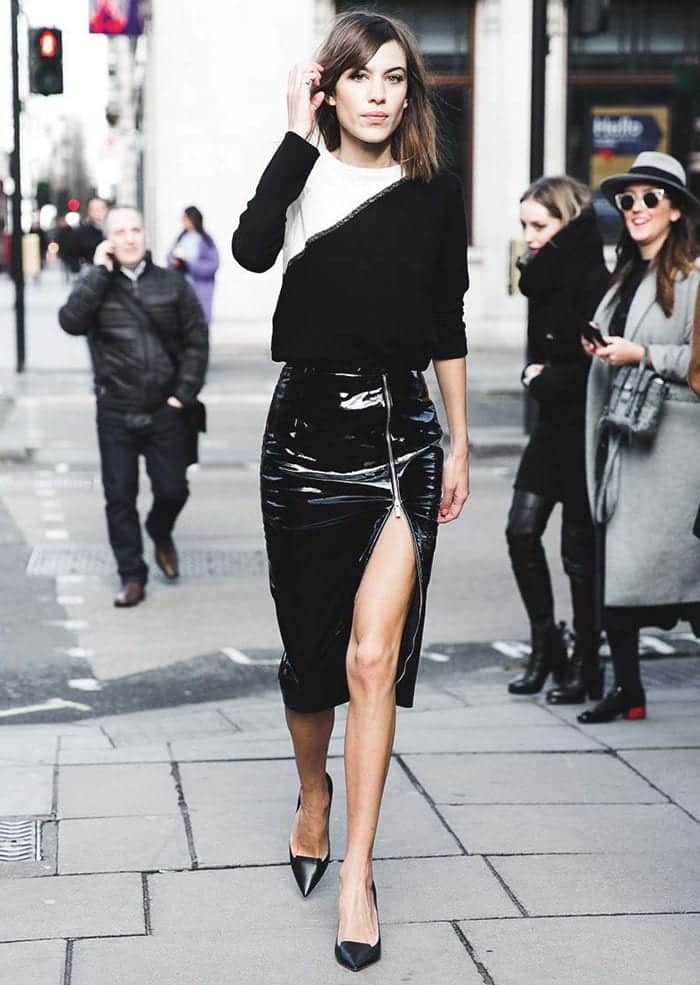 ↓ 31. Wrap Around Skirt with Slit
Black and red. What can any other girl want? A wrap-style high slit skirt that too in leather is the ultimate thing to invest in. The pointy lace-up heels with a red silk shirt are going to be a bombshell.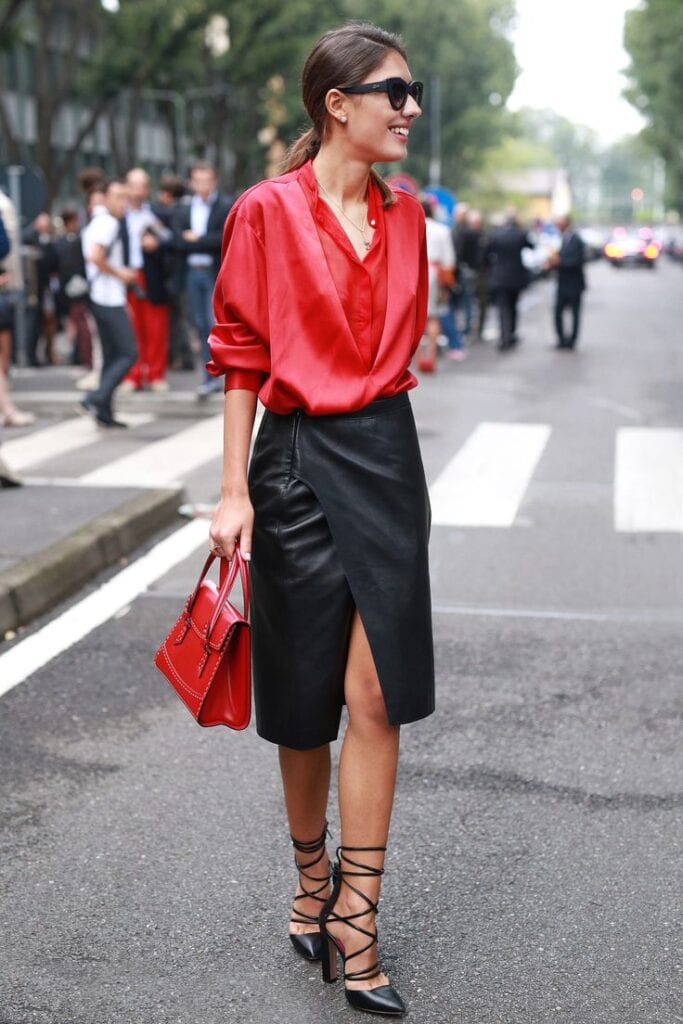 ↓ 30. Kim Kardashian Fashion
Gypsy skirt with a slit and the whole gypsy styling idea is looking good for Kim and you can take ideas from her as well. Look at the metallic belt and studs and platform heels as the details that you can incorporate too. Tank tops look nice when lots of chains are also added to have the funk and the punk factor going on.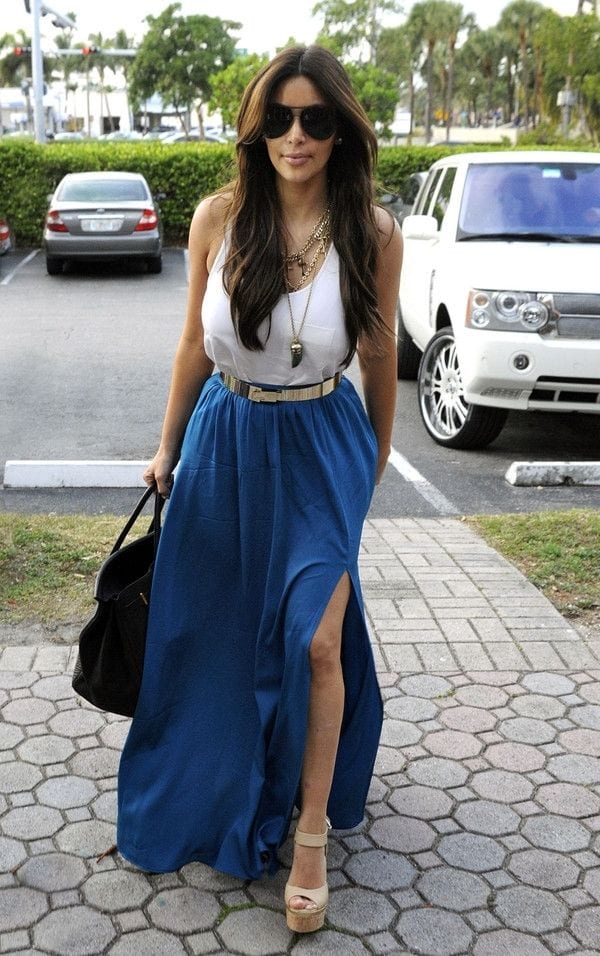 ↓ 29. Casual Sunday Outfit
Keeping it casual yet fab is the way to do it on Sundays. A chiffon grey skirt and a black shirt are very simple but when you add the chunky belt and the leather boots this outfit is a go-go.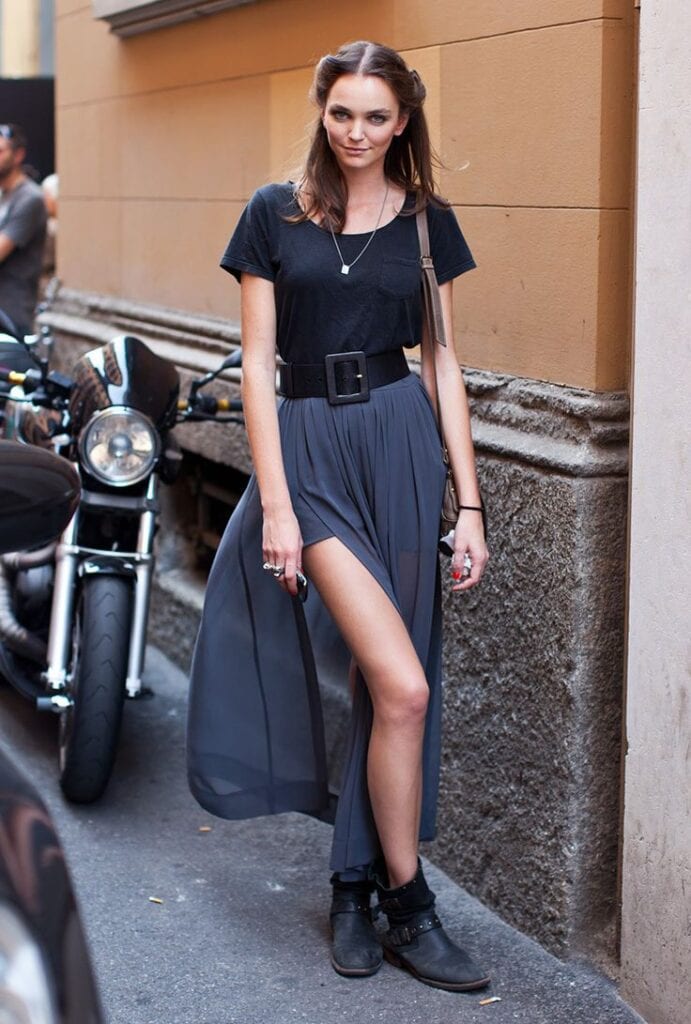 ↓ 28. Funeral Outfit
You don't like traditional funeral dresses yet you have to attend one? This is the dress for you. With a modest length in skirt and a proper slit can be combined with an oversized sweater that is all you need to achieve a somber and a decent look. Just switch your gladiators with proper heels.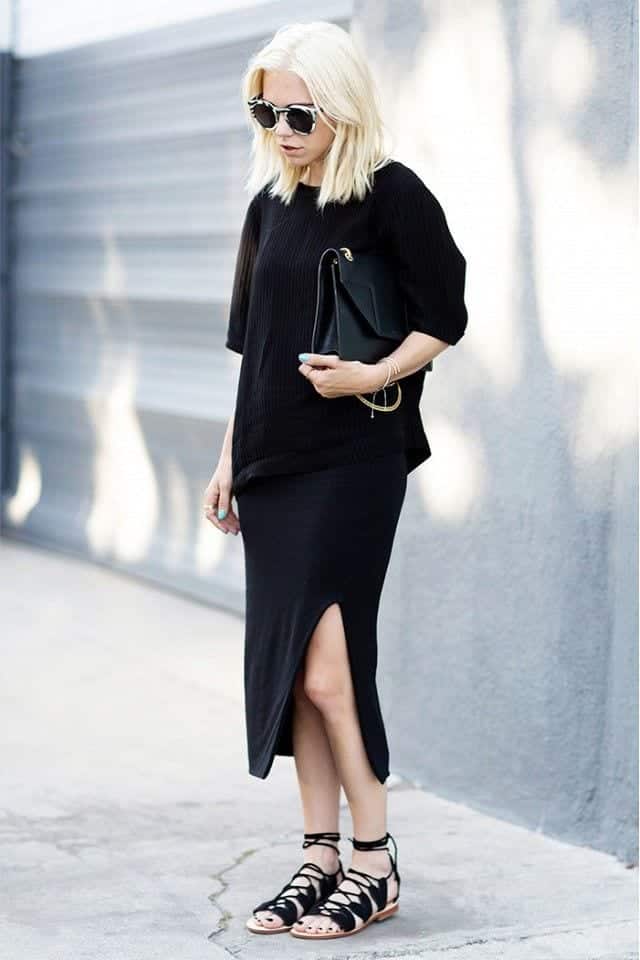 ↓ 27. Cocktail Party Look
Although a simple color combo but the cuts and the cropped top with platform heels are doing all the tricks and making this dress a fashionistas choice for an evening out for partying. Wear studded metallic bracelet with some midis and take up a black bow clutch and match it with the hair you have tied up either a simple bun or a bow-shaped bun.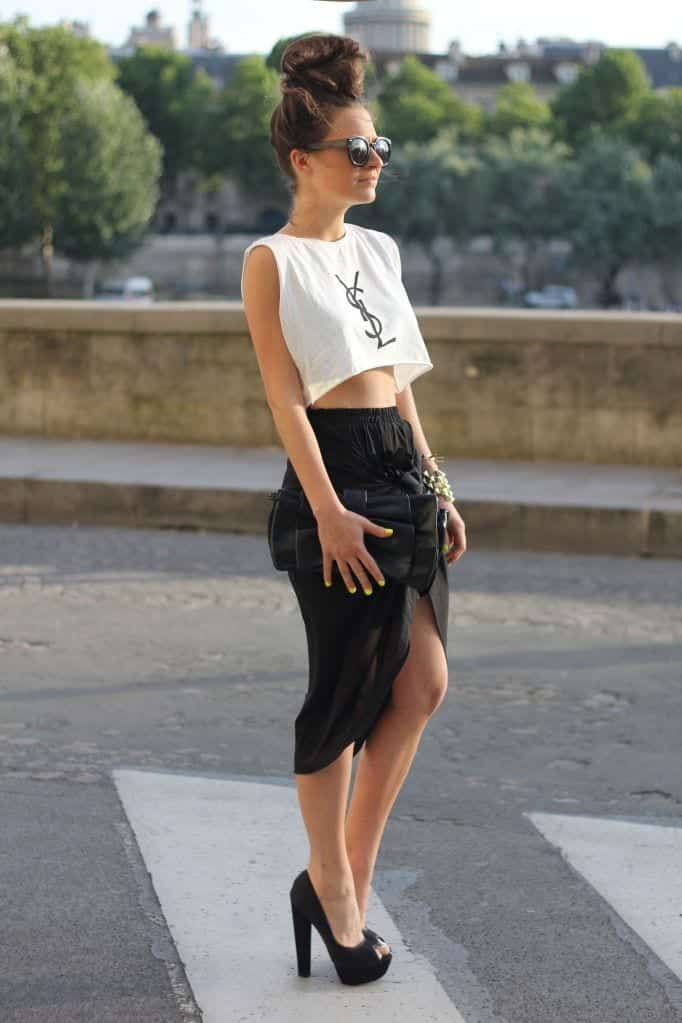 ↓ 26. Animal Prints Styling
If you work in fashion, feel free to get daring. This look pushes the envelope with its slitted skirt but its animal print cami and chunky-heeled peep-toes keep the look from going too far. You can also add a blazer as an extra coverup.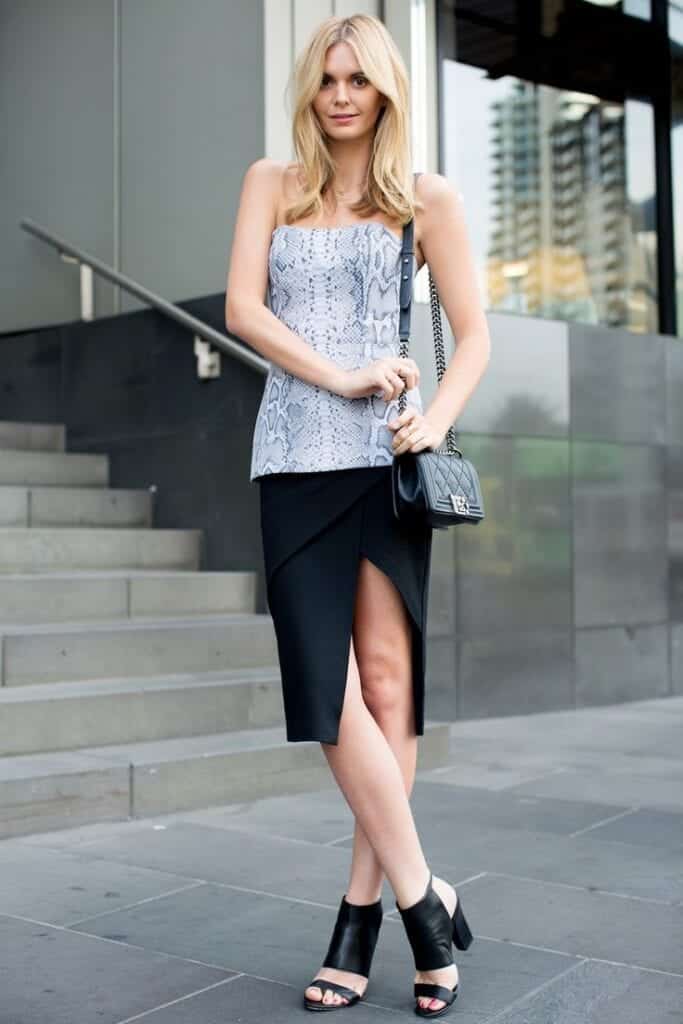 ↓ 25. Evening Date Dress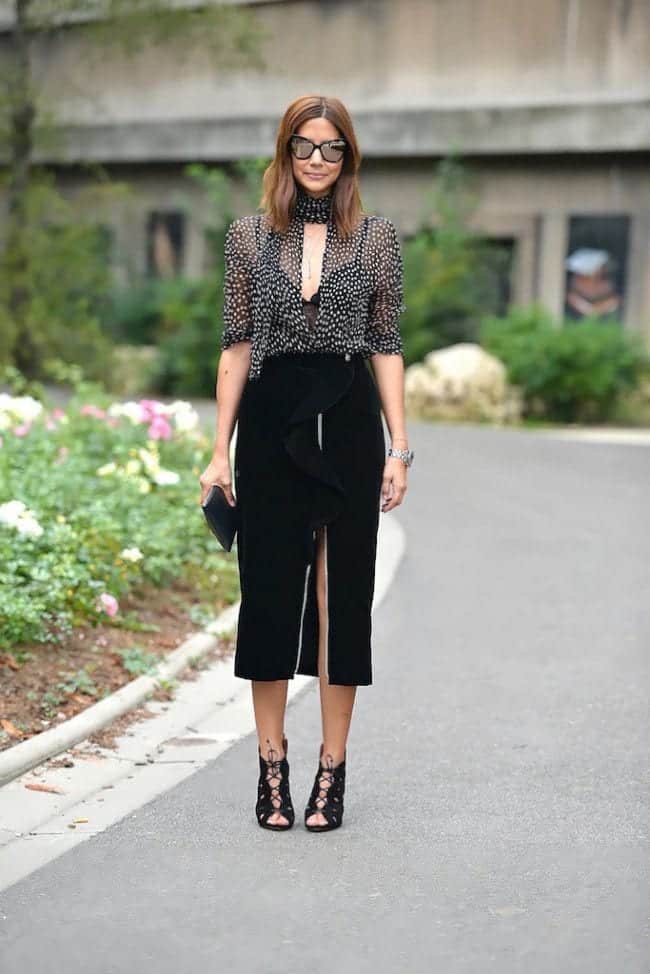 ↓ 24. Off the Shoulder Look
A great look for breaking into the slit skirt scene is this one right here. This olive green maxi skirt would be the perfect halfway point to show some leg without going overboard. Pair it with an off-the-shoulder top and lace-up flats and you have a stylish look you can rock for all sorts of occasions.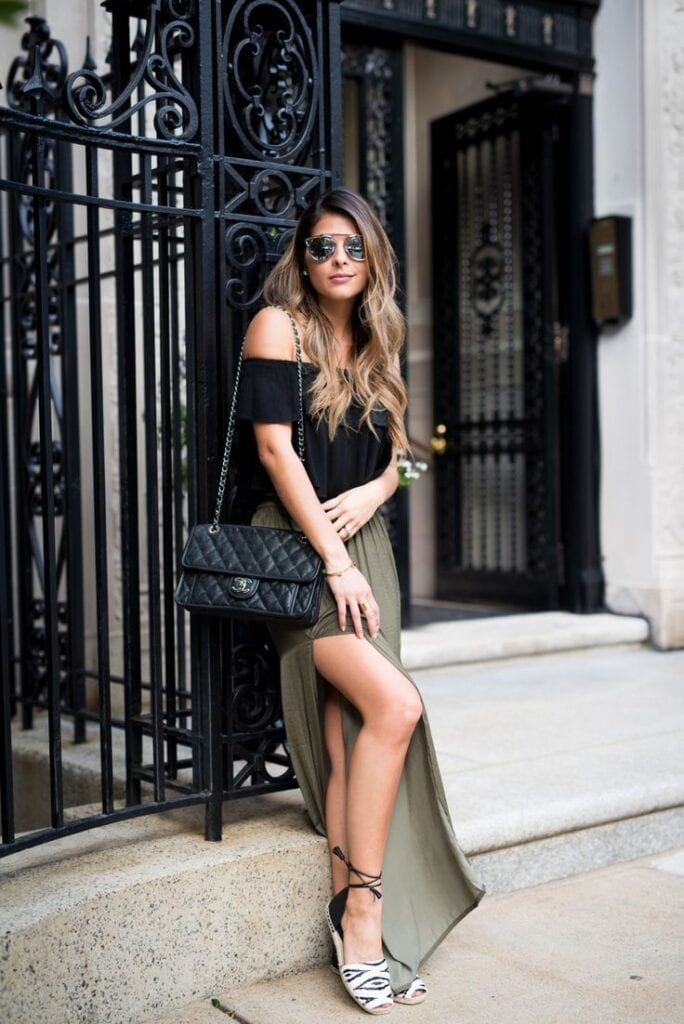 ↓ 23. Concert Outfit
Leather jackets and leather jackets. No other piece can replace them no other word can describe them. The true rocker or any fashionista will always have it in their wardrobes. Period. And since they look fab on almost anything this full-length skirt is giving creative vibes when paired with this jacket and silver heels to complete the ensemble.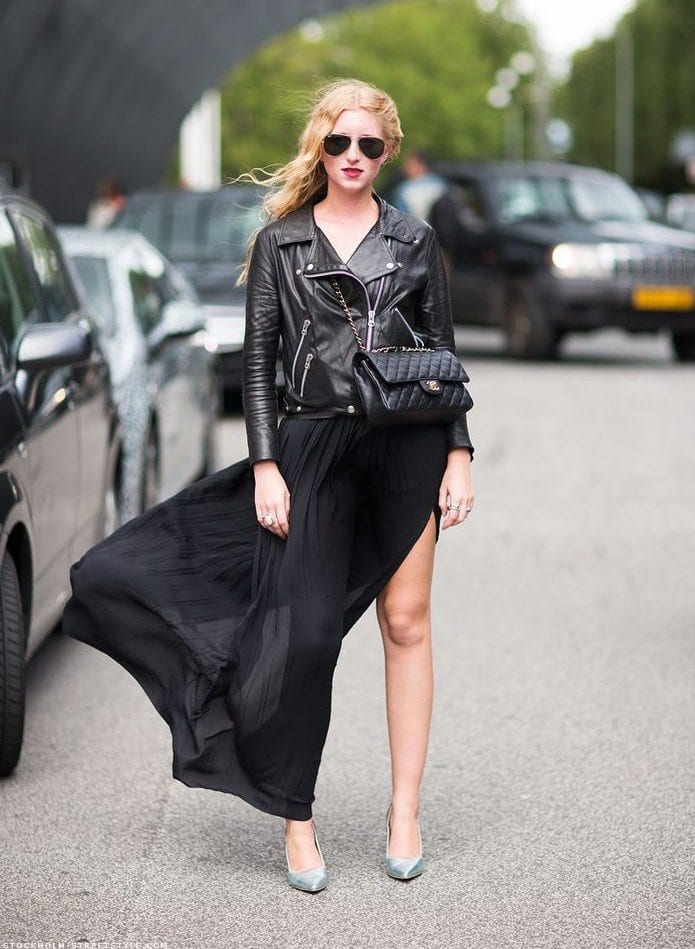 ↓ 22. Office Wear
An all-white dress up is always preferred when no idea how to dress up and look decent in thigh-high slits. But when combined with a sweater this gives a modest look suited for the office.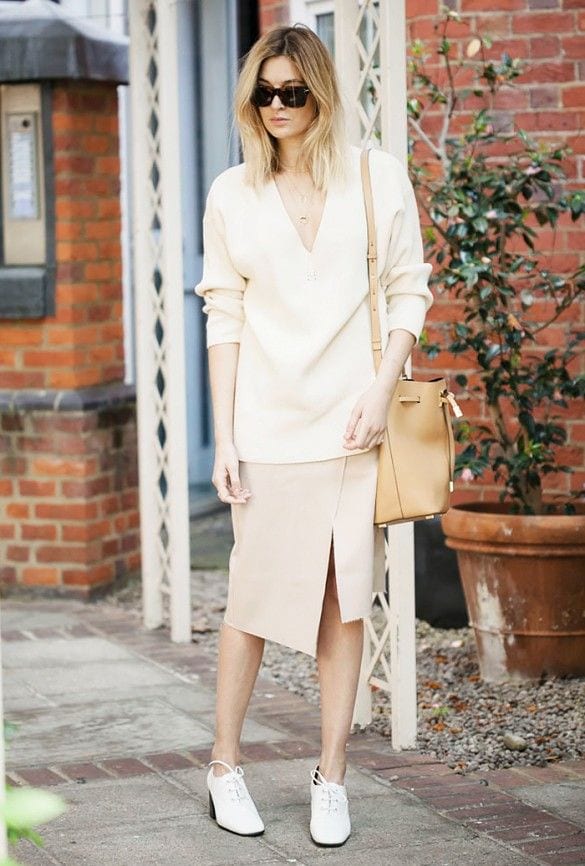 ↓ 21. Wedding Guest Dress
Here is a wonderful wedding guest outfit, perfect for a chilly day.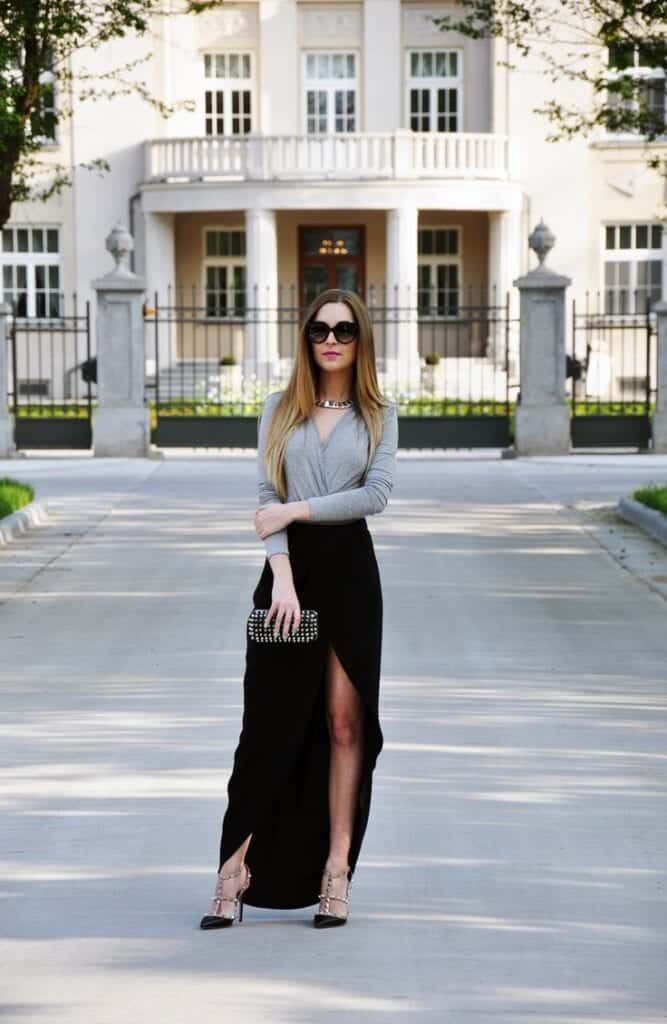 ↓ 20. Decent with Slits
Make a splash at your next charity function or a brunch date with this stunning ensemble.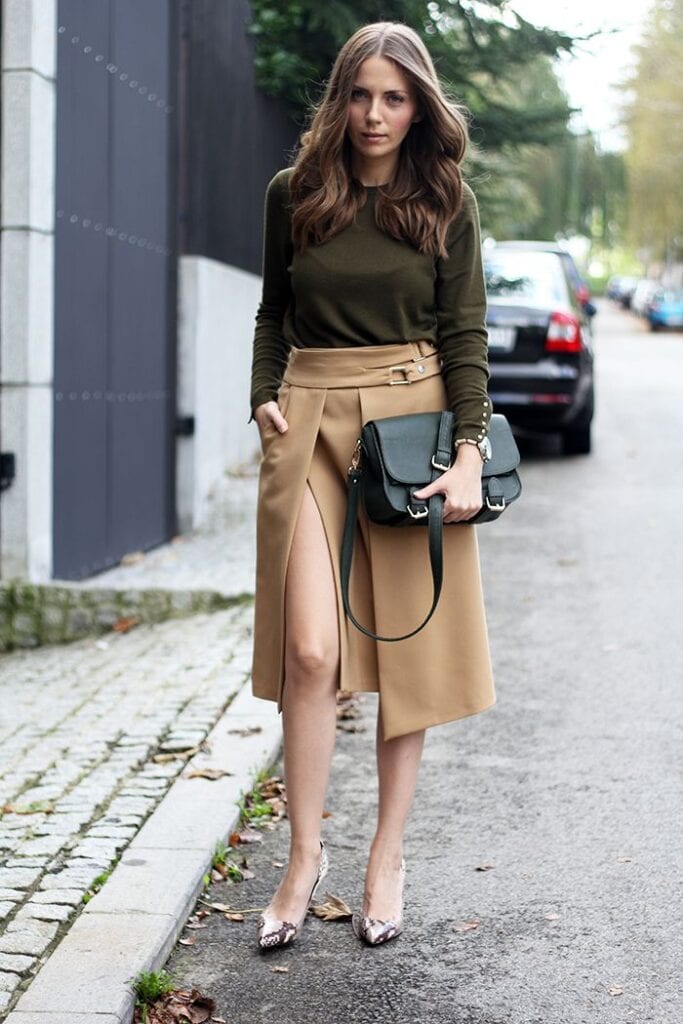 ↓ 19. Beach Party Look
Maxi skirts with thigh-high slits are great for beach parties! Pair yours with a bralette, bikini top, or crop top.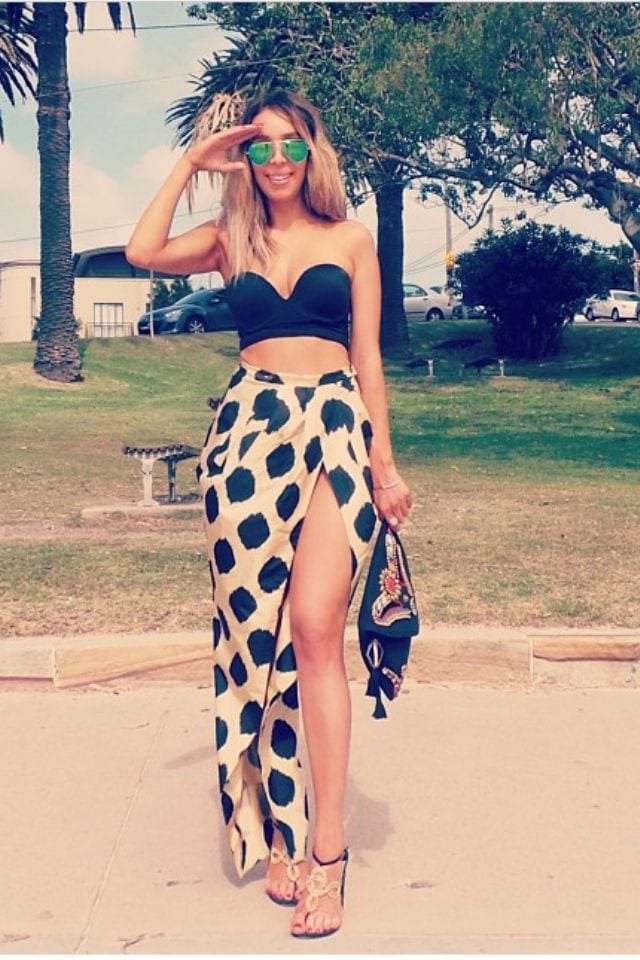 ↓ 18. Hipster Outfit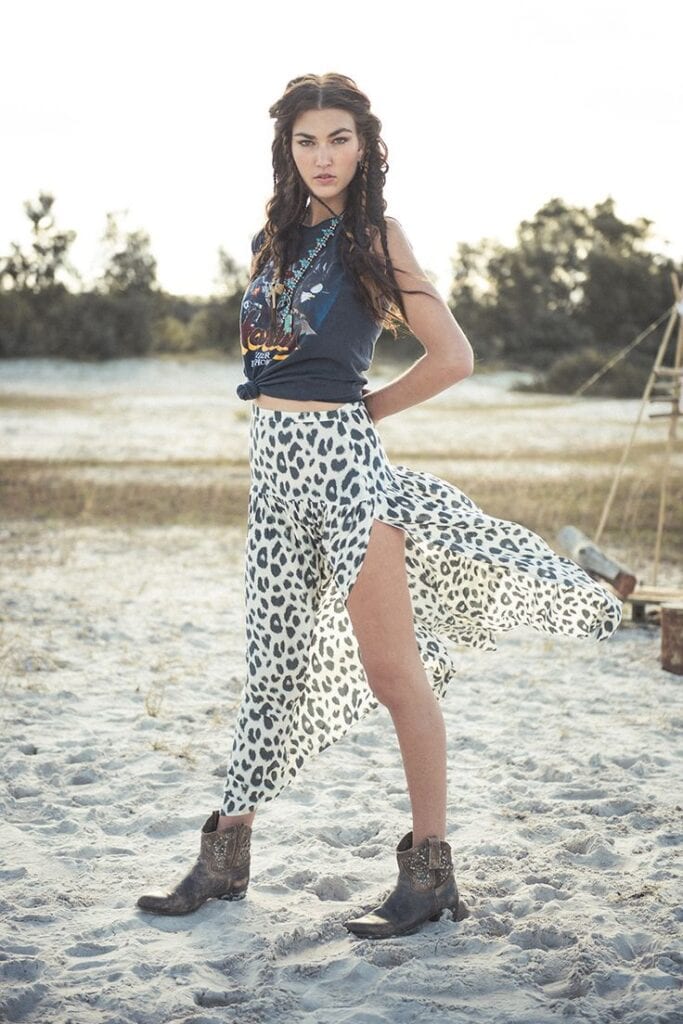 ↓ 17. Styling with Sweaters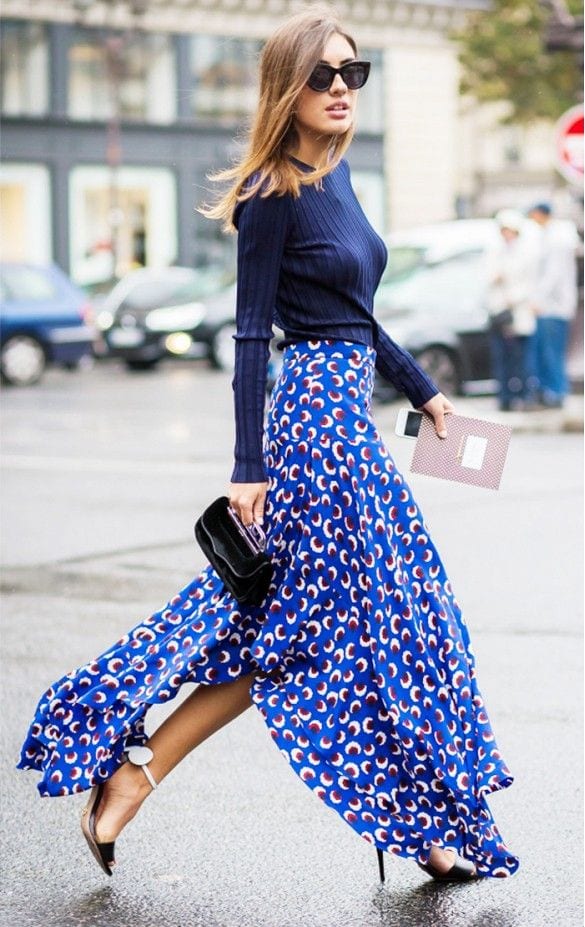 ↓ 16. Modest and Bold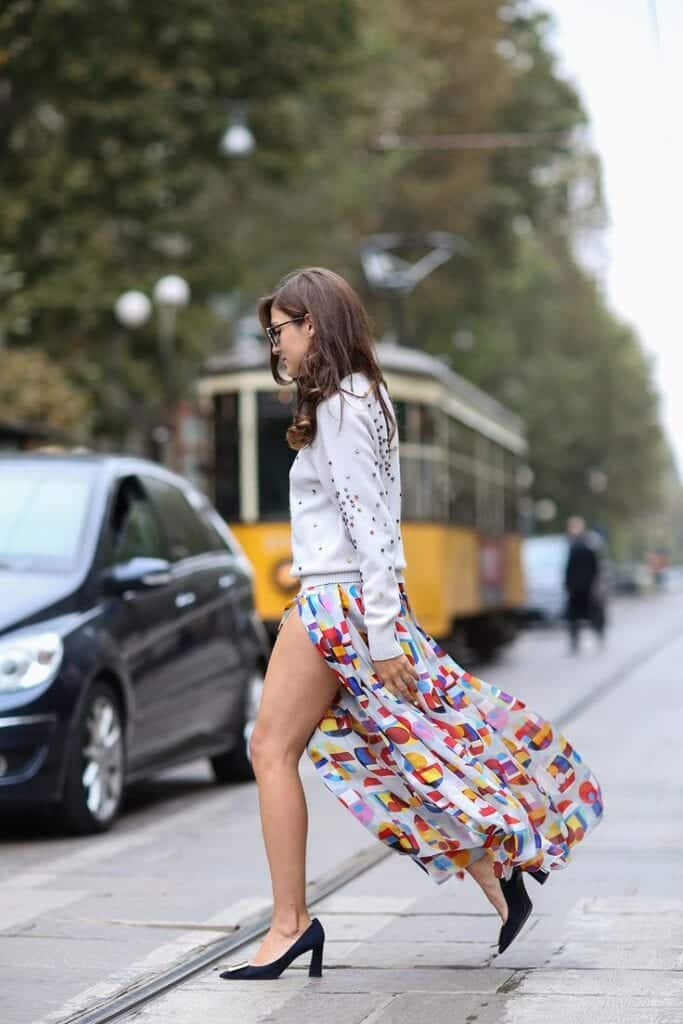 ↓ 15. Winter Outfit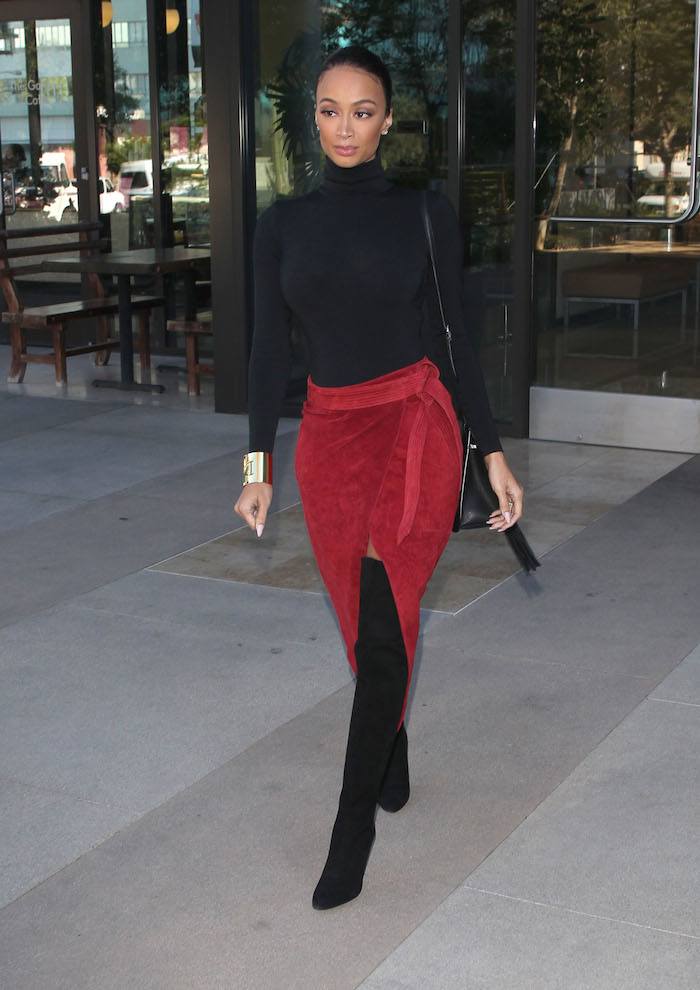 ↓ 14. Devastatingly Glamorous Maxi Dress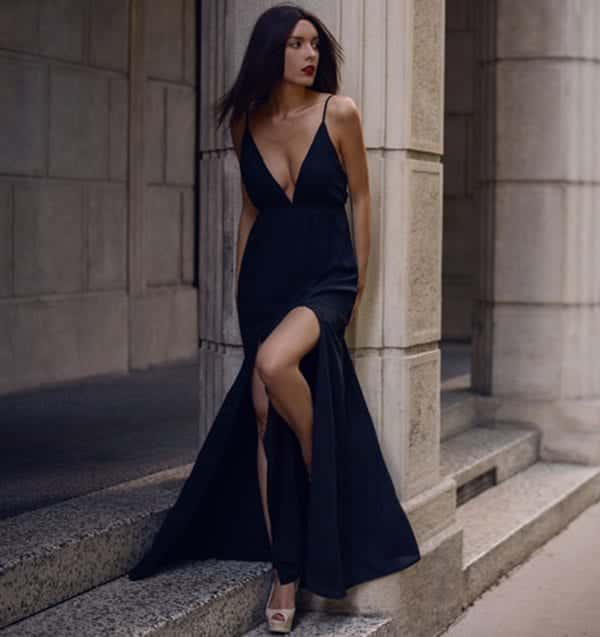 ↓ 13. Celebrity Inspiration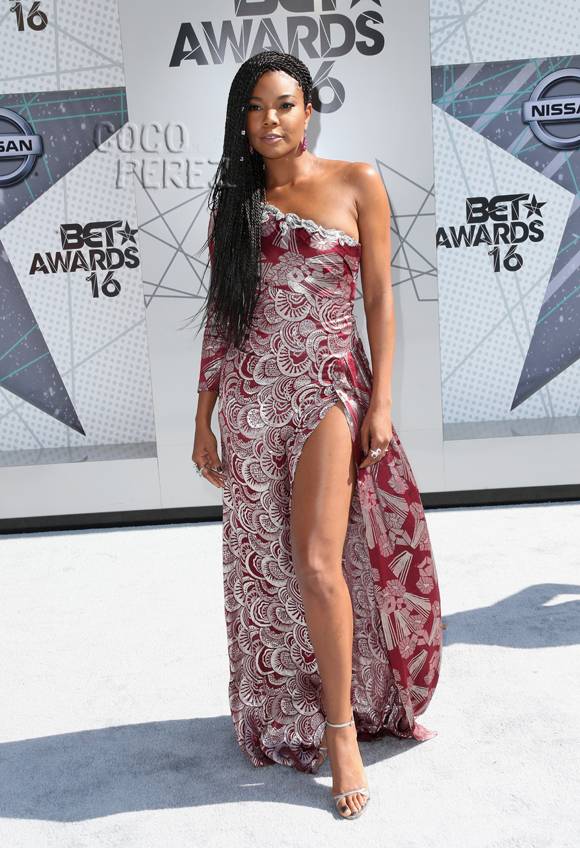 ↓ 12. Plus Size Fashion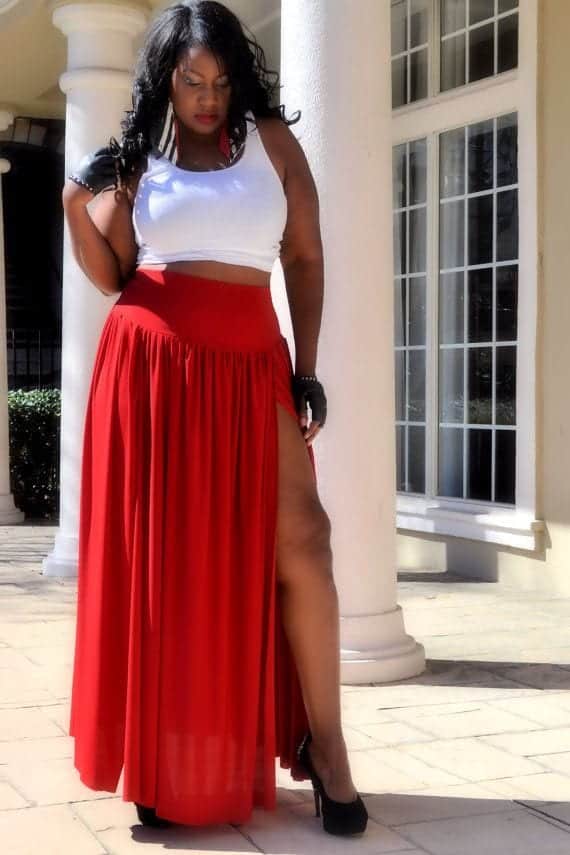 ↓ 11. Metallic Gown
↓ 10. Simply Chic Navy Blue Dres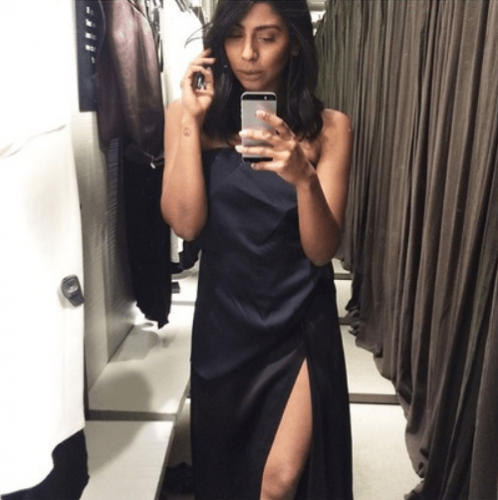 ↓ 9. Styling A Slitted Skirt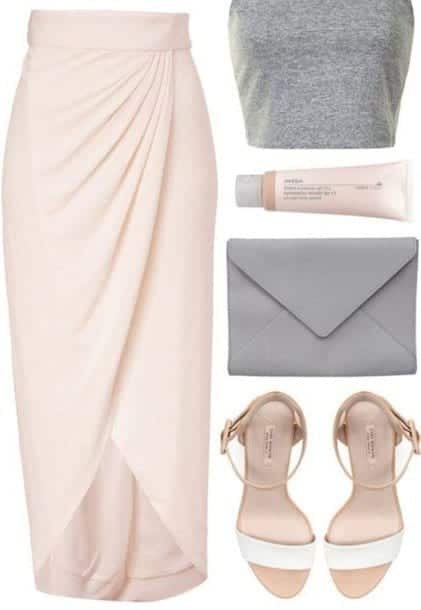 ↓ 8. Work Outfit for Winter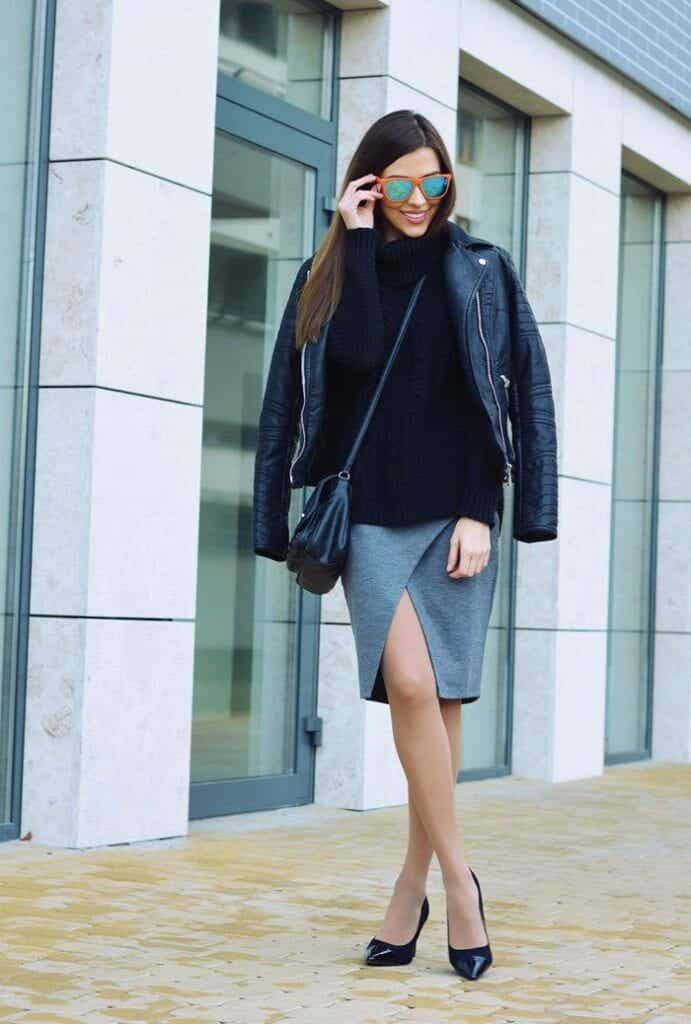 ↓ 7. Partying Dress Code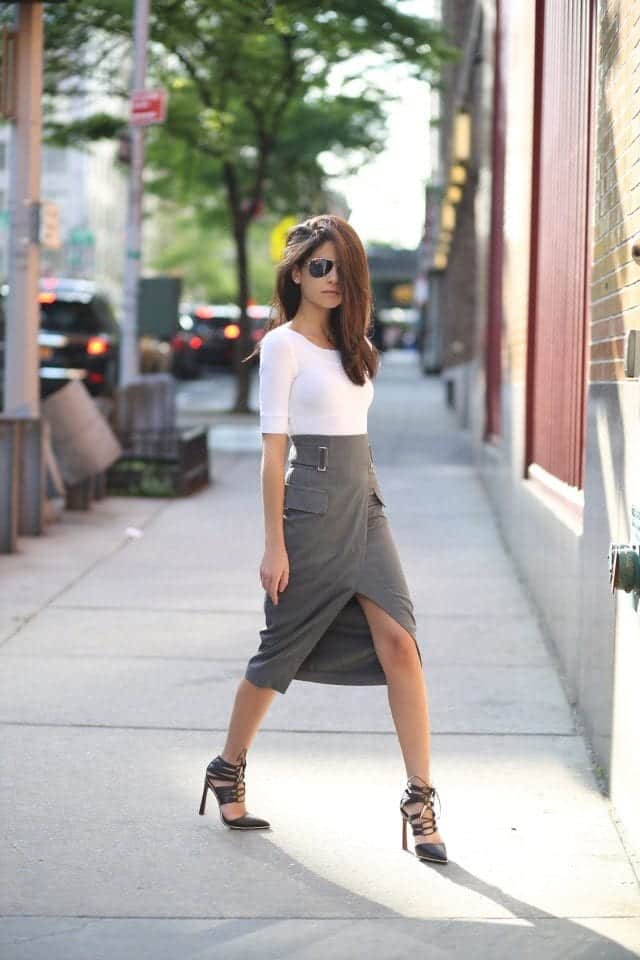 ↓ 6. Lady in Red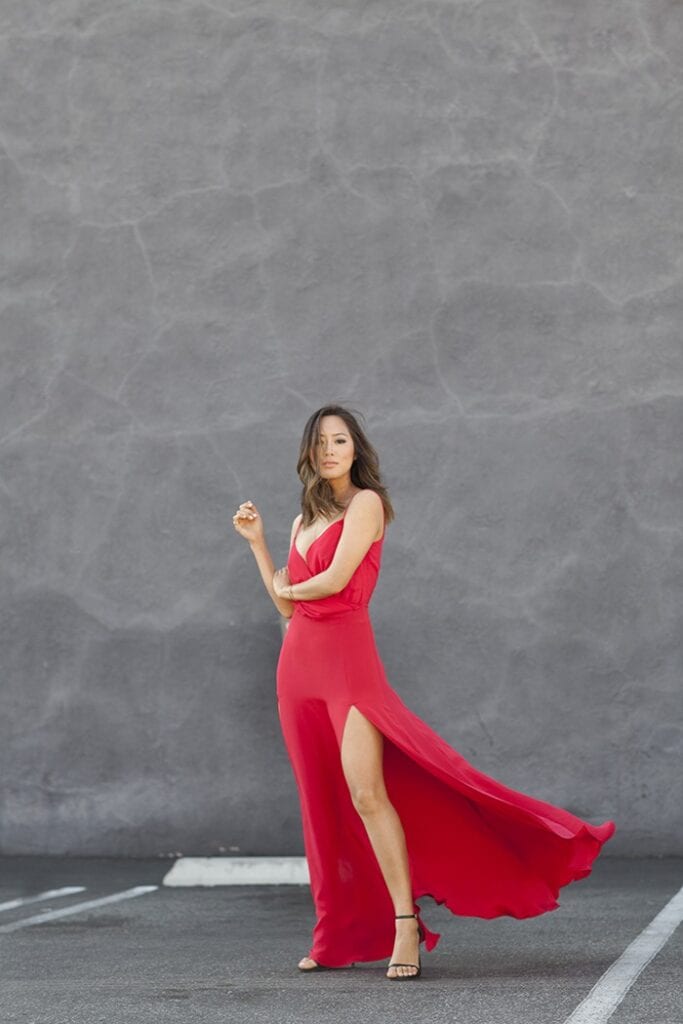 ↓ 5. Sporty Look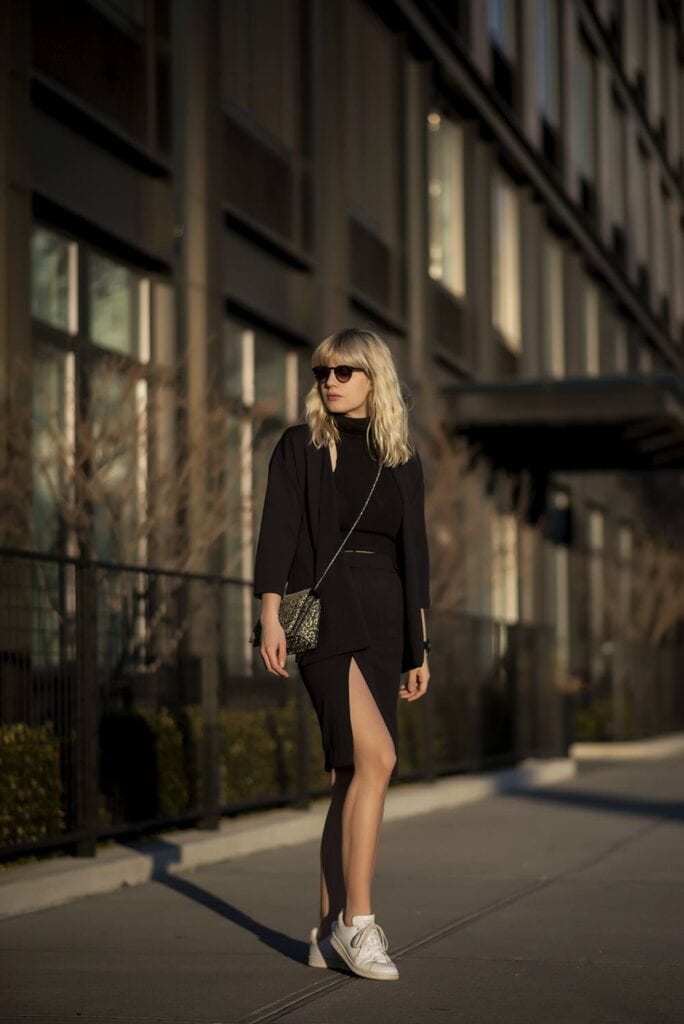 ↓ 4. Plaid & Flannel in Skirts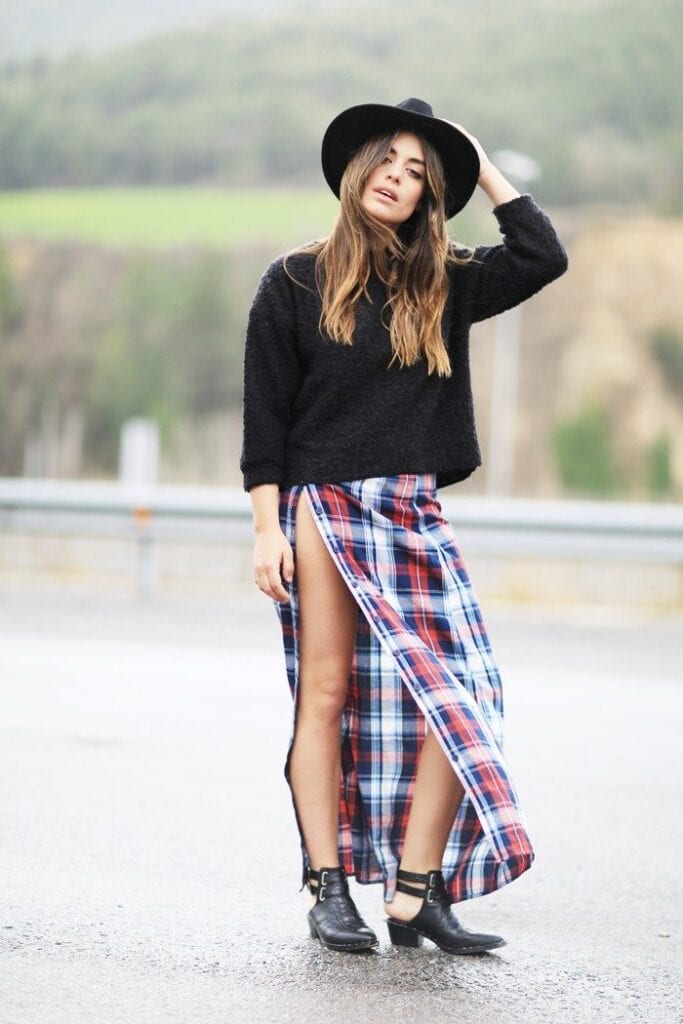 ↓ 3. Shopping Spree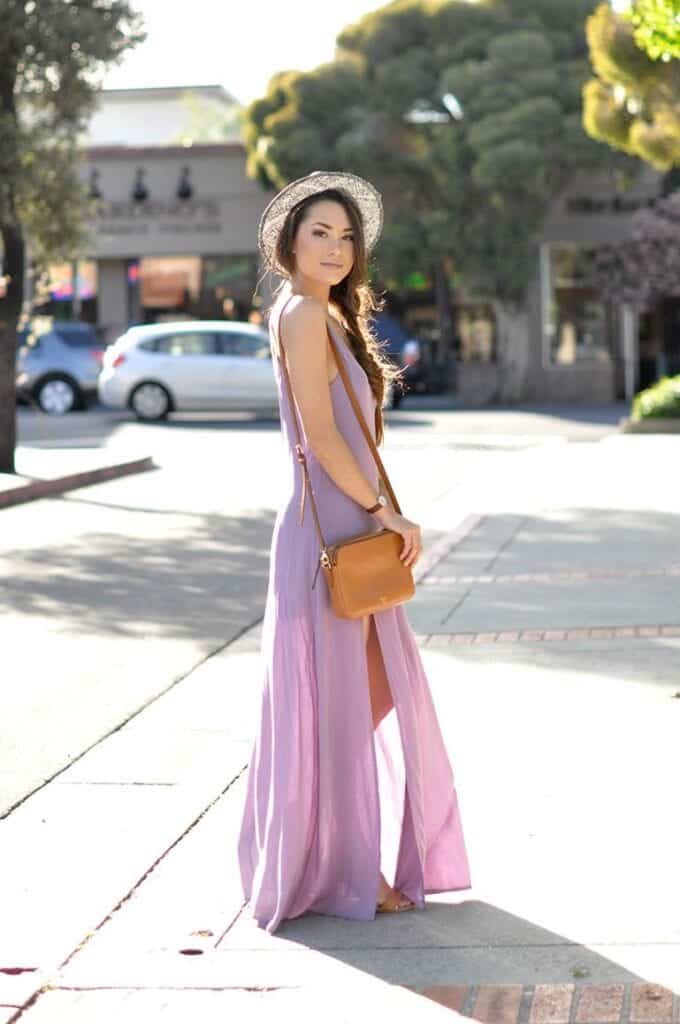 ↓ 2. 4th of July Pinstripes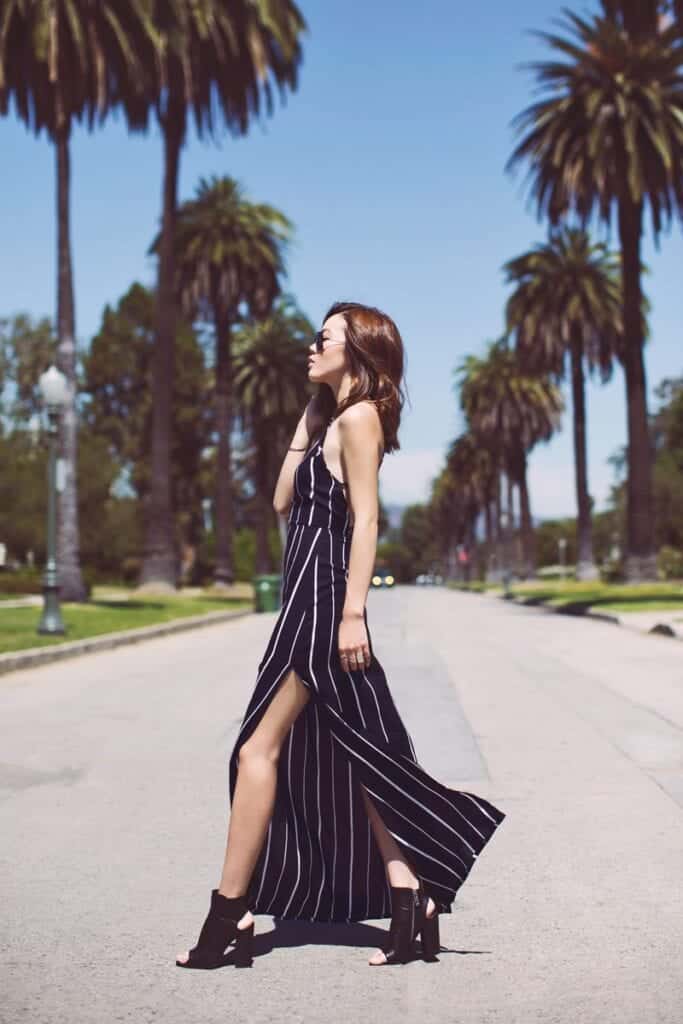 ↓ 1. Day Wear