Lytham Festival Outfits for Women: If you plan to attend the biggest event of the year, you must wonder what to wear at Lytham festival to look glamorous and chic? You do not have to fret anymore because we bring you the trendiest outfits to rock at this festival.
The Lytham Festival is a music festival that lasts five days long and the best part is that it is annual! So if you missed out on the prominent artists playing this year, you have a good chance of catching them in action next year. With all the big stars attending this event, looking your best is not only essential but rather necessary!
What to Wear at Lytham Festival?
Dressing up for any music festival can be a daunting task. And many people compromise their comfort for the sake of looking fashionable. I happen to disagree with that approach because if you are going to enjoy a concert, you need to be at your most comfortable.
Therefore, finding the perfect balance between fashion and comfort should be prioritized. And I will show you how to do that!
In the past, we have talked in detail about EDM music festival outfits but since the Lytham festival is really close to our hearts, it deserved a special post.
You can approach dressing up for the event in two ways, either base your outfit on the prominent artists playing that day. Or you can opt for generic music festival outfits that are comfortable and trendy to make you stand out. Whatever garment you decide upon, I am here to push you in the right direction to make it fashionable!
Tips for Dressing for the Lytham Festival:
Make sure to take a look at the weather that day. If it is going to be windy, do not forget to carry a jacket. On the contrary, make sure to dress light if the sun will be out all day.
Dressing up comfortable should be essential. A great way to ensure immediate relief is through comfortable shoes.
You can make your outfit trendy and fun by opting for bold accessories and face gems to amp up your look.
Please do not shy away from glitter, whether on clothes, face, or hair!
Carry a small backpack with you containing snacks, water, and other essentials.
Fishnets and stockings are a great way to make your outfit stand out and fit the festival vibes.
Pair your dresses with spandex shorts to feel less exposed and be free to enjoy the music to its fullest!
Check out these amazing looks to be inspired and put your outfit together for the events! Keep scrolling!
20 – Add a Statement Belt to the Waist with a Plain Romper
This outfit is a gorgeous and super simple way to dress up fancy for the Lytham Festival! A romper is a great choice for a music festival as you do not have to worry about keeping anything in place, and you can jump and dance to the music freely!
These accessories are the perfect additions to this outfit to make it upscale and stand out. Furthermore, they provide a wonderful contrast against the plain black romper. The bedazzled neck scarf adds an element of bling that the outfit needs, and the white boots pair with the outfit effortlessly!
19 – Mix Different Style Aesthetics to Create a Look that is Truly You
Here we have a fabulous outfit where grunge meets boho hippie! This look is a personal favorite because of how cleverly this look is styled. I love the contrast of black against pink as it is refreshing, unique, and something new to admire. You can easily say you have not seen an outfit like this before, right?
The belt and boots not only contribute to the grunge aesthetic but also make this outfit edgy enough for a music festival. And the top sits pretty with the feminine bohemian skirt. Overall, I would give this look an A for effort, as it inspires me to create similar unique looks!
18 – Talk About Dressing Up Trendy and Nailing the Pop Culture
First glance at this outfit, I want to scream because of how cute and trendy it is! I am in love with the entire vibe going on, and this vibe is perfect for the Lytham Festival. The matching solar system set with the dazzle is bright enough to capture anyone's attention.
And the focus on the accessories truly elevated this outfit to the next level. The fishnet, knitted cardigan, boots, and hat work together effortlessly to make this look a hit in everyone's books. Get your inner artist out so you can put together a similar outfit!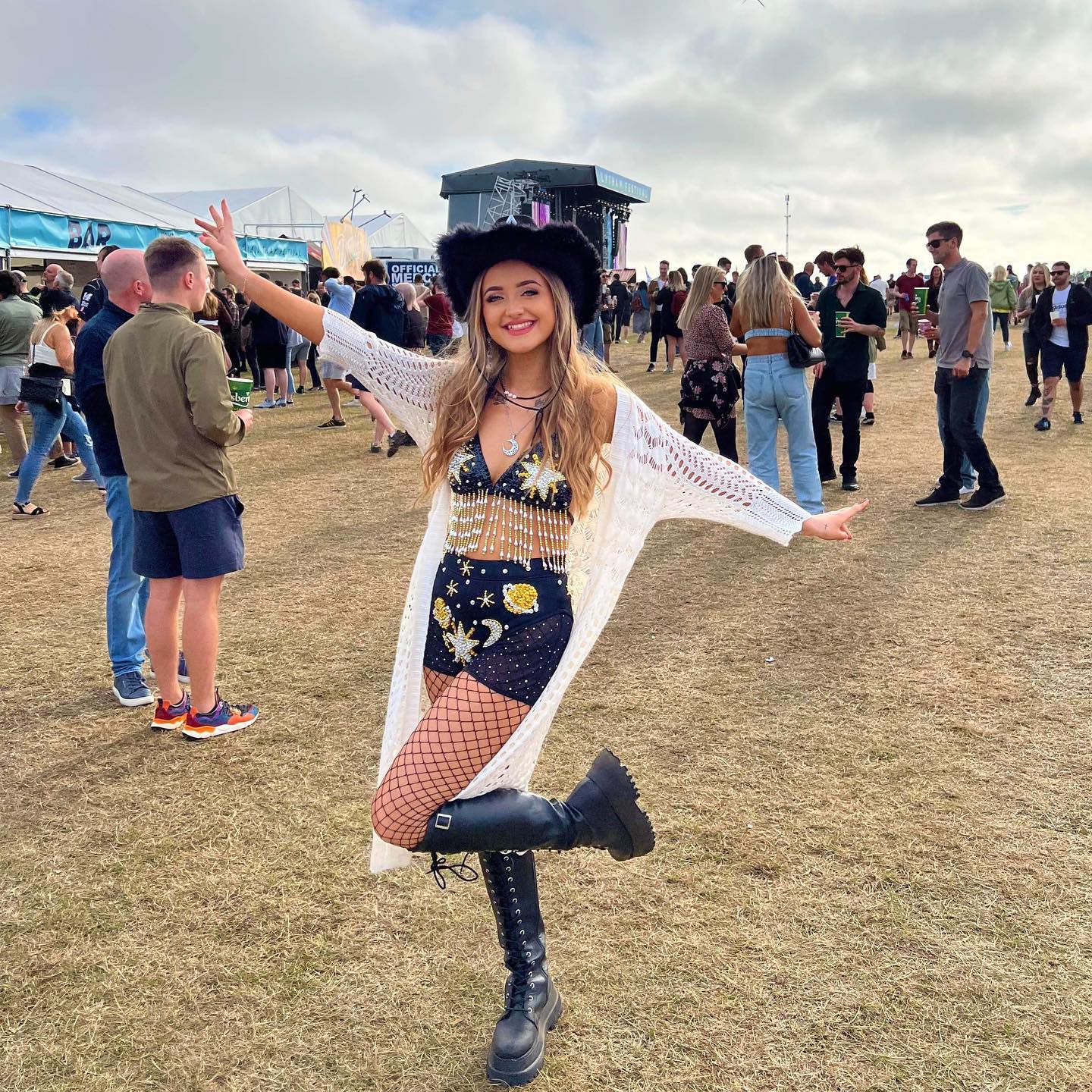 17 – Midi Dresses are the Way to Go at the Lytham Festival
Midi dresses are one of those wardrobe staples you can wear for any occasion, whether formal, semi-formal, casual or simply to lounge and be lazy all day. But the best part is, that they make doing even the most mundane and boring tasks seem fancy and keep you looking stylish.
So it only makes sense for you to style midi dresses at the Lytham or any other music festival!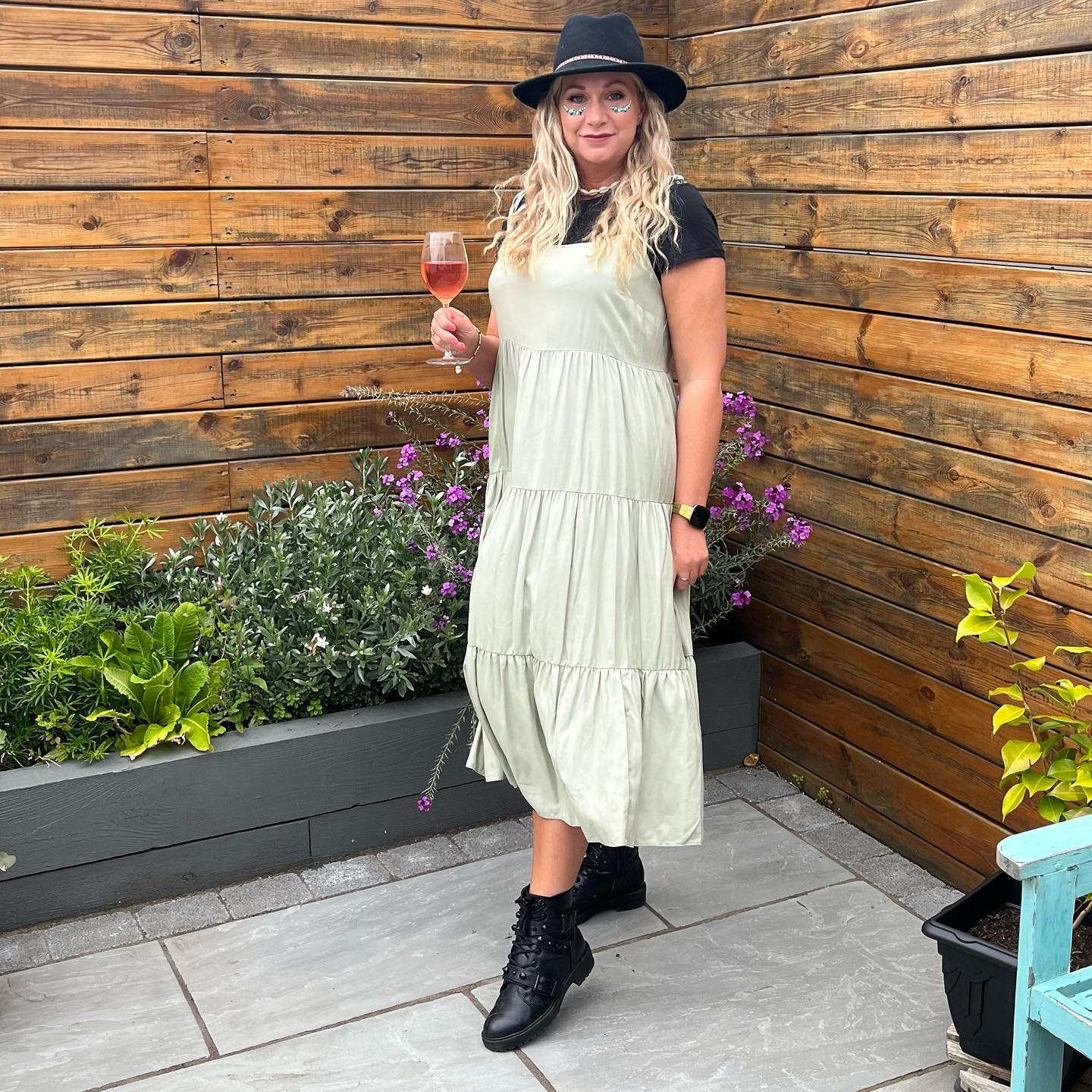 16 – You Can Not Go Wrong with a Classy Top and Skinny Jeans
Whenever you doubt what to wear, a classy fitted top with skinny jeans can never go wrong. You can wear this combination as it is, or you can add pieces to make it fancier and more appropriate for the occasion. Either way, you are bound to look classy and very much in style.
A great way to add to this look and elevate this outfit would be to go for a loose-knit cardigan or oversized black denim jacket. Furthermore, add bottle green colored gems to your face to complement the shirt, and for shoes, you can not go wrong with black platform boots!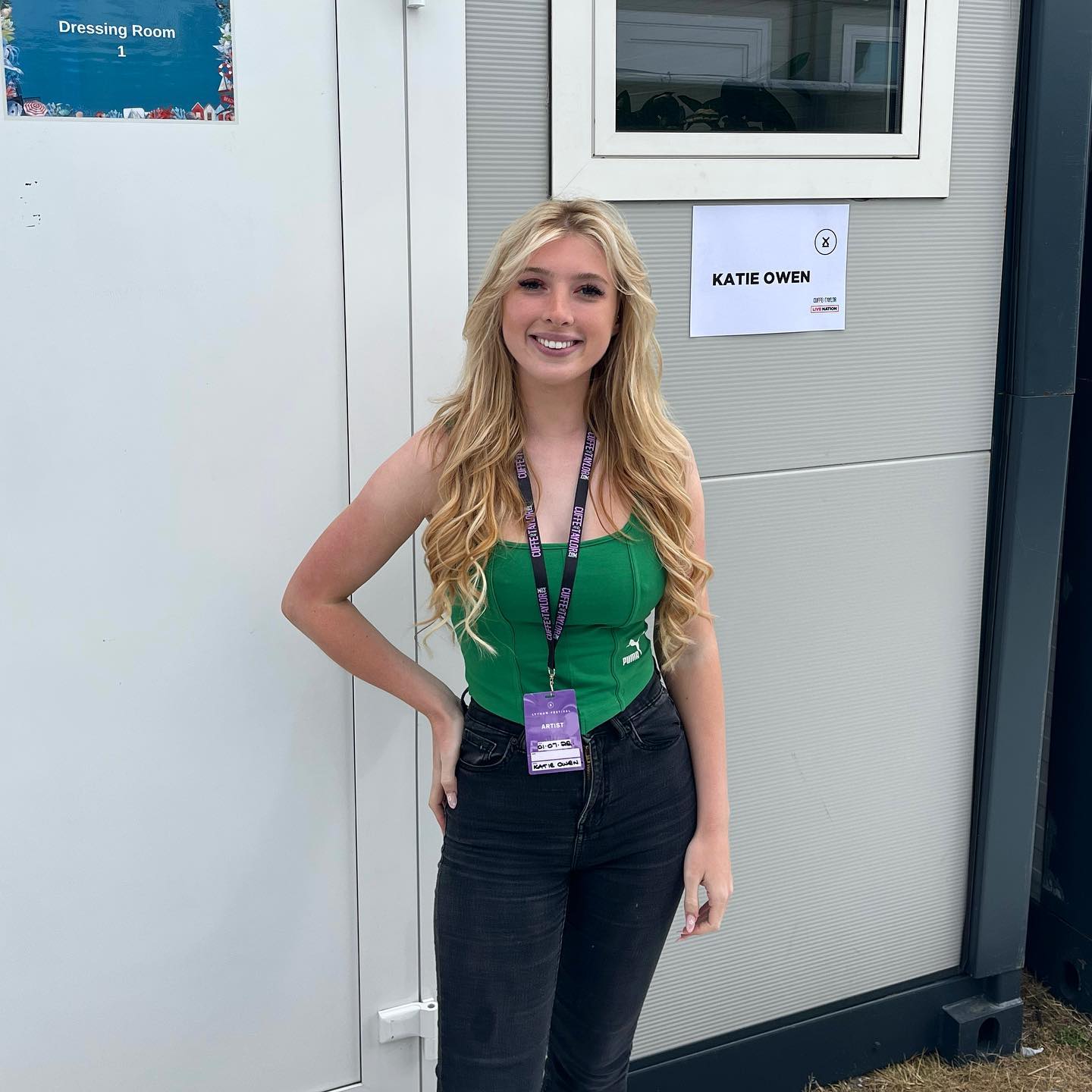 15 – Fanny Packs are a Great Way to Stay Hands-Free
Carrying a backpack is important for any music festival. It is a great way to keep your belongings in one place and add to your outfit. Similarly, a fanny pack is a stylish accessory and an excellent way to stay hands-free. And you get to keep all your belongings safe and right in front of your eyes.
So get ready to jump and dance around to enjoy your day to the max without any worries!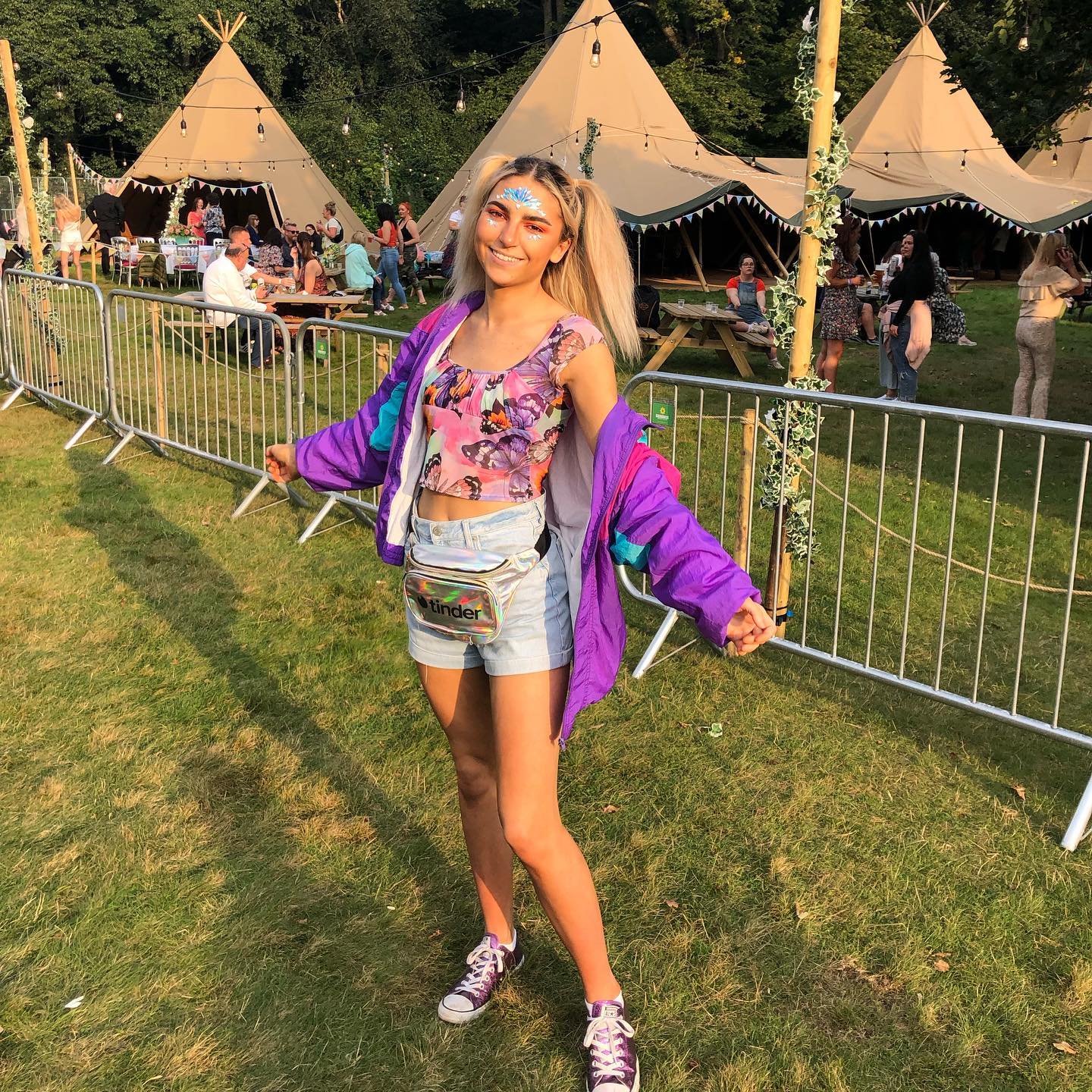 14 – What to Wear at Lytham Festival for Girls?
This outfit is your go-to if you want to look trendy and cute for the Lytham Festival! A cute romper paired with a pastel-colored top is a combination you can not go wrong with. If you are going to add a flower crown to your outfits, make sure to secure it in place with pins and clips. Adore this look!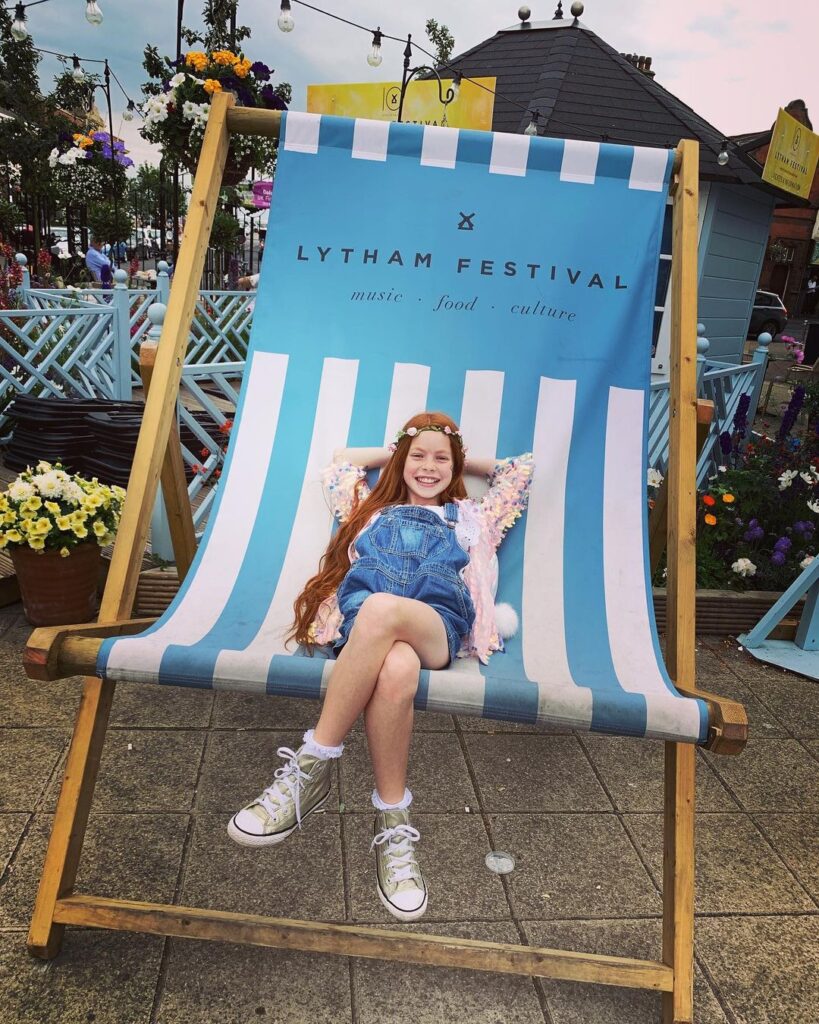 13 – Swap those Stilettos for Chunkier, More Comfortable Heels
Heels can be uncomfortable to wear for any music festival, especially stilettos. Therefore, I suggest swapping them for a more comfortable pair that would look just as trendy, or you can also go for a nice pair of chunky platform boots as they would look just as phenomenal as heels with this outfit!
On that note, this outfit is a spectacular way to slay at the Lytham Festival. The sheer back top is the perfect pairing to the statement skirt. And to complement the skirt, the face gems play a dazzling role and will make you stand out in the best way possible!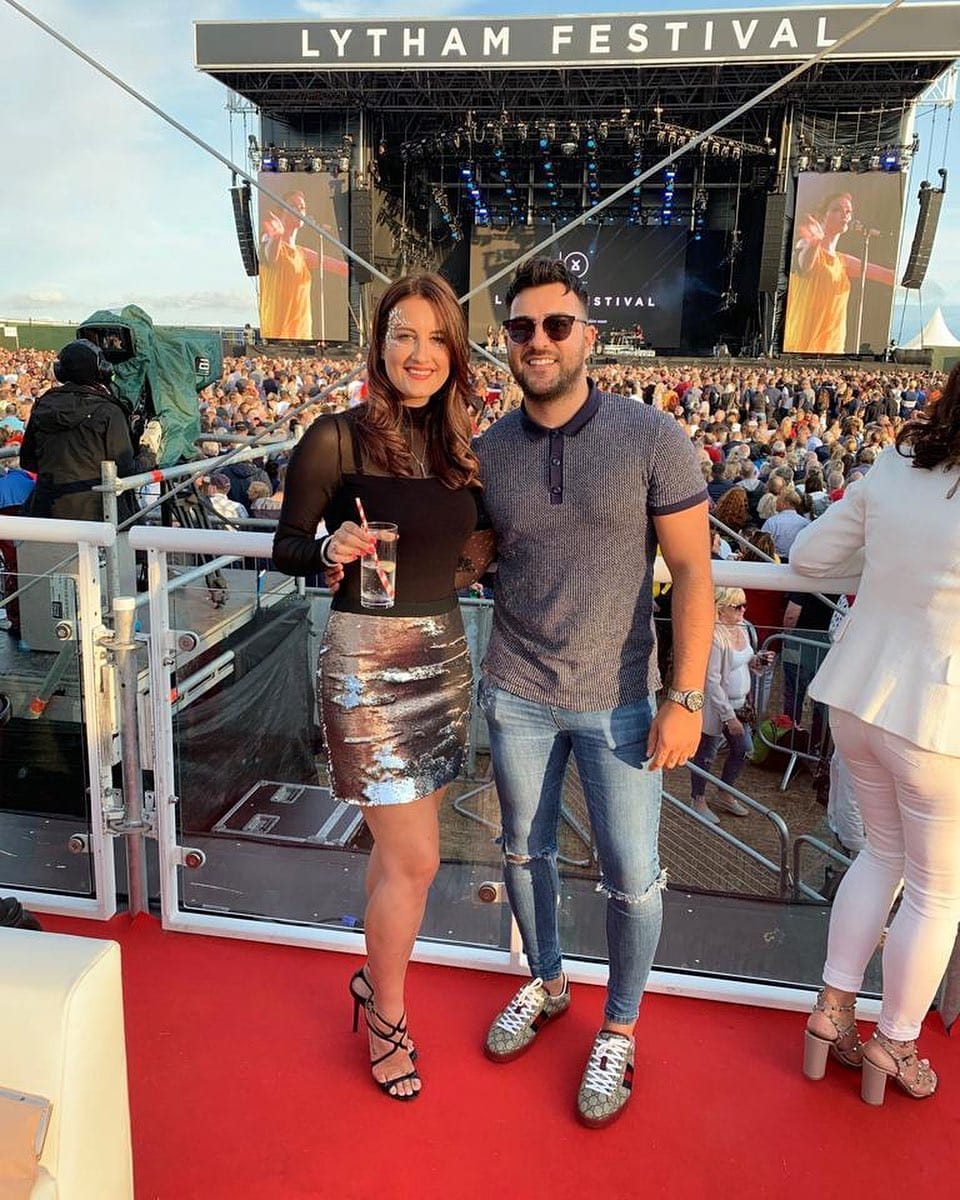 12 – Make Your Outfit Bright with Statment Boots
11 – Swap those Heels for Boots or Flats that will Last you All Day Long
What a cute mother-daughter duo?! You can even match your outfit with your little one to make an unforgettable memory!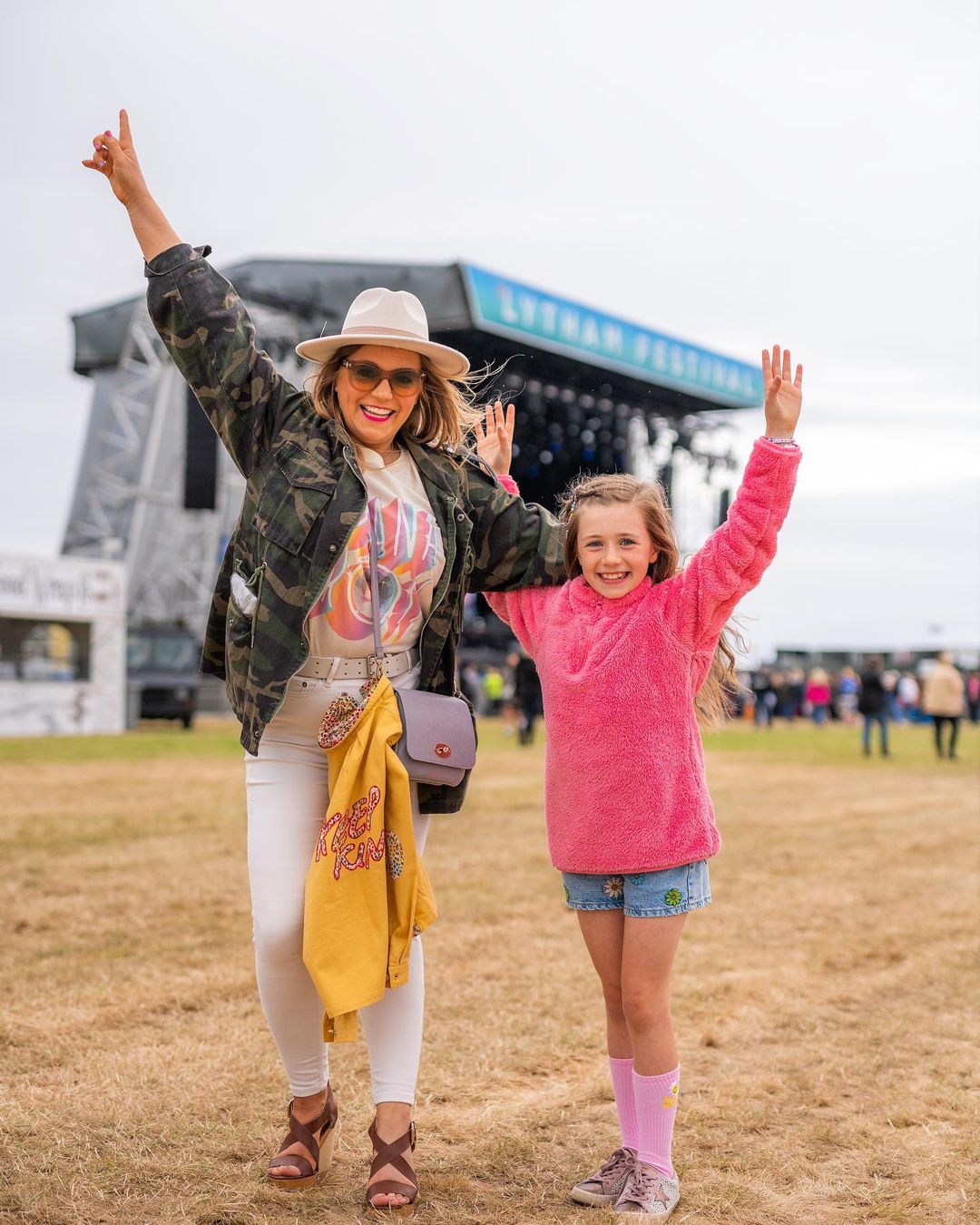 10 – Bedazzle your Look by Decorating your Face with Gems
Makeup is an excellent expression of art, and a means to express yourself. Thus, liven up your look with glitter, face gems, and fancy makeup that is bound to turn some heads your way!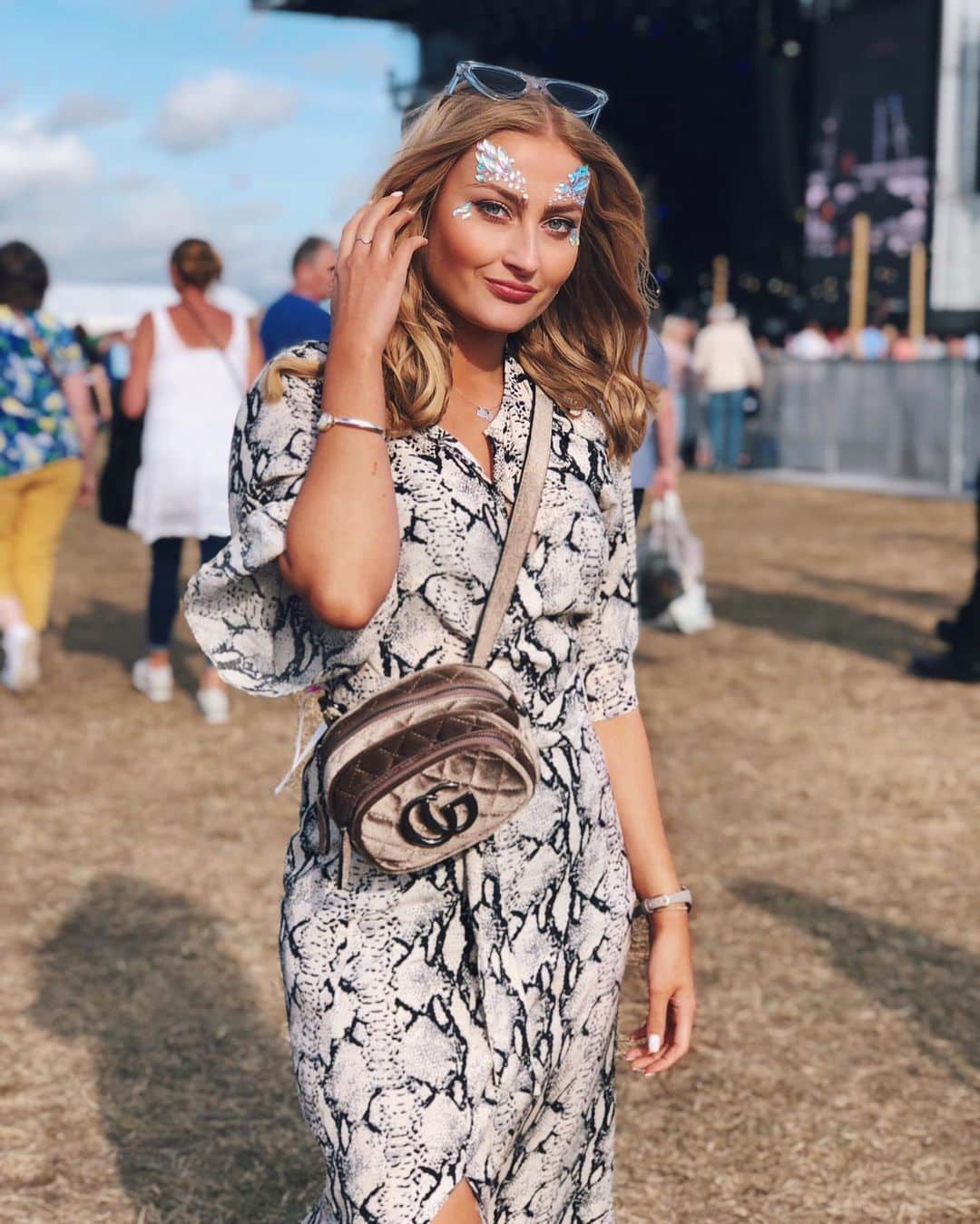 09 – Swap The Leather Jacket for Black Denim for an Easier-to-Carry Outfit
A leather jacket might be difficult to wear or carry, especially if the sun decides to be harsh. Therefore, swap your leather jacket for a lighter denim one!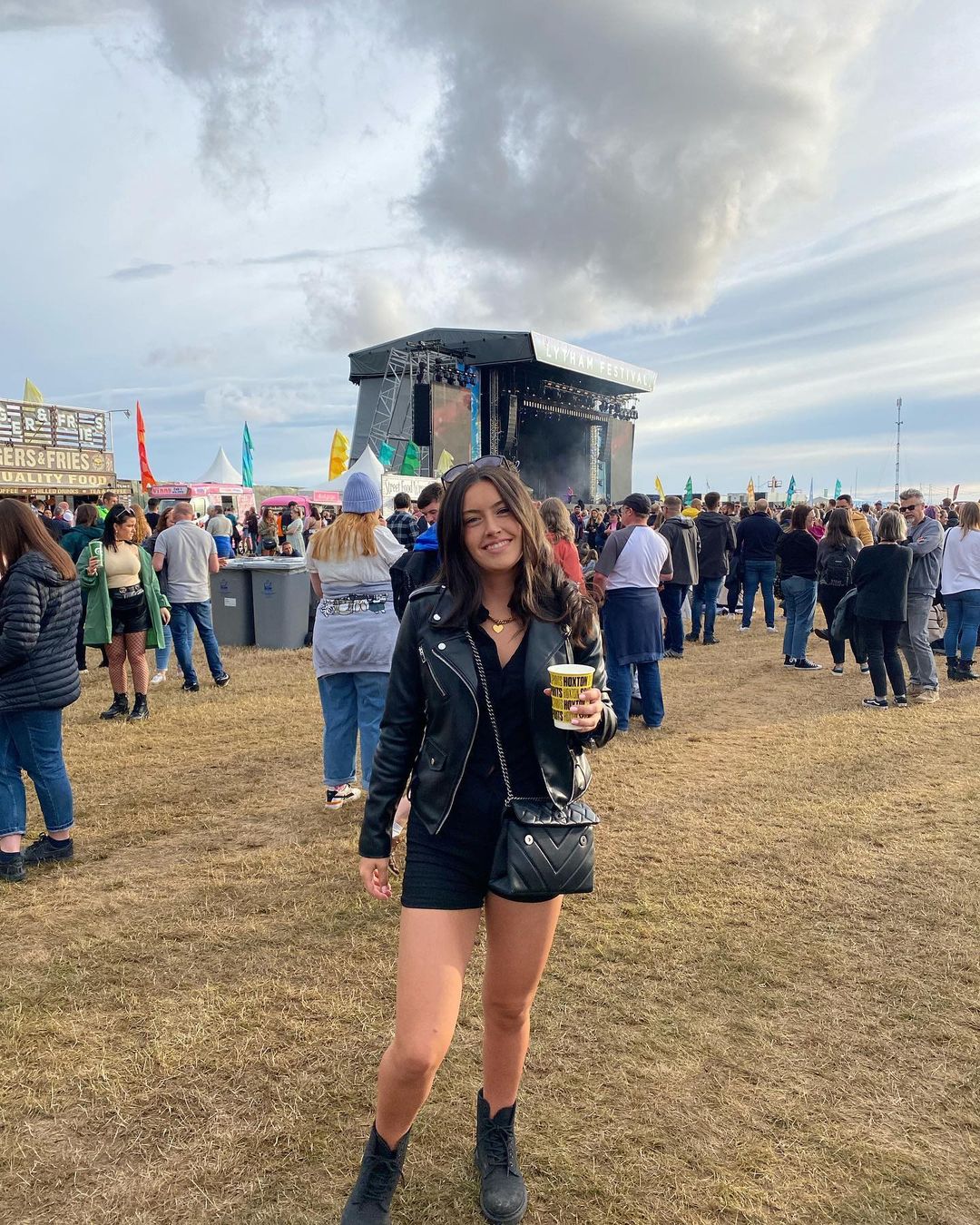 08 – Cowboy Boots are a Staple for the Lytham Festival
Whatever age group you are from, cowboy boots will never fail you for the Lytham festival! Rock an all-white outfit with colorful details and cowboy boots as this senior lady did. And she looks phenomenal! Here are some more Outfits with Cowboy Boots that you can try.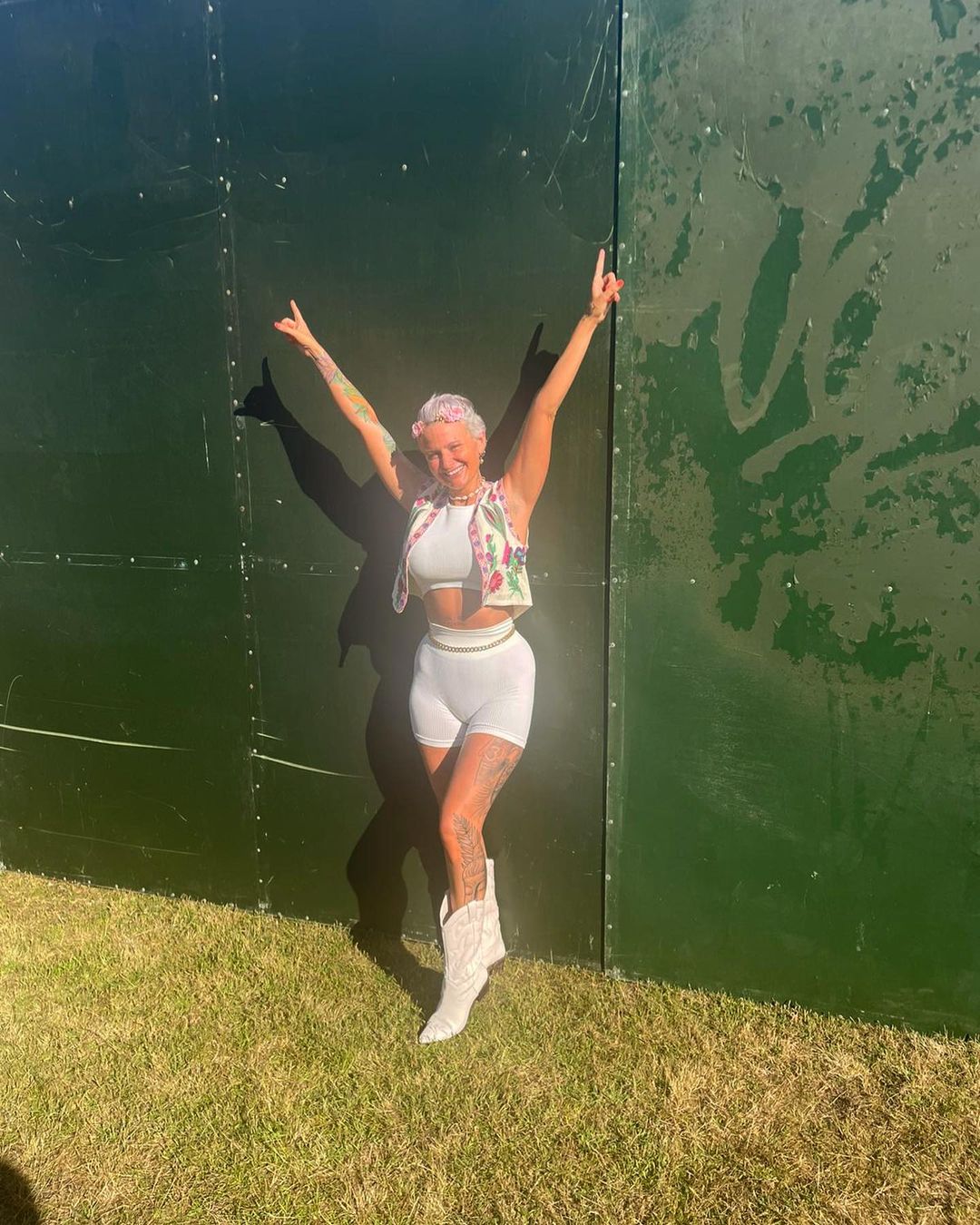 07 – Play Around in Bright Monochromatic Shades to Look Chic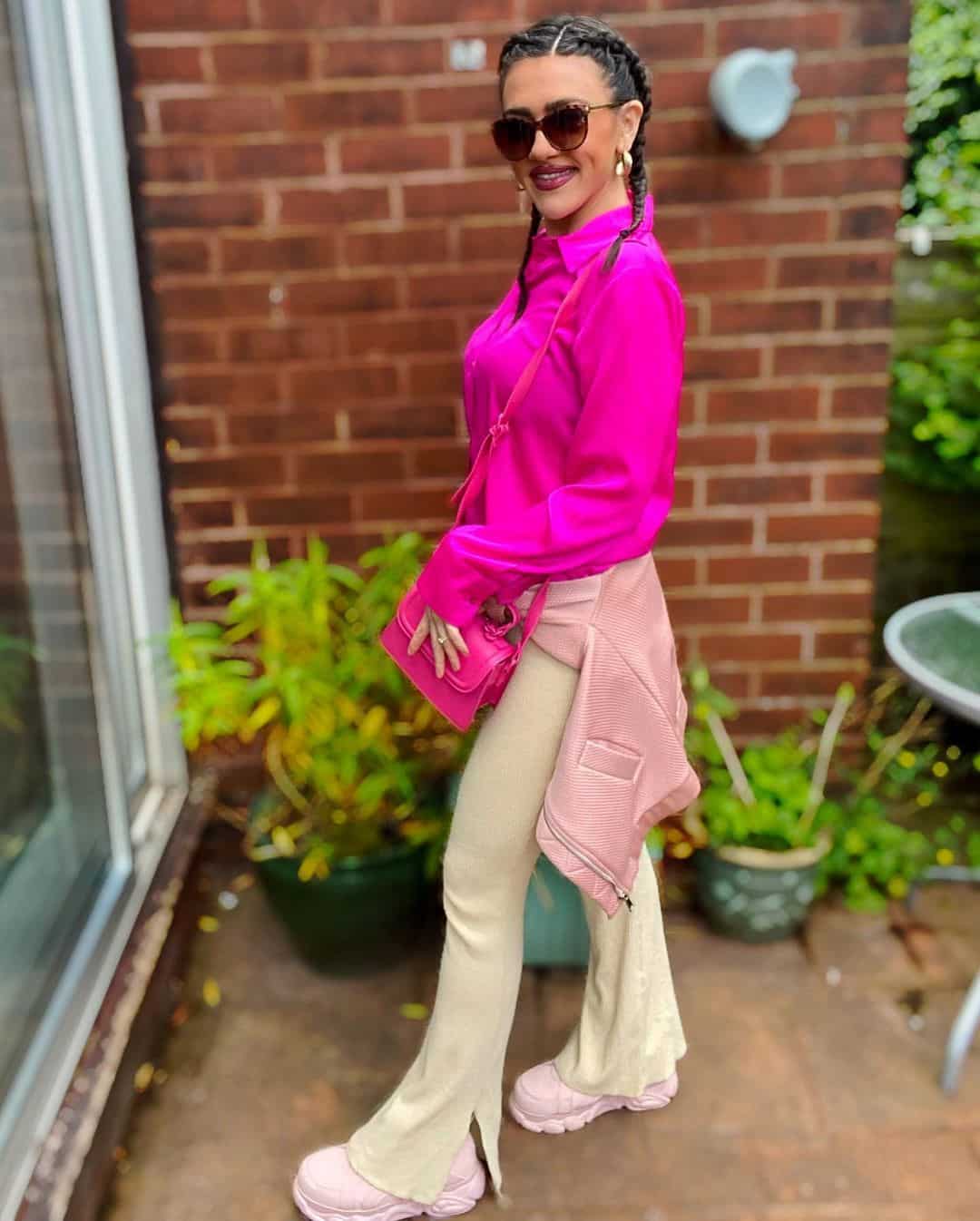 06 – A Pop of Color on the Lips will Make this Look Stand Out
A monochromatic look is a hit for every occasion. However, if you wish to elevate this look, go with dramatic and detailed eye makeup or add a pop of color with a bright lip. I would advise adding a similar colored accessory or purse to balance the look.
05 – Add Jewels and Glitter to the Face to Get the Festival Vibe Down
An easy way to get into the festival vibe is by grabbing your best blouse and pairing it with a skirt and sneakers. You can go with temporary tattoos to support your favorite artist, add face gems or glitter and dial it up to party all day!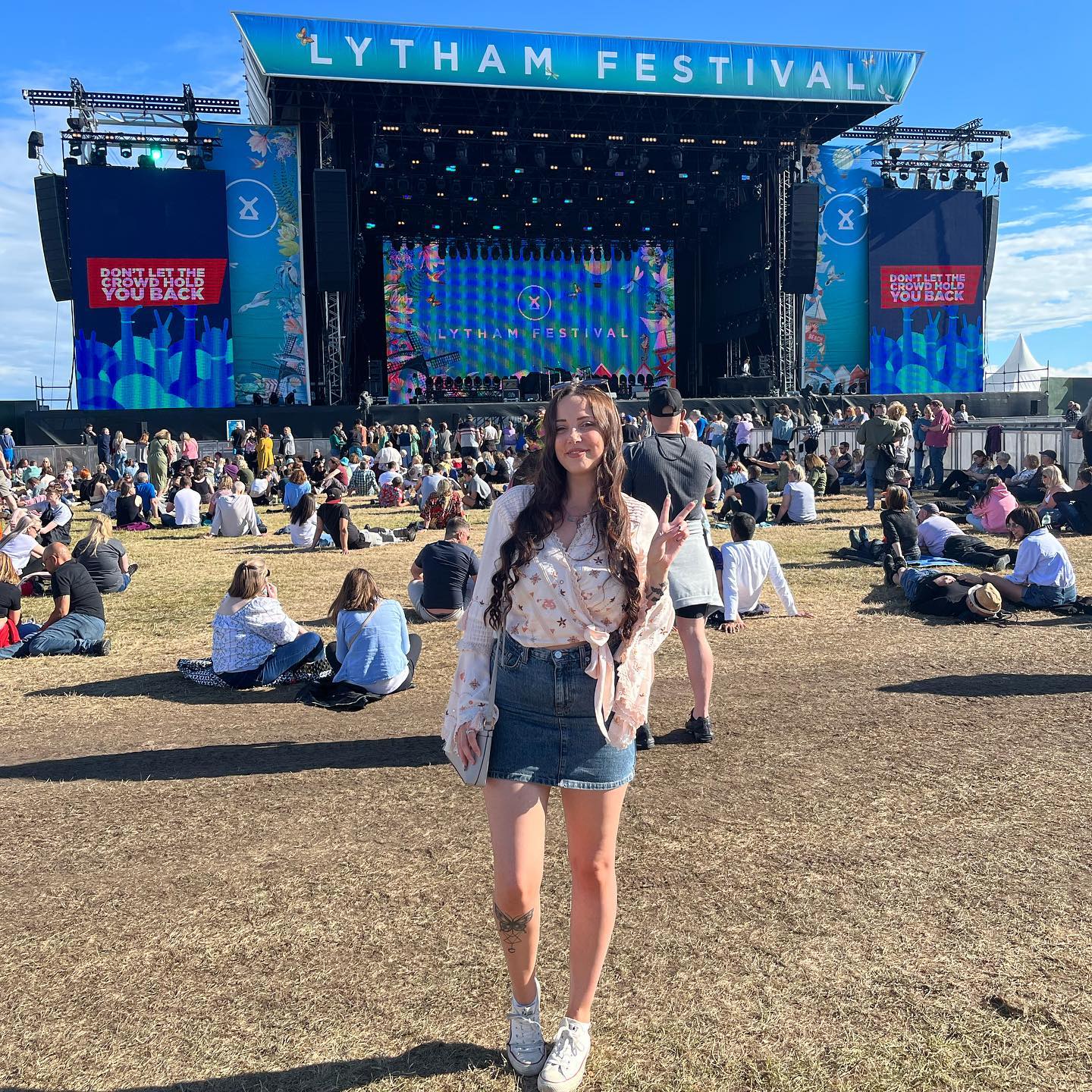 04 – Make this Outfit Fit the Edgy Style by Opting for a Messy High Ponytail
Ditching this hat for a popular hairstyle is a decision I fully support! You can get creative and go for a half-up messy bun with beach waves or pull your hair back in a messy ponytail. You can even rock space buns for a youthful look with this outfit. All three hairstyles are bound to look phenomenal!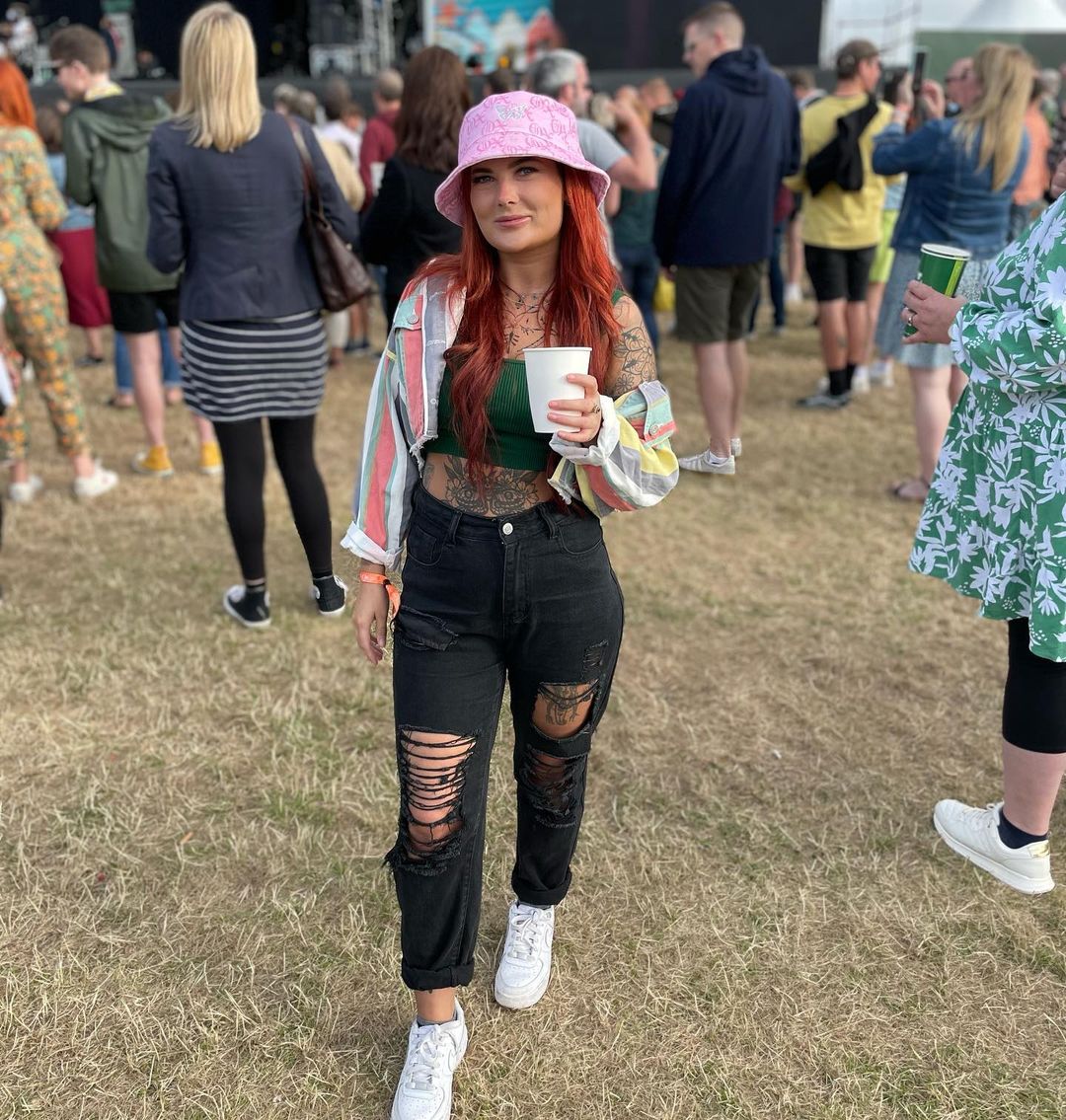 03 – Throw on a Denim or Colorful Jacket to Complete the Look
This is a super cute outfit for the Lytham festival, especially for the younger audience. I would advise throwing on a denim jacket with trendy detailing on it or a chunky knit cardigan in a bright color to create a well-balanced and cohesive look.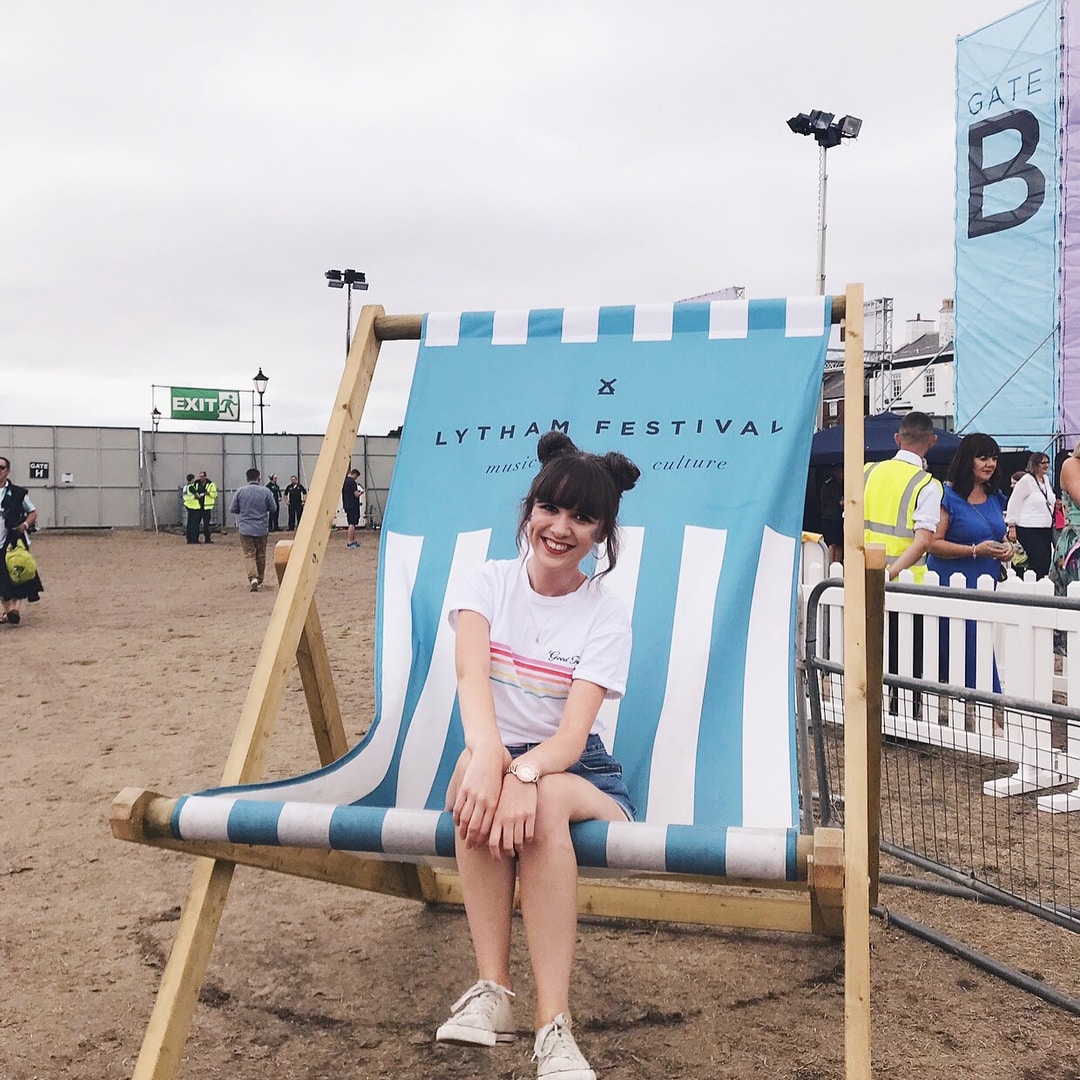 02 – Add Gold Accessories to this Outfit & Make it Stand Out!
If you want to go for an airy and trendy indie look, this is the one for you! This layered white dress looks super cute with a pastel blue summer dress. Moreover, I feel like this combination was made for plus-size women because talk about looking phenomenal!
You can add gems on your face to liven up the look for the Lytham Festival. Additionally, you can opt for chunky gold hoops and rings, as this will make your outfit stand out even more.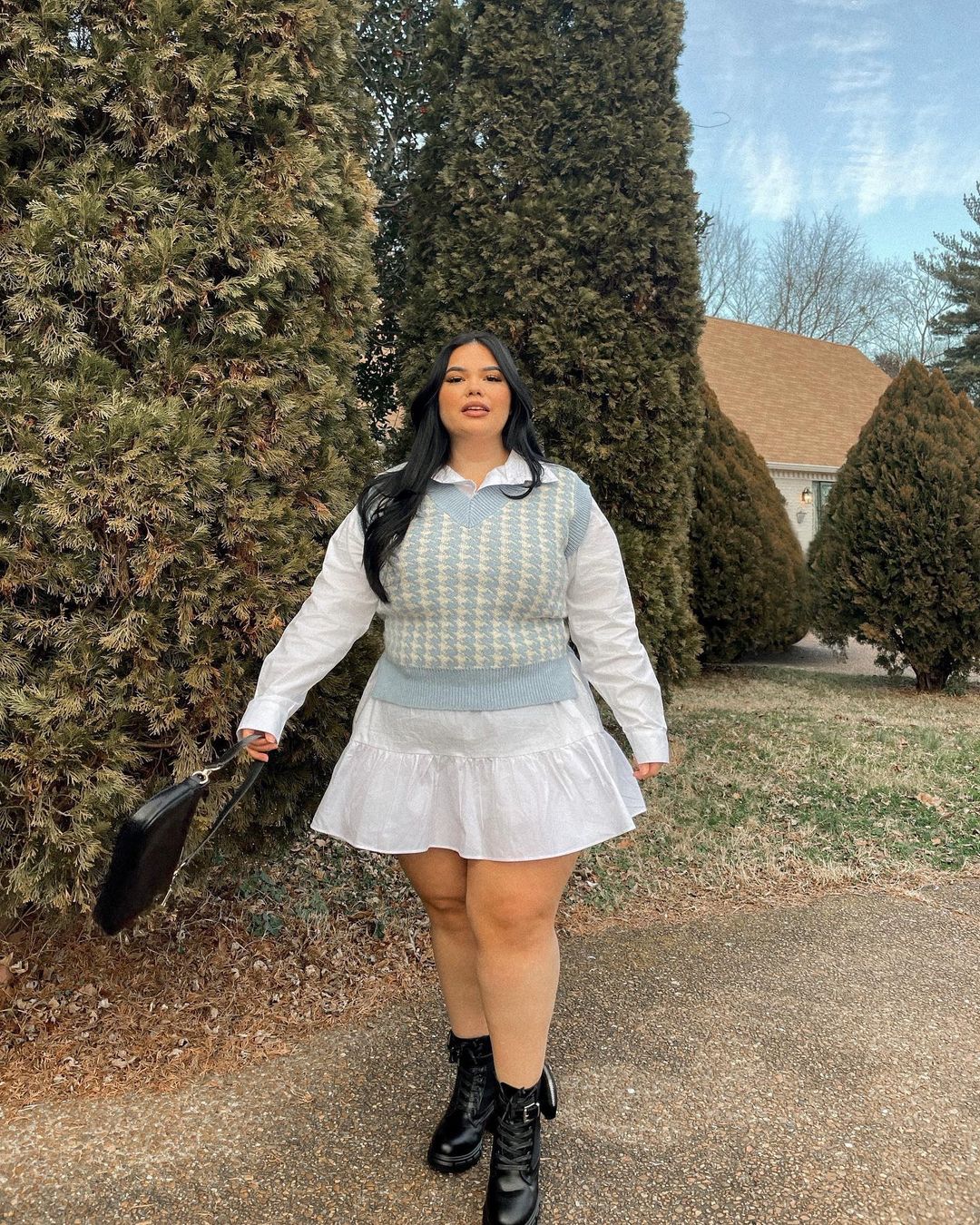 01 – Ditch the Hat for a Printed Bandanna to Hold your Hair Back
This look is a classic for any music festival as you can not go wrong with a full black outfit for any occasion. A cute bralette top is the perfect pairing with a skirt and cowboy boots. And a great way to make this outfit fancy is by opting for a detailed skirt with sequins and glitter. Just what is needed to make you sparkle!
Frequently Asked Questions
Q. Where do I stay for the Lytham Festival and how do I get to it?
Lytham Festival is held annually at The Prom's Arena on the Lancashire coast. The five-day event is jam-packed with locals and tourists pouring in from all over, so your best bet to find accommodation would be to reach out to a travel agency.
Numerous travel agencies plan and provide accommodation for the Lytham Festival. If you are lucky, you will find accommodation in the town of Blackpool, where Blackpool Transport provides transportation to and from the event!
Q. What should you not wear to the Lytham music festival?
Dressing comfortably for a music festival is necessary to enjoy the event to the fullest. Therefore, you want to leave behind any uncomfortable clothing – no matter how stylish it may be – and go for trusted garments such as an oversized shirt with a bralette top and stockings.
I would advise ditching heels of any sort – whether it is boots or other kinds – unless you have VIP hospitality. You also do not want to carry heavy and constricting fabrics to layer your outfit. Instead, opt for a lightweight denim or leather jacket that you can tie around the waist and be hands-free!
Q. Where can I buy clothes for Lytham Festival?
You can find spectacular pieces at affordable brands, including PrincessPolly, Revolve, ASOS, Tiger Mist, and Pretty Little Thing. These brands are your go-to for edgy, trendy outfits that ooze comfort and class!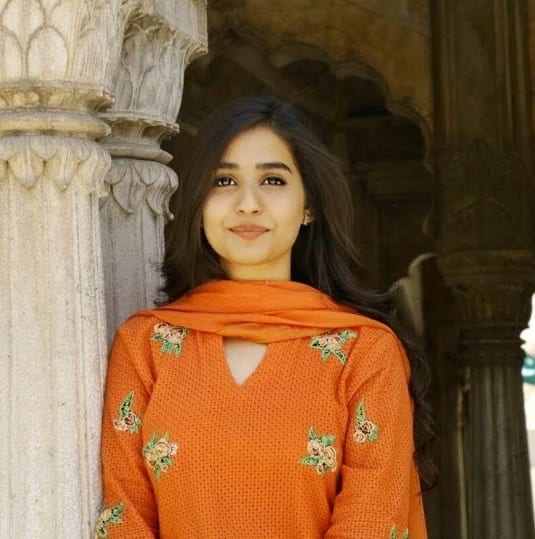 Janeeta Khan loves to write and loses herself in the world of fiction during her free time. You will probably find her curled in the corner with a Harry Potter book and a steaming mug of hot cocoa.