One Shoulder Outfit ideas. Summer is all about trendy outfits and flowy dresses. So, if you are fond of summer, you must look for a stylish fashion trend that is comfortable to wear and gives you a classy look.
One-shoulder outfit is one such trend that has hit the fashion industry by storm. It is a unique and versatile style that you can slay in any outfit with your fashion game on point.
How To Style One Shoulder Outfits?
One-shoulder style is the new hot trending fashion trend these days. You can easily find such outfits from a usual clothing store to high-end fashion outlets. The ease of style makes them the best outfits to carry around. Moreover, the fact that it goes well with almost every type of figure is a plus. So, why not invest wisely and stock up our wardrobe with at least one such outfit to slay our summer season in style?
One-shoulder outfits are the easiest to style as compared to any other style. For Instance, you can pair it with any type of jeans, denim skirts, or leather pants.
Moreover, If you want to wear a one-shoulder outfit in winter, you can just add an extra layer over it with a jacket or blazer for a more cozy feeling.
To style a one-shoulder party look, you can wear a long flowy one-shoulder satin gown and carry it with a nice pair of heels and a cute hairstyle. In addition, you can also accessorize it with some pretty pieces of jewellery.
20 – Jumpsuit One Shoulder Jumpsuit
A jumpsuit is a one-piece outfit you can wear both casually and for formal events. Although, most people do not prefer to wear a jumpsuit dress just because of a common narrative that only those with perfect body figures can slay this outfit, this is not true.
Below we see an orange-colored,one-shoulder jumpsuit dress with a matching fabric waist belt. In addition, you can wear a stylish pair of sunglasses and a nice black clutch to enhance this look. Lastly, complete this look with a pair of black pointed-toe heels.
19 – Styling A Casual One Shoulder Top With Jeans
Jeans paired with a one-shoulder top are a classic combination that can never go wrong. If you are fond of carrying a casual look, you can try this one too.
To create this look, just pair high-waisted jeans with a black long sleeve top. In addition, try pearl-studded hoop earrings and a pair of your favorite sunglasses. Lastly, wear a pair of sequence wedge flip-flops to complete the look.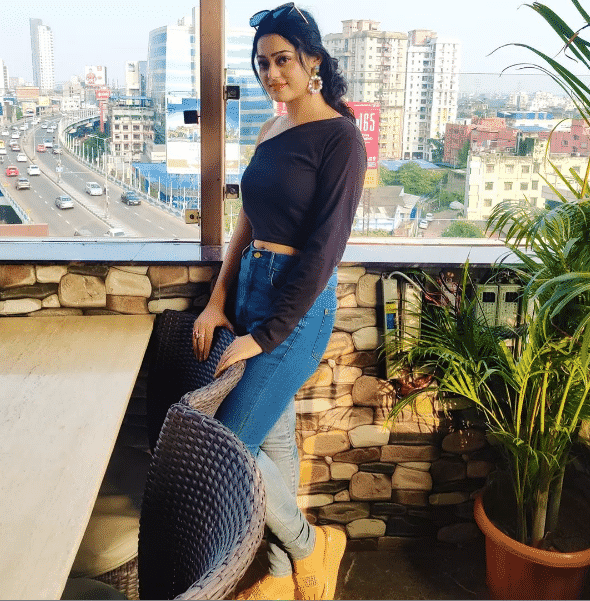 18 – Sequin Side Slit Formal Dress
If you are a person with a fondness for bling and everything glittery, then most probably, sequin outfits would be your favorite.
If this is true, then this sequence dress outfit will be your next favorite thing on this list. Wear a long flowy, slit dress with a pair of nude heels to recreate this look. In addition, you can wear a pair of statement earrings with some light makeup.
17 – Mini Leather Skirt with One Shoulder Top
This is the most effortless casual outfit you can wear on any other day with your fashion score in check. We see a nice black full-sleeve one-shoulder top with a beige leather skirt in this outfit.
You can also wear a pair of trendy earrings and a small black handbag to add more to the beauty of this outfit. In addition, complete this look with a pair of black mules.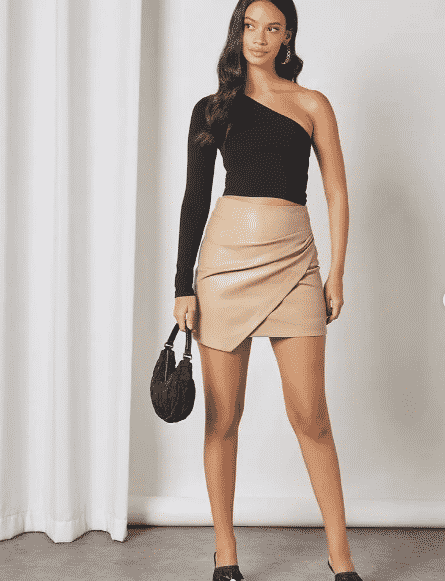 16 – One Shoulder Leopard Print Mini Dress
Leopard print is the simplest yet the most dope fashion print. We have styled a black and brown leopard print one-shoulder bodycon mini dress with a pair of stylish lace-up leather boots. If you're willing to go extra, try leopard print shoes too.
15 – Styling a White One Shoulder Top With Leather Pants
A white top is a versatile piece of clothing that effortlessly goes well will almost any outfit. In order to style a chic white top look, wear a one-shoulder white top with black wide-leg leather pants.
14 – One Shoulder Denim Shorts Outfit
If you want to pull off a casual summery look, you can experiment with this outfit. We have styled a black one-shoulder crop top with a classic denim shorts pair.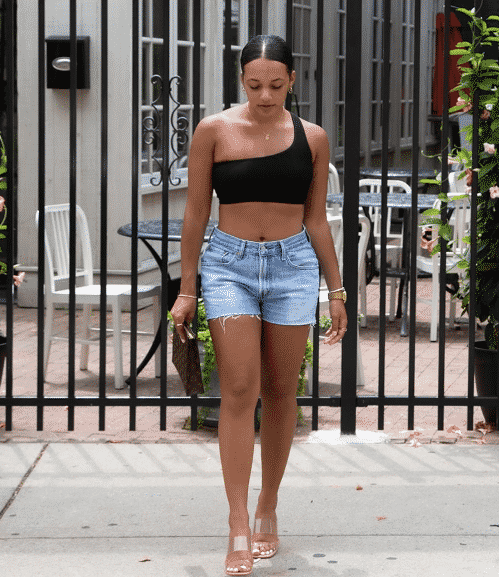 13 – Slit Skirt Outfit for Holidays
Want a vacation to break this monotonous work-life cycle and do not know what to pack in your luggage? Then, you can surely try this look. A black one-shoulder crop top with a black side slit beach wrap skirt.
12 – Layering Your One Shoulder Outfits for Fall
A trucker jacket is every girl's favorite as it can add an instant texture and style to any ordinary outfit.
We see a nice one-shoulder pleated white midi dress with a regular trucker jacket in this outfit.
In addition, wear it with some accessories and a stylish pair of sunglasses.
Lastly, carry a stylish bag and wear a comfortable pair of footwear; for Instance, white sneakers will do the work well.
11 – Midi Dress with Long Boots
Black and beige is a classic fashion statement. If you are also a fan of this combo like me, you should definitely try this look. We see a stylish waist knot, full sleeve, one-shoulder mini dress with a pair of tall black leather boots. You can further enhance this look by carrying a chain crossbody black bag.
10 – Wear a One Shoulder Bodycon with a Lace Skirt
Skirts are a timeless fashion trend that no other style can beat in popularity.
Following the trend, we chose this look where a white lace long skirt has been paired with a black one-shoulder bodycon. Wear black lace-up sandals with this outfit to complete the look.
9 – Styling One Shoulder Dess With Sneakers
If comfort is your priority, but you still want to pull off a trendy look, then this outfit inspiration is for you.
We see a green shade, one-shoulder bodycon mini dress with white canvas sneakers. Keep this look minimal and do not wear any extra pieces of accessories.
8 – Layer with a Corduroy Button Down for a Casual Look
We love corduroy as it goes well with both casual and semi-formal outfits. Layering your one shoulder dress with a corduroy button down will make it an appropriate outfit for work, casual party or even a road trip.
7 – One Shoulder Ruffle Dress for Wedding Guests
If you're attending a wedding soon but can't decide what to wear, go for a one shoulder ruffle dress as it incorporates the two hottest trends of the season: ruffles and one-shoulder!
6 – Printed Active Wear Outfit
If you are a fitness enthusiast and want to shed some sweat in style, this is absolutely a look for you. In this outfit, a printed one-shoulder crop top is paired with the same print athletic pants and it can also work as a yoga outfit.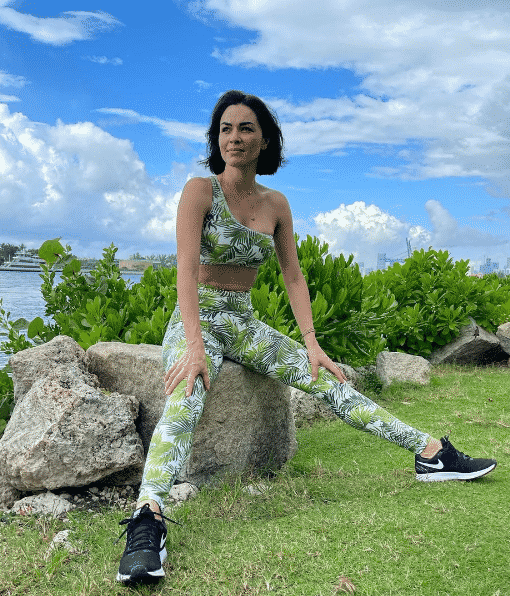 5 – How To Wear A One Shoulder Swim Suit?
This is the savage one-shoulder swimsuit look you should have in your wardrobe to slay all those summer beach parties in style. In this outfit, the wave edge design one-shoulder crop top is styled with the exact style swimming bottom. Lastly, style this look with a cute bohemian necklace and a pair of beach slippers.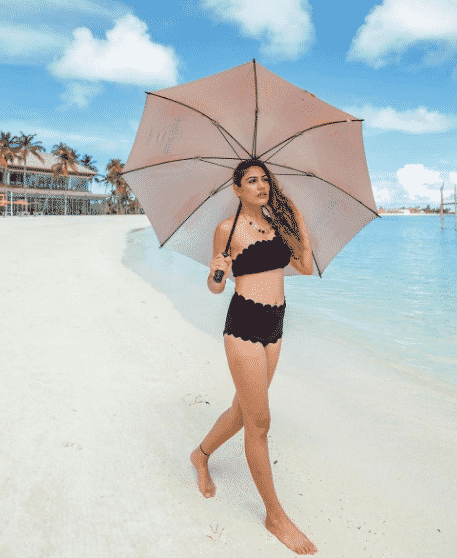 4 – One Shoulder Lounge Wear Look
This is a look for every woman who likes to roam around their home in comfortable yet stylish clothes. This is a one-shoulder loungewear outfit you can wear on any casual day. Style it with nude wedge ankle strap sandals if you're taking it outdoors.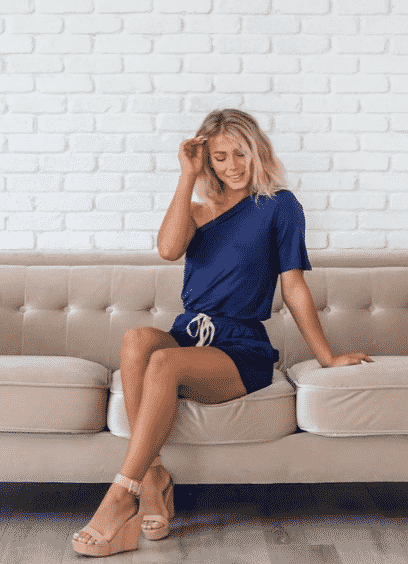 3 – Styling A Crew Neck One Shoulder Outfit
In this unique street style outfit, a white crew neck, a one-shoulder crop top is paired with beige pleated wide-leg pants, and a matching sleeveless vest over it. Wear a pair of oval sunglasses and carry a white bag with this look. Lastly, complete this outfit with white jogger shoes.
2 – One Shoulder Party Outfit
If you are looking for some high-end fashion outfit to slay at the next cocktail aprty, then this outfit is for you.
A one-shoulder, plain white chiffon formal gown is styled with a thick gold-colored chain waist belt in this adorable look.
Lastly, complete this look by wearing a pair of silver statement earrings and silver pointed-toe beaded pumps.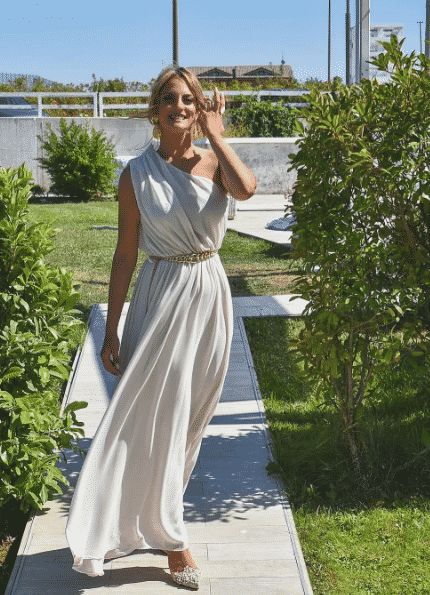 1 – The Ultimate One Shoulder Party Makeover
This is the ultimate party look that you can wear to a prom party, wedding, or any other formal event. In this outfit inspiration, a sky blue, one-shoulder, slit, flared gown is styled with a stylish pair of silver heels. In addition, wear a statement piece of silver fringe earrings and carry your hair in a sleek hairstyle to further enhance this look.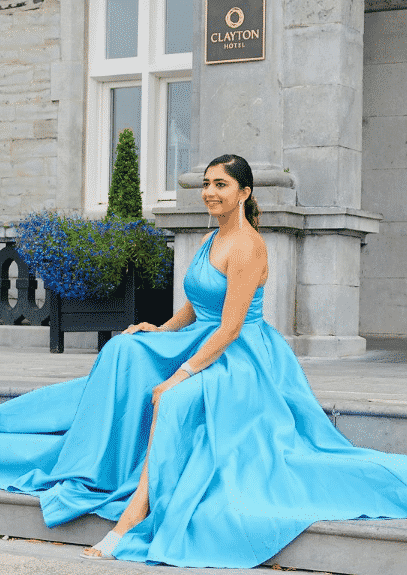 Frequently Asked Questions
Q. Are one-shoulder tops flattering?
One-shoulder tops are the most flattering outfit you will ever wear, but unfortunately, not many women feel comfortable in this specific style. Therefore, if you want to show off your shoulder but feel a little hesitant, you can choose to wear a cold shoulder outfit instead to be on the safer side.
Q. How do you wear a bra with a one shoulder dress?
Wearing a bra with a one-shoulder dress seems like a tricky thing, but it is indeed very simple. In order to wear a bra, take your regular bra and wear it the usual way and take the bra strap that needs to be concealed and extend its length by adjusting the hook. Lastly, move the strap to the other shoulder by taking it across your neck. And, now you are ready to pull off your favorite one-shoulder dress without the worry of your bra strap showing.
Q. How do you style one side off the shoulder top?
A one-side off-the-shoulder top is the simplest yet the most stylish outfit. You can style it in as many ways as you want. For Instance, if you want to create a casual everyday look, you can pair it up with crop jeans and sneakers. Although a one-side off-shoulder top is not a suitable cooperate apparel but you can wear it by pairing it with a decent office blazer. Moreover, for a formal or party outfit, you can wear it with a pleated midi skirt and a fancy pair of heels with some decent pieces of jewelry.