Khaki Joggers Outfits for Women: Jogger pants have now become the newest apparel trend among the American Fashion Industry. The history of joggers lies in the nineteenth century when a sports store in Paris introduced them commercially.
By coming up with this idea, they desired to meet the needs of the athletes with the most comfortable sportswear. However, these joggers have now taken over the whole American fashion industry and became the timeless fashion of the century.
Joggers are undoubtedly the most comfortable, snug, and trendiest of outfits. You will always love to wear it on any casual day. Joggers were initially tailored with the high-quality cotton fabric, having a loose fit around ankles and calf. However, back in those days, the ultimate purpose of jogger pants was only to keep you warm and dry. But, in modern days, a jogger pant is designed to look trendy, stylish, and comfortable at the same time. Moreover, these pants are not restricted to athletic wear now. You can wear them anywhere to create your style statement and slay the day.
What To Wear With Khaki Joggers Outfits
Khaki joggers are the ultimate ageless fashion trend you can wear with almost any type of top and still make a mark among your peers. But, like most outfits, there is a silver lining. Do not ever wear khaki joggers with a mini or long dress, as the two will cancel out each other and not make you look good.
A khaki jogger works best with T-shirts, tops, and jackets. However, you can always add a few accessories to your overall look and spice up your outfit. A nice pair of sunglasses and a bag can do the work for you. Moreover, you can pair them with sneakers, heels, or ankle boots but never try to wear them with long thigh-high boots or sandals; that is a big no.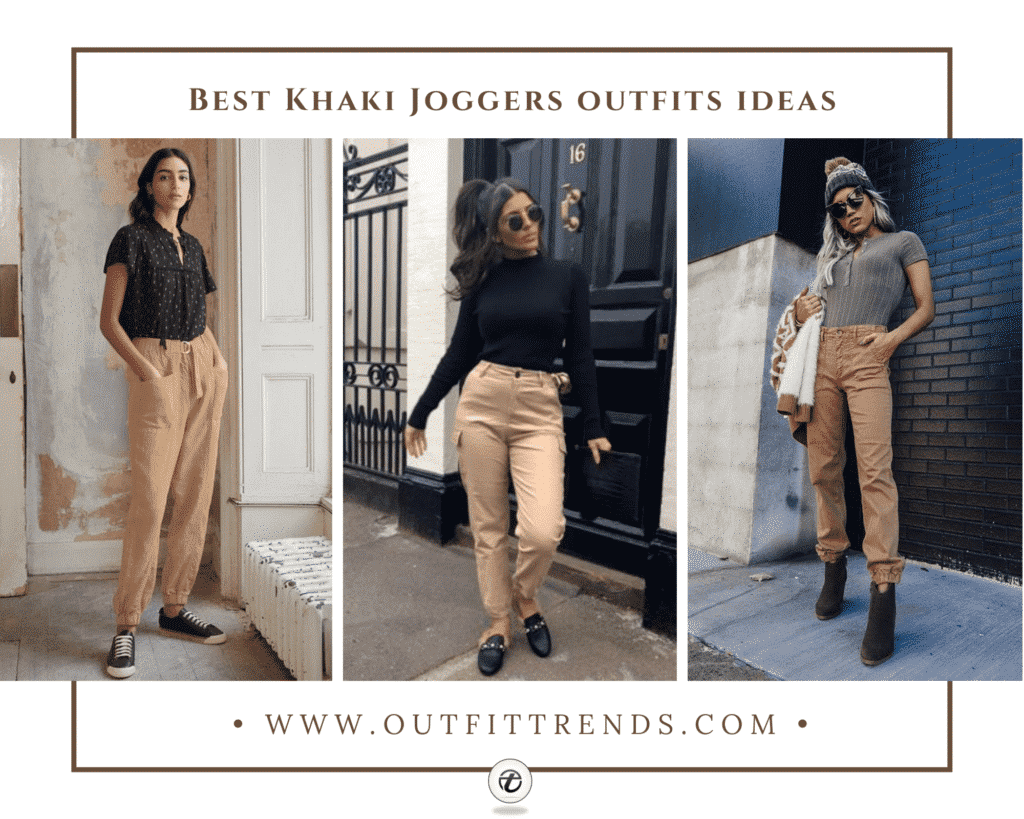 Tips on How to Styling Khaki Joggers
Try to wear contrasting colors with your khaki joggers. As, the same colored top or footwear can ruin your fashion game.
Never ever pair your khaki pants with long length tops.
Try styling brown leather colored accesories and footwear with your khaki pants to compliment your outfit.
If you are uncertain, go with a solid color T-shirt with your khaki jogger pants. This classic pairing will never disappoint you.
20 – Styling A Khaki Jogger With Leather Jacket
A leather jacket is one of the most basic and essential winter staples you can pair with almost any outfit. A green khaki jogger is paired with a black leather jacket over a black crop top in this outfit. In addition, enhance the look with a few jewellery pieces and a cross-body black bag. Moreover, wear black loafer shoes to complete the overall look.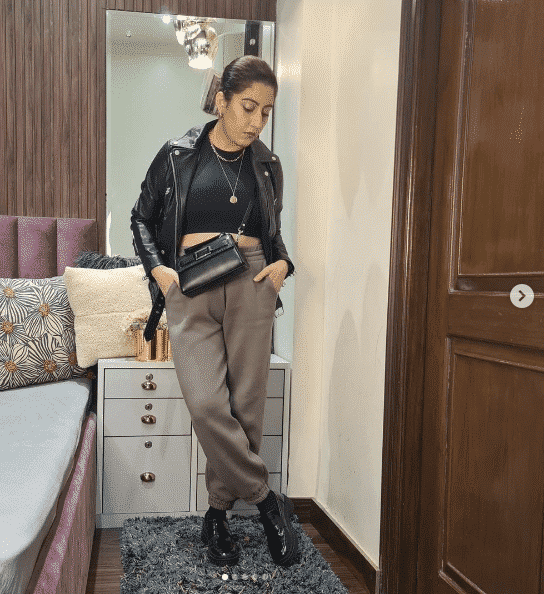 19 – A Khaki Cargo Joggers Outfit
A cargo jogger is the basic jogger pant everyone must have in their wardrobe. You can pair it with a spaghetti crop top and a khaki belt to enhance the look further. Lastly, complete the look with a nice, comfortable pair of white sneakers. Moreover, you can carry this look to any casual event without worries and strengthen your fashion game.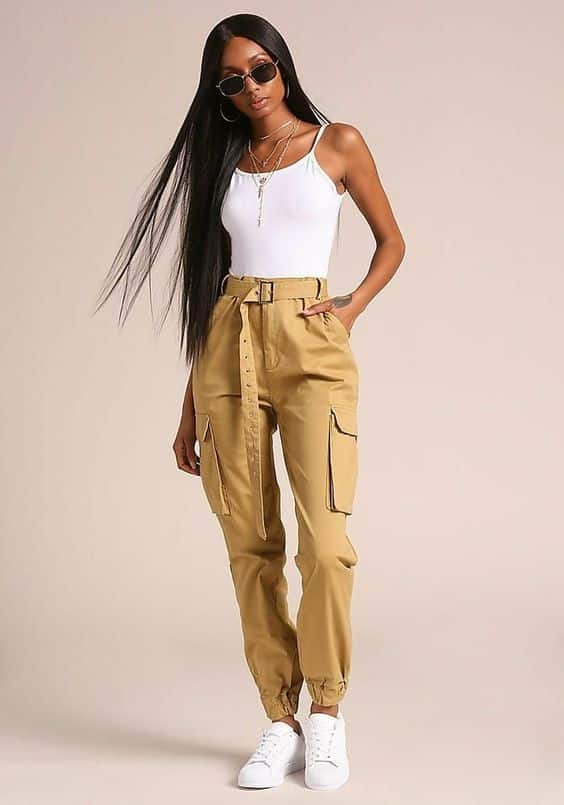 18 – Printed T-shirt With Joggers
Styling a printed shirt can be tricky, as you cannot pair it up with everything. So, in this outfit, we have tried to solve this problem. You can pair a printed black linen T-shirt with khaki joggers and black sneakers to pull off a very casual yet stylish outdoor look. Moreover, you can also style it up with little pieces of jewellery.
17 – Jogger Pants With Trucker Jacket
A trucker jacket is a timeless fashion trend. So, you can use it anytime to create a trendy and stylish look. In this outfit, we have paired a trucker jacket with a white T-shirt and khaki joggers. In addition, try to wear brown pair of casual slippers and a small crossbody bag to spice up this outfit a little more. So, if you love to experiment with your look, then this is the style for you.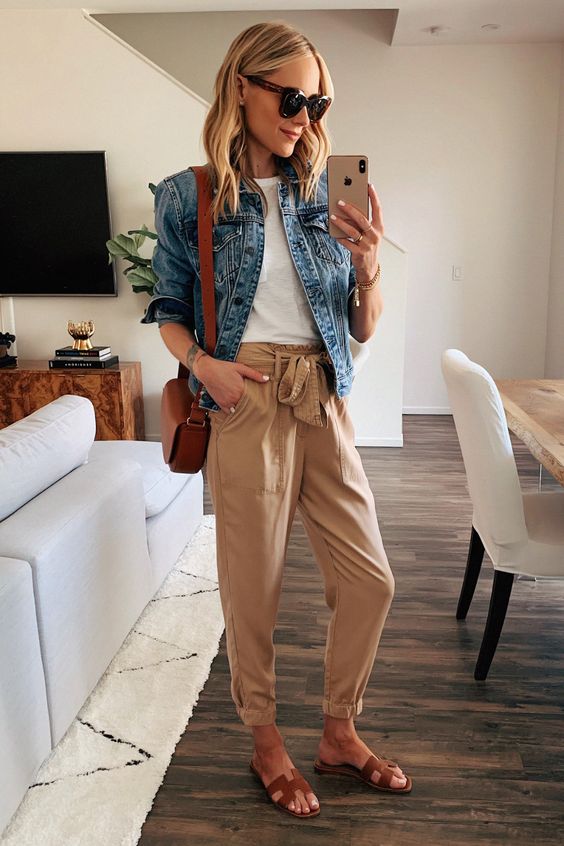 16 – Casual
Want to look casual and yet stylish? Not to worry, this is the look for you. In order to create this effortless look, wear a nice sleeveless white top and pair it with your favourite casual joggers. Moreover, to make them look more casual, wear a nice pair of flip-flops with them. You can also wear a few pieces of jewellery if you like.
15 – Styling A Black Outfit
A black shirt and khaki joggers is one of the most popular outfit combinations these days. In fact, with this classic style, you can slay any event or party without giving it a second thought. In this outfit, a mock neck black full sleeve top is paired with khaki joggers and classic pair of mule footwear. Moreover, you can accessorize this look with nice sunglasses and jewellery.
14 – Styling Jogger Pants With White Jacket
White is the only colour you can style with any colour and outfit. Because of its ease of style, we have paired a white jacket and sneakers with a crop top and joggers in this look. In order to enhance this look, even more, add a hinge of black with a black crossbody bag. Moreover, you can wear a few pieces of delicate jewellery with it also.
13 – With POLO Shirt
A polo shirt is an essential summer staple. Who would not want to have it in their cupboard? In this look, we are styling khaki joggers with a white casual polo shirt to create a very stylish and trendy look. Carry a small bag handbag to complete this look. You can also add a few accessories to this look, like a nice wristwatch.
12 – Simple White T-shirt Casual Look
This is the most simple and casual, and yet stylish look you can carry anywhere. In this outfit, we have styled khaki jogger pants with a basic T-shirt and tied the T-shirt in a knot over the waist to make it look more trendy. Lastly, wear a pair of black and white sneakers to complete this absolutely beautiful look.
11 – Joggers With Button Up Shirt
Joggers with a white button-up shirt is an absolute charmer. In this look, a khaki jogger is paired with a white button-down shirt and leopard print heels to pull off a casual and yet fashionable outfit. Lastly, you can enhance this look with a pair of sunglasses and little pieces of jewellery.
10 – Long Winter Cardigan With Jogger Pants Look
Cardigan is a must-have winter essential. You can pull off a very trendy and formal look with a khaki jogger set and a long winter cardigan. Moreover, enhance this look with a nice beige hang bag and a nice pair of white sneaker shoes. If you love to move around in your joggers, this can be your favourite airport or grocery look.
9- Green Button Down T-shirt
Khaki jogger pants are typically styled with black or white colour, but we have tried to experiment with this look. A beautiful olive green T-shirt is paired with khaki joggers and brown ankle boots to create this look. Moreover, you can accessorize it with a fur cap and a pair of sunglasses to make it more stylish.
8 – The Street Style
This is an effortless street style look; you can carry it every day and all year round. A jogger is paired with a sleeveless crop top and white and black sneakers in this simple and adorable look. In order to make this look appear more casual, no accessories are added to it.
7 – Hip Hop Outfit
This is a stylish hip-hop look; you can easily carry to a club or a dance party without thinking twice and be a head-turner among your peers. A black crop top is worn with khaki joggers and black ankle-high slip-on mesh sneakers in this outfit. Moreover, the outfit is accessorized with a pair of sunglasses, a wristwatch, and a chain belt hanging from the waist belt.
Via
6 – Trendy Black And Khaki Look
In this trendy look, the classic black and khaki combination is used in a very fashionable way. The Khaki jogger pants are paired with a black cardigan jacket and a nice black shoulder bag. Moreover, the sexy black pointed heels add more to the beauty of this outfit. Lastly, you can add accessories like a beige hat and a delicate bracelet to make this look more fun. This would be a cute outfit to wear to a date night or just for a night out with your girlfriends!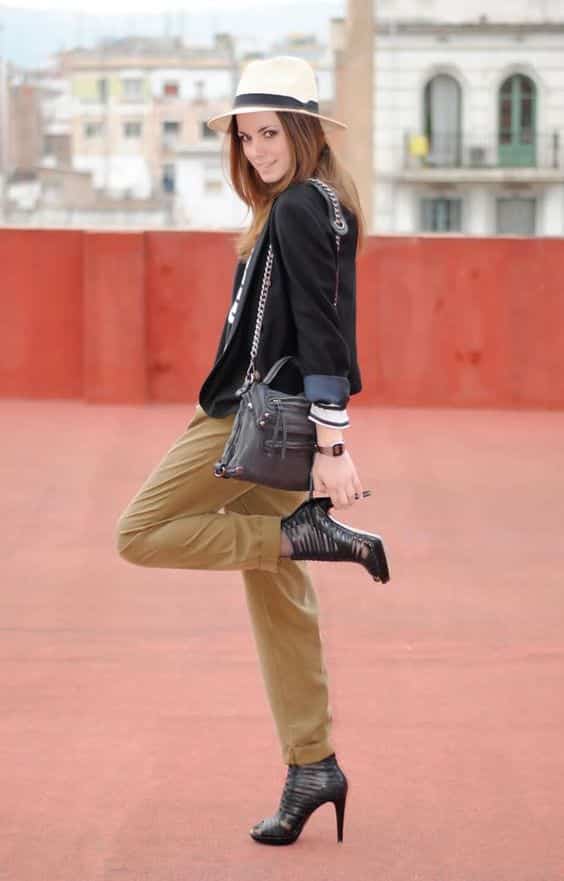 5 – The Loose Fit Sneaker Look
This is an absolutely simple and minimal look, perfect for people who like it easy breezy. In order to create this look, an oversized white T-shirt is paired with khaki jogger pants and a white and red pair of sneaker shoes. In addition, you can wear a few delicate accessories to make this look more stunning. Don't forget to wear a cool pair of sunglasses and sneakers like a pair of Nikes.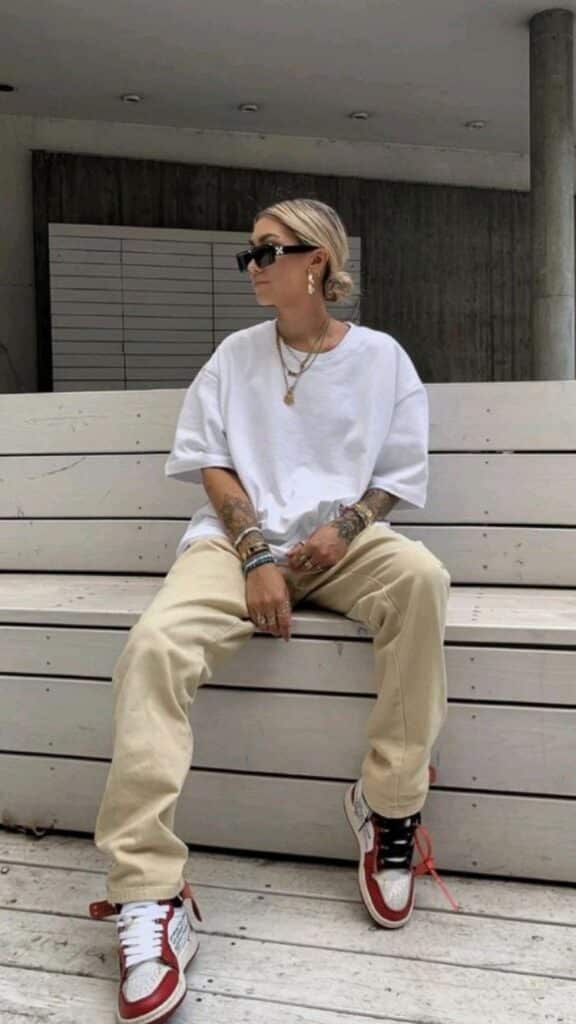 4 – Joggers Pants With Brown Fleece Coat
In order to create this stylish and adorable look, a jogger pant is worn with a black crop top and a waist-length fleece coat. Moreover, complete the look with white sneakers. Lastly, add that required bling with hoop earrings and a stylish pair of glasses.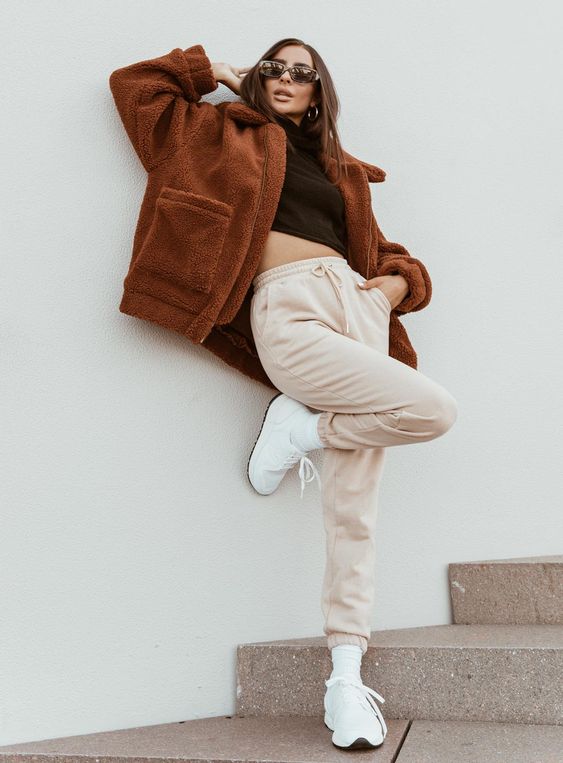 3 – The Baggy Top Outfit
If you are fond of baggy outfits, then this is the look for you. A baggy crop top is styled with casual joggers and a pair of classic white trainer shoes in this outfit. Moreover, you can wear small hoop earirngs to make this look chicer.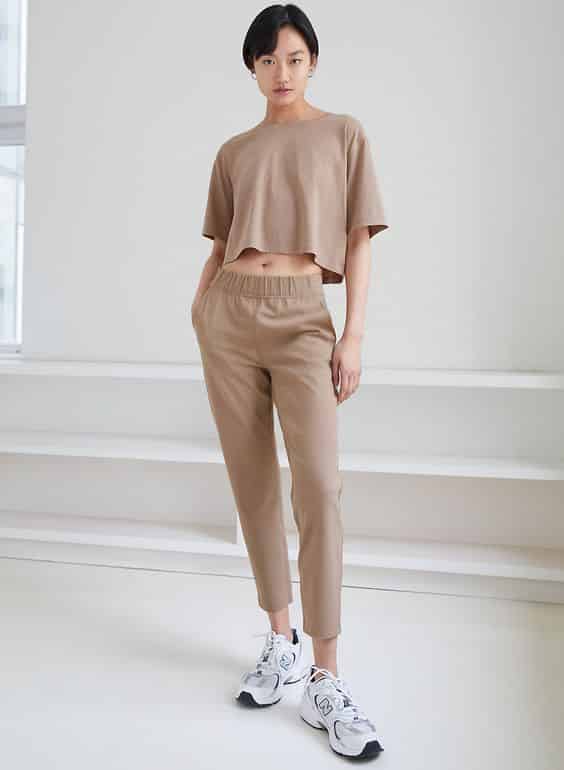 2 -Styling Wide Legged joggers
A wide-leg jogger is the most comfortable and snug outfit you can have in your closet. In this look, a wide-leg jogger is paired with a checkered button-down beige shirt. In order to spice up this look, wear a sports cap and your favourite trainer shoes.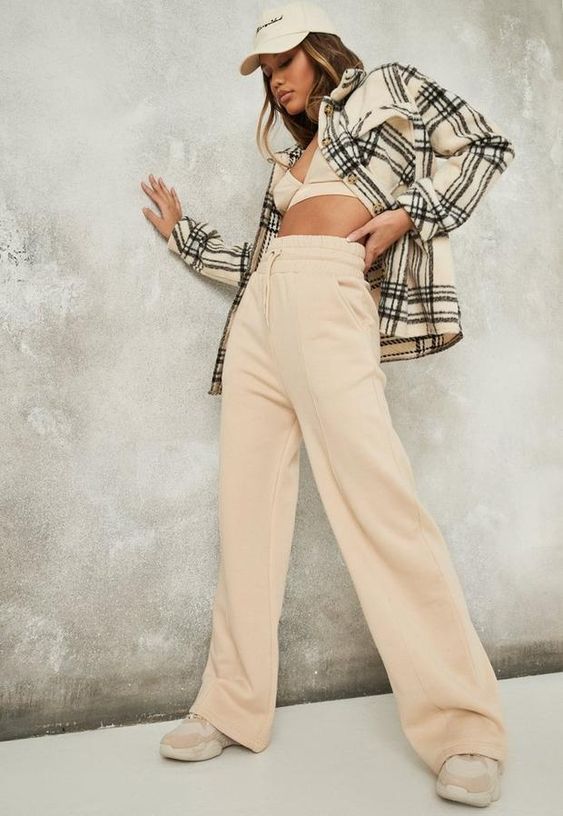 1 – The Runway Spring Joggers Look
This is the ultimate chic, and absolute adorable joggers look you can carry practically anywhere. You just need to style a black mesh jacket with khaki cargo joggers and white boots. Lastly, accessorize this look with the right jewellery pieces and a handbag.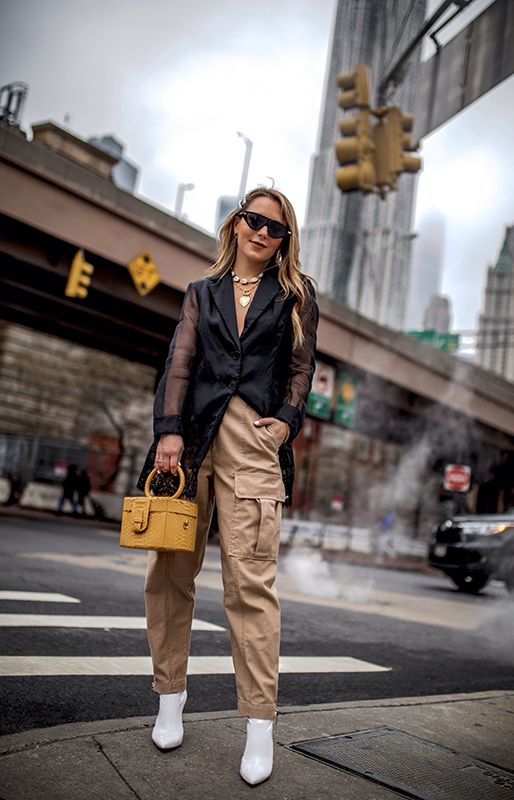 Frequently Asked Questions
Q: What shirts to wear with women's joggers?
Ans. Styling a white T-shirt can be an effortless way to style jogger pants. You can pair these two up and accessorize this look with a pair of sunglasses and sneakers. Moreover, you can also wear a women's jogger with a white button-down shirt and add a formal blazer with white sneakers to create a more sophisticated look. If you are fond of comfort and style, then this is the ultimate fashion trend for you.
Q: What colors go well with khaki joggers?
Ans. The best thing about khaki joggers is that you can wear them in a variety of contrasting colours. Khaki joggers work best with darker shades. So, the recommended colours to pair with khaki jogger pants are darker shades of blue, maroon, white, green, red, violet, and grey. In addition, with this wide range of colours, you can mix and match and create your look to match your style and the event.
Q: What body type do joggers look good on?
Ans. The joggers will flatter your body shape and make you look more presentable if you have a lean figure. On the other hand, women with curvy or pear-shaped figures should go for joggers with loose-fitting hips and tight ankles. It will not only conceal the curves but also draw attention to the good aspects of your figure. So, jogger pants look good on every body type; you just have to be a little cautious choosing the right fit for you.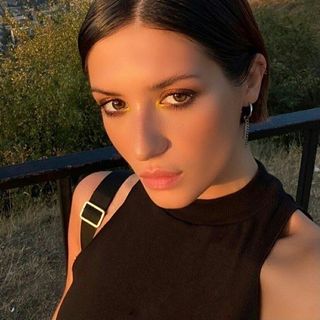 Avid reader and Fashionista. London Based freelance lifestyle editor