Plunging Necklines: Ever wondered how all the celebrities rock plunging necklines so effortlessly? We do too. Plunging necklines are gorgeous when worn with confidence and boldness. They are one of those items of clothing that sit in our closets because we are too shy to wear them or can't decide how to wear them. It's really not that hard to style a plunging neckline if you really want to. They can easily spice up your look for a birthday party, office dinner, or a romantic dinner. The thing about plunging necklines is that they can be worn however you want, to a wedding? Make sure whatever you wear as bottoms is a little looser so that there's a perfect balance. Want to wear it to lunch with friends? Wear a plunging neckline jumpsuit, and you will look effortlessly chic.
Sporting a plunging neckline may seem like a tough job to you but trust us on this; it's really not. You have to make sure that you pair it with the right underwear and accessorize it properly. It may seem like plunging necklines are only made for certain people with longer necks and smaller breasts. That is certainly not the case, so don't feel that way. Anybody can wear a plunging neckline, so don't let stereotypes hold you back from wearing something you really like. Wear whatever you want however you want, girls! Never think that somebody else looks good in something they are wearing because of the way they look, NO. What makes you look good is your confidence and style, and self-love. This leads me to share some tips to help you feel comfortable in a plunging neckline outfit.
How to properly secure cleavage in plunging neckline outfits:
If you don't know about fashion tape, then what are you even doing? Fashion tape is a new and easy way to make sure your cleavage is secure in place. If you worry too much about it or have a bigger cup size, you need to get your hands on this tape. You can use this tape however you want, but it will definitely give you security and comfort. One of the best sites to buy fashion tape from is https://skims.com/.
Nipple covers are another easy way to cover your nipples in a plunging neckline without having to wear a bra. If you don't like the idea of using tape on your skin, then you should definitely give nipple covers a try. They are easily available in reusable and nonreusable materials.
And if you are bold enough and don't want to wear anything underneath, then completely ditch the bra. Don't wear anything underneath and rock a plunging neckline outfit the way you want. Just make sure to remain confident, bold, and fearless!
Unique ways to style a Plunging Neckline
46. Plunge neckline jumpsuit
Need an easy but classy way to wear a plunging neckline? A Jumpsuit is the way to go. It's cute, stylish, comfortable, and sexy. It's the perfect balance between sexy and modest. If you like to go all out, you can do that, but if you want to keep a balance, then a jumpsuit will be perfect. The deep neckline looks good with this jumpsuit. Wear a vibrant colour and pair it with some dainty jewellery pieces.
45. Bodysuit
A bodysuit is very classy. They are comfortable enough to wear all day and can be worn on multiple occasions, whether it be lunch with friends, shopping dates or a formal dinner. The plunge neckline makes this bodysuit sultry and chic. Step out of your comfort zone and give it a shot. Wear it with some high waisted whitewashed jeans and a small handbag for added style.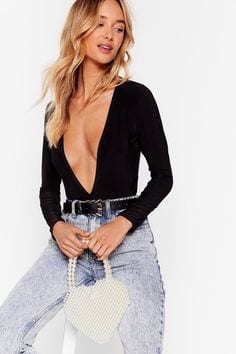 44. Cross body top
This top can be worn with denim jeans or even shorts. However you want to wear it you can.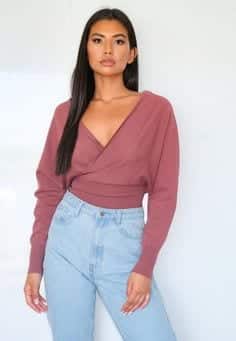 43. Romper
Rompers are super cute in the summertime. They are versatile pieces of clothing. She wore hers in a light nude pink colour and layered some gold necklaces. You can rock this romper with sneakers or heels, as you like!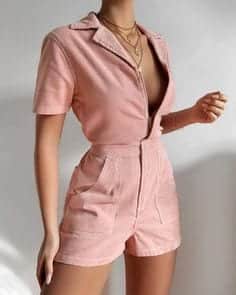 42. Summery crop top
This crop top looks stunning in this vibrant yellow colour. It can be worn with high waisted jeans or a matching yellow skirt. Here the girl is wearing it with gold hoop earrings only, but you can switch it up and wear heavier jewellery.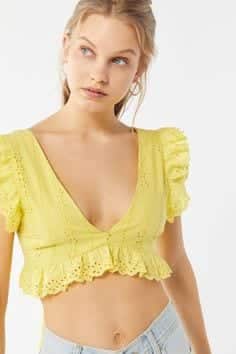 41. Sequin dress
This sequin plunge neck dress is perfect for any party. The sequins on it look gorgeous and will make you the star of the night. Wear this dress with fishnet stockings or nothing if you are feeling bold!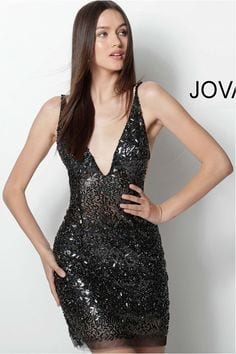 40. Printed flowy dress
Wear a printed flowy dress with a plunging neckline to subtly show off what you've got. Wear light nude makeup with this dress and some delicate heels or sandals.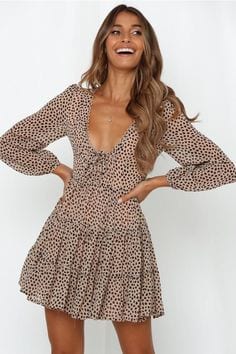 39. Cotton summer dress
This plain white cotton dress is beautiful for the summertime. It is elegant with a touch of sexy. This dress is the best for an occasion when you need to look done up, but you don't feel like going all out. Wear some intricate jewellery pieces, and there you have it, an effortless look!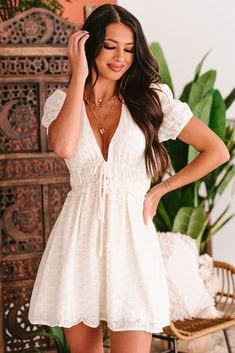 38. Deep neck bralette
Keep it simple and wear this sexy bralette on any day and turn heads!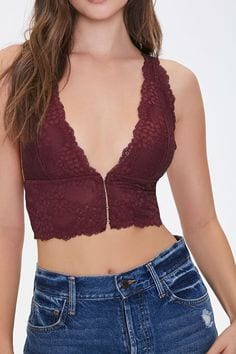 37. Button up shirt
It's good to switch up your office look sometimes. Give this deep neck button-up shirt a try with this leather skirt. Pair it up with a golden chain and black heels.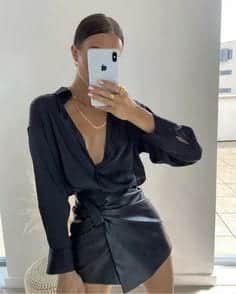 36. Maxi dress
Maxi dresses are in style again, which is why we have decided to include them too. The emerald colour of this maxi looks exquisite paired with the golden jewellery and leather clutch.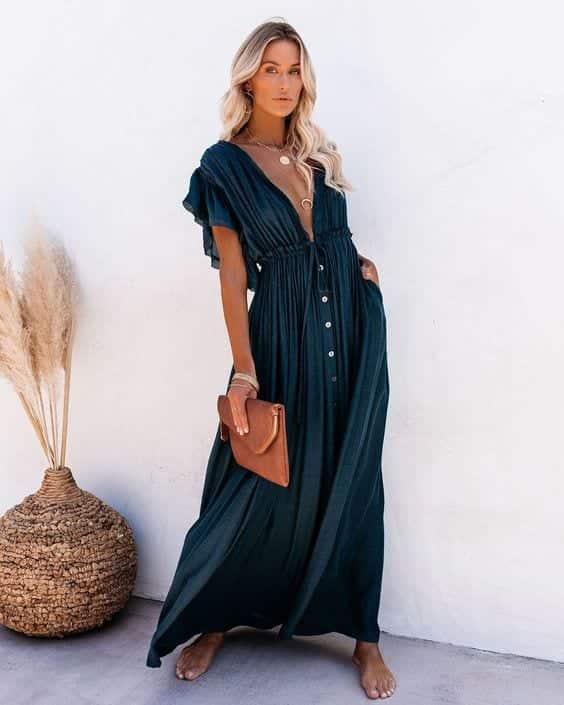 35. Mesh deep neck top
Mesh is always a big yes! This mesh top is different from a lot of other mesh tops we have seen. The shoulders showing give it a very sexy look. Definitely give it a go!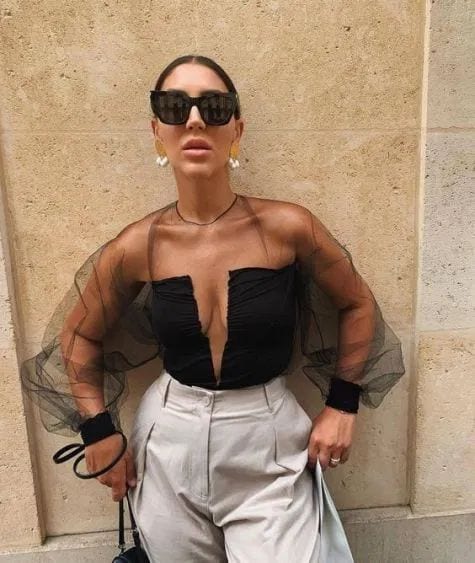 34. Ruffle sleeves dress
The ruffle sleeves look classy. Wear this mustard dress to a wedding, romantic dinner or dinner with friends.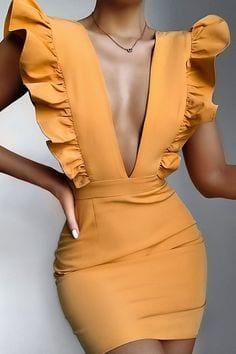 33. Polka dot maxi dress
This dress is super cute! Braided hair and some sunnies would make it even cuter. Grab a black handbag and some sneakers, and you're ready to go.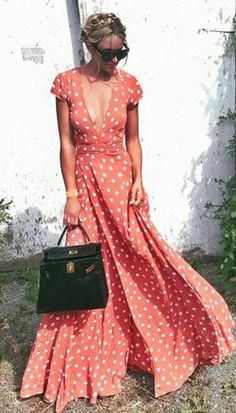 32. Hippie dress
This rust colored dress looks comfortable and cute. Perfect for a laid back day.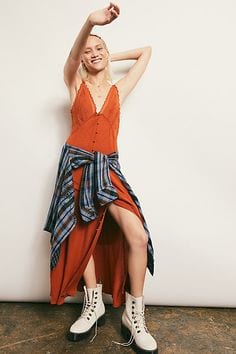 31. Gigi Hadid party look
Gigi rocked this shimmery maxi dress with blue heels and a black choker which gives it a 90s vibe which we are living for it!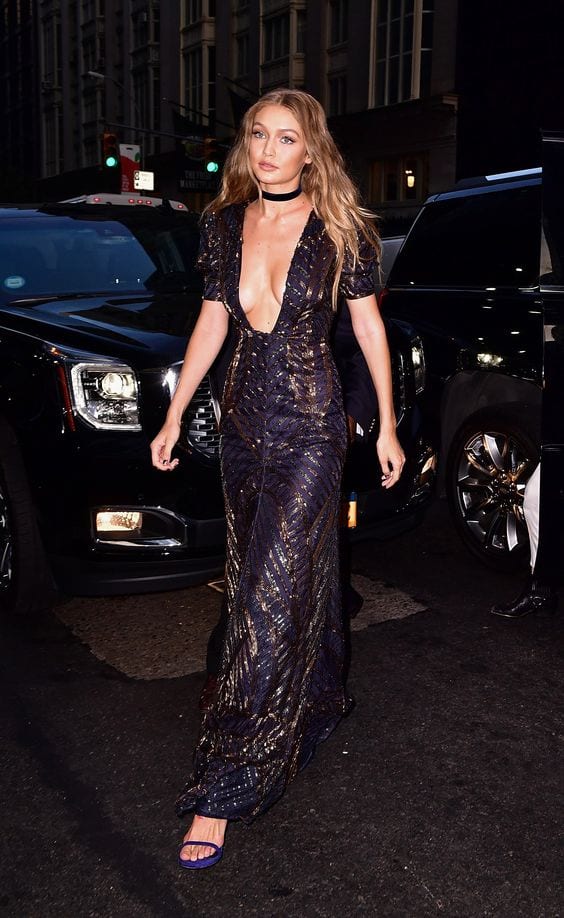 30. Rosie Huntington's silver dress
This silver glittery dress looks eye-catching with the silver hanging earrings that Rosie wore them with. She knows how to carry any outfit!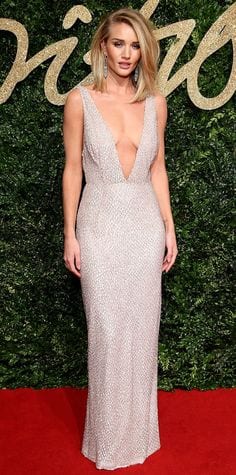 29. Deep neck blazer
Blazers are formal but can still be worn on multiple occasions. She is wearing this striped blazer with striped pants and clear heels. Paired it up with big dangly earrings and a beret.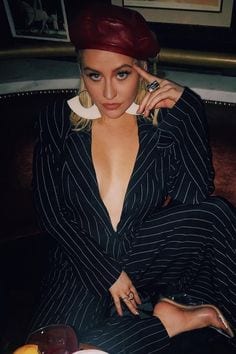 28. Kendall Jenner street style
Kendall rocked this stunning top with nothing but sunglasses and small gold earrings. The white outline on this top is what makes it different. The tiny leather bag is the cutest!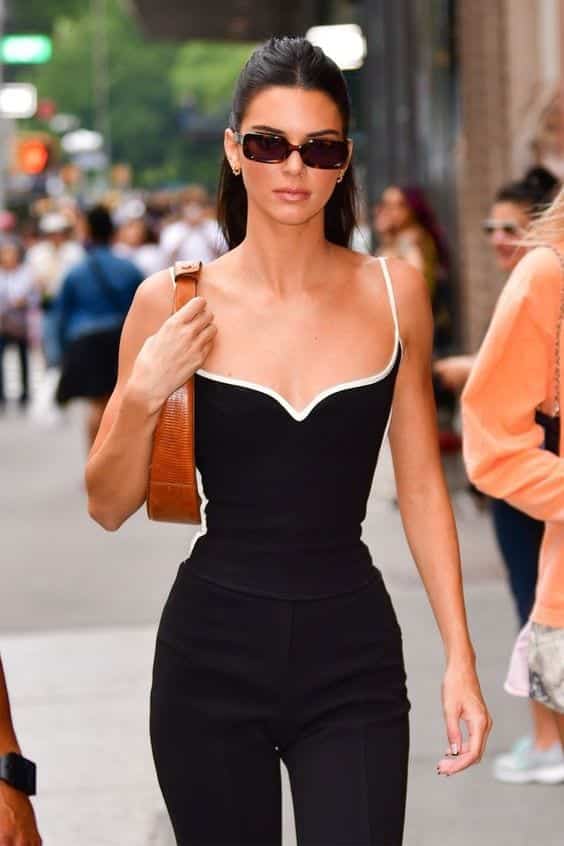 27. J-LOs red carpet look
The ultimate style queen wore this silver intricate design, plunge neck dress to the red carpet. Her hair is put up in a bun, and she is holding a glittery clutch. Jennifer looks classy as always!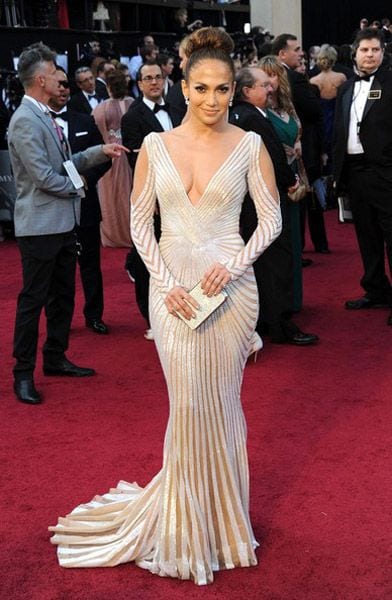 26. Neon yellow sheer jumpsuit
This sheer jumpsuit is something we cant stop thinking about. Extremely stunning neon colour, especially for the summertime and the straw fanny pack, is what makes it even cooler! This is the perfect vacation look.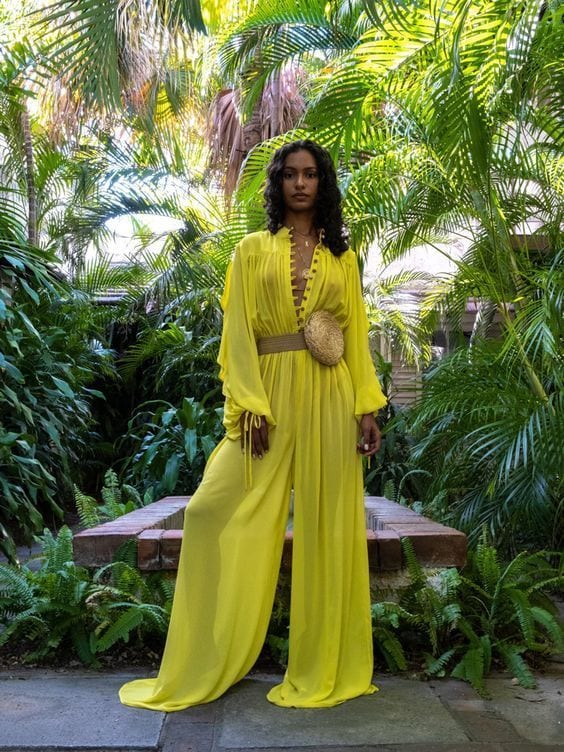 25. V neck red dress
This red dress is what you need to wear this valentines day. It is both sultry and sexy. The dress can be worn to birthdays, weddings, and romantic dinners too. Put your hair back in a sleek bun or leave it open.
24. Black velvet dress
Velvet is the best material for formal events. This dress is sexy and will look stunning if you wear it to fancy dinners or birthday parties. The golden triangle earrings make the dress look even better.
23. Deep neck Bralette with leather skirt
This maroon plunge neck bralette looks amazing paired with this leather skirt. It gives off a grunge vibe, so if you're into that, then you should definitely try this!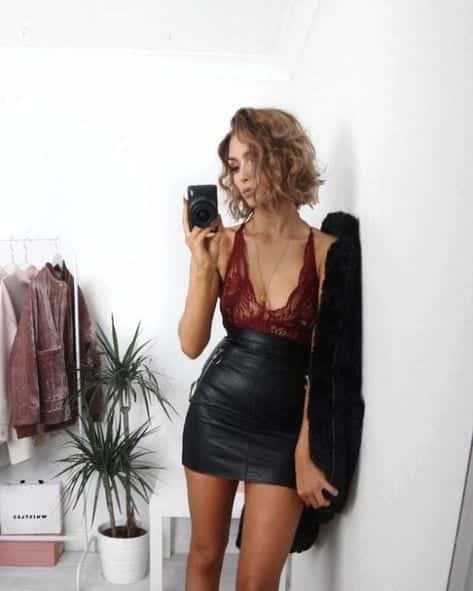 22. V neck mauve shirt
This top is very simple and casual but you can make it more formal by wearing it with a leather skirt and some heels.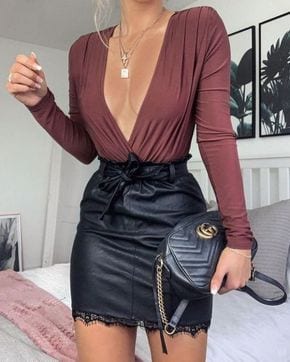 21. Red satin dress
This red satin dress is the sexiest and more so because of the net on the border. Wear this dress when you're feeling yourself and set the world on fire.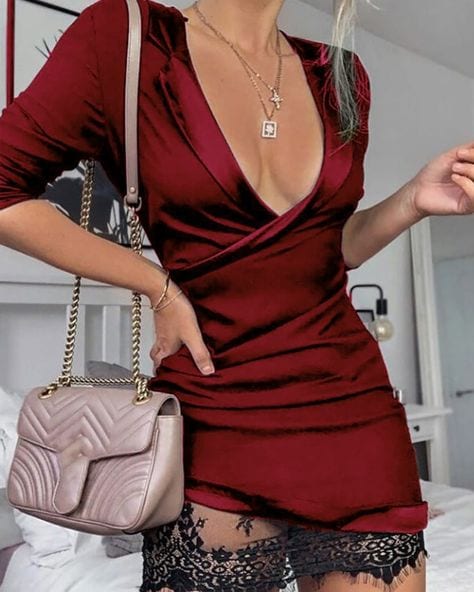 20. Satin dress tied up shirt
This satin shirt can be worn with jeans if you want to keep it casual or anything black if you want to go all out and formal. Don't forget to wear some necklaces with them.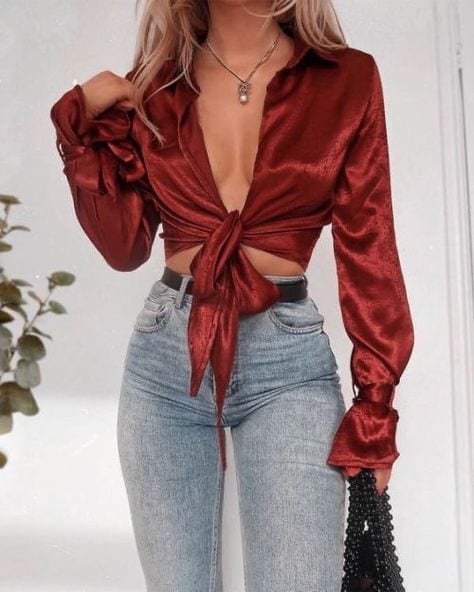 19. Deep neck slip
Suits will always be in. To make your classic black suit a little more stylish, wear a deep neck slip underneath it, throw on some bracelets and a necklace, and you're good to go.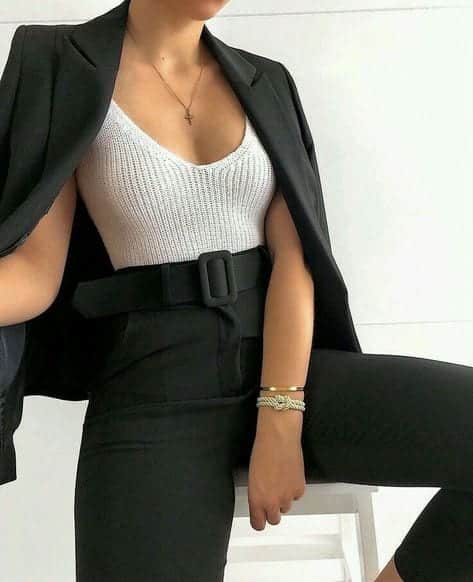 Check out more simple fashion outfit ideas and tips for business women.
18. Marble design dress
This marble design dress is vibrant and full of colours. Wear this in the summertime and look stunning. Not all outfits are this eye-catching, but this one will definitely turn heads.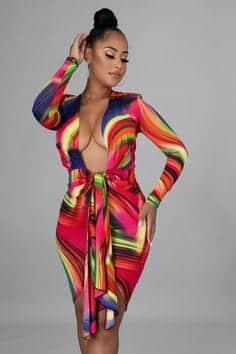 17. Red cropped knot top
This red crop top is nothing but sexy!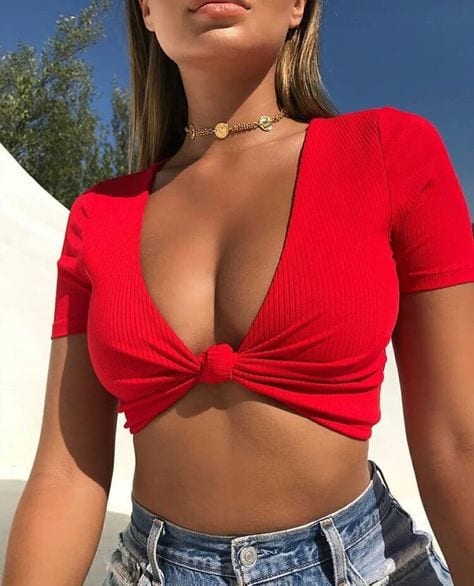 16. Silk shirt
This outfit is gorgeously done. She is wearing a pink silk shirt with a white skirt. Golden necklaces for the win always.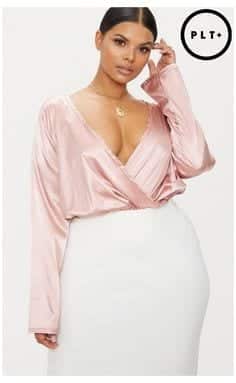 15. White beach dress
This white beach dress with a plunging neckline looks comfortable as well as stylish. The straw hat makes it look even better. This is the perfect beach outfit.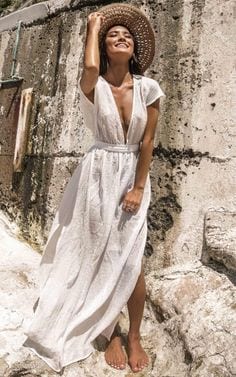 14. Black ribbon croptop
Pair this black ribbon crop top with jeans, shorts or a skirt and show off queen!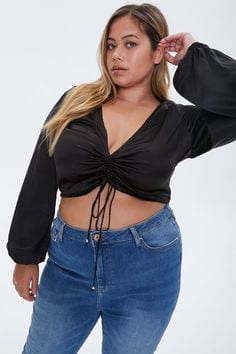 Check out more amazing ways for plus size women to dress.
13. Printed leaves jumpsuit
This print is very different, and people don't usually go for it, but if you feel like you can rock it, then go for it. Don't forget to wear some sunnies to look cool.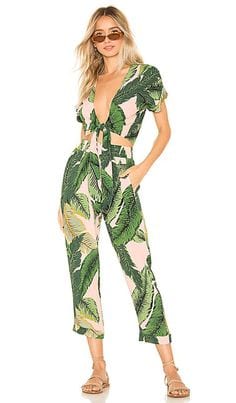 12. Polka dot jumpsuit
This jumpsuit gives us 70s vibes, and we love it: the hair, the lipstick, the outfit. If you're old school, then you need to try this one.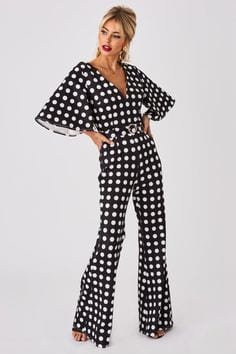 Check out more ways to style Polka dot outfits.
11. V neck flower print shirt
The perfect shirt for summertime. Beach days, nights out and parties are what this top is made for.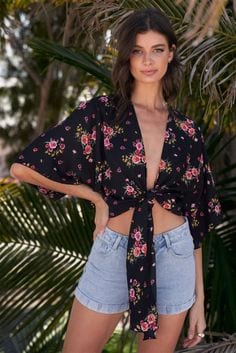 10. Peplum top
Peplum tops are always considered to be very formal but you can keep it casual by wearing it with some black jeans.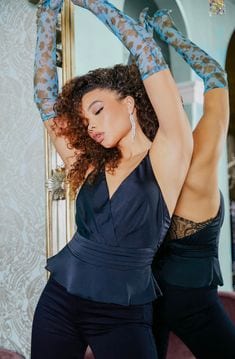 9. White cami top
Keep it plain and simple by just wearing a white cami top with black jeans. Some golden necklaces would make it a little more stylish.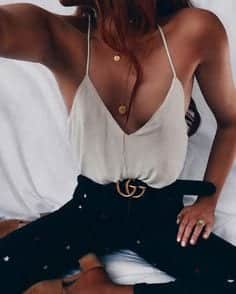 8. Nude glittery dress
Glittery dresses are the best for parties or dinners. Rock this stunning nude pink dress whichever way you want!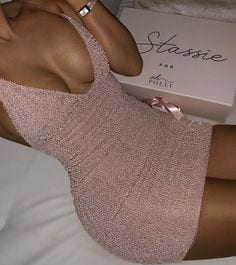 7. Green satin croptop
This top looks classy with the silver watch and denim jeans. Try it out for yourself.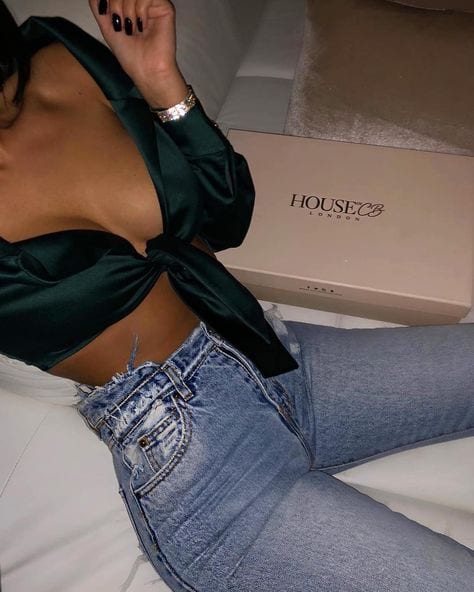 6. Plain deep neck shirt
This plain white full sleeves top looks so comfortable it looks like you could sleep in it too! A very casual outfit, but the plunging neckline makes it sultry.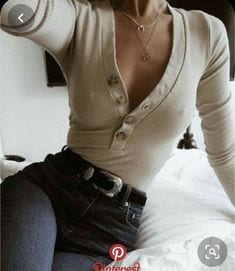 5. Check belle sleeved top
This bell-sleeved top is pretty for outdoor events, and the check design makes it look exquisite. Pair it up with black jeans and sneakers.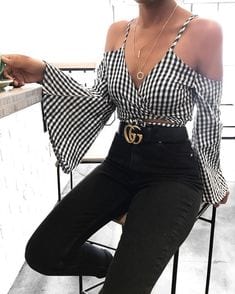 4. V neck bodysuit
This red suit is on fire paired with that black lace bodysuit.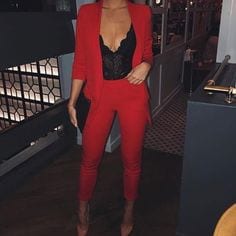 3. Black cami top
Another basic that you need in your closet is a black cami because it goes with just about everything!
2. Knitted top
This is a cute top which would be perfect for both summer and winter time. Wear it with blue mom jeans and carry a cute small bag too.
1. Half and half shirt
This shirt is the ultimate style queen shirt. You could never go wrong with it. Wear it with black jeans and some necklaces too. There you have it, the perfect outfit!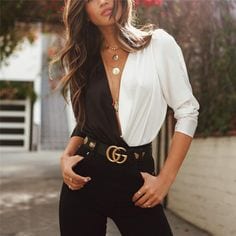 Frequently asked questions:
Q.

What is considered a plunging neckline?
A. A plunging neckline is basically a very low cut neckline found on many dresses and garments.
Q.

What to wear underneath plunging necklines?
A. You can wear whatever you want or nothing. You can wear two things under a plunging neckline, nipple covers, fashion tape, or you can even choose to wear nothing. It is totally up to you.
Q.

How to fix a plunging neckline?
A. You may have found the perfect dress, but it has a lowcut neckline that isn't appropriate for a setting you have to be in, so don't worry; there is a way you can fix it. You can add layers underneath the dress, like a pretty bralette or even a t-shirt. You can try tying a knot on the back of the dress or use safety pins to make the neckline a little higher.
I am a women's holistic health coach and student that enjoys history, experimenting with makeup and skincare, playing sports, working out, and doing all things adventure-related.