Halloween Costumes Ideas. That time of the year is here again. The best time of the year when the tree leaves turn into a grotesque orange yet oddly satisfying color, when the winds give a weird chill when you see colorful Halloween decorations hanging everywhere, all welcoming October.
With every Halloween, comes a heavy plight of the costumes to be worn. Everyone wants their costumes to be an all-around winner and that's we have compiled a list of awesome Halloween ideas for this year that you can buy or even create on your own using simple DIY tutorials.
What to Wear for Halloween
With Halloween right around the corner, here are 35 most amazing, trending and some totally unique costumes that you should try this year.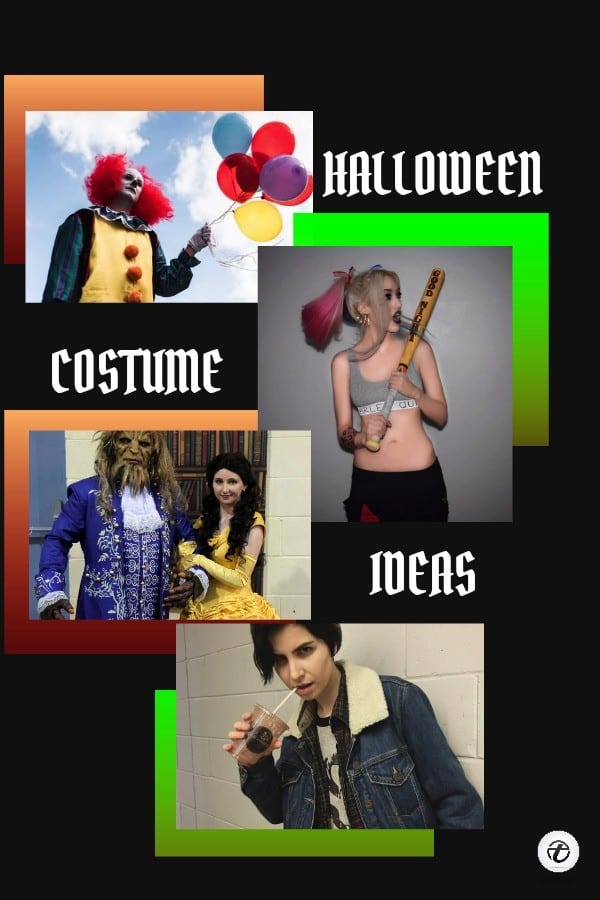 ↓ 35 – Jughead Costume for Guys
We've all loved Jughead since ages but "Riverdale" has made him completely irresistible. If you haven't decided on your Halloween costume yet and if you have no time to go over the top now, then this is the costume to go for as it hardly requires any effort. To dress like Jughead, you can wear your old washed out jeans jacket with any simple tee and jeans. But the main part of this costume is Jughead's signature beanie that you can also make yourself by cutting a crown into a beanie. You can get in the Jughead mood for the party by taking a milkshake along.

↓ 34 – Latest Couple Costume Idea for Halloween
Looking for a couple's costume? Well, this year one of the most searched couple costume on Google has been the "Beauty and the Beast" costume, and we highly recommend it as it doesn't just look great but it's also easy to get. Even if you want to go for a DIY costume, it would be one of the easiest to arrange.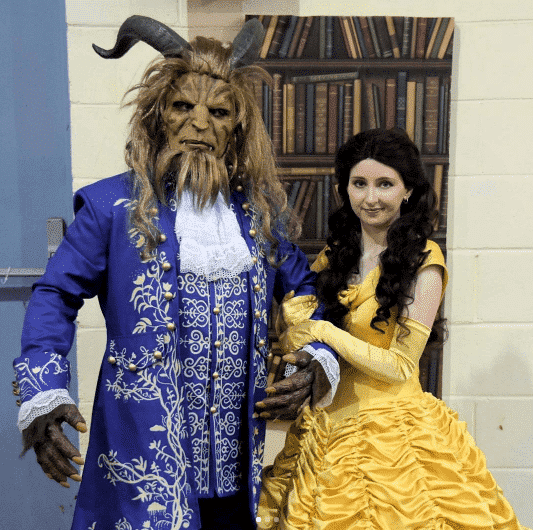 ↓ 33 – Superhero Costumes for Women
For women, the most popular superhero costumes this year are wonder woman and Harley Quinn.Check out this step by step video tutorial for a DIY wonder woman costume and makeup:
https://www.youtube.com/watch?v=dcATRIhQ58E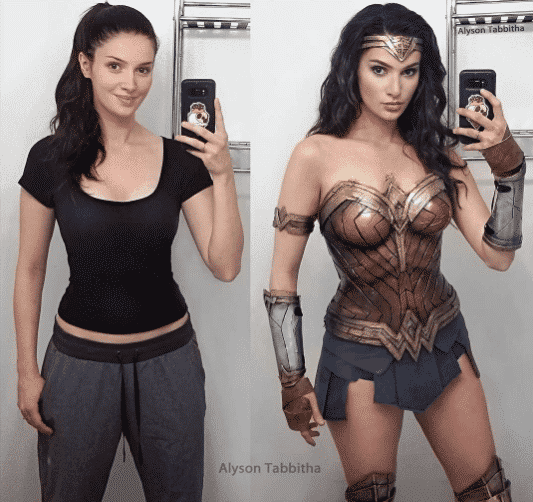 Or you could show your devilish, crazy and bold side with a Harley Quinn costume: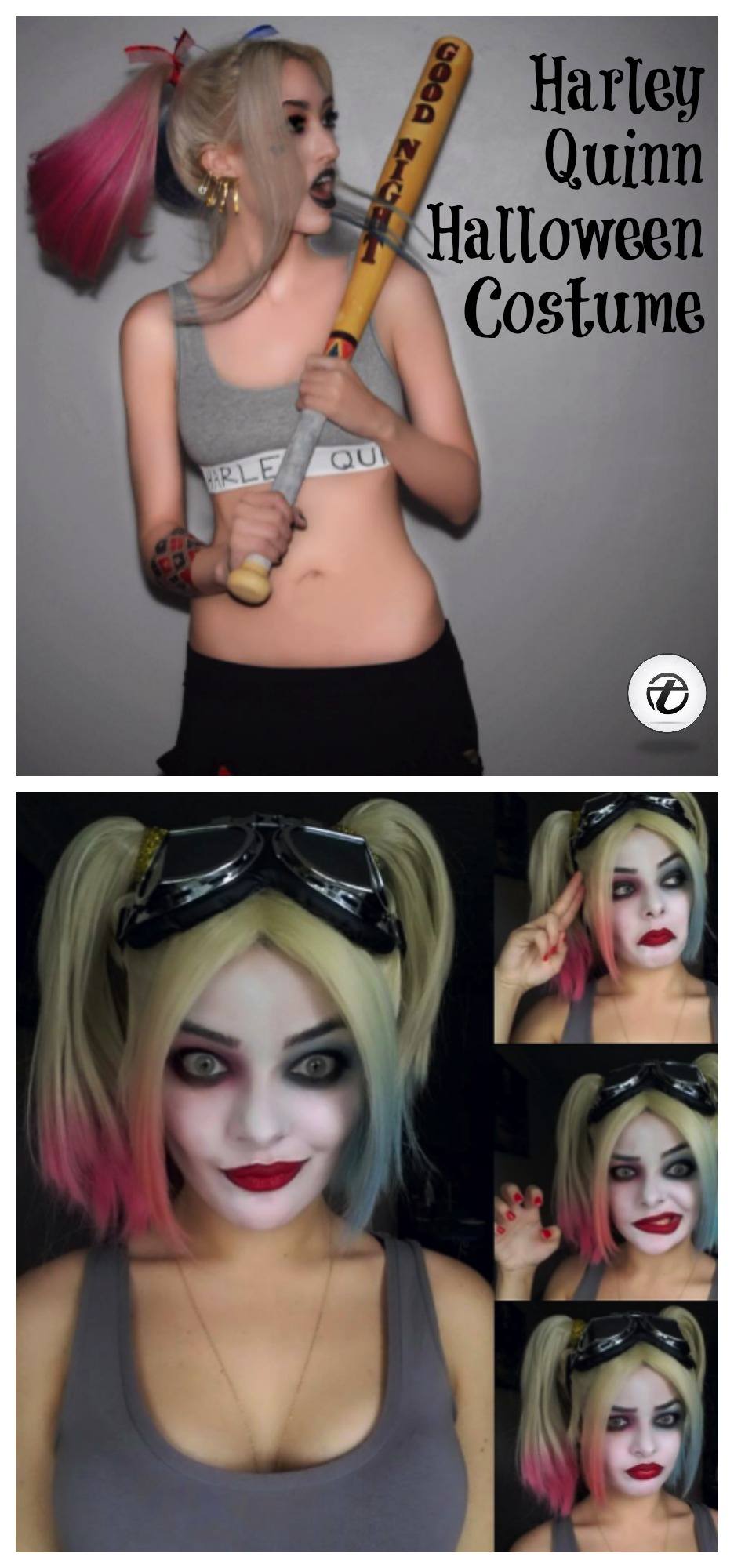 ↓ 32 – Best Hollywood Costume for Halloween
If you're a horror freak then this year you're in luck. With the release of the "It" movie, it's going to be the most popular costume of the year and you have so much room for creativity when you try to dress as a scary clown.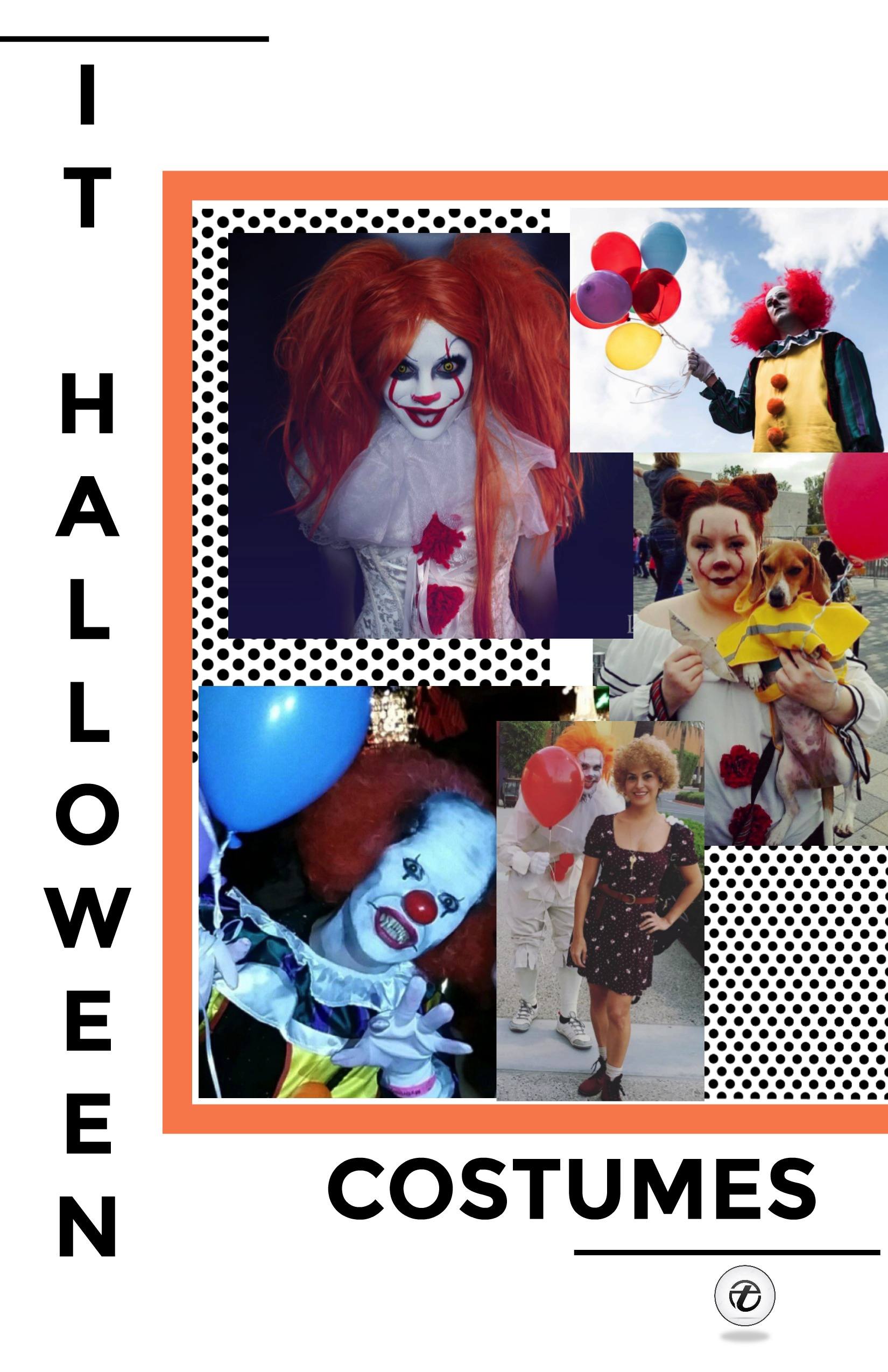 ↓ 31 – Stranger Things Halloween Costumes for Adults
Stranger things was a hit amongst Netflix viewers and with its new season almost here, it is an even more hyped trend. Here are some really amazing Halloween costumes inspired by this amazing series.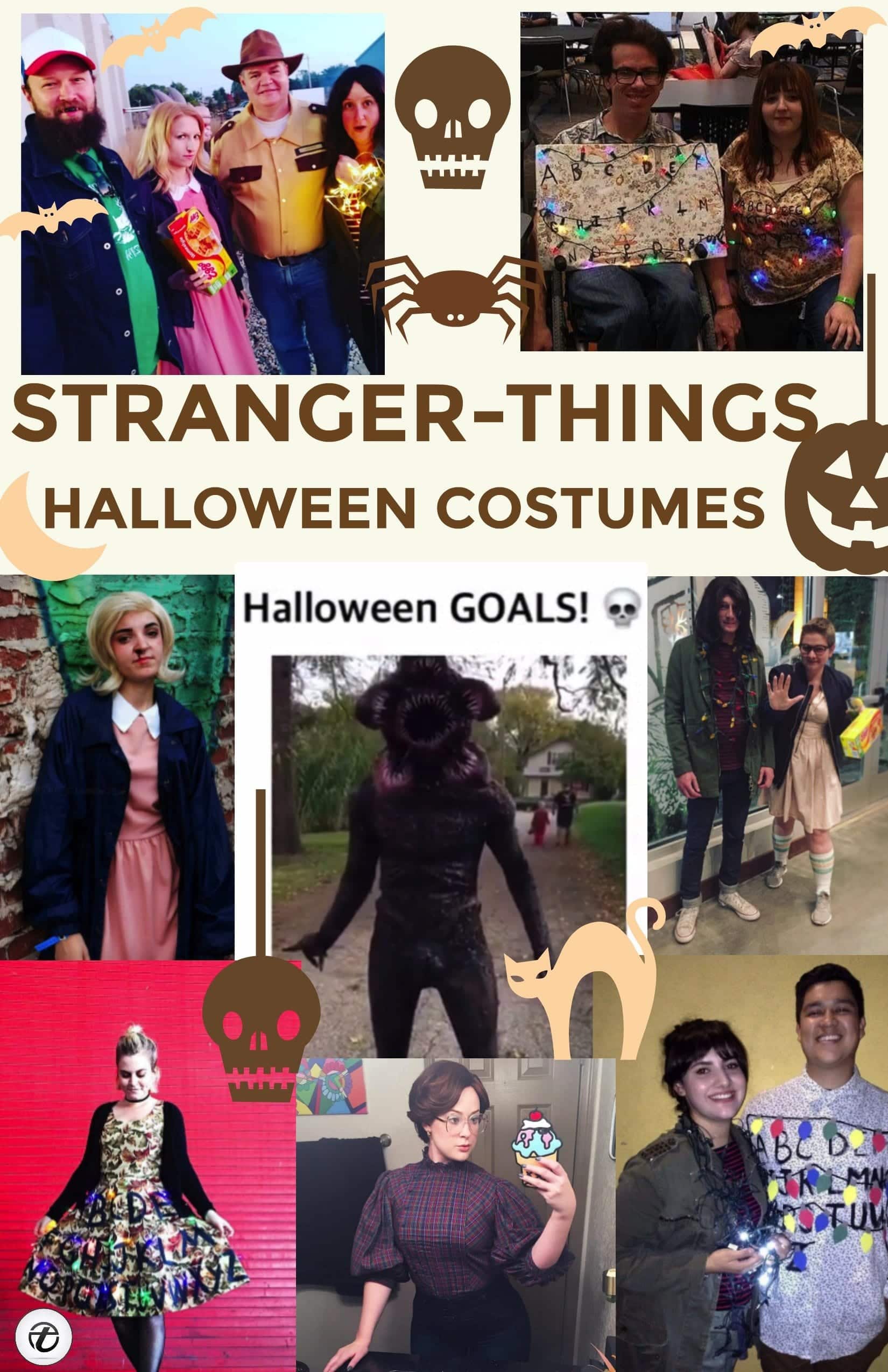 ↓ 30 – Captain Jack Sparrow
Nothing is more hip than good ol' Captain Jack Sparrow. With some old worn out jackets, beads,hats and loose pants you can pull of this look easily. Don't forget to apply a good amount of greasy kohl to give the full affect.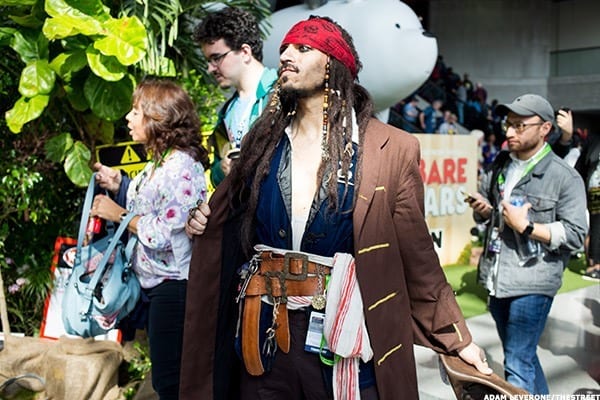 ↓ 29 – Nerdy Halloween Outfit Idea
If you're a little tight on budget then just pull over a green jumper and skirt to revive Welma.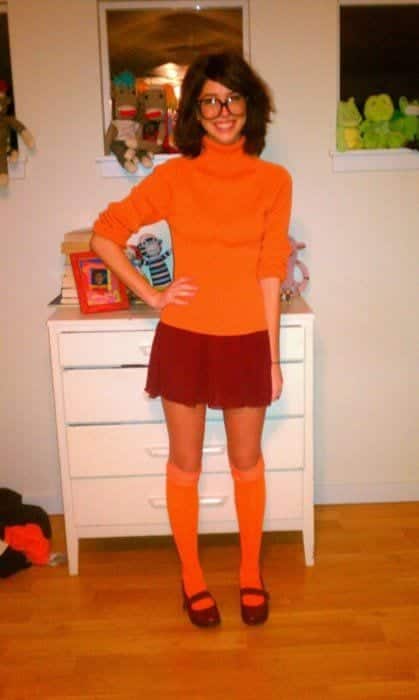 ↓ 28 – Halloween Costume for Harry Potter Fans
Or if you are still into your Harry Potter phase, you can rightfully turn into Severus Snape.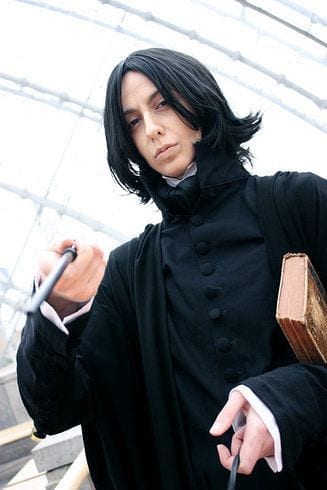 ↓ 27 – Rain man
Something that will require it's fair share of hard work, this costume is totally worth it. You also need to find a good make up artist.
↓ 26 – Simple Pokemon Costume
We all were once bestowed by Misty during our Pokemon days. This outfit is relatively simple, affordable and undoubtedly humorous.
↓ 25 – Game of Thrones Costume for Halloween
No GOT fan can forget the enticing moment between Jon Snow and the White Walkers in season 5. Here is a costume to tribute that epic moment. For more GOT based ideas, check out this exclusive collection of the 30 Best Costumes from Game of Thrones
↓ 24 – Mr Hesignburger and Jesse Pinkman
Take irony to a whole new level be creating this outfit from the context of Breaking Bad. Very 2013ish but an ultimate winner.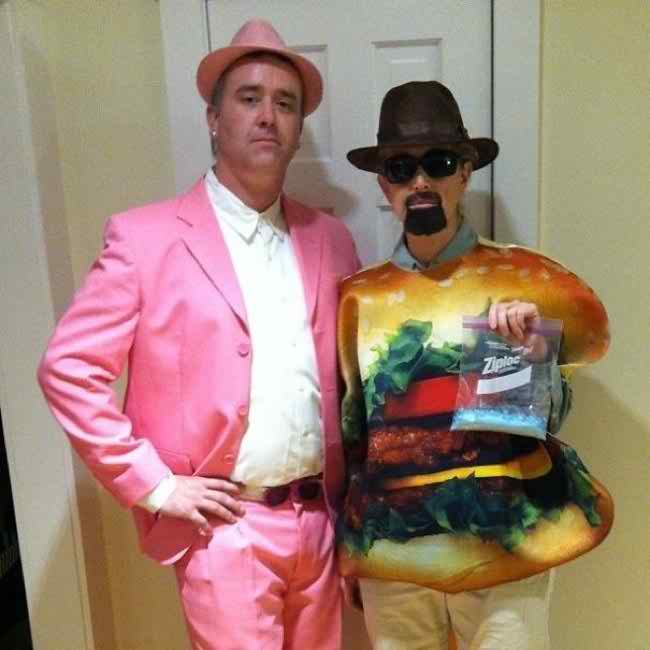 ↓ 23 – One Night Stand
Add humor to your Halloween with this weirdly funny costume.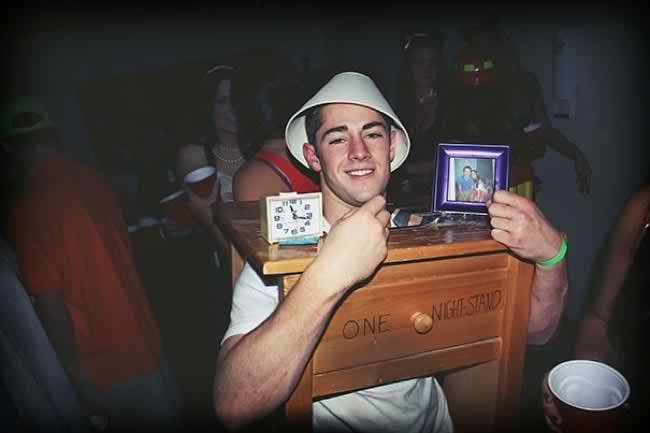 ↓ 22 – Modest Halloween Costume
Who doesn't love Sheldon and Amy from Bing Bang Theory? This simple to make outfit is perfect for couples. And if you're someone who loves modest fashion then you obviously know that these two are known for their incredibly modest outfits so do give them a try.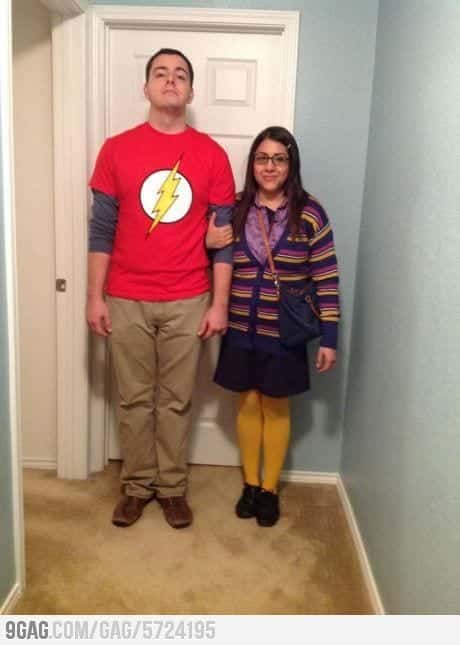 ↓ 21- Trapped Mouse
This heart alarmingly cute outfit is very simple and plausible.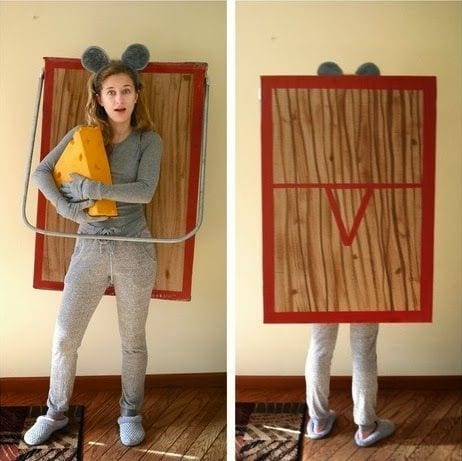 ↓ 20 – Vampire Couple
A very classic retro costume. You can simply wear a black outfit with some good make-up, you might find some inspiration from these sexy Women all black outfits.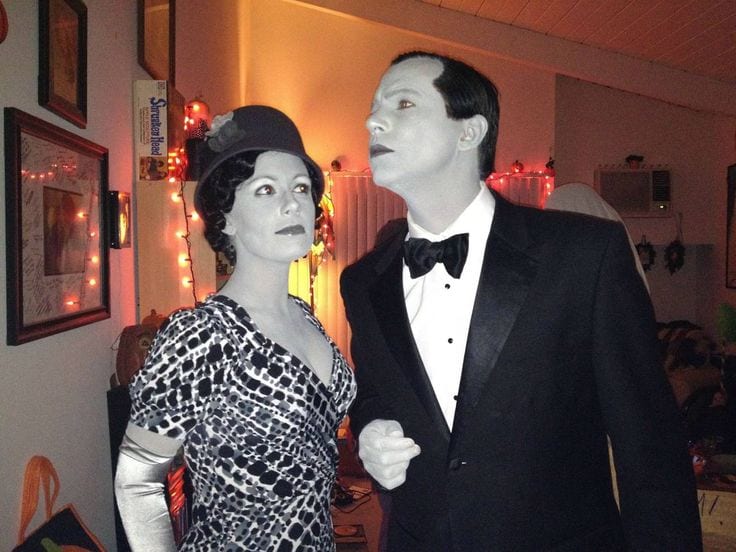 ↓ 19 – Popeye and Olive
A classical couple for romantic outfits.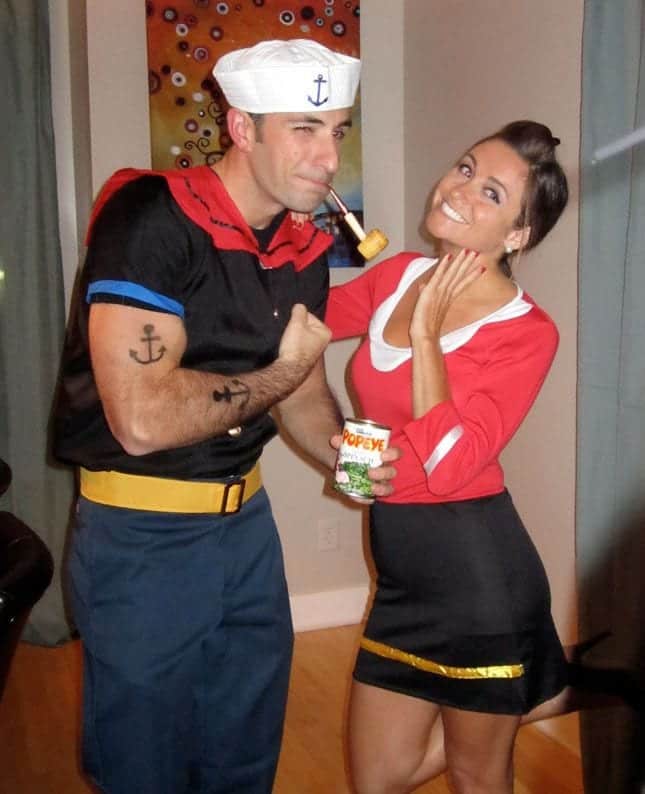 ↓ 18 – Pineapple
For some more ideas, have a look at 16 fancy Ladies Halloween Costumes to Try this Year.
↓ 17 – Stick Drawing
Very easy and innovative.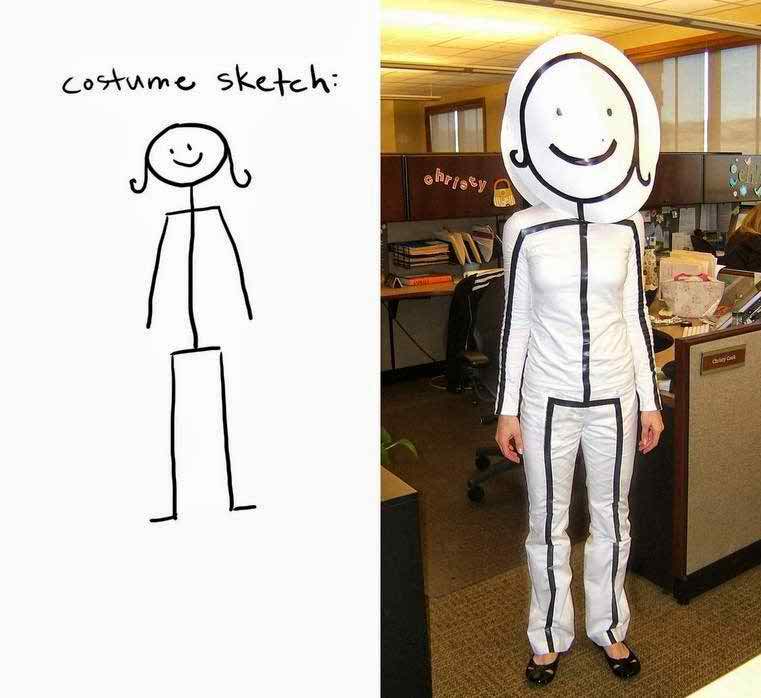 ↓ 16 – Last minute Costume
Got no time? No problem, a marker and white tee would do.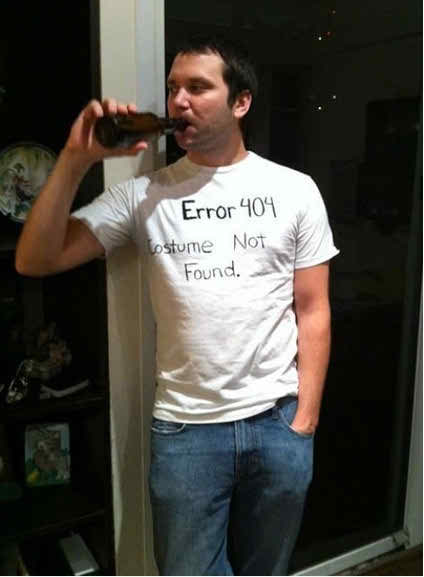 ↓ 15- Bacon and Egg
Who doesn't love bacon and egg?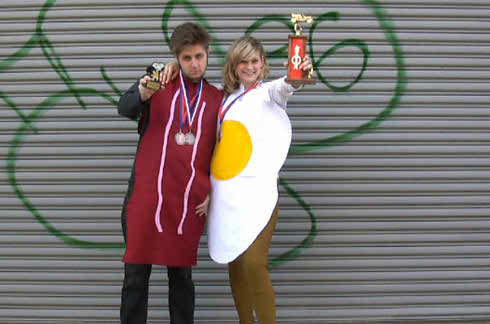 ↓ 14 – I-Phone
Don't have an I-Phone? Become one!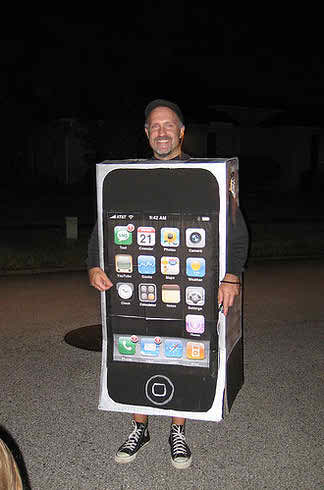 ↓ 13 – Face Rushmore
Bring Hollywood to yourself with this costume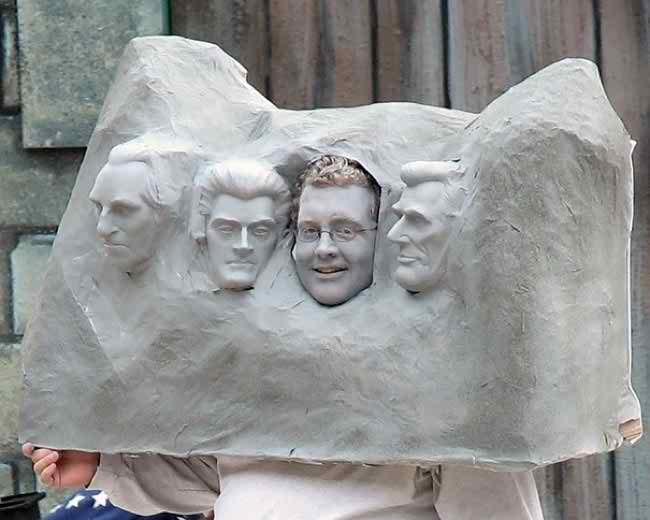 ↓ 12 – Flying Carpet
A bit of Alladin inspired costume.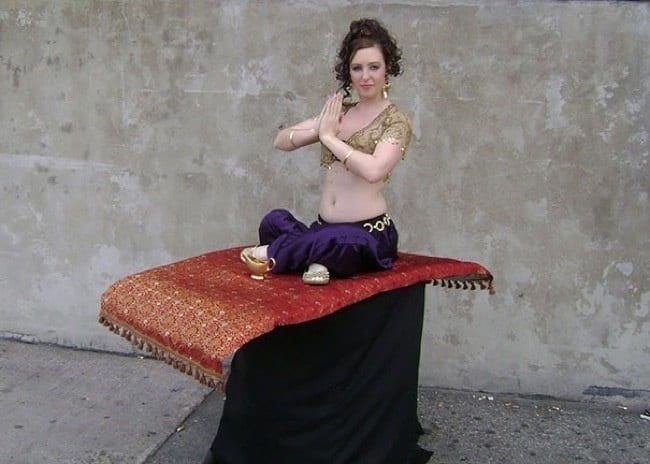 ↓ 11 – Headless Body: Horrible Costume
If you're into taking spooky to a whole new level then you must try this headless body costume.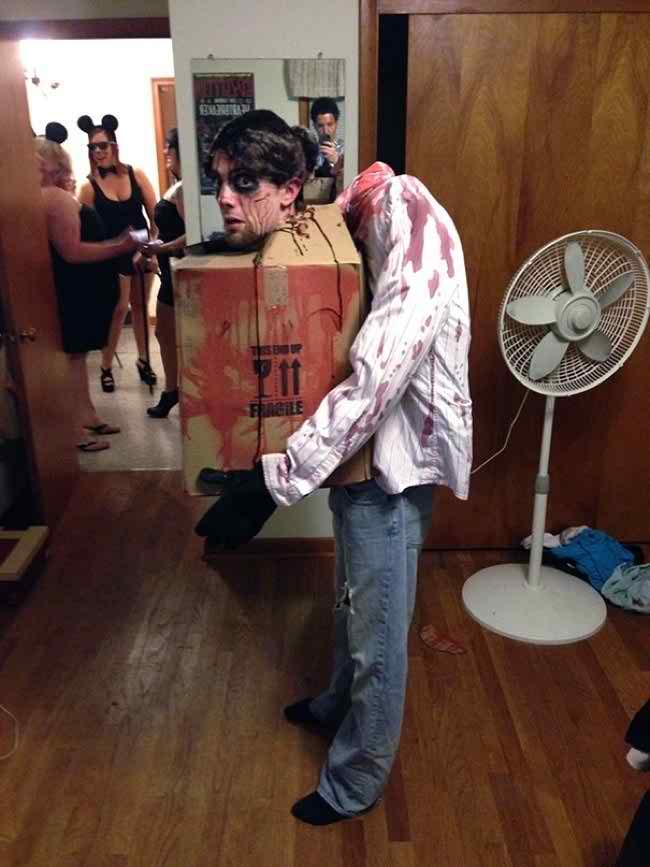 ↓ 10 – The Joker
A good joker costume has less to do with cloths and more to do with the right makeup skills.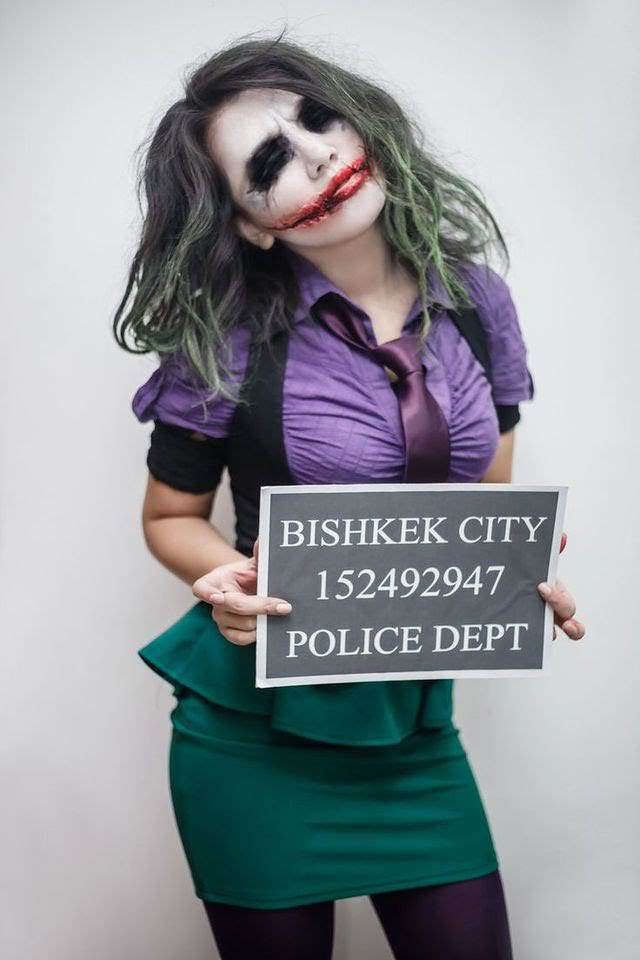 via
↓ 9 – Russell From Up
All you need is a yellow top, cap, shorts and balloons! Perfect for asian kids. And for your cute little toddler costumes, don't forget to check out these 12 cute minion outfits for babies/toddlers you will love[.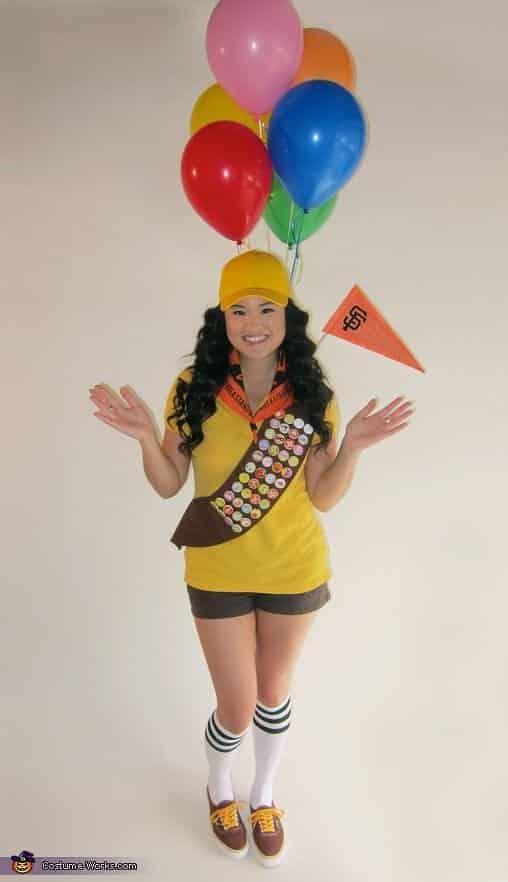 ↓ 8 – Taxidermy Dear Costume
↓ 7 – Instagram
↓ 6 – Lego Family
If you want your family to look super cute, then try this lego costume.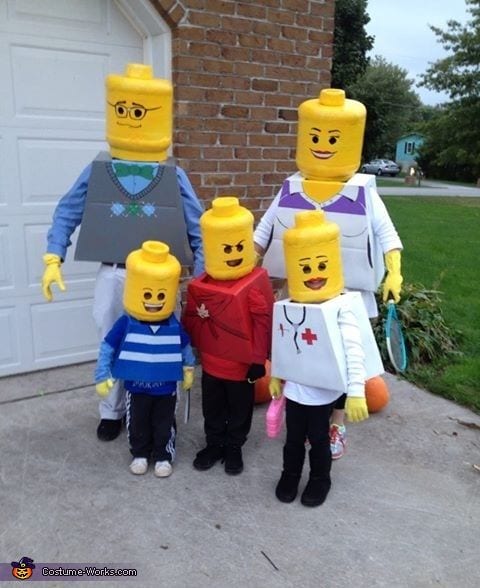 ↓ 5 – Minecraft Man
If you're short on time, money and somehow ideas. Try this one.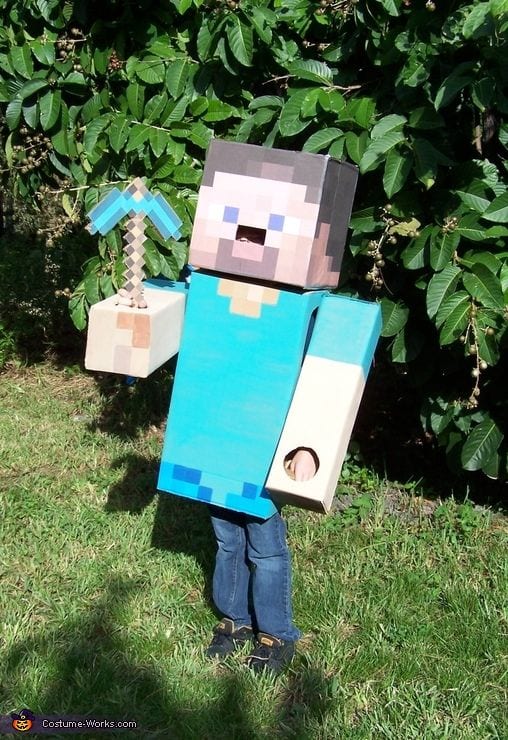 ↓ 4 – Motricia and Gomez Adams
One of the best couples costumes from the Adams Family.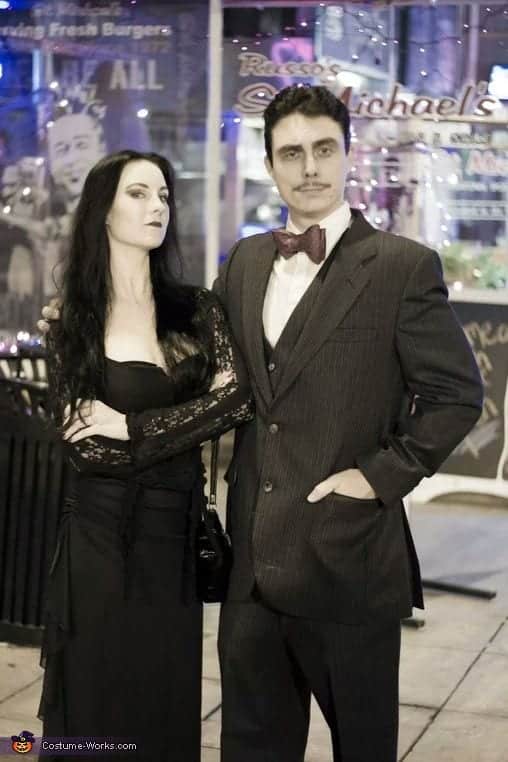 ↓ 3 – Castaway Couple
Perhaps a very subtle and creative looks for all the movie fanatics.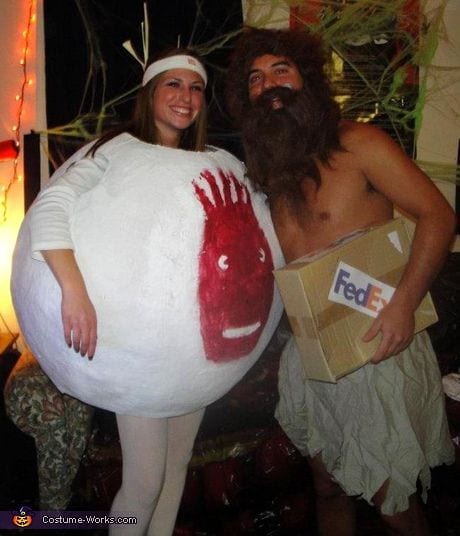 ↓ 2 – Darla, Finding Nemo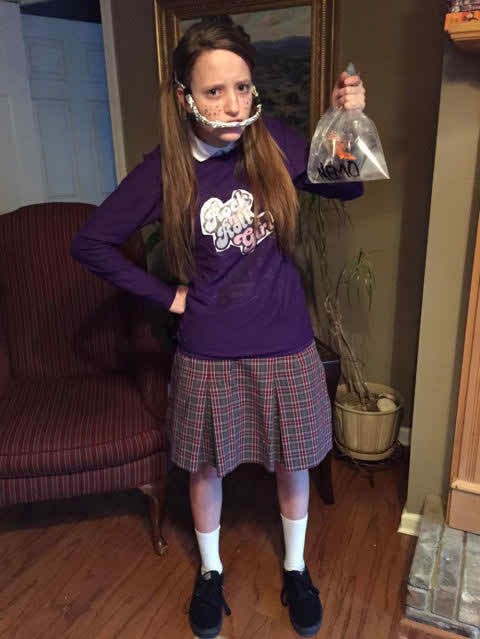 ↓ 1 – Pets Halloween Costume
Why leave your dog behind in Halloween celebration?