Summer Jeans Outfits for Girls 2018: For ages now, various shape and sizes of jeans garments are available for women but this was not always so. Jeans and pants were a strict no-no for women back in the 1900's, and Levi Strauss & Co. took a big bet when they first introduce women jeans in 1934 and brought about a massive revolution in the women fashion world. Women wearing pants was still considered a major sin so it was a huge thing to do at that time.
It was around 1950s when the women could easily wear denim and it was available to them easily with the help of Levi & Strauss. Back then wearing jeans was not just a fashion statement but rather a sign of liberation starting the idea of giving women the right to dress up as they wanted. In celebration of the freedom of wearing jeans in whatever form we please, we have gathered some awesome summer jeans outfits for you that will refresh your choice for wearing jeans this summer.
How to Style Jeans This Summer Without Breaking a Sweat
Keep these tips in mind while styling jeans for summer:
Before trying the denim on denim look, think carefully about the colors and style of your top and bottom pieces of garments. Conflicting styles or colors can easily ruin your outfit.
Don't overdo jeans items while styling up. If you overload your outfits and accessories with denim or jeans pieces, you will just create a huge mess. Keep at a maximum of 2 denim garments at most.
Experiment with distressed jeans and don't be afraid. However, beware of taking it too far.
Cuff your jeans for a smart and chic casual look.
Try colorful pieces of denim while keeping the top options to light colors like pastels.
Throw your baggy pair of jeans away and instead go for a form-fitting pair of jeans this year.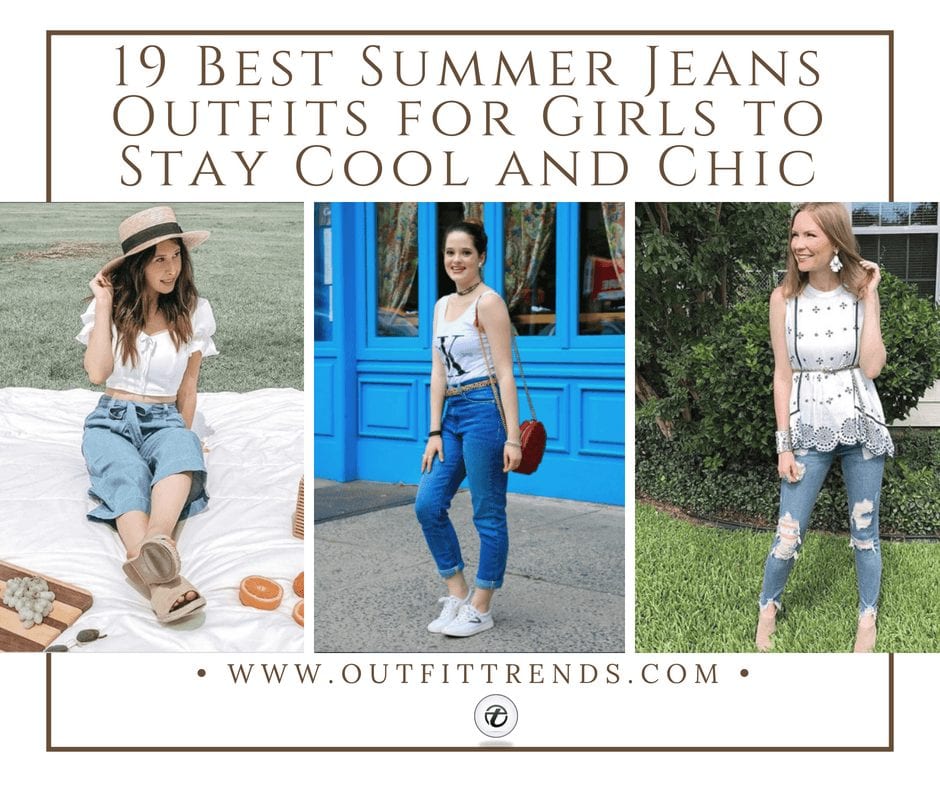 ↓ 19. Picture Perfect Picnic Outfit
Picnic plans go hand in hand with summer and they are a favorite quintessential activity that everyone looks forward to and craves for. If you are searching for the perfect picnic outfit, always make sure it is both chic and comfortable. This classy white crop top with puffed sleeves and cute little bow in the front is perfect for lounging on soft picnic blankets. Pair it up with easy going jeans tie waist culottes that are high rise and has a relaxed fit. Wear comfortable nude colored sandals and you are totally picnicking ready! You can get the Shirt here and the pants from ASOS here.
Since mom jeans are all the rage this summer, here are 25 Chic Ideas How to wear Mom Jeans.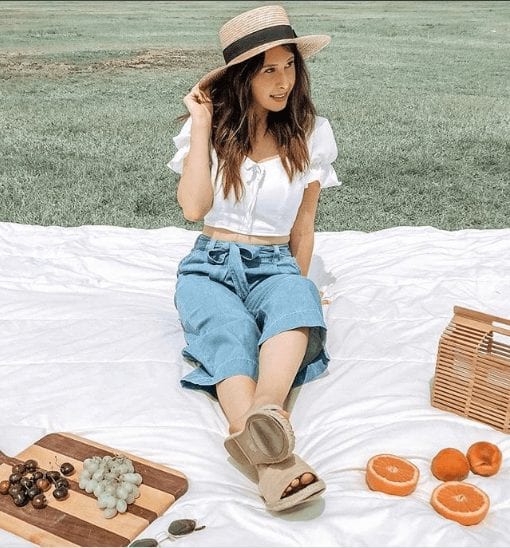 ↓ 18. Cute Summer Traveling Outfit
Being a wardrobe staple, jeans and a white top is a classic duo that can be dressed up or down to create various different looks when you are traveling. For a perfect summer traveling outfit, wear your white top and denim short with a cute striped duster or kimono because that is one obsession we can't get enough of. With loose fitting and flowy fabric, it will be an ideal partner for dressing up any summer day. You can wear high heels or boots and carry a fancy purse to further enhance the whole outlook. Here are 20 Cute Summer Travelling Outfits for Women.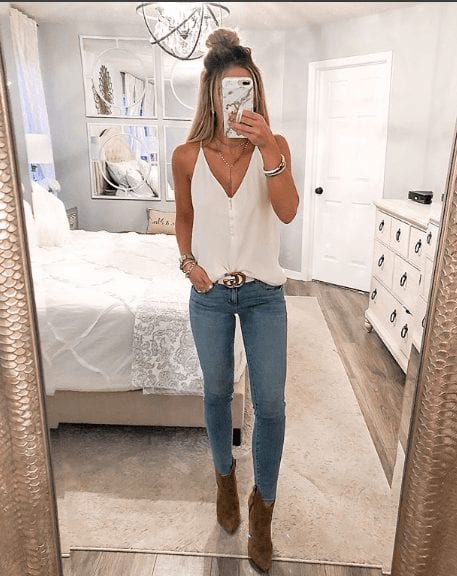 ↓ 17. Summer Shopping Outfits
Without shopping spree with girlfriends, summer seems incomplete and while deciding on a perfect shopping outfit, you can always wear a jeans dress and totally appear cool and chic. This cute sleeveless scoop neck dress with metal buttons in the front is ideal for hot weather and with the white slip-on, you are good to go. Add a blue headband or bandanna and you will look pretty as a picture.
This dress is available in all sizes here.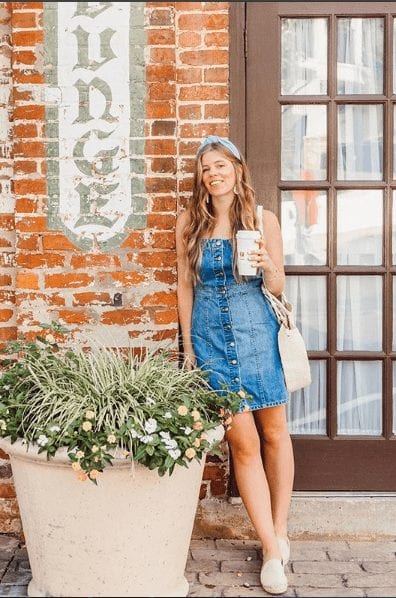 ↓ 16. Summer BBQ Outfit
Wanting to try something modern and edgy this time around for a summer bbq party? Try this awesome top with distressed jeans leggings and you are ready! This top is airy and sophisticated and will keep you cool during the summer evenings. Wear a cute metal belt with this outfit, big white chunky earrings and carry a straw tote or purse for an effortlessly cool and chic look. You can get these awesome distressed jeans leggings here.
Do check out these 21 Ways to Wear Jeans at Work.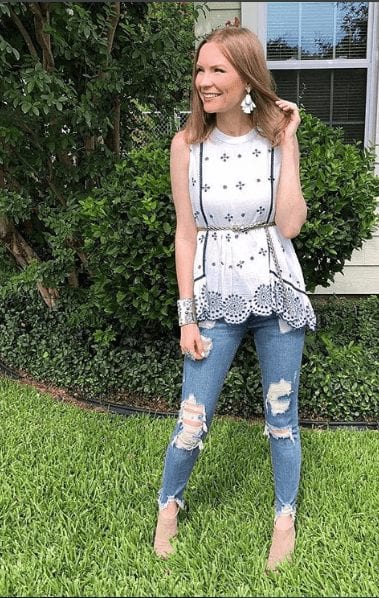 ↓ 15. Perfect Beach Outfit
Summertime means meeting the waves and cooling off at the beach. Whether you are planning a date night or something exclusive at the beach or are just going for something low-key, jeans will be perfect for any occasion.
For a formal look, go for a trendy peplum top and pair it with these awesome white cropped jeans with a raw hem. You can find this top here and the jeans here.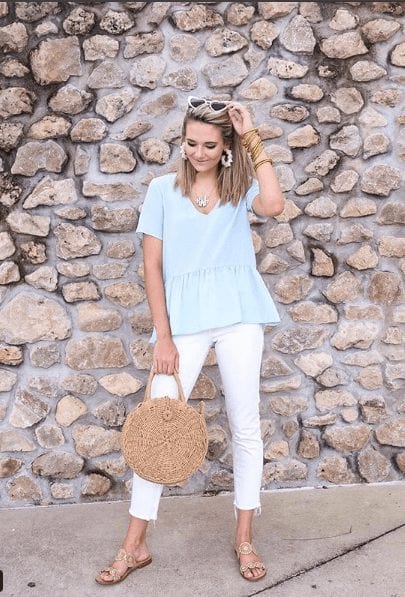 ↓ 14. What Are The Different Ways To Wear White Jeans This Summer?
White jeans could be a nice substitute for the usual pants that you may wear to work. So for business casual attire on Fridays, white denim will be ideal for a summer day. You can keep it totally professional and chic at the same time by wearing a crisp collared shirt and a structured blazer. This is a great outfit for transitions especially if you are attending business meetings and later meeting with friends for drinks. Here are 20 Best Summer Office Wear for Women.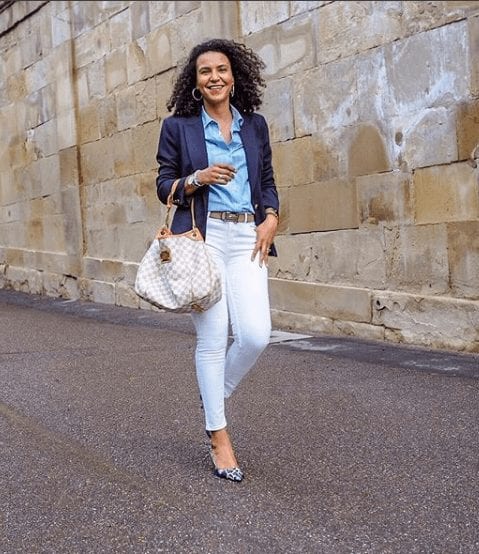 Here are some more gorgeous ways to style your white jeans this summer:
With a white top: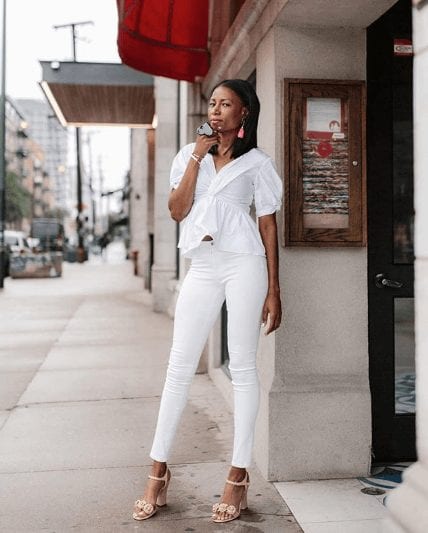 With a lace black crop top: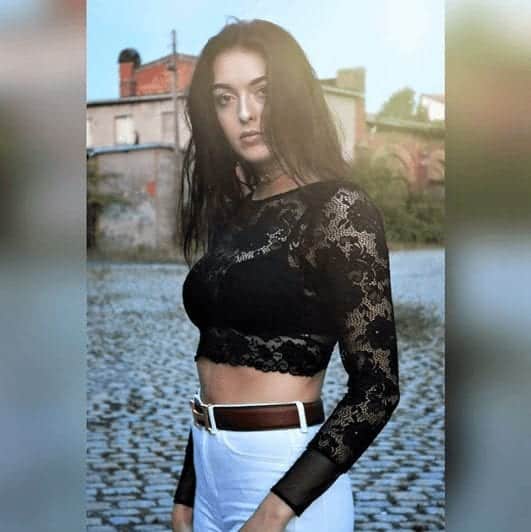 With a spaghetti sleeve dress, you can buy the white denim seen below for just $44 from here: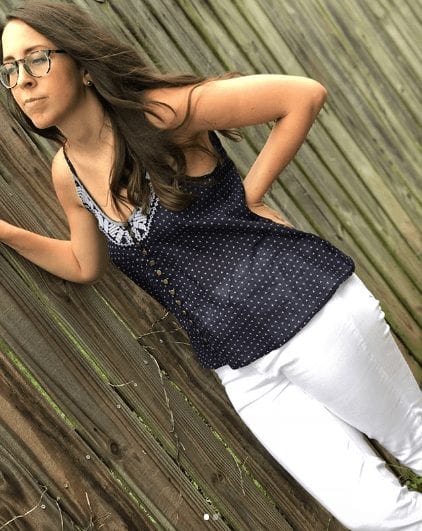 With a sleeveless dress shirt: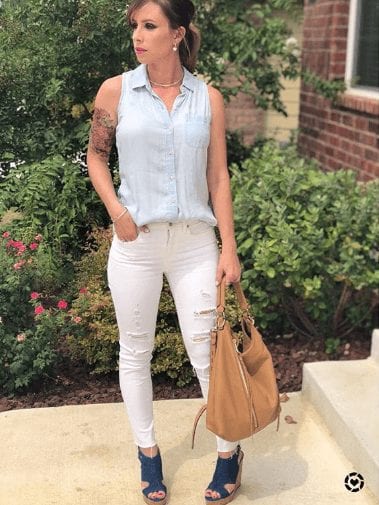 With an off-shoulder dress: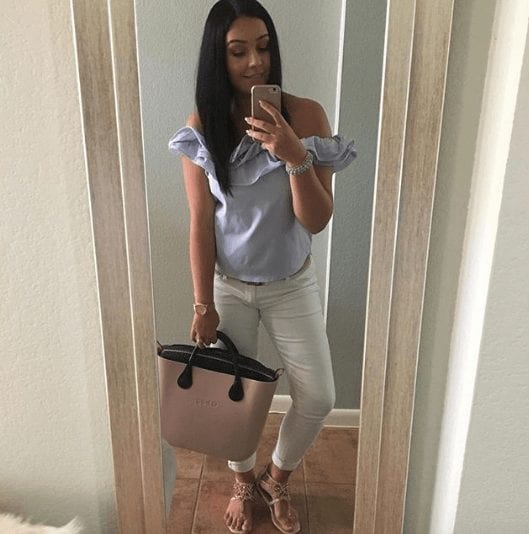 And with a boho flowy tunic top. For more ideas, check out these 23 Chic Ways to Style White Jeans.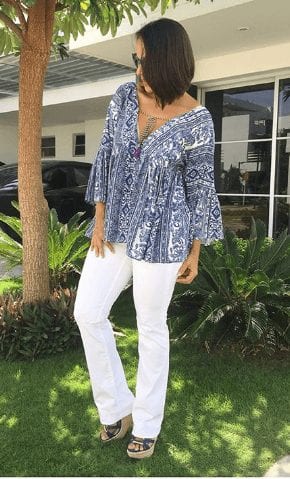 ↓ 13. Classic Daytime Look for Summer
For a classic daytime attire in summers, you want to look for something that is not just both casual and comfortable but will also look trendy and cool. Skinny Cropped Tops are sensational for the daytime look and can be paired with cute tops for innovative styling ideas. For a sexy look, try this extremely flattering pair of high-rise white cropped jeans with a raw hem. Pair it up with a cute ruffled crop top and chic white electrifying sandals for a great look. Blue tops go magically well with white jeans and this is one pair you will never get tired of. You can get this pair of jeans here.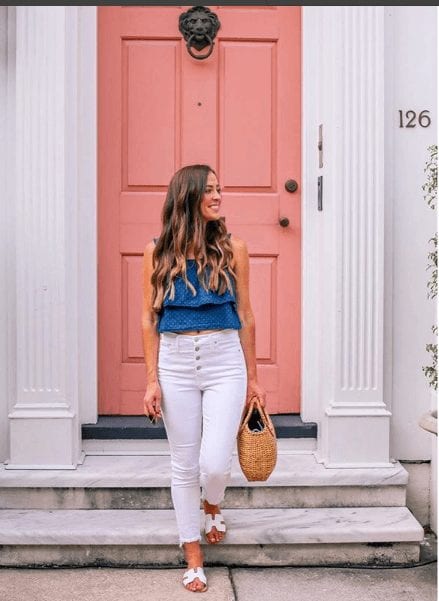 ↓ 12. Cute Graphic Tops with Jeans
It is often confusing as to how to wear graphic tees with jeans in new ways that are not very much cliched. Our tip is for once, ditch those typical phrases and quirky one-liners graphic tees, and instead bring out the graphic tees with logos, because these have been growing popular both on the runways and streets. For a sleek look, wear your graphic tee with jeans and a gold buckle belt with black high heels.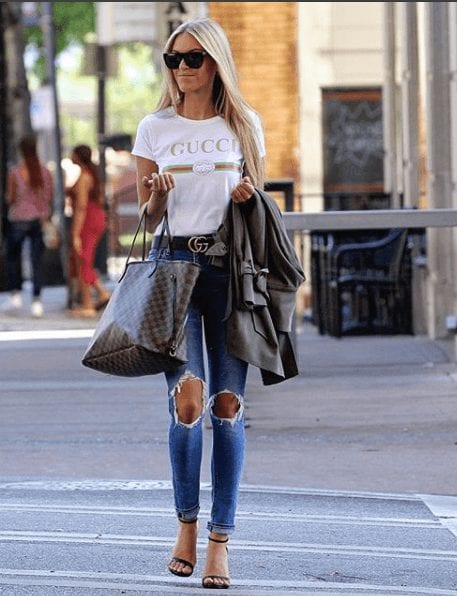 For a more laid-back look, go for mom jeans and a classic pair of logo graphic tee with white sneakers.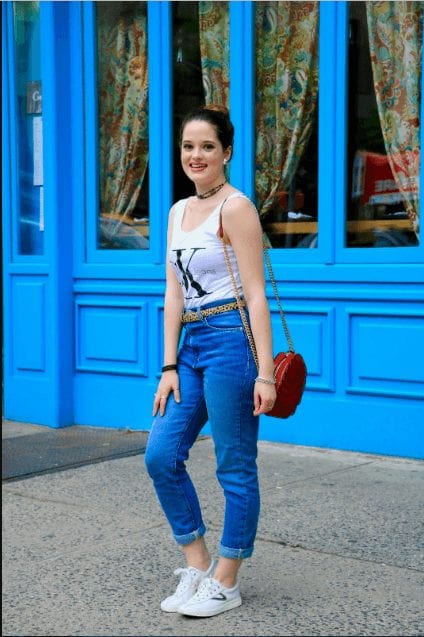 ↓ 11. Outfit for Vacation
Jeans are just perfect to carry on vacations because they can be paired up in a million ways with little to no effort. A garment or two of jeans will suffice you for a long trip and don't forget to throw in a great pair of everyday jeans when you are on summer vacations because they are one sturdy companion. Classic Jeans with a cute top will have you covered for anything from daytime sightseeing to nighttime cocktail parties. You can find this paint-splattered funky pair of jeans here.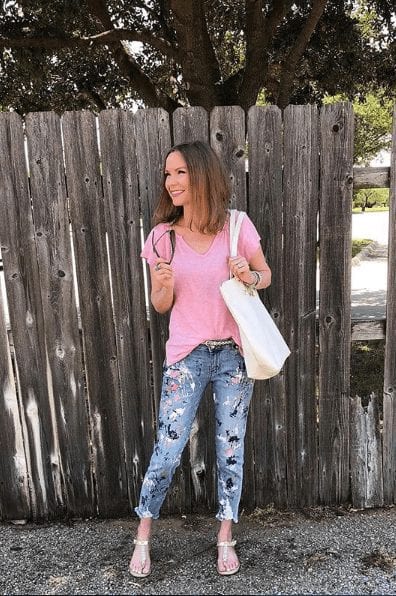 ↓ 10. Denim on Denim
Denim on denim is a classic look that will never fade away into the background and the trend is still going strong, however, there are certain rules and etiquettes to follow while carrying this look. The colors of various jeans garments worn together should always complement each other and the top should have a little or same shade compared to the bottom. You can wear some classy tops cropped or otherwise with chic jeans for an alluring look. Here are 32 Beautiful Denim Dress to Inspire your daily Fashion.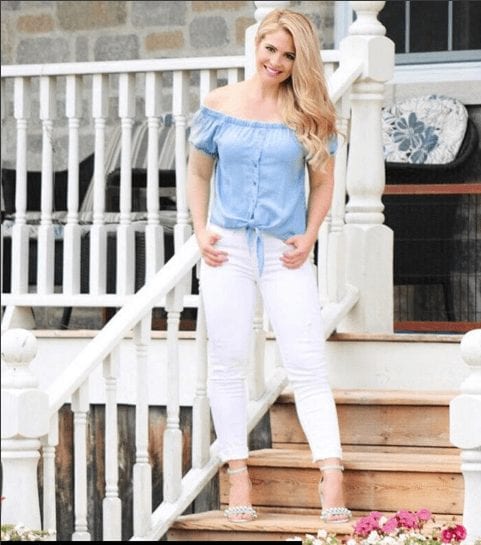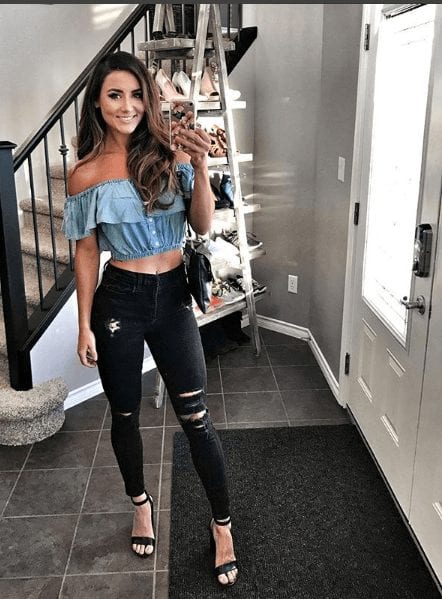 Via
↓ 9. Tie-Waist Jeans Outfit
Looking for something sassy? Say it all with this current trend of tie-waist jeans with belts on the waist that will cinch and crumble at the waistline so that it will appear slimmer. You can pair these up with your swimsuit, bodysuit, fancy tops or long blouse and for a great effect tuck the blouse in them. You can find this top here and these jeans here.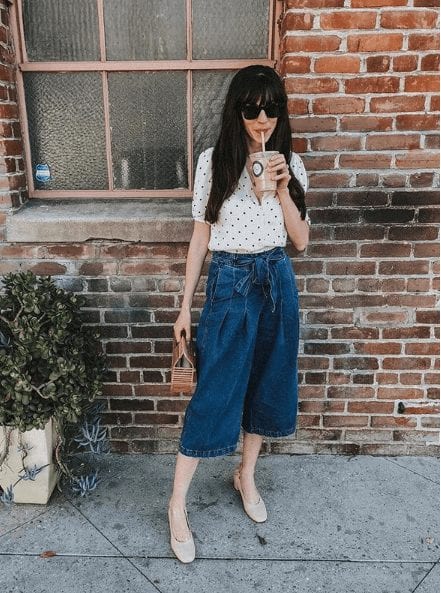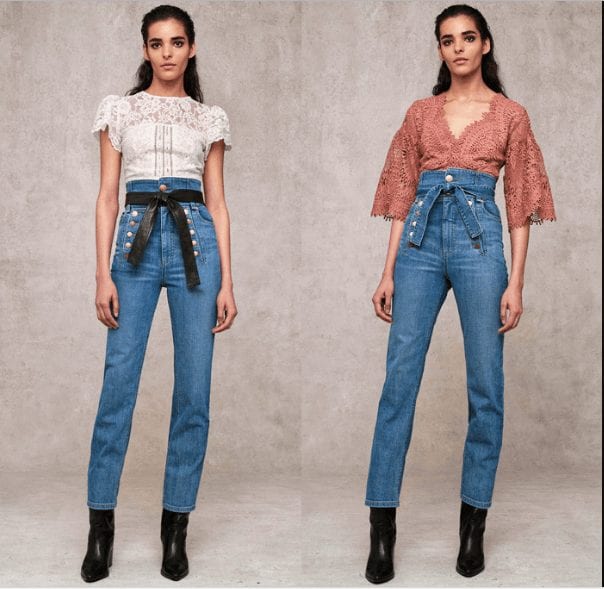 ↓ 8. Jeans with Plaid Shirts
A light plaid shirt can be matched with jeans for a cool and chic look without much effort. Plaid shirts add a great pop of color to the outfit and have a free and flowy feel that is ideal for summer. You can choose a Macro print Plaid shirt with ripped jeans and wear some edgy boots with this outfit and silver large earrings will add a nice touch to the complete look. You can find this plaid shirt here.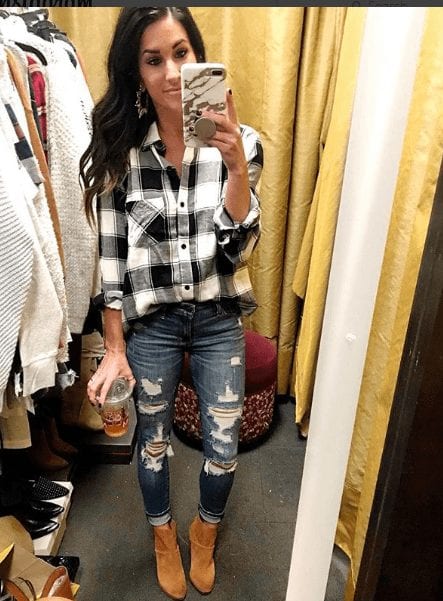 ↓ 7. Night time Party Outfit
It can be tricky to pull out a convincing summer night party outfit that will not mess with your style game and will keep you sweat-free. Colorful Jeans are there to the rescue! Cute mustard jeans will not only make you appear a diva with its sultry look but paired with a beautifully embroidered top can be your best bet for summer parties. You can pair it with blush heels for a fancy look and wear your favorite earrings for the occasion.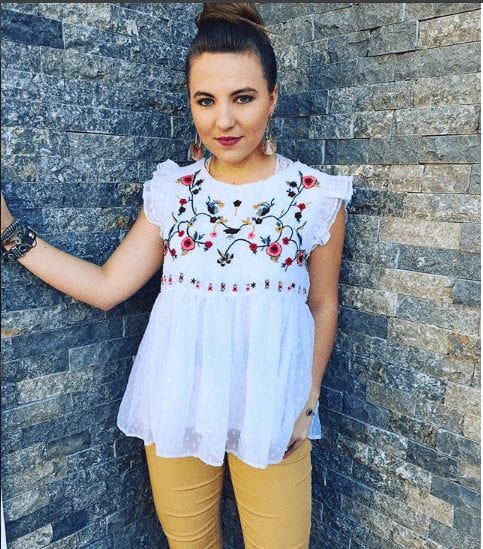 ↓ 6. Street Style Outfit
Personally, the embroidered pair of jeans is our obsession and we don't want you to just let it sit without utilizing it. The style statement brought on by these cute floral embroidery jeans is so classy and you can easily pull out any minimalistic top with panache. You have a multitude of options open with these types of jeans and you can dress them up with finesse and add either sneakers/slip-on or heels as the choice of footwear and there you go with a chic and yet carefree look. You can find some amazing embroidered jeans here and here.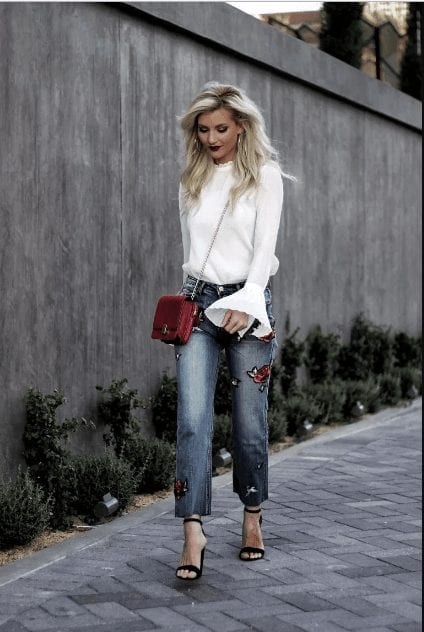 ↓ 5. Patterned Tops with Jeans
Patterns are making it big each year and for this year we ask you to try your stripped, animal prints and gingham tops with jeans. You can pair up these awesome tops with your favorite pair of the jeans whether its black, white or good old blue jeans and feel totally amazing and cool under the sun. Pair your favorite sneakers or heels and a white shoulder bag and you are good to go!
Don't miss out these 17 Ideas On How To Wear Printed Pants.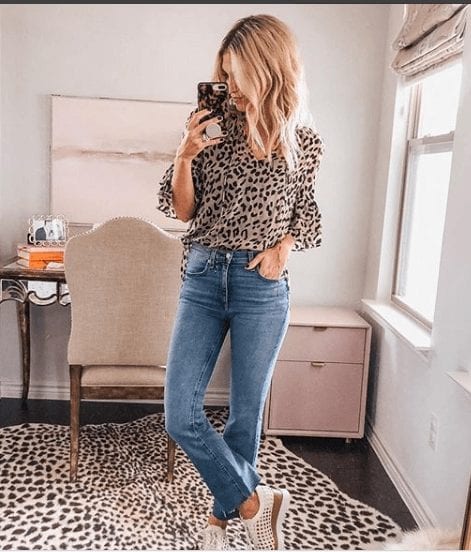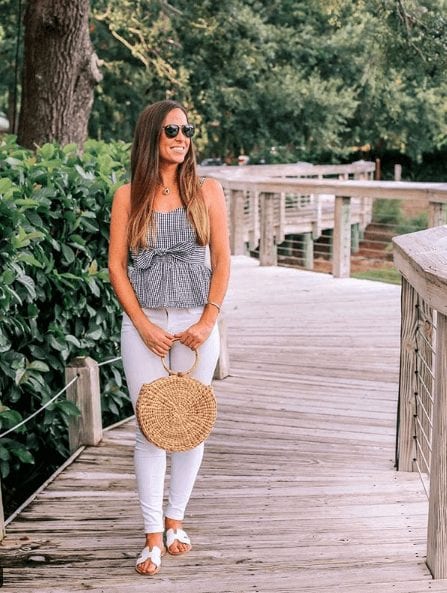 ↓ 4. Flared Jeans for Summer
This one piece classic wonder i.e. Flared jeans is here to fix all your wardrobe troubles. Getting dressed up is now a matter of seconds and it can be such a versatile piece that you can easily layer it up for a dressier look. The wide legged look will give you a classic illusion of a tiny waist and suits the curvy figures. You can find these cute white jeans here and the top here.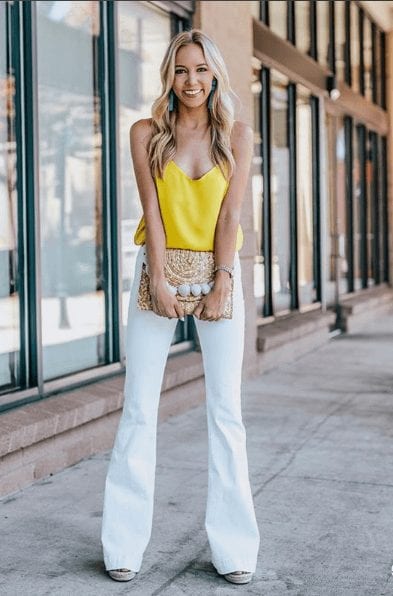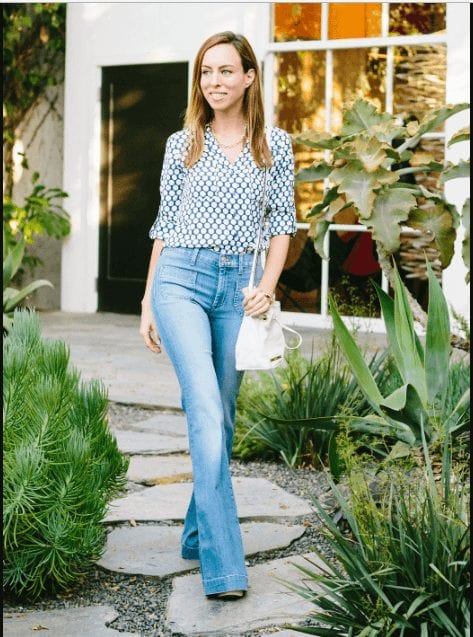 ↓ 3. What Accessories to Carry with Jeans
Accessories options to carry with denim are varied over the choice of your attire. For a casual girl-next-door look, go for a simple straw tote and wear a cute blue bandanna or headband. You can find this cute tote here and the cute knotted chiffon headband in blue.
For a more dressier look, go for a classic brown bag and these cute chunky long blue earrings. Big and bold jewelry pieces are making it big in 2018 and you don't want to miss this trend. These earrings are not too heavy for the ears but yet bold and big enough to mark you the fashion diva this year. You can get them here.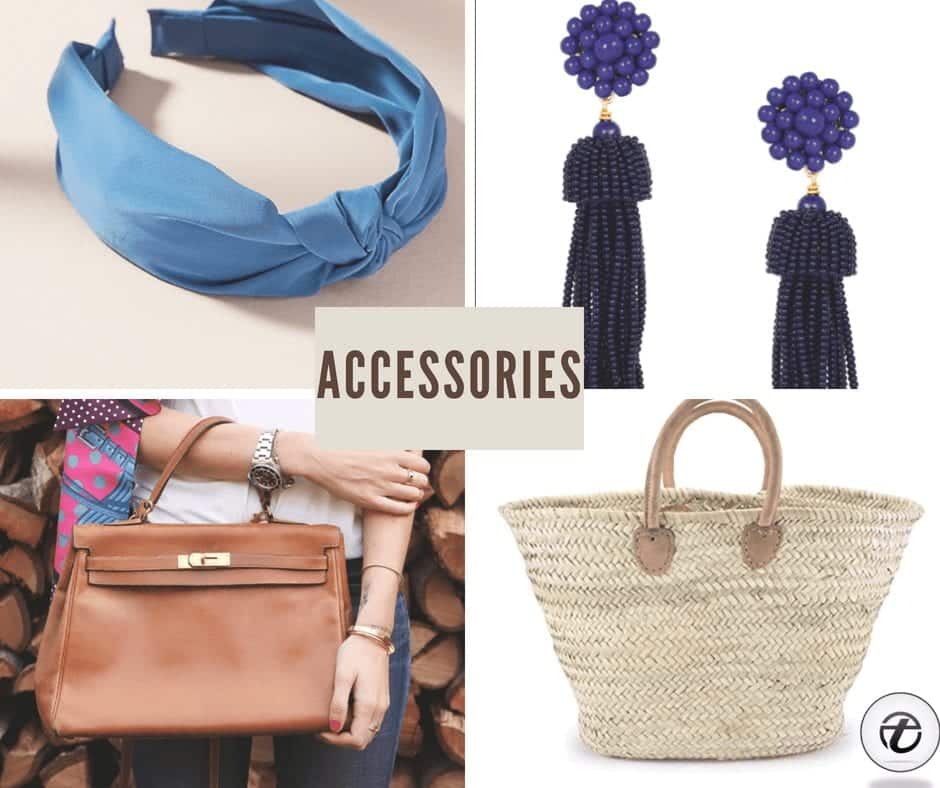 ↓ 2. What Shoes to Wear with Jeans Outfits
There are so many options as far as the footwear is concerned. From the summer staples brown sandals and slippers to white sneakers, and from brown boots to brown heels that can be used for a more dressed up look.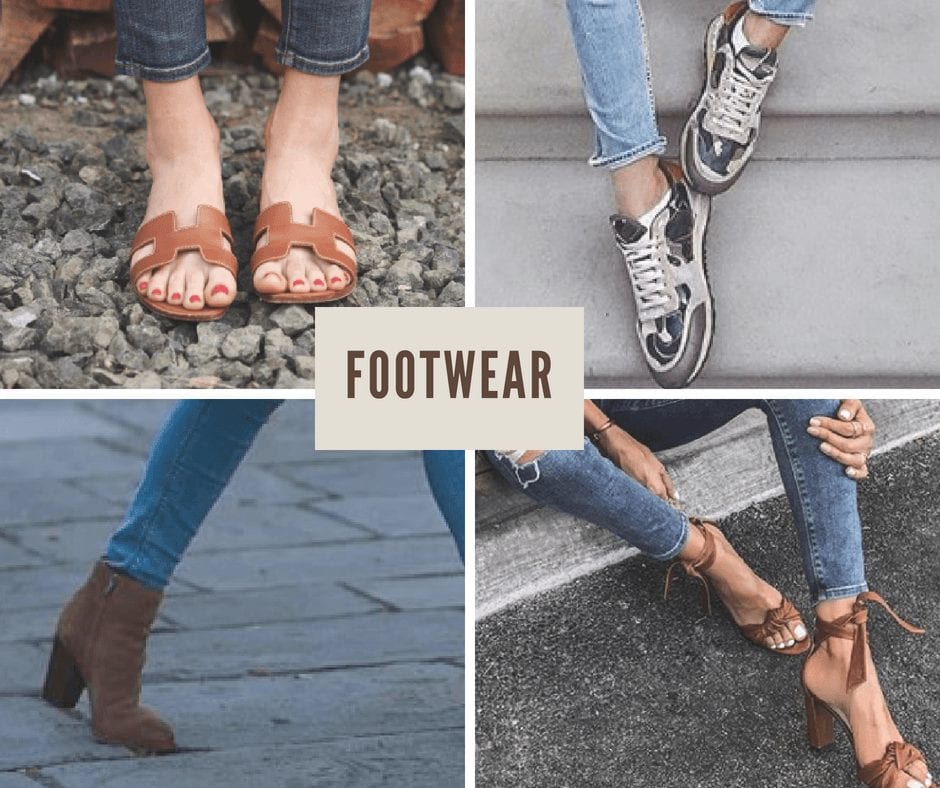 ↓ 1. Embellished Jeans
Embellishments add so much to your complete outfit and can easily be done by anyone. Take a string of pearl in any shape or size and enjoy playing around and designing with this miracle of nature. You can wear this embellished jeans with any top for summer and appear chic and cool without effort.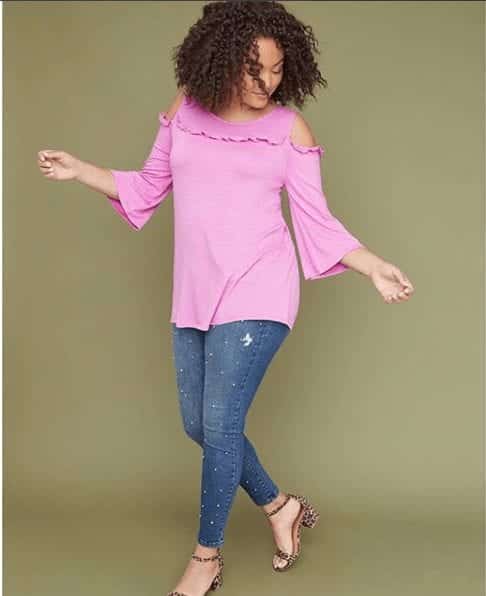 Via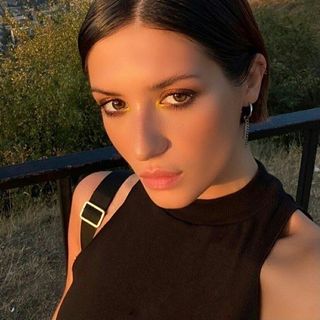 Avid reader and Fashionista. London Based freelance lifestyle editor