How to wear Business Casual Jeans for women- It is not very simple for women to decipher business casual attires for the office considering the kinds of jobs out there; however, by using your aesthetics the right way and following the basic business casual tips, you can definitely stun everyone with your professional office look.
What could get better than a hybrid of business clothes and not-so-formal casual garments? The time of wearing the same boring neutral-coloured suits is gone, but you can obviously not wear a sundress with slides to work. Jeans can be turned into formal office wear with just a little mixing and matching. It is time to wear jeans to work without any stress or violation of the dress code. Nowadays, most workplaces are trying to provide their employees with a professional-casual environment, which has led to the removal of the stereotype of jeans being a sartorial blasphemy at the job.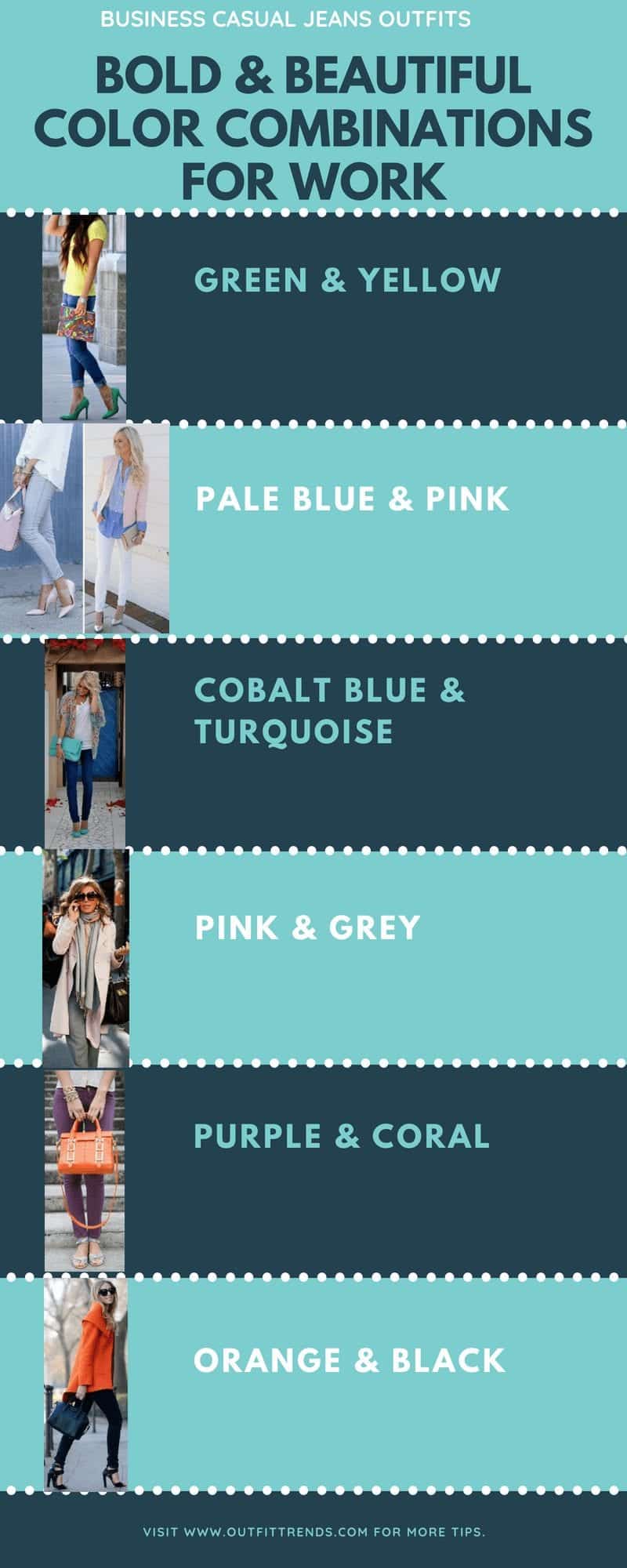 Business Attire with Jeans
Can you wear jeans to work? There are multiple ways you can turn your jeans into work-appropriate attire, and I'll try to gather the 21 best ways which will go perfectly with not only your body shape but your occupation as well. It is high time to move from extravagantly polished suits or pencil skirts to semi-formal jeans combos.
Let's start with the do's and don'ts :
No matter what type of jeans you wear, the fitting is of utmost importance. The ideal work-appropriate jeans would neither be too fit nor too loose. It's pretty obvious that in a business environment, dad jeans would never fit in. So when buying jeans for work, make sure that you go for the right fit.
For days when you have nothing but your casual jeans, a well-tailored blazer can help you bring the whole outfit together.
No matter what you do, ripped and distressed jeans will never be appropriate for work if you work in a professional environment.
For times when you want a more professional look, such as a presentation day, opt for jeans with a refined dark wash instead of lighter or colourful ones.
Minimalism is the key when wearing jeans to work; if you go over the top with embellishments on your jeans, you're going to lose the polished look.
There are many hairstyles that you can choose for your jeans outfits at work; our favourites this year are the ponytail, half ponytail, and a sleek top bun.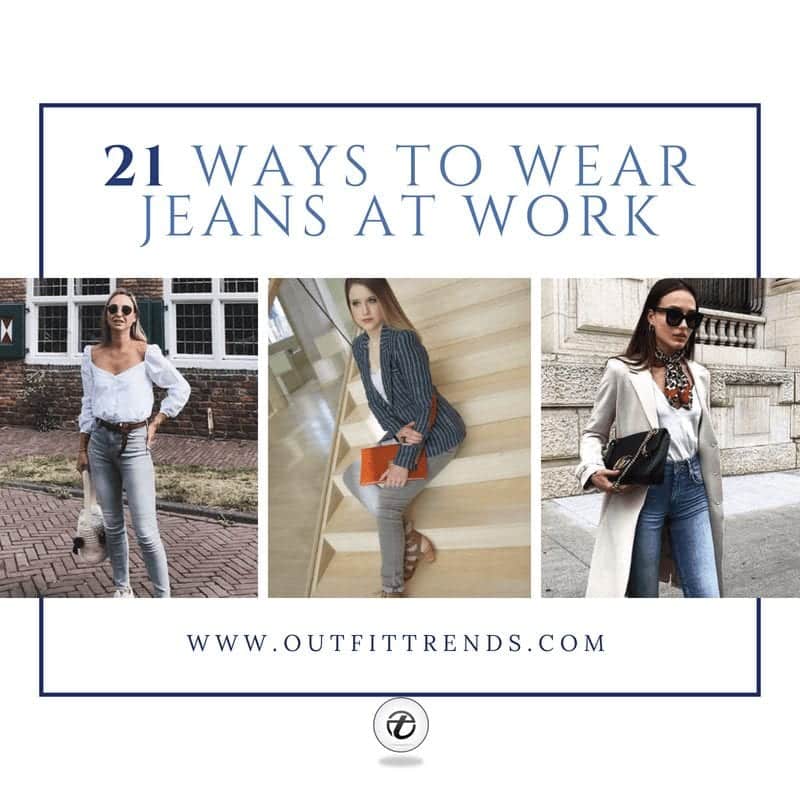 ↓ 21- Casual Look with Denim Tops
Denim tops are going to be considered highly unprofessional but you can definitely make them look office-appropriate with jean pants in black, grey or navy and a neutral-colored blazer, let it be charcoal, navy, or beige. This attire works well for women who are more into jobs like designing and teaching. Don't miss on a pair of black stiletto pumps. If you love denim, you wouldn't want to miss out on these 32 Beautiful Denim Dress to Inspire your daily Fashion.
You can see here that whether tucked in or out, a blue denim or chambray top always makes an elegant work outfit with jeans. For your casual Friday outfit, you can even wear them with metallic sneakers for the diva look.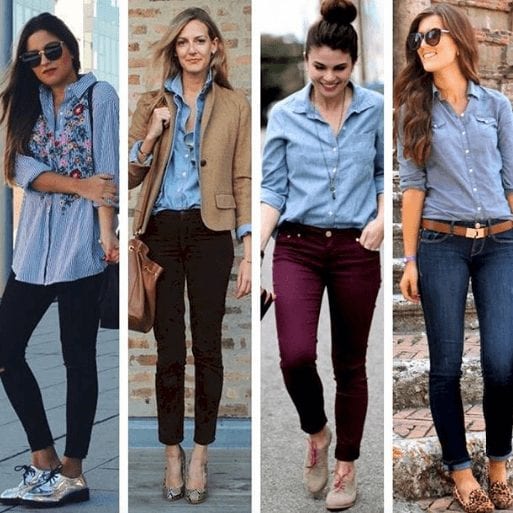 ↓ 20- Office Look with Cropped Pants
While picking jeans for the office, make sure it has enough stretch to keep you comfy at work and go for a dark wash with no fade jeans, as these look nearly formal when worn in a professional environment.
If you want to wear some sassy cropped bottoms to work, then opt for a luxe neutral colour blouse with them and a pair of simple stiletto sandals. A leather sling bag will be a great option. Try to opt for navy or black jeans with a dark colour or an extremely light shade blouse, no in-between.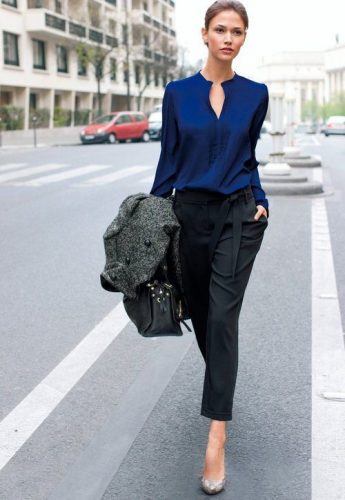 ↓ 19- Printed Business Casual Bottoms
If you work as a designer, a writer or a programmer, then you have some margin to add a bit of colour and prints to your office silhouette. Printed denim pants like polka dots or gingham prints are easily available and they can be worn with a bright-coloured plain blouse and sky-high pumps. Give up on accessories with such a bright ensemble but always keep a charming leather tote bag with you.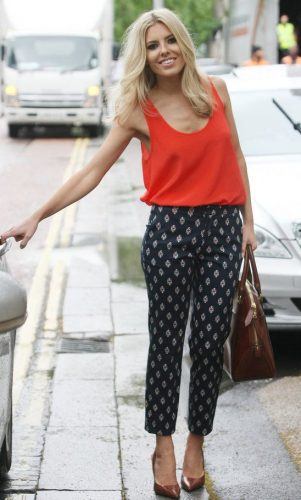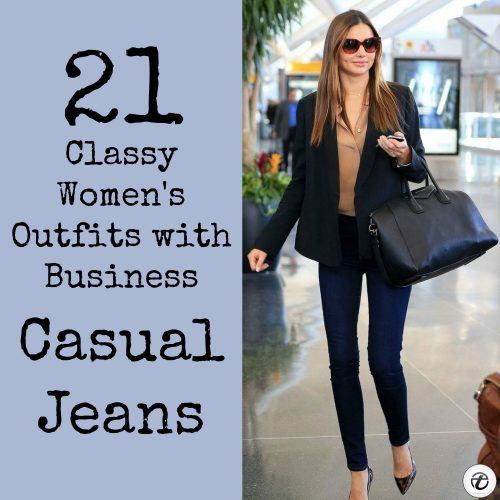 ↓ 18- Bright Colored Bottoms
If you are a fan of colors other than charcoal, navy and black, then you'll have to give up on funky colored blouses. Wear a dark maroon or plum jeans with a simple black top and blazer, keeping your pumps black and high. Such an attire is perfect for women who belong to managerial and assistant jobs.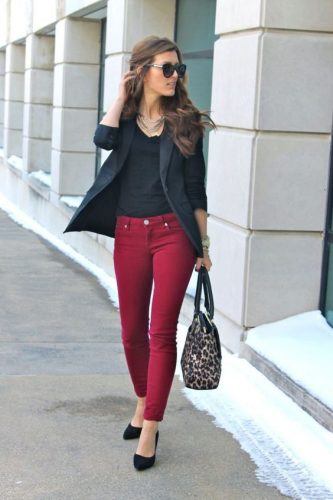 ↓ 17- Celeb Style Business Denim Pants
Miranda Kerr has been known for her exceptional business casual ensembles. All you need to dress up like a celeb to work is a luxe silk blouse in an enchanting shade with your skinny black jeans and casual black blazer. Make sure your handbag is going with your attire and go for textured sky-high pumps.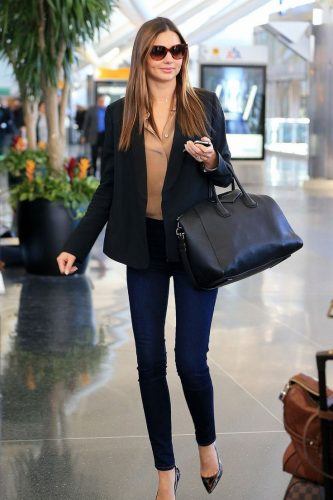 ↓ 16- With Printed Blouse
Soft, cropped and straight denim pants can be worn with a chiffon floral or textured blouse in matching shades as that of jeans. However, you can go for bright shoes to enhance the look of your attire. Doctors and teachers will look extremely fresh and pleasant in such an ensemble, particularly during spring.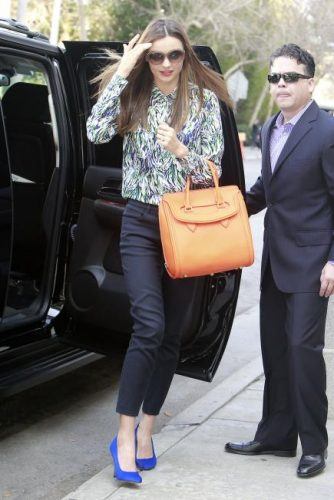 ↓ 15- Office Jeans Outfit for Plus-Size Women
Black is the perfect shade for plus-sized women as it can make them look smarter and charming. Black skinny jeans with a striped top and a coloured blazer are one perfect option for ladies who are curvy. Also, nude heels and a formal strap watch will enhance the ensemble. Here are 17 Elegant Plus Size Work Wear Outfits Combination Ideas.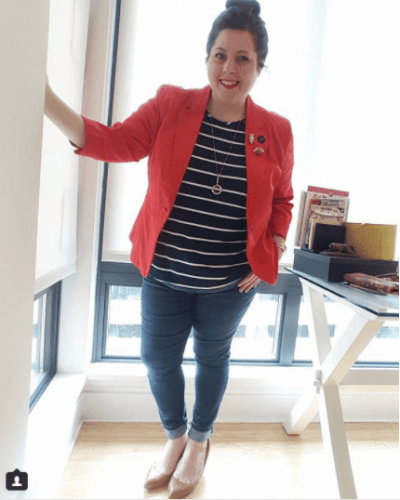 ↓ 14- Button Down Shirt
A crisp white formal button-down shirt and a short camel color blazer with dark blue denim skinny pants is an option which goes well with sterling silver ear studs and a sling leather bag.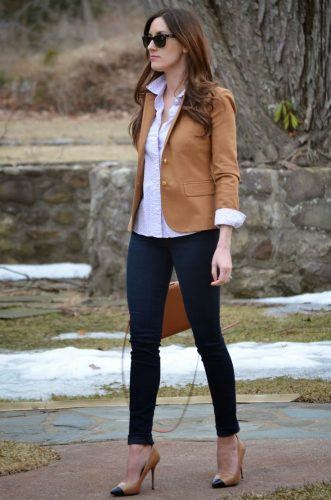 ↓ 13- Fall Look
Fall is all about dressing warm and adding a bit of layering to keep the cozy feel in office as well. A formal charcoal coat with a simple knitted top and jean bottoms will go perfectly with ankle boots.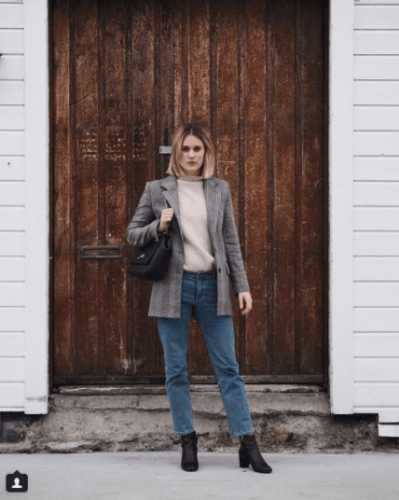 ↓ 12- Boot-Cut Jeans
Boot-cut denim pants are super professional when worn with a white polished blazer and a peachy polka dot classy top tucked inside the jeans. Wear it with stiletto sandals in colors like rosy pink or off-white.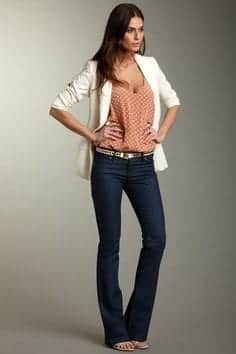 ↓ 11- Scarf with Business Casual Denim Bottoms
Scarves always add to a woman's ensemble. Try wearing bell-bottom navy jeans with a white round neck shirt. You can go for a light colored scarf that you can knot around your neck.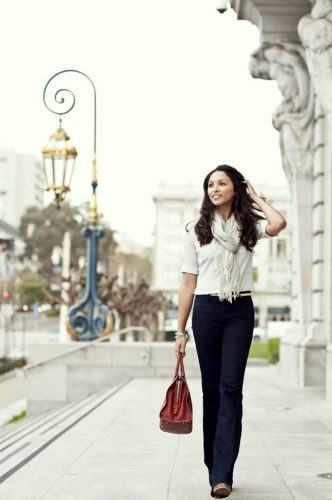 ↓ 10- Summer Attire
A simple mandarin collar crisp white top can be worn with faded jeans and white pumps, keeping your bag in a lighter gray shade, making it an amazing business casual summer look. Here are 18 Fabulous Ways To Wear White Shirts For Girls.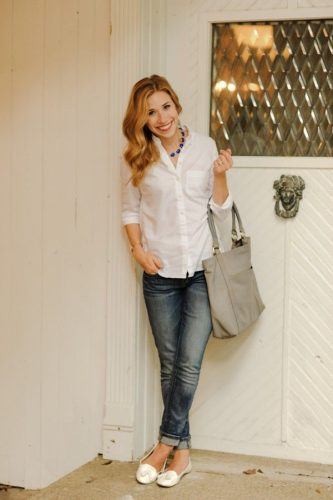 Remember that on your dullest days, a white button-down shirt will really help lift up your mood and make you look fresh. This is why it is every woman's wardrobe staple and you must have a nice tailored white shirt in your closet for all seasons. Here are some more inspiring work looks that can be chosen to go with your crisp white shirt.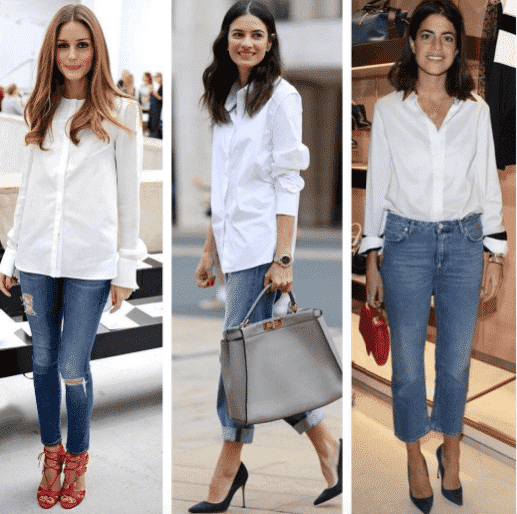 ↓ 9- Turtle Neck Tops
Turtleneck knitted tops will look formal when worn with a polished black blazer and block heel mules. This is an outfit that would work well in the Fall season.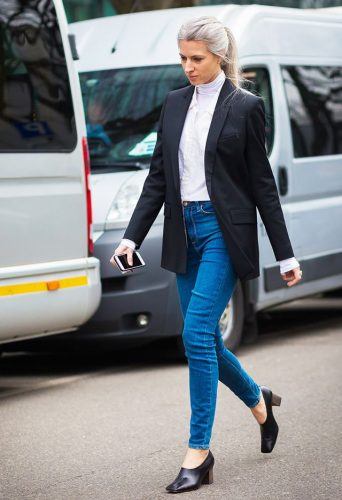 Here are some more outfits with jeans that can be chosen in the Fall season.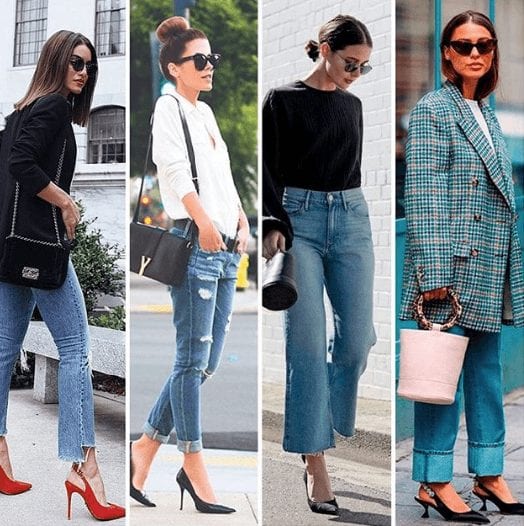 ↓ 8- Vintage Blouse
Wearing a vintage blouse with ruffled sleeves and deep neckline and pairing it with dark wash denim pants in boot-cut style looks super classy at work. For the shoes, you can go for simple black heels, ankle straps or even your favorite black pumps. If you're a lover of vintage outfits, there are many other combinations that you could give a try.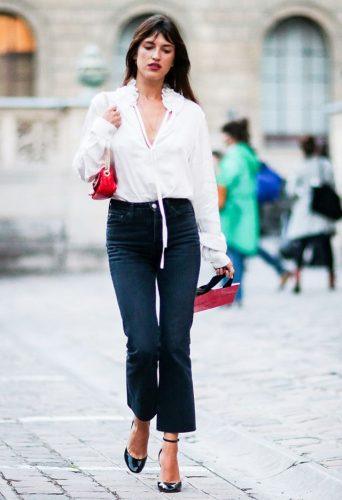 For example, a striped shirtdress with jeans, black wedges, and a watch – all these create a simple yet sophisticated vintage look that can take away your Monday blues. You can style this outfit with blue or grey jeans, grey being the preferred choice, considering the latest fashion trends and the fact that darker jeans create a more professional outfit. For more ideas, check out these Women Outfits with Grey Jeans.
Coming towards the makeup. When wearing jeans to work, your makeup should be simple, so go easy on the lashes and avoid wearing too much mascara. You want to keep things light yet noticeable, so just wear an itsy-bitsy line of eyeliner and a little mascara with nude-colored lipsticks. You can wear eyeshadow, but this, too, shouldn't be overpowering, glittery or heading up to your eyebrows.
A thin line of eyeshadow in colours like taupe, champagne, bronze, olive green and copper would work well. Avoid reddish tones for day wear; instead, opt for more peachy tones, especially when choosing blush on.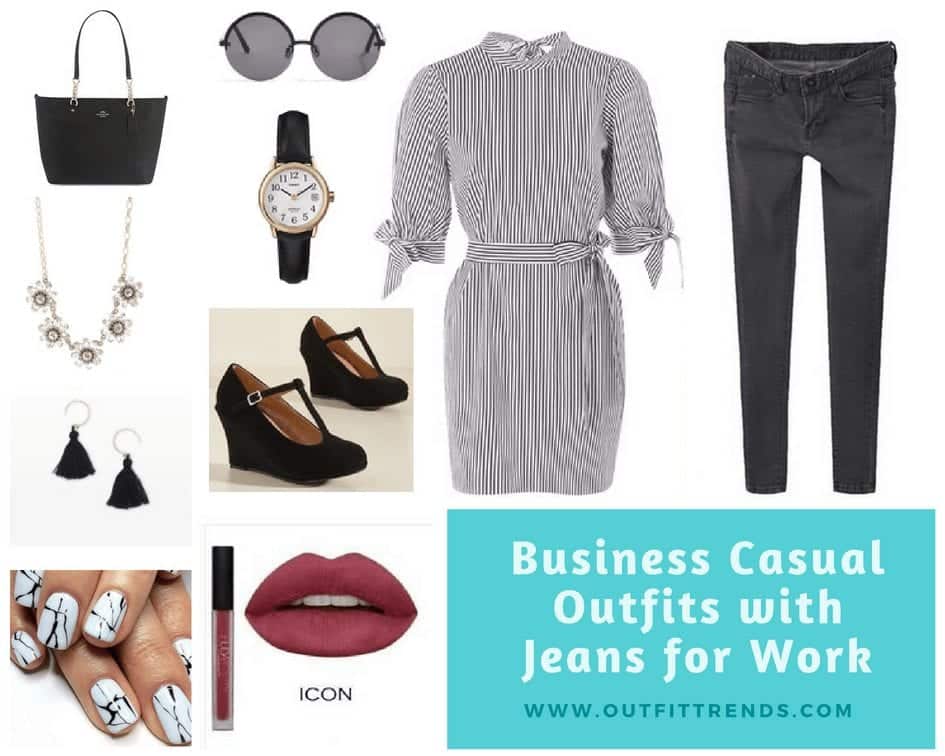 ↓ 7- Skinny Girl Attire
All a skinny girl needs to make her jeans look professional is a cool blazer in modest shades like beige, brown, copper etc.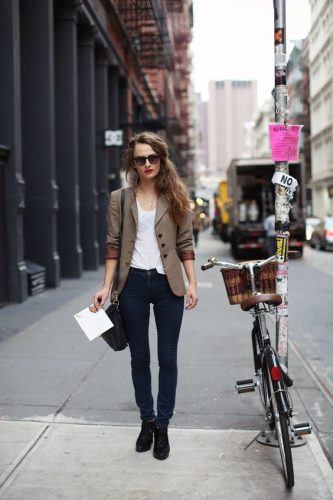 ↓ 6- Printed Work Outfits
Although it is advised to abstain from wearing faded jeans at work, if you work for the fashion industry or as a stylist then it works for you. Wear it with a black yet printed blazer to add charm to your ensemble.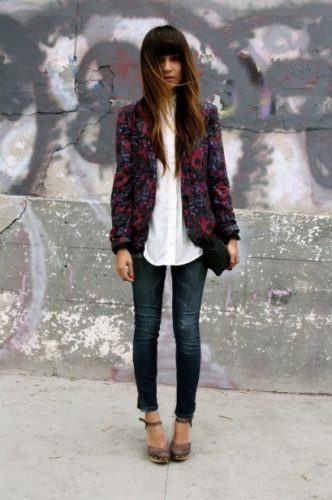 If you want, you can even go for printed jeans instead, as they look great as work outfits, when styled the right way of course. Here are some ideas to inspire you.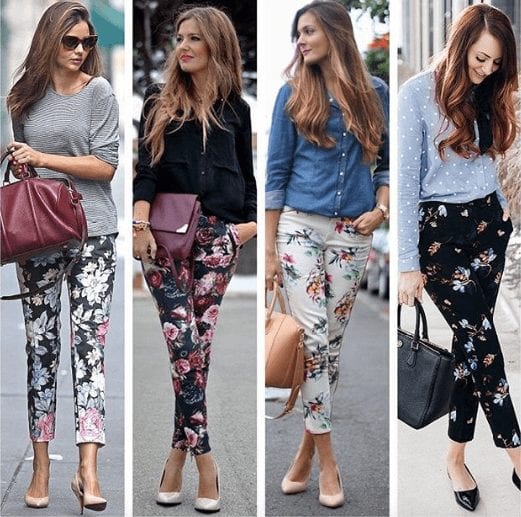 ↓ 5- Glamorous Office Look with Casual Jeans
Casual jeans can look glamorous at the office when worn with a luxe silk blouse or you can also add a chunky belt to glam up your simple outfit.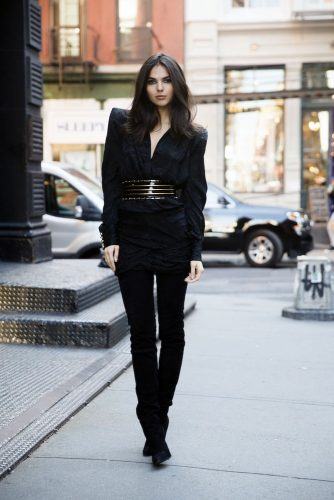 ↓ 4- Oversized Jeans
Oversized jeans with a simple tucked in blouse is a good option for young and petite girls, especially if they are working in the arts industry. However, for more formal work environments, its best to stay away from baggy jeans.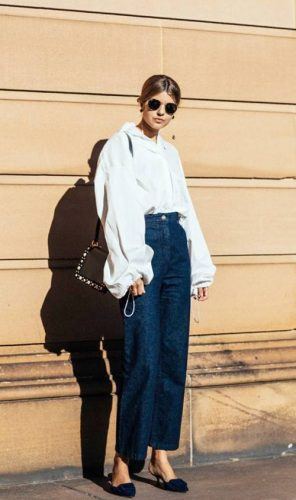 ↓ 3- White Jeans
White jeans look perfect at work if worn with a simple button-down shirt in a striped print. Shirts in pastel shades often go well with white jeans at the office.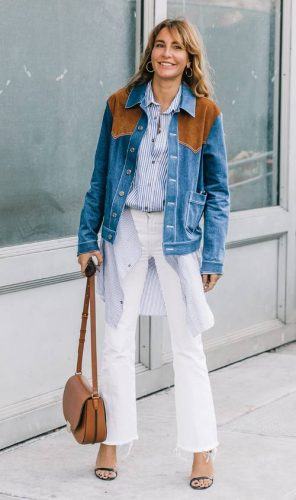 Light-wash skinny jeans can be worn during winter with a baggy formal coat. If you're looking for non-boring outfits to wear for work, then try experimenting with different coloured long coats. There are different styles and lengths of long coats available, but the ideal long coat for work should be around knee length. With long coats, you can choose shoes like ankle boots, mules and pumps. If you feel like showing off your curves, add a belt to your coat.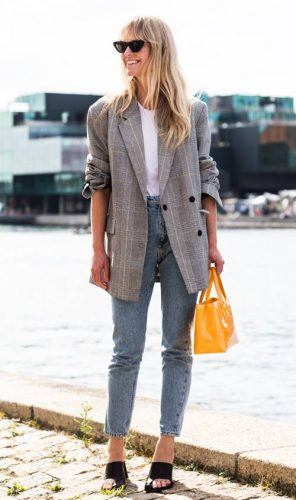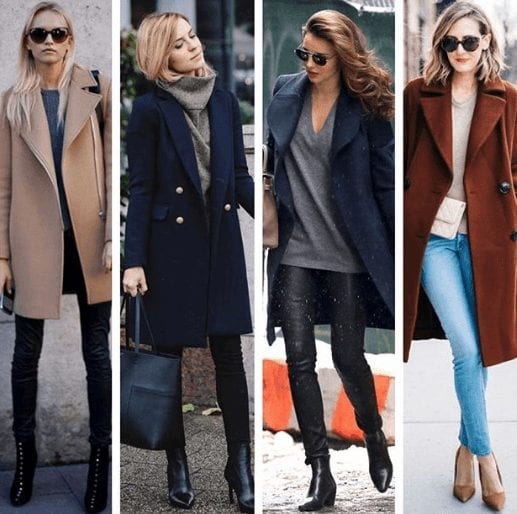 ↓ 1- Professional Yet Colored Jeans Outfit
Pastel pink, blue or purple jeans can be worn at work with a grey blazer and round-neck simple tank tops in neutral colours like white and grey. Also, you can go for matching heels to make your outfit look more coordinated. Pastel outfits also look great when paired with gold-colored accessories so you can go for gold jewellery and shoes.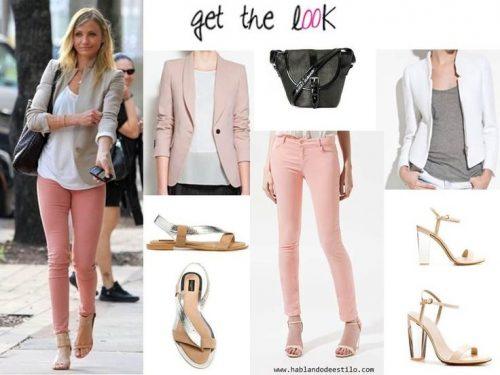 If you're someone who prefers bolder colours instead of pastel ones, we recommend that you give the green-blue palette a try. This is a rather new but perfect colour combination, and it looks really refreshing on hot summer days. Other bold combinations that you can try include orange and black, yellow and green or purple and coral.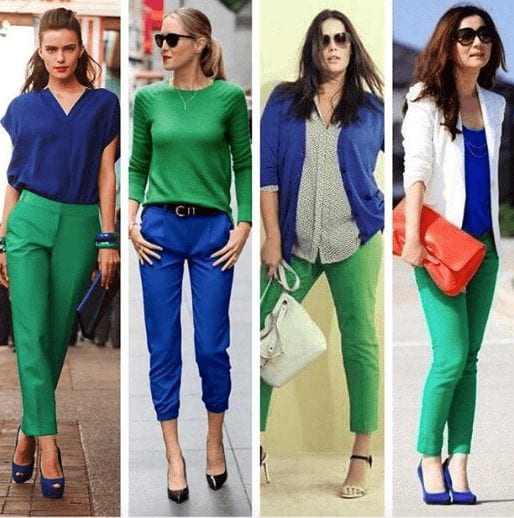 Give your feedback regarding these few business casual jeans styles in the comments section.