Formal Office Wear For Muslimah- Are you an office going lady who is looking for some hijab office look ideas? If you are a true lover of the hijab and want to carry it well with the professional look, then this post is for you.
There are several ways on how the hijab can be styled. There is a variety in hijab looks — for example, Turkish hijab look, wedding hijab look, casual hijab look, etc. Hijab is famous around the world and not just in Muslim countries. Hijab styling can be done according to personal choice and preference. Office going ladies can style the hijab by wearing it very neatly with a cap on the head (under the hijab) to avoid the scarf from slipping off their head all day long. The beauty of the veil can be multiplied by wearing brooches or clips on the top, but since an office going lady has to carry a professional look, therefore, she should preferably avoid over-accessorizing. Instead, a light tone hijab with the dress would be more appropriate and can give a very graceful look.
How To Wear Hijab To Work?
In recent years, we saw many hijabi girls make breakthroughs in all fields of life. Whether it was in the business sector or on the ramp, or even in sports, Muslim women have proven time and again that their hijabs will not stop them from moving forward. So you, too, should never be confused about how to wear your hijab for work since there are thousands of ways to look great every day in your veil while being appropriately dressed for work.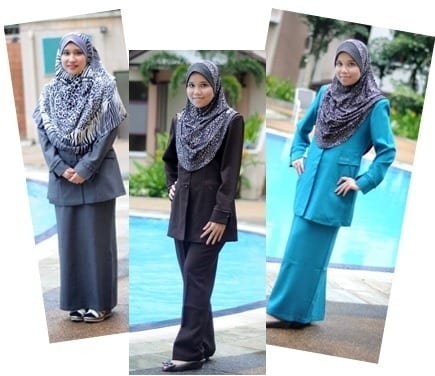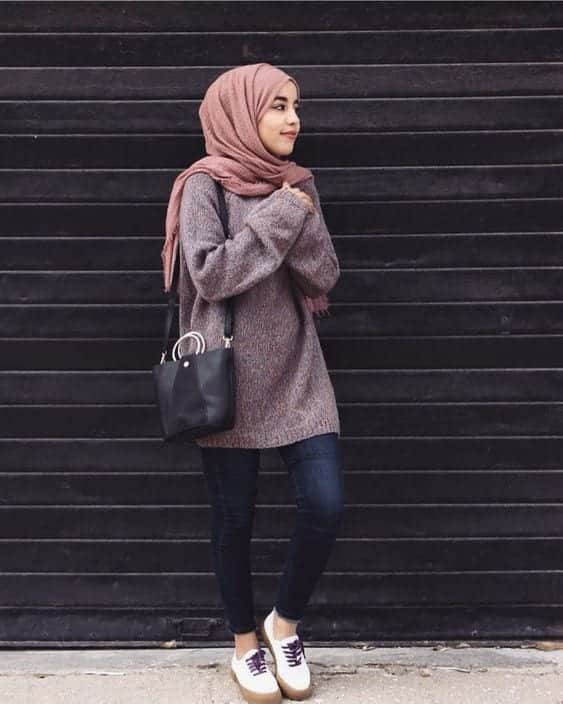 Turkish style is one of the most famous office's hijab style. It is very tidy and neat. Selecting the best hijab style will also help you climb the ladder to success. You need to look classy and elegant at your workplace to keep up with the competition. Here a few tips for you!
While you start practicing different styles, make sure you go for the one that suits your face shape.
Don't wear a hijab that is too fancy or embellished.
Don't use extremely large broaches. Try using a small broach or bin.
If you don't know what hijab to wear with a particular outfit, then blindly go with neutrals. They will never disappoint you.
To be stylish, you do not have to buy branded outfits or hijabs. You should know how to carry whatever you wear.
Shop smartly. Go for neutral colors for the veil as it will give a very professional look rather than going for a dark one.
You can wear accessories or carry cute, coordinating handbags.
Pay attention to your complete look that includes your makeup, purse, jewelry, and footwear. Do not miss out on anything. Your appearance can win people's hearts. If you are well presentable, you will surely get more and better opportunities at work.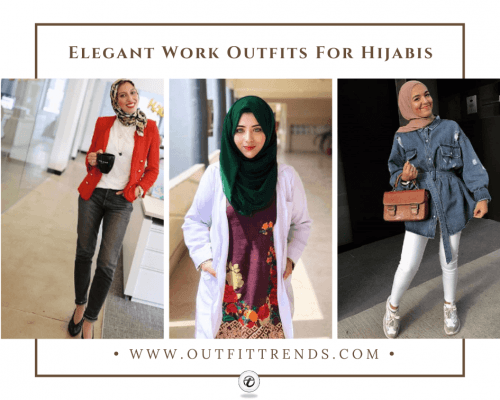 Here are some images for the Muslimah corporate look and video tutorials on how to wear a hijab for office.  You will get more than enough ideas about the hijab office attire styling by the end of this post. Do make sure that you try different looks and then go for the best of all.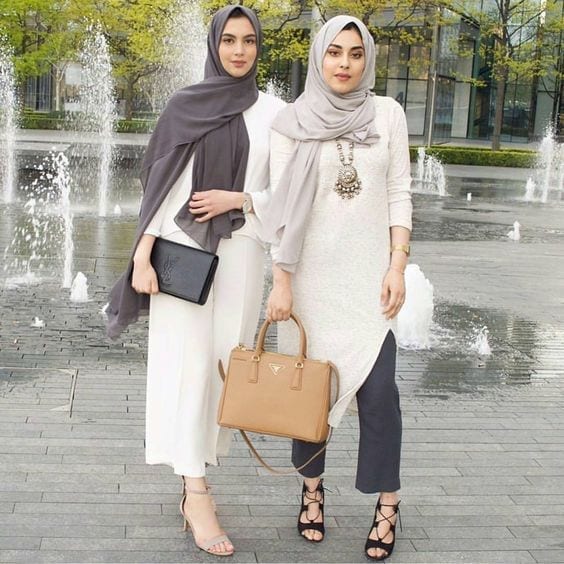 You'll find below 20 amazing looks to carry for work, and these modest outfits are sure to make you the star at work. Undoubtedly, when you look good, you feel good, and you perform even better. So we're sure these outfits will help you look even more beautiful and perform at your very best.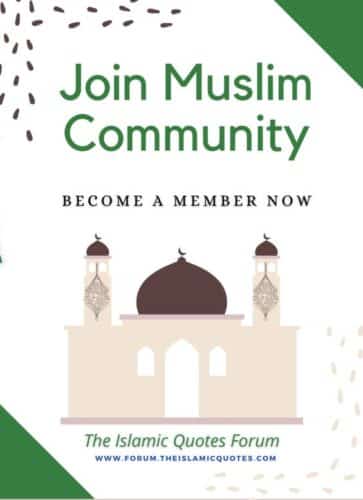 ↓ How To Choose Ideal Hijab Style For Office Wear
The office is a place that you go to 5-6 days a week and spend 9-12 hours there every day. So it's imperative to dress up in a way that's not just stylish but comfortable as well.
Here we have listed a few points for you based on which you should pick your hijab for an enchanting appearance.
Face Shape
If you have an Oval Shaped face, then wear your hijab higher up on the forehead.
Round Shaped Face people should prefer wearing a little bit loose hijab around their cheeks
Square Face Shaped people should wrap the hijab a bit higher up as their forehead is shorter.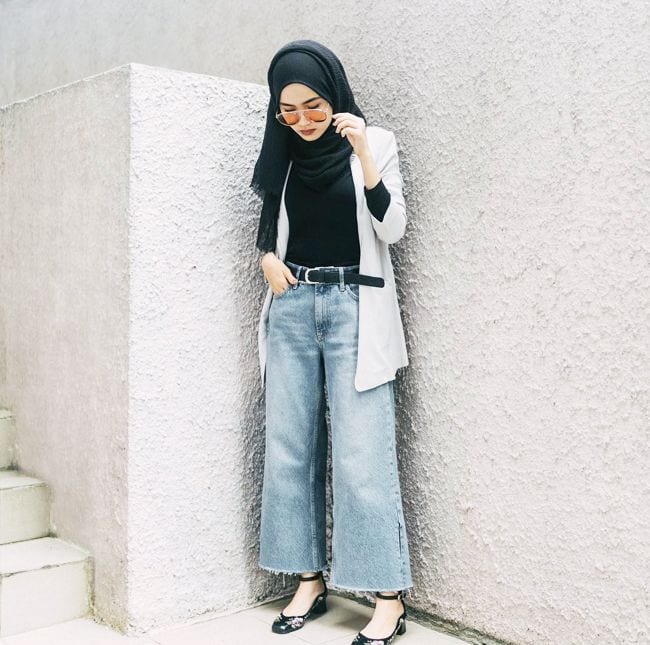 ↓ Best Hijab  For Office Wear
Women like to wear hijab as it adds grace to their personality, but choosing the right hijab style is very important. Choosing the best way to style your hijab is essential. If you want to boost your image and personality, then try different hijab looks on alternate days. A variety of hijabs and scarfs are available. You can get hijabs in stitched form as well, and for rest you can buy the pure material. You need to look modest yet professional when you go to the office. You need to consider the perfect colour coordination and a good style of hijab when choosing the outfit. We have some options for you that might help you. Some of are various factors based on which you should select your hijab fabric.
Season
Special Meetings
Seminars/Presentation day
Office lunch/dinner
↓ 20 – Elegant Boss Style
Whether you are the CEO, Supervisor, Manager, or Subordinate, you all are bosses in your own capacity. So, you must dress and act like a boss lady. For a great week's start, on Monday, wear a captivating outfit that compromises of black flared pants.
Along with this, a neutral blazer and vinyl heels will be a great choice. For a decent look, we recommend you wear a hijab that is one shade lighter than your blazer and finish off the look with a simple handbag. Have a blessed Monday, boss lady!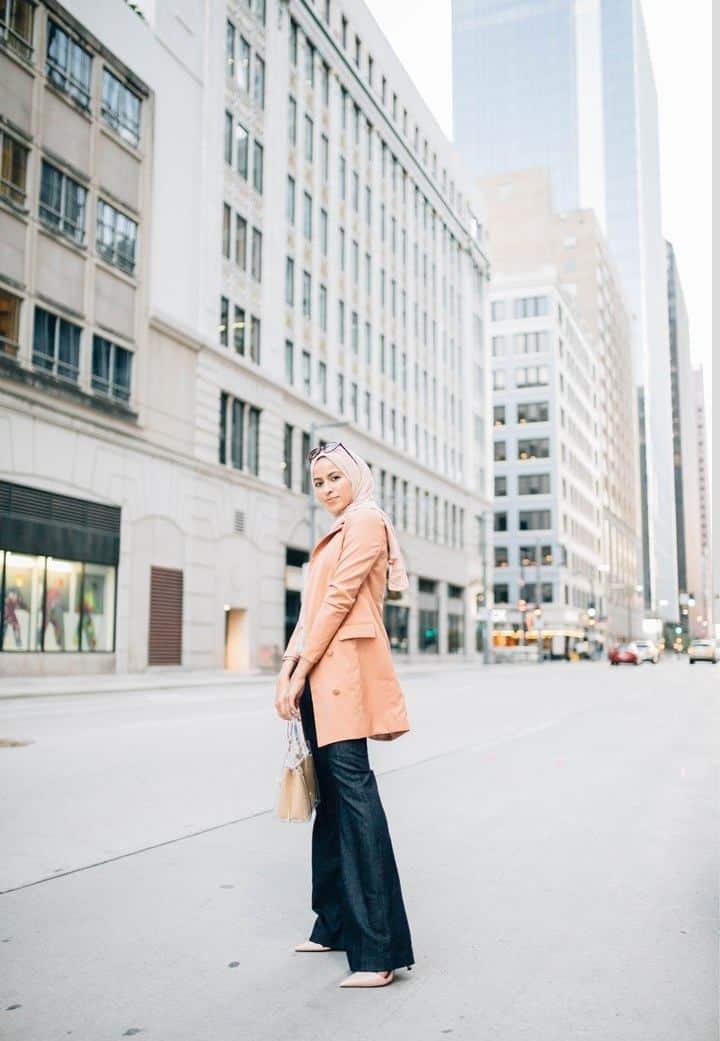 Shop Similar Items Below
Bright Vinyl Heels (25) $32.00
I'm Busy Blazer Dress Promotions 50%
Dojo Flare Jeans 7 FOR ALL MANKIND
Essential Silk Hijab – Pearl Dust $65USD
↓ 19 – Floral Outfits With Hijab
Florals are the girl's favorite. Isn't it so? They fit in every season and situation. The vibrant floral prints of summer are eye-catching, but aesthetic prints in autumn have the hearts of many of us as well. A light beige floral dress looks beguiling when combined with knee-high boots in brown. A chiffon beige hijab and bracelet leather crossbody bag complete this look in a way that no other accessories can.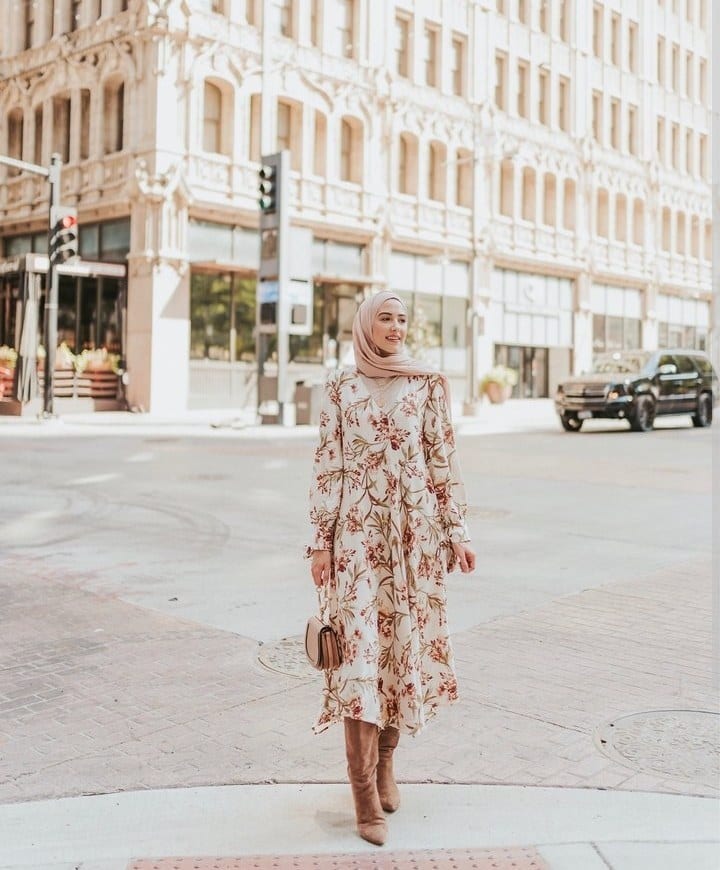 Shop Similar Items Below
Small Nile Bracelet Leather Crossbody Bag CHLOÉ PricePKR 286394.16
Hilton Knee High Boot SAM EDELMAN Original PricePKR 38120.93
Patterned Dress $34.99 SAVE AS FAVORITE LIGHT BEIGE/FLORAL
↓ 18 – Checkered Blazer With Hijab For Office
Ladies, hurry up and grab these aesthetically pleasing Gemini pants and Caldwell blazer before they are gone and you are left with nothing but regret. The checkered print, the black and white contrast is something that you can wear in every season.
It's an imposing outfit that you can wear to business meetings. You can go with either a black or white top with this suit. Don't let your outfit look boring and add a pop of colors with the help of a colorful hijab and a vibrant pink envelope-shaped purse. Well, wait! Where are your shades, Ma'am?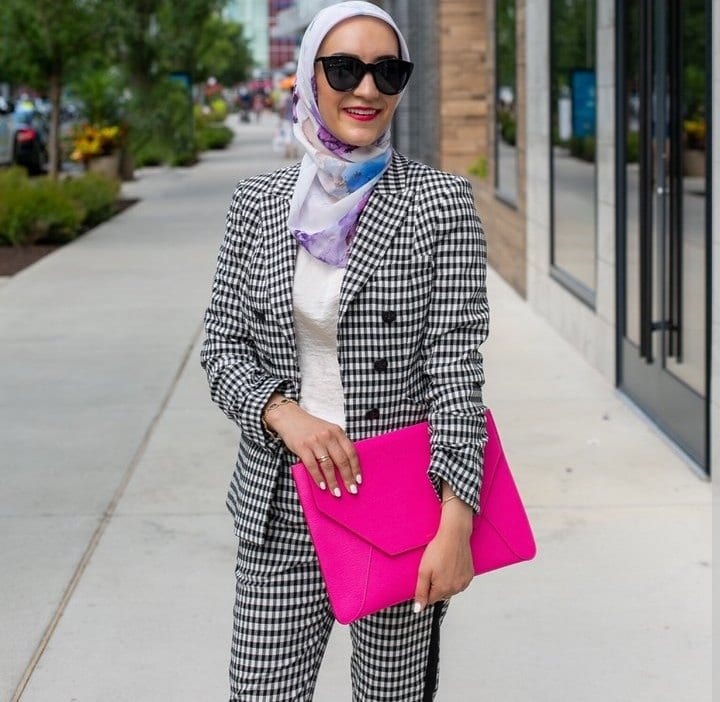 Shop Similar Items Below
Veronica Beard ADD TO HEARTS Gemini Pants $425
Veronica Beard ADD TO HEARTS Caldwell Blazer $650 retail
↓ 17 – Tucked In Tops
Is it your first day at the office after graduating? Young, passionate, and enthusiastic you are, we assume. So all young girls, dress up stylishly and smartly and start your new journey by boosting your own spirits. Outfit trends recommends that you wear something like a long neck full sleeve satin top with wide-leg pants. A hijab is a better option than dupatta or stole, so go for it. Pumps or heels are going to be an excellent pick for your first day to the office.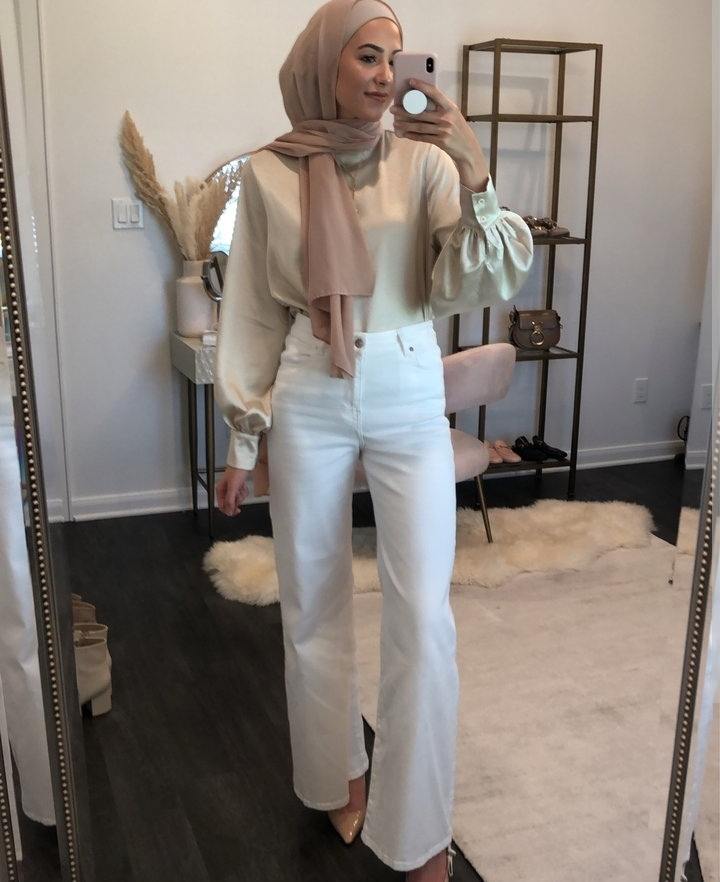 Shop Similar Items Below
Essential Silk Hijab – Vintage Gold $65USD
Jeans flare Wideleg REF. 53020884-WIDE LEG-LMCurrent price$59.99
ASOS DESIGN long sleeve high neck satin top with shoulder detail $18.00
↓ 16 – Hijab Outfits With Jeans
Jeans are an everyday staple and require minimal effort. Wear it with any top, be it short Kurti or a shift dress, and maintain your style. For office wear, you need to step out of college-style that is sneakers and joggers and wear Footwear that looks formal. Put on your hijab and grab your bag. You are ready to go.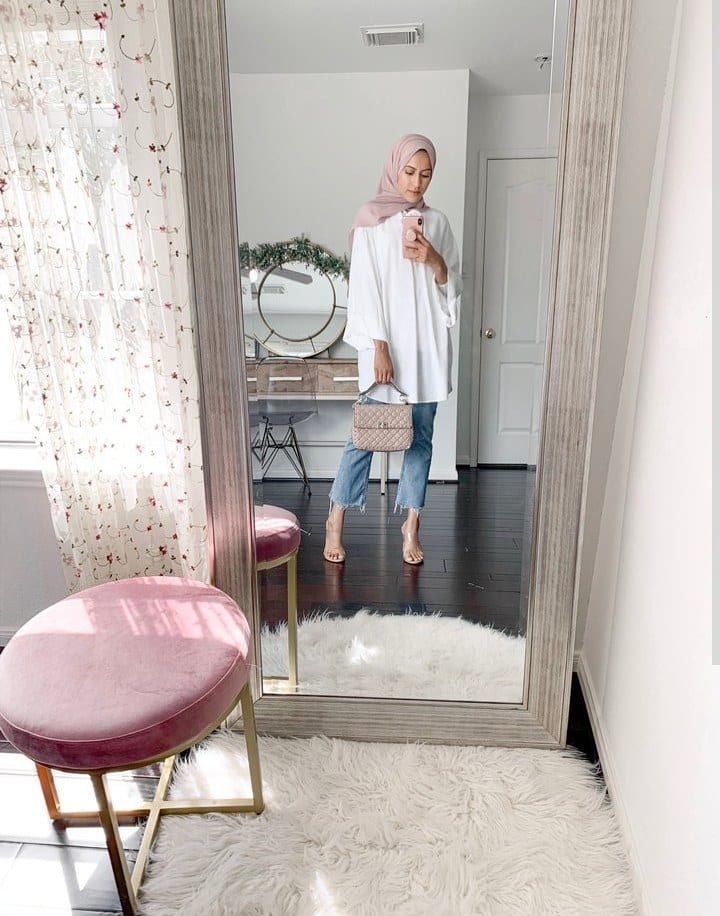 Shop Similar Items Below
Silk hijab 65$
Madison Heeled Sandals $69.90 $69.90
BDG High-Waisted Cropped Kick Flare Jean – Light Wash $29.99
Here is another elegantly chic look that you can create with jeans.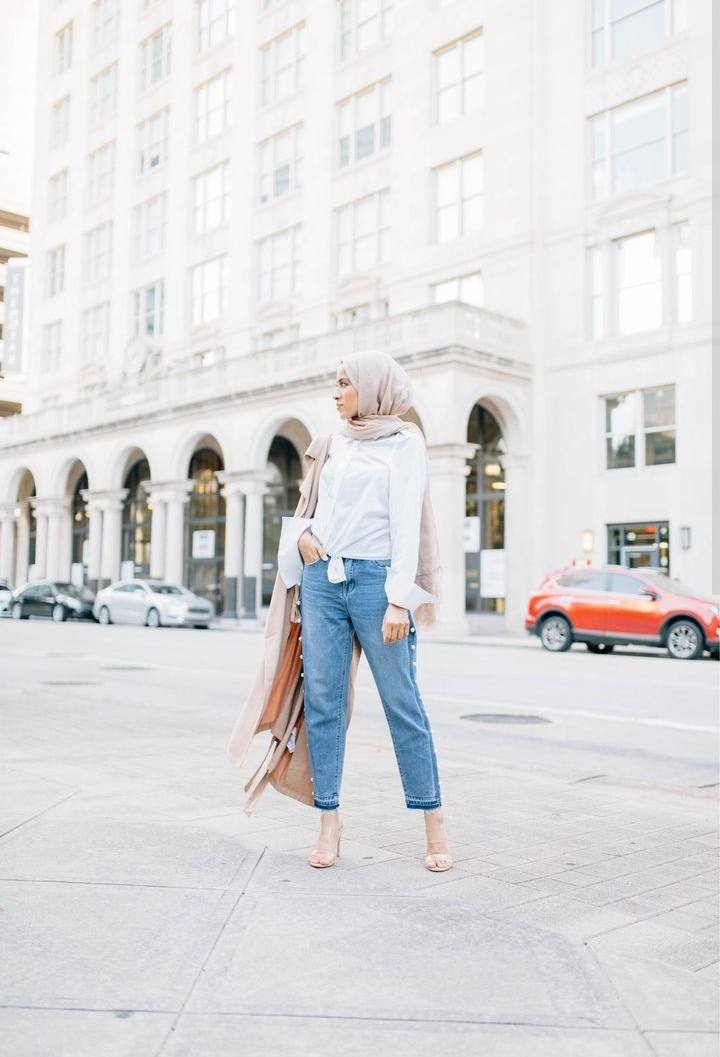 Shop Similar Items Below
Translucent Open Toe Block Heels
Longline Trench Coat (8) $34.99
Pearl-Embellished Ankle Jeans (2) $32.00
Dream In Silk With Our New Silk Hijab 65$
↓  15 – Shrugs, Kimonos, And Overcoats
Now you need not worry about what to wear to the office or how to wear your cropped shirts without looking too bold. Get yourself some shrugs and kimonos and wear them to your office modestly. These pieces help you create unique outfits and cover your body as well. So, what are you waiting for? Get yourself this printed turtle neck top and tuck it in high white waist wants and throw over a white kimono. Plus don't forget your vintage gold hijab and white pumps.,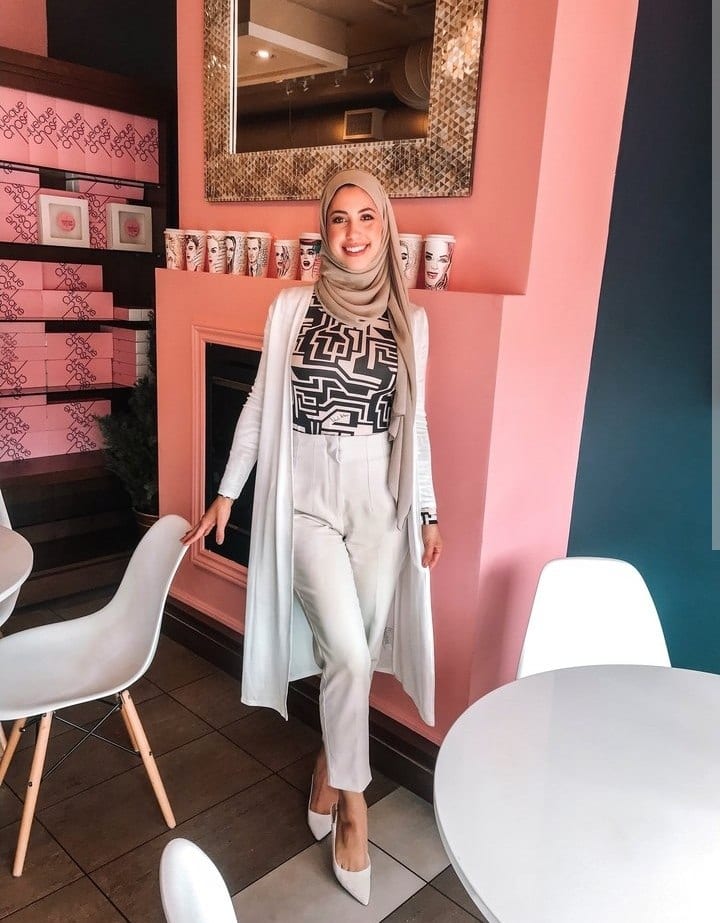 Shop Similar Items Below
Melania Regular Price $90 Sale Price $29.98 $90
Essential Silk Hijab – Vintage Gold $65USD
↓ 14 – Black Outfit With Hijab For Work
Black is a color that every girl needs to have in her wardrobe. When you have days when you can't decide what to wear to the office, just take out your black outfit and pick any hijab. You can wear almost any colored scarf with a black dress and rock your look. Avoid wearing a black hijab with a black outfit though as it creates a very monochrome or rather a very boring look.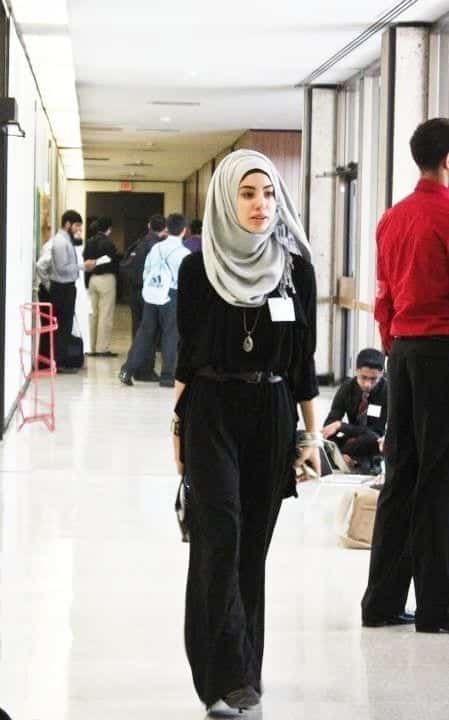 ↓ 13 – All-Time Favourite Hijab Color
Ladies, don't ever forget to have neutral-colored hijabs in your wardrobe. They are a must in every girl's wardrobe. When you can't think of a matching or contrasting shade, then neutrals will play the game safe for you.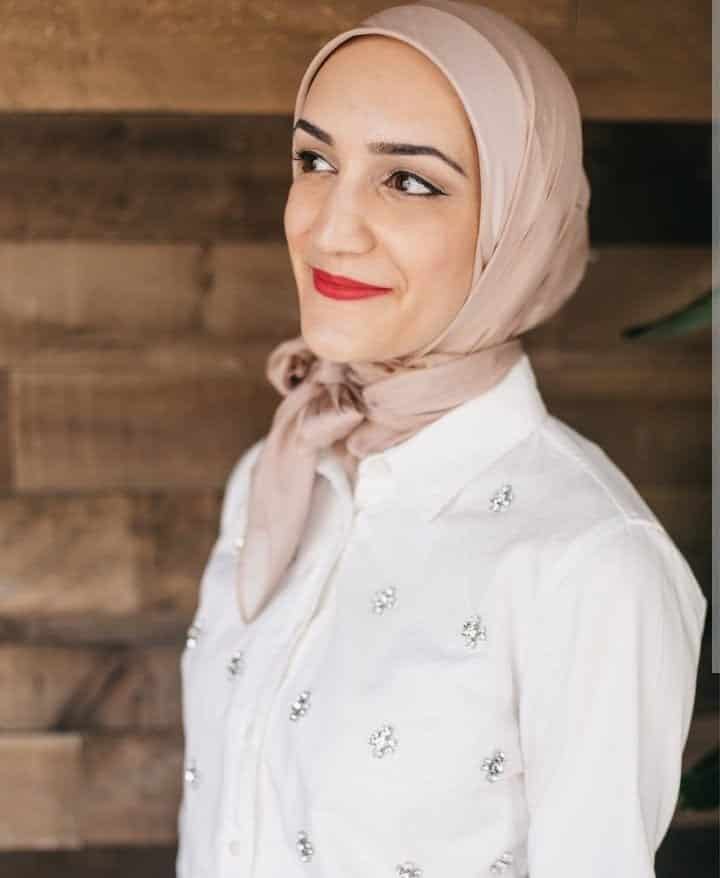 Shop Similar Silk Hijab Below
Essential Silk Hijab – Pearl Dust $65USD
↓ 12 – Hijab With Embroidered Abaya For Office Lunch/Dinner
For formal business meetings, choose outfits with simple but elegant embroidery. You can go for embroidered shirts or abayas. Have a look at these 18 Fancy Abaya Designs & Ideas On How to Wear Abaya Fashionably.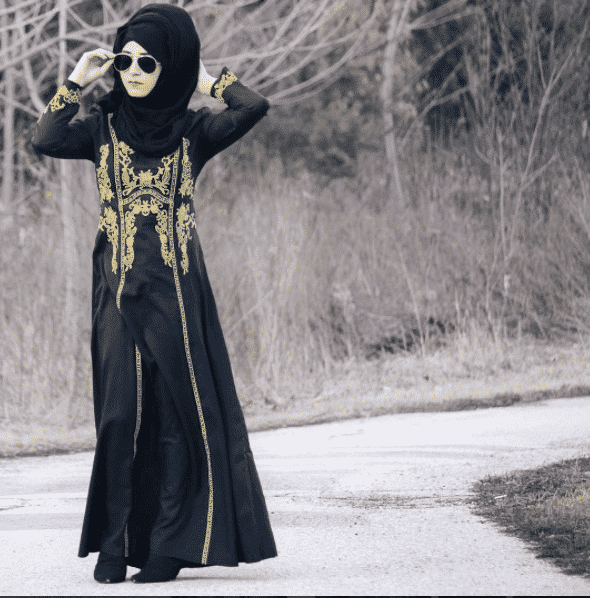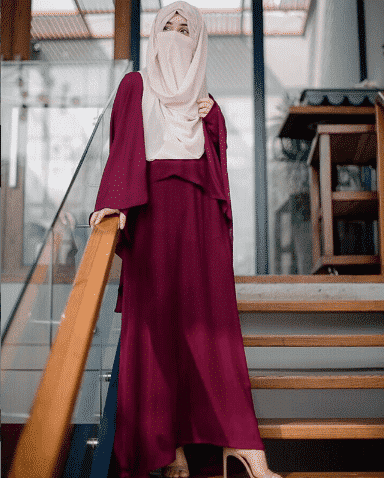 ↓ 11 – Simple And Elegant Work Wear For Hijabi Girls
Straight pants and shirts make the most straightforward and most elegant outfits for work, and they can be paired with almost any colour or style of hijab. The color of the veil can be kept a tone darker than your pants for a glowy look on your face.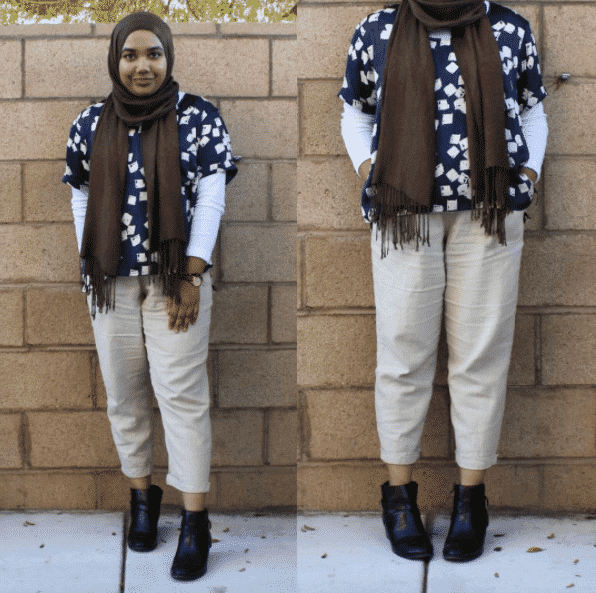 ↓ 10 – Floral Spring Time Work Outfit For Hijabis
Spring is the best time to wear floral outfits, so pair your printed floral maxis or abayas with plain solid colored hijabs, and you'll fall in love with the fresh looks that can be created with these combinations.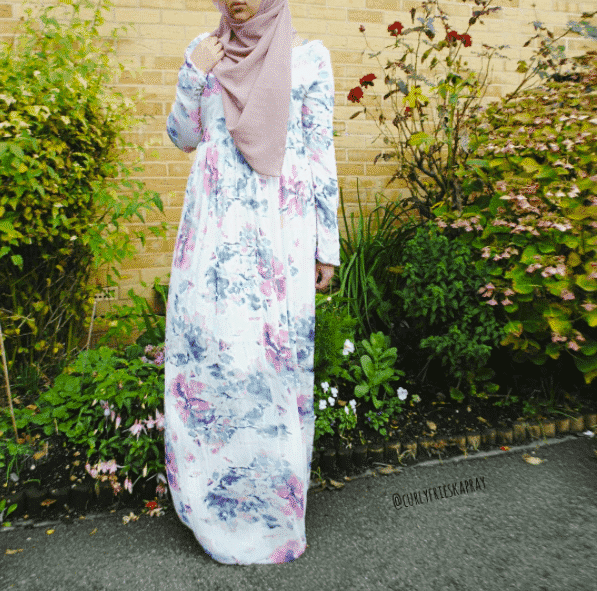 ↓ 9 – What To Wear When Travelling For Work
If you're planning to travel for work, then stripes will be your best friend. They are stylish, trendy, and you can always find a modest outfit in striped prints. However, always make sure to wear only one clothing item in stripes, and the rest should be kept simple. You can also have a look at these cute Outfits with Striped Shirts-10 Ways to Wear Striped Shirts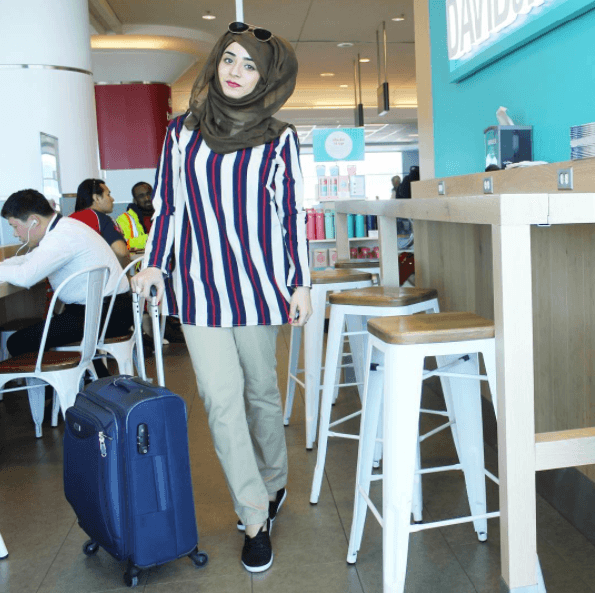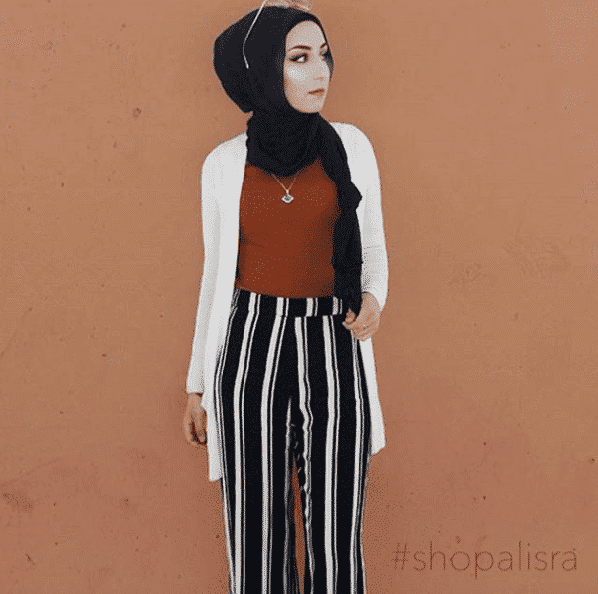 ↓ 8 – Grey Hijab Outfit For Work
Grey is an excellent color for work because of the professional and decent vibes that it gives off. So for your next meeting, try pairing together different shades of grey color for a timelessly elegant outfit.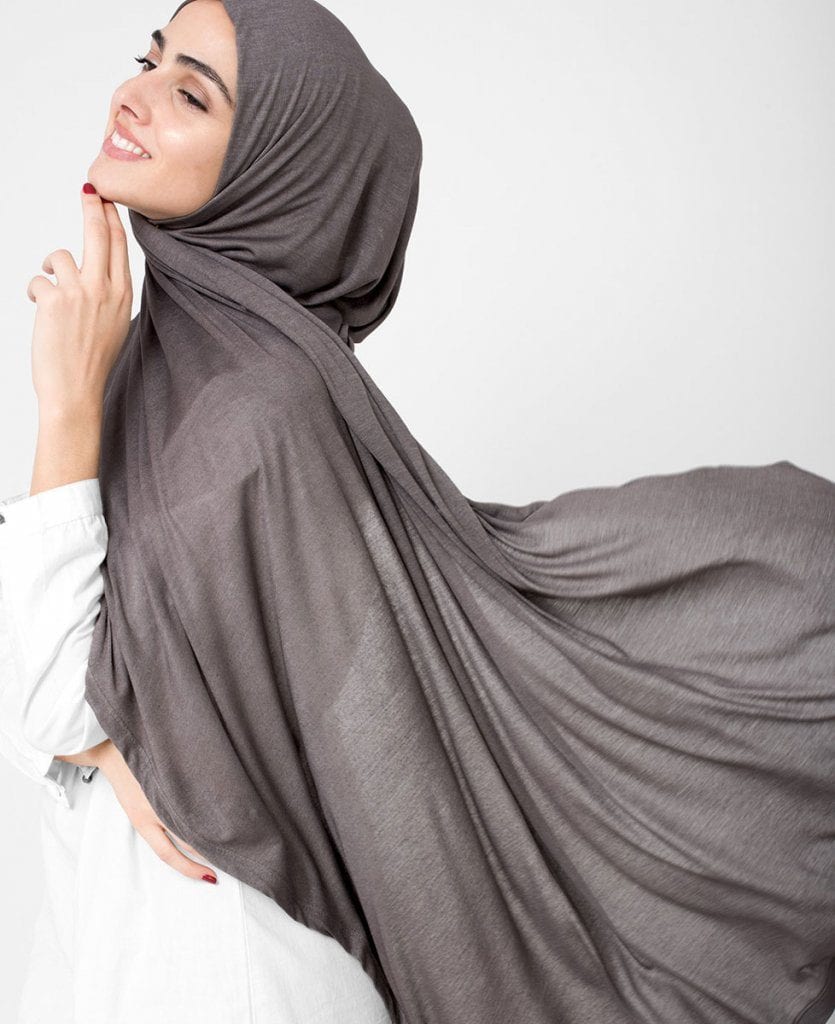 ↓ 7 – Corporate Attire For Hijabis
Have a look at this fantastic corporate attire and try it someday for your office as well.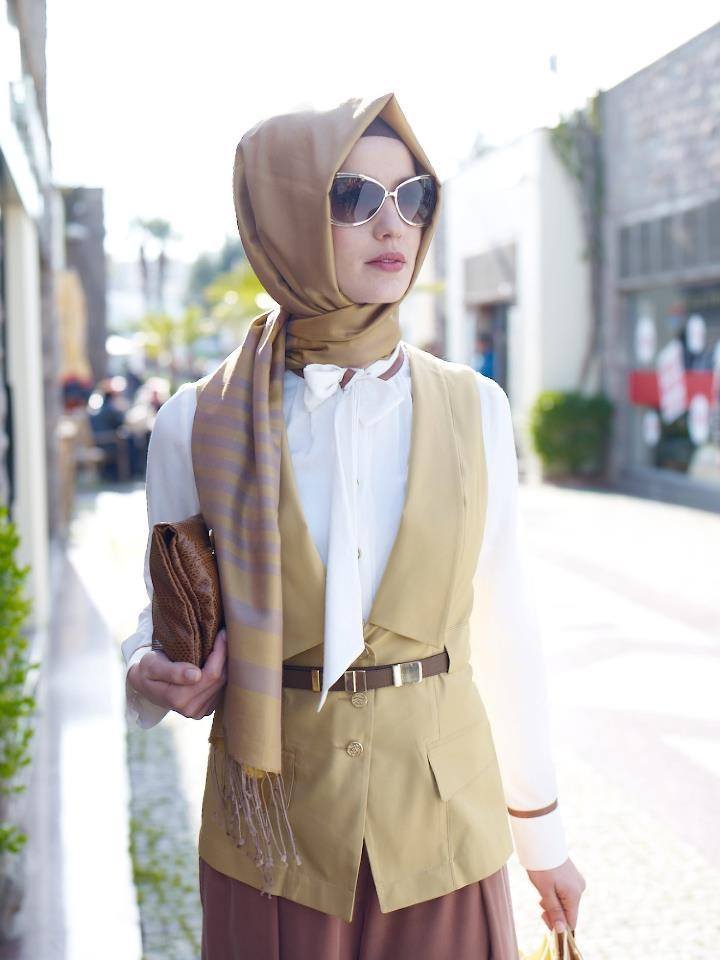 ↓ 6 – Casual Hijab With Abaya Office Wear Style

↓ 5 – Islamic Corporate Wear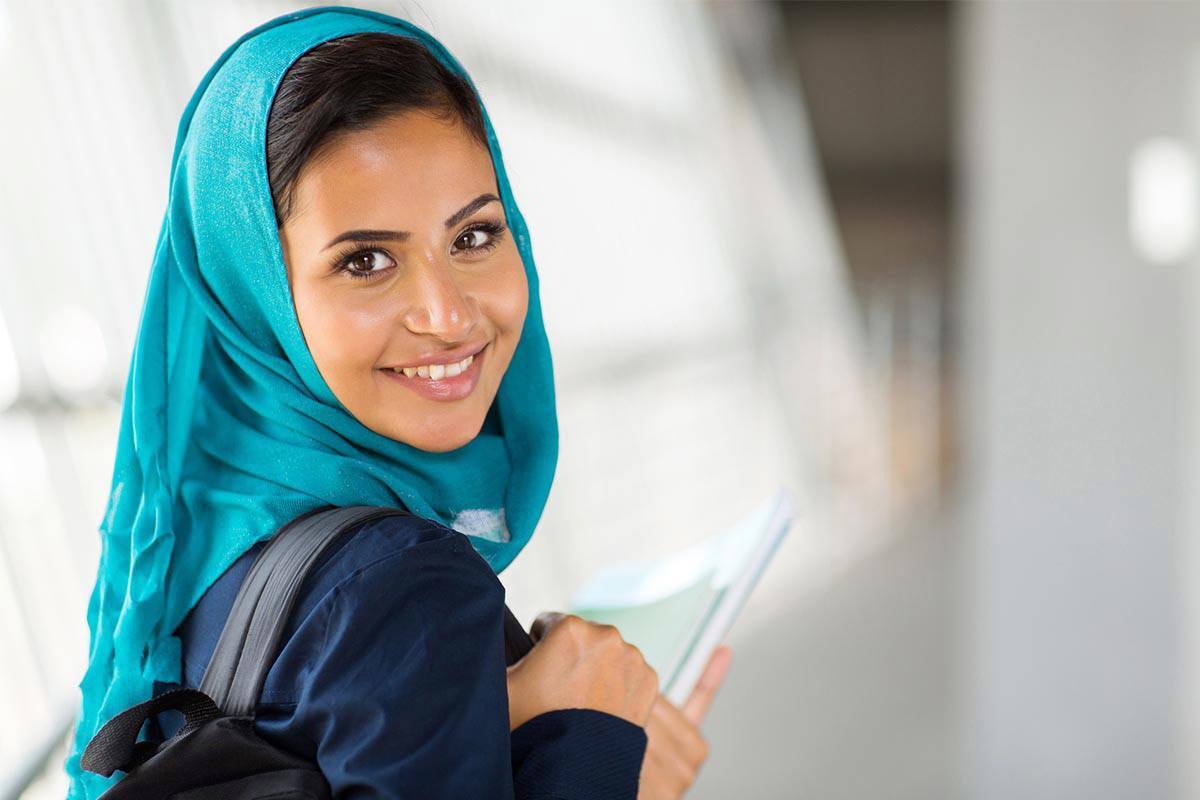 ↓ 4 – Business Abaya Wear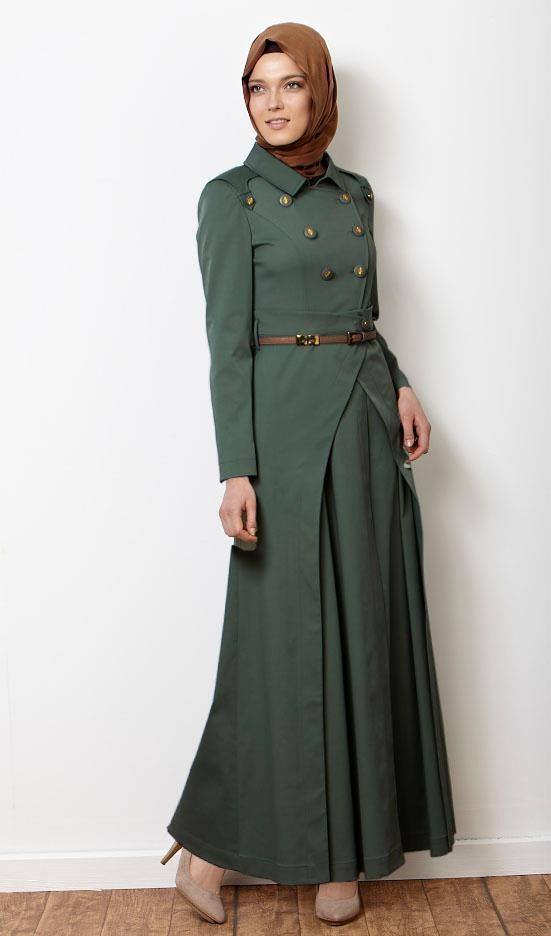 Step By Step Video Tutorial For Beginners – How To Wear Hijab For Work
↓ 3 – Business Wear In Long Coat
Long coats are not just extremely comfortable to wear on cold days but they are also incredibly classy, making them appropriate for work.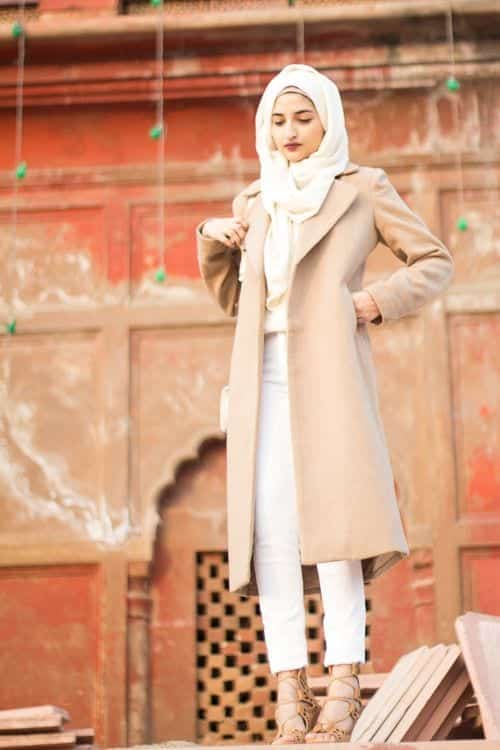 ↓ 2 – Hijab And Blazer Combination
Blazer is one of the most official items of clothing that you can add to your attire. Black, navy blue, powder pink, nude, and white are the top colors that you should have in your closet. And if you like bold colors, then we highly recommend investing in a red blazer this year. You should also have a look at these Best Hijab Styles for Short Height Girls to Look Tall.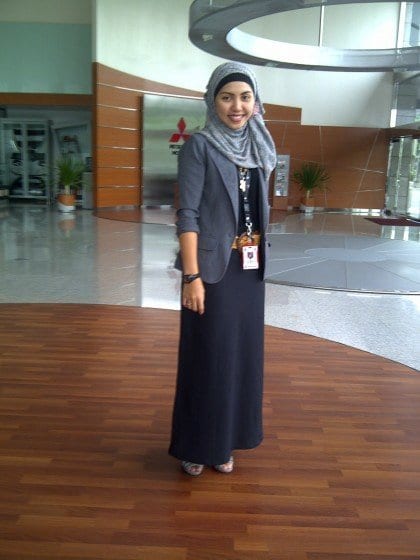 via
↓ 1 – Printed Hijab With Abaya For Winters
Winter outfits can be annoyingly uncomfortable, so add a touch of color in them through a sweet and funky printed hijab.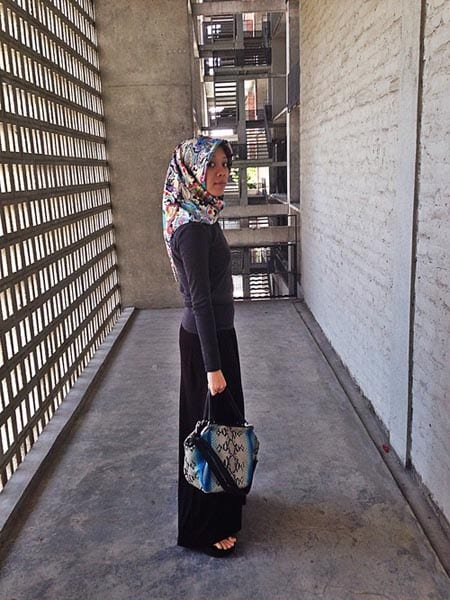 ↓ Best Brands To Shop Hijab/Scarves From
Finding the best and most reliable places for online shopping is one of the hardest things these days where there are replicas of almost everything. We have collected some genuine brands for you that will provide you authentic pieces.