How to Wear Hijab- Hijab fashion's popularity has taken a mainstream position in Muslim countries along with other fashion trends. Muslim women can now practice their religious obligations and stay classy at the same time.
It is the right of every woman to remain elegant and look beautiful.  Wearing a hijab doesn't stop you from this; instead, it adds to your modesty and charm for wrapping it in an ideal way.  There are many different ways to wear a hijab. But matching or color coordinating your hijab with your outfits is the best thing to do when you want to have a glamorous look.
You can also wear a hijab with baggy pants, maxi skirts, jeans, long dresses, polka dot dresses, and many other ways, as you will see in this post. From this collection, you can get a lot of ideas about how to wear hijab, how to combine it with other outfits, and what the latest hijab fashion trends are being followed. Street style with hijab is also trending these days, so you will see many hijab street style ideas here.
Latest Hijab Styles
The biggest stress for an all-time hijabi is how to wear a hijab with a modern outfit and ace the entire look. Ladies, you don't have to worry at all because Outfit Trends is always here for you, and like always, we have this topic exclusivity covered for you as well. Before we show you some adrenaline-pumping looks, read these few pro tips to create a perfect and modern look with hijabs.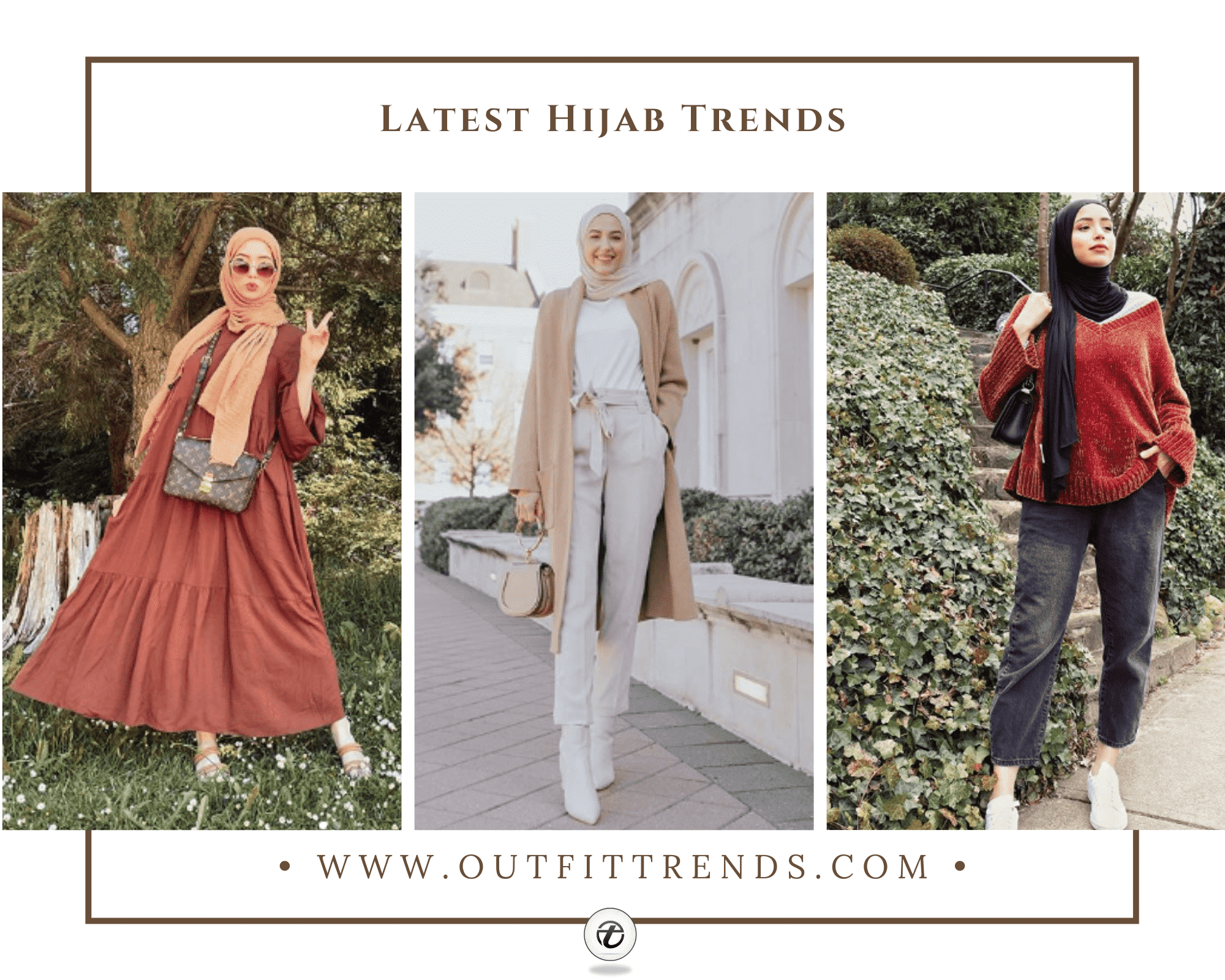 Always Use a hijab cap underneath if you want your hijab to have a good grip.
Consider your face shape before you choose any hijab style. People with the round and chubby face should avoid wearing tightly wrapped ones, and people with small faces should avoid those that are too loose.
Always choose a soft fabric like silk, chiffon, linen, etc. because they look appealing and are not very stiff.
Don't overdo safety pins for setting your hijab; use a decent broach or invisible pins instead.
Always set your hair before putting on your hijab. People might not be able to see them, but this is for your own comfort.
Don't ever think that the two words; hijab and modern, don't blend well.
↓ 25 – Modern And Sophisticated Abaya Look
Sophisticated and aesthetic kind of looks that give vintage vibes are trending at the top these days. Being a hijabi doesn't mean you can't carry this look. So, all you need to do is to get yourself a skin-colored top with a black high waist and wide-legged jeans. And pop up your look with a bright-colored cardigan or long coat, preferably in the maroon shade. Balancing the tones of your outfit is vital, so wear a neutral-colored hijab and boots and finish off the look with a smart handbag.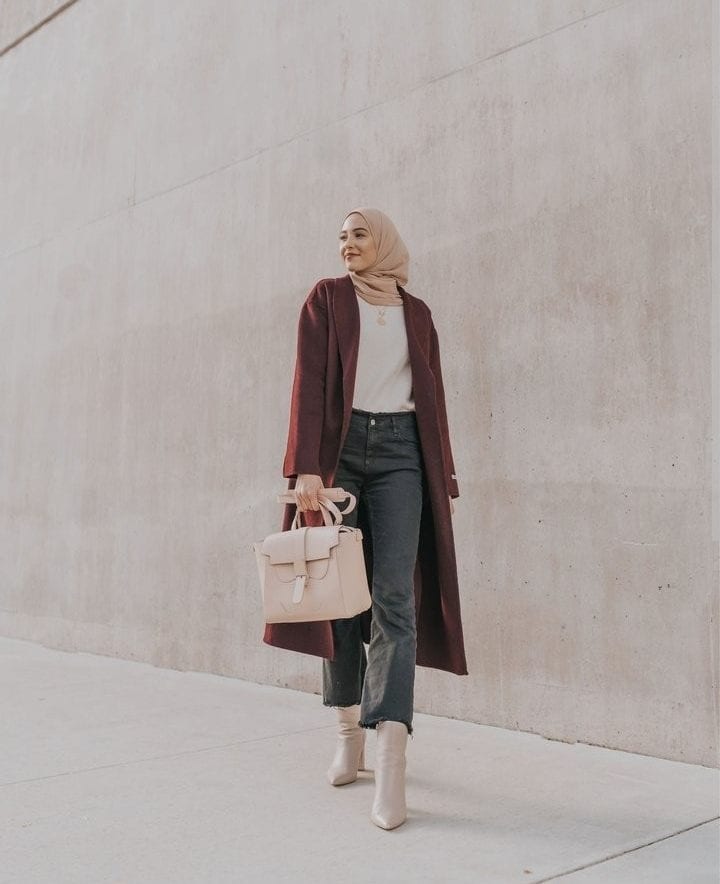 ↓ 24 – Hijab With Silk Top And Bell-Bottom
Is it your first day at the office? And you are assuming your office people to be extra sassy? Feel the need to vibe in with them with your outfit already? Here's this fantastic outfit for You; hijabi queen! Pull off your favorite bishop sleeved silk top along with white pants and skin-colored hijab and pumps.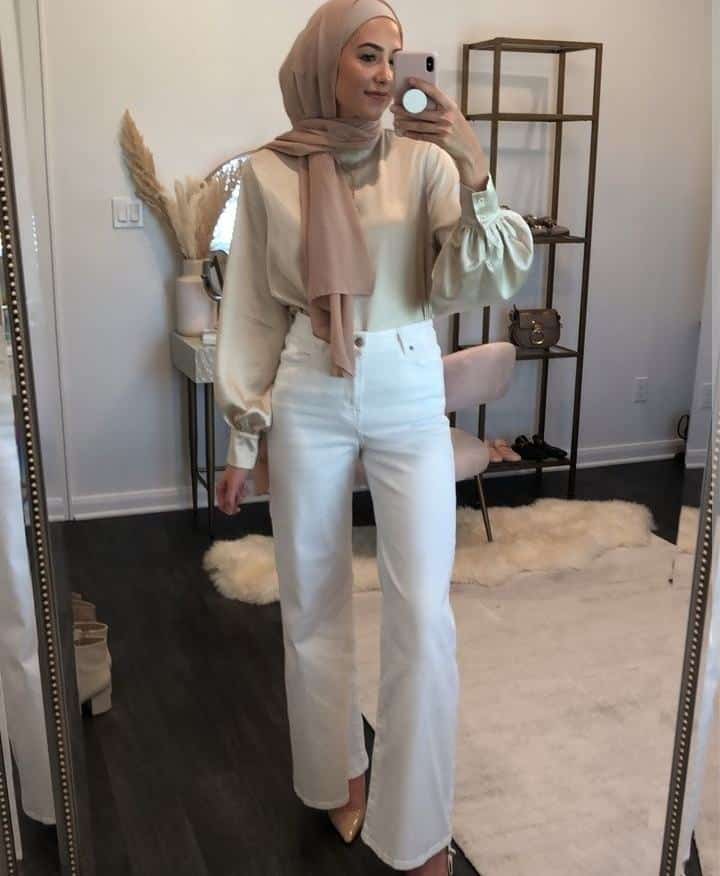 ↓ 23 – Perfect Summer Street Style
Style your hijab with baggy pants and sandals for Summer to stay comfortable. Accessorize it with some cool glasses during the day for a chic look. Here are 17 Stylish glasses you can wear with hijab according to your face type.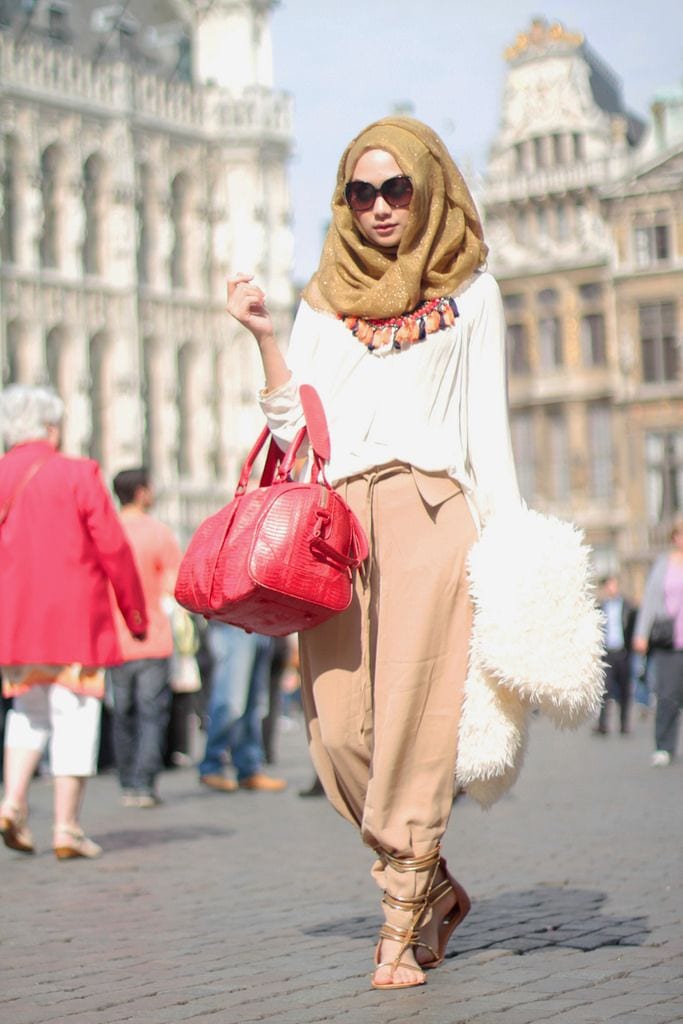 ↓ 22 – Add A Scarf With Bow Style
Who doesn't like class and modesty vibing in perfectly well? Wear a knee-length turtle neck sweater along with white trousers and black shoes. Match your hijab with your pants, try to go for a white one! Wrap your hijab ideally around your neck, and take another printed scarf and wear it like a tie just as in the picture below. What an epitome of grace and class!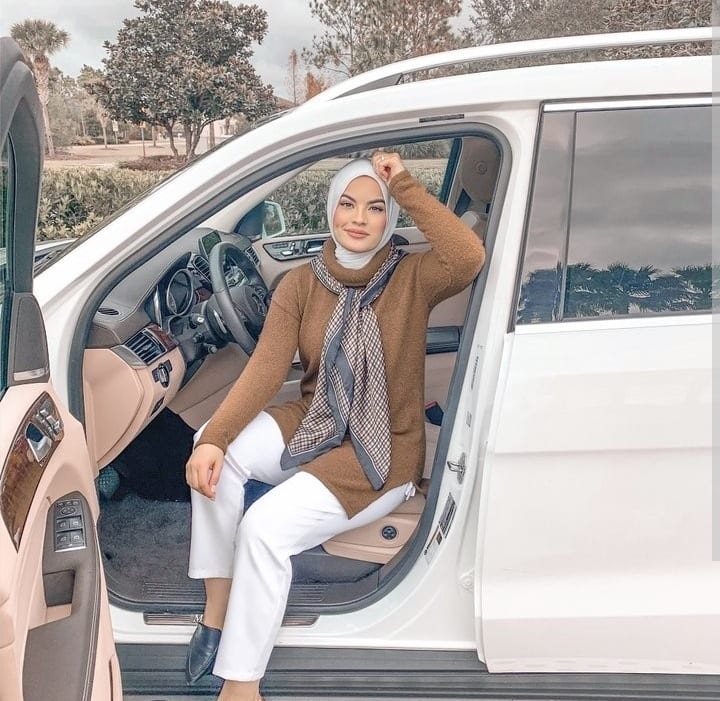 ↓ 21 – With A Small Bow In Corner
We are discovering ways to wear a hijab in stylish ways. Right? Here is another excellent idea for you. Wear your hijab and create a cute bow from the loose ends of your scarf. This idea will help you out to manage your hijab on windy days as well as busy days when you have no time to set it.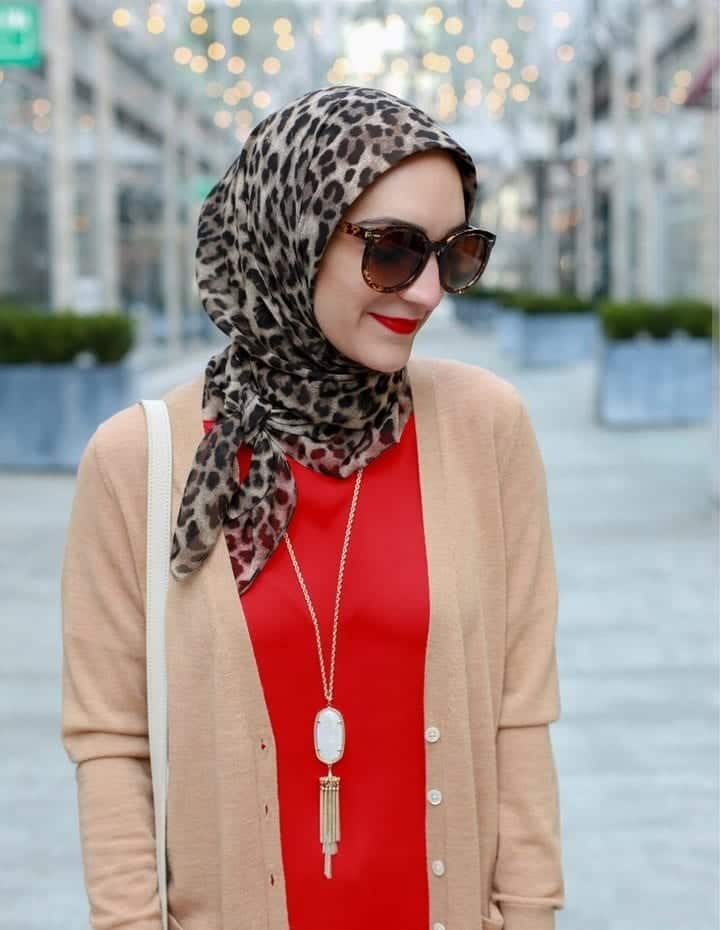 ↓ 20 – For Farewell And Welcome Parties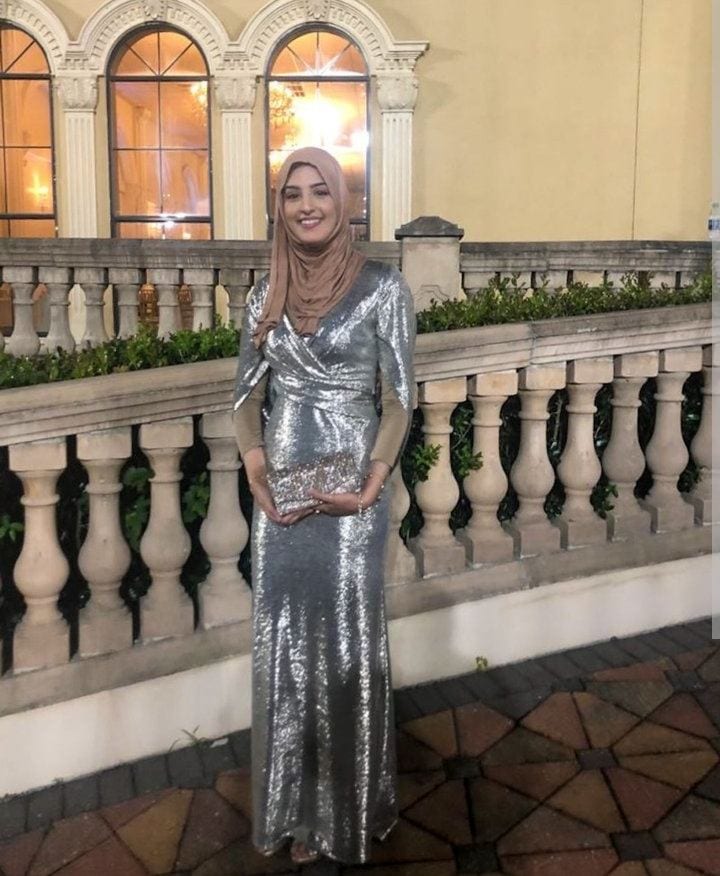 ↓ 19 – Hijab With Winter Caps
Cap or hijab? One or both? Ahh, the trouble begins when you have to opt for one of them! Girls, now you don't have to worry. Wear both of them simultaneously and look fantastic. Wear your entire winter outfit along with your hijab, wrap it around your neck. Wear your warm woolen cap over it. Feels cozy enough already, right? But we are not done yet, wear a warm woolen stole around your neck, letting the ends hang at the front side. Here you are, all warm and cozy!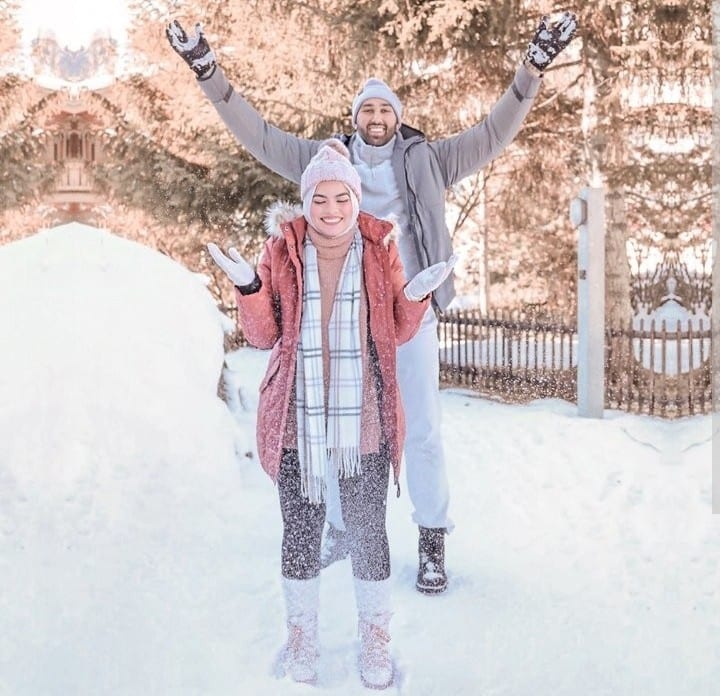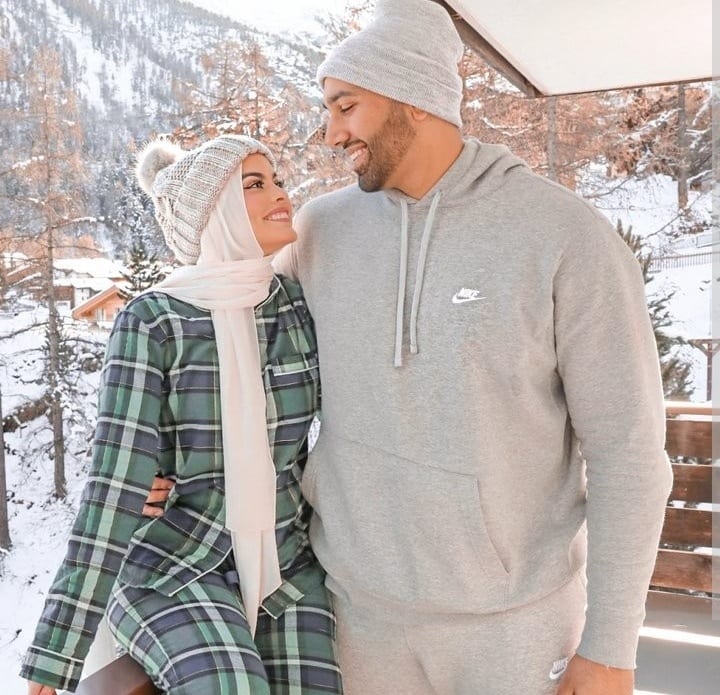 ↓ 18 – Hijab With Hat
You want to show off your new hat on the beech just like your other friends, isn't it so? Or maybe your aim is just protecting your self from the sun. Whatever it is, don't give up on the idea just because you are hijabi, and you think you can't pull off these two together. Wear any outfit of your choice, be it maxi or a dress. After that, wear a hijab. We recommend you go for neutral colors as they will let your hat speak volumes! What are you waiting for? Go, grab your outfits and hats!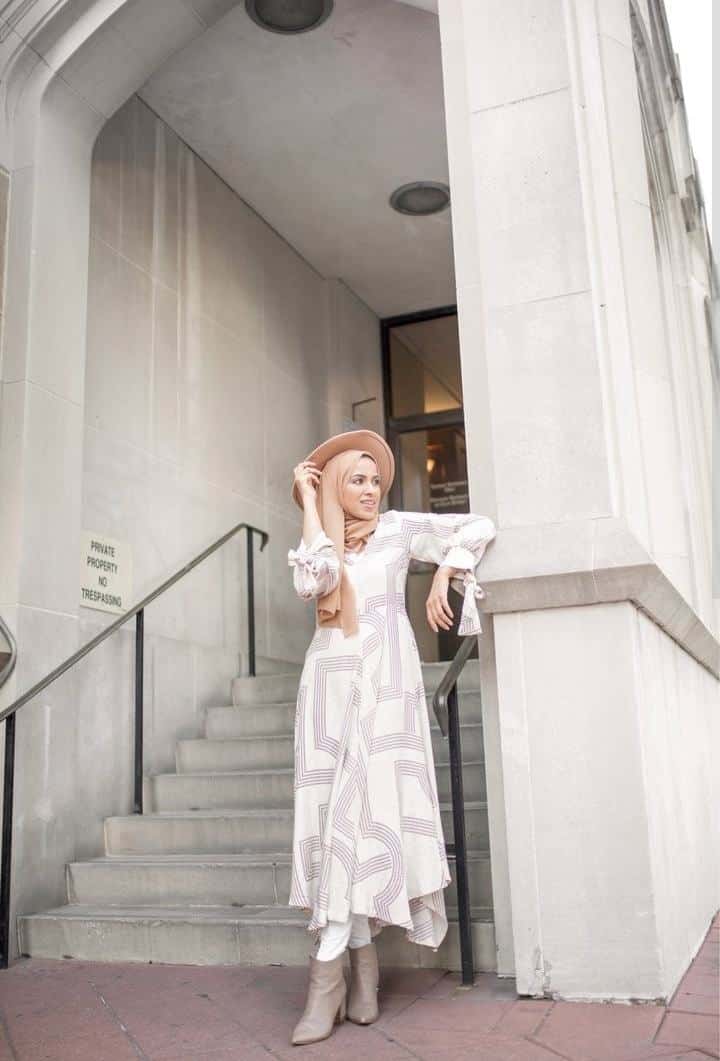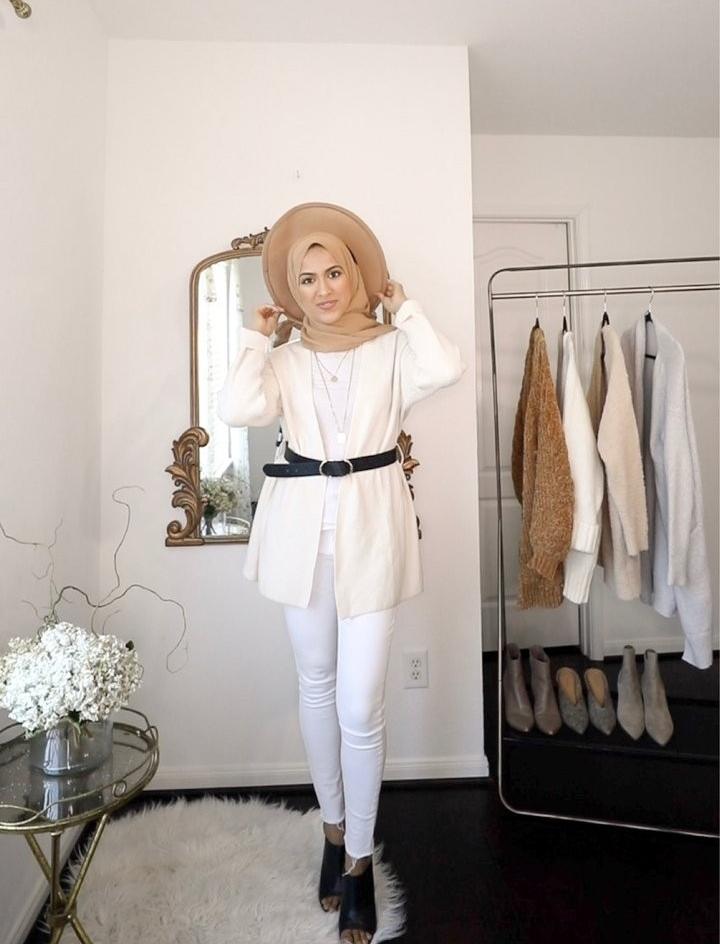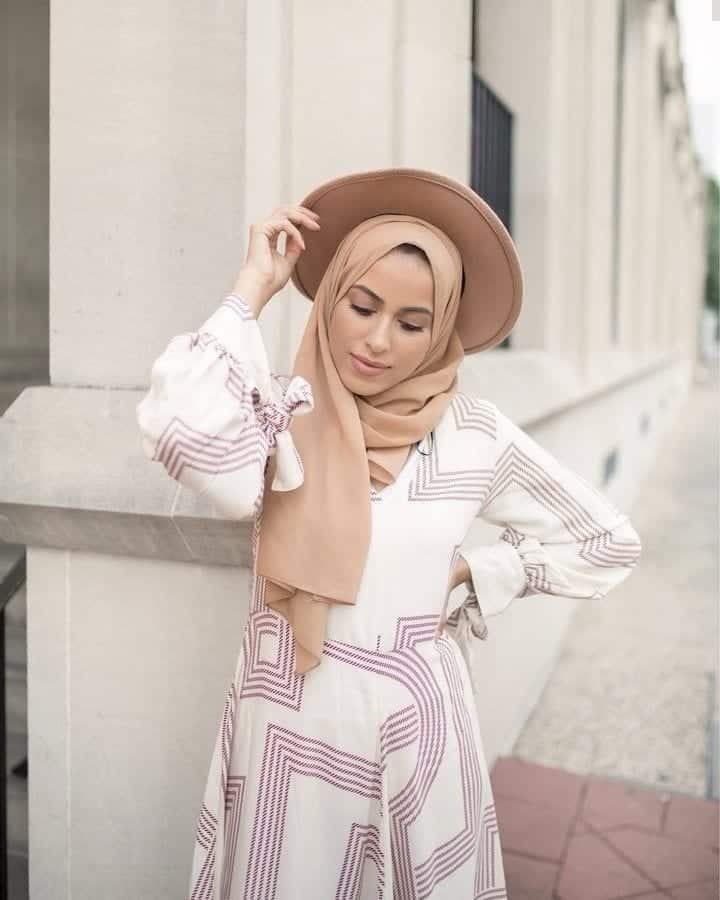 ↓ 17 – Hijab With A Hairband
No matter how old we grow up, there's always a child in us. Planning to go for an adventure? Or to Disney land with your friends or family? Or maybe just a private trip for the sake of your sanity and your happiness. Gentlewomen, you don't have to put off your hijab to wear a headband. You can wear it over your hijab yet rock the look. Here's an idea for you. You can wear a printed hijab and a matching headband. Another idea is to go for plain, solid-colored headscarves and printed headbands.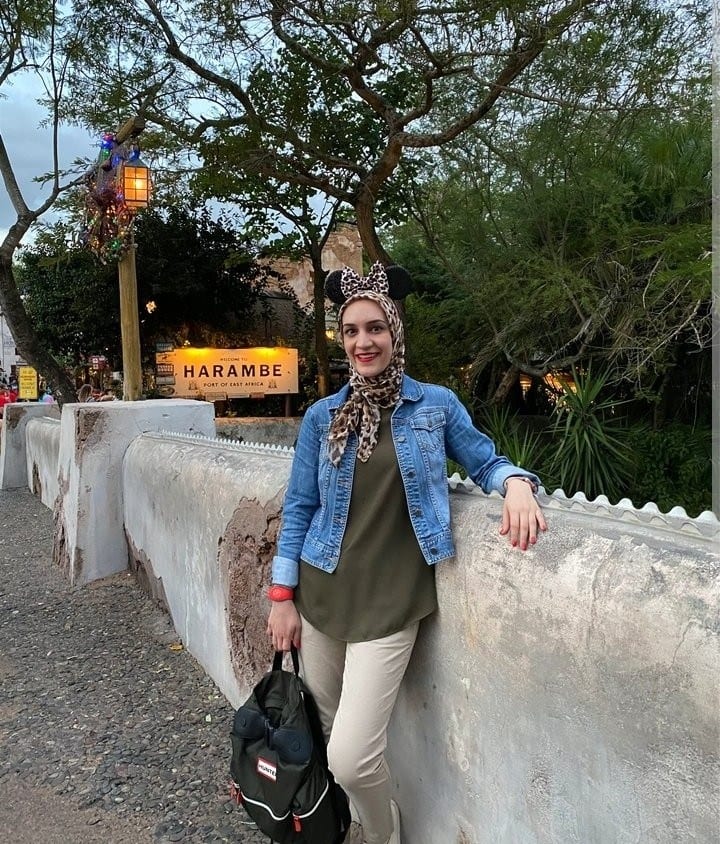 ↓ 16 – Hijab With Muffler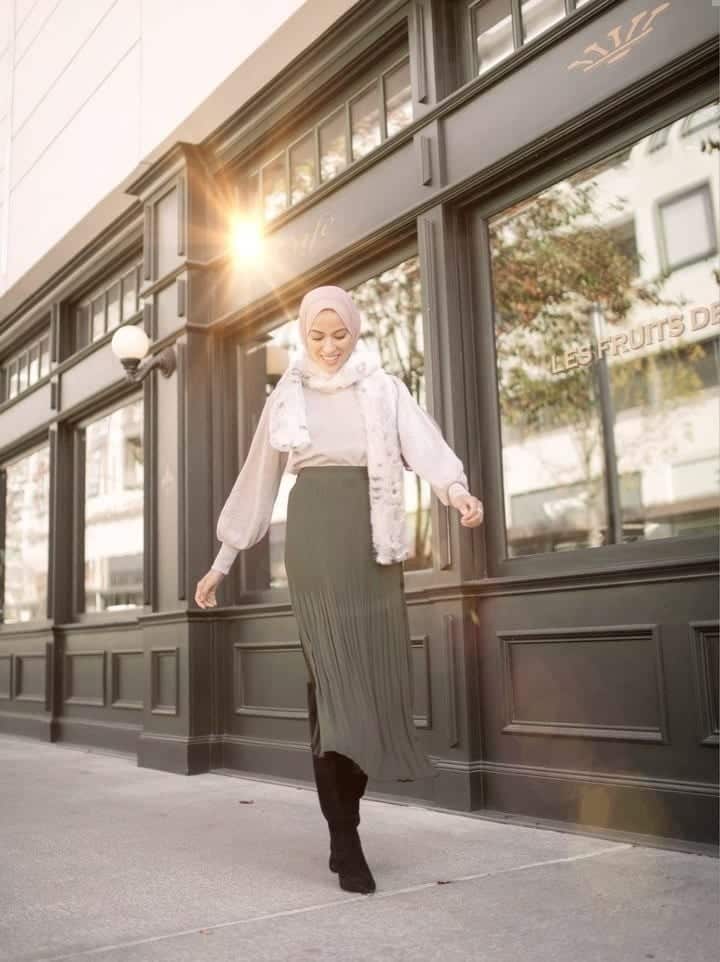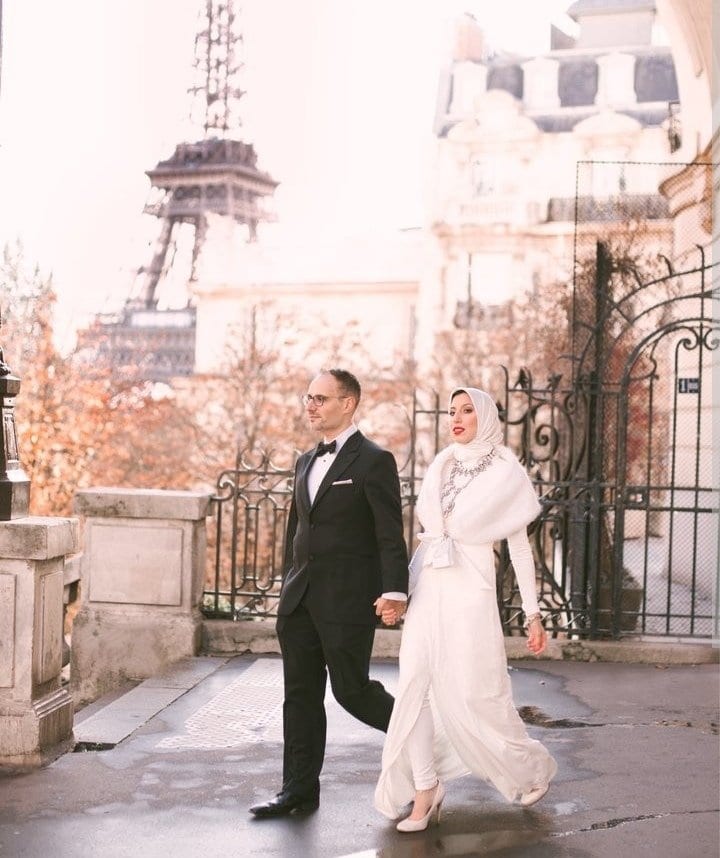 ↓ 15 – Hijab With Long Coat
Wearing dupatta and shawls is quite a trouble with your long coats. They don't look appealing at all and destroys the whole appearance of your chic outfit. We recommend that for winters, you wear a hijab with your outfits comprising of long coats instead of dupattas and shawls.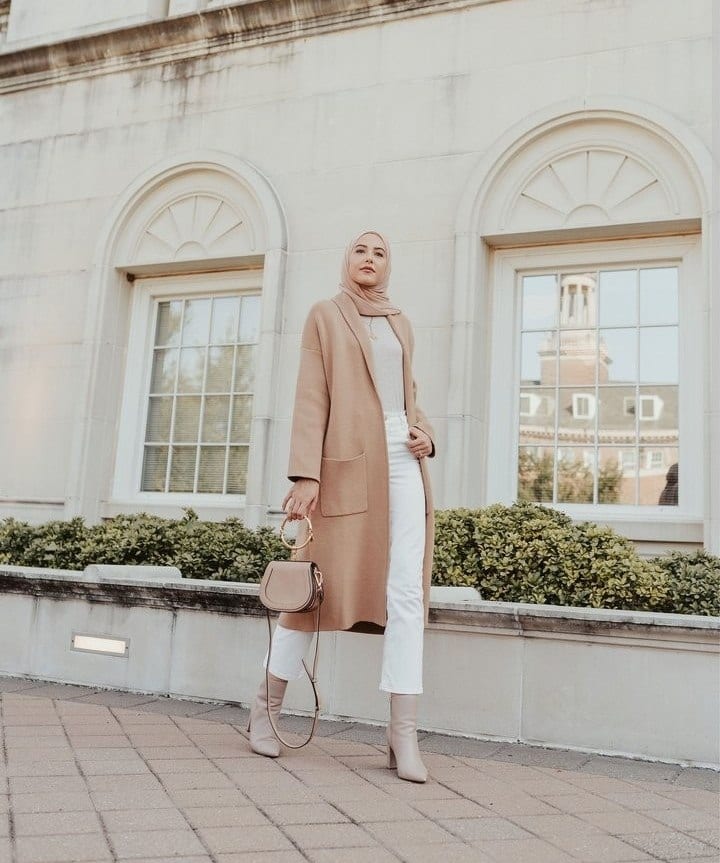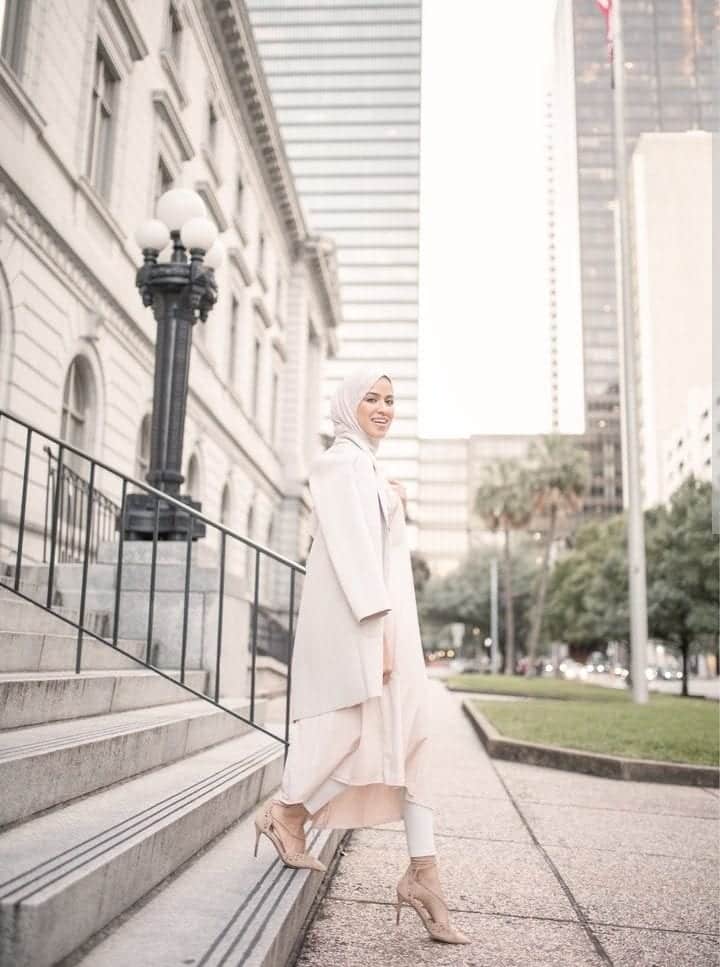 ↓ 14 – Hijab With Duppata Style
Want to wear a dupatta but also don't want to put off your hijab? Girls, don't overdo with dupatta and scarves; instead wear head cap first and put on your dupatta like a hijab over your head. Leave the ends loose just like you would of your dupatta. Shine on any formal occasion this way and slay every outfit that you wear.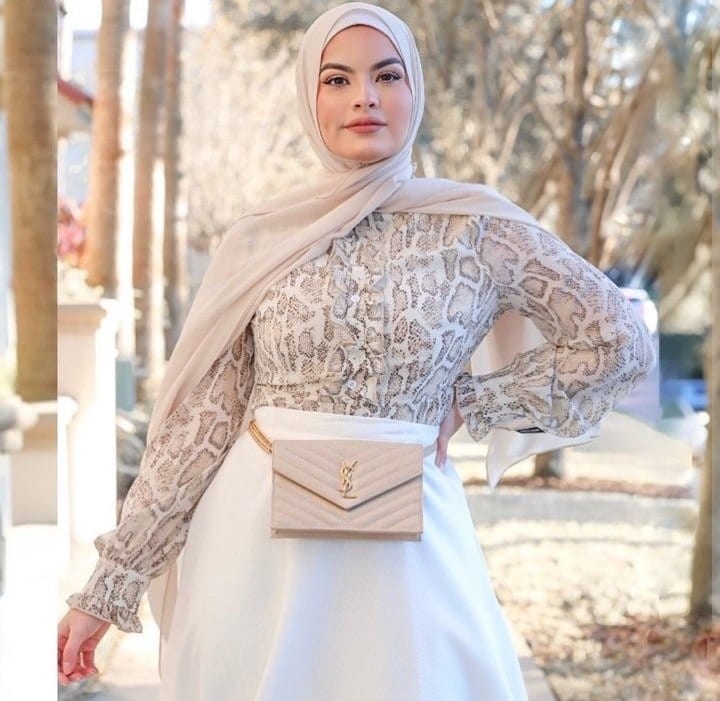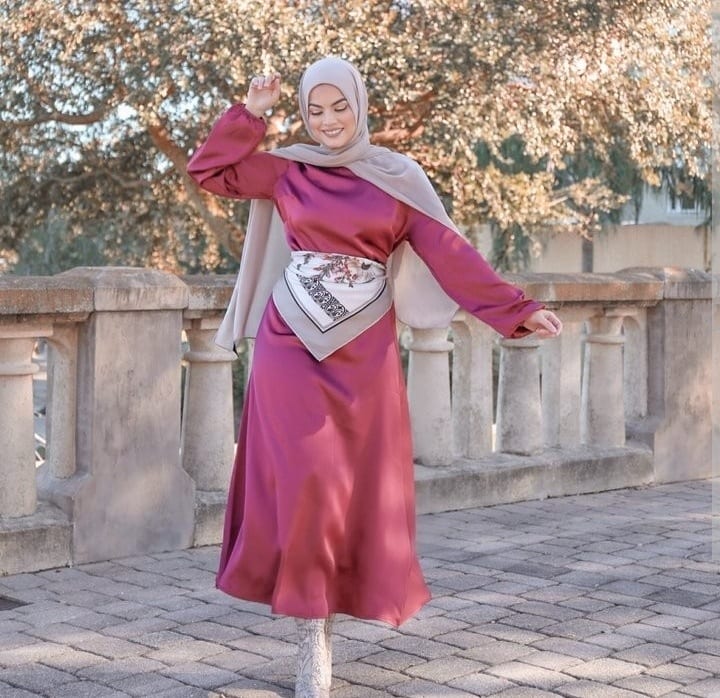 ↓ 13 – Turban Style Hijab
Add on some more class to your modesty and try out a turban hijab.
↓ 12 – With Blue Coat And Long Skirt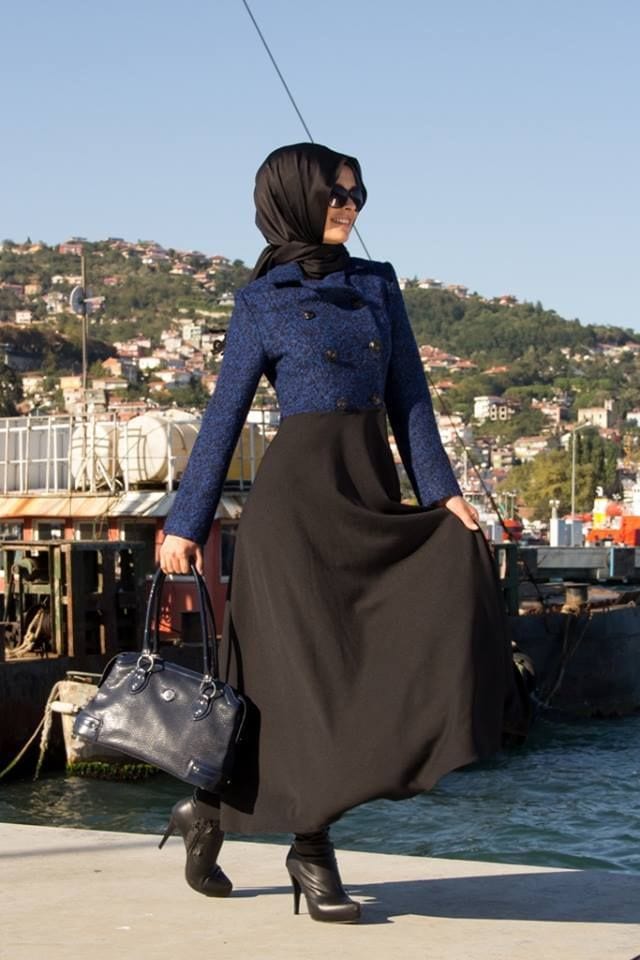 ↓ 11 – For A Modest Part Look
Wear a stylish abaya like a maxi with glitz and glitter along with matching hijab to look elegant, stylish, and meet your standards of modesty.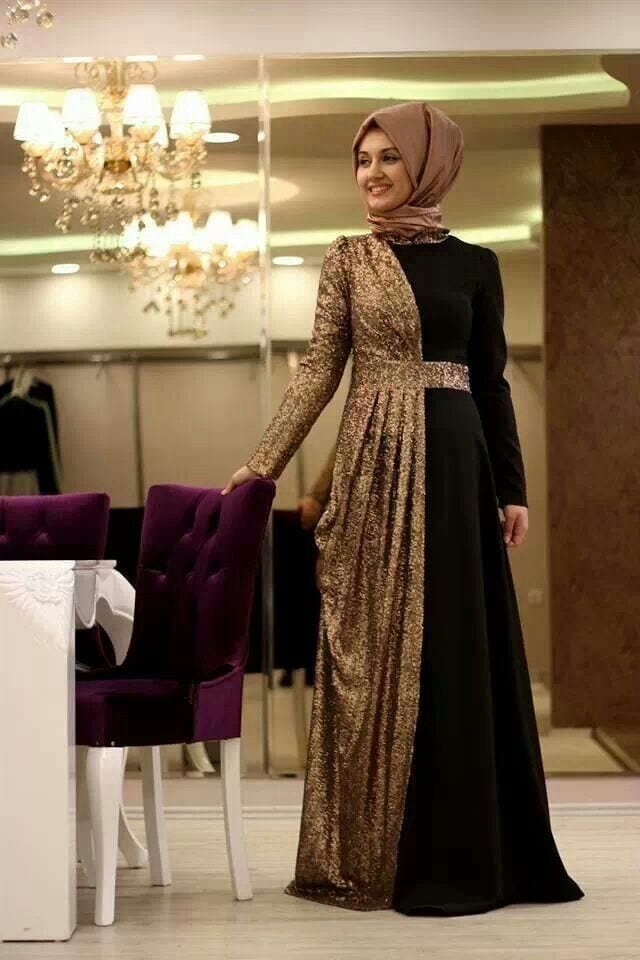 ↓ 10 – Hijab Look For High Schoolers
That is a bit funky and chic look for youngsters that can be worn with jeans and sneakers. Young girls can try this look for high school, college, or university as you will get a classy and modest look at the same time.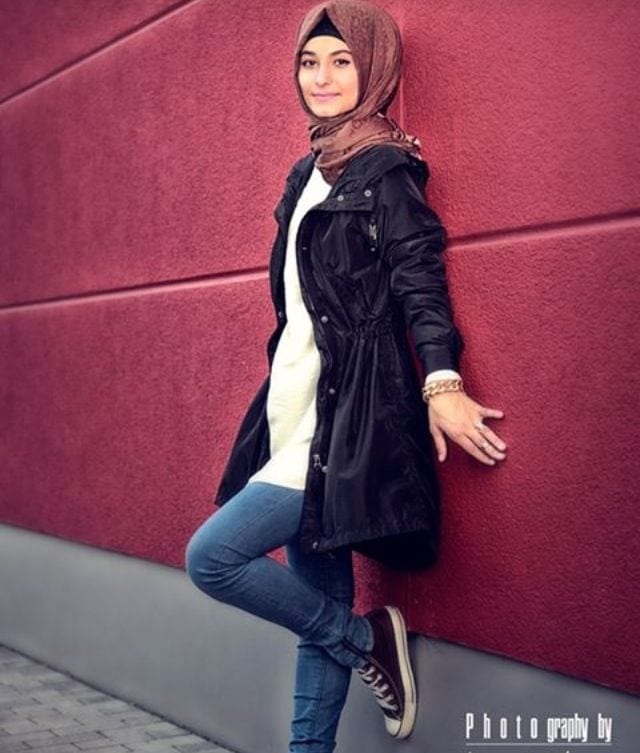 ↓ 9 – Modern Hijab Looks For Office Going Women
This look is recommended for Muslim women who are doing a job or going for a job interview. A perfect modest workwear look.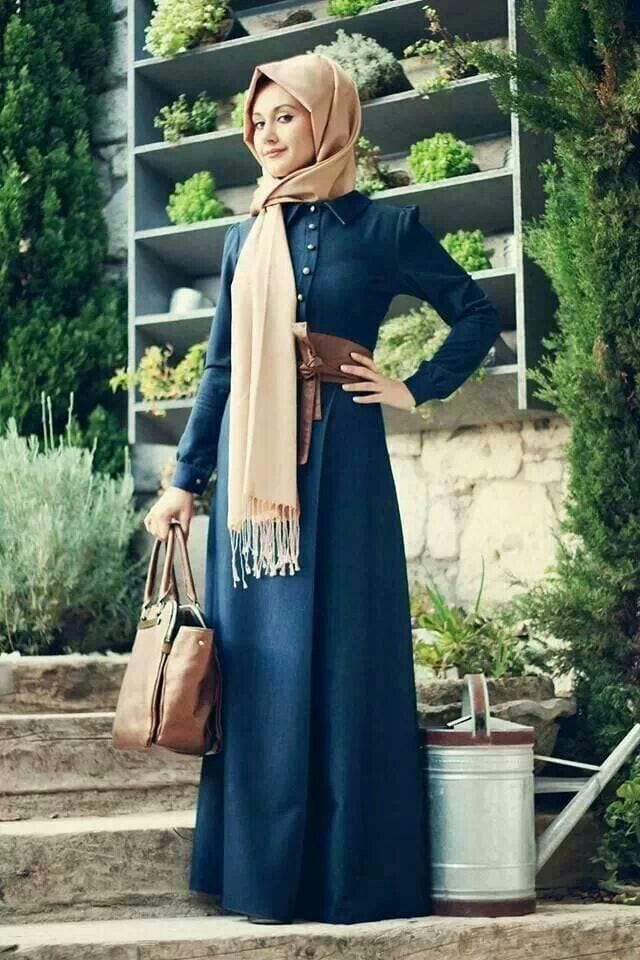 A pure silk scarf with a pink dress that has a gold wrapped around the belt will look amazing on you.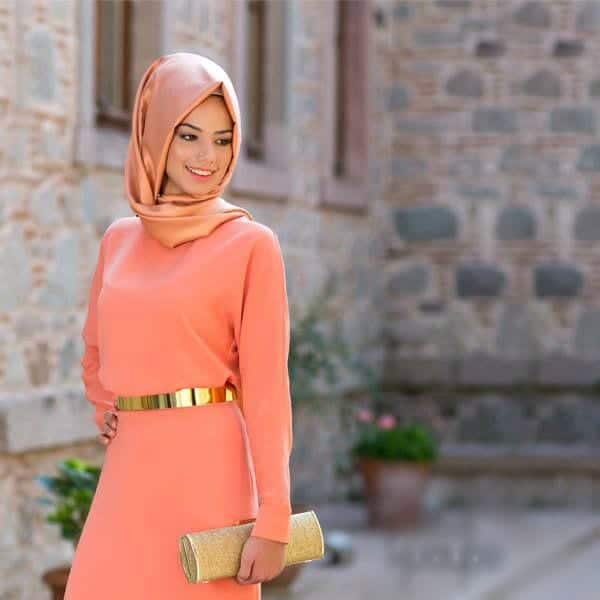 This is a Turkish style which is very popular these days. So if you haven't tried it already, make sure to get some inspiration from these 14 latest Turkish hijab styles.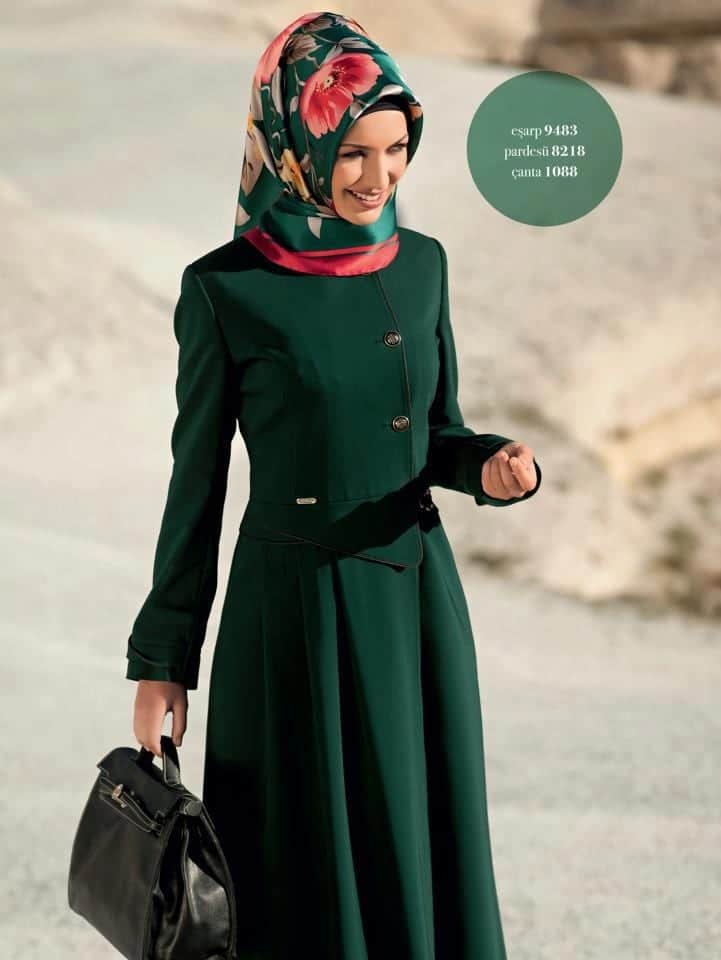 ↓ 8 – Girl's Night Out hijab Outfits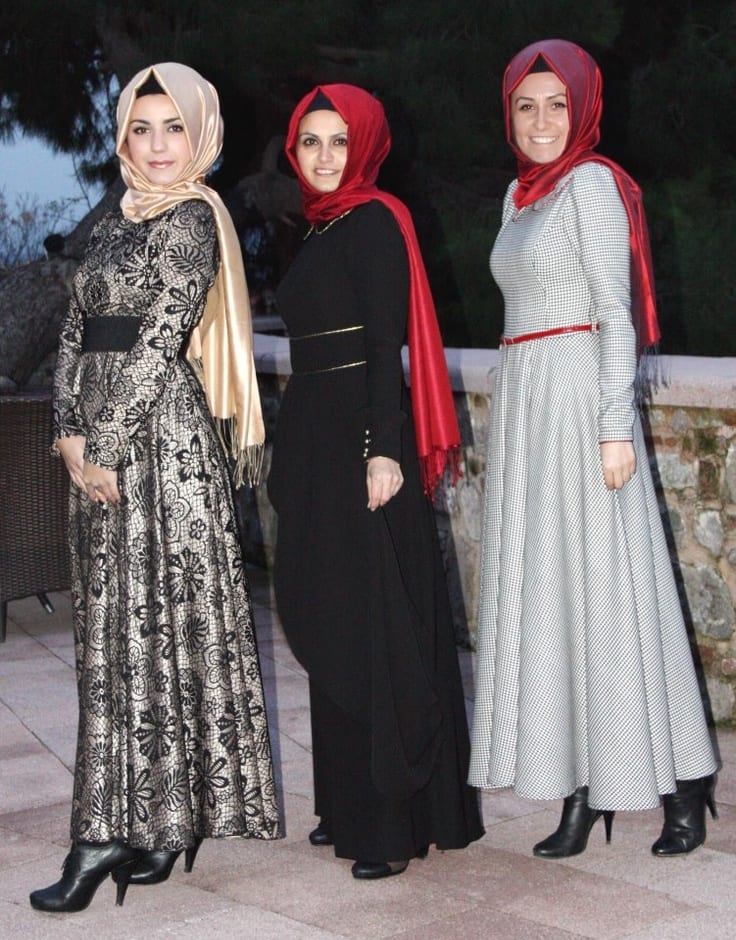 ↓ 7 – For University Girls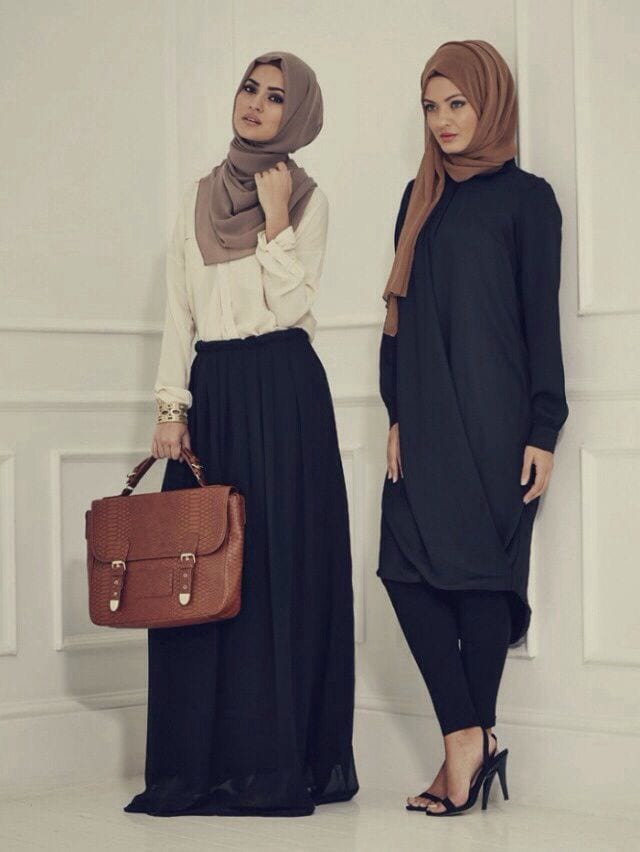 ↓ 6 – Winter Outfit
Combine your hijab with a complete winter outfit comprising of a leather jacket, maxi skirt, and wedges.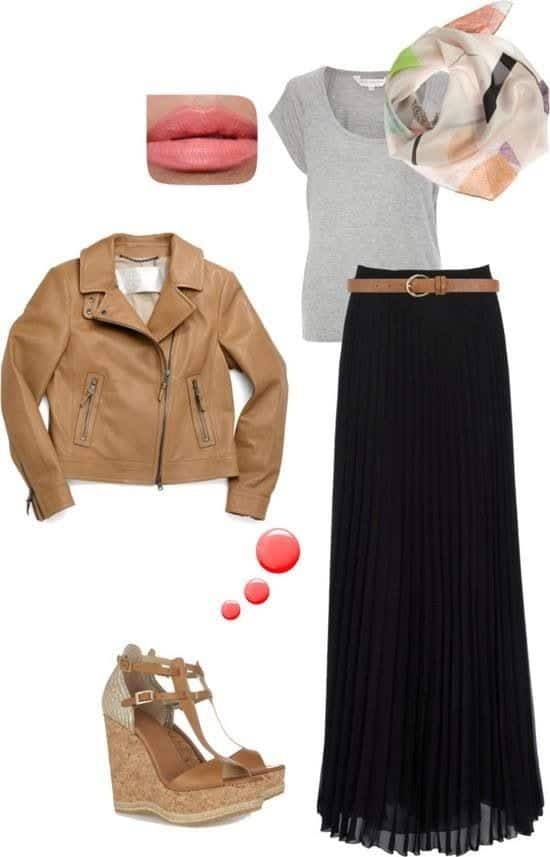 Another chic look for styling in winter is with a red sweater and black jeans. The right makeup with this outfit is a must to complement the entire look.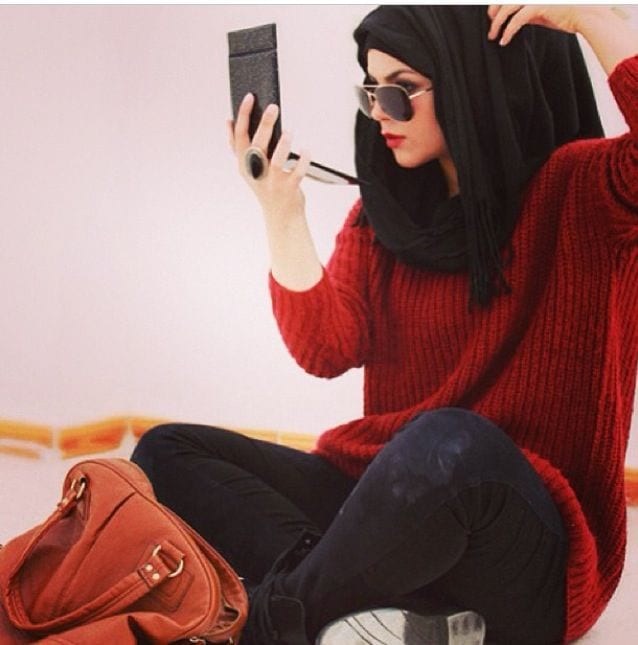 This hijab style is for girls with a round face. See how elegant this girl looks with a simple Turkish scarf styled with a long coat. The pointed edge of the hijab at the forehead adds the illusion of an elongated face, making the face shape appear longer than it is.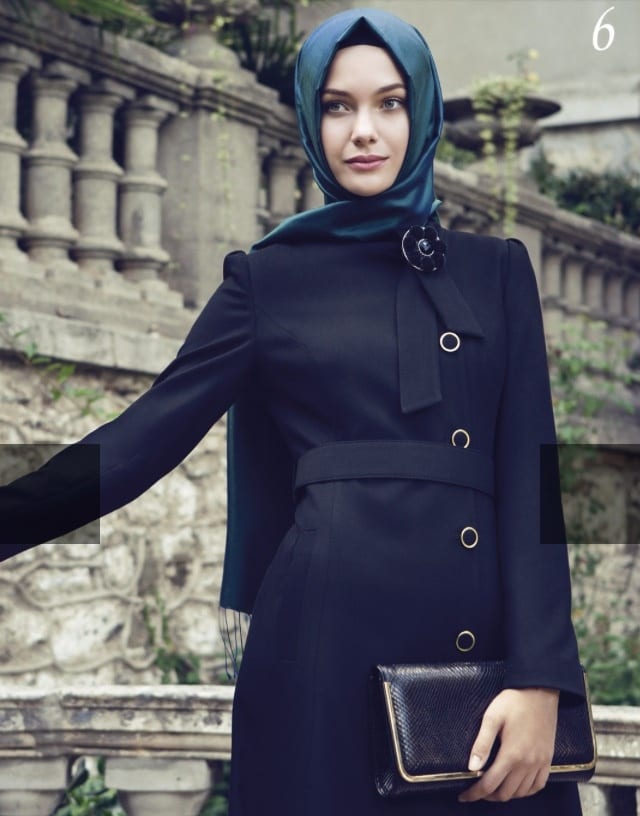 Street Styles like these are getting a lot of attention these days. Many top Muslim fashion bloggers have brought this modest fashion to the street, and they are killing it with their style. Not only do Muslim women love this look, but you would see a huge and positive response from other religious people commending their styling.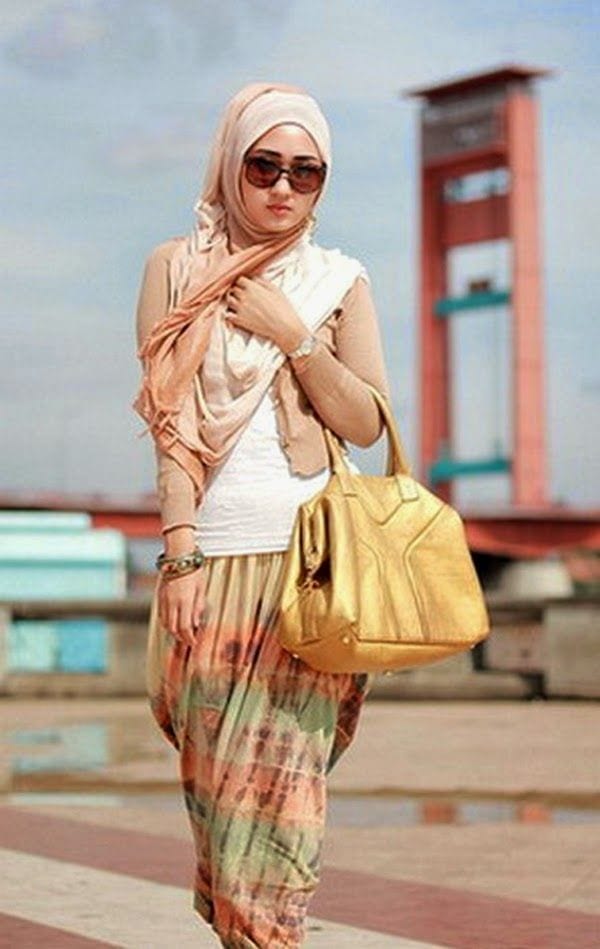 ↓ 5 – Hijab With Skirts
Here is a splendid Turkish style outfit consisting of matching hijab with skirt dress.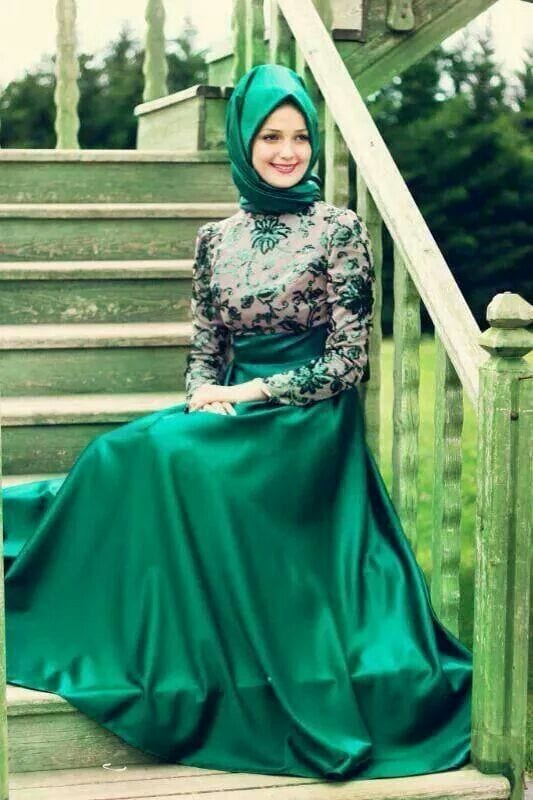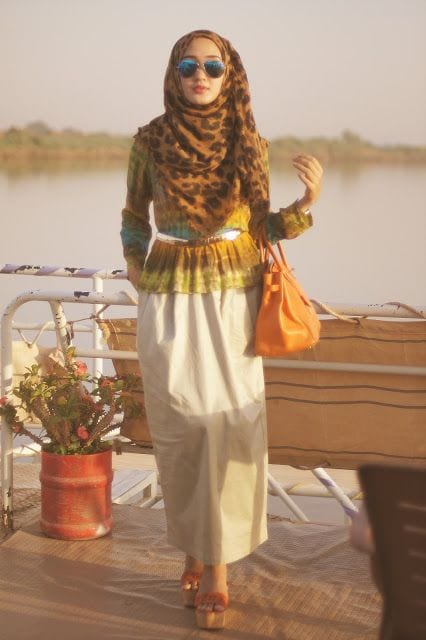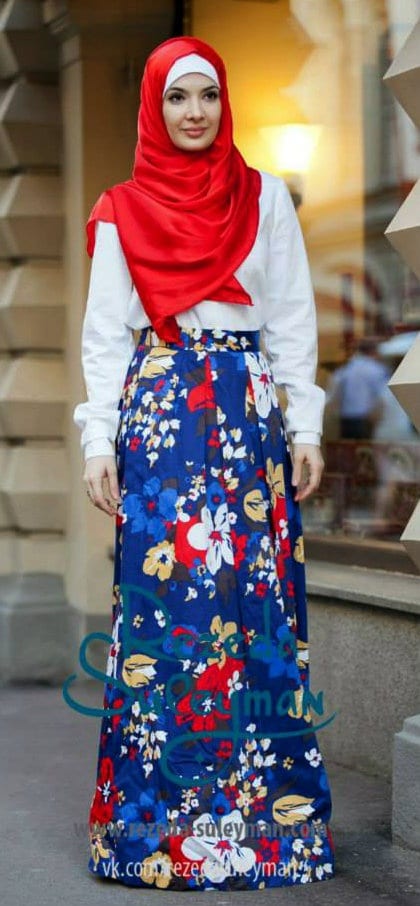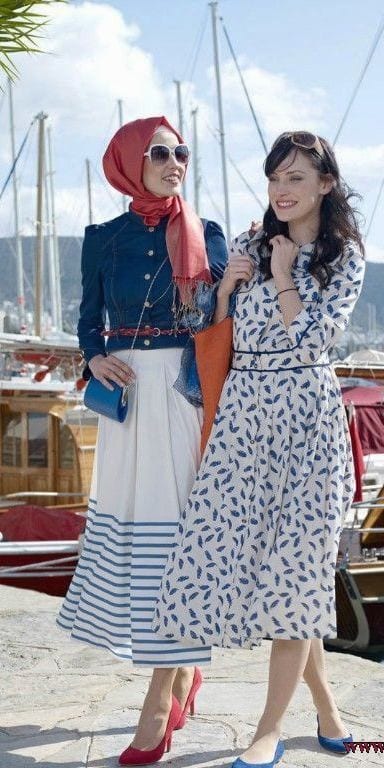 ↓ 4 – Simple Workwear Looks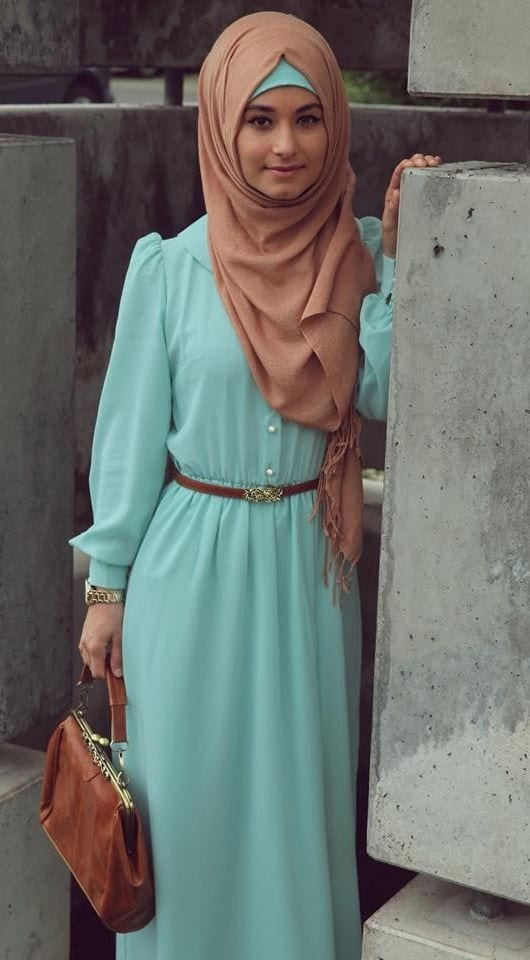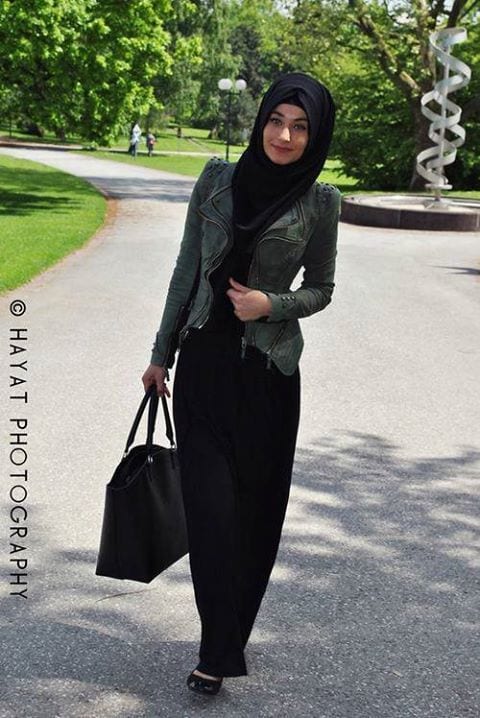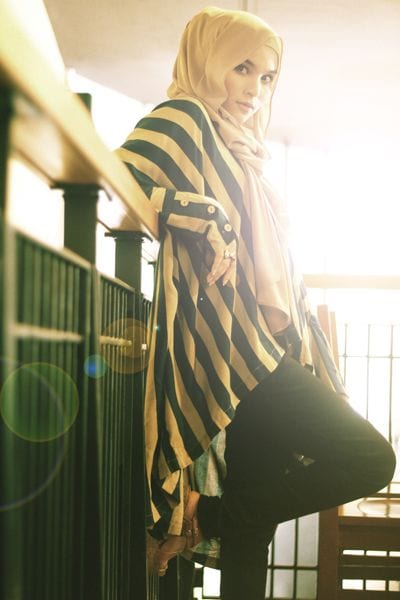 ↓ 3 – An Ideal Spring Look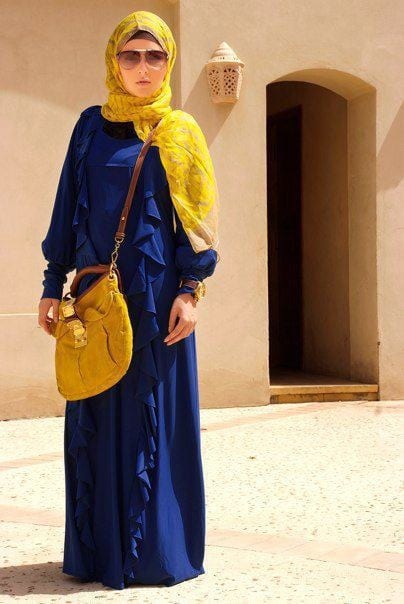 Try to have different pattern scarfs in your wardrobe so you can wear different headscarves with the same dress. Cheetah print hijab is quite trendy these days, so make sure to get your hands on one.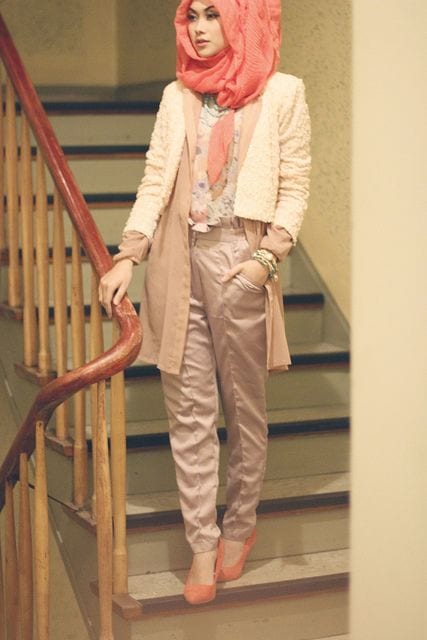 ↓ 2 – Hijab With Abaya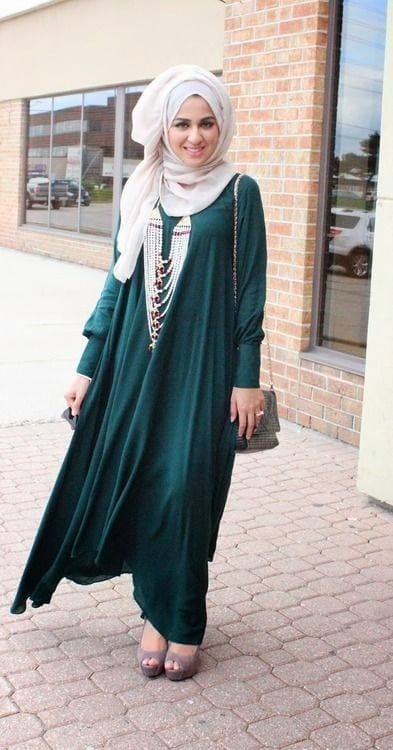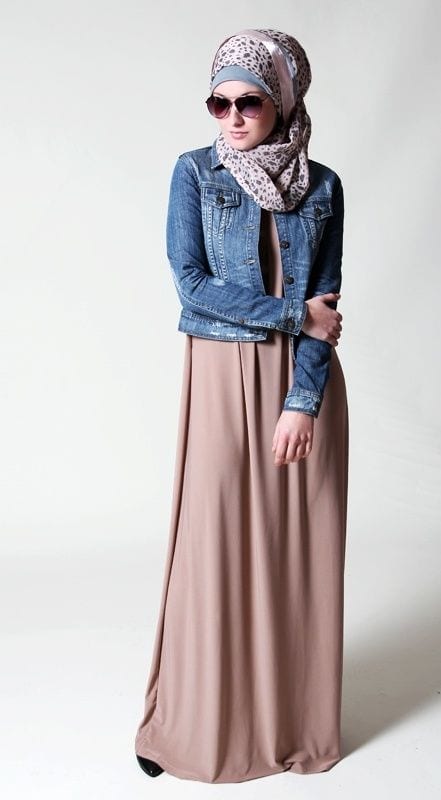 ↓ 1 – Hijab With Maxi