Hijab With Jackets outfits: Hijab is a Muslim women's identity. While everything nowadays is for fashion, from fake glasses to traditional style clothing of different ethnicities, hijab still holds religious significance for a lot of women belonging to the religion of Islam.
However, while women in Islam take hijab and abaya to religiously cover themselves, it does not stop them from adapting to different types of fashion styles that are becoming popular around other the world amongst women of different religions and ethnicities.
Keeping their style and outfits modest, Muslim women can carry any style in their own way. Be it western or eastern wear. From jeans to dresses, both long and short, to shalwar kameez to lehengas and sarees to abayas, Muslim women can pull anything with their hijab, while keeping their modesty intact.
           How To Wear a Jacket with Hijab?
In this article, we will discuss hijab outfit ideas with jackets, for hijabis. Although Muslim women all around the world are capable of working out every outfit with their hijabs, we are here to lend an extra hand if you are new to being a hijabi or if you are struggling with everyday jacket outfits to wear with hijab and stay in fashion while keeping modesty intact. Let's begin with some tricks and tricks for styling hijab outfits with jackets.
The oversized denim jacket is the most convenient one to wear with a hijab as you get lots of room for hijab styling. This is especially useful for girls who like to keep their necks wrapped with the hijab
A denim hijab with a denim jacket looks uber chic so this is one trend that everyone must try. Alternatively, you could wear the denim hijab with a denim shirt, layered with a cool bomber jacket. We highly recommend American Eagle's new denim hijab collection.
If you're wearing a funky jacket, go for a neutral or nude-colored hijab and vice versa.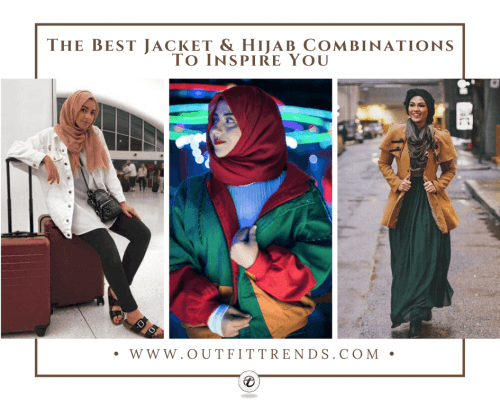 And here's a summary of the latest jacket trends that we'll be covering today. And if you're planning to buy some new jackets this Winter season, these are of course the ones that we recommend investing in:
Puffy jackets
Teddy coat
Shrugs (Ideal for early winters and they can even be worn as cover-ups in summers)
Sporty zipper jackets
Hooded jackets
Floral bomber jackets
Blazer jacket for formal wear
Denim jacket
A classic trench coat
↓ 12 – Puffy Jacket With Hijab
If you live in a country that experiences harsh, long and freezing winters, a puffy jacket will be your real MVP. It can get you through any cold day by keeping you perfectly warm and fuzzy. Long puffy jackets are especially the most appropriate choice for hijabis because it perfectly covers the body, keeps you warm in winter, looks utterly stylish and keeps the modesty in check.
You can throw a puffy jacket on any basic outfit, like a long high-neck sweater and jeans for colder days or a t-shirt and jeans or leggings for rather not-so-cold days. This can be a perfect outfit for everyday work, school or any other light event out in winters, add some accessories to it to complete the look, like a side handbag, your favourite white shoes, some glasses to face the sun and to top it off, a cute printed hijab. You should also have a look at these Different Ways To Wear Hijab With Denim Jackets.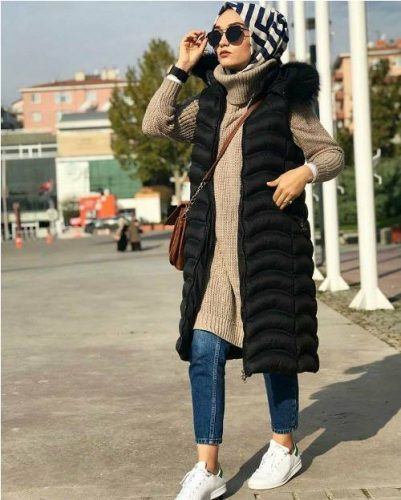 ↓ 11 -Teddy Coat With Hijab
Teddy coats are everyone's favourite these days. There might not be a second opinion other than teddy coats when it comes to keeping you perfectly warm and stylish. Every celebrity and influencer has been seen wearing them last winter and spring. Nothing can go wrong with a cute, warm, and fuzzy teddy coat.
Teddy coats are usually worn in large and baggy sizes over dresses and shirts, so this is also the best fix for hijabis. Buy a warm and fuzzy teddy coat in brown or white colour, as they are the most versatile ones that you can easily pair with your everyday jeans and t-shirt outfit or basically with anything else.
It will definitely get the job done as the teddy coat will be the central clothing item and you won't have to put on anything else for accessorizing.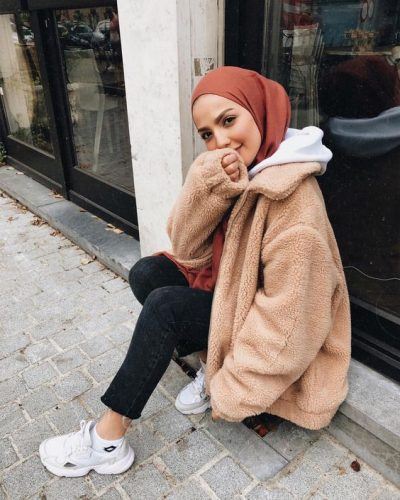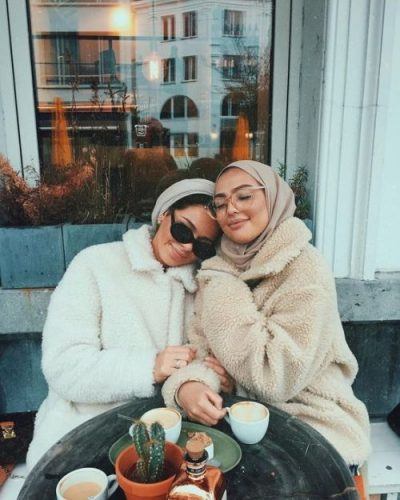 ↓ 10 – Shrugs With Hijab For Fall
Struggling with finding a decent work-appropriate outfit? We have an idea for you here. Pair striped straight pants with a tucked-in tee and throw on a shrug for that touch of modesty to an elegant work outfit.
A shrug has been the most useful, common and never-running-out-of-style clothing item for quite some time now, be it everyday work, school or a laid-back home outfit, shrugs are a fit for everything. Add a silk hijab to your pants and shrug outfit along with a side bag and you are ready to rock and roll ladies. A perfect outfit for windy or summer days.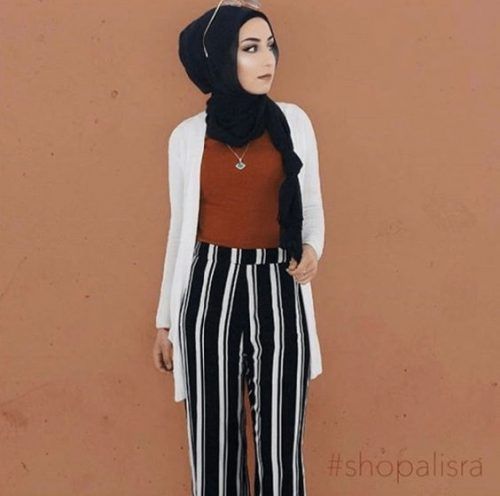 ↓ 09 – Skirt And Jacket With Hijab
Skirts might be the epitome of modest fashion. Floor-length, flowy, full covering and fashionable nonetheless. Skirts are as versatile as it gets, which is why this clothing item is the favourite for a lot of hijabis around the world, to let you all in on a secret, guys, skirts are one of my personal favorites as well. So I totally get the craze.
Flowy skirts can be worn to prom and parties, while straight skirts are preferred for an everyday outfit. With a tee tucked in or a formal shirt, you can wear it in any way and on any day. When it comes to choosing jackets with skirts, I recommend the classic trench as well as leather jackets.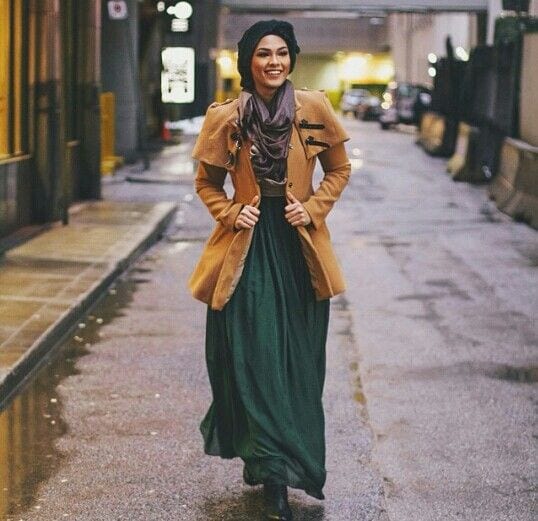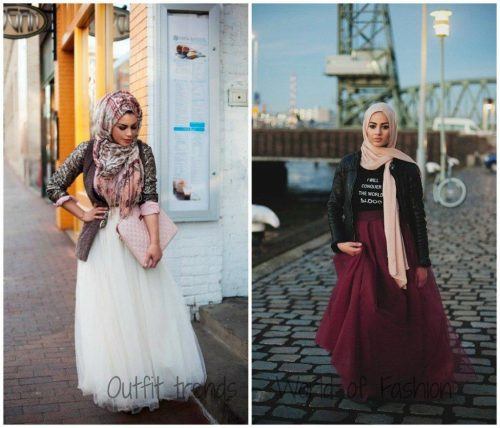 ↓ 08 – Oversized Zipper Jackets With Hijab
Zipper jackets are the most worn and something that every person, be it a man or a woman, one definitely has in their wardrobe. All these years of seeing and of following fashion, I personally have found nothing more comfortable than a warm, oversized zipper jacket.
An oversized zipper jacket paired with leggings or jeans will never run out of style. A basic jeans and zipper jacket outfit with a turban hijab is a fit for any casual day, school or a lazy breakfast or brunches out with your girlfriends. Never underestimate the signature style a basic outfit can pull off.
Throw on your favourite sneakers or vans, a cutely done hijab to top it off, and you are ready to conquer any given day and task with comfort. It's the perfect gym wear on the go too.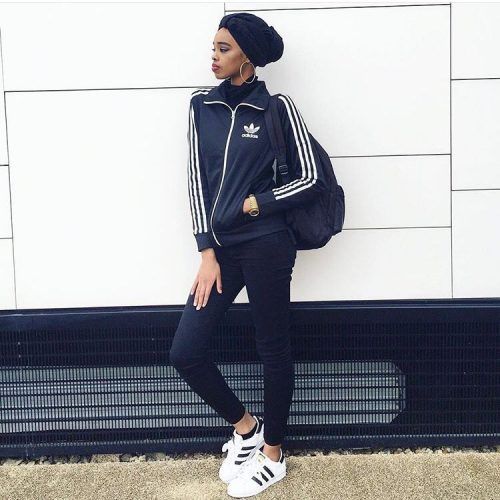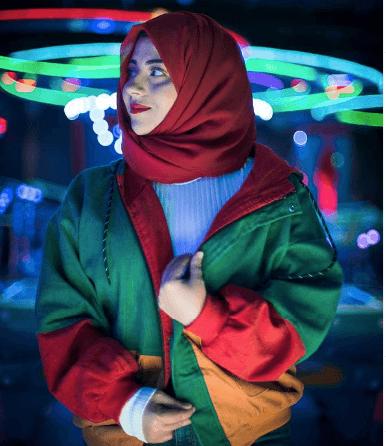 ↓ 07 – What Hijab To Wear With Hooded Jackets?
Comfortable, chic and freestyle – hooded jackets are the new cool amongst everyone, apparently. When it comes to any fashion statement or style, hijabis are not sitting out. Hood jackets can be dressed up or dressed down according to the need of the day – if you want to stay home all day, throw on a hood jacket if you want to go out, throw on a hood jacket with some accessories and makeup.
There is a wide range of hooded jackets available on all clothing sites and outlets. Hijabi influencers and Instagram bloggers have now been seen adopting this hood jacket style. This beautiful Instagram influencer and the founder of the hijab line, Habiba Da Silva has given us a look in a hood jacket right here.
Perfect spring look with the yellow out of the wardrobe and some glowy makeup. You might also want to check out these Top Hijab Fashion Bloggers That Every Hijabi Should Follow.
↓ 06 – Floral Bomber Jacket With Hijab
Floral jackets are my personal most favourite. Chic, fashionable, colorful, stylish, they look uber cute on youngsters. You can pair a colorful, floral jacket with a basic T and jeans, a plan, straight skirt and tucked in shirt or a long plain dress.
Wear something plain underneath the floral jacket, because the jacket itself is the eye-catcher, the center of the outfit and the main clothing item. Let the floral jacket speak for your colorful personality while you flaunt through the day with elegance.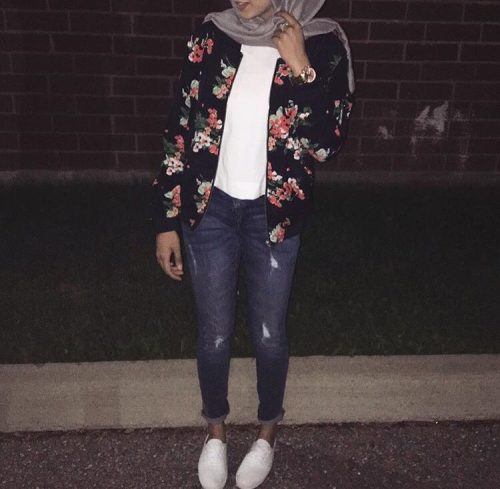 ↓ 05 – Airport Jacket Hijab Outfits
Airport outfits have apparently become the new big deal. Celebrities have been seen and pictured wearing fashionable yet comfortable outfits on airports that become very popular over Social Media. This trend has also been picked up by every individual who's traveling as an airport ootd picture must be taken.
Leggings, tracksuits, jackets and jogger pants have become widely popular as airport styles. They are all comfortable as well as fashionable, and versatile. You can wear a jacket over anything and make it look chic – jogger pants can be paired with shirts or tank tops, leggings and T's are the basic airport wear with a shrug or a jacket thrown over, especially tracksuits are the outfits which have gained the most popularity as the effortless airport outfits.
Other than that, jeans and long coats have been seen pairing up as an airport outfit as well. Jackets, in the end, save the day while you are traveling by a long or even a short flight. For more traveling outfit ideas, head on over to our earlier post on What to Wear As A Hijabi Traveler.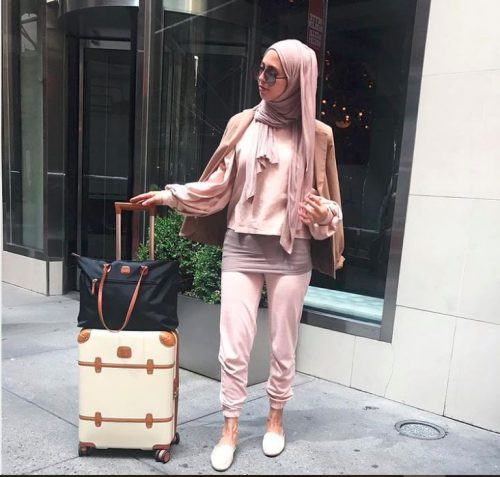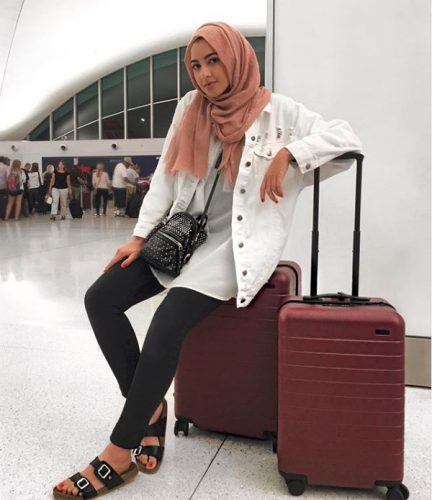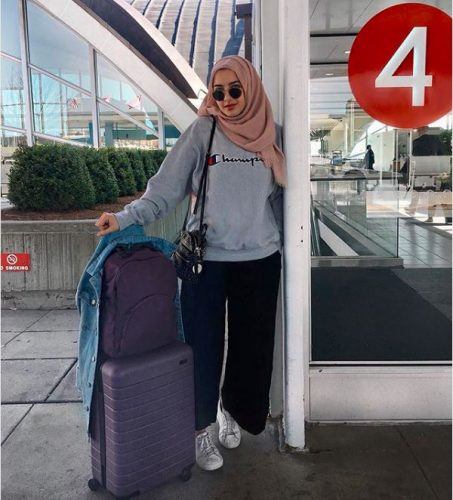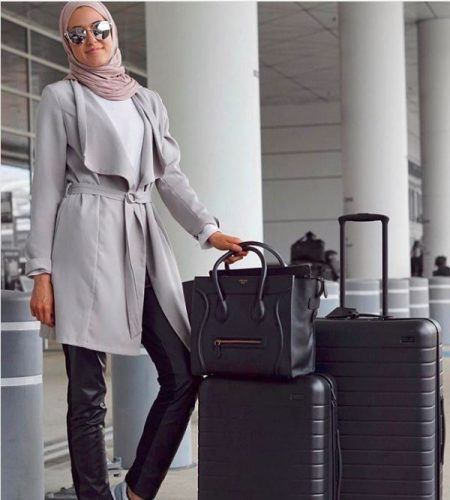 ↓ 04 – How To Wear Blazer/Suit Jacket With Hijab at Work
Suits for women are the epitome of elegance and style. A perfect outfit to flaunt your way through a meeting successfully, to have the boss impact on a workday or a business-related seminar or event. Boss ladies and influencers all around the world have been seen flaunting in suit jackets all over social media, so why shouldn't you?
Nothing defines a badass boss like a blazer. Floral, striped, printed or plain, blazers have been rocking the fashion industry these days. Hijabi influencers and boss ladies have mostly been pairing them with turban style hijabs.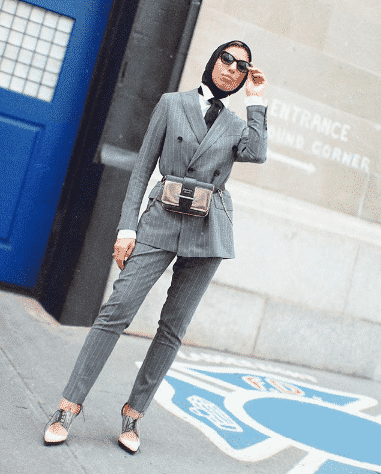 ↓ 03 – Long Coats With Hijab
Nothing beats a long coat on a cold day. The most versatile clothing item I have ever come across. You can style a long coat for any given day, with the basic T-shirt and jeans, long and short dresses, skirt outfits, workday outfits with straight palazzos and pants or any other clothing item.
Be it a lazy day, a hectic day, an event day or a formal party day, throw on a long coat over anything you are wearing and keep yourself warm while you stay in style.
Check pants paired with a plain white shirt and a black long coat with a black loosely done hijab, you are ready to conquer a workday, school day or any long day in winters.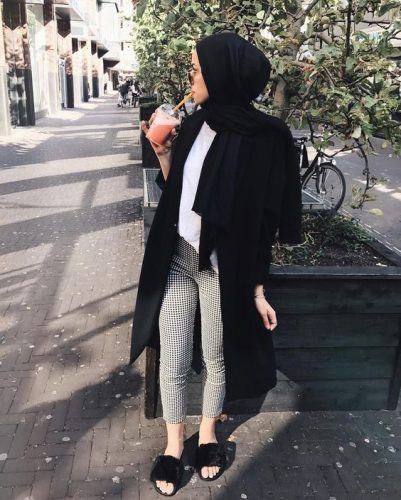 ↓ 02 – Denim Jacket With Hijab
Denim jacket, the ultimate stop to all your winter needs and outfits. I don't know about you guys, but for me, there is nothing better than a denim jacket to style any of my outfits. I love the 90's vibe it brings to a modern outfit.
Nothing can ever go wrong with a basic, forever loved and widely used denim jacket. Pair it with a dress, T-shirt and jeans, skirt or a straight pajama outfit, you can pull it off with anything on any given day. Anything denim is only love, love, and love.
For a day at school pair your denim jacket with jeans or leggings and a casual T-shirt, for a day at work pair your denim jacket with straight striped pants and a shirt of your choice, wear it off the shoulder or any other way.
The full stop to all winter needs, and I am sure everyone must have this clothing item in their wardrobe. Wear it with your favourite hijab style and you shall look modest, as well as fashionable.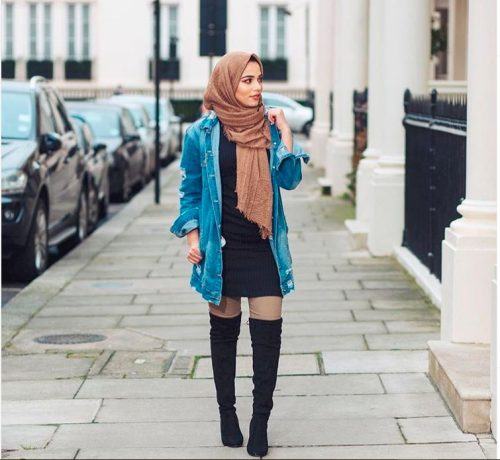 ↓ 01 -Street Jacket Style With Hijab
Street style fashion is the new cool in recent times. Be it tracksuits, Adidas and Puma jogger pants and hoodies, leggings and baggy shirts or striped jeans and oversized hoodies, they have been widely popular amongst people these days.
Throw on your favourite vans or sneaker with them and you are good to go for a gym day or a school day. Hijabis wear it with a headscarf beneath the hood to properly cover all their hair, and they look as cool as others, or maybe a little more.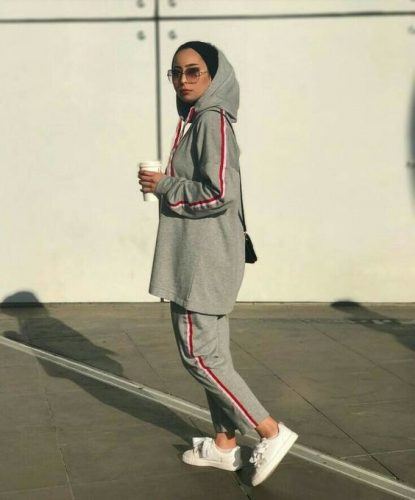 Do share with us your favorite jacket to pair with hijabs in the comments below!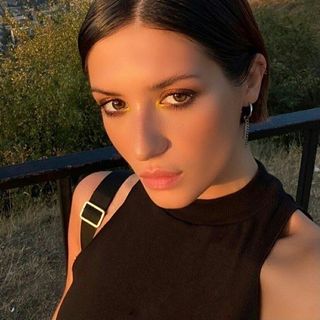 Avid reader and Fashionista. London Based freelance lifestyle editor