Latest Velvet Abaya Styles: Velvet Abayas are the emerging topic in the modest fashion world. The coming winter of 2019 is going to be all about Velvet abayas ladies, so we are here to cover all the styles and tips for wearing velvet abayas. Hijabis and women who cover themselves religiously are the ones who introduced abaya style to the world. But, in recent times, abaya style has emerged as a form of everyday fashion that brands are picking up and introducing to the world as well, which has made abaya style much more recognizable amongst a lot of people and new chic and fancy styles have been added for the hijabis and non-hijabis alike.
Dolce and Gabbana added a whole new line of abayas to their fashion collections back in 2016, which is to die for ladies. Abaya style has evolved to more chic and fancy abayas which can be worn to outdoor events and parties and carried elegantly, amongst the new styles of abayas are velvet abayas. Which is spreading to be the talk of the abaya fashion industry. Mariam Mohammad, a Kuwaiti modest fashion diva, has been seen wearing long velvet coats as abayas in recent times, which looks utterly chic, fashionable and perfect to wear to any occasion.
Trending Velvet Abaya Designs 
When it comes to modest fashion, it's a lot different to style abayas and modest coats and gowns. Velvet abaya styles include floor length abayas, frock styles, gowns, front open style, maxi style and a lot of others. Hijabis normally style abayas with different accessories like chic earrings, bangles and bracelets,  handbags as well as colorful and chic heels and around the waist belts. Adding the right accessories can make or break the whole look of your outfit.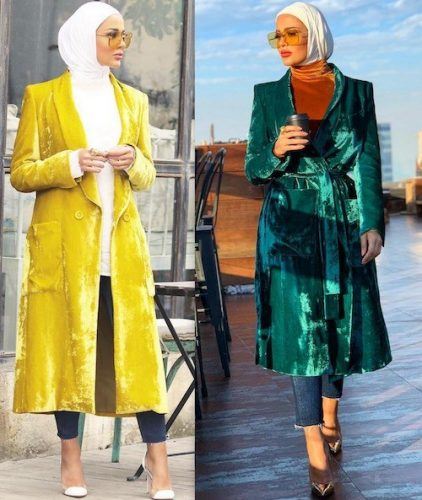 Here are some tips on styling a velvet abaya:
Pair different colored hijabs with the abayas to add a pop of color to your outfit
Add a waist belt to make it look like a proper outfit that can be worn to any occasion
Chic heels always put up the game of styling a simple colored abaya
Add long, dangly or round earrings with your abaya to give it a bit of character
Always try new and vibrant colors with styling your abaya to give it a new feel every time
Add a handbag to your abaya look to add a contrast to the outfit
Throw them over dresses in front-open style to make a chic looking outfit
Front-open abayas can go with a lot of different outfits like a long dress
Velvet front-open abayas can go with flared pants and a shirt tucked in as well
Velvet long coats, in place of velvet abayas, have been seen wearing by street bloggers to put up a chic outfit
As well as, velvet abayas can be worn as everyday wear to work or grocery
Top sites to buy velvet abayas from include:
DHgate.com
HANAA.com
Aaliya Collections
Gunay Hafiz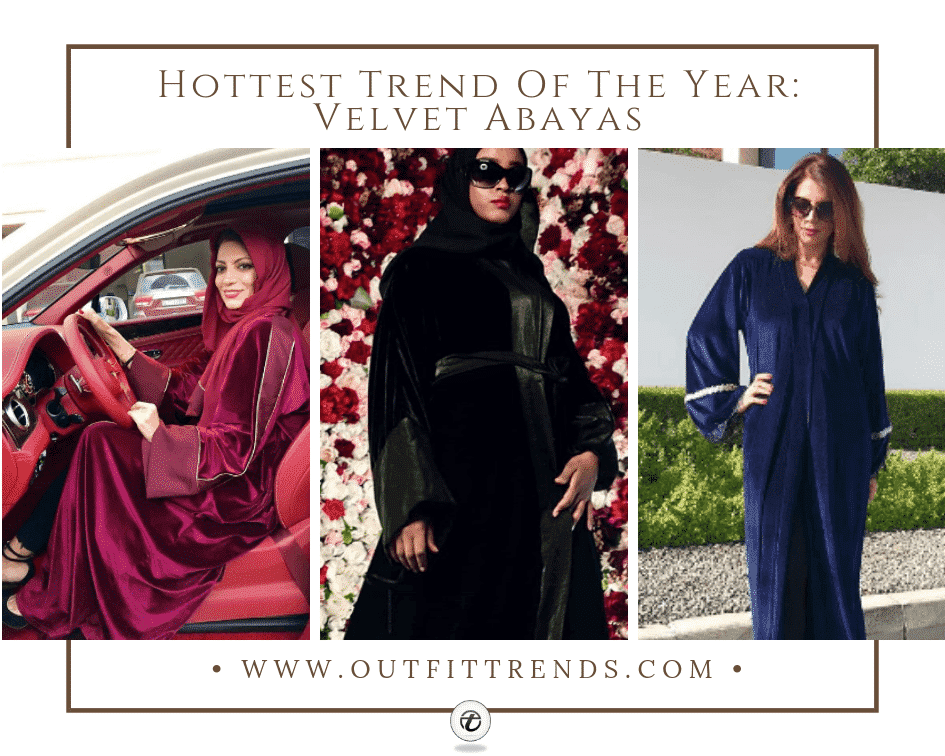 Now, let's talk about What Are The Different Styles Of Velvet Abayas?
All these years, abayas have been worn by religious women in order to cover themselves, but in recent times, women have been seen wearing silk and velvet abayas as dresses and kimonos over their outfits to make them look chic and fashionable. Velvet abayas can be worn to make different style statements, by both hijabis and non-hijabis. Some of the most trending and popular velvet abaya styles are as follows:
↓ 10 – Mix Velvet With Other Fabrics
As beautiful as velvet is as a fabric, it's also very thick and warm so it's not exactly the kind of fabric that you can wear on hot summer days. The solution to this can be mixing velvet with other fabrics, for example, here we see a gorgeous blue abaya in Korean Nida fabric with a bodice in velvet. The wrinkled effect on the velvet makes this abaya stand out even more. And this isn't just a solution to wearing velvet in summers but this mix and match of velvet with other fabrics is a great way of adding more of the fun element to your abaya. If you like this abaya, you should have a look at the Abaya Boutique's website or Instagram account because they have the most amazing range of abayas at pretty reasonable prices and they ship worldwide. You can also have a look at these 50 Best Abaya Designs on Instagram for some trendy ideas.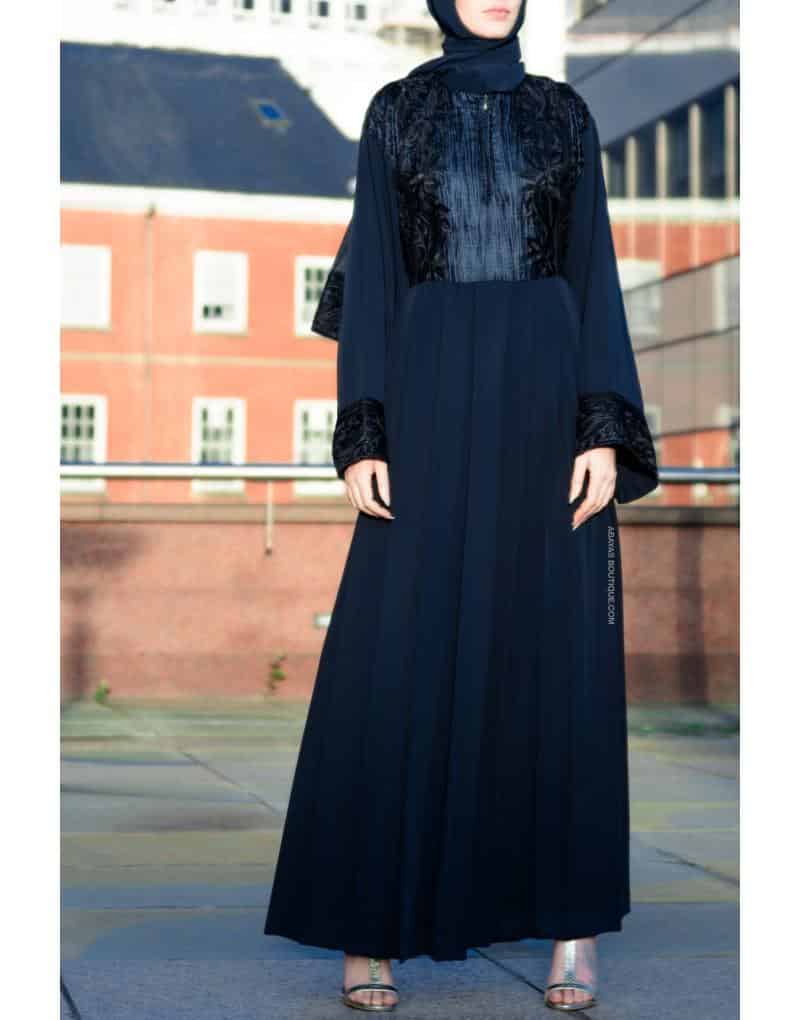 BLUE LADY VELVET EMPRESS ABAYA £ 64.99
↓ 9 – Minimalist Details
Velvet abayas are perfect for those who like minimalist style. You can find a range of minimalist velvet abayas with simple but intricate lace or beads detailing at the brand Gunay Hafiz.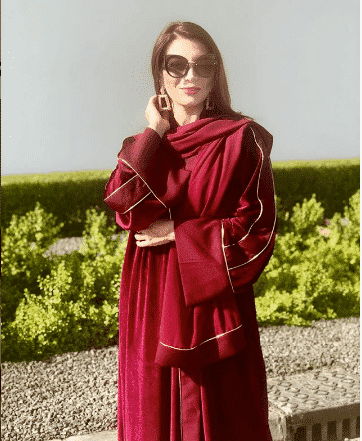 Another beautiful but minimalist style is this patterned velvet abaya by Kiyah Abayas. It's available in black and pink colors.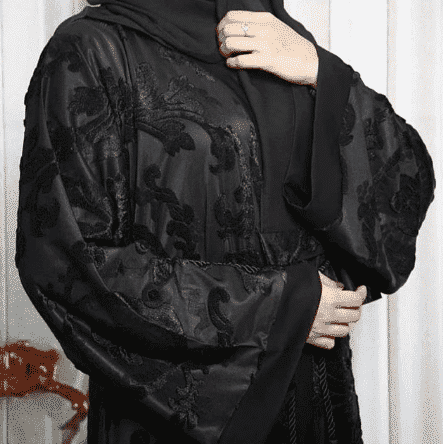 Here's another similar design by Abaya Allure, a really cool London based brand that ships worldwide.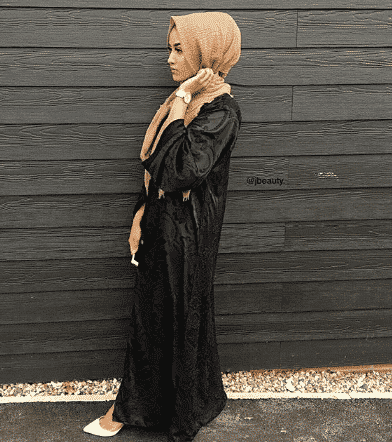 ↓ 8 – Trendy Velvet Colors For Your Abayas
For hijabi bloggers in the fashion world, it can get a little tough sometimes to spice up their modest fashion in any new way. However, a velvet abaya can save the day, as a velvet abaya can be added over a loose fitted dress to keep the modesty alive and cover the body perfectly and still look as fashionable as everyone else. The velvet fabric adds character to the whole look and makes the outfit more appropriate for events and occasions, as well as for everyday work fashion. With the right kind of accessories and the right choice of hijab style and the most important thing, carrying your look the right way, you can make a perfectly chic and trendy outfit out of a velvet abaya. Vibrant colored velvet abaya thrown over a dress can change the whole look, it can transform even a dull outfit into a chic one. The most recommended velvet abaya colors for you to try this year include rosy pink, midnight blue, greyish black, and sea-green.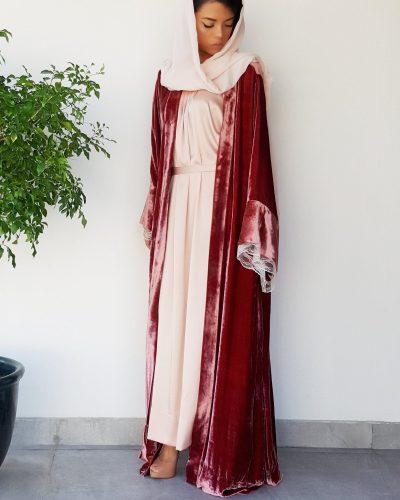 This vibrant abaya can be bought from the site qabeela.com. For all the modest ladies out there, look out for the right abayas and put up your outfit game a notch up.
↓ 7 – Velvet Abaya Dresses
Other than as an abaya, velvet abayas can also be worn as dresses and long coats in winters by non-hijabi ladies. The modest fashion is now being adopted by non-religious women outside of the perimeter of Islam and it is becoming a new fashion statement. Street style fashion bloggers have picked up the style of wearing velvet fabric abayas as dresses with a waist belt to make it fit on the waist and around the abdomen, so it looks more fashionable and trendy. Non-hijabis wear it as a wrap-around coat and make a dress out of an abaya and trust me, it looks nothing less than a fancy winter dress which will be suitable for any outdoor occasion or for everyday work as well, it can be dressed up and dressed down according to the need of the hour.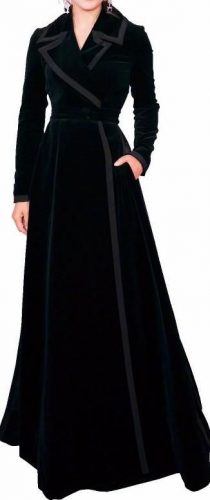 This velvet style abaya can be shopped online from designerinspiredclothes.com. Add some chic accessories to this outfit and you are ready to rock any event ladies.
↓ 6 – Frock Style
Another style that a velvet abaya can be worn is in a frock style. It is like a dress as well but it is given a frock style with floor length, and as seen in the picture, with flared sleeves and little pearls on it, it looks even more pretty, and well suited for a party dress. A velvet frock style abaya can be worn to parties and weddings as well with the right kind of accessories and in bright colors. Printed or embroidered abayas make for a perfect outdoor event outfit. Hijabis, as well as non-hijabis, can wear a velvet frock style abaya to a lot of a different kind of occasions.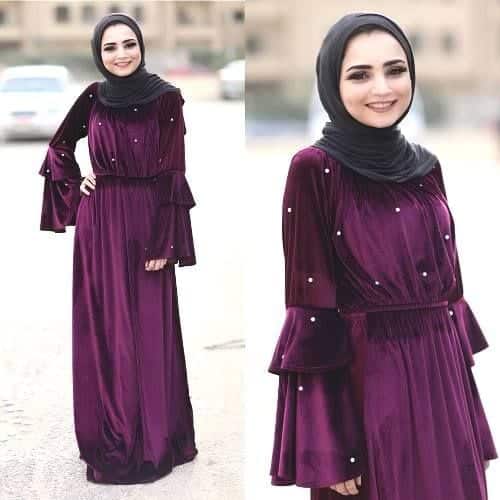 ↓ 5 – Party Wear Abayas With Laces
Another well-suited style for a wedding in winters will be a pretty velvet abaya with laces on the sleeves or on the bottom. Such styled velvet abayas can be worn over a dress as a front-open kimono or can be tied around the waist so they can be worn to another occasion other than a wedding. The pretty laces on the sleeves and bottom add a whole new character to the abaya and it can make a dull outfit look elegant and worthy for a wedding or a glamorous occasion, as it can be dressed up or dressed down with the accessories and shoes according to the time of the day. Makeup plays a vital role in making an outfit look elegant or chic. Not a lot of women realize it but a plain and an embroidered or laced abaya can make a lot of difference to the outfit you are wearing. To complement your abaya, you also need the perfect hijab so do check out these 20 Tips On Choosing The Right Hijab For All Skin Tones.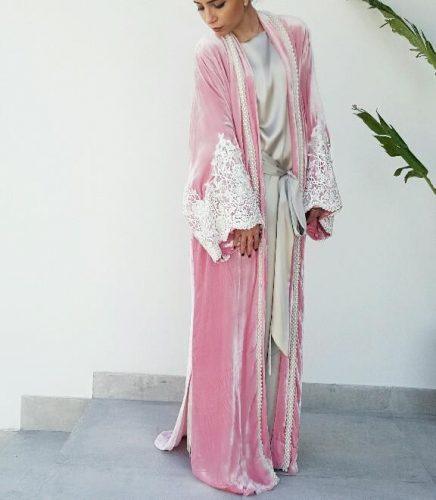 You can shop this velvet abaya with pearls and laces on qabeela.biz. They have a variety of other velvet abayas and dresses to choose from as well.
↓ 4 – Everyday Style
Velvet abayas may look very trendy and fashionable to must have in a wardrobe, but they can not be worn throughout the year. Velvet is a rather warmer fabric and so it can only be worn in winter times in a lot of areas around the world where the weather gets warmer. But, nonetheless, it sure is a fashionable investment to cover you for the winter time. And especially for ladies who live around in colder countries and can wear them quite often around the year. A plain, basic black velvet abaya, other than fancy and blingy ones, can be used for the everyday work strolls or outings where you do not feel like dressing up too much. A plain black velvet abaya with a lace tied around the waist, to add a little character to the outfit, can be a perfect everyday work or going out to run errands or grocery shopping. It is not too much nor too little. As well as it can be dressed down or dressed up according to the need of the day.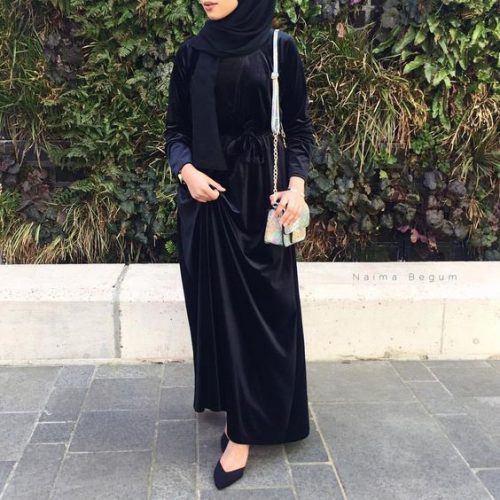 This basic black velvet abaya can be bought from Moon Boutique. Add a little more style to your everyday abaya wardrobe with this plain yet elegant velvet piece.
↓ 3 – Front Open Velvet Abayas
Velvet abayas are mostly worn in front-open style, which suits a lot of dresses and is a comfortable and trendy emerging style. So, a detailed or laced kimono styled velvet abaya can be worn on anything to make it look chic and stay in the modest fashion. Even for non-hijabis, velvet abayas threw over plain jeans and shirt add a whole new game to the outfit. It makes for a perfectly balanced outfit for work, day office events or for going out to a lowkey lunch/brunch with your friends. The detailing on the velvet abaya can be a whole game changer for creating a chic outfit. Here are 20 Latest Open Abaya Styles You Can Buy.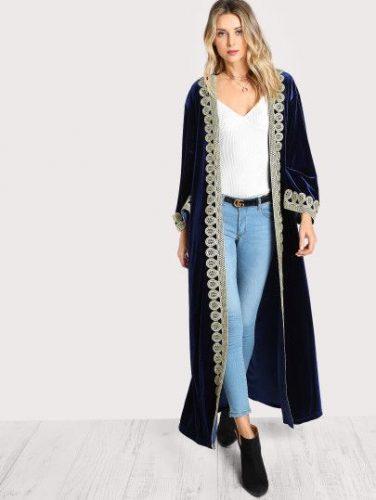 You can go to Shein.com to get this front-open velvet abaya for yourself and add color and style to your winter wardrobe.
And here's another front open velvet abaya in a striking purple color and with pearl details. This one is from UAE based brand, OC Design that also ships worldwide.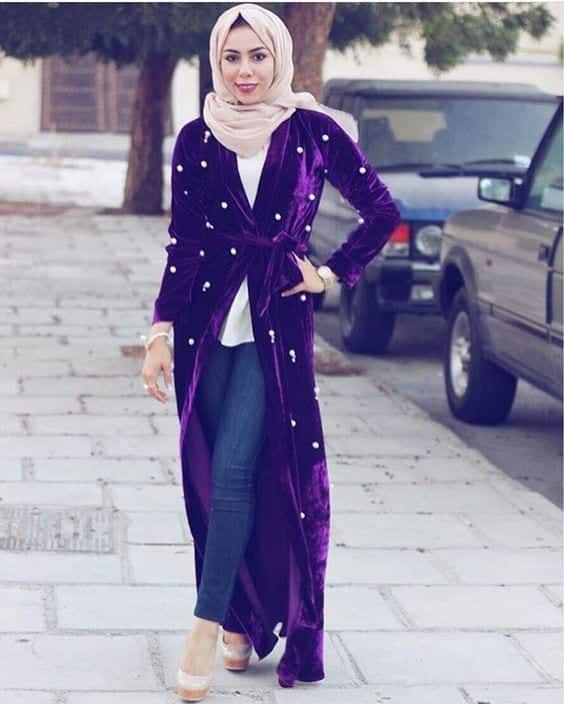 ↓ 2 – Embroidered Velvet Abaya
Velvet abayas with embroidery and sequence work on the sleeves is another style women are seen wearing these days. Som embellishment on the sleeves or at the back of the abaya does not seem to be too much, but it sure does add a lot of character and depth to the outfit. Embroidered velvet abayas will be perfectly suitable for any winter wedding coming up or to dress it down to an event worthy, pair it with a plain white or black jeans and shirt and you are good to go. They are usually preferred to be worn over jumpsuits or dresses to make them look more elegant for a party. All it takes to construct an embroidered velvet abaya outfit is some accessories and shoes or an elegant bag to go with it.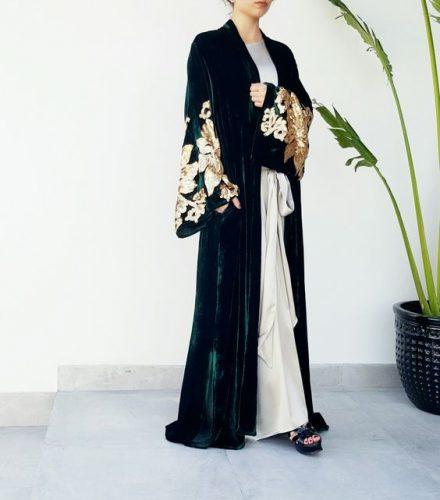 You can shop this beautiful abaya from Qabeela.com. Add a little bling to your abaya wardrobe for the coming winter.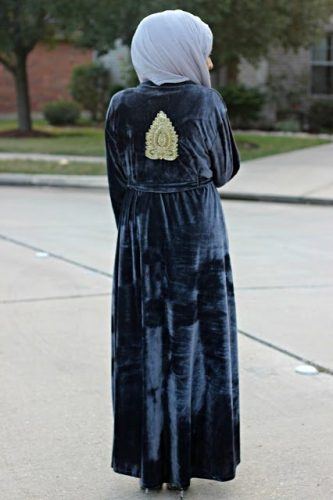 You can head over to Jibabs R Us to shop this velvet front-open cardi style abaya and make a statement the coming winter. This abaya style can dressed up and dressed down according to the event you are going, be it work, a small get together, a wedding or a day or night event.
↓ 1 – Embroidered Velvet Abaya Dresses
As already talked about above, embroidered velvet abayas can make up a whole outfit for a winter wedding or a gathering. Other than embroidered front-open velvet abaya, a full piece embroidered velvet dress can be worn as an abaya to get-togethers and weddings as they are fashionable, modest and blingy all in one. An embroidered velvet dress can be worn with a hijab by the religious ladies and as well as worn without a hijab by non-religious women who wish to dress up in velvet glamour. An embroidered velvet abaya dress has the perfect amount of embroidery to it, designed as frock style it has a perfect touch of trendiness to it and with the fabric of velvet, it brings the perfect character to the whole outfit. Invest in the right velvet abaya styles for the coming winter and add color, fashion, and character to your everyday outfits as well as your entire winter wardrobe. With well-suited accessories, like heels, handbags, earrings, and bangles or neck pieces, these velvet abayas can be dressed up and dresses down according to the need of the hour.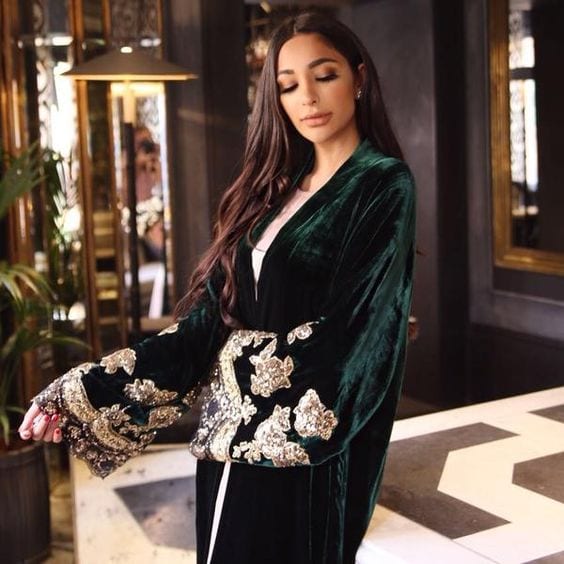 You can head over to the online site of Ebay.com right now and order one of these for yourself. It adds a pop of color to your boring everyday abaya collection as well as some character to your style.