Latest Open Abaya Designs: Abayas are worn by Muslims worldwide as a symbol of modesty. The traditional way was to wear only dark colored Abayas typically in black that were closed from the front. However, with the changing trends in the fashion world, the new front open style is currently the most loved one.
The open abayas are a modern take on the traditional Abayas and have a Western feel to them. Young girls and professional women seem to be opting for them for their unique designs and easy-to-wear styles. Some of these modern designs seem to be inspired by traditional Abayas. They are found in the robe-style, Abaya jacket, overcoat, and a couple more designs. These are typically worn over long dresses or skirts, however, a few wear them over jeans for a more casual style. The modern overcoat and cardigan style are inspired by the Western fashion and are often worn with different Hijab styles like the head wrap or the turban wrap, however, they may also be worn with the traditional and modest way of doing the Hijab.
What Are The Trending Open Abaya Styles?
Here are some tips for choosing the perfect Abaya:
Abayas are available in a variety of fabrics. Choose a fabric that is Season appropriate. For example linen and cotton for Summers. While velvet makes for a great choice for the Winters.
You can choose from a number of designs, colors, and styles.
Choose embellished or embroidered Abayas to wear to formal occasions.
The Western style Abayas are great to wear over jeans, dresses, and skirts.
Invest in pastel or nude colors so that they can be paired with any outfit.
Black is a must when it comes to Abayas because it can go with almost any color.
Accessorize your looks with the right kind of handbags, brooches, and jewels.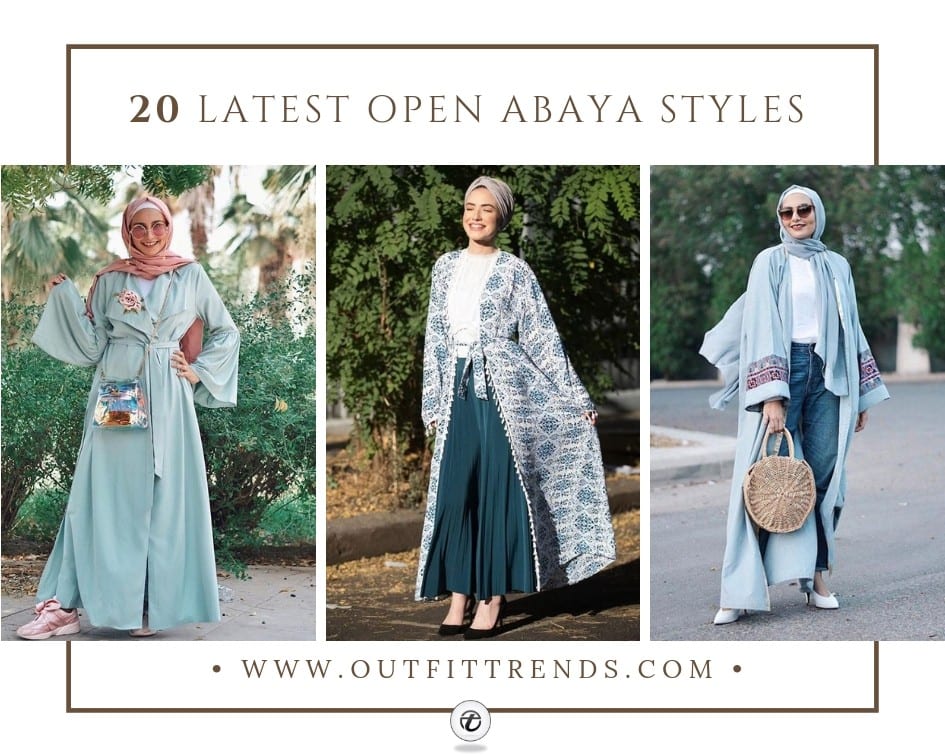 Where to buy Trending Open Abaya Styles
Black Camels: Shop and get your hands on the latest, trendiest as well as reasonable Abaya Outfits at Black Camels. The Price Range is from 2,500PKR to 12,000PKR.
Aaliya Collections: Shop Open Abaya styles at Aaliya Collections, with a price range of £39.99 to £89.99. Here you can find a good collection from plain to luxury embellishments all online.
↓ 20. Metallic Abayas For Parties
From plain and simple looking Burkhas to modern Abayas, the transformation has been a great one. Cardigan Abayas are easy to carry and give a very elegant look to the entire outfit. While the coverage is a bit less with these, many women opt for them for their modern feel. Manar Saqer, behind the brand Catwalk, is an Emirati fashion designer and is known for her intricately worked Abayas. Here is one of her creations that we absolutely cannot take our eyes off. This metallic silver Abaya with sequins and beaded embellishments is one of the best open style Abayas we have ever seen. It has been worn over a black top and a pair of denim jeans for a relaxed look. However, this Abaya is something worth investing in to wear to formal events and parties. It can be styled with a plain black turban wrap Hijab for a chic look or kept modest with the traditional Hijab. We love the cape-like sleeves which have been incorporated with this new version of an Abaya. We also recommend that you have a look at these 50 Best Abaya Designs From Instagram.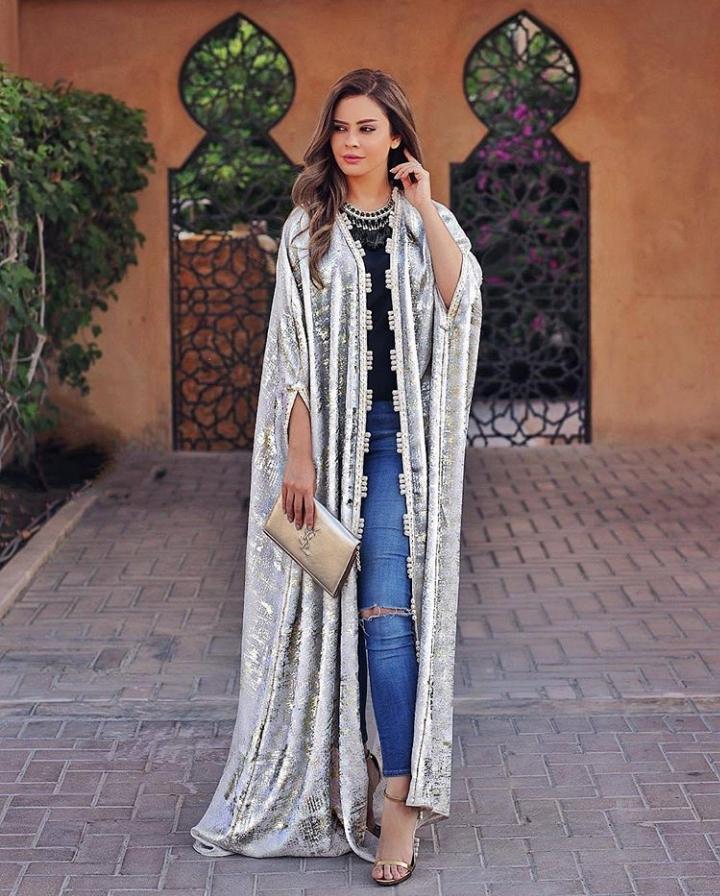 ↓ 19. Trendy Style
Here is one latest design of the Open Abaya featuring bow-tied sleeves and a draped front. This blue Abaya is a great option for professional women looking for simple yet elegant pieces. This particular one is by Alshaden Abayas known for their glamorous touch to the traditional Abayas. The Cardigan look is a loose one and does not come with any belt. However, it can surely be styled with one for a casual look. The white bow-tie sleeves make it super chic and youthful.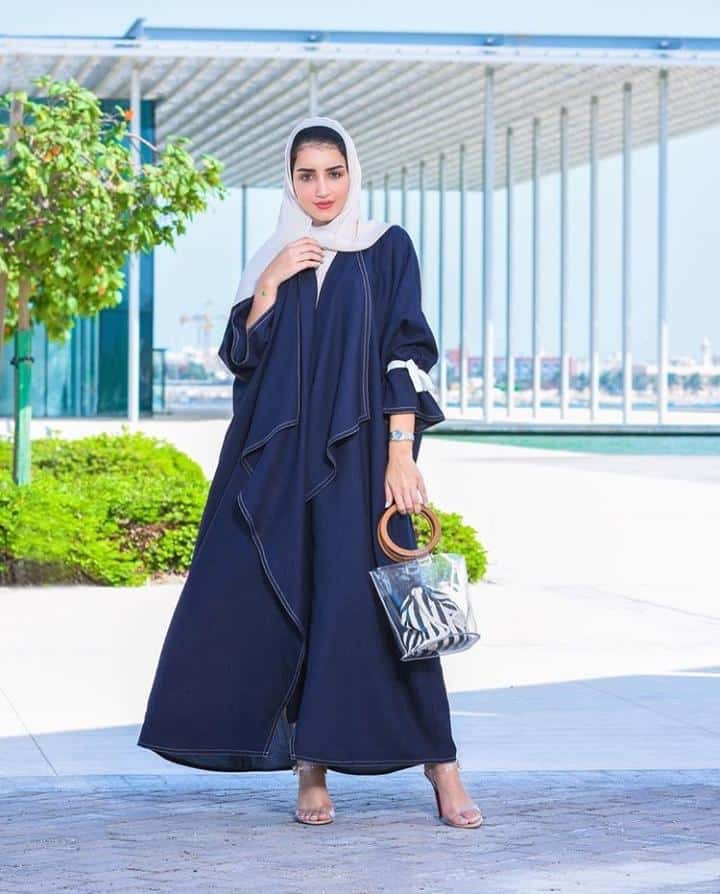 Via
↓ 18. Embroidered Modern Abaya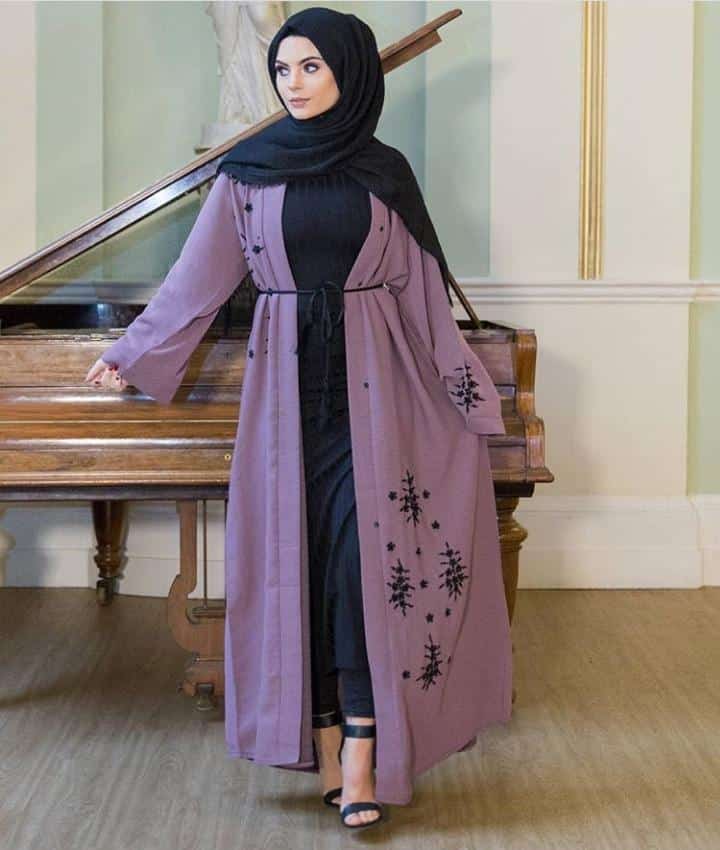 ↓ 17. Designer Abaya
Aywa London is an Abaya brand promoting sustainability through its ethnically sourced Abayas. Their designs appear to be a fusion between the Western and Eastern fashion with the colors, embroideries, and patterns. Here is a Moroccan inspired Abaya that is great for the cooler Summer evenings and Fall time. Wear it over a dull colored casual outfit to immediately brighten up the look. The Abaya does not come with a belt or tie and hangs around loosely. The Earthy tone of the Hijab perfectly complements the vibrant Abaya. Take a break from your dark-colored, dull Abayas with this super cool and traditional-like one. Since the brand is a luxury one, the prices will be on a higher end and the only drawback is the lack of affordability. However, since the brand is all about sustainability, it can be a great one-time investment.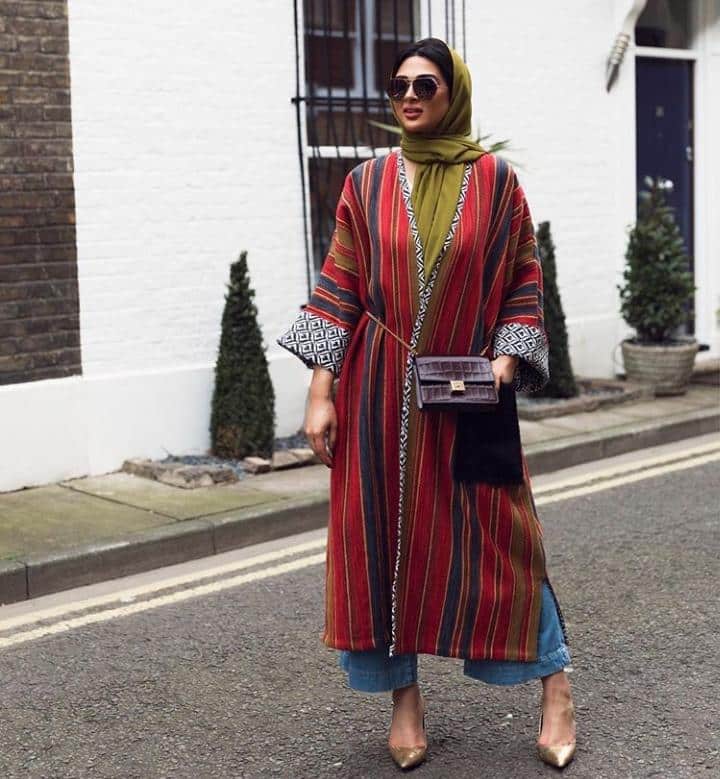 ↓ 16. Kimono Abaya
This street style Abaya in pastel color and pearl embellishments is a must-have. The Abaya can easily be styled with different looks depending on the occasion. Adding funky accessories can transform this into a formal look. While wearing it with jeans and sneakers can make it look great for a casual daytime look.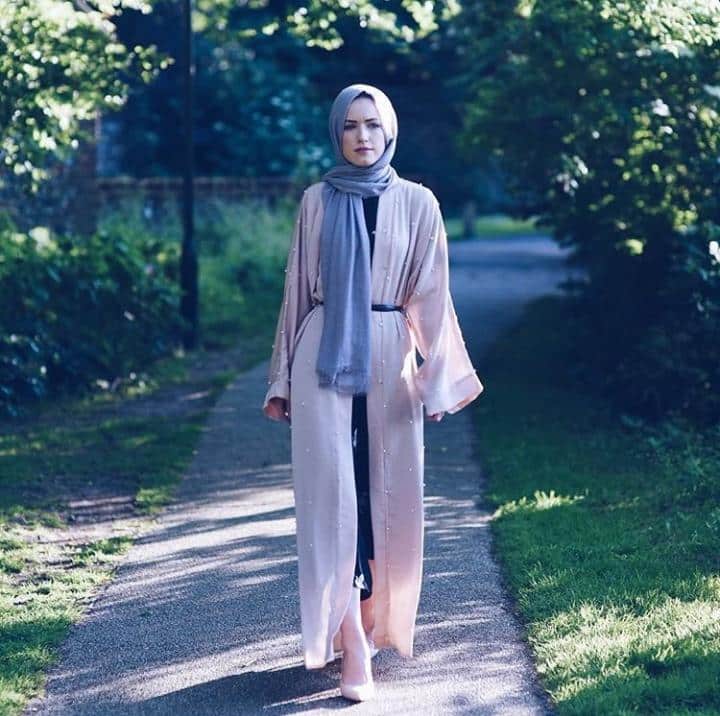 You can also get a great range of kimono abayas from Mimi abayas.
↓ 15. Classic Black Abaya
Here's an Abaya style that resembles the traditional style. The net detailing on the sleeve and hem give it a unique look. We love how it has been worn with a pink scarf with 3D embellishments, giving it a super cute look.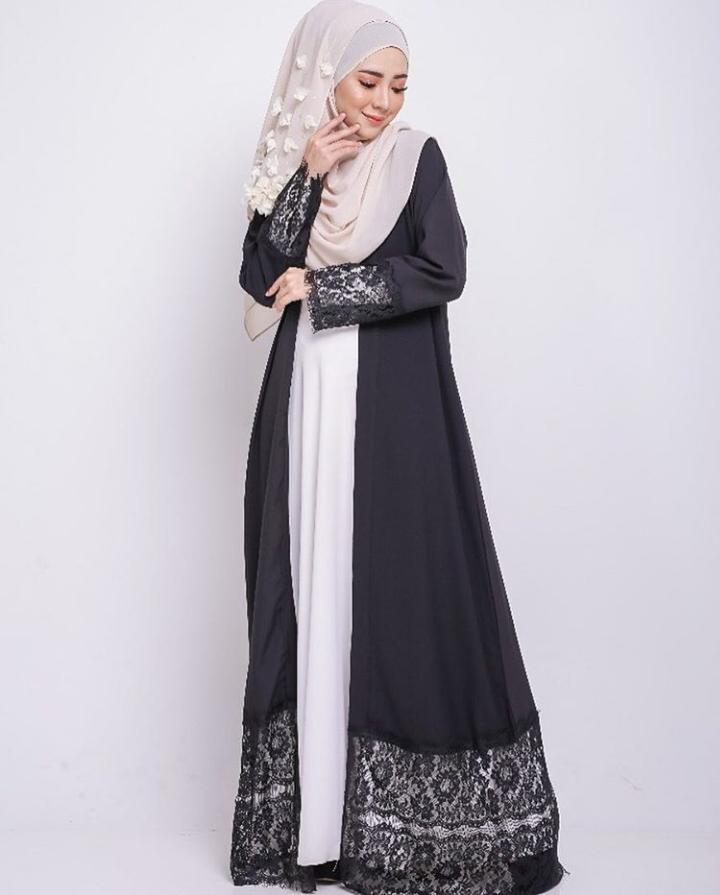 ↓ 14. Gray and White Abaya With Lace Detailing
Cape style Abayas are slowly replacing the jacket and robe styles. They are commonly being sported by women wanting a modern touch to the traditional Abayas. This gray and white combination is a subtle and graceful one, making it a nice choice for older women, however, it can also be worn by younger girls. The cape style sleeves give a slight hint of the outfit underneath, adding more color to it. The lace detailing is gorgeous and easily elevates the entire look. The neck detailing can be flaunted by wearing a Turkish style, neck drape Hijab as worn by the model in the picture below.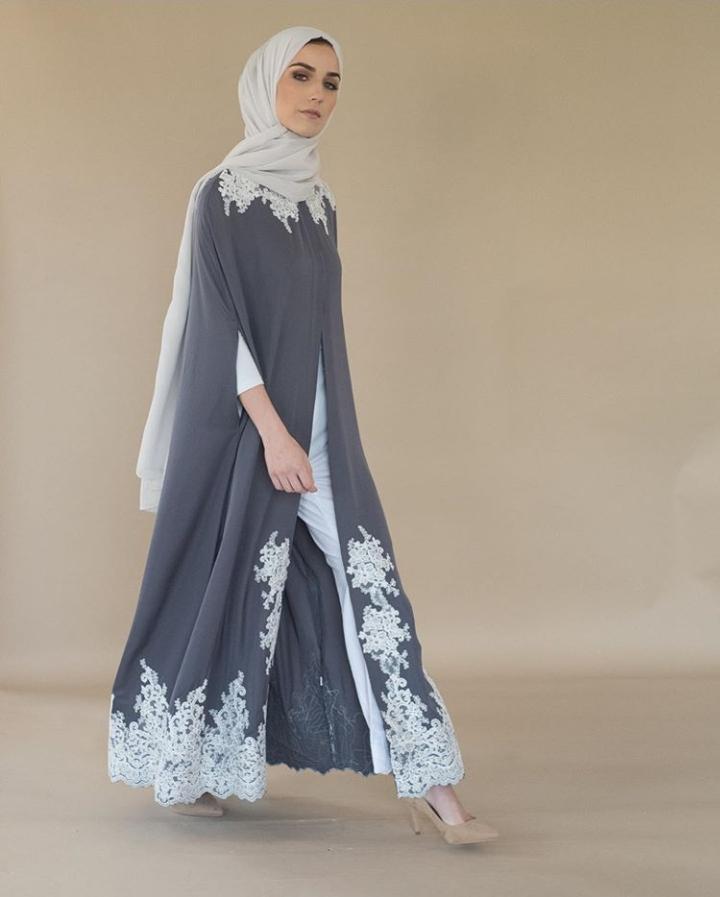 ↓ 13. Girly Embroidery
Here's a super funky and cool Abaya design that is sure to make it big this year. The cassette embroidery looks really quirky and not something that everyone can pull off. If you have a thing for music and would not mind wearing something like this, you should definitely consider getting it. The black pattern on the sleeves adds a bit of style to the otherwise plain outfit.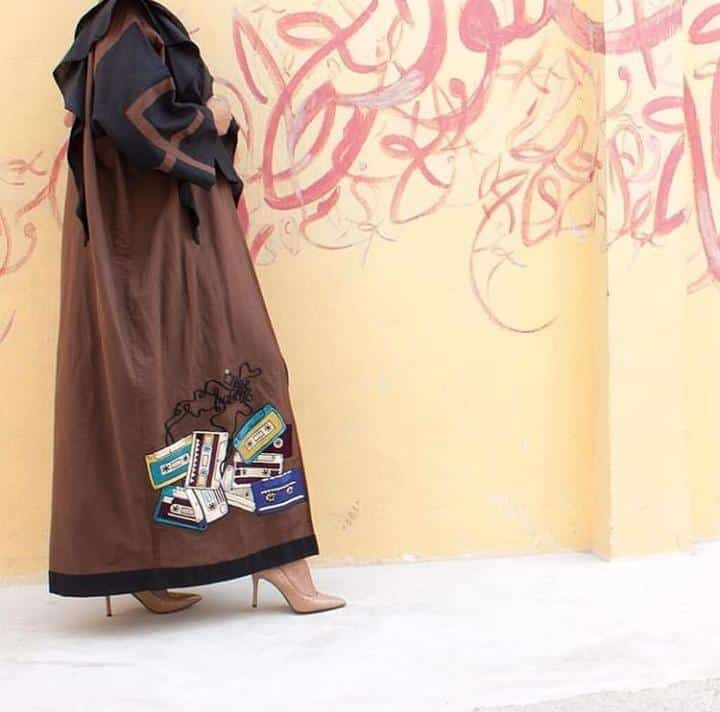 The mellow tone of the Abaya and the ethnic embroidered patches make it one unique style. The robe-like look of it makes it a great pick for women looking for comfortable abayas that do not need buttoning up. The green Hijab gives it just the right look and we would not have it any other way. Summer seasons are all about sporting lighter tones and this creme color seems to be a great option.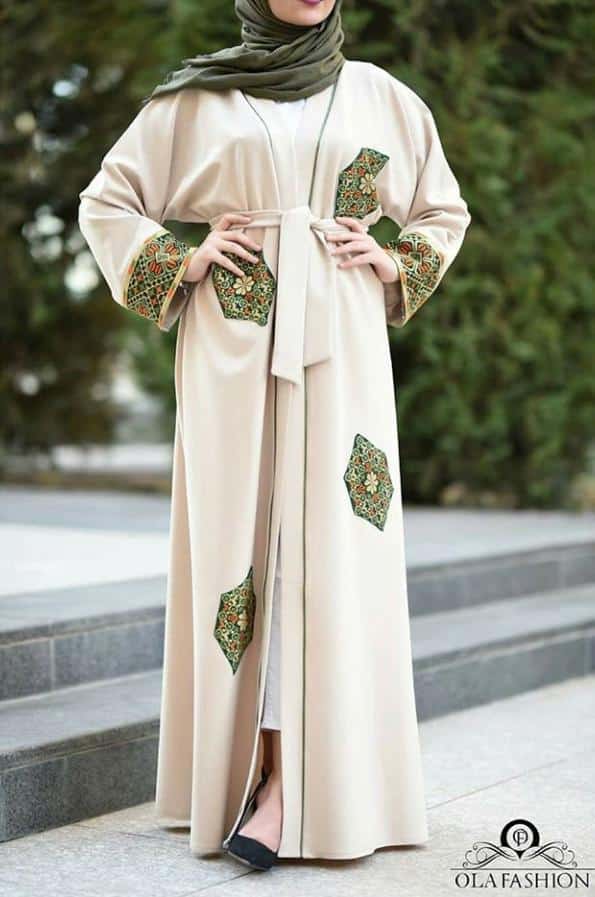 ↓ 12. Khaki Abaya
A khaki abaya is another must-have in your wardrobe as it can be worn over almost any colored outfit. Here are 12 Chic Ways To Wear Abaya With Hijab.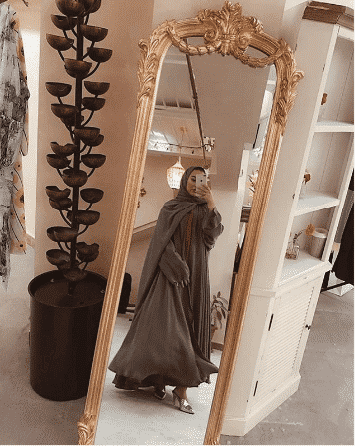 ↓ 11. Black Abaya With Net Detailing
Black is an all-time favorite color and can be worn all year round. This monochrome outfit is a great pick for a stunning evening look and will definitely be turning many heads. The net detailing on the hem is unlike any other and gives the outfit a beautiful look. The outfit does not have any studs or crystals and the net detailing makes it easier to wash. The black belt can be given a bit of accessorizing for a fancier look, however, the plain belt works just fine. The use of a green bag with the monochrome outfit is a nice one, making it a glamorous outfit.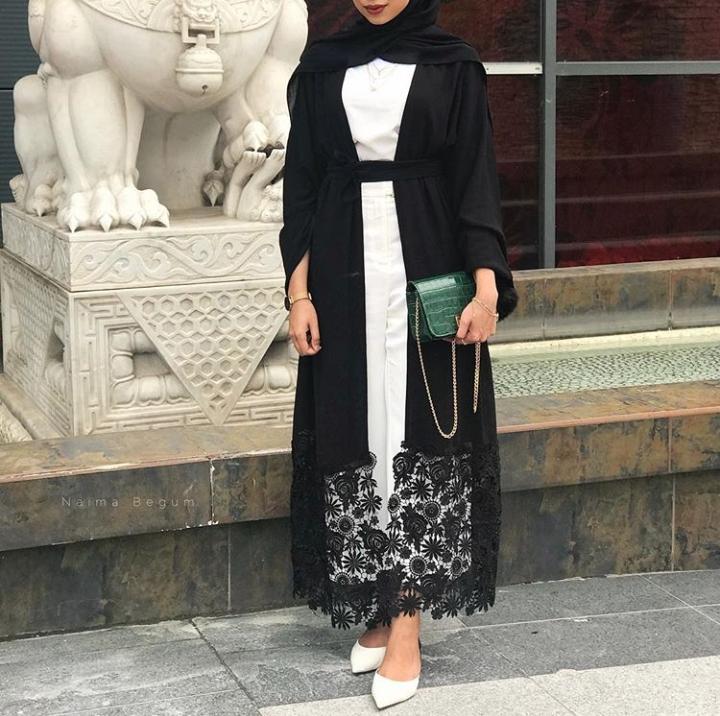 ↓ 10. Pastel Blue
This pastel blue, Cardigan style Abaya is a fusion of Eastern and Western fashion. The open Abaya hangs loosely without any belt and is a modern take at modest fashion. The pastel tone complements the dark denim wash and white shirt. The otherwise plain outfit is given a bit of style with the embroidered pattern on the sleeves that adds a bit of color to the overall look. The outfit is paired with a pair of sunglasses, and a cane bag that seems to be stealing the show here.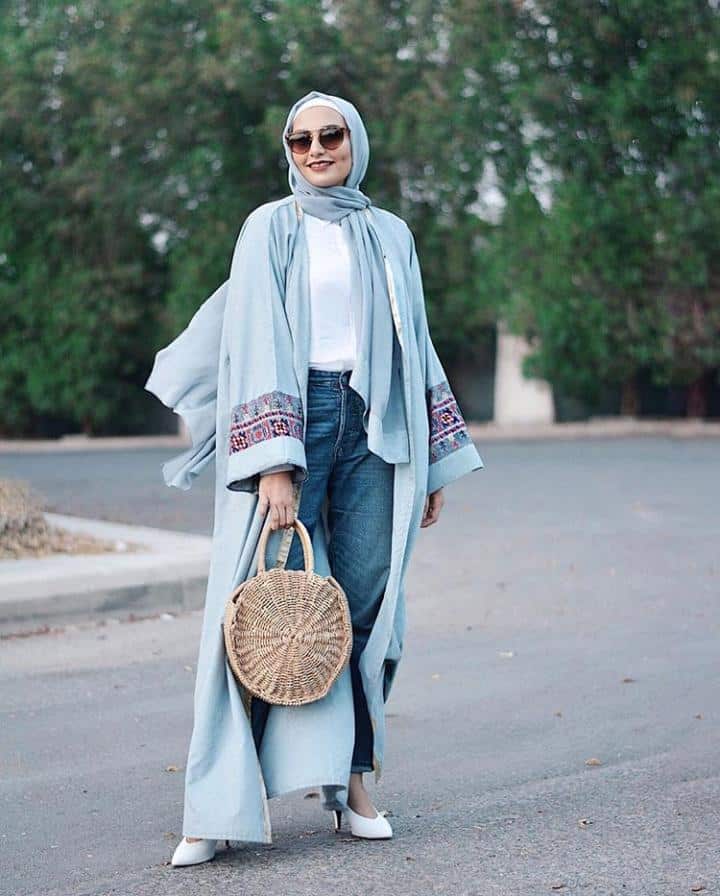 ↓ 9. Fancy Colorful Abaya
Looking for something that is effortlessly chic and trendy? Take a look at this one. This ultra-modern open-style Abaya seems inspired by the sequined luxury brand dresses that are all the rage currently. We love the funky colors and the fancy touch to it. Glam up in this super modern Abaya for a festive look for your next party.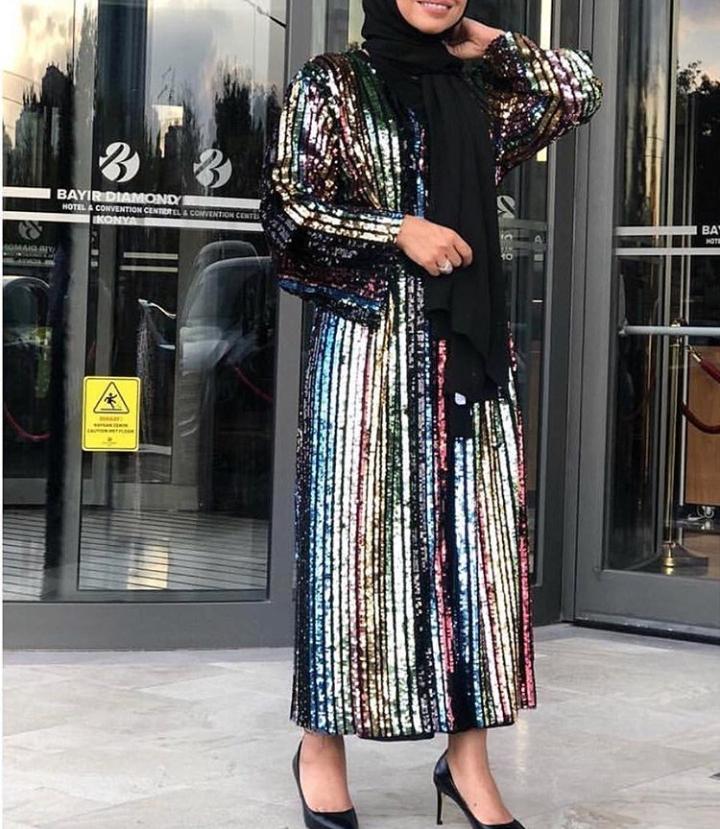 Via
↓ 8. Modern Open Abaya You Can Buy Online
If there is one open style Abaya that you should invest in, it is this one. The colors, print, and the tassel lace detailing are all close to perfection. We love how it has been worn over similar shades of white and green to go with the Abaya. The casual style is super trendy and comfortable. The western look has been styled with a head wrap that goes well with the entire outfit. If you are a college going girl who has a thing for the open style Abayas, you should definitely get this one. It is available at Mimi Abayas for £20. The affordability is definitely a plus point to it.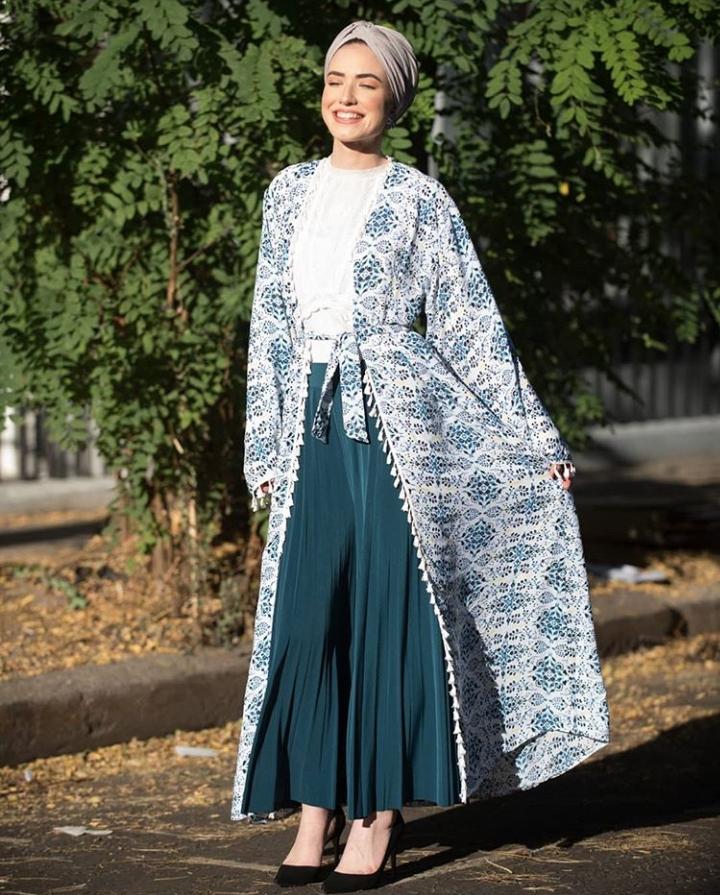 ↓ 7. White Abaya With Belt
If you are looking for an everyday wear Abaya that is simple, easy to carry and chic, here is the one for you. We love this white colored open style Abaya that has been worn over a beautiful dress for a modest look. The belt helps keep it in place and also give it a trendy look. The linen fabric makes it a great option for Summers and can be found at Miss Haya for £34.99.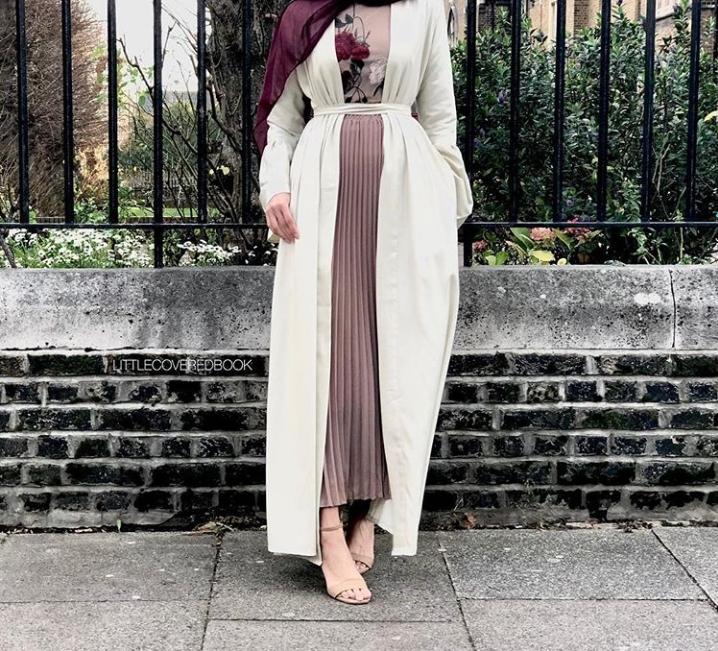 ↓ 6. Gold Embellishment
Lavishly embroidered and luxury design Abayas are selling like hot cakes and how. Take a look at this elegant silk black abaya with a metallic gold pattern that has been worn over a silk gown. Get sorted for Eid with a luxury style Abaya like this one. The open style Abaya and the long gown keeps you covered while staying in style giving you the ultimate modest look. If you wish to replicate this look, buy it off Abayas Boutique for £150. For more ideas on fancy abayas, check out our earlier post on 18 Fancy Abaya Designs & Ideas On How to Wear Abaya Fashionably.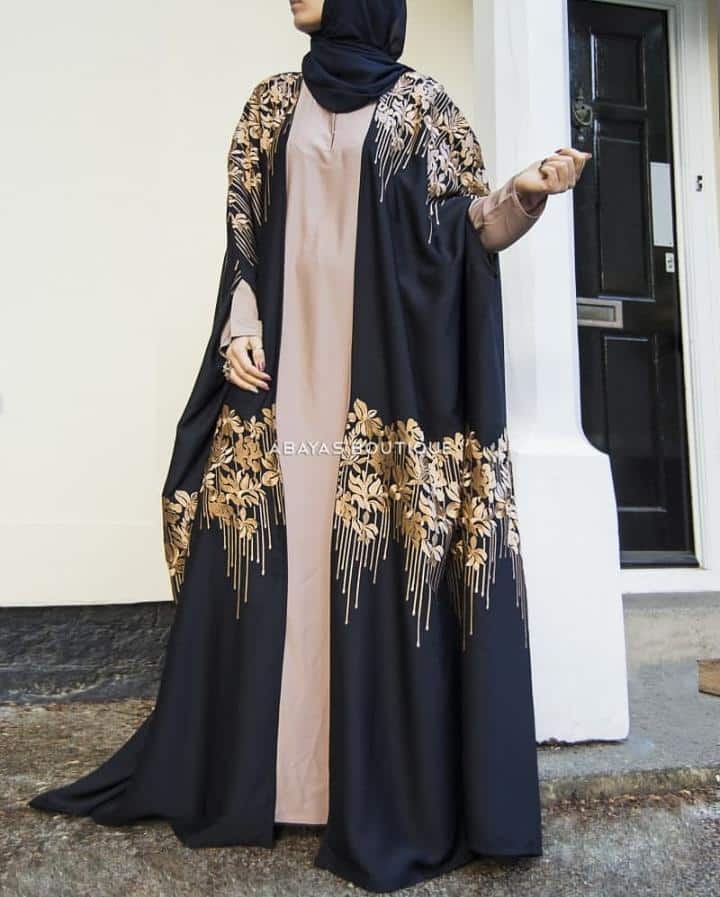 Here is what you call, an Abaya Jacket, in the classic black color. The gold detailing complements the black Abaya really well and the tassels add a fun element to it. It has been paired with a nude colored Hijab to neutralize the overall appearance. The Abaya jacket is the latest addition to the modest fashion world which includes front open Abaya, held together with either a belt or tassels. The intricate embroidery makes it a great pick for wedding festivities, parties and especially Eid. We are impressed by how the tassel belt is internally made which gives a tailored fit. Add it over a plain or a shimmery dress for a glamorous look and a Royal feel. The stunning Abaya jacket is available at Aaliya Collections for £99.99.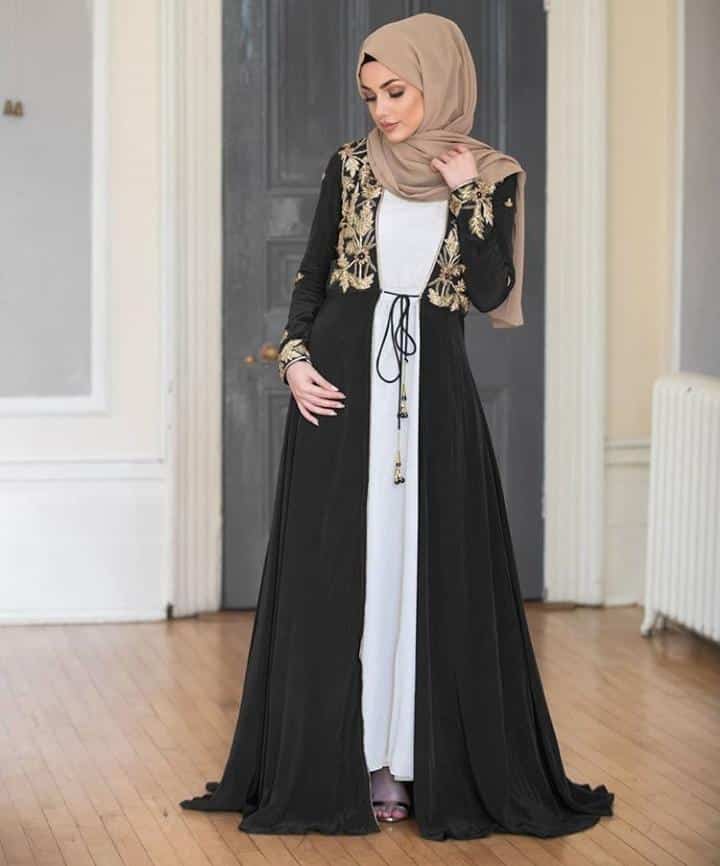 ↓ 5. Floral Print
This linen, the floral abaya is just what you needed for Spring this year. Give your wardrobe the much-needed makeover by adding in some youthful pieces to it. Modest fashion can be made super trendy and fashionable with these basic options. The darker tone makes it easier to pair with different outfits while the belt allows you to adjust the amount of coverage that is needed. With this being a super casual one, it can be worn out to evening strolls or while running errands. Modessa is a UK based Modest Fashion brand that does some chic Abaya style. This particular 'Mimi' dress is originally priced at £70 but is available at a sale price of £44.99 which we find to be a great deal.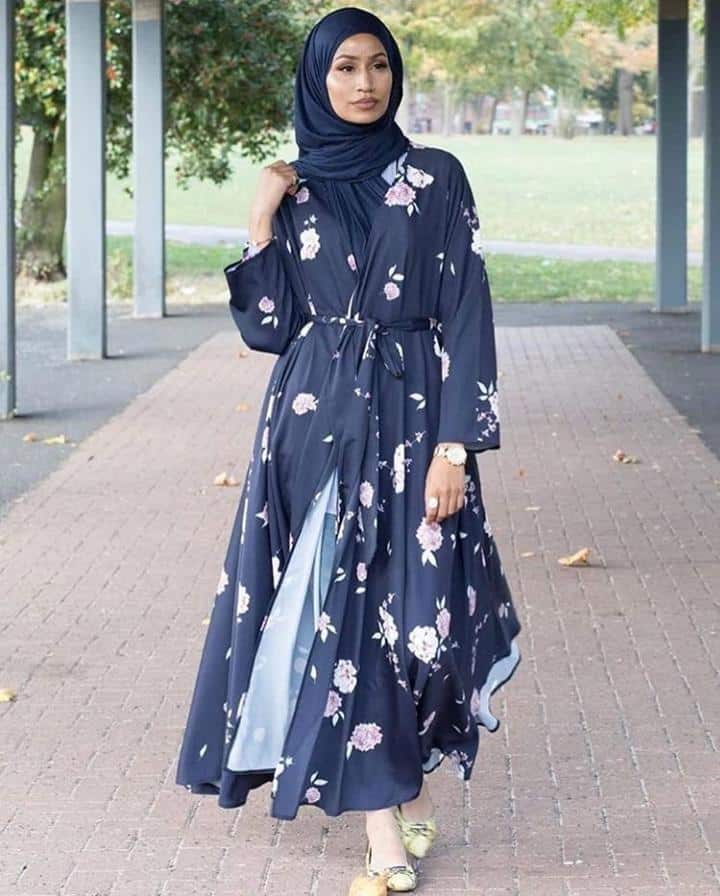 ↓ 4. Summer Look
This lightweight fabric, jacket style Abaya is exactly what you need for a cool and breezy feel. Experiment with different looks and outfits and add in a modest open style abaya for a new style.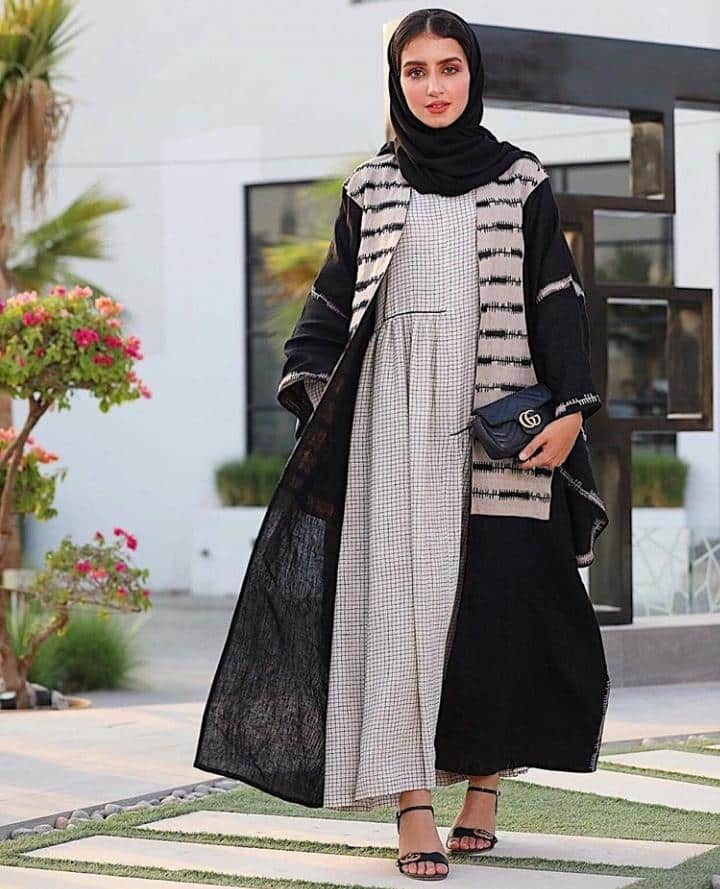 ↓ 3. Dusty Pink Open Abaya
Fringing is all the rage this year so get yourself this dusty pink abaya with fringe detailing from Abayas Boutique. It's perfect for casual wear as well as semi-formal occasions.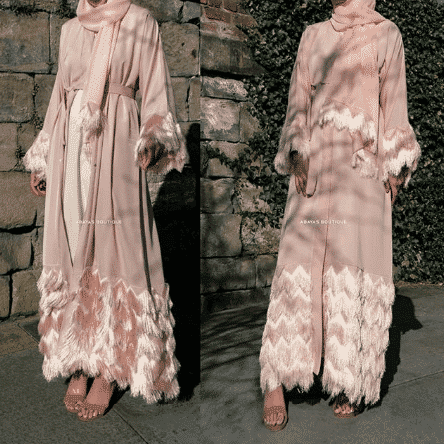 Shop similar Pink Abaya looks at Modanisa for $38 on sale.
↓ 2. Embellished Creme Abaya
This super pretty and modern style Abaya in the shade creme is available at Miss Abaya for £65. We love the light color and the use of studs that give it a fancier look. The festive feel to it makes it great for all formal occasions. The abaya is a robe-style one and comes with a belt to it. With that, it becomes easier to adjust how much concealing is needed. The belt also adds a bit of shape above the waist, automatically making one appear slimmer. It can be paired with a white or beige outfit, or with dark colors like black.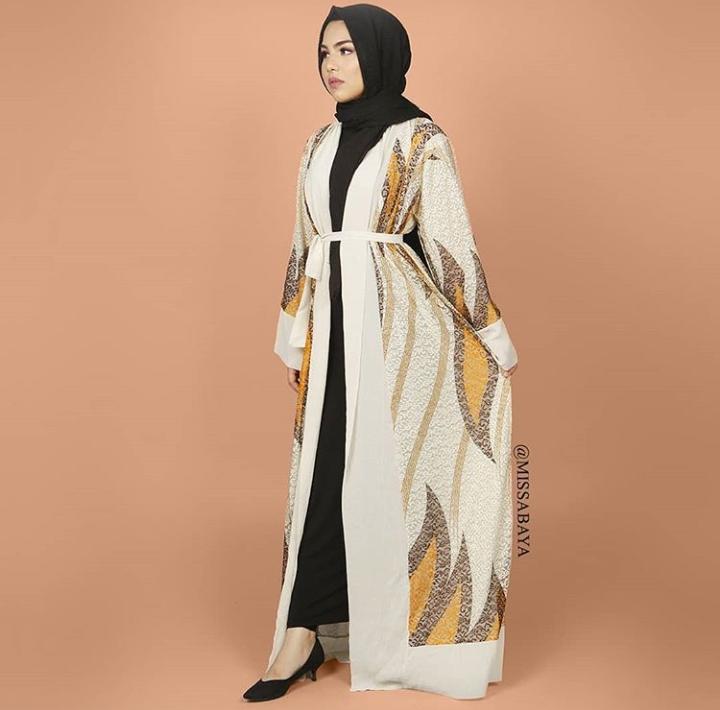 Via
↓ 1. Pastel Colored Overcoat Style Abaya
Hanaa is a Jeddah based blogger with a fantastic taste in Abayas, Hijab, and accessories. We love her aesthetic sense of style and admire how she has styled this gorgeous pastel blue abaya with stunning glasses, sneakers and a crossbody bag. The Abaya was bought off Shein, a famous apparel brand for USD 34. While the same piece may not be available now, you can still find similar designs. The cute floral embroidery, lightweight fabric, and the belt make it perfect for Summers. This overcoat style Abaya offers great coverage and perfectly conceals the body. The casual look has been perfected with the Puma kicks that complement the Pink Hijab.