Latest Open Abaya Designs: Abayas are worn by Muslims worldwide as a symbol of modesty. The traditional way was to wear only dark colored Abayas typically in black that were closed from the front. However, with the changing trends in the fashion world, the new front open style is currently the most loved one.
The open abayas are a modern take on the traditional Abayas and have a Western feel to them. Young girls and professional women seem to be opting for them for their unique designs and easy-to-wear styles. Some of these modern designs seem to be inspired by traditional Abayas. They are found in the robe-style, Abaya jacket, overcoat, and a couple more designs. These are typically worn over long dresses or skirts, however, a few wear them over jeans for a more casual style. The modern overcoat and cardigan style are inspired by the Western fashion and are often worn with different Hijab styles like the head wrap or the turban wrap, however, they may also be worn with the traditional and modest way of doing the Hijab.
What Are The Trending Open Abaya Styles?
Here are some tips for choosing the perfect Abaya:
Abayas are available in a variety of fabrics. Choose a fabric that is Season appropriate. For example linen and cotton for Summers. While velvet makes for a great choice for the Winters.
You can choose from a number of designs, colors, and styles.
Choose embellished or embroidered Abayas to wear to formal occasions.
The Western style Abayas are great to wear over jeans, dresses, and skirts.
Invest in pastel or nude colors so that they can be paired with any outfit.
Black is a must when it comes to Abayas because it can go with almost any color.
Accessorize your looks with the right kind of handbags, brooches, and jewels.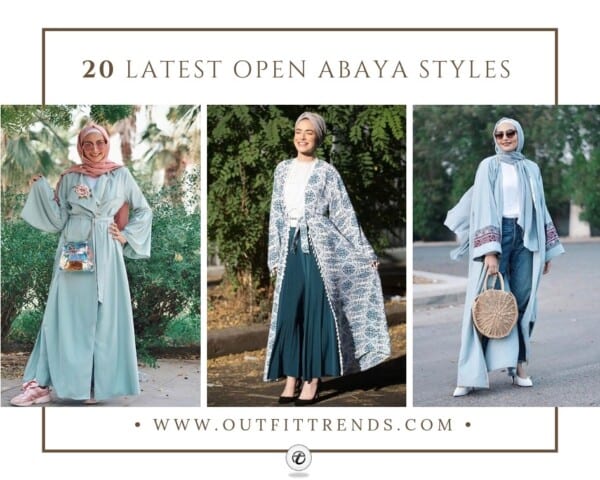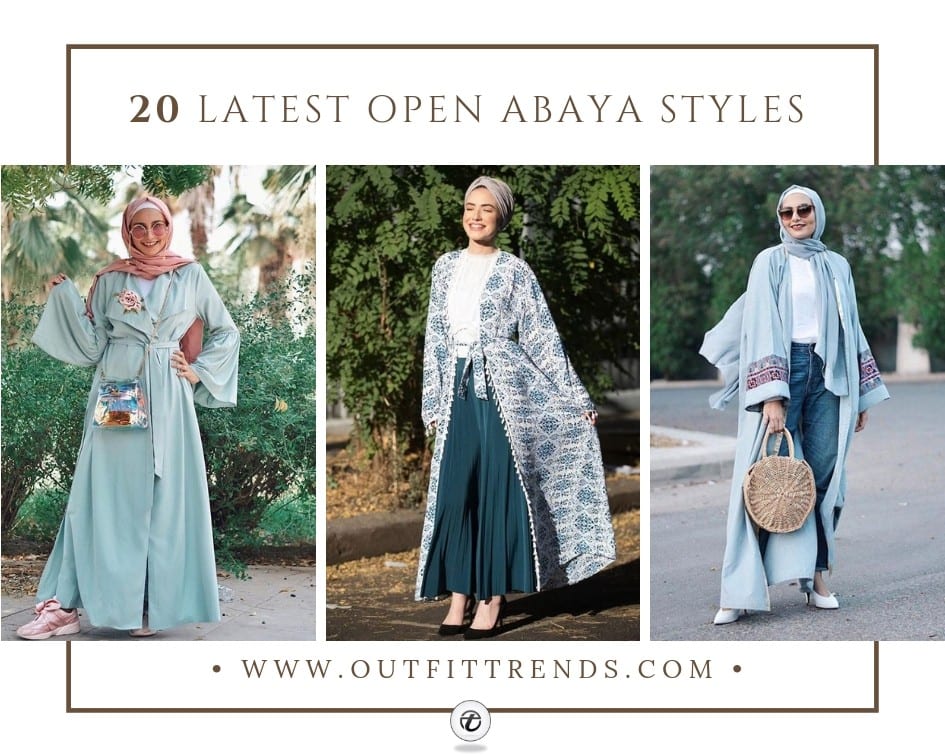 ↓ 20. Metallic Abayas For Parties
From plain and simple looking Burkhas to modern Abayas, the transformation has been a great one. Cardigan Abayas are easy to carry and give a very elegant look to the entire outfit. While the coverage is a bit less with these, many women opt for them for their modern feel. Manar Saqer, behind the brand Catwalk, is an Emirati fashion designer and is known for her intricately worked Abayas. Here is one of her creations that we absolutely cannot take our eyes off. This metallic silver Abaya with sequins and beaded embellishments is one of the best open style Abayas we have ever seen. It has been worn over a black top and a pair of denim jeans for a relaxed look. However, this Abaya is something worth investing in to wear to formal events and parties. It can be styled with a plain black turban wrap Hijab for a chic look or kept modest with the traditional Hijab. We love the cape-like sleeves which have been incorporated with this new version of an Abaya. We also recommend that you have a look at these 50 Best Abaya Designs From Instagram.