Hijab street style fashion has opened a new dimension in Muslim women fashion. Hijabis love to carry themselves in an outfit that can give them a chic look while covering their body modestly. Lots of girls keep asking how they wear a hijab for a street style look? How can they get a funky look with a hijab? How to wear a hijab with jeans?
Well, my lovely hijabis,  outfit trends bring all answers to these questions in this post for you. Stay focused! Street style fashion is all about being funky, elegant and simply yourself. You cannot go real funky and compromise the elegance part in it by just looking like a spoiled girl. On the other way, you can't just wear outfits that give an overly simplified look. So it has to be the combination of both styles. Here you can see some great ideas for getting a funky look with hijab in an elegant way.
Latest Street Style Trends for Hijabis
Street style trends for hijabis are all about a modest, sophisticated, and elegant look while incorporating some trendy pieces from your wardrobe. Being a hijabi in no way means that you can't wear a stylish outfit, short shirt, or edgy pants. You can wear whatever you want to, just make sure that it all vibes perfectly. Here are some top-notch tips for you all to follow and make everyone fall head over heels for your street style.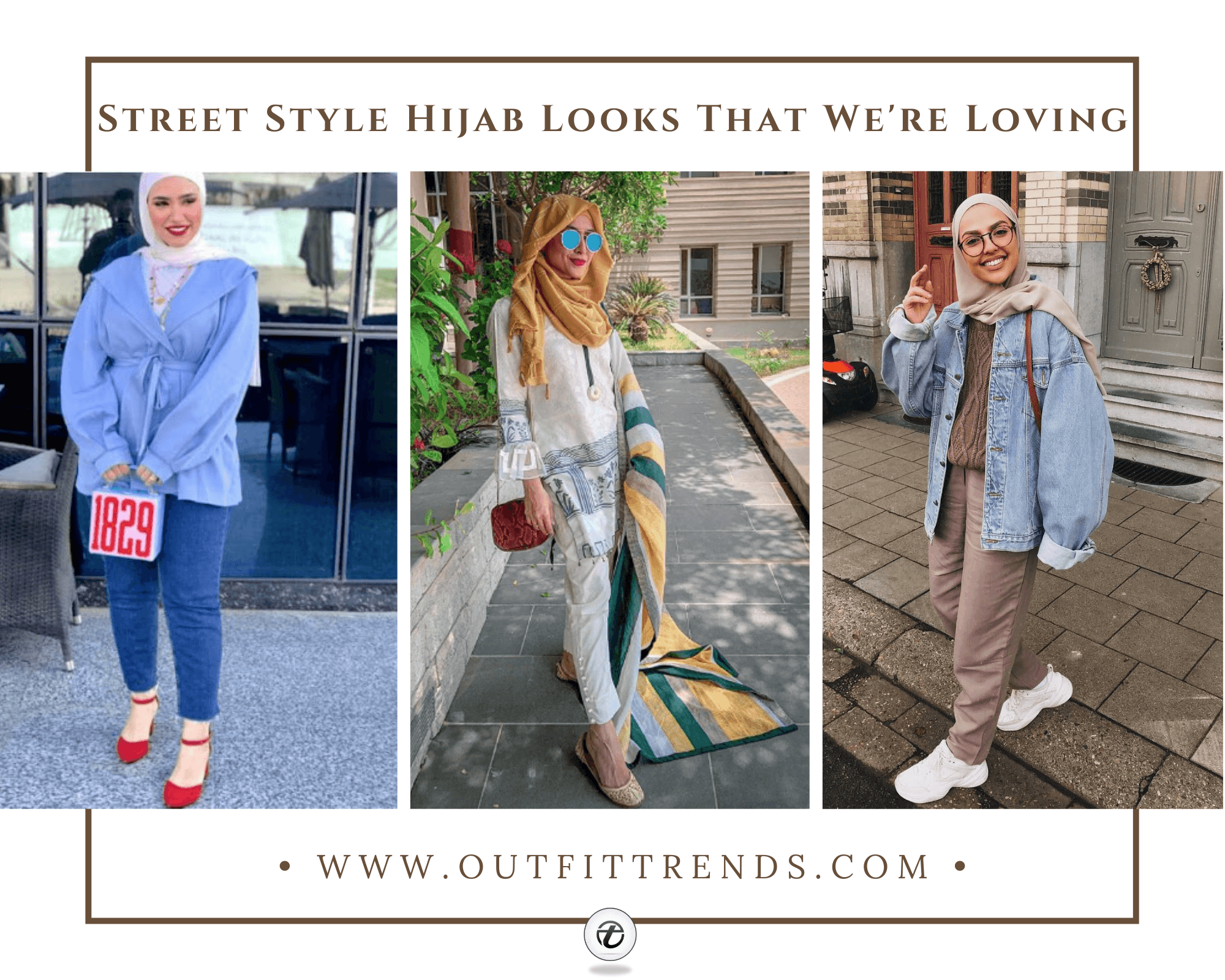 Make your outfit subtle and sophisticated. Prefer dressing up modestly and avoid wearing outfits that are too revealing.
Try wearing loungewear with your hijab and joggers. Put on a jacket over it and add a crossbody bag for a vouge street style look.
Wear button-down shirts featuring collared necklines. They help in fixing the hijab in the chin area a lot. You can pin it up or tie a knot below your chin, close to your neckline.
For a modest look, wrap dresses with pony style or knot style hijab looks the best.
To achieve an edgy look, wear your hijab in a turban style with casual outfits like tee-shirts and jeans.
For a classy look, wear a formal ensemble like a suit and wear your hijab in wrapped up style.
Don't forget to wear sunglasses as they will brush off your look in a fantastic way. Here are some tips on wearing Hijab With Sunglasses.
Make sure you accessorize properly. For wearing earrings, wrap your headscarf loosely wrapped and when wearing a necklace, opt for long, multilayered necklaces and wear your hijab tightly wrapped up.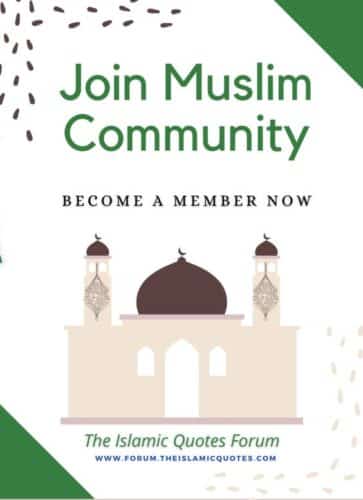 If you love style and swag, then street style fashion around the world is undoubtedly going to leave you inspired. We've compiled together some of the best blogger's street style looks from all corners of the world for our beautiful readers.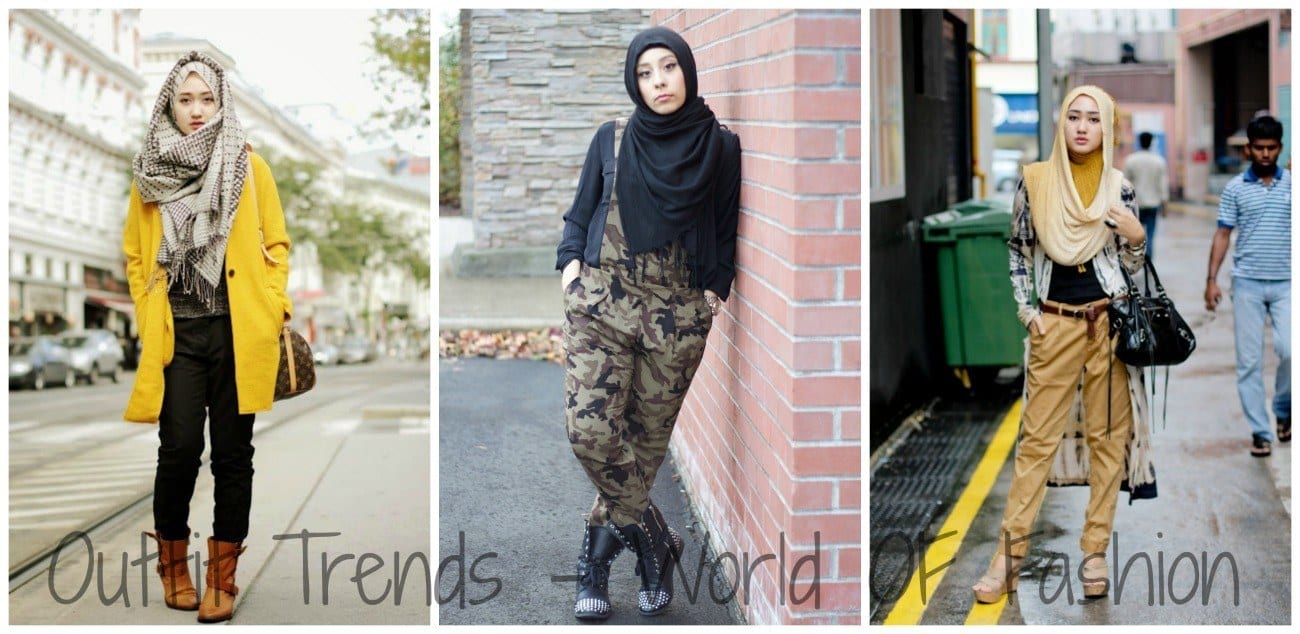 ↓ 20 – Day Time Look
In the day time, style up in fresh and eye-catching colors!
↓ 19 – Night-Time Look
Here is a black and white street style look that will help you stand out at night time.
↓ 18 – Casual Mom Look
Be that stylish and cool mom and dress up in a full-sleeved tee shirt, jogger pants, hijab, and sneakers. You can create a similar look every day just by changing the color of each piece.
↓ 17 – Summer Street Style Look With Hijab
Summer is the best time for you to stand out in a crowd. Everyone will be wearing fresh floral prints and dressing up cute. How about you go for something decent and straightforward? Wear plain kurta shalwar in your favourite colour and wear dupatta style hijab along with it in a contrasting color. Along with this gear, wear cute strappy sandals and put on a cute hat to polish off your look.
↓ 16 – For Strolling In Spring
Spring is all about colors and positive energy, and no one would mind if you look like a flower while taking a stroll down the street. So for Spring, doll up in cute floral printed maxis and midi dresses. The dress itself will be very vibrant, hence keep the rest of the look minimalistic. Add a plain belt to your outfit and wear in a plain headscarf in breathable fabric. Wear white sneakers or joggers with this outfit and brush off your look with a purse, sunglasses, and dainty accessories.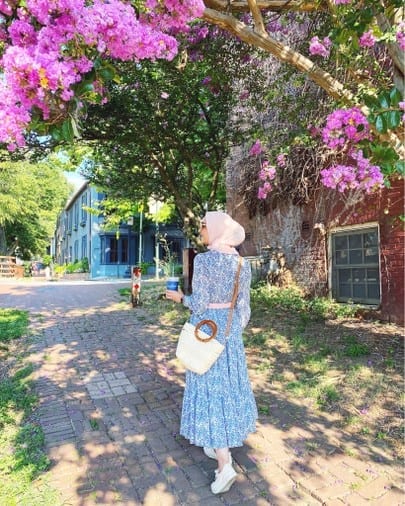 ↓ 15 – Denim and Kimino
Who doesn't like dressing up in a way that is comfortable yet very pleasant and aesthetic? Dress up in the most comfortable everyday wear and slay your look.
Take out your favorite pair of jeans and a plain tee-shirt. Pair it up with a printed kimono or cardigan along with a contrasting hijab. Add a crossbody bag and wear comfortable leather shoes or pumps to finish off your look. You can create a similar look with different colors every day and appear captivating. Here are some more Kimono Outfit Ideas.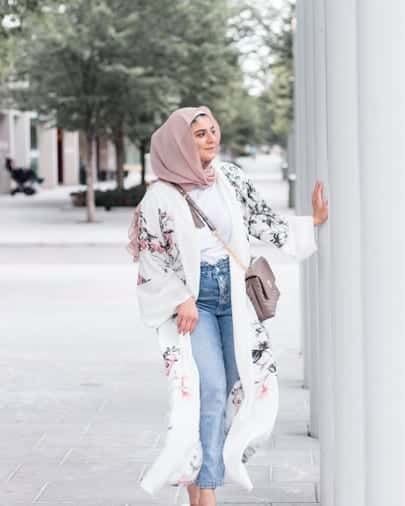 ↓ 14 – Laid Back Street Style Look
This is the look for all the lazy girls out there like me. Or for those who just feel too laid back to get dressed up. Just wear your favorite solid colored pieces, and you're all set to rock the streets. Have a look at 30 Most Popular Dubai Street Style Fashion Ideas.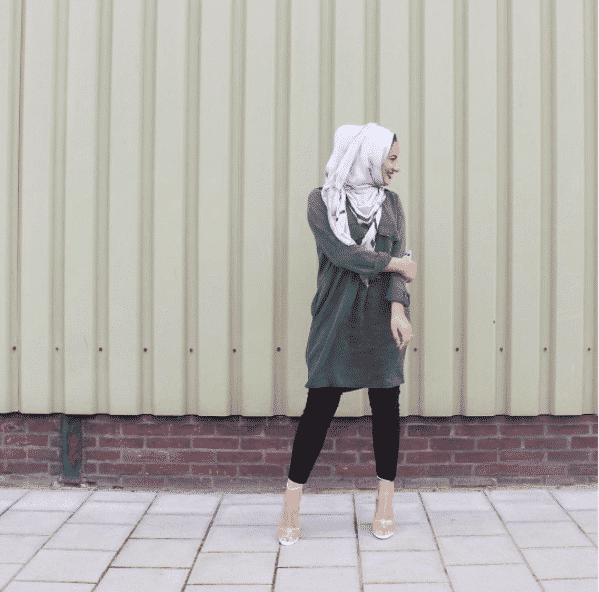 Here's another chic, laid-back look in desi attire. You can pair a white kurti, tunic, or shift-dress with trousers, nude hijab, and add on a colorful scarf or dupatta for some brownie points.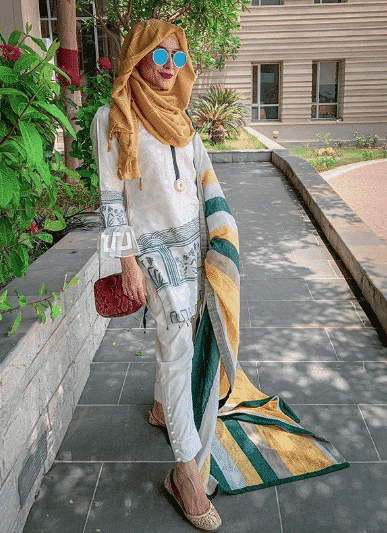 ↓ 13 – Jumpers and Hijabs Street Style
Jumpers are the perfect combination of modesty and style that every hijabi needs. If you have the right fabric, you can wear jumpers in every season. And if you love wearing them then don't miss out Latest Jumpers Fashion to Copy this Winter.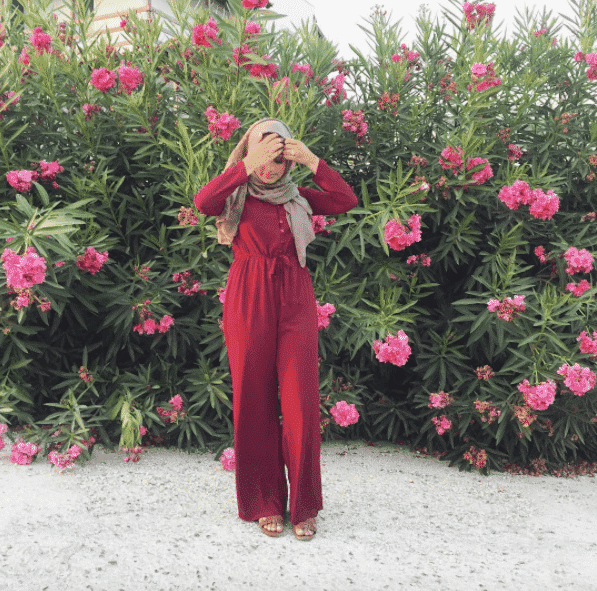 ↓ 12 – Bomber Jacket and Hijab for Fall
Everyone's going crazy for the latest bomber jacket trend, so why shouldn't you give it a try too? Here are some awesome Outfits with Bomber Jackets.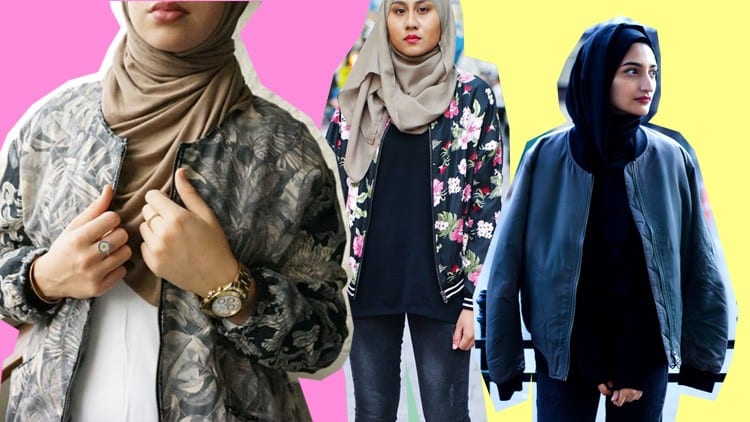 Via
↓ 11 – Street Style for Hijabi Mothers
Hijabi mothers need not just something that looks good but also something practical which doesn't hamper their movement as they spend time with their kids. So have a look at this coolest hijabi blogger and mum's outfits. The turban hijab is definitely the right choice here.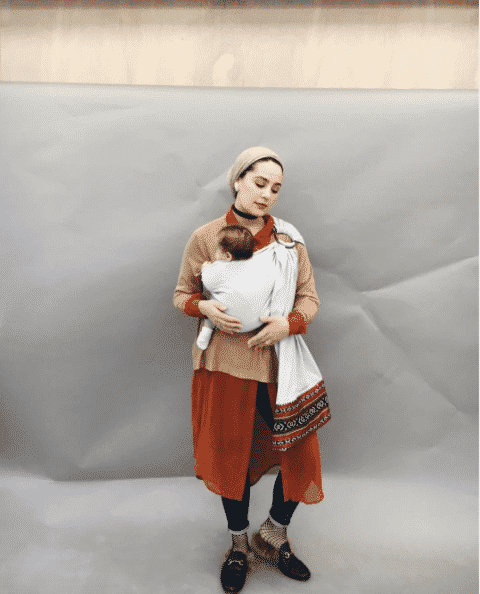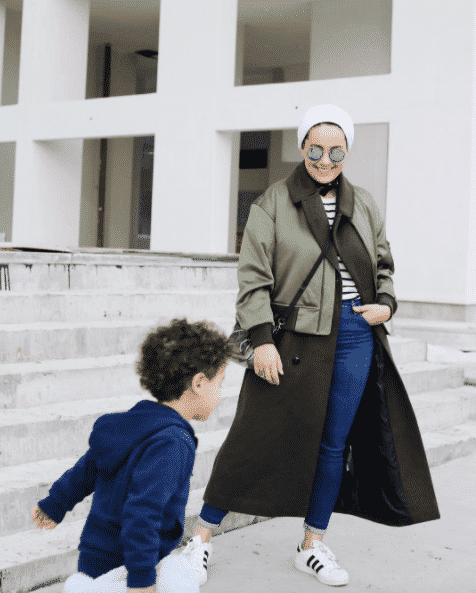 ↓ 10 – Monochrome Look in Nude Color for Minimal Style
For those who want to wear a minimalist look, nude color is undoubtedly a great choice, especially if you can wear it as a monochrome outfit.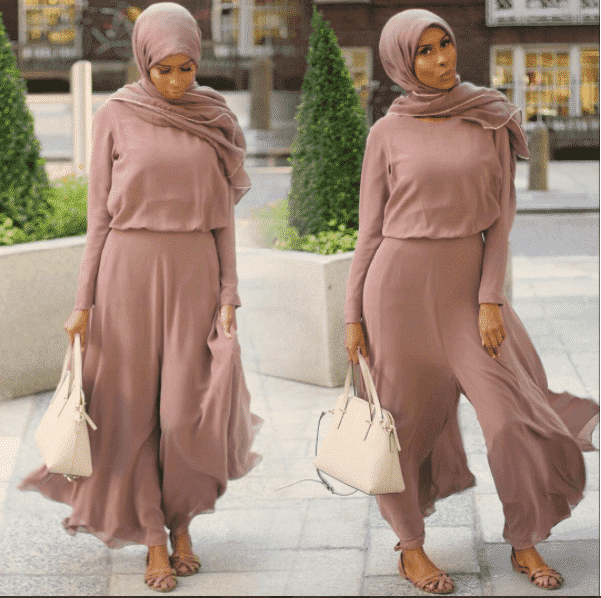 ↓ 09 – Hijab with Hat
Baseball caps for Summers and beanie hats for Winters – make the most impressive street style outfit. If you're confused about how to carry this look, check out Hijab Styles that look fabulous with Hats.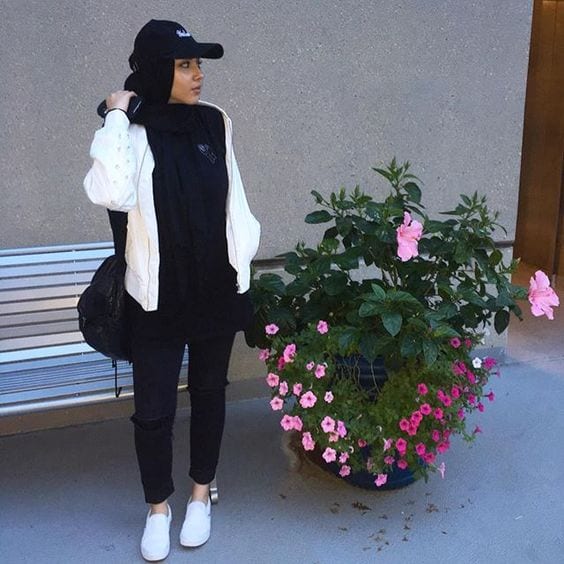 ↓ 08 – Street Style with a Sporty Edge
Wearing a hoody over your hijab will give a cool and sporty vibe, and it is especially recommended for all teenage hijabis. And if you're into sports then do check out these Modest Gym Outfits.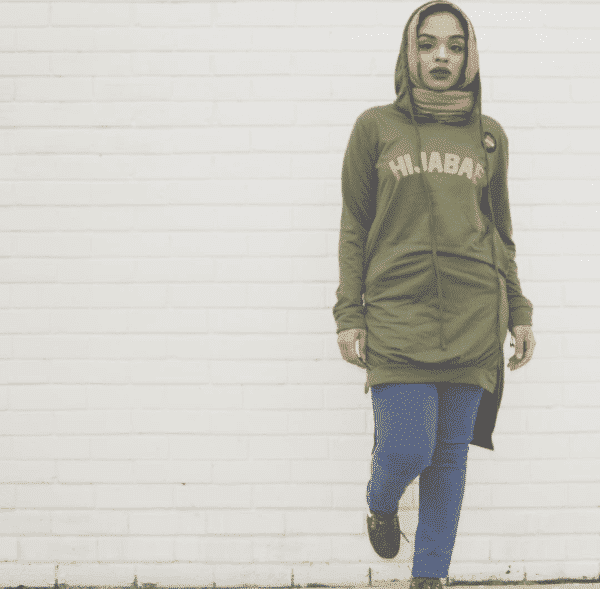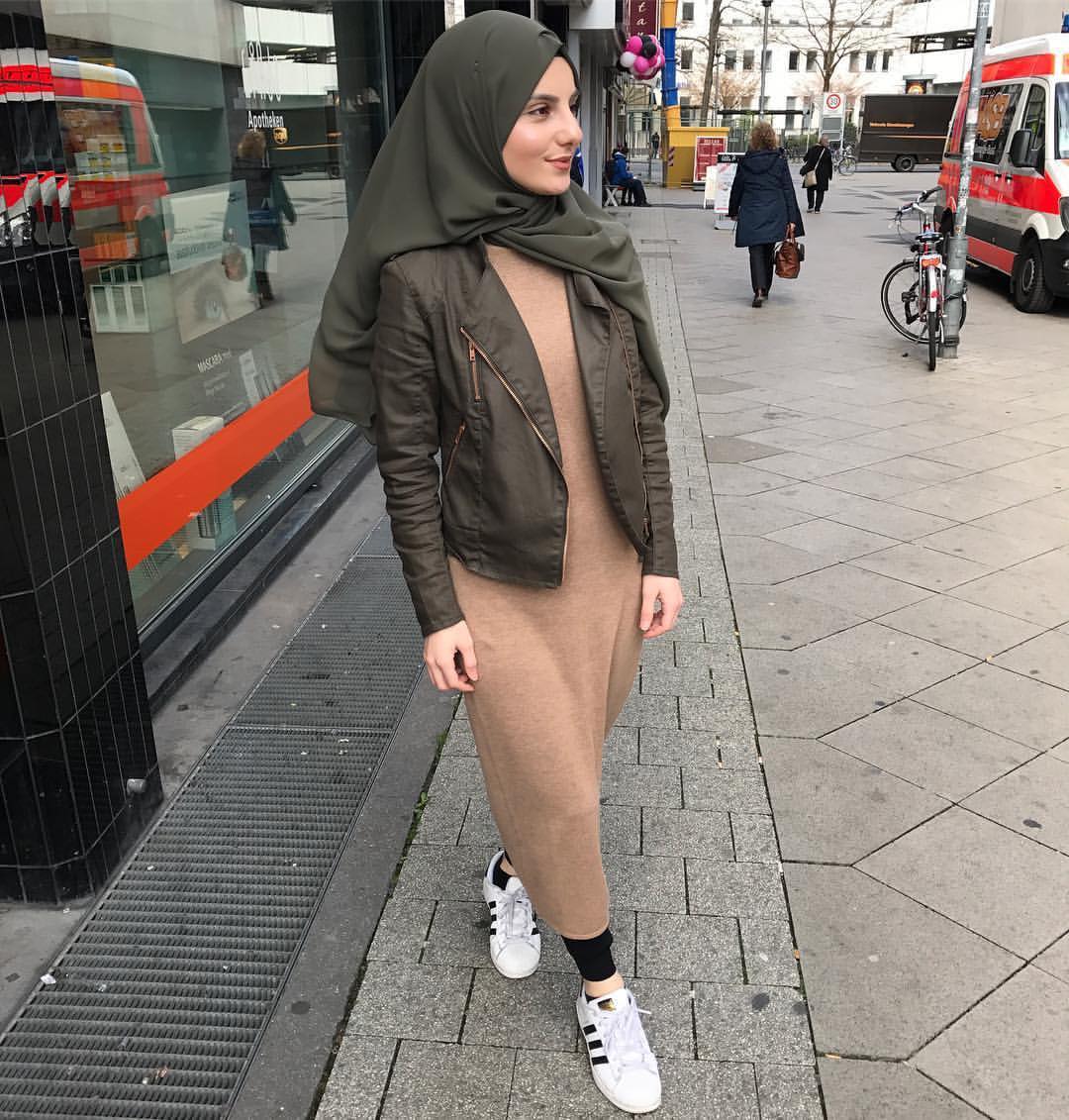 ↓ 07 – Hijab with Printed Maxis for Spring
Pair your floral maxi with a plain solid color hijab for spring. If you can find a maxi with green shade, then it would be ideal for outdoor activities like a walk in the park. As you can see here, it will just make you look picture perfect as you blend in with the greenery.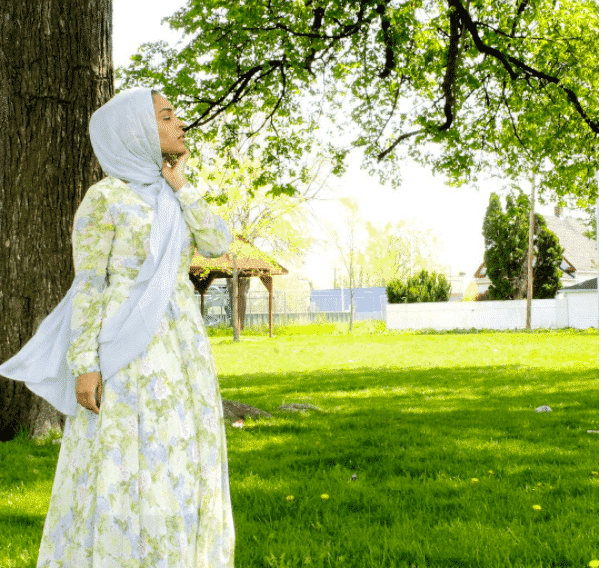 ↓ 06 – Hijab with Long Coats for Winter
For the winter season, you can style your hijab with some stylish long coats. See here some amazing collection of long coats for this season. Regarding footwear, you can wear long boots and sneakers, which are popular ideas in this fashion category. However, depending on the outfit you are wearing, you can wear sandals and flats/loafers too.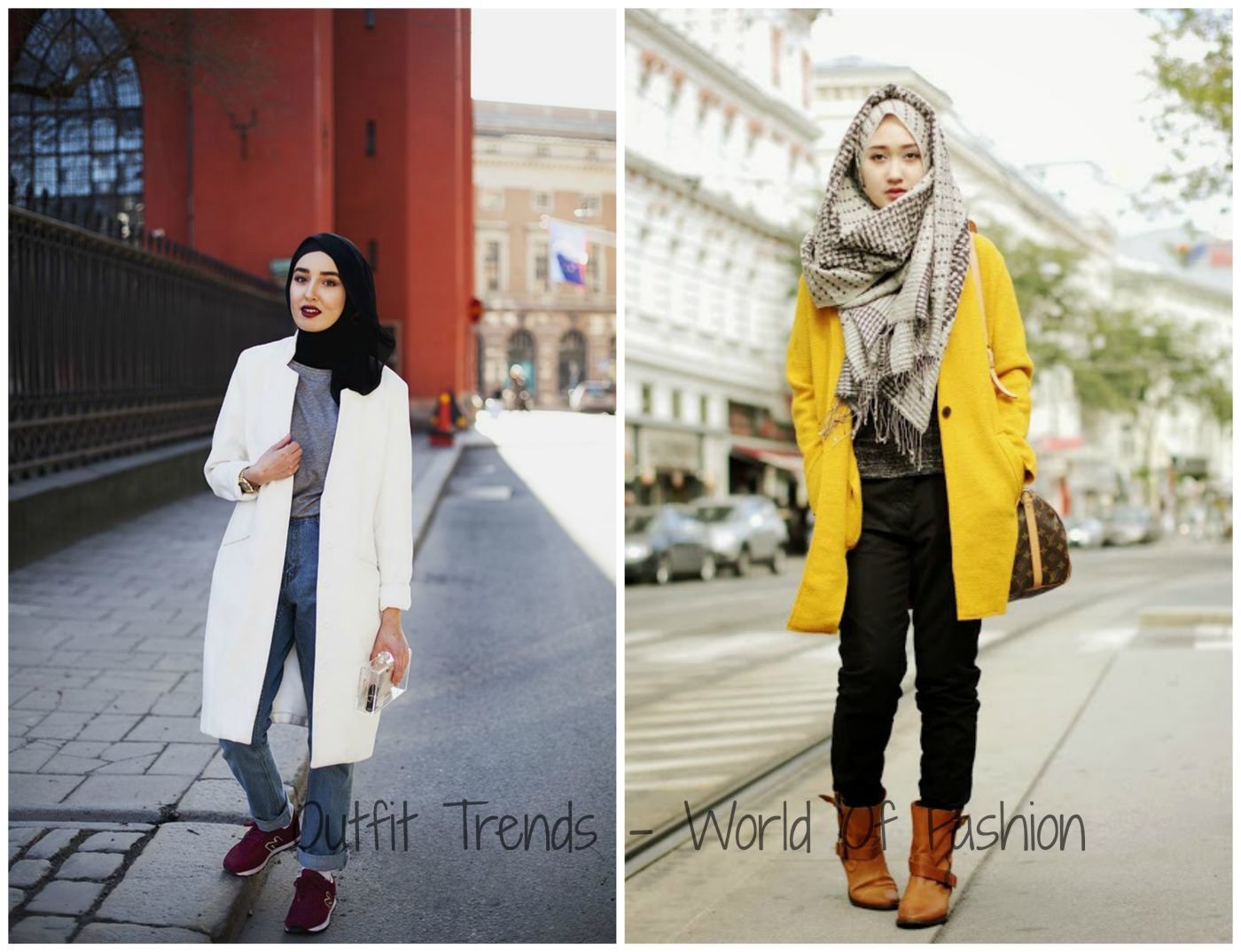 ↓ 05 – Hijab with Maxi Skirts
One of the best street styles looks for Muslim girls, which I love is styling hijab with maxi skirts. Why this trend is so popular is because you have a lot of choices to try different combinations. Check out these two beautiful hijabis and how stunning they look wearing maxi skirts with silk hijab. You can wear different jackets with it like denim jackets, leather jackets, and cardigans, etc.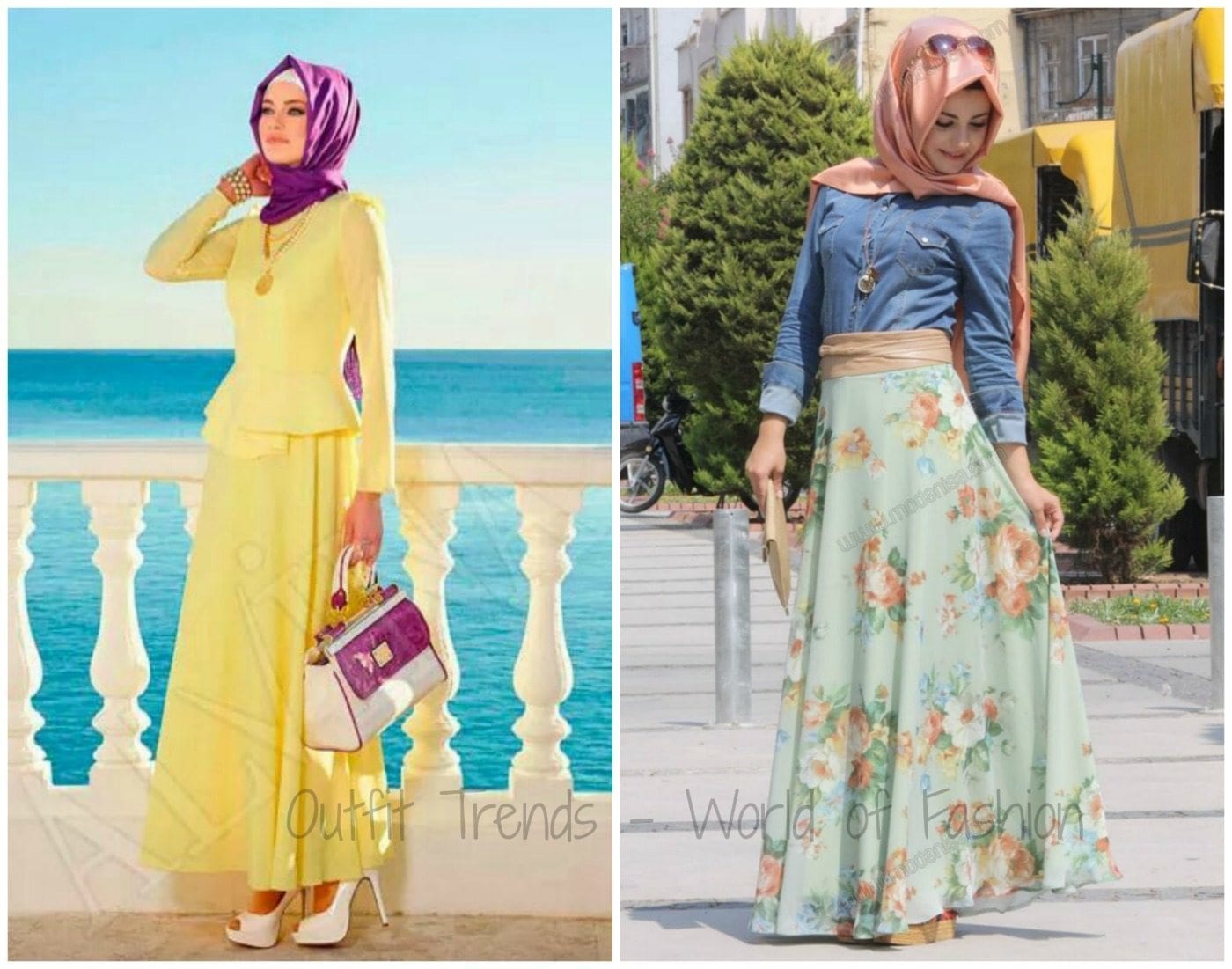 ↓ 04 – Hijab with Tulle skirts
Well, tulle skirts fashion is again getting a lot of popularity these days. You can read about the latest tulle skirt trends in our previous article here. Try to choose long tulle skirts, preferably till your ankles. Again, as discussed above, you have a lot of choices to make different combinations with it too.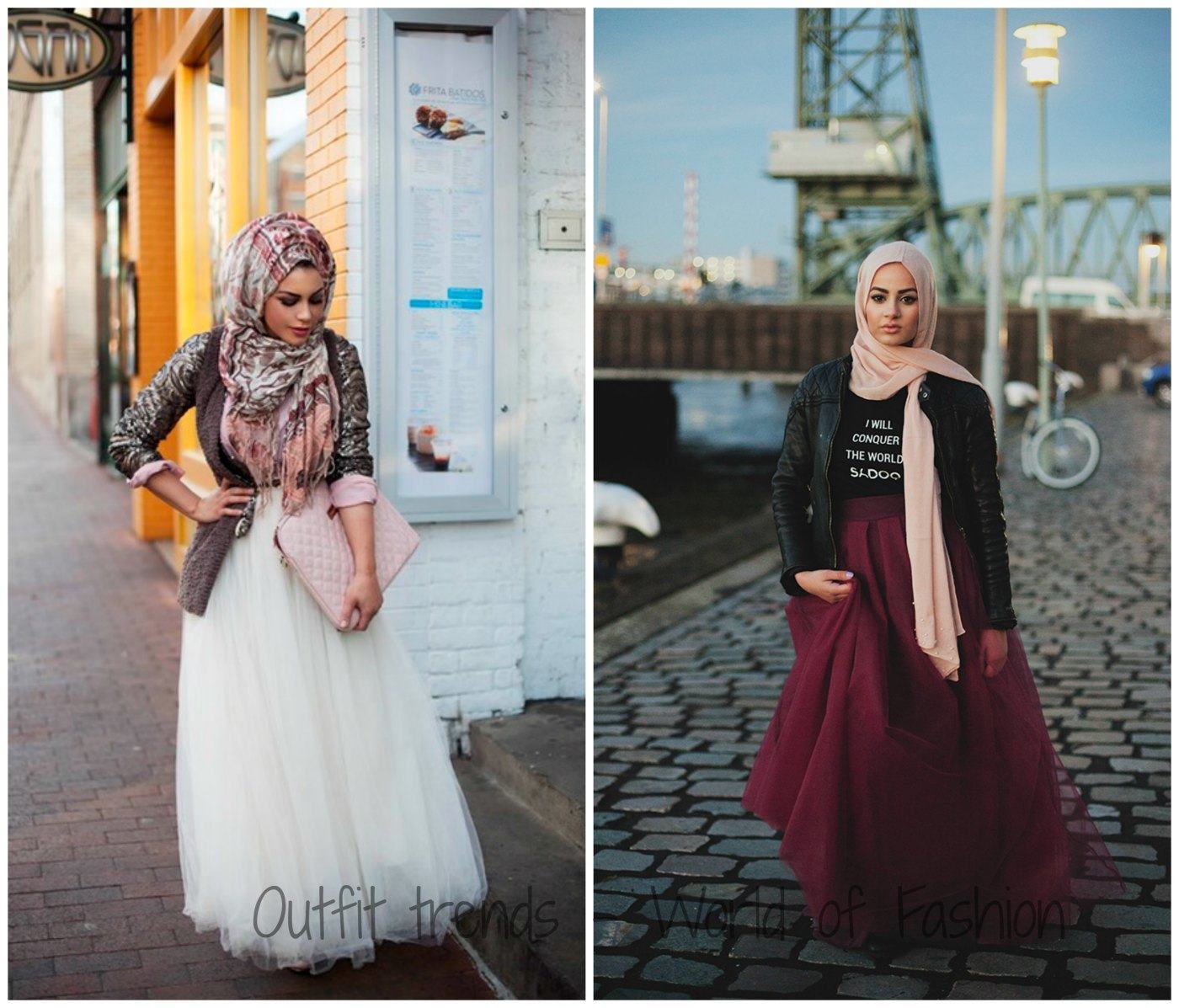 ↓ 03 – Hijab with Baggy Pants.
Well, I don't need to say how pretty these girls look, it's in front of you. Again a very stylish street style trend for hijabis. You can match your scarf with the pants color or do the opposite. There is no hard and fast rule in street style fashion. Style your baggy pants with wedges or flats depending on your height. Tuck in your shirt, cover it with some cool top, cardigan, and wear some stylish belts over it. Simply an amazing look.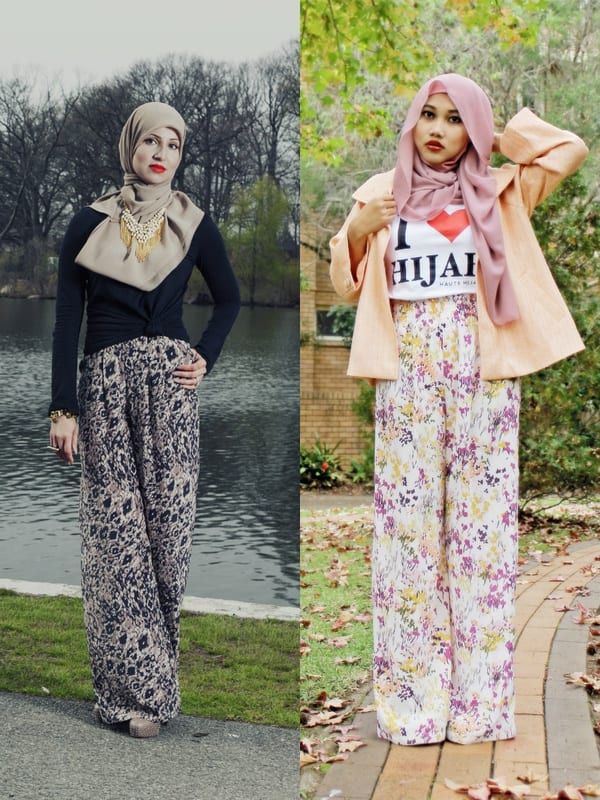 Via
↓ 02 – Hijab With Leather Pants and Jeans
If I have to explain in one sentence about the hijab street style look, I would say, "wear hijab with jeans and converse." This is one of the easiest ways to get this look. In this article, outfit trends bring some great ideas on how to wear a hijab with jeans. You can also style your hijab with some stylish leather pants. I would not recommend too-tight leather pants to wear with hijab though. You can go for little baggy leather pants like in this picture, which looks so perfect and modest.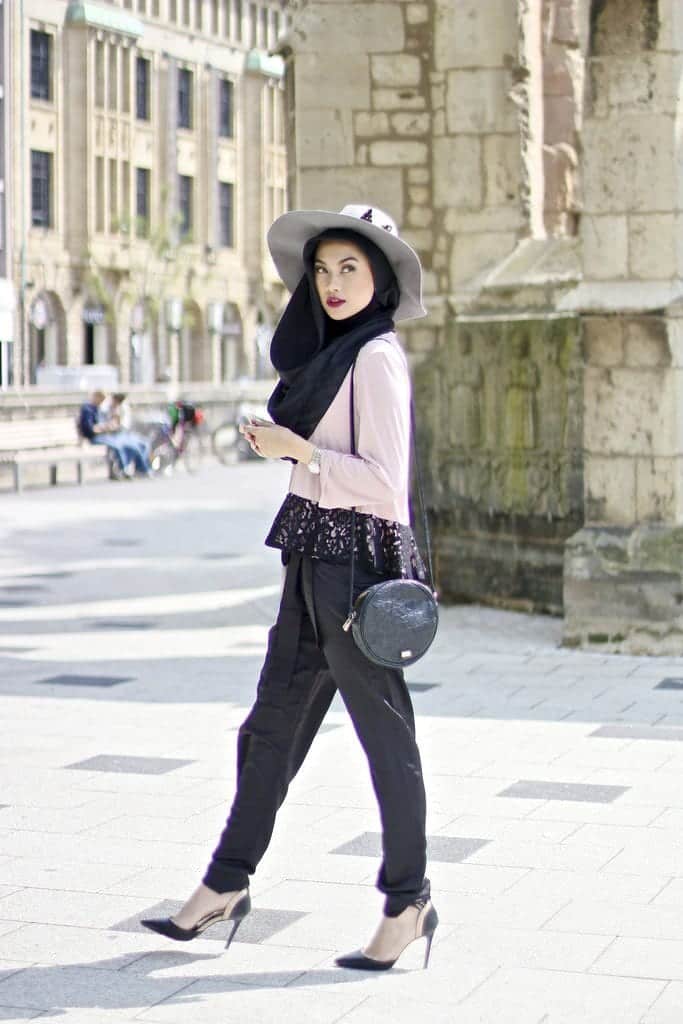 ↓ 01 – Casual Style Hijab Fashion
In the end, I want to mention; you can choose any hijab outfit for street style look. Depending on how you match it and wear it. It's all up to you. All the ideas discussed above are trending street style looks. You can wear anything you want, just keeping that thing in mind " Funky and Elegance."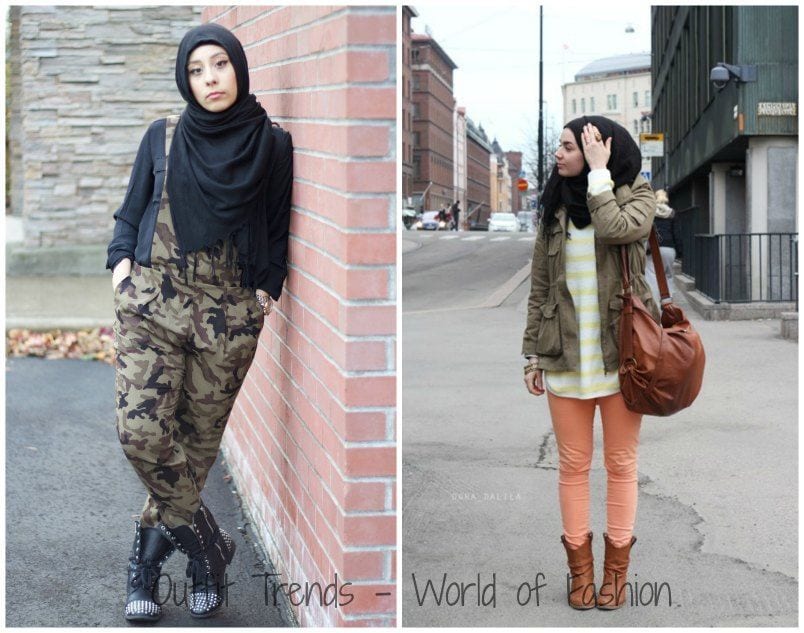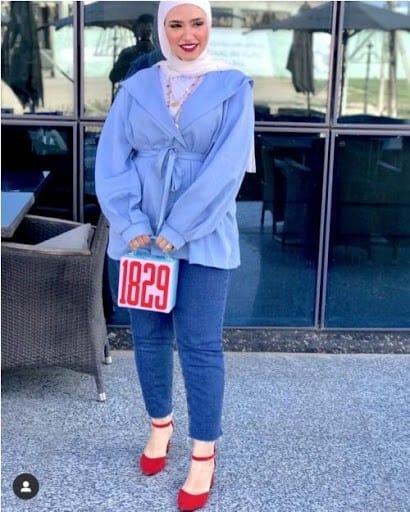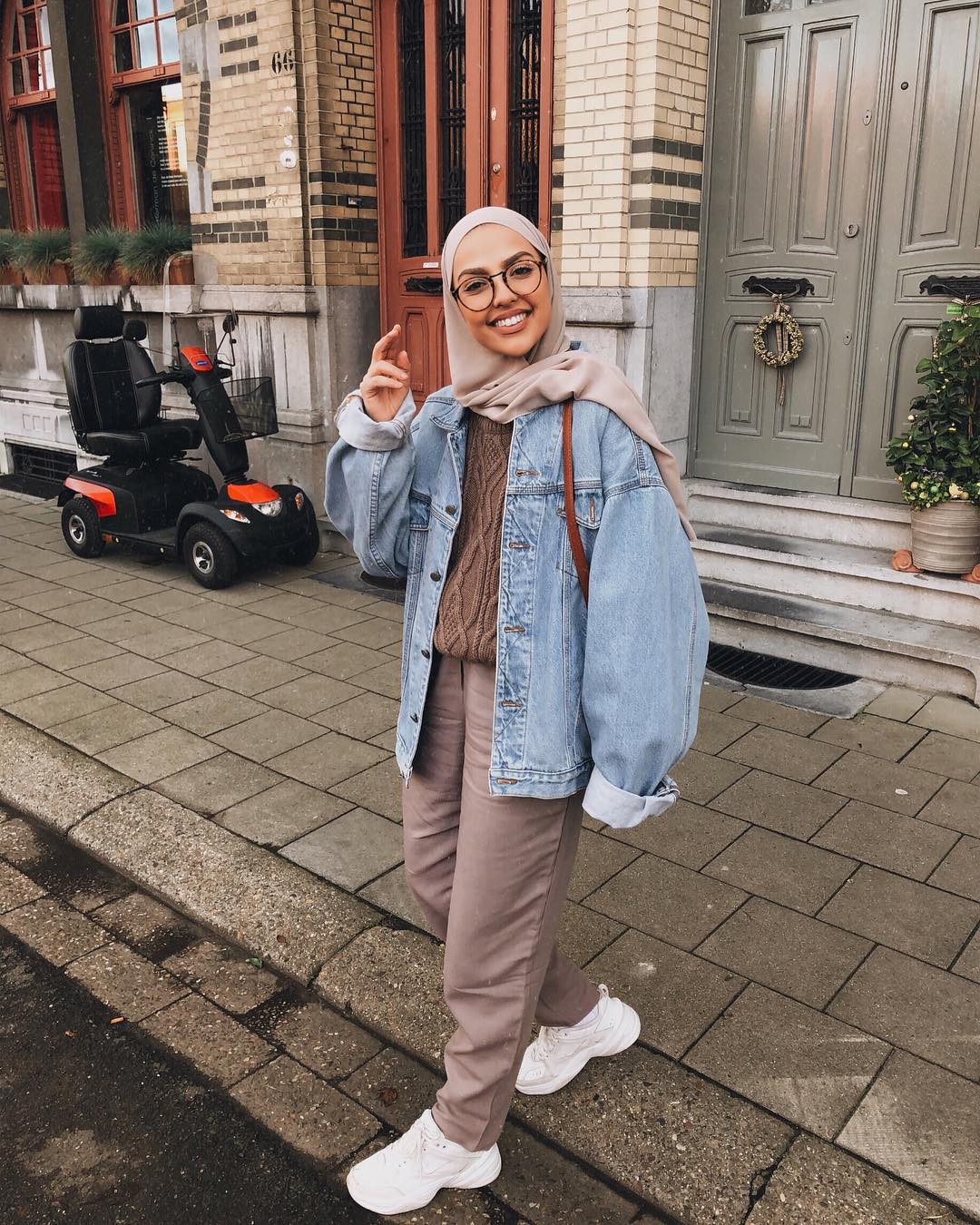 Frequently Asked Questions
Here are some frequently asked questions about popular hijab street style fashion ideas this season. You might want to what they are!
Q.

Can I wear a hijab with a sleeveless top?
A. Well, in general, most hijab wearers like wearing outfits that are not revealing and are decent as well as modest. So, the best possible advice is not to wear a sleeveless or sheer top unless you have some adjustments in mind. Short sleeves or mid-length sleeves would look chicer. Moreover, a hijab with a sleeveless top sends mixed kinds of signals, and people will be very quick to judge whether you are wearing it for religious reasons or for fashion.
Q.

What hijab style is the best?
A. The type of headscarf you wear is not about what style is the best but what looks the best on you. So, to make a better choice, always consider the type of outfit you are wearing, especially its neckline. Moreover, consider the jewelry you would like to wear and never neglect your face structure as you should choose makeup and jewelry accordingly.
Q.

What are some great hijab styles according to face shapes?
A. Here is a list of different face shapes along with headscarf styles that would suit them.
Square Face: Wear your hijab loosely to soften the angles.
Round Face: Wear your headwrap in a way that can contour your face. Don't cover your forehead too much; instead, cover the jawline in a way that will accentuate your facial curves.
Heart-Shaped Face: Wear your headwrap in a layered manner. Adding a head cap would also be a good choice. Moreover, accessorize your look with a necklace, so your face looks more in proportion.
Q.

What are the most trending hijab looks these days?
A. These days casual yet classy styles are trending the most. People are shifting from abaya and maxi outfits to loungewear and buttondown shirts with wide-leg pants. You might like to try them as well.
Q.

Is street style look casual or formal?
A. A street style look is basically a blend of both- casual as well as formal. It is something that is unique, subtle, sophisticated, edgy, sassy, and classy, all at the same time.
Q.

What are some tips to keep in mind while dressing up in a hijab for a street style look?
A. A few simple tips to keep in mind are that:
Prefer modern yet modest outfits.
Accessorize wisely.
Eastern wear, as well as western wear, can both be styled elegantly with a headscarf.
Your headwrap style should be in accordance with your face shape, your outfit, and your accessories.
I hope you loved reading this article. For any further questions, you can post in the comment section.