Modest Gym Outfits – Wearing the right clothes for workouts is as important as going to the office in the proper official dress. It is an essential part of achieving your success goals and headstrong motivation to go on with the desired gym workouts.
Here you might find it quite confusing about what to wear that feels super comfortable as well as stylish too. These outfits are not just restricted for Hijabis or Muslim women but for all ladies out there who believe that true beauty lies in modesty.
How To Dress Modestly For The Gym
If you are going to shop for perfect outfits for your gym routines, which are comfortable, stylish, but modest too, you might be left with very few options to buy! Mostly you would find tight leggings, strapless sports bra, and compression shorts. If you need help in selecting the right bra, here are 15 Great Bras To Wear. Whether it be for religious or moral reasons, or maybe just because you are not comfortable in revealing your body, buying modest gym wear with stylish and rightly fitted dress design would be a tricky task.
While looking for a perfect gym wear ideas with a modest look, there are various things that you must keep in mind.
You must opt for buying quick-drying synthetics or lightweight fabric for gym wear instead of moisture-absorbing cotton clothes. As the cotton fabric would become too damp and might cause irritation and discomfort, the moisture-wicking fabrics are specially designed to keep the moisture away and evaporate eventually.
Buying the right kind of shoes is an essential part of your perfect gym experience. In this matter, you must prefer 'function' over 'fashion'! Because well fitted and comfortable sneakers or tennis shoes are direly needed in place of good looking shoes, in order to support your workout and keep your joints healthy. You should also check out these Modest Beach Dresses.
Here are some smart yet practical ideas for modest gym outfits.
Opt for a lightweight fabric in the summers and for winters, sweatshirts and sweatpants are ideal.
Don't wear outfits that are too tight as they make your body parts exposed. Find outfits that are in a regular fitting and don't even go with extremely over-sized outfits as they will create hindrance in your workout.
If you want to wear shorts but are reluctant because of its length, then wear tights underneath or go with knee-length socks.
Add layering for a modest look. Jumpers and hoodies will do the work.
Don't overdo makeup and hair as it is time to work out and not party.
For a modest look, wear hijabs that have a firm grip.
Wear well-fitted undergarments.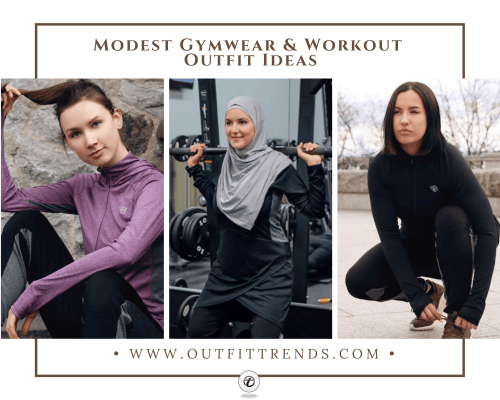 Frequently asked questions about modest gym wear
Here we have answered a few of the frequently asked questions about modest activewear.
What is a modest gym outfit? 
A modest gym outfit is activewear that does not expose your body beyond the limits that you're comfortable with. It conceals your body shape instead of making it prominent.
What is better for the gym; leggings or sweatpants? 
For modest gym wear, outfit trends consider sweatpants as a better option than leggings. Leggings look sexy and hot, but sweatpants are decent and comfy as well. You don't have to keep a check on your outfit all the time. Focus on your workout only.
Can I wear a dupatta to the gym? 
Wearing a dupatta is not a wise choice for the gym. You might take forever to set it and not perform workout properly. Hence opt for a hijab and don't forget to pin it adequately under a scarf.
What not to wear to the gym? 
There are a few things you need to take care of while going to the gym.
Don't wear stretched out sports bra.
Don't wear too much jewelry to the gym.
Don't wear outfits that are too tight or too baggy.
Don't put on too much makeup. Sunblock and a tint are enough.
Don't wear boots, sandals, or heels to the gym.
Transparent leggings or too much neon is also big a NO to modest gym workout wear.
↓ 25 – Tracksuits With Hijab
Tracksuits are ideal modest gym wear. The fitting tracksuits have what you need. So buy yourself two to three tracksuits in various colors and have fun at the gym. You can put a jacket on and off as per weather demands. You can quickly put on a hijab with them and look classy. Girls, proper footwear is the key to healthy gyming, so don't ever neglect them.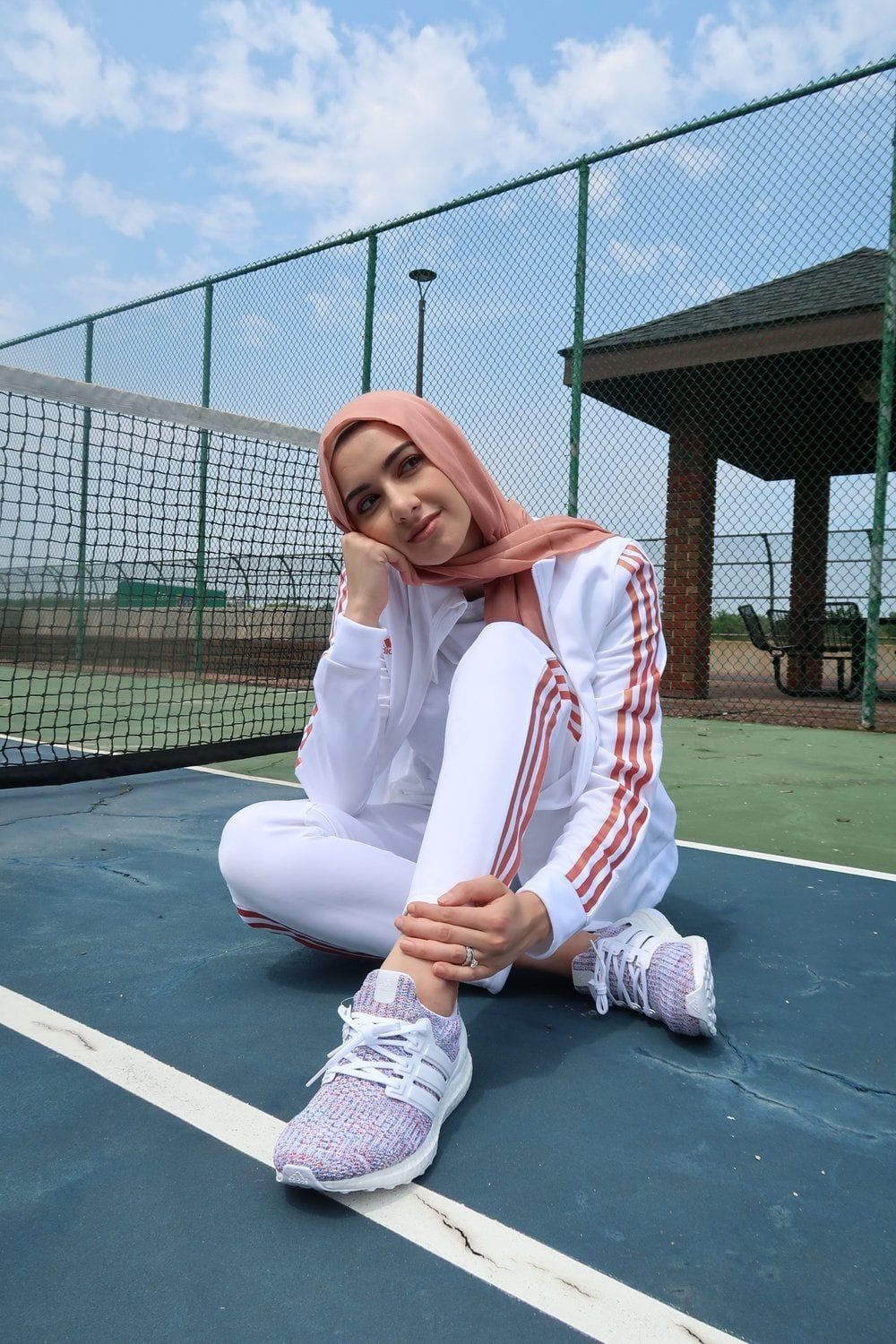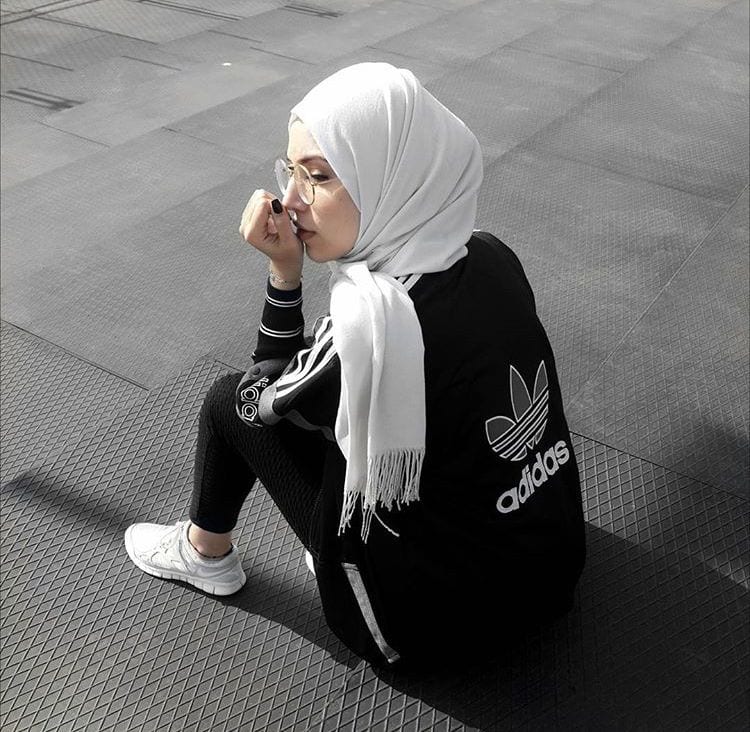 ↓ 24 – Hoodie With High Waist Sweatpants
Winters are the best when it comes to wearing modest outfits. There are so many options out there! One of them is a pretty pink cropped logo sweatshirt and a high waist yoga Capri leggings. The edge lux shoes are adorable though!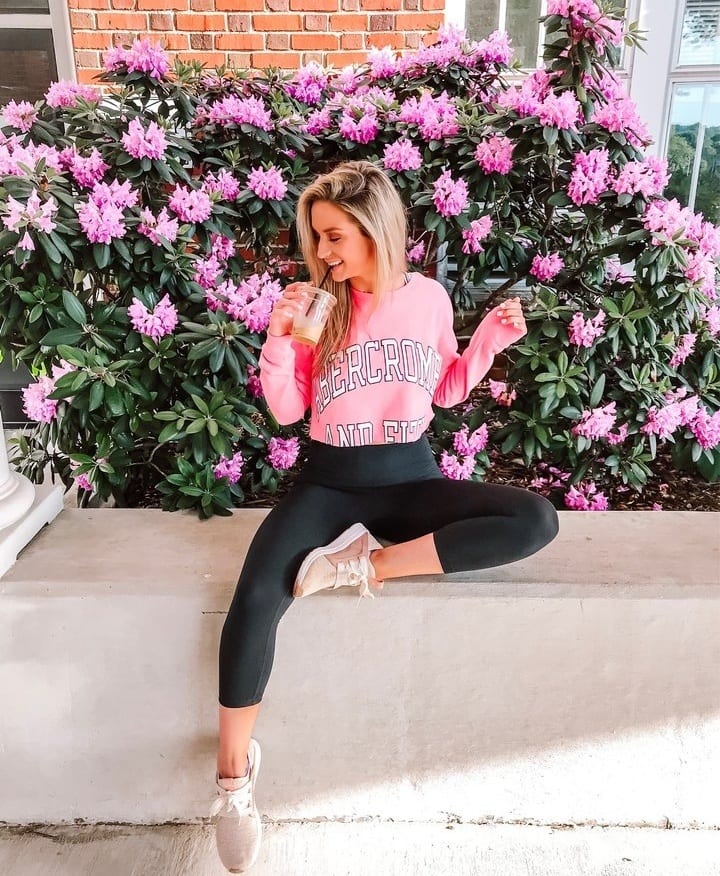 Shop similar look below
Women cropped logo top 12$
Yogalicious 22″ High Waist Yoga Capris – Yoga Leggings – Yoga Capris for Women
EDGE LUX 3 SHOES $85
↓ 23 – Easy To Carry Modest Gym Looks
Modest outfits are not just about putting a piece of fabric on your head. It's about covering your entire body properly and not showing off your curves. For this purpose, we have an excellent suggestion for you. Wear half zip Nike top with Zella soul pants and put on your running shoes. Don't get into the trouble of wearing a dupatta or stole. A headwrap is more than enough.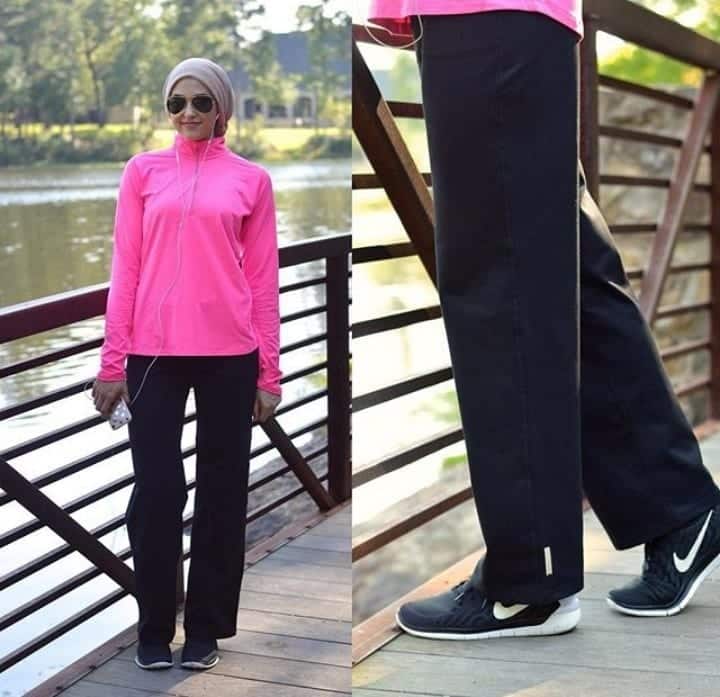 Shop similar look below
Another great modest activewear idea is the skirt that you can see in the picture below. If you are not comfortable in leggings or tights with short shirts or jumpers, then just put them on. Classy yet modest!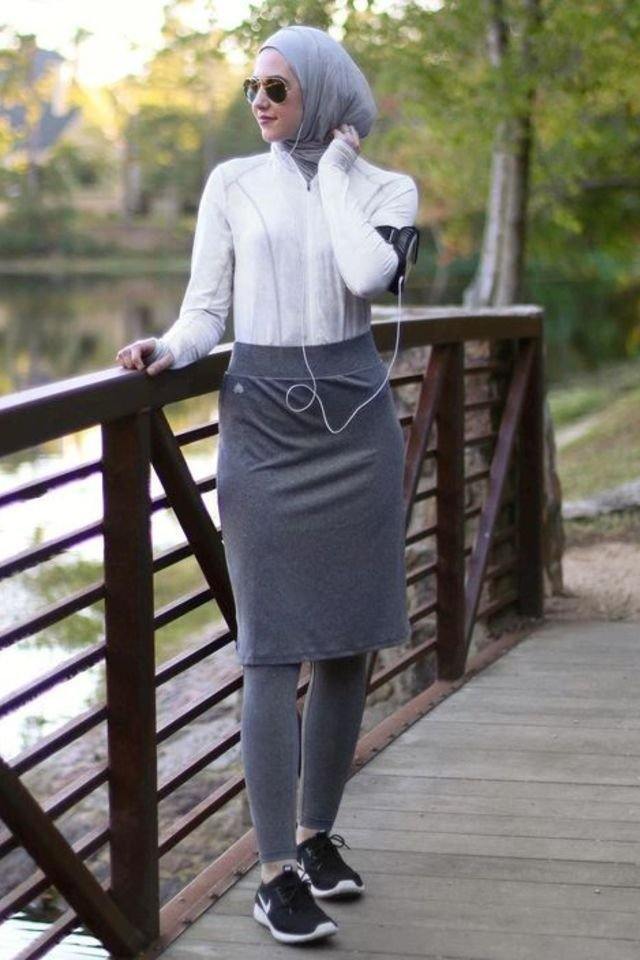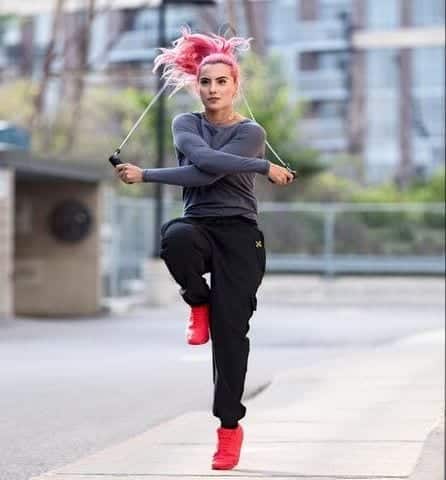 ↓ 22 – Inspiration From Sports Bloggers And Athletes
Sports bloggers and athletes always bring some new fashion ideas to the table. Have a look at her. She has paired a tee shirt with sports leggings and a jacket, which is terrific. Her hijab adds grace and elegance to her entire look.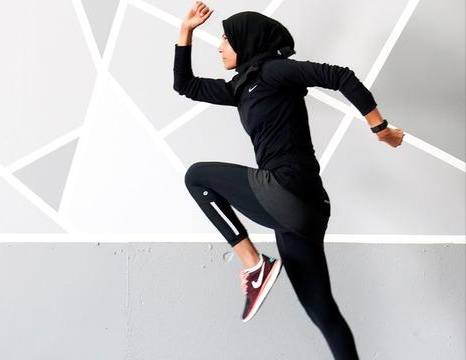 ↓ 21 – Swaggy Outfit
There are two types of girls. Number one who love dressing up all the time and number two who prefer staying messy. If you are number two, then this is for you. Wear a long jacket with shorts and wear tights underneath. You can also put on a scarf.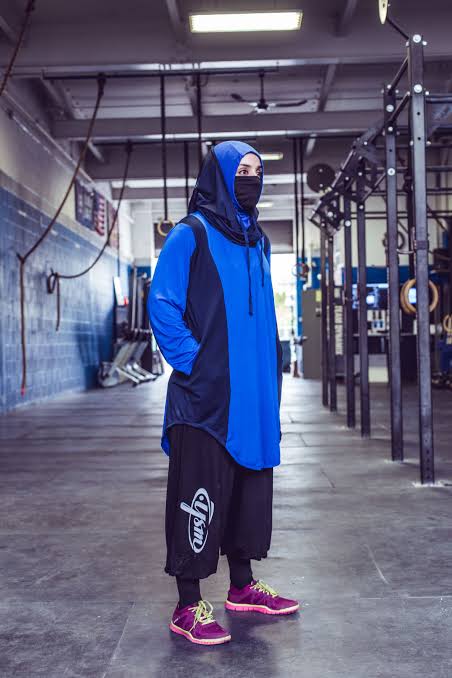 ↓ 20 – T-Shirts With Hijab
This stylish yet straightforward Hijab gym wear is the best modest gym outfit option that you can have! The fitted tights and tank top will feel much comfortable while burning up the sweat. Along with this, a supportive sports bra is a must to make your workout experience stiff and less painful. While exploring your nearest lingerie store for this purpose, you must get professional help to get the right size and try the suggested sports bra to find out whether they stay in its place while bending or jumping.
↓ 19 – Legging With Shirt And Hijab
Being a Hijabi, you would find these clothes best to cover your body modestly for the workout. While the sweats and lose shirts rule the gym, the bottom must be chosen according to your workout requirements. These cropped leggings, tights, and stretch pants are best for yoga or other general exercises. For some more workout motivation, check out these Cute Outfits To Wear With White Tights/Leggings This Season.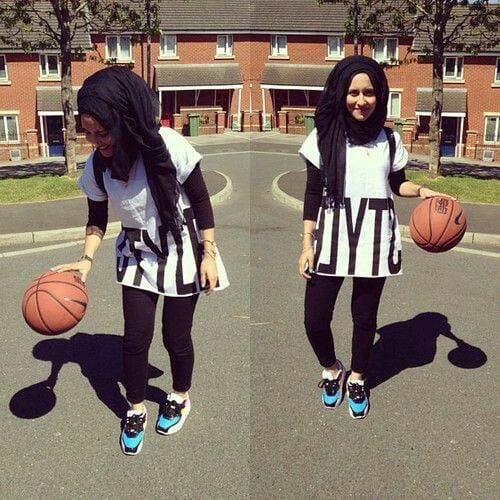 ↓ 18 – Nike Stylish Shirt Hoodie And Tights
This gorgeous looking Nike T-shirt with the running jacket and super comfy tights will make exercising great fun. You can make your appearance more smart and attractive by applying a light foundation, a coat of waterproof mascara, and wavy hair

↓ 17 – Stretch Shirt With Sports Trousers
This modest gym attire bears a highly sophisticated look for Hijabis. It will not only be comfortable in carrying out the routine treadmill or lift weight workouts but also will not draw any negative or provocative attention towards you, and you can carry out your exercises without worrying about anything.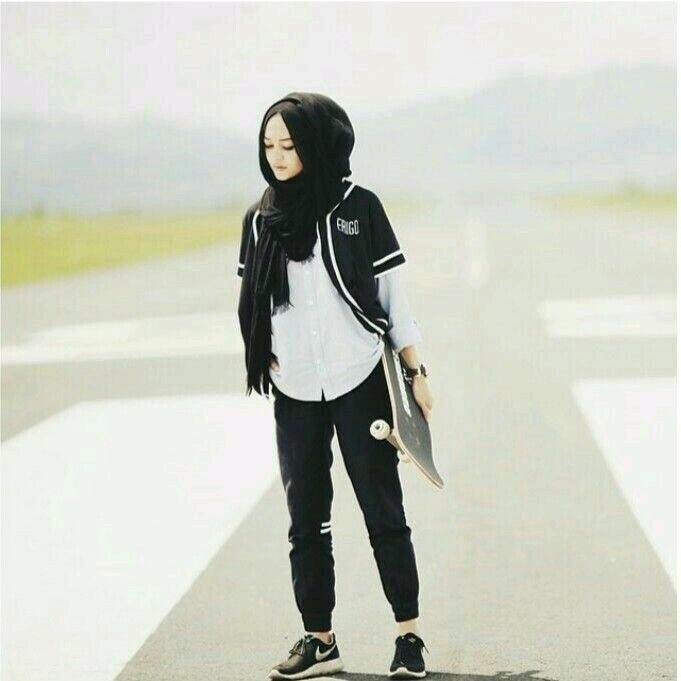 ↓ 16 – Long-Sleeved Shirt With Leggings And Mini Skirt
It's always wise to choose appropriate tops for the gym. The best options are full-sleeved shirts, sweatshirts, or Tank tops. Although you can go for stylish and fashionable designs but avoid the excessive revealing tops. The synthetic and stretchy fabric of the shirt will enhance your mobility with comfort.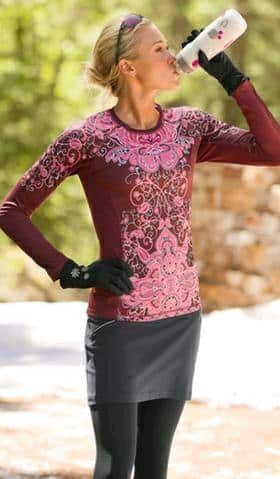 ↓ 15 – Cute Sports Shirt And Skirt
The cute teen, modest gym wear style is best to choose for various gym exercises. Wearing a loose fitted shirt, you will be able to move freely, and air can reach and dry the excess sweat from your body to make you stay cool. The color also does matter here. How? Lighter-colored gym wear will keep you cool in summer, while in winter, the dark colors absorb light and keep you warm. Boyfriend shirts are also a good option to wear to the gym because of their loose-fitting, here are Boyfriend Shirt Outfits & Tips On Wearing Boyfriend Shirts.

↓ 14 – Sports Shirt And Trousers
For being fashionable and stylish, you don't have to reveal your body! This amazing sportswear is one such example.

↓ 13 – Sports T-Shirt With Knee Length Skirt and Shorts
This adorable and modest sports and gym wear design is one of the best style options that you have. Make sure that you buy the right kind of shoes to complement your gym workouts. Remember, the shoes for exercising must be of the right size and sturdy with cushioned soles and arch supports. The wrong selection can hurt your feet a lot and can cause further problems too. Whenever you go for buying shoes for workouts, wear the socks to get the right fit and better go to the shop at the end of the day when your feet are large-sized due to exercising. Here are some Cute Sporty Style Outfits for School Every Girl Must Try.

↓ 12 – Modest Hiking Clothes
This super-comfy hiking outfit is a great idea to wear in a gym with a modest style concept. We also recommend that you check out these Camping Outfits.

↓ 11 – Baggy Shirt With Smoky Leggings
According to your personality requirements, if you prefer the top which is loose and covers your body, this is a superb and haute idea for you! Smoky leggings along with it will make the yoga and exclusive body workouts easy for you.

Step By Step Video Tutorial – Where To Shop For Modest Gym Clothing
↓ 10 – Cotton Trousers With Knee Length Shirt And Hijab
The comfortable trousers with the full-sleeved shirt and modern Hijab style is an adorable gym wear style to choose for yourself. Do check out these 12 Great Ideas for Organizing Hijabs/Scarves for Every Day Routines

↓ 9 – Retro Blue Modest Gym Wear
The glamorous look while being in Hijab and gym wear is possible. Have a look at this modest yet highly functional workout dress!

↓ 8 – Stylish Hijab Gym Wear

↓ 7 – Sports Hijab Ideal For Gym wear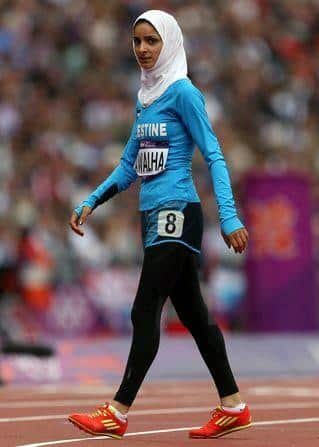 ↓ 6 – Modest Yet Elegant Tracksuit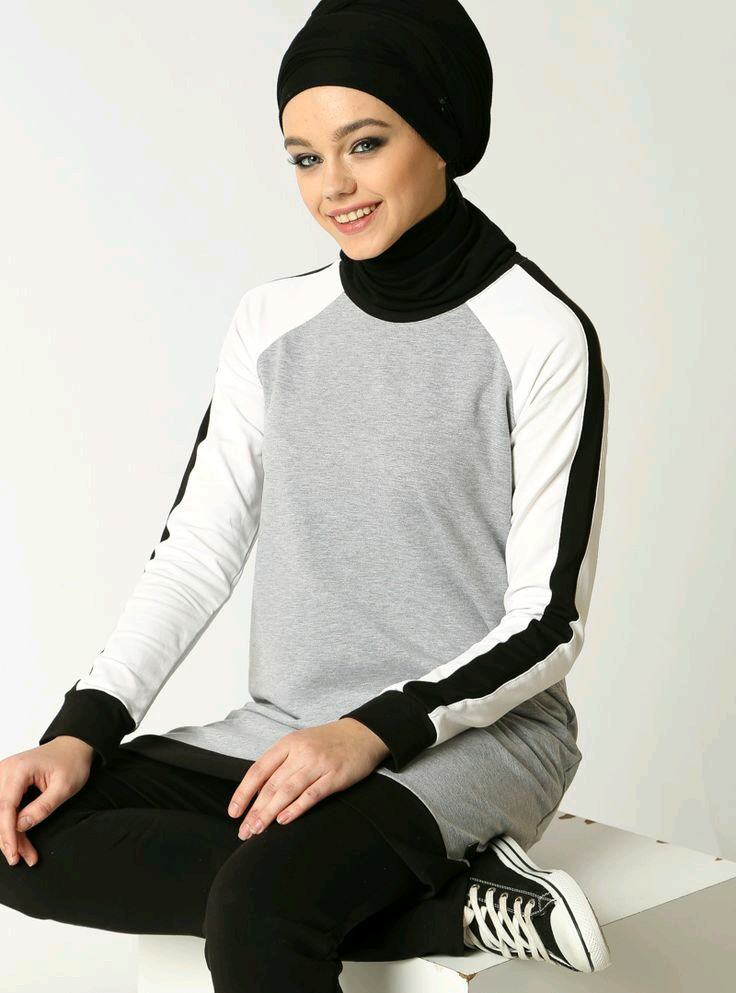 ↓ 5 – Sporty Hijabi Workout Clothes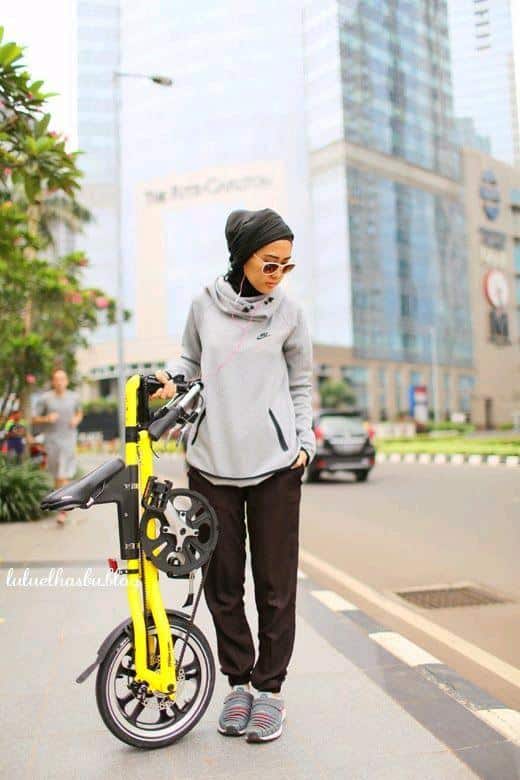 ↓ 4 – Cute And Stylish Idea For Gym Wear With Skirt And Shorts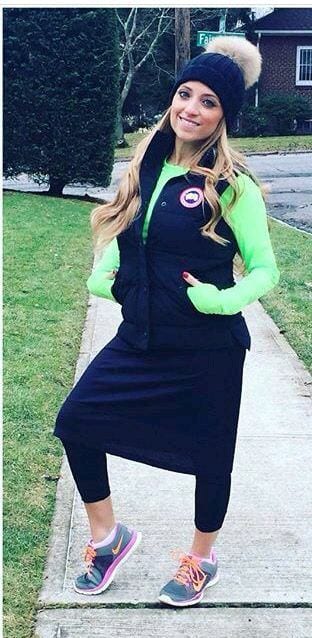 ↓ 3 –  Modest Street Style Active Wear
A hoodie with sweatpants is not just excellent loungewear or amazing streetwear but actually all-time favorite gym wear as well. You don't need to have a different outfit for the gym. Get up from the sofa, make a ponytail, and put on your joggers. All set!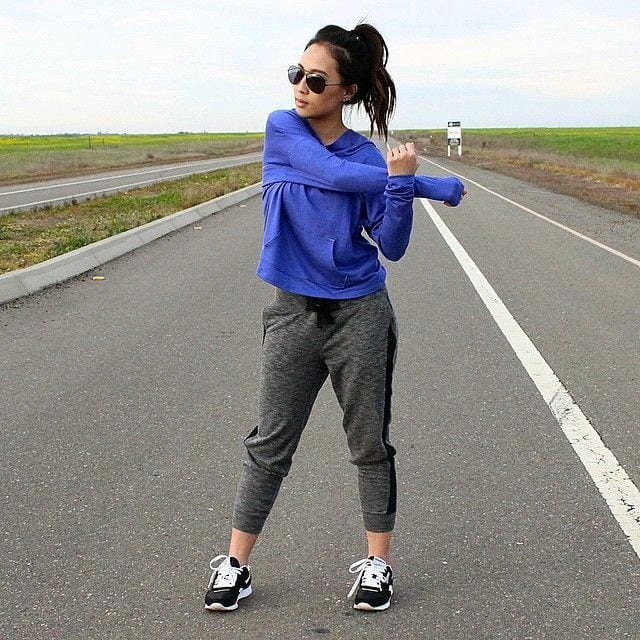 ↓ 2 – Cute Modest Workout Clothes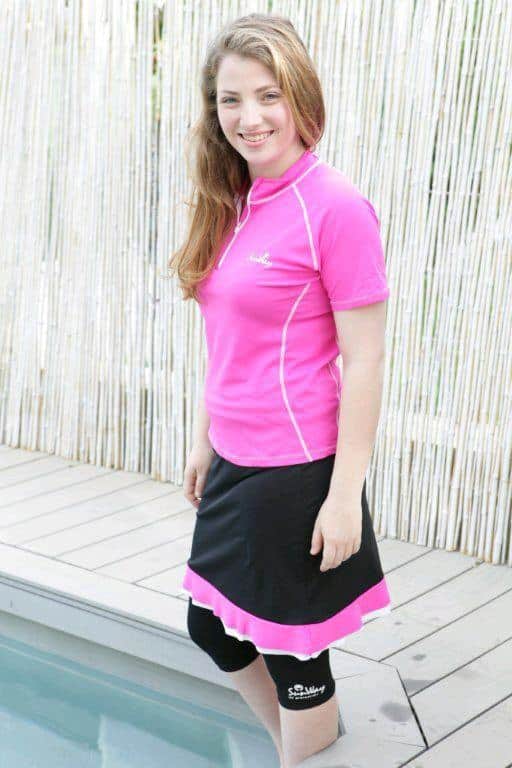 ↓ 1- Burqini Modest Gym Wear
↓ Best Brands For Buying Gym Wear
If you want a soft and stylish bra yet with a secure grip, then Peach Wear is your go-to place.
Price
PKR 2000-5000
They have the best outerwear hoodies and jackets that you can use to layer up your gym outfit.
Price
$50-100
This is an excellent online store for buying modest gym wear. Chana Skirts on their store is worth buying.
Price
$100-500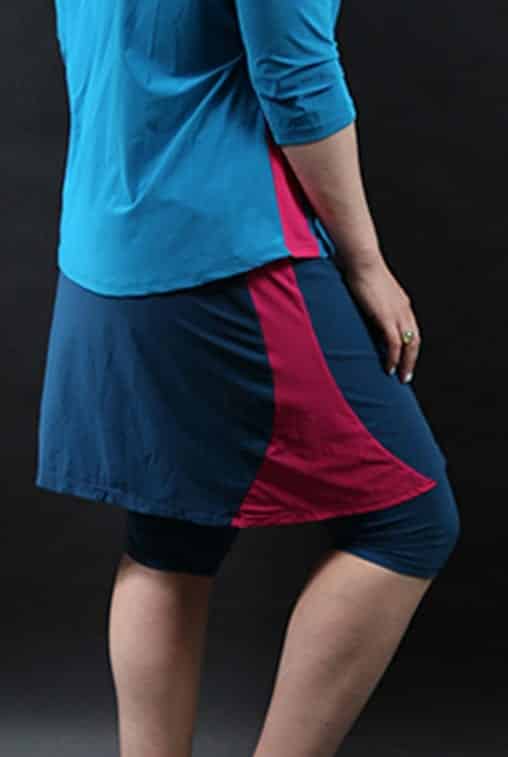 They sell hijabs for sports and swimming as well as a few clothing items like sweatshirts and performance shirts, all priced under $40.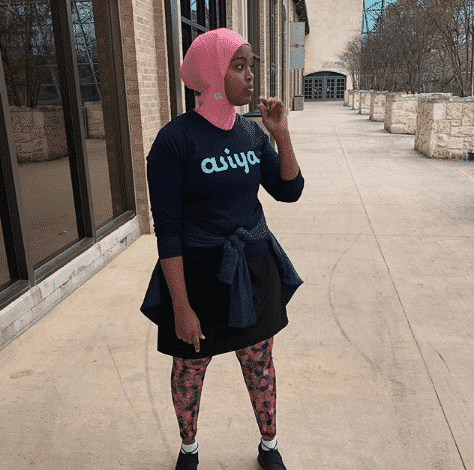 They sell modest tops, leggings, sports hijabs as well as some super-cool accessories. The price range of their products is between $40 to $90.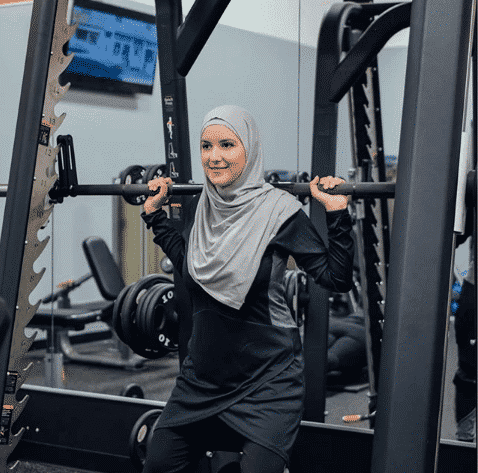 ↓ Shop Complete Looks
Here are two effortless chic complete outfits that you can try wearing to your first day at the gym.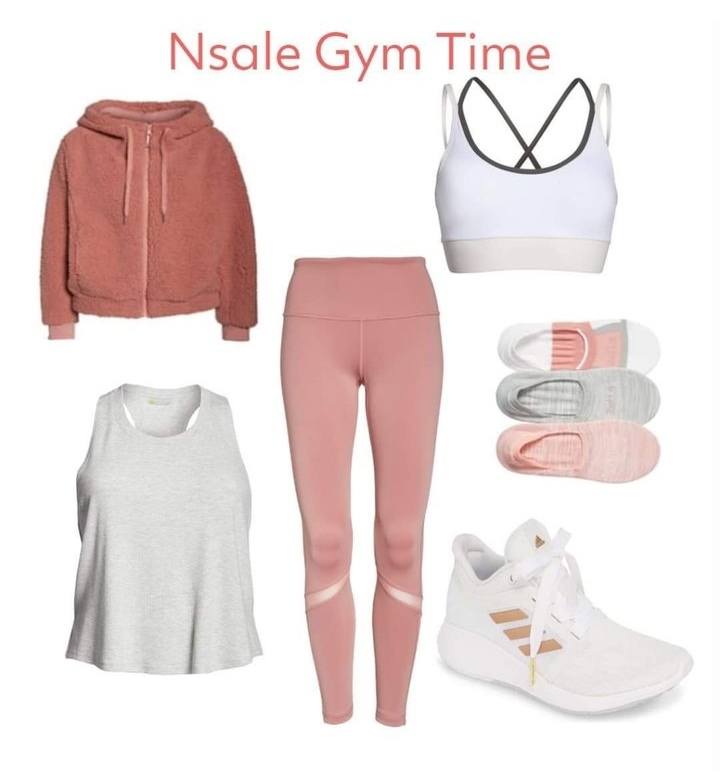 Shop similar look below
6-Pack Liner Socks ZELLA PricePKR 6609.10
Stardust High Waist Ankle Leggings ZELLA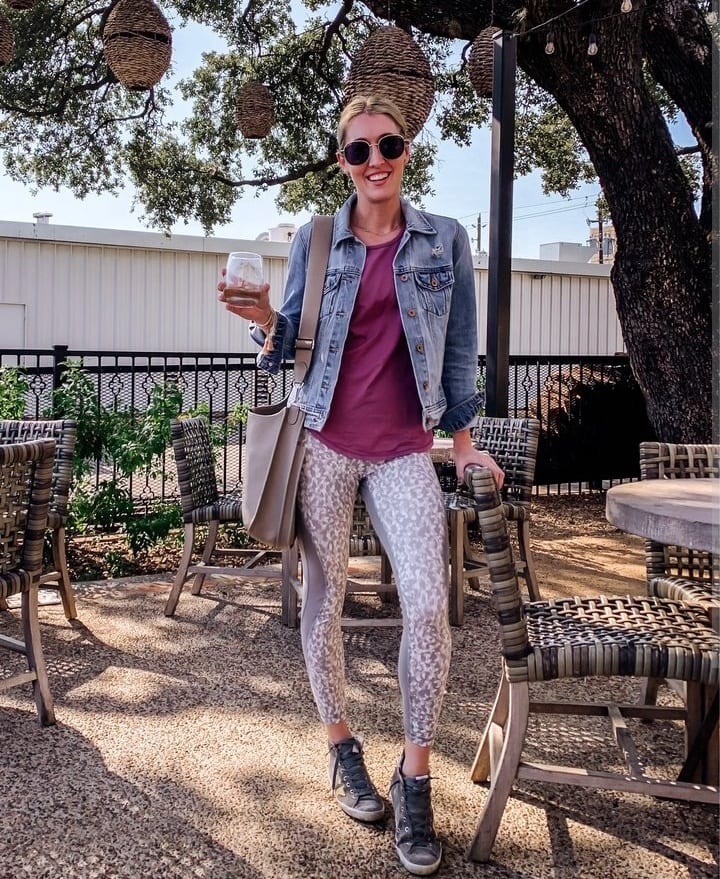 Shop the same look below
Oversized Denim Jacket MADEWELL
Golden Goose Francy Suede High-Top Sneakers
High-Waisted Elevate 7/8-Length Mesh-Splice Compression Leggings For Women $34.99