Gym outfits for curvy women. Activewear was not always available for the curvy gals. Thankfully, most brands have remedied that and now offer a range of gear to suit all of your needs from sports bras to figure-sculpting leggings and cute, matching tops. Never worry about what you'll wear to an upcoming yoga session or Zumba class again: here at Outfit Trends we have you covered on the cutest, most performance-enhancing and flattering activewear you will ever need!
The sportswear industry has perhaps been the slowest when it comes to being size inclusive. For years, both plus size and petite women have struggled in finding good sportswear outfits that fit them perfectly. Luckily, it's all finally changing and we now have some amazing options for all sorts of sports activities as well as gym wear.
What To Wear To Gym – For Plus Size Women
But before we get started, let's talk about brands.
What are some of the best plus-size clothing brands?
The answer varies but there are definitely a few well-known brands that have been really bringing their A-game when it comes to providing activewear to the plus-size gals. Here are five great companies that have expanded their lines to cater to all shapes and sizes!
Nike Plus-Size – Everybody's favorite brand launched its plus-size line in 2017. Sizes go up to 3x.
Old Navy – Stylish, affordable activewear. Sizes go up to 4x.
Zella by Nordstrom – Sizes go up to 3x. Comfortable and stylish and delivers great performance technology.
Fabletics – Offers a range of activewear and goes up to sizes 3x.
Just Curves – This brand was founded by Yolanda Williams and is known for its signature bodysuit.
Now let's look at some gym outfits!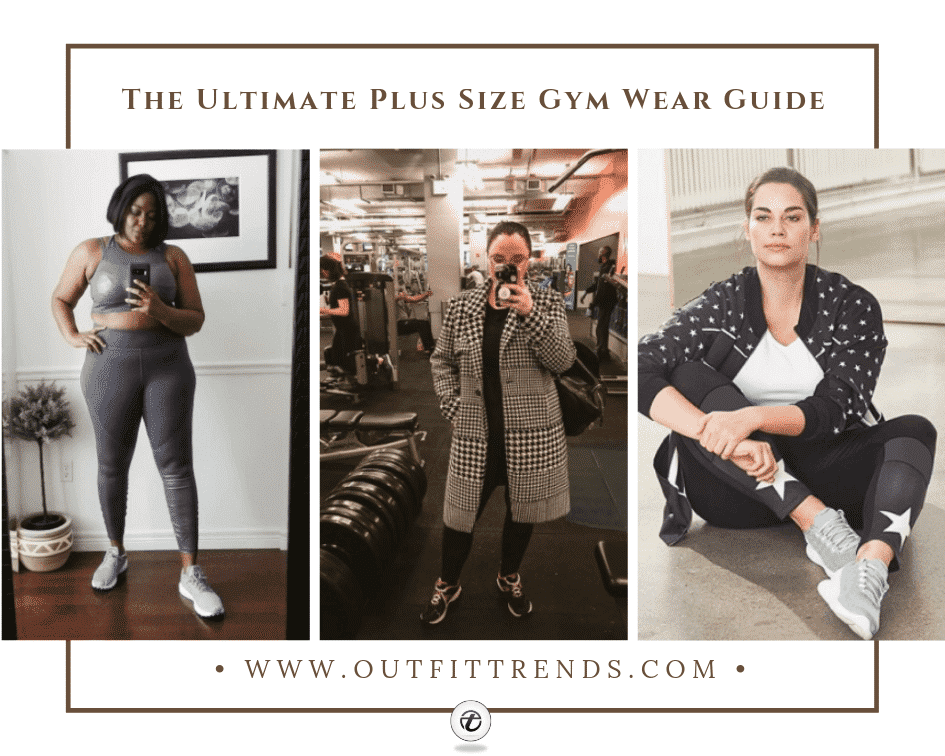 ↓ 16. Cute Plus-Size Gym Outfit for Yoga
Aside from ensuring your activewear is high-performance, it is so important to feel confident and comfortable in what you are wearing. So go for clothing you feel beautiful in. This look is adorable and easy to put together. Simply pop on a cute tee and grab some stylish footwear to go with these gorgeous rose-speckled leggings! Also have a look at our earlier post on 18 Best Plus Size Celebrities Outfit Ideas from This Year.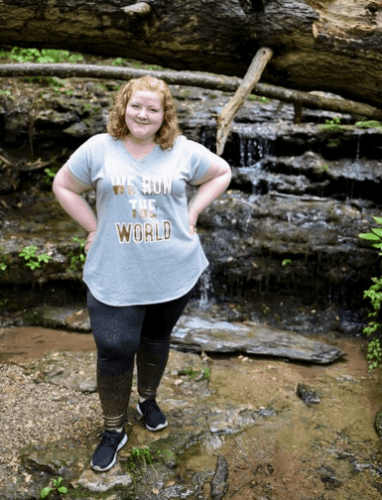 SHOP THIS LOOK FOR UNDER $100
Emily Lace Up Sneaker $26
Rose Gold Gradient Speckled Hem Legging $33
↓ 15. Supportive Workout Bra & Leggings for Curvy Girl
This all-gray look is not only supportive and flattering but super stylish. This plus-size mesh bra will keep you firmly in place and provide support with performance technology so you can give your workout your all without a single worry. Pair with matching leggings for optimal style. These compression leggings are not only flattering for the figure but great for your health. And of course, you can't forget the footwear. These simple sneaks pull this look together.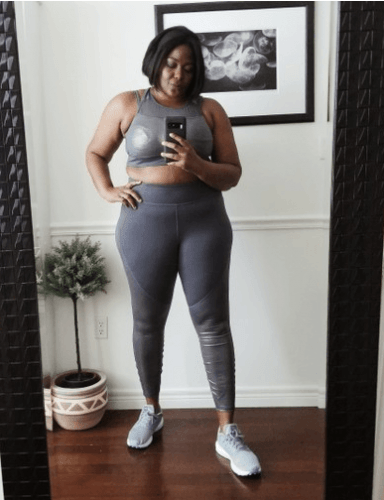 SHOP THIS LOOK FOR UNDER $100
Medium Support Plus-Size Mesh-Trim Sports Bra $24.97
High-Rise Elevate Shimmer-Panel Compression Plus-Size Leggings $39.99
↓ 14. Space Dye Leggings + Matching Pullover
We can't think of a better look for heading out for a jog than this outfit right here. Featuring moisture-wicking fabric that will keep you feeling fresh and comfortable no matter the intensity of your workout, this sporty look is trendy, functional, and can double as loungewear if the need calls for it! (And hey, it usually does.) Pair with running shoes to round the ensemble out.

SHOP THIS LOOK FOR UNDER $150
Torrid Space Dye Active Pullover $35.23
Space Dye Wicking Sports Bra $29.23
Space Dye Wicking Active Legging $38.23
↓ 13. Fun & Beautiful Activewear for Curvy Ladies
We love a gym look that can be easily transformed into an out-and-about look and this outfit does not disappoint! These high-waisted leggings hit all the necessary Fs: fun and fabulous and super flattering. Pair with stylish sneaks and top it off with a casual tee and a cute faux leather jacket. All you need to take this look from Zumba-ready to party-ready is pop in some hoop earrings and swipe on some red lipstick. This is an outfit that will take you far.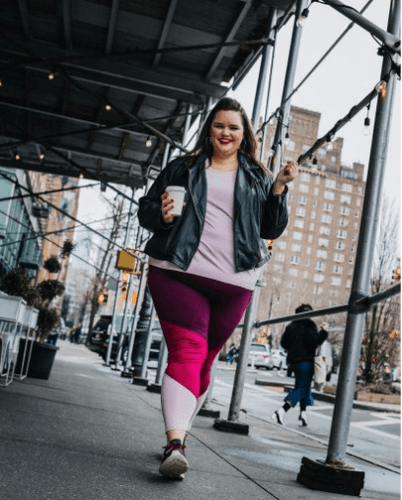 SHOP THIS LOOK FOR UNDER $100
Quilted Faux Leather Moto Jacket $64.49
High-Waisted Statement Leggings
↓ 12. What to Wear to the Gym When You Are Plus-Size?
Let's be real for a minute. Going to the gym can be daunting, especially if you are only just getting started. Adding in the universal frustration of "what to wear?" only adds to the stress. So why not keep it simple? This is a great outfit multi-function outfit that will suit all of your gym needs. Whether you opt to wear leggings or shorts, give this look a try and get ready to square off with that treadmill.
A white cami that's soft and sleeveless pairs well with adorable olive-green shorts. Want to feel a little covered up? Simply add a blush colored cardigan. It will hide your trouble zones and bring a girlish twist to the ensemble. You can also swap out the cami and shorts for some high-waisted camo leggings and a supportive sports top. Adidas sneakers and aviator sunglasses round off the look and provide some style and pizzazz to your new favorite outfit.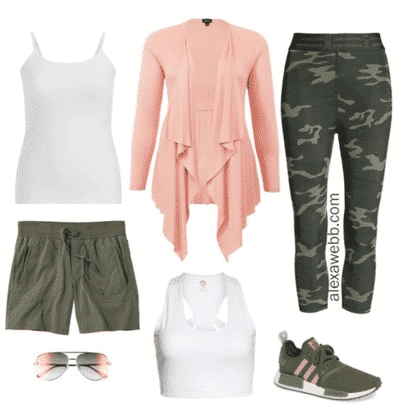 SHOP THIS LOOK FOR UNDER $400
Blush Mix Stitch Drape Cardigan $32.98
Nordstrom x Desi Perkins High Key Mini Aviator Sunglasses $65
Nordstrom Core Strength High Waist Leggings $109
Adidas NMD R1 Athletic Shoe $130
↓ 11. Best Workout Clothes for Curvy Women
As aforementioned, Nike launched its plus-size line only a couple of years ago and honestly, we think that rocks. Show off them calves in some Zella shin-length leggings, which feature a gorgeous cutout pattern wrapping around the inner seam. Top it off with a Nike tee and some brand-approved sneaks. This is one look you will want to wear over and over again – and hey, why not spice it up with some cute shades, a braided pony, and a gorgeous tote? You won't mind running errands in this ensemble, we can promise you that.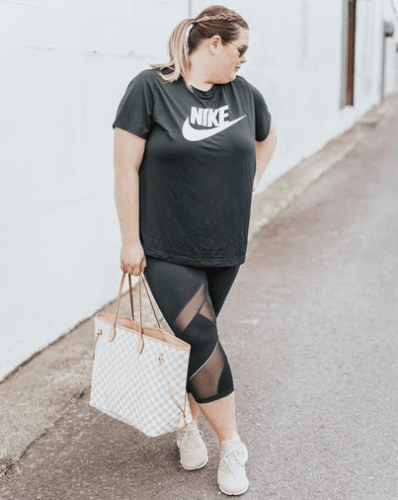 SHOP THIS LOOK
↓ 10. Cute and Matching Curvy Activewear
If your girlfriend invites you to yoga class this weekend, go ahead and say YES! With this look, you are going to feel so confident and gym-ready. With these leggings, you won't have to worry about see-through issues while in downward dog pose. This funky pattern does all the work for you. Pair with a gorgeous pullover hoodie and light gray sneaks. All you will need now are your favorite headphones and yoga mat! You could also swap the tights for shorts. And if you're fond of wearing shorts, you wouldn't want to miss out these fabulous Plus Size Shorts Outfits.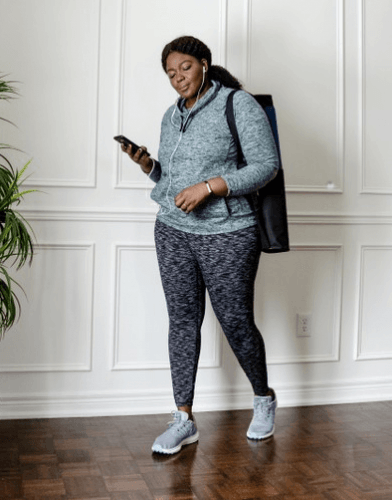 ↓ 9. How to Look Cute When Working Out – For Curvy Girls
We do better when we feel good about ourselves. By the same token, if you show up at the gym wearing PJs or that old ratty tee shirt you just can't seem to get rid of, chances are you won't be feeling too hot. But we think every gal should feel her absolute cutest when venturing into the gym: it's a tough enough affair without adding in low self-esteem. So why not take an extra 10 minutes before heading out the door to put together an outfit you know you'll feel great in?
Curvy girl tips for looking cute:
Wear flattering and/or matching activewear – you can't help but bring your A game when you catch a glimpse of yourself in the gym mirror and think, "Hey, I'm looking pretty cute!"
Keep makeup minimal for the sake of your skin, but pop on a bit of lip gloss or colored lip balm to draw attention to your smile!
Do your hair – a braid or cute pony will make you feel ever so slightly more put together than a tangled messy bun
Choose colors that flatter your complexion
 Swipe on some waterproof mascara to make your eyes pop
We love these flowery leggings on this curvy girl, especially when paired with its matching sports bra. Pop on a classic long-sleeved tee and pair with some blue Nike sneaks. Don't forget a mega-watt smile!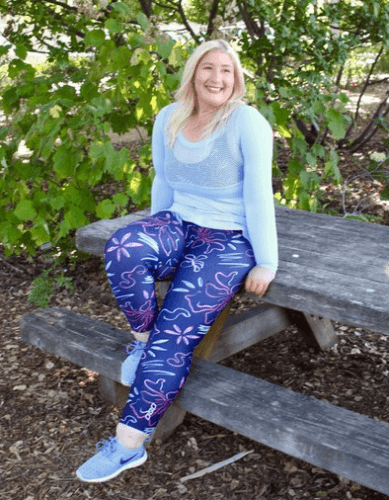 SHOP THIS LOOK FOR UNDER $150
Osaka Bloom Sports Bra $37.79
Nike Juvenate Sneakers $70
↓ 8. Great Yoga Outfit for Plus-Size Girl
The stripey compression leggings are to die for! Super flattering and super fun, with these leggings you'll be busting out the yoga moves with the best of them. Simply pair with a matching Nike tee and a cute little gray jacket. Tie up your hair in a top-knot and grab some pink sneakers. This is one outfit you will be wearing again and again.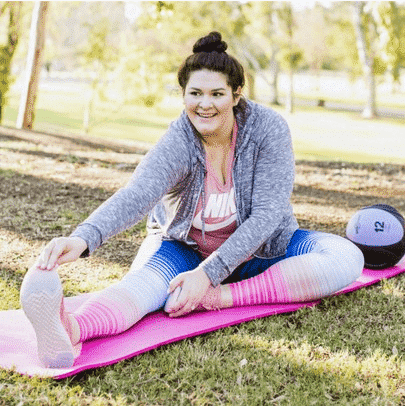 SHOP THIS LOOK FOR UNDER $20
High-Rise 7/8-Length Moto Compression Street Leggings $17.97
↓ 7. Activewear for Hiking or Walking – Stylish Outfit
Sleek all-black leggings should definitively be a staple in your wardrobe, in our opinion. Multi-functional, they come in handy for just about any occasion. Need to run to Target and pick up a last-minute birthday gift? Throw on leggings and a tee. Meeting up with the girls for coffee after the gym? These leggings won't let you down. Going for a hike on a beautiful foggy morning? Now we're talking! Simply pop on a long-sleeved tea over a supportive sports bra and grab a pair of stretchy, high-waisted leggings. All you'll need after that are your favorite cross-trainers… and a puppy. Because who doesn't need a pup?!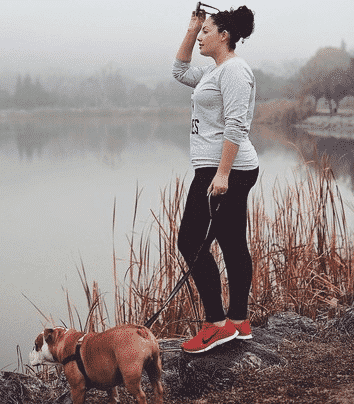 SHOP THIS LOOK FOR UNDER $50
Signature Stretch Active Legging $34.95
Molded Underwire Sports Bra
↓ 6. Starry Black Activewear for Plus-Size Ladies
You will without a doubt feel like an absolute movie star in this star-studded outfit. Black, two-toned leggings keep your legs looking gorgeous and are perfectly matched with this gorgeous jacket. Pop on a white v-neck tee and some cute sneakers. This is one look you will want to wear over and over again!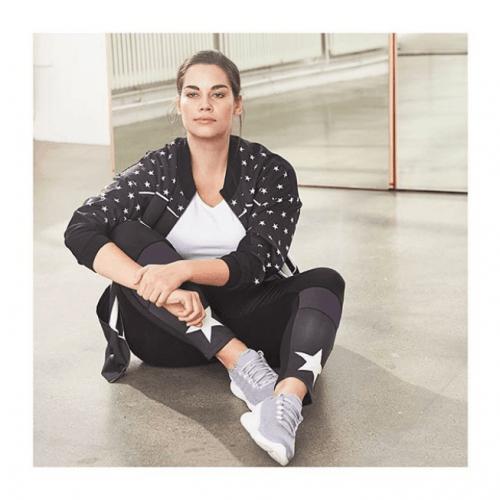 Shop this look at Zizzi Fashion 
↓ 5. Cute and Easy Gym Wear
This long-sleeved gray sweatshirt will have you thinking, "Ooh, la, la," to yourself all day! Wear over a bright tee to bring a pop of color to the outfit (we are partial to yellow) and pair with some black, high-waisted leggings. This gym outfit is great for all types of workouts, whether you're lifting weights or hitting the treadmill. Here are 20 Best Bralette Outfits for Plus Size Women to Try in 2019.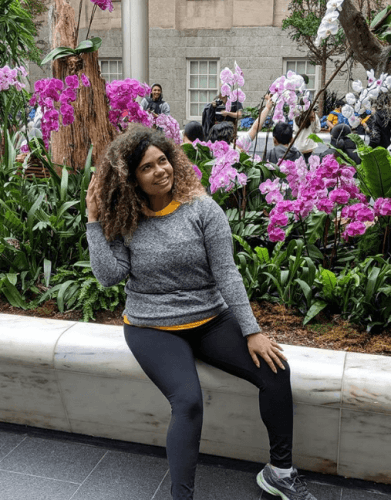 ↓ 4. Plus-Size Fabletics Matching Outfit
Talk about body confidence! We love this gorgeous gal who is so clearly loving her Fabletics activewear. You can head over to their site to get your very own matching sports bra and leggings in blush pink. And while you're there, have a little scroll through their plus-size line. It's fabulous!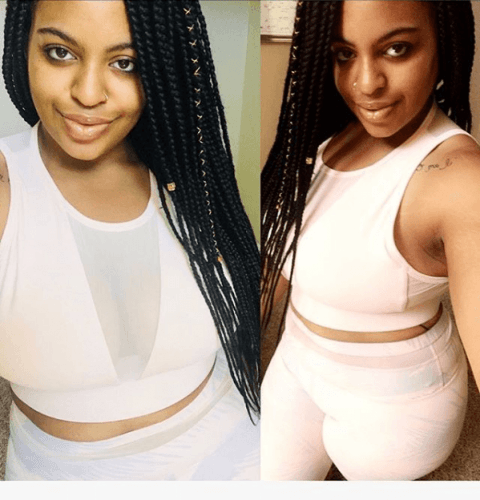 Shop the look at Fabletics
↓ 3. Fabulous Athleisure Outfit for Curvy Girl
For the gal that has no qualms showing off her curves, this is the look for you. And if you love a gym outfit that bridges the gap between activewear and athleisure, then this is doubly the outfit you will just have to try out for yourself! Simply pair some high-waisted gray leggings with a fitted tea like this butter-soft FAME tee. Pop on your favorite sneaks and try out the look on your next errand. You can go from Starbucks to the gym without having to alter a thing.
Now, that's the kind of look we can all get behind!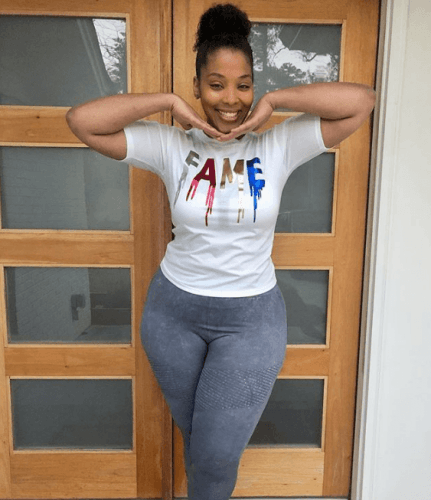 Shop the look at Bodied Athletics
Fame Butter Soft Tee $22.99
↓ 2. All-Black Affordable Plus-Size Activewear
You really can't go wrong with an outfit like this. And guess what, this one checks all the boxes for us. Cute, slimming, supportive, durable, affordable, and not see-through? Yes, please! Simply pair some all-black leggings with a v-neck tee and sporty sneakers. Have we mentioned how much we love this ensemble?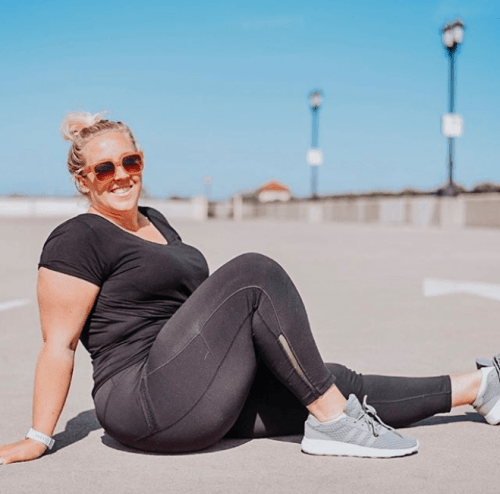 Shop the look at Ariya Activewear
↓ 1. Fabulous Matching Gym Wear
Woot-woot! Talk about fabulous. We love these fiercely gorgeous looks on these fiercely gorgeous babes and we have a feeling you will be loving them, too.
Most of us believe that in order to really love our body we have to wait until we achieve a certain weight or clothing size. But body confidence really does boil down to accepting your figure for what it is. And yes, that does mean right now in this very moment, curves and all. Easier said than done, you say? We know. But guess what? We're all works in progress. And sometimes we just need to take the first step in order to change our perspective.
So take the first step today and invest in yourself. Choose activewear that flatters your figure and makes you feel like a million bucks. Whether that means head-to-toe red or head-to-toe black, squiggly flowers or star-studded leggings, only you know what you will feel most comfortable in. We wish you luck.
Now go ahead, baby girl, we're cheering for you!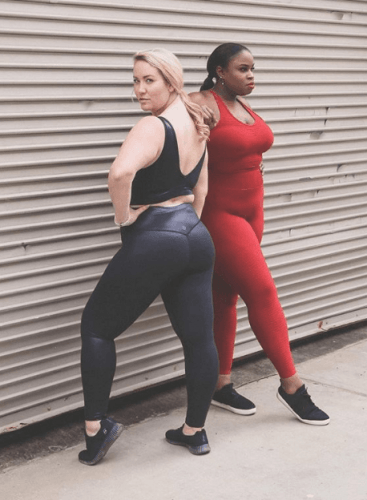 SHOP THE "SHIMMER" OUTFIT FOR UNDER $100
Workout Empire Shimmer Leggings $65
Workout Empire Shimmer Longline Bra $30
SHOP THE "REGALIA FLOW" OUTFIT FOR UNDER $150
Workout Empire Regalia Flow Leggings $69
Workout Empire Regalia Flow Bra $42