Outfits with Lug Sole Boots: If you are keeping up with the trends for 2023, pay specific interest in the footwear. They are a unique, and super stylish option. Not to mention they are perfect for the spring season. So if you don't have them yet – you better find the perfect color for you and add them to your closet.
These shoes come in various heights, therefore can appeal to anyone with any style. Short or long, these look fantastic and are the next best alternative to sneakers. Not to forget that their late 90's aesthetic is highly simplistic, and just what we like.
How to Wear Sole Boots?
Monochrome Look: These shoes come in all types of neutral colors, including black, white, beige, brown, and grey. Even if you get a pair in one colorway, try pairing the rest of your clothes directly with it. This works best if you wear an all-beige or grey attire, as it will look unique.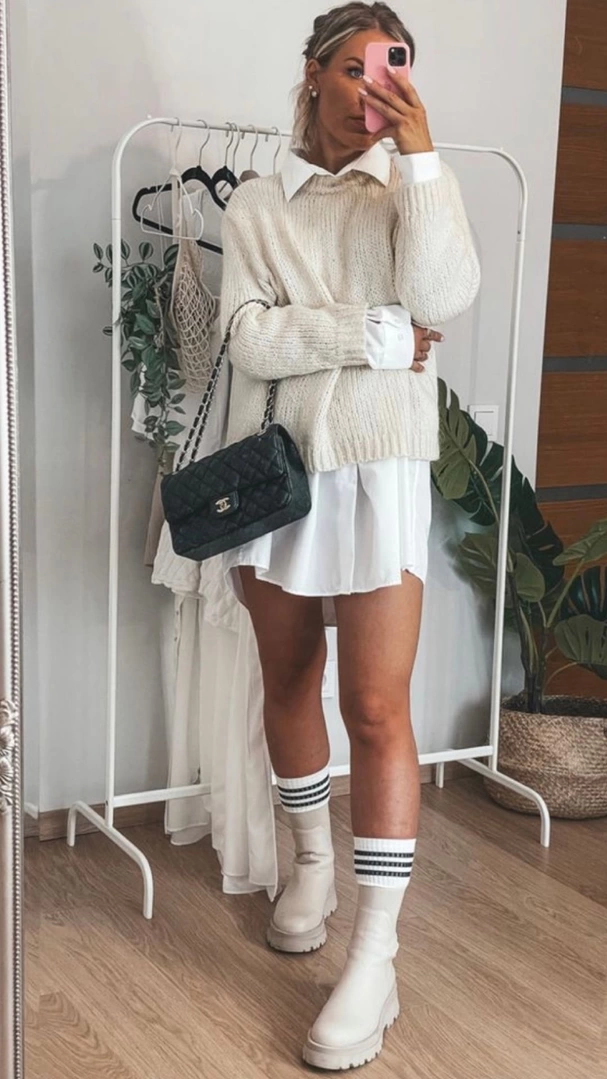 Contrast with Midi Dress: The overly simplistic and minimalist style of the boots allows for a fun mix when paired with a maxi or midi dress. The contrast of masculine footwear with the subtlety of a feminine flowy dress will have you standing out in the crowd.
Hidden Under Pants: Alternatively, layer the pants over these shoes if you wish to pair them with flared pants. This is a cool way to blend these shoes into office wear and has only the statement soles stand out.
Go for taller boots when wearing skinny jeans. The hem of the fitted denim ends up covering the tops of the shoes if they are shorter. Thus, opt for taller ones where the jeans can easily fit inside, or double roll the hem if you wish to wear the shorter ones.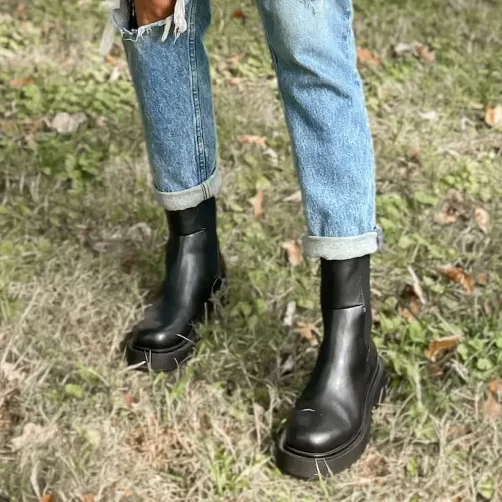 Boot socks and leg warmers are excellent accessories to your footwear and look unique!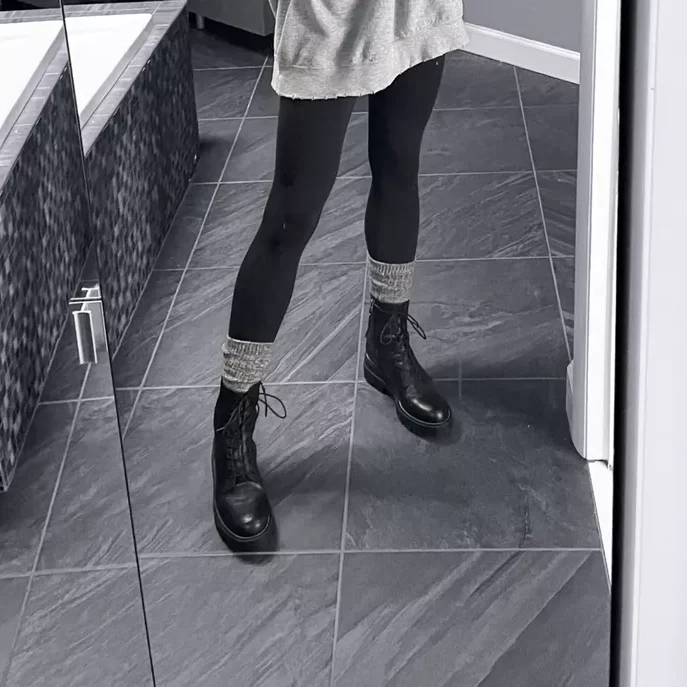 You should go for high-waisted flared pants to emphasize your shape and avoid looking boxy instead of mid-rise. I suggest opting for a fitted top as well to compliment your ensemble.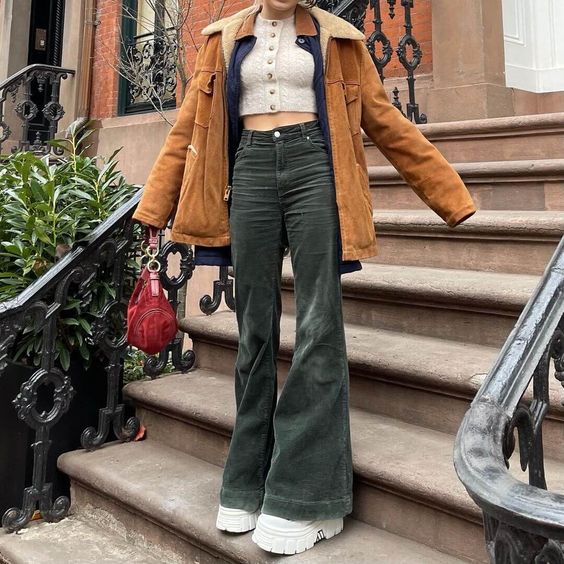 Heeled lug soles are ideal for semi-formal and formal dressing.
Accessories play a huge part in making or breaking your outfit. If you struggle with styling these shoes for formal occasions, opt for accessories and jewelry that complement your attire and make you stand out.
Celebrity Edition
39 – Bella Hadid's Barbie Fit Made Edgy
38 – Style a Corset Top With an Oversized Leather Jacket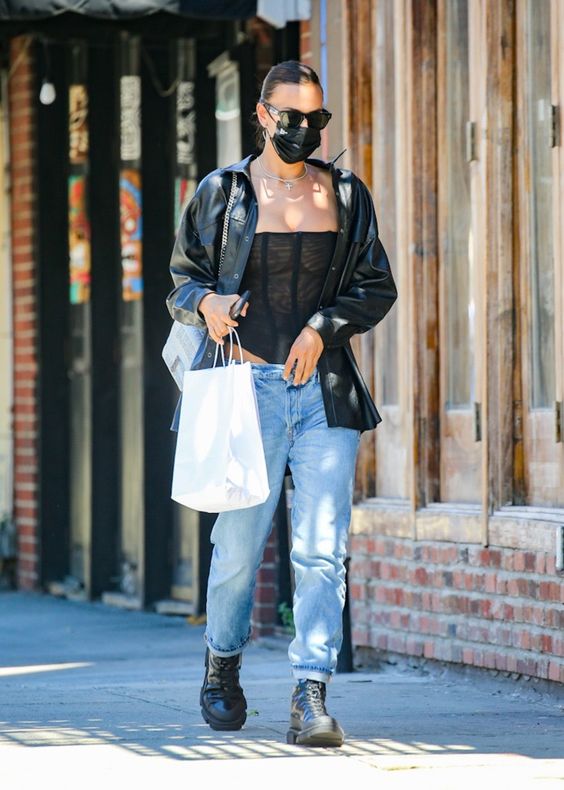 37 – Pair Your Socks with Your Jacket
Hailey Bieber stuns in this gorgeous attire!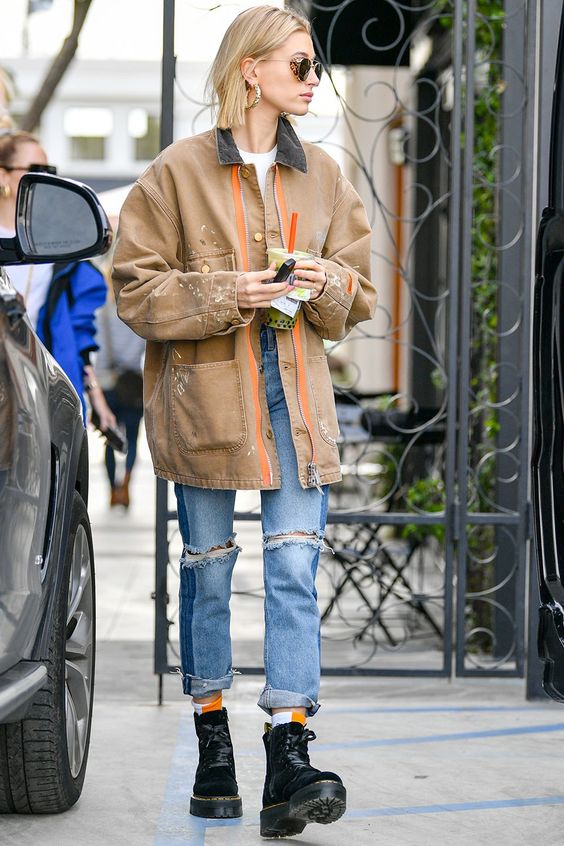 36 – Color Block Like Sophia Ritchie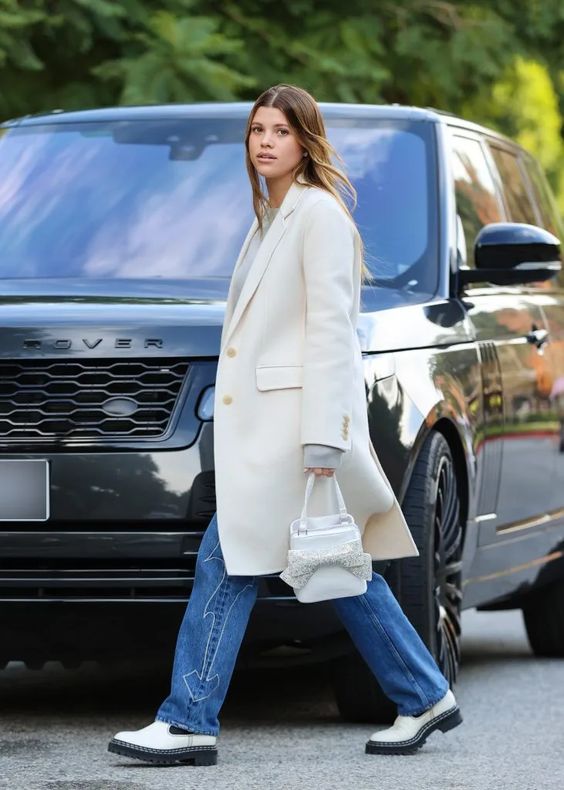 Street Style Fits
35 – Match a Pair of Denim Shorts to Your Shoes
The key to this outfit is pairing your shorts with your shoes through color, for example, black denim to an all-black boot. Inversely this look is possible in a lighter color palette if you have white denim shorts and find white boots to match.
You can also wear these shoes with one of these Beautiful Denim Dresses.
34 – Pair Black Boots with an All-Grey Fit
We suggest mixing the colors up. Don't worry if your shoes don't match your outfit. The most important thing is matching them to your accessories.
An all-grey look works with black shoes if you tie it in with a black purse and possibly even sunglasses. Similarly, you can show you're not afraid of the color difference by deliberately adding another color to your socks.
33 – Balance a Bright & Bold Sweater With Neutral Shoes
This outfit is a fantastic option for all the ladies who breathe and live in color! The vivid sweater ties wonderfully with the denim and a pastel-toned muffler scarf. And the ivory/ cream footwear serves to complement the lighter hues of the scarf.
All these aspects create a perfectly balanced and visually pleasing ensemble that is comfortable too. Add chunky gold hoops for a timeless and classic appearance.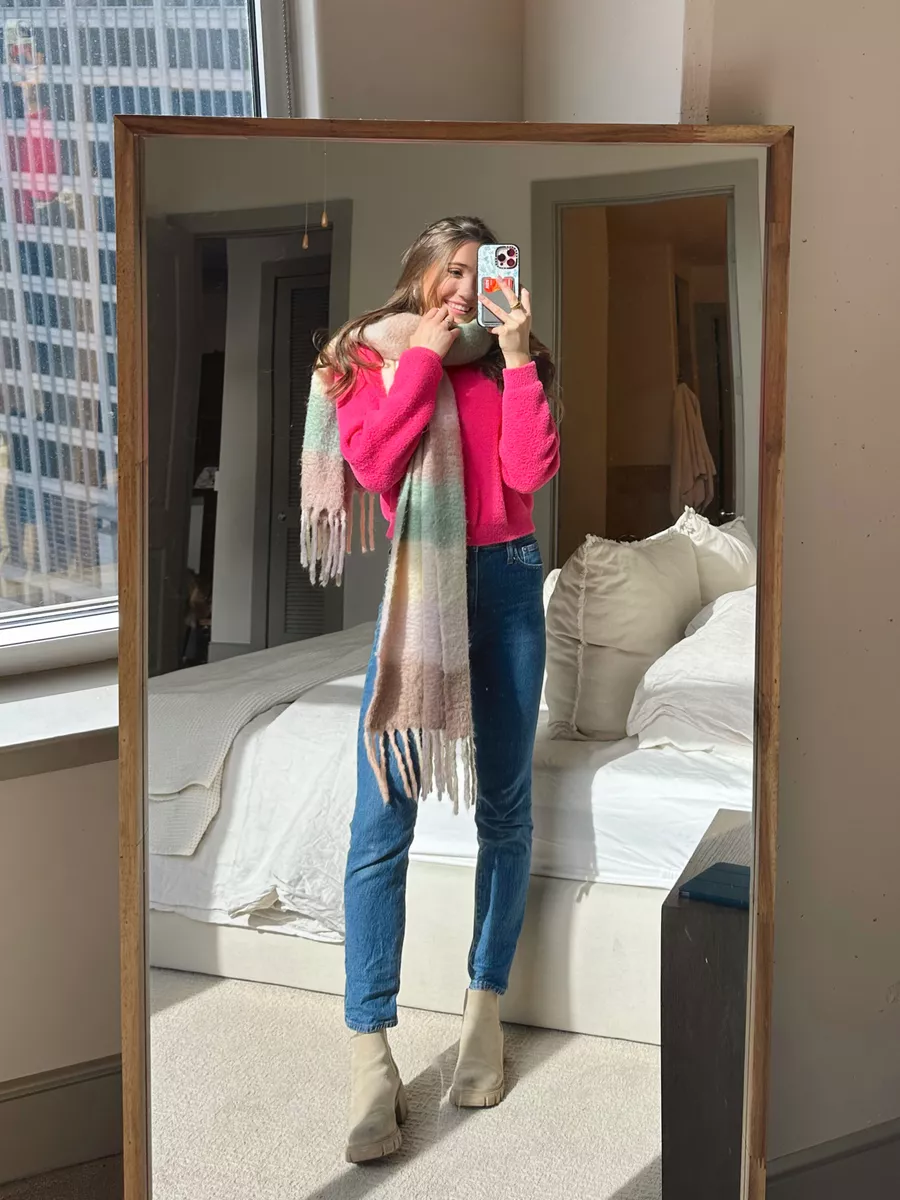 32 – Diffuse an All-Black Look With Gold Jewelry
Use this tip for the days you want to wear all black and still want to remain stylish. Go for your comfiest pair of shorts and top and fully blacked-out sunnies.
If you choose these soles in a short shaft, pair them with black socks – so they peek out from beneath. This adds layers and makes your outfit look fashionable. Lastly, play it up with layered gold necklaces and a timeless wristwatch.
31 – Pair With a Playsuit and a Faux Leather Jacket
Here is the more edgy alternative to the all-black outfit. A style tip is if you want to make this look less dressy and more casual, add some white socks, preferably with a sports logo.
Check out this super stylish selection if you wish to add a vegan bag to your look!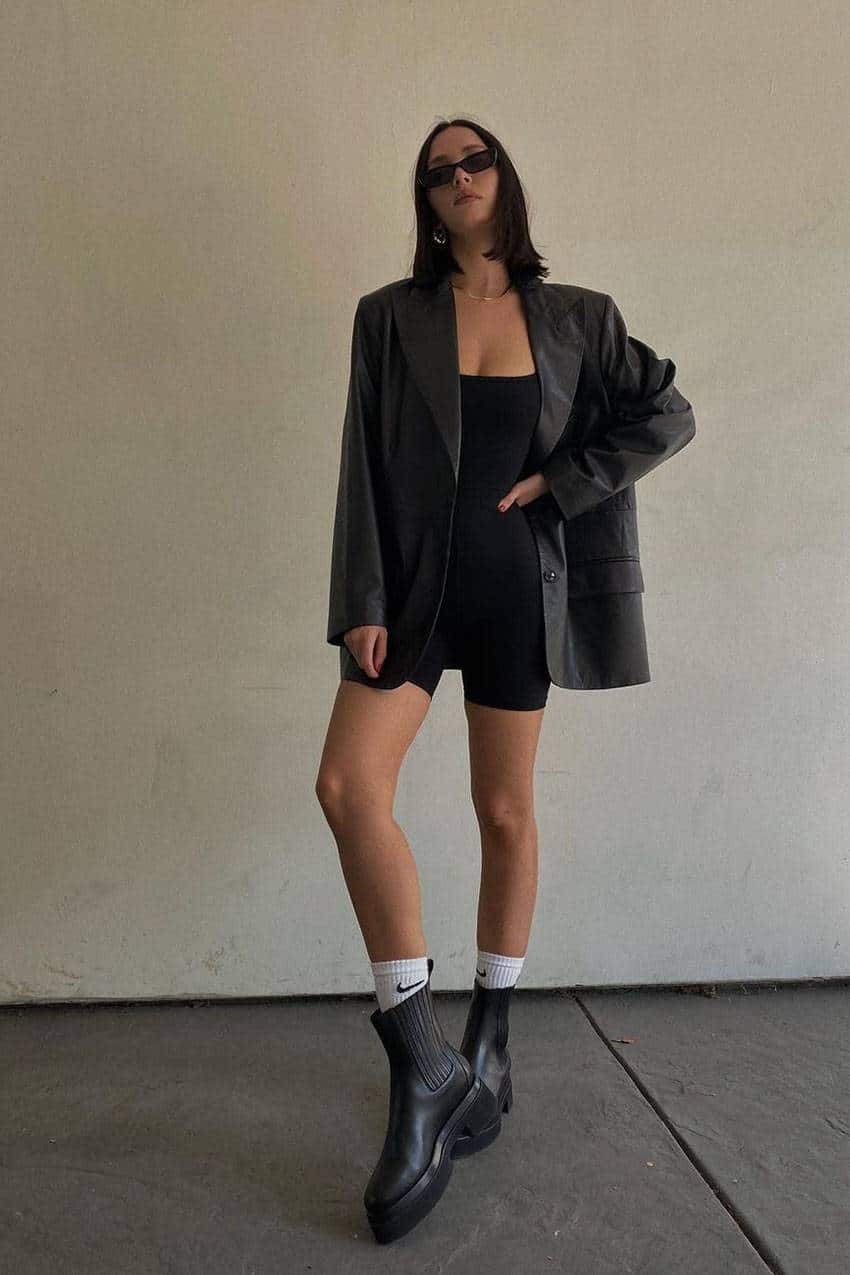 30 – Pair With Your Favorite Oversized Flannel
These shoes look phenomenal if you pair them with an oversized flannel shirt or dress. Match the colors on your flannel to your boots; so it fits into the look with the black shoes and bag.
29 – Pair with a Trench Coat For a Unique Look
If you draw to the white option for the boots, try styling them with matching white sweatpants and a bralette. Tie the outfit off with a trenchcoat. This ensemble is great for mid-season looks.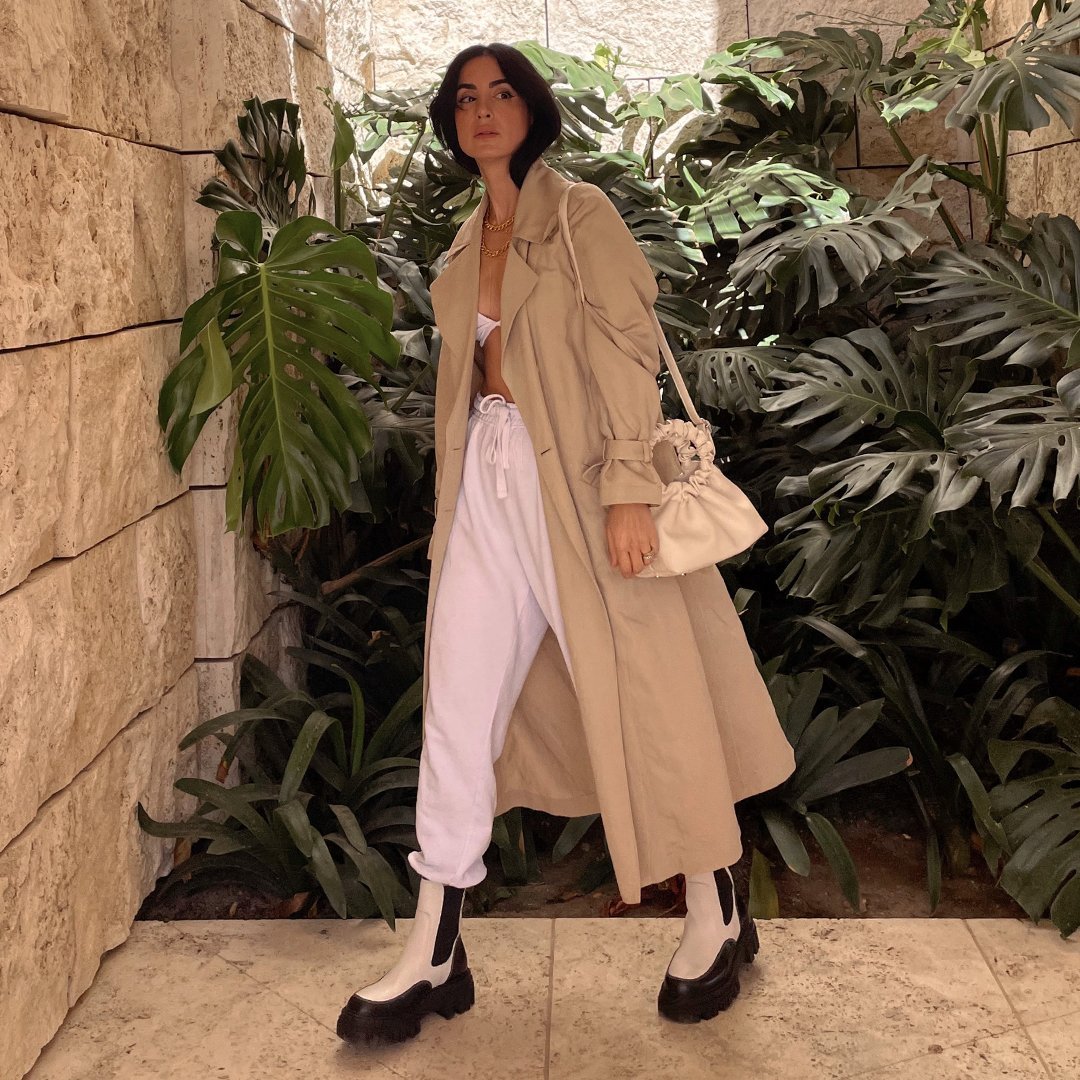 28 – Pair With a Maxi Ribbed Dress in a Unique Color
Dark brown pairs effortlessly with black. Thus, whenever you feel conflicted, opt for a brown and black combination. You can elevate this look and make it a tad more formal by adding dainty gold jewelry, especially a necklace and a classy wristwatch. Draping a cashmere shawl over the shoulders will add elegance!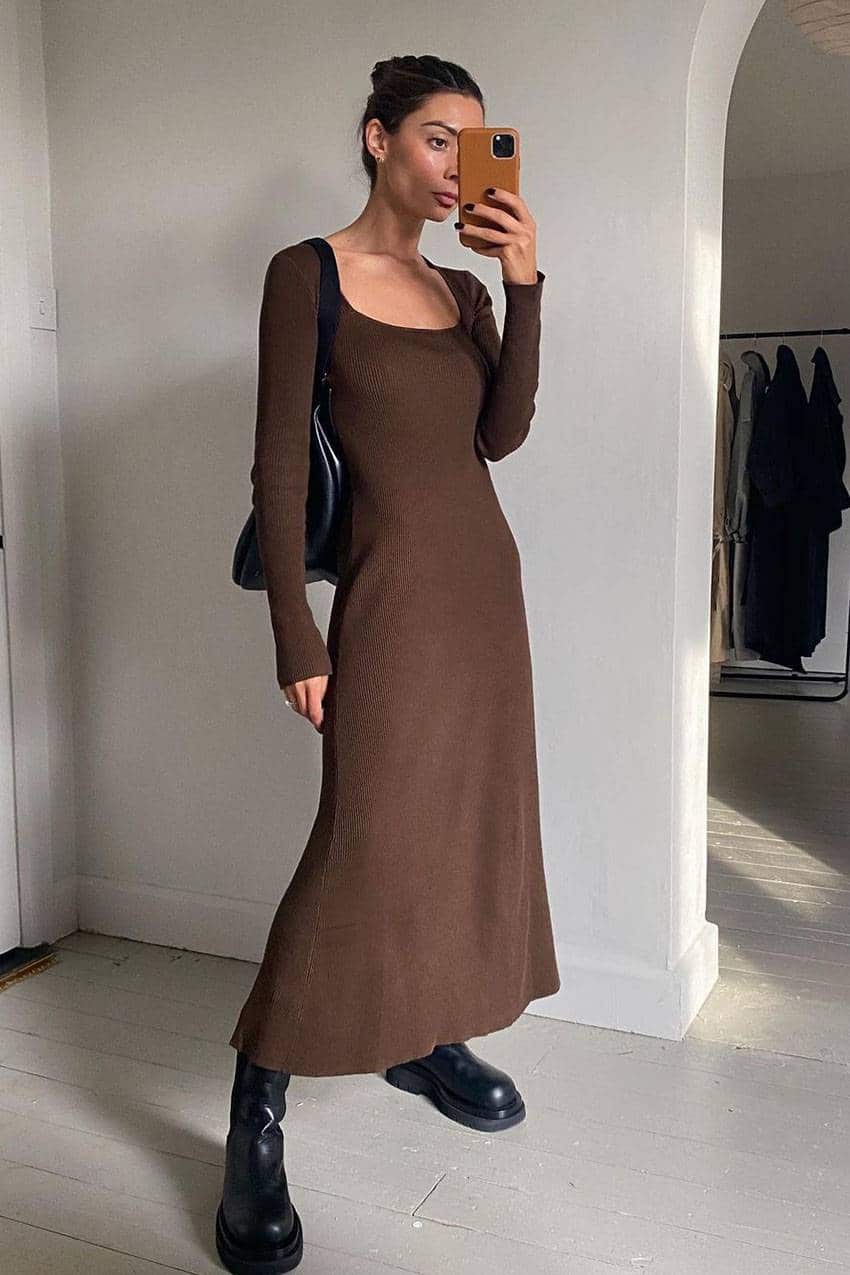 27 – Pair Tall Boots with Biker Shorts and a Blazer
The tall shaft version of these boots is perfect to mix with slick biker shorts. The best way to style biker shorts is with a crop top and a blazer. In this case, the brown blazer adds dimension and balance to the ensemble. If you like this look, here are more Ideas on How to Wear Bike Shorts.
26 – Opt for Unique Boots to Stand Out
This ensemble is classy, relaxed, and comfortable to last throughout the day, which is what makes it a favorite! We can confidently say you have not seen lug soles in this style. And the uniqueness of the footwear is what contributes to the aesthetic of this look.
You can secure a varsity jacket to the waist or tie it across the shoulders, whichever suits you best.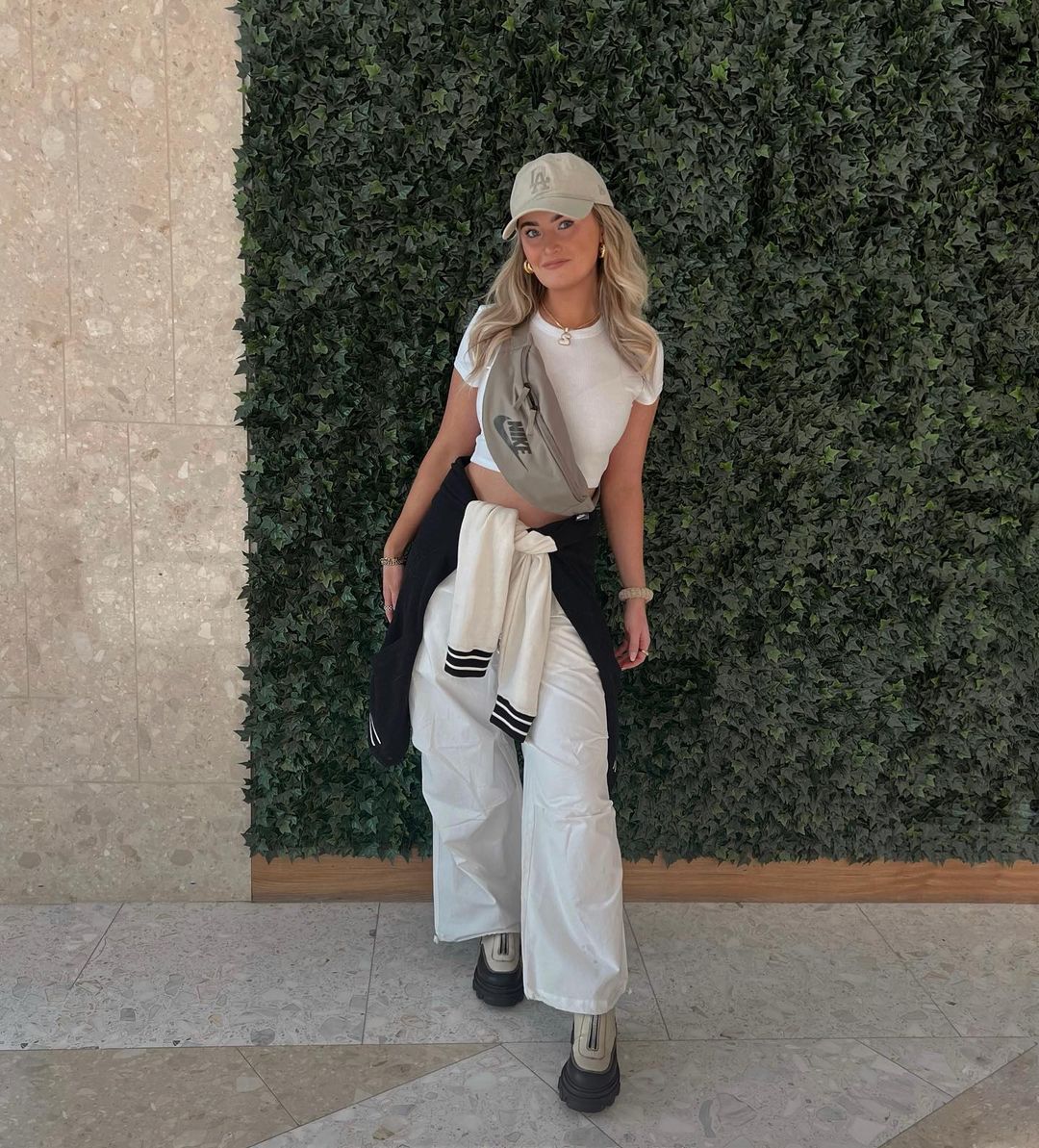 25 – Get Cozy in this Fall Fit
This category of footwear is ideal for the fall, and winter seasons, regardless of the clothes you plan on wearing. They keep your feet cozy, look stylish with your outfit, and are especially useful in snowy areas.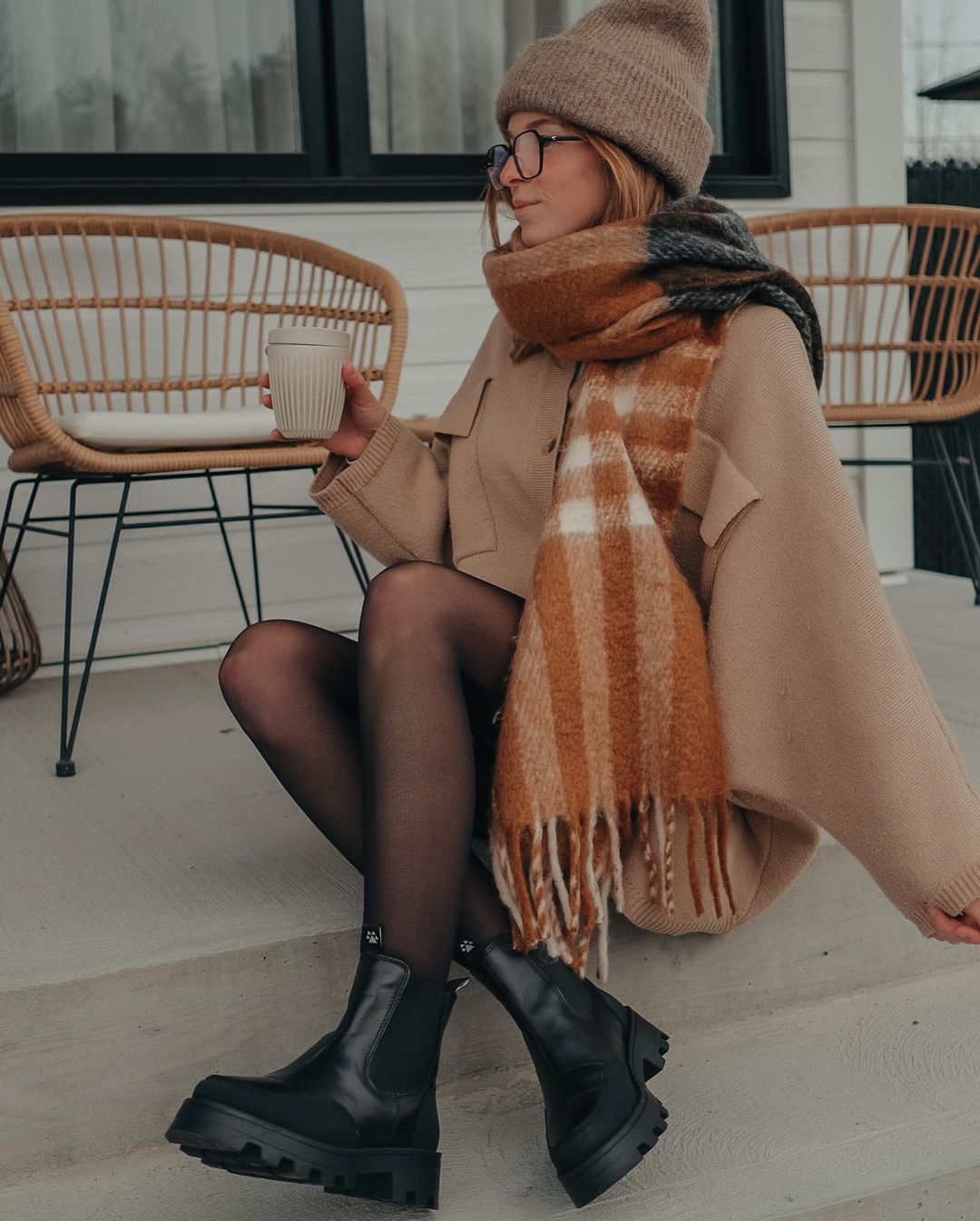 Shop the shoes below:
24 – Pair with a Vest and Oversized Blouse
We always recommend mixing trends. The woven vest was a popular trend this past fall-winter season, and it coincidentally works very well with these shoes. Carry this trend into 2023 by pairing simple jeans, a blouse, and boots of your favorite color.
23 – Pair Trendy Clothing Items for the Ultimate Street Style
An oversized hoodie never goes out of style, especially when styled like this! Who would have thought pairing hoodies with sleeveless puffers would look this good? And adding leather shorts and stockings elevate this fit to street chic.
This ensemble proves thinking outside the box and experimenting with your clothing items can pay off significantly!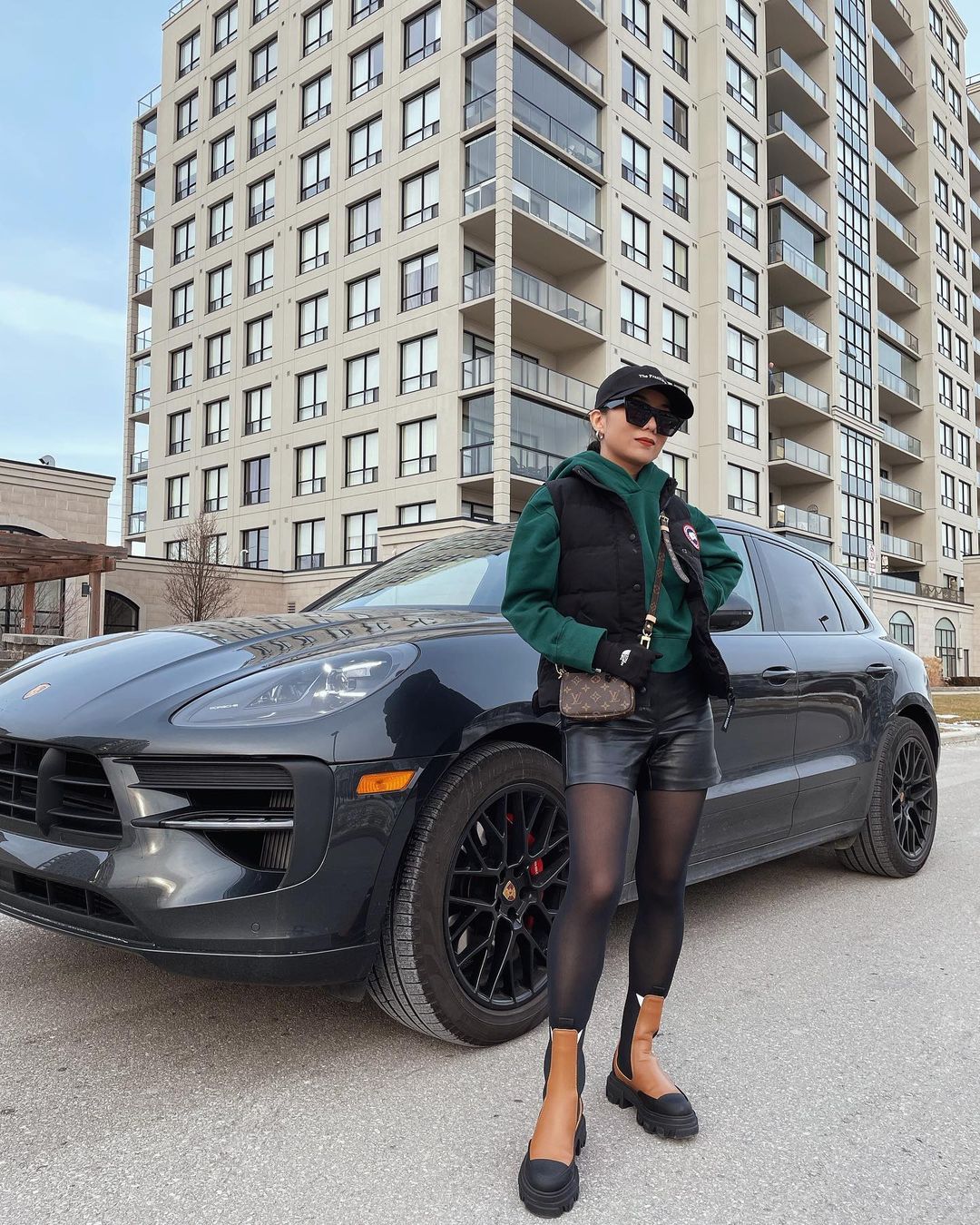 22 – Nail the Touristy Look in Comfy Boots & Denim Vest
Stay breezy, comfortable, and stylish in this outfit that is ideal for tourists!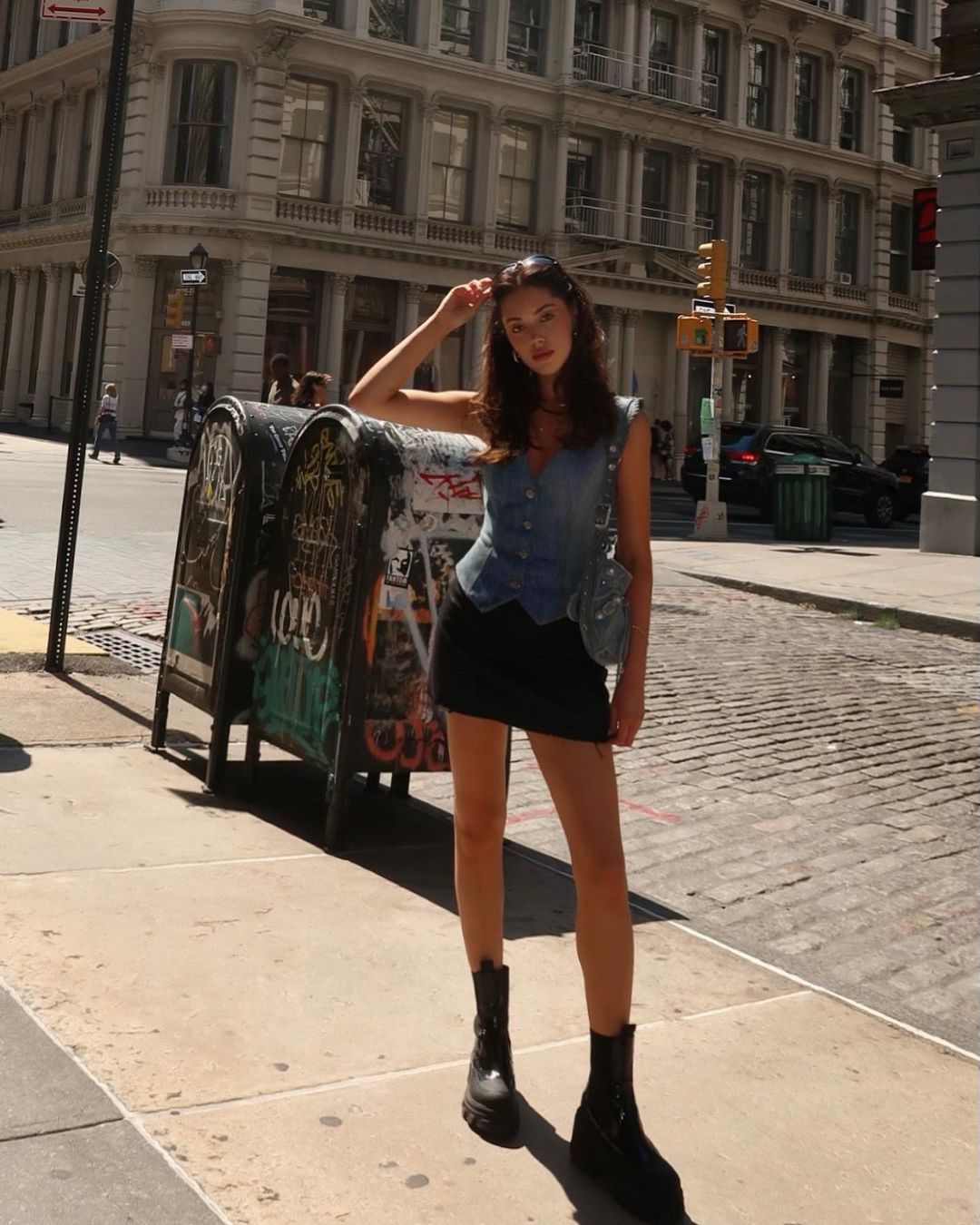 21 – Add a Bright & Contrasting Bandana
An excellent way to spice up your look is to opt for a bright scarf or bandanna!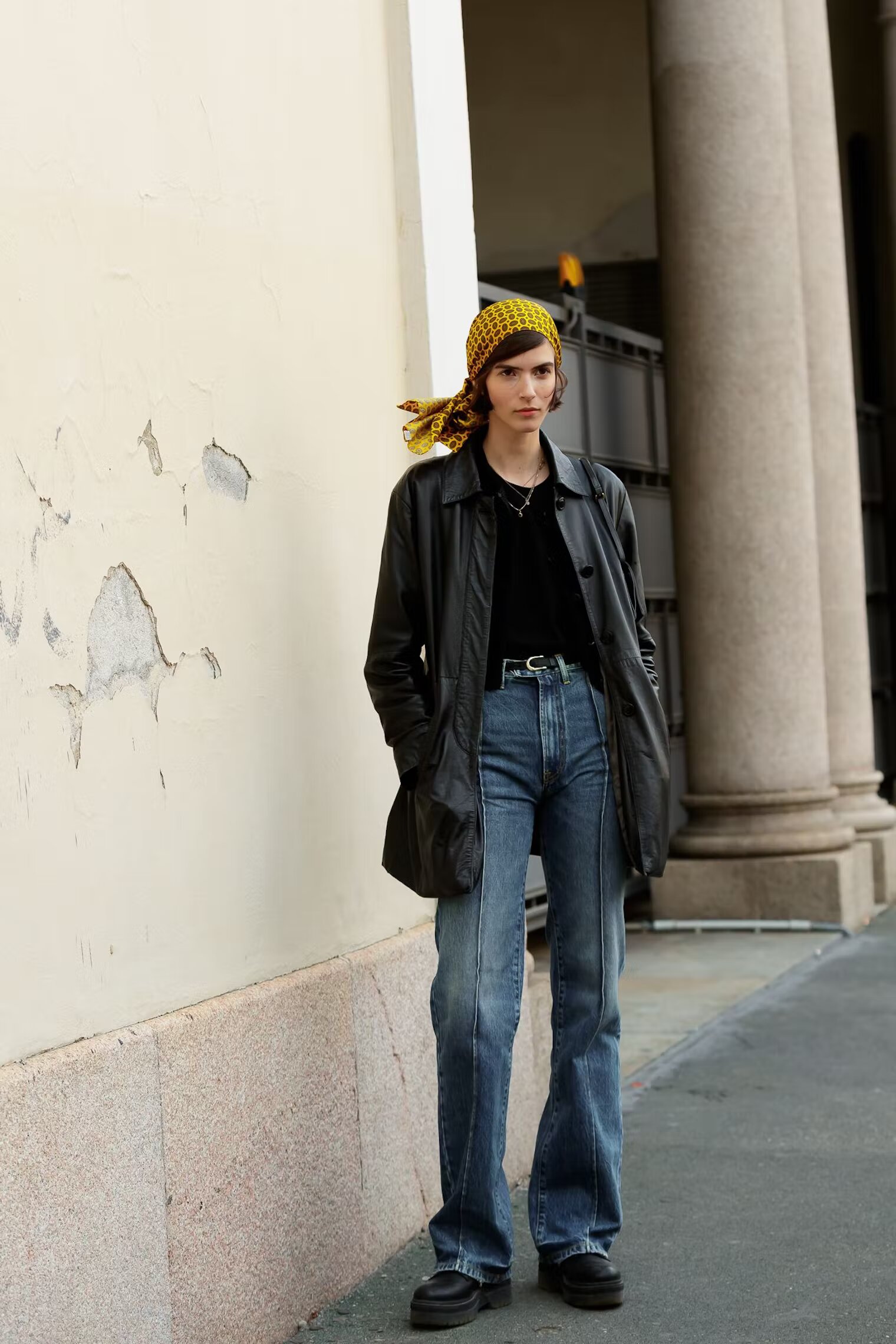 20 – Make a Statement With White Boots to Contrast Your Clothes
These boots come in a variety of colors, including white. You can take advantage of that to create a contrast to an all-black outfit by striking white boots. Add a mini white shoulder purse to match.
If you want to find out more ways to pair mini bags with outfits, check this article out!
Semi Formal & Formal Outfits
19 – The Perfect Spring Ensemble
Channel your inner fairy core in a stunning sparkly dress in pastel tones and pair it with white, beige, or any light-colored boots.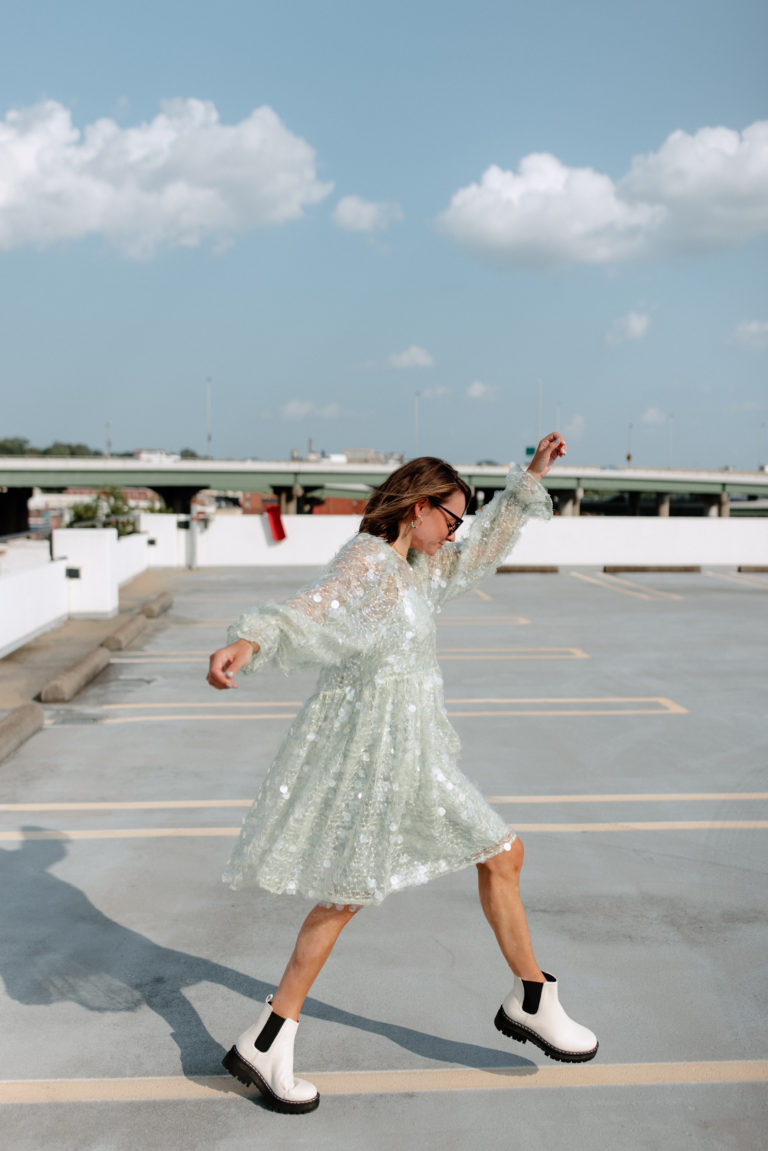 18 – Opt for a Satin Midi Skirt in Earthy Tones to Exude Fall Vibes
A satin clothing item is an effortless way to make your attire more formal. And adding heeled boots with only contribute more. Moreover, this look is ideal for a fall event due to the appropriate color scheme.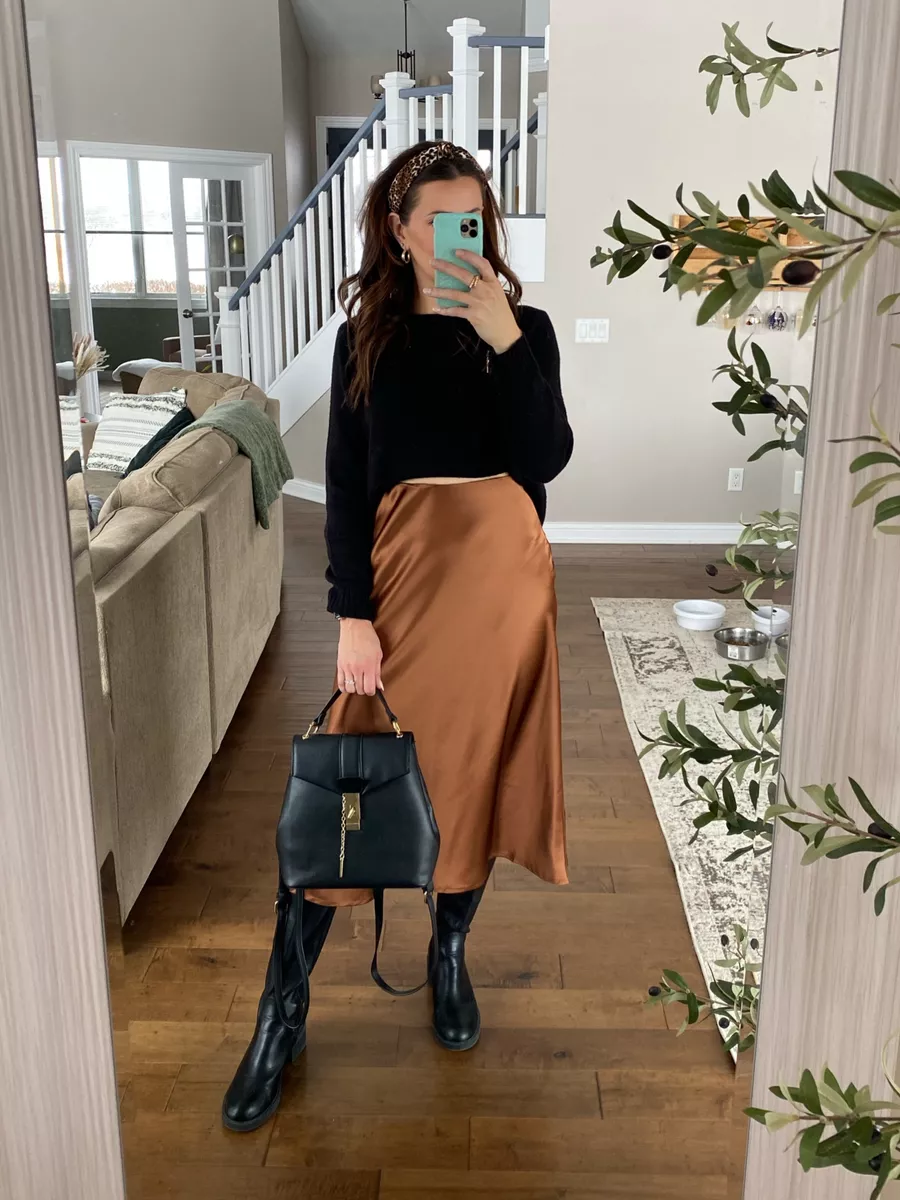 17 – Appear Taller by Pairing Boots with Leather Pants
If you get your hands on black boots and a pair of black faux leather pants, style them together. This will give you the illusion of long legs because the materials blend effortlessly.
16 – Pair With a Striking Bright and Patterned Dress
Take advantage of the simplicity that this all-black leather footwear gives you. Play around with the dresses, and do not stop yourself from wearing a flaming red, flowy dress. These shoes call for it.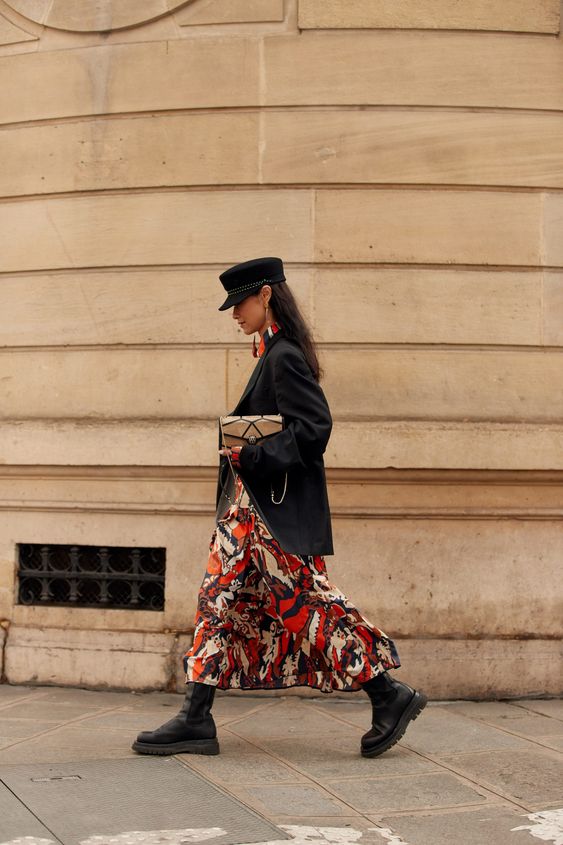 15 – Pair With Softer Colors Like Cream
We have all bought that one clothing item that looks so wonderful but is tough to style. If it is a dress similar to the one below and has several unconventional colors, pair it with solid black boots.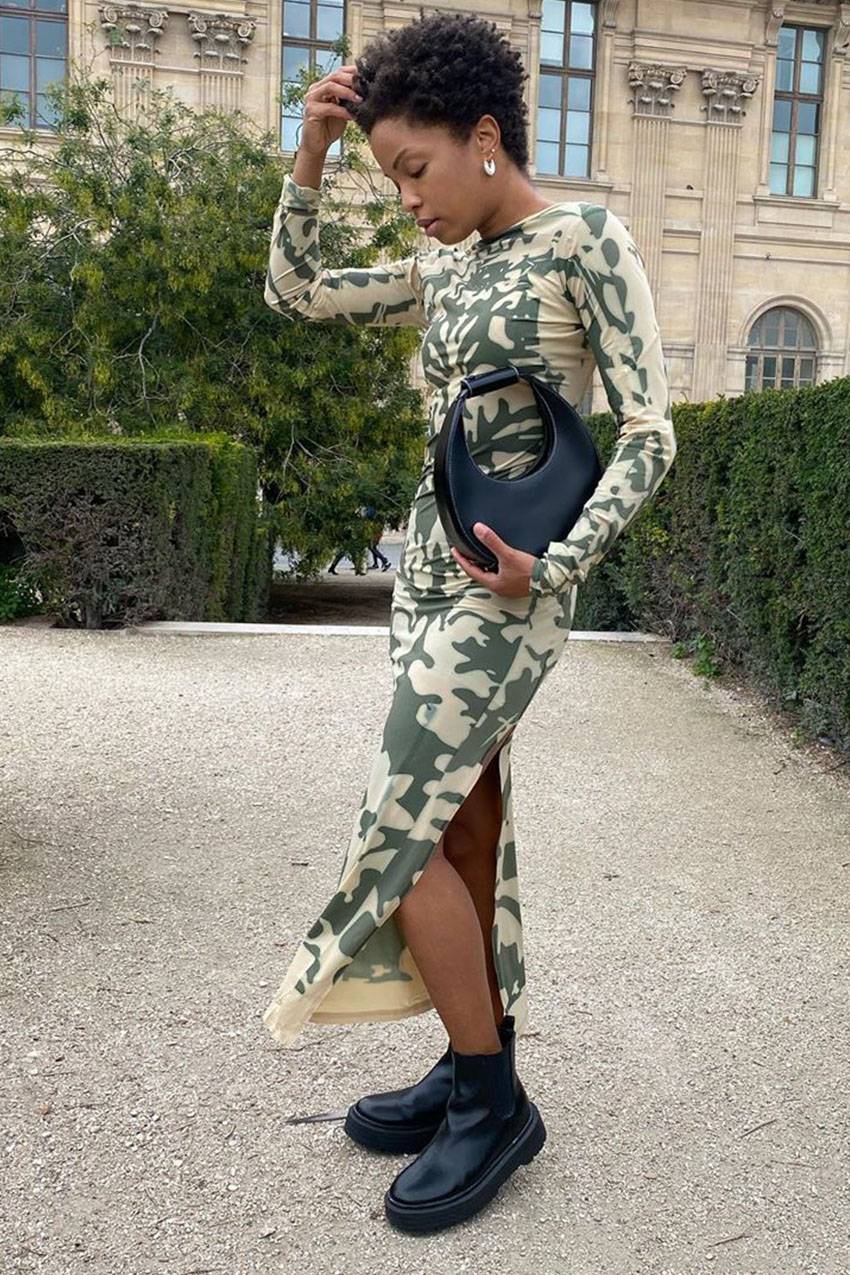 14 – Spice It Up with a Patterned Jumpsuit and a Beret
Create a show-stopping outfit with a patterned jumpsuit. The biggest advice is to select a jumpsuit that contains black in its pattern. Therefore will pair easily with shoes and accessories.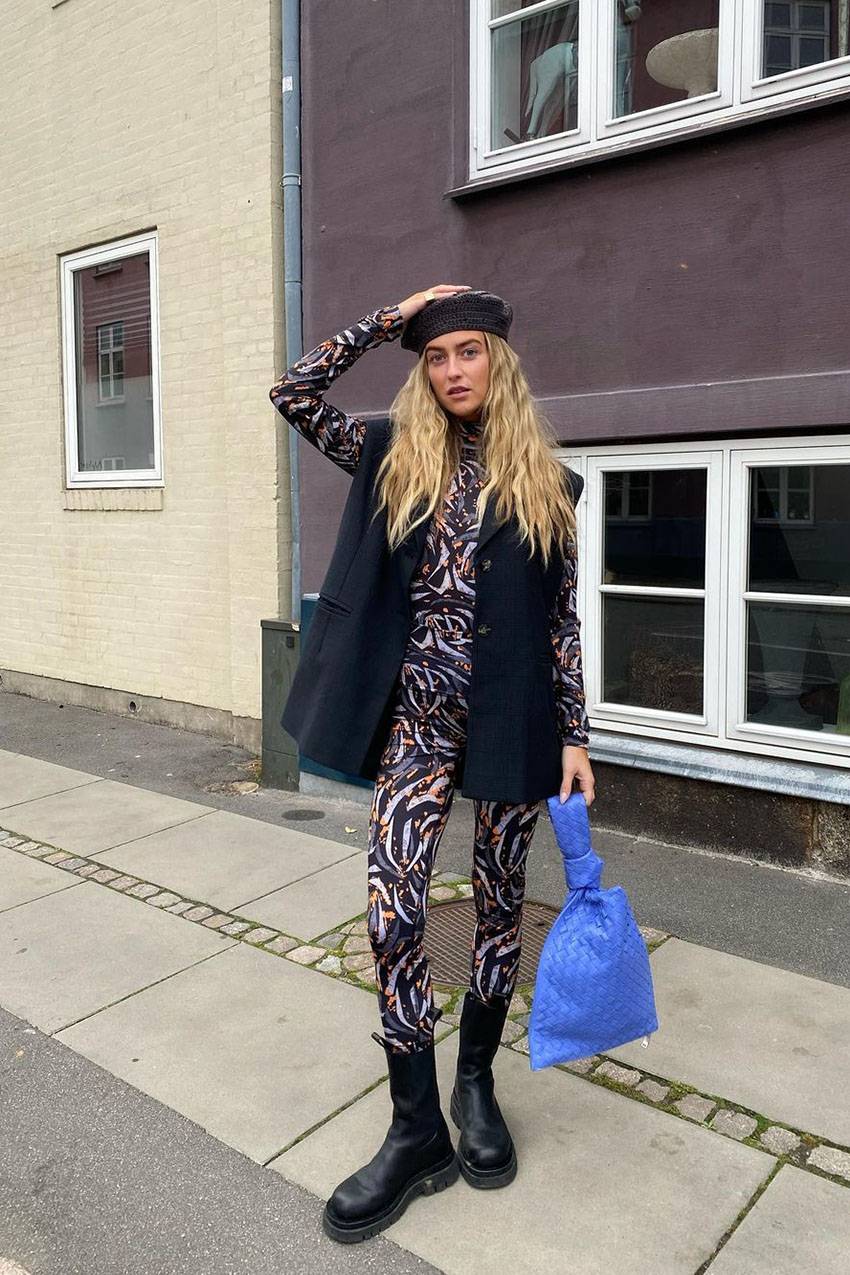 13 – Pair with a Ribbed Dress and a Jacket
This outfit is perfect for those of you who live in colder climates. Pair a maxi ribbed dress, and layer a blazer or coat over it. This outfit works best if the dress is in a lighter color and contrasts with the boots and jacket.
12 – Add Blinging Jewelry & Accessories to Make this Fit Stand Out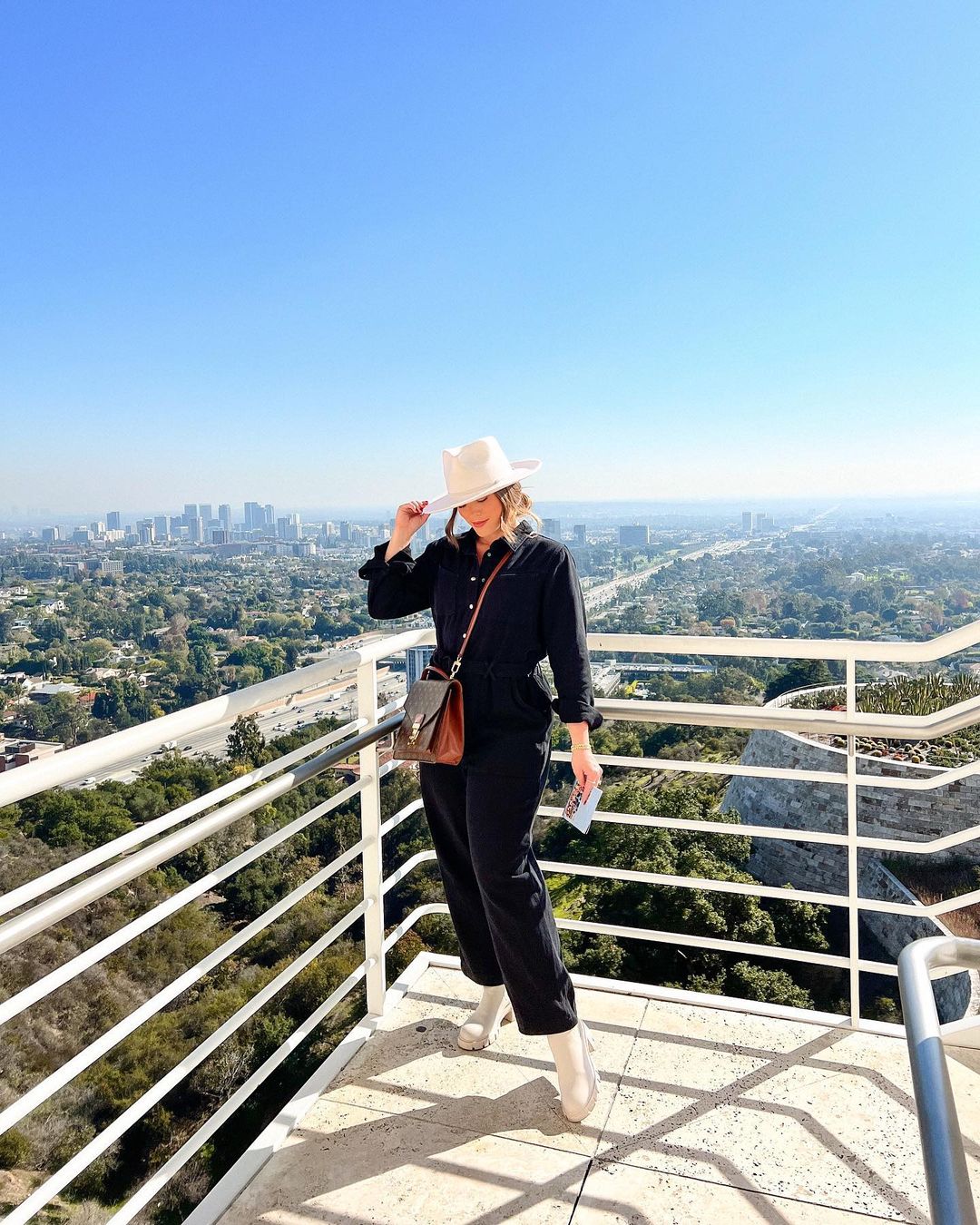 11 – Pull Your Hair Back in a Sleek Bun
Whatever clothes you decide to wear, pull your hair back in a sleek bun to exude instant elegance and grace!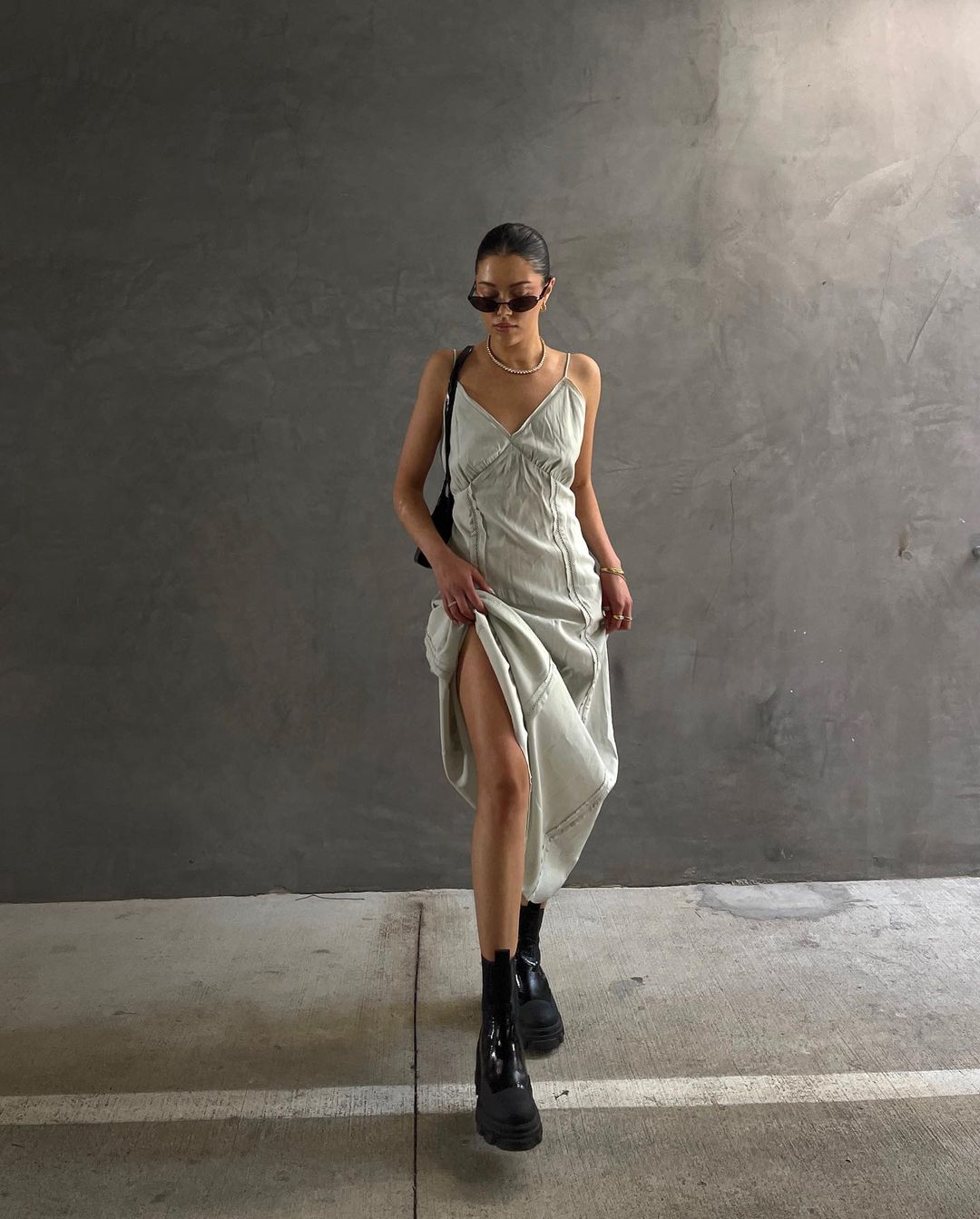 10 – Don Unique Garments Like an Embroidered Coat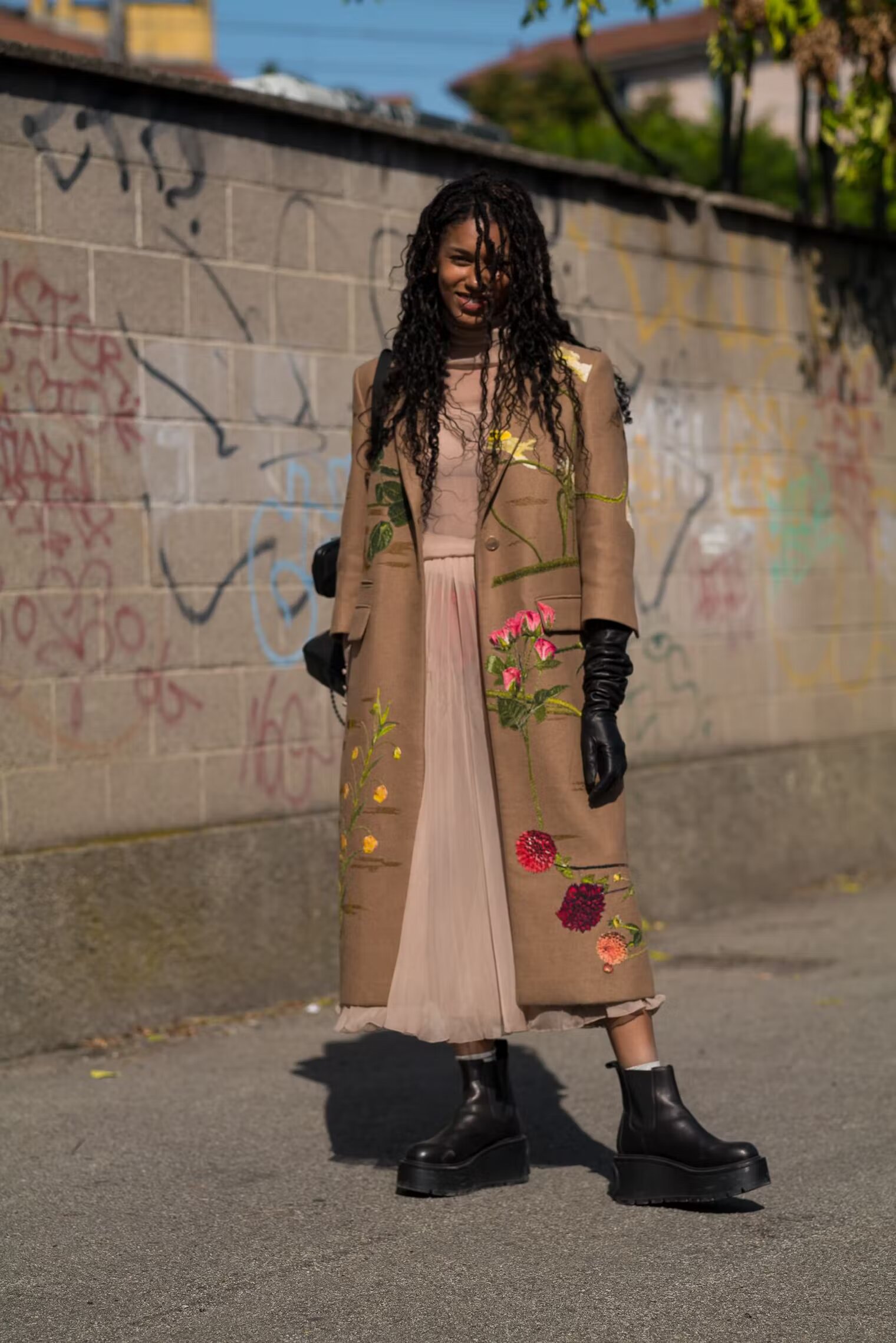 9 – Opt for Silver Shoes to Make Them Stand Out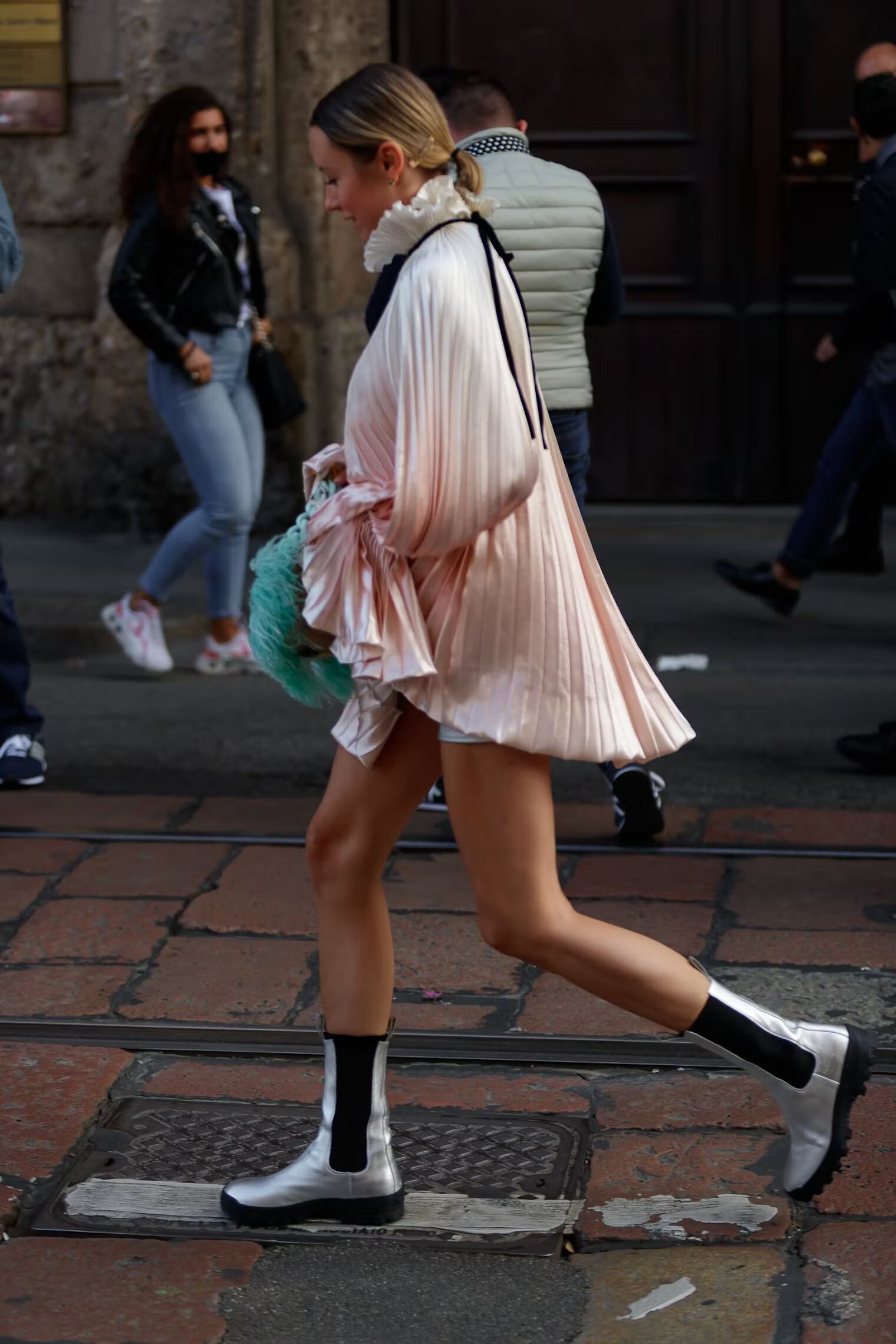 Business Casual Looks
8 – Go for a Monochromatic Edgy & Feminine Vibes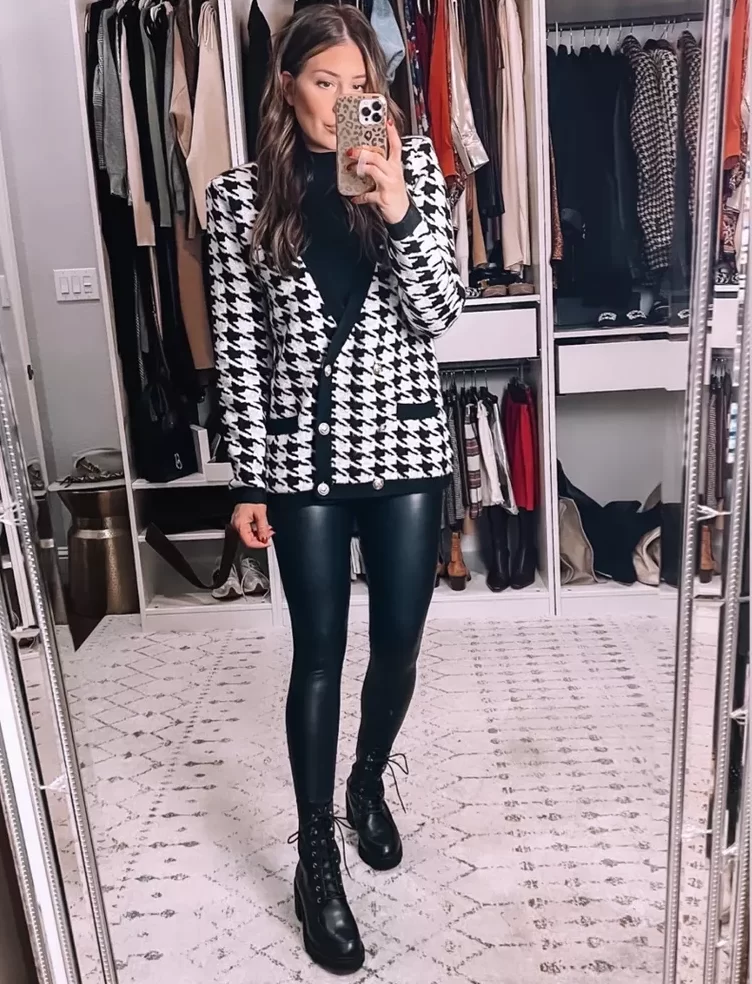 7 – Don't Think Too Hard, Pair them with Jeans
Pair with some cool ripped jeans and a skinny collared shirt, and you are all set. After all, these shoes are known as the second-best sneakers for a reason.
6 – Create an Effortless Chic Outfit with Pants and Black Boots
Keep your ensemble straightforward with flared pants. Pair them with a bandage top and flaunt a large statement-piece necklace for a chic look.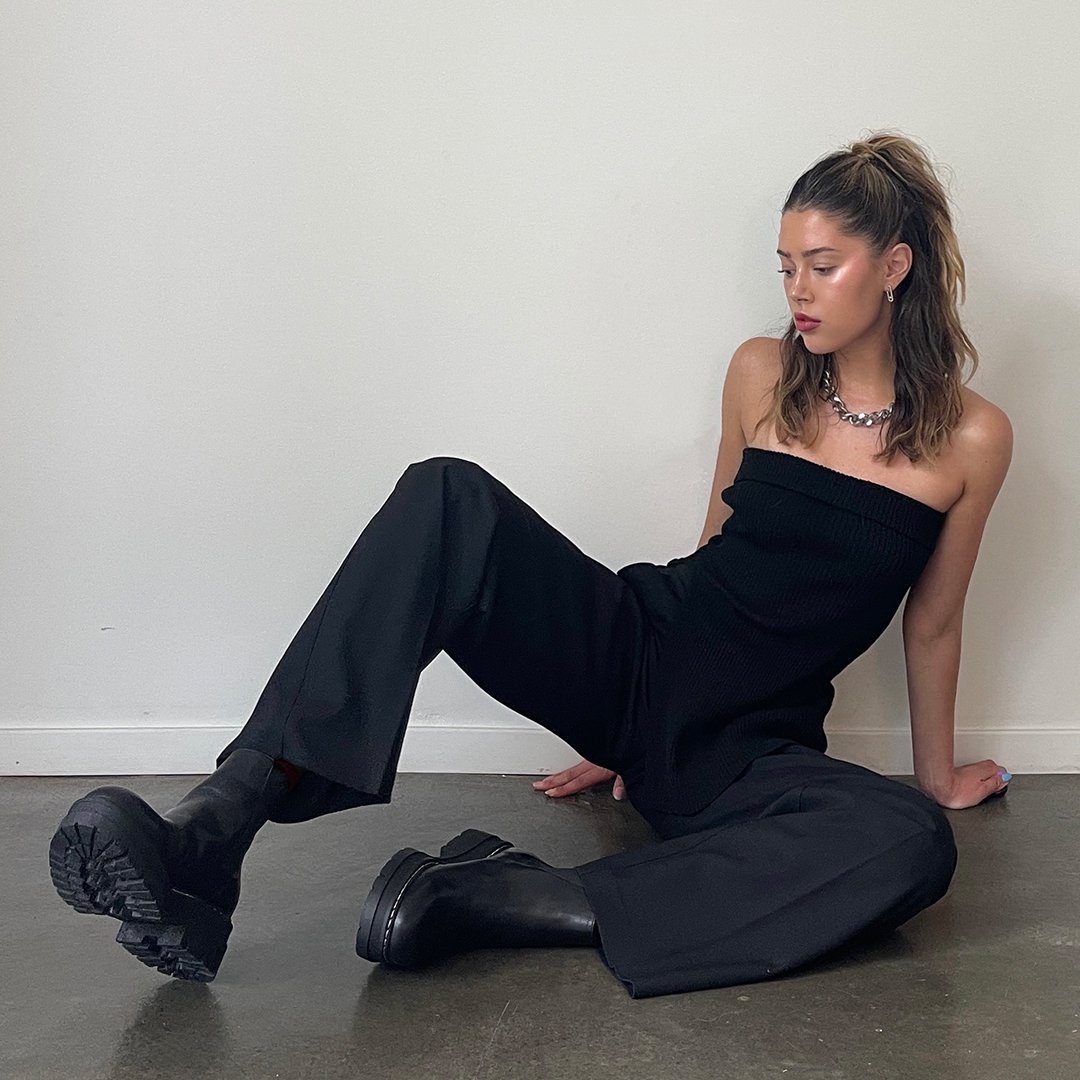 5 – Go For a White Trendy Outfit
Here is an elevated, chic attire. Kindly note how the pants cover the top of the boots but reveal their prominent sole. This is an excellent styling tip to boost your height and formal!
4 – Pair Cream Boots with Patterned Pants
This color on shoes can be hard to style. However, we have made it easier with flannel pants that contain a bit of cream color or are fully dark with a cream blouse. Here are some more Plaid Pants Outfit Ideas.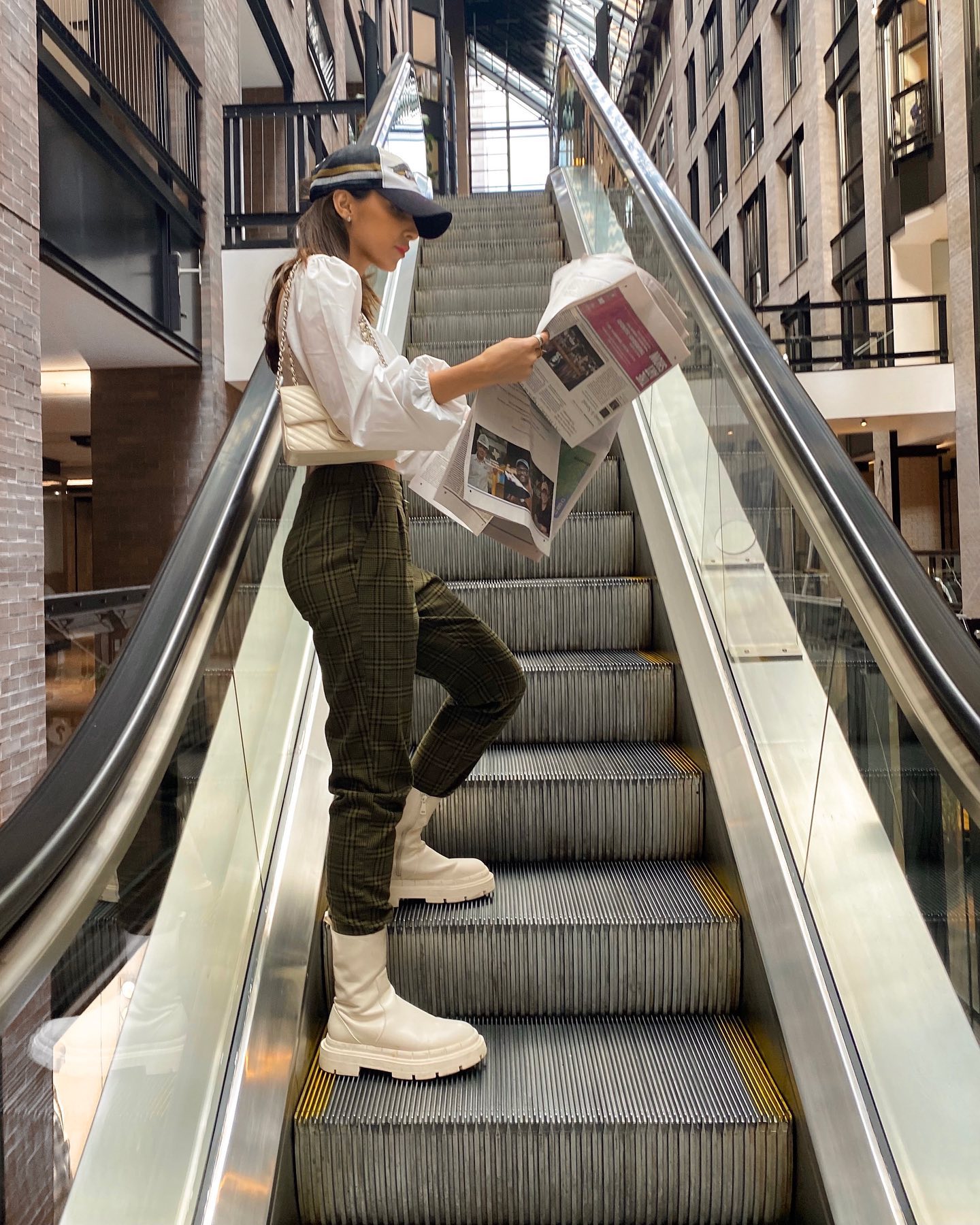 3 – Pair with White Pants and a Tweed Jacket
This option is perfect for those of you who are in colder climates this spring and summer. Opt for a refreshing pair of white jeans and your favorite tweed jacket.
2 – Match Your Fit to the Color of Your Laces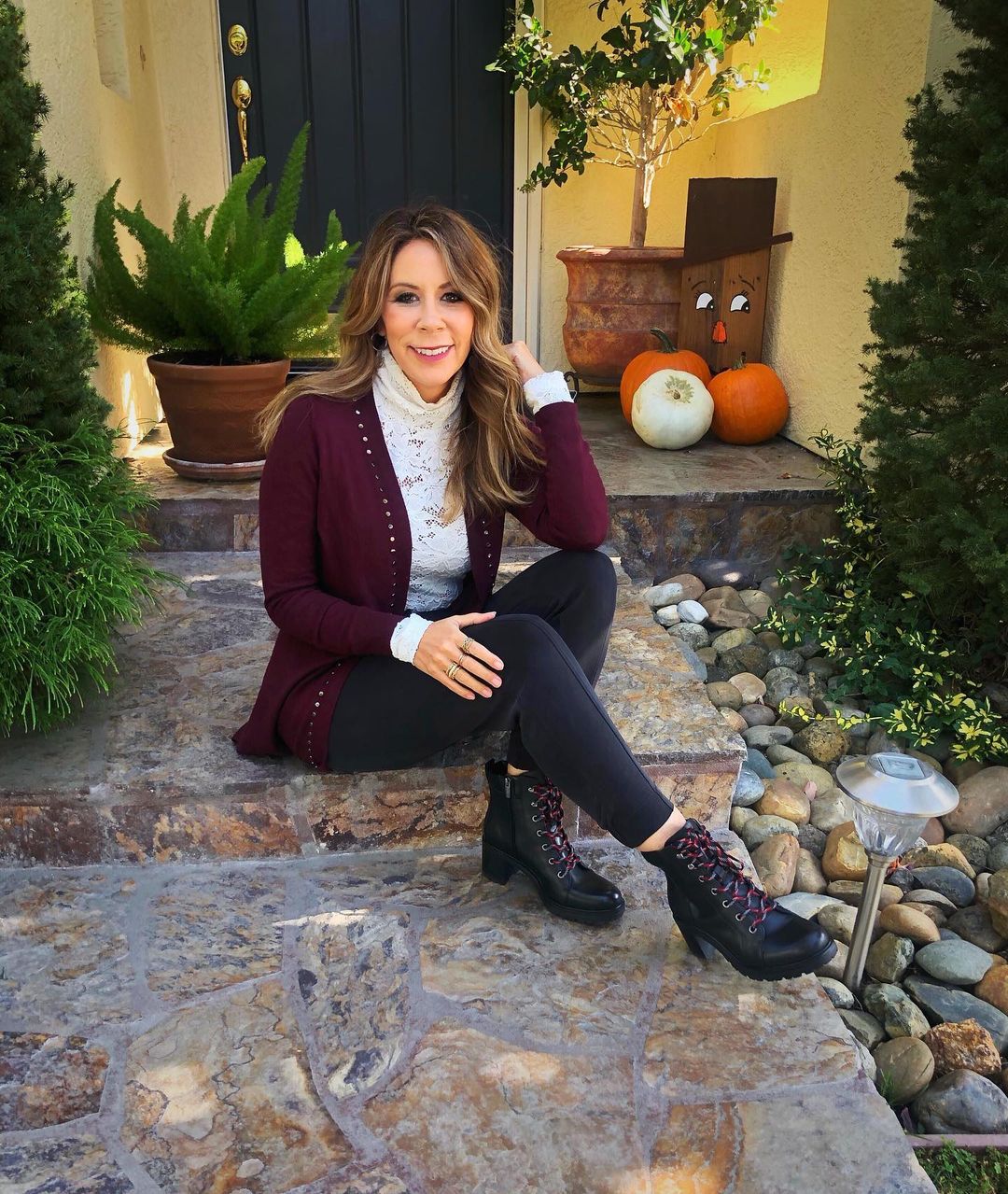 1 – Tuck Your Pants into Your Boots
Take advantage of the height boost these boots are famous for. Create a unique style out of your seemingly simple black formal pants. Tuck the ends into your shoes, and create a uniquely fashionable look.
FAQs
What color is best to get lug sole boots in?
These boots have the fantastic option of being in one color, like solid black or white. These are the colors we recommend if your style is casual and chic, as they are easy to style with any clothing item.
However, if your style is edgy, out there, and you like to play around with clothes, we suggest getting a unique color – cream, brown, or grey. These are slightly harder to style but make for very fashionable outfits.
What are the benefits of lug shoes?
These boots offer more stability and support than regular boots which is why they're an excellent choice for hiking and similar outdoor activities. They're also slip-resistant, so they wear well with your rainy-day outfits.
Q. Where to shop for women's lug soles?
There are a number of brands and online marketplaces selling some unique and beautiful boots. Here are some of my personal favorites: