Best Vegan Handbags. The turbulent year of 2020 left many of us focusing on our health, and consequently, the health of our planet. Fashion industry is one of the largest polluting the world, pushing fashion brands and designers towards more ecological production and material choices.
One example of this movement is cruelty-free clothing and accessories, intended to be made with no harm to animals. The two main categories encapsulated by this trend are shoes and handbags.
Vegan leather handbags will surprise you with their adaptability to consumers' aesthetic and utilitarian needs. Since they truly are a sustainable material innovation. Chances are that if you were to look through a shelve of bags comprised of both vegan and non-vegan leather options, with no labels – you wouldn't be able to tell the difference.
Moreover, some of these vegan purse manufacturers do such a good job to blend in with our needs and trends. Many offer a unique minimalist design, executed in unique trendy shapes. Due to this, they are even more interesting to modern consumers.
Types of Vegan Leather Bags, and their Benefits
Sustainability pioneers like Stella McCartney and other innovators in the industry invest a lot into the RnD behind these purses. Therefore, the results are truly astonishing. There are heaps of different construction methods and material sources for these bags.
Finding out about each one will leave you stunned, and you will love your vegan bag all the more for it. Some of the most prominent leather alternatives are listed below. But the list doesn't stop there, with alternatives such as apple, mulberry leaves, pineapple, and banana leather also being highly used across the industry.
Mushroom leather: Mushroom leather is the vegan leather pioneer. It's a soft and durable material made to mimic animal leather perfectly. Best of all, it is created with a non-toxic approach and can be 100% biodegradable.
Cactus leather: Made from Nopal Cacti is a true innovation, which is even awarded by PETA. Similarly, it does not need toxins to be processed as animal skins do.
Teak Leaf: The teak leaf approach is uniquely inspired by material practices in Thailand. Since these leaves contain a non-fungal feature their collection process is very simple. It is merely collected, washed in water, and dried – resulting in large plants of material. Furthermore, it maintains the leaf structure print which is very beautiful.
Polyurethane: Although there is the alternative of "faux leather" to animal leather it is imperative to make the distinction between faux-leather and vegan leather. The original faux leather is a synthetic fabric. It is far less pleasant for the environment as it is plastic-based. However, it is also not harmful to animals.
Where to Shop for Vegan Handbags?
Now let's look at some amazing brands that are selling these handbags: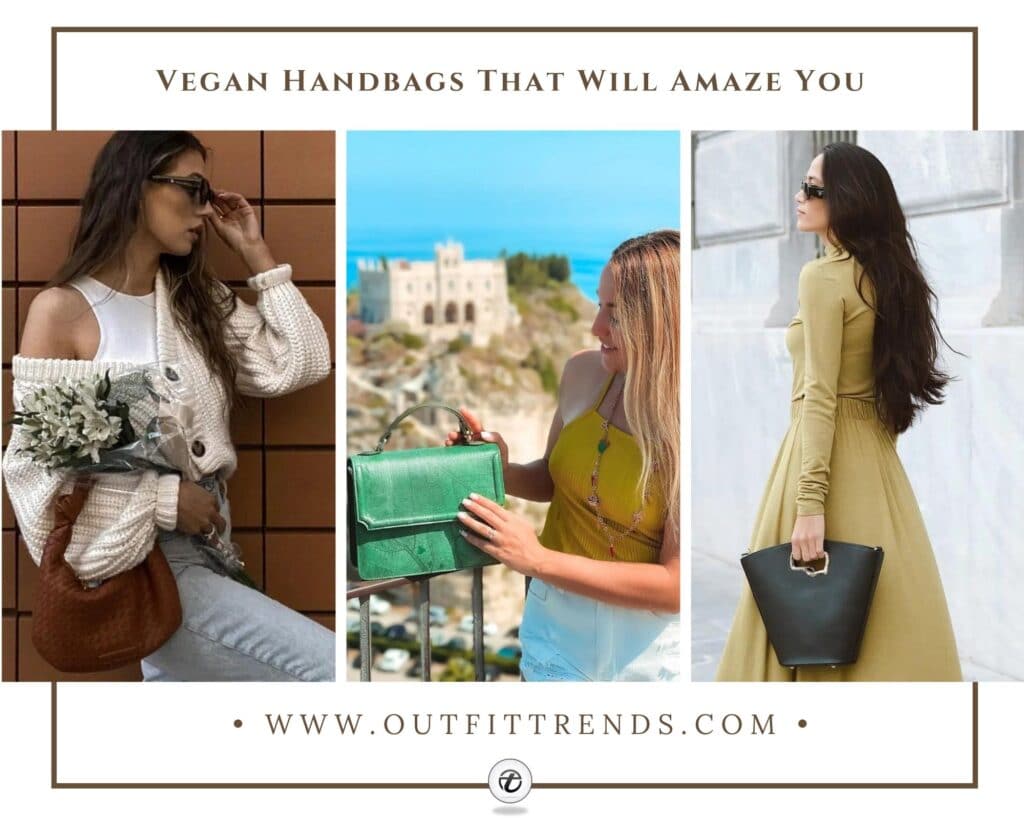 7 – Thamon, Bags from Leaves
The first vegan hand back on the list is a brand based in Thailand, with a product range of exclusively cruelty-free and vegan products. Their main material is leaves. They interfere with the original state of this material very little. Therefore, the appearance of each bag resembles this natural element. Similarly, it allows their customers to choose specifically the part of the leaf they would like to see their bag made of.
There is an abundance of earthy, vibrant colors in these brands' products. Therefore we recommend complementing it, with equally bright clothes. For example, pair with a warm yellow top, then diffuse the look with plain white shorts. Or go with one of these outfits with red pants.
6 – Frida Rome, Conscious Luxury
Frida Rome proclaims itself the optimal sustainable luxury option. The brand is driven by the motto of products for "bad girls who do good things". Thereby providing their customers with edgy models whilst pertaining to the rules of sustainable fashion.
As for their materials, a great focus is on apple leather as the main material. As well as vegan suede which acts as a supporting, base material. Alternatively, they also employ cactus leather for some of their products.
If your personal style is grungy and rock'n'roll these bags will fit right in with your clothes. Inversely if you have clothes in a much more elegant style but like this brand. Don't be discouraged – the mix of harsh accessories and gentle clothes is an unforgettable fashion statement.
5 – Wilby, Vegan Bags For Everyone
Wilby is a vegan bag brand since 2013, it is fully PETA approved and follows a dream of animal-free, environmentally conscious fashion goods. The versatility in their product range separates them from other vegan brands. Not only is there a great variety between the handbag styles, but this brand is also very affordable. Since it is difficult to find a vegan sustainable brand that doesn't cost you a fortune, this is a great option.
The design direction of this brand is classic, you can find simple soft leather goods here. As well as some classic snakeskin models, only now they are fully guilt-free and vegan. These bags mix easily into your everyday looks. Pair them with some easy denim looks. Or even wear them on a night out.
4 – JW Pei, Cruelty-Free For Young Fashionistas
JW Pei is minimalistic and empowering for every woman. Their products are made exclusively from vegan leathers as well as recycled plastics. Therefore they are not only producing less harmful products but also contributing to the mission of repurposing plastic waste. Both are noble efforts in the fashion industry.
The design direction is minimal. It is easy to mix within any modern woman's wardrobe. A majority of their products come in a plethora of different colors. Ranging from both vibrant to neutral tones. Therefore these bags will fit you on any occasion you need. We recommend going for a unique shape, like the Gabbi Bag ($116,86) or the Rantan Mini Bag ($77.38). These bags are very in style now and go well with both going out and day-to-day looks. To read in more detail about trendy bags for 2023 check out this article!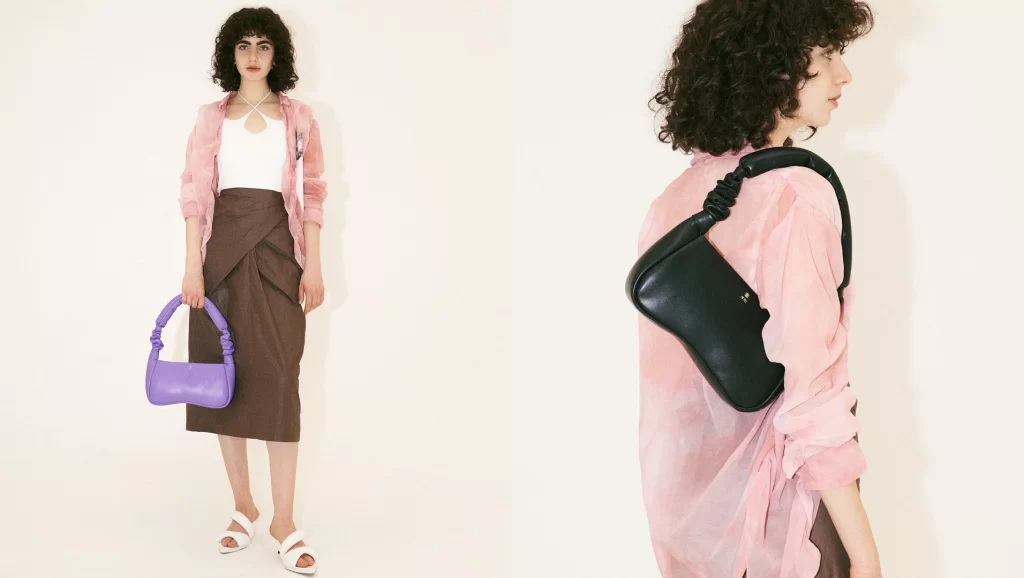 3 – Melie Bianco, Iconic and Cruelty-Free
The Melie Bianco label is similar in its design direction to the previous vegan bag brand on the list. However, it is even a proud owner of a Harpers Bazar mention. Mainly for being committed to sustainability, a brand infused with rejuvenating style. Although, the use of recycled vegan leather sets it apart from the rest. Not only do they produce products with new vegan leather, but also reuse old vegan leather. This is the epitome of sustainability. It is clear that this brand doesn't stop at doing the minimum. It is contributing wholeheartedly to sustainability in fashion.
Firstly, these bags are perfect for summer. They are playful in their silhouette, color, and finish. So shop away in preparation for summer 2023. Although, it is worth mentioning that apart from their unique designs, they create great dupes for some high fashion labels. For example Bottega Venetta. If you are a fan of the Mini Jodie ($1985,93) but don't want to splurge on one bag, you're in luck. Melie Bianco's Small Top Handle bag is a fraction of the price, not to mention it is much better for the environment.
2 – Mashu, Sustainability Without Compromising Style
The mission behind this brand is incredible. Their main focus for materials is cork hailing, from cork trees in Spain. Not only is it a fully biodegradable material. Therefore the bags will not end up in landfills, and pollute the world. But they are also going to contribute to the formation of new Cork trees in the future. The commitment to circularity should be applauded. It shows that this is a highly conscious brand.
This brand has limited stock and often sells out of its items, so if you like something – don't wait to snatch it up. As for the design direction they belong to the minimalist contemporary category. Several of their designs differ from other brands on this list through the additional effort of details. Sometimes it is a metal chain, sometimes it is the knitted handle. Either way, it is easy to distinguish the artisanal work that is put into these products. Go for a classic black bag, with golden detailing. It will fit every occasion and outfit. Whilst pairing the gold details with some gold jewelry will elevate your look. Here are some more of the best outfits to wear with a black bag.
1 – Luxtra, A Vegan Leather For Every Occasion
Last but certainly not least is Luxtra. In fact, Luxtra is very involved with research and development into sustainability. So much so that it employs not one but a total of 4 different vegan leather materials. Their collections span across these four materials and include; vegan, apple, pineapple, and even corn leather options. Corn is one of the more unique options to create vegan leather, although is without a doubt equally high quality to the rest. Furthermore, this brand has a product selection that spans further than just bags. If you are interested in sustainable small leather goods as well as jewelry boxes you can find them here.
Their bags selection is old school classic. They have a sustainable option for each desirable bag category and style. This includes totes, backpacks, cross bodies, and bucket bags. Also, keep in mind that all of these products are handcrafted in Italy, which makes them very high quality. Therefore you can expect them to last you a long time. This is great to consider to inform your choice. We recommend choosing a classic, day-to-day item, that can also transfer into night looks.
Frequently Asked Questions
Q. What is vegan leather?
Vegan leather is an alternative to animal leather made from materials that bare no harm to animals. Furthermore, vegan leather is focused on being produced in non-toxic ways. Therefore, the vegan leather manufacturing process does not involve the use of chemicals and toxic treatments. As a result, vegan leather is completely natural and cruelty-free. At the end of a product life cycle made out of vegan leather, the product has the potential to be completely biodegradable.
Q. How does vegan leather compare to animal leather?
The main difference between vegan leather and animal leather is that it is cruelty-free. It is made out of plants, and fungi sources rather than animals. Therefore those people who do not want to use products that involve harmful treatment of animals and the environment choose this option.
However, due to extensive research and development on this topic, this material is very similar in other elements. For instance, all-vegan leather equals in durability, and strength required for it to be used in the production of fashion goods. Moreover, it is even sometimes more comfortable, as it proves to be more elastic, soft, and breathable.
Q. What is the difference between faux-leather and vegan leather?
Although faux leather is also an alternative to animal leather, it is not fully sustainable. Faux leather is made out of plastics, therefore is not biodegradable, and will cause pollution when disposed of.
Similarly, this material requires chemical treatments to make it comfortable for use in product production, therefore is highly pollutive even at the production stages. Resulting in water and soil contamination, and destruction of wildlife as a byproduct, hence it is not considered sustainable.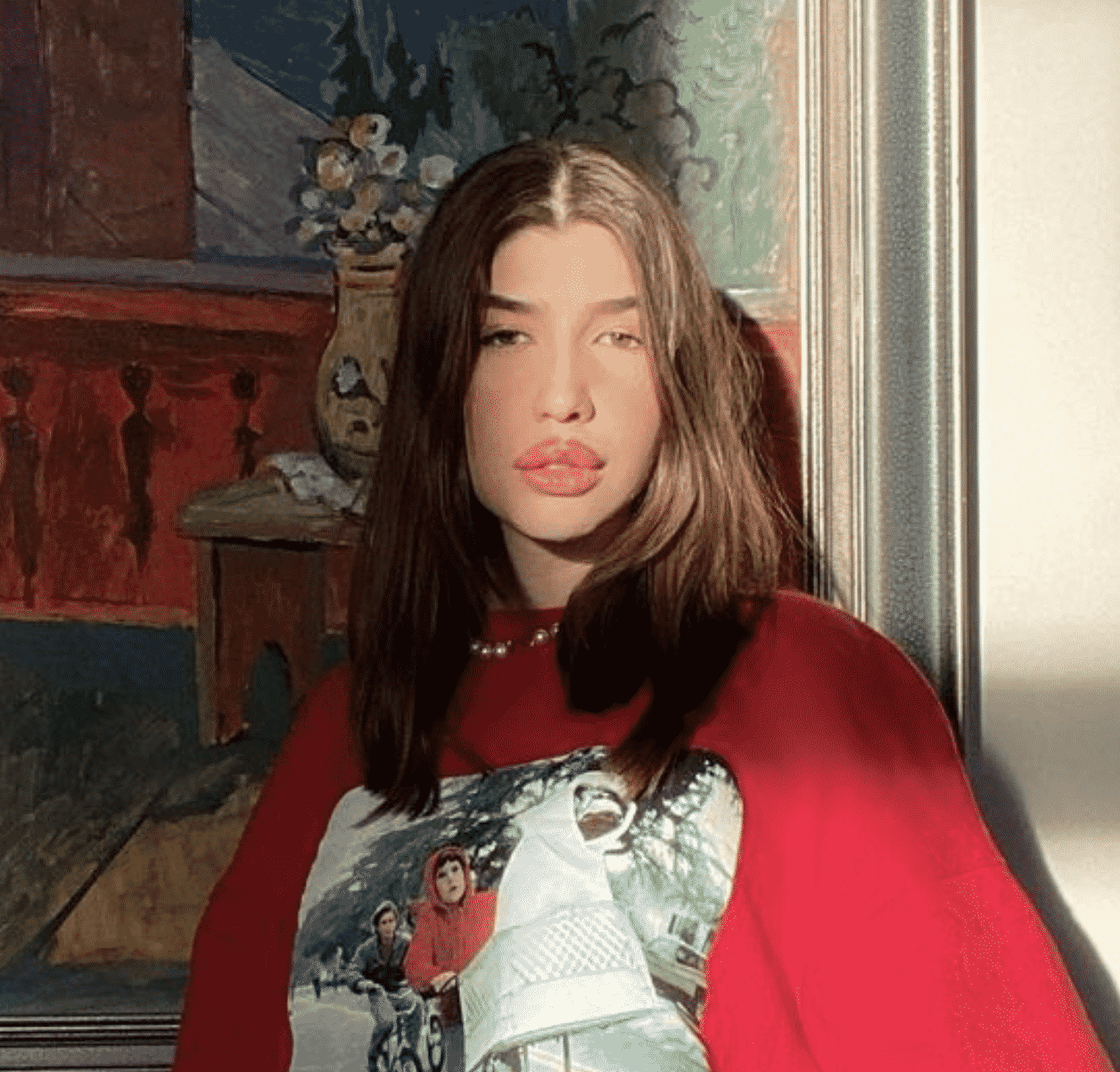 Lyuba Bessarab studies Fashion Management at the London College of Fashion.
She is from Kyiv Ukraine originally and is based in London now. Although she doesn't live in Ukraine now, it has a very huge part of her identity.
As an artist, she does not only get inspired by her cultural heritage for her fashion choices, but she also incorporates it in what she makes.