Plaid Pants Outfits : In case you are looking to add an outfit to your wardrobe that is stylish yet comfortable at the same time, plaid pants should be your priority. There are so many options to choose from to make this outfit the right fit for you.
Different bloggers and influencers are seen to be reaching for plaid pants frequently either for running errands or for formal events. The versatility of this outfit makes it a perfect fit for any occasion. With some of the great plaid pants outfit ideas, you can definitely offer your fashion sense a new dimension.
How To Style Plaid Pants ?
Before we dive in, there are a few things to which you need to pay attention to carry plaid pants effortlessly. We have gathered different tips and tricks that will help you in figuring out how you can style this trendy piece of clothing accompanied by different accessories and footwear.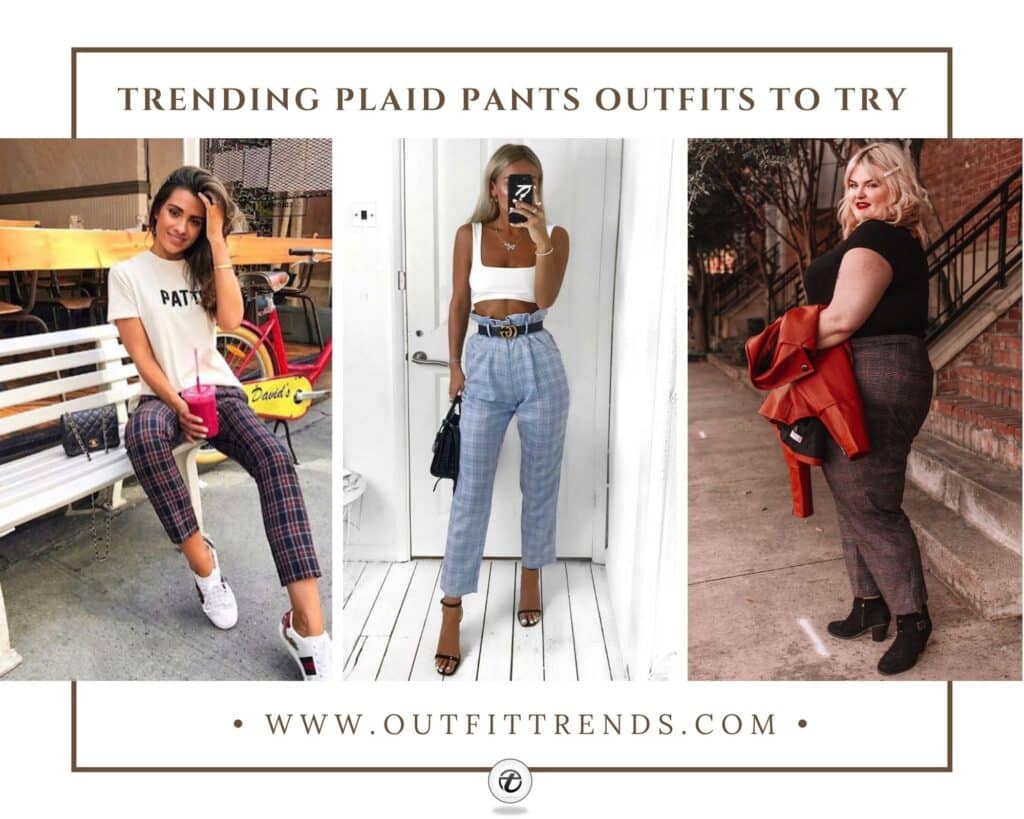 Styling Tips
Here are some tips and tricks that you can follow to create the perfect look using plaid pants.
Accessories play a vital role in making or breaking your whole look, you should choose the accessories wisely for a well-put-together look.
Go for plain plaid pants for formal events, and wear bright and printed plaid pants for casual days.
Avoid wearing bomber jacket outfits. This will make you look bulkier and over the top.
Look for different silhouettes and styles based on your body type. This will help you in knowing which style fits you the most.
Select footwear that is more comfortable i.e. sneakers, when you're going for a more casual look and go for heels for a formal look.
Opt for solid-colored tops with plaid pants to make the whole look stand out. You can go for both darker or brighter colors based on your preference.
Crop tops outfits can help to dress down the plaid pant look so go for flowy ones especially during summers to keep it casual. You can use fitted tops if you want the look to be more on the dressier side.
Go for small checkered plaid pants to give a more put together look. This will also help in making the shoulders look less broad and help in making the look more formal.
Pay attention to the type of plaid pants you are selecting. The reason behind this is that each type of pants need to be worn differently based on the occassion.
With these tips and tricks, you're all set to see the looks we have gathered for you to slay the plaid pants look. These outfits will definitely help you in looking elegant. Not only this, these styles will make sure that you feel comfortable throughout the day. Let's dive in.
↓ 20 – Skinny Plaid Pants With Jacket
In case you are wondering, this outfit is in trend this year and you can definitely pull it off. All you need is checkered plaid plants and a top paired with a solid-colour leather jacket. This look is chic and will make you stand out in any room.
↓ 19 – Flared Pants With Crop Top
If you love experimenting with style, flared plaid pants are definitely worth trying. Not only are they flattering, but also make you look more stylish and alluring. You can pair the pants with a solid-coloured crop top, and you are good to go.
↓ 18 – Black And White
In case you are looking for a classy look, black and white wide-legged pants with a black neck forming sweater are the perfect choice for you. You can pair this outfit with white sneakers to give it a more casual look.
↓ 17 – Printed
To create a statement look, pair a solid-coloured top and jacket with red checkered plaid pants. Heels can make the look chic and elegant. To give a more casual look, go for flats or sneakers.
↓ 16 – Yellow
Yellow can make you look happy, joyful, and youthful. You can definitely pull this look off by pairing yellow checkered plaid pants with a yellow top. You can wear a beanie to add some fun to the entire look. This look is perfect for when you want to project energy and intensify the sunny vibe.
↓ 15 – Plaid Pants For Colder Months
You can style plaid pants by pairing loose plaid pants with a pink top and a brown long coat to add a cozy touch to the entire outfit. You can always accessorize with sunglasses and a bag to make you look more classy.
↓ 14 – With Cami Top And Platform Sneakers
Plaid pants outfits for classes are the perfect choice. You can get through an entire day of hectic classes while being comfortable and cute. You can pair high-waisted plaid pants with a cami top. Go for a tied hairstyle to keep the look casual. For footwear, go for platform sneakers or shoes.
↓ 13 – What To Wear With High-Waisted Plaid Pants?
High-waisted pants are very much in trend these days. You will find celebrities, bloggers, and influencers carrying this outfit. However, you need to be a little bit open-minded while styling it and make sure you accessorize just the right amount to make the look stand out.
Wearing plaid pants can be tricky, however, you can definitely rock this look even if you're over 50 by pairing it with black and brown checkered pants with a creamy background and blacktop. To elevate this look and make it chicer, you can add a chunky gold neckpiece.
↓ 11 – With Crop Top And Jacket
You can play around with separate details to achieve this ultra-modern look. To create this look, you simply need to add a denim jacket with the crop top and pair it with plaid pants. You can further go for hoop earrings and go for black thick sole shoes to complete the look.
↓ 10 – Outfit Idea For Summers
Keep things simple for summers by styling the plaid pants with a loose white-coloured tee and sneakers. This can make a super cute outfit for a casual day or brunch with friends.
↓ 9 – Accessorise It
You can accessorize this trendy piece of clothing with silver chains to keep the look casual yet stylish and chic. This will help in elevating the whole look and make it more put together.
↓ 8 – Plaid Pants For Plus Size
Plaid pants are super versatile and allow you to be creative no matter what size you are. You can play around to come up with a casual look for grocery shopping or a formal look for office wear. To get started, pair plaid pants with a black coloured top and a bright red jacket and complete the look with black Doc Marten boots.
↓ 7 – How To Style Plaid Pants For Work?
For a perfect office look, go for red checkered plaid pants paired with a matching checkered blazer to add a pop of colour. You can further pair the outfit with chic black heels and accessorize with sunglasses during the day and a black bag to complete the look.
↓ 6 – With Leather Jacket
You can create this trendy pink look by pairing plaid paints with pink-coloured leather jackets and a white top underneath. Complete this look with white sneakers. Pink makes the look more cute and trendy and you can easily create this look for college or a day out with friends.
↓ 5 – For Teenagers
Teenagers can definitely rock the plaid pants look. In case you're looking for outfit ideas, plaid pants are the way to go. You can pair the high-waisted plaid pants with a black full-sleeved fitted top and complete the look with white sneakers and sunglasses. Plaid pants can help in instantly elevating your look whether it is for a casual day or a night out with friends.
↓ 4 – With Heels
You can wear heels with plaid pants when going out for a formal event. You can make the look instantly more elegant and vibrant by wearing heels that add a pop of colour. You can style plaid paints with blue velvet court shoes along with a grey sweater to make the look stand out.
↓ 3 – Monochrome Look With Accessories
To create this plaid pants look, you need wide-legged plaid pants paired with a bustier-style top with a matching checkered overcoat and shoes. You can top this experimental look off with a pair of nice heels and wear bold lipstick to add a pop of colour to the entire outfit.
↓ 2 – With White Top
If you're a fan of keeping things safe and elegant, then this is the perfect look for you. You can add a feminine and cute vibe to the whole look by wearing pastel-coloured pants with a white-coloured top. To complete the look, pair it with black heels and a matching belt to make the outfit elegant and chic.
↓ 1 – With Oversized Leather Jacket
Leather jackets with plaid pants are the best combo you can create for a sassy look. This look surely gives off carefree vibes and is definitely worth considering. This look suggests pairing red plaid pants with a black leather jacket, you can add platform shoes to make the look come together and a bun will be a cherry on top to make this look classy and flawless.
Accessories And Footwear To Pair With Plaid Pants
To make the outfit stand out, there are certain accessories and footwear that you can choose. Firstly, you can go for simple sneakers for a daily look. You can wear platform boots to add a more youthful and sassy vibe to your outfit.
To give your look a dressier and formal vibe, you should always opt for high strappy heels or court shoes, or leather pumps. You can further amp up the look by adding accessories like sunglasses, bags as well as chains, and wristwatches to give your personality an unbeatable look. Furthermore, faux leather jackets can further add to your look and add to your comfort during winters
. Other than these, you can wear denim jackets to give yourself a more edgy look. Belts can definitely help in elevating your look. Go for belts that match your shoes in case you're going with pastel-colored plaid pants. This will add a pop of colour to the entire outfit making you look more graceful and chic.
Frequently Asked Questions
Q: Can you wear plaid pants in spring?
Ans: Definitely, you can wear plaid pants all year round. All you need is to know different styling tips and tricks and you will be all set to pull this look off no matter what season you're in.
Q: Do plaid pants make you look bigger?
Ans: Small checkered plaid provides a less enlarging effect making you look less big. On the flip side, if you go for big check designs, it will make you look bigger. In my opinion, it entirely depends on the choice of checkered fabric you make. If you don't like plaid pants we also have Easter Outfits for Plus Size Women and Christmas Outfits For Plus Size Women.
Q: What goes well with plaid pants?
Ans: Almost everything goes well with plaid pants including a blazer, a white buttoned-down shirt, crop top, cami top, leather jacket, sweater, or a cardigan. You can come up with different looks by pairing them with different options discussed in this article.
Q: What age group of people can wear plaid pants?
Ans: All kinds! Whether you are a teenager, middle-aged, or even over 50. You can style and flaunt plaid pants in so many ways to make you stand out in any room.
Q: What kind of shoes to wear with plaid pants?
Ans: You can go for sneakers for a more casual look, thick sole shoes to give your look a carefree vibe, or heels when you want the look to be more elegant and classy.